Red flowers are a bold statement in the landscape and one that we wholeheartedly embrace. The first red flower that most think of is roses, but we are here to share with you the many other fantastic options for red perennial flowers. It's time to invigorate the flower garden and landscape with some vivid red blooms.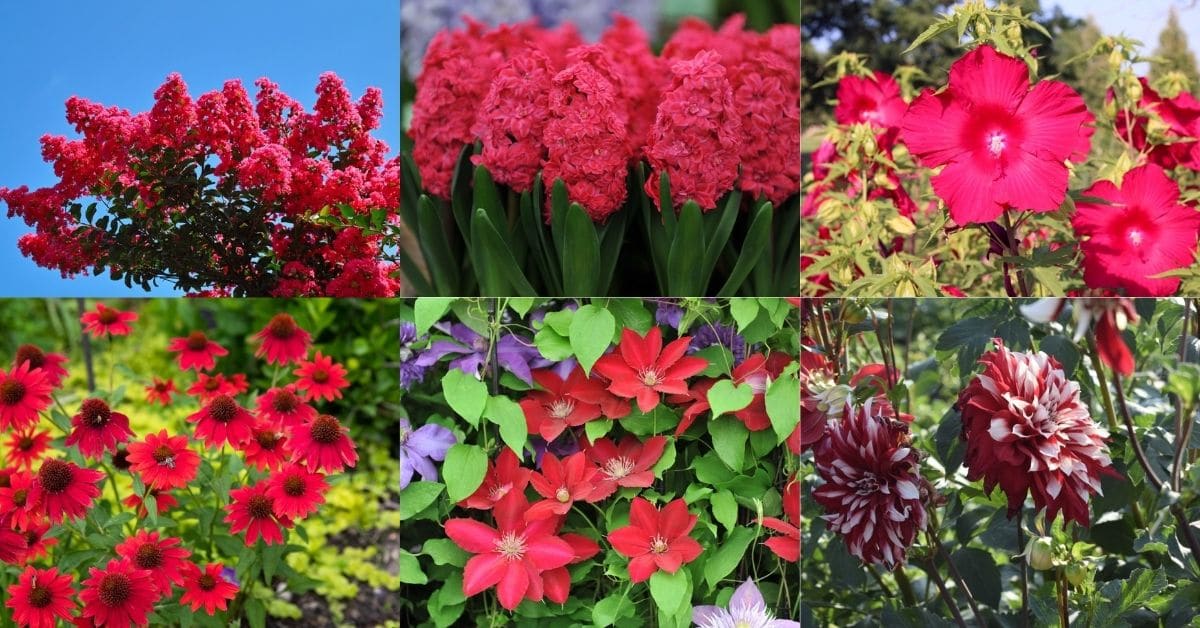 Jump to:
What Does Red Mean In The Landscape?
In the natural landscape, red isn't a predominant color, but it is widespread. Red is fire and lava, desert sand and shellfish, tomatoes and strawberries, sunsets and sunrises. Red is most often associated with passion, love, and heroic actions.
Many cultures and people use red to indicate importance, prosperity, and power. Red clothes or decorations are often meant to show the world a person's place and status. Each culture has its own precise use of red; however, it is always used to announce something important. Red stands up and demands we pay attention.
Red is used as a festive highlight, a dramatic centerpiece, or an abounding bold statement when planning the landscape. Think about how you want to incorporate this evocative color in your yard. An entire garden of red flowers is a powerful choice. A garden with predominantly white or green foliage and flowers accented with several brilliant red perennials is stimulating.
There are lots of unique and memorable ways to incorporate red perennials into the landscape!
15 Vivid Red Amazing Perennials
Hibiscus (Hibiscus sp.)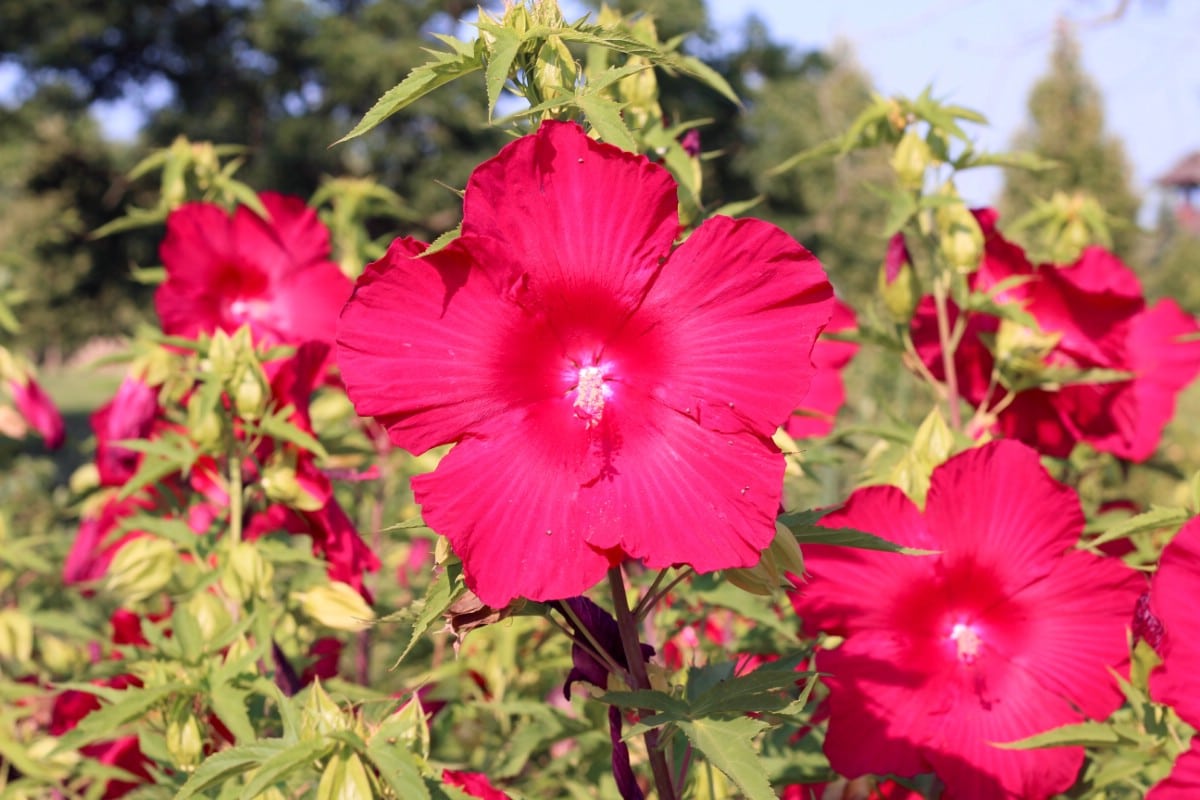 Bold, energetic, and showy, red Hibiscus blooms are the extroverts of the flower world. Some varieties produce flowers in such abundance it is almost impossible to see the deep green foliage underneath. Hibiscus flowers range from 6-12" across, looking like brilliant red dinner plates covering the bush.
Red-flowered Hibiscus cultivars: Fireball, Robert Fleming, Cranberry Crush, Holy Grail, Midnight Marvel, Luna Red
Hardy to zones 4-9, depending on cultivar
Full sun, drought tolerant, cold tolerant
Deer resistant
Bleeding Heart (Dicentra spectabilis)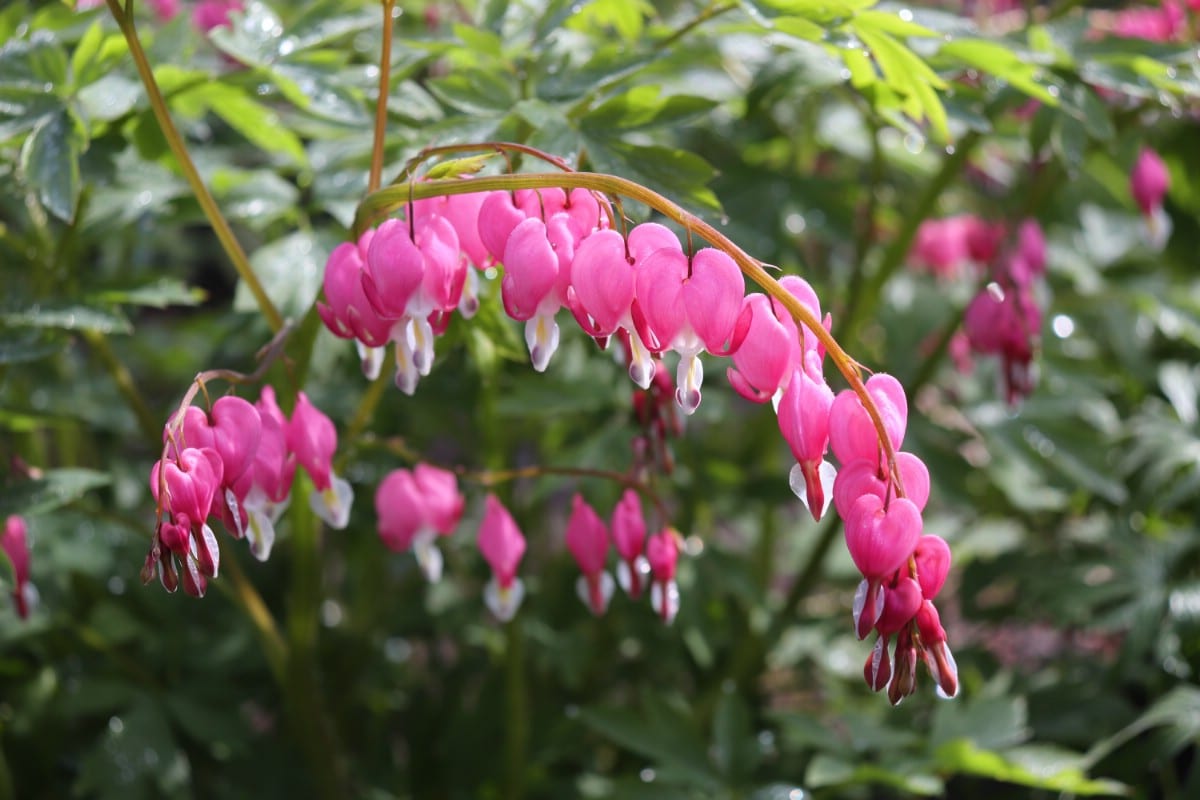 With a floral display unlike any other, Bleeding Heart plants live up to their name. Each flower looks like a small heart, dangling from the arching stem in a parade procession. When in bloom, Bleeding Heart perennials are stunning, delicate, and evocative at the same time. The classic Bleeding Heart is sweet pink, but there are several red varieties.
Red-flowered Bleeding Heart cultivars: Valentine, Red Fountain, Burning Hearts
Hardy to zones 3-9
Partial shade, rabbit, and deer resistant
Coneflowers (Echinacea sp)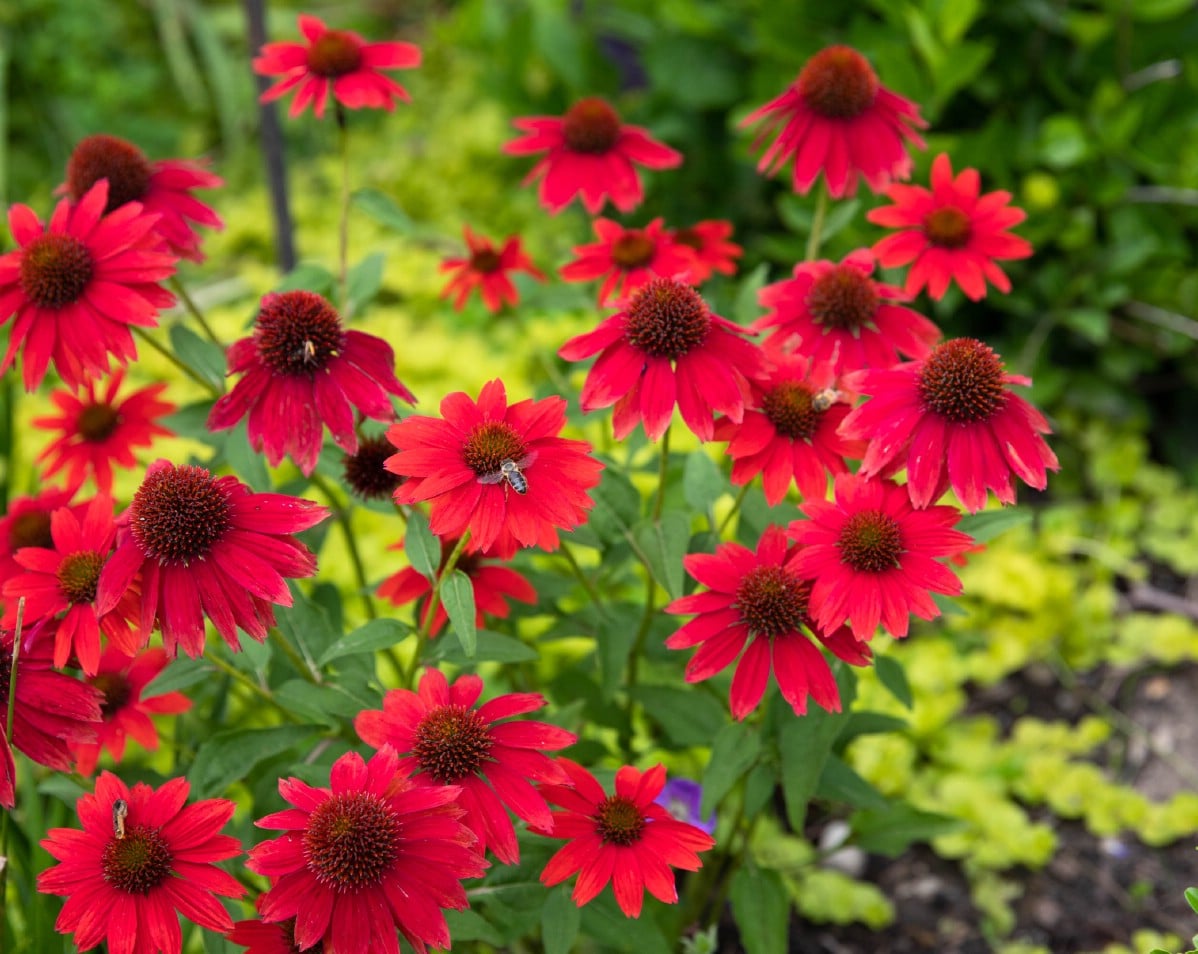 This classic landscape perennial is beloved by bees, birds, butterflies, and people! Tall, upright, branching Coneflower plants look spectacular planted in large groupings, especially the red ones. They are also an excellent and very vivid, natural border. This hardy perennial blooms profusely and for a very long time – often flowering all summer long. Most people know the traditional purple Coneflower, but there are quite a few stunning red varieties.
Red-flowered Coneflower cultivars: Tomato Soup, Firebird, Hot Papaya, Salsa Red, Kismet, Sombrero Salsa
Hardy to zones 4-9
Full sun or partial shade
Tolerant of poor soil, heat, drought, and humidity
Deer resistant
Dahlia (Dahlia sp.)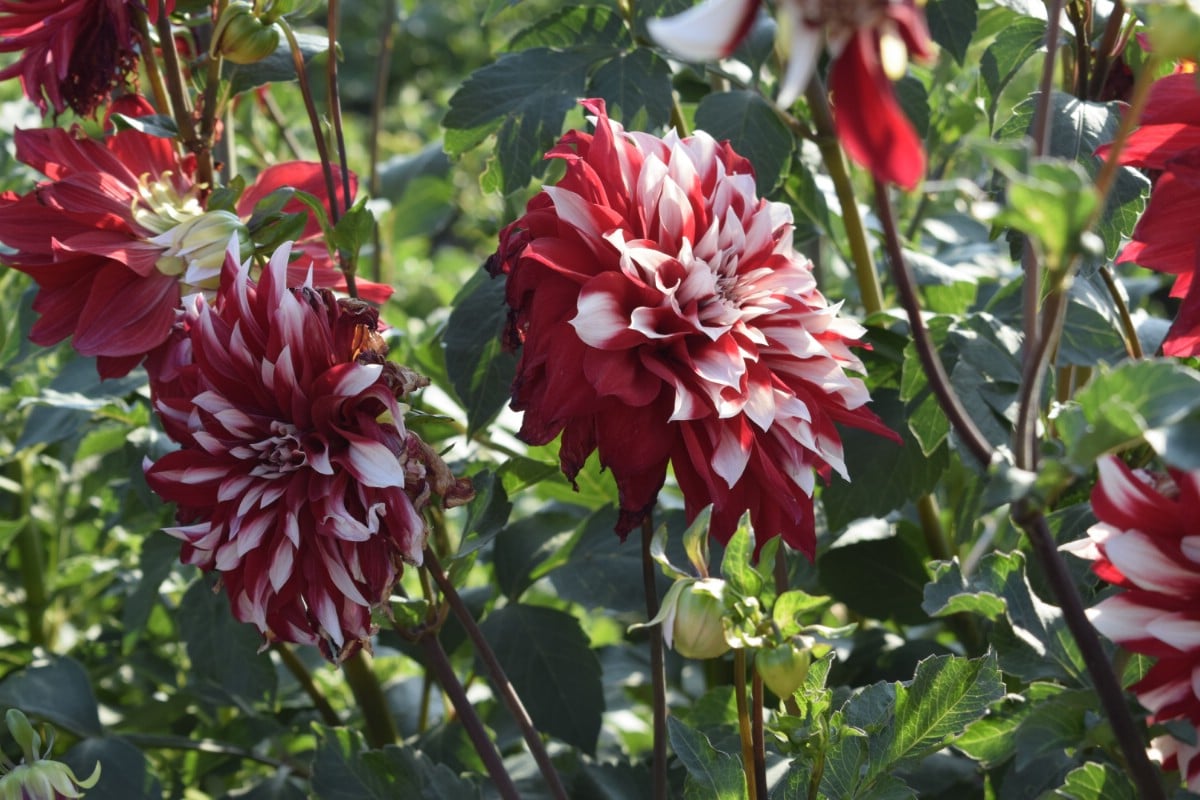 With literally innumerable hybrids to choose from, it shouldn't be any surprise that there are some absolutely dazzling red Dahlia flowers. Perennial Dahlia flowers turn any garden or landscape into an exquisite display of structure, composition, and color. Dahlias are the embodiment of elegance, and the red Dahlias especially so. This classic perennial flower blooms for months, providing very welcome color bursts throughout the landscape.
Red-flowered Dahlia cultivars: Apache, Babylon Red, Bishop of Auckland, Bishop of Llandaff, Duet, Caballero, Cornel, Spartacus, Aurora's Kiss, Doris Day, American Beauty, Debora Renae, Ketchup & Mustard, Nick Sr., Skywalker
Hardy to zones 8-11. In zones 3-7, dig up Dahlia tubers before the first frost and store them in a cool, dark location over winter.
Full sun or light shade
Cardinal Flowers (Lobelia cardinalis)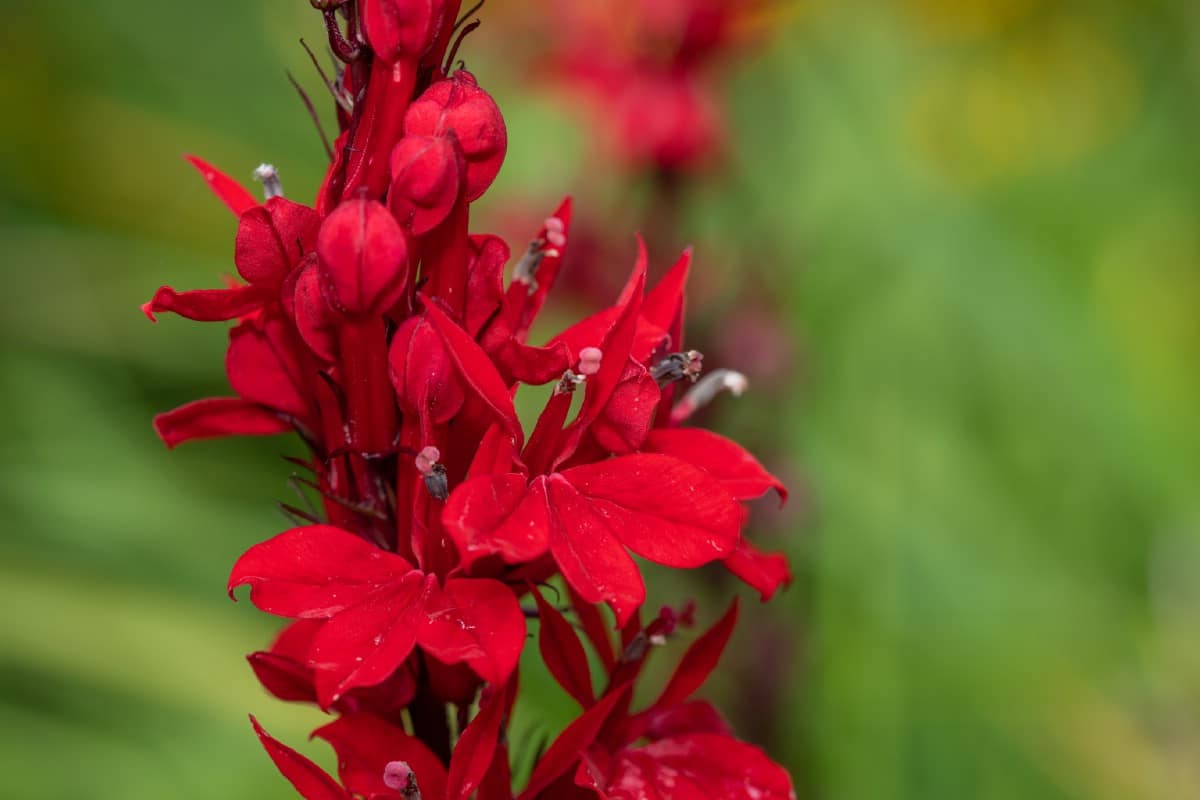 The delicate, two-lipped blooms of the native Cardinal Flower add a bold yet dreamy splash of color to the garden. Tall stems are covered with prolific, brilliant, cardinal red flowers (hence its name), and they stay for ages. The foliage is very low-key, allowing the scarlet blooms to be the true star of the show. Cardinal Flowers average 2-4 feet tall and are adored by butterflies, hummingbirds, and beneficial insects.
Hardy to zones 3-9
Full sun or partial shade
Rabbit and deer resistant
Flame Azalea (Rhododendron calendulaceum)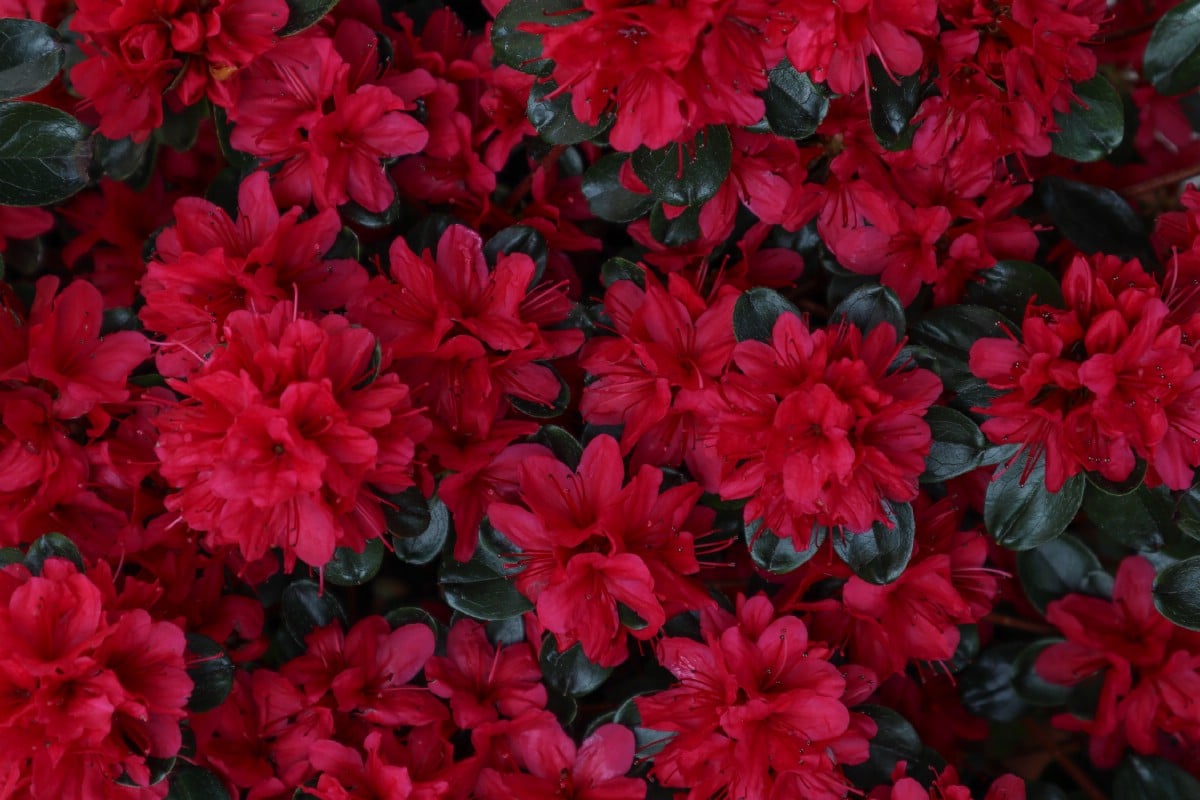 The name pretty much says it all; this Azalea lights up the landscape like it's on fire. Flame Azaleas grow 4-8 feet tall, and the buds burst forth in late spring like bright candle flames above deep-green foliage. This brilliant native Azalea draws in hummingbirds, butterflies, and birds in droves; the showy prolific blooms are irresistible.
Hardy to zones 5-8
Full sun or partial shade
Columbine, Canadian & Western (Aquilegia canadensis, Aquilegia formosa)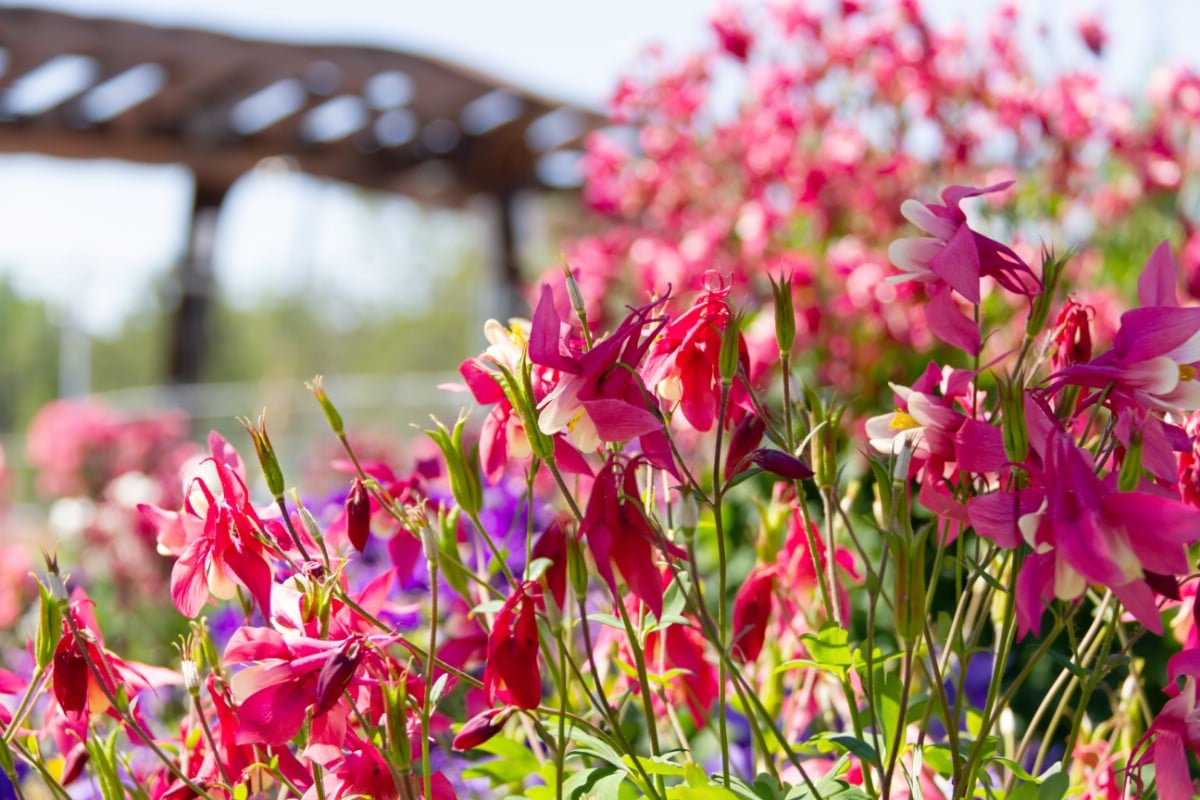 Featuring scarlet red downward facing "petals" with golden yellow center stamens, these two native Columbine species add quite the dramatic flair to the garden. The flowers are small and would be unobtrusive, except their coloring is vivid and exotic looking, like a tropical bird perched a the end of a branch. Columbine flowers dangle at the end of long, fragile-looking stems and attract hummingbirds and butterflies.
Hardy to zones 3-9.
There are non-native species and cultivars of Columbine, too, but we prefer to plant these gorgeous native options for the pollinators.
Partial shade or full sun
Deer and rabbit resistant
Scarlet Sage (Salvia coccinea)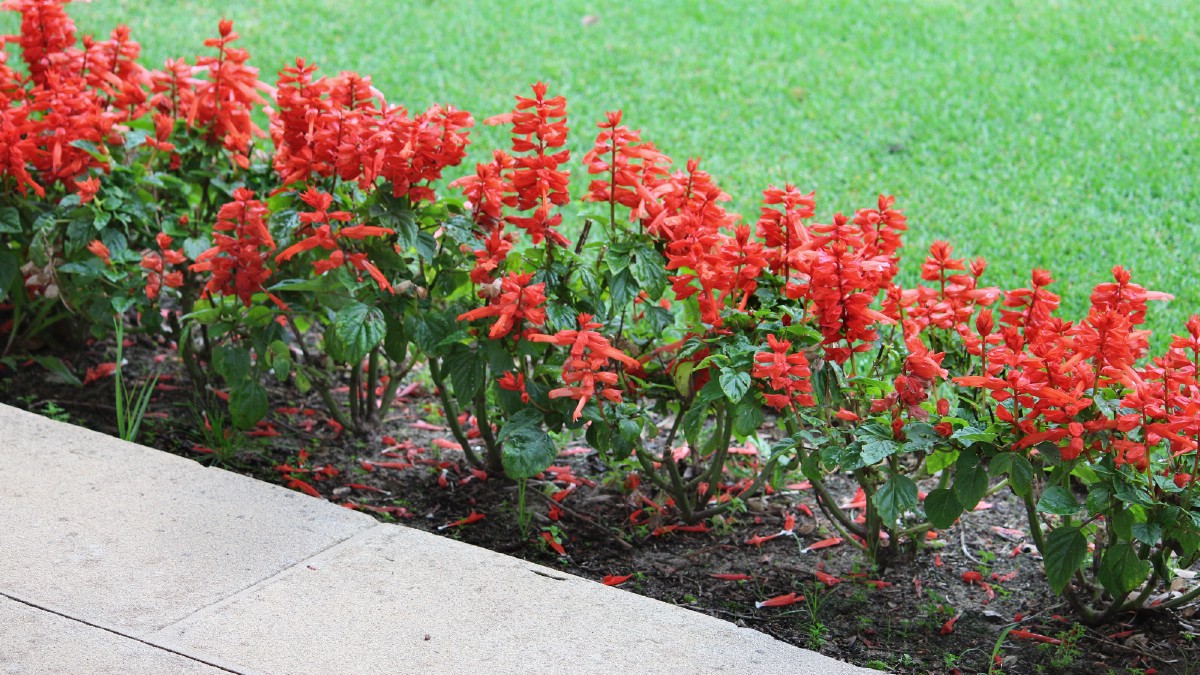 A southern native, Scarlet Sage loves to show off its radiant red flowers in great volume. Scarlet Sage produces tall spikes that rise above the deep dark-green foliage, with each stem covered in small crimson red tubular flowers. Hummingbirds especially love this flower, while bees and butterflies also appreciate it. Scarlet Sage makes a showy border or accent in the flower garden.
Hardy to zones 8-10
Full sun or light shade, drought tolerant
Deer resistant
Sneezeweed (Helenium sp.)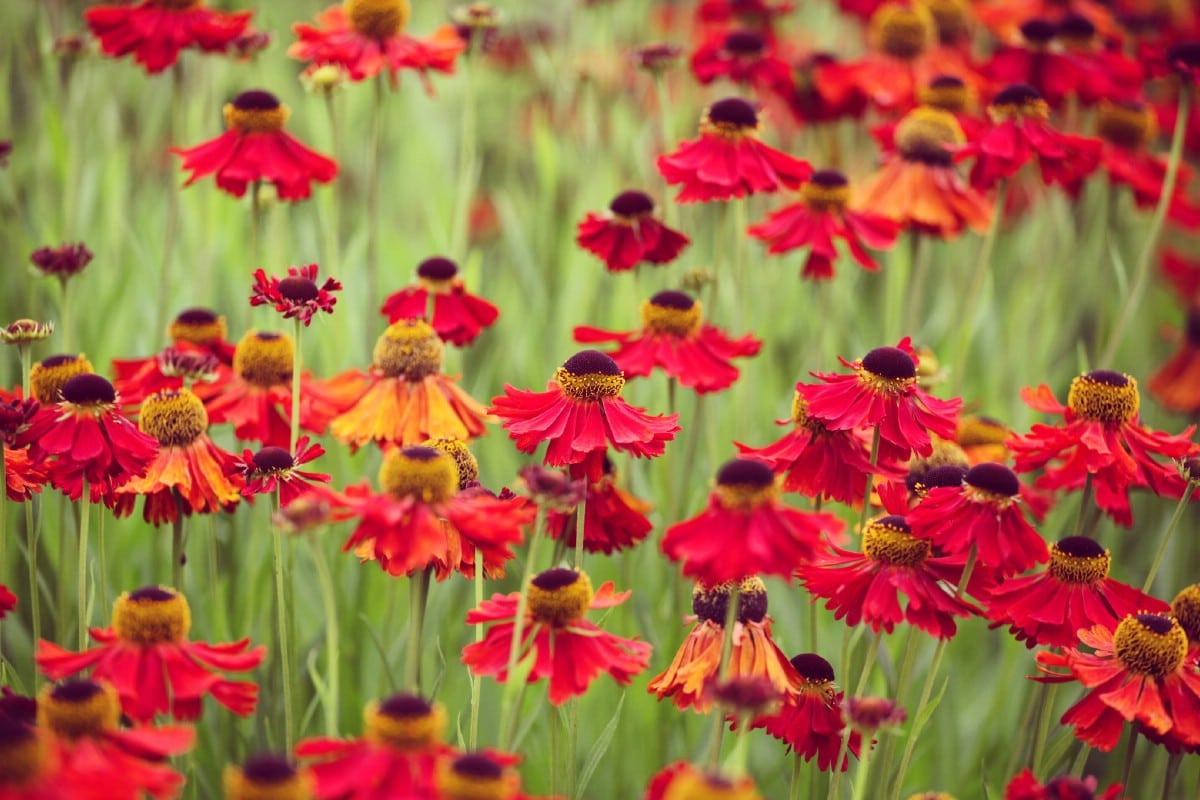 A late-season native perennial flower with so much color to offer, Sneezeweed should not be overlooked because of its unfortunate name. The brilliant bi-color varieties, usually featuring some combination of bright golden-yellow and crimson or ruby red, light up the late summer landscape with joy. Sneezeweed flowers are daisy-shaped and bloom for months unending. The flowers grow atop tall 3-5 foot stalks and are dramatic, to say the least.
Red-flowered Sneezeweed cultivars (many of these are bi-color, with dramatic red streaks or coloring): Biedermeier, Feuersiegel, Potter's Wheel, Rubinzwerg, Ruby Tuesday, Salsa, Red Jewel
Hardy to zones 3-8
Full sun, disease, and pest resistant
Crape Myrtle (Lagerstroemia x sp.)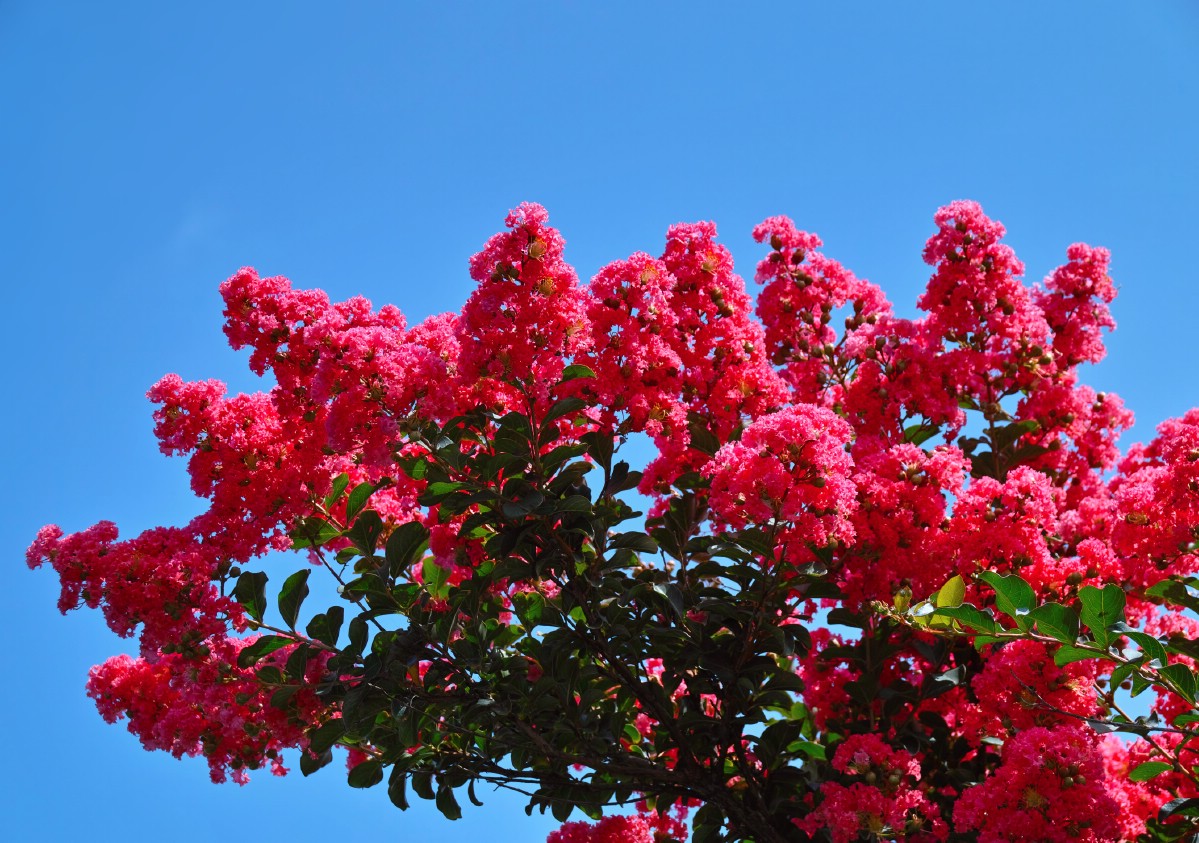 Crape Myrtles never disappoint with their prolific bunches of colorful flowers. There are hundreds of options for color and size with Crape Myrtles, so be sure to pick one that fits your space. Crape Myrtles will rarely need pruning or look terribly unsightly in winter if you choose the appropriate size plant from the beginning. The profusion of flowers in summer is striking, to put it mildly, and looks incredible as a natural hedge or border.
Red-flowered Crape Myrtle cultivars: Cherry Mocha, Victor, Cheyenne, Tonto, Christiana, Arapaho, Centennial Spirit, Baton Rouge, Bourbon Street, Dallas Red, Carolina Red, Ebony Flame, Dynamite, Cherry Dazzle, Red Rooster

Hardy to zones 6-9
Choose from dwarf (under 5 feet tall), semi-dwarf (6-12 feet tall), or tree size (15-30 feet tall)
Full sun, heat, and drought tolerant
Bee Balm (Monarda x.)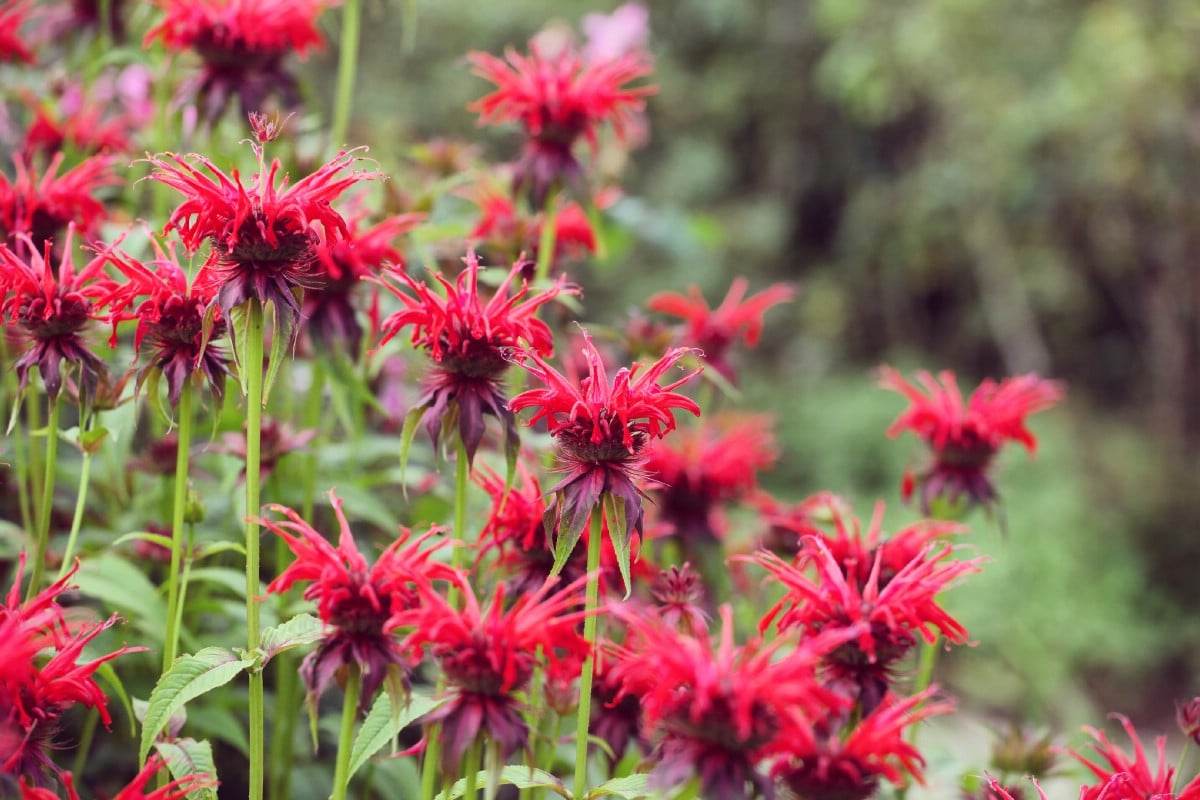 Bee Balm is a valuable flower for attracting beneficial pollinators, including bees, butterflies, and hummingbirds. It grows easily without any fuss, looks stunning, and blooms continuously for many weeks in the height of summer. Bee Balms whorled flower heads look like shaggy hats atop tall stalks, adding a striking design dimension to the landscape along with the brilliant coloring. This perennial flower provides incredible, bright rosiness when planted in large groupings.
Scarlet Bee Balm (Monarda didyma) is native to eastern North America.
Red-flowered Bee Balm cultivars: Cambridge Scarlet, Fireball, Kardinal, Jacob Cline, Cherry Pops, Squaw, Raspberry Wine
Hardy to zones 4-9
Full sun or partial shade
Rabbit and deer resistant
Switchgrass (Panicum virgatum)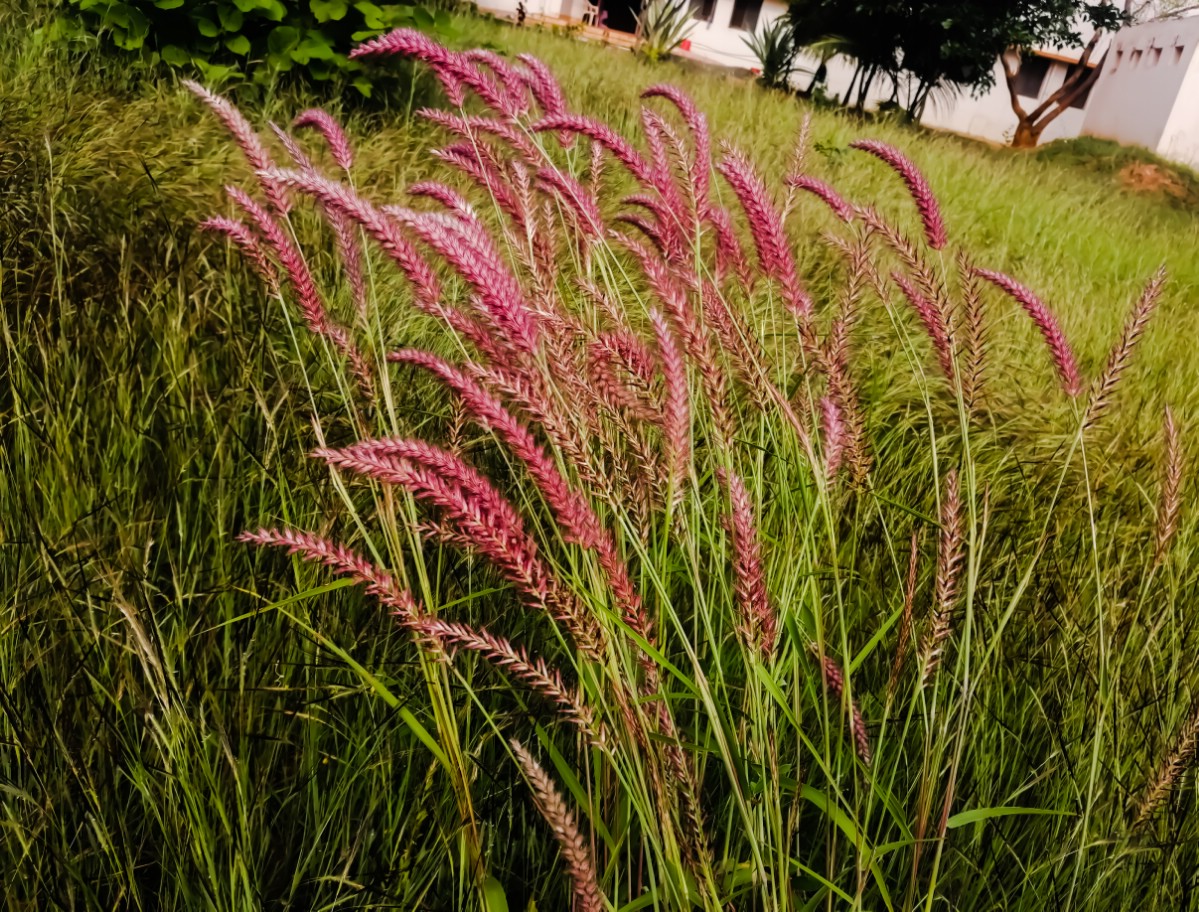 This native prairie grass adds depth, texture, and bright swaths of color to any garden or landscape. Grasses provide important habitat for beneficial insects and birds, as well as add year-round interest and appeal. Switchgrass looks excellent as a natural border, planted along streams, or included in naturalized or wild gardens. Native Switchgrass grows in narrow clumps, averaging 3-4 feet tall, and spreads slowly. The red Switchgrass varieties feature grass blades with blazing bright crimson tips that deepen in hue throughout the seasons.
Red Switchgrass varieties: Shenandoah, Hanse Herms, Cheyenne Sky
Hardy to zones 4-9
Full sun or partial shade
Drought tolerant, deer resistant
Indian Pinks (Spigelia marilandica)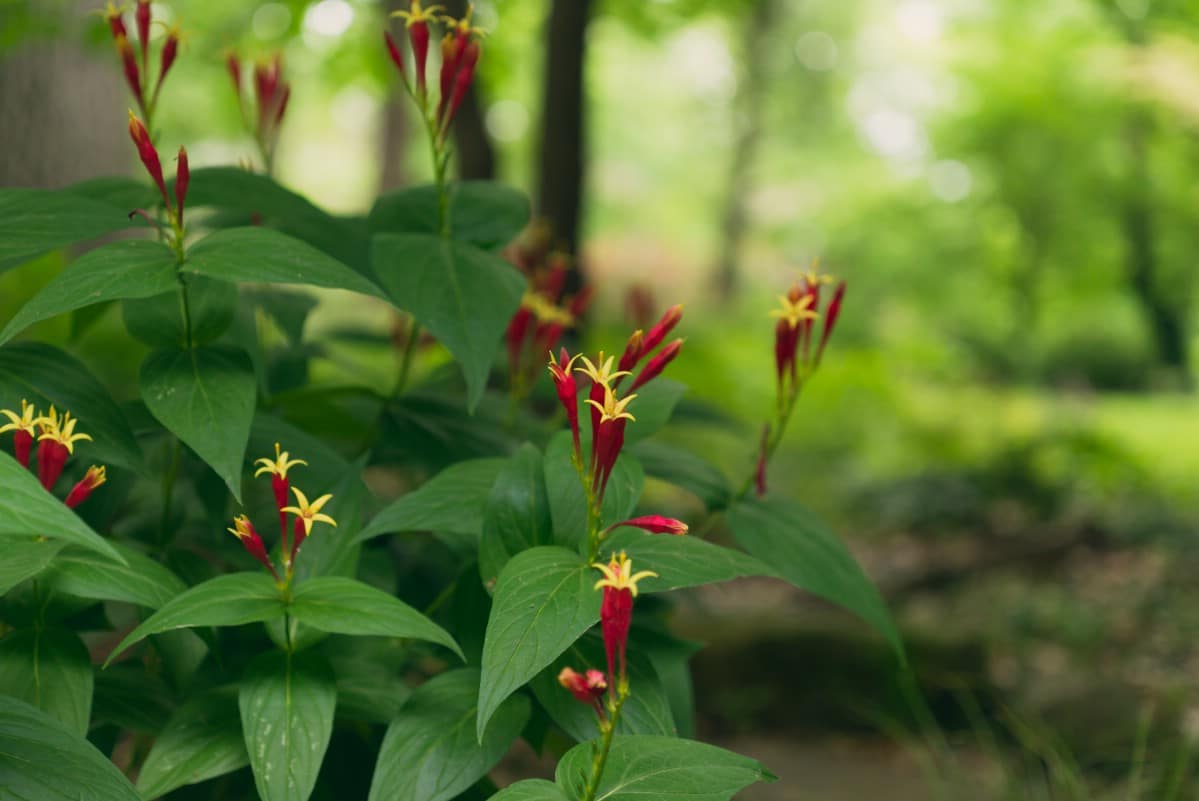 The upward-facing crimson red trumpet-shaped flowers of Indian Pink always look like they are about to put on a concert. Indian Pink is a native southeastern clump-forming perennial with deep green leaves. When it blooms, the small brilliant red flowers with golden yellow throats appear atop tall stems above the foliage and catch the eye and imagination.
Hardy to zones 5-8
Partial shade, full shade, full sun
Almost entirely disease and pest free
Drought tolerant
Large-Flowered Clematis (Clematis x.)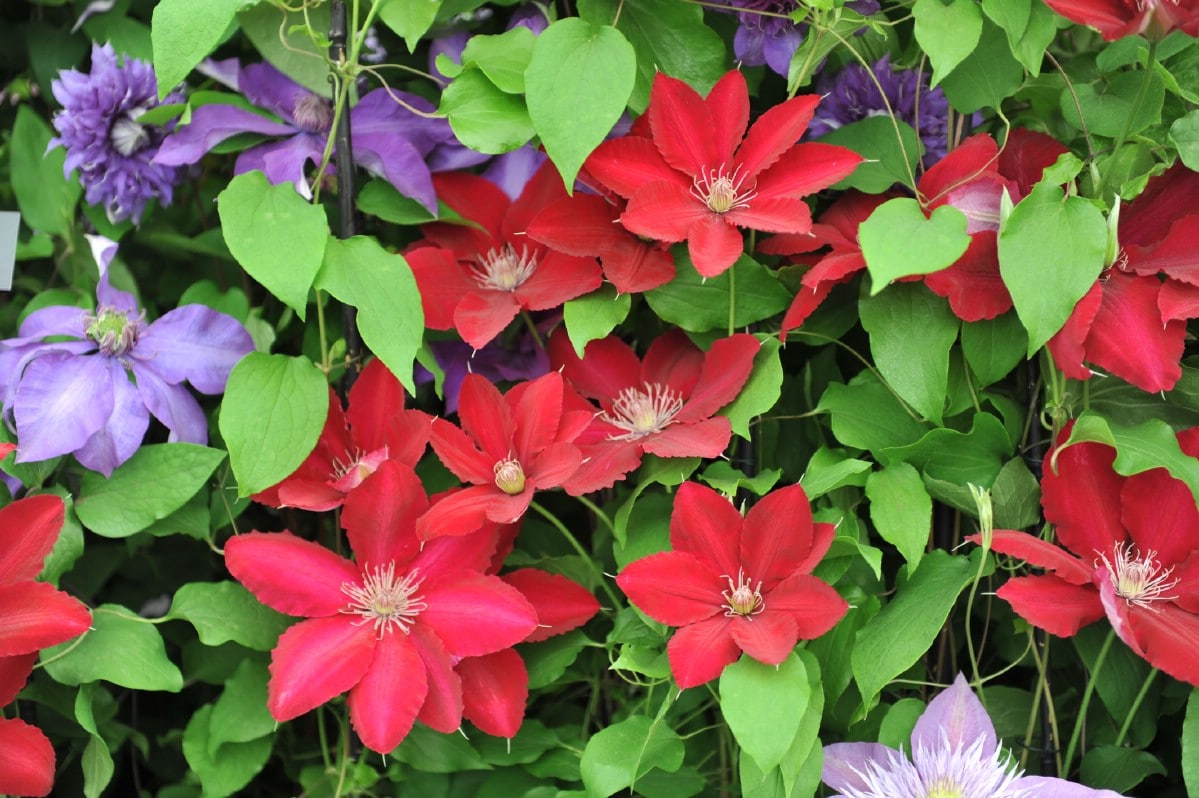 Featuring flowers upwards of 6-10 inches across, Large-Flowered Clematis lives up to its name. Clematis is a vining perennial with blooms that rival the largess of Hibiscus and colors just as exotic and enticing. The red blossoms are vivid, long-lasting, and burst from the vines in abundant numbers. Clematis is easily trained to go up trellises, arches, arbors, around pergolas, and on top off fenses.
Large-Flowered Clematis is divided into Early and Late bloomers. Early bloomers flower in late spring to early summer, while late bloomers flower in early to mid-summer.

Red-flowered Clematis cultivars: Rouge Cardinal, Niobe, Westerplatte
Hardy to zones 4-11
Full sun or partial shade – Clematis like their roots to be shaded while the top of the plant receives to sun
Hyacinths (Hyacinthus orientalis)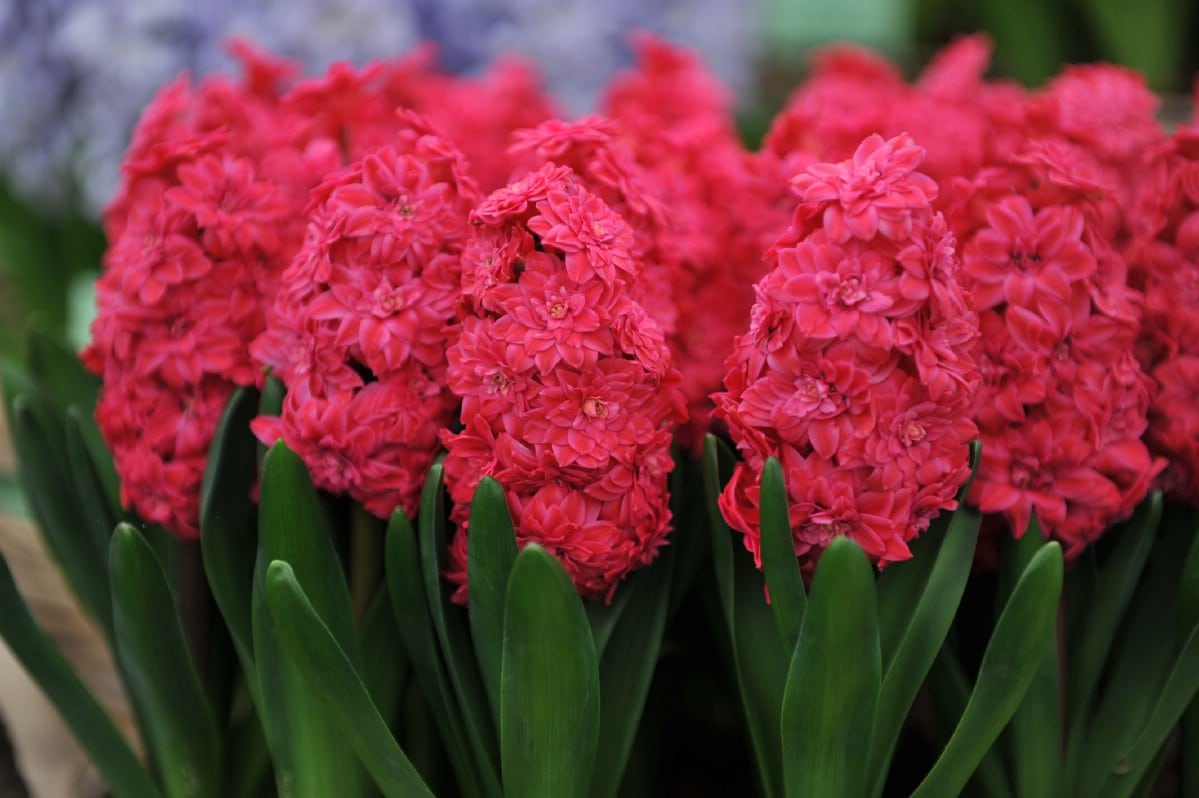 One of the first bloomers, rich red Hyacinth flowers will light up spring with their brilliant colors and heady, aromatic perfume. Though they are small in stature, Hyacinth more than make up for it with showy, densely packed flower stems. Hyacinths are very easy to grow, and they look stunningly planted in groups.
Red-flowered Hyacinth cultivars: Jan Bos, Red Magic,
Hardy to zones: 4-8
Full sun or partial shade
Resistant to deer and rabbits
Plant bulbs in fall for spring flowers