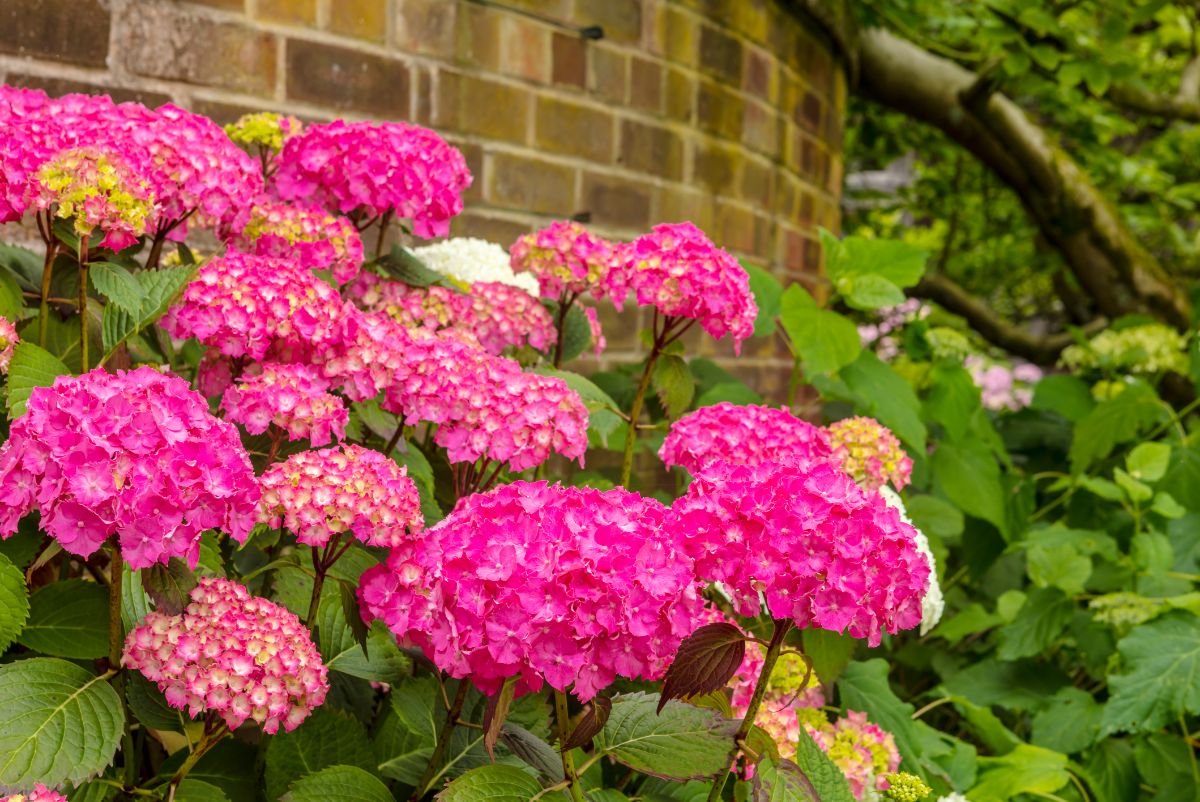 Hydrangeas evoke images of cottage gardens. Mass border plantings of flowering shrubs covered in blooms of pink, blue, and white are featured in magazines.
With their long flowering season and large size, hydrangeas are an easy landscaping solution, thriving in partial shade and tolerant of many soil conditions.
Buying established plants in nurseries or garden stores can become prohibitively expensive if you want to develop a privacy hedge, foundation screen, or mass planting.
With established plants sometimes selling for more than $40 a piece, learning how to propagate these landscaping superstars ourselves makes sense. Who wouldn't want free hydrangeas?
When selecting plants for propagation, always inspect the existing plants for vigor and health. Do not attempt to propagate from a patch with disease issues, or you risk spreading the disease to your new plantings.
Jump to:
How to Grow Hydrangeas from Cuttings
The most popular way to propagate hydrangeas, growing new plants from cuttings is simple and relatively quick. Experiment with your soil or soil-less medium to see what works best for your setup–Perlite, Vermiculite, moist sand, seed starting mix, or some combination of your own making.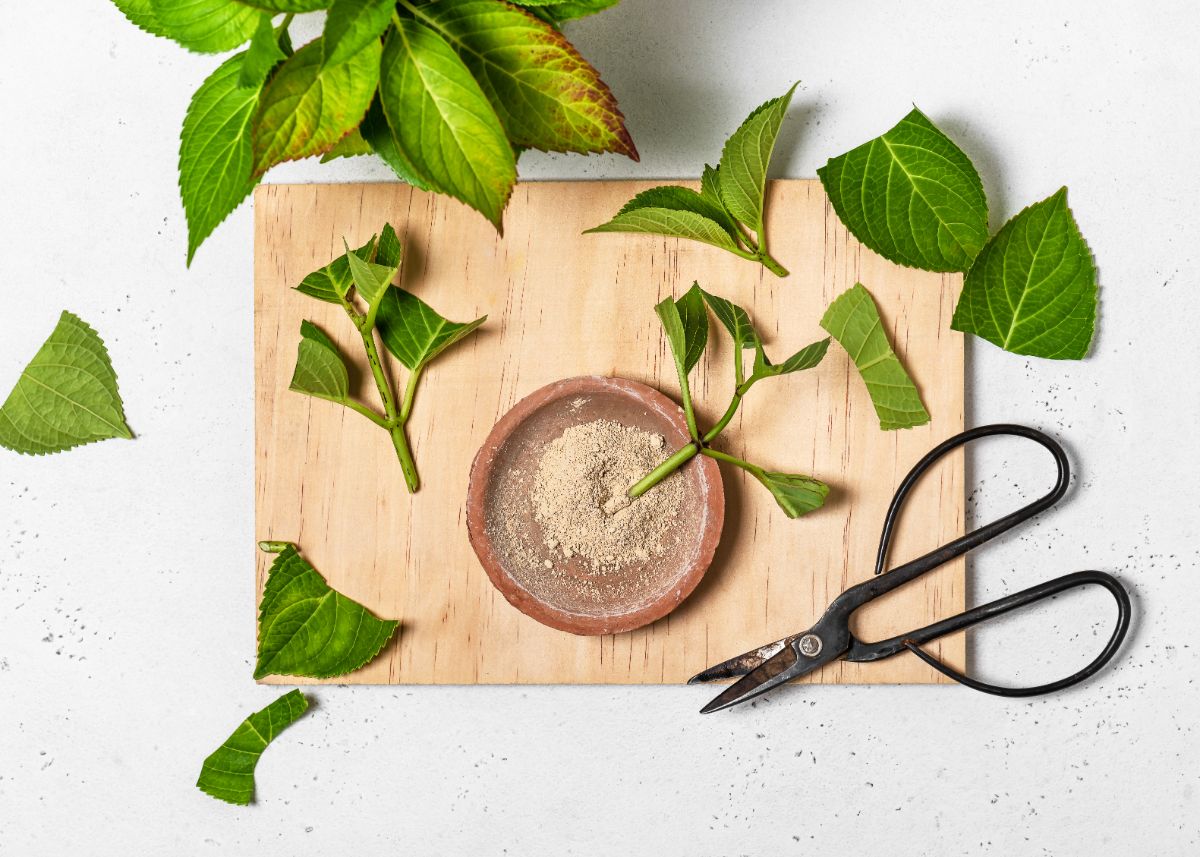 To Propagate Hydrangea Plants from Cuttings
Select a piece of stem 4-6 inches long that is from this year's growth. It should be green, not brown and woody.
Trim it off with sharp scissors or secateurs just below a node.
Gently remove the leaves from the bottom two or three nodes, leaving only the top two leaves. These stripped nodes are where roots will develop.
Since the leaves are usually large, use scissors to snip them in half, reducing the surface area the new roots will have to support. If they are small, it is okay to leave them as is.
Keep the cuttings in water after harvesting them from the plant. Don't let the freshly cut ends dry out while you work.
Moisten the end of the stem and dip it in a rooting hormone. Skipping this step with hydrangeas will lower your success rate.
Fill a container or pot with a well-moistened medium of your choice.
Poke a hole with a pencil or stick and then carefully place the hydrangea cutting down into the hole to avoid brushing off the rooting hormone. Multiple cuttings can be placed several inches apart in the same container and repotted later once they have rooted.
Firm up the medium around the stem and place it in a bright location out of direct sunlight.
In 2-3 weeks, you can check the progress of your new hydrangea's roots by gently giving the stem a little tug. If there is resistance, your hydrangea cutting has grown roots.
Continue to let it grow until well established. Plant your new hydrangea out in time for it to develop its root system before the end of your growing season. Try to get them in the ground a month and a half before the ground freezes up in your area.
How to Propagate Hydrangea Plants by Division
Many shrubs cannot be propagated by division, but some hydrangeas can.
If you see new suckers sprouting up near the base of your hydrangea, you are in luck. Once these are a year or two old, they often have their own root system.
They can be dug up and transplanted like any other baby plant. They will need attention and watering during the first growing season as they develop roots and mature.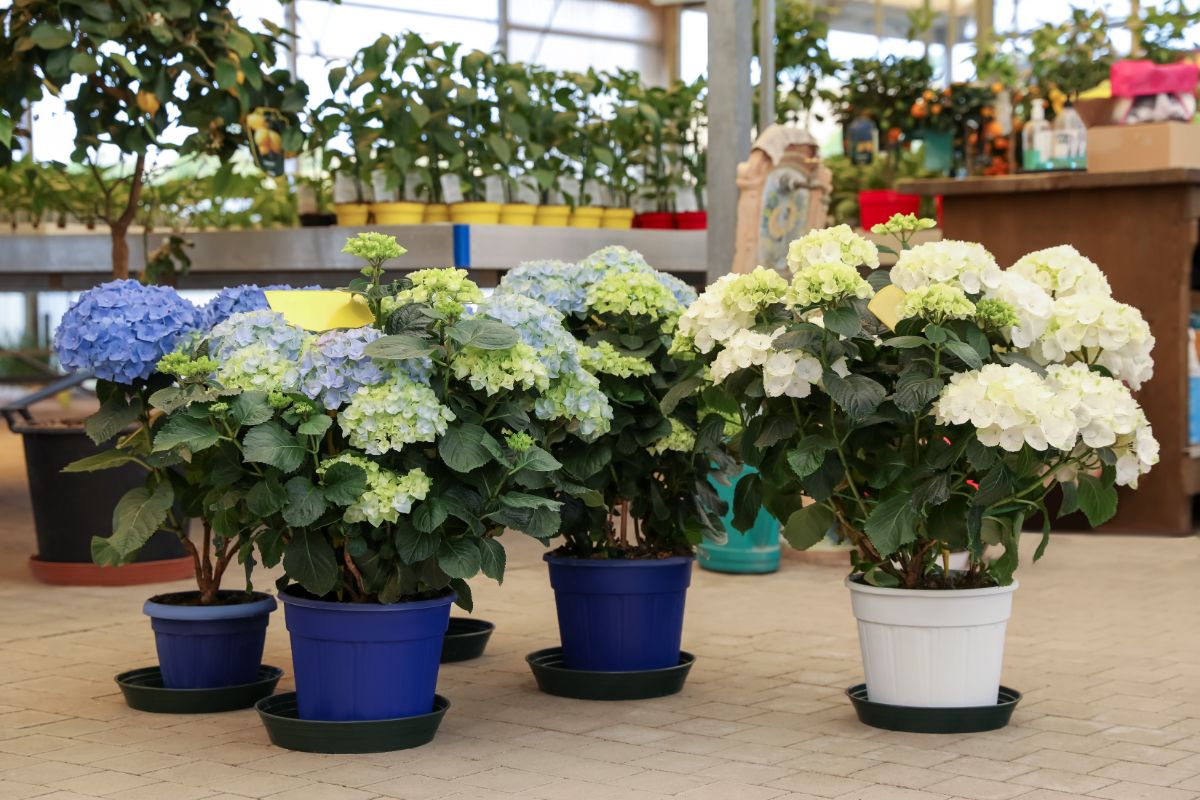 If you purchase a new hydrangea, check to see if there are two or more obvious "clumps" or crowns. Sometimes growers will place multiple baby hydrangeas in one larger pot so it will look more full and command a higher price. These can be divided by breaking apart the root ball and planting them in separate pots or locations.
How to Propagate Hydrangeas by Layering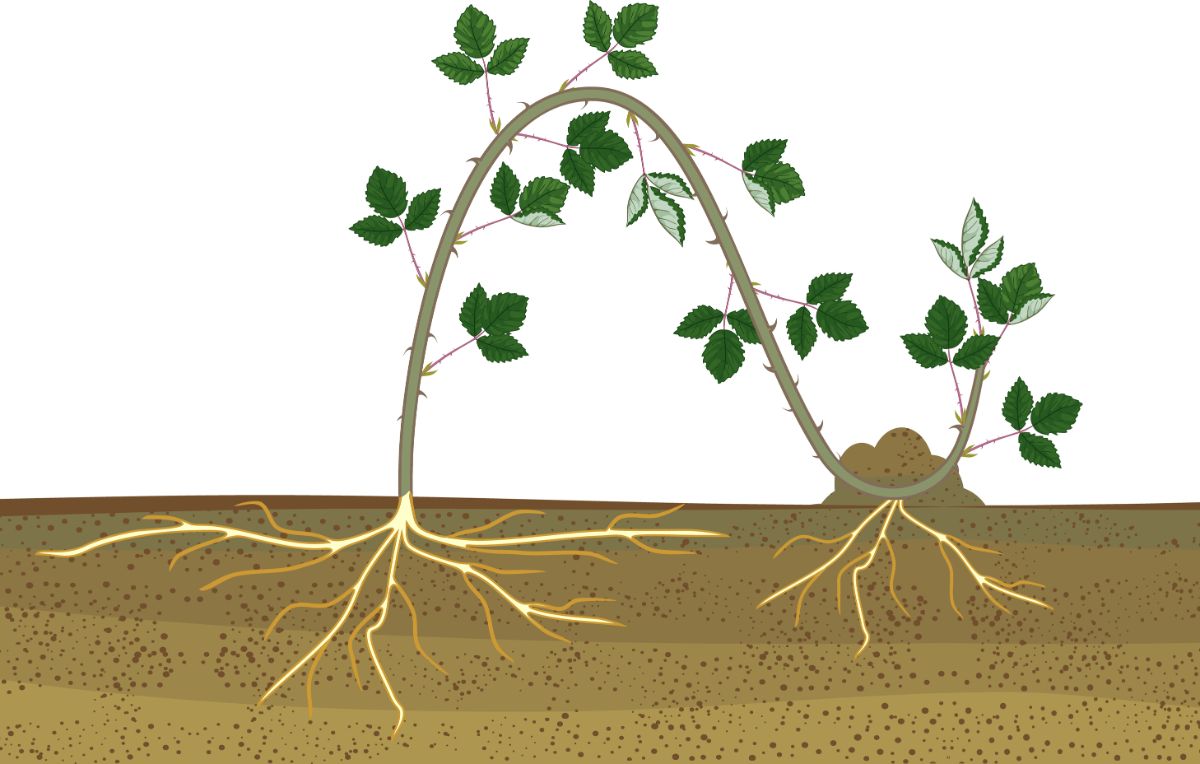 Hydrangeas will also root from a method called layering. Essentially, you are just bending an existing low-growing stem to the ground and holding it there until it roots.
To layer a hydrangea:
Select a low-hanging and flexible branch.
Bend it gently to the ground and see where it will easily make contact. Dig a shallow trench, about two inches deep and six inches long in that location. This is where the branch will lay.
Remove the leaves from the portion of the branch that will be in contact with the ground.
Using a knife or the edge of your scissors, scrape off the bark along what will be the underside of the branch for two or three inches around a node. Optionally, dust this area with rooting hormone powder.
Bury the branch length and use a rock or brick to hold it down. Keep the soil moist. The branch should start to root in a four to six weeks. You can do the tug test to check.
If you layered your hydrangea in spring, the new plant could be dug up and transplanted by late summer. Or, it can be left over winter and moved the following spring.
Tips for Growing Hydrangeas
Hydrangeas are a low-maintenance plant but do require some annual care.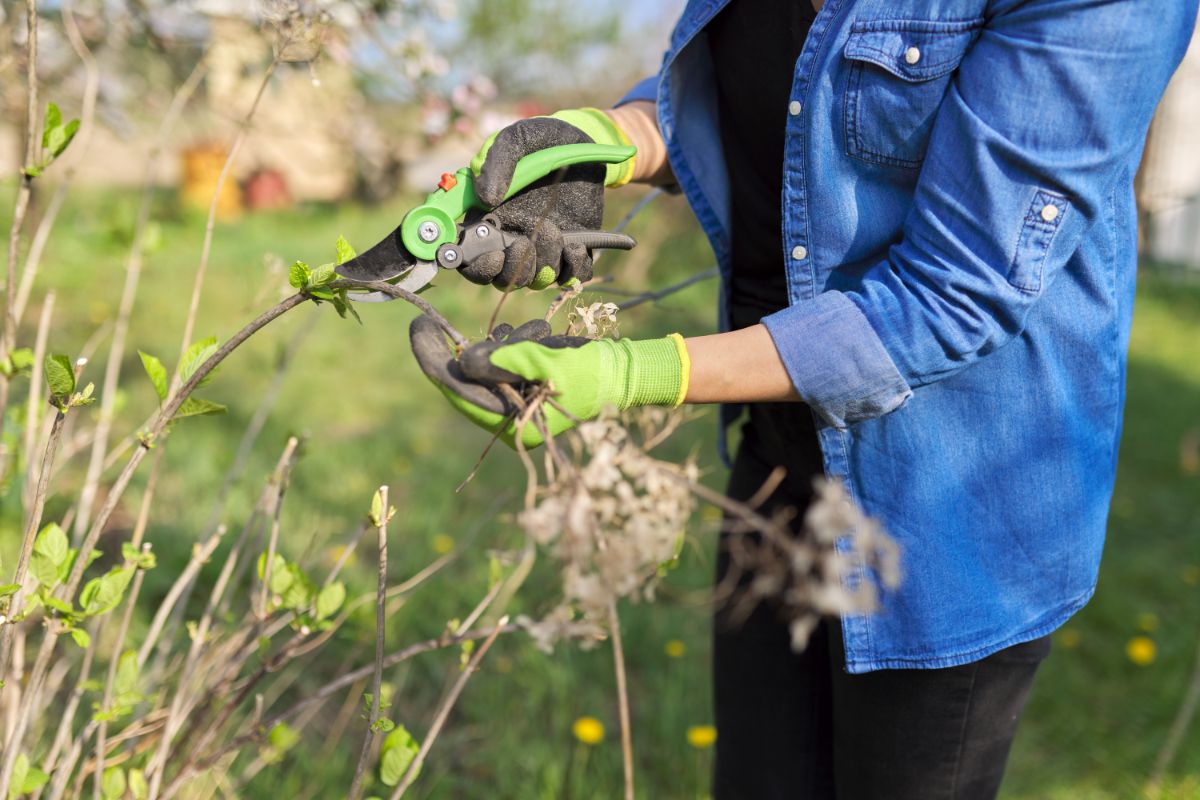 How To Prune Your Hydrangeas
Some hydrangeas can be pruned, and some should only be deadheaded. Follow the recommendations below if you know what type of hydrangea you have.
If you aren't sure, watch it bloom this summer. Did it bloom on old wood or this year's new growth? While that won't tell you what specific hydrangea you have, it will tell you how to prune it.
Panicle (H. paniculata) and Smooth (H. arborescens) hydrangeas
These all flower on new wood, i.e., this year's growth.
Prune in early spring after the buds have begun to swell
Prune down as far as a third of the branch length, one-quarter inch above a fat, healthy-looking bud (called a heading cut).
Prune out any dead branches
Prune any crossing branches that might rub on another branch. Keep the healthier branch and cut the offending stem at its origin (thinning cut).
Big leaf (H. macrophylla), Oakleaf (H. quercifolia), and Mountain (H. serrata) hydrangeas
These all flower on old wood. If you prune these as above, you will remove most of your flowering buds.
Big leaf, Oak leaf, and Mountain hydrangeas should only need deadheading. Snip the old flower off right above the next fat bud. This can be done in fall after flowering or in early spring.
As above, also remove dead wood and crossing branches.
Soil, Sunlight, and Fertilizer Needs of Hydrangeas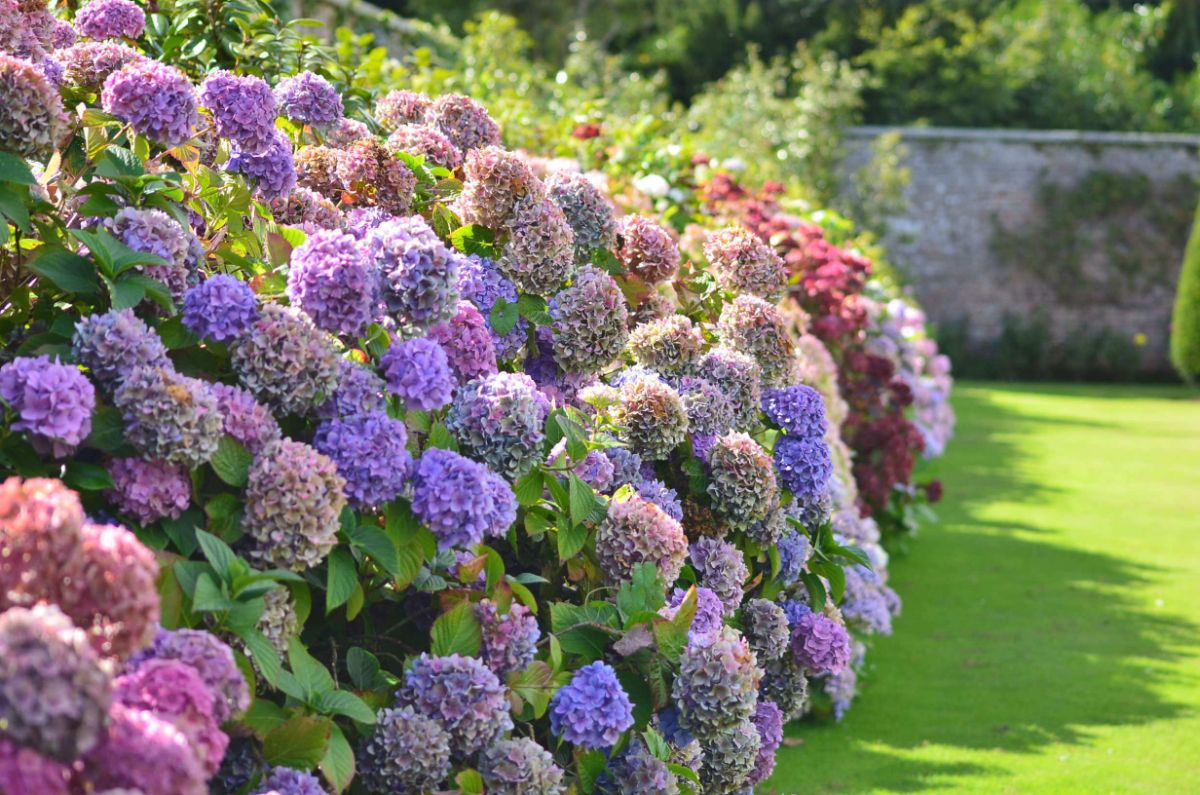 Hydrangea likes locations with partial sun or dappled shade and well-drained soil. They are tolerant of many different soil types but do not do well in heavy clay.
Compost worked into a new hydrangea bed is recommended. If your soil is nutrient deficient, a general-purpose fertilizer can be applied in spring.