Do you crave potato salads, baked potatoes, and French fries? You're not alone. Potatoes are one of the most wildly grown and consumed vegetables in the world, but you don't need to go to the grocery store to grab a bag of spuds.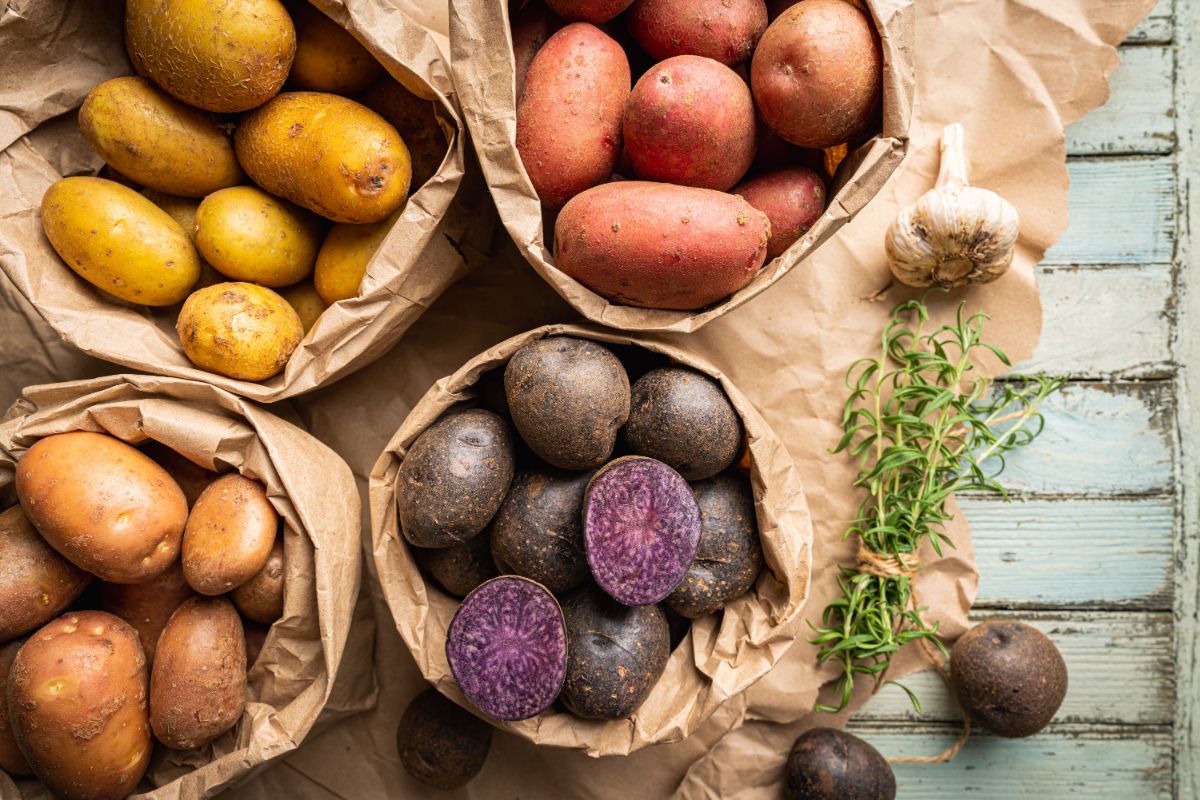 Potatoes are actually very easy to grow in your backyard and can even be small space-friendly when kept in grow bags. Come harvest time, digging up your own tubers can be one of the most rewarding experiences as you rake in piles of fresh potatoes for roasting, storing in root cellars, and frying.
If you've ever wanted to grow your own potatoes but weren't sure where to start, it may help to understand the different potato types you can grow and what makes them so unique. In this guide, we'll discuss common potato varieties, as well as absolute favorite spuds for home growers.
Jump to:
30 tasty potato varieties for backyard growers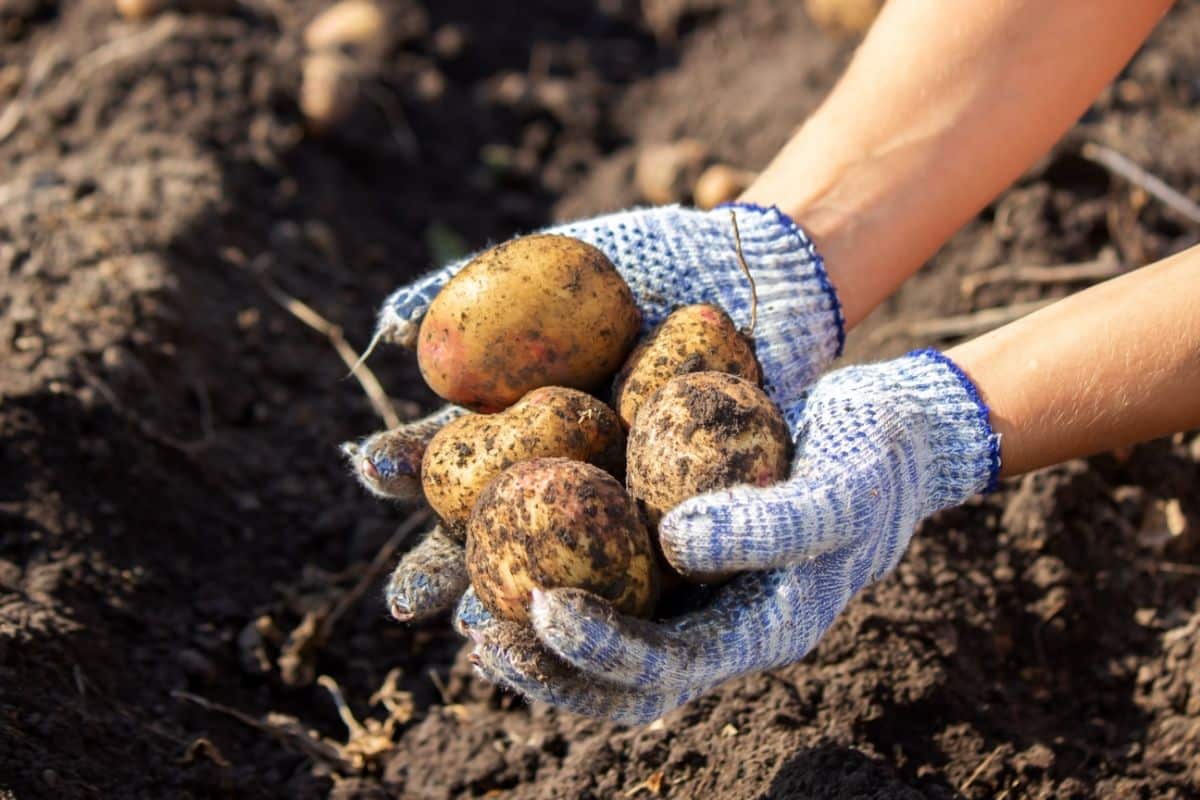 From early to late season potatoes, we have compiled some of the best potato types to grow below. We've included a range of tubers, from colorful potatoes to classic types perfect for making chips and fries. And, of course, we didn't forget to throw in some of the ever-popular fingerling potatoes as well!
Early season potatoes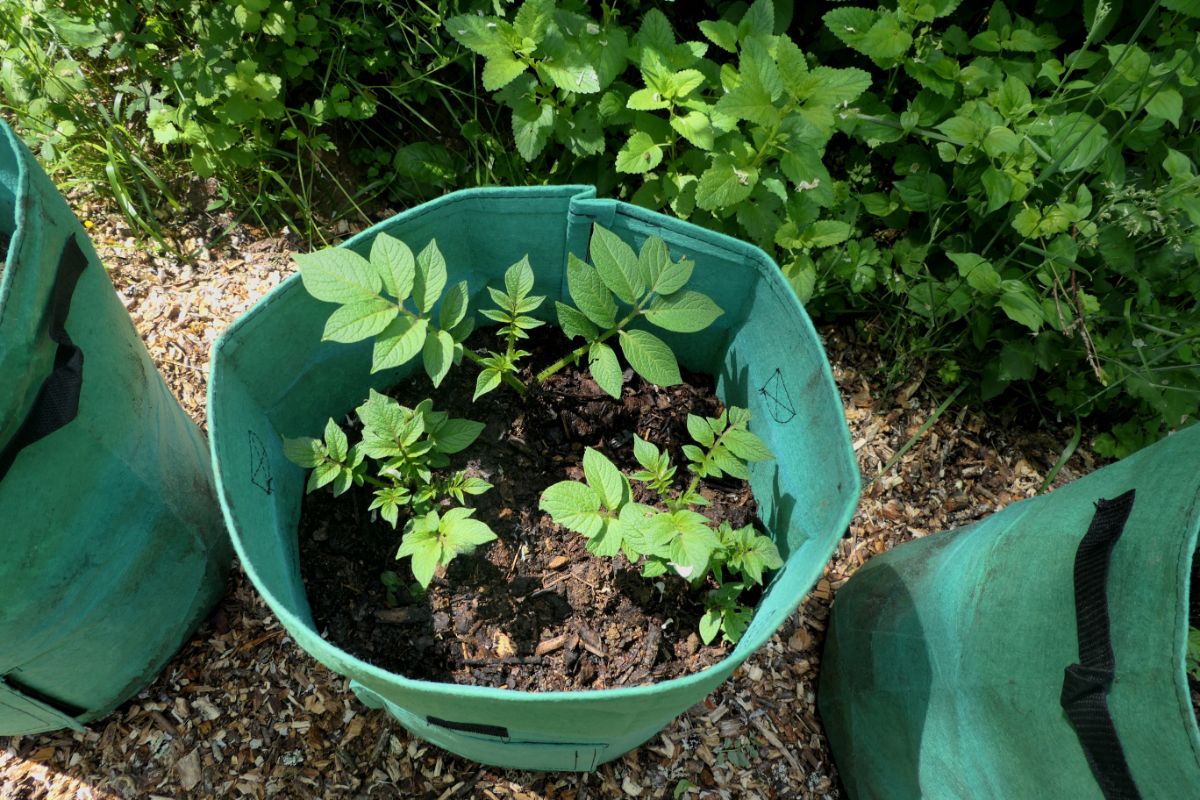 Early-season potatoes are generally smaller than later-season potatoes and have thinner skins. This makes them just right for a variety of dishes like potato salads and roasted potatoes; however, they won't store as long. These potatoes also mature more quickly, so you can harvest them in 95 days or less.
1. Yukon Gold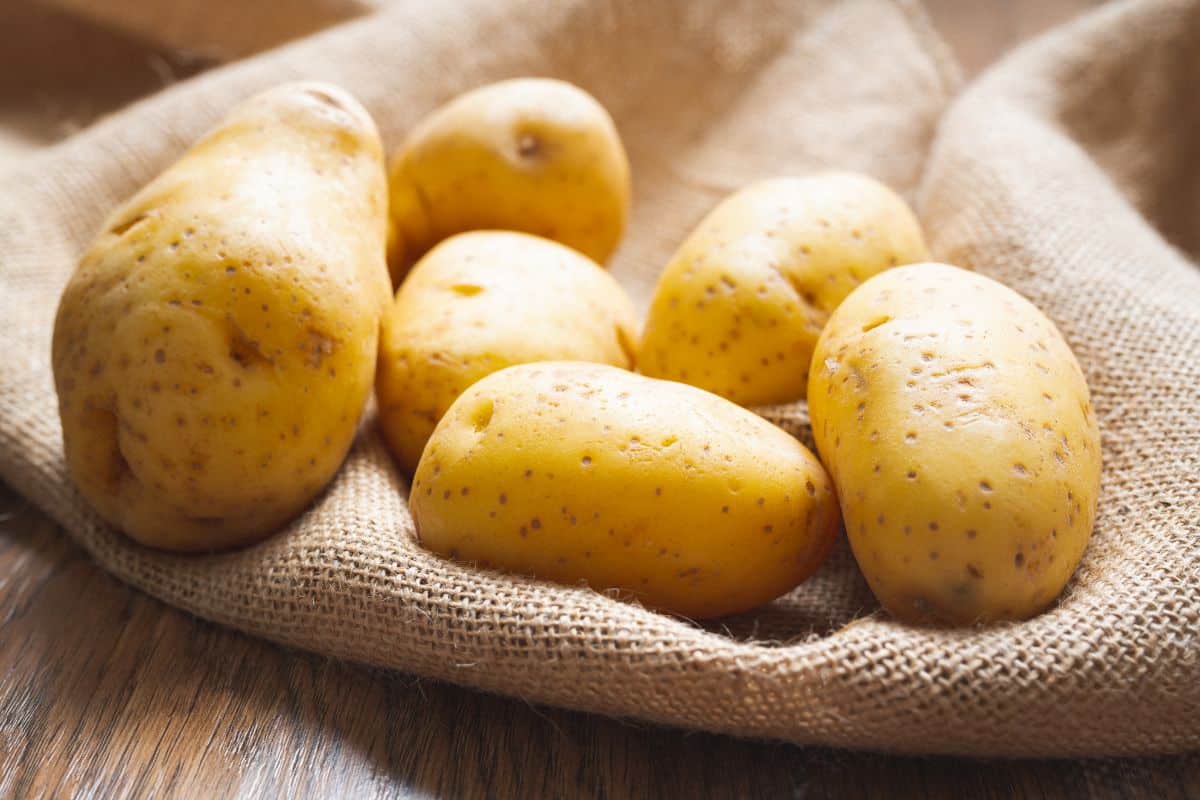 Once, the standard of potatoes set by Idaho growers was a white-fleshed potato variety; however, Yukon gold helped to change all of that. This delicious buttery potato has buff skin and yellow flesh with pale pink eyes. A classic potato choice, this attractive variety is always popular for selling at farmer's markets.
Yukon gold doesn't have the resistance of some other hardier potato varieties, and it can be susceptible to late blight and potato virus Y. Yukon gold may also be less productive than some other potato types, but you can increase yields by planting whole, rather than cut, seed potatoes.
2. Algonquin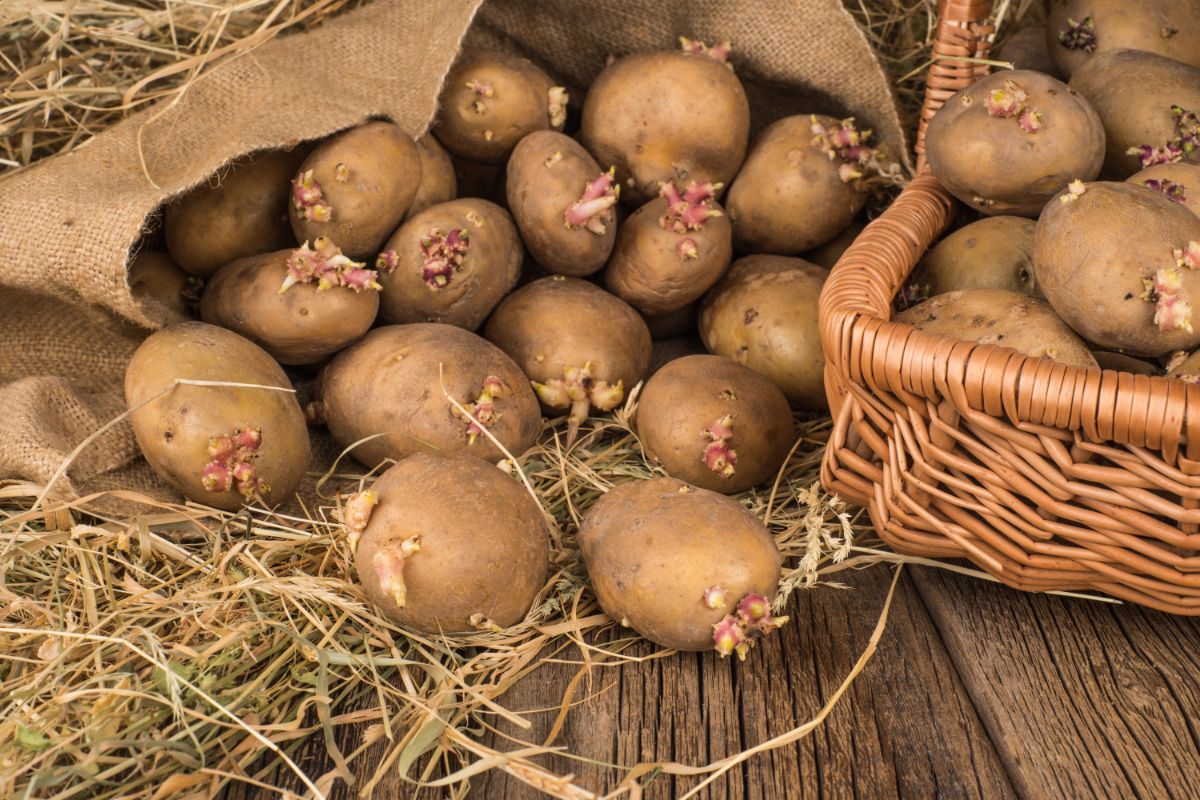 A white-fleshed potato type, Algonquin is a hardy potato variety that has resistance to several common potato pathogens, including scabs and some destructive nematodes. Algonquin is also a high-yielding potato type, so if you just have a small plot to work with, it's a good choice. This potato also matures earlier than many other potatoes and can be ready to harvest in about 65 to 80 days after planting.
First released by Cornell University in 2017, Algonquin is relatively new to the gardening world.
3. Chieftain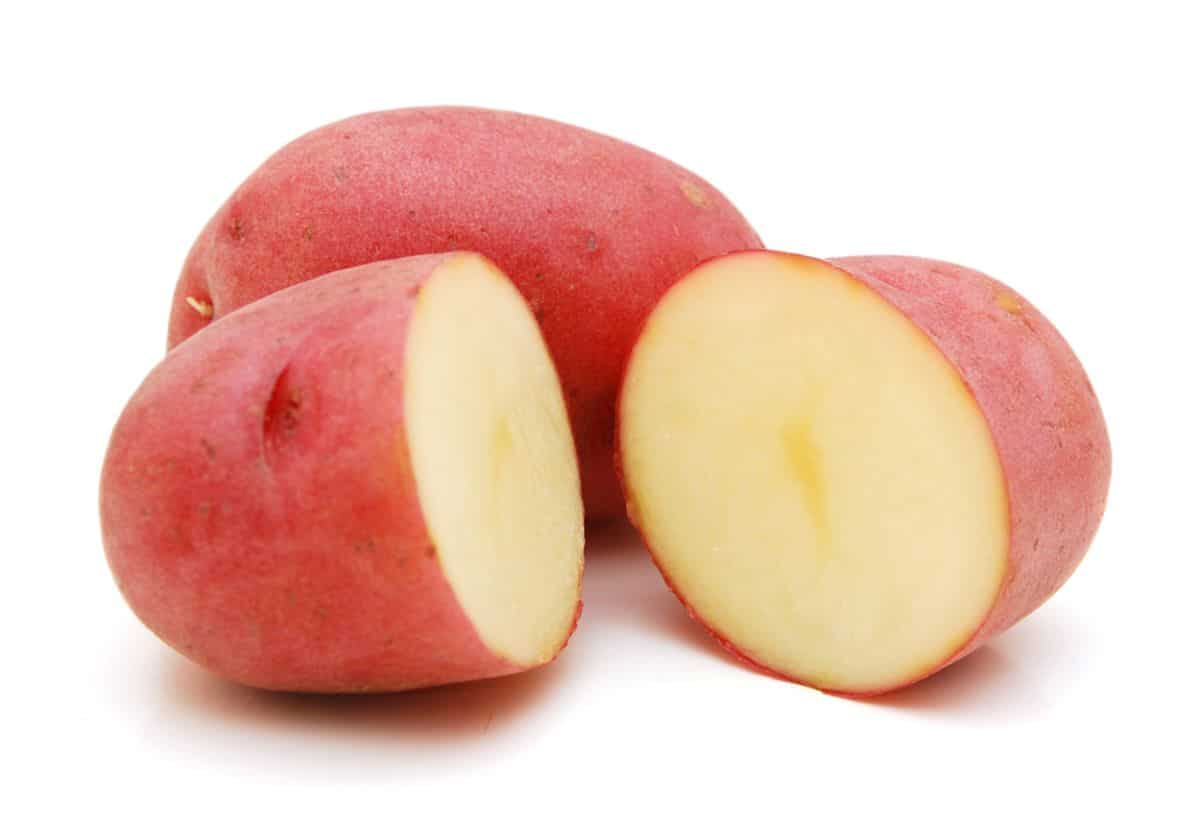 A pretty, red-skinned potato variety, cut into a Chieftain potato, and you'll find lots of bright white flesh. A reliable producer, Chieftain potatoes are rounded, with slight netting to the skin. When cooked, they are delicious and floury and pair very nicely with butter, garlic, or sour cream.
Adding to Chieftain's charms, this potato type also has shallow eyes, which makes for easier peeling. Even better, Chieftain is naturally resistant to several common potato pathogens, including late blight, scab, and stem-end browning.
4. Envol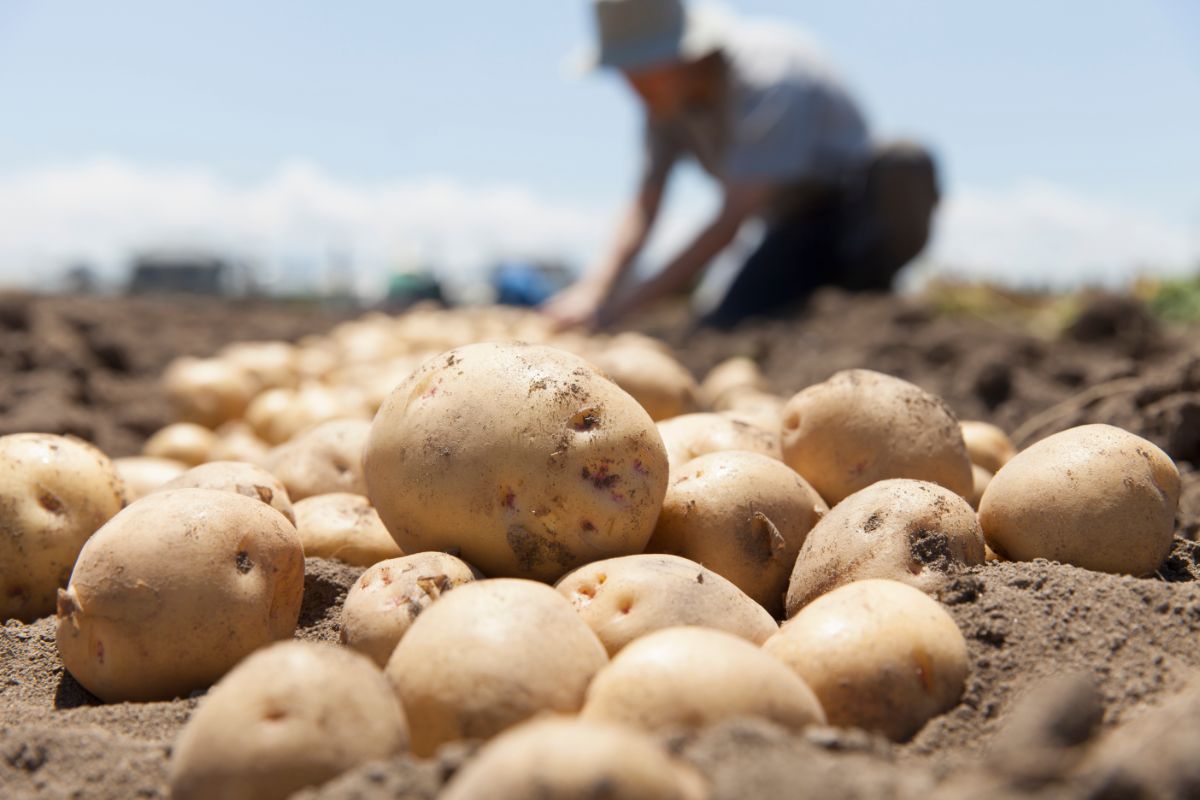 Timing can be everything when it comes to organic pest control, and that's part of what makes Envol such a good potato type to grow. This early-maturing potato can be ready to harvest so early in the season that you may be able to get your entire crop in before Colorado potato beetles even emerge. So, if your garden consistently has problems with this destructive pest, you will probably want to try planting Envol.
Envol potatoes have buff skin and white flesh, and a soft, floury texture. This makes them ideal for making mashed potatoes and for baking. Their skin is thin too, so they usually don't even need to be peeled before cooking.
5. Satina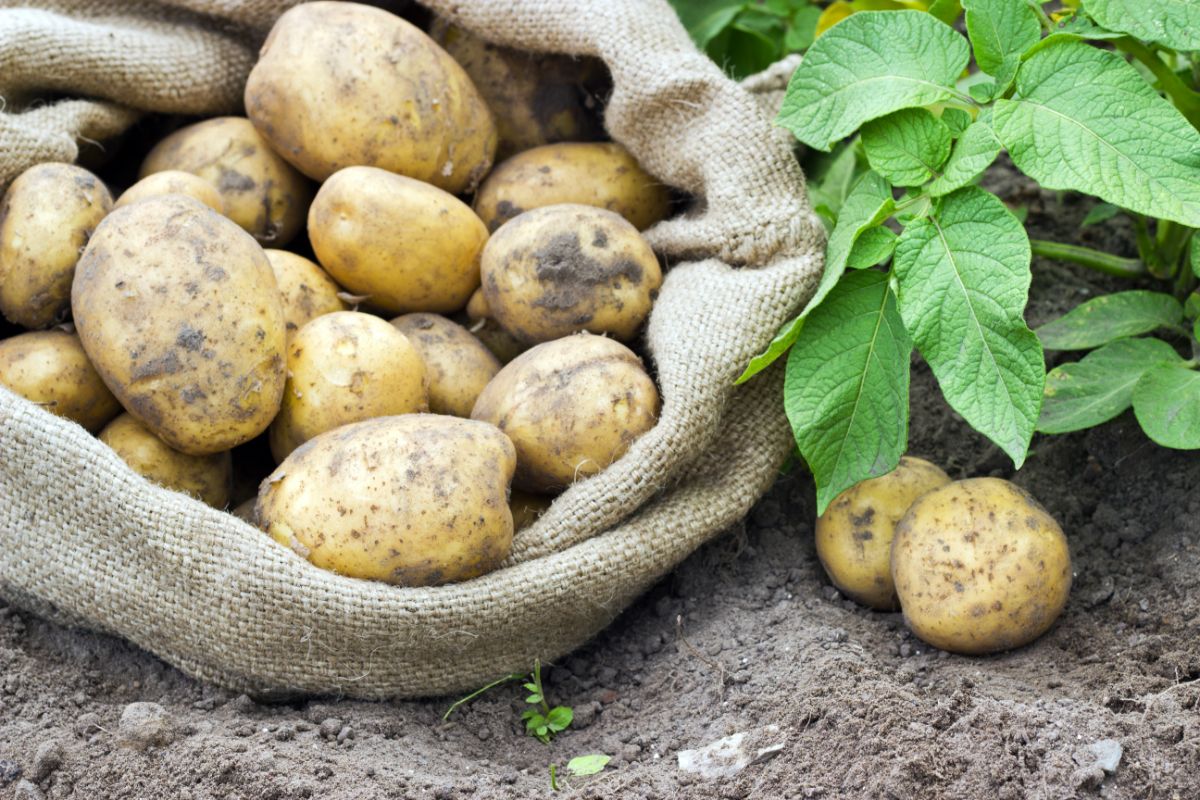 A beautiful and sophisticated potato variety, Satina is not the type of potato used by fast food chains. This stunning spud is well-liked at farmer's markets and is known for its silky smooth texture and buttery flavor. Skin and flesh are both yellow too, which gives Satina a nice, consistent look no matter how you prep it.
Well suited for storing, Satinas are naturally resistant to common scabs as well!
6. Yukon Gem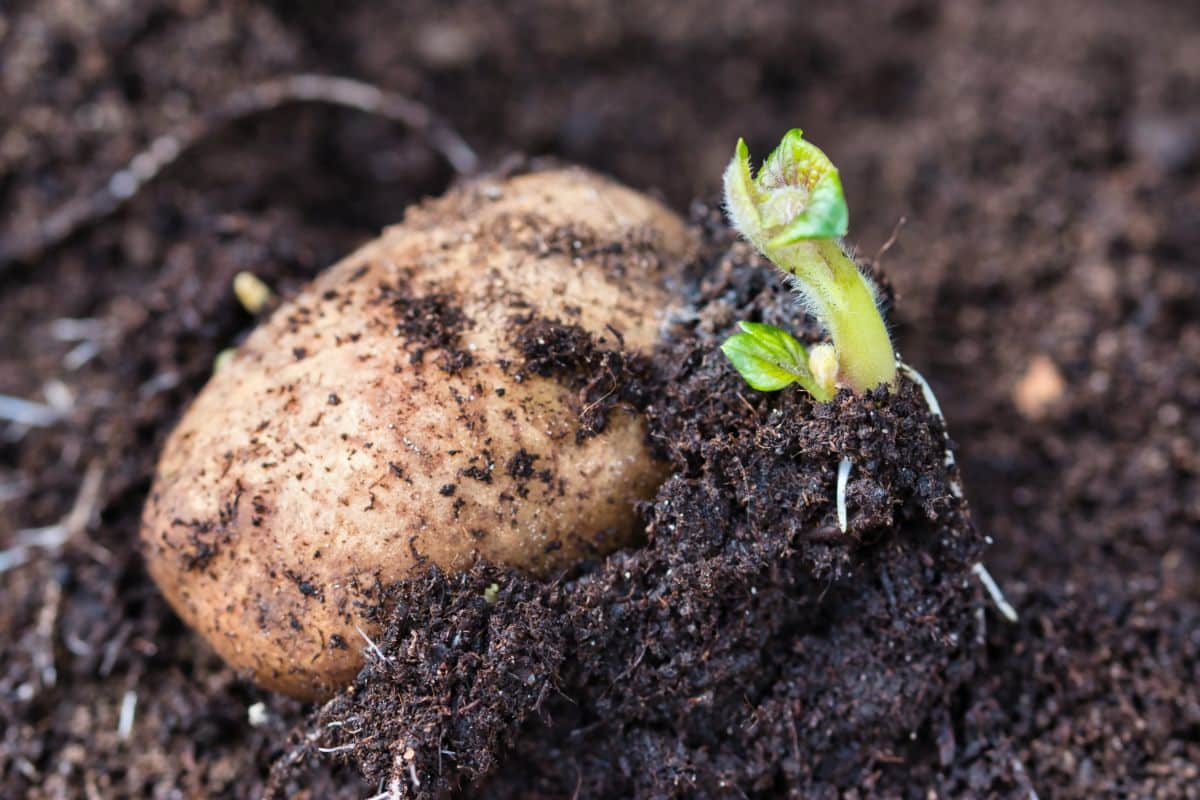 Yukon Gem is a new spin on an old favorite. Developed from Yukon Gold potatoes, Gems have better resistance to many potato pathogens, including potato virus Y and scab. They also are heavier producers, which helps explain why they are rapidly replacing Yukon Golds as one of the most popular potato types for backyard growers.
Yukon Gems take about 10 days longer to mature than Yukon Golds, but if you can handle the wait, they're worth it!
7. Upstate Abundance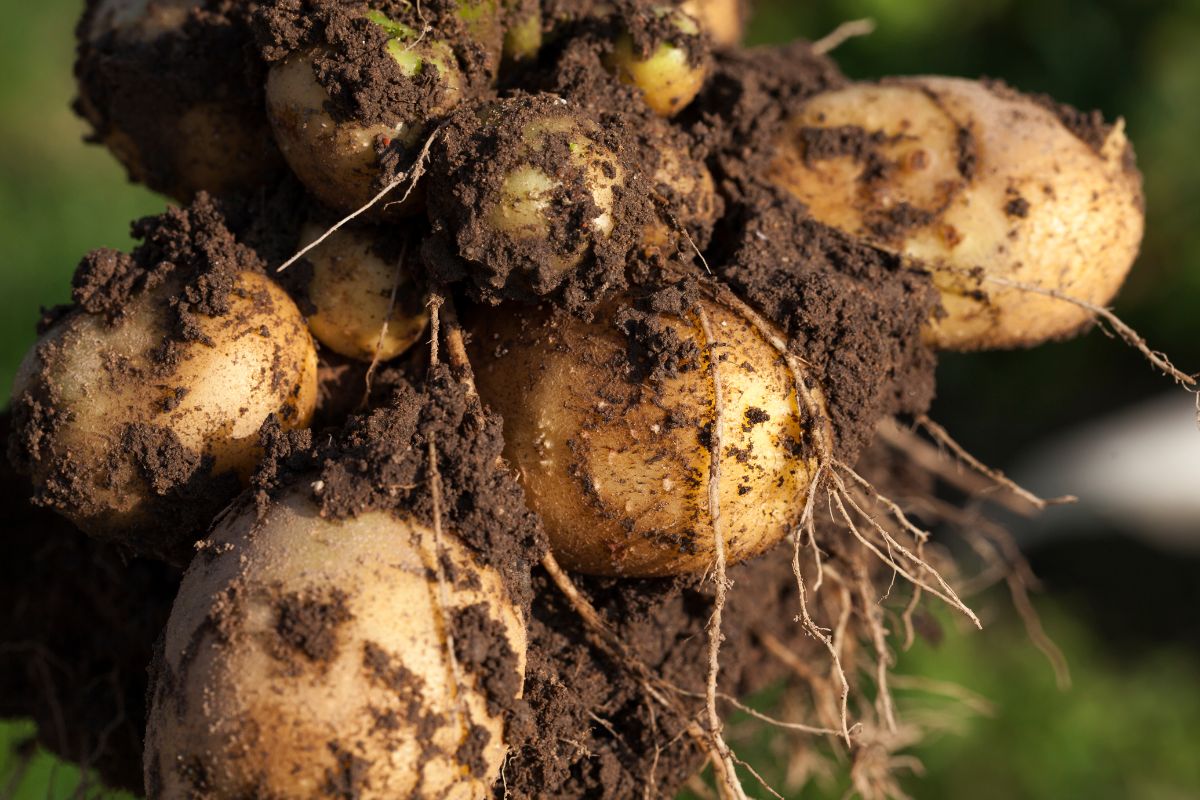 A fine choice for growing in containers and grow bags, Upstate Abundance produces high yields of potatoes that sprout vertically in the potato plant's hill. This keeps the plants quite compact, but you'll need to remember to mulch frequently, as potatoes can sprout above the soil's surface and turn green in the sunlight. Mature potatoes are about the size of golf balls and have buff skin and white flesh.
Get ready for a large harvest if you want to grow this potato type. Upstate Abundance can grow all season long, and later tubers are excellent for storing. The potatoes themselves have a creamy texture, while the plant has been bred for resistance to late blight, hollow heart, and nematodes.
8. Dark Red Norland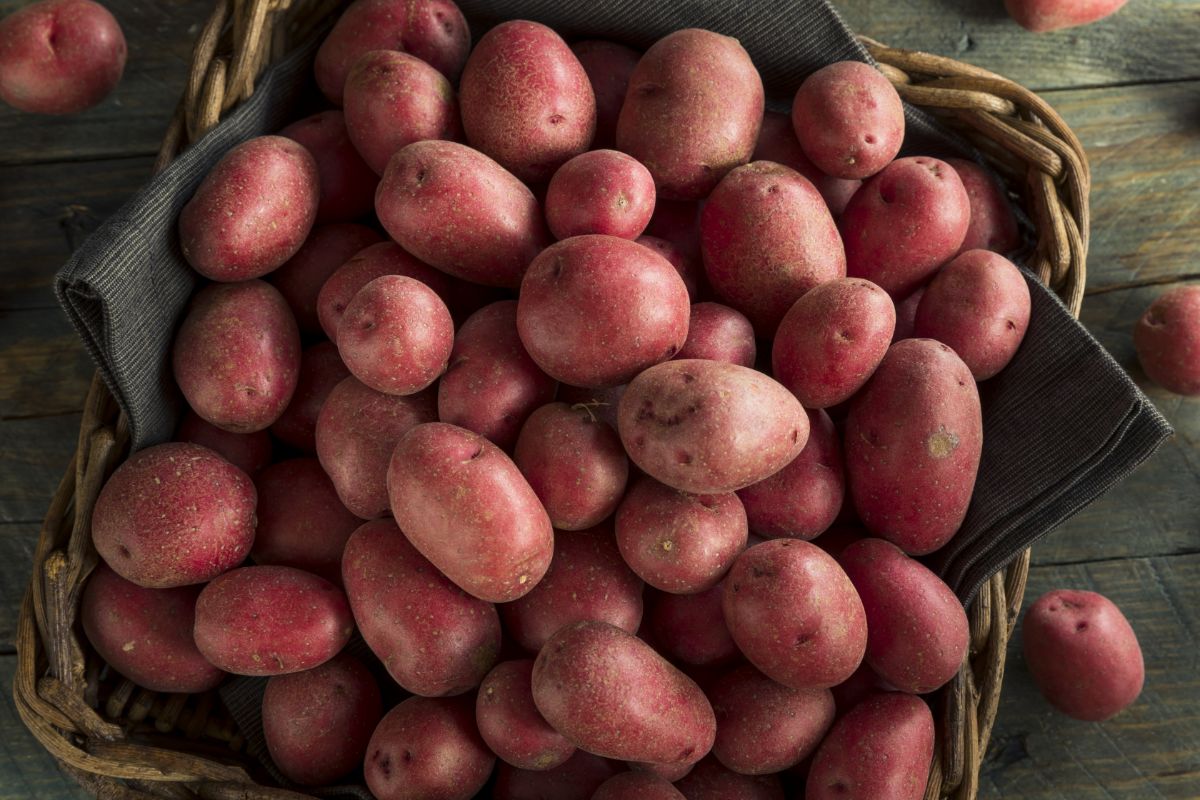 If you love new potatoes, Dark Red Norlands are a perfect pick. These tasty potatoes are just right for scrumptious potato salads, and they make delicious home fries too. Potatoes feature red skin and a highly contrasting white interior that looks very pretty!
Dark Red Norlands are not resistant to late blight, so plants should be dug before that becomes a concern. Otherwise, these potatoes are resistant to many other plant issues, including early blight, scab, and growth cracks. This potato type is high-yielding and stores well.
Mid-season potatoes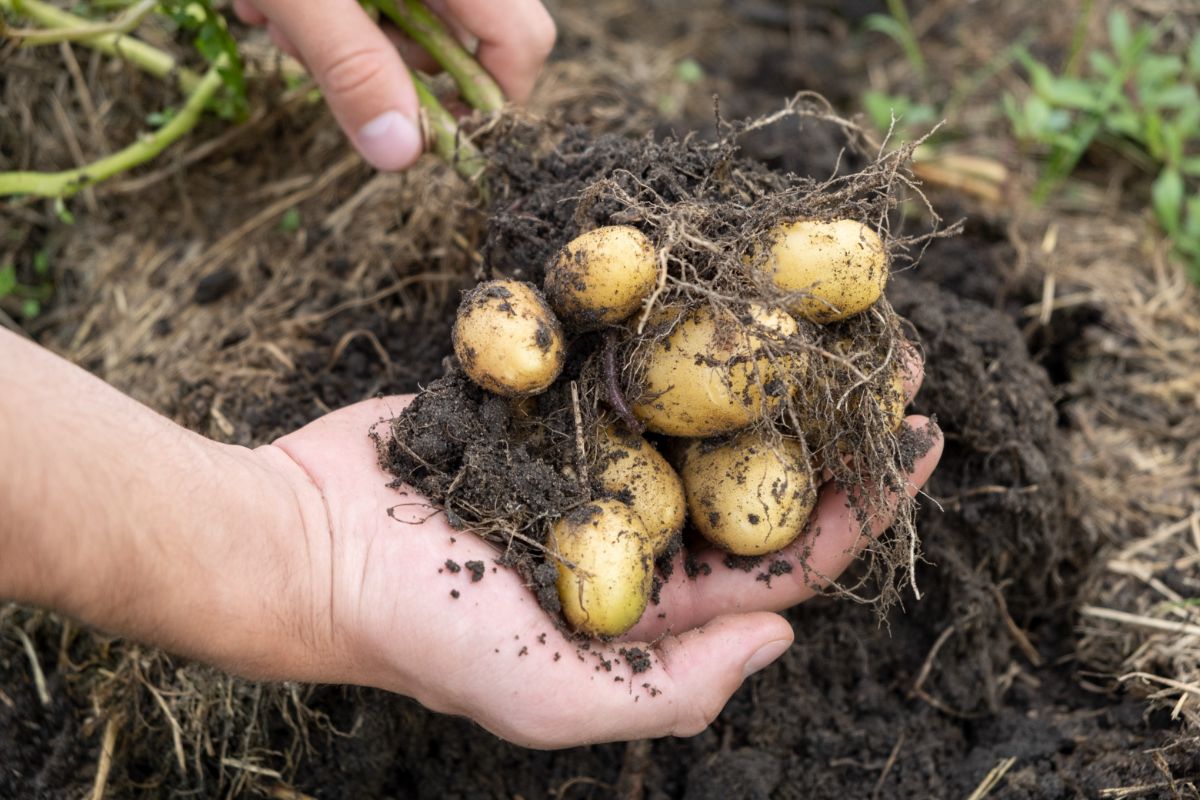 As the name suggests, mid-season potatoes are somewhere in between early and late-season potatoes. They are generally mid-sized tubers with thicker skins than early-season varieties but thinner skins than late-season spuds. These potatoes are generally harvestable about 95 to 110 days after planting.
9. Adirondack Blue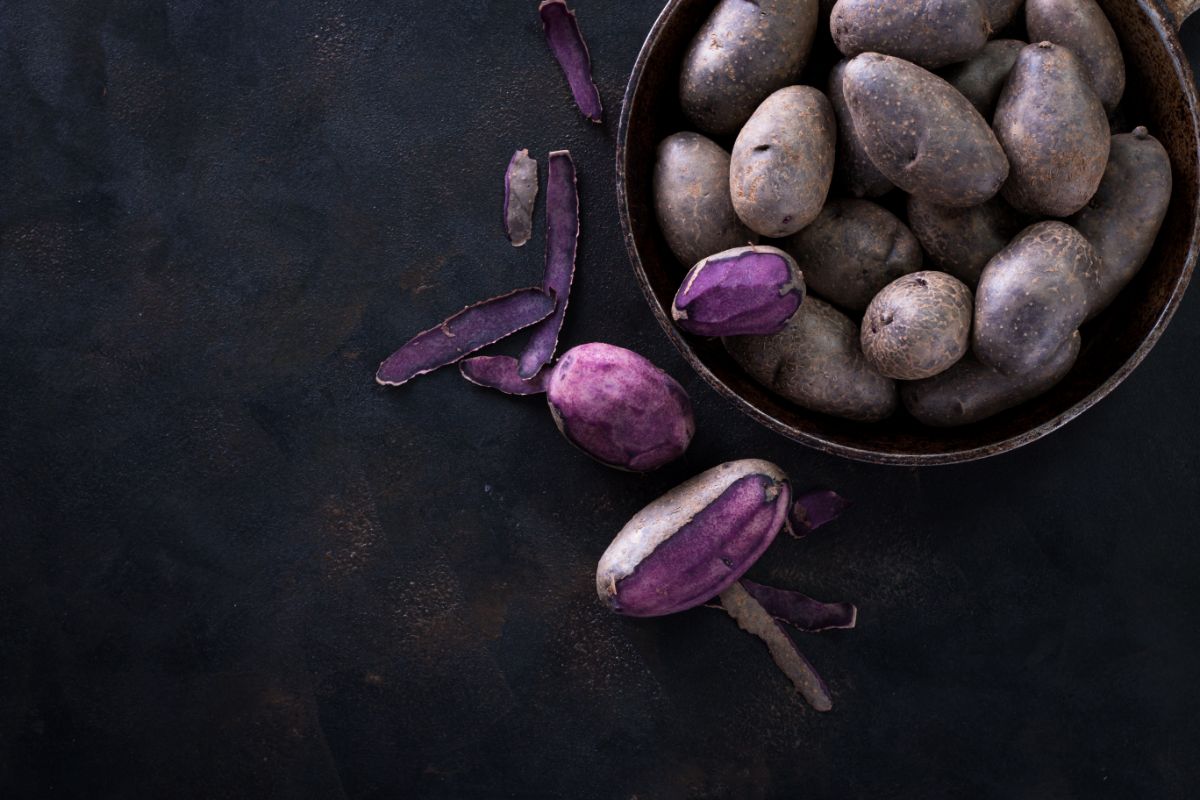 Adirondack Blues are showstopping, colorful potatoes with blueish-purple flesh and skin. That coloring means these potatoes are packed with anthocyanins, a powerful antioxidant. Even better, these potatoes retain their color even after cooking!
Adirondack Blues aren't as hardy as some of the other potatoes on this list, and they are vulnerable to scurf, scab, and Colorado potato beetles. They also have a short shelf life, so don't be surprised if seed potatoes look a bit wrinkly. They should still grow just fine after planting.
10. Adirondack Red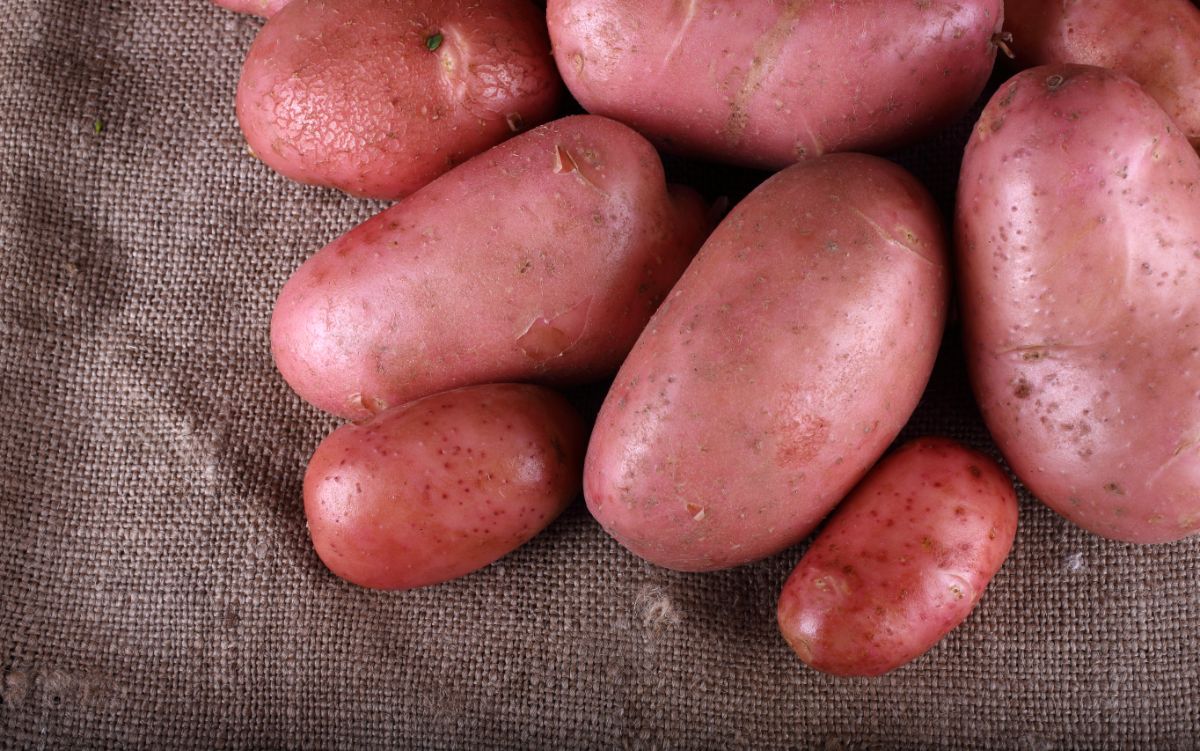 Released by Cornell in 2008, Adirondack Red is another colorful potato variety with red skin and pink flesh. Rich in antioxidants, these potatoes have a firm and moist texture and look particularly pretty when roasted alongside other colorful spuds, like Adirondack Blue and Satina.
Not prone to growth cracks or other growing irregularities, Adirondack Reds are resistant to scabs and hollow hearts too!
11. Baltic Rose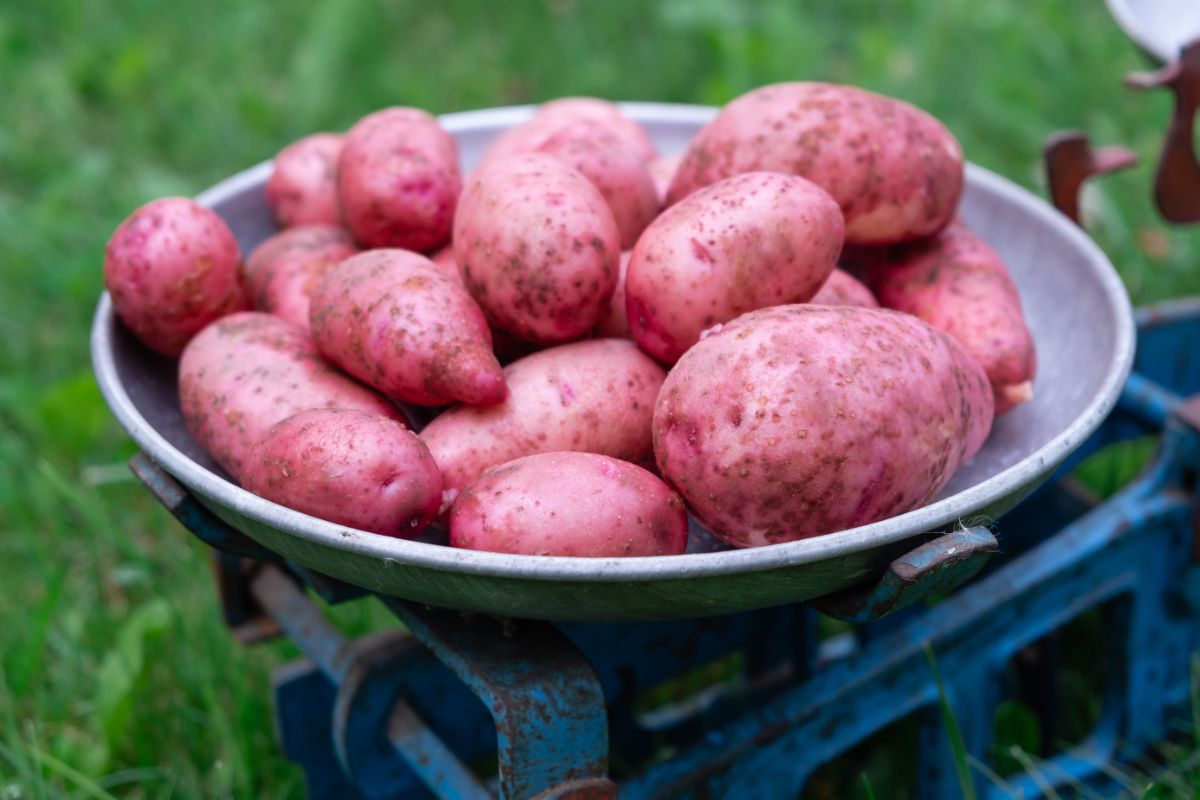 A relatively new potato type that hails from eastern Europe, Baltic Rose will make a gorgeous addition to any roasted potato dish thanks to its bright red skin and yellow interior. Spuds are tasty and have an excellent, smooth texture that works well in tons of dishes, including potato salad or homemade fries. Baltic Rose also have small eyes, which makes for easy peeling!
A high-yielding potato type, Baltic Rose is resistant to many pathogens, including potato virus Y, black leg, and scab.
12. Soraya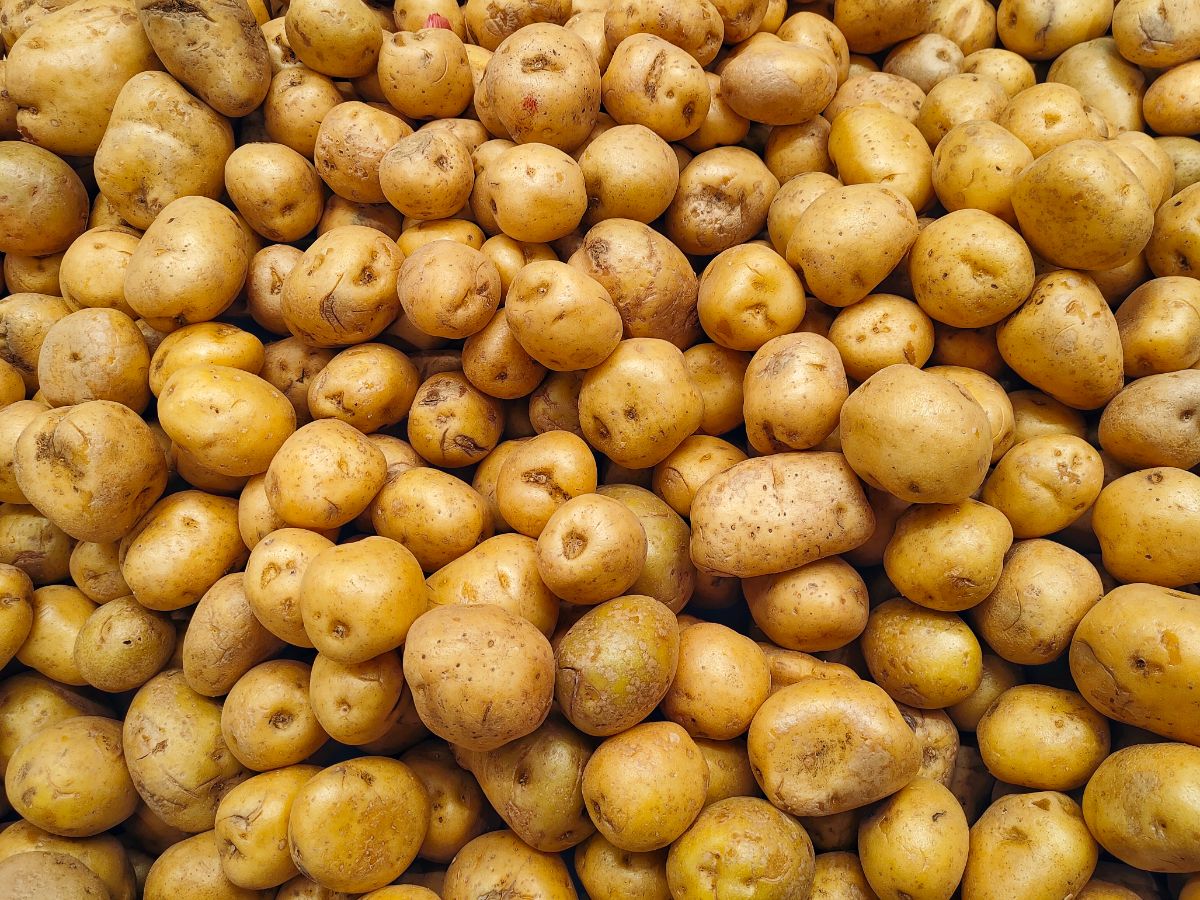 Originally from Germany, Soraya potatoes have buff skin and yellow flesh and store well too. A heavy-yielding plant, Sorayas make wonderful potato salads but cook beautifully into hearty winter soups and stews as well.
Sorayas are known for their low maintenance needs and high resistance to many common potato issues, such as late blight, scab, and black leg. They can also tolerate lower fertility soils, but they do prefer consistent watering to keep their yields high. A first-rate potato, if you don't want to fuss with your potato beds, Sorayas are one of the best choices!
13. Purple Viking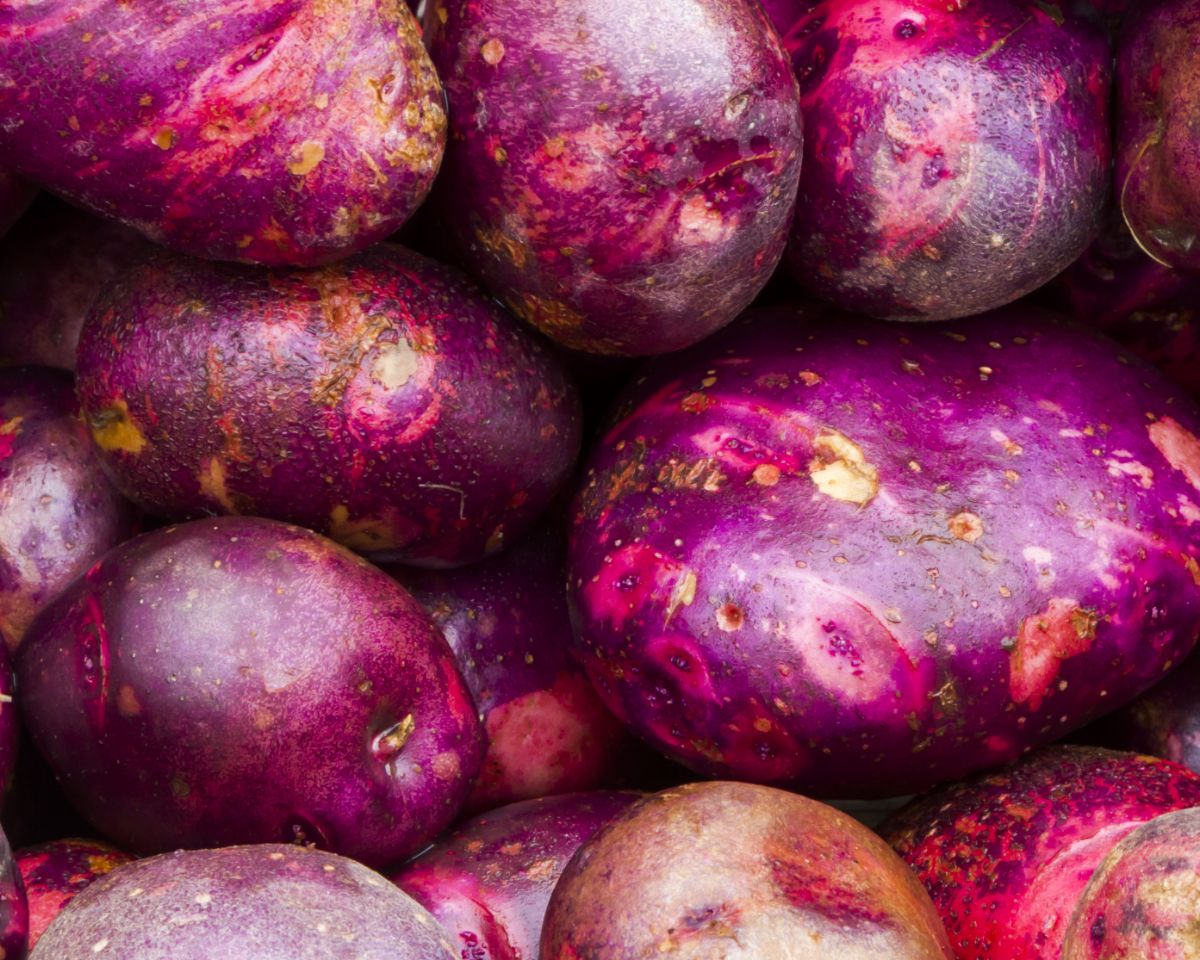 Always popular at farmer's markets, Purple Viking potatoes are colorful favorites due to their pink and purple skin and creamy white interiors. Always delicious mashed, baked, or roasted, these versatile potatoes are a good choice for any grower.
Plants are high yielding and show some resistance to leaf hoppers. Just keep in mind these potatoes can grow quite large and knobby, so if you prefer smaller, uniform potatoes, try sowing your potatoes a bit closer together – 10" apart or less.
14. Vivaldi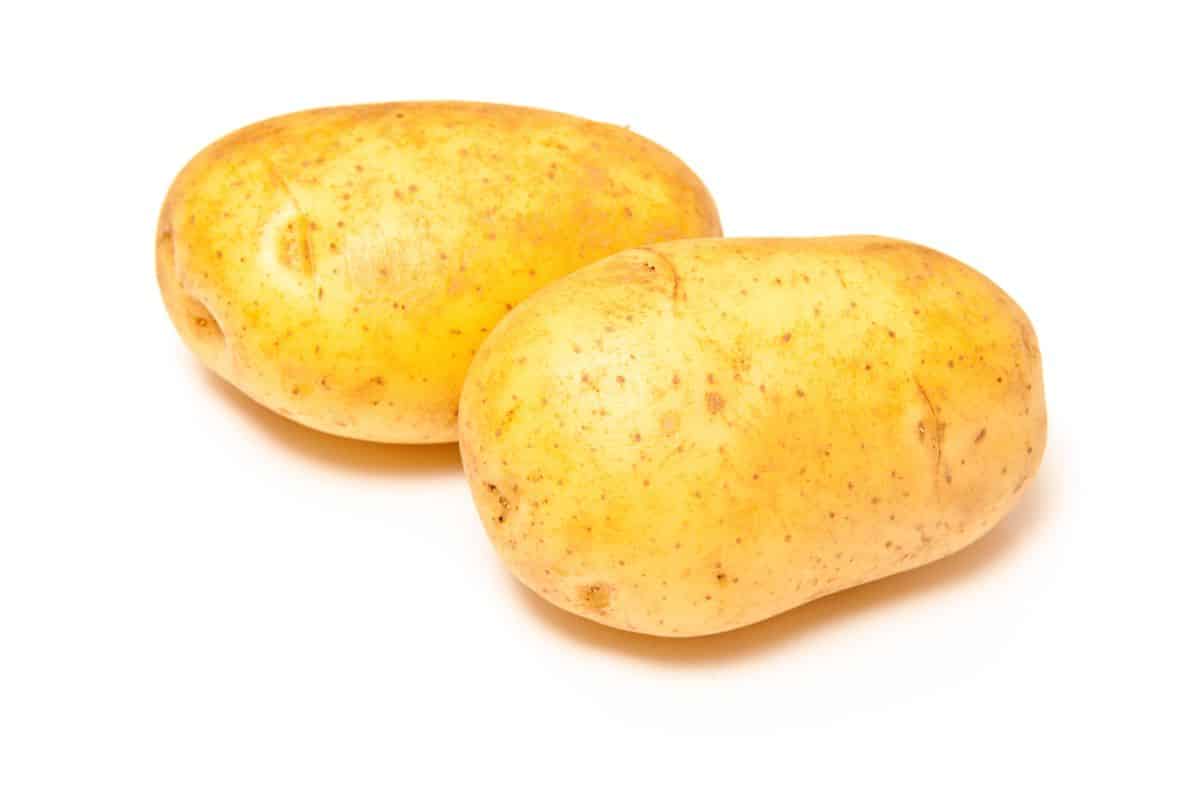 If you're counting carbs, Vivaldi can be a good potato pick, as these potatoes have been found to have about ¾ as many calories and carbs as the average spud. Offering a pleasing, velvety texture and slightly sweet flavor, Vivaldi potatoes are generally quite oval in shape and have buff skin and yellow interiors.
While these plants are high yielding, they don't have as much disease resistance as other potatoes on this list.
15. Strawberry Paw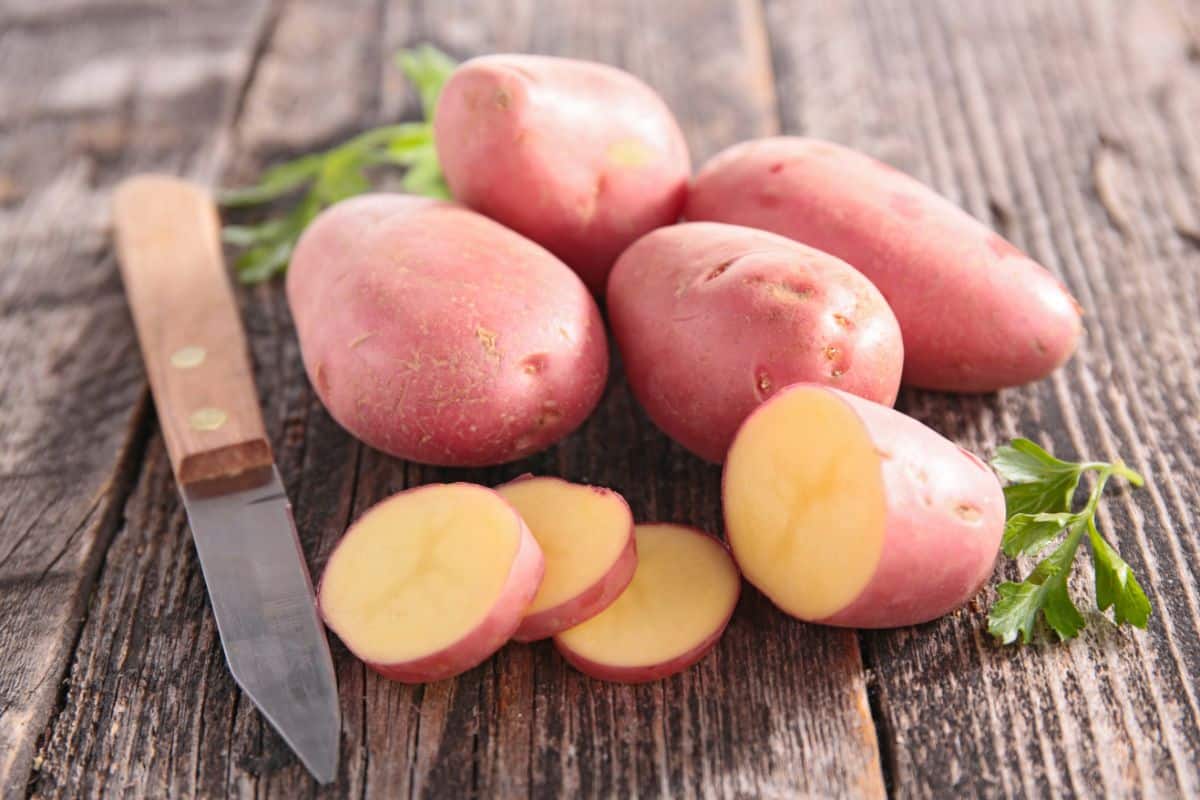 Vigorous growing Strawberry Paw potatoes have been specially developed for their disease resistance, which makes them a low-fuss potato type to grow. Also known as NY-136, these potatoes are resistant to scabs and blight and are usually healthy plants.
But while Strawberry Paw potatoes are practical choices, they are also gorgeous spuds with pink, near-fuchsia skin. They also have a firm and moist texture and a mild, sweet flavor.
16. Masquerade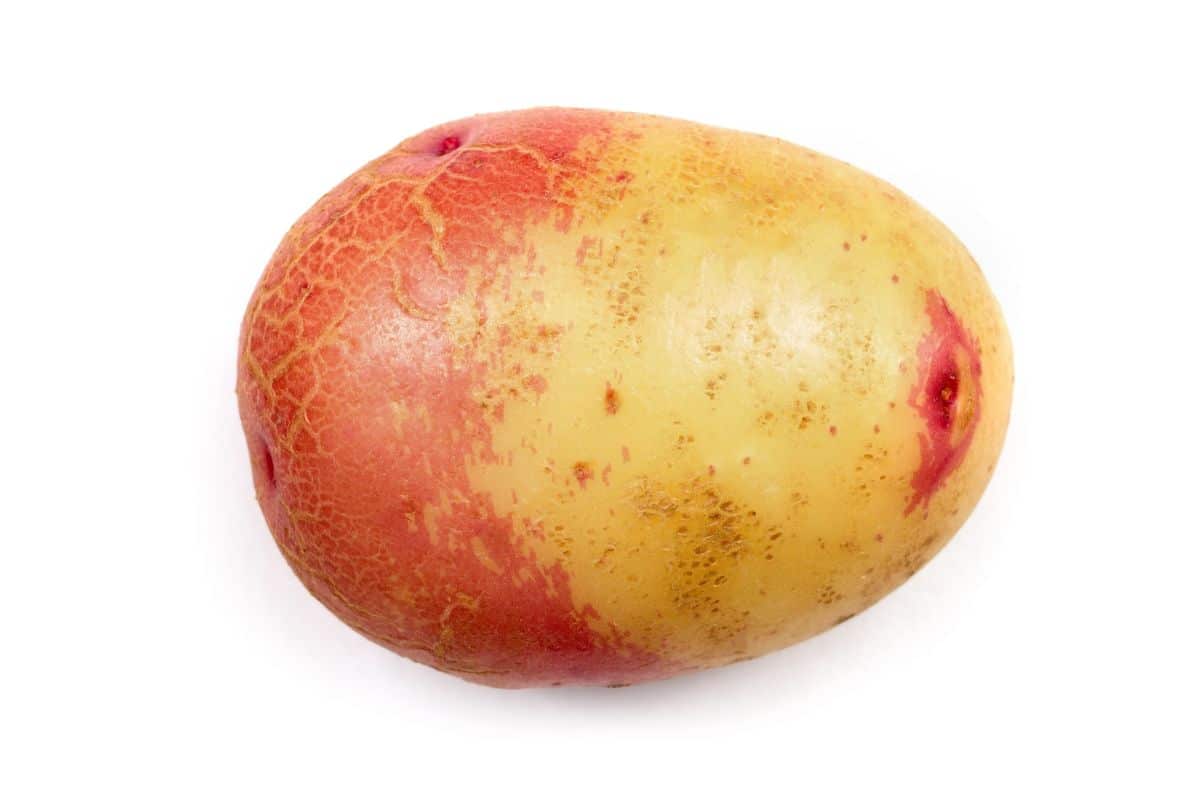 For something truly different, Masquerade is the potato variety to grow! This potato features uniquely mottled purple and white skin and yellow flesh that makes them a big hit at farmer's markets. Of course, these potatoes are also ideal for backyard growers and provide loads of color to the dinner table when roasted with a bit of olive oil and salt.
These hardy plants are well-suited to organic gardens also as they are naturally resistant to many common pests, including the Colorado potato beetle. They also are less likely to bruise or develop hollow heart than some more delicate potato types.
Late season potatoes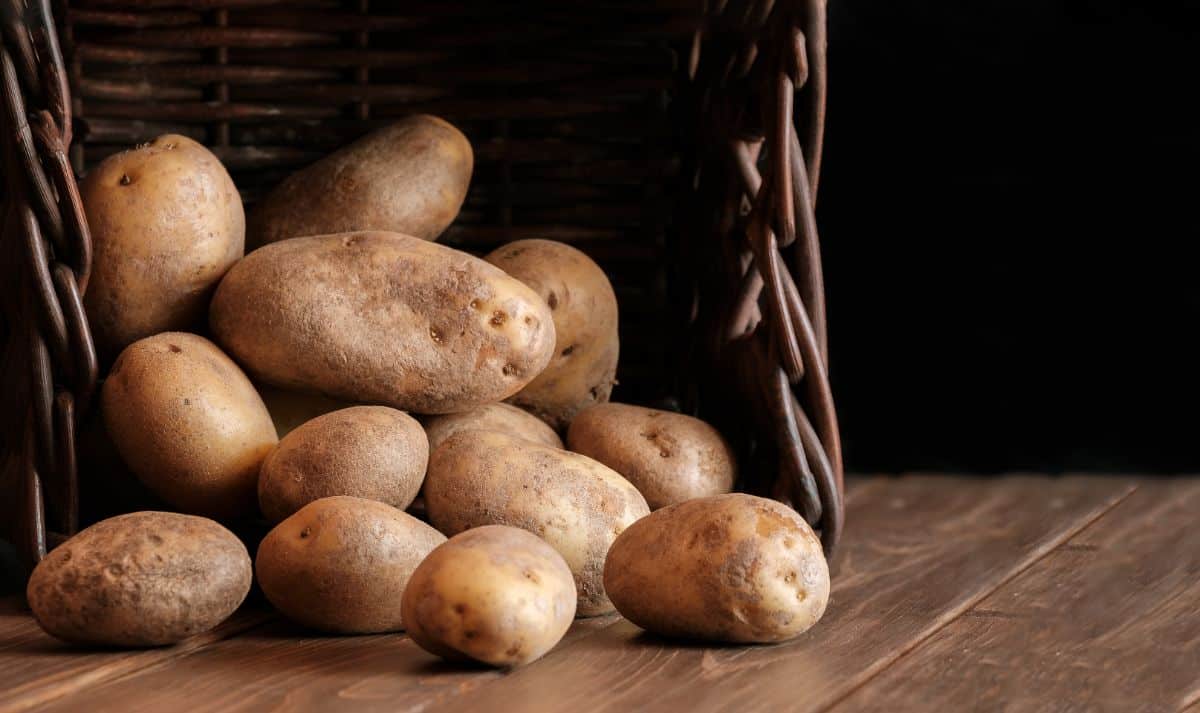 Late-season potatoes take longer to grow, between 110 and 160 days, but all that time in the ground means one important thing: bigger potatoes! Late-season potatoes also have thicker skins, so they generally store better than any other potato type and are perfect for cool root cellars.
17. Russet Burbank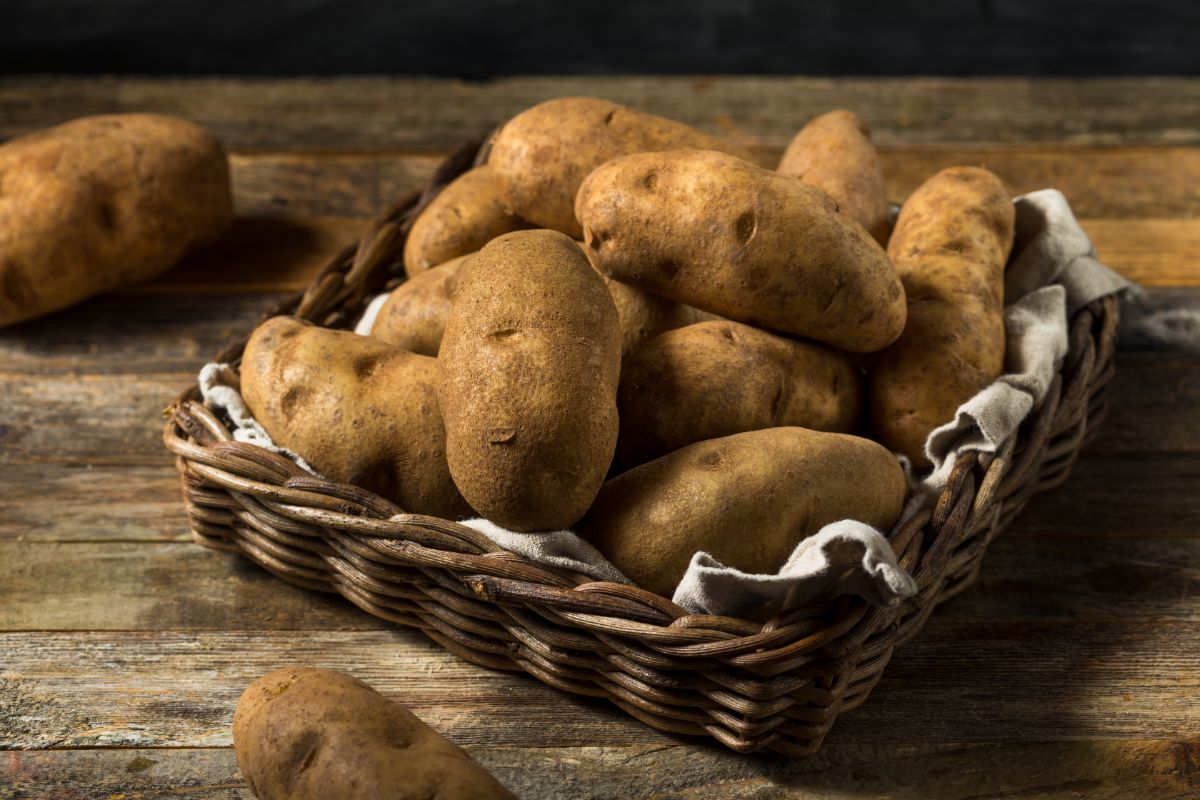 A classic favorite, Russet Burbank potatoes are commonly called "Idaho potatoes" and are the standard grocery store potato we've all grown to love. The dry and mealy texture is ideal for baking and mashing, while the spud's russeted skin makes this potato one of the best choices for winter storage.
High-yielding and reliable, Russet Burbanks mature later on in the season and have resistance to a black leg, fusarium, and scab. For best results, keep this potato well-watered and apply fertilizer regularly too.
18. Red Pontiac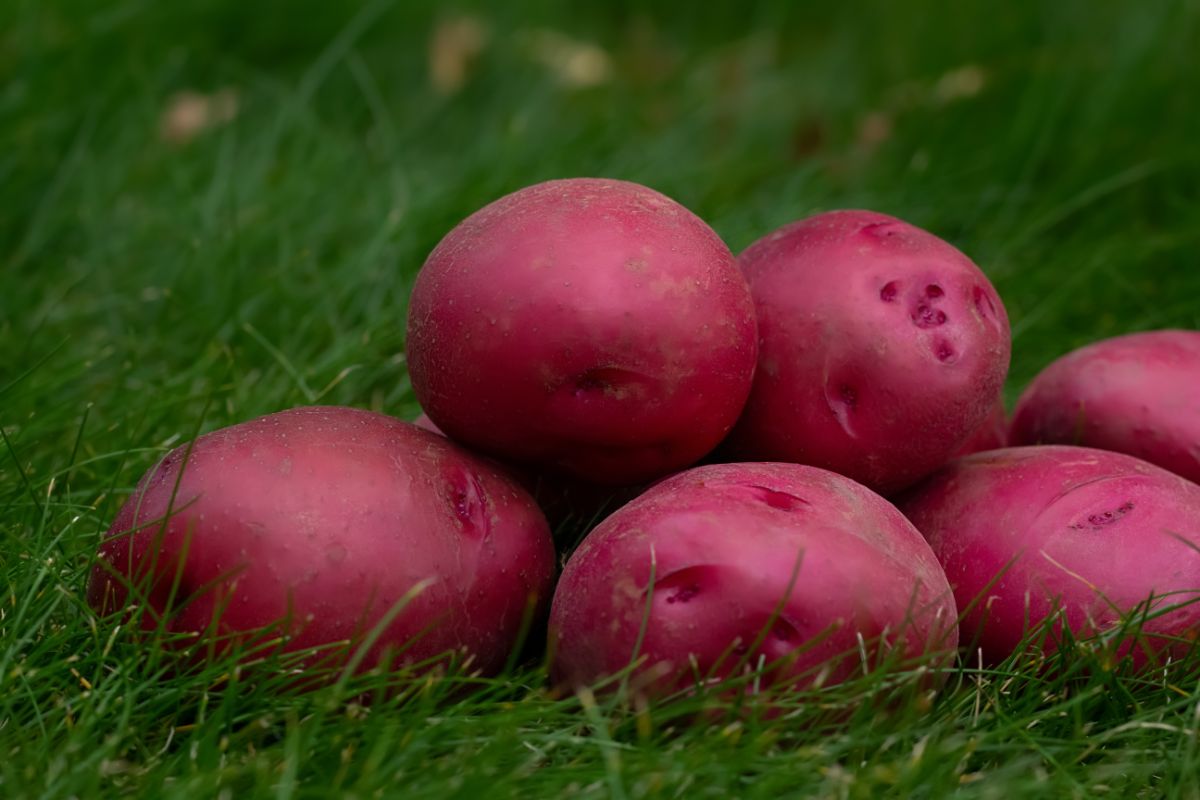 Versatile Red Pontiac potatoes can be used in many different ways in the kitchen. Ideal for baking, roasting, and other cooking methods, Red Pontiac has a moist and succulent texture and bright red skin that shows few signs of blemishing. These are exceptional storage potatoes, too, and will resist drying out in root cellars.
While Red Pontiac plants are tolerant to some drought, they are vulnerable to many common potato pathogens.
19. Lehigh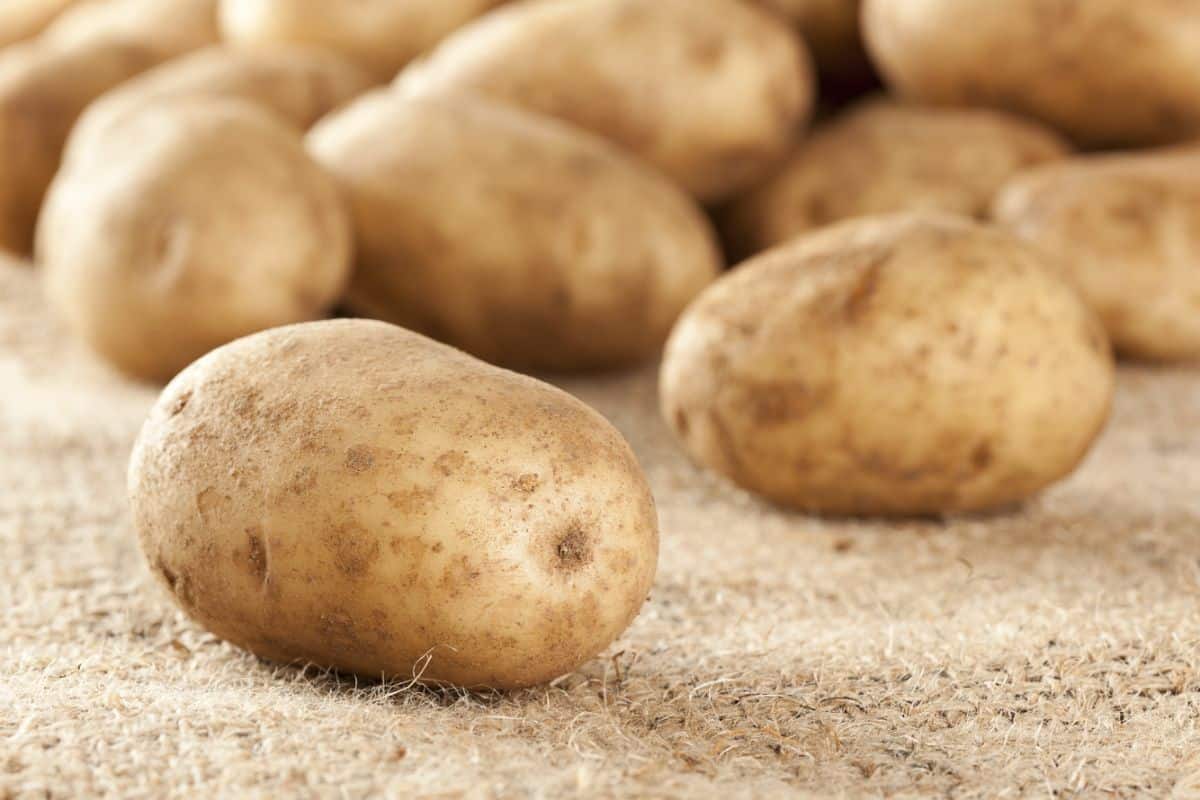 Developed by Cornell, Penn State University, and the University of Maine in 2007, Lehigh has some pretty impressive heritage, so you know it's going to be a good potato. And Lehigh potatoes deliver. These multipurpose potatoes are high yielding and can thrive in a range of growing conditions too!
Great for storage, Lehigh potatoes maintain their texture well even after cooking, which makes them a great choice for winter stews and soups, as well as frying. Potatoes are large and well formed and are resistant to scab and blackspot bruise.
20. German Butterball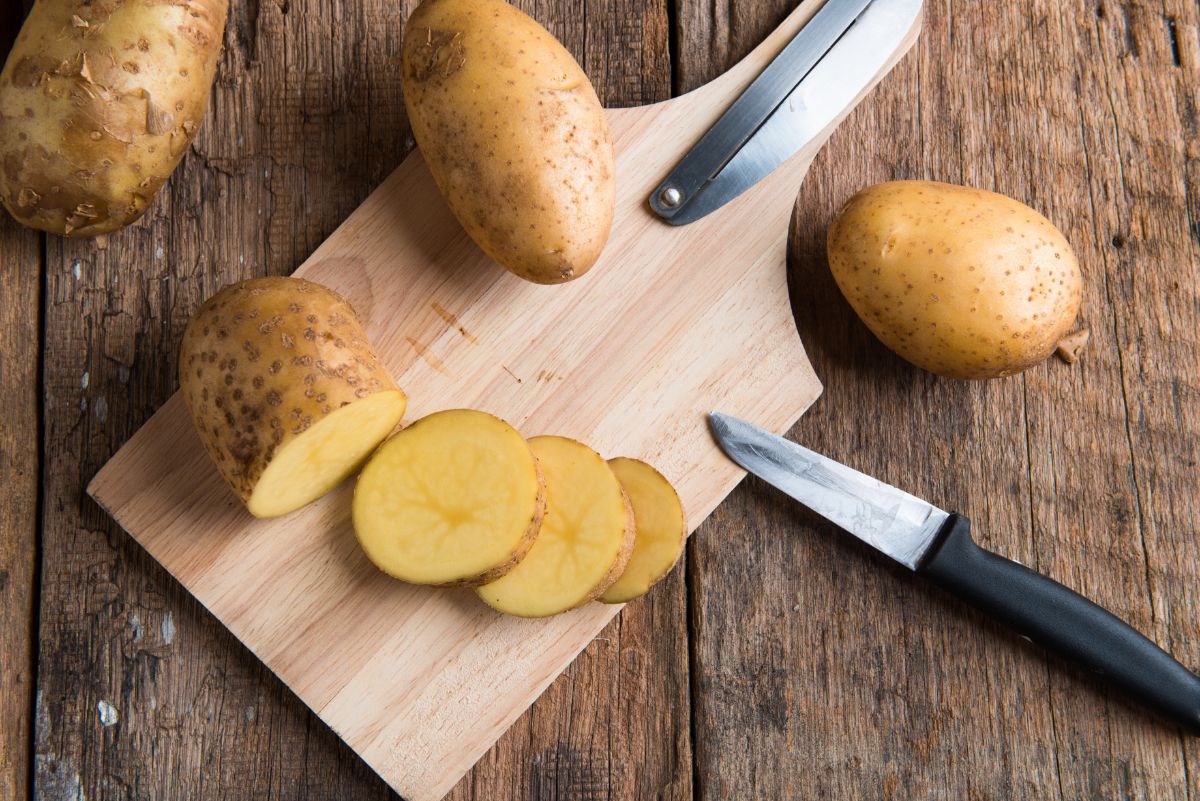 As their name suggests, German Butterball potatoes are known for their rich, buttery flavor. Famed as one of the best potatoes for roasting, German Butterballs have a low moisture content, so they fry nicely and make exquisite breakfast hash.
In the winter, German Butterballs will store beautifully in cold storage or root cellars, and they are also high-yielding plants. What's more, these potatoes are naturally resistant to scabs and some common potato viruses.
21. Bintje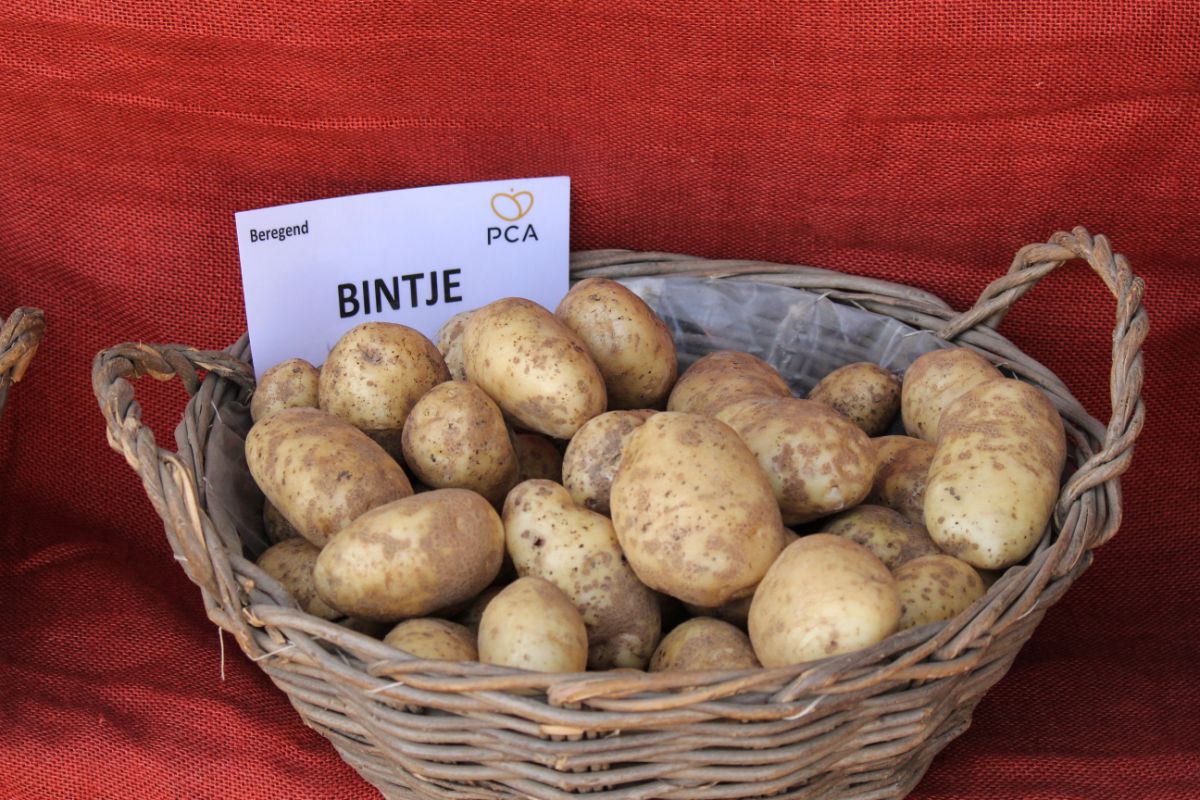 The most commonly grown yellow potato variety in the world, Bintje, was developed by a Dutch schoolteacher in 1905. This flavorful potato is versatile and is the favored potato type for making pomme Frites (French fries) in Belgium. When cooked, Bintje has a delicious flavor that pairs exquisitely with Dutch mayo.
Well known for their ability to create prolific harvests of large tubers, Bintje potato plants are susceptible to scab; however, potatoes store very well. For best results, space these plants between 16 and 18" apart.
22. Desiree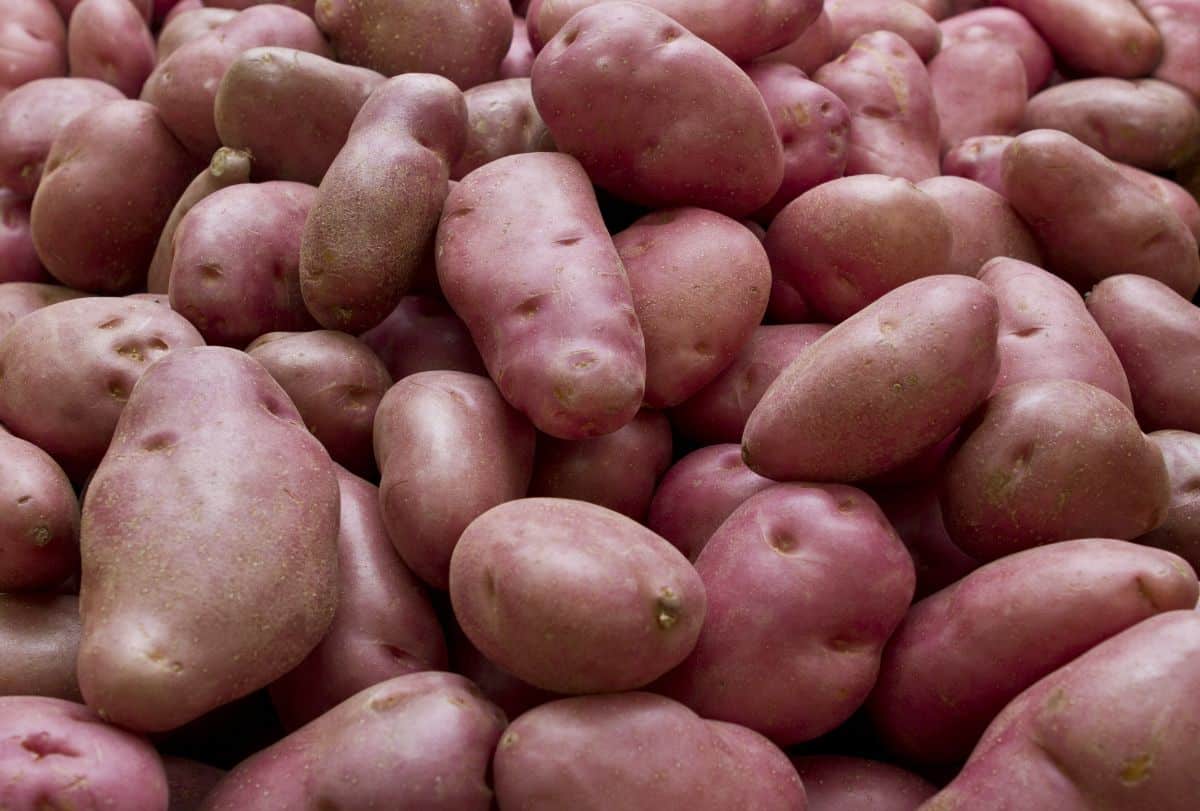 A hardy plant, Desiree is another popular European potato variety that was developed in the Netherlands. Large, oblong tubers feature-rich pink skins and creamy, yellow flesh and a unique flavor.
Resistant to drought, Desiree potatoes are high yielding and can stand up to skin spot, potato virus Y, and late blight. They do require high soil fertility, however, so remember to feed your potato plants throughout the growing season!
23. Snowden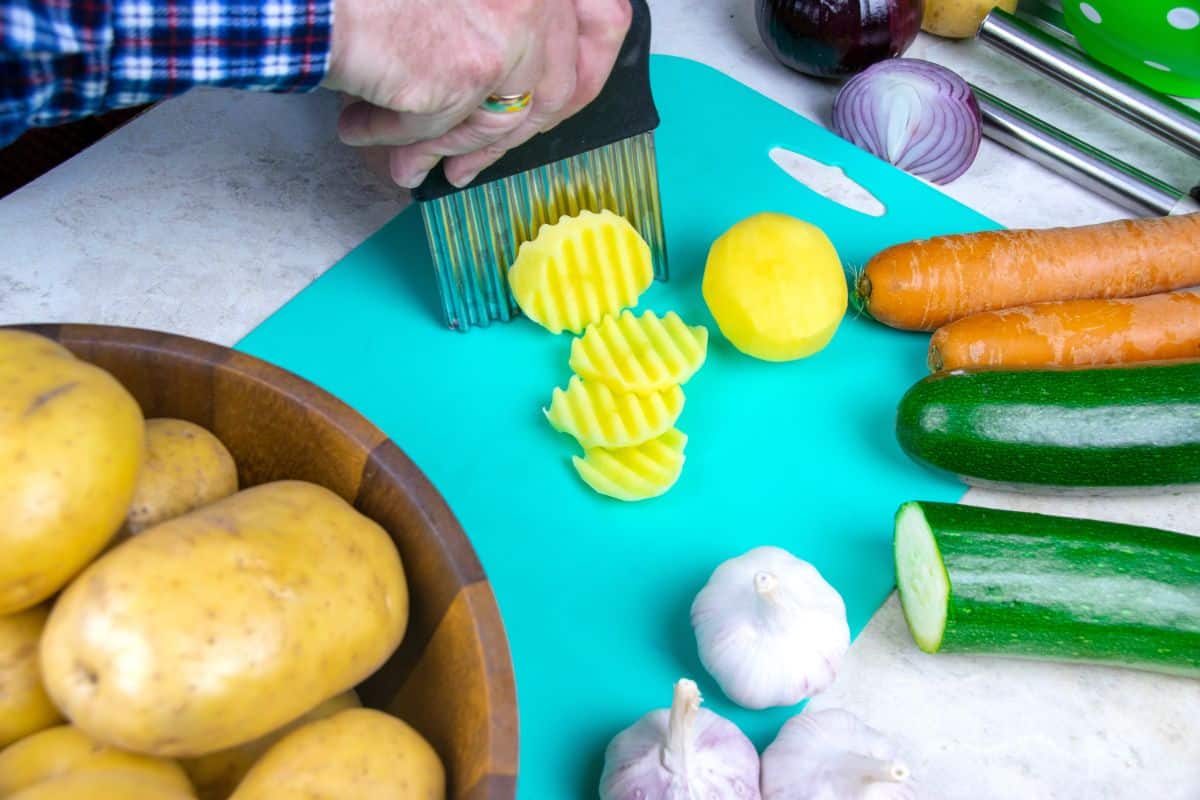 First developed by the University of Wisconsin in 1990, this popular potato type is the favored potato variety for making potato chips. While it is commonly used to create store-bought chips, it also works well for home growers. Plants will grow vigorously and produce an abundance of slightly rounded potatoes that are smaller than many other russeted potato types but still highly satisfying!
Snowden potato plants grow quickly and are less likely to be overwhelmed by weeds as a result. They also naturally resist bruising and hollow heart but can be susceptible to other issues like blight and scabs. For happier plants, provide your Snowden potatoes with plenty of nitrogen and follow proper spacing instructions when planting.
24. Katahdin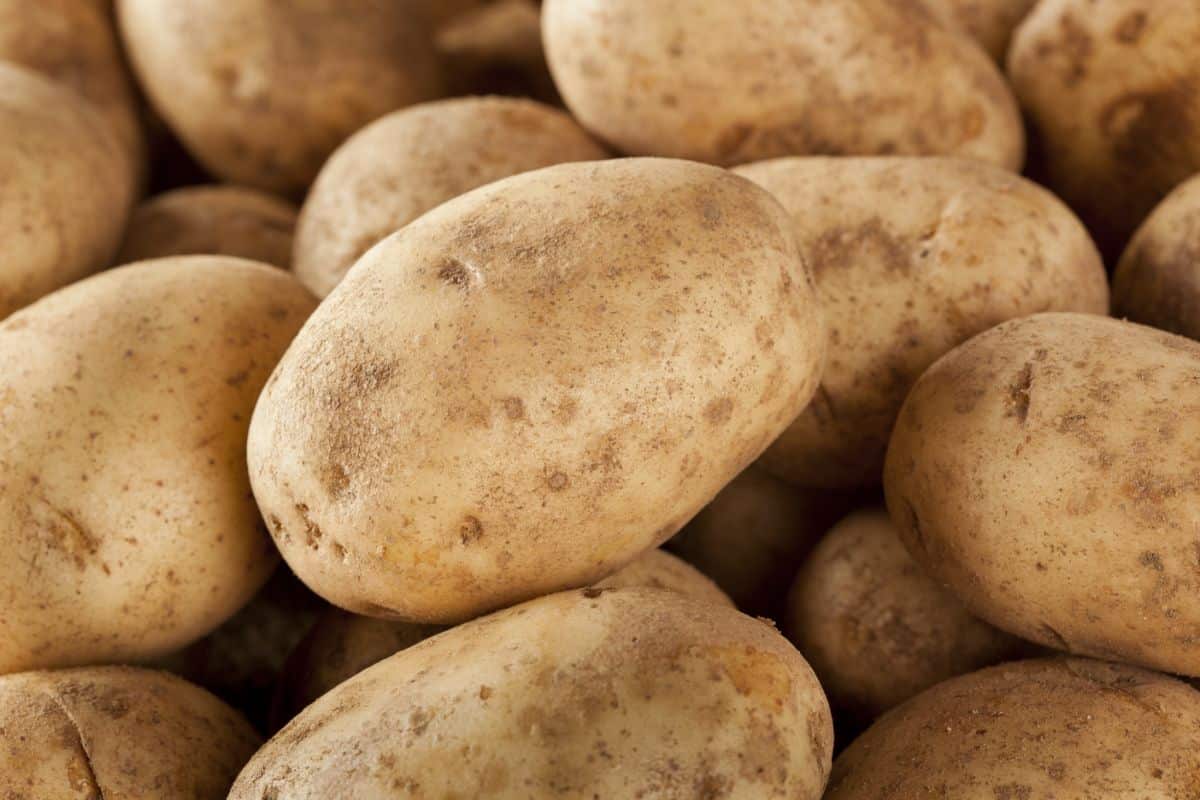 Named for the highest peak in Maine, Katahdin potatoes were developed by the USDA in conjunction with Maine growers and first released in 1932. Famed for their wonderful storage ability, Katahdin potatoes can grow quite large, and plants are tall too. Since these potatoes hail from Maine, you know they'll grow well in other cool climates as well!
Katahdin potatoes tend to grow near the surface, so hill your potato plants high and remember to mulch frequently. These plants are resistant to mild mosaic but can be vulnerable to other common potato problems.
Fingerling potatoes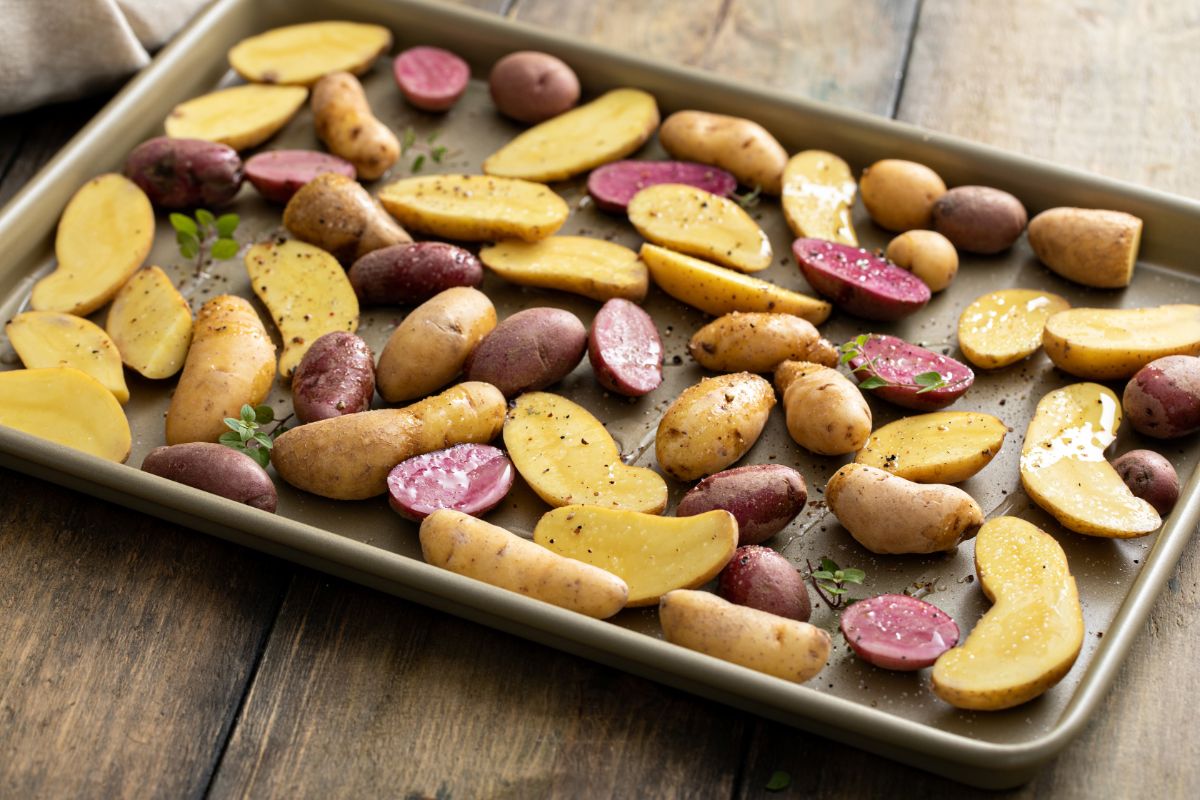 Fingerling potatoes can be grown throughout the growing season and are generally smaller than other potato types. These thin-skinned and tasty taters are just right for roasting with mixed vegetables or on their own with a bit of salt and olive oil.
25. AmaRosa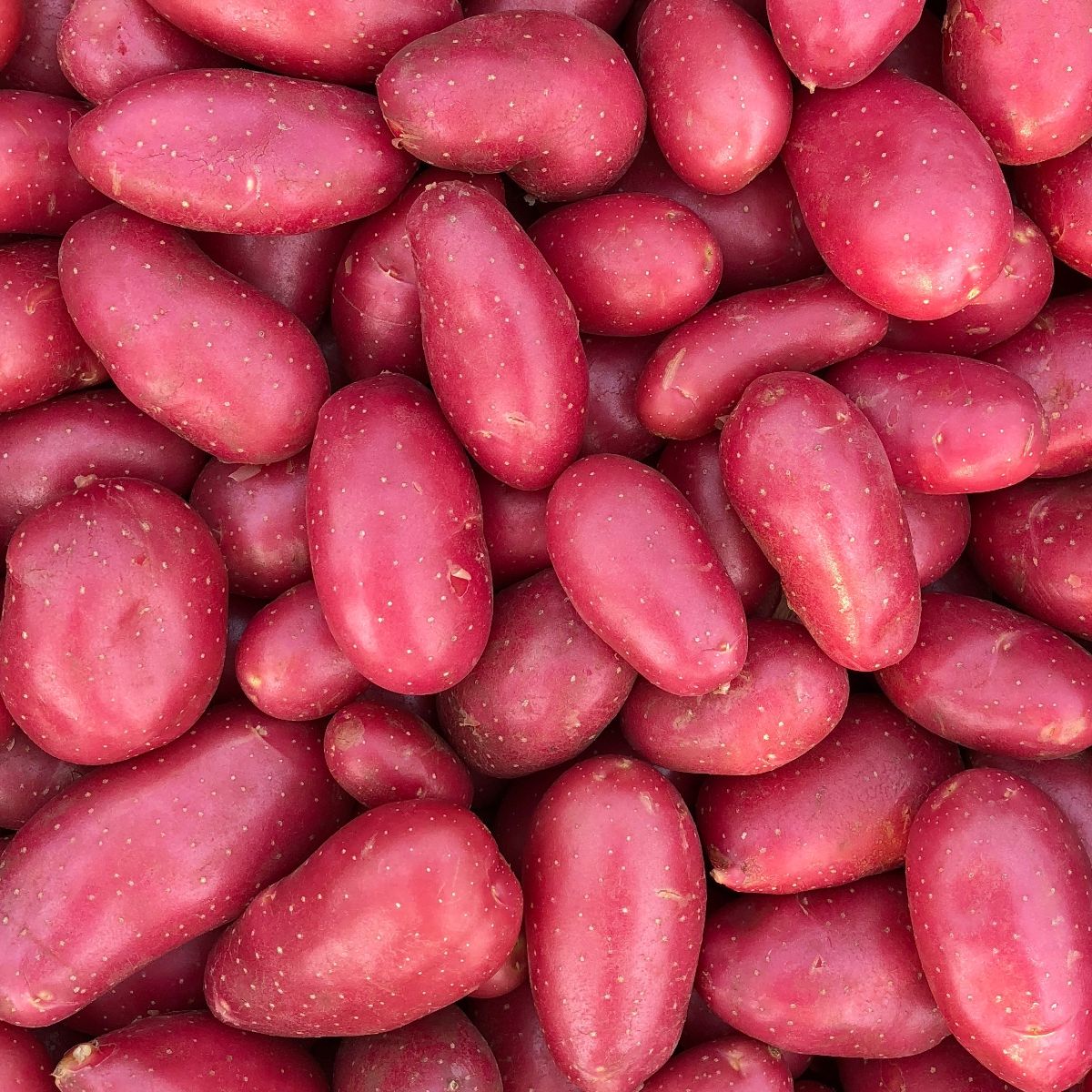 Vibrant AmaRosa fingerlings have bright red skin and red flesh too, which makes them popular picks for farmer's markets and home growers alike. Even though these plants are classed as "fingerlings," AmaRosa plants often produce larger than average fingerlings, although potatoes still feature that quintessential fingerling shape. These potatoes also have a deliciously unique flavor and lots of vitamin C in their skins, so leave those skins on when doing meal prep!
Not only are AmaRosa potatoes stunning -- but they're also practical and have resistance to scab and late blight. They also store well!
26. French Fingerling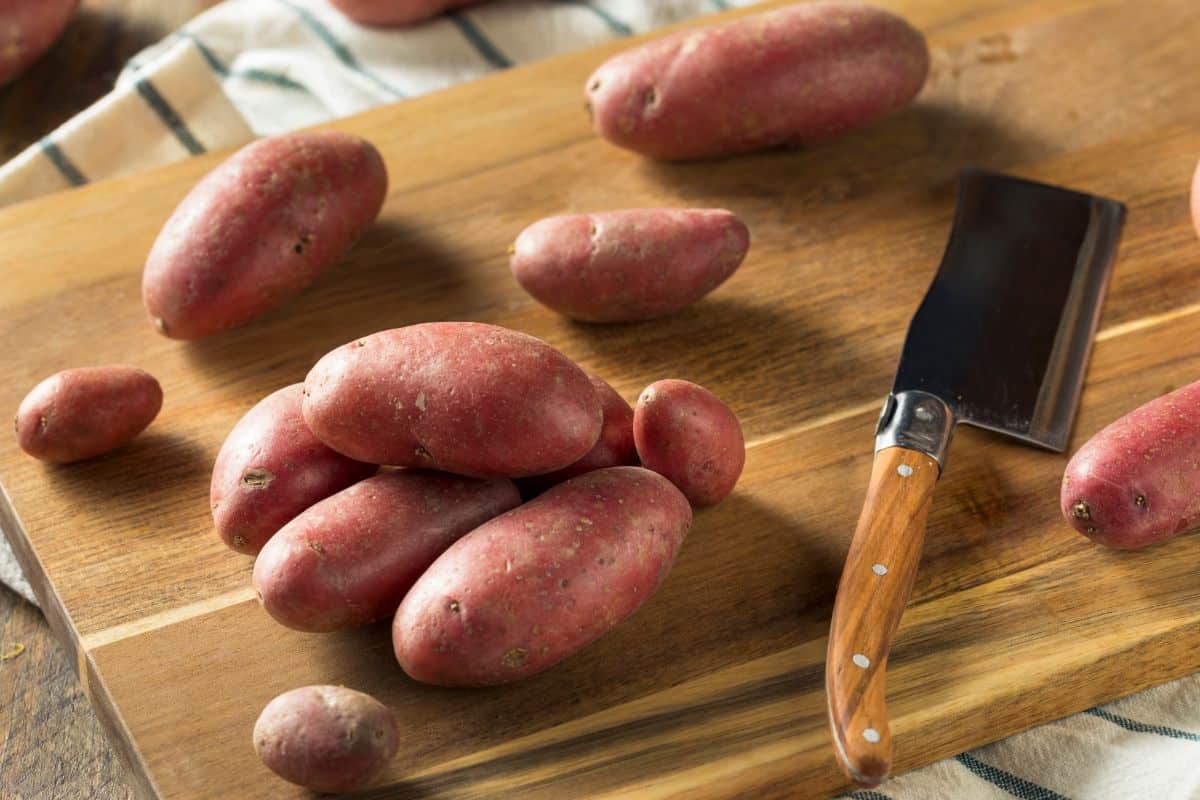 French fingerling potatoes are a classic choice and are well known for their gorgeous pink skin and yellow interiors with pink webbing. The flavor and texture of these potatoes are something of a legend; however, these potatoes should be picked early to keep them from cracking. They also have smooth skin that bruises easily, so handle them with some care!
Tubers are spaced widely apart on the plant and should be well-hilled and mulched for best results. French fingerlings are naturally resistant to scabs and common pests like Colorado potato beetles and leafhoppers.
27. La Ratte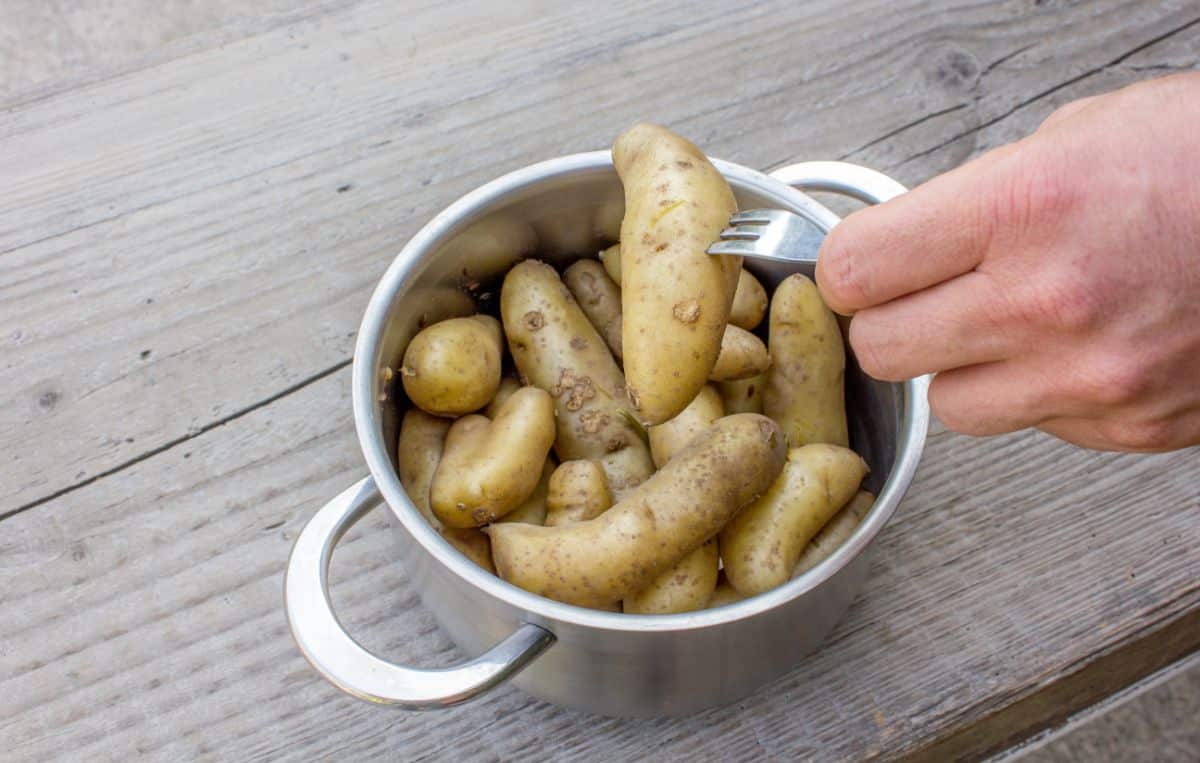 La Ratte potato plants produce consistently sized and shaped fingerlings that have a rich, yellow color with some delicate, darker netting to the tone. The flavor of these potatoes is also rich and distinct, and wonderful when roasted or boiled and served with butter.
La Ratte is one of the best fingerlings for storage, and they last well when kept in cool temperatures.
28. Banana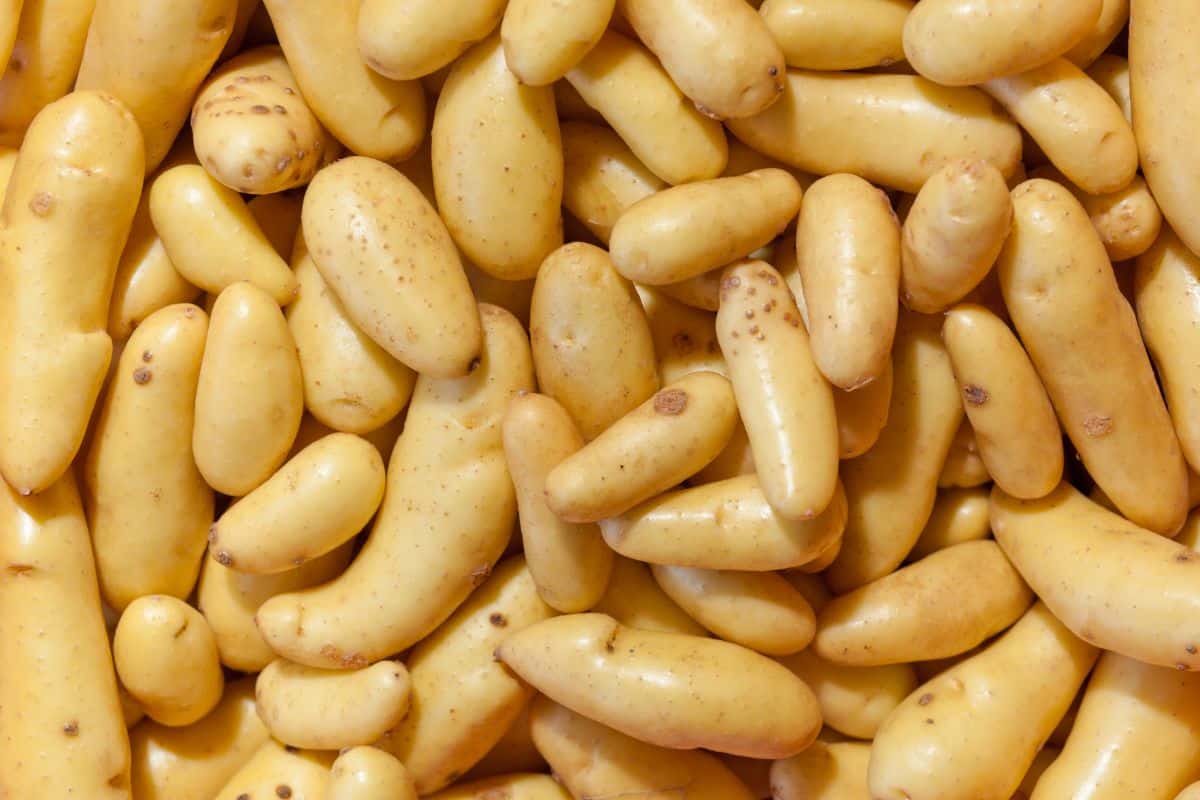 Also known as Russian Bananas, Banana potatoes are gorgeous, classically shaped fingerlings with yellow skin and flesh. Wonderfully rich and nutty in flavor, Banana potatoes are perfect for roasting with just a bit of olive oil and salt.
Plants are resistant to scabs but can be vulnerable to other potato pathogens, like wilt and blight.
29. Pinto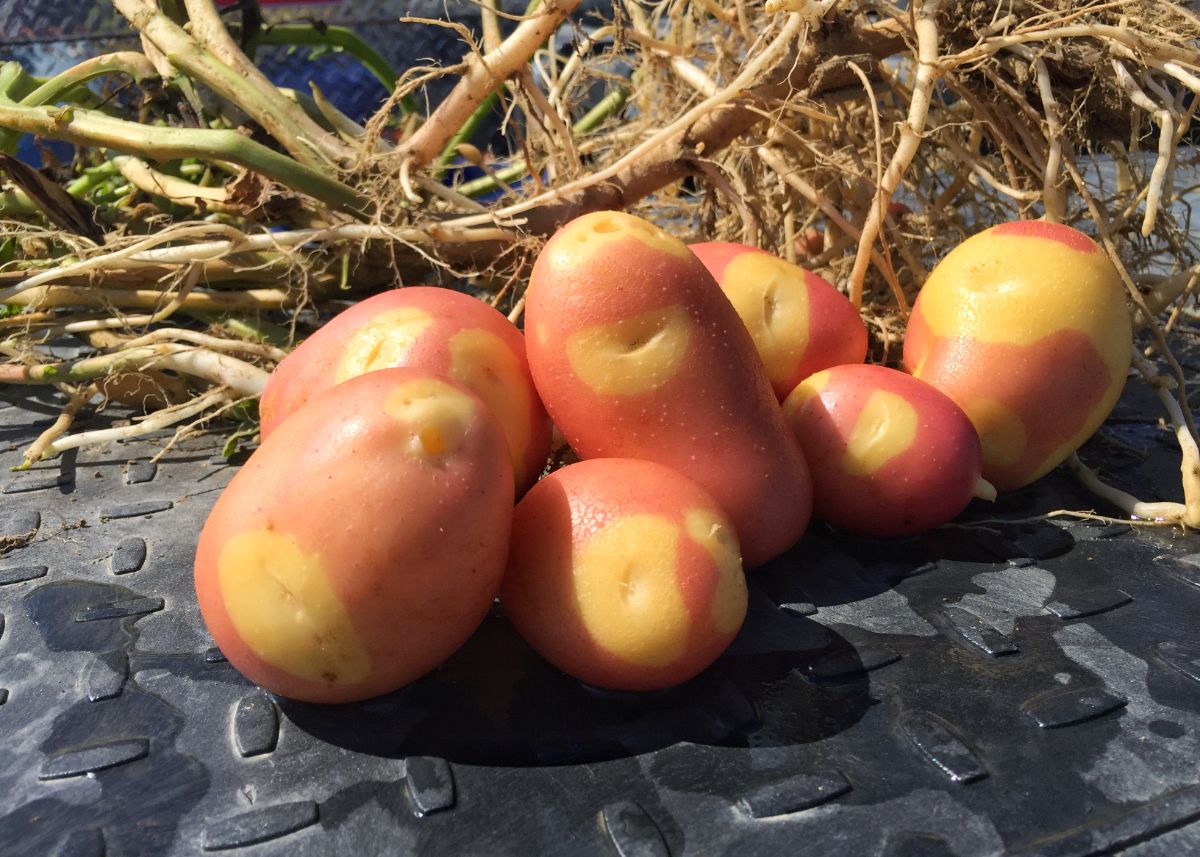 Just like the bean, Pinto fingerlings have a spotted skin in red and yellow that makes them really stand out a farmer's markets if you're interested in selling your produce. However, these prolific plants are well-adapted to small space gardens, too, as they grow very vigorously and can produce up to 28 tubers per plant!
First developed by the University of Maine, Pinto fingerlings have a creamy texture and a buttery flavor that is really hard to resist. These plants can hold their own against leafhoppers, scabs, and blight, and they can tolerate some drought-like conditions as well.
30. Magic Molly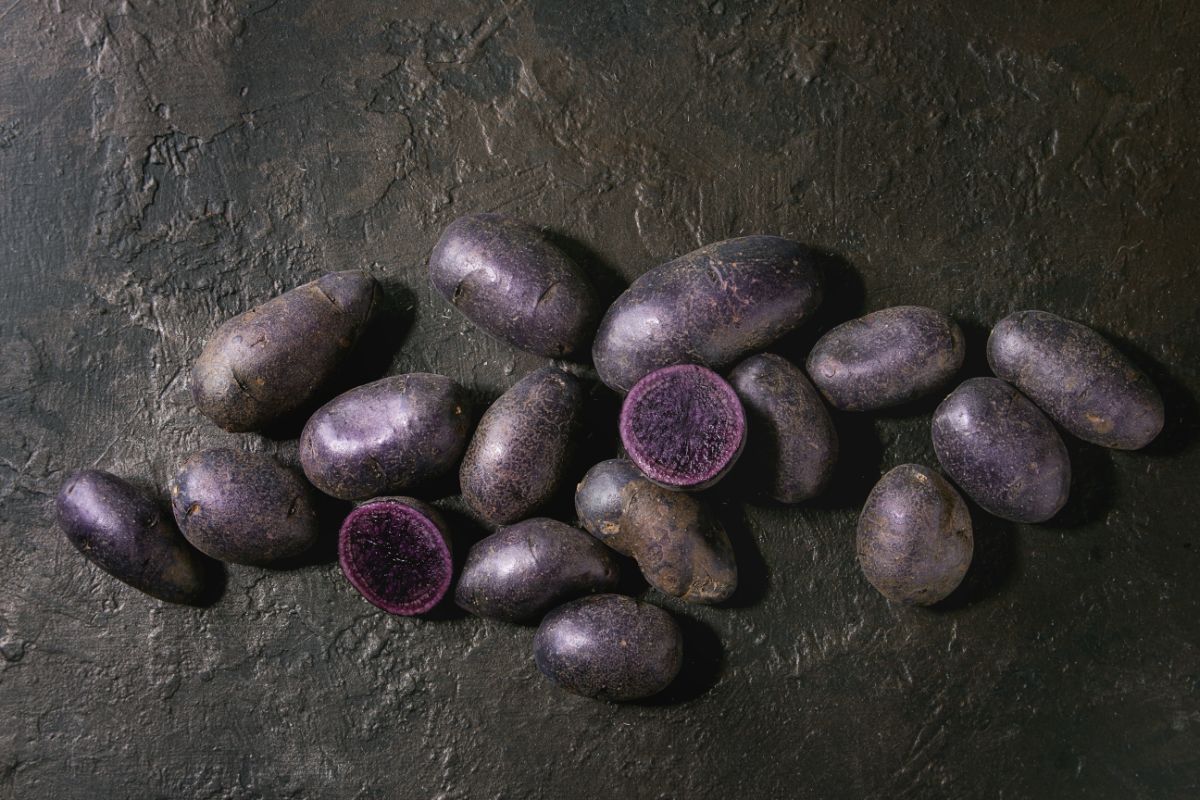 For that "wow" factor, try growing some Magic Molly fingerlings. These vibrantly colored fingerlings have a rich purple hue inside and out and make fabulous additions to a mixed dish of roasted veggies. These tubers have an intriguingly earthy flavor and a slightly waxy texture that makes them a must-try spud.
Vigorously growing plants are resistant to most common potato problems, so this fingerling is a good one to experiment with if you want a lower-maintenance garden. Magic Molly can be harvested throughout the growing season – pick them early for fingerlings, or leave them in the ground longer for full-sized spuds.
Summary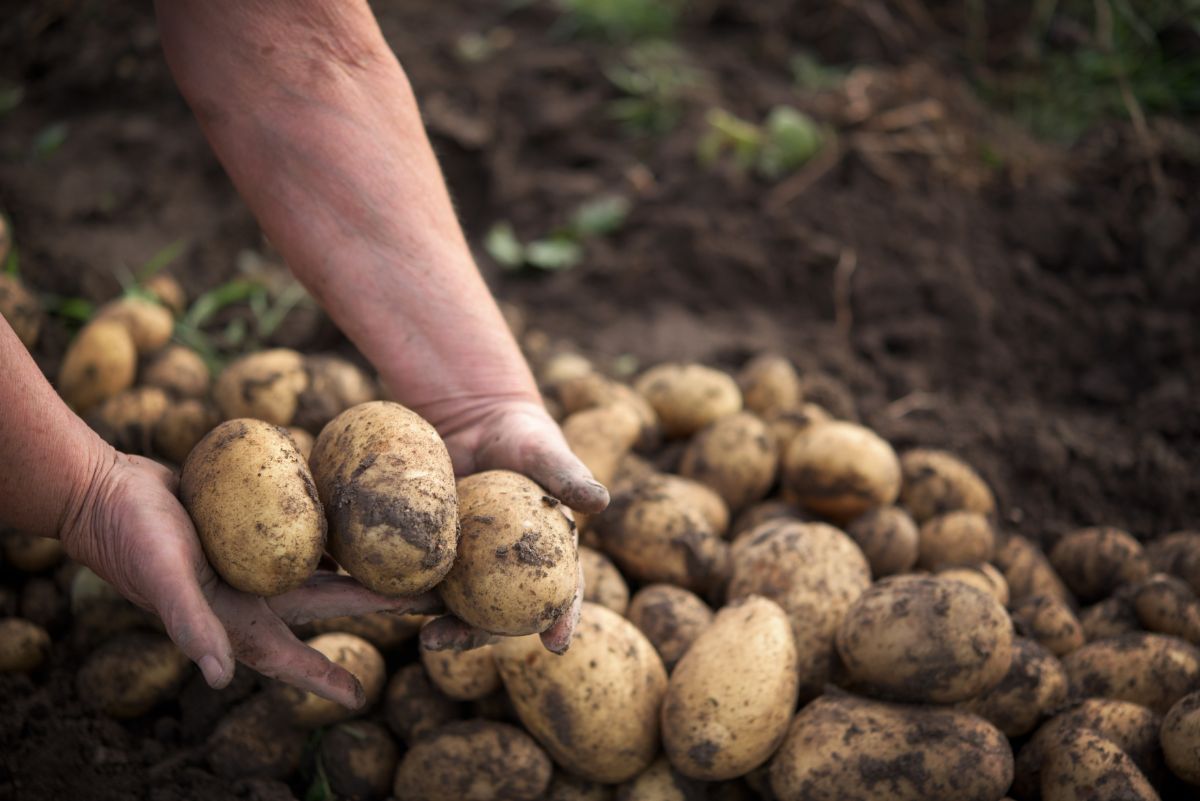 Potatoes can be prolific plants, producing mounds of fresh and delicious tubers for a range of fried, boiled, and roasted dishes, as well as homemade soups and stews.
Which type of potatoes you grow really depends on you and your preferences.
What dishes do you like to make? Do you want lots of colors, or do you prefer more traditional potatoes for mashing and baking? And how important is storability to you?
Once you've determined the answers to these questions, choosing the right potato type or two for your backyard garden should be much easier. And either way, you can't go wrong with the potatoes we've covered today. They are all tasty and just, so fun to grow!
Potatoes are one type of vegetable that can be kept in cold storage for months. If you'd like to learn more about storing potatoes and other root veggies, check out our guide here.