Poison ivy is a problem for the majority of the population. Experts say that about 85% of the population is sensitive to poison ivy and will react when they come into contact with its oils. That can make life difficult for gardeners when it creeps into yards and gardens.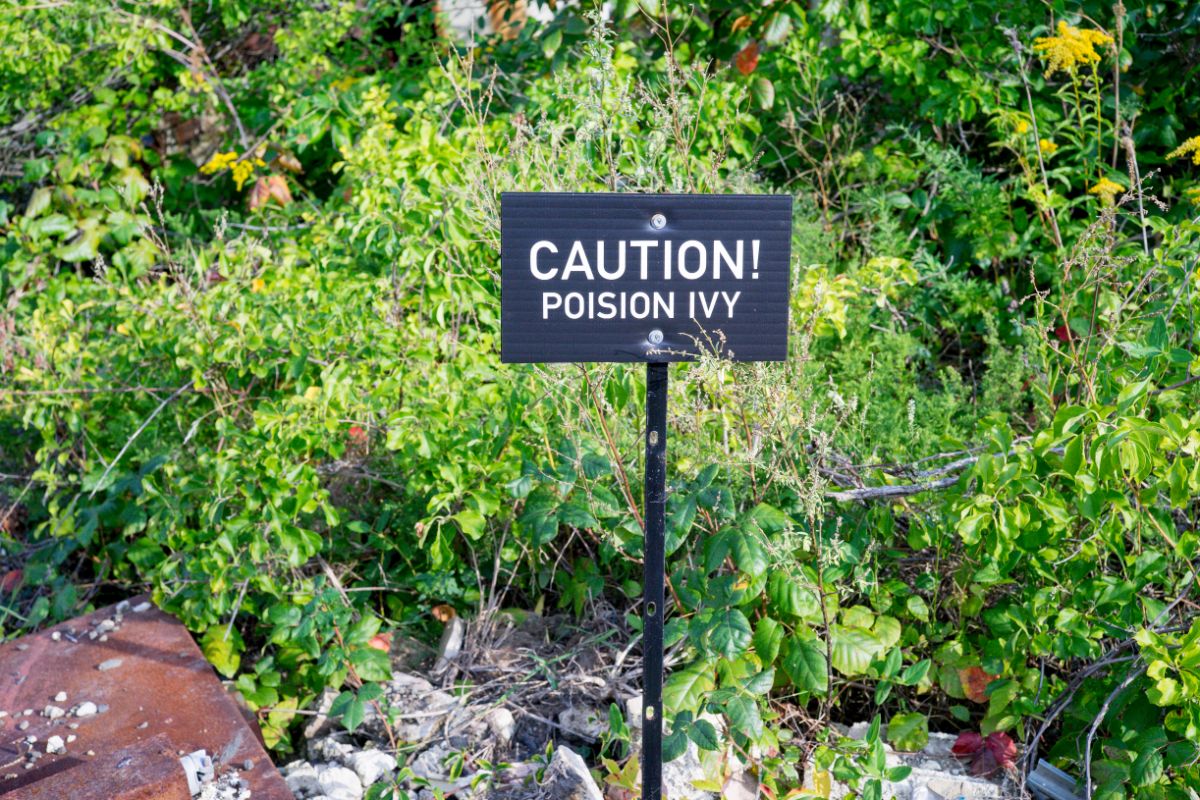 The best possible course of action is to avoid contact with poison ivy. If you can't avoid it or don't know you came into contact with it, there are steps that can help. Following is information to help you avoid poison ivy when possible, protect yourself when it isn't, and deal with the exposure if you do encounter poison ivy.
*In this article, we speak mostly about poison ivy because it is the most prolific and most common, but the information and tips provided here apply to poison oak and poison sumac, too.
Jump to:
Are You Allergic to Poison Ivy?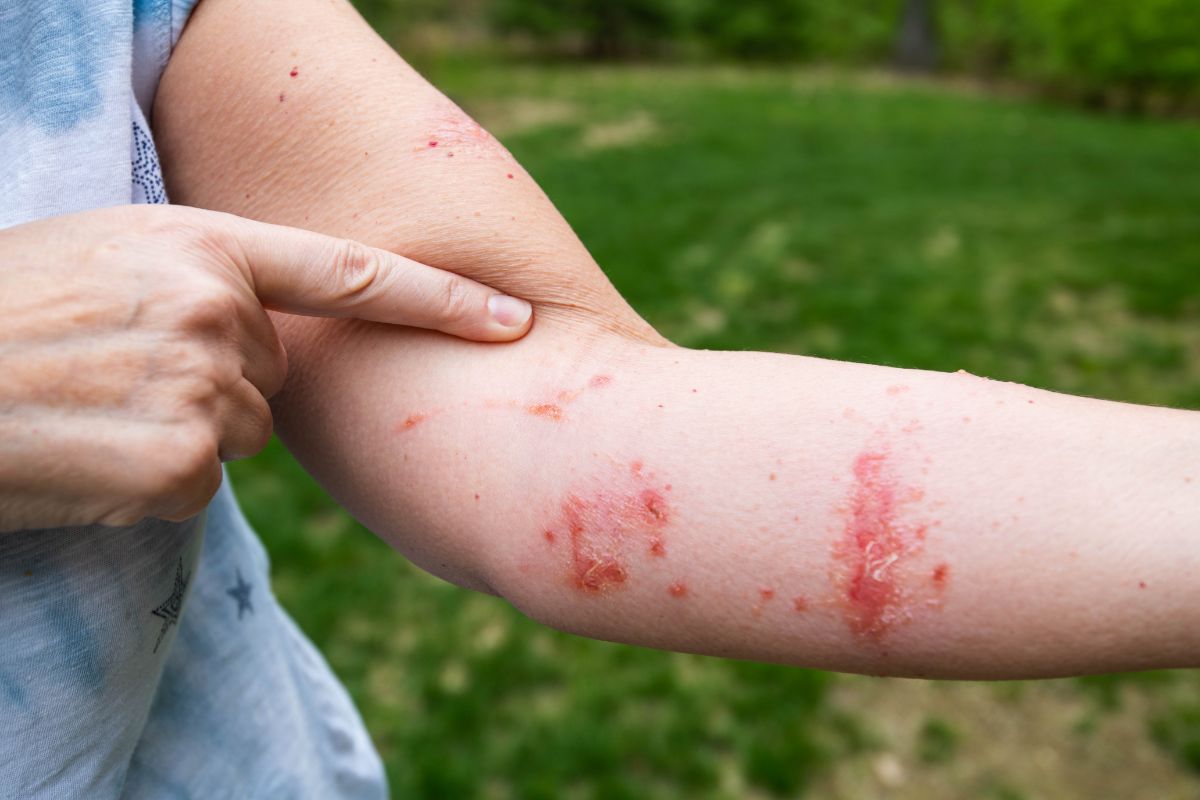 Poison ivy rashes are an allergic reaction to an oil contained in the plant called urushiol. Not everyone is allergic to poison ivy, so not everyone will react to it when they touch the plant or its parts. You shouldn't go out and touch the plant to find out, but if you know for sure you will have a reaction, you should be extra cautious to avoid touching or being in poison ivy.
If there is work that must be done where there is poison ivy, you might ask someone who is not allergic to do it. However, poison allergies develop over time, so it's best for it not to be touched and handled directly at all when avoidable. The best advice is for everyone to steer clear of the plant and kill it to eliminate it from your property.
Parts of the Poison Ivy Plant that Cause Reactions
All parts of the poison ivy plant can cause reactions. This is because all parts of the plant—the leaves, the stems, woody trunks, and roots—contain the oil that causes allergic poison ivy reactions.
Do not touch or handle any part of the poison ivy plant, especially not without protection. Even broken roots, dying roots, plant parts, dried leaves, and dead roots will cause a reaction. The plant might have died, but the oil that it produces that causes allergic reactions will still be present.
There are steps you can take before, during, and after exposure to poison ivy that can prevent, limit, and control an outbreak. Here's what to do at each point of exposure:
Before Poison Ivy Exposure: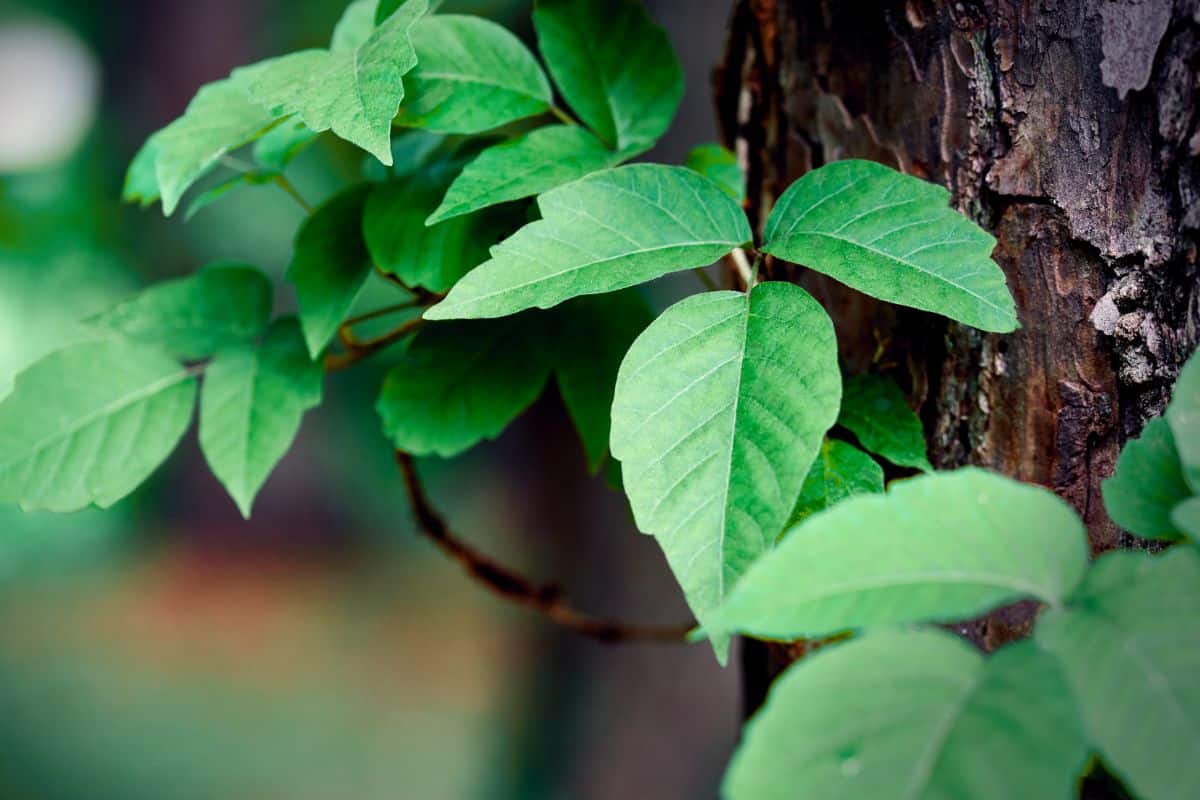 Know the enemy. Poison ivy is known as a three-leafed plant: "Leaves of three, let it be." Other plants, some harmless, have three leaves, too, but it's smart to avoid them all if you don't know what you're dealing with for sure. We often think of poison ivy as a small, crawling plant, but it is a vining plant that can grow very large, and stems and roots can become very thick and woody, often climbing up trees and structures. Be aware that poison ivy and its leaves can change and look different at different times of the season. Leaves change colors from green to red, and the plants may grow small white flowers, too.
Spend some time researching what poison ivy looks like and look at many examples so you know what it looks like and know all the forms it can take. A good plant identification app can help when you're on the go or busy working in the garden.
Eradicate it. The best way to safely eliminate poison ivy is to use a weed killer and let the plants die back. Do not touch even dead poison ivy if you can avoid it because the oil can linger on dead plant material, tools, and clothing for years.
Apply an ivy blocker product to your skin before you garden. There are products that are designed to be applied to the skin before exposure, similar to how you would apply sunblock before going outside for a day in the sun. You should still wear long clothing when using
Try to avoid it. The American Academy of Dermatology warns that reactions often become more severe the more you are exposed to poison ivy. Even people who were never allergic and never experienced an allergic rash before can suddenly start reacting to poison ivy. For this reason, they recommend that everyone avoid poison ivy as much as possible—whether you think you catch it or not.
Protect yourself. Wear long sleeves, long pants, high socks, a hat, and gloves. Wear only full, closed-toed footwear. Tuck plant legs into boots to keep ivy from brushing up inside your clothing.
Pack ivy-eliminating cleansers to take along with you down to the garden. There are special cleansers made specifically for poison ivy, poison oak, and poison sumac (all three of these have the same reactive oil, urushiol). These are available in the form of cleansers, soaps, and wipes/towelettes. You can also use common rubbing alcohol or dish or laundry detergent. Alcohol towelettes are easy to find and easy to pack. Most hand sanitizers contain rubbing alcohol, too.
During Exposure to Poison Ivy: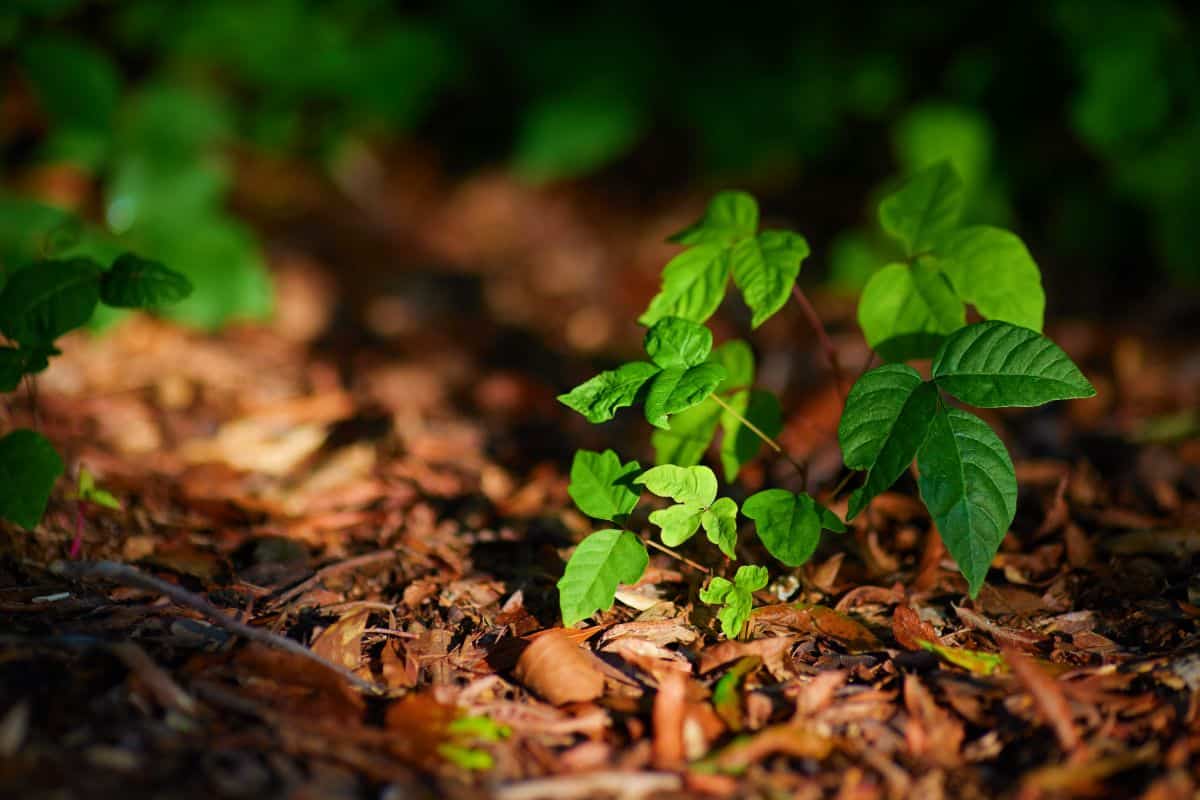 If you know you're in a patch with poison ivy, and you do not have to be, get out! The more oil you come into contact with, and the longer you are exposed, the worse it will be.
As soon as you know or suspect you have been in poison ivy, wash it off! If you get the oil off your skin soon enough, you might be able to avoid a rash or at least avoid a severe reaction. Time and fast action are key! The sooner, the better. The best window in which to wash off poison ivy oils is within 10 to 20 minutes, but even if more time has passed, it is important to wash your skin right away.
Be aware of the different ways you can catch poison ivy. You have to come into contact with the oils of the poison ivy plant to catch it, but there are different (and possibly surprising) ways in which this can happen. The oils of the plant are easily released and sprayed when the plant is cut. This might be through cutting with a trimmer or chain saw (powered saws and chain saws are especially good at spreading poison ivy because the fast action sprays and makes a sort of vapor aerosol, allowing the oil to get everywhere, including being inhaled or blasting through mesh face guards).
Oils carry in smoke—so do not burn poison ivy if you are allergic and be a responsible neighbor, and don't expose neighbors and children who are allergic to it, either.
Chopped roots and parts of plants that still carry the oils—including dead pieces—are allergenic, too. Either don't handle these pieces or protect yourself when you do.
Don't compost poison ivy plants or parts of plants. Bag them and throw them in the trash.
Wear safety glasses to protect your eyes, especially if you are using a saw or weed trimmer, or anything that may throw and spray oils.
Don't touch your face, eyes, or exposed skin when in poison ivy.
After You've Encountered Poison Ivy: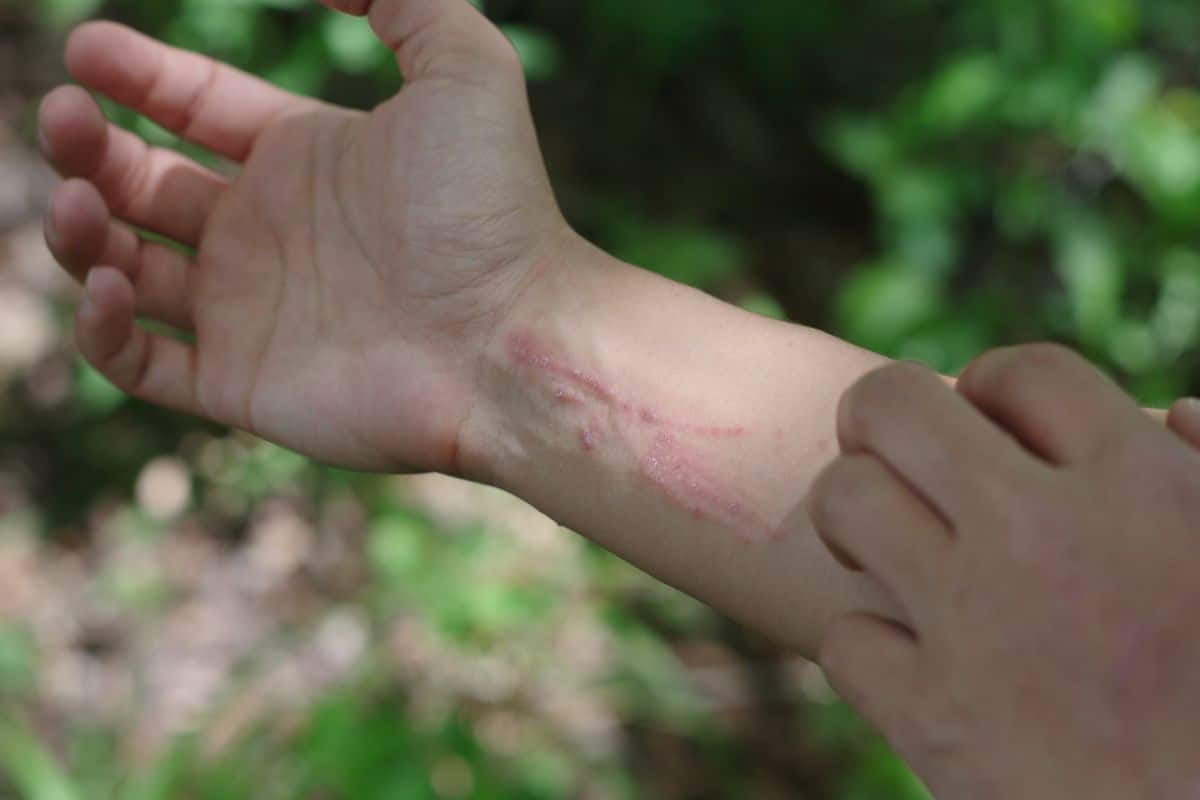 First, Wash Your Hands. Before you even remove your clothing, wash your hands with cool soapy water. Use a soap that can cut through oils and remove the urushiol that causes the reaction. Running water is best so that oils are carried away.
Shower as soon as possible with an oil-cutting soap. Some commonly recommended home remedies include dish detergents like Dawn dish soap, "yellow" soaps like Dial bar soap, and oil-cutting laundry bars like Fels Naphtha. Try your best to get into the shower within at least one to two hours (10 to 20 minutes will give you the best chance of preventing or limiting a reaction).
Do not scrub your skin hard. This can break open the skin and allow an even better access point for poison ivy oils, and you don't want that!
Wash under cool, running water. Don't soak or bathe in water until the oils are completely washed off your skin.
Dig your fingernails into a bar of soap and use a gentle nail brush to get the oil that can hide and linger under your fingernails.
Put all clothing, shoes, and protective gear into the washing machine right away. If you cannot get them into a washer immediately, bag them and tie the bag closed until you can so that you don't spread the oils and you don't keep accidentally handling them and re-exposing yourself (or others!).
If your shoes or boots cannot be washed in a washing machine, use a scrub brush and wash them with plenty of warm, soapy water. Dish soap works well. Rinse them thoroughly after cleaning.
Don't forget to wash or throw out gloves that handle poison ivy!
Important Laundry Tips for Exposed Clothing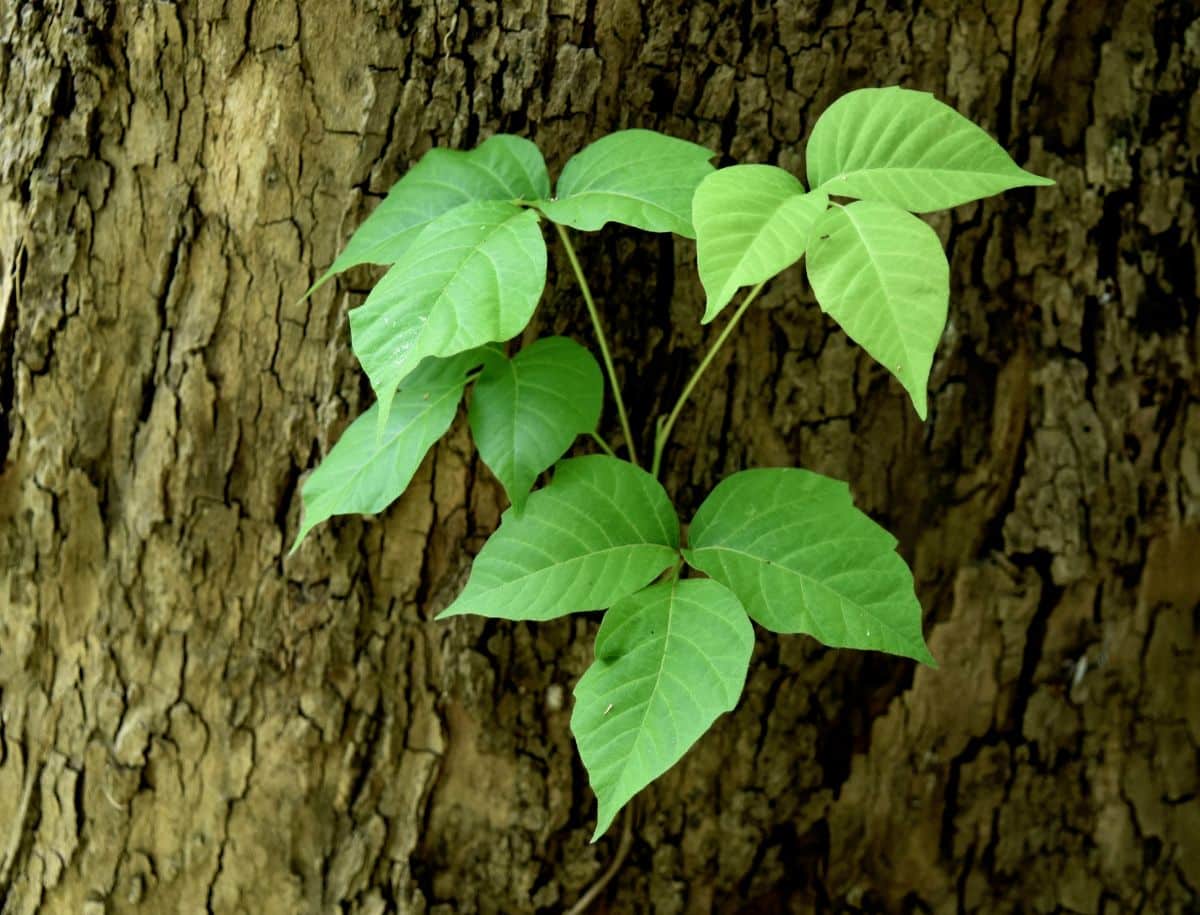 It's important to deal with clothing that has urushiol on it. The oils won't go away until you do something about them, and they can stay and reinfect you another day. Here's what to do with clothes that have poison ivy oils on them:
Don't mix clothes that have poison ivy oil with your other laundry.
Don't throw the clothes into a hamper or basket with other laundry waiting to be done. It's possible the oil could rub off onto other clothing. Also, you're apt to forget that there are pieces of clothing in there that have urushiol/poison ivy on them.
It's best to wash only the clothes that have the oil on them so you don't risk spreading the oils in the wash.
Don't over-fill the load. Leave plenty of room and plenty of water to agitate the clothing to clean it as best you can.
Use a full measure of good grease and oil-cutting laundry detergent. You can add some dish soap to the washer, too.
Wash in hot water to cut the oils.
Use rubber gloves when doing the laundry, and use a fresh pair when transferring the load into the dryer.
Use a long cycle so that the clothing is rinsed as many times as possible. This helps get the oils out of the clothing, but it also helps to rinse the washing machine of oils that may have settled in the drum or lines.
Consider washing the load twice, just to be extra safe.
Wash your hands after handling the laundry!
Other Ways You May "Catch" Poison Ivy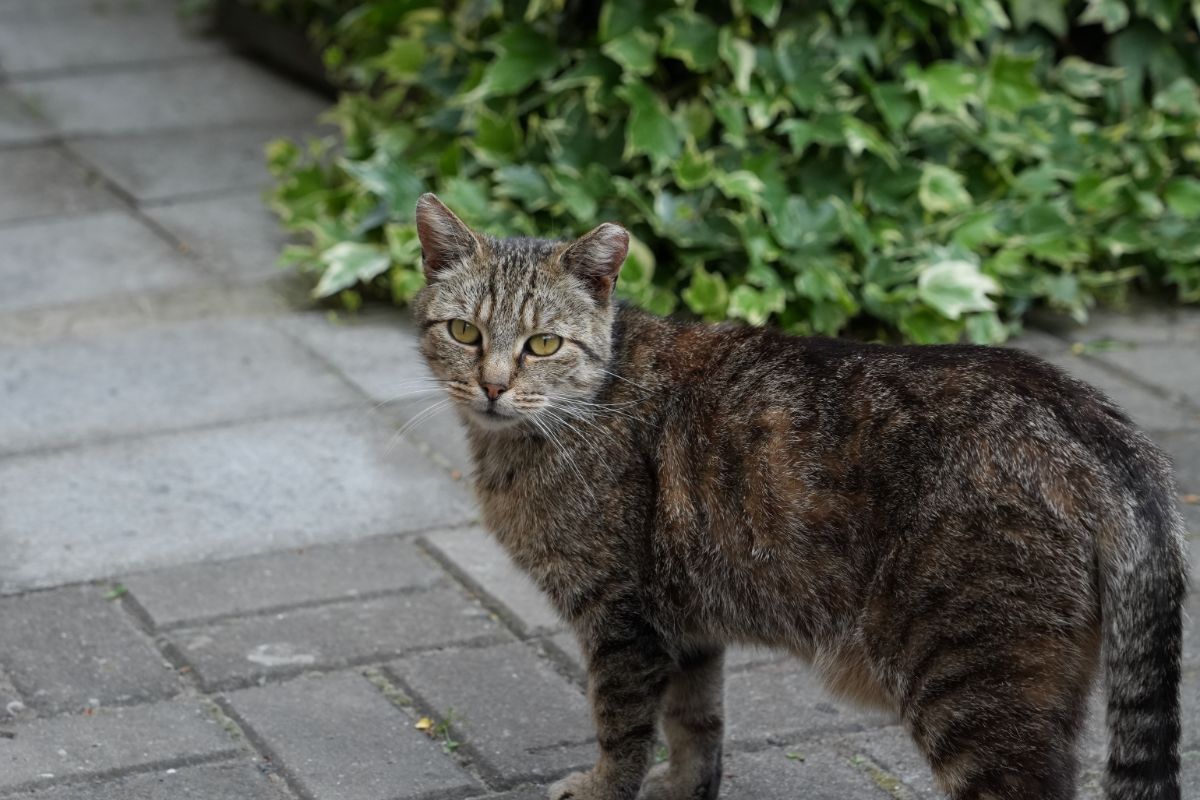 Any contact with urushiol can cause an allergic reaction. It doesn't have to come straight off the plant. There are other ways you might not expect that you can catch poison ivy. Think about the things and creatures that might have oils on them, like:
Pets—pets won't usually catch poison ivy but can spread it. (Wash pets thoroughly with a good pet shampoo or with dish soap—but make sure you rinse the soap off your pet entirely, so you don't give them dry, itchy skin!)
Tools
Shoes
From other people who have oil on their skin or clothing
Other items you touched or handled with oil on your hands—including your cell phone!
All it takes to "catch" poison ivy is to brush up against the plant—even briefly—or to somehow come into contact with the plant's oil. That oil can stay on items for a very, very long time, even for years.
As with all oils, urushiol is not water soluble, so it's just as easy to have it brushed onto your skin as it is to wipe cooking oil from a utensil onto your hand; and just as difficult to remove it. Water alone won't do it. You need detergent or alcohol to break it down and carry the oil away. Items like cell phones and electronics can be wiped down with rubbing alcohol to remove poison ivy oils.
How to Stop a Poison Ivy Rash from Spreading After Exposure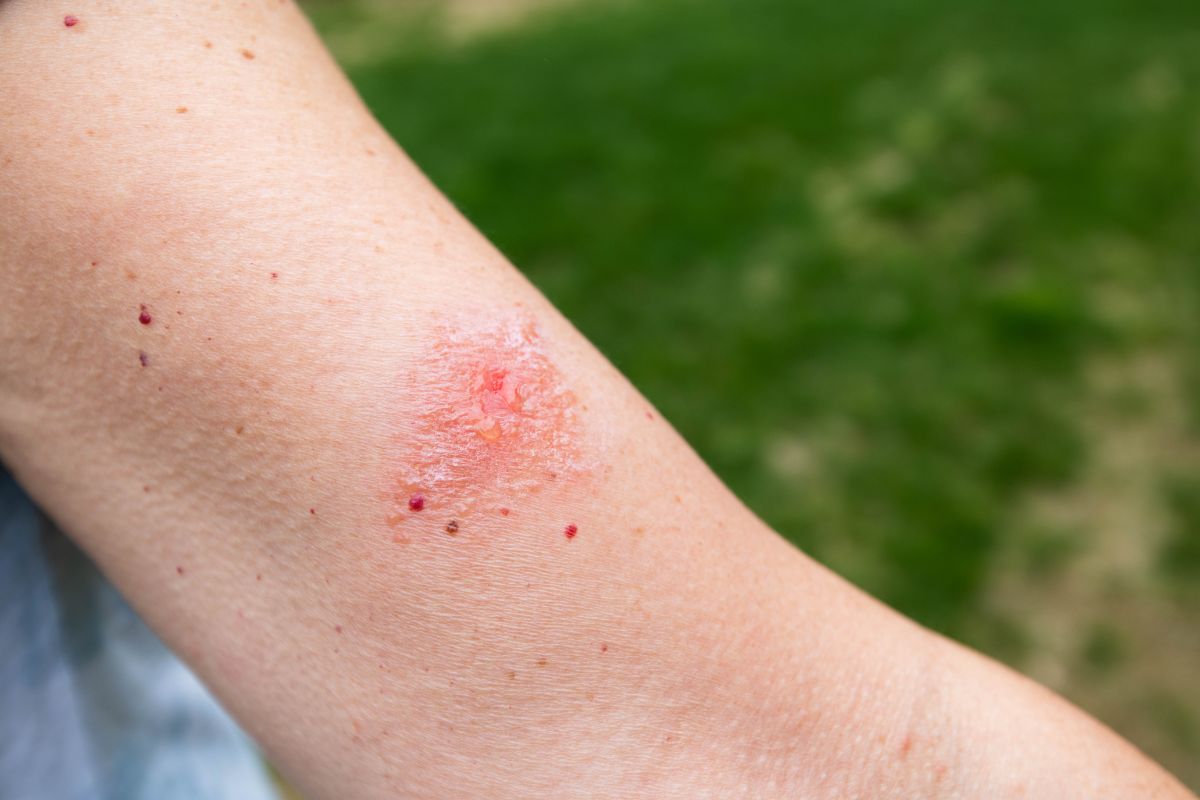 This is easy because it doesn't. That is to say, the rash that you have or develop after you were exposed and after you cleaned the oils off your skin does not cause more reaction. If a larger rash develops, it is the rash that is developing from your original contact with the plant and oils.
Rashes that continue to bloom are reactions to the original exposure, I.e., when you touched or came into direct contact with the oil. If you have blisters that are weeping and oozing, they cannot spread the rash to other parts of your body, and you cannot "give" poison ivy to anyone else from your rash or blisters.
The only way this would happen is if you do not clean off all the oil if you touch someone with oil on your skin, or if you expose yourself or someone else again to the oils that are left behind on clothing and tools. Poison ivy rashes do not spread poison ivy. This is an old wives' tale that is pretty persistent but is entirely false.
Over the Counter and Home Remedies to You Help Cope with a Poison Ivy Reaction
Hydrocortisone cream or spray for itching (but not on open wounds or rashes)
Rubbing alcohol—to remove oils and dry weeping rashes and disinfect skin, but use as a spot treatment only and not for prolonged periods
Calamine lotion (dries weeping rashes and relieves itching)
Witch hazel for drying blisters and rash
Apple cider vinegar for drying weeping rashes (some people soak pieces of brown paper bags or brown craft paper and apply as a compress for longer action)
Oatmeal baths or compresses
Baking soda and water compress or paste
Cool wet compresses
Antihistamine tablets or medications which help control allergic reactions and itching
Showering or bathing in cool water will often feel better than warm water bathing because warm water draws blood flow to the skin and worsens reactions.
Chickweed, which often grows in areas near poison ivy, is a home remedy that is said to help in treating poison ivy. It is also available in a salve.
Specially formulated poison ivy itch products like Ivarest.
Cucumber slices or a cucumber mashed into a paste
Aloe vera gel
Many of the cleansers and treatments that are used to combat poison ivy can cause drying and itching of the skin. After the oil is removed, applying moisturizers and healing agents like those mentioned above can help soothe itching and repair cracked or drying skin.
When to seek medical attention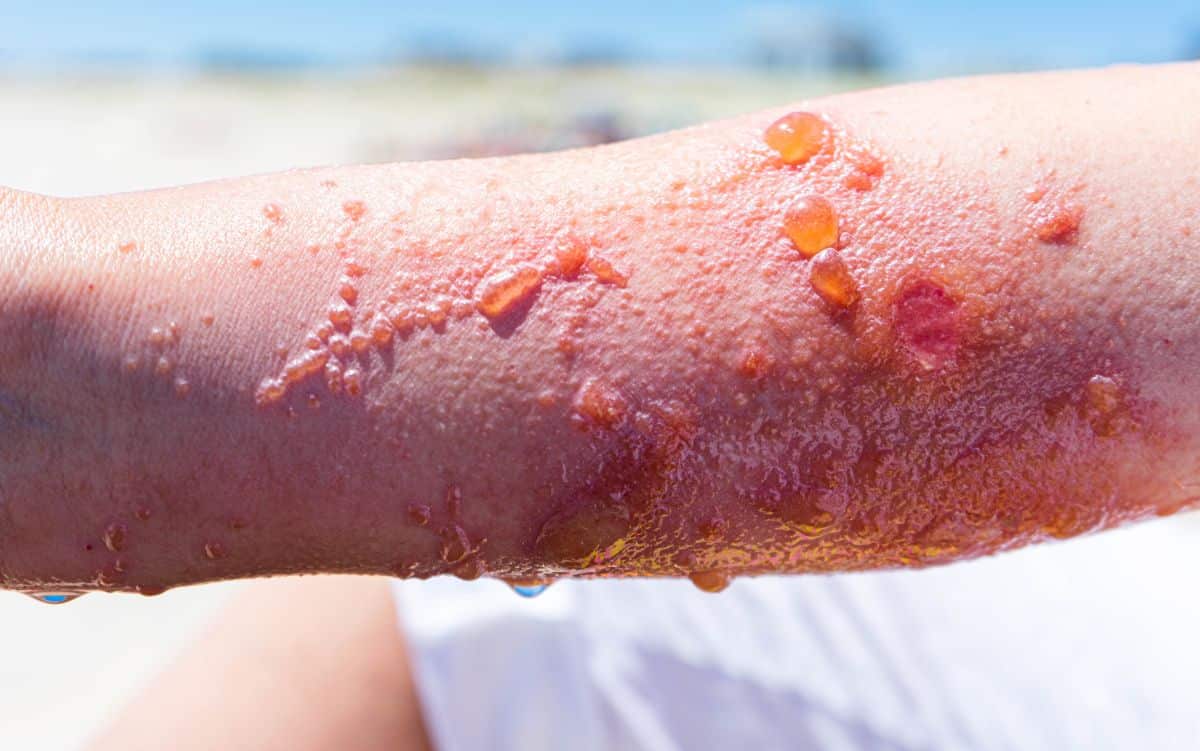 If you have any trouble breathing after exposure to poison ivy, especially smoke or airborne oils, seek medical attention right away. If your rash is severe or painful and itching can't be controlled, or if you develop a fever or signs of infection like pus, you should also call your doctor or seek medical care. Doctors have stronger medications and steroids that they can prescribe for serious cases of poison ivy.
If in doubt, err on the side of caution and seek the advice of a medical professional.