Attractive, sustainable, and long-lasting, there are many reasons to try pine needle mulch in your garden. But this all-natural mulch may not be right for everyone. In this guide, we'll discuss the benefits of using pine needle mulch and how it compares to classic wood mulch.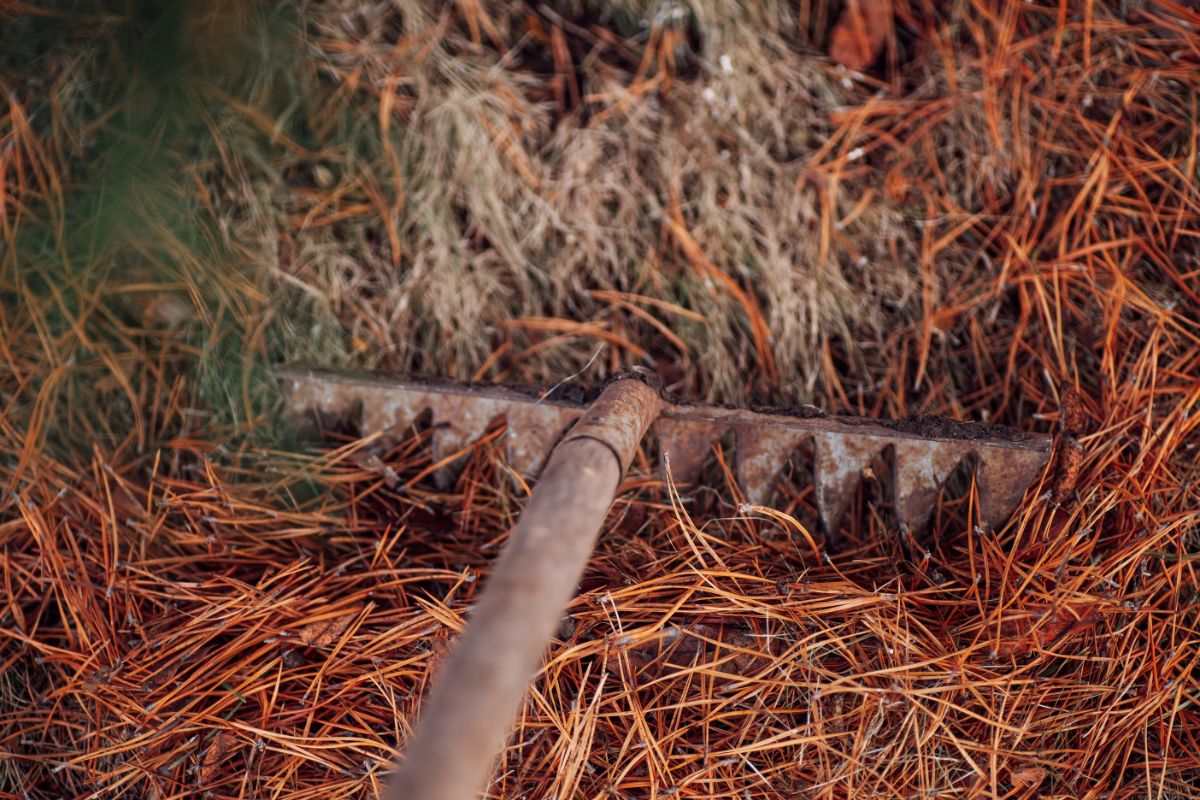 Jump to:
Pros of pine needle mulch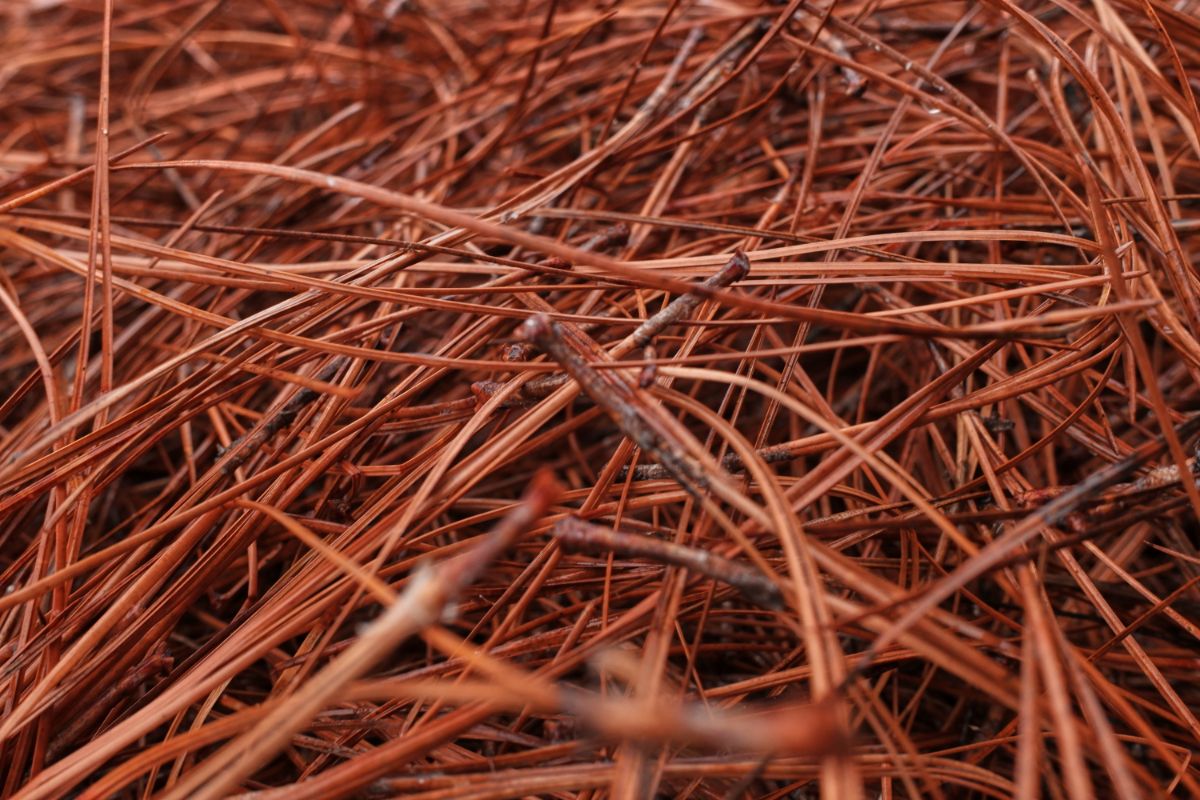 Pine needle mulch isn't as commonly used as wood mulch, but times are changing, and pine mulch is becoming more popular among backyard gardeners. Below are some of the main reasons why people are switching to pine needle mulch.
It's sustainable.
Unlike wood mulch, which is produced from tree trunks and bark, pine needle mulch doesn't require any trees to be cut down. Pine trees naturally shed their needles, and repurposing those needles into foraged mulch is both savvy and eco-friendly.
It's attractive.
Fresh pine needle mulch really makes a statement and creates a charming, natural aesthetic in garden beds. Naturally golden-orange in color, pine needle mulch is loose and fluffy and forms attractive mounds around ornamental shrubs, trees, and flowers.
While wood and bark mulches are also appealing, many of those mulches are colored with artificial dyes to achieve the same tones that pine needles naturally have.
It's long-lasting.
Once applied, pine needle mulch will easily last for a few years and won't degrade as quickly as most wood and bark mulches. Super low maintenance, gardeners often just need to fluff their pine needle mulch in spring to keep it looking its best.
As it ages, pine needle mulch will turn a light silver color. While this coloration can look nice if you prefer the look of fresh pine needle mulch, simply top off your old mulch with a thin layer of fresh pine needles every spring.
It's an excellent insulator.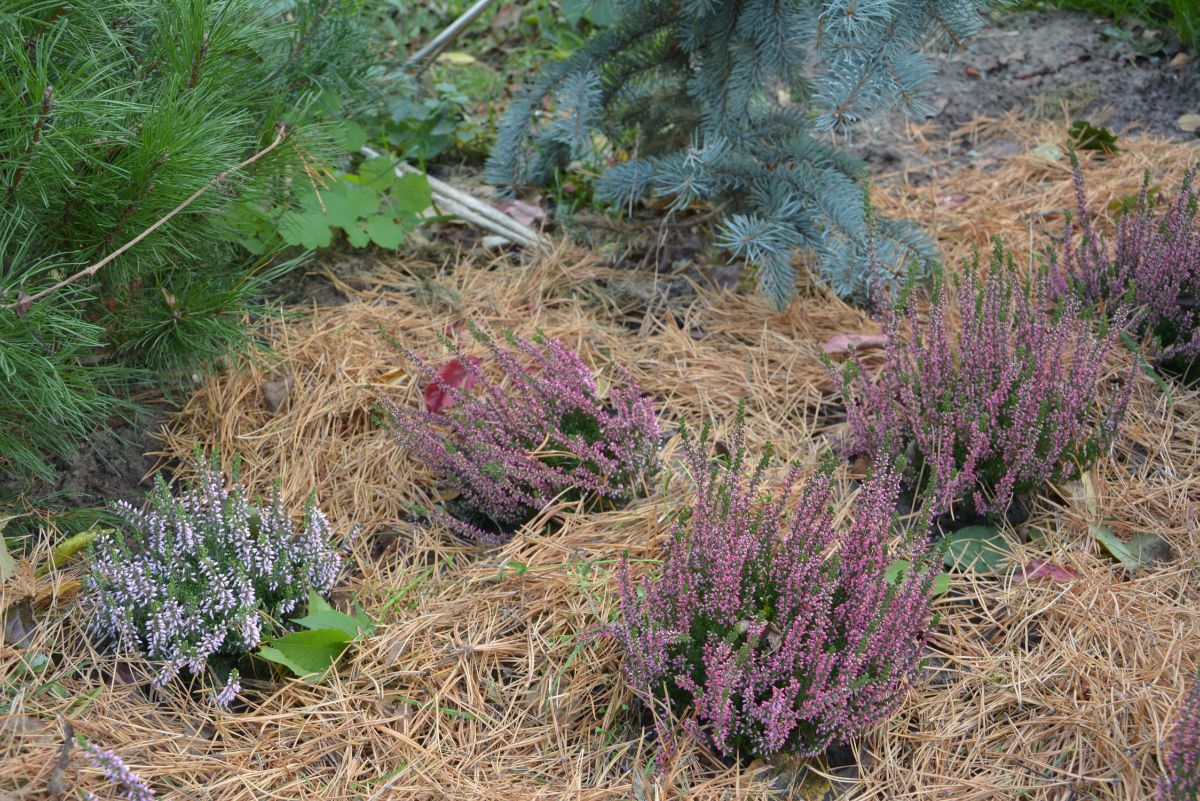 All organic mulches help to insulate the soil from extreme temperatures and conserve moisture levels. However, pine needle mulch does this better than most other mulch types.
Because of the large air pockets in between the needles of pine mulch, this mulch variety buffers the soil wonderfully and helps shield tender plant roots from the summer heat and winter chill.
It's less expensive.
If you have long-needled pine trees in your backyard, such as loblolly pines and ponderosa pines, pine needle mulch can be free! Even if you have to purchase your mulch from your local garden center, pine needle mulch is usually a lot cheaper than standard wood mulch.
For example, one dollar's worth of pine needle mulch will usually cover about 12.5 square feet of garden space. One dollar's worth of wood mulch, on the other hand, usually covers only 3.5 square feet. That makes storebought pine needle mulch about 3.5 times less expensive than wood mulch!
It's perfect for DIYers.
If you have access to long-needled pines, you can harvest your own pine needle mulch on your own! Wood mulch is much more difficult to create and requires a wood chipper.
It suppresses weeds.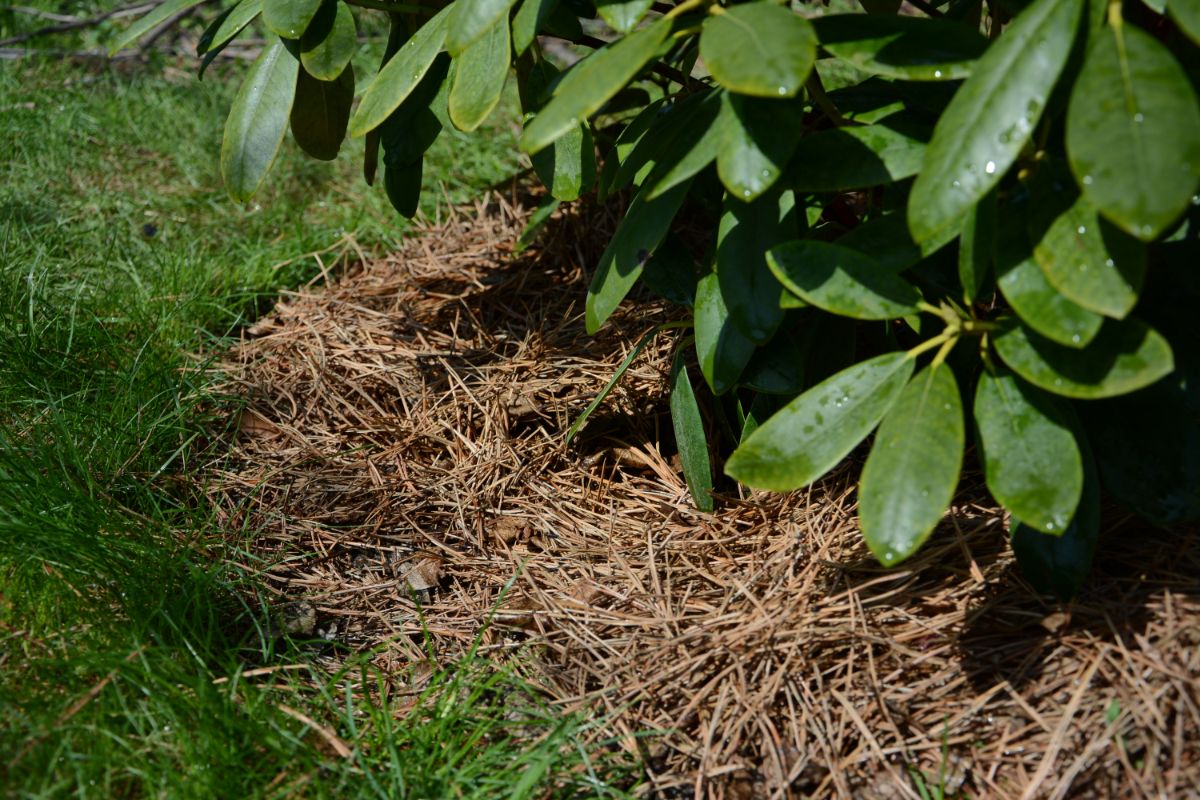 Like other mulches, pine needle mulch will help prevent weeds and keep your garden looking its best.
It protects soil.
Pine needle mulch will also create a buffer around your garden soil and will help prevent soil erosion and compaction due to driving rains, wind, and other extreme weather.
It's lightweight.
Wood mulch is dense and often contains a high moisture content, which can make it quite heavy. Pine needle mulch, on the other hand, is drier and much lighter to move around. Although this may not seem like an important factor to consider, if you need to move wheelbarrows of mulch up a hill, working with light pine needles will be much easier on your back!
Unlike bagged wood mulch, pine needle mulch comes in bales. One bale of pine mulch weighs about 35 pounds and covers approximately 50 square feet of gardening space. One 2 cubic foot bag of wood mulch weighs 25 pounds and only covers 12 square feet of garden space!
It's easier to apply and remove.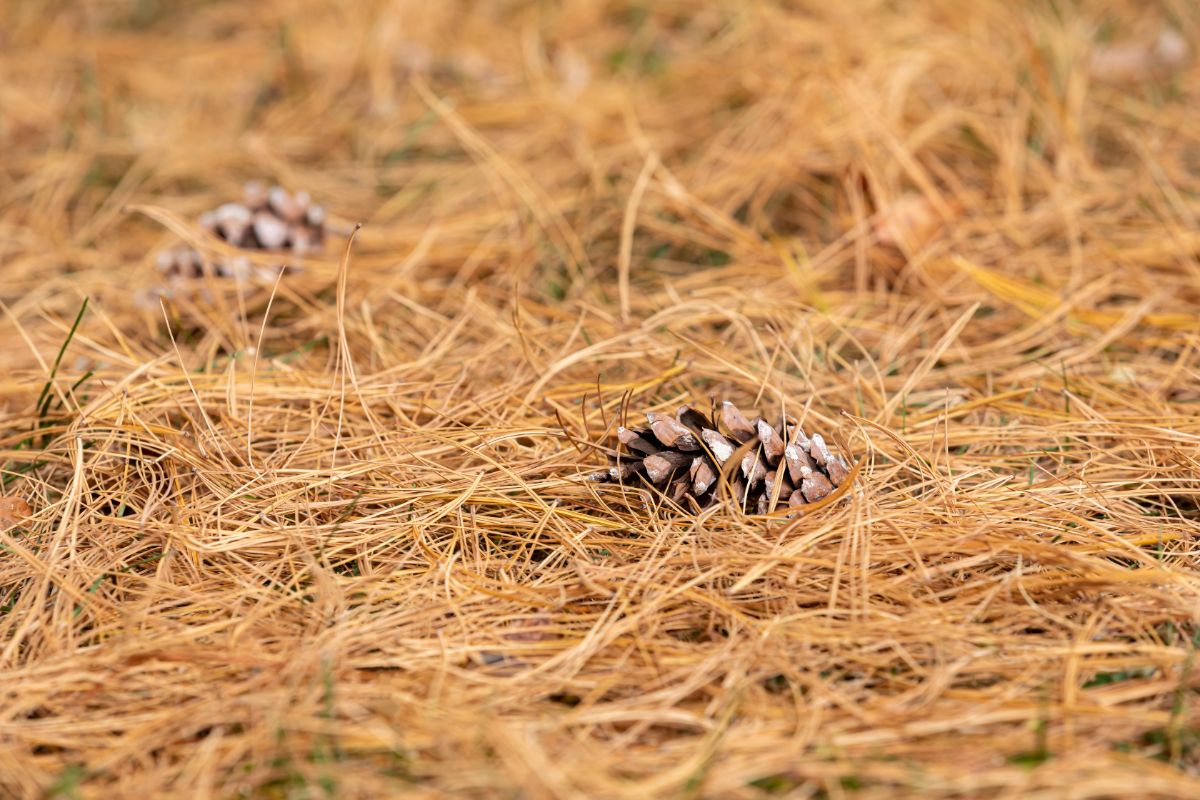 In addition to being lighter in weight, pine needle mulch bales are also easier to apply than wood mulch. Additionally, if you ever need to remove your pine mulch for any reason, it is much easier to rake up and compost than wood mulches.
It doesn't slip.
When placed on sloping garden beds, wood mulch will often slip and spread out, especially after heavy rain. However, pine needle mulch is made from long needles that tend to interlock and hold each other in place. This makes pine needle mulch a better option for landscapes with steep grades and slopes.
It improves your soil.
Like other mulches, pine needle mulch will contribute valuable organic matter and nutrients to your garden soil as it naturally breaks down. This can improve your soil structure and boost plant growth too!
It doesn't change soil pH.
There is a common misconception that pine needle mulch will change your soil pH and make garden beds too acidic. This is simply not the case.
While fresh pine needles are acidic, their pH neutralizes as they age. This makes pine needle mulch perfectly safe for most gardens.
Cons of pine needle mulch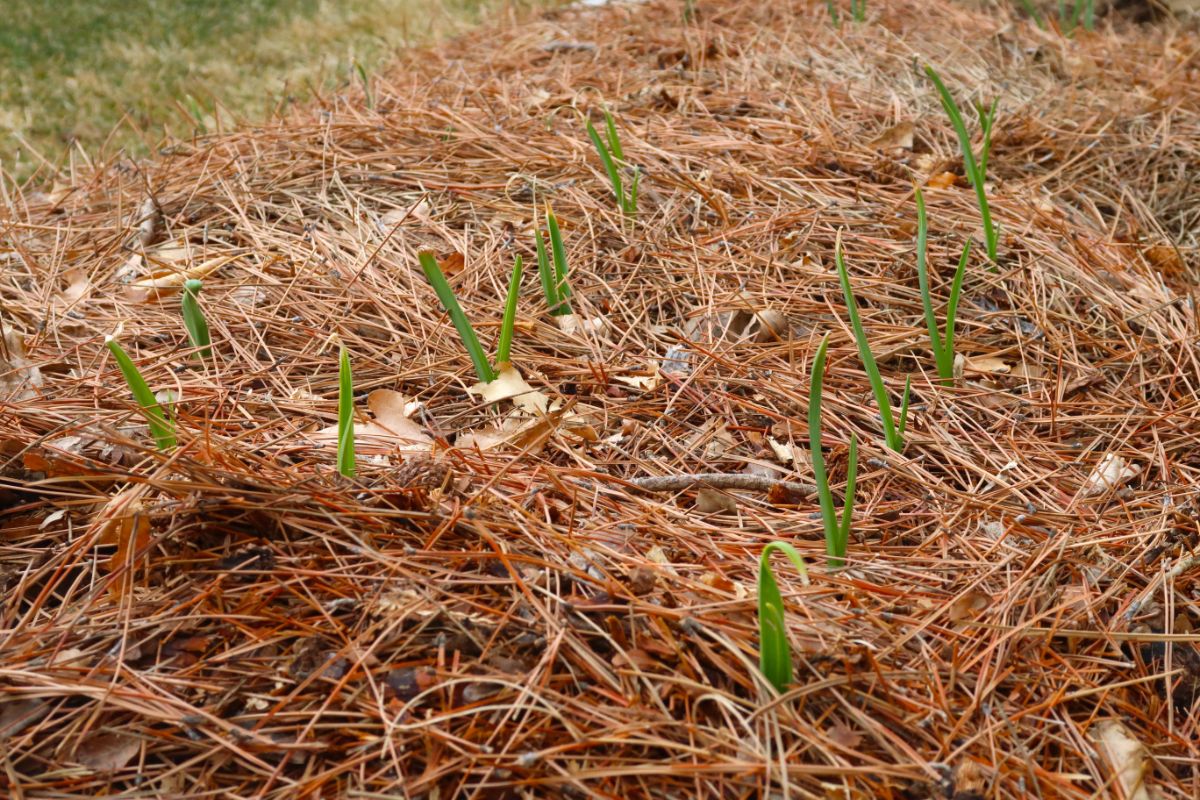 Although pine needle mulch has many benefits, some gardeners may encounter a few problems with this mulch variety. It's important to consider these potential issues when deciding if pine needle mulch is the right ground covering for your garden.
Weeds may still penetrate.
Because pine needle mulch is looser than wood mulch, it contains more air pockets. These air pockets can allow more sunlight and water to penetrate the soil below and may leave space for weed seeds to germinate. To avoid this, add at least 3" of pine needle mulch to your garden beds, and be sure to pull out any weeds you see as soon as you can.
Wind may move it.
Pine needle mulch is lighter than wood mulch and may be more likely to be blown about by the wind. For this reason, avoid using pine needle mulch in very windy locations.
It is not appropriate for wildfire-prone locations.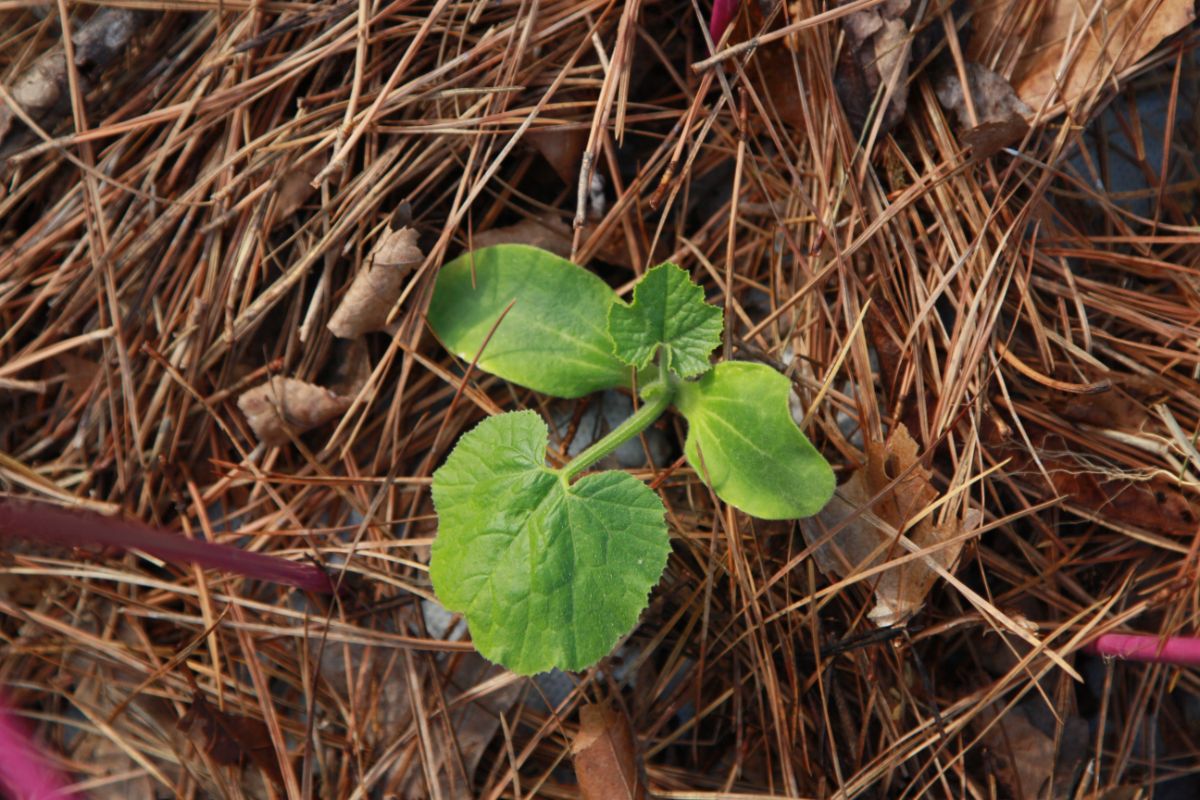 Pine needles can catch fire readily. If you live in a region that is prone to wildfires, it's best to avoid using pine needle mulch.
It can be harder to find.
If you have long-needled pine trees in your backyard, you shouldn't have any trouble gathering pine needle mulch. However, if you want to purchase this mulch type, you'll usually have to check around, as not all landscape centers carry it.
It can trap autumn leaves.
In autumn, dried leaves can get caught in pine needle mulch and be difficult to remove with a rake.
Pine needle mulch vs. wood mulch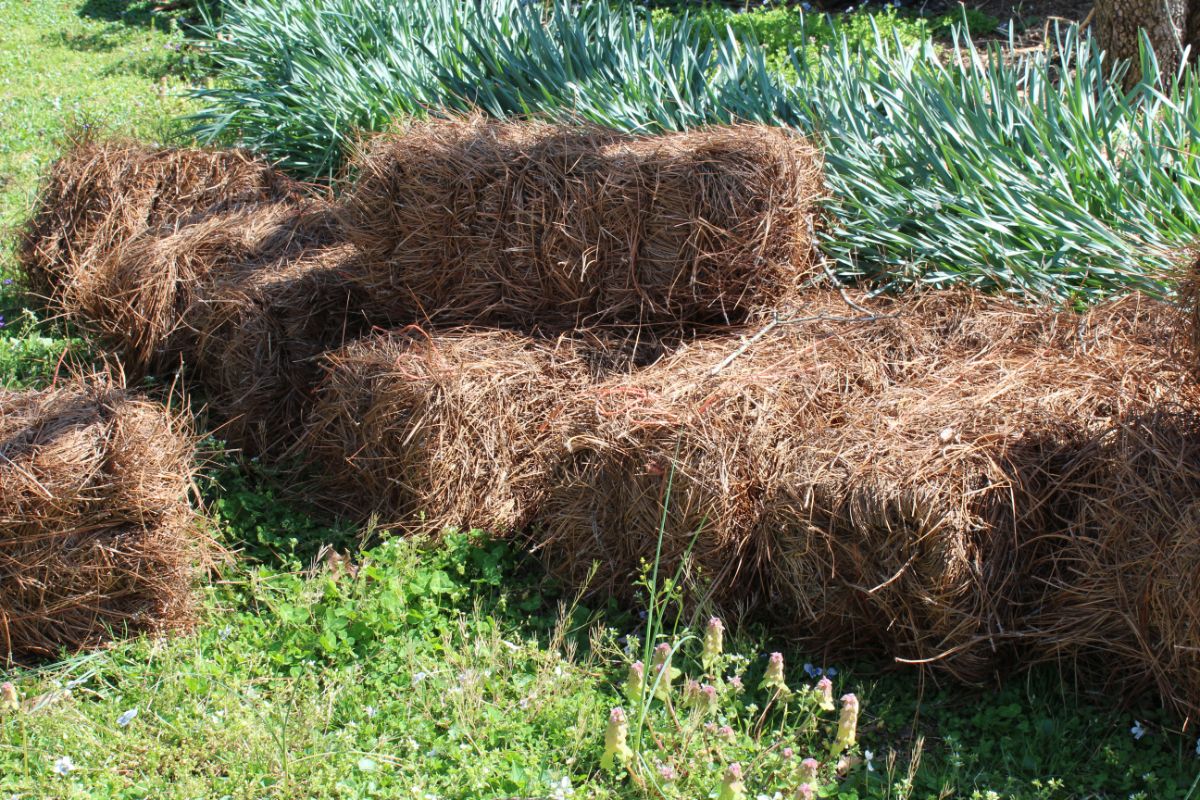 If you're still on the fence about whether to use pine needle mulch or wood mulch, here's how these two mulches stack up against each other.
Price
Pine needle mulch is usually significantly less expensive than wood and bark mulches.
Sustainability
Pine needle mulch is more eco-friendly than wood mulches, as trees don't need to be cut down when harvesting this mulch.
Durability
Pine needle mulch lasts longer than most wood mulches.
Weeds
Wood mulch's density makes it better at weed suppression than pine needle mulch.
Insulation
Pine needle mulches provide better insulation to soils and reduce moisture evaporation too.
Application
Pine needle mulch is lighter and easier to apply than wood mulch.
Summary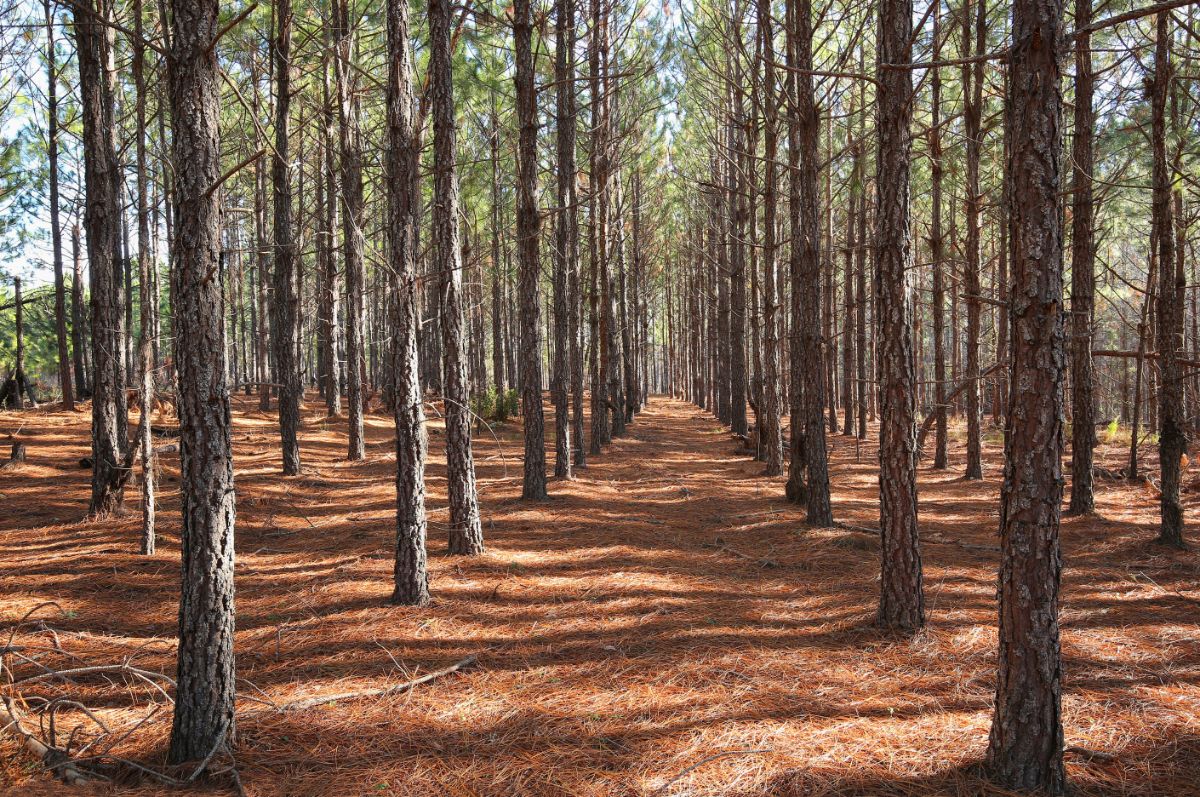 Pine needle mulch is an often overlooked mulch variety, but this attractive and durable mulch has lots to offer the backyard gardener. Sustainable and easy to apply, pine needle mulches are usually much cheaper than wood mulches, and they last longer too.
If you have long-needled pine trees in your backyard, the decision to use pine needle mulch is an easy one. But even if you need to purchase bales of needle mulch, this mulch is definitely worth it! So keep a look out for pine needle mulch this season and freshen up your garden beds with pretty mounds of golden-brown pine needles.
For more information about the best mulches to try in your garden, check out our full guide on organic mulches here. Click here for more ways to use pine needles in the garden.