If you would like to bring dramatic color to your garden beds that will return year after year, consider planting phlox.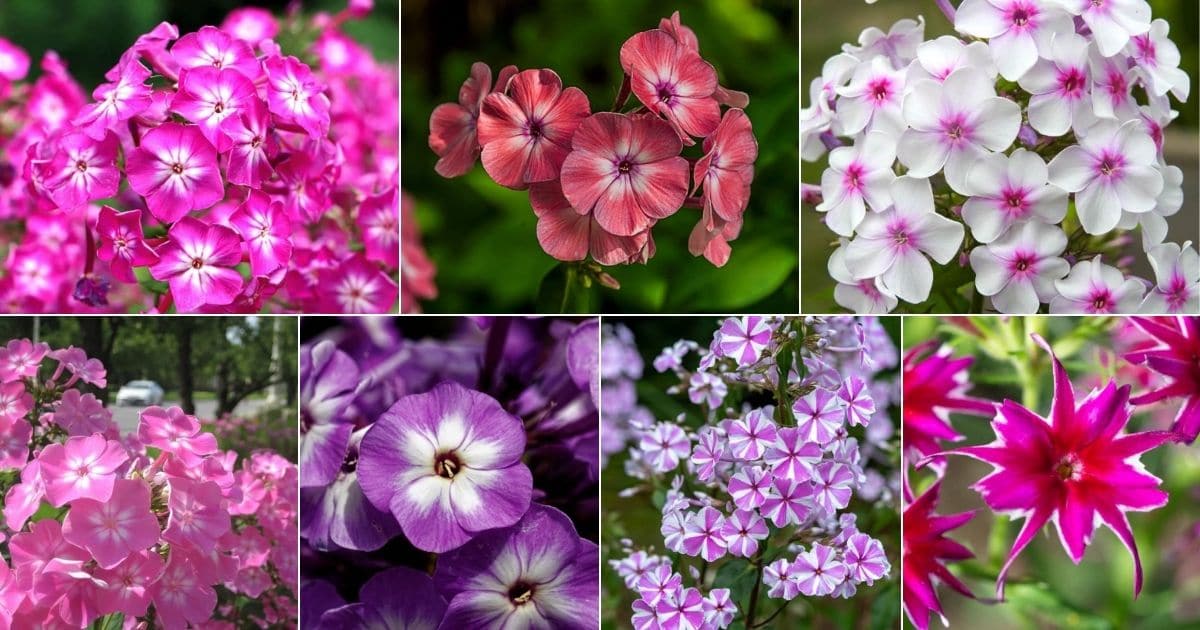 Phlox, sometimes called "garden phlox" or "summer phlox," is an easy, low-maintenance plant that can look great anywhere in your garden but which is particularly suited to borders.
By the time you finish our in-depth growing guide, you are going to feel like a phlox expert. We are going to teach you the ideal conditions for growing phlox, how to plant and care for this perennial, what varieties to consider, and more.
Jump to:
What Are Phlox?
Let's begin with the basics. "Phlox" is a genus of plants in the Polemoniaceae family. There are 67 different species and plenty of different cultivars from which to choose.
The name "phlox" means "flame" in Greek. The shapes of phlox plants are not all that flame-like, but the colors share the flame's intensity.
While you are browsing different types of phlox plants, you will notice that they come in two main categories:
Upright phlox
Matt-like phlox
The mat-like forms of phlox make an excellent ground cover. They spread relatively quickly, but they are easy to manage and direct.
Phlox Basics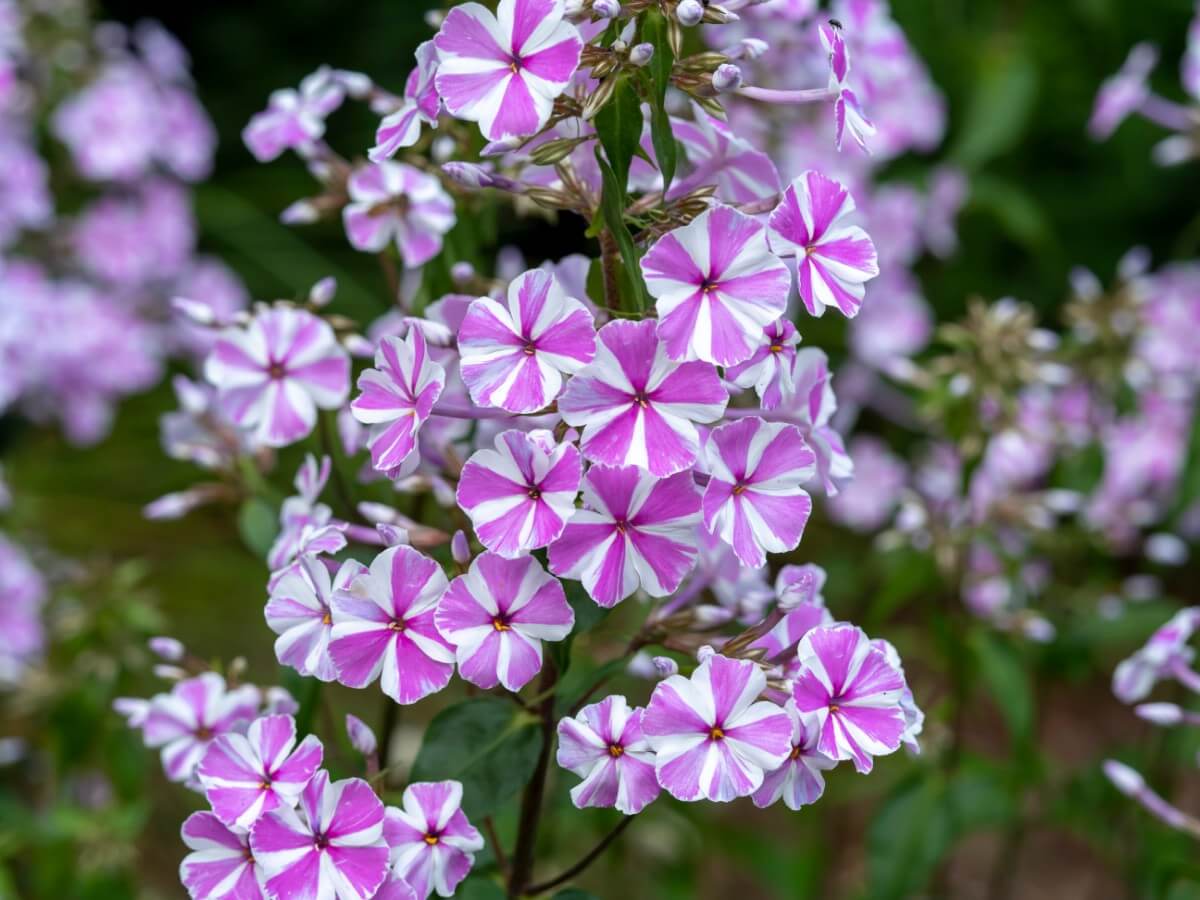 | | |
| --- | --- |
| Zones: | 2-9 |
| Blooming season: | Spring and summer |
| Expected height: | 2-4 feet |
| Soil: | Loamy or sandy |
| Sun: | Full to partial |
Where Do Phlox Grow?
Most phlox species grow in North America. But you will also find one species of phlox in Siberia.
Tolerant of a wide range of climate zones, phlox can be found in many different environments. Indeed, this plant is as at home in the prairie as it is in the tundra. So, phlox has been cultivated all around the world.
Why Grow Phlox?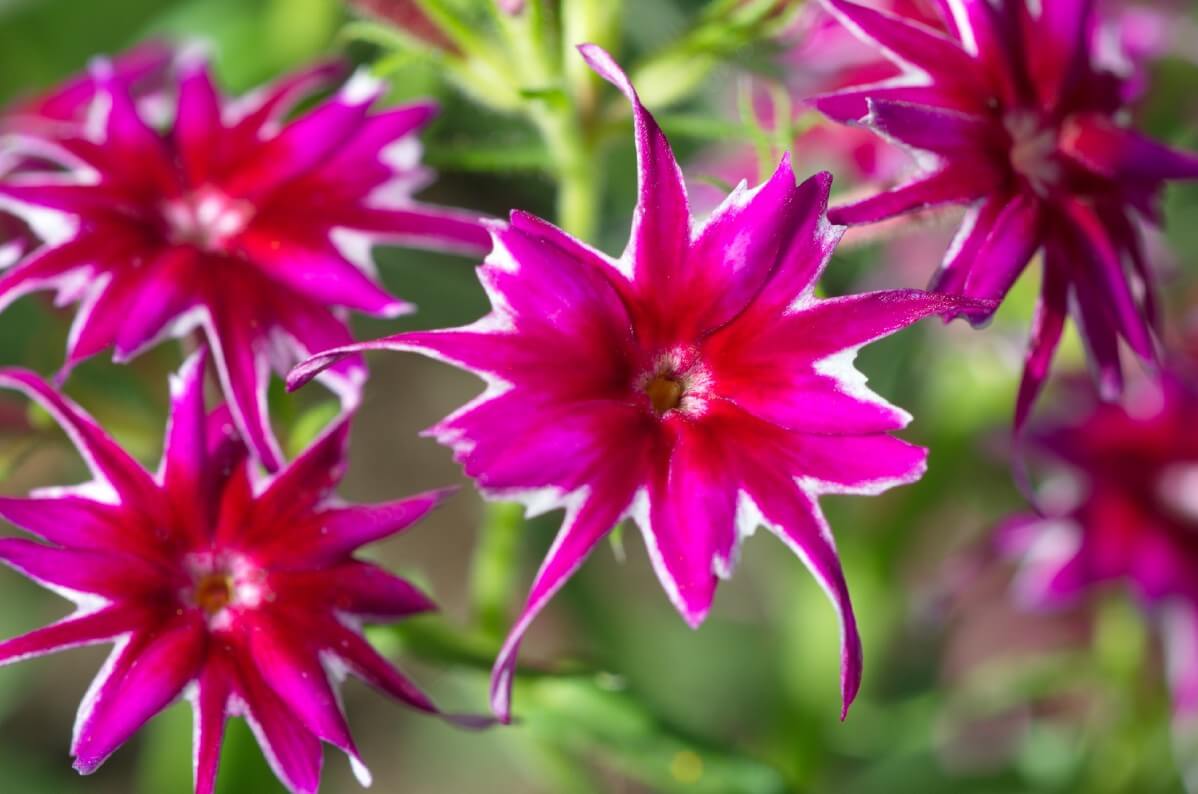 Here are a few reasons to make phlox the next perennial addition to your garden:
Phlox is incredibly versatile. Whether you want a dramatic carpet of flowers, blossoms that drape over rocks or containers, elegant borders, or taller upright plants featuring fragrant flower clusters, there are phlox varieties that can help you fill in any gap in your garden.
There are many beautiful cultivars. You will find phlox in many different colors. There are even varieties that feature petals with multiple hues (usually white and another color).
The needle-like foliage of evergreen phlox is beautiful in all seasons. It is a great way to cover up what would otherwise be barren spaces.
Bees, hummingbirds, and butterflies love this perennial plant. Phlox will attract all the friendly guests you want to your garden.
Phlox can be a good flower for bouquets. The cut flowers will fill your home with fragrance and color.
There is a wide bloom time to enjoy. Phlox flowers can offer you weeks of pleasure before their bloom season is complete.
Recommended Phlox Varieties
There are many types of phlox you can plant in your garden. Here are a few popular options: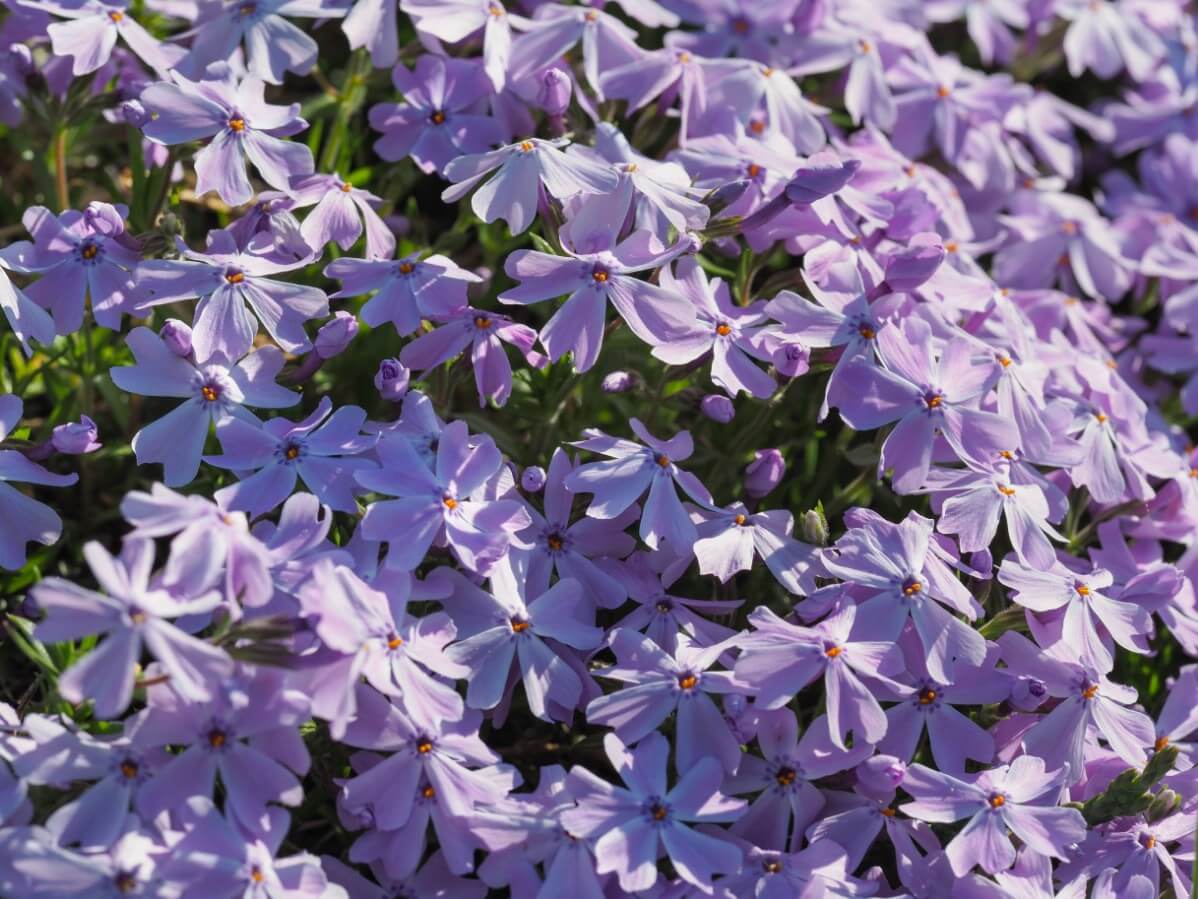 Emerald Blue: If you want a lilac-colored phlox plant to use as ground cover, this variety of creeping phlox is worth considering.
Blue Paradise: Like "Emerald Blue," "Blue Paradise" phlox is purplish in color rather than a true blue. It is considered a mildew-resistant variety. So, for those who live in humid climates, it may be a good choice.
Orange Perfection: If you want a truly flame-like phlox plant, consider this cultivar with its fiery orange blossoms.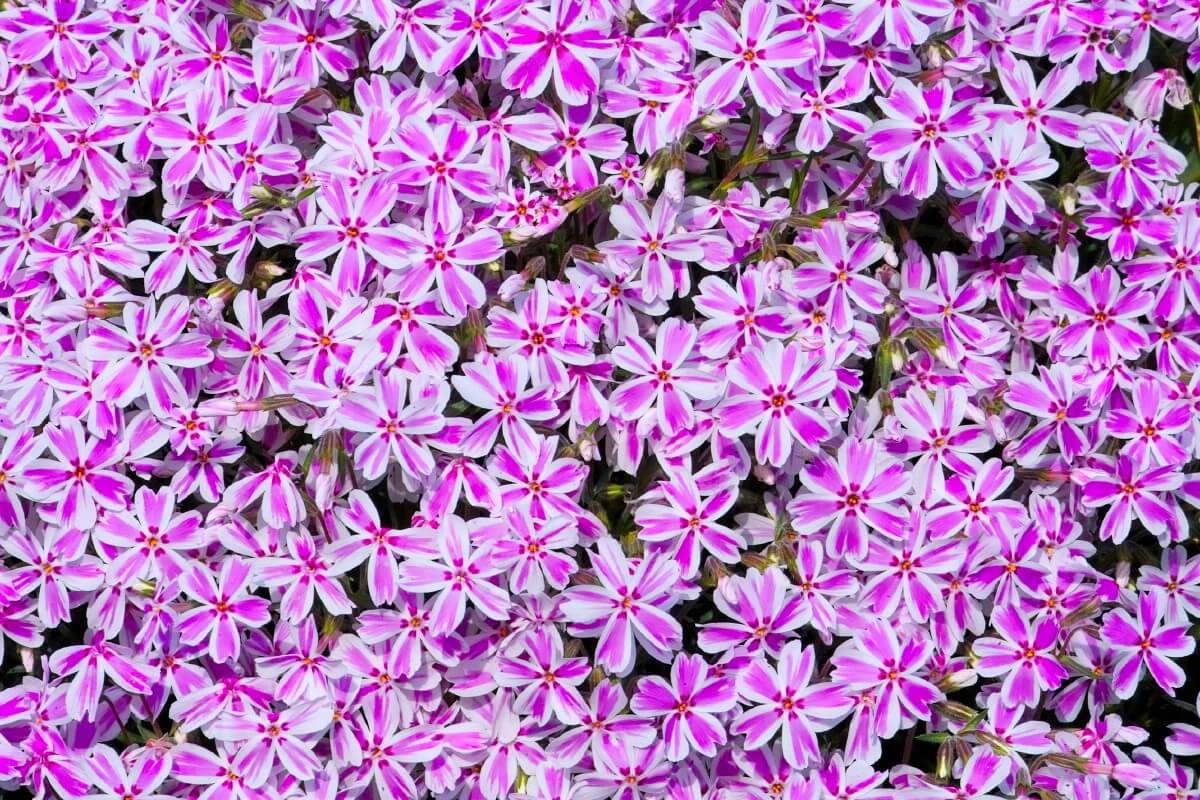 Candy Stripe: Want pink and white blooms? This creeping cultivar of pink phlox features flowers that look like candy-striped confections.
Peppermint Twist: This cultivar calls to mind the image of clusters of miniature pinwheels. It is a tall phlox variety. The pink is brighter than that on the candy stripe cultivar, and the blossoms have a more "rounded" look.
David: Another popular option for phlox with white flowers is the "David" variety. It is a form of tall phlox.
Jeana: This tall phlox features small purplish flowers.
Bright Eyes: The pink flowers that grow on this type of phlox plant feature bright petals and darker middles.
Nicky: If you want darker pink blossoms, the fragrant blooms of the "Nicky" cultivar will dazzle you with their vivid hues.
Coral Flame: If you want to plant a dwarf cultivar of phlox, you can fill your garden with vibrant coral red color with this variety.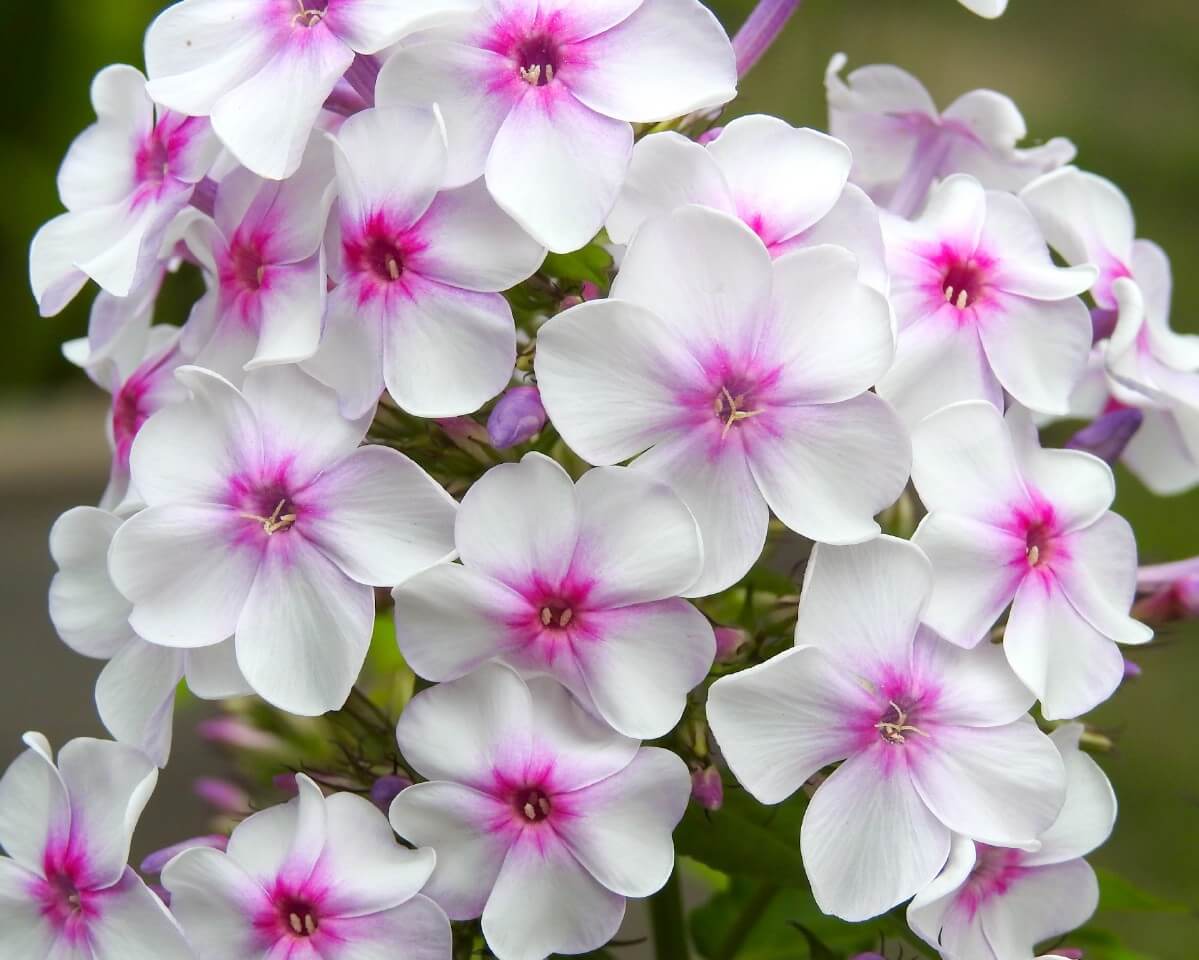 Flame White Eye: These phlox flowers are white with pink centers.
Purple Beauty: For a phlox plant with purple blooms, consider the "Purple Beauty" cultivar with its dark centers and bold hue.
Nora Leigh: These phlox blossoms are light pink with darker pink toward the middles.
Volcano Ruby: Another versatile plant to resist mildew is the "Volcano Ruby" phlox variety. Indeed, if other forms of phlox struggle in your southern climate, you might be able to successfully grow this cultivar. Just keep in mind that it can get too much sunlight in such a climate. So, a little bit of shade is wise.
Grenadine Dream: Want phlox flowers that form globe-like clusters for a dramatic effect? You will love the reddish Grenadine Dream.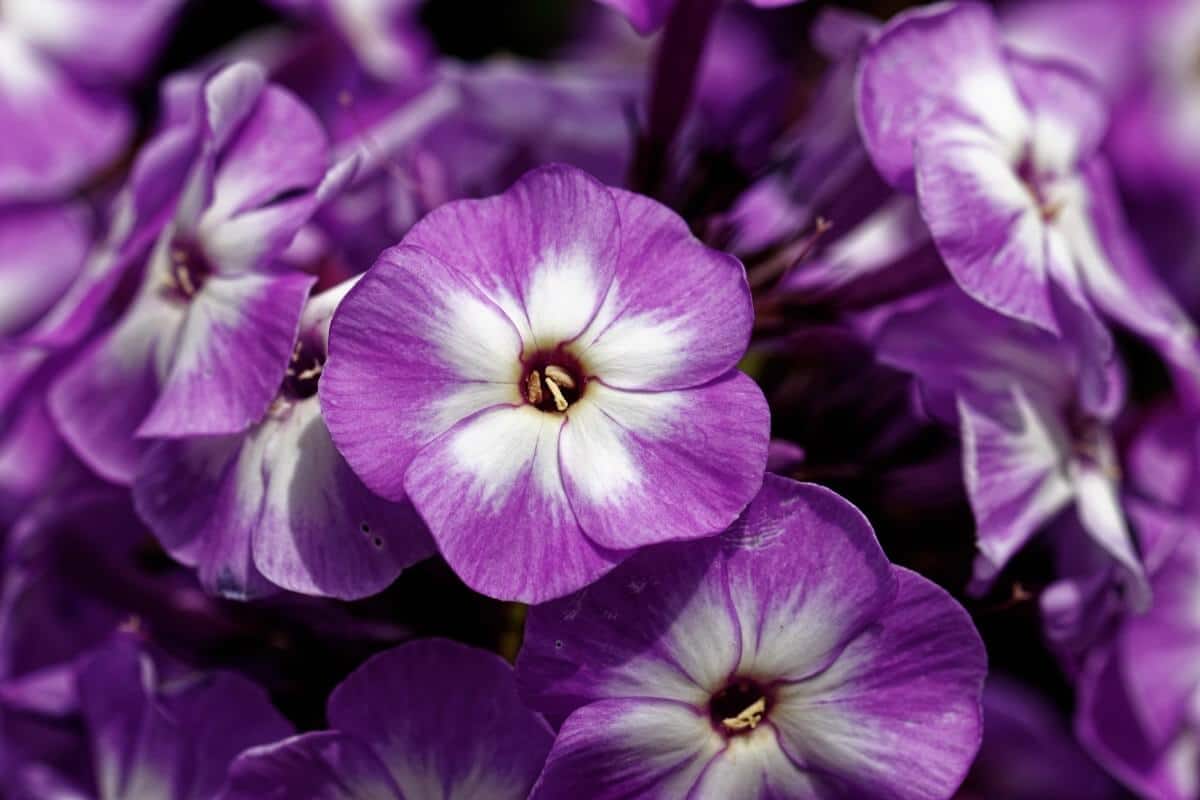 Little Boy: This is among the more popular low-growing varieties of phlox. The dark purple petals that fade to white toward the centers are beautiful to behold.
Jubilee: This type of phlox has a similar hue to Orange Perfection. But while it grows well in dry weather, it can easily come down with powdery mildew in a more humid climate.
Now you are familiar with some common varieties of phlox. But these are not the only ones out there, so do not forget to check out other cultivars for pale lavender-blue flowers, jewel-tone blooms, and more.
When Do Phlox Bloom?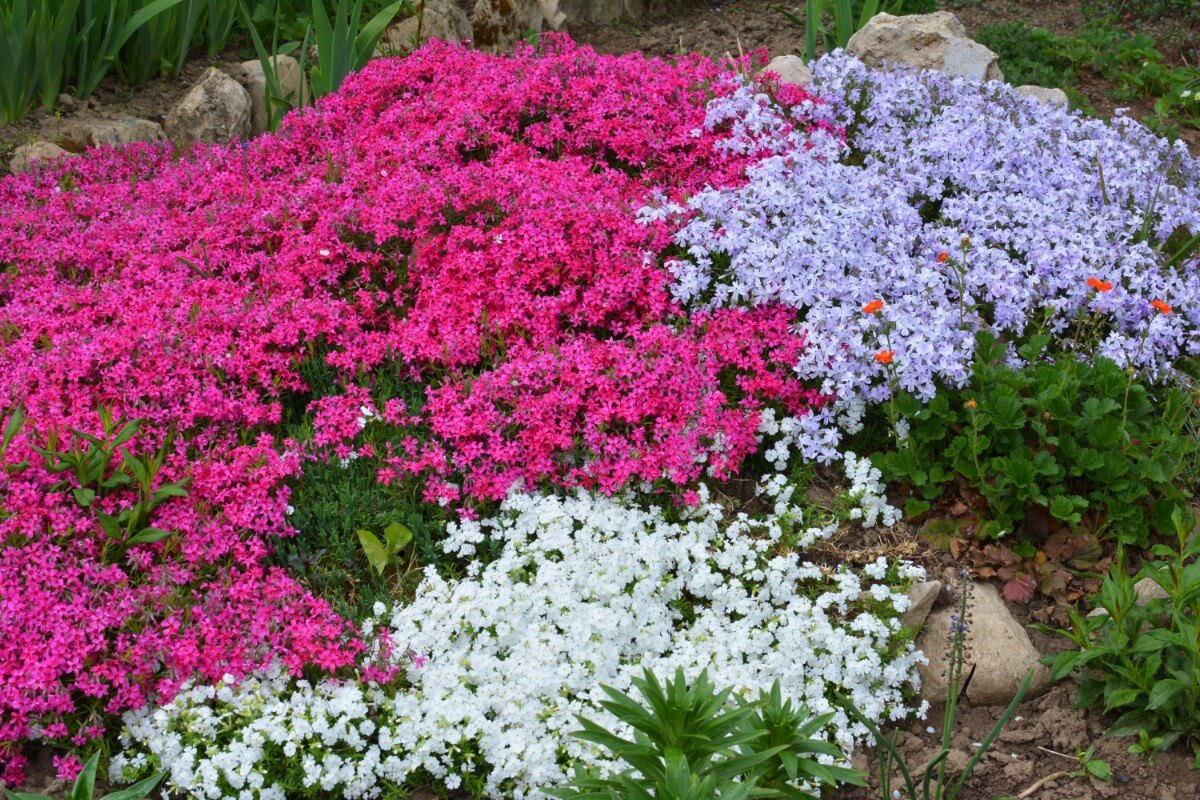 The bloom time for phlox is in the spring and summer.
How Long Do Phlox Bloom?
One of the best things about phlox is how long they bloom! The University of Minnesota Extension writes, "Count on tall garden phlox (Phlox paniculata hybrids) to provide a colorful summer display in perennial gardens, blooming as much as six weeks or more. Some cultivars begin blooming in mid-summer, others not until late August."
When to Plant Phlox
You can plant phlox at two different times of the year: spring or autumn.
If you aim for spring, you should make sure that the date of the last frost is behind you.
If you plant in the fall, make sure your phlox will have adequate time to establish before the first frost.
Ideal Growing Conditions for Phlox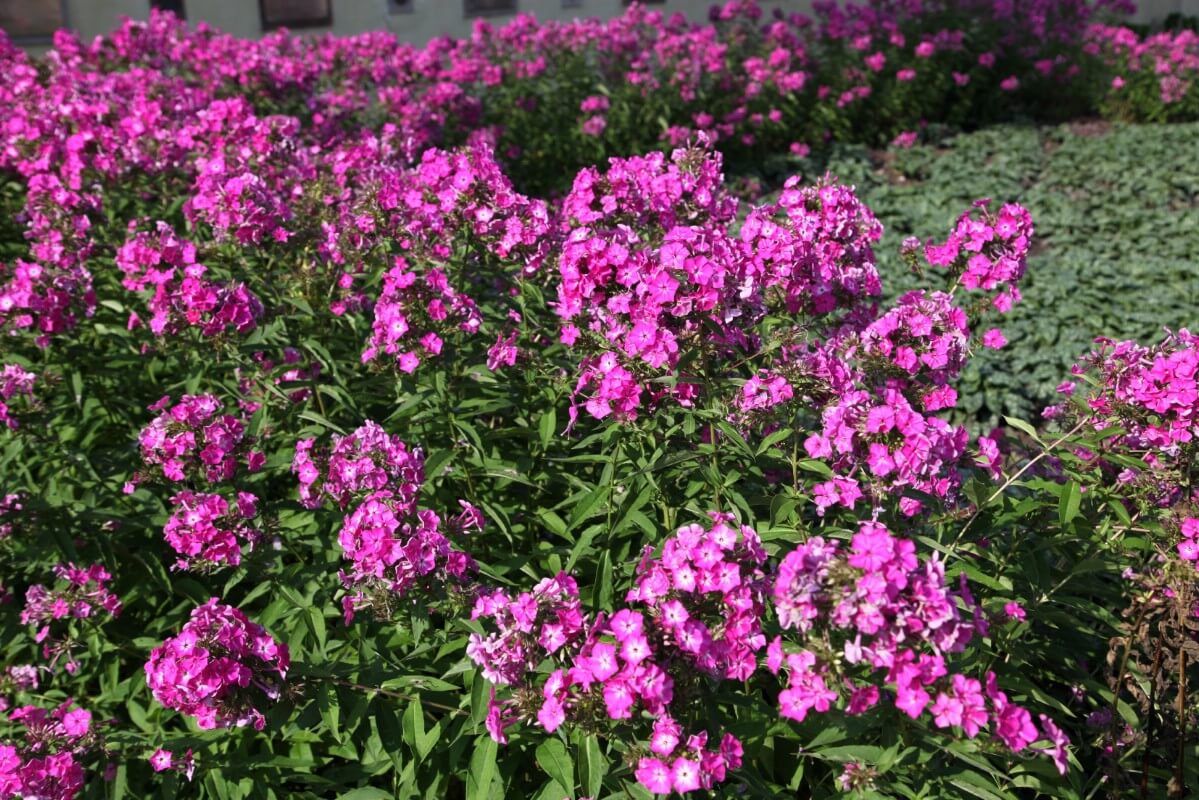 Now that you know when to plant phlox and when they blossom, let's talk about the ideal conditions for them to thrive.
How Much Sun Do Phlox Need?
If possible, you should try to find a sunny spot for your phlox. Full sunlight is ideal and will give you the most bountiful blossoms.
But if you are not able to find a spot with full sun, you can get away with growing phlox in partial shade.
The University of Minnesota Extension mentions that more sun also helps to reduce disease.
Speaking of disease, a lack of air circulation can be an issue for phlox, so try and make sure that they are not pressed up against a barrier such as a wall.
What Type of Soil is Right for Phlox?
Moist, well-draining soil is ideal for phlox. The best pH range is between 5.7 and 7.5.
How Much Water Do Phlox Need?
You will need to water your phlox often enough to keep the soil moist. Just keep in mind while you are watering that the leaves should stay dry if at all possible. Otherwise, the disease can result.
How to Plant Phlox
Having talked about ideal conditions for phlox, we can now discuss how to plant these beautiful blooms.
Container Planting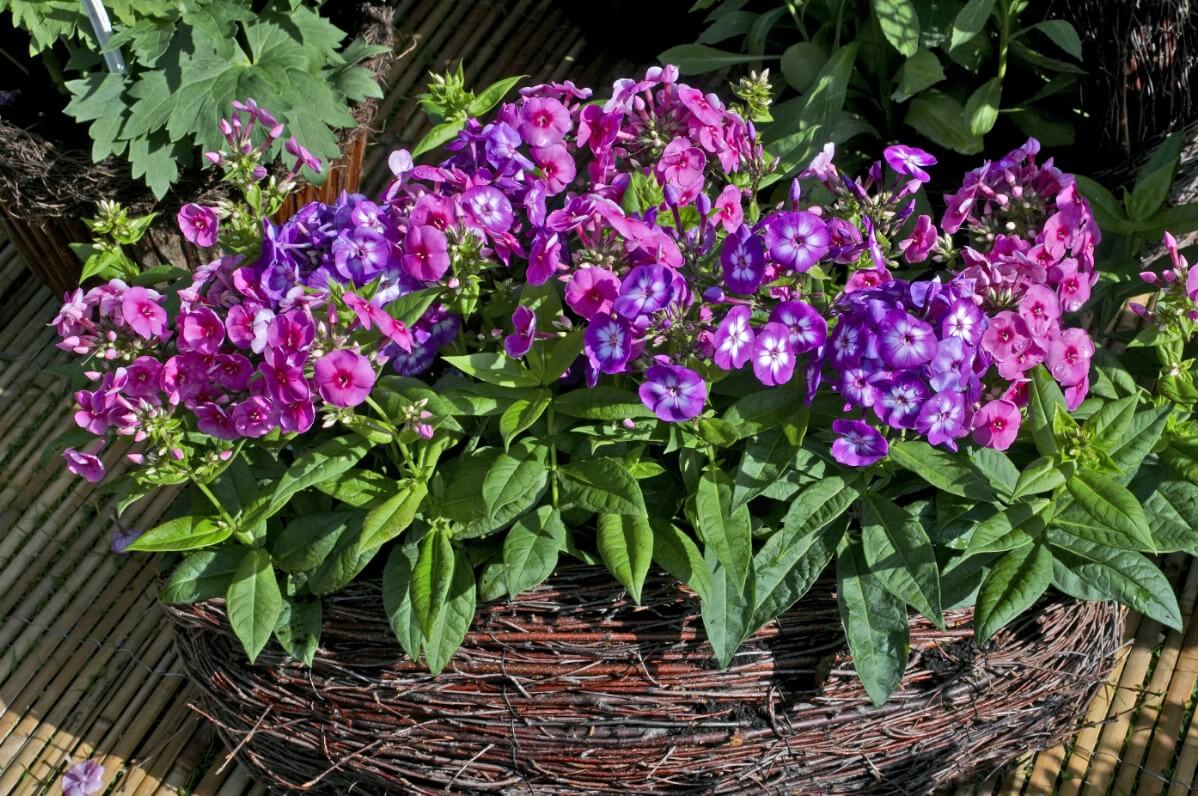 You can grow phlox in a container. The varieties that are most suitable for living in pots are creeping phlox.
We will talk about growing phlox from seeds or cuttings in a bit. For these instructions, we will assume that you are transplanting phlox to a container, having purchased a phlox plant from a garden center (or having grown one in your garden bed).
The Old Farmer's Almanac says, "It is easier to grow phlox from cuttings/transplants than from seeds."
So, as a beginner, that is your best bet.
1. Get a suitable container.
To get started, you will need to pick out a container for your phlox. Go with something that is a little bit larger than the container that the plant came in from the garden center. You want to give its roots sufficient space.
The pot needs to have drain holes. If it does not, add them before you proceed with transplanting.
2. Add your soil and prepare a hole.
Add potting soil to your container along with all-purpose fertilizer. Make a hole that will be large enough for the phlox plant.
3. Carefully transplant your phlox into the new container.
Taking great care, remove the phlox from the container it came in, and shake away loose soil.
Now, transfer it to the new pot, and then fill in the soil. It should just barely cover the top of the root ball.
4. Water your phlox.
Water the newly transplanted phlox deeply to help it adjust to its new home.
5. Find a suitable location for your phlox.
Now, you just need to find a place to put the potted phlox. Keeping in mind what we discussed previously, full or partial sunlight should be just fine.
Can you grow a phlox indoors? Generally speaking, no, this is not an appropriate plant for indoors. It tends to spill over the side of the pot, making it much more suitable for your deck or patio.
Ground Planting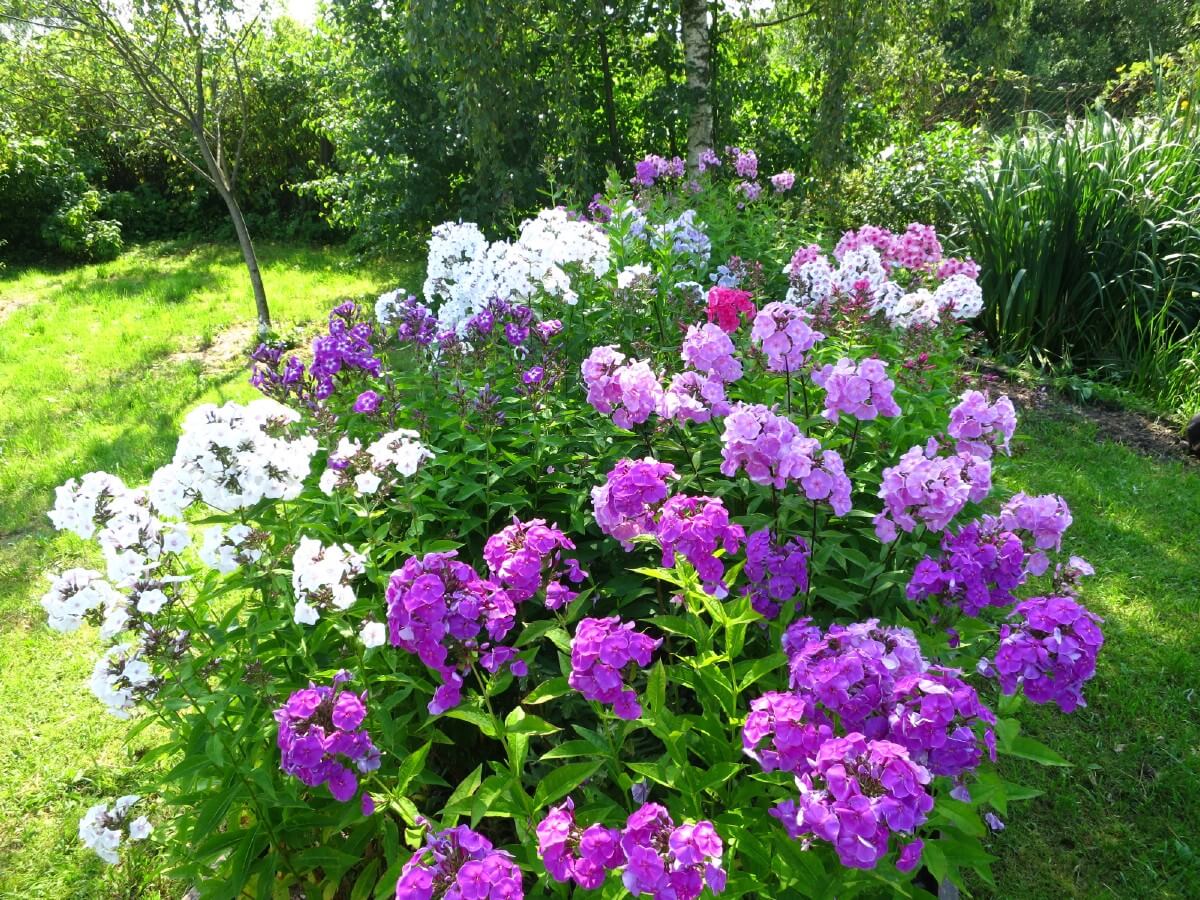 We have talked about planting phlox in a container. But you can also plant it in your garden bed. Once again, we will assume that you purchased a plant from the garden center to transplant for these instructions.
1. Locate a spot for your plant.
Choose a place in your garden bed to plant your phlox. If you are planting the creeping variety, it works great as a border. It also can look beautiful spilling over the edge of a tiered plot (i.e. if you have tiers of dirt that are walled in by stone).
Just remember that regardless of where you plant it, it needs to be getting lots of sunlight. It also must be in moist, well-draining soil.
2. Prepare your soil.
Before you plant your phlox, you should till the soil. Put some compost in.
3. Dig a hole and plant the phlox.
Make a hole for your phlox. Farmer's Almanac says, "If you are moving a plant from a pot, dig a hole about twice the size of the pot's diameter and place the plant so that the top of the root ball is even with the soil's surface. Fill in around the root ball and remember to water it thoroughly."
Each phlox plant should be separated by 1-3 feet.
5. Water the phlox.
As just mentioned above, do not forget this step.
Starting Phlox from Seeds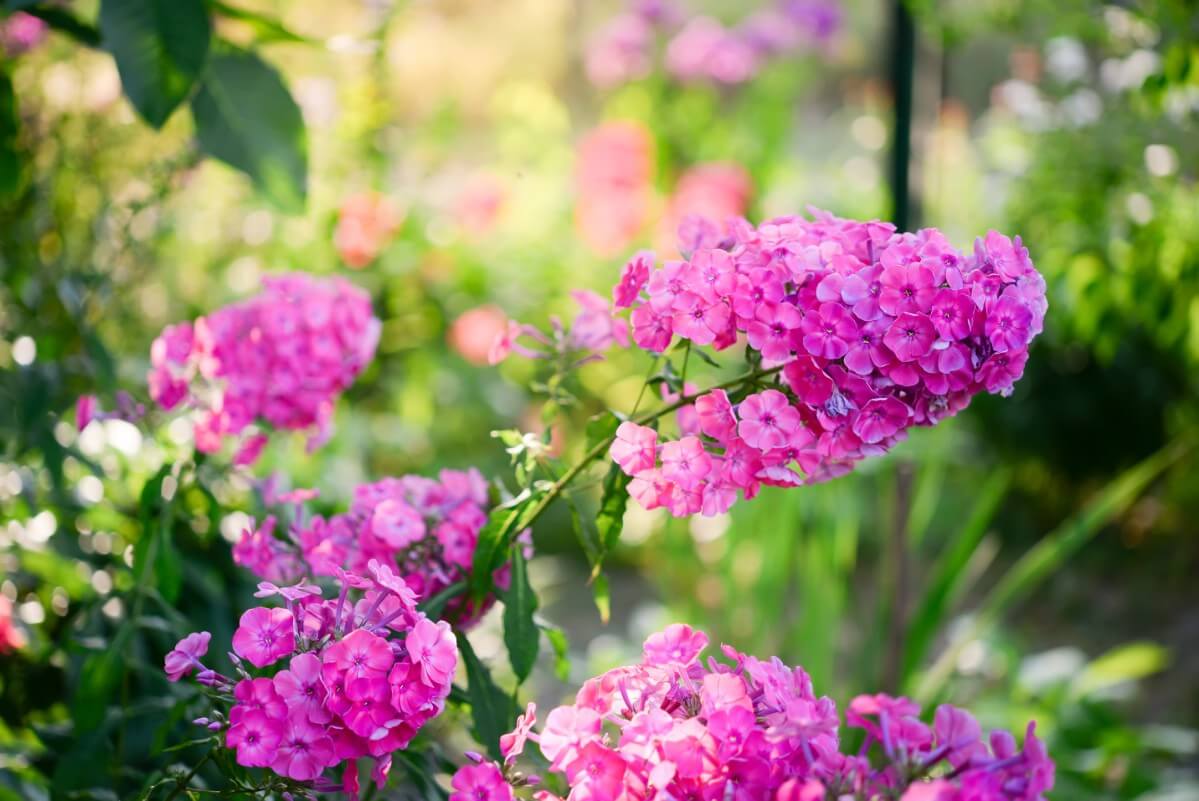 At this point, you are probably wondering how you can start phlox from seeds. Below are the basic directions.
1. Choose the right timing.
The best time to start phlox seeds is eight weeks before you expect your last frost.
2. Get a suitable container.
You can start your seeds in a tray that features drainage holes.
3. Put your potting mix in the container.
Fill the tray with potting soil, stopping ¾ inches from the top. Gently tamp it down.
4. Plant your phlox seeds.
Plant each of your seeds ⅛ of an inch deep in the potting soil. Separate them by 1 inch each. Then, lightly cover them with soil.
5. Get the soil moist.
Fill a spray bottle with warm water and use it to get the top of the soil slightly damp. Do not drown the seeds or wash them out of the soil by pouring water directly into the tray.
6. Seal in the moisture.
It is important to keep the soil moist as the seeds are germinating. An easy way to do this is to put plastic wrap on top of the seed tray. Make sure that the plastic wrap does not come into direct contact with the surface of the potting soil.
7. Choose a place to germinate the seeds.
Now you just need somewhere for your seeds to germinate. An ideal temperature is 65 degrees Fahrenheit. If necessary, you can use a heat mat to achieve that temperature. For now, you should keep your phlox seeds in the dark.
8. Wait for the seeds to germinate.
The phlox seeds should germinate within 5-10 days. Make sure that you check on them frequently during that time. If the soil is drying out, give it a quick spray.
9. Relocate the pot.
Once your seeds begin to germinate, you can take off the plastic wrap. You also can move the pot to a sunny spot. They will do best if they get a minimum of 12 hours of sun every day.
Now that the plastic wrap is gone and the seeds are exposed to sunlight, keep in mind that the soil will dry out much more rapidly. You need to continue to spray it to keep it moist, so it may need more frequent attention during this phase.
10. Transplant the phlox.
After the last frost, it is safe to transplant your phlox seedlings outdoors. Make sure you are giving them between 12 to 36 inches of space.
Starting Phlox from Cuttings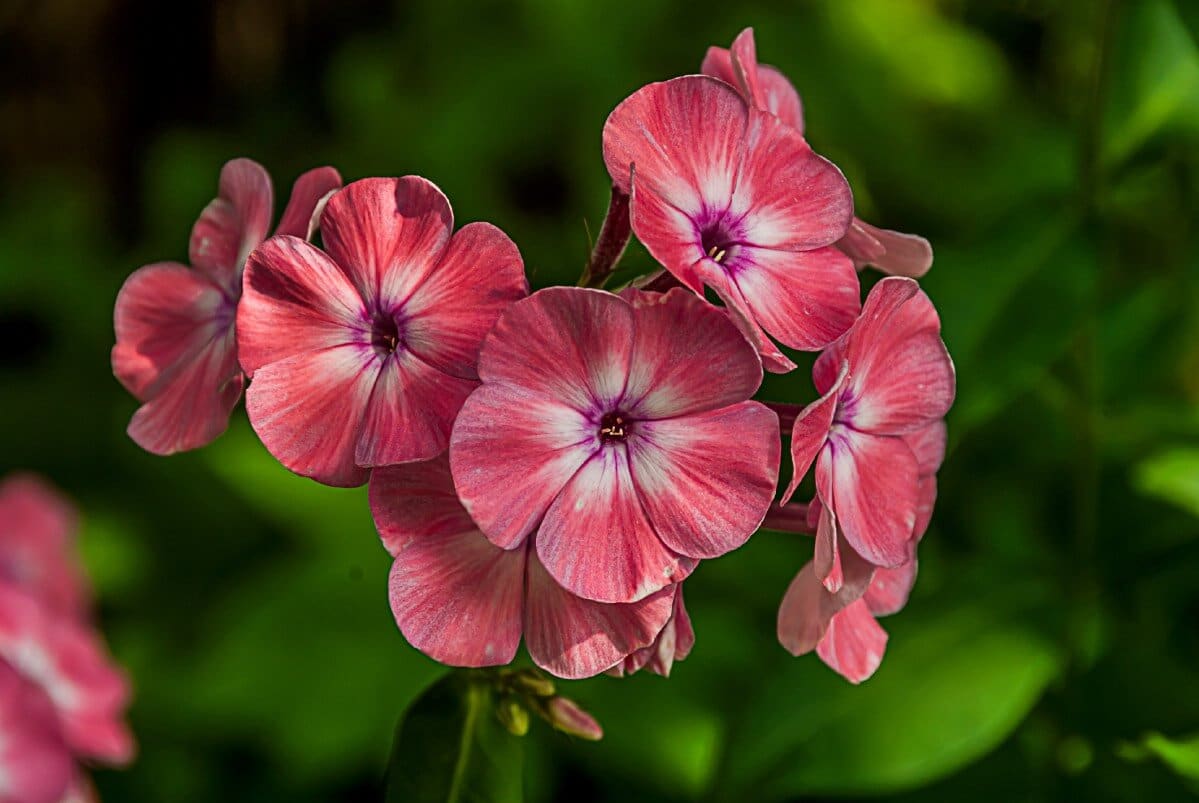 If you can take a root cutting from a phlox plant, you can use it to grow a new phlox plant.
1. Dig up a phlox plant.
In winter, dig a phlox plant up carefully to expose its roots.
2. Take some root cuttings.
Now, collect your root cuttings. Larger roots work best for this process. You should cut the roots near the stem. Each should be roughly 4 cm in length.
3. Plant the cuttings.
They should be planted in the same orientation you found them in (i.e. the end of the cutting that was closest to the stem should be pointed upward).
4. Water the cuttings.
After you have finished planting the cuttings, water them.
5. Wait for the cuttings to grow.
Come springtime, you should see shoots forming.
Dividing Phlox Plants
Like many other perennials, phlox plants give you the option of dividing them to propagate them.
Every few years, make a point of carefully unearthing them during the springtime.
Carefully separate the phlox plants, and then re-plant them.
If all goes well, that summer, they should blossom.
How to Care for Phlox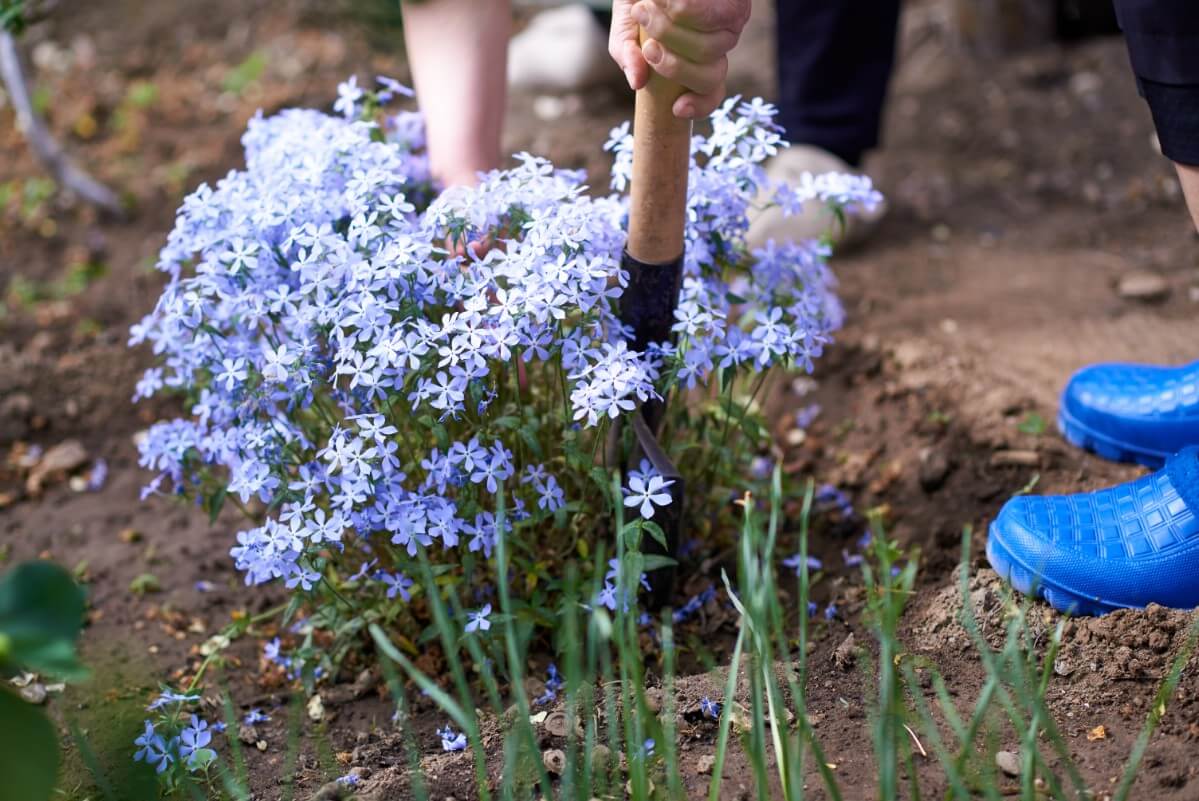 Now that you know how to plant, transplant, and divide phlox, let's talk about how you take care of these plants. Below, we will discuss fertilizing, mulching and more.
How to Fertilize Phlox
Phlox do respond favorably to fertilizer. 10-10-10 is a good, balanced formula. You should apply it in the spring when you first start to see fresh growth. Make a second application right at the start of the bloom period.
How to Mulch Phlox
If you plant your phlox in the fall, it is smart to protect it while it is establishing. That means you should put 4-6 inches of mulch in place over the soil when it freezes. You can use straw, pine needles, or a variety of other mulching materials for this purpose.
Do you have to mulch again the next year? That is up to you, but we think you should strongly consider it. The University of Minnesota Extension explains, "After the first year fall mulching is less critical, though it's always a good idea. Mulch not only protects plants from winter's cold, but it also helps prevent premature soil warming that could result in early spring growth before weather is reliably mild."
How to Stake Phlox
You probably will not need to worry about staking shorter varieties of phlox. But for taller plants, it could be necessary, especially if your climate is subject to a lot of wind and rain.
You can set up stakes as your phlox blossom, and then tie your plants to them for some extra support.
How to Prune Phlox
Pruning phlox mostly involves deadheading (see below).
How to Deadhead Phlox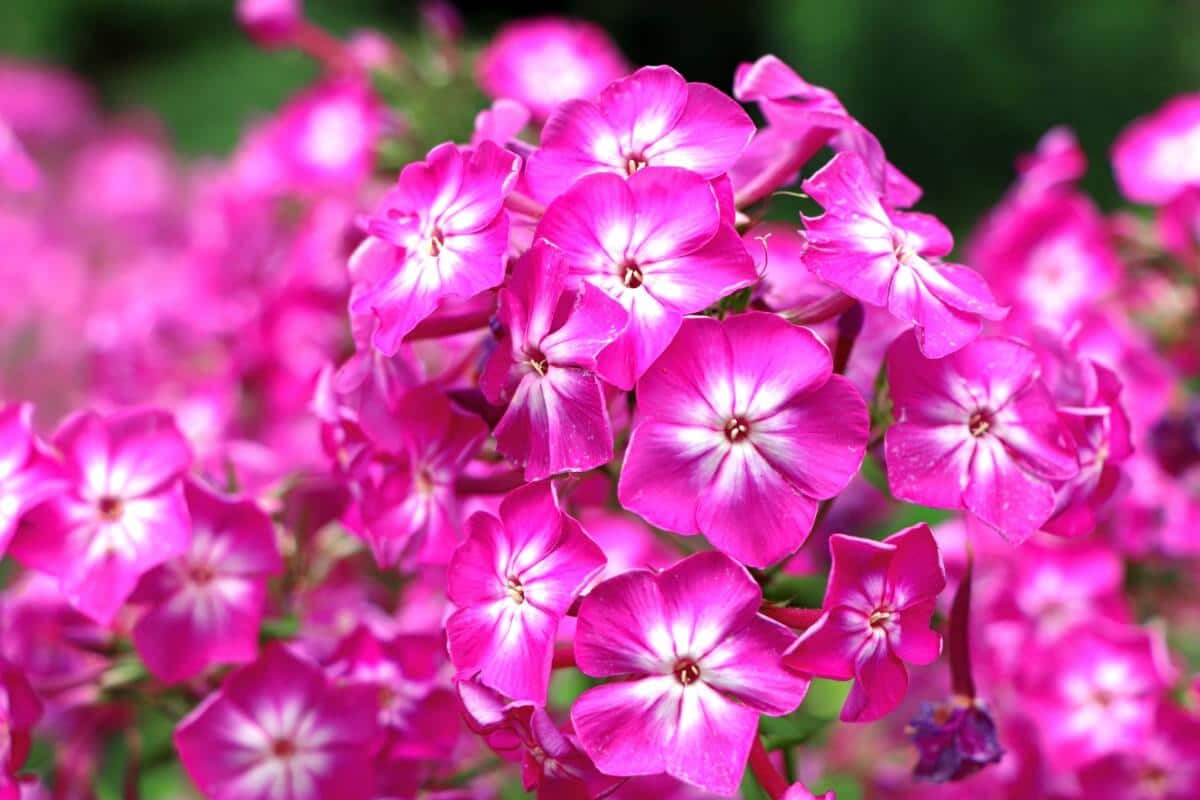 If you want your phlox to produce more flowers, you can try deadheading the spent blooms.
Iowa State University explains, "Deadheading is the removal of spent or faded flowers. There are several benefits to deadheading garden phlox. Deadheading improves the appearance of plants, may encourage a second flush of bloom, and prevents self-seeding."
It is easy to deadhead phlox flower clusters. Once a flower cluster withers, you can use shears to remove it.
Doing so will help support the next budding flower cluster.
When to Cut Back Phlox
Once the first frost arrives in autumn, it will be time to cut back your tall phlox plants. Leave 1-2 inches intact.
Are you supposed to cut back creeping phlox? Generally speaking, no. In fact, this type of phlox is an evergreen variety, so doing so would only reduce the color and life in your garden over the winter.
Are Phlox Vulnerable to Diseases or Pests?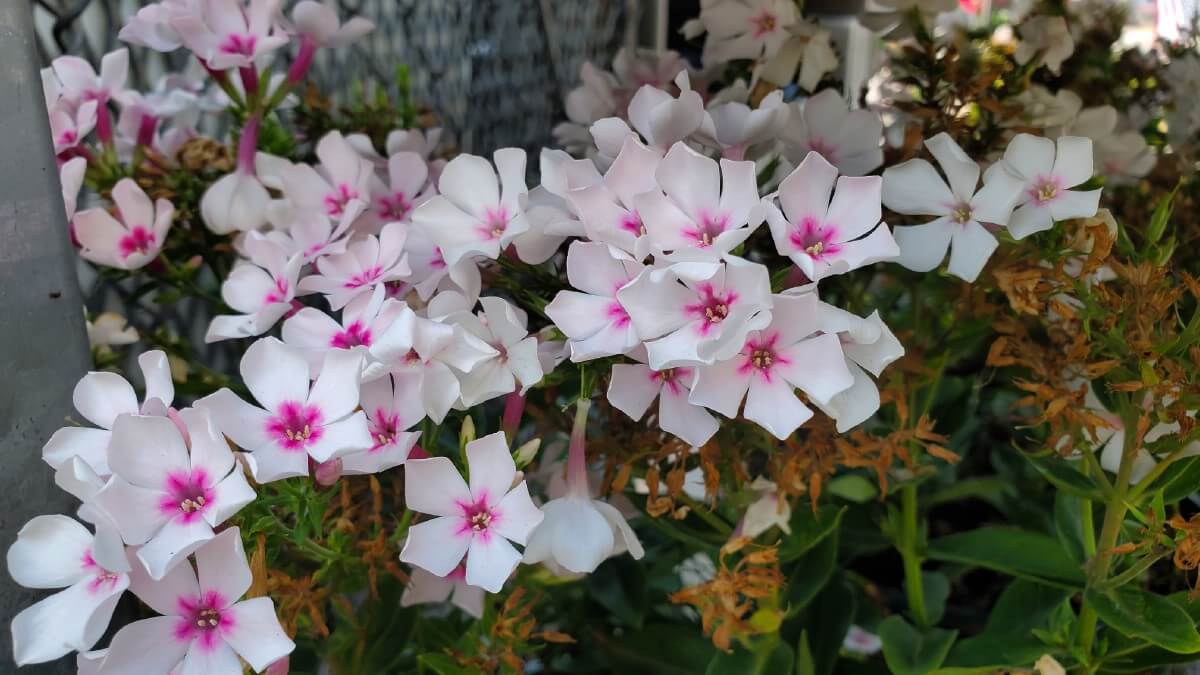 Like every other plant in your garden, phlox may sometimes catch a disease or become the target of pests.
The top potential problem you need to worry about with this perennial flower is powdery mildew.
Phlox doesn't like dry spells, but humid weather can pose its own concerns, especially with poor air circulation.
Farmer's Almanac advises, "Keep proper air circulation in mind when spacing out plants and avoid getting excess water on the foliage. Cutting back stems after flowering can also help to reduce the spread of powdery mildew, as can choosing mildew-resistant varieties."
Along with powdery mildew, some other diseases that may affect phlox plants include rust, southern blight, leaf spots, and stem canker.
What do you need to be concerned about in the pest department? Stem nematodes, caterpillars, and leaf miners may all infest phlox.
Unfortunately, deer also like to make a meal of phlox sometimes.
And just like most plants in your garden, phlox can be appetizing to snails and slugs.
Recommended Companion Plants for Phlox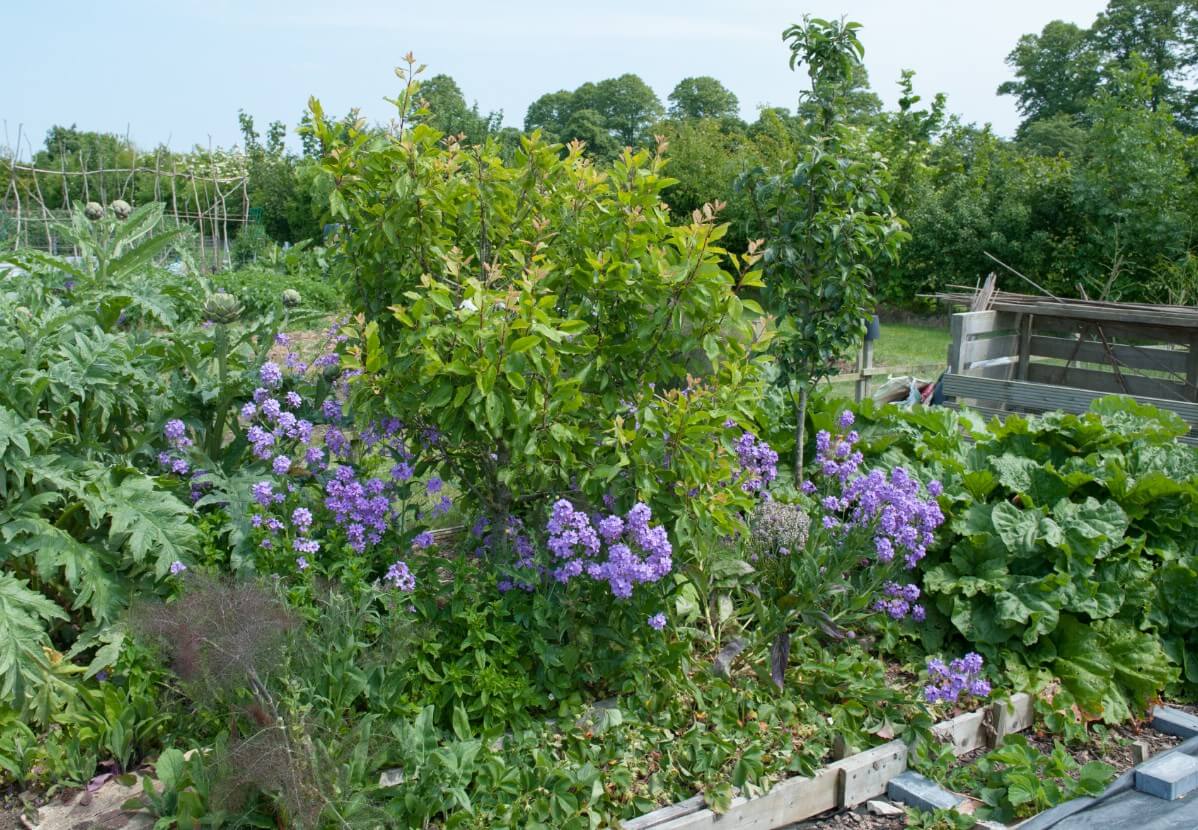 Phlox is frequently recommended as a companion plant for a variety of other flowers. Here are some combinations to consider.
Zinnias can make a colorful accompaniment to phlox flowers and may work especially well with tall phlox.
Rock cress: If you want another mat-like plant to go alongside your creeping phlox, rock cress makes a wonderful choice. Like phlox, rock cress likes a lot of sunlight. Their dense coverage offers some different textures and colors to contrast with your phlox.
Cushion spurge: Producing domes of yellow spring flowers, cushion spurge can be alternated with phlox along your borders. Once the flowers wilt, the foliage will turn different colors. This will provide something colorful to enjoy after your phlox flowers wilt in the fall.
Grape hyacinth: For a companion plant that will bring very different textures into play, think about grape hyacinths. They thrive in full to partial sunlight, and look beautiful alongside phlox.
Basket-of-Gold: This evergreen features yellow flowers during the springtime. Like creeping phlox, it likes to spill over the sides of containers or rocks.
Those are just a few examples of companion plants to consider growing with your phlox.
Frequently Asked Questions About Growing Phlox
What eats phlox?
Deer may eat phlox. So might some insects such as leaf miners and caterpillars. Slugs and snails may go after phlox as well.
What does creeping phlox look like when not in bloom?
Creeping phlox is an evergreen plant, so when the blossoms wilt, the green needle foliage will be left behind. So, it will continue to carpet your garden, beautifying it even during the winter months.
What does phlox attract?
Hummingbirds like phlox, and so do butterflies and bees.
How fast does phlox spread?
Around an inch of monthly growth is typical.
Why won't my phlox bloom?
It is not that common to have serious problems getting phlox to bloom. So, if your phlox is not blossoming, there is probably either something wrong with the plant or how you are attempting to grow it.

Check to see if your plant shows signs of powdery mildew. This can stop phlox from blossoming.

Another possibility is that you planted the phlox where it is not getting enough sunlight. Fewer than six hours could cause it not to blossom.

Another issue is over-fertilizing with nitrogen.

Finally, if your phlox is well-established and used to bloom in the past, it is possible that it is simply time to divide it. If it has been a few years, dig it up and do so. You may find that the smaller plants blossom fine the next year.
What is best to plant with phlox?
Rock cress, cushion spurge, and Basket-of-Gold are a few ideas to consider.
Are phlox annual or perennial?
Both annual and perennial phlox plants exist. If you want your phlox to come back every year, choose a perennial and care for it as such.
I want tall garden phlox. Which varieties should I consider?
Some tall phlox cultivars include David, Bright Eyes, World Peace, Starfire, Russian Violet, Sir John Falstaff, Eva Cullum, and Franz Schubert. The tallest of these is World Peace, at 42 inches.
Where to Buy Phlox

Are you ready to bring the flame-like beauty of phlox to your garden? To browse colorful varieties of tall and creeping phlox now, click the link below.