The deep, rich colors of petunias make a bold addition to any garden. And with dozens of cultivars available, you can find petunias in a rainbow of hues.
Many people believe that petunias are annuals. But did you know that they actually can come back year after year if you live in a warm climate zone or take care to winterize them?
In this guide, we are going to introduce you to everything you need to know about petunias. We will explain exactly how to plant and care for them if you want to grow them as perennials.
Jump to:
What Are Petunias?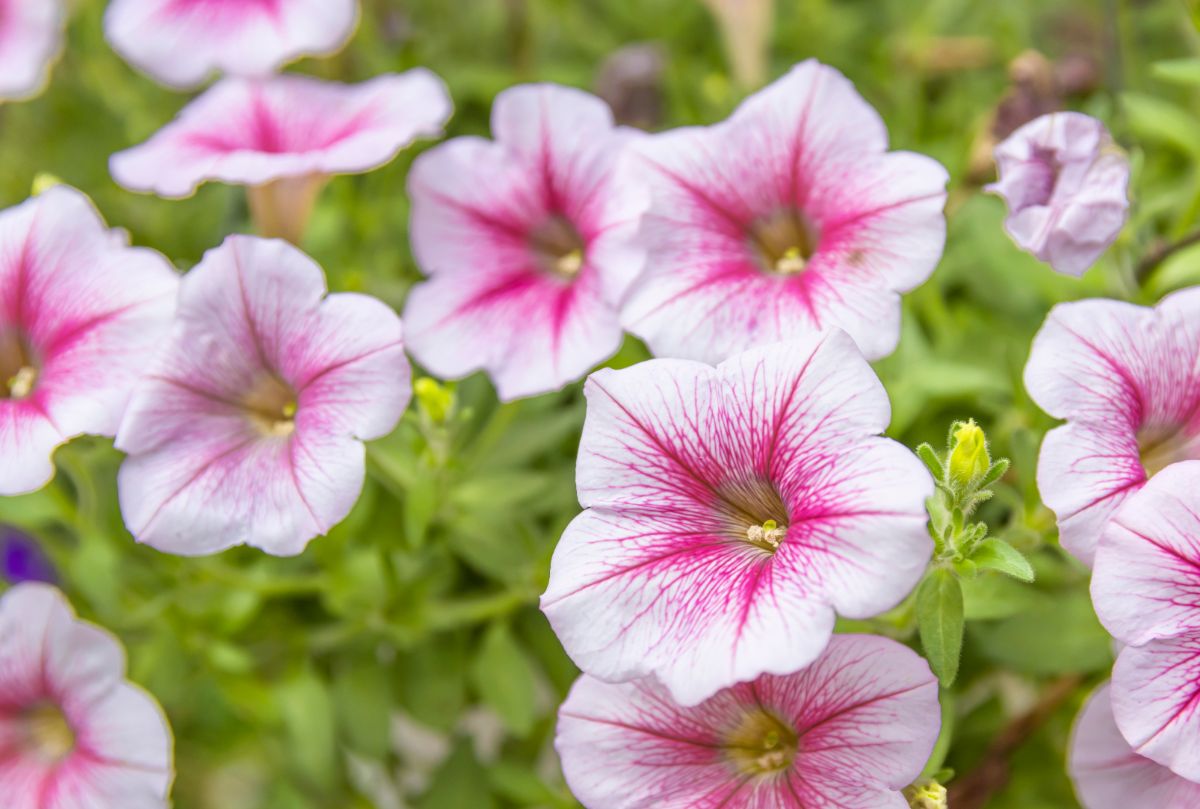 The name "petunia" refers to a genus of plants containing twenty species. This genus falls within the subfamily Petunioideae and the family Solanaceae.
The name "Petunia" translates to "tobacco." Indeed, tobacco is related to petunia by being part of the same family.
There are four basic categories of petunias:
Grandiflora
Multiflora
Milliflora
Spreading
All of these categories of petunias are pretty well described by their names. For example, if you want large flowers, you should pick a Grandiflora variety. If you want small flowers, go with a Milliflora petunia.
The flowers on Multiflora petunias are on the smaller side, but they are plentiful.
As for spreading petunias, those, of course, spread quickly. "Wave" petunias fall into this category (we will share examples with you in the section on petunia cultivars).
Petunia Basics
Zones: 9-11 as winter-hardy perennials
Blooming season: Spring, summer and autumn
Expected height: 6-18 inches
Soil: Loamy
Sun: Full sun
Are Petunias Annuals or Perennials?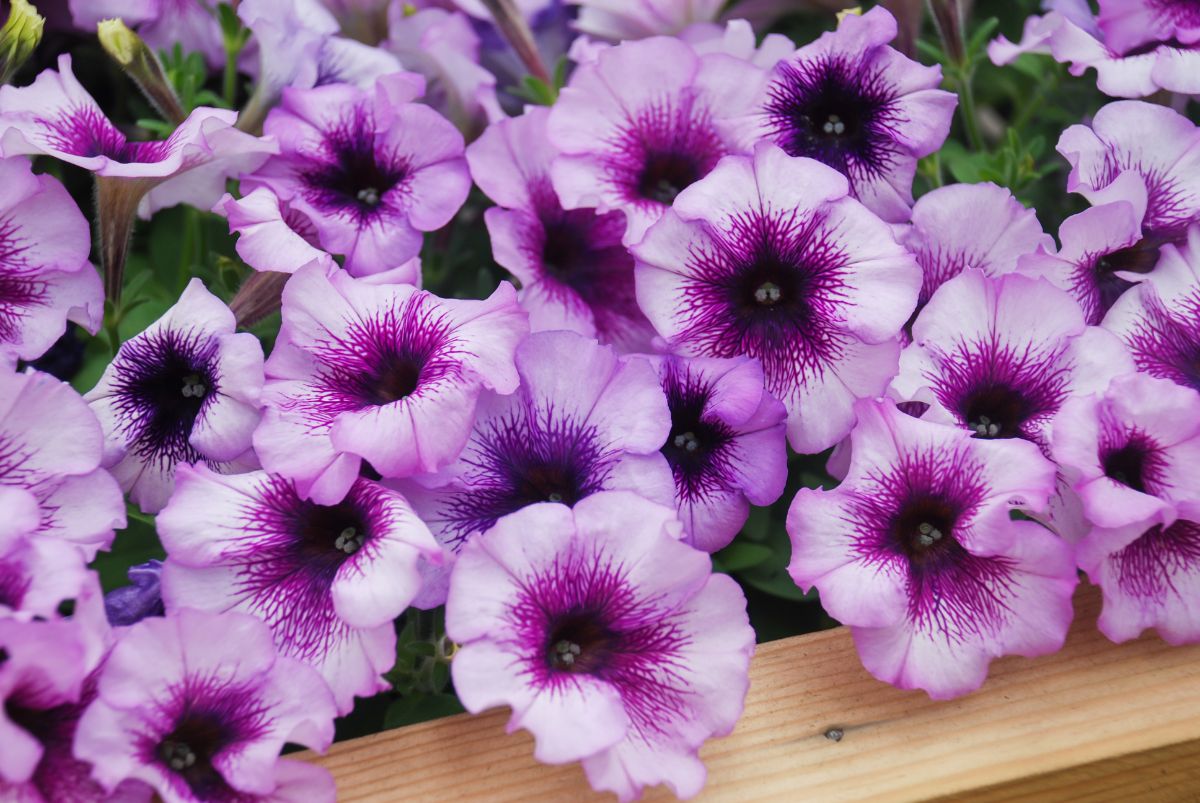 Petunias can be grown as annuals or perennials, depending on some specifics.
Technically, they are classified as what is known as "tender perennials."
They are short-lived, but they can survive for 2-3 years if you take good care of them.
That means doing any of the following:
Keeping them outdoors year-round in a warm climate
Bringing them indoors during the winter in a colder climate
Growing them as indoor container plants
Where Do Petunias Grow?
Petunias are native to South America. So, it should come as no surprise that they thrive best in hot climates.
But they have been propagated far beyond South America.
Where Do Petunias Grow as Perennials?
There seems to be some debate about the climate zone cut-off for growing petunias as perennials.
You can definitely do it if you are in zones 10 or 11. If you are in zone 9, you might be able to do it. Some sources say you can, while others do not recommend it.
If you are located in South Florida, you should have no problem growing petunias as perennials.
Certain locations in Southern California and Arizona are also ideal for petunias, as is the very tip of Texas.
Zone 9 has a lot more coverage; it includes a larger chunk of Texas, part of Louisiana, a bigger slice of Arizona, the tip of Nevada, most of California, and even a little bit of the southern Oregon coast.
So, if you are in any of those areas, you also may be successful with growing petunias as perennials.
Why Grow Petunias?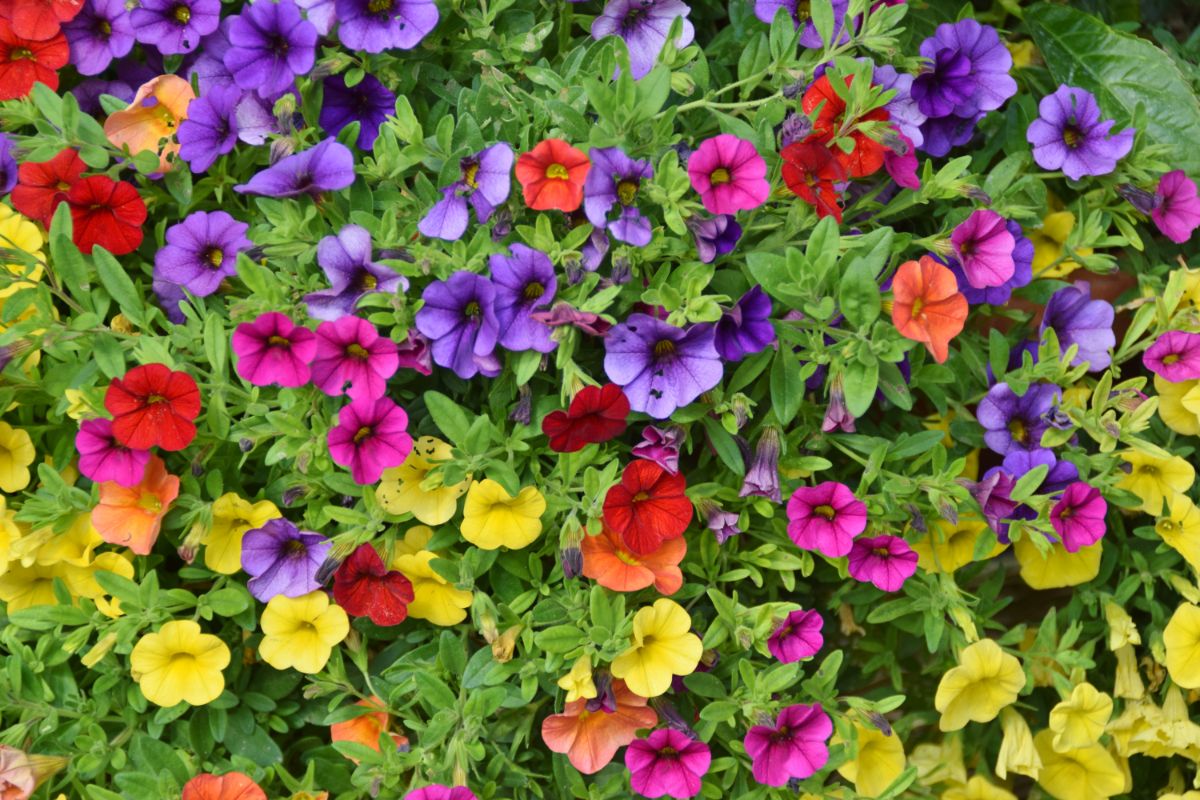 Petunias are heat- and drought-resistant. If you live in a hot climate, you are in luck, because you may find petunias are actually easier to grow than a lot of other flowers.
These tender perennials make lovely cut flowers. Do not leave submerged leaves on the stems, however—you should remove them.
Some people plant petunias to keep away pests. USA Today says, "These annuals add a bright splash of color to any landscape, but the funnel-shaped blossoms also have a licorice-like scent that repels many insect pests, including aphids, tomato hornworms and squash bugs."
Petunias come in so many colors. You will have a great time mixing and matching to create just the effect you want in your garden.
There are multiple options for keeping petunias alive over the winter or propagating them for next year.
Pollinators may like your petunias. Hummingbirds and butterflies in particular may gravitate toward these blooms.
Those are just a few benefits of these tender perennials! After you start growing them, you will probably discover others.
Petunia Landscaping Ideas
Think about planting petunias near your deck or patio to keep mosquitoes away. The natural pest-repelling properties of these abundant blooms can make for more comfortable cookouts and backyard parties.
Petunias can make breathtaking borders. There are so many ideas for petunia borders. You can grow them in all one color along a path, with snapdragons or other taller plants behind them. Or you can alternate colors to get a bold, eye-catching effect.
Another fun idea is to put down paving stones, but leave every other space open for petunias. This doesn't make for a particularly useable path, but it does have a great ornamental effect.
Try growing petunias in containers. Potted petunias can bring a lot of color and life to your deck or patio. You can set them on the ground or hang them.
Grow petunias in window box planters. They will bring classic beauty to your windows, framing them elegantly.
Recommended Petunia Varieties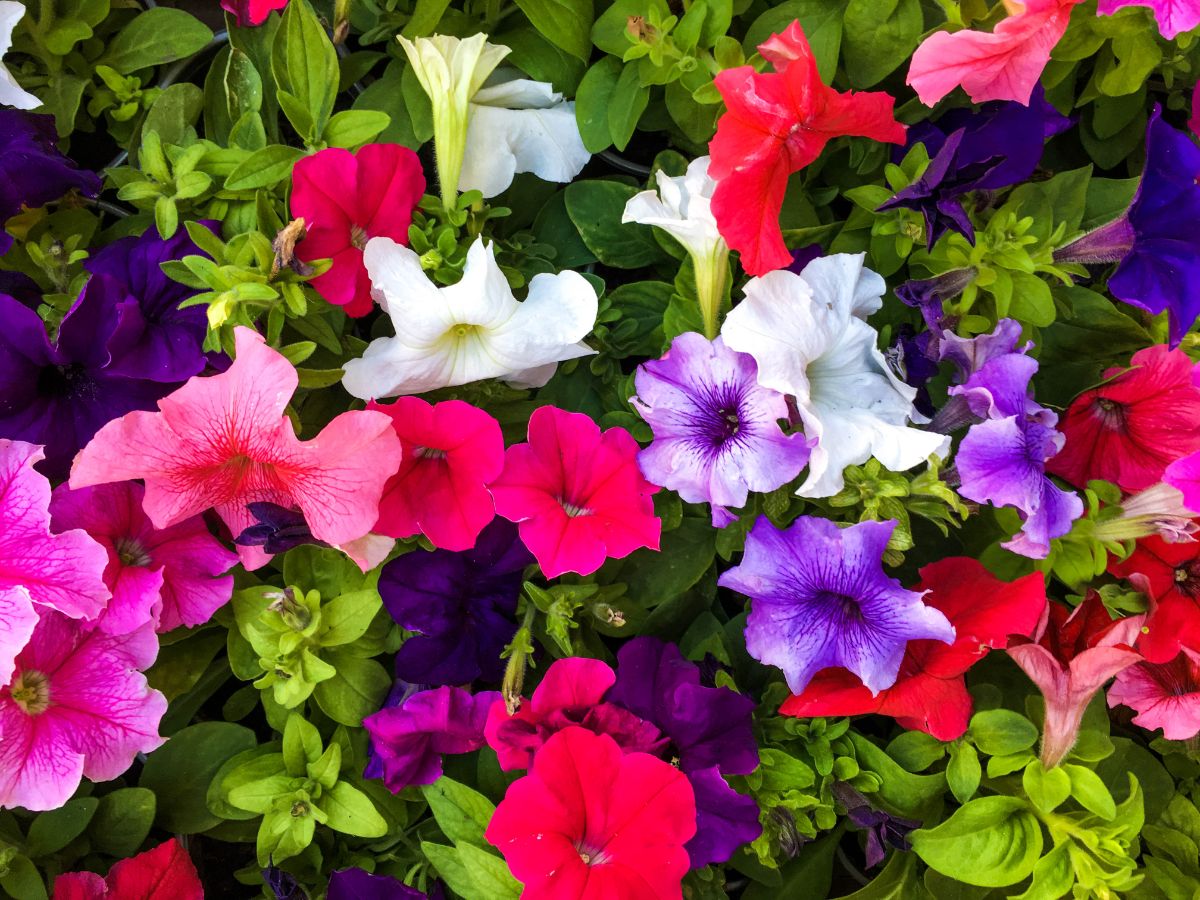 Petunia flowers come in so many different amazing cultivars! Let's take a look at some top recommended varieties to consider for your garden.
Limelight: One of the most distinctive types of petunias you will find is the "Limelight" variety. These blossoms are mostly magenta, but rimming the petals is a narrow band of lime green. They are delightfully unexpected, and can reach up to 10 inches in height. They'll do well even in partial shade.
Night Sky: The "Night Sky" petunia is another startling cultivar. The flowers are a deep purple color, and are spattered with white, as if someone spackled them with a paintbrush.
Black Velvet: Most flowers that are labelled "black" are not actually black, but rather a very deep shade of purple or red. The "Black Velvet" petunia is no exception—the flowers are actually purple. But they do not look like purple flowers at all. To the eye, they are quite a convincing black hue, especially with the right lighting.
Cascadia Petunia: These petunia flowers are varying shades of purplish, pinkish, and reddish colors, and have prominent white outlines around their petals.
Petunia Bravo: You can find the "Bravo" type of petunia in a few different colors. Some of these include purple, blue and lavender. The backdrops of the petals are relatively light in color. But dark veins run throughout the petals, revealing the internal structures of each. The resulting look is beautiful, dramatic, and unusual.
Mini Rose Blast Pink: This is a compact petunia that features petals with alternating dark and light pink petals on each. They have a bit of a "candy stripe" look. Because of their small size, they do great in containers.
Purple Pirouette: Want a petunia that has unusual, ruffled petals? This may be the perfect cultivar for you. You can grow them in full sun to partial shade. While you will love their fluffy appearance, be mindful of pests, as they draw Tobacco budworms.
Littletunia: The appearance of this cultivar is similar to the "Bravo" type with prominent veins. But they are compact, so they are ideal for container planting.
Poetunia Plus Red: If your goal is to send a signal to hummingbirds in your area, you can do so with this brilliant red variety of petunias. They are also an excellent option if you want petunias that are truly drought-resistant.
Wave Blue: Alas, no, the "Wave Blue" petunia is not a true blue—this is generally the case with just about any flower that is labeled as being "blue." It is, however, a vivid, deep purple color that you will love just as much. The plant reaches 8-10 inches in height, and you can grow it in partial shade or full sun.
Prism Petunia: Are you looking for a petunia that is not too tall, but produces large blossoms? The "Prism" cultivar may fit the bill. It maxes out at 8 inches in height, but the big flowers are gorgeous to behold. You can choose pink, purple, white, yellow, or other hues.
Supertunia Pink Star Charm: If you enjoy the bicolor look, you may get into the "Supertunia Pink Star Charm" cultivar. These petunias feature bands of lighter and darker pink.
Petunia Ultra Star: Another striking bicolor petunia is the "Ultra Star." These petunias feature petals with bold hues—often purple, red, or hot pink. White stripes branch out from their centers in a star shape, thus the name. Reaching 15 inches in height, they will stand out among all your other plants.
Kandy Kane: Another petunia with a very unique look is this cultivar, which also features a "star" appearance with white and bright pink alternating.
Easy Wave Yellow Petunia: This cultivar grows to around 12 inches in height, with flowers maxing out at around 40 inches wide. It takes its name from its stunning yellow color.
Surprise Lime: Here is a variety of petunia that features white flowers with greenish centers. They are elegant and unusual, since there are not a ton of greenish flowers. Plus, moths like them, so if you want to attract those winged beauties to your yard, this is a way to do it.
Suncatcher Pink Lemonade: This gorgeous variety of petunia features petals with peachy and golden hues, reflecting the glow of sunrise or sunset.
That is just a small sampling of what is out there!
When Do Petunias Bloom?
Petunias can bloom from spring through fall.
How Long Do Petunias Bloom?
One of the best things about petunias is how long their bloom periods span! A single petunia plant can bloom for many weeks.
Do you have to deadhead them? Sometimes—it depends on what type of petunia you have. There are some cultivars that do not require this step to keep blossoming.
When to Plant Petunias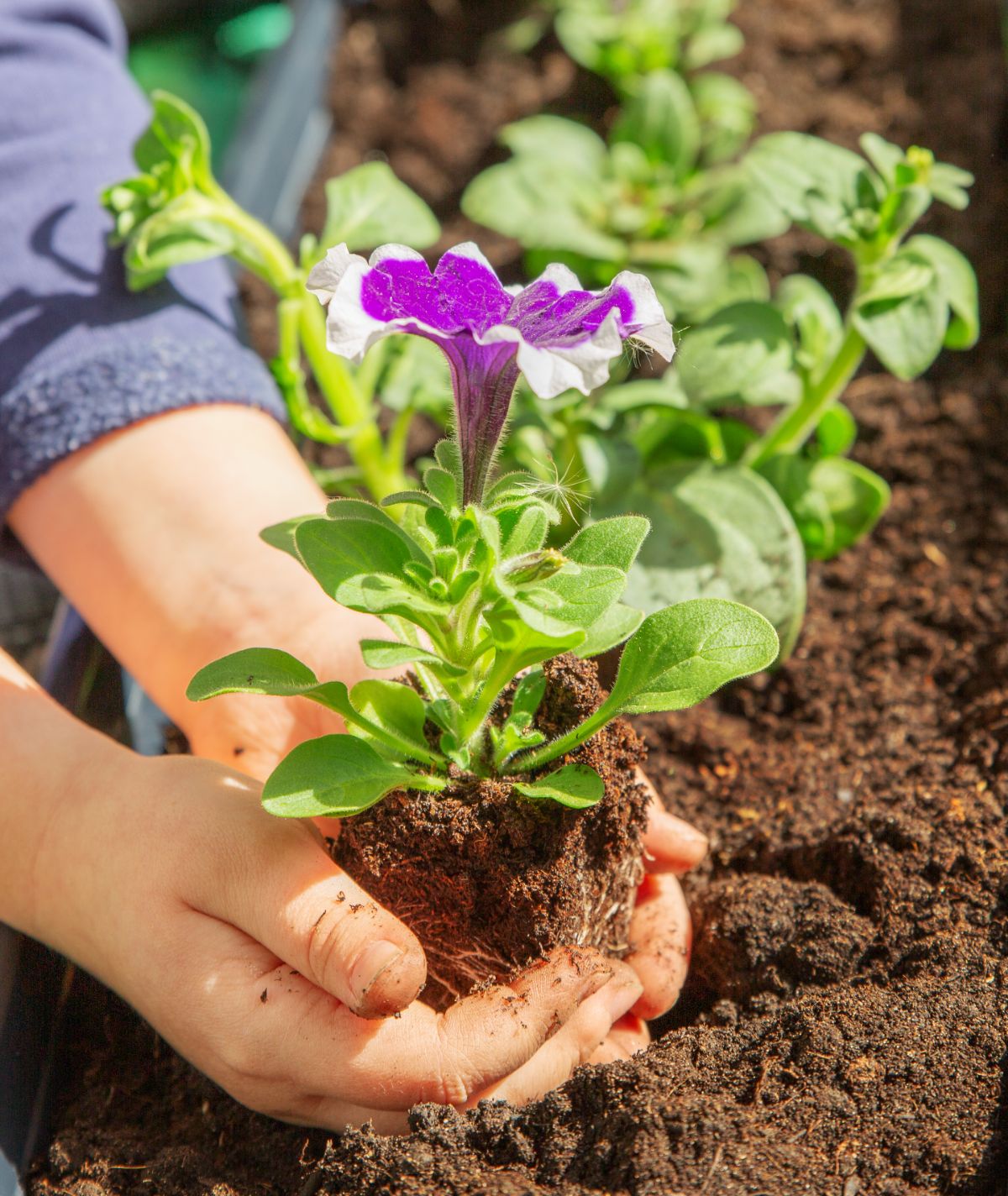 Farmer's Almanac advises, "Plant young petunias outdoors after your last spring frost date, but keep a close eye on the weather forecast and protect young plants from late frosts."
Ideal Growing Conditions for Petunias
You know when to plant petunias now, and how long they bloom. But what conditions will allow them to thrive? Let's talk about sun, soil and water.
How Much Sun Do Petunias Need?
Petunias adore sunlight. If they do not get enough of it, they tend to get leggy. Even partial shade is generally too much. Aim for full, direct sun exposure whenever possible.
At a minimum, they require six hours of direct sunlight daily. Eight hours is even better if you can manage it.
What Type of Soil is Right for Petunias?
Well-drained soil is best for petunias. Although it is better if it is fertile soil, petunias often still grow okay in poor soil conditions.
Neutral or slightly acidic soil is preferred.
How Much Water Do Petunias Need?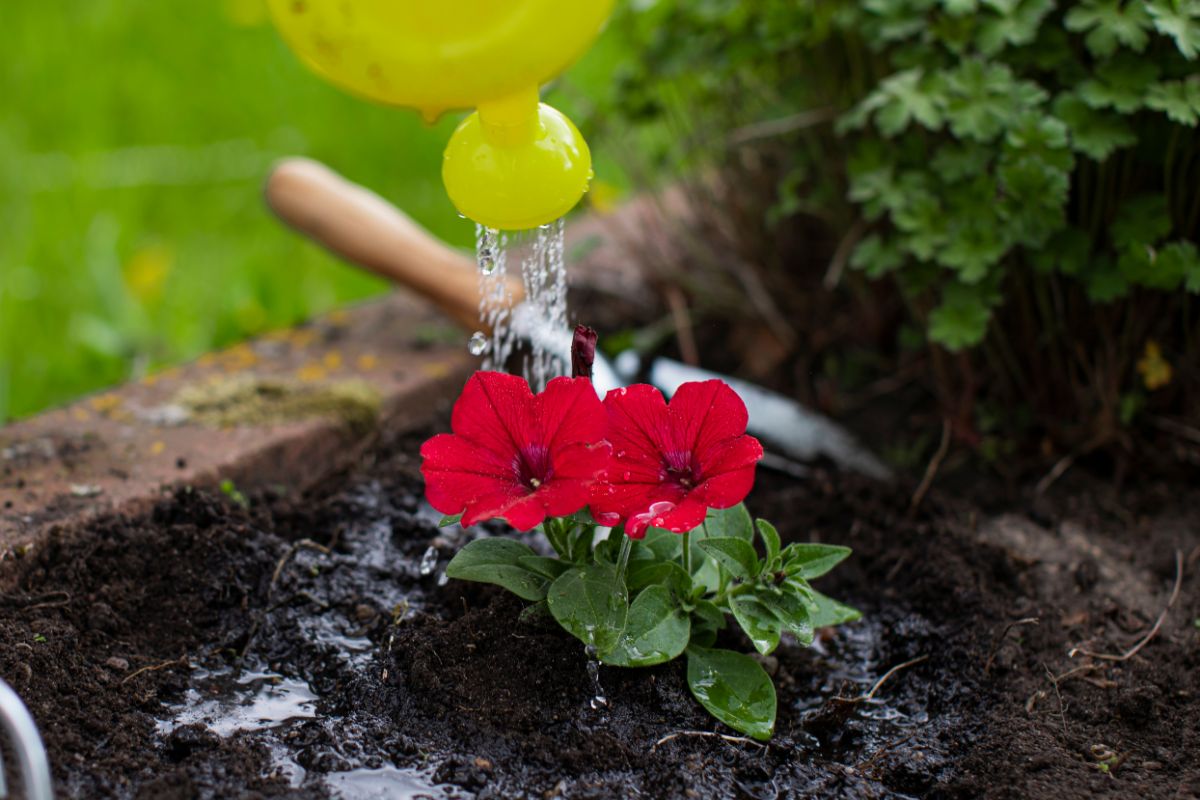 Petunias love the heat, and tend to do fine even when the sun is evaporating the moisture right out of the air.
In fact, they are drought-resistant.
You do need to provide a lot of water to spreading petunias, but for other types of petunias, watering just once a week should be sufficient.
University of Minnesota (UMN) Extension suggests, "Leave sprinklers on long enough to soak the soil to a depth of 6to 8inches every time you water. Hanging baskets and other containers also need more frequent watering, perhaps as often as daily, depending on their size and the volume of soil they contain."
How to Plant Petunias
It is possible to start petunias from seed, but most gardeners do not. Missouri Botanical Garden writes, "Although many petunias may be grown from seed sown indoors 10-12 weeks before last frost date, many gardeners search local nurseries for interesting cultivars in inexpensive cell/six packs and only resort to seed in situations where a specific cultivar is sought that is only available from seed. Purchased plants often benefit from pinching at the time of planting."
So, for the instructions below, we are assuming you are planting a starter plant.
Indeed, petunia seeds are quite tricky. So, as a novice petunia-grower, you probably will want to avoid starting from seed.
Container Planting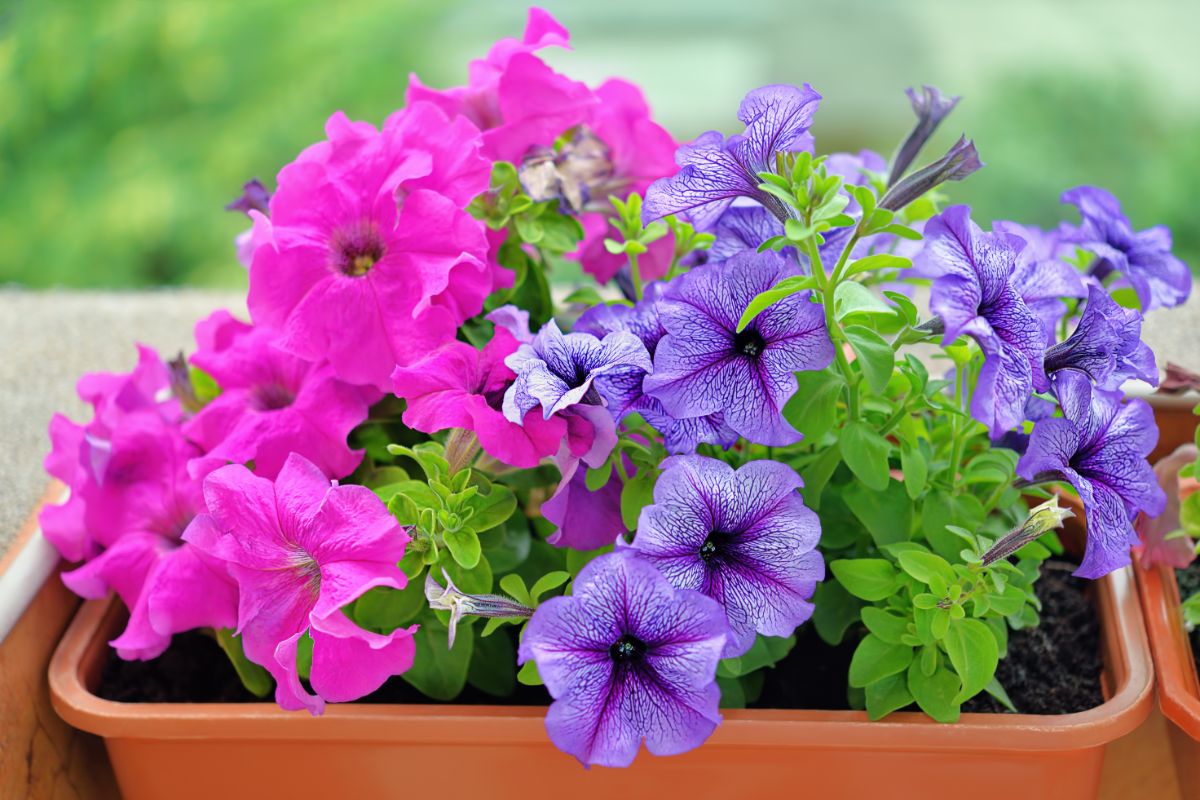 Growing petunias in containers is easy. Here are the basic steps.
Select a pot. A good size for a pot is around 12-inches. That should be large enough for three petunia plants. Space them out evenly so they each have sufficient room to grow. If your pot does not have holes, add them for drainage.
Fill the containers with potting mix.
Potting mix without soil is ideal for potted petunias.
Plan the petunias.
Dig holes for your petunia starter plants and insert them into your containers. Backfill the potting mix.
Fertilize and water.
Nourish your freshly planted petunias with a bit of slow-release fertilizer. Water them after planting as well.
Find the right place for your petunias.
Finally, find a permanent home for your potted petunias. The most important thing is to make sure that they are getting lots of sunlight.
Ground Planting
If you want to plant petunias directly in your garden beds, follow these basic steps.
Choose a spot for your petunias.
Remember, the most important considerations are that the soil drains well and that your plants will receive lots of direct sunlight each day.
Prepare the soil.
University of Minnesota (UMN) Extension writes, "It's always useful to improve garden soil by conditioning it with organic matter, such as peat moss, compost or manure. Spread the organic matter 2to 3inches thick. Incorporate it into the soil to a depth of 8to 10inches, using a rototiller or garden fork."
Doing these steps "Helps open up heavy clay soil, which improves drainage, but can also increase the ability of light, sandy soil to hold moisture and nutrients."
Dig holes for your petunias.
The appropriate amount of spacing to give these flowers depends on what category of petunias you have.
If you are planting grandiflora or multiflora varieties of petunias, put about a foot of space between them.
You will need at a little more space between spreading petunias—aim for a foot and a half.
Have milliflora petunias to plant? These only need 4-6 inches of separation.
Backfill the soil after planting the petunias.
Water your petunias.
Water your petunias after you finish planting them. You will need to water them more frequently as they are establishing than you do afterwards. Check their soil to make sure it is remaining moist, and provide more water when necessary. Afterwards, you can switch to a weekly watering schedule.
Starting from Seed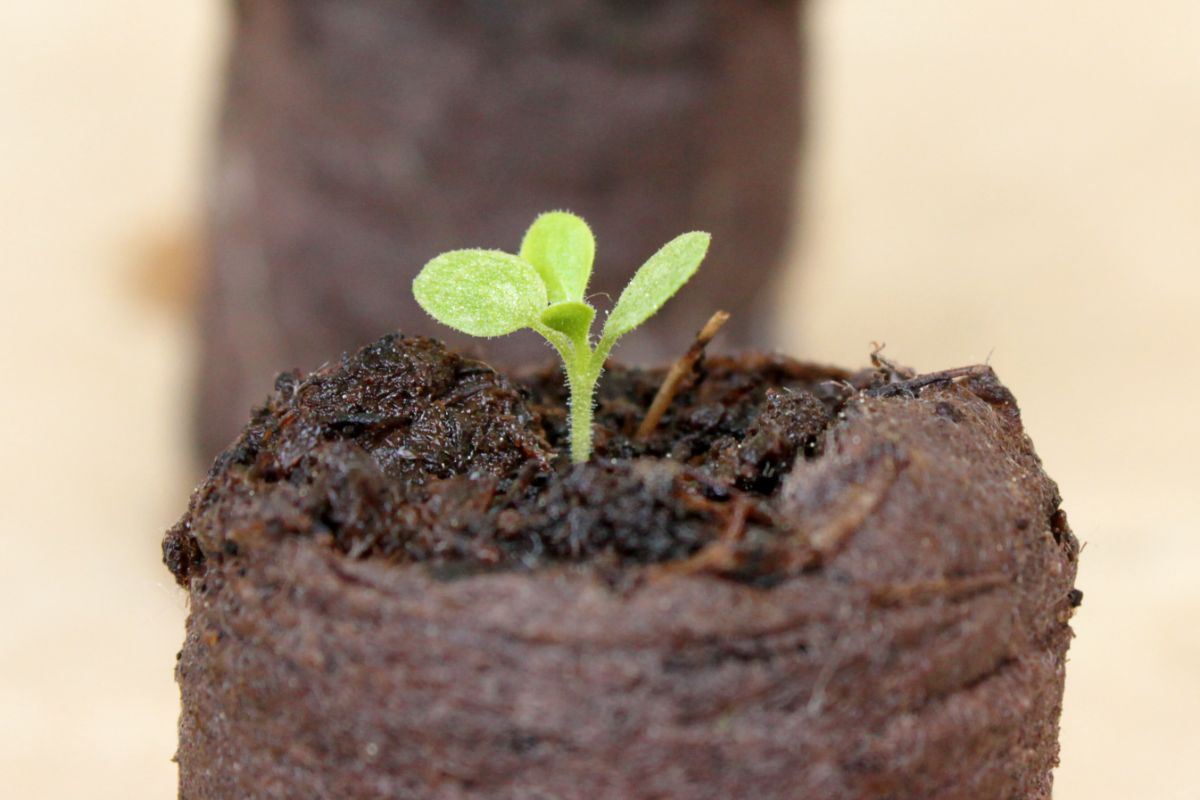 Petunias are notoriously difficult to start from seed. But if you want to try it, here are the instructions.
Begin by filling a container with damp potting soil.
Scatter the seeds on top of the soil.
Get a spray bottle and spritz the seeds and soil.
Doing so should be more than sufficient in most cases to push them into the soil. They should not go deep.
The seeds will have to stay moist as they germinate. So, cover them with plastic wrap.
Find a location for the seeds to germinate.
It needs to be between 70-85 degrees Fahrenheit. The seeds should only receive filtered light, no direct sun.
Check on the seeds as they are germinating.
If the soil is drying out, spray it gently and cover it again. Wait for around a week to a week and a half.
Once the seedlings start to come up, take off the plastic wrap.
Put the container in a new location where the seeds receive direct light. But they should not be too warm. Temperatures in night should dip no lower than 55 degrees Fahrenheit, but daytime highs should not rise above 65 degrees Fahrenheit. Fluorescent light works well since it can provide the necessary illumination without overheating the plants.
Wait for the seedlings to grow some more.
Once they have three leaves each, you can transplant them into peat pots.
Continue waiting.
During this time, fertilize your seedlings. Once every other week is fine for most types, but for spreader petunias, you need to do it weekly.
Transplant your seedlings outdoors after you harden them.
Hardening your petunias means moving them back and forth between indoors and outdoors repeatedly to get them used to outdoor life.
After that, you can put them in their permanent homes, be that your garden beds or containers.
How to Care for Petunias
Now you know the basics of water, sun and soil for petunias. But what about fertilizing, deadheading, and other aspects of care? Let's discuss these and more.
How to Fertilize Petunias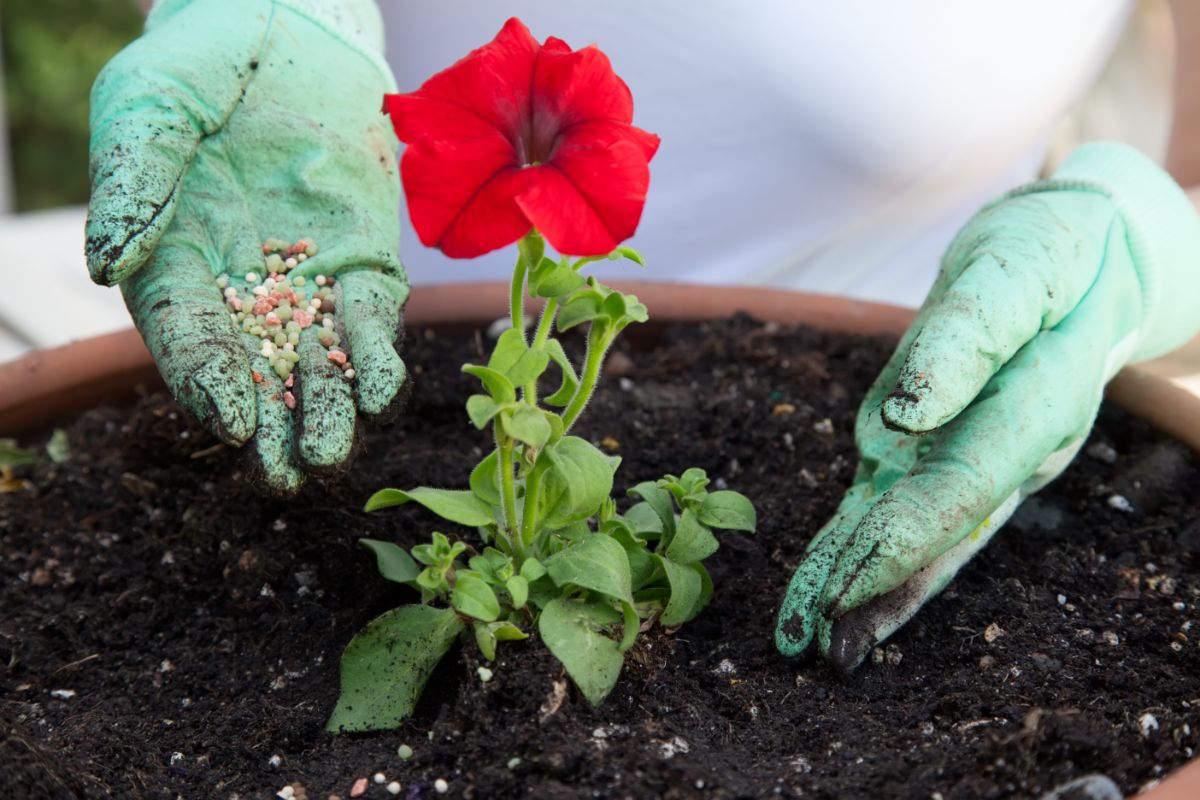 It is a good idea to fertilize your petunia. UMN Extension advises "balanced fertilizer such as 8-8-8, 10-10-10, or 12-12-12 into soil at a rate of 2 pounds per 100 square feet" as you are planting.
Then, starting in mid-July, the extension suggests that you apply liquid fertilizer for most types of petunias. Use it once every three weeks.
If, however, you have a spreading petunia, you will need to fertilize it once a week instead.
That is all assuming you are planting your petunias in your garden beds. What if they are going to be potted petunias?
UMN Extension says, "When planting window boxes or other containers, incorporate timed-release fertilizer into the soil. Later – early to mid-July – begin to fertilize regularly every 2weeks with a liquid fertilizer meant specially for flowering plants."
Once again, if you have a spreading cultivar, it will need to be fertilized every week, not every other week.
How to Mulch Petunias
Mulching around petunias can be appropriate in some circumstances. While they are drought-tolerant plants, they do not want to be in totally dry soil. If you are worried about the soil drying out, mulching can help prevent that from happening (of course, you still have to water them).
Another useful application for mulch is to keep weeds from taking over and crowding your petunias.
How to Stake Petunias
You do not need to worry about staking the shorter varieties of petunias. But some taller plants can sag, especially if your location is very windy or gets a lot of rain. Those plants can benefit from staking.
How to Prune Petunias
Pruning petunias is an important part of maintaining them throughout the season. There are three chores involved with pruning petunias. These include:
Weekly pruning during the season
Fall cutting
Deadheading
Below, we tell you when and how to do each of these for full, abundant petunia plants.
When to Cut Back Petunias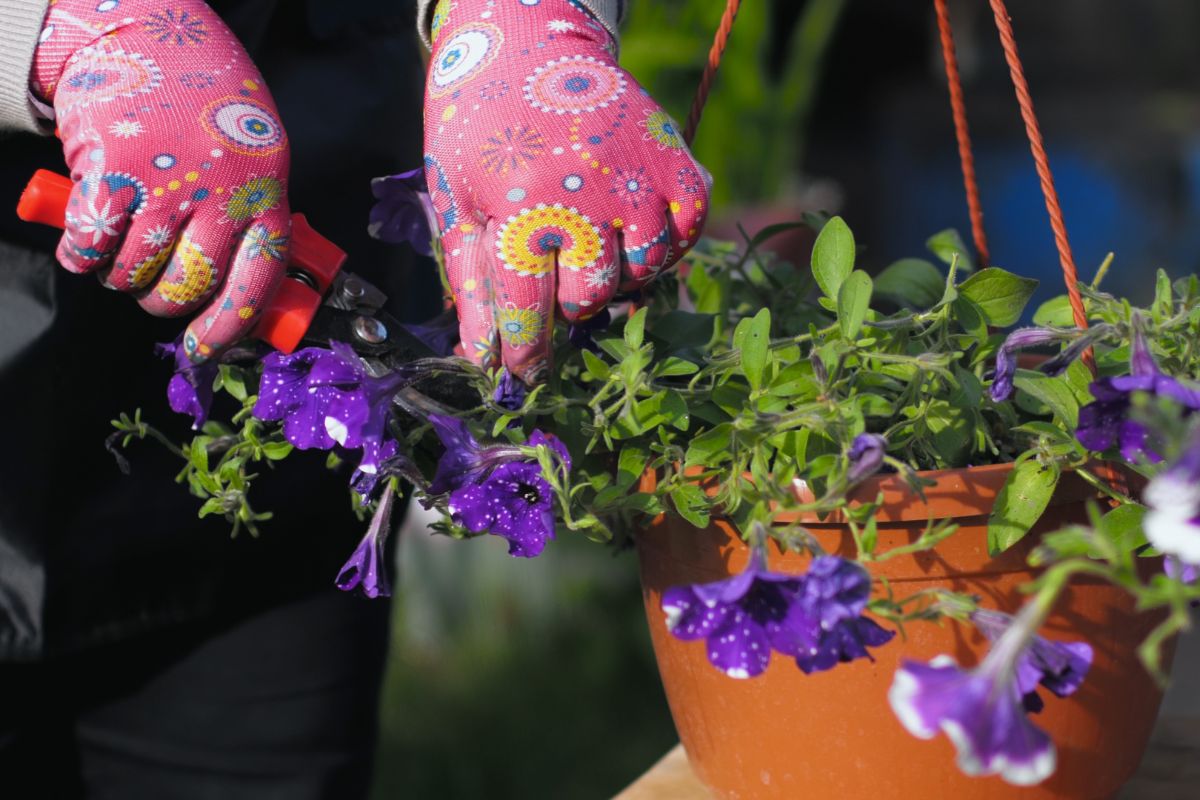 Petunias have a tendency to get leggy. Because of that, you may want to prune them during the season to help them maintain the full, beautiful look you want.
In fact, you can do this task on a weekly basis, beginning once the stems measure eight inches. You will need to trim 3-4 stems each time. Be sure not to cut off the node.
If you find yourself having to cut away flowering stems, just put those to use in a floral arrangement in your home.
Along with this pruning routine throughout the season, it is a good idea to cut your petunias back when fall comes around. Get rid of the dead plant matter after you do.
How to Deadhead Petunias
If you want your petunias to flower repeatedly during the season, deadheading can help. When you deadhead a perennial, you remove the wilting blossoms so new ones can come in.
Do you need to do it? If you have a grandiflora petunia, probably. The same goes for any double petunia.
But if your petunias are small, you might not have to deadhead them at all. They will keep blooming on their own.
Are Petunias Vulnerable to Diseases or Pests?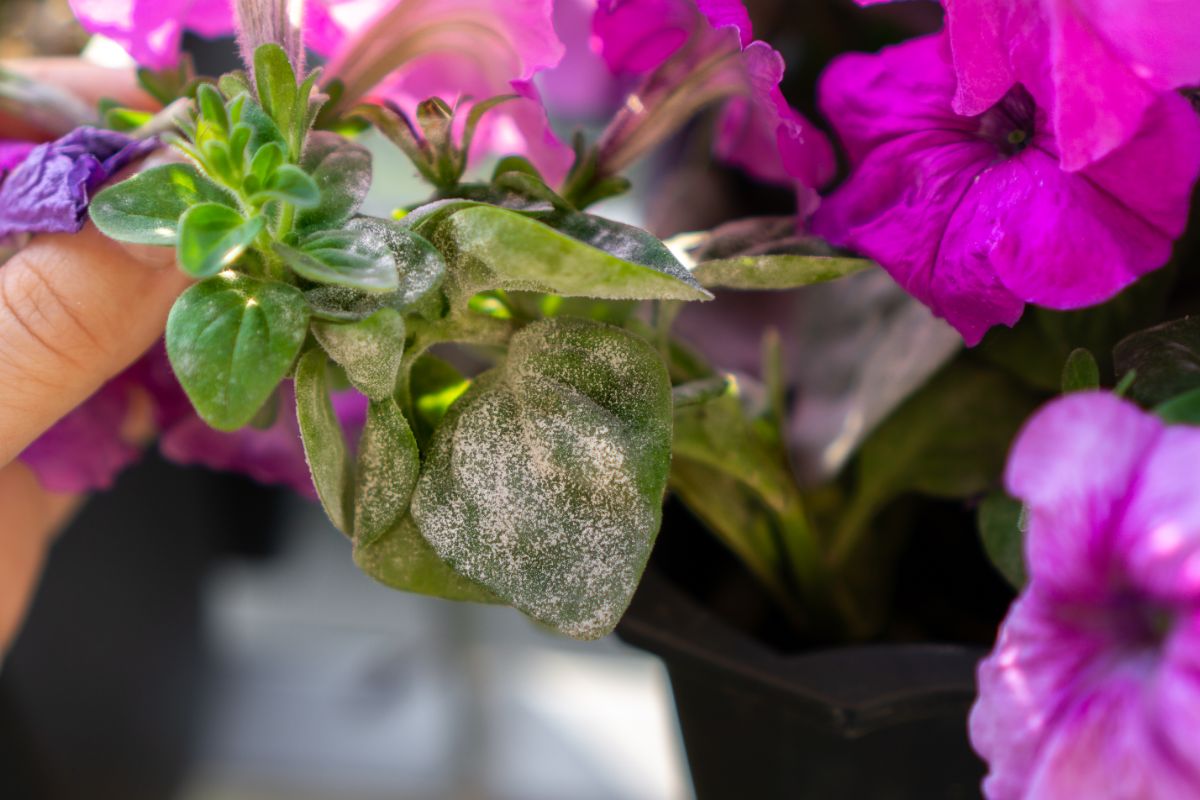 On the whole, petunias usually do not have problems with pests or diseases. But sometimes, aphids, slugs, snails, or flea beetles might get into them, causing issues (although some sources suggest they repel aphids).
As far as disease goes, a couple to be on the lookout for include late blight and gray mold. Root rot and tobacco mosaic virus also can infect petunias.
University of Florida Gardening Solutions says, "Modern petunias have been hybridized with disease-resistant old fashioned types to resist botrytis rot. These hybrids are also more tolerant of temperature extremes and produce more flowers. The 'Wave' hybrids were created to tolerate warmer temperatures."
Can You Winterize Petunias?
If you live in a hot climate zone, you may not need to do anything to protect your petunias over the winter. So long as you are taking proper care of them, they should come back for several years.
But what if you live in a cooler climate? Are you stuck growing petunias as annuals, or is there a way you can keep them safe over the winter so that they return in spring?
Actually, there are a couple of options worth considering.
One idea is to bring your outdoor petunia indoors over the winter, keep it in the sun, and then place it back outside the following year.
Be aware, however, that this is not easy to do successfully. Petunias do not adapt well to such a drastic change in environment, and their leaves can fall off. But if you can keep the roots from dying, the plant should be able to grow back, providing you with another year of blossoms.
Indeed, for this reason, some people choose an alternate means of winterizing a whole plant.
Instead of leaving it in a sunny window, they instead try to push the plant into a state of dormancy.
The way to do that is to trim the petunia at least 30% as it starts to get cold outside. Remove all of the flowers.
Carefully remove the plant from the ground if it is in your garden bed, and put it inside a container. If it is in one already, you can skip that step (it does not need to be moved to a different one).
Start by putting the plant in a location where it will get a lot of sun. Then, reduce the sun exposure gradually. If the sun is the only light source, this should happen on its own anyway. But if you are using grow lights, you will have to turn them off sooner as the days go by.
Provide a normal amount of water initially. Then, begin a reduction there as well. Week by week, you should drop the amount. Eventually, the top inch should be allowed to dry out before watering.
The plant's leaves will drop 1-2 months into this process. This is expected, and it is happening under your control.
Now, your petunia is dormant. It is not dead. Instead, it is maintaining the health of its roots.
Your petunia can now go in a dark spot for the remainder of the winter, and will not require further water. The temperature should be about 40-50 degrees Fahrenheit.
Six weeks prior to the last frost, you should slowly begin introducing water and light to your petunia plant to wake it back up. Start with indirect sunlight before proceeding to direct sunlight.
By the time the last frost takes place, your plant should be getting a normal amount of sun and water.
You can now commence with the hardening process, and then return the plant outdoors.
Consider keeping it in a container the next season, so that it is convenient to bring it back indoors next winter.
Having trouble winterizing the whole plant, or just do not feel up to trying it? Another option is to instead take a cutting of your petunia plant to overwinter. You can then propagate the plant from the cutting. The steps for cutting and propagating are below.
How to Propagate Petunias
Here are the instructions for propagating petunias from cuttings.
Cut a piece of stem. It needs to be at least six inches in length.
Take the leaves off of the bottom part of the stem, but leave them on the top half.
Get a container and fill it with seed-starting medium. Make sure it has drainage holes.
Insert the cutting into the medium.
Find a sunny location for the cutting to grow. It needs a minimum of six hours daily.
Routinely moisten the soil by spraying it. Do not pour water heavily into the pot, however, or it will be too much.
Wait for your cutting to root.
Once the cutting roots and spring comes around, you can harden it, taking it outside and bringing it back in until it is used to the outdoor climate.
Plant your petunia outside in a container or in your garden bed.
Recommended Companion Plants for Petunias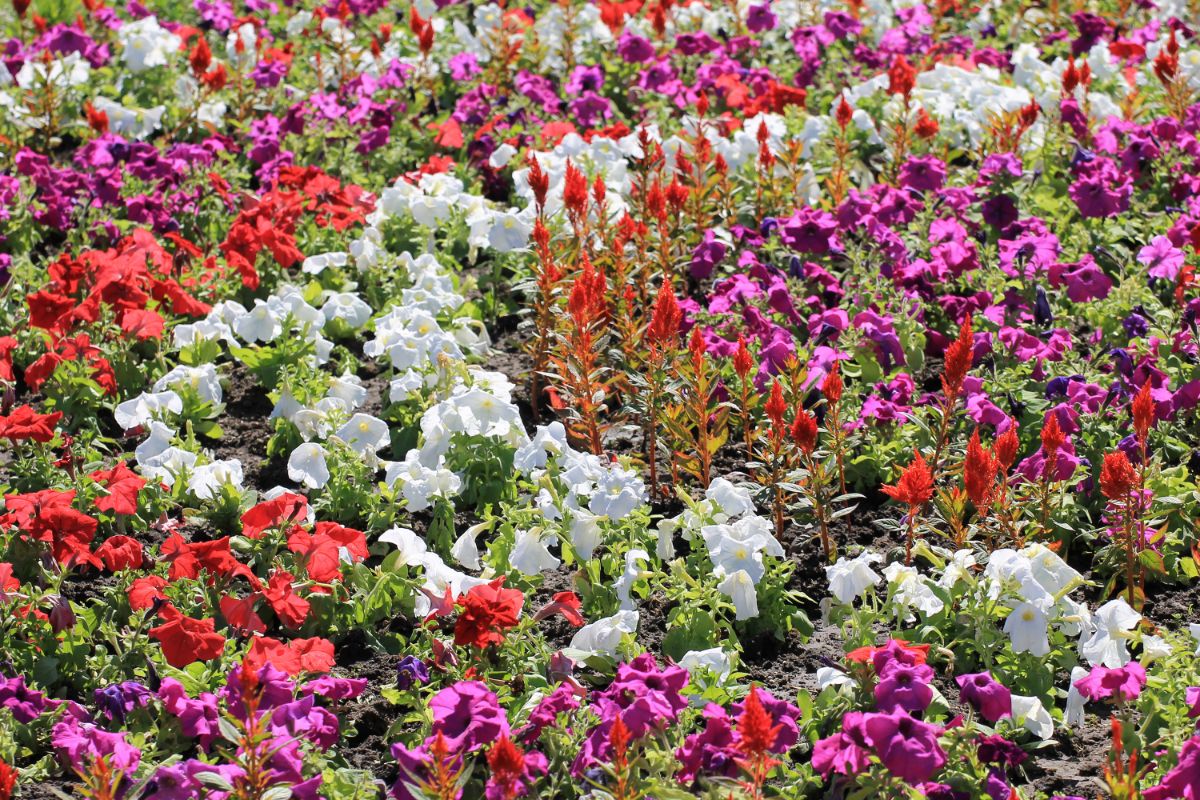 Now you know all about growing petunias. But what types of plants should you grow with them? Here are a few companion planting ideas:
Red Salvia: The bright scarlet color of this plant can be a beautiful accompaniment to your petunia plants. At the same time, the very different shape of the flowers adds some welcome contrast. Pollinators love red salvia too (especially hummingbirds), so pairing it with petunias can make your garden even more alluring.
Asters: Just as petunias come in many different colors, the same is true for asters. Plus, they are sun lovers, so they do well in the same locations in your garden.
Fruits or vegetables: Some gardeners like to plant tomatoes, potatoes, cucumbers, peppers, and other fruits and vegetables near petunias. They may help confer some pest protection on those plants.
Alliums: The graceful stalks and whimsical balls of blossoms of ornamental alliums can make for an intriguing backdrop for your petunia plants.
Snapdragons: These stalks of colorful flowers can beautifully frame your petunias, whether they are in your garden beds, containers, or in a flower arrangement. Since they come in so many colors, it is easy to find just the right shade to complement any type of petunia.
Those are just a few ideas! Many other companion plants also work great with petunias.
Frequently Asked Questions About Growing Petunias
What eats petunias?
If something is eating your petunias, it could be aphids, beetle, slugs or snails. Rabbits and deer are fond of petunias as well.
What is best to plant with petunias?
There are many options, but a few ideas include snapdragons, asters, and tomatoes.
Are Mexican petunias actually petunias?
One popular plant you may be interested in is the "Mexican petunia." But is it actually a petunia? The answer may surprise you.

The Mexican petunia has the scientific name Ruellia simplex. It also goes by the names "Mexican bluebell" and "Britton's wild petunia."

Since the genus is Ruellia and not Petunia, technically, no, it is not a petunia.
Indeed, it does not belong to the same family either; it is a member of the Acanthaceae family.

This plant is a perennial, and it spreads easily. In fact, it is now classified as an invasive plant in Florida.
Where to Buy Petunias
Now you know all about petunias, including how you can grow them as tender perennials.
Ready to shop the many exquisite cultivars of petunias to find the perfect colors to grace your garden? Click the link below.