Steep hillsides and sloping yards can be a massive challenge to gardeners and homeowners. Not only are these landscapes difficult to mow, but the uneven ground also predisposes these spaces to erosion, which can cause quite a mess! If you're dealing with erosion on your property, there are many methods to stop it, including retaining walls and ground-stabilizing grids, but you can also control erosion with perennial plants!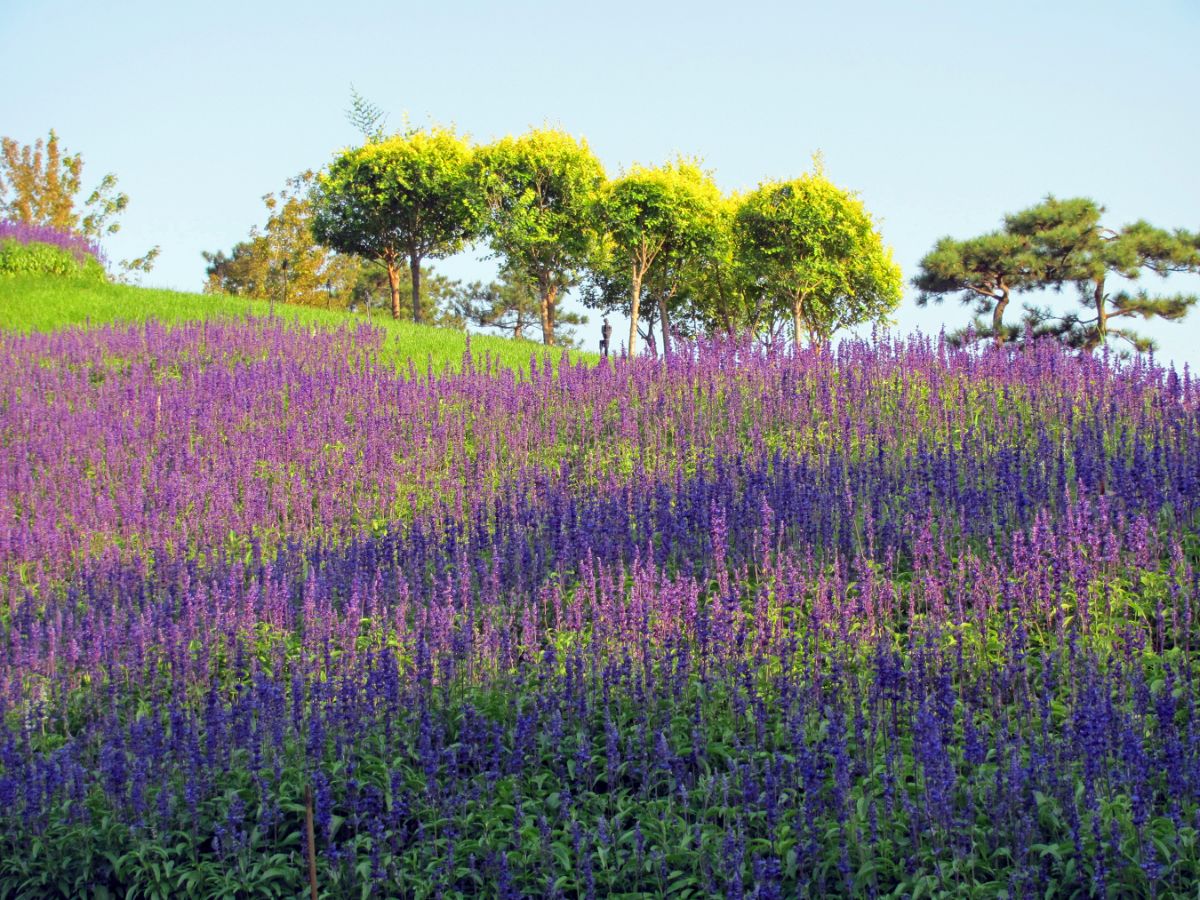 Perennial plants are certainly beautiful, but many perennials are functional too. Plants with deep root systems or spreading growth habits can be particularly adept at stopping erosion and locking soil down. If you're ready to learn more about using plants for erosion control, read on and find the best plants for the job right here!
Jump to:
15 perennial plants to grow for erosion control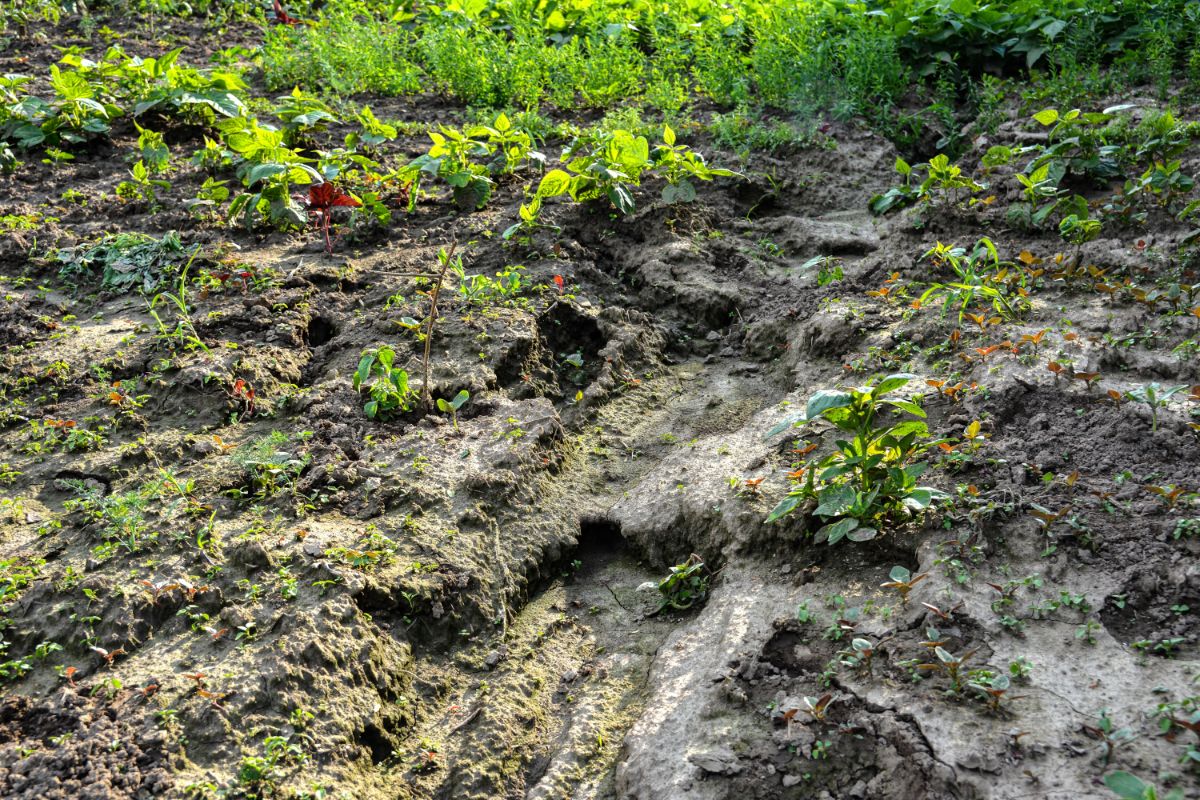 Rainwater, foot traffic, and inclement weather can all cause hillsides to erode. And when they do, that soil can wash away into waterways, or it can create messy puddles of mud on your property. In severe cases, erosion can also cause property damage.
Because erosion can be costly, we recommend that you consult with professionals who can advise you on the recommended methods of soil stabilization if you're dealing with significant erosion problems. However, if erosion is relatively minor or you'd like to nip erosion in the bud, these erosion control plants can help too. Planning your garden around these sturdy perennials may be enough to combat erosion for good and keep your soil right where you want it!
1. Cotoneaster (Cotoneaster spp.)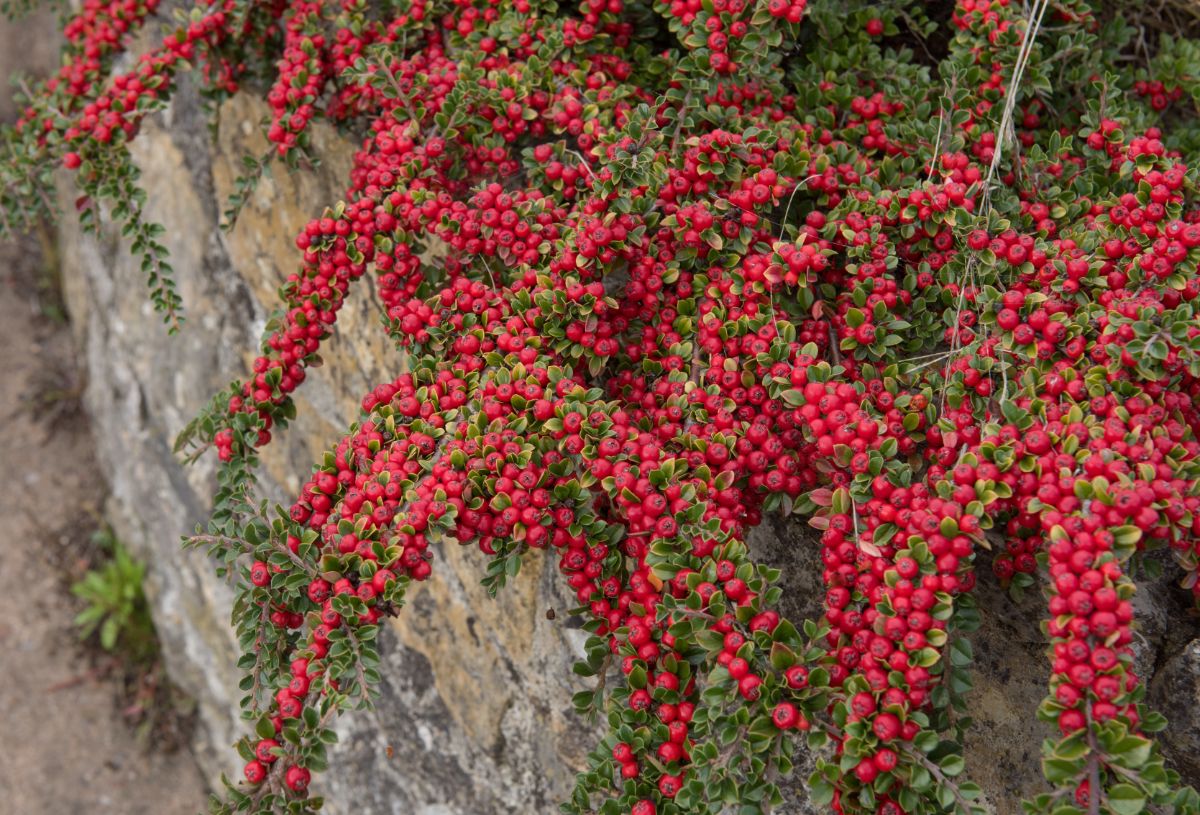 | | |
| --- | --- |
| Plant Name: | Cotoneaster |
| Light Requirements: | Full sun to part shade |
| Water Requirements: | Moderate |
| Grow Zone: | Zones 5 to 7 |
| Special Features: | Colorful Berries; Attracts Birds |
There are a number of different types of cotoneaster, including plants with upright or sprawling growth habits. Versatile and adaptable, cotoneaster shrubs can be grown as low-maintenance border plants or groundcovers, while others are tall enough to be used as privacy hedges. And, of course, their vigorous roots help with erosion control too!
Preferring full sun to part shade, cotoneaster plants crave well-drained soil, and established plants only need to be watered in drought conditions. Flowers often appear in the June gap, which is when spring flowers are done blooming, but summer flowers have yet to appear. Even better, cotoneaster is very popular with bees, butterflies, and other pollinators, and it tends to be deer-proof too!
2. Viburnum (Viburnum spp.)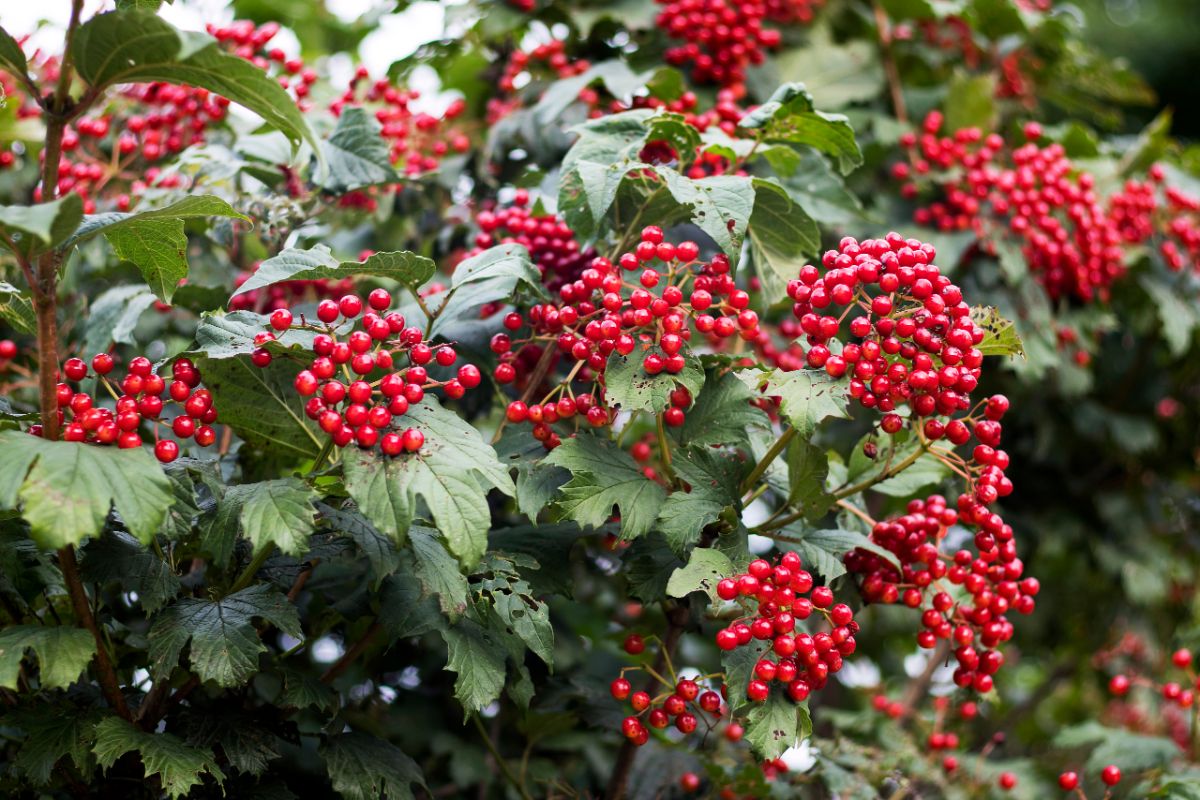 | | |
| --- | --- |
| Plant Name: | Viburnum |
| Light Requirements: | Full sun to part shade |
| Water Requirements: | Moderate to low |
| Grow Zone: | Zones 3 to 9 |
| Special Features: | Fragrant Flowers; Fall Foliage |
Most viburnum plants prefer full sun, but a few can thrive in part shade; however, all viburnums must be watered during severe drought. Useful as privacy screens or hedges, viburnums are stately enough to work as specimen plants, but they can be used as backdrop or foundation shrubs too. Plus, many viburnum species are ultra-cold hardy, and they can tolerate winters in growing zones 3 and up.
When in bloom, viburnums are magnets to butterflies and bees, and later in the season, wild birds are attracted to their fruit. Fall plantings tend to work best with these shrubs, but you can also plant viburnums in spring if you're in a time crunch. Interestingly, the straight stems of arrowwood viburnum may have once been used as arrow shafts by the Peoples of the First Nations!
3. Greater periwinkle (Vinca major)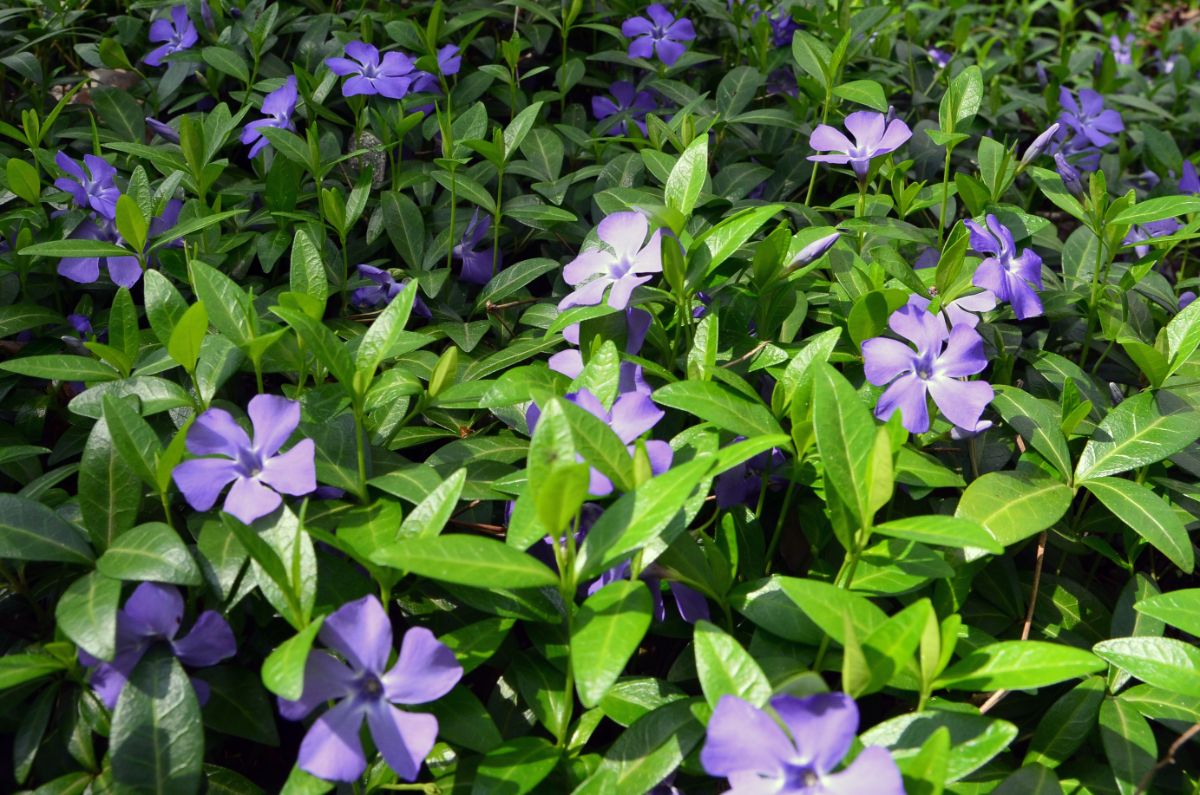 | | |
| --- | --- |
| Plant Name: | Greater periwinkle |
| Light Requirements: | Full sun to part shade |
| Water Requirements: | Moderate |
| Grow Zone: | Zones 4 to 9 |
| Special Features: | Evergreen Groundcover |
Periwinkle is an herbaceous evergreen plant that's often used as a groundcover, and it grows in a range of soils with ease. But beware! This plant is considered to be an invasive species in some areas, so care should be taken if you want to grow it.
Preferring full sun to part shade, periwinkle grows best in moist, rich soils, and it can even tolerate high heat and nearly full shade. And while periwinkle is famed for its charming bluish-purple flowers that appear from spring to early summer, happy periwinkle plants can also bloom intermittently throughout the year. While periwinkle is generally pretty tough, the plant can sometimes suffer from stem canker.
4. Buttonbush (Cephalanthus occidentalis)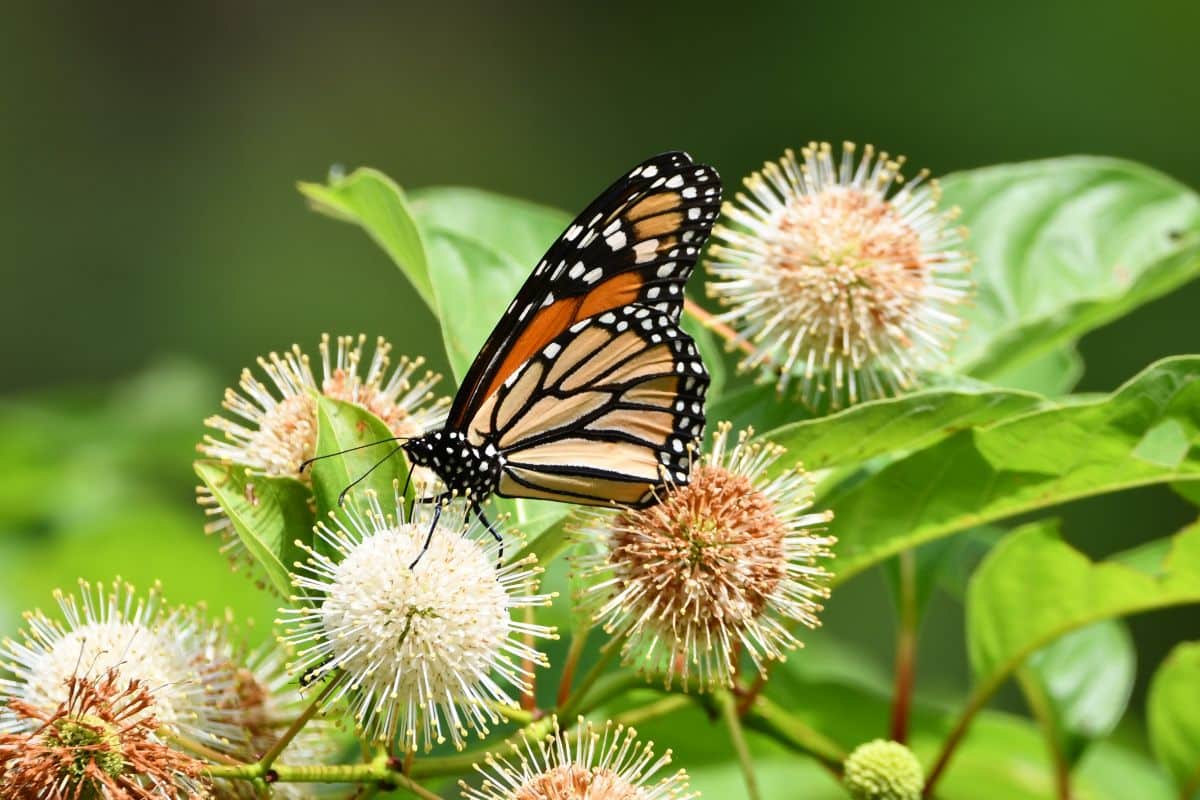 | | |
| --- | --- |
| Plant Name: | Buttonbush |
| Light Requirements: | Full sun to part shade |
| Water Requirements: | High |
| Grow Zone: | Zones 5 to 9 |
| Special Features: | Good for Rain Gardens; Attracts Pollinators; Host Plant |
A top pollinator plant and host plant for sphinx moth caterpillars, buttonbushes are known for their adorable, spherical flowers that look a bit like creamy-white buttons! A deciduous shrub that grows up to 12' tall when mature, buttonbushes prefer moist, rich soil and at least part sun. However, if you want to get lots of flowers, be sure to locate your buttonbush shrub in a very bright section of your property!
In gardens, buttonbush attracts bees, butterflies, and birds, and it's especially valuable to native pollinators. To keep your buttonbush looking its best, prune your plant from time to time and apply a yearly dose of organic fertilizer. Occasionally, deer will forage from these shrubs, and they can also be prone to leafhoppers and thrips.
5. Bugleweed (Ajuga reptans)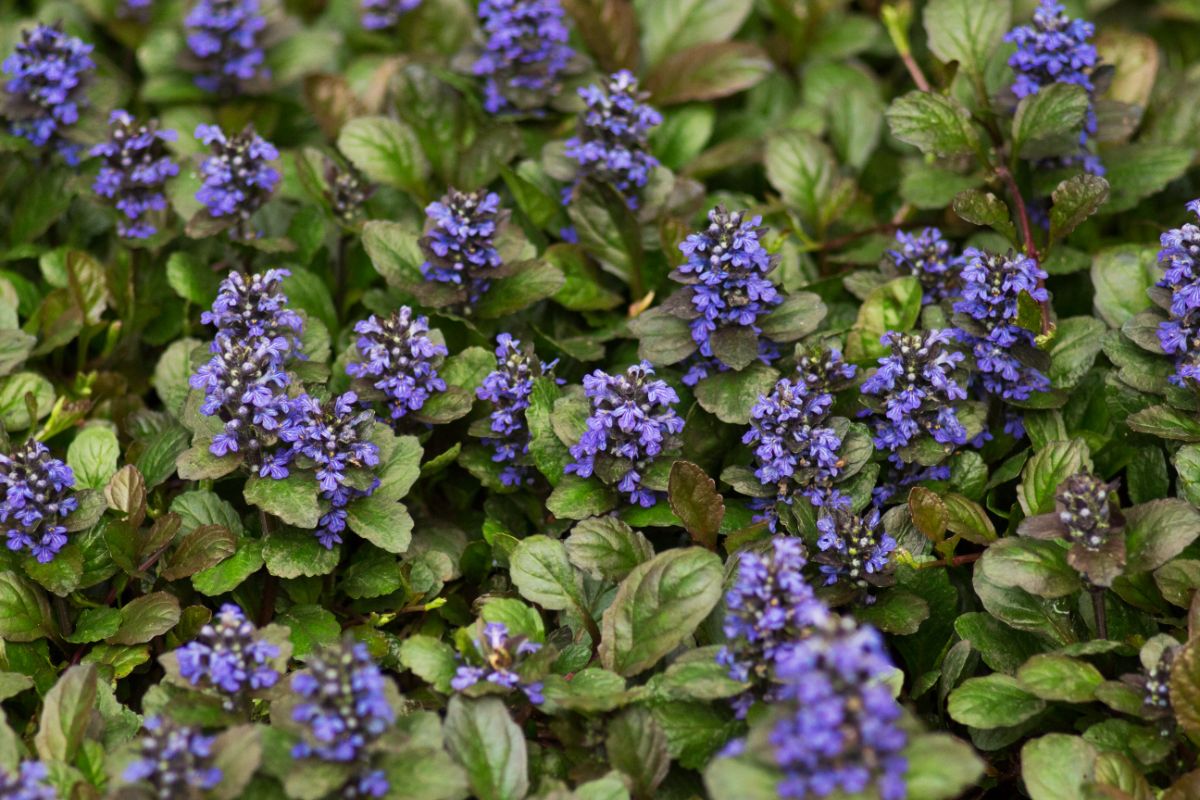 | | |
| --- | --- |
| Plant Name: | Bugleweed |
| Light Requirements: | Full sun to part shade |
| Water Requirements: | Moderate to low |
| Grow Zone: | Zones 3 to 10 |
| Special Features: | Groundcover; Purple Flowers |
A fast-growing, herbaceous groundcover, bugleweed can spread aggressively, which can be a good thing if you're trying to control erosion fast. However, since bugleweed can invade other areas, you will want to keep a watchful eye on this plant and prune it if needed. Hillsides that receive full sun to partial shade and medium moisture levels are ideal for bugleweed, but these plants can also grow in slightly acidic soils or under black walnut trees where many other plants won't survive.
Bugleweed runners should be pruned twice per year, and flower spikes can be trimmed away with a lawnmower after the blooms have faded. Typically deer-resistant, bugleweed can have problems with aphids and crown rot, but it's otherwise quite easy to keep. What's more, bees and butterflies adore bugleweed's purple flowers!
6. Ferns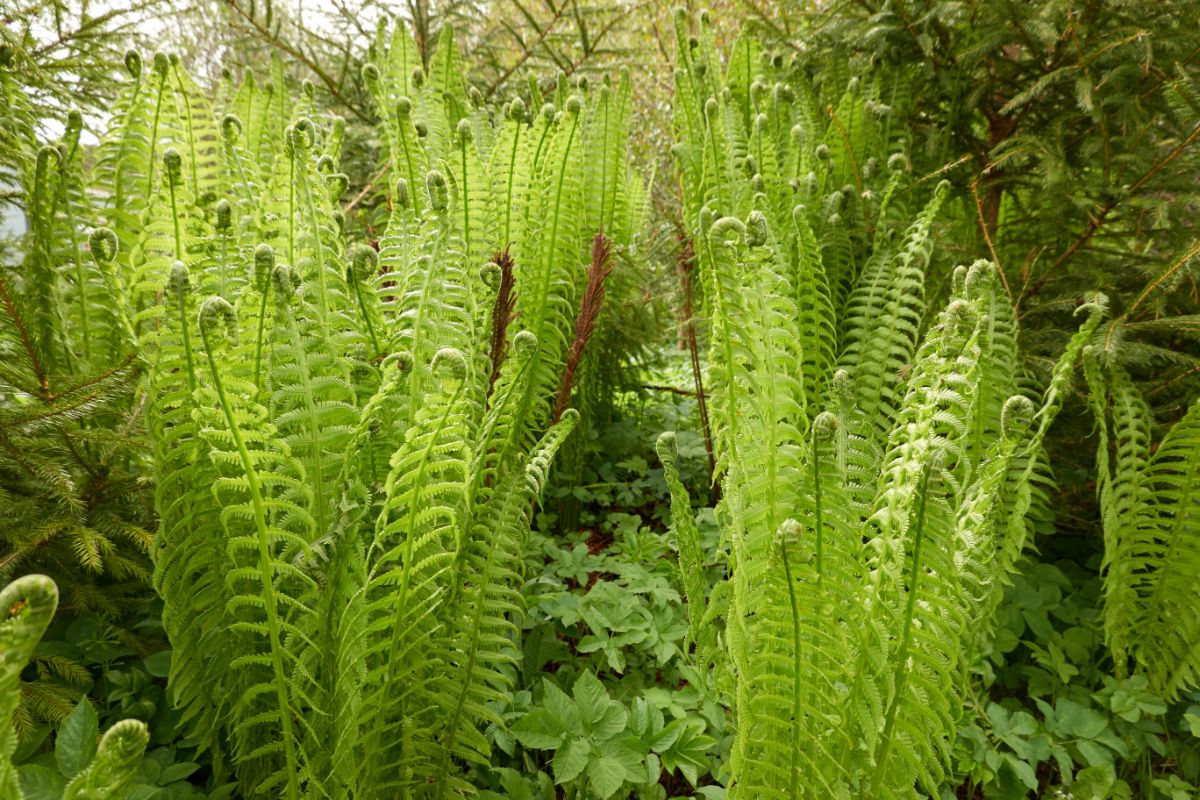 | | |
| --- | --- |
| Plant Name: | Ferns |
| Light Requirements: | Shade (most varieties) |
| Water Requirements: | Moderate |
| Grow Zone: | Depends on species |
| Special Features: | Shade-loving; Attractive Foliage |
The fern family is a large one, containing at least 10,000 different species of plants. Most ferns are ideal for shade gardens, while others tolerate sun. However, if you're looking for a top plant for erosion control, one of the best fern types to go for are interrupted ferns (Osmunda claytoniana).
Spreading fern species grow via underground rhizomes, and they can quickly cover sloping hillsides. Although ferns don't have very deep roots, their dense growth and fibrous root systems can help hold soil right where it lies! Most ferns prefer shady conditions, so they're well-suited for slopes with tree coverage, but some fern species can grow in sunnier spots as long as they receive adequate moisture.
7. Ninebark (Physocarpus spp.)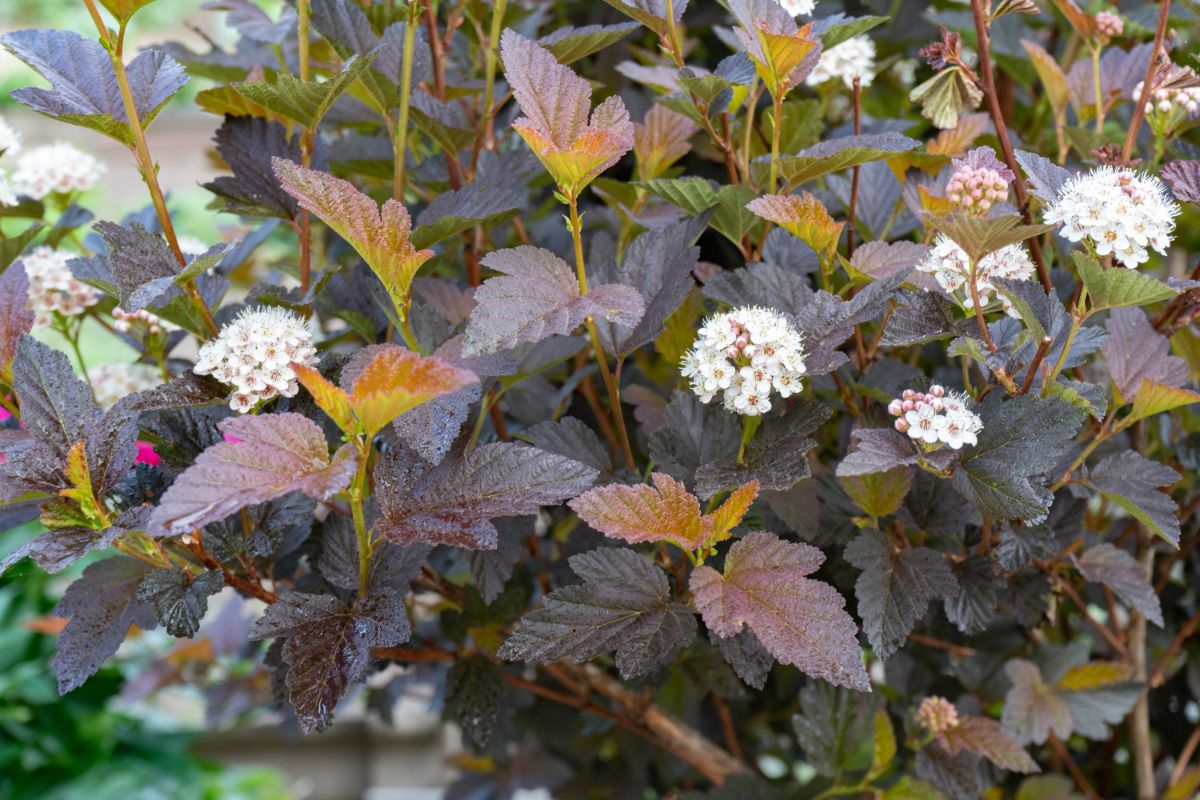 | | |
| --- | --- |
| Plant Name: | Ninebark |
| Light Requirements: | Full sun to part shade |
| Water Requirements: | Moderate to low |
| Grow Zone: | Zones 3 to 7 |
| Special Features: | Attractive Bark; Summer Flowers |
A favorite hedging plant and winter interest specimen, ninebark is much loved for its intriguing, peeling bark and colorful berries. Those berries provide an important food source for wild birds late in the year, but they will also add extra color to your garden too. Not only that, but ninebark plants are cold hardy enough to survive winters in Zone 3, and they can adapt to most soil types as well!
Blooming from May to June, ninebark flowers fade by mid-summer, leaving room for the plant's small, red berries. Ninebark berries are relatively inconspicuous, and you will need to sow at least three ninebark plants if you want to get berries, as most species of ninebark won't self-pollinate. In addition to providing food for birds late in the season, ninebark plants are also terrific host plants for several species of caterpillars.
8. Spotted dead nettle (Lamium maculatum)
| | |
| --- | --- |
| Plant Name: | Spotted Dead Nettle |
| Light Requirements: | Shade |
| Water Requirements: | Moderate |
| Grow Zone: | Zones 3 to 8 |
| Special Features: | Variegated Foliage; Groundcover |
Also known as purple dragon or purple henbit, Lamium is a herbaceous groundcover that spreads quite aggressively, so you know it's useful for erosion. Preferring part shade and moist, humus-rich soils, spotted dead nettle is hardy from zones 3 to 8, and its flowers provide forage for honey and bumblebees too! Spotted dead nettle blooms appear from summer to fall, and throughout the year, this plant also serves as a host plant for a number of insect species.
Curiously, spotted dead nettle is a relative of mint, and the plant's leaves and flowers are both edible! Most of the time, dead nettle plants won't need pruning, but snipping plants back from time to time can improve air circulation and discourage pest activity. Tenacious and hardy, dead nettle is named for the fact that, unlike stinging nettle, this plant doesn't have any stinging prickles!
9. Lilyturf (Liriope muscari)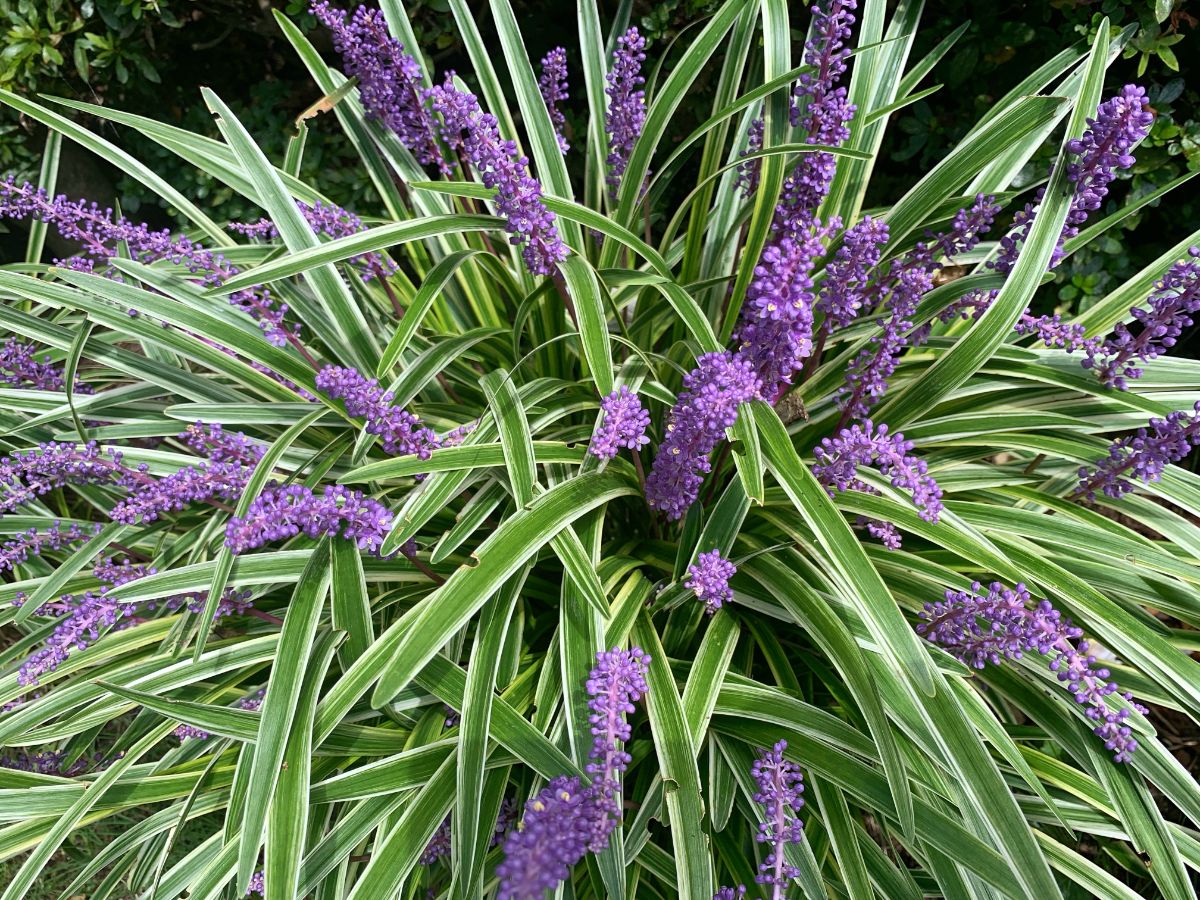 | | |
| --- | --- |
| Plant Name: | Lilyturf |
| Light Requirements: | Full sun to part shade |
| Water Requirements: | Low |
| Grow Zone: | Zones 5 to 10 |
| Special Features: | Grass-like Foliage; Groundcover; Purple Flowers |
A popular edging plant and no-nonsense groundcover, lilyturf can grow as an evergreen in some climates but is considered invasive in many areas. Hardy in USDA zones 5 to 10, lilyturf blooms from mid-summer through early fall, and it produces uniquely shaped, tall spires of purplish blooms. Growing beautifully in full sun to light shade, lilyturf tolerates just about any soil as long as it's not too moist.
Overall, lilyturf is ultra-low maintenance, and it's deer resistant, too, although slugs and snails can sometimes cause problems. This plant can also occasionally be affected by fungal diseases, such as anthracnose and leaf or crown rots. If you love mythology, you'll be happy to know that lilyturf's scientific name, "Liriope," was derived from the name of the fountain nymph Liriope, who was most famous in Greek mythology for being Narcissus' mother!
10. Virginia creeper (Parthenocissus quinquefolia)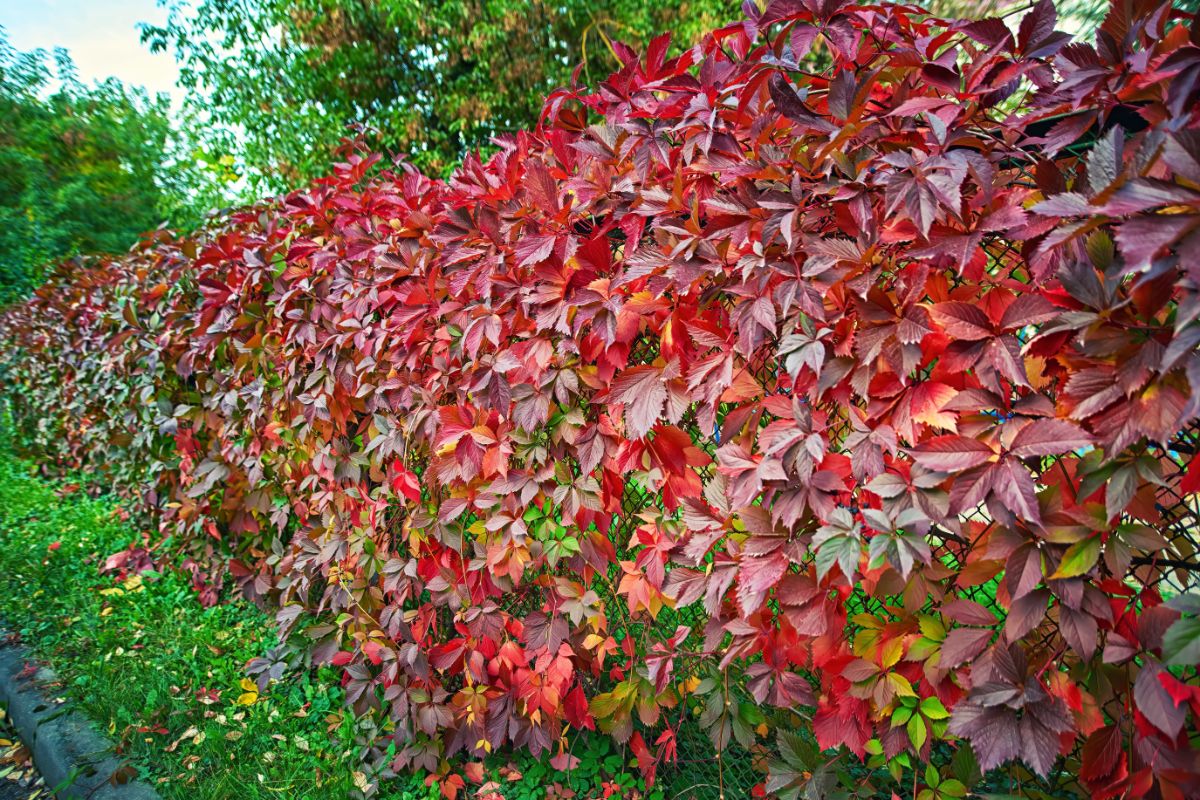 | | |
| --- | --- |
| Plant Name: | Virginia Creeper |
| Light Requirements: | Full sun to part shade |
| Water Requirements: | Moderate |
| Grow Zone: | Zones 3 to 9 |
| Special Features: | Climbing Vine; Fall Color |
Virginia creeper is a sprawling vine that's often found growing up the sides of buildings and trellises, although it can also be used as an erosion-controlling groundcover. Often mistaken for poison ivy, Virginia creeper has 5 leaves instead of poison ivy's 3 leaves, and it doesn't cause rashes except in sensitive individuals. In autumn, Virginia creeper leaves turn a brilliant red color that's pleasing to the eye, and this native plant is also a top host plant for certain pollinators.
While Virginia creeper has lots of benefits, plants can sometimes kill trees, so it's best to grow these vines away from tree lines. Keeping Virginia creepers well-pruned is also recommended, as these plants can grow over 20' in a single year! Hardy in USDA growing zones 3 to 9, Virginia creeper plants grow best in full sun and well-drained soil, but they also tolerate shade.
11. Catmint (Nepeta spp.)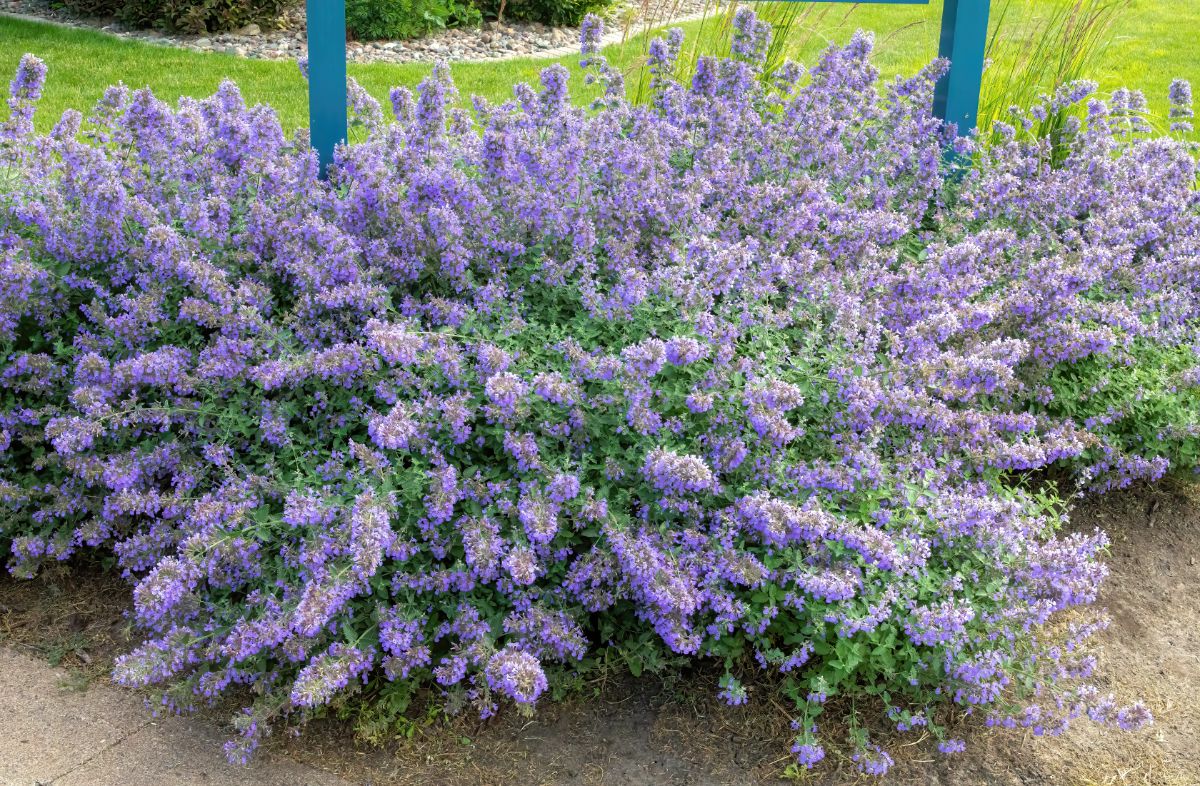 | | |
| --- | --- |
| Plant Name: | Catmint |
| Light Requirements: | Full sun to part shade |
| Water Requirements: | Low |
| Grow Zone: | Zones 4 to 9 |
| Special Features: | Fragrant Foliage; Attracts Bees; Deer Repellent |
Catmint has a lot of the same charms as catnip, although it doesn't stimulate cats in quite the same way. But what catmint does do is attract pollinators to garden beds, and its sturdy root system can keep loose soils from slipping! Preferring full sun and humus-rich, well-draining soil, catmint yields darling purple flowers from late spring through fall, and it provides lots of nectar for hungry bees and moths.
One of the many great things about catmint is it isn't just deer resistant… it's also a deer repellant! As a result, many gardeners grow catmint as a border plant to keep deer from browsing in their flower beds. Very low-maintenance and easy to grow, catmint usually doesn't need pruning, but you can clip your plant back after flowering if you prefer a tidier garden look.
12. Ornamental grasses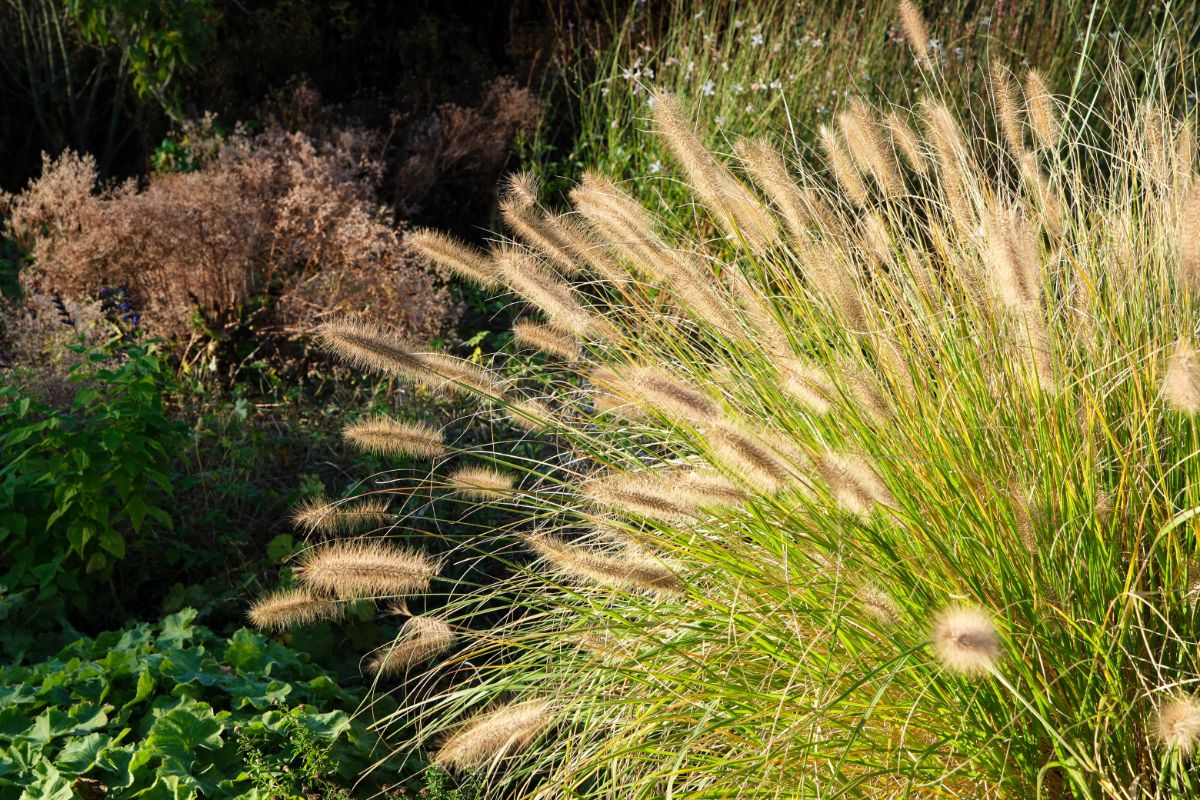 | | |
| --- | --- |
| Plant Name: | Ornamental Grasses |
| Light Requirements: | Full sun to part shade |
| Water Requirements: | Moderate to low |
| Grow Zone: | Depends on species |
| Special Features: | Adds Texture; Fall and Winter Interest |
As with ferns, gardeners have tons of ornamental grasses to choose from, which can be used as statement plants, groundcovers, or garden bed borders. And while you can select true grasses for erosion control, you can also work with sedges, rushes, and other similar-looking grass-like plants if you want to try something different. Most grasses prefer full sun, although some will take shade, so you'll need to consult the plant tag on your grasses to determine what your new plants need to grow happy and strong.
As if gardeners didn't already have enough grass-like plants to choose from, there are also cool-season grasses and warm-season grasses that prefer slightly different growing zones and temperature ranges. While grasses can be enjoyed during the spring and summer, many grass plants keep their seed heads through the winter for extra interest. Depending on your style, you can find many types of ornamental grasses for your garden, including Japanese forest grass, blue fescue, and fountain grass.
13. Forsythia (Forsythia spp.)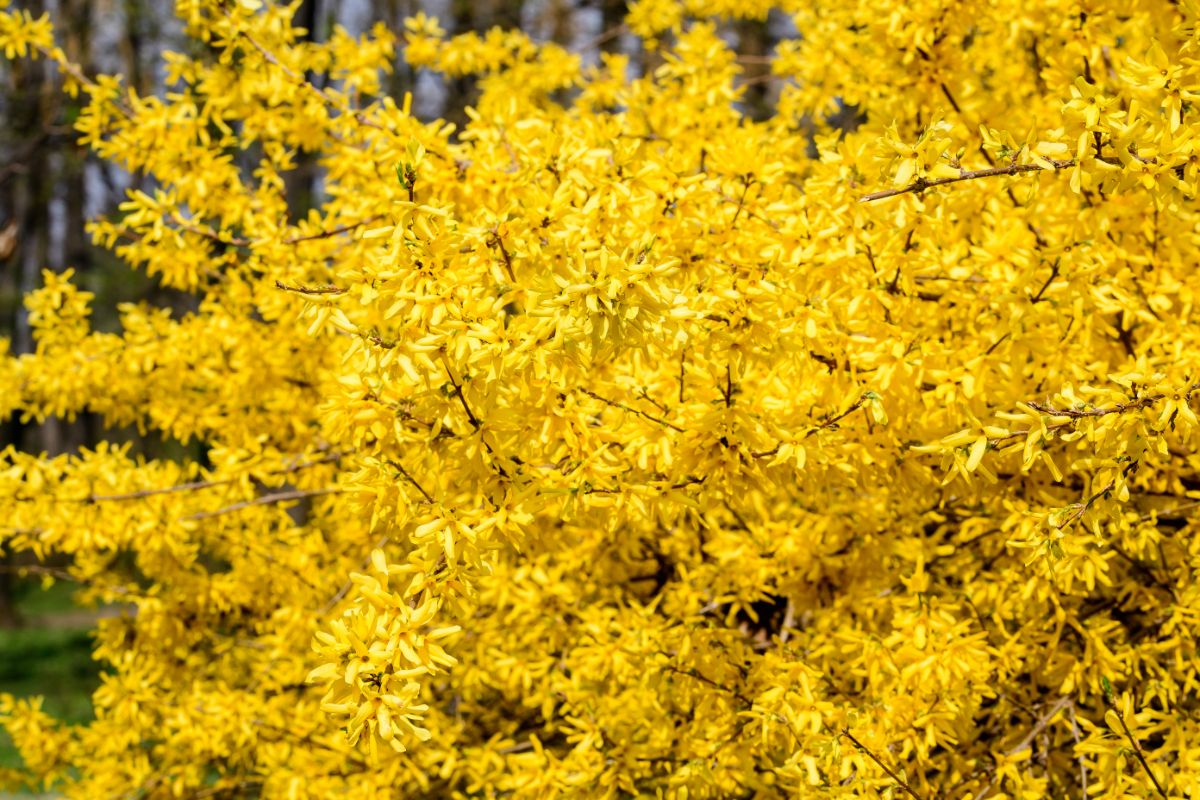 Plant Name:
Forsythia
Light Requirements:
Full sun to part shade
(less flowering in shade)
Water Requirements:
Moderate
Grow Zone:
Zones 4 to 9
Special Features:
Early Spring Blooms; Attracts Pollinators
Forsythia are deciduous, flowering shrubs that are known for their graceful, arching branches and early bloom time. These low-maintenance springtime bloomers flower before many other garden plants, offering much-needed support for early emerging pollinators. Just be sure to provide your forsythia shrubs with full sun for proper growth and flowering.
Once established, forsythia bushes have some drought tolerance, but they do need to be pruned from time to time. Pruning helps prevent twig blights and knobby galls, and it should be done in spring immediately after the plant is done flowering. Because forsythia set buds on old wood, pruning late in the season can clip away flower buds and diminish next year's blooms.
14. Creeping phlox (Phlox subulata)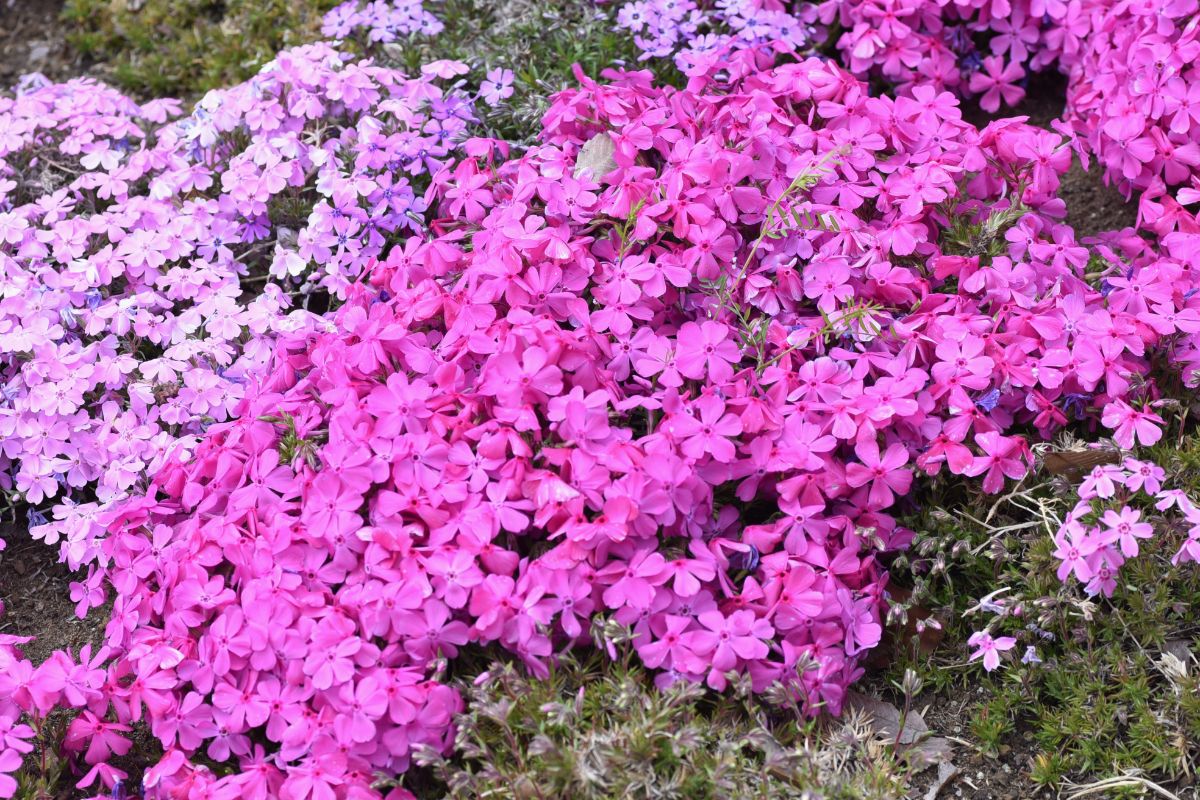 | | |
| --- | --- |
| Plant Name: | Creeping Phlox |
| Light Requirements: | Full sun to part shade |
| Water Requirements: | Low |
| Grow Zone: | Zones 3 to 9 |
| Special Features: | Creeping Groundcover; Colorful Blooms |
Another top plant for erosion control, creeping phlox is often used as a flowering groundcover or edging plant, but it will grow happily on steep hillsides too. Preferring loamy and well-drained soils, phlox flowers will bloom best when grown in full sun, but they can also tolerate dappled light. Blooming in mid-to-late spring, creeping phlox sports pink or white flowers that are highly attractive to butterflies, hummingbirds, and both honey and bumblebees.
Creeping phlox is commonly confused with garden phlox, but garden phlox blooms later in the season, and it's a much larger plant overall. Creeping phlox is also less prone to the mildew issues that often plague its taller cousin. That said, creeping phlox can be sensitive to weed invasion, so be sure to keep your garden well-weeded if you want to grow this plant.
15. Creeping juniper (Juniperus horizontalis)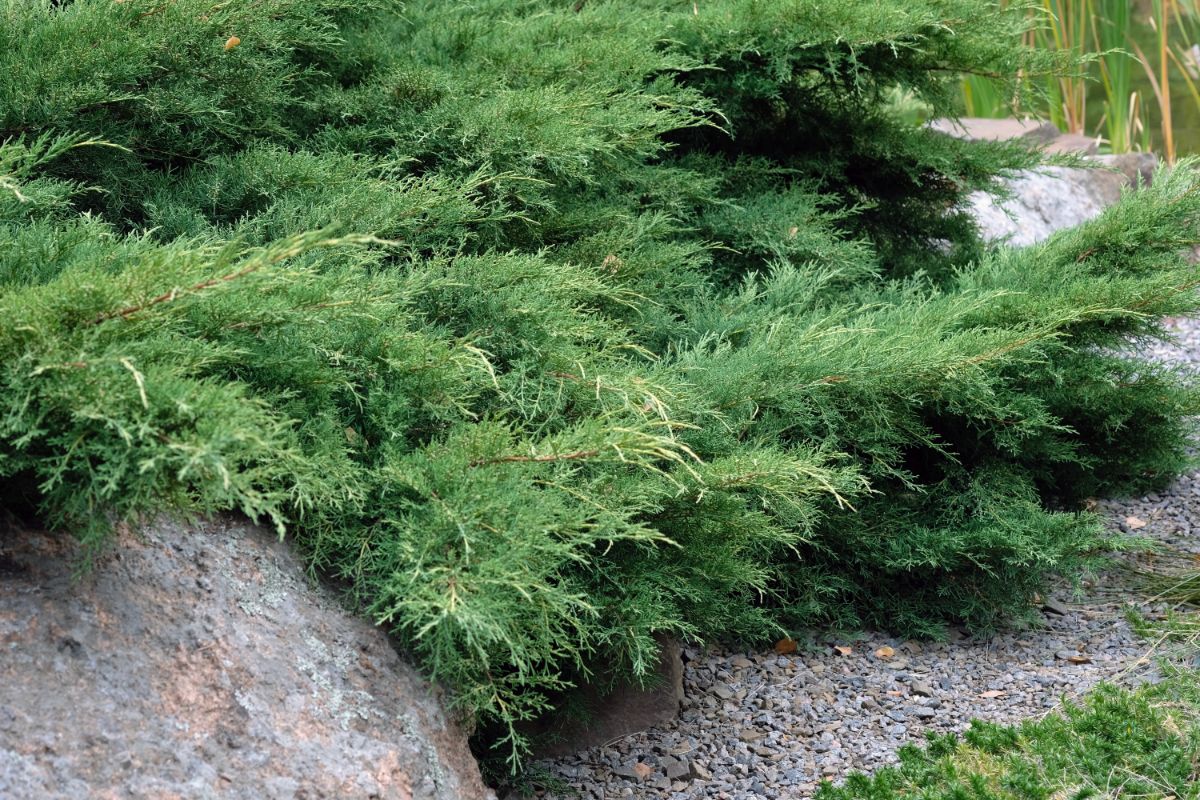 | | |
| --- | --- |
| Plant Name: | Creeping Juniper |
| Light Requirements: | Full sun to part shade |
| Water Requirements: | Low |
| Grow Zone: | Zones 3 to 9 |
| Special Features: | Evergreen Groundcover; Drought Tolerant |
A solid choice for growing along retaining walls and other sloping areas, creeping juniper is a drought-tolerant evergreen that can handle adverse conditions. Not only does creeping juniper not need much water, but it's also cold hardy, and it can handle winters in chilly zone 3! Plus, creeping Juniper keeps its color year-round, allowing you to enjoy it from spring through winter.
While creeping juniper may take a while to get established, it offers a lot of ornamental appeal as both a statement plant and no-fuss groundcover. Plants grow about 1 ½' high, but they can spread a thick mat of needle-like foliage over 10' of space. If you're looking for an easygoing plant for a dry spot, creeping juniper may be the choice for you!
Frequently asked questions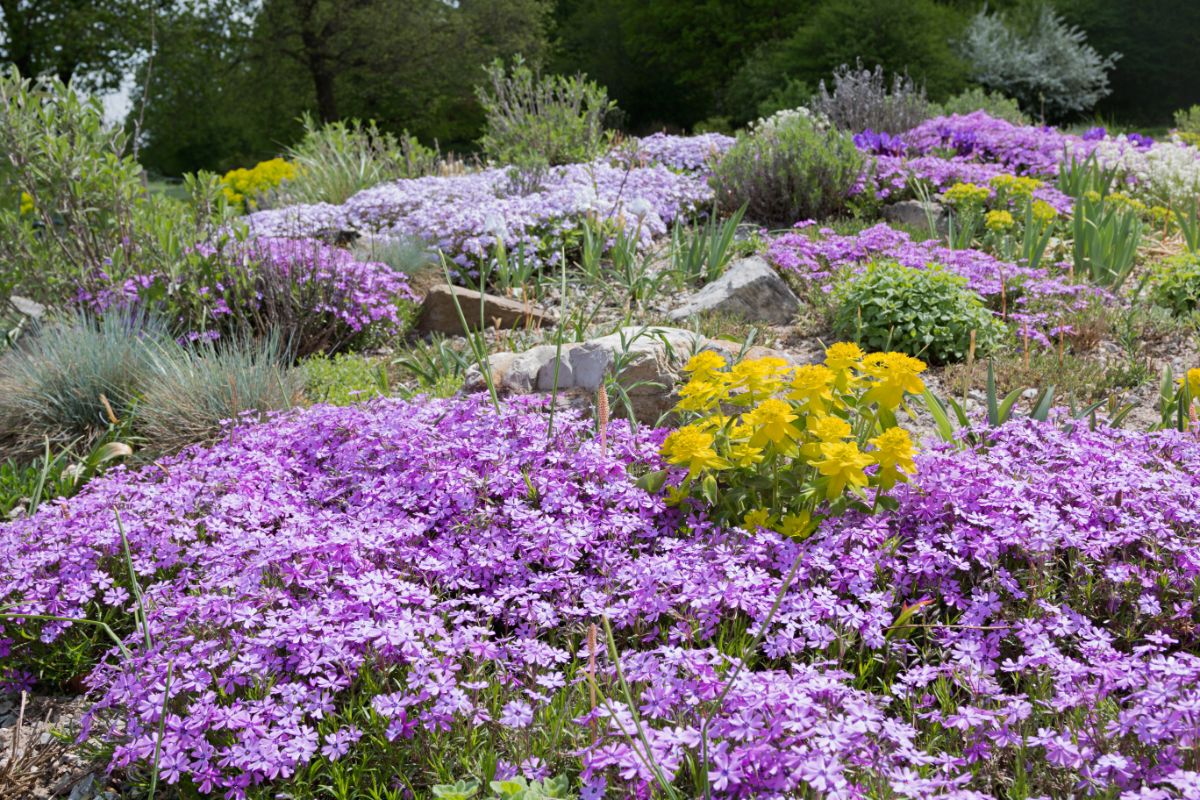 Do plants help stop soil erosion?
Yes! Plants with extensive root systems or sprawling growth habits help to shelter the soil and hold it in place. While plants alone may not be enough to counter severe erosion, growing the right plants in steep areas can help stabilize soil and preserve the look of your landscape.
Is Ivy good for erosion control?
English ivy is a vigorous spreader that can also be used for erosion control. However, this plant can easily become invasive in many areas, and ivy vines can choke out or topple trees. On top of that, English ivy root systems have been known to impact masonry, so it may not be the best plant choice for soil stabilization.
What is the fastest-growing ground cover plant?
While there are a number of different fast-growing groundcovers, bugleweed, dead nettle, and Virginia creeper are particularly good at spreading over ground quickly. If you're looking to tackle erosion fast, these plants may be the best choices for you!
Is clover good for slopes?
Yes. Clover is another great plant for combating erosion. Clover plants have extensive root systems that spread throughout the soil, but these plants also sprout a thick mat of leaves that can shield the soil from heavy rain, wind, and other stressors.
What is the best clover for erosion control?
Dutch white clover is one of the best types of clover for erosion control. Seeds for this popular clover variety are often sold in bulk at landscape centers and livestock feed stores. Plant clover in spring and marvel at how many pollinators come to visit this plant's nectar-rich flowers.
What to do with a hill too steep to mow?
Steep hillsides are prone to erosion, but they can also be dangerous to mow. Growing low-maintenance groundcovers and other easy-going plants in these areas can reduce your landscape maintenance work and keep your hillside looking pristine, regardless of whether you bring out the lawnmower!
Summary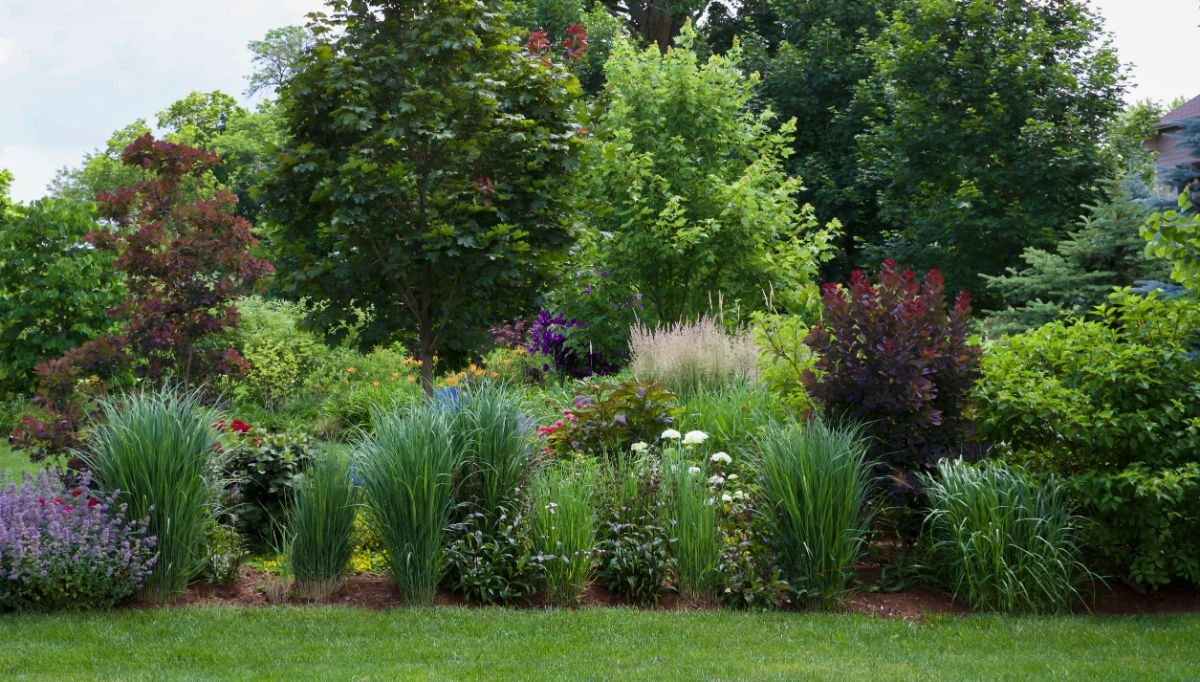 Growing perennial plants on steep hillsides can stabilize soil naturally and help your garden resist erosion as well. What's more, if you select low-maintenance plants for these areas, you can drastically reduce your gardening chores and make your garden beds much easier to maintain. And since perennial plants are hardy in winter, they'll come back year after year to provide color, interest, and functionality to your hilly garden!
While the plants we've covered today are all ideal for erosion-prone areas, you may find other plants you like in our other guide on low-growing perennials. Or you may want to plant and grow Dutch white clover, another erosion-resistant plant, with the help of this handy clover growing guide!