If you are planting a cottage garden, one flower you cannot do without is the Penstemon, also known as "beardtongue."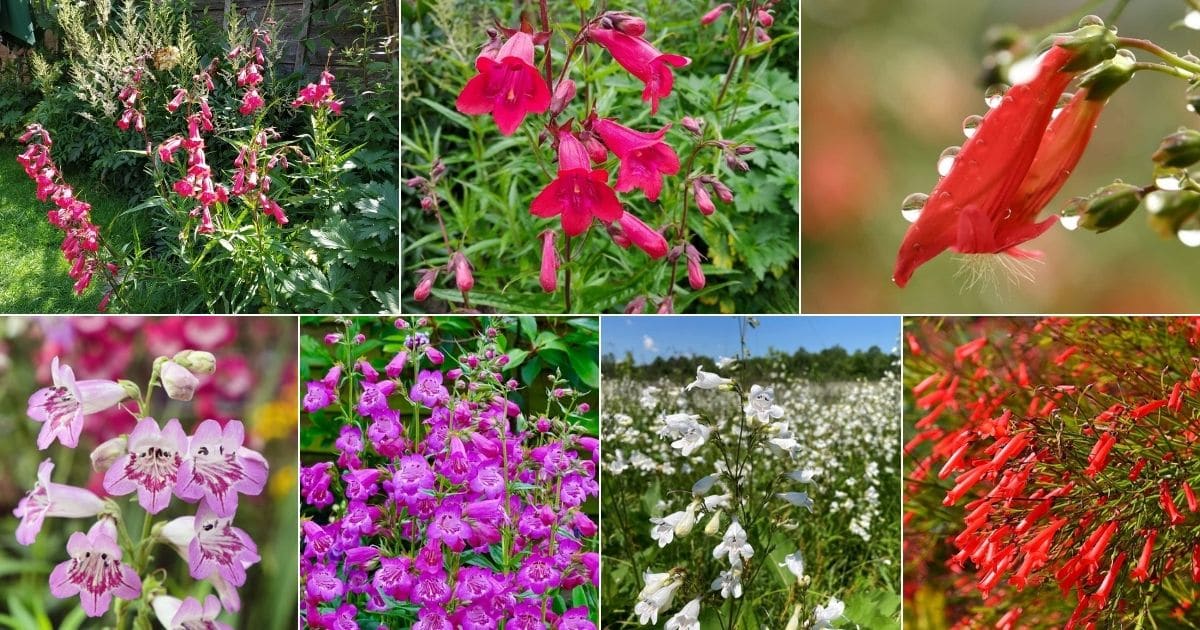 This in-depth growing guide will introduce you to basic facts about this flower, ideal growing conditions, and how to plant and maintain it. You can jump to any specific section in the table of contents below, or keep reading for the full guide.
Jump to:
What Are Penstemons?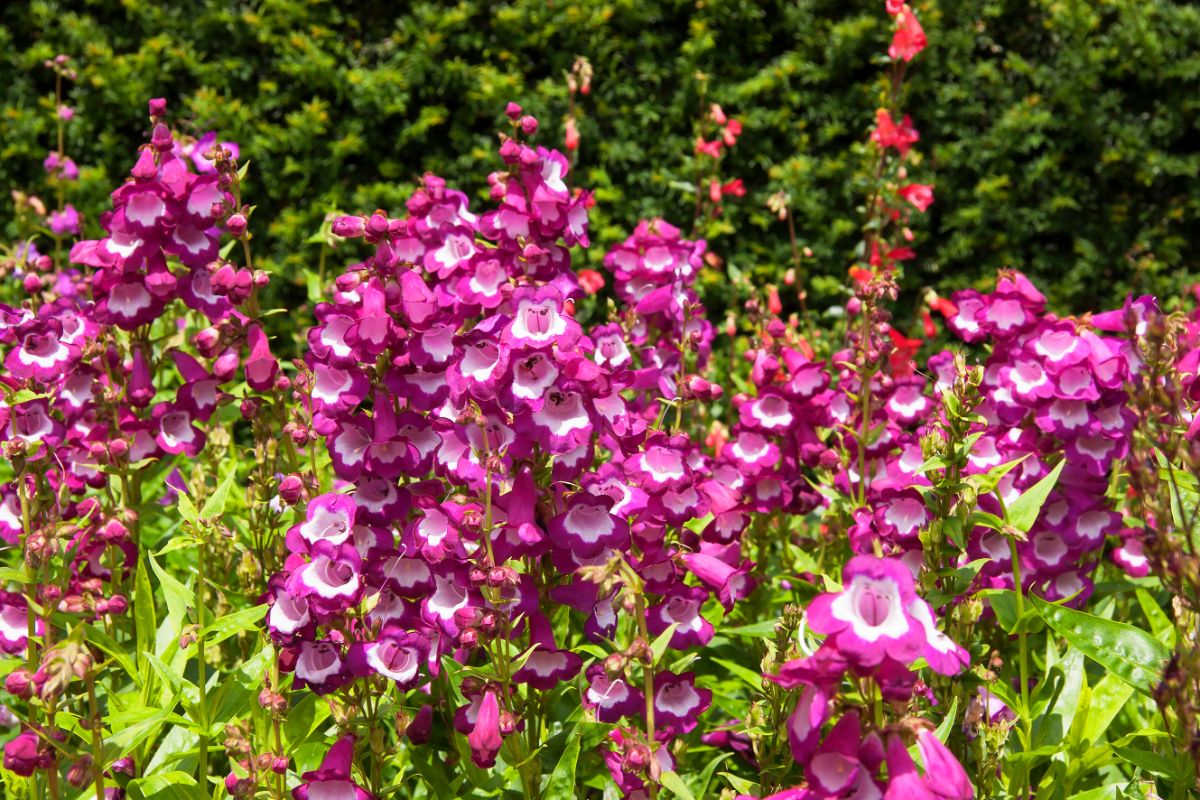 Penstemon is the name of a genus consisting of around 250 different species. Indeed, no other flowering plant genus endemic to North America is as vast as this one. It used to be part of the Scrophulariaceae family, but now it is part of the Plantaginaceae family.
If you are wondering, the plural of "Penstemon" can simply be "Penstemon," or it can be "Penstemons."
We classify the majority of plants in this genus as either semi-evergreen perennials or deciduous perennials. There are others that we classify as shrubs or subshrubs.
Since they are perennials, that means that they come back year after year, delighting you each season with their distinctive blooms.
The flowers of this plant have a tube-like shape with double lips. This plant also features opposite leaves.
In the center of each flower is a non-pollen-producing staminode. In some cases, these have a hairy appearance. It looks like each flower is sticking a bearded tongue out of its mouth, which is why we also call them "beardtongues."
Penstemon Basics
Zones: 3-9
Blooming season: Spring through summer
Expected height: 1-3 feet
Soil: Well-drained
Sun: Full to partial
Where Do Penstemons Grow?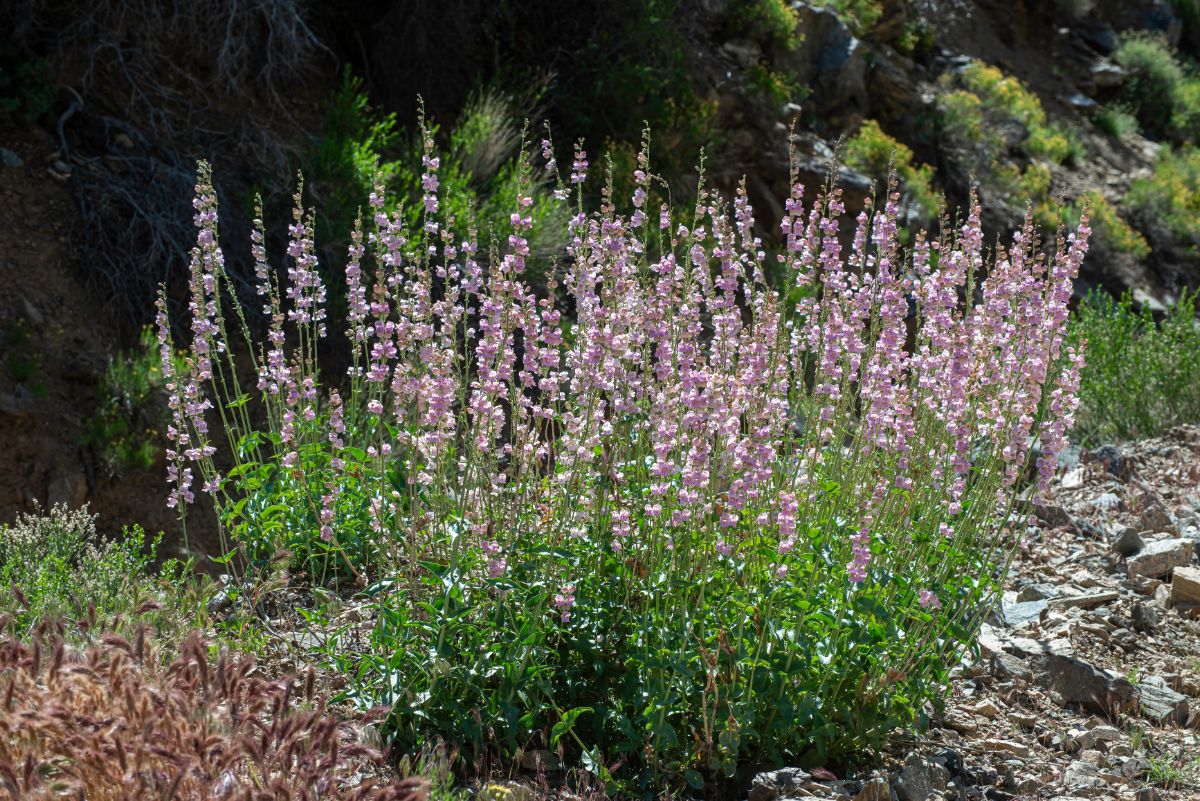 Mostly, beardtongues are native to North America. But because they flourish across a wide range of climate zones, they have been widely cultivated throughout the world.
Indeed, starting in the 19th century, they became extremely popular in Europe. Indeed, many hybrids were created on that continent. For that reason, penstemons are just as readily associated with Europe as they are with North America.
Why Grow Penstemons?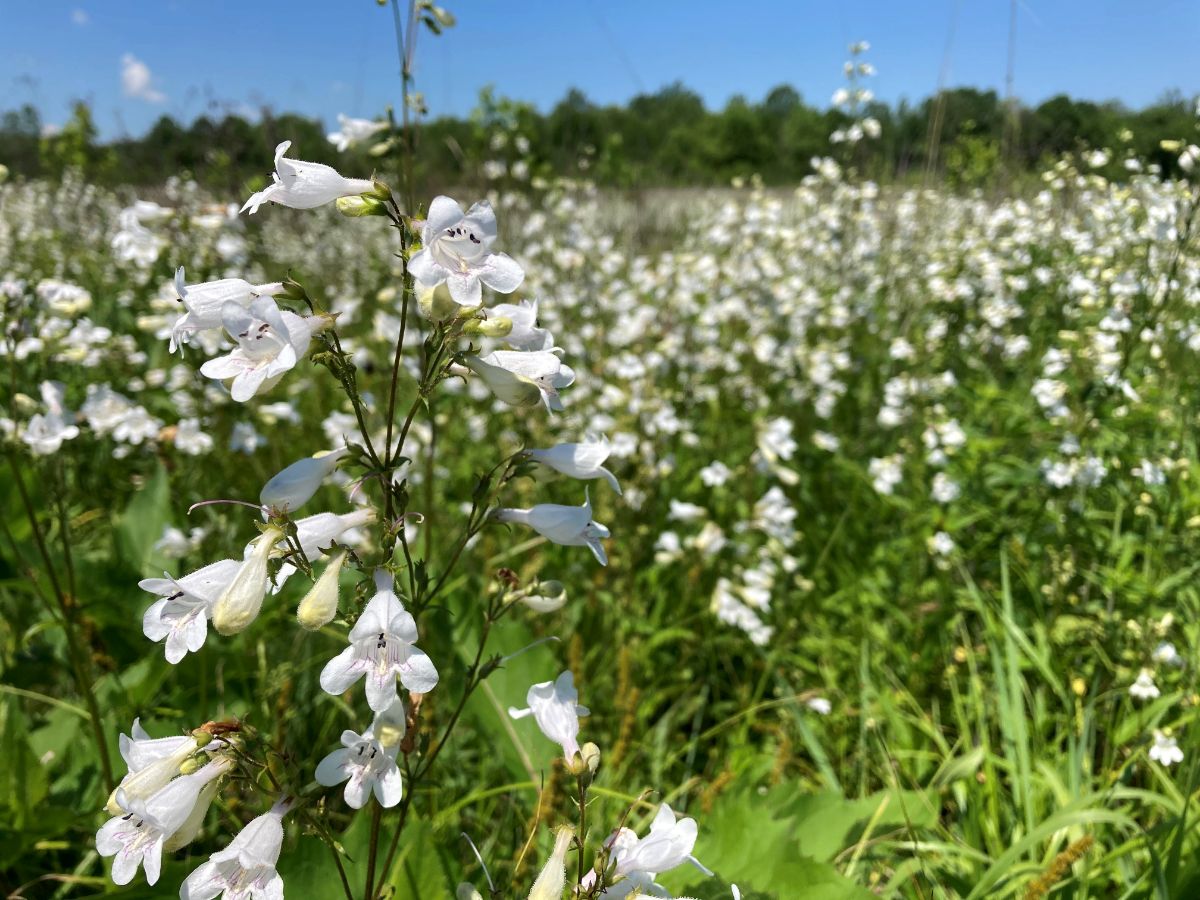 Penstemons are a lovely addition to your garden for so many reasons! Here are a just a few reasons you are going to love these cottage classics:
Do you have an awkward gap between the wilting of your spring-blooming plants and the blossoming of your summer flowers? You may find beardtongues helpful for bringing some blooms to your garden during this period. Additionally, they offer a much longer bloom season than that if you deadhead them. You can look forward to months of flowers.
Along with their long bloom time, these perennials sport a wide range of colours. You will find cultivars with blue, yellow, white pink, red and purple flowers.
Just as there is significant variation in the flowers, there also is a wide range of colorful foliage to choose from. Some cultivars feature maroon-red leaves. Others have bright green leaves. Still others sport a purple foliage color.
If you are in North America, you will delight in knowing that you are growing a native perennial.
Penstemons are some of the best drought-resistant perennials you can plant. They will do great in arid climates that other plants cannot tolerate.
Beardtongues are low-maintenance plants that even novice gardeners can grow easily.
Penstemons are relatively pest-resistant. Deer, rabbits, slugs and snails do not find them all that appetizing.
Attract pollinators. Hummingbirds, bees, moths and butterflies all are attracted to beardtongues. With these flower stalks growing in your garden, it will become a popular place!
Feed the birds in winter. If you let these plants go to seed in winter, you can entice birds into your yard.
Use beardtongues in floral arrangements. In fact, not only are the flower stalks lovely in arrangements, but so are the dried seed pods.
Penstemon Landscaping Ideas
Here are a few ideas for how you can use penstemon to beautify your landscaping:
Cottage gardens: No cottage garden will feel complete without beardtongues.
Rock gardens: Penstemons can flourish in your rock gardens, making lovely colorful focal points.
Next to a bench: It is a popular trend to plant beardtongues near benches. Indeed, this look may work perfectly in a cottage garden, but can also be pleasing in a different style of landscaping.
Recommended Penstemon Varieties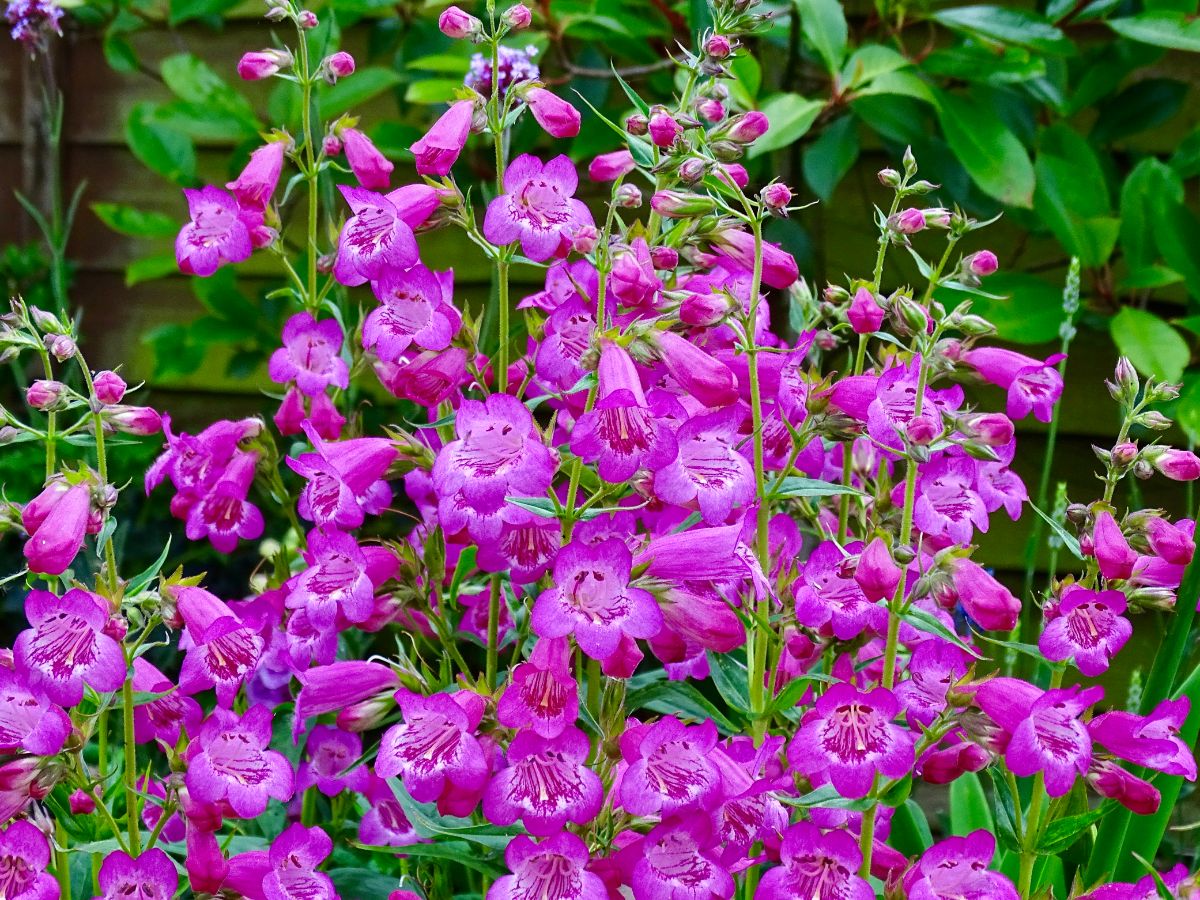 Excited to bring these attractive flowers to your yard? Let's take a look at some of the different penstemon plant varieties you can get.
Dark Towers: The name of this cultivar of penstemon comes not from its light pink flowers, but rather from its wine-red foliage. In fact, the contrast between the two is stunning. Another advantage of this cultivar is that these flower spikes can flourish even in moister environments. So, you can enjoy the dark foliage and light flowers in a wide range of locations.
Electric Blue: As the name suggests, this is a type of beardtongue plant that features blue flowers. The deep blue blossoms of the evergreen plant will not only draw your eye, but also attract hummingbirds and bees. Growing up to 18" tall, they bloom in summer.
Yellow Pineleaf: If you want yellow flowers, you can add a splash of sunshine to your yard with this cultivar. The flowers will come into blossom during spring and summer. Many people appreciate the evergreen foliage as well.
SteppeSuns® Sunset Glow: The tubular flowers of this dazzling cultivar of beardtongue will bring the warm orangey hues of sunset to your garden. You will love this plant as much for its long blooming period as you do for its lovely color.
Rocky Mountain Penstemon: For grape-colored flowers, flowers, try this cultivar. The tall spikes of purple flowers can reach up to 30". A drought tolerant plant, it can thrive in dry conditions.
Davidson's Penstemon: With rose-purple flowers, this cultivar of beardtongues is renowned for how stress-free and low-maintenance it is. The pinkish blossoms are a great choice for beginners. Take good care of it, and you will see blooms in spring and summer each year.
Blanca Peak™ Rocky Mountain: If you are in search of white flowers, look no further than the stunning "Blanca Peak." Even novice gardeners will usually be successful at growing these spring-blooming tall stalks.
Midnight Masquerade: Another cultivar to consider if you want dark foliage is this dramatic perennial plant. The purple flowers are a beautiful complement to the leaves, and almost seem to glow above them.
Phoenix Red: Every tubular flower of this plant will grab your attention. The white-throated flowers offer a startling contrast with bright red around the edges and outsides of the petals.
Blue Lips: These perennials for pollinators feature lavender throats and pale bluish-purplish rims.
Elfin Pink: Reaching up to two feet in height, these gorgeous flowers will attract birds, bees and butterflies to your garden. You will be amazed at just how vivid and saturated the bright pink blossoms are.
Palmer's Beardtongue: One of the best options for tall spikes is this cultivar, which can reach up to five feet tall! The blossoms are pale pink with darker throats. If you happen to live in an especially hot and dry climate, you should strongly consider them.
Grand Mesa: These native plants feature exquisite deep blue flowers, and can thrive in dry and hot climates.
Luminous Pineleaf Penstemon: This cultivar of beardtongue features bright orange flowers that almost seem to glow with fiery splendor.
Arabesque Pink: Here is a variety of beardtongue that features pale pink flowers that are darker around the edges.
Pink Riding Hood: For bright pink flowers that hummingbirds adore, consider planting this beautiful cultivar.
When Do Penstemons Bloom?
The main bloom period for penstemons begins in late spring and continues into early summer.
These gorgeous plants can continue blooming clear through summer and even into fall, however, if you deadhead them. Doing so will bring more blooms.
How Long Do Penstemons Bloom?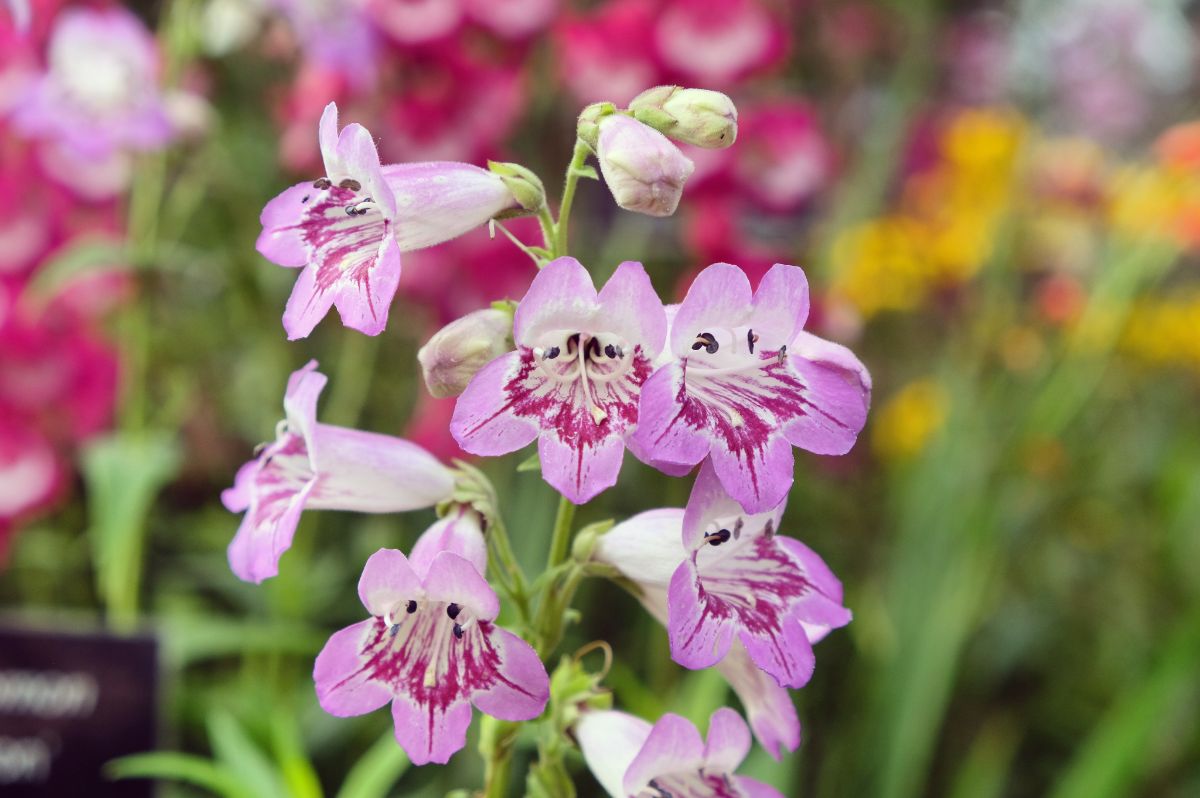 If you are diligent with deadheading your penstemons, you can enjoy months of blooms between spring and autumn.
Without deadheading, bloom times are typically anywhere from 2-8 weeks. So, depending on the varieties you plant, you may still experience impressively long bloom periods.
When to Plant Penstemons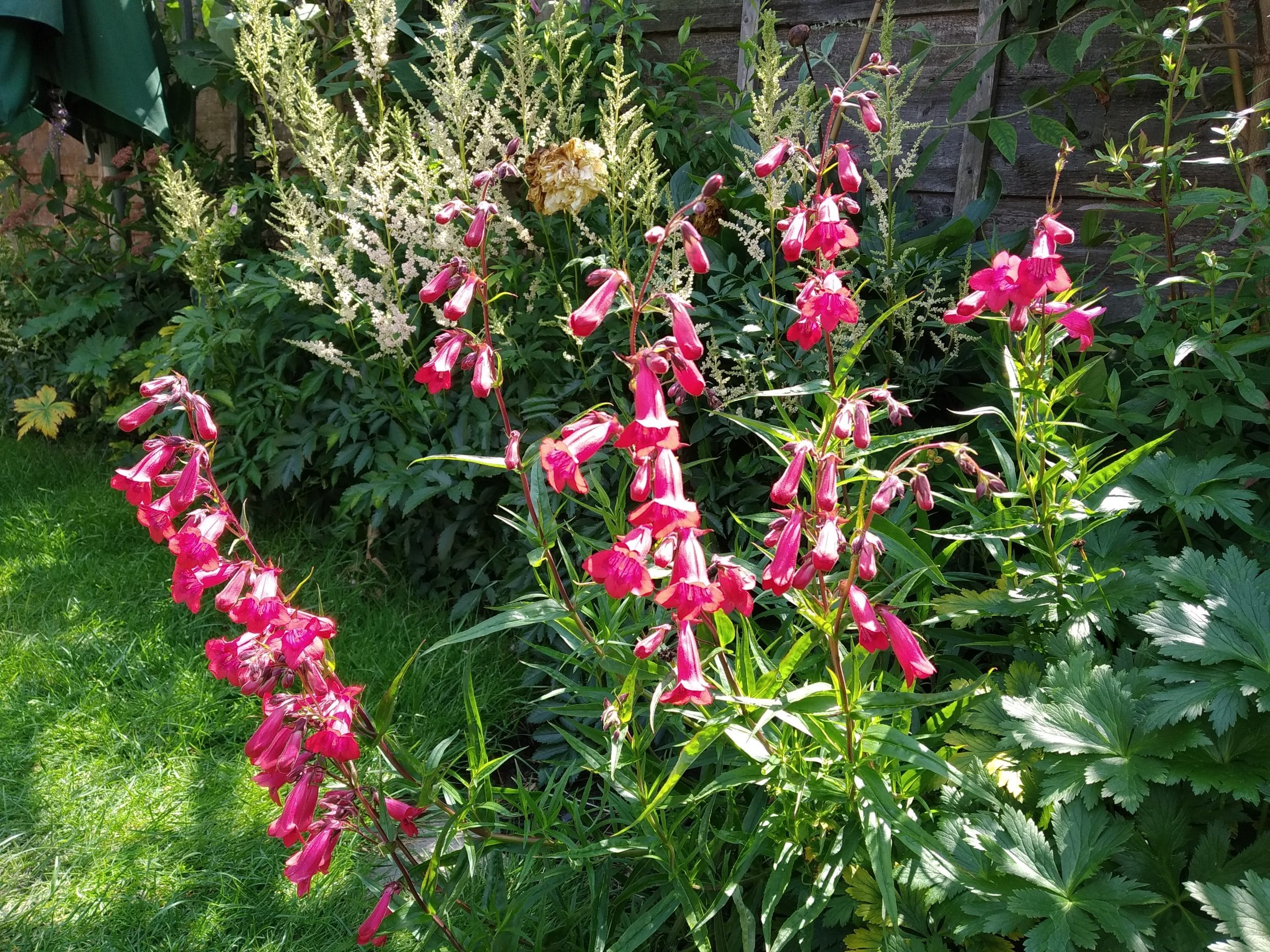 When growing penstemons from seed, you should get started in autumn if possible. Early enough in winter may also be okay.
On the other hand, if you are planting nursery plants, it is best to do so in spring. They will need the rest of the year to establish themselves so that they can survive the winter.
Ideal Growing Conditions for Penstemons
If you want your penstemons to grow successfully, you will need to plant them in the proper conditions. Below are the sun, soil and water requirements for these cottage flowers.
How Much Sun Do Penstemons Need?
Penstemons usually do best in a sunny spot. There are some exceptions, however. In cases where you do go with partial shade rather than full sun, it is best for the shade to fall over the plants during the hot afternoon hours.
What Type of Soil is Right for Penstemons?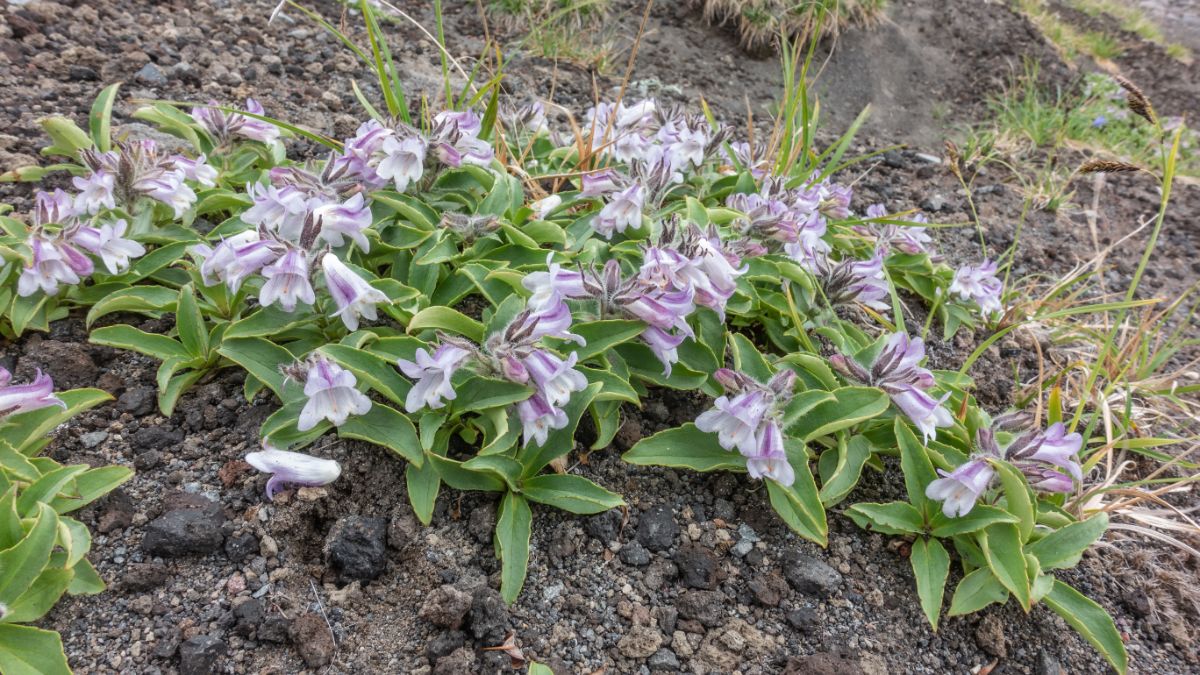 Plant your penstemons in well-draining soil. Whatever you do, do not plant them in soggy soil or dense clay soil where standing water tends to pool.
According to Colorado State University Extension, beardtongues do not like amendments to their soil. That's great though if you want an easy-maintenance plant—one less thing to worry about, right?
How Much Water Do Penstemons Need?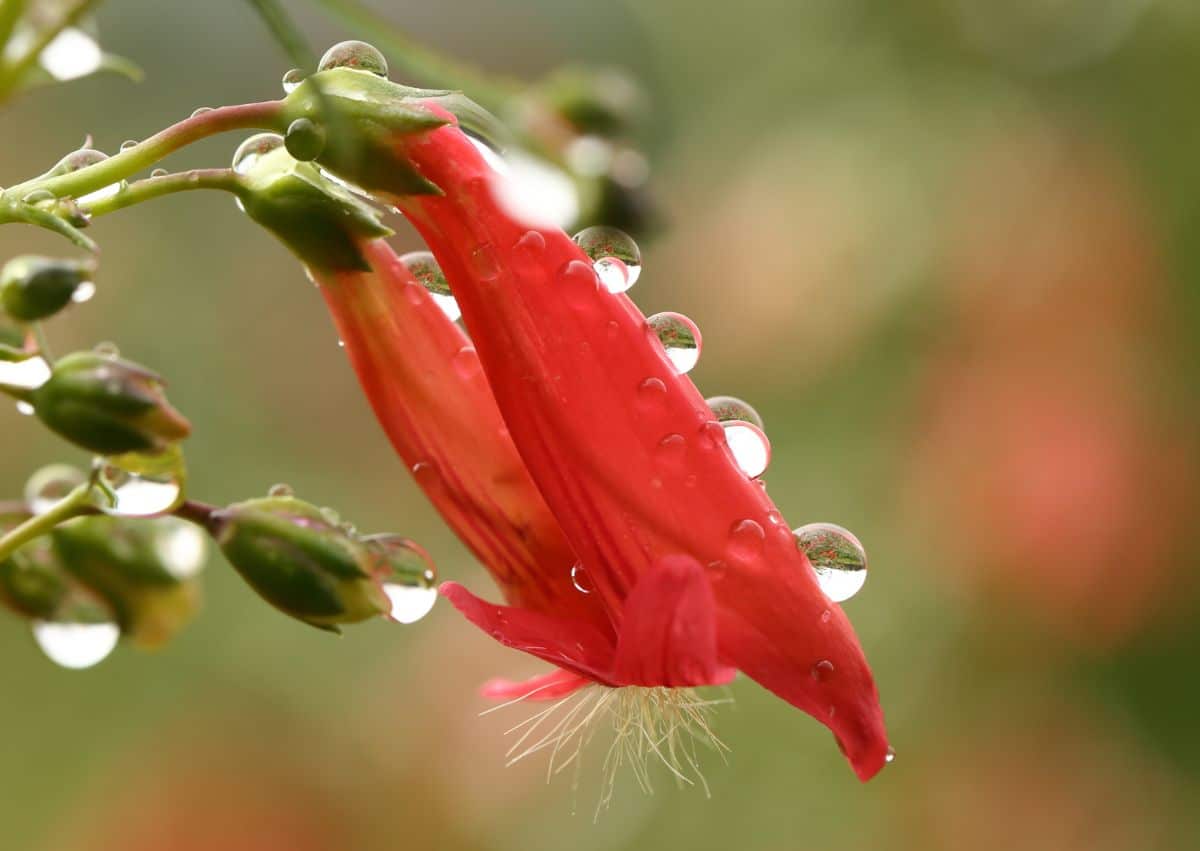 As drought-resistant plants, penstemons do not require a lot of water. A general recommendation is to water them weekly during the summer. Around 1 inch is adequate. During the rest of the year, you may not have to water them at all.
Offering some additional details, the American Penstemon Society says, "The amount of water you need to apply will depend on the water-holding capacity of your soil, depth of the soil, natural humidity and precipitation and the origin of the varieties you have chosen. If you are growing local species and have improved your soil to some degree so that water sinks through it rapidly, you will rarely have to give them supplementary water after they have become well established. Creating wells around the plants is not necessary in soils that drain well. They can use extra water in the months before blooming and during the bloom period if precipitation is low. Drip irrigation, soaker hoses or hand watering are preferred watering methods. After blooming, watering can be reduced."
The site adds that you should be mindful of potted hybrids—especially those with large flowers—as they need more watering than other types of penstemons.
How to Plant Penstemons
Now that you know what type of sun and soil conditions your penstemons need, we can talk about planting them.
You can grow penstemons for nursery plants or seeds. For our instructions on container and garden planting, we will assume you are using a starter plant. After that, you can read instructions for starting these drought tolerant plants from seed.
Container Planting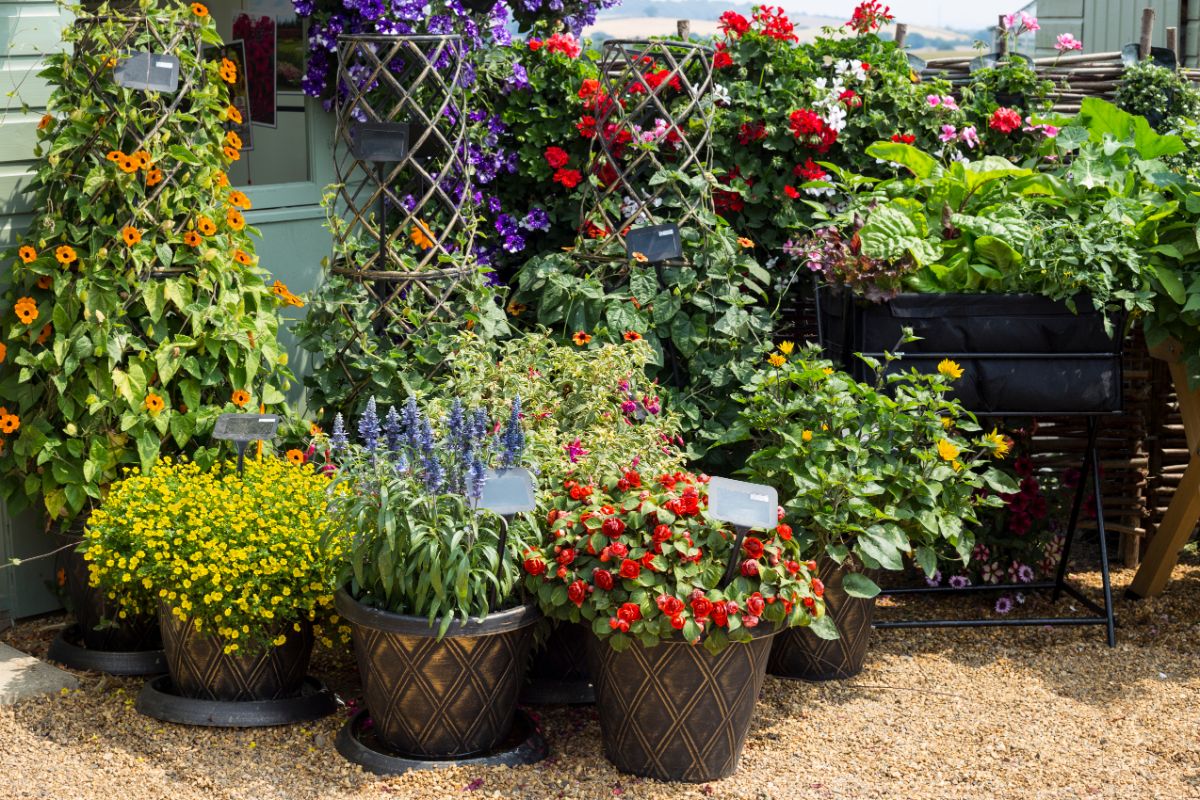 Begin by choosing a pot for your penstemon. It should be a minimum of 5 inches. If it does not have drainage holes, drill them.
Fill the pot with soil mix.
Make a hole and plant the penstemon. Backfill the soil.
Water well after planting.
Choose a place for your containers will they will receive an adequate amount of sunlight per day.
Water your potted penstemons regularly while they are establishing.
Even though penstemons generally thrive in dry conditions, do not forget that the soil in your containers will dry out significantly faster than the soil in your garden beds.
So, even after they are established, your potted penstemons might require a bit more water than the plants in your garden beds.
Ground Planting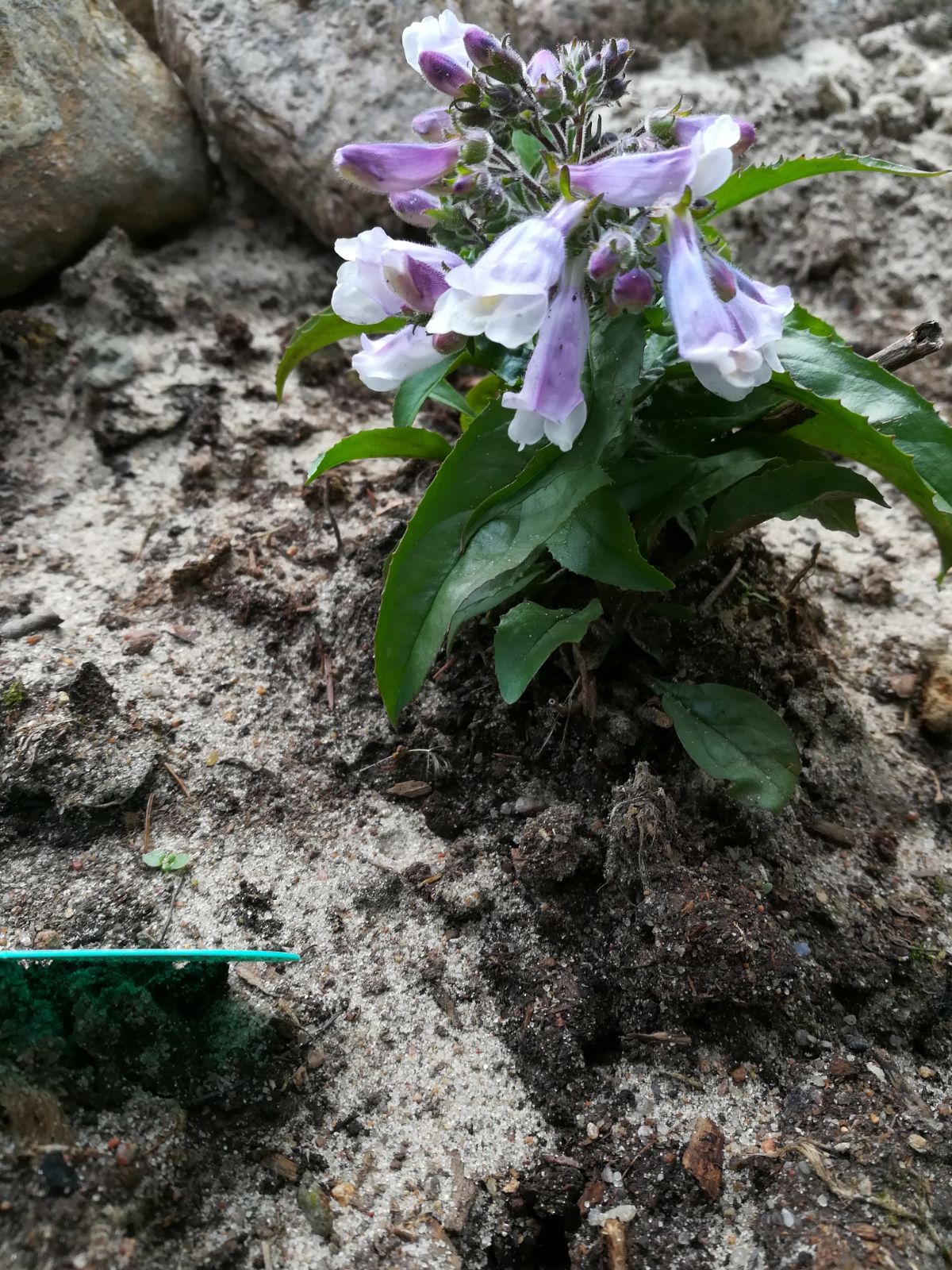 Decide where to plant your penstemons.
Choose a location where your penstemons can receive at least six hours of sunlight per day.
Pay close attention to the soil when you are selecting your site. You are fairly limited in what you can do to prepare the soil since penstemons are averse to so many common amendments. They do not like compost, manure or peat moss.
What can you do if you do not have well-drained soil? In case of heavy clay-like soil, your best move is to plant your penstemons in containers or in raised garden beds rather than trying to increase drainage without making your soil too rich.
If you still want to try to increase drainage in your garden bed, gravel might do the trick.
Dig holes for your plants.
Make sure the holes are a minimum of 1 foot apart if you will be planting multiple penstemons.
Also make sure that you are giving them plenty of space from other plants in your garden. They grow best if they do not need to compete for space.
Plant the penstemons.
Insert the plants into their holes and backfill the soil. Be mindful that you do not cover the crown. In fact, the top part of the rootball should be exposed.
Water deeply.
After you finish planting the penstemons, water them deeply. Continue to water them regularly while they establish.
Starting Penstemons from Seed
You can grow penstemons from seeds. But the process can be involved, and the exact directions can vary significantly from one type of seed to the next.
The American Penstemon Society explains, "The American Penstemon Society's Book on penstemon (Growing Penstemons: Species, Cultivars and Hybrids) can be used as a starting point in determining seed germination conditions. Conditions may include but are not limited to stratification, scarification, alternating temperatures, chemical treatments, light versus dark, and seed aging. These techniques will also vary with the quality of the seed. You may also find out that in one year a technique works very well and the next year, it does not."
Given the complexities of growing penstemons from seed, we suggest that you read through the entire page provided by the American Penstemon Society in detail.
Starting Penstemons from Cuttings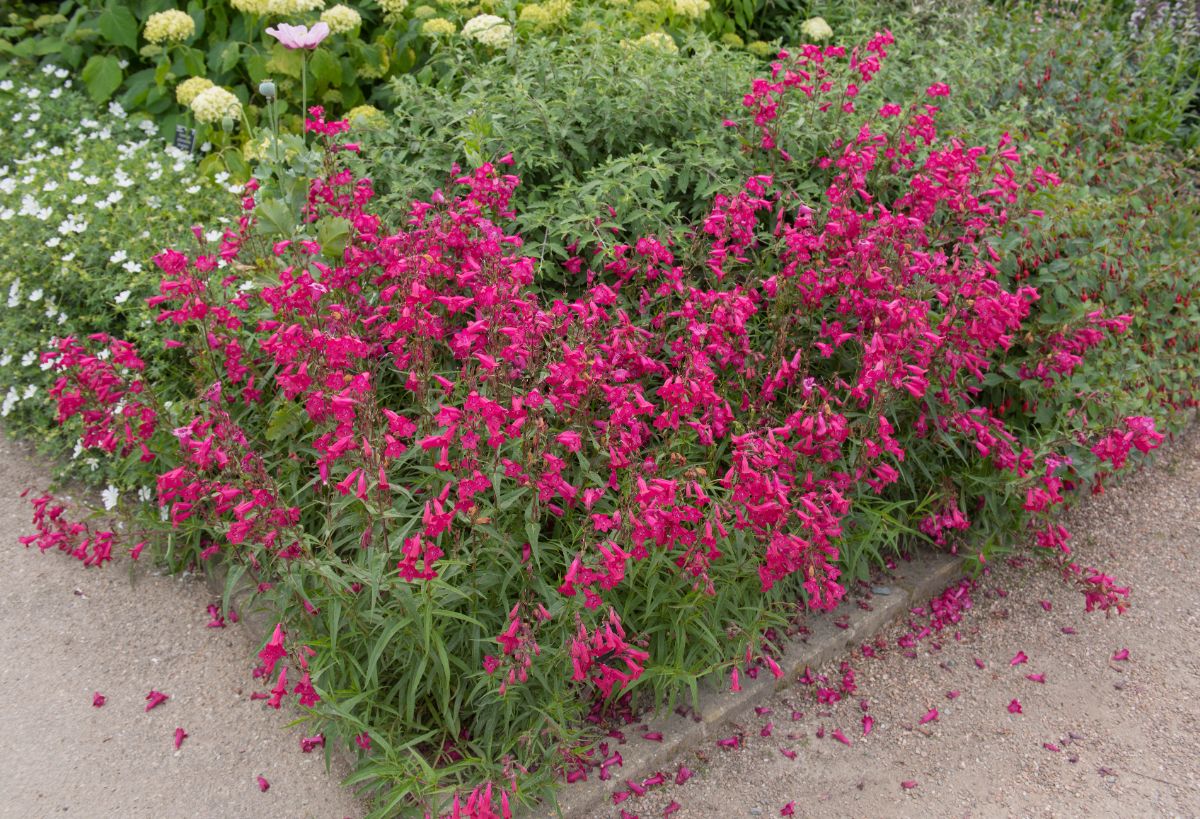 Propagation of penstemons from cuttings is also possible. Here are the basic steps:
Take cuttings of soft growth late in summer or early in fall. The best time of day for cuttings is morning. The cuttings should not include flowers.
Once you have the cuttings, cut under a leaf joint. Then get rid of the leaves on the lower parts.
Get a well-draining pot and fill it with compost (yes—we did say compost).
Insert your cuttings. It is important for the cuttings to be warm, so it is wise to place them near the sides, not in the center.
Water the cuttings.
Put a plastic bag over top of the cuttings so that they retain moisture.
Water as needed while you wait for the penstemons to establish their root structures.
Transplant your new penstemon plants into permanent containers or your garden beds.
How to Care for Penstemons
You know how to plant penstemons now. But how do you maintain them? Below, we go over what you need to know about fertilizing, mulching, staking and more.
How to Fertilize Penstemons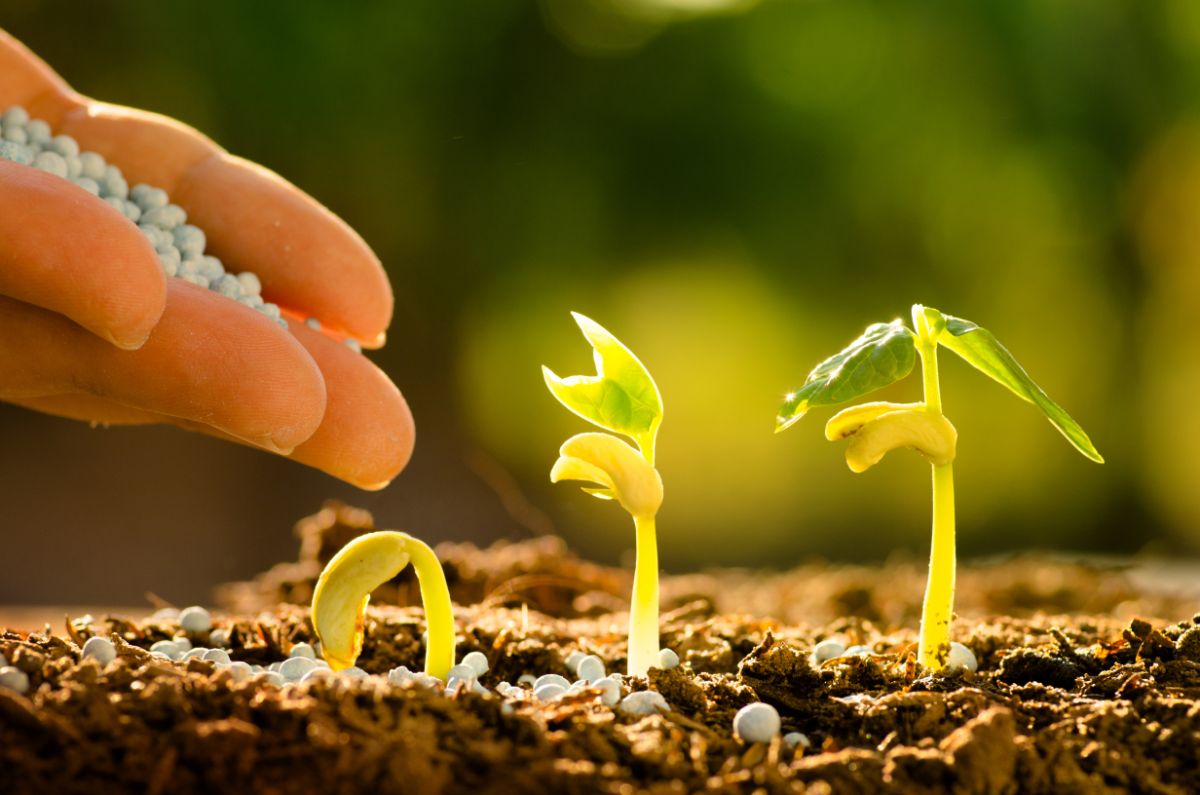 Although penstemons do not take well to compost, you can still fertilize them. In fact, fall is a good time for this. The rest of the year, you do not need to worry about it.
How to Mulch Penstemons
Penstemons do like mulch—but they do not appreciate all kinds of mulch. High Country Gardens says, "Mulch with gravel. This encourages re-seeding and protects the crowns from sitting wet over the winter. Avoid bark, grass clippings, or compost as mulch materials, which can introduce fungal problems and rot the plants."
How to Stake Penstemons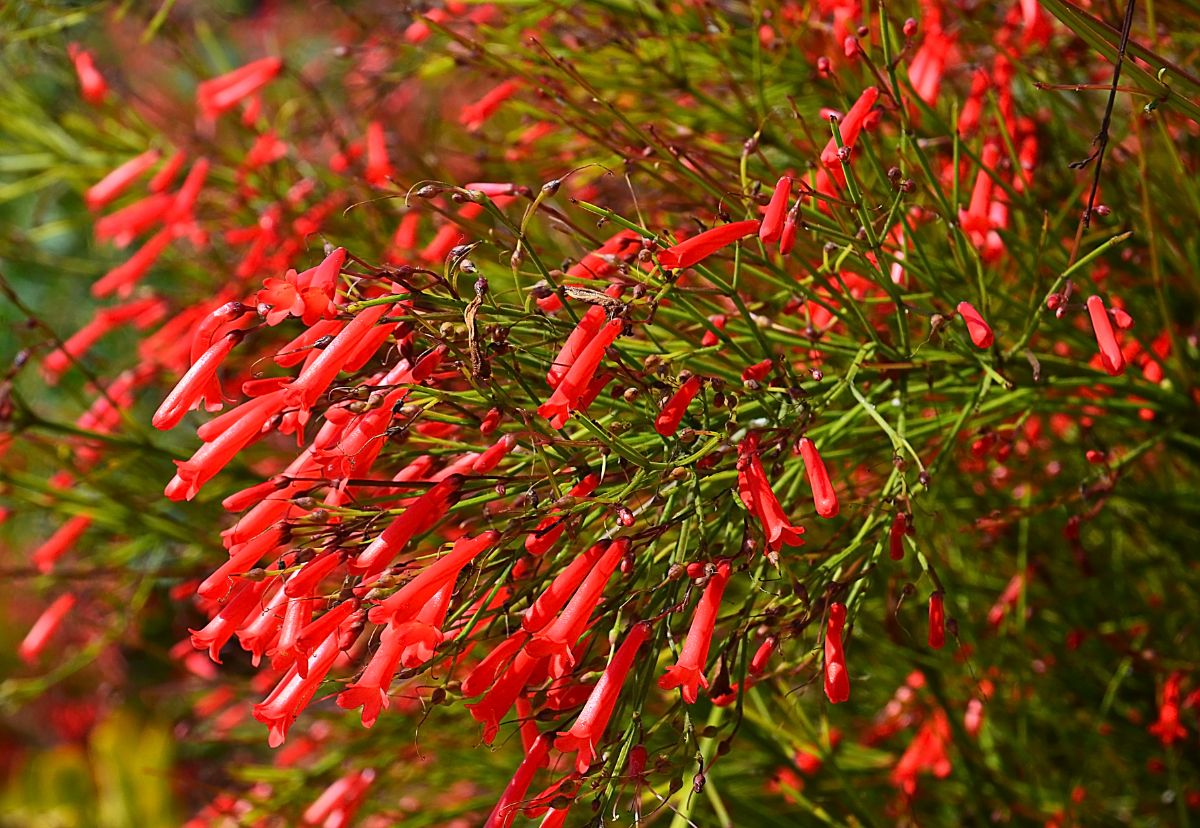 Are your penstemons flopping over? It could be that they are in rich soil. If that is the case, you might want to either change your care routines (stop over-fertilizing) or transplant the penstemons to more suitable soil conditions.
But if that is not what is going on, it could just be that your penstemons have reached a height where they could use a little extra support. Or maybe you live in a climate that is subject to heavy wind.
In those scenarios, you can tie the plants to narrow stakes.
It is also worth noting that some types of penstemons appear to be more prone to flopping than others. But your mileage may vary.
How to Prune Penstemons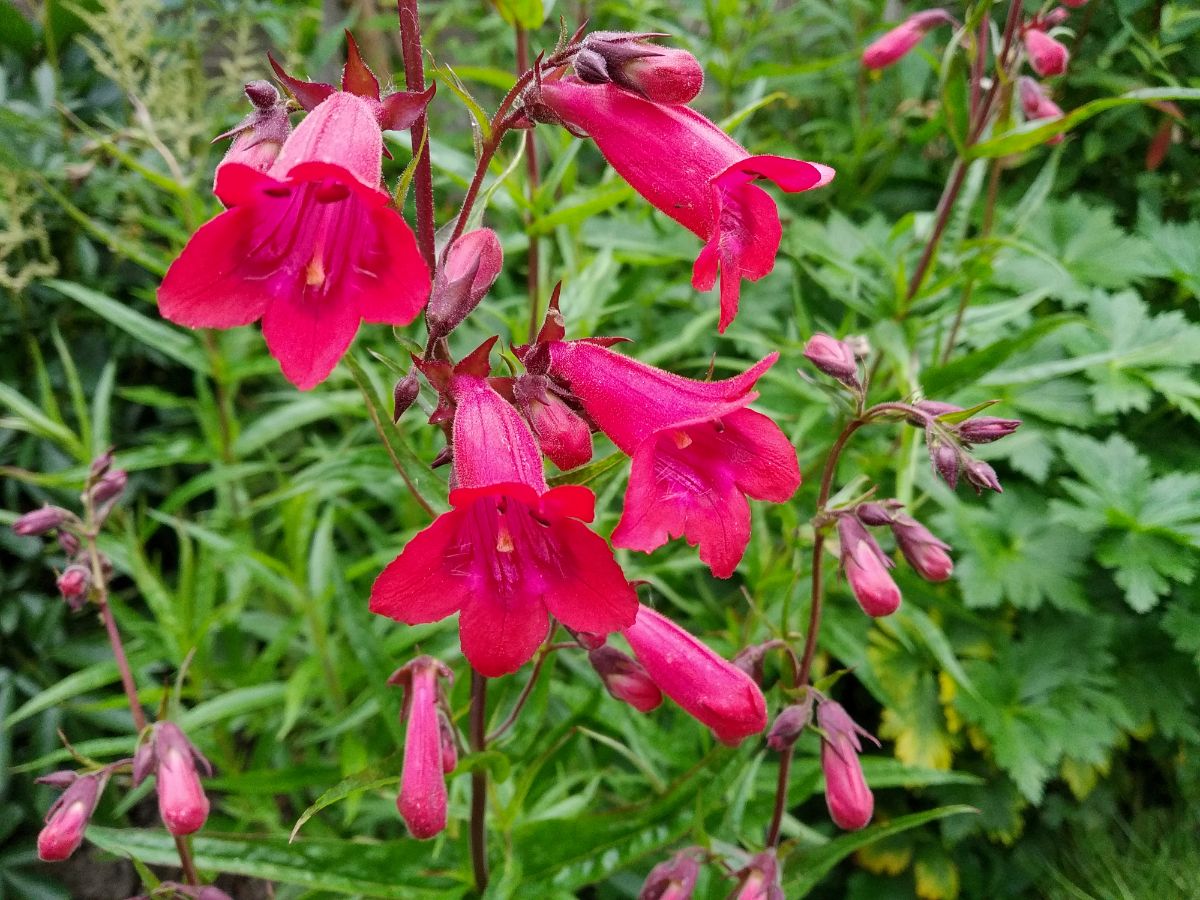 Pruning beardtongues involves cutting them back multiple times.
How to Deadhead Penstemons
If you want your beardtongues to re-bloom, you can deadhead them. To do this, just cut back the stalks. Do not try to individually remove the flowers; it is time-consuming and unnecessary.
Penstemons may self-seed as well, so some people like to deadhead them to prevent this if they do not want them to spread. Of course, if you do desire them to multiply, you should let them go to seed.
When to Cut Back Penstemons
Since penstemons can blossom into part of fall, you will want to wait until later in autumn or even winter to trim them back.
You could even wait longer than that. Birds enjoy penstemon seeds, so by leaving them alone until late winter, you can provide some food during a season when it is hard to come by.
How to Divide and Transplant Penstemons
Every 3-5 years or so, you are going to have to divide your penstemons.
Use a spade to carefully dig around the rootball of the plant you want to divide. Make a full circle, being careful not to slice through the roots.
Push the spade underneath the roots, prying upward. The plant will lift free.
Use pruning shears to separate the roots into divisions.
Dig holes for your newly-divided penstemons. Plant them, and backfill the soil.
Water deeply.
As with brand new penstemons, those you propagate by dividing old ones will need extra water as they establish.
Are Penstemons Vulnerable to Diseases or Pests?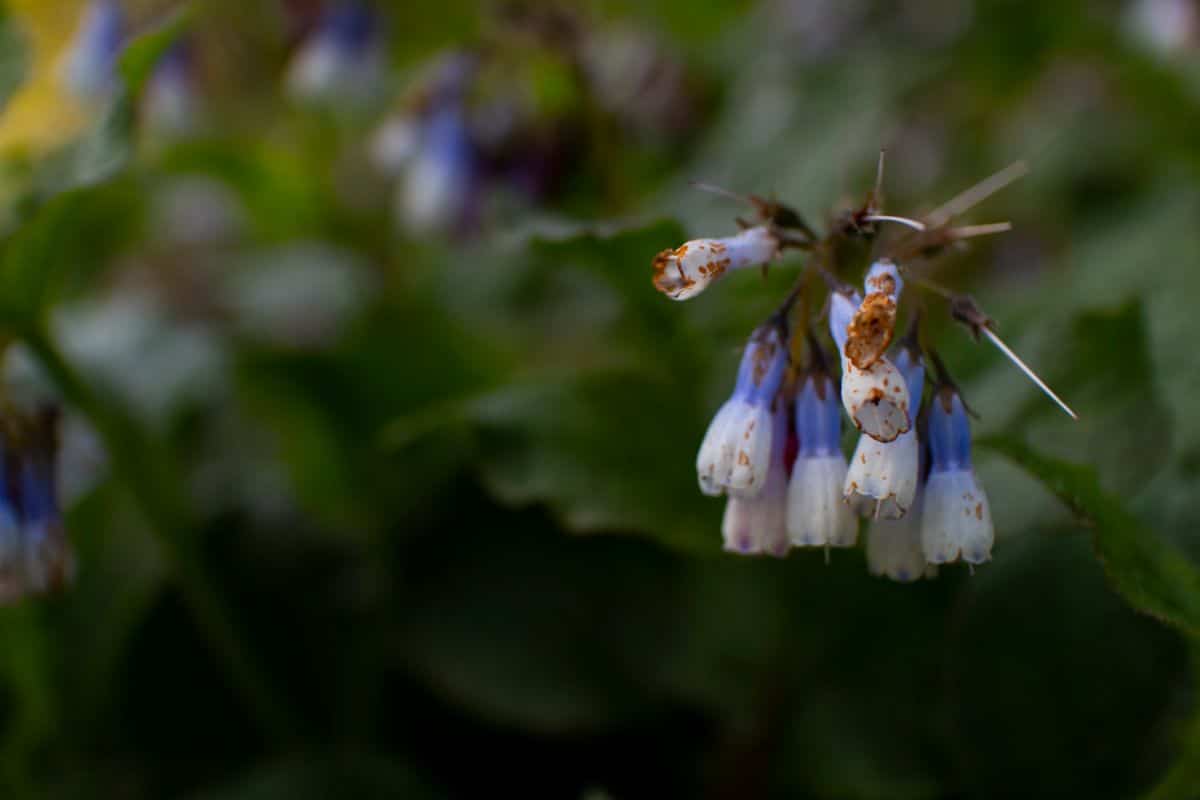 Some diseases that sometimes affect beardtongues include leaf spots, powdery mildew, rust, and stem rot. You can generally avoid problems with rot by keeping your plants away from standing water and giving them sufficient room to breathe.
In the pest department, nematodes are notorious for going after penstemons. Aside from that, beardtongues are fairly pest-resistant! In fact, even slugs and snails tend to steer clear of them.
We did do some digging and found out that some other pests that can damage penstemons include penstemon borers, ebony bugs, and penstemon clearwings. The very fact that it took some searching around to even find this though tells us that in a lot of locations, these pests are not major concerns.
Recommended Planting Combinations for Penstemon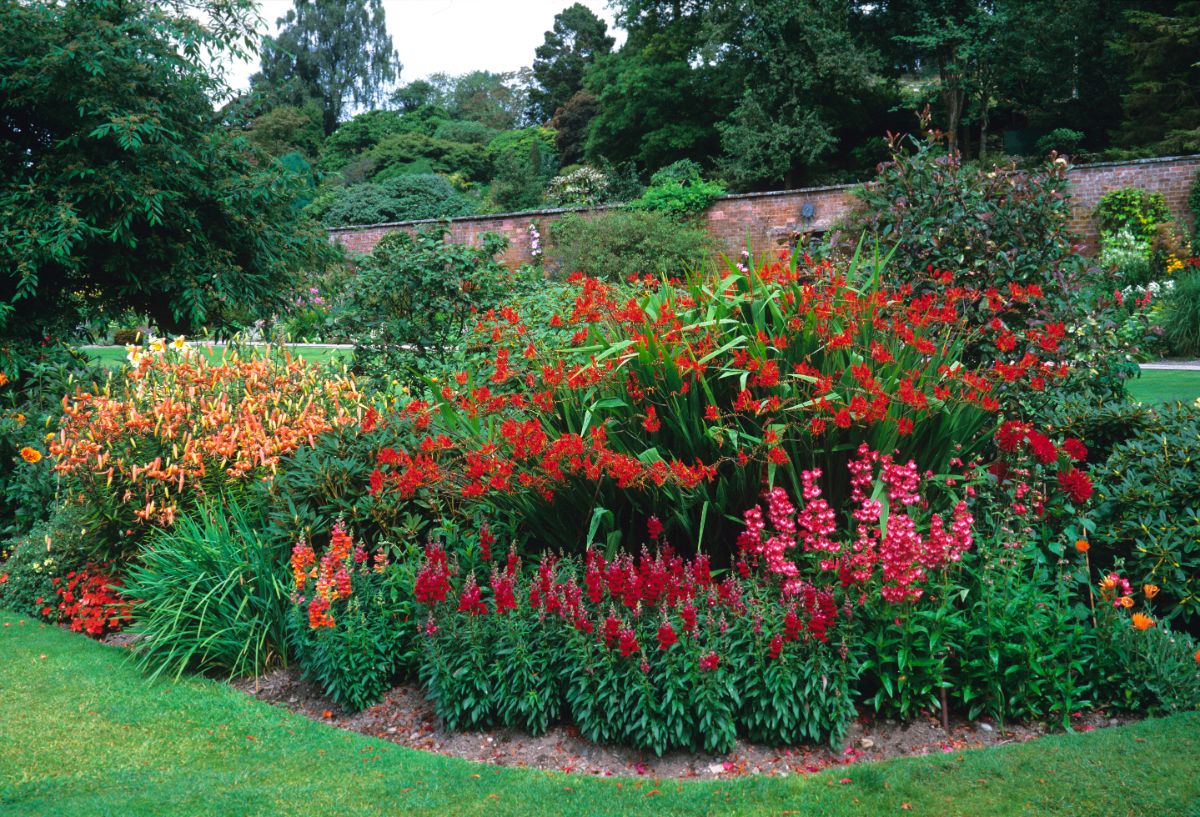 Here are some ideas for plants you can place next to your penstemons:
Baptisia: Wild indigo flowers grow on stalks, just like penstemons, and can make a lovely accompaniment for them.
Echinacea: These flowers, also known as "coneflowers" feature distinctive drooping purplish petals. Adaptable to a wide range of conditions, they offer contrasting shapes alongside your penstemon blooms.
Salvia: These sun-loving flowers do best in well-draining soil, and produce beautiful stalks of blooms that look attractive next to penstemons.
Artemisia: To add some green foliage around your beardtongues, consider this plant. Like penstemons, Artemisia plants prefer soil to be on the dry side.
Research on your own to come up with additional ideas!
Frequently Asked Questions About Growing Penstemons
Q: What eats penstemons?
A: If something is eating your beardtongues, it is likely not a mammal since rabbits and deer usually avoid them. It is probably not a slug or snail either. Most likely, it is some type of insect.
Q: Are penstemons annual or perennial?
A: Mostly, beardtongues are perennials. Some varieties work better as annuals, however, and your climate also plays a role. If it is really hot or cold where you live, you might have to grow them as annuals.
Where to Buy Penstemons
If you are eager to bring the beauty of penstemons to your garden beds, you can shop a wide selection of cultivars online. Click the link below to order beardtongues now.