Finding perennials that fit into those unique partly shaded parts of the landscape and garden is challenging. Thankfully, even though it takes a little searching, there are a lot of options. Most flower guides will suggest planting the popular and classic hydrangeas, rhododendrons, impatiens, hostas, and Lenten Rose.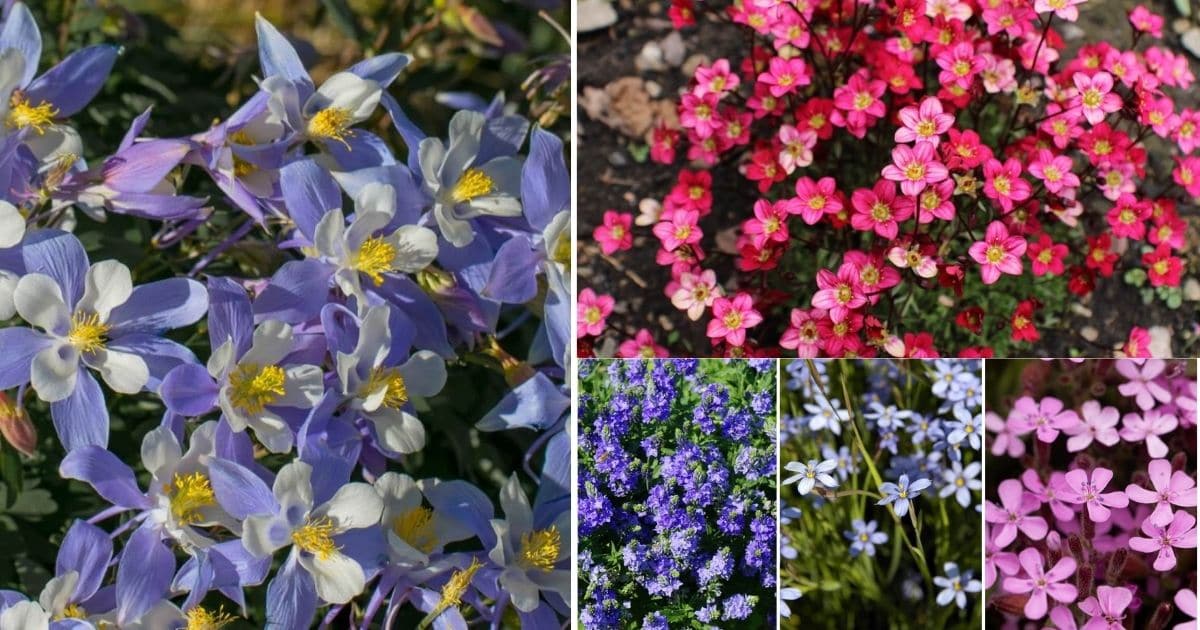 We love these, but seeing the same plants in every single landscaped garden gets old, especially when many colorful and unique flowers are available. Spruce up your landscape with these interesting, intriguing, and unique species; it's time to experience the vast world of perennials in all their shapes and colors!
Jump to:
Goat's Beard (Aruncus dioicus)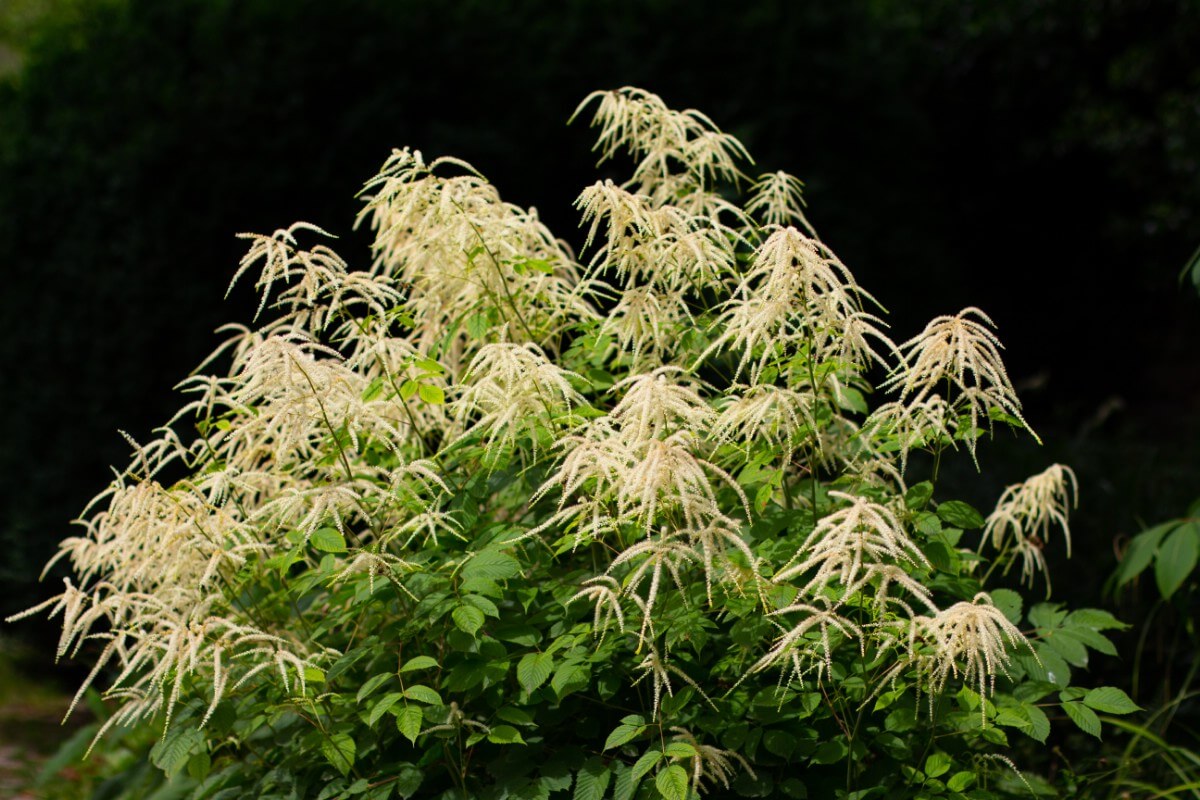 The tall feathery flower plumes of this shade-appreciating plant are ideal for brightening up the shade garden. Each plume is covered with hundreds of little star-shaped white blooms that rise up above the foliage en masse. Even when not in bloom, Goat's Beard provides lots of interest in the garden with its dark-green fern-like leaves.
This perennial gets quite large, averaging 4-6 feet tall and 2-4 feet wide. It looks incredible as a hedge or border plant or used to light up the background. Goat's Beard is the host plant for the Dusky Azure Butterfly. Hardy to zones 3-9.
Japanese Primrose (Primula japonica)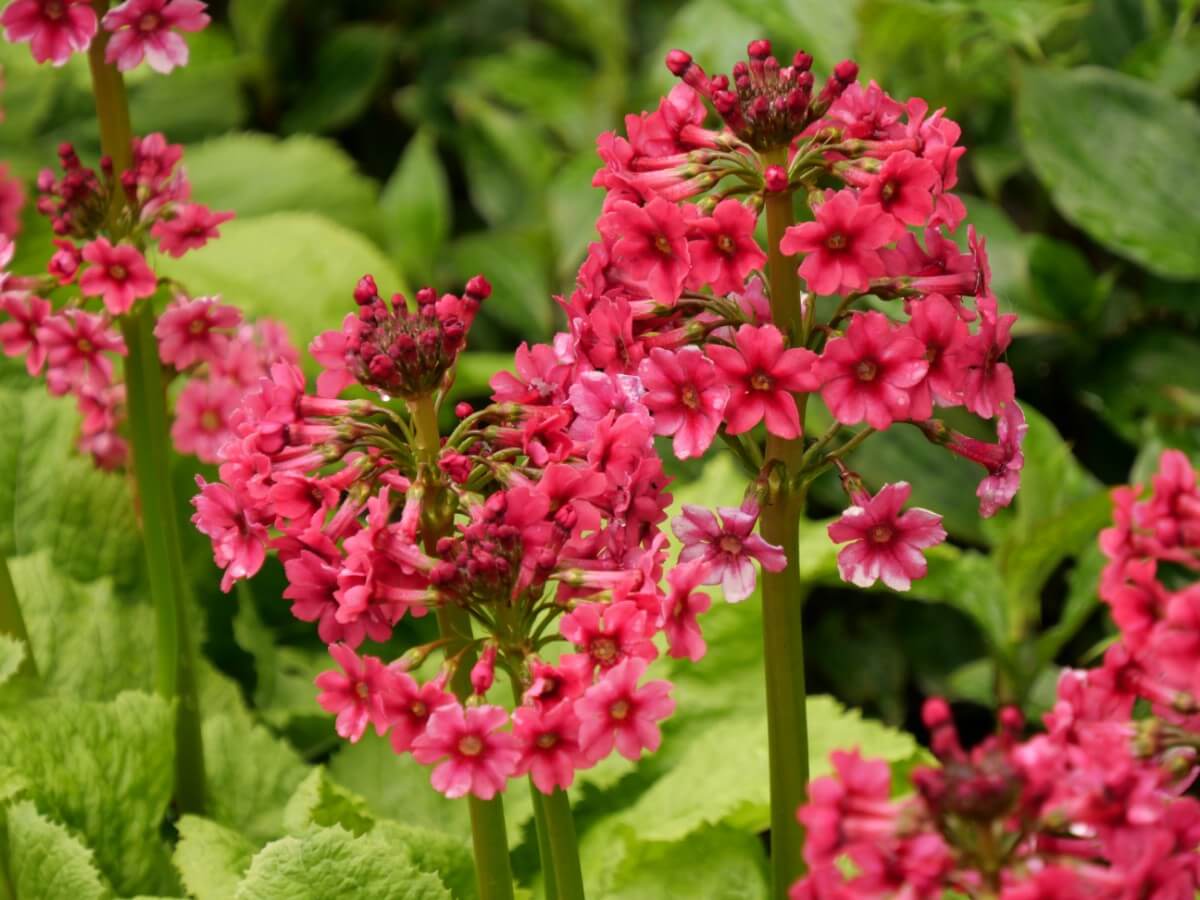 These plants don't grow very tall, but they make up for their lack in stature with entrancing delicate whorls of flowers. Japanese Primrose foliage looks like clumps of lettuce and is attractive but rather modest on its own. Once the Primrose blooms, though, the entire plant is transformed.
Each flower cluster grows atop a stem hovering above the lettuce-like leaves. Japanese Primrose prefers partially shaded, damp locations, maybe because that's where the blooms stand out the brightest. Butterflies like the spring flowers, too. Blooms are usually pink, white, red, or purple. Hardy to zones 4-8.
Lily of The Valley (Convallaria majalis)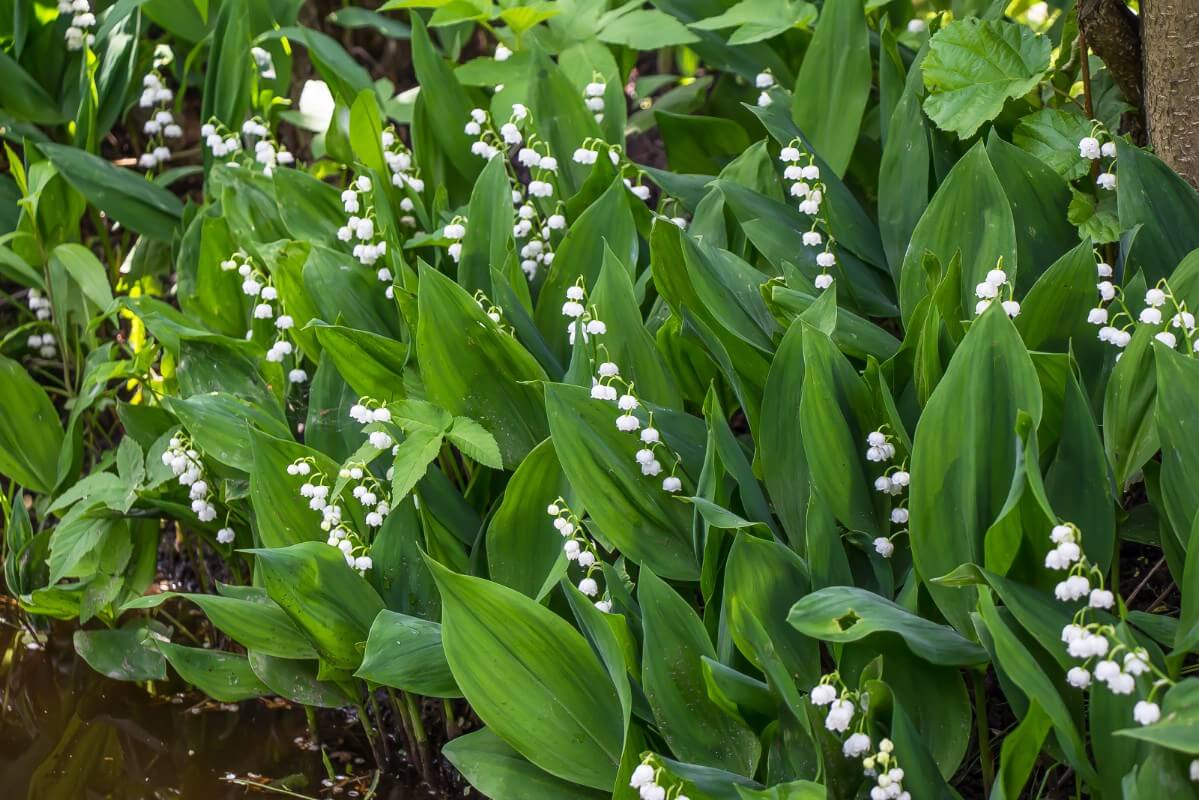 A plant that genuinely loves the shade, Lily of the Valley spreads out across the ground soaking up every shady inch. It does spread easily, so if you want it contained, you may have to keep an eye on it. Or, just let it cover all the shady ground, and you'll always have a reliable, lush, pretty flower in the spring. Lily of the Valley leaves are fluted, an attractive deep-green, and the delicate white bell-shaped flowers are dreamy.
The best part of Lily of the Valley, though, is the wonderful floral scent it sounds out to the world. Lily of the Valley plants are small, averaging 6-12" high. They bloom for a long time, and both deer and rabbits avoid them. Hardy to zones 2-7.
Bleeding Heart (Dicentra spectabilis)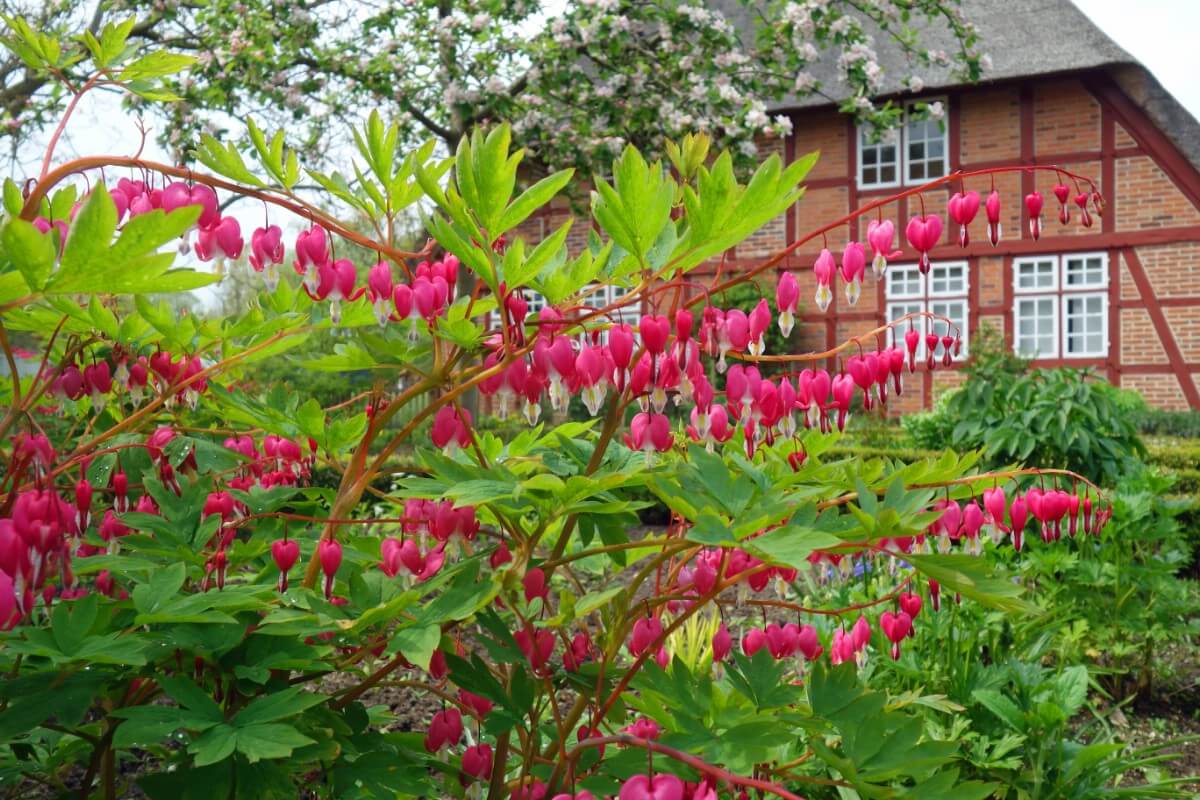 The graceful, arching Bleeding Heart stems lined with heart-shaped pink flowers turn the partially shaded garden into a center of intrigue. Bleeding Heart flowers are delicate looking, fragile, and delightful. In early spring, they bloom profusely for 4-6 weeks.
Bleeding Heart foliage is lightly colored and fern-like, increasing the delicate appearance of the plant. This favorite garden perennial prefers partially shaded locations but will also grow in full shade or full sun. It likes the partial shade best, though. Bleeding Heart is hardy to zones 3-9.
Sweet Woodruff (Galium odoratum)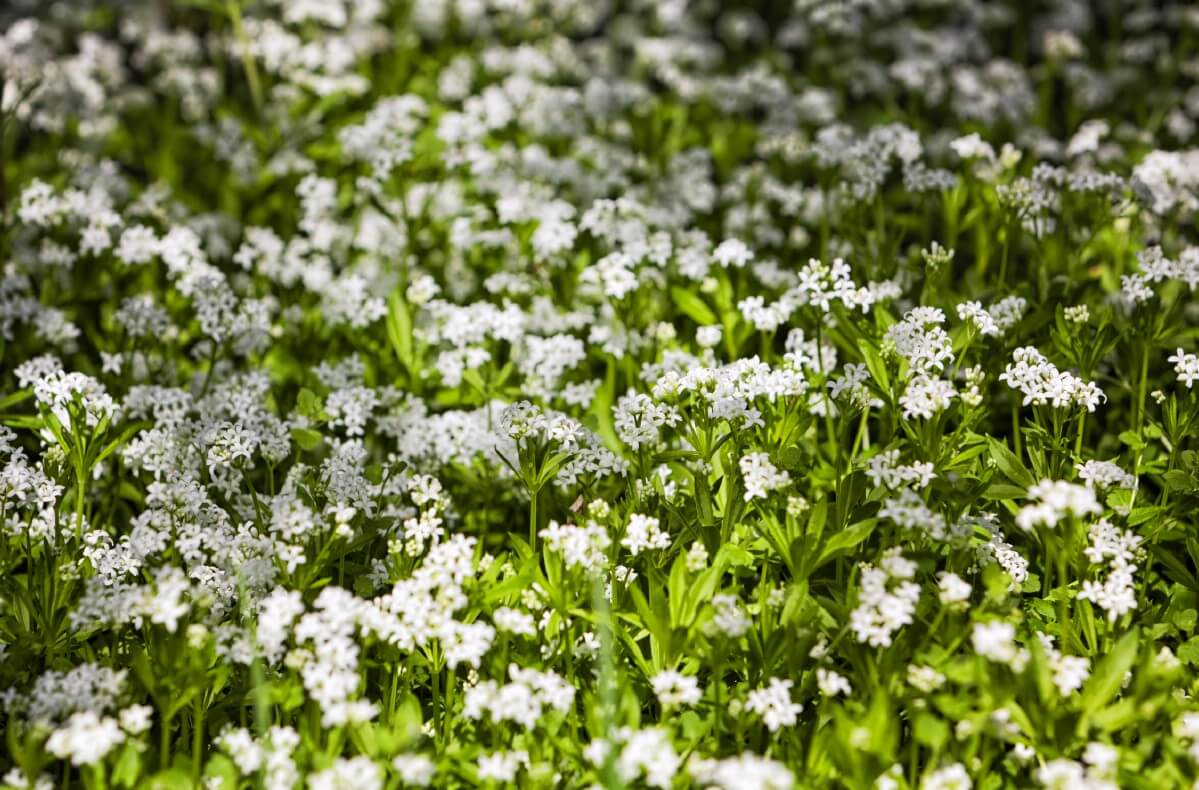 This profoundly aromatic ground cover perennial enjoys part shade or full shade and fills the air with a deep flowery fragrance throughout the spring and summer. Sweet Woodruff foliage is short, usually between 6-12" tall, and the leaves are deep-green and lance-shaped. The blooms are delicate white, four-petaled clusters that transform the ground into a carpet of sweetness.
Sweet Woodruff does grow enthusiastically in the right conditions, so keep an eye on it. We love seeing these dainty flowers in rock gardens, surrounding taller shrubs and perennials, and edging around flower gardens. This European perennial is hardy to zones 4-8.
Bloody Cranesbill (Geranium sanguineum)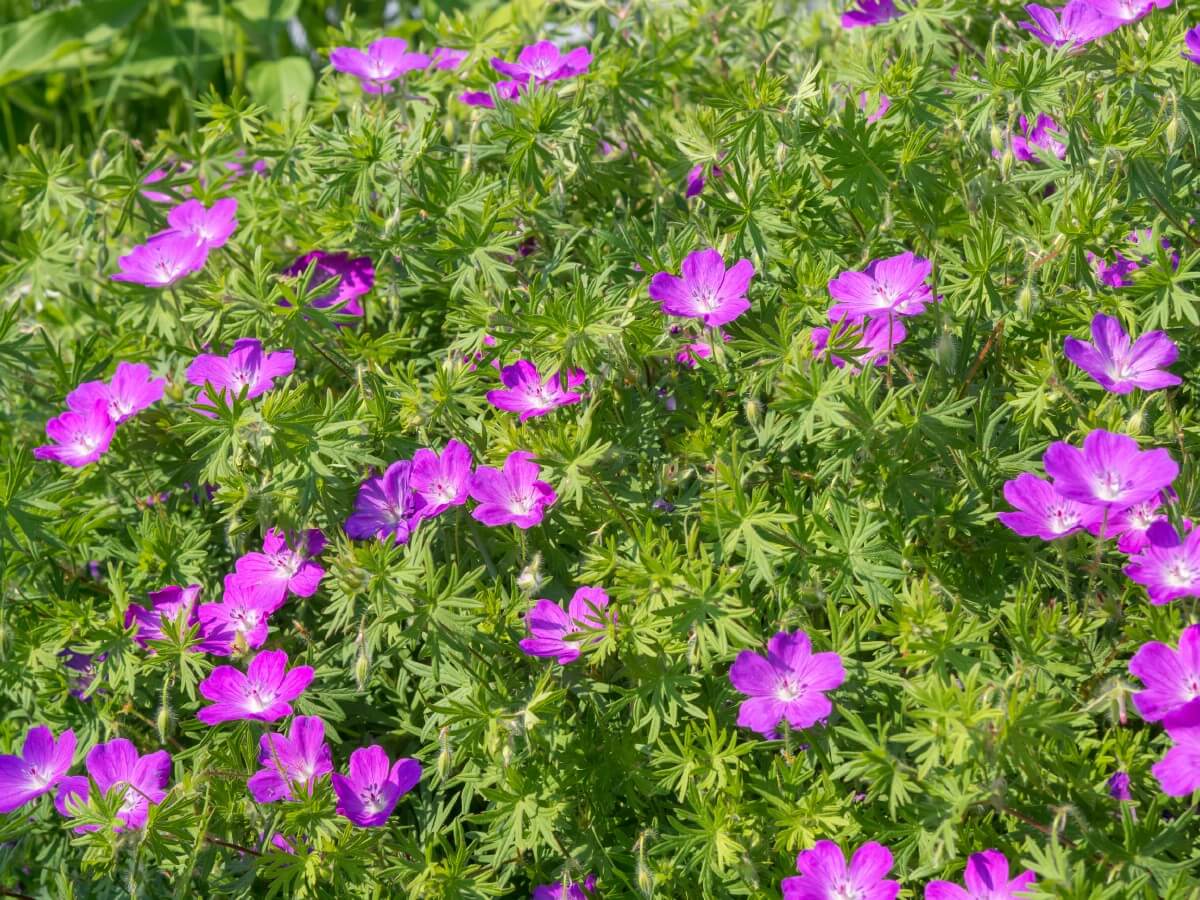 Don't let the name deter you; Bloody Cranesbill Geraniums get their name from the deep magenta lines that run through every petal. Also, the green foliage turns a blood-red color every fall, adding a lot of color to the garden when most other plants are fading.
Bloody Cranesbill performs excellently in the shade (or full sun) and is a beautiful, unfussy, drought-tolerant plant for the garden. When in bloom, the slightly cupped pink or purple flowers bloom profusely. Bloody Cranesbill forms a low bushy mound and is resistant to rabbits and deer. Hardy to zone 3-8.
Big Betony (Stachys macrantha)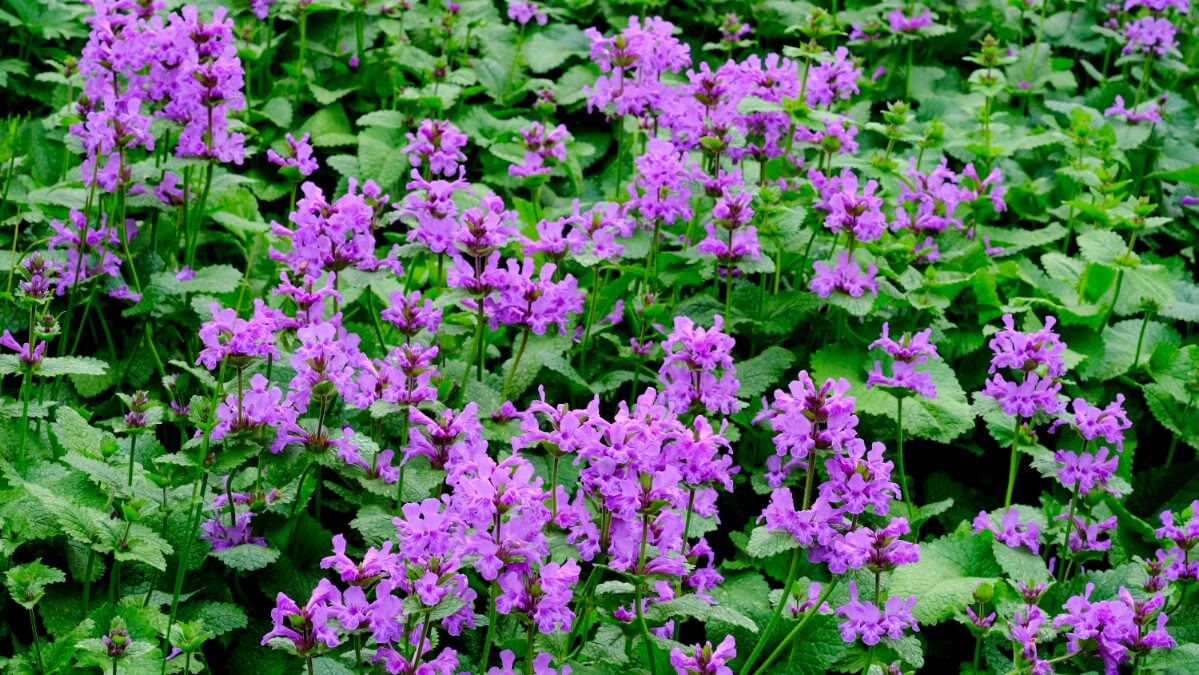 The vivid violet-purple blooms of Big Betony put on a grand display in late spring, which the bees and other pollinating insects adore. Big Betony prefers a lightly shaded location and is an excellent low-maintenance, deer-resistant plant.
The flowers appear above the textured dark-green leaves for several weeks, creating a mass of color in the perennial garden. Hardy to zones 4-8.
Toad Lily (Tricyrtis sp.)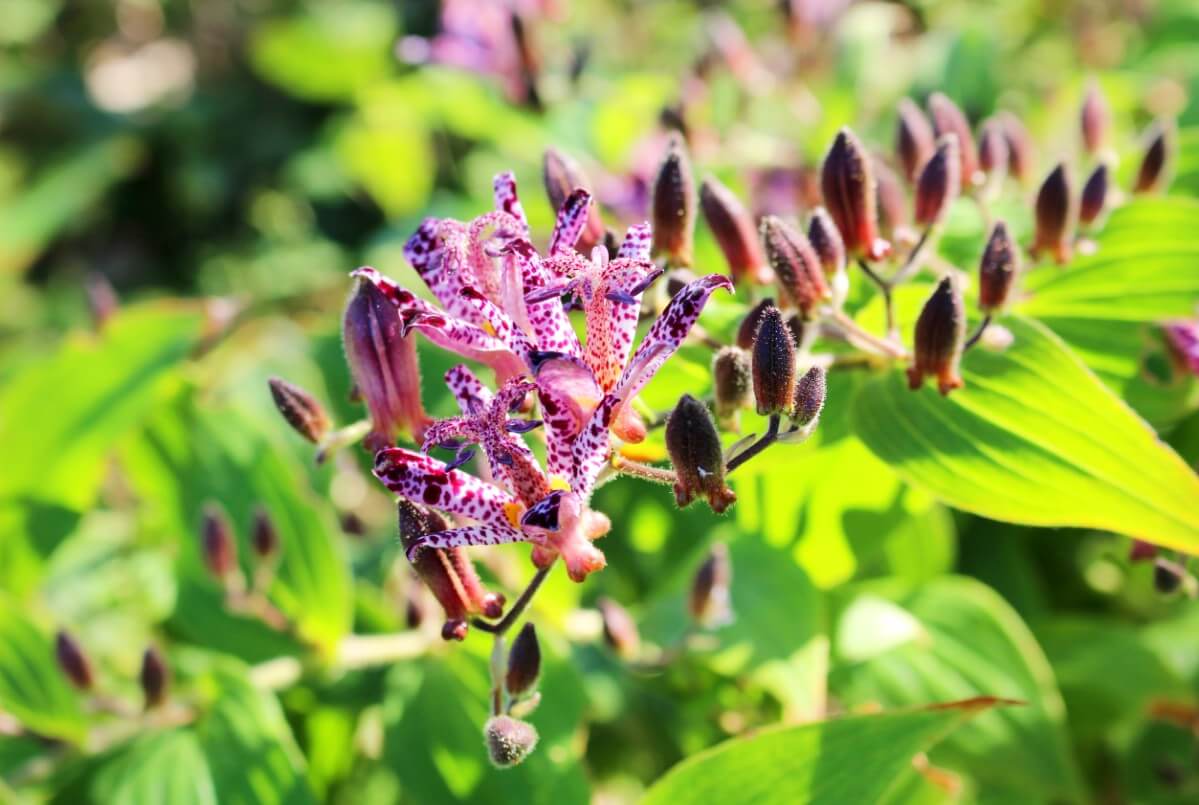 This stunning lily looks like a miniature orchid and adds an exquisiteness to the part-shade garden like no other flower. Toad Lilies are named for the multitudes of spots on the petals, which are part of the unique and exotic appeal. In their native Asian habitat, they are found at forest edges and along the sides of roads and trails.
One of the most intriguing aspects of this perennial is that it blooms very late in the season compared to other lilies. Blooms appear in early fall and continue for weeks. Toad Lilies foliage is like most lilies, with arching rich green sword-shaped leaves. The small flowers appear above the leaves in large numbers while in bloom. Hardy to zones 4-9, depending on the cultivar; be sure to check the specific type for your climate.
Saxifraga (Saxifraga x arendsii)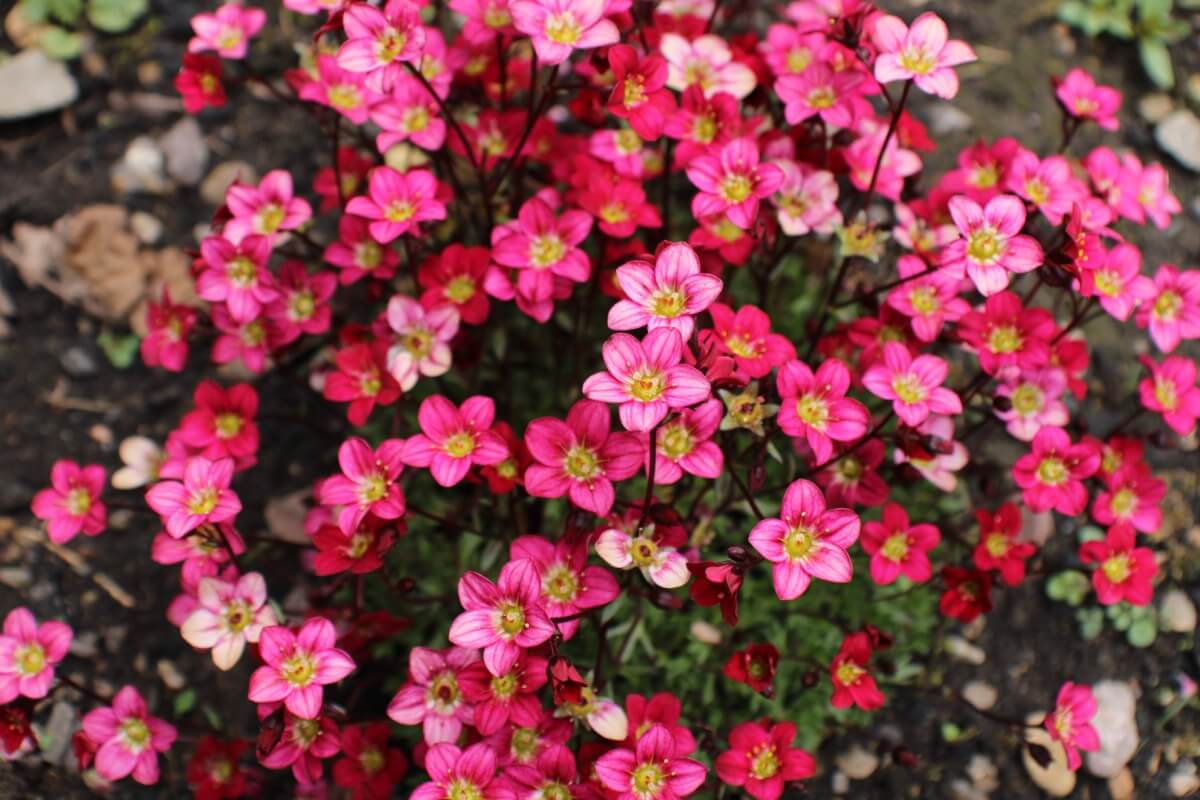 The delightful brightly colored star-shaped flowers of Saxifraga make it ideal for the partially shaded garden. Saxifraga is a low-growing, mat-forming plant that literally lights up the garden when in bloom. Not all Saxifraga types are perennial, so be sure to double-check before purchasing.
The Arendsii hybrids are perennial, though, and there are over 40 cultivars to choose from with a spectacular array of colors, combinations, and shapes. These Saxifraga varieties average 8-inches tall, with small dark green leaves and flowers appearing en masse directly above the foliage. They bloom in spring and are popular in rock gardens and as ground cover. Hardy to zones 5-7.
Blue-Eyed Grass (Sisyrinchium angustifolium)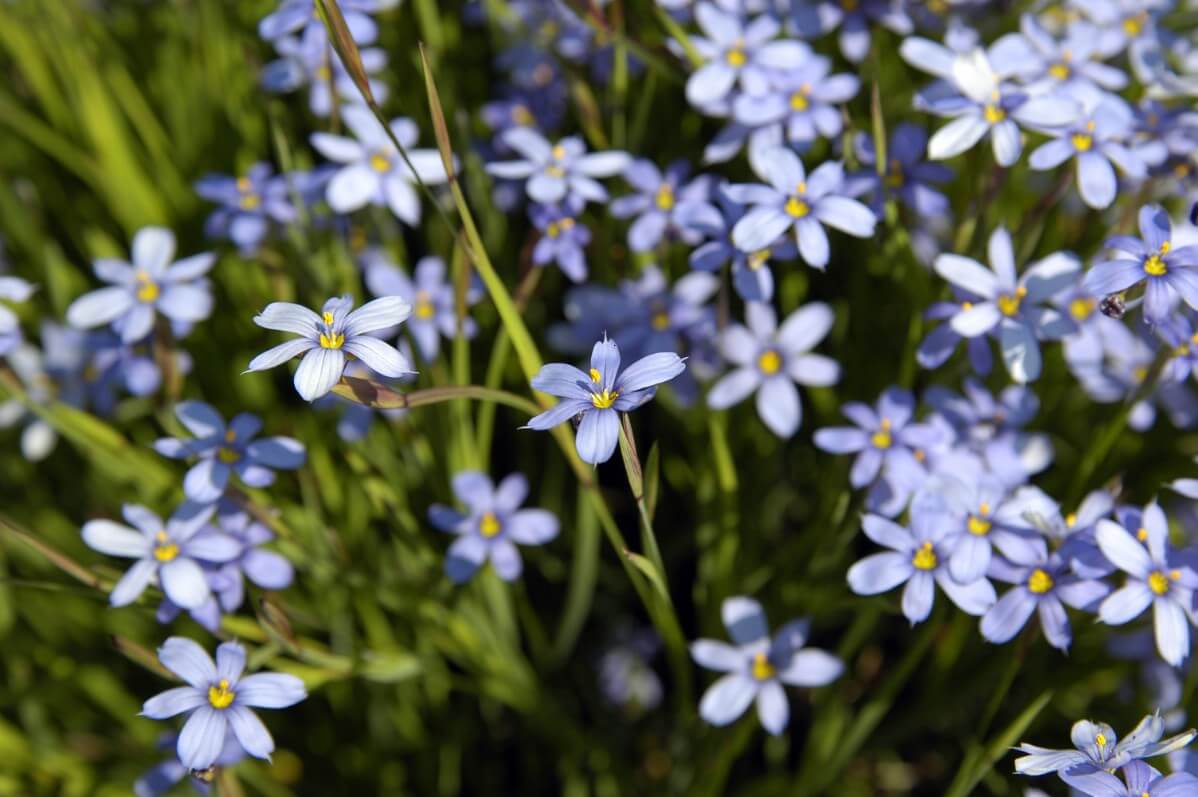 When not in bloom, this flower looks like nicely clumped green grass. It often gets mistaken for bare grass, but Blue-Eyed Grass is actually a type of lily; when it blooms, you'll realize the treasure of this flower.
The delicate bright-blue starry flowers with brilliant yellow centers grow on stems above the foliage in abundance for months during the late spring through early summer. Blue-Eyed Grass prefers lightly shaded locations and stands out as a border plant or used as edging. Hardy to zones 4-9.
Grass Widow (Olsynium douglasii)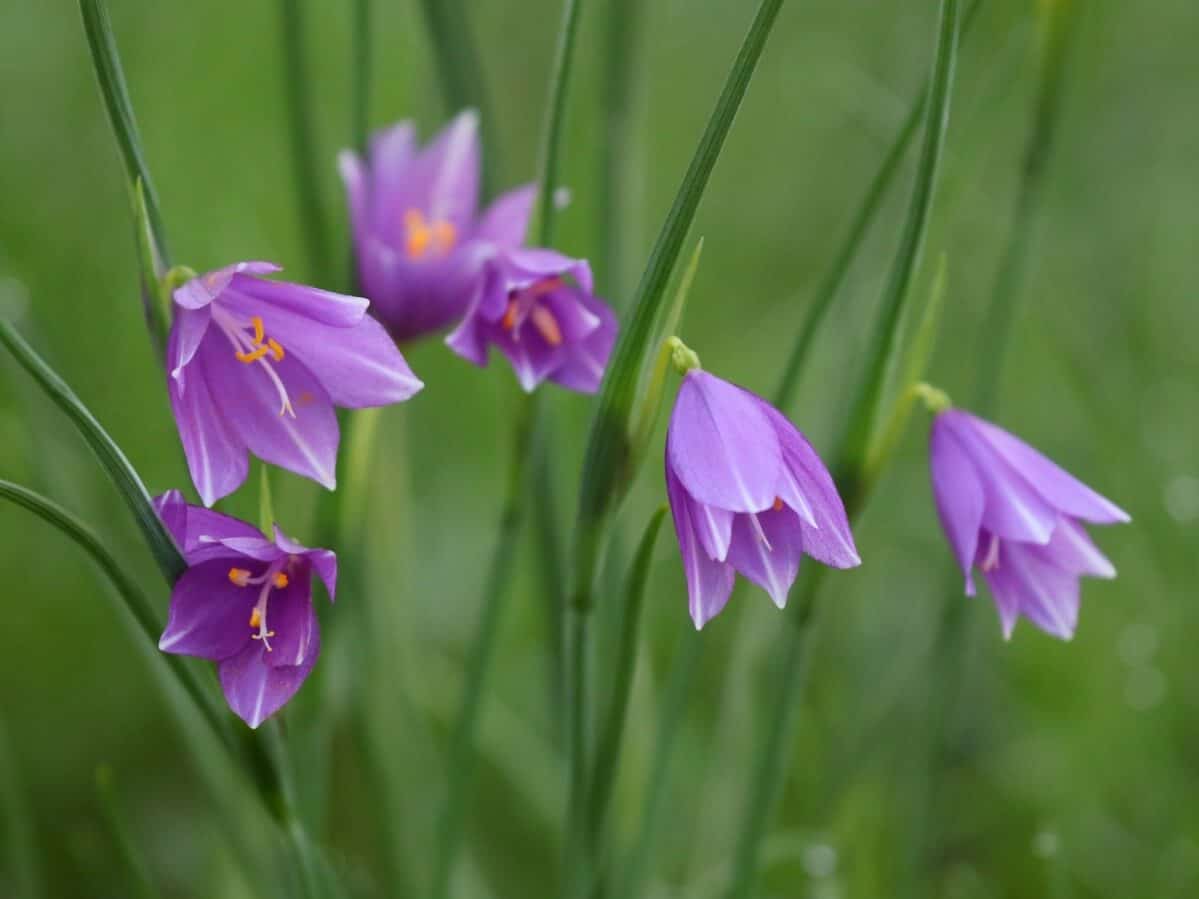 Another lily with grass-like foliage and wonderful flowers, Grass Widow looks incredible planted with Blue-Eyed Grass or on its own. Grass Widow flowers are delicate bell-shaped violet-purple gems.
The nodding flowers bloom in early spring, adding much-needed color to the early perennial shade garden. This native wildflower is showy and eye-catching, and the native bees love it. Grass Widow is hardy in zones 4-9.
Soapwort (Saponaria ocymoides)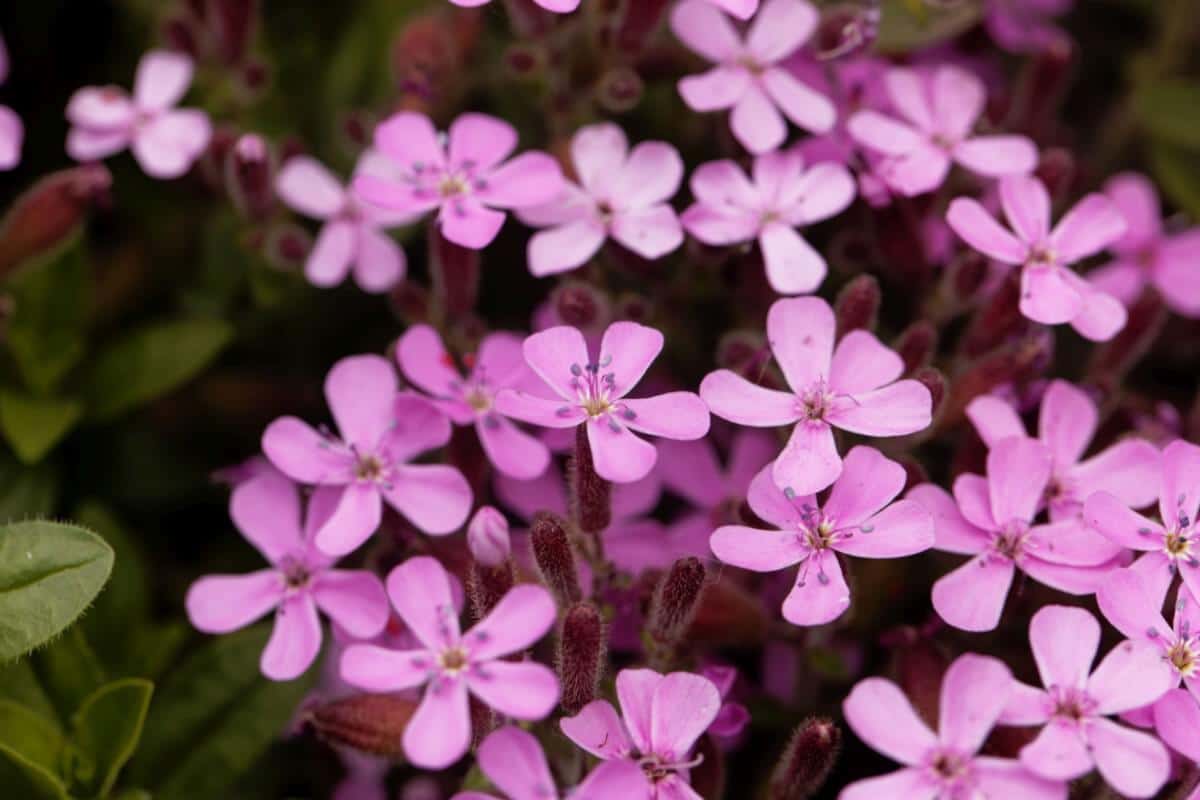 A wildflower from Europe, Soapwort is widely loved by pollinators of all types. The massive, overlapping clusters of pink or purple flowers are irresistible, and we agree. The blooms stay bright and beautiful for weeks, creating an eye-catching mound of color in the flower garden.
Soapwort is tolerant of many soil types, doesn't need much care, and produces a wonderful sweet fragrance. Their scent is more pungent in the evening, so be sure to go for a walk around the Soapwort before retiring for the night! Soapwort looks especially attractive spilling over a rock wall or covering a steep slope. Hardy to zones 3-8.
Woolly Speedwell (Veronica pectinata)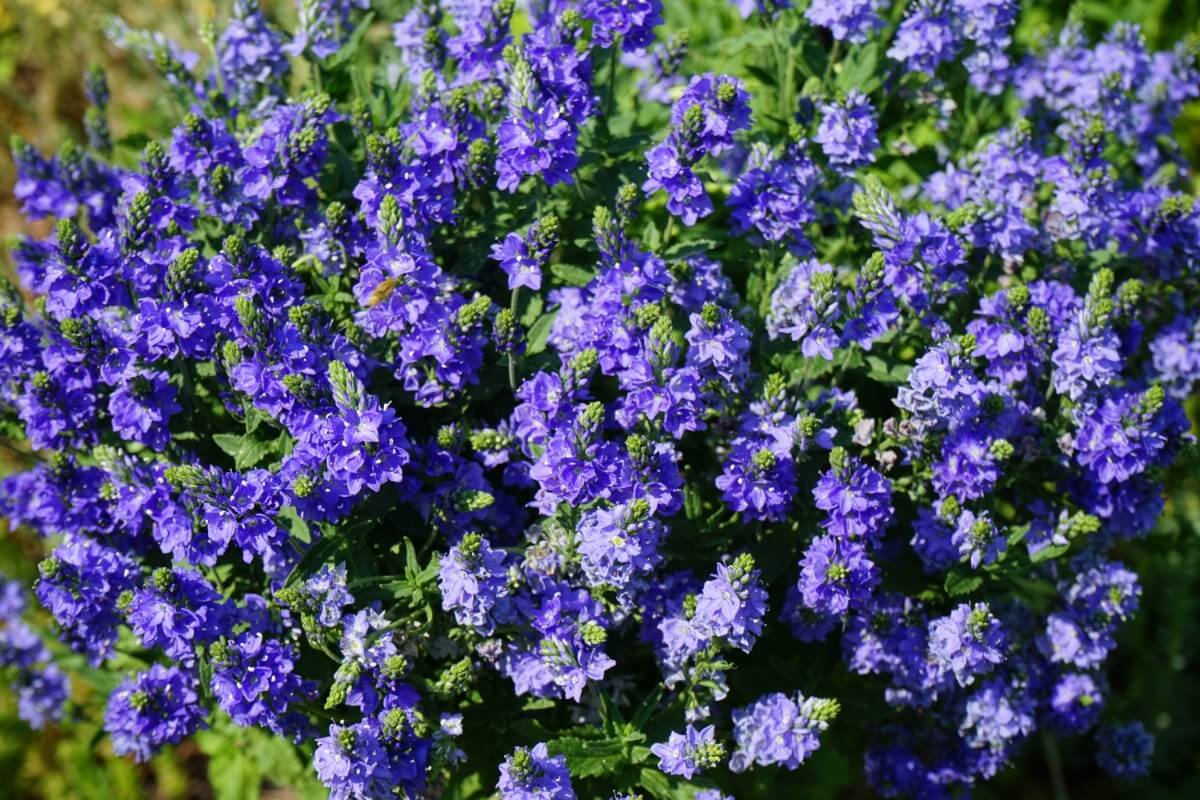 What isn't to love about a carpet of sweet, little lavender-blue flowers? This beautiful carpet-forming plant only grows about 2-5" tall, and when it blooms, it is entirely covered in flowers. The gray-green woolly foliage is attractive on its own, making it an ideal groundcover for a perennial shade garden.
Plant Woolly Speedwell between larger plants, around trees and shrubs, or on top of stone walls. The delicate white-eyed blue flowers bloom for a long time, never ceasing to amaze with their brilliance. Woolly Speedwell is hardy to zones 4-9.
Rocky Mountain Columbine (Aquilegia caerulea)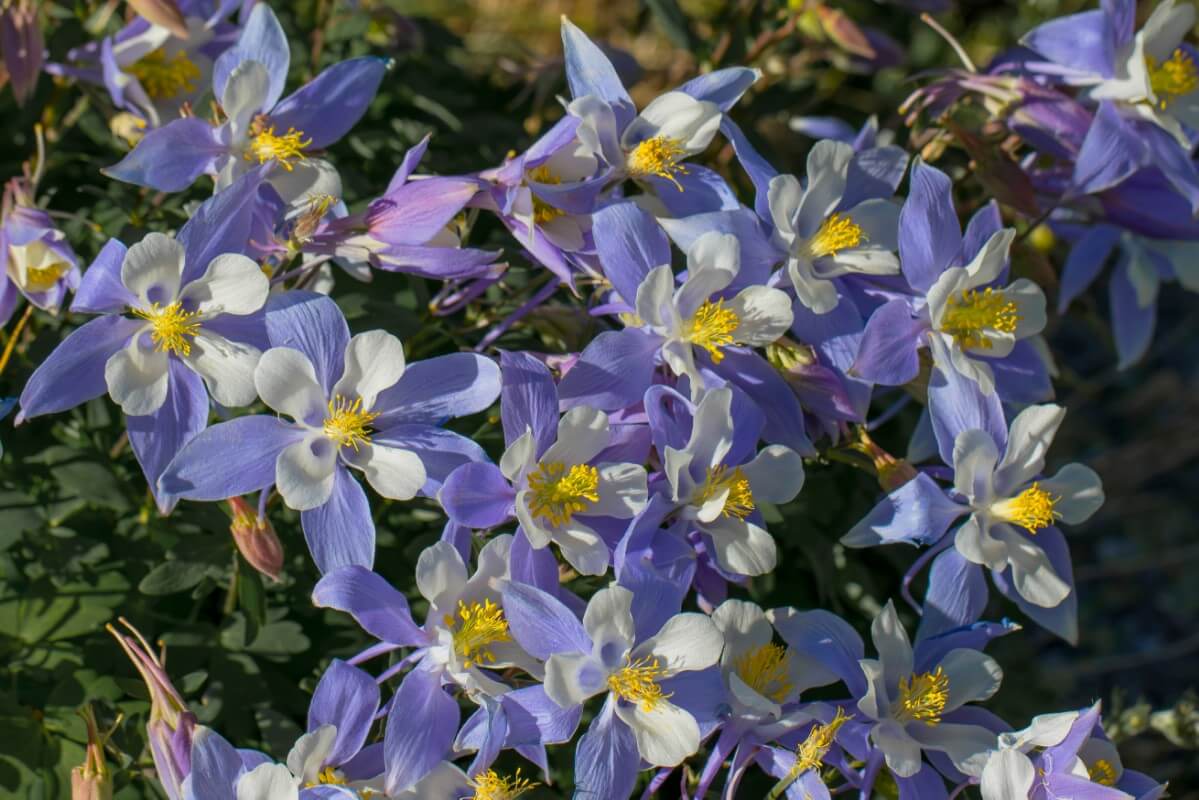 A colony of Rocky Mountain Columbines in the shade turns that spot into a beautiful splash of color. This wildflower traditionally features stunning violet-blue, white, and yellow blooms, but now there are also crimson, red, and yellow options.
We'd love to see a mix of them covering the ground for a bright and cheerful garden display. In addition to showstopping star-shaped flowers, Rocky Mountain Columbine also has attractive blue-green fern-like foliage. Butterflies, hummingbirds, and bees love these wildflowers. Hardy to zones 3-10.
As you can see, there are lots of flower choices for the shade beyond the garden classics. It's easy to fall into the same old landscaping patterns, but you can get beyond that with this guide. Adding just one or two of the partial shade-loving perennials to your yard will boost its appeal and uplift the spirits.