Nothing says summer quite like taking that first bite of a sweet and juicy melon at a picnic or outdoor barbecue. But while you can certainly purchase melons at the grocery store, they are also easy to grow in your garden, and growing your own melons will give you more varieties to choose from!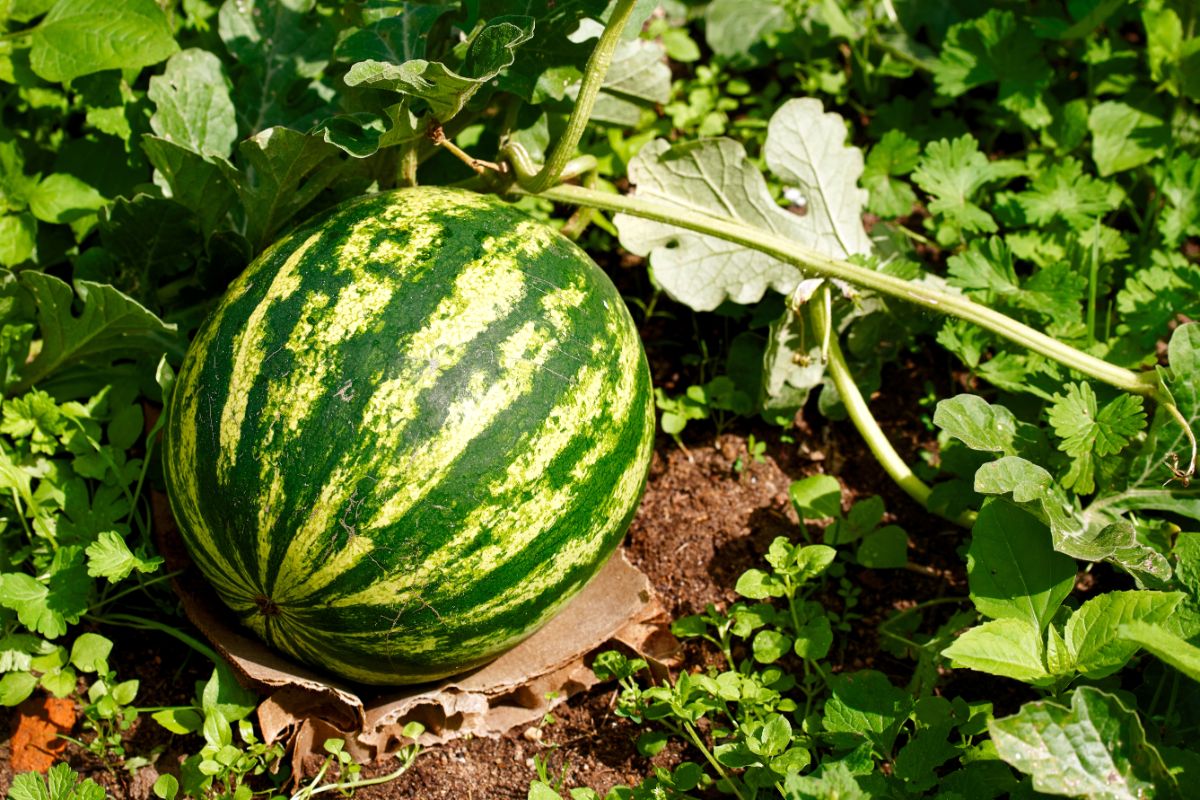 While you're likely familiar with cantaloupes, honeydew, and watermelons, there are lots of other mouth-watering and succulently sweet melons you can grow. And for even more variety, there are some very colorful melon cultivars as well as some melons that work well in savory dishes!
In this guide, we'll introduce you to some of the best melons to grow in a home garden. You'll probably recognize a few names, but to keep things interesting, we've also included a few less commonly grown melons for anyone who loves growing new plants!
Jump to:
18 melon varieties to grow for summertime snacking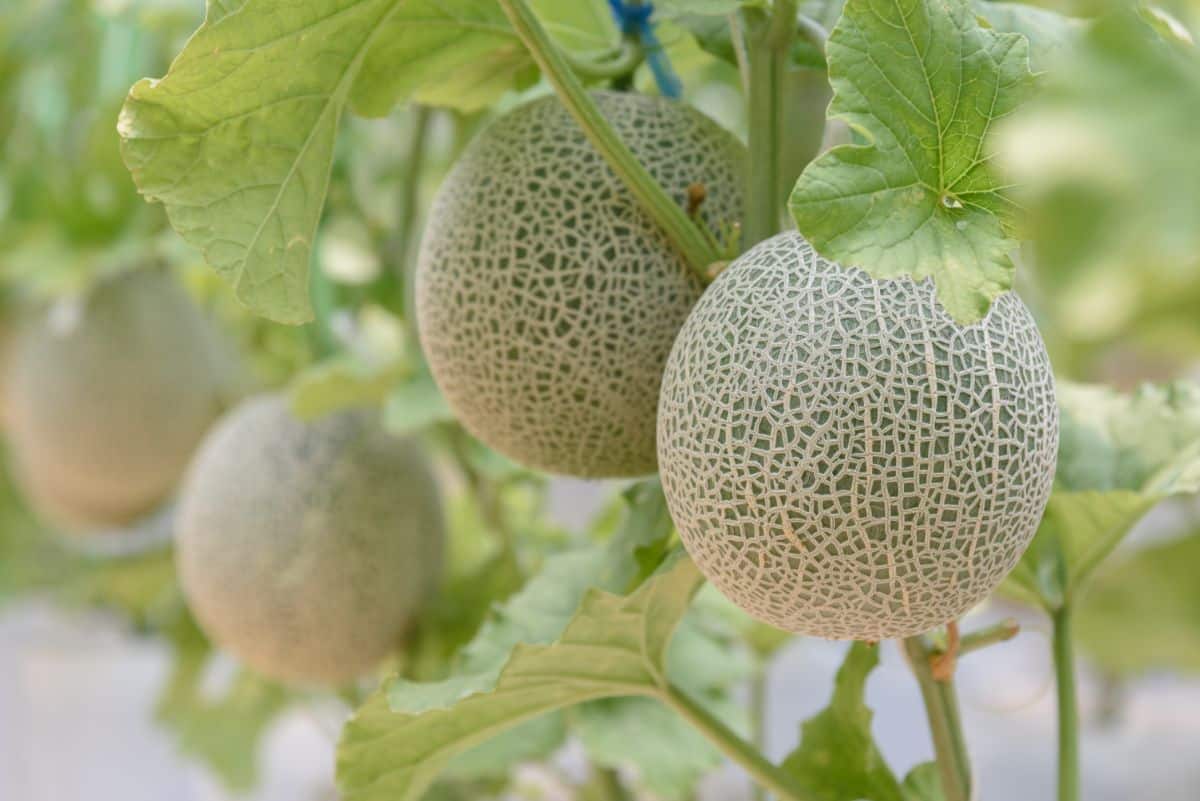 From classic watermelons to unique melon varieties like Gac melons and Matisse melons, you'll find a wide variety of delicious melons in the list below! Most of these melons will grow well in garden beds, but some are small enough for container gardening. And if you don't mind getting creative with trellising, you may even be able to grow melons on a small space balcony or container garden.
1. Watermelon (Citrullus lanatus)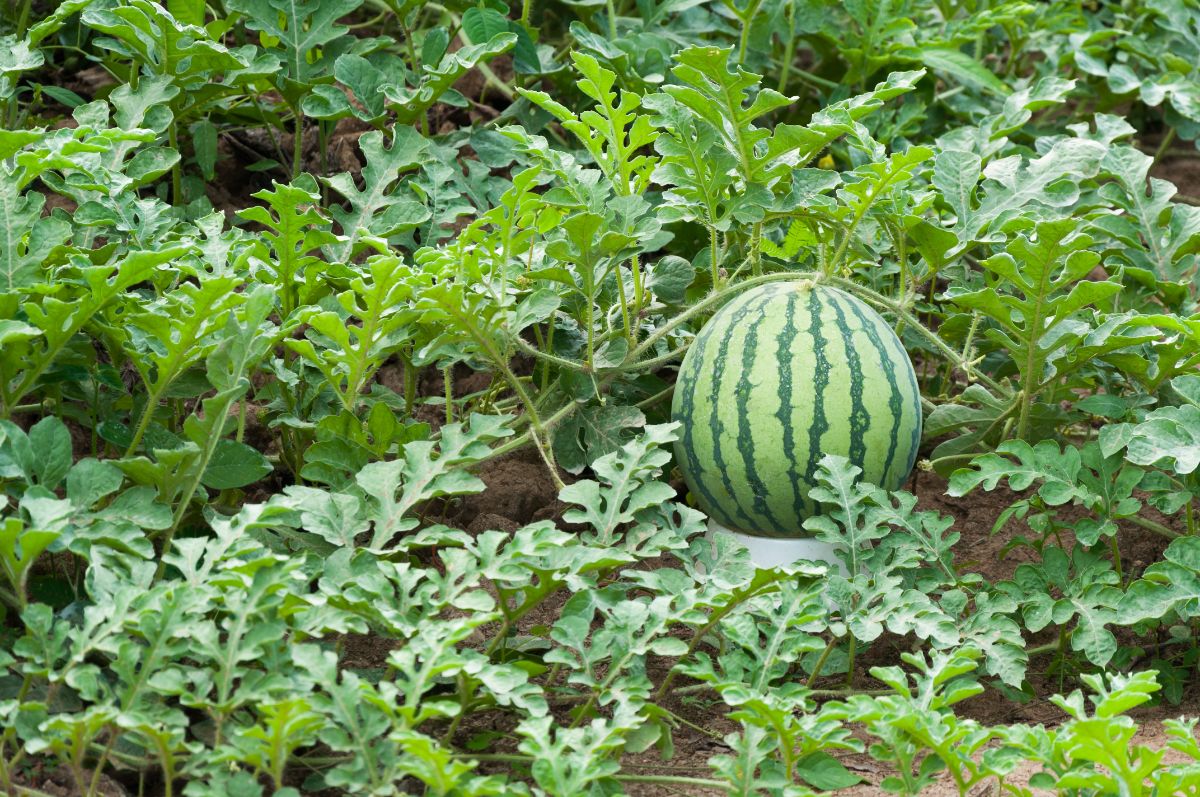 | | |
| --- | --- |
| Plant name: | Watermelon |
| Light needs: | Full sun |
| Water needs: | High |
| Growing zone: | Zones 2 to 11 |
One of the most popular melon varieties to ever exist, watermelons are known for their colorfully patterned rinds and lusciously juicy flesh. These plants have been cultivated for thousands of years and were initially popularized because of their water-storing potential. In fact, in arid climates, watermelons were sometimes grown just to store water for times of drought.
Today, there are over 1,000 different watermelon varieties to choose from, including cultivars with pink or yellow flesh. Watermelons are quite large plants with long and trailing vines, but you can find compact or dwarf varieties too. Some fun watermelons to try include 'Fantasy,' 'Sugar Baby' and 'Verona.'
2. Honeydew (Cucumis melo var. inodorus 'Honey Dew')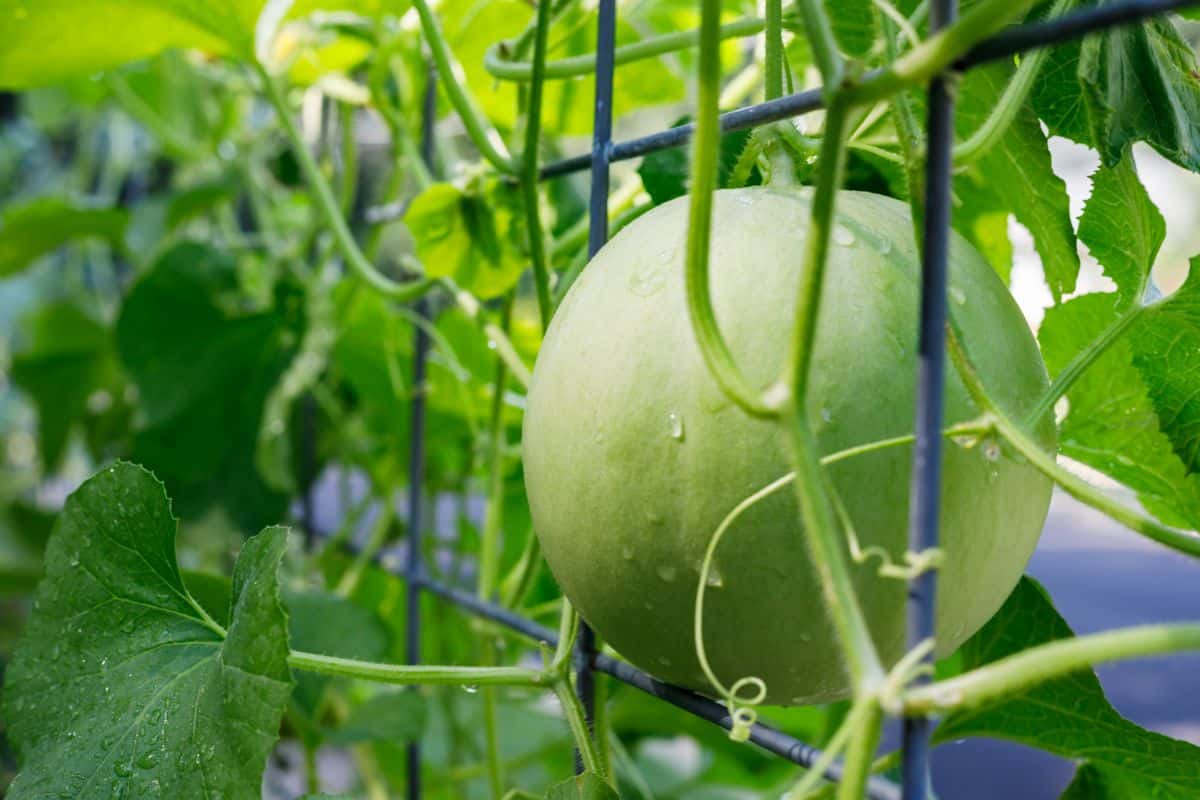 | | |
| --- | --- |
| Plant name: | Honeydew |
| Light needs: | Full sun |
| Water needs: | High |
| Growing zone: | Zones 4 to 11 |
Another top melon variety you've probably seen a million times at the grocery store, honeydews are well-known for their smooth rinds and mild, musk-free scent. Most often, honeydews have bright green interior flesh, but you can find varieties with yellow or white flesh too. The history of honeydews is a bit murky, but some evidence places the origin of these plants in Africa, and these plants may have been sacred to the Ancient Egyptians.
In the garden, honeydew is quite easy to grow, but they have high water needs like most other melon types. These plants can't tolerate dry soil, so it is usually a good idea to add a thick layer of mulch around your garden when keeping them. If you like the idea of growing honeydew, check out varieties like 'Earli-Dew,' 'Uncle Paul,' and 'Huerfano Bliss.'
3. Cantaloupe (Cucumis melo var. cantalupensis)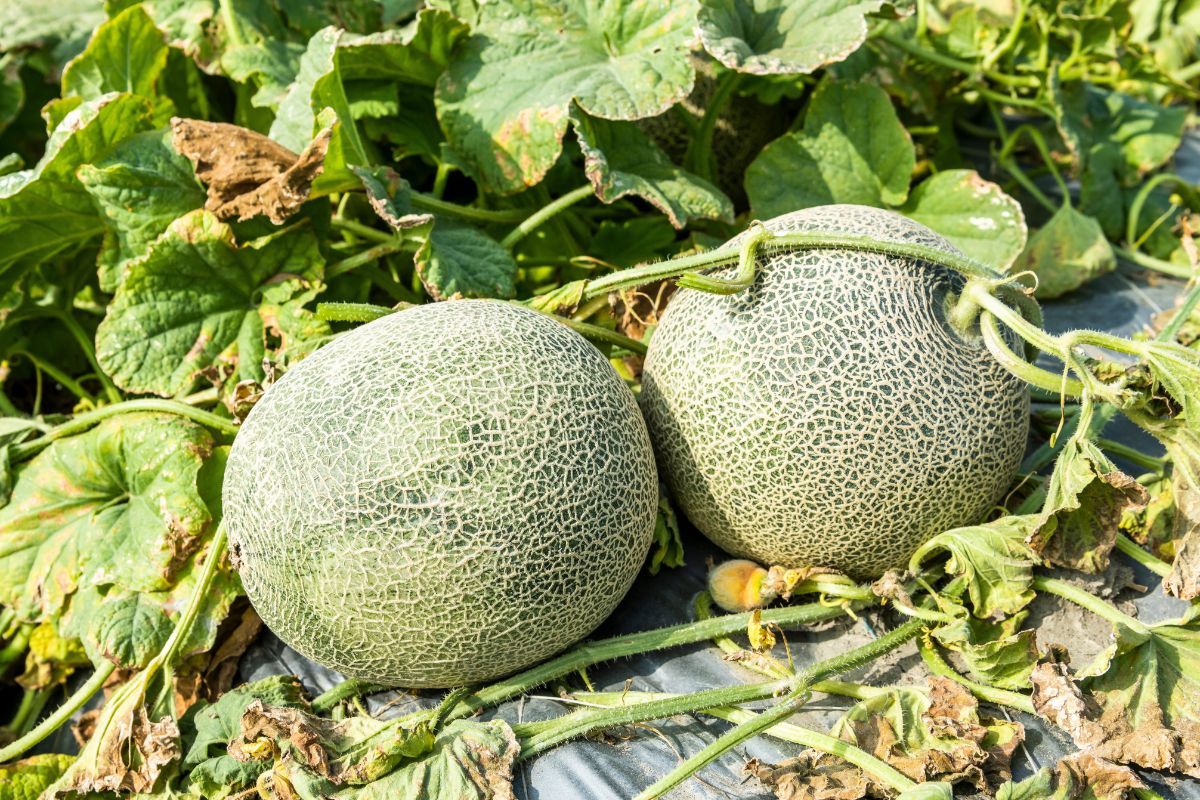 | | |
| --- | --- |
| Plant name: | Cantaloupe |
| Light needs: | Full sun |
| Water needs: | High |
| Growing zone: | Zones 4 to 11 |
Like watermelons and honeydew, cantaloupe is the other top melon variety that is commonly carried by grocery stores. These plants are closely related to honeydews; however, unlike honeydews, cantaloupes usually have rough, netted rinds and a strong, musky odor. Cantaloupes typically have warm, orange-toned flesh, and the more orange that flesh is, the more beta-carotene the fruit contains.
Also known as rockmelons or sweet melons, cantaloupes have been cultivated for thousands of years, and they were popular fruits to grow in ancient Rome and Egypt. In fact, cantaloupe plants were commonly grown along the Nile River, where they benefitted from the nutrient-rich soil created by the river's frequent flooding. A classic cantaloupe variety to grow at home is the 'Sugar Cube' or 'Honey Rock,' while more adventurous gardeners may want to try out the curious-looking 'Prescott Fond Blanc.'
4. Ananas (Cucumis melo var. cantalupensis)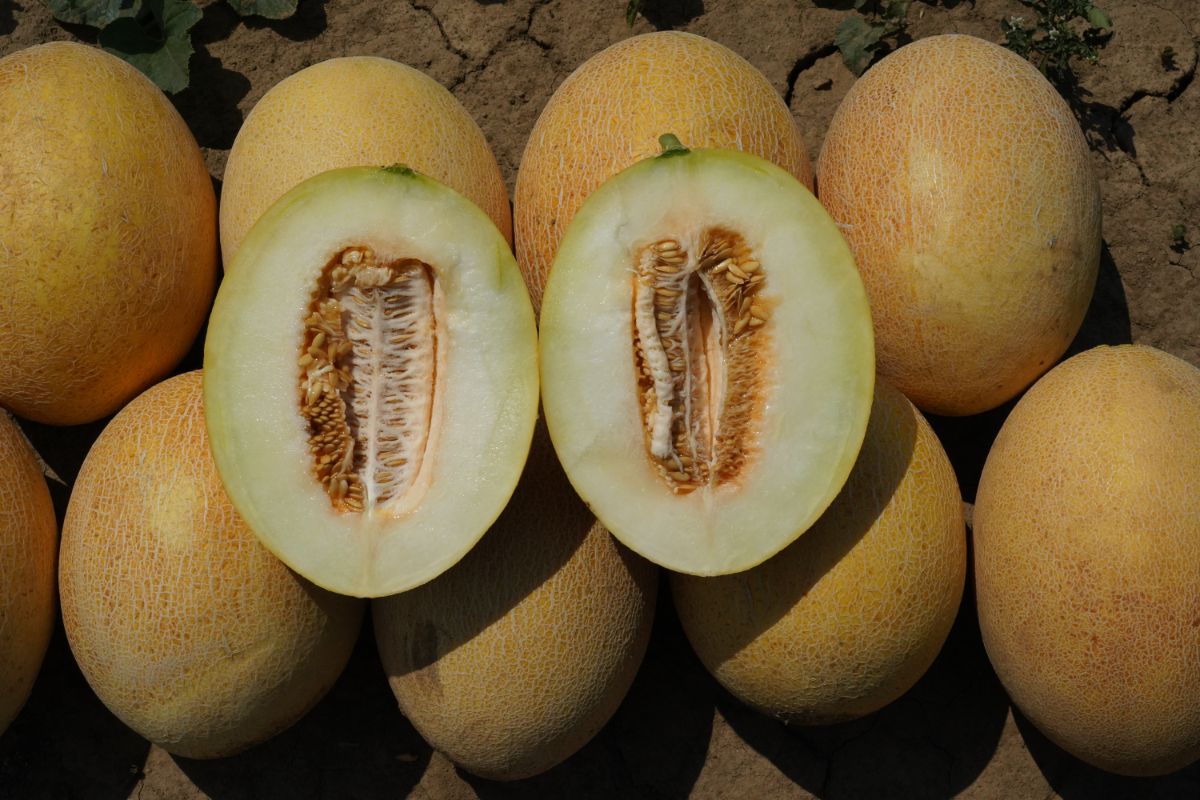 | | |
| --- | --- |
| Plant name: | Ananas |
| Light needs: | Full sun |
| Water needs: | High |
| Growing zone: | Zones 4 to 11 |
"Ananas" means pineapple, which is a strange name for a melon plant! However, these plants were named for the fact that their sweet and juicy fruit emits a strong, citrus-like aroma that is reminiscent of pineapples when the fruit is ripe. Mature ananas melons have a thin, firm rind with light netting and flesh that can range in tone from pale green to orange.
Like other melons, ananas melons can be used in both sweet and savory dishes. While they are commonly cubed and stirred into fruit salads, they can be blended into cold soups, and they are also robust enough to hold their own on charcuterie boards. There aren't as many ananas melon varieties to choose from, but 'Dove' melons are a good representation of ananas-type melons.
5. Canary (Cucumis melo var. inodorus 'Canary')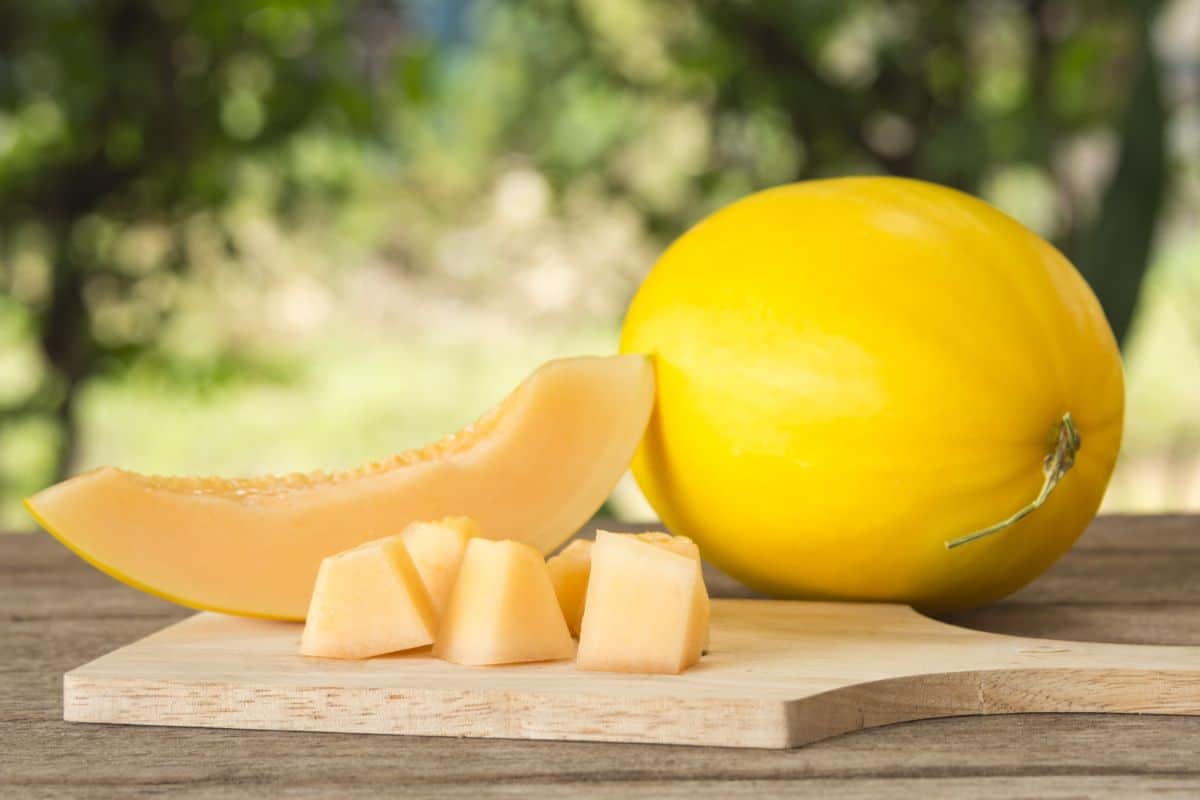 | | |
| --- | --- |
| Plant name: | Canary |
| Light needs: | Full sun |
| Water needs: | High |
| Growing zone: | Zones 4 to 11 |
Bright as a canary's feathers, canary melons have vivid, yellow rinds and a smooth, soft flesh that ranges in color from pale green to white. As sweet as canary melons are, they have a slightly more tangy flavor than honeydews, which can add a bit of zing to any dish they are used in. Canary melons are sometimes called Juane Canary melons, and they are commonly found in Asian and Middle Eastern cuisines.
Melons, including canary melons, are heavy feeders that will need to be fertilized every few weeks throughout the growing season. It can also help to amend your soil with a bit of compost or aged manure prior to planting, which will set your melon vines up for success. 'Brilliant' and 'Mayor' are two tasty canary melon types that can be grown in home gardens just about anywhere!
6. Bitter melon (Momordica charantia)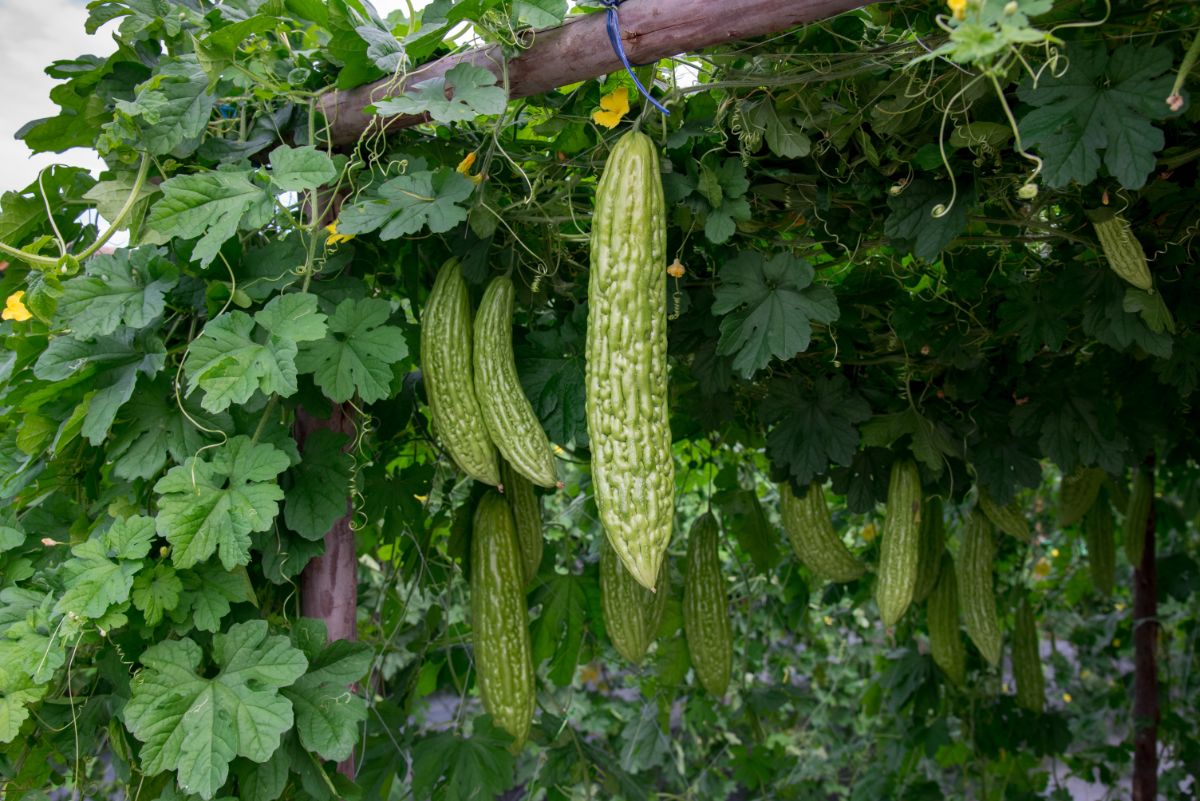 | | |
| --- | --- |
| Plant name: | Bitter melon |
| Light needs: | Full sun |
| Water needs: | High to moderate |
| Growing zone: | Zones 9 to 11 |
While bitter melons are mostly associated with Asian recipes today, these plants actually originated in Africa. Bitter melons are known for their curious-looking, warty rinds, and their oblong fruit. Like other melon varieties, bitter melons produce long vines that can be allowed to spread, or they can be trained to grow on trellises for a tidier and more compact look.
As their name implies, bitter melon has a very bitter-tasting fruit, which is why these melons are often cooked. Cooking reduces the melon's bitterness, making them a tasty addition to stir-fries and other dishes. Some popular varieties of bitter melons include 'Jade Dragon,' 'Pearl Goya' and 'Big Top.'
7. Cucamelon (Melothria scabra)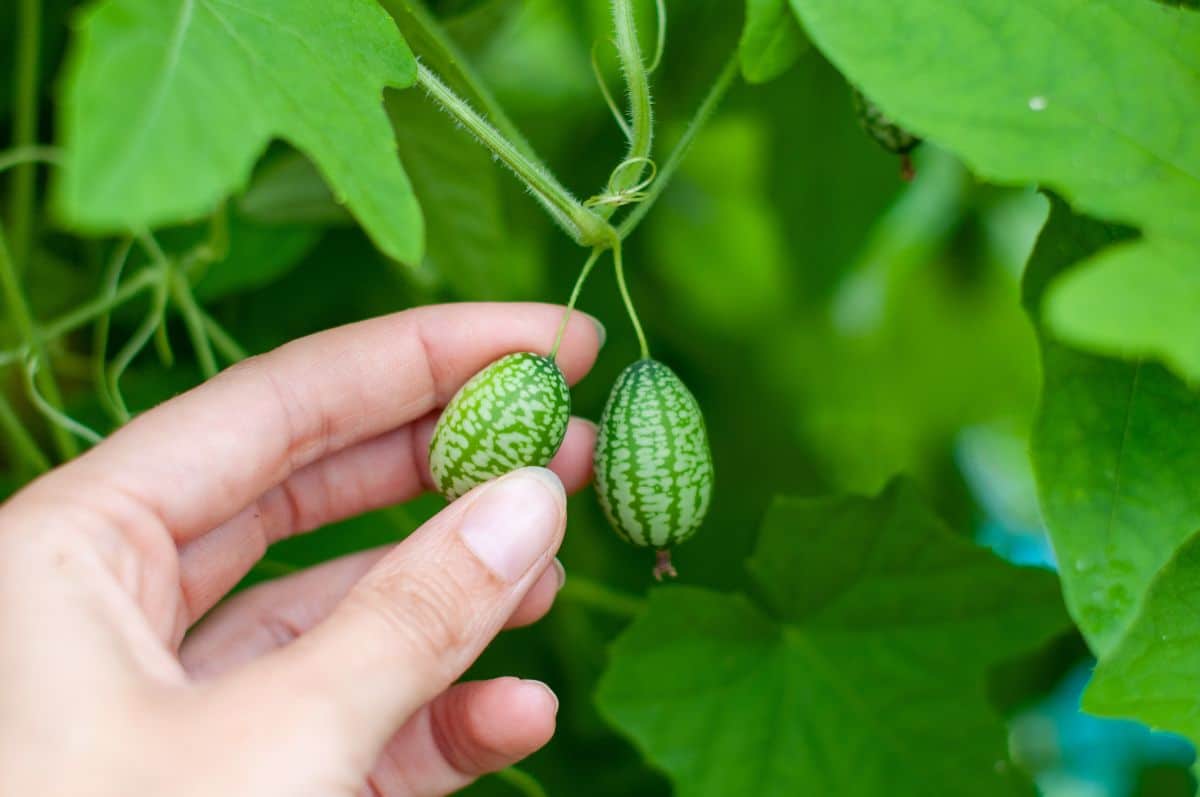 | | |
| --- | --- |
| Plant name: | Cucamelon |
| Light needs: | Full sun, can tolerate part shade in cooler locations |
| Water needs: | High to moderate |
| Growing zone: | Zones 2 to 11 |
Also known as Mexican sour gherkins, cucamelons are somewhere between a melon and a cucumber, and they are versatile enough to be used in tons of dishes. These adorable vining plants produce pint-sized fruit that looks like mini watermelons with the same colorful and mottled appearance. When you cut into a cucamelon, however, you'll see that the interior much more closely resembles a cucumber!
Cucamelons are hardy plants that are much smaller than other melon varieties, which makes them a top plant to grow if you have a small garden space. These plants can also be trained to climb up trellises, which makes it so much easier to harvest the fruit when it's ripe. Cucamelons have a similar flavor to cucumbers but with a mild, lemony twist, and they are perfect in fresh salads, and they can be pickled too.
8. Charentais (Cucumis melo)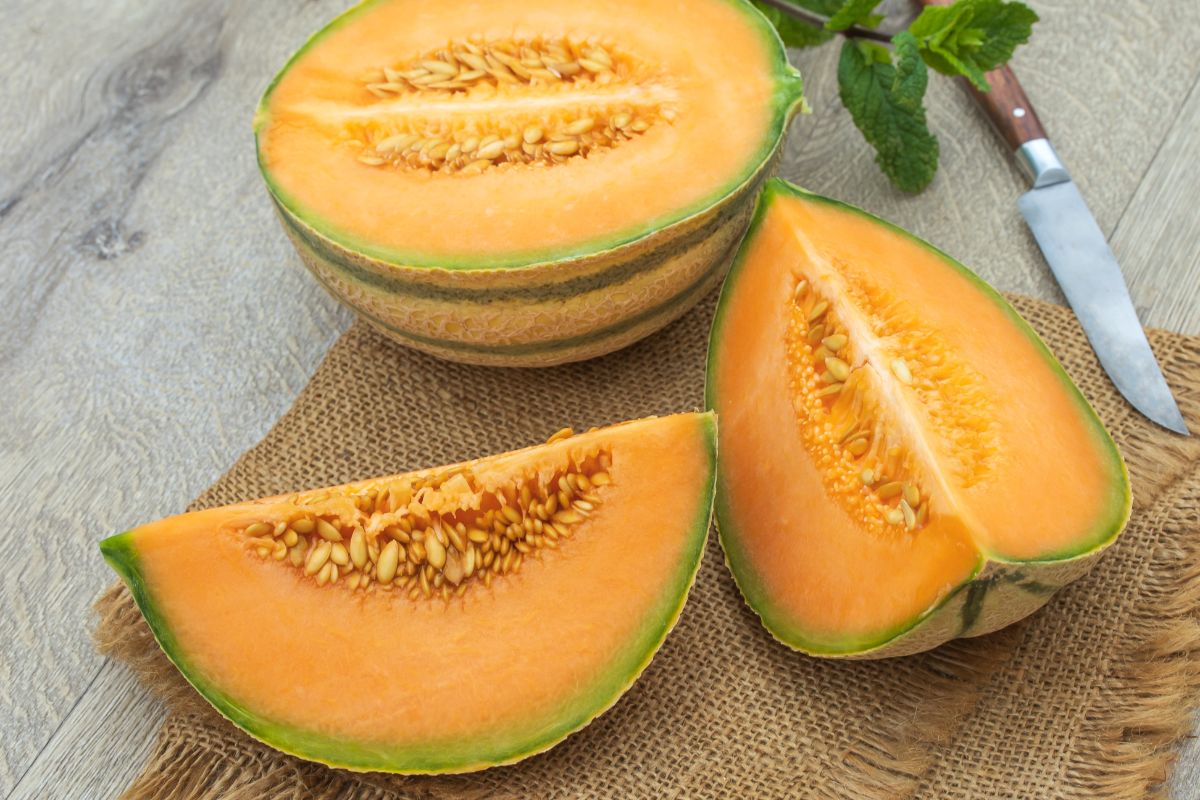 | | |
| --- | --- |
| Plant name: | Charentais |
| Light needs: | Full sun |
| Water needs: | High |
| Growing zone: | Zones 2 to 11 |
Charentais melons are a variety of cantaloupe that originally hails from the Charentes region in France. These melons look much like cantaloupes with a similarly netted rind and orange flesh, but the flesh often has a slightly more pinkish hue. Rinds are also quite striking and usually exhibit contrasting stripes that make them particularly appealing at farmer's markets.
Charentais melons are on the smaller side and often only grow to the size of a softball. The flesh also damages easily, which is why these melons are rarely sold at grocery stores. While the flavor of Charentais melons is similar to cantaloupes, these melons typically have a more intense, musky fragrance.
9. Ambrosia (Cucumis melo 'Ambrosia')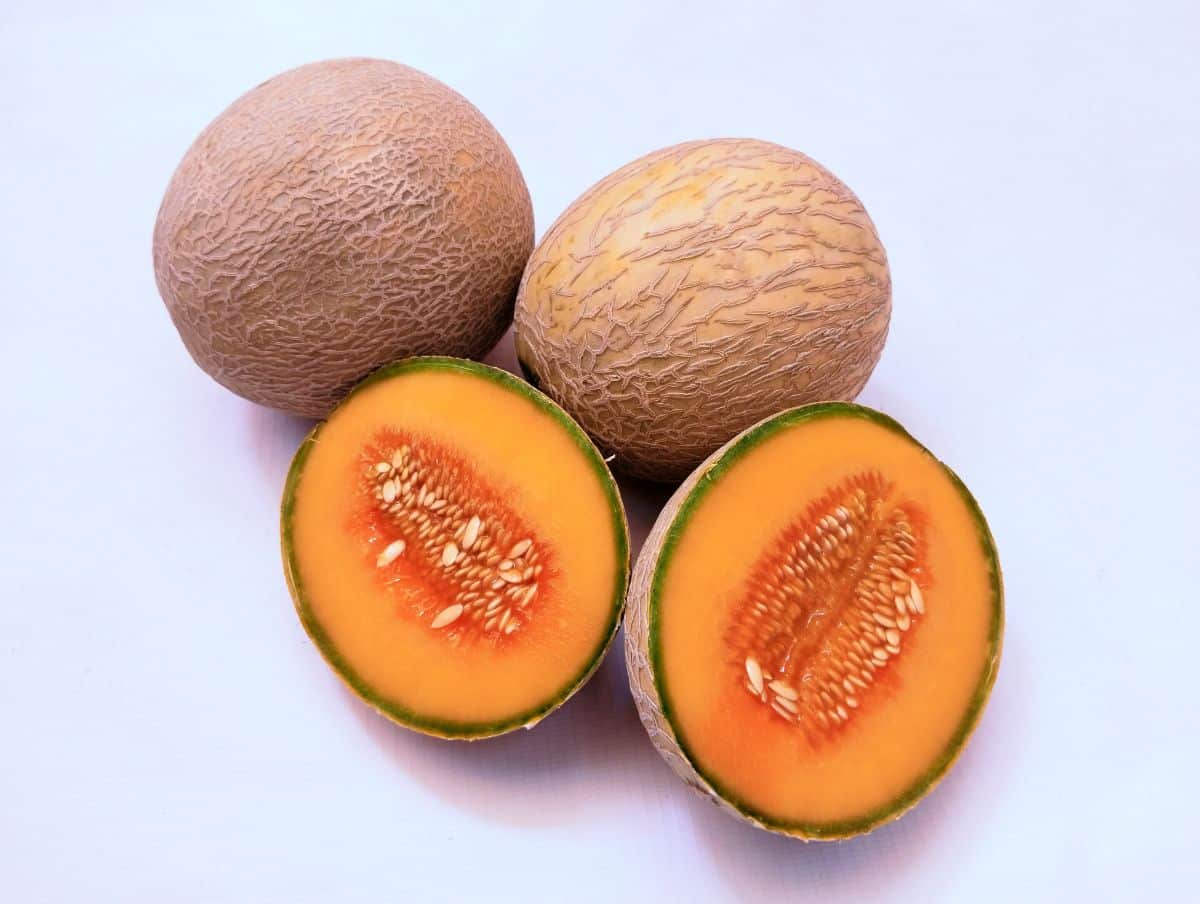 | | |
| --- | --- |
| Plant name: | Ambrosia |
| Light needs: | Full sun |
| Water needs: | High |
| Growing zone: | Zones 4 to 11 |
Like Charentais, Ambrosia melons also look a lot like cantaloupes, and they have similarly netted rinds. Inside, the flesh of this fruit is a pale orange color, and it's juicy and oh-so-succulent! Ripe ambrosia has a distinct melon flavor that is said to be reminiscent of honeydews, cantaloupes, and watermelons combined with a subtle, floral note.
Ambrosia melons will benefit from trellising, which can help protect the fruit from pests and rot. Like other melons, these plants will also grow best with regular and consistent watering, and they should receive at least 1" of water per week. Be sure to locate melon vines in full sun, which will support vine growth and intensify melon flavors and sweetness.
10. Persian (Cucumis melo)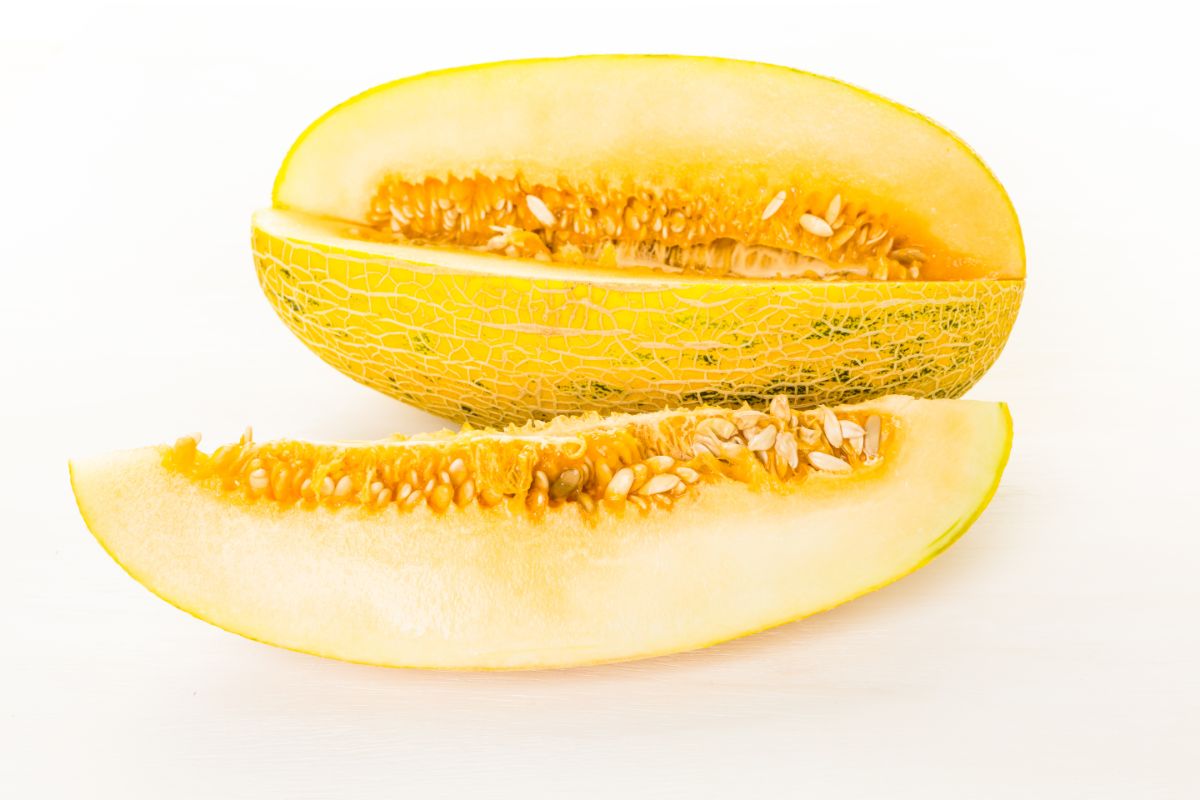 | | |
| --- | --- |
| Plant name: | Persian |
| Light needs: | Full sun |
| Water needs: | High to moderate |
| Growing zone: | Zones 4 to 11 |
Also known as Odessa melons, Persian melons have netted rinds and elongated fruit that is a bright orange color inside. Rinds often feature yellow banding that can make them even more stunning to behold in a sunny melon patch! Persian melons taste a lot like cantaloupes, but the fruit is larger and more mildly flavored.
Melons, including Persian melons, are sometimes targeted by squash vine borers. These pesky insects are more problematic on zucchini and pumpkin plants, but if they find your melon vines, they can quickly kill your plants. To avoid issues with vine borers, consider keeping your plants covered with floating row covers and hand-pollinate flowers or only withdraw the cover during a few hours of the day to limit pest access.
11. Galia (Cucumis melo)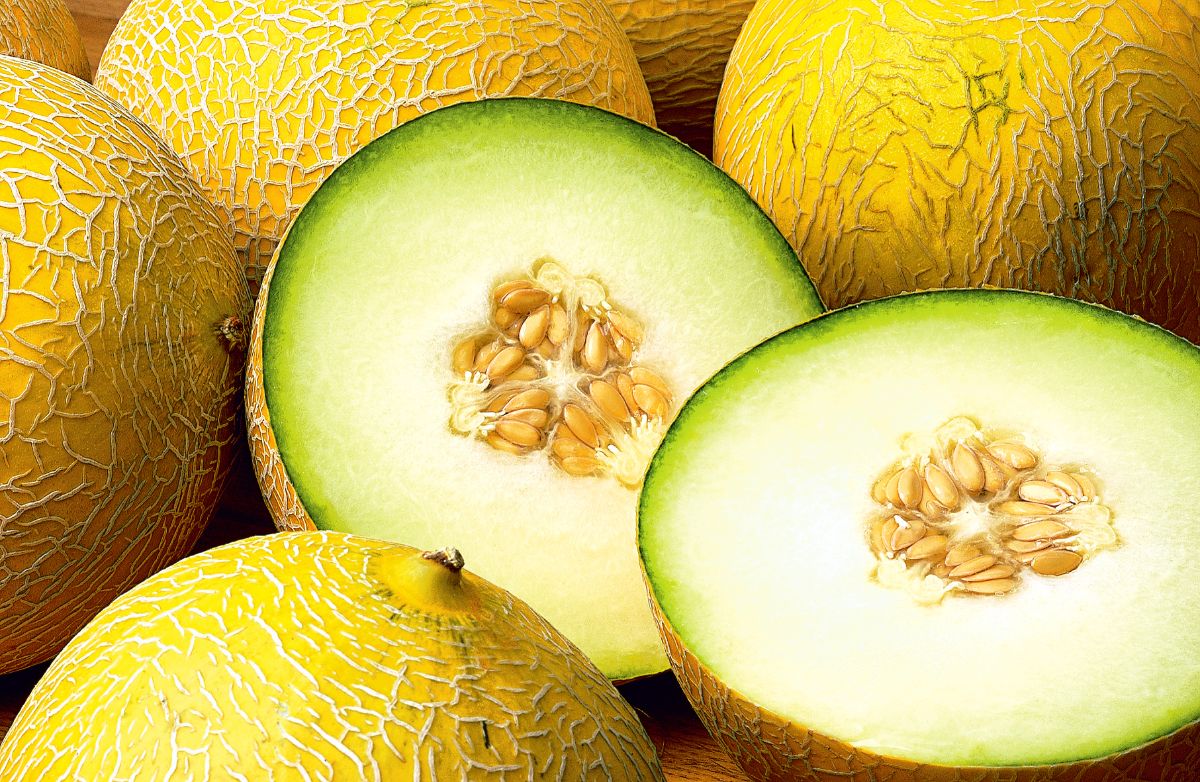 | | |
| --- | --- |
| Plant name: | Galia |
| Light needs: | Full sun |
| Water needs: | High |
| Growing zone: | Zones 4 to 11 |
Galia melons were developed in Israel, and they were first released in 1973. Created by crossing 'Ha-ogen' and 'Krimka' melons together, these plants produce round fruit with densely netted rinds and a strong, sweet aroma. Galia melons are harvested based on color, not size, and you know Galia melons are ripe when the rind turns from green to yellow.
Harvesting can be tricky with melons, because gardeners often want to pluck the melons from their gardens as soon as they get to be a usable size. However, for most melon varieties, it's best to wait to pick melons until their vines begin to shrivel and turn brown. When you can easily pull melons from the vine, you know they're fully ripe!
12. Snap (Cucumis melo 'Momordica')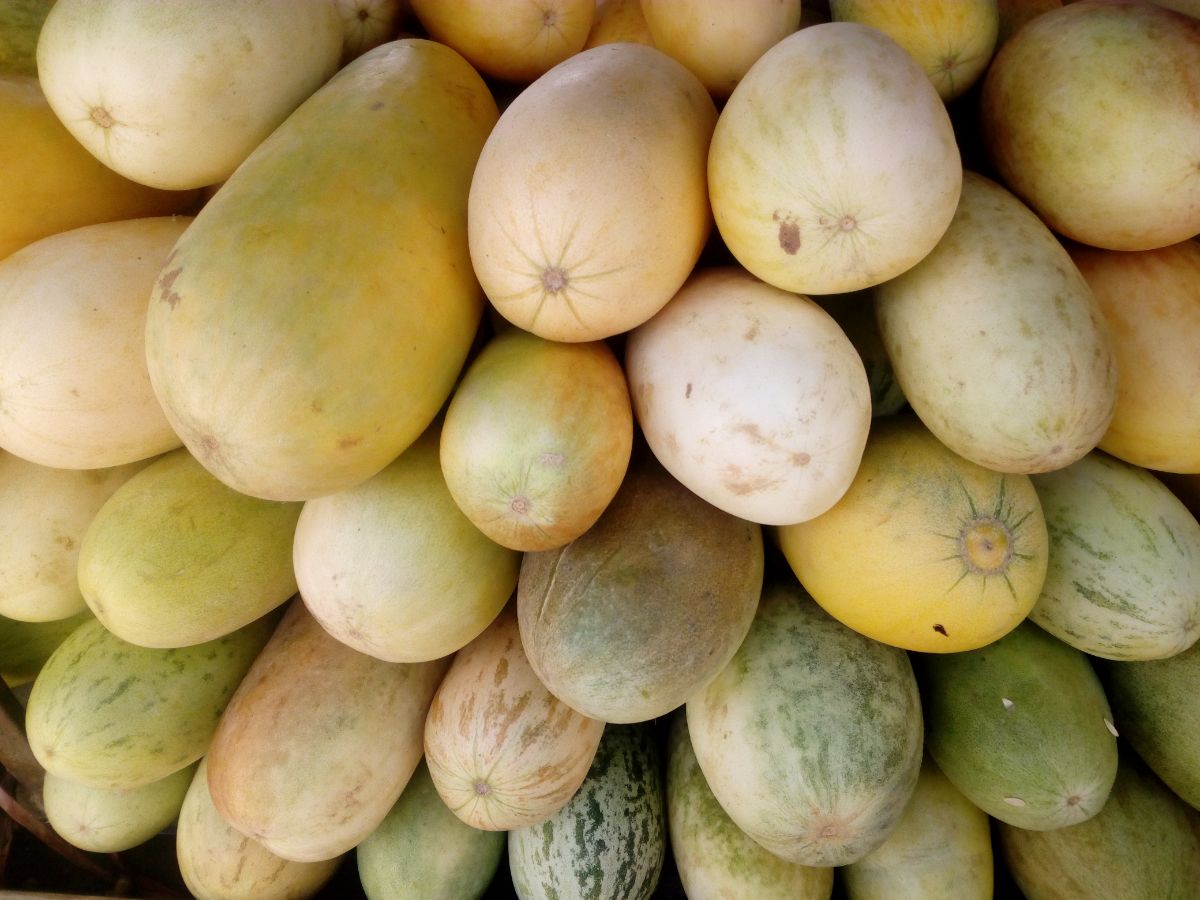 | | |
| --- | --- |
| Plant name: | Snap |
| Light needs: | Full sun |
| Water needs: | High |
| Growing zone: | Zones 9 to 11 |
Snap melons are named for the fact that they often split open when fully ripe. These plants are native to India, and they can handle hot temperatures with ease, so they're a perfect pick for anyone who gardens in a hot climate. Snap melons have a smooth rind that is often mottled in green and yellow, and the fruit is oblong in shape.
Snap melons aren't as sweet as many other melon types, which is why they are commonly served with other sweeter melons. The mildly flavored fruit can also be cooked into savory dishes where it will absorb the flavors of other ingredients. Snap melon vines are also self-fertile, so you only need to grow one plant to get lots of melons.
13. Matisse (Cucumis melo var. inodorus)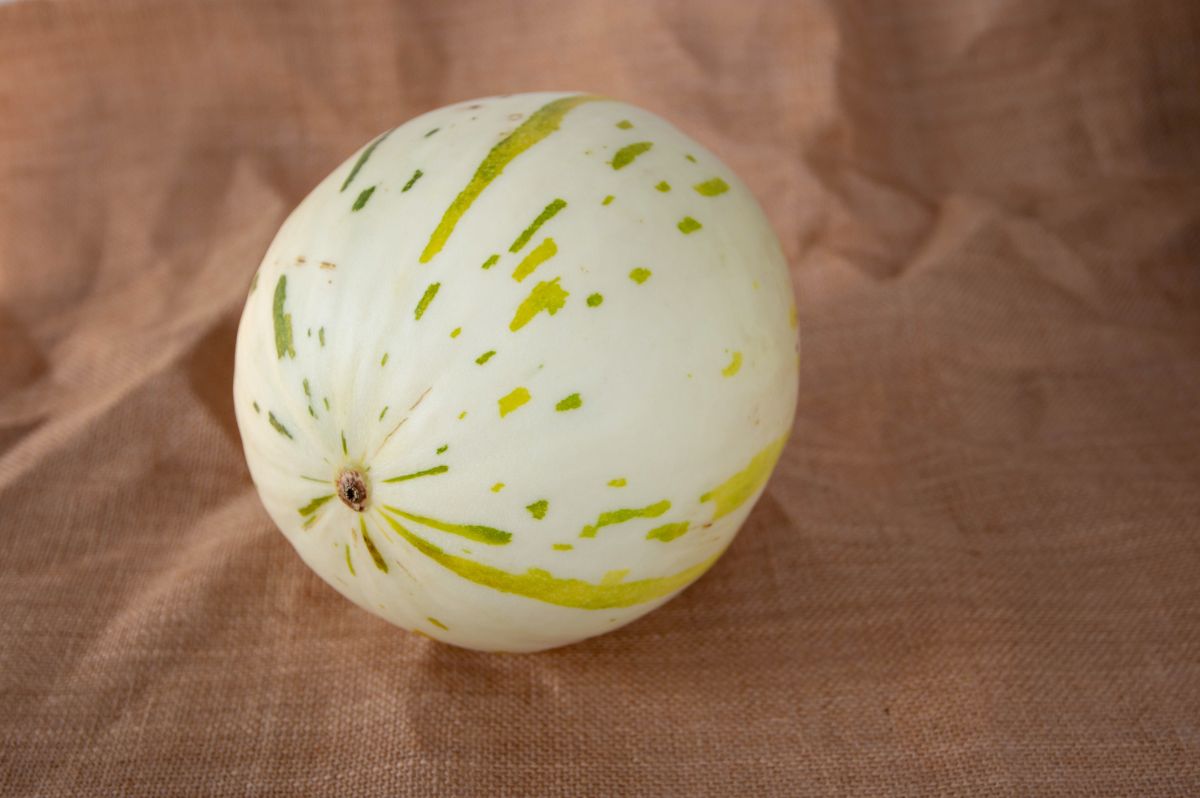 | | |
| --- | --- |
| Plant name: | Matisse |
| Light needs: | Full sun |
| Water needs: | High |
| Growing zone: | Zones 4 to 11 |
Also known as Ivory Gaya melons, Matisse melons are an unusual, boutique-type melon that can be hard to find, but they pack a punch in the garden. These gorgeous plants produce melons with smooth, pale rinds that are flecked with green. Inside, the flesh is white, dense, and mildly flavored with notes of honey, pear, and cucumber.
Because they aren't as commonly grown, it can be difficult to find Matisse melon seeds, but you can usually order them online. As with other melons, soaking seeds in water for about 2 hours prior to planting can boost germination rates. Additionally, Matisse and other melons are not cold hardy, so they should only be planted outdoors after all danger of frost has passed.
14. Gac (Momordica cochinchinensis)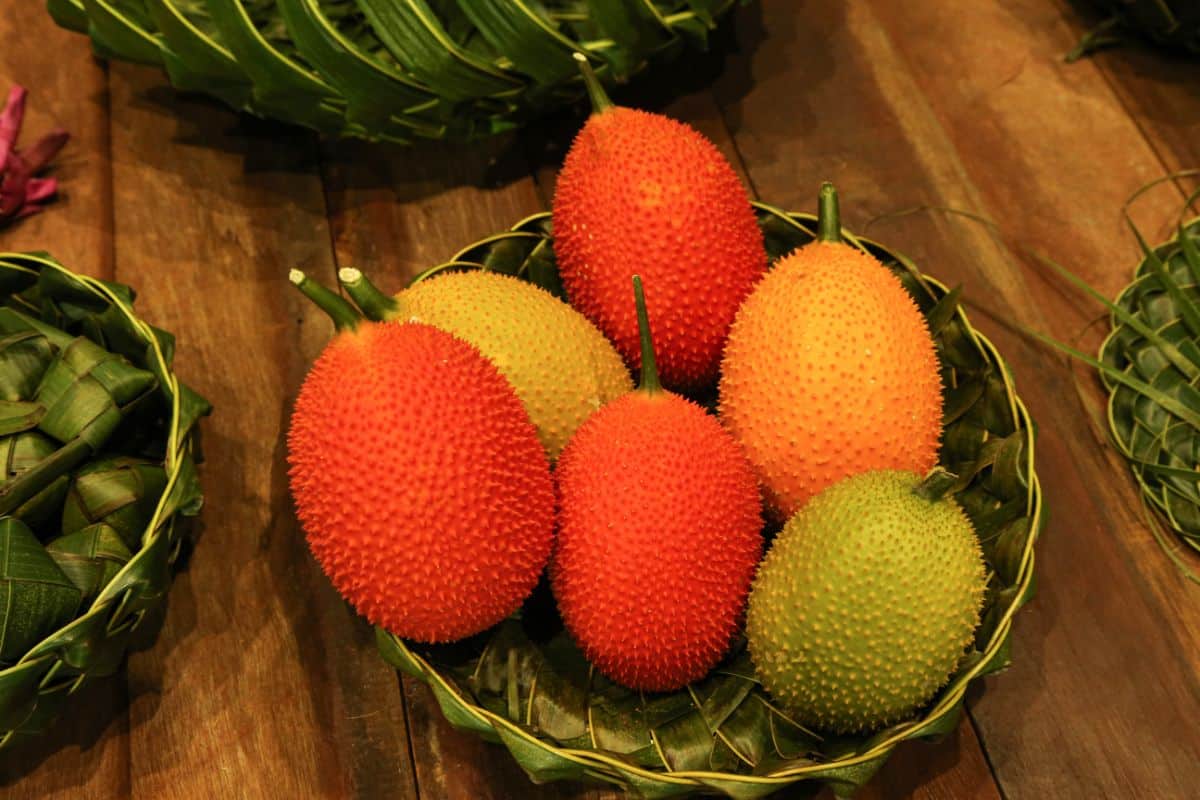 | | |
| --- | --- |
| Plant name: | Gac |
| Light needs: | Full sun |
| Water needs: | High |
| Growing zone: | Zones 9 to 11 |
If you love growing less common plants, Gac melon may be just the melon variety you're looking for! Native to Vietnam, Gac melons look like something from outer space with bright red, spiky rinds and orange flesh. Inside the flesh, Gac melons have fleshy, red sacs that contain the plant's large red seeds.
Sometimes nicknamed the "fruit from heaven," Gac melons taste a lot like avocados, and they can be cooked into rice dishes or curries, boiled or sauteed. These melons are super high in the antioxidant lycopene, and they contain more of it than tomatoes! Gac melons are perennial vines, and they need hot weather to grow, so they should only be kept in zones 9 and up.
15. Christmas (Cucumis melo var. Inodorous 'Sancho')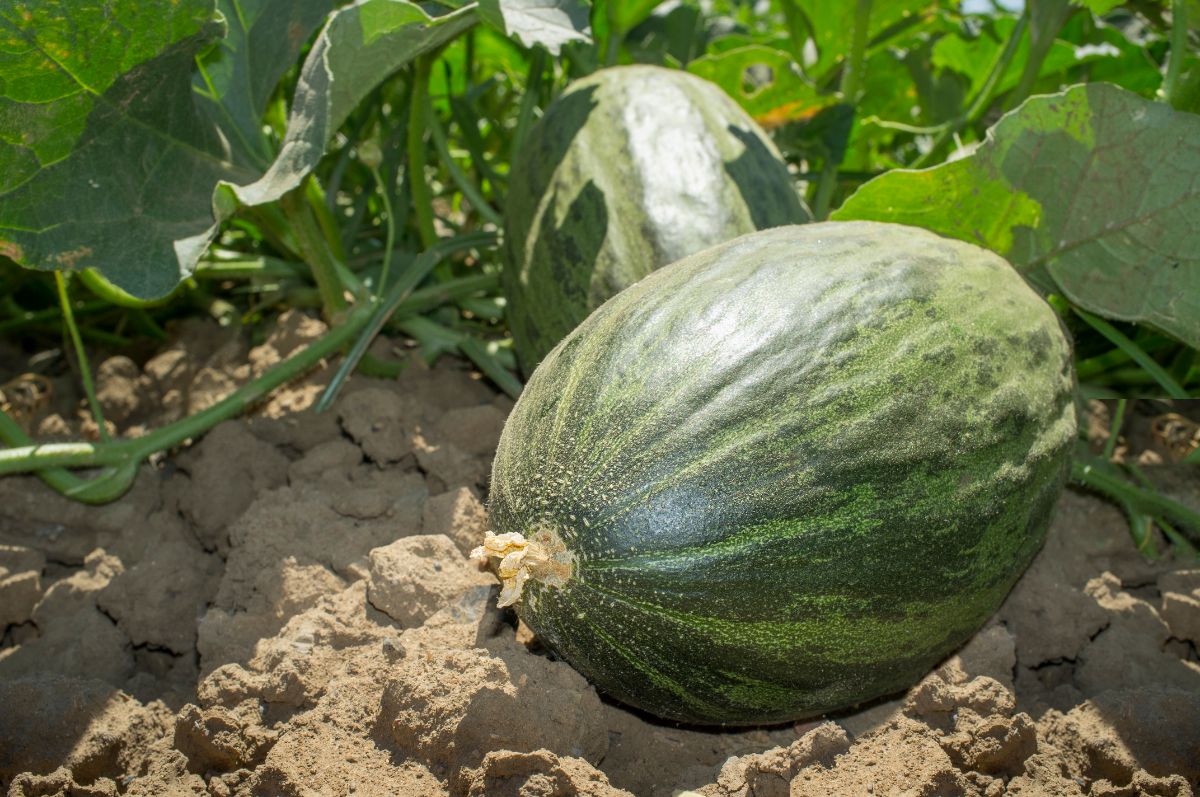 | | |
| --- | --- |
| Plant name: | Christmas |
| Light needs: | Full sun |
| Water needs: | High |
| Growing zone: | Zones 4 to 11 |
Also known as the Santa Claus melon, Christmas melons are named for their long storage life, as they can often last on pantry shelves well into winter. These plants originally come from Spain, where they are nicknamed "piel de sapo," which means "toad skin." This name refers to the melon's dark green and textured skin that is covered with fine netting.
Inside Christmas melons, you'll find a pale yellow flesh that is creamy and sweet. Perfect for fresh snacking and desserts, Christmas melons are a rewarding plant to grow and a definite must-try if you're tired of growing standard melon types. While the flesh tastes similar to honeydew, it also has a deeper and more earthy note that makes the flavor quite complex.
16. Crenshaw (Cucumis melo var. inodorous)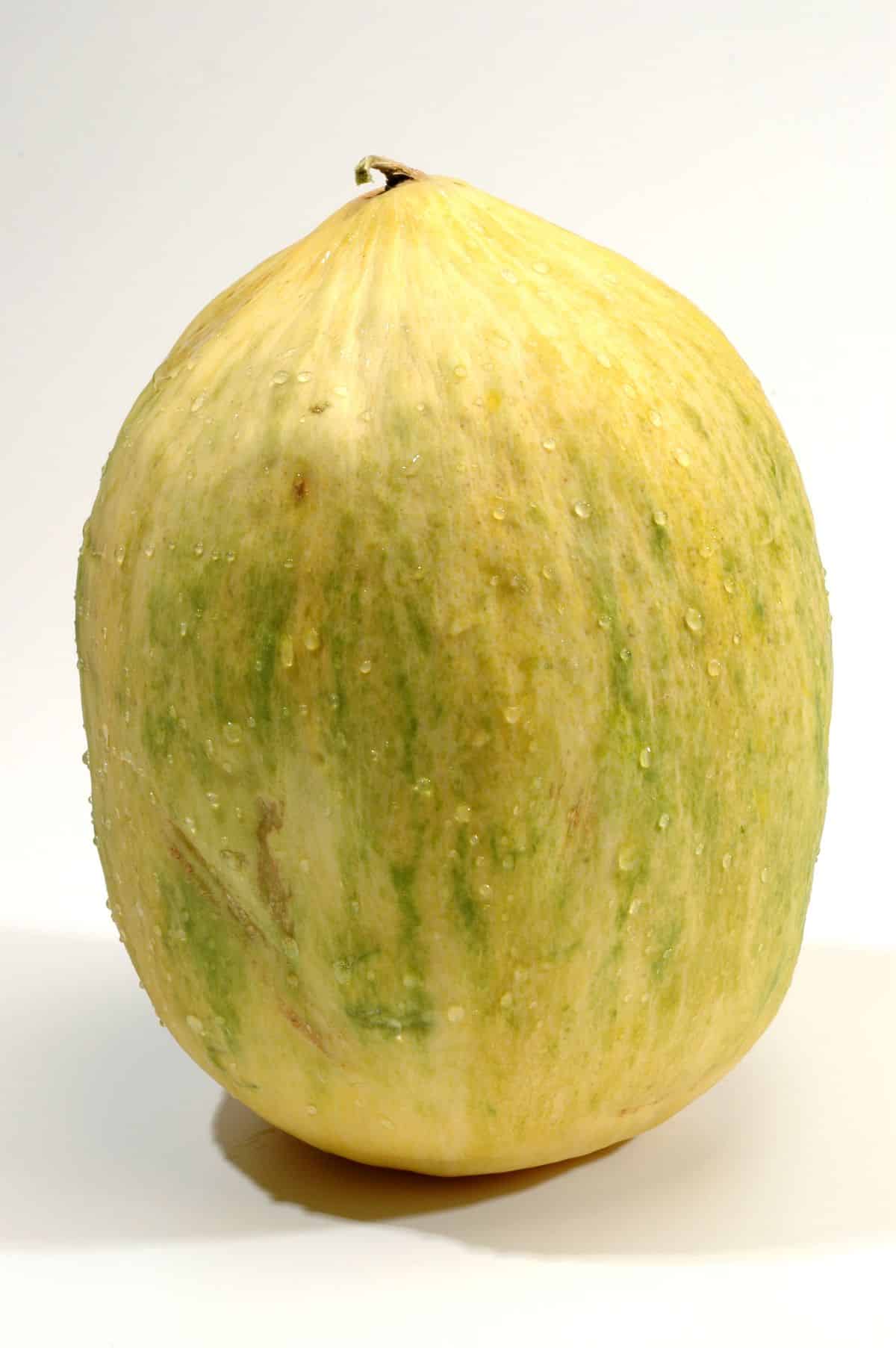 | | |
| --- | --- |
| Plant name: | Crenshaw |
| Light needs: | Full sun |
| Water needs: | High |
| Growing zone: | Zones 3 to 9 |
Crenshaw melons are another unusual melon variety that has a bright yellow rind when ripe. The fruit is heavy for its size and often weighs 8 to 10 pounds, and has a slightly tapering form with a flat bottom and a pointed top that resembles an acorn's shape. Crenshaw melons have a sweet, dense, and juicy flesh that has hints of floral and spice, in addition to that classic melon taste.
While their origin is a bit dubious, Crenshaw melons likely come from Turkey, and they were formed by crossing Casaba and Persian melons together. The resulting Crenshaw melon is sweet enough for fresh snacking, but it also works well in savory meals. Try pairing Crenshaw melons with poultry or seafood, or serve them with some chopped mint, parsley, or basil.
17. Casaba (Cucumis melo var.inodorous)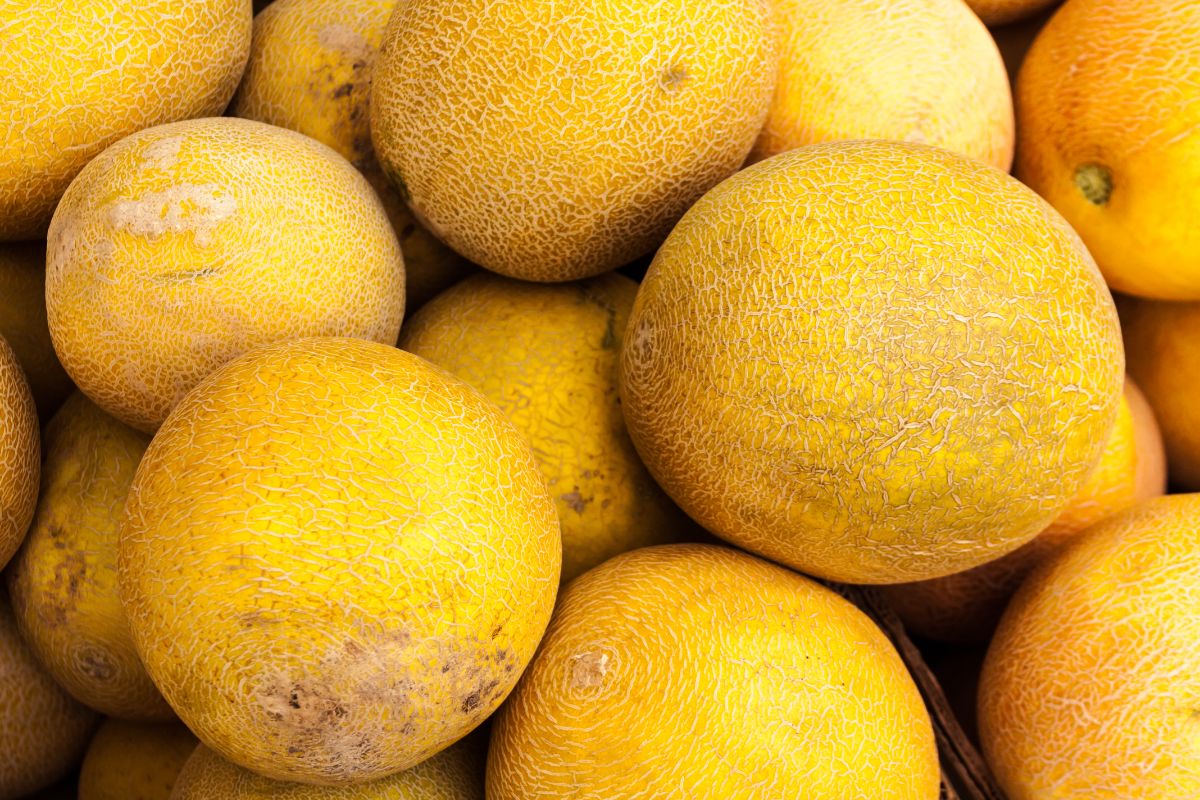 | | |
| --- | --- |
| Plant name: | Casaba |
| Light needs: | Full sun |
| Water needs: | High |
| Growing zone: | Zones 3 to 9 |
Like Crenshaw melons, Casaba melons have an adorable tapering, acorn-like shape, and bright yellow rinds. The color of these melons makes them easy to find in densely planted gardens, which is good news as Casaba melons are on the smaller size and only grow to about 3 to 8 pounds. Inside, Casaba melons have dense and succulent flesh that is white to pale green in color.
Casaba melons are very sweet, and the highly nuanced flavor has notes of spice, pear, and cucumber. Melons can be harvested from late summer to early winter, depending on when frost arrives in your region. Fruit may still have a slight, pale green cast to it when it's fully ripe, but ripe fruit will have a mild aroma, and the rinds will give slightly when pressed.
18. Winter (Benincasa hispida)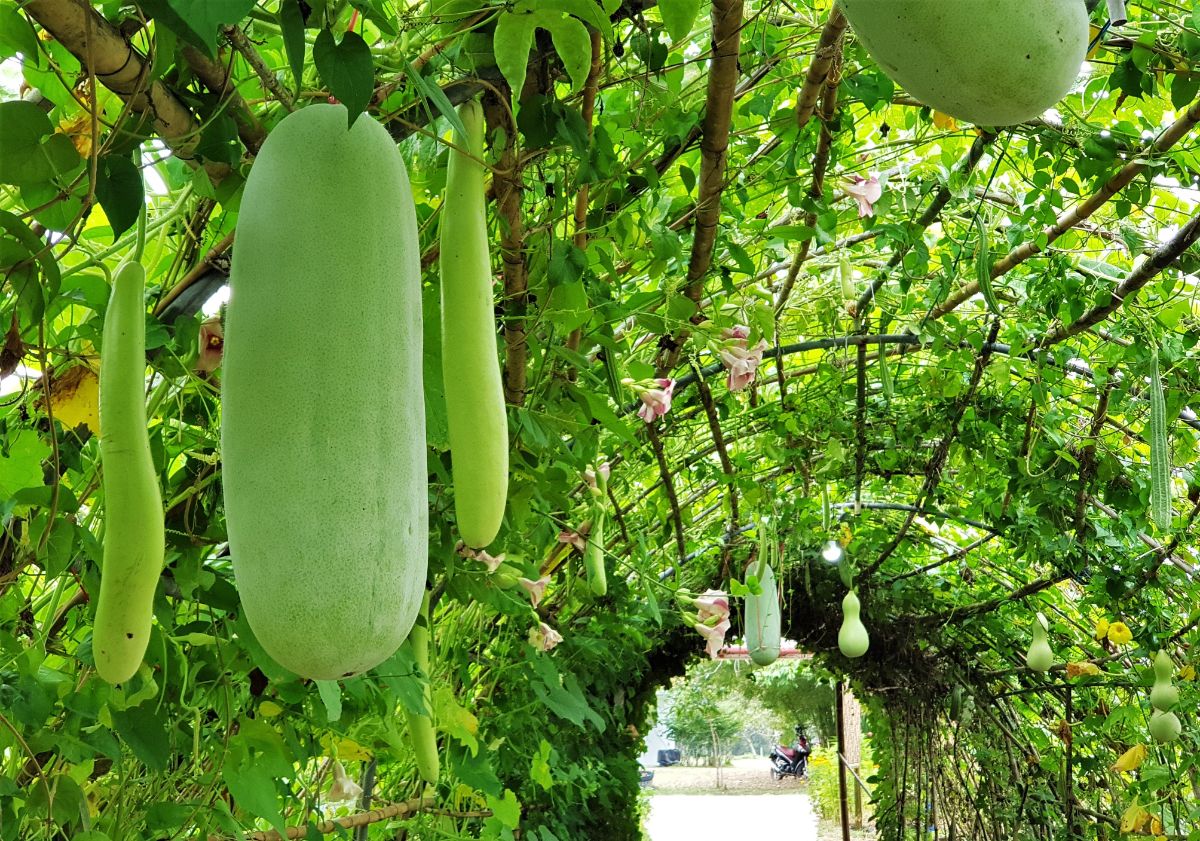 | | |
| --- | --- |
| Plant name: | Winter |
| Light needs: | Full sun |
| Water needs: | High |
| Growing zone: | Zones 5 and up |
Also known as an ash gourd or wax gourd, winter melons are named for the fact that they store very well and can last on pantry shelves for months. Staple ingredients in Asian fare, winter melons have a mild flavor, which makes them perfect for savory dishes, including soups and curries. While these melons are not intended to be eaten raw, they are delicious when cooked and often absorb the flavors of the ingredients they're cooked with.
Winter melons are oblong in shape, and they can grow quite large. Mature melons can measure 1' or longer, and they often weigh over 40 pounds! These melons also have a fine, waxy coating over their rinds, which helps lock in moisture and ensures melons stay fresh for a long time.
Frequently asked questions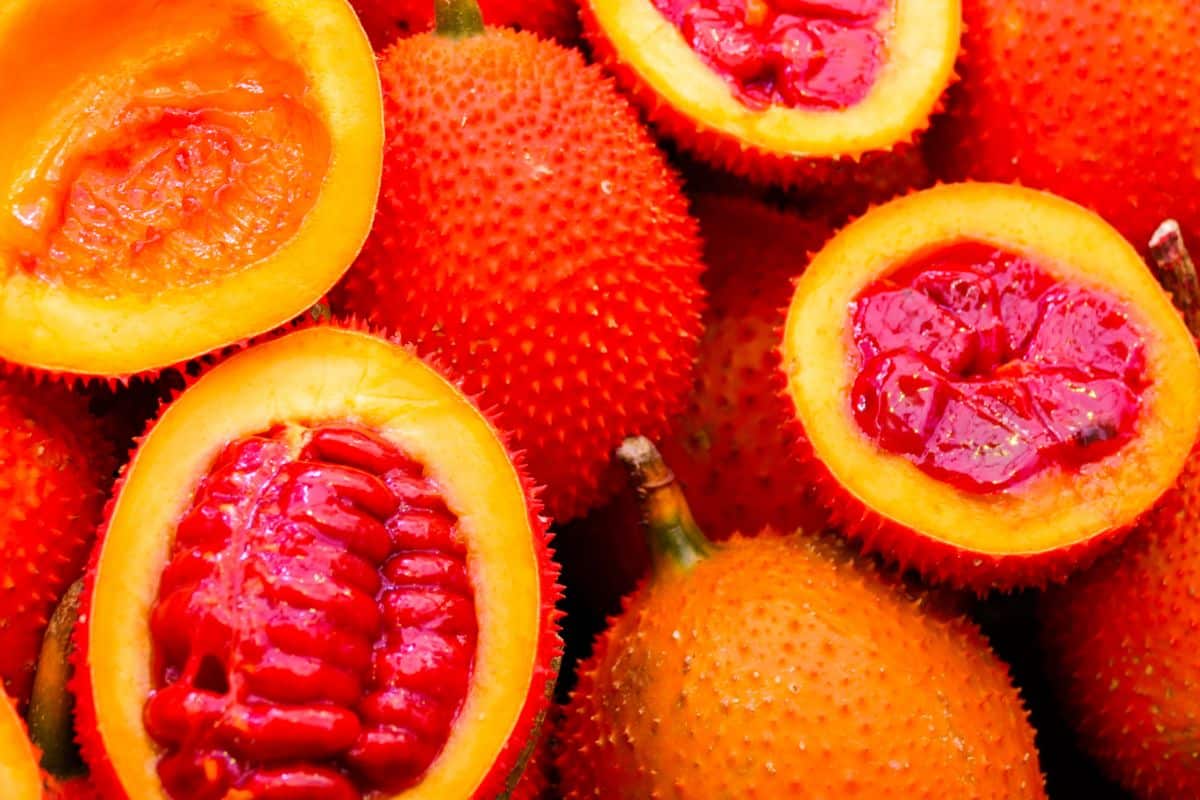 What is the best fertilizer for melons?
Melons will grow well with a balanced, all-purpose fertilizer. Alternatively, you may want to select a low-nitrogen fertilizer that is high in phosphorous and potassium, which will help support fruit and flower development. As heavy feeders, melons will also appreciate compost, and it can be a good idea to amend your soil with compost or other organic matter at the beginning of the growing season.
How do you increase melon yield?
Ensuring that your melons receive enough light and water is an essential step toward growing a large melon harvest. Fertilizing your plants throughout the growing season will also boost harvest yields. Additionally, you will get larger melons if you only leave one melon on the vine and remove any other melons that may start to form.
What size container do you need to grow watermelon?
While melons are large plants, they can also be kept in smaller container gardens with a bit of extra care. If you want to grow melons in containers, choose a well-draining pot that is at least 5-gallons in size. While 5-gallons is an appropriate size for a single melon plant, if you can find a larger pot, that's even better!
What kind of trellis for melons?
Growing melons on trellises can allow you to fit more plants into a limited space, and it will also protect your fruit from pests and moisture. If you want to trellis melons, make sure you choose a sturdy trellis that can hold a lot of weight, such as cattle panels. A-frame trellises are another good option that can usually hold a melon vine or two.
Summary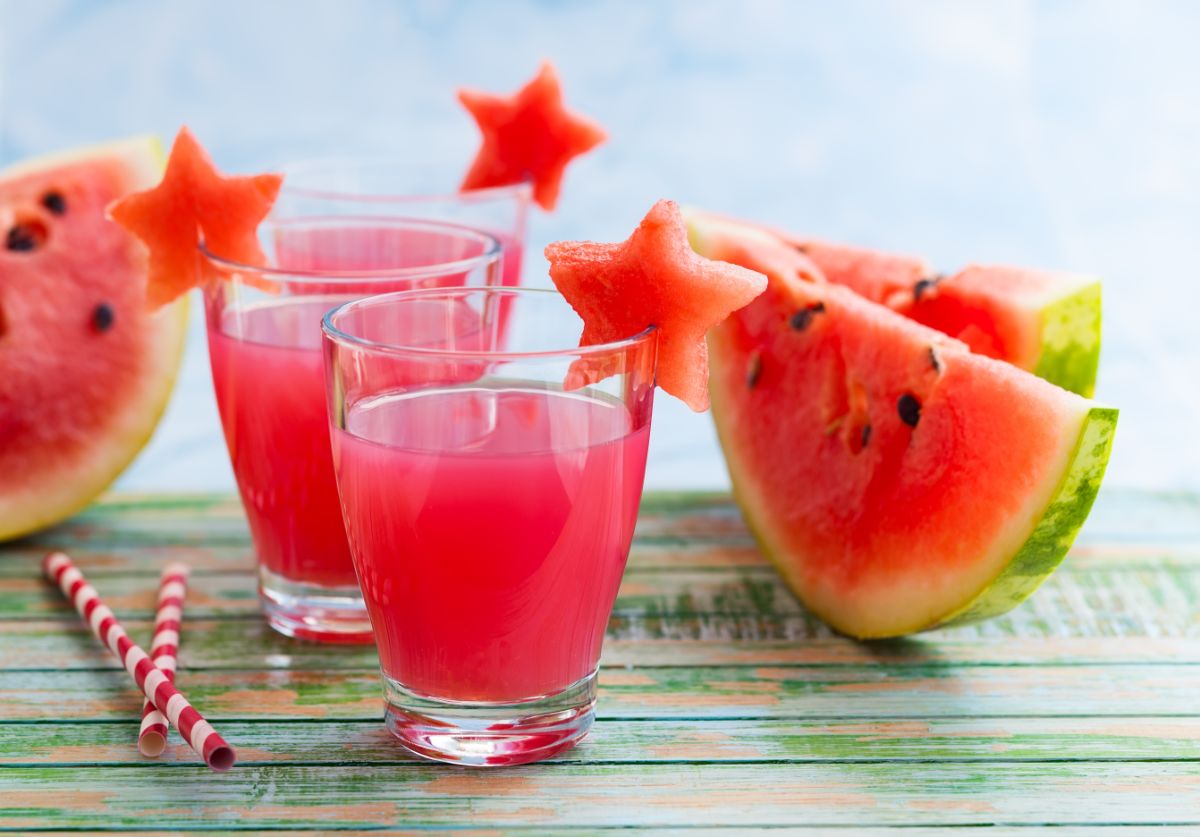 Melons can be some of the most rewarding plants to grow. Just slip a tiny seed into the soil, and in a few months, you can gather massive fruit that can weigh 10 pounds or more. Talk about a return on your garden investment!
No matter which melon varieties you choose to grow this year, most melons will grow best in full sun and very rich soil. One easy way to grow even bigger melons is to fertilize your plant properly and amend your soil at the beginning of the season with compost. If you'd like to learn more about making your own compost for melon growing, check out our simple guide on backyard composting and grow large and tasty melons for fresh eating and more!