For tomatoes and tomato sauces (including tested and approved tomato-based recipes), water bath canning has always been the go-to method. It's cheaper, easier, and more user-friendly. And it's the method the USDA and other advisory bodies for canning and home preservation base their testing and recipes on for tomatoes.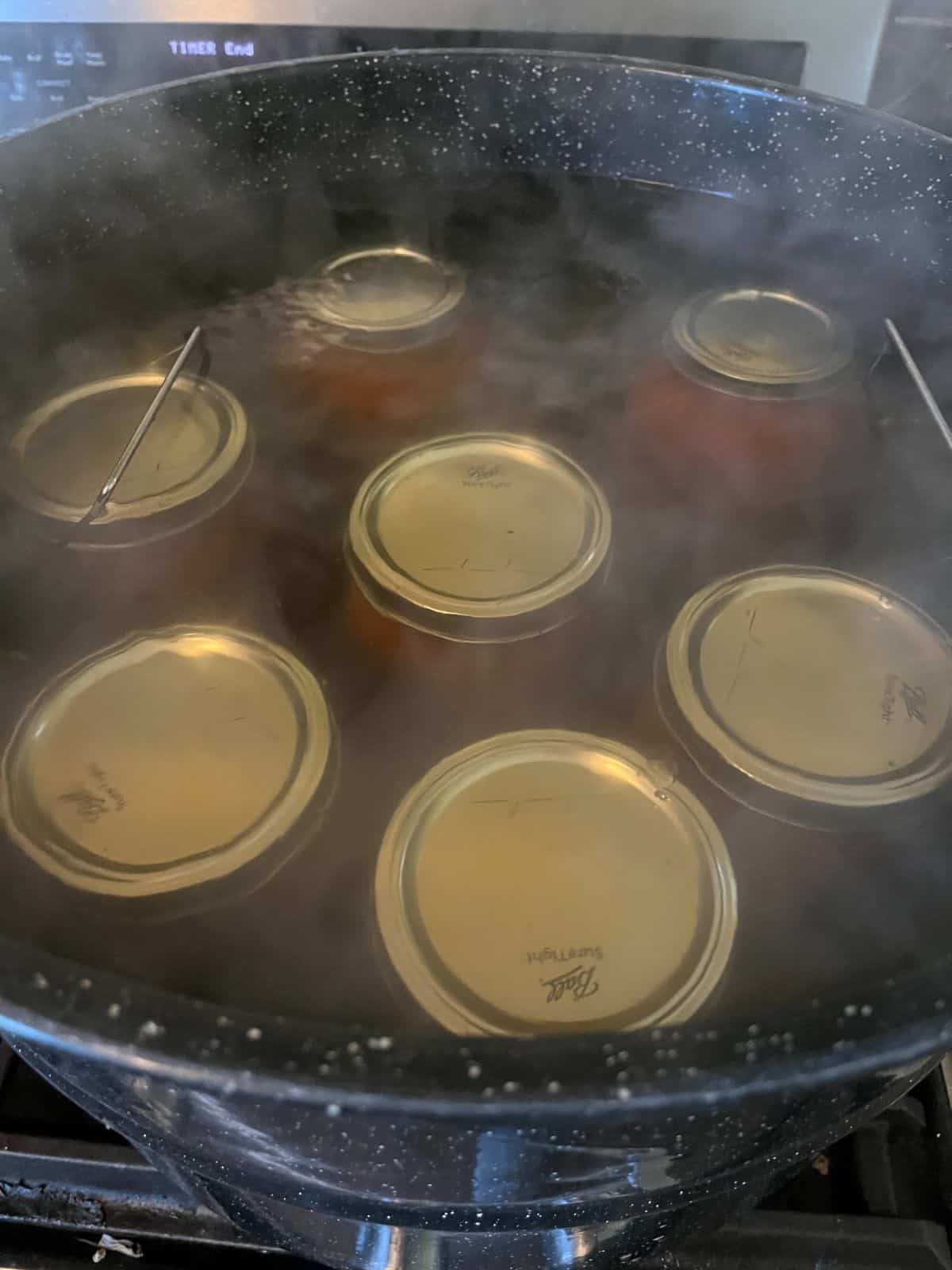 In recent years some confusion has arisen concerning the acid content of tomatoes and whether they are still safe to be canned via boiling water bath canning. USDA and other leading experts say yes. In fact, they've decided that water bath canning is still the best recommendation for canning tomatoes. You just need to make the right adjustment.
Jump to:
It's All About Tomato pH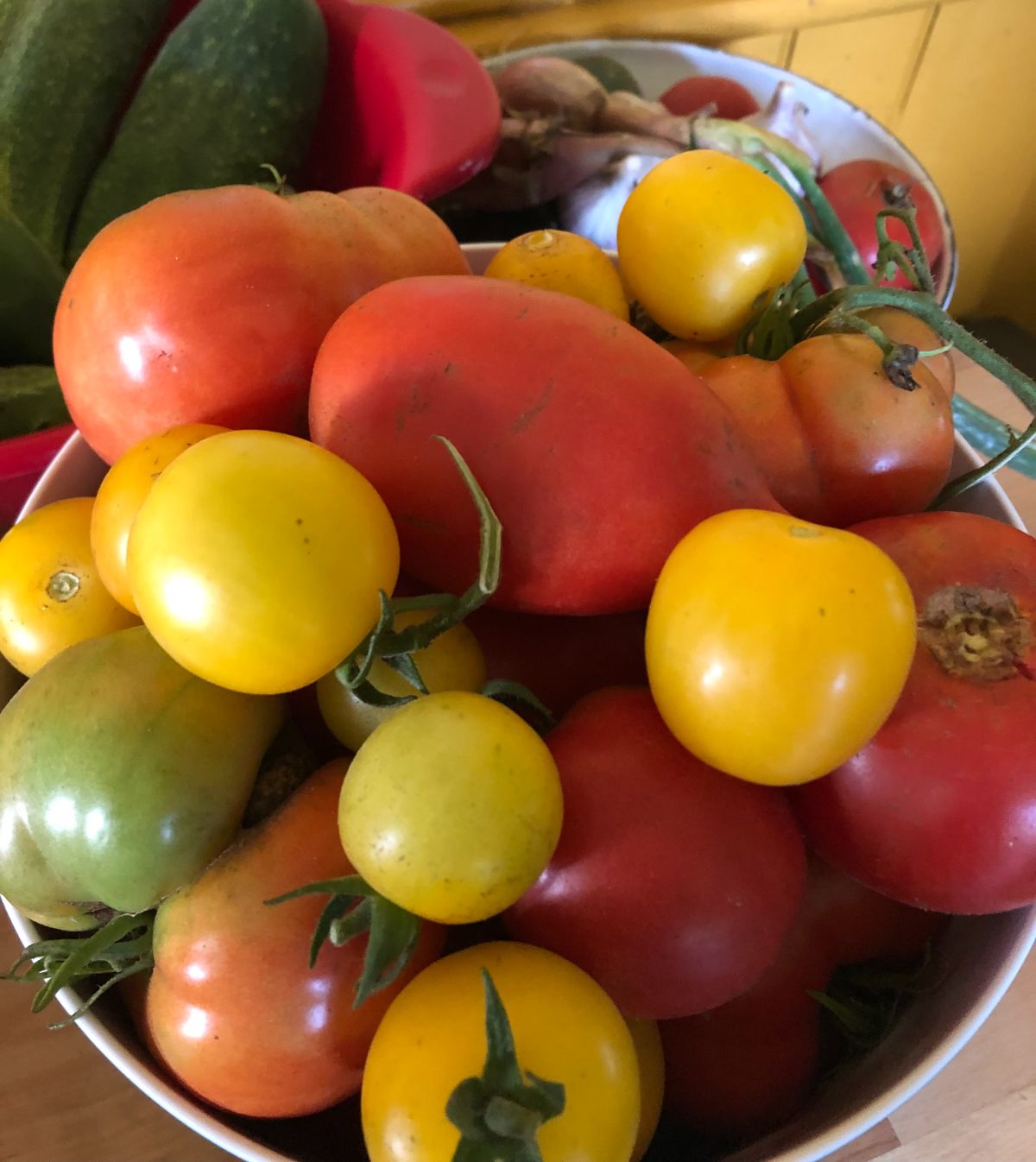 The "controversy", as it were, is just an issue of acid level and pH. The adjustments are based on the fact that some hybrid tomatoes have a pH higher than 4.6, higher than what tomatoes have been historically (or were thought to have been).
A pH of 4.6 is the top limit for acidity for water bath canning. Botulism is a big risk in canning. Botulism can't grow in an environment lower than 4.6 acidity, but when the pH creeps up over that, there is a potential for botulism to grow. The potential increases the higher the pH (or, the lower the acidity).
Some tomatoes today may have a pH as high as 4.8 (though recent studies say some hybrid tomatoes might be as high as 4.9 pH when fully ripe). The pH level also changes throughout the lifecycle of the tomatoes. Ph levels are lowest (acid content highest) when fruits are unripe. The pH increases as the tomatoes turn ripe and red (or whatever color ripe is for the tomato's variety). Just ripe tomatoes have a higher acid content than very ripe tomatoes, which will have the highest for that variety.
That makes tomatoes with slightly higher pH (slightly lower acidity) borderline for water bath canning. Because it's difficult to know which tomatoes have higher pH levels, and because that level is changeable (even, potentially, from one season to the next), it is recommended to always add a small amount of an acid ingredient to tomato products. This makes them reliably safe for all types of canning, including and especially water bath canning.
A Super Simple Solution: Just Add Acid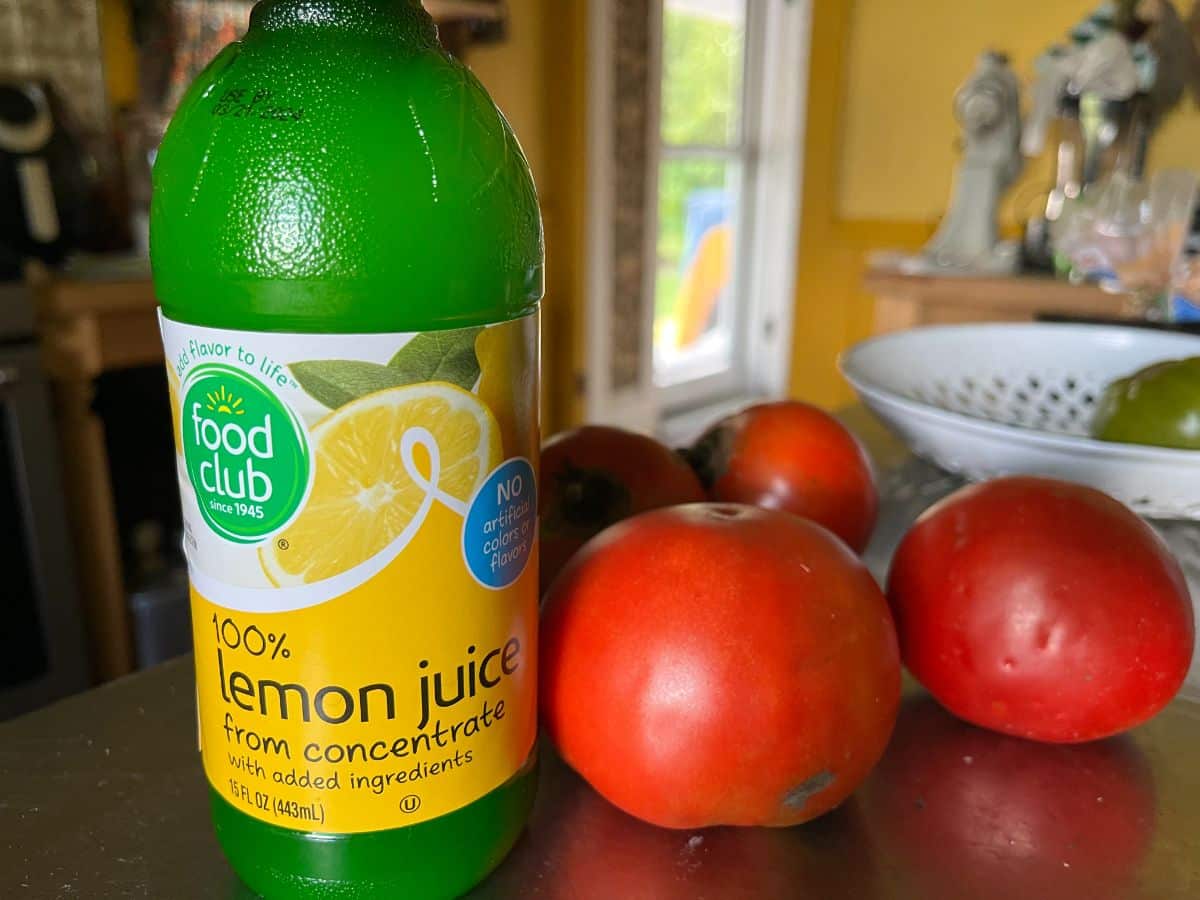 The simple solution, what the experts say you should always do, is this:
Always add acid to tomatoes, tomato sauce, and tested tomato-based products when you can them.
The pH of tomatoes is borderline anyway, meaning that they are just barely outside the range of safe for water bath canning—and many tomatoes are within that range anyway. It's just hard to know definitively at home.
The solution that experts would like us to follow is to add a small amount of a naturally acidic ingredient when we can tomatoes. By adding a tablespoon or two of an acidic juice, even the lowest acid (highest pH) tomatoes will be safe for water bath canning, no questions asked.
This advice should be followed for all tomatoes, but this is especially important if you do not know the acidity of the tomatoes/product or if you do not know what type of tomatoes you are using. Heirloom varieties of tomatoes may be lower acid tomatoes and will usually have a pH of 4.6 or below, but hybrid tomatoes and more recently developed varieties might be higher, up to 4.8 or 4.9.
Environmental factors, weather, and ripening also come into play and can change the pH of tomatoes. So—simple just to add the acid as a safety measure.
A note about yellow varieties and other "low acid" varieties of tomatoes:
According to the PennState Extension service, the advice given here for acidifying tomato products works for these varieties, too. They note that "Although low-acid tomatoes don't taste as sour, their acidity is masked by the natural sweetness of the variety"; therefore, the measurements and acids listed here are useful for all types of tomatoes, even if they are labeled as "low acid".
Some of the varieties that were identified as having the lowest acid in a study conducted by the University of Illinois were Ace, Big Early Hybrid, Big Girl, Brandywine, Large Polish Paste, and Rio Grande. This is far from a complete list, though, and there were several other varieties of tomatoes that tested with high pH levels up to around 4.9.
Acid Ingredients to Add to Tomatoes and Tomato Canning Recipes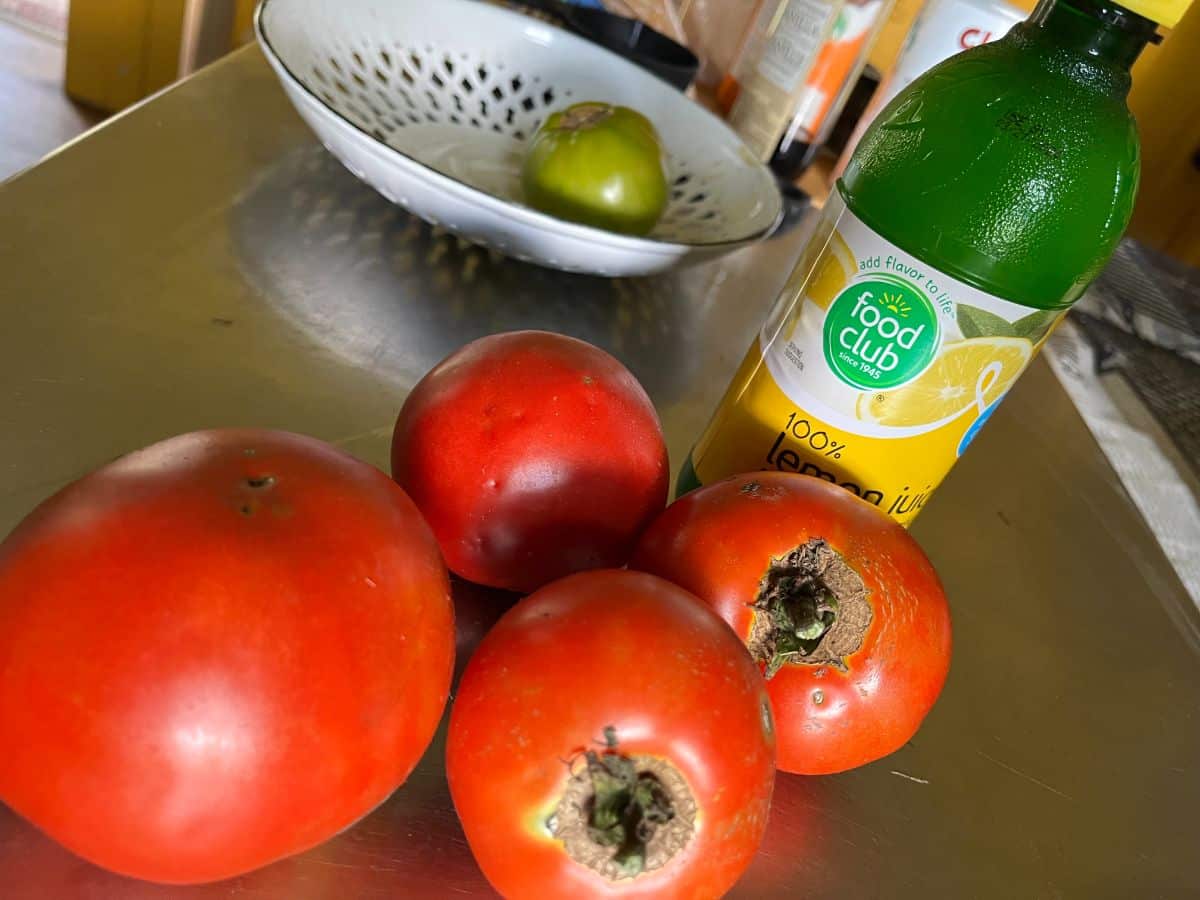 There are four acids that can be added to tomato products to make their acidity level safe for home canning. These are all common grocery and pantry items. They are:
Lemon juice
Lime juice
Citric Acid
Vinegar
When using lemon juice, you should always use bottled lemon juice because it has been tested and has a known, consistent, measured level of acidity. It is already "right" for use in canning. You should not use fresh-squeezed lemon juice because the acidity can vary, and there's no good way for a home canner to know what the percent or level of acidity in the juice is.
The same goes for lime juice. As an acid in canning recipes, lime juice is interchangeable, but it is more commonly used in recipes with a more Mexican flair, like salsa. There's no reason you cannot use lime juice in tomato sauce and when canning whole, halved, diced, or other tomato preparations, but the flavor might not be as desirable. It is, however, really just a matter of taste.
Citric acid is a granulated product that is sold almost anywhere canning supplies are sold. It is easy to buy online, too. Cheesemakers also use it, so you can shop for citric acid from home cheesemaking supply companies, too. (But it's usually just easiest to buy it with your canning supplies.)
Vinegar can be used as the acid in tomato canning products as long as it is a 5% acidity (also sometimes listed as 50 grain). However, you do not always see it listed as an acid that can be used to acidify tomatoes only because its flavor is not considered as good as the others. It's not a matter of safety, just of flavor, so you should feel free to add vinegar to stabilize the acid level in tomatoes and tomato canned goods—as long as you're happy with the taste.
How Much Acid to Use When Canning Tomatoes and Tomato Products
These are the approved, tested measurements for adding acid to tomatoes for safe canning:
Lemon Juice: 2 tablespoons bottled lemon juice to each quart jar; 1 tablespoon per pint jar
Lime Juice: 2 tablespoons bottled lime juice to each quart jar; 1 tablespoon per pint jar
Citric Acid: ½ teaspoon citric acid to each quart jar; ¼ teaspoon per pint jar
Vinegar: 4 tablespoons to each quart jar; 2 tablespoons per pint jar
When to Add the Acid to Canned Tomato Products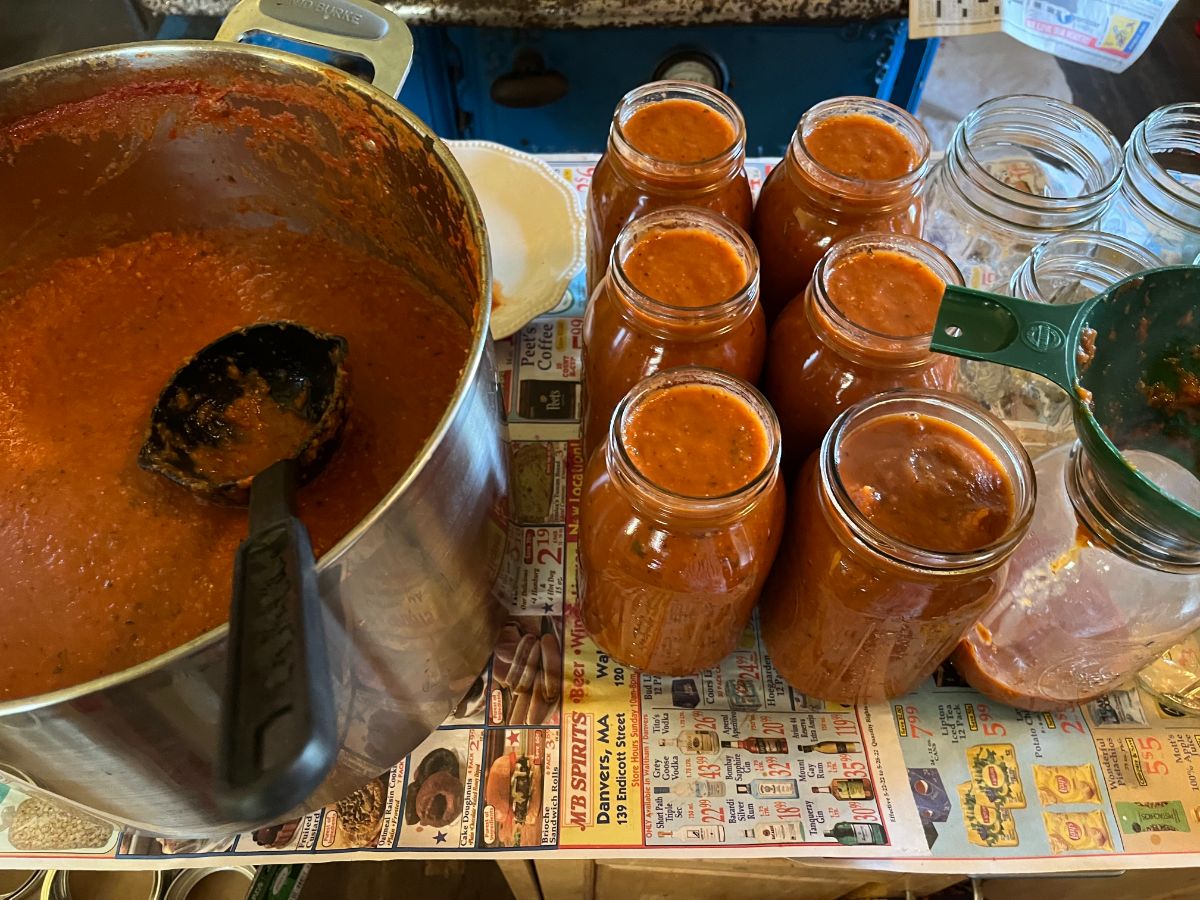 Add the acid to the bottom of each jar before you pour in tomato sauce, or pack the jar with tomatoes, juice, etc.
Measure the required amount per jar, then fill the jar according to recipe instructions and process as recommended.
If the recipe already instructs you to add one of these acids to the jar, you do not need to add it twice. Once is enough as long as you use the required amount as listed above.
Sweetening the Deal: Add Sugar to Balance Acid Tang and Flavor
Sugar can be added to your tomatoes or sauce if you find the addition of the acid gives it too much bite or tang or it tastes too sour for your liking.
You have some flexibility with the amount of sugar you can add.
You can add up to one teaspoon of sugar per pint of sauce or product or up to two teaspoons of sugar per quart. You may add less to taste if you prefer since this is a flavoring and not an acidifier for preserving.
Add Acid for Pressure Canning Tomatoes, too, Experts Say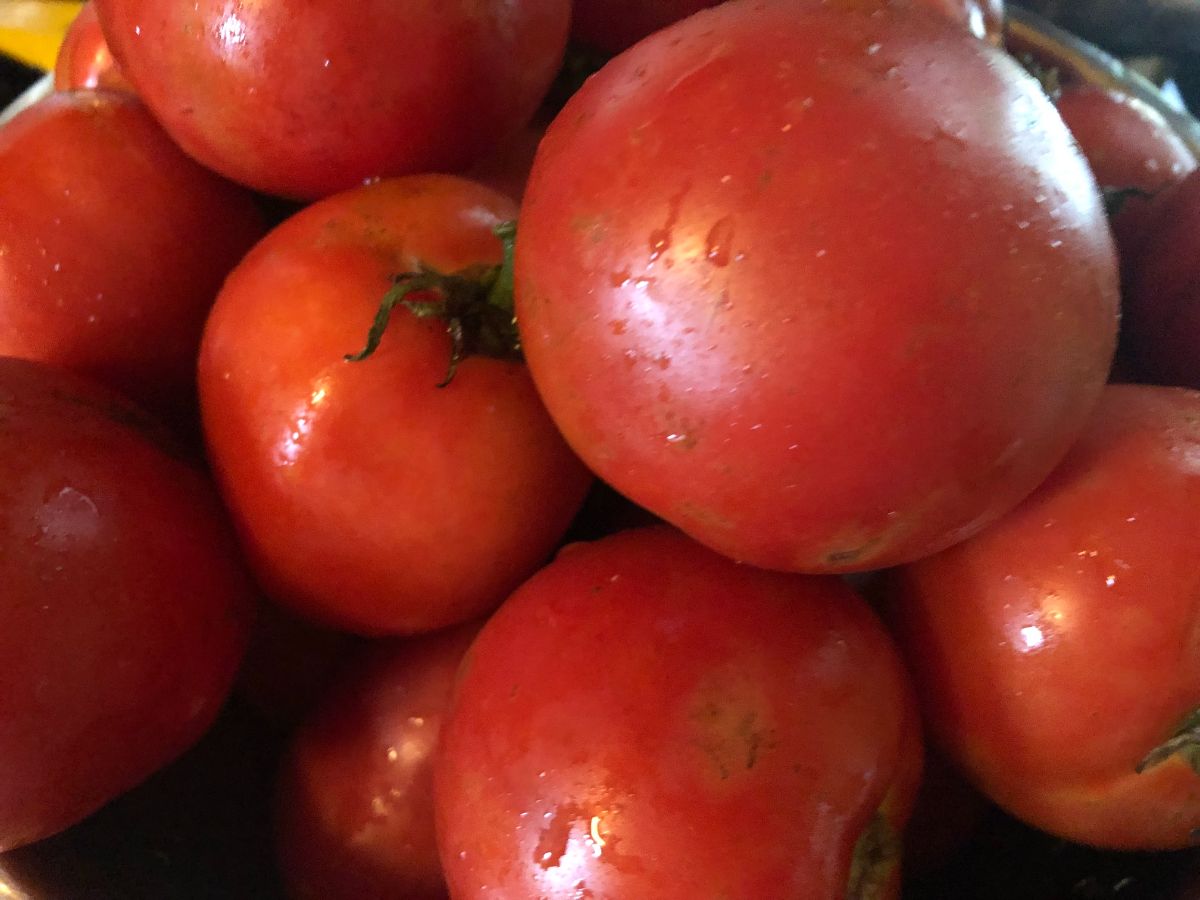 Tomatoes are a fruit and have always traditionally been canned via a water bath method, but it is possible to pressure can tomatoes if that is the method you prefer. However, you should know that the National Center for Home Food Preservation in the US (the body considered *the* expert resource and final word on matters of home food preservation and canning) notes that even pressure canning instructions for tomatoes are based on an acidity of 4.6 or lower.
This means that regardless, even if you are pressure canning your tomatoes, you should follow the same recommendations for adding acid to your canned tomato products.
The Center states that the USDA thought it best to adjust canning recipes to fit the acidity requirements for common canning methods rather than try to come up with two different, potentially confusing, and conflicting methods for canning tomatoes. And so, it is much easier to simply add to a recipe to meet canners' needs and let them do what they have always done, using their preferred method of canning tomatoes. The solution was simple: add the acid.
Pressure canning tomato recipes have not been tested to overcome the pH issue, they report and have not been adjusted according to higher pH levels. The pressure canning instructions that are out there are safe to use, but only if you add acid, as listed above.
The bottom line: According to expert advisors, all canned tomato products should have acid added to the jar before packing, whether you will process in a water bath canner, pressure canner, or even a steam canner. This will remain the advice unless and until new testing and recipes are developed, which there is not much indication there will be any time soon.
One thing the USDA and the Preservation Center point out is that if you are adding foods that are not approved for water bath canning, you must use the pressure canning method to make the end product safe.
Some examples would be adding other, low-acid vegetables to your sauce or a tomato mix, like if you added zucchini or summer squash or other low-acid vegetables to your sauce. If you add these types of ingredients, you need to follow a tested recipe for safety's sake, and you need to follow the instructions for ingredients, acid, pressure level, and processing time.
Canning Tomatoes is Easier Than It Might Sound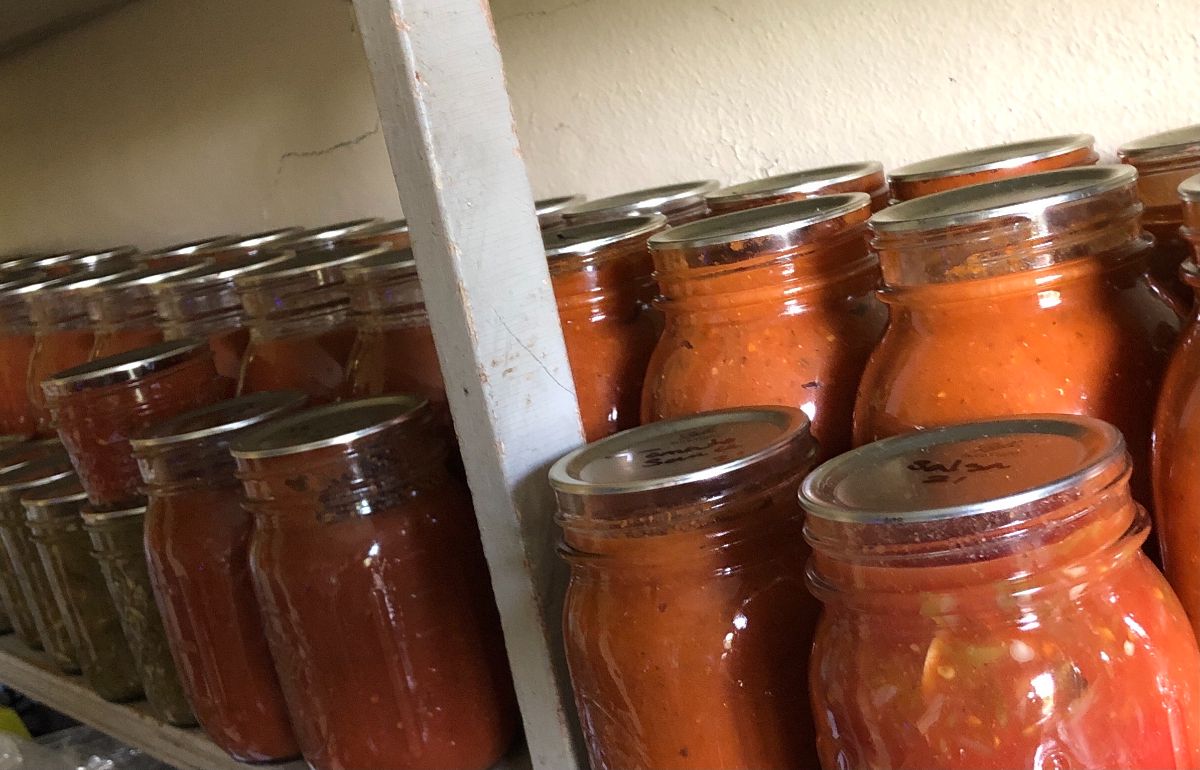 While this may sound a bit confusing, in truth, it is not. In fact, this simple piece of added advice is an easy fix to the "problem" of inconsistent and unpredictable acid levels of today's tomatoes. It's an added layer of protection that should increase your confidence in canning tomatoes and tomato products.
Tomatoes still remain one of the easiest and most beginner-friendly (not to mention tastiest and high yielding!) vegetables you can preserve and can. Heed the advice, make this one simple adjustment, and can with confidence.