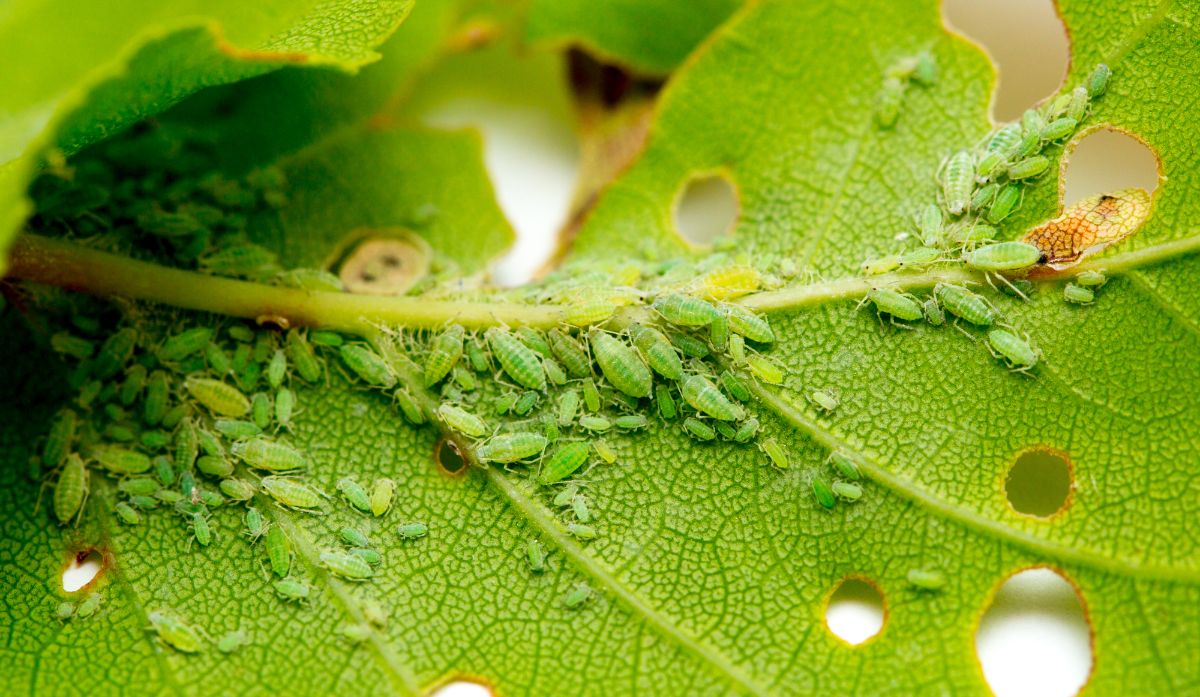 Whether you're growing vegetables or ornamental flowers, like roses, there is one garden pest that you're likely to encounter no matter what plants you keep in your garden. That pest is the humble aphid which, despite its minuscule size, can do quite a bit of damage in a backyard garden.
Today, there are over 1300 species of aphids, and different aphid varieties target different plants. While some may limit themselves to food crops, others will be more than happy to attack your ornamentals. Because of their ubiquitousness, it's a good idea for any gardener to learn how to naturally control these pesky insects.
Jump to:
What are aphids exactly?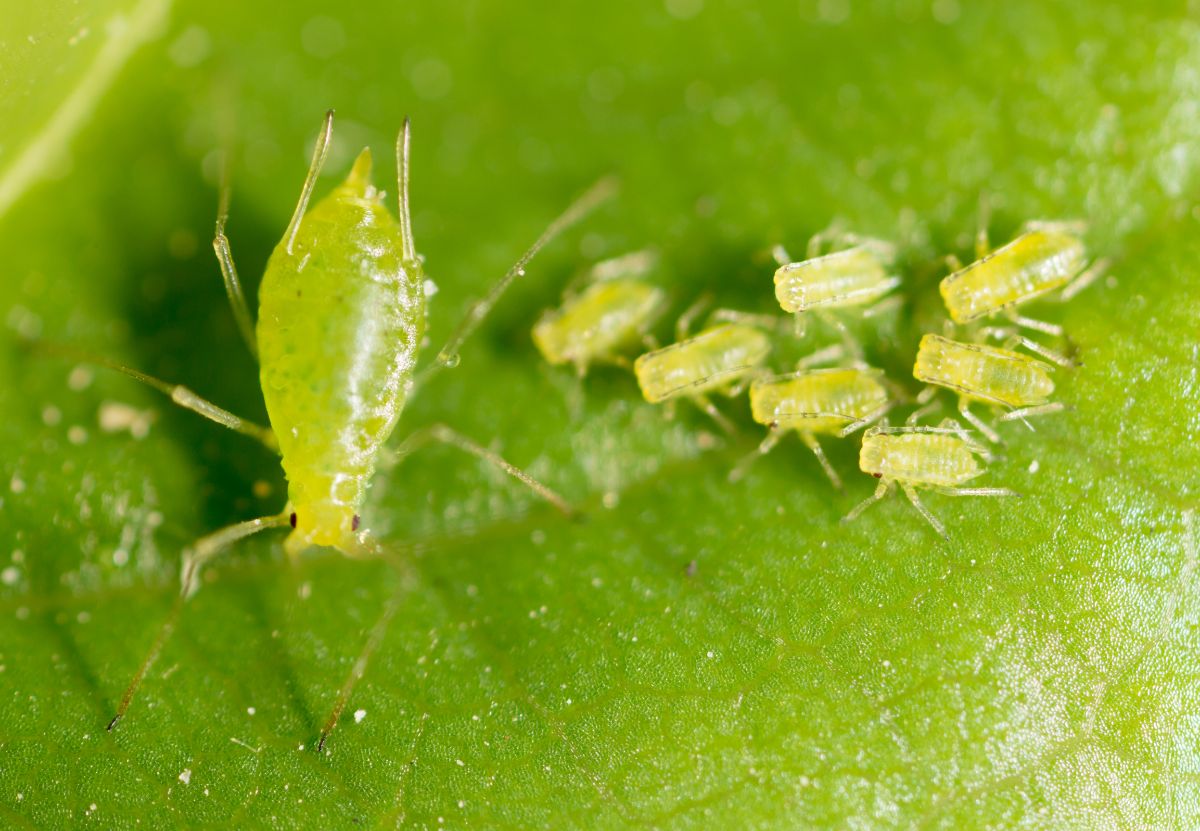 Aphids are tiny insects that pierce plant leaves and suck their juices with the help of their sharp mouthparts. Coming in a range of colors, including yellow, green, red, brown and black, aphids can be recognized by their pear-shaped bodies and long legs.
As there are many different aphid species, aphids can differ quite drastically in their appearance: some have wings, some are wingless, some have smooth bodies, while others have a wooly film on them. Many, but not all, aphid species have two protruding tube-like structures on their backs, known as cornicles, which they use to excrete "honeydew" (a sticky residue made of plant sugars) when feeding.
Relatively slow-moving insects, aphids are known to feed in groups and can often be spotted in clusters on leaves and plant stems.
Interestingly, most aphids reproduce asexually via a process known as parthenogenesis. Essentially, female aphids are able to clone themselves and can give birth to up to twelve baby aphids daily. Aphids are often not hatched from eggs, but rather are born live. After birth, aphids progress through a series of four nymph stages, reaching full sexual maturity in as little as seven to eight days.
While most aphids produce asexually during the warm months, many aphid species can also lay eggs in fall and winter, which overwinter and hatch into new aphids in spring.
Prolific reproducers, aphids can birth multiple generations of babies in a single growing season.
Signs of aphid damage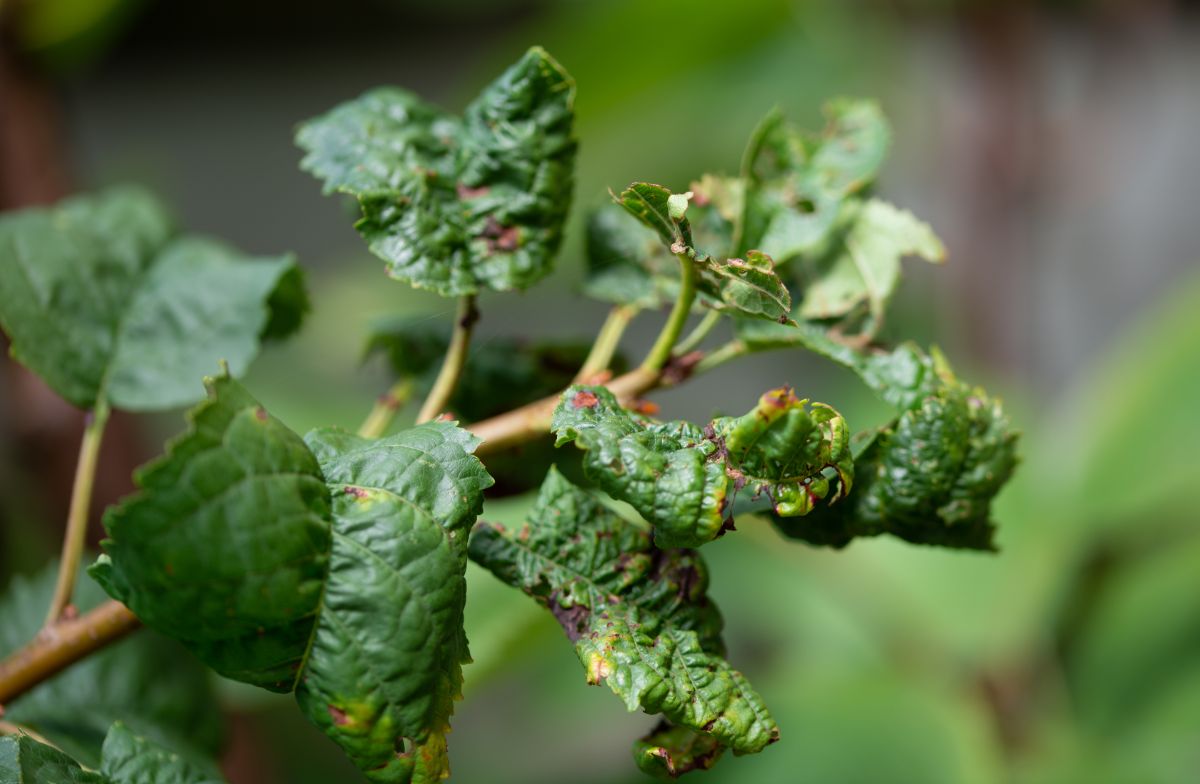 Of course, if you spot a bunch of aphids clustering on your prized rose bush or your nasturtium patch, you know you're dealing with an infestation. However, other signs that aphids have taken up residence in your garden are a bit less obvious. Signs of aphid damage include:
Yellowing, browning or wilting leaves. A single aphid or even a cluster of several aphids won't do a lot of damage to your plants; however, as an infestation grows, aphids get much more destructive. As aphids suck plant juices from leaves and stems, they can cause leaves to turn yellow and dry out. Large aphid populations can do this quite quickly, resulting in wilting plants and plant death.
Sticky patches of honeydew. As aphids feed, they excrete a sticky substance, known as "honeydew," made from the excess sugars in plant juices. Look for this sticky honeydew on plant leaves and stems. If you find it, you know you've got an aphid problem.
Sooty mold fungus or mildew issues. Sticky honeydew is more than just a nuisance. It can also provide a breeding ground for common plant pathogens, like mold and mildew. If your plants are dealing with a bout of sooty mold or downy mildew, it could have developed secondary to an aphid infestation.
Stunted or deformed leaf growth and low produce yields. When feeding, aphids often inject a toxin into plant leaves and stems, which can cause deformed growth and reduced yields. How particular plants respond to this toxin depends on the species, but some plants produce swollen leaves, while other leaves grow irregularly, warped or folded.
Viral or bacterial infections. Just as aphid honeydew can produce issues with mold and mildew, aphids also serve as vectors for numerous bacterial and viral plant diseases. So, if your plants are struggling with an infection, it may have been transmitted by aphids feeding.
Keep in mind that aphids do not chew on leaves but use their proboscises to suck plant juices. For this reason, if you see obvious chewing on your plants or ragged holes on leaves, whatever is damaging your plants is not an aphid.
How to control aphids organically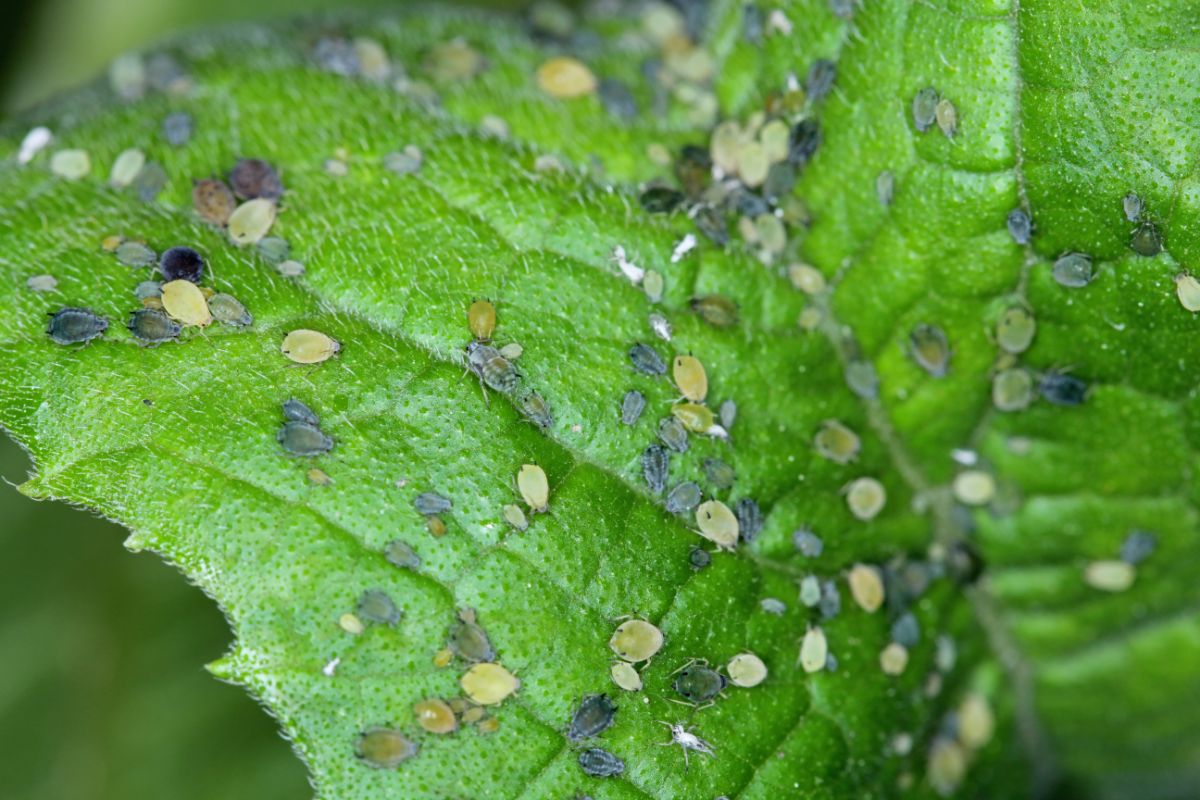 While it's rare to find a garden that hasn't seen an aphid infestation once or twice, aphid issues are luckily quite easily managed. Below are some of the best ways to get rid of aphids and ensure they never crop up in your garden, to begin with.
Hose
It may sound too simple to work, but a strong blast from a garden hose is often all you need to get rid of an aphid infestation.
You can just give a good rinse-off in your kitchen sink for houseplants or potted specimens. Hosing your plants removes both aphids and their honeydew, and, after knocking aphids off, they won't return.
While this method works well for small infestations, you'll likely need to use another method if you find a large aphid population.
Beneficial insects
Almost everyone knows ladybugs love eating aphids. So, if you encounter some tiny green pests in your garden, why not try releasing some ladybugs?
Ladybugs can be ordered online and happily take care of aphid infestations for you, but they aren't the only bugs that enjoy munching on aphids.
Lacewings, assassin bugs, and minute pirate bugs are all natural aphid predators, and all of them are available for online purchase as well.
Parasitic wasps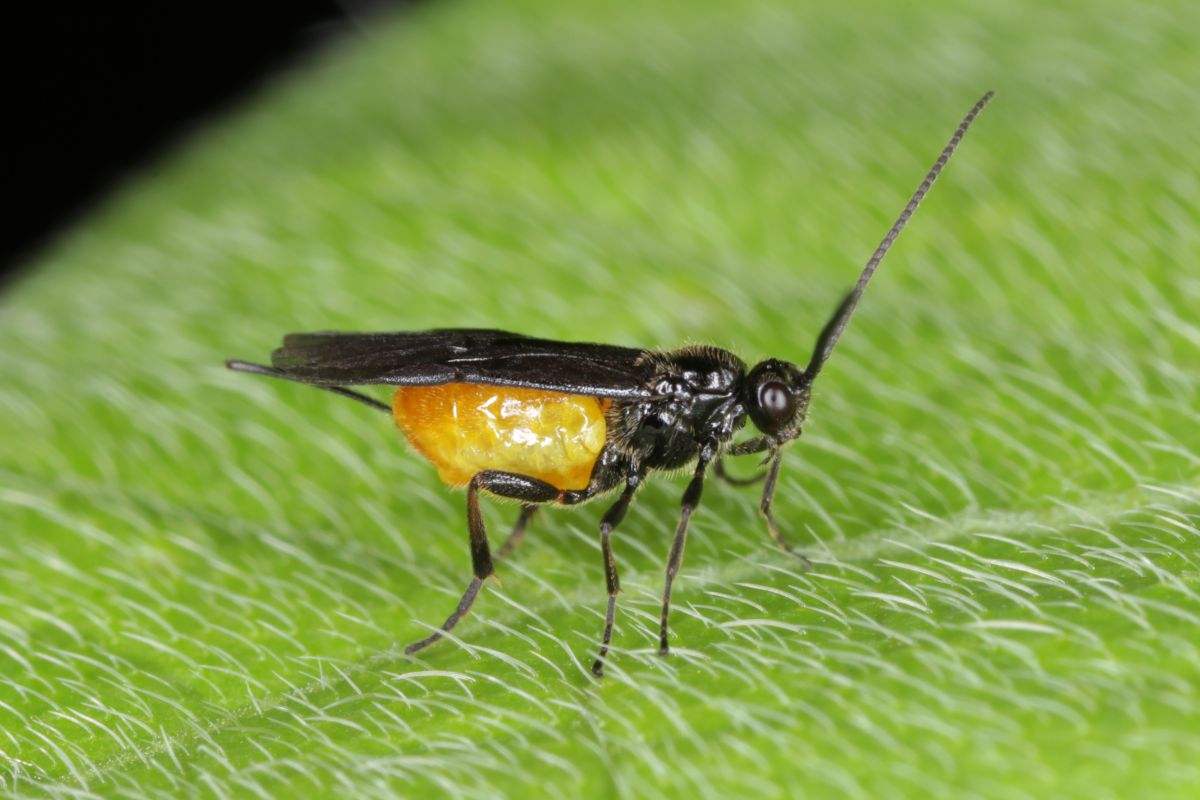 While you may have known that ladybugs have a penchant for aphids, you probably didn't know that aphids are vulnerable to many other predatory insects who parasitize them as part of their growth cycle.
Several species of parasitic wasps can be ordered online for garden release. Once these wasps find aphid nymphs, they lay their eggs on them, which later devour their aphid hosts and interrupt the aphid lifecycle.
Garlic Barrier
Many pests don't like the smell of alliums (garlic, onions, chives, and leeks), and aphids are no exception. While you can sow these plants around your garden for natural pest resistance, if you're dealing with an active aphid infestation and need an immediate solution, you use a spray instead.
Garlic Barrier is an all-natural spray made from garlic juice and is great at repelling aphids and other pests, such as ticks and mosquitoes.
Simply spray Garlic Barrier around your garden every two weeks throughout the growing season, and be sure to reapply after heavy rains too.
The garlic Barrier won't harm pollinators, so it's an excellent solution for organic gardens!
Insecticidal soap
Aphids' soft bodies make them very susceptible to insecticidal soap sprays, so if you have just a few plants to treat, these sprays are a good solution. Follow the manufacturer's instructions to apply and reapply as needed throughout the growing season.
If you choose to go this route, just remember that insecticidal soaps are generalized pesticides, meaning they can affect beneficial insects and pollinators too. For this reason, take care when applying and be sure not to spray any plants in the flower.
Neem oil
Like insecticidal soaps, neem oil sprays work very well on aphid infestations, but they are generalized insecticides too and shouldn't be used on plants or flowers.
You can buy premade sprays or make your own by adding a small squirt of Dawn or Castile dish soap and a few tablespoons of neem oil to a gallon of water and mix well. Apply your spray in the evening as wet neem oil can cause sunburn on plants if applied during the heat of the day.
Try companion planting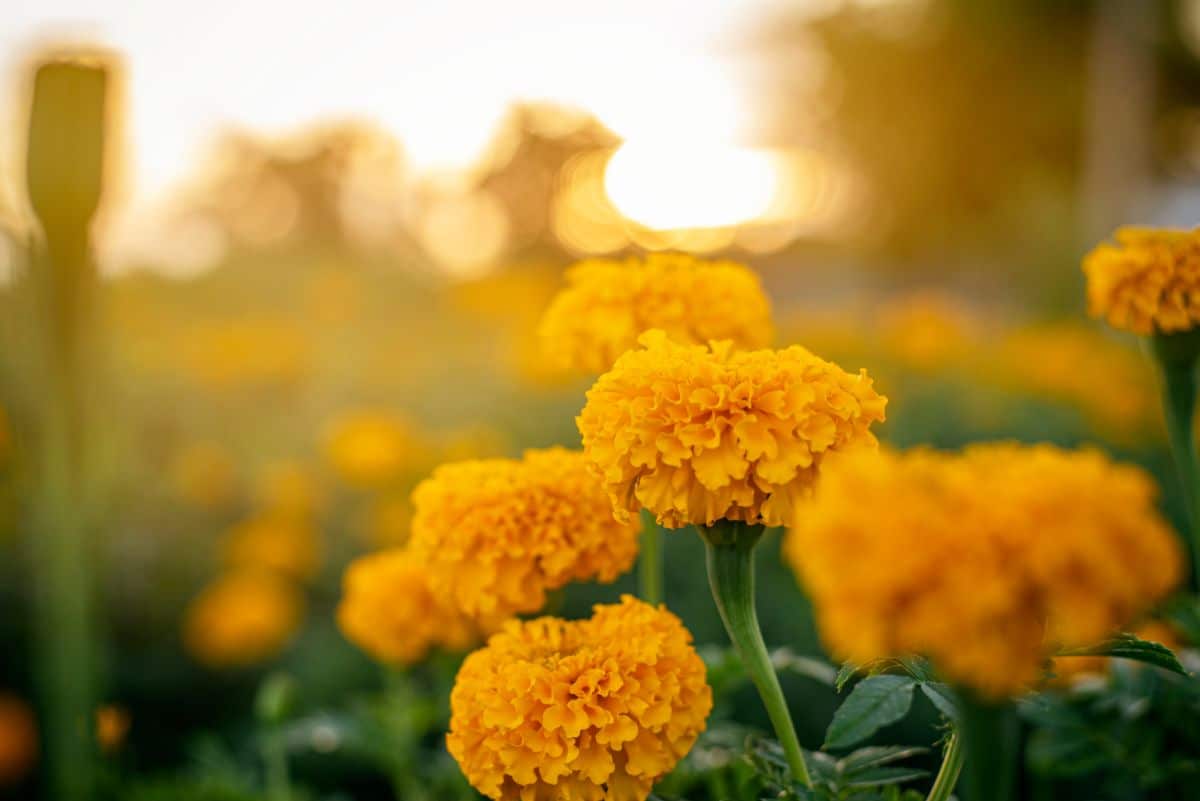 Companion planting is a gardening technique in which certain plants are combined in planting arrangements, containers, and beds to mutually benefit each other. Some plants may naturally repel garden pests, while other plants may draw in beneficial insects for natural pest control, but regardless of the mechanism at play, companion planting works well against aphids.
If you have plants, like roses, that really seem to draw aphids in, try planting useful companion plants around them. Some good companion plant choices include:
Alliums, such as garlic, onions, chives, and leeks.
Marigolds, particularly French marigolds.
Mints, specifically catnip.
Fennel
Dill
Cilantro
Yarrow
Sweet alyssum
Plant some trap crops
Trap crops are plants that are planted near your garden to draw pests away. A good trap crop choice is a plant variety that pests find tastier than the plants in your garden. Trap crops should be planted near enough to your garden that aphids can find them, but far enough away from your beds to make it difficult for aphids to travel back and forth.
When it comes to aphids, nasturtiums are usually the best choice for trap crops. Aphids simply can't resist them! Other good trap crop choices include:
Nicotiana
Sunflowers
Brassicas, like kale and mustard.
Trap crops can simply be planted and left alone throughout the growing season, or you can pull out and destroy trap crops once they've become infested to take care of problem aphids once and for all. You can also simply use traps to draw in aphids and then spray your trap crops from time to time with a natural insecticidal soap or neem oil spray.
Floating row covers
Applied at the beginning of the season, floating row covers work well against aphids; however, they won't help to prevent any aphid eggs that may have overwintered in garden soil.
Floating row covers are made from thin fabrics that are sheer enough to allow sunlight and rain to penetrate, but thick enough to keep pests at bay. Secured over garden beds on stakes or hoops, floating row covers can be left on all season if you're growing plants, like lettuce and kale, that don't need to be pollinated. Fruiting plants, like melons, will need their covers removed from time to time to permit pollination.
Garden maintenance
If you've struggled with aphids in your garden this year, the best thing you can do to prevent them from cropping up in next year's garden is a good garden cleanup.
Gather all old, infested plant material and destroy it by burning, hot composting or bagging it and throwing it away.
Next year, perform proper crop rotation and consider applying floating row covers to prevent aphids from finding their way into your tasty produce.
Conclusion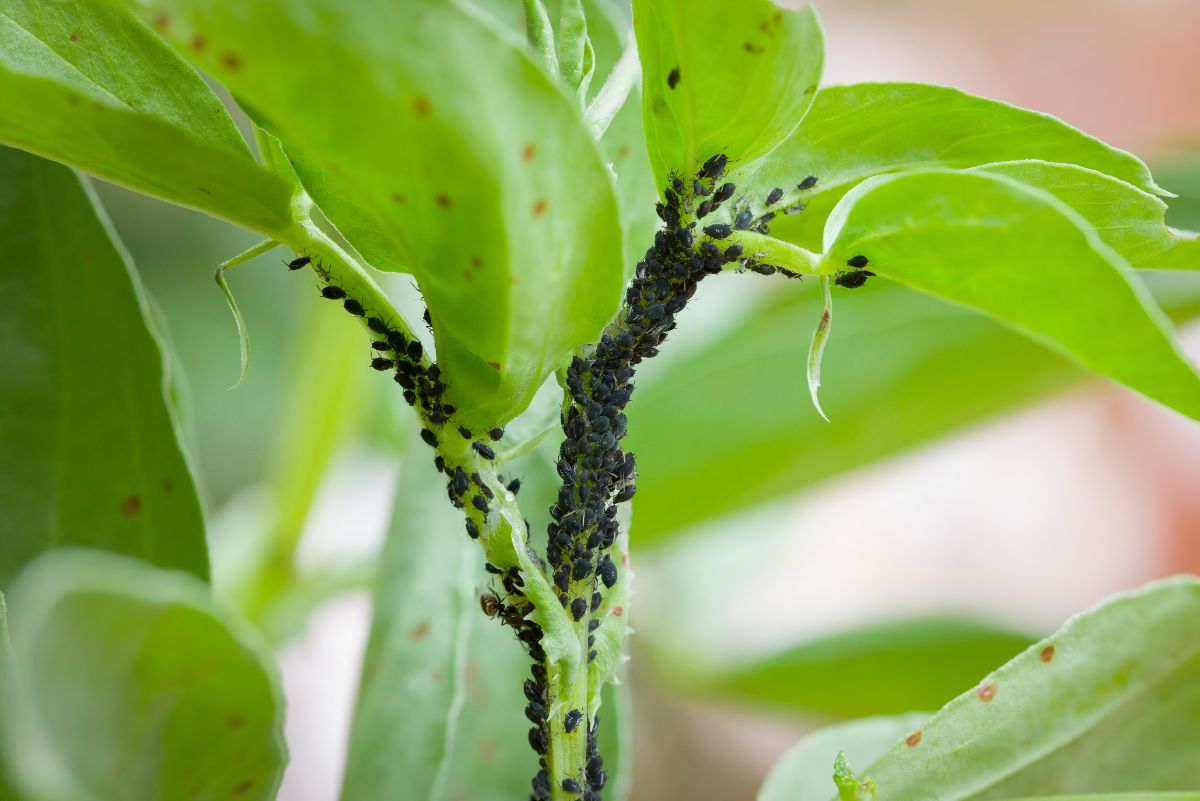 While aphids are certainly a nuisance in the garden, the good news is that, in small numbers, their damage is usually quite limited, and they can be easily controlled with a few simple, all-natural garden solutions. Often the best way to approach aphid infestations, or any other garden pests for that matter, is a multi-pronged approach formed by combining several of your favorite pest treatments.
Why not try insecticidal soaps along with floating row covers? Or, instead, combine companion planting with a well-timed release of some ladybugs and lacewings? Try out some of the above aphid control measures and find the ones that work best for you and your garden. With a little trial and error, you'll discover the perfect process for you, and your aphid-free garden will show the results in the form of pest-free foliage, an abundant harvest, and happy plants.