Indoor fairy gardens have the perfect amount of whimsy and creativity and are the perfect weekend project the whole family love. Great for kids of any age (and adults, too!), these fun mini gardens are great spots to allow your imagination to run wild and to try out different craft projects and ideas. And, for the gardeners among us, fairy gardens are an ideal spot to grow small container plants that may not thrive elsewhere.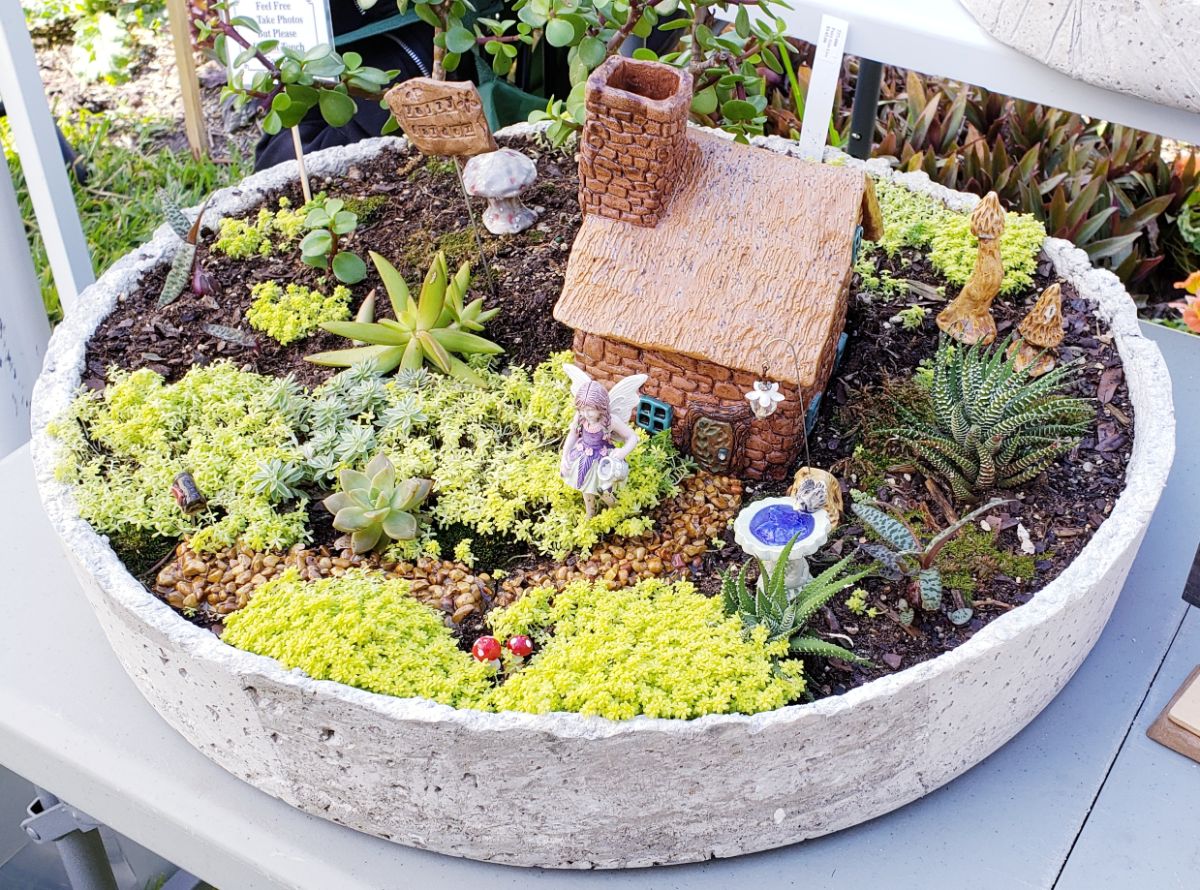 If you've ever wanted to grow your own fairy garden, this guide is for you. We'll explore how to create your own simple potted mini garden setup, as well as some cute décor you can handcraft yourself to add to your display. We'll also highlight some of the best mini plants to grow in your fairy garden that we know you (and any visiting fairies) will love too!
Jump to:
How to make your own DIY fairy garden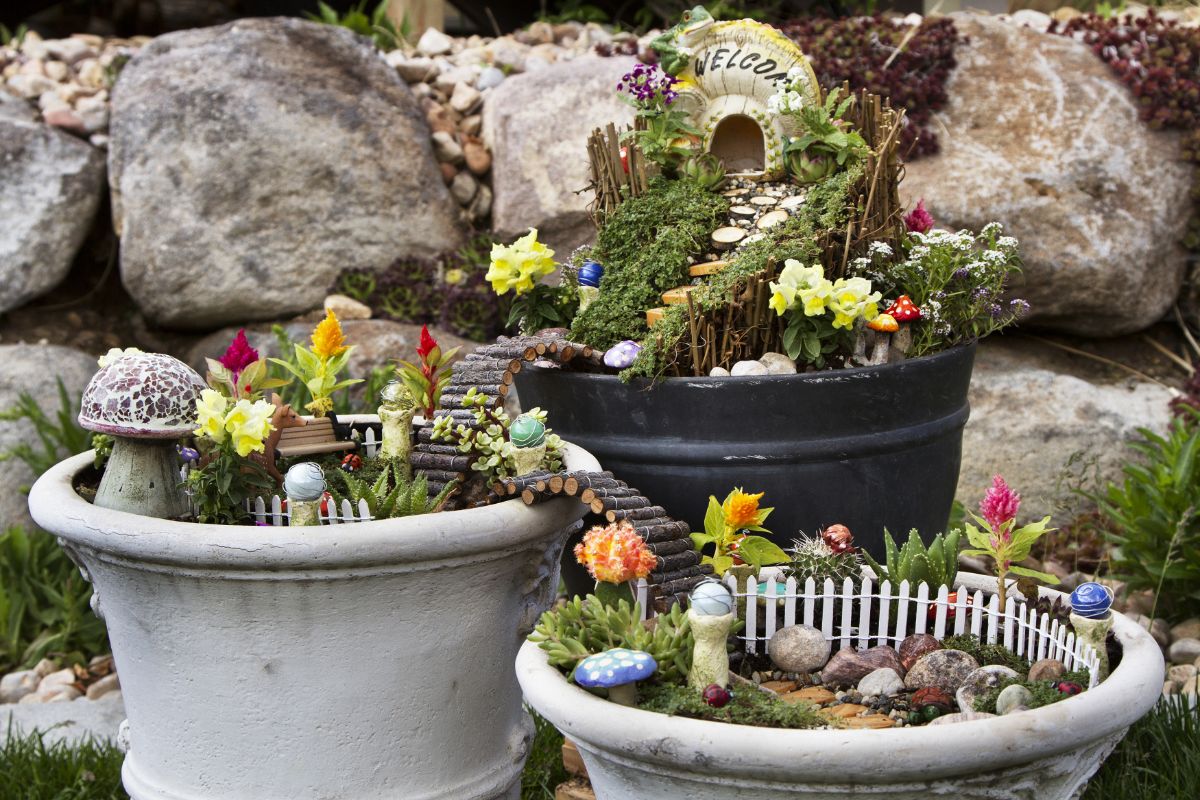 Fairy gardens are meant for creative exploration, so there is no "right way" to create your own potted display. However, we'll discuss an easy mini garden setup that you can create at home and embellish as you like.
Feel free to add more décor or plants if you want to, or leave out anything that doesn't fit your style. This is your garden after all, so make it how you like it!
Gather your supplies: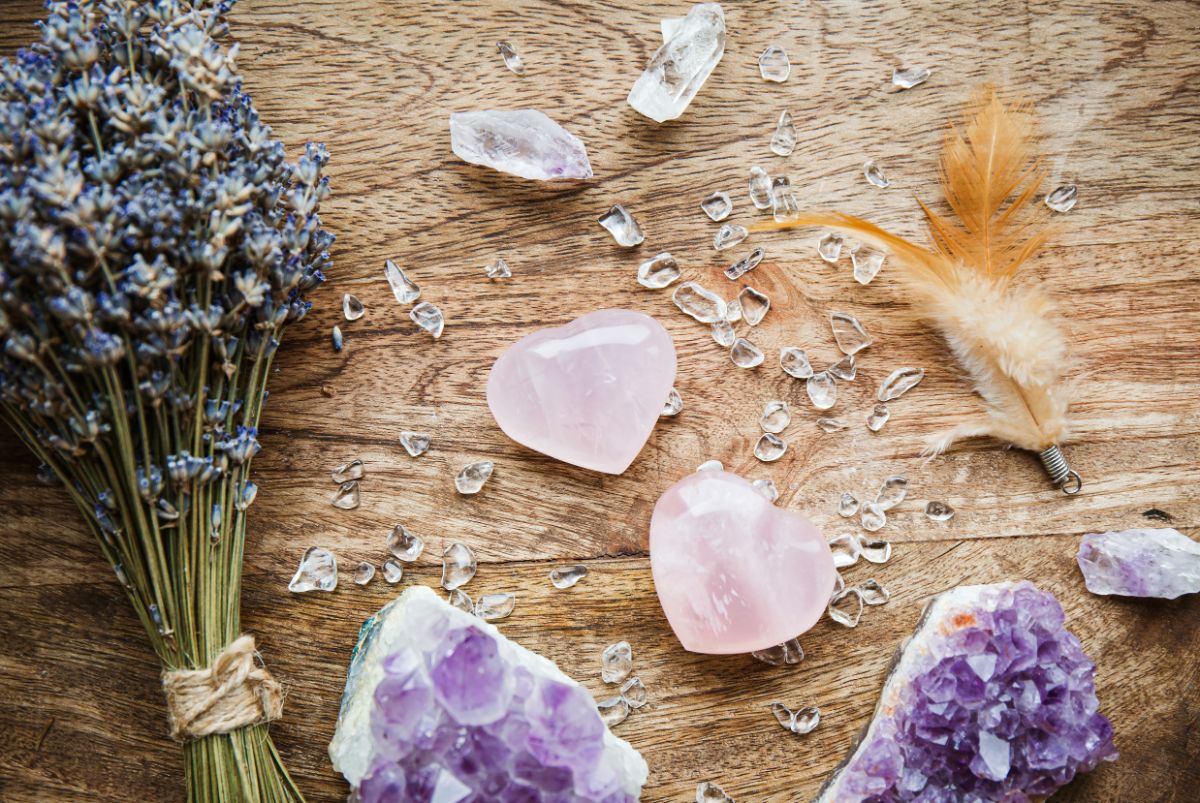 Depending on your design, you can switch this supply list up, but below are some of the most basic elements you may want to add to your planter.
An appropriately sized planter. What you choose will depend on how big you'd like to make your fairy garden and how many plants you want to keep. Some good examples include this cute footed planter and this simpler design that comes in 4 gorgeous colors and 3 different sizes for versatility.
Potting mix. What mix you choose will depend on what types of plants you're going to grow. Tropical plants will do well with a standard potting mix for indoor plants, but succulents need a suitable soil that drains rapidly. African violets and carnivorous plants also have their own specific soil requirements.
Plants of your choosing. Because they will be growing in a small space, look for specimens that stay small and have small leaves and other interesting features.
Natural materials. You can purchase these at craft stores or gather them outdoors. Good options include moss, pinecones, seed pods, sticks, pebbles, crystals, small slices of wood, seashells and whatever else you think fairies will like!
Hot glue.
Scissors.
Paint (optional).
Sand or mulch (optional).
Get crafting: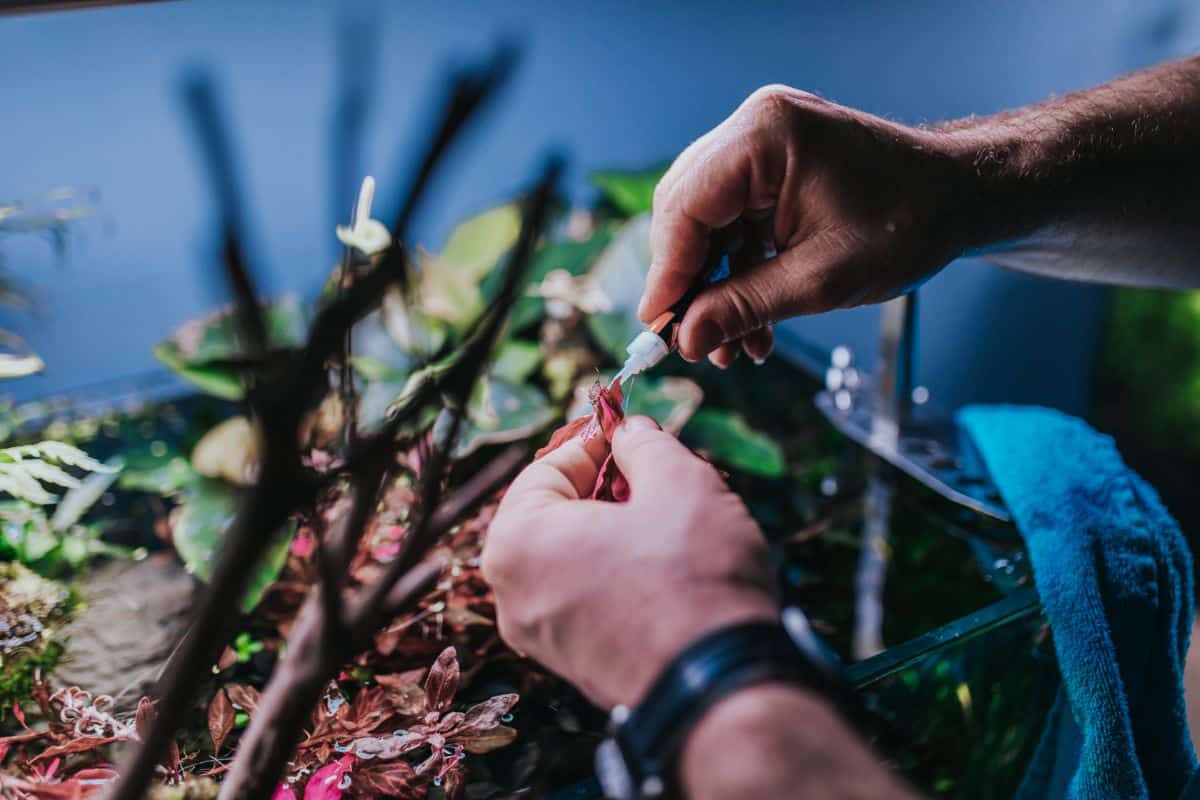 As everyone has their own tastes, your fairy garden may look quite a bit different than ours, but this is how we created our own potted fairy garden.
To begin, you'll want to plan out your fairy garden a bit. Will your garden have a house? Or just plants? Do you want the plants you choose to look like mini trees and bushes surrounding your fairy's home or something more abstract?Let your imagination run wild. It may help to sketch out your design on a piece of paper first and then roughly place your plants around your planter to get a general idea of how they look together.
Next, you'll want to create your fairy's home. They'll need somewhere to sleep after all! We chose to use a small decorative birdhouse as the base for our fairies' home, but you can create your own fairy house from scratch with popsicle sticks, use a premade house or leave the home out entirely. To make things easier, we decided to flip our house around and point the opening hole towards the back so we didn't need to work around the uneven surface.
If you'd like to, you can paint or stain your fairy's home, or leave it natural wood. If you choose to paint the house, try out fun shapes, swirl patterns and small painted flowers for a little more flair.
For a natural look, you can glue sheet moss on the roof of your house, or layers of petals, pinecone scales, seed pods or crystals layered like shingles on the house's roof and sides. Try to switch things up, mixing in different colors and textures and use as many natural elements as you can for a really creative look.
Add a small door to your house by trimming several lengths of a thin twig to the same size and gluing them side by side vertically to form a small rustic door. A small bead or the center of a silk flower looks lovely as a doorknob!
To help your home look more complete, glue some silk flowers, moss or other ornaments around the base of the home too. This can add lots of color, but it will also help your home blend in better in your planter.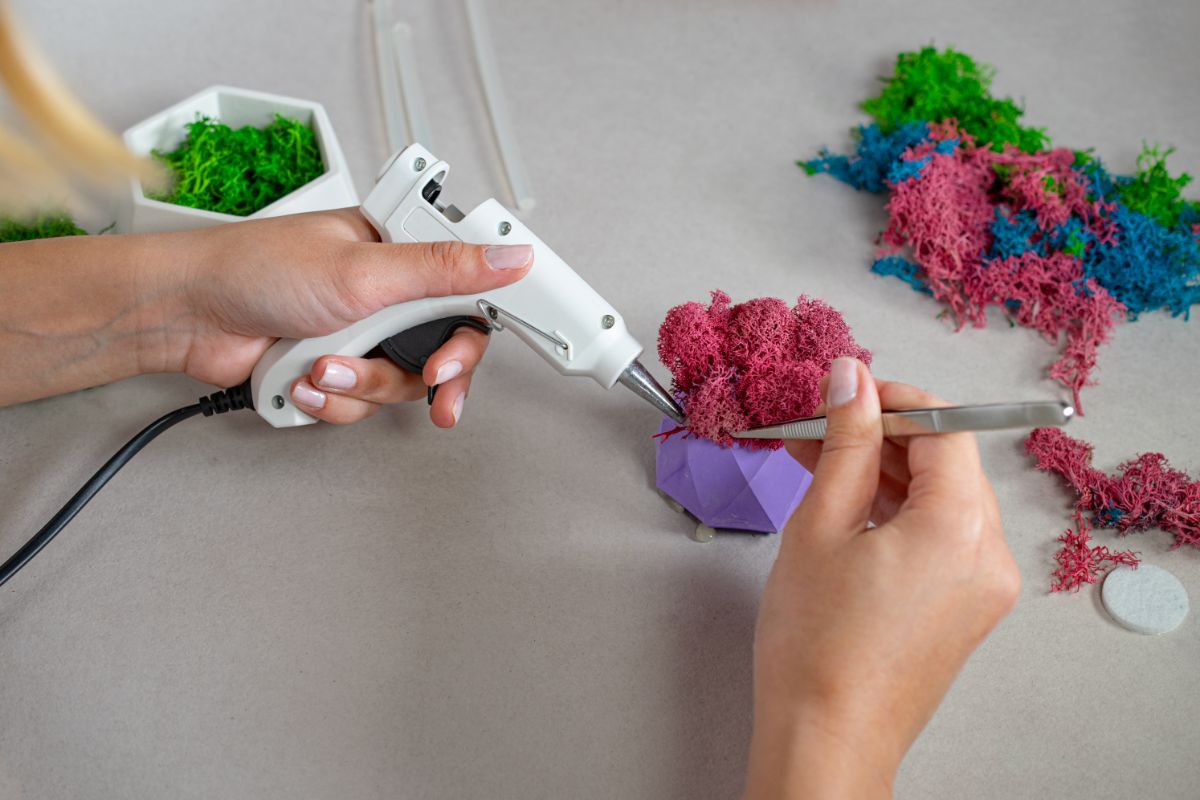 Now, if you want to, take the time to craft other fun details, like a small bird house, a ladder, lawn furniture, a small well – whatever you think will look nice in your mini garden.A miniature ladder is simple to make with thin twigs. Simply snip a twig in half so that both halves are equal, and then clip some smaller bits of twig to glue horizontally across the longer lengths to form your ladder's rungs.
Make a small well by cutting off the bottom of a plastic bottle and then hot gluing small pebbles along the base to create a stone look. Two popsicle sticks can form the roof supports while a folded piece of cardstock, embellished with silk petals or pinecone scales, makes a lovely roof.
An inverted mini terracotta pot with a mini terracotta saucer on top makes for a perfect fairy bird bath, especially when you attach a tiny decorative bird.
Other lawn furniture, like tables and chairs, can be easily crafted with a bit of glue and some small stones, twigs or popsicle sticks.
And you can even make adorable, seasonal decorations, like tiny pumpkins, mushrooms or garden snails with a bit of polymer clay!
After creating all your decorative elements, it's time to start assembling your planter.To get started, settle your planter on a solid surface and fill it up with the potting mix suitable for the plants you'll be growing.
Next, roughly place your fairy house (if you have one) where you'd like it to be in your planter and then situate your plants around the fairy house to figure out where they look best.Once you've determined the general layout, plant your plants according to their specific growing needs.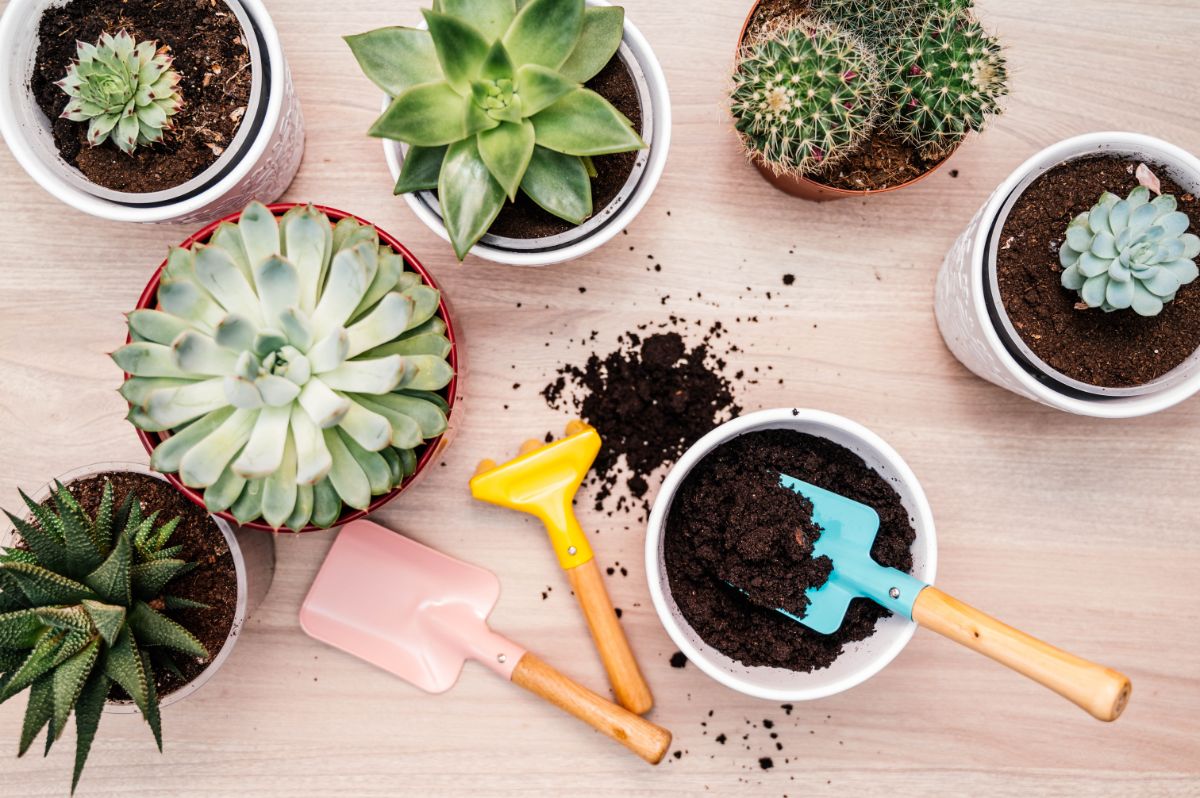 If you'd like to, now's a good time to add a ground cover.If you planted succulents, covering the soil with small pebbles or sand can look quite nice. For tropical plants, a thin layer of wood mulch or some moss can bring everything together. Or, for a simpler look, you can leave the soil bare too.
Now you'll want to bring everything together and start decorating!Place your fairy house where you'd like it to be. Several small stones or some half-buried popsicle sticks against the sides of the house can keep the house in place if it seems wiggly.
If you created a bird bath or other lawn ornaments, add them too. A small ornamental ladder looks extra charming gently leaning against your fairy house roof.
Creating a small front walkway from your pot's edge to the front door of your fairy home can look super cute and add even more color to your planter. Walkways can be created out of small pebbles, colorful crystal chips or small slices of wood.
Locate your fairy garden in a brightly lit window or other suitable location that will provide enough light for your plants. If you need supplementary light, a small tabletop LED grow light will work well too.
After that, just tend your fairy garden as you would any other houseplant, providing water, fertilizer and extra humidity if needed. When watering, just be careful to not disturb you garden too much. A watering can with a small spout can be helpful for directing a gentle stream of water right where it's needed.
Best mini plants for fairy gardens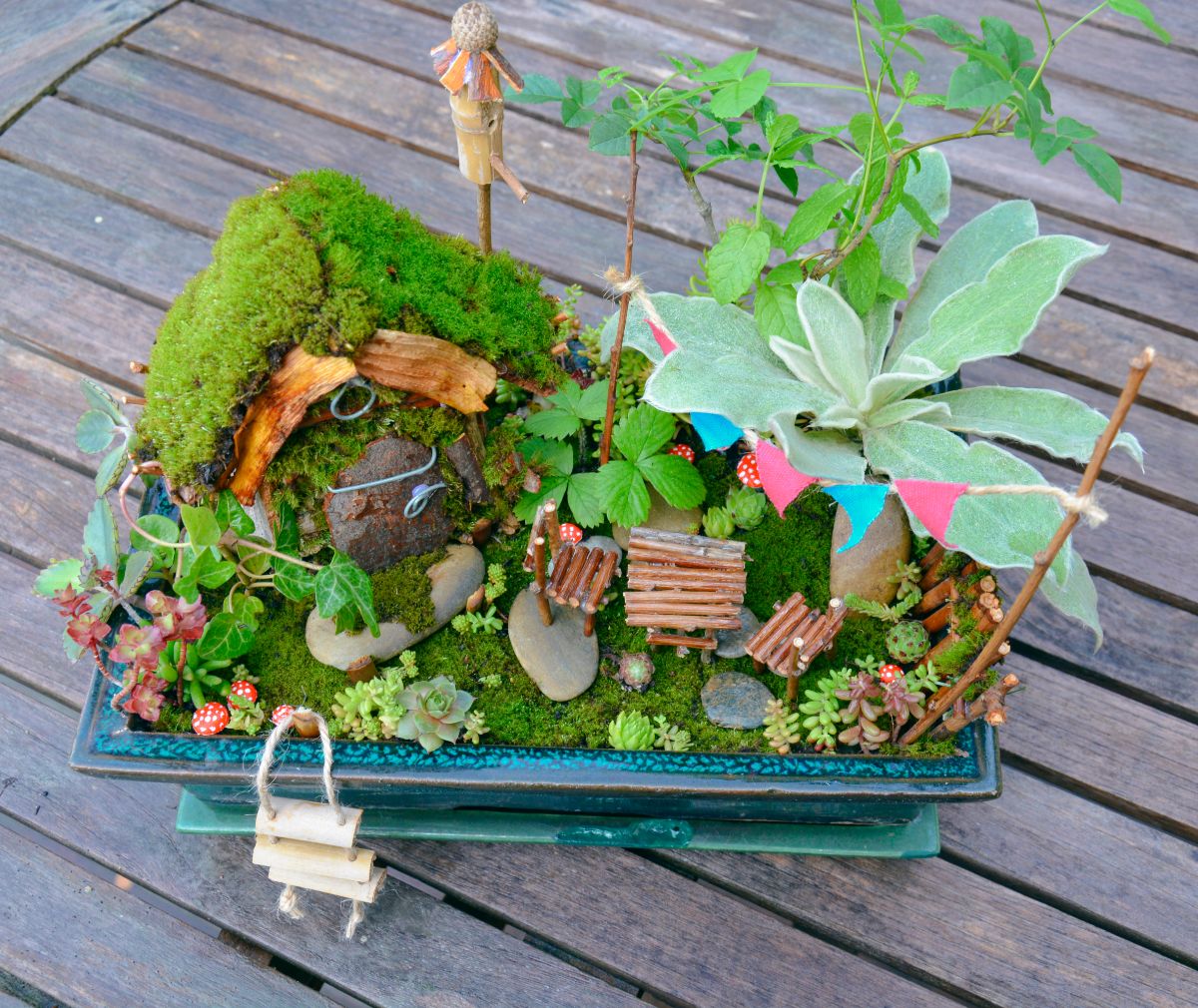 The most important part of creating a successful fairy garden is choosing the right plants. Even though there's lots of creativity involved in crafting a fairy garden, you'll still want to pick plants that will thrive and look nice over time.
When choosing plants for this project, look for specimens that will stay small. Plants with very small leaves, interesting foliage or tiny flowers can look particularly nice.
You'll also want to choose plants that will grow well together. For example, don't try to add both succulents and spike moss to your growing container because it simply won't work. Spike moss needs far too much water and any succulents in the same container will suffer from overwatering.
It's also a good idea to keep in mind where you'll be placing your growing container. Some plants require higher levels of light than others, so if you plan on growing a full sun plant, you'll need a bright window to grow it in or you'll want to purchase a grow light. Otherwise, pick out low light specimens to make things easier.
While there are other adorable mini plants that can work well in your fairy garden, here are some of our top picks for this project:
1. Moss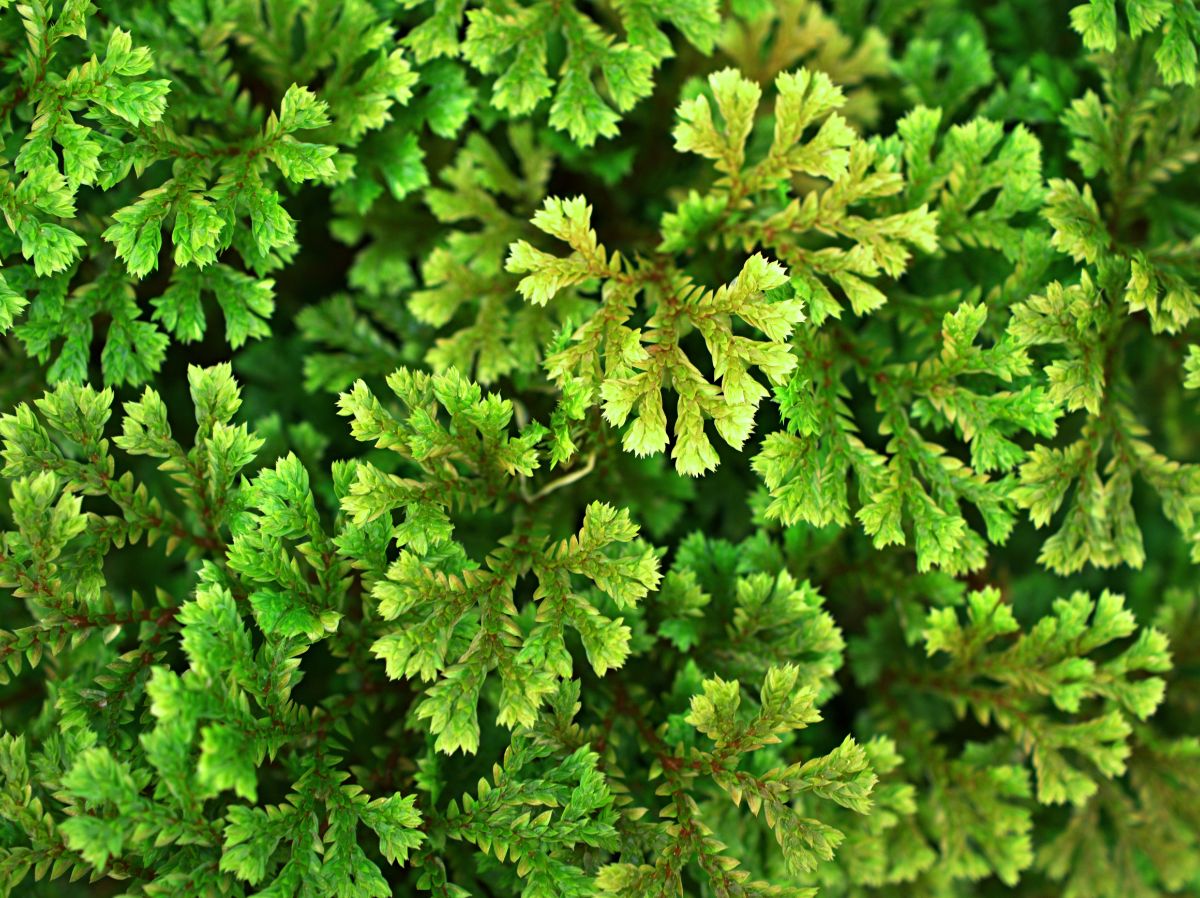 | | |
| --- | --- |
| Plant name: | Moss |
| Lighting: | Depends on species |
| Watering: | Depends on species, but usually moderate |
| Humidity needs: | Depends on species, but usually high |
| Height: | Depends on species |
| Toxic to pets? | Depends on variety |
There are tons of different types of moss that can grow well in a fairy garden. Some you may even be able to find for free in nature when taking a walk around your neighborhood (just be sure not to harvest any protected species!)
There are also plenty of charming moss specimens that you can find in your local nursery, such as spike moss or Irish moss.
Spike moss has bright green, feathery leaves and does best in bright, indirect light. A moisture lover, it doesn't like soggy soil, but it does have high humidity needs, so you'll need to mist it frequently, add a pebble tray or place a humidifier nearby.
Irish moss has frothy, soft leaves in deep green and will flower tiny white flowers in spring and summer. Preferring brighter light than spike moss, Irish moss needs full sun to part shade, moderate watering and high humidity.
2. Creeping fig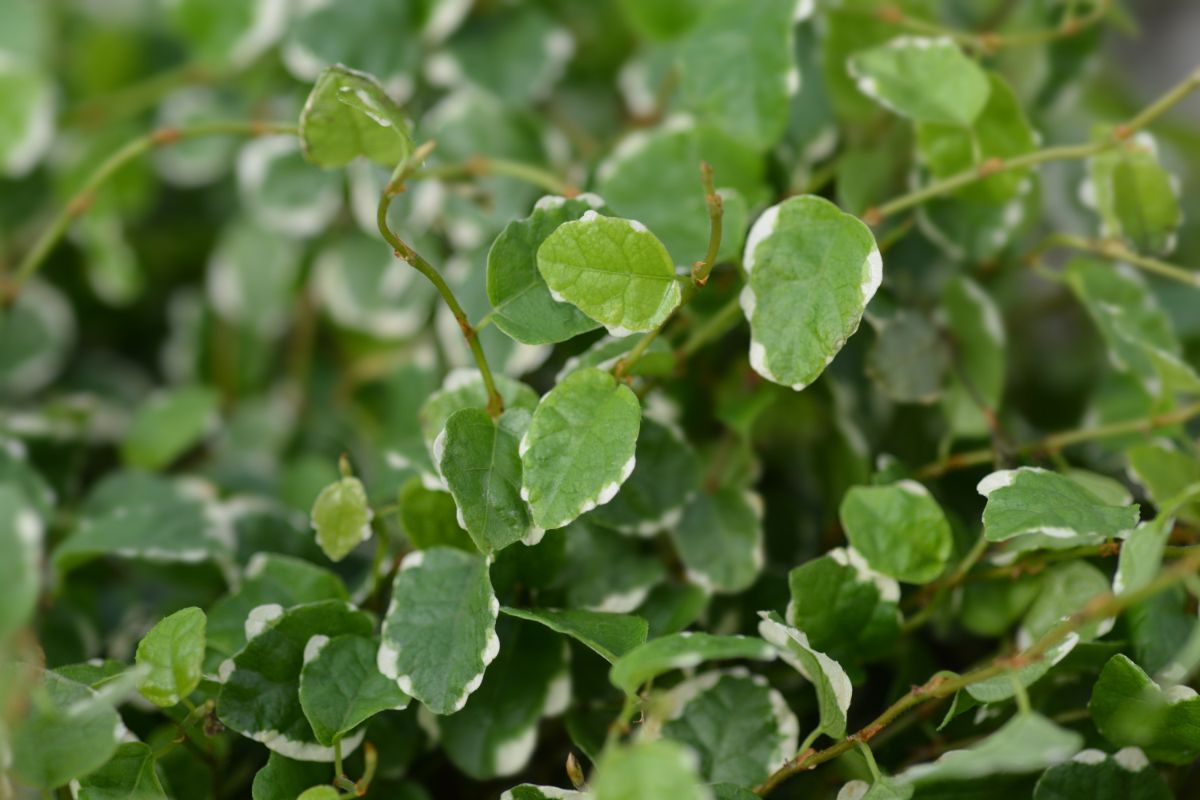 | | |
| --- | --- |
| Plant name: | Creeping fig |
| Lighting: | Bright, indirect light |
| Watering: | High |
| Humidity needs: | High |
| Height: | Low-lying, this plant is about 2" high, but it can grow up to 40' long |
| Toxic to pets? | Yes |
A relative of the much larger fiddleleaf fig and weeping fig, creeping figs are often grown as ground covers outdoors, but they can make good houseplants too with proper care. Small, arrow-shaped leaves come in either solid green or variegated coloring and grow on vining stems that love to climb.
Creeping fig can grow quite rapidly, so you'll need to keep it pruned to prevent it from getting too large for your fairy garden. For added interest, you can allow it to climb a bit up your fairy house walls, or add a small trellis to the back of your planter for more vertical growth.
A moisture lover, creeping fig requires more watering than most houseplants and is fine with consistently wet soil. It also has high humidity needs (50% or higher) and prefers bright, indirect light to prevent leaf burn.
3. Polka dot plant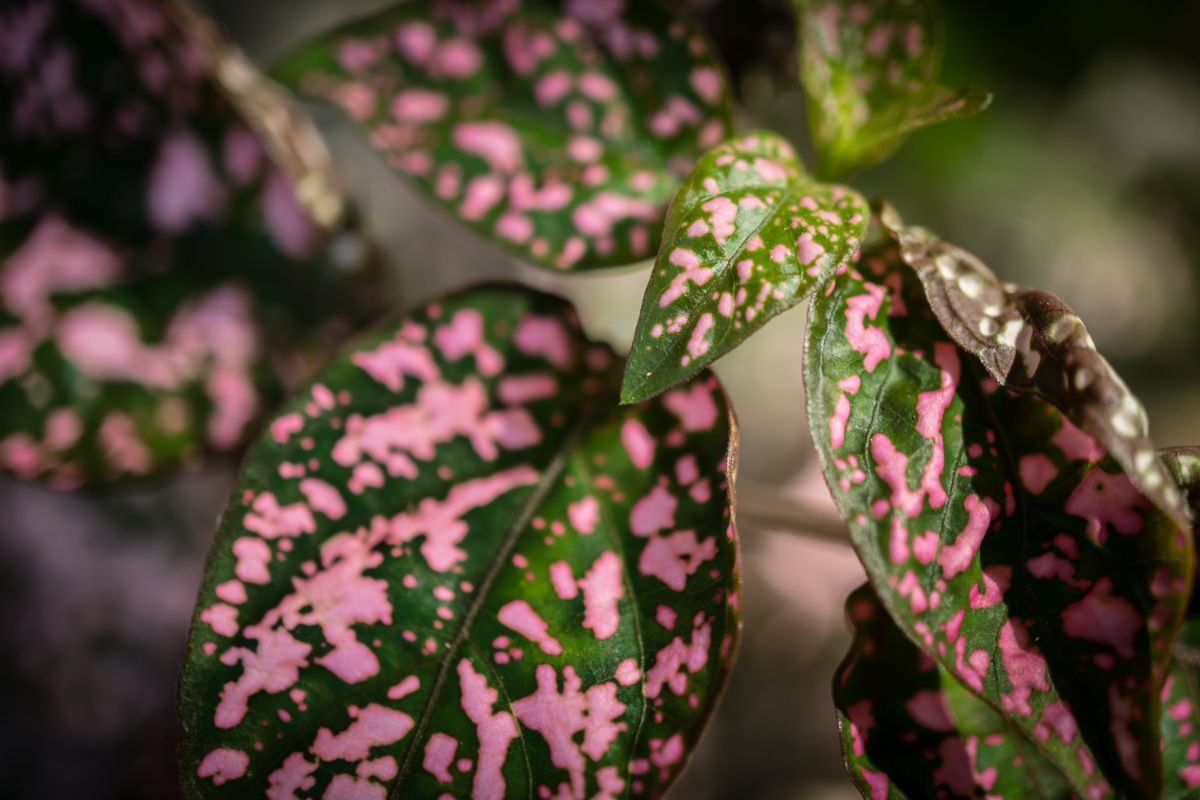 | | |
| --- | --- |
| Plant name: | Polka dot plant |
| Lighting: | Bright to bright, indirect light |
| Watering: | High |
| Humidity needs: | High |
| Height: | 6" high |
| Toxic to pets? | No |
If you like lots of color, you can't go wrong with polka dot plants. As the name implies, this stunning specimen has dotted leaves that come in white, red, purple and various shades of pink. Occasionally these plants will bloom tiny purple flowers in late summer to autumn.
Sometimes difficult to grow, polka dot plant loves high humidity and can wilt dramatically and quickly if it is allowed to dry out. To keep your plant looking its best, keep the soil moist but not soggy and maintain humidity levels around 50% or higher. Bright to medium light works best for these plants.
4. Creeping thyme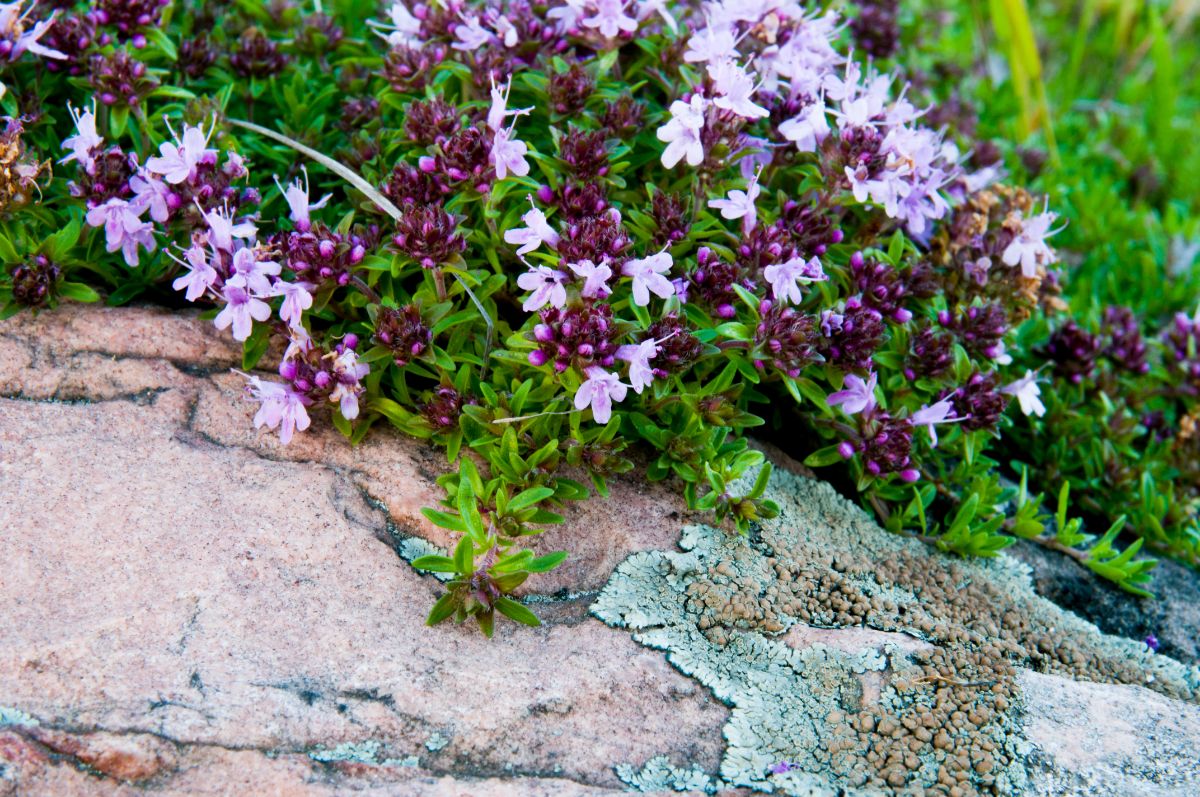 | | |
| --- | --- |
| Plant name: | Creeping thyme |
| Lighting: | Bright light |
| Watering: | High |
| Humidity needs: | High |
| Height: | 2 to 3" high |
| Toxic to pets? | No |
Creeping thyme is a relative of the spice you eat (common thyme) and it is edible too and offers a rich and spicy aroma when crushed between your fingers. Like creeping figs, creeping thyme is usually grown outdoors as a ground cover, but it works well in planters too. In late spring to early summer, this cutie will bloom small pink, red or white flowers too.
For best results, prune this plant from time to time to keep it from taking over your planter. You'll also want to provide your thyme with consistently moist soil, high humidity and bright light.
5. Fuchsia begonia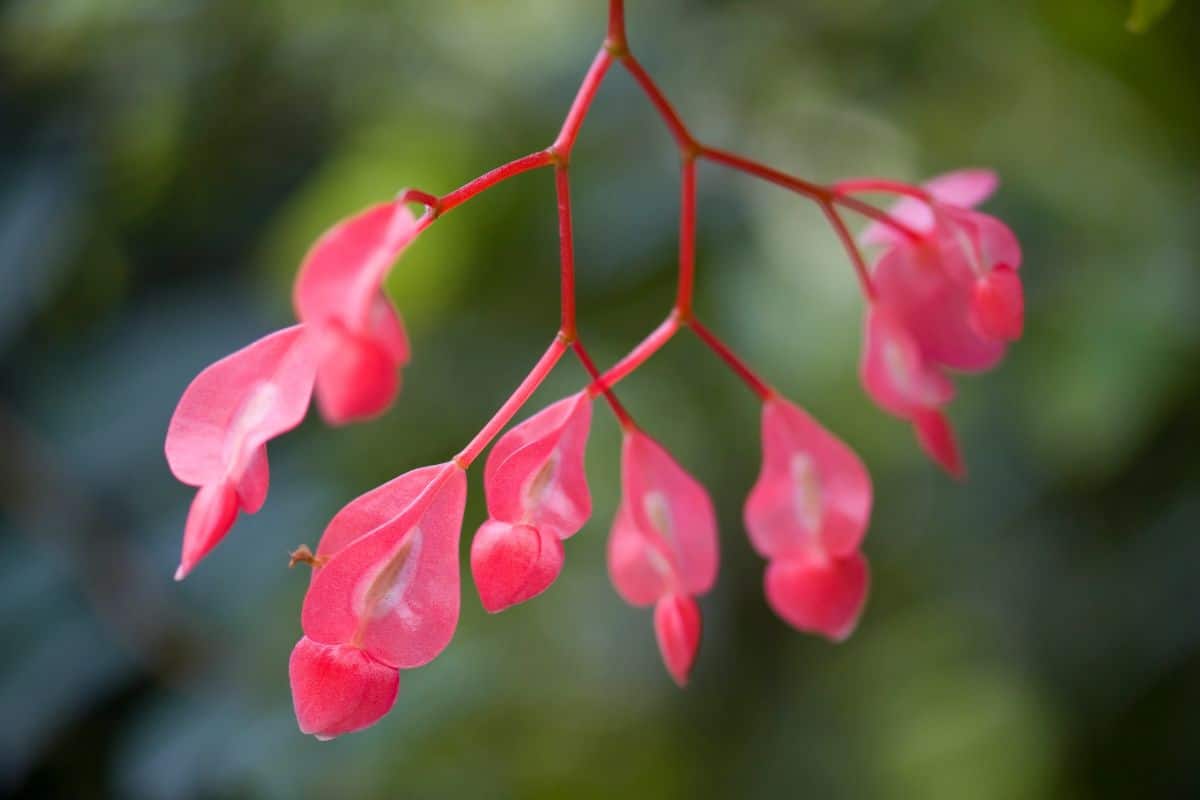 | | |
| --- | --- |
| Plant name: | Fuchsia begonia |
| Lighting: | Bright, indirect light |
| Watering: | High |
| Humidity needs: | High |
| Height: | 1 to 3" high when mature |
| Toxic to pets? | Yes |
With fleshy, glossy leaves and bright pink flowers that droop sweetly in the breeze, fuchsia begonia definitely looks like the kind of plant fairies would enjoy.
This plant is taller than some of the other plants on this list and can grow up to 1 to 3' high, so you may need to swap it out eventually for some shorter plants. That said, with pruning, you can keep this begonia in your fairy garden for awhile or you can plant it towards the back of your planter to add height to your display.
Preferring bright, indirect light, high humidity and regular watering, like other begonias, this specimen propagates well in water so you can take cuttings to create more plants for your garden.
6. Purple oxalis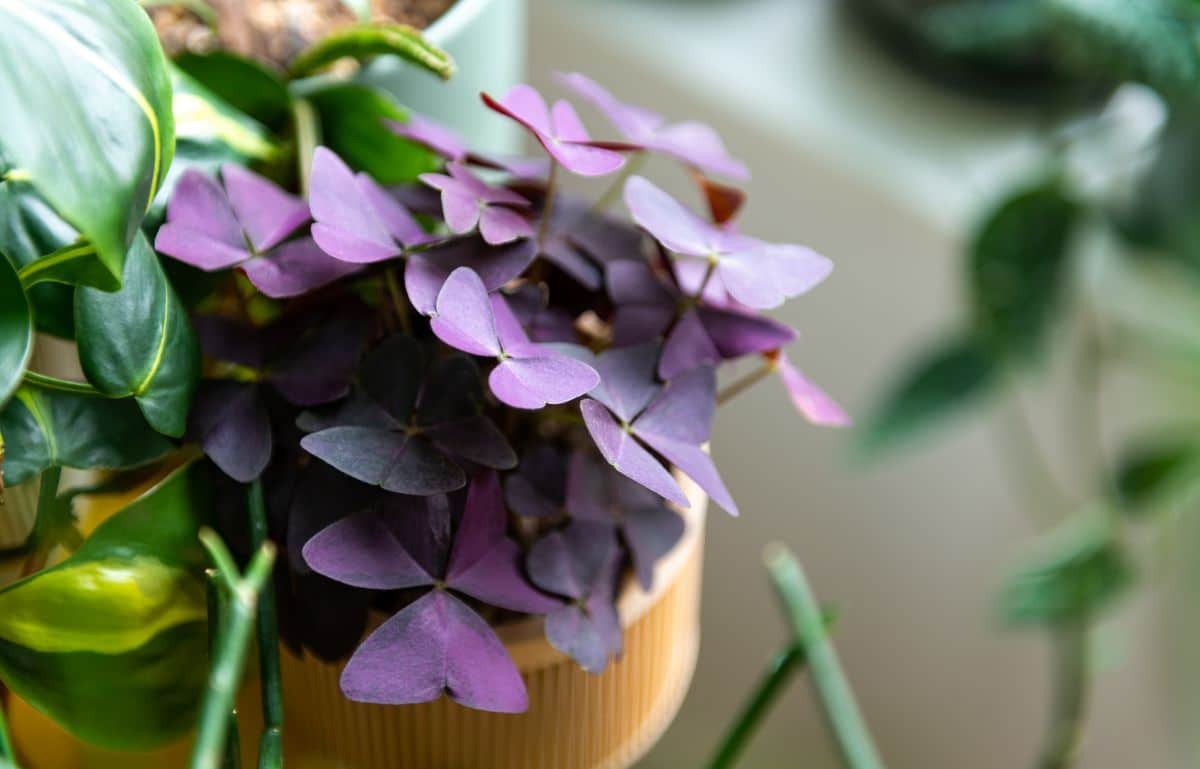 | | |
| --- | --- |
| Plant name: | Purple oxalis |
| Lighting: | Bright to medium light |
| Watering: | Moderate |
| Humidity needs: | Moderate |
| Height: | 12" high |
| Toxic to pets? | Yes |
Also known as shamrocks, purple oxalis will add lots of color to your fairy garden – and probably lure in some lucky fairies too! This vibrant plant gets even prettier when it blooms small pinkish-purple flowers in late spring to early summer. But, like other plants on this list, it does love moisture and can wilt dramatically if it is allowed to dry out.
Despite not tolerating dry soil very well, purple oxalis is an otherwise pretty hardy plant. It does well in average indoor humidity levels and can adapt to medium light situations. Just keep in mind this plant is toxic to pets.
7. Mini African violet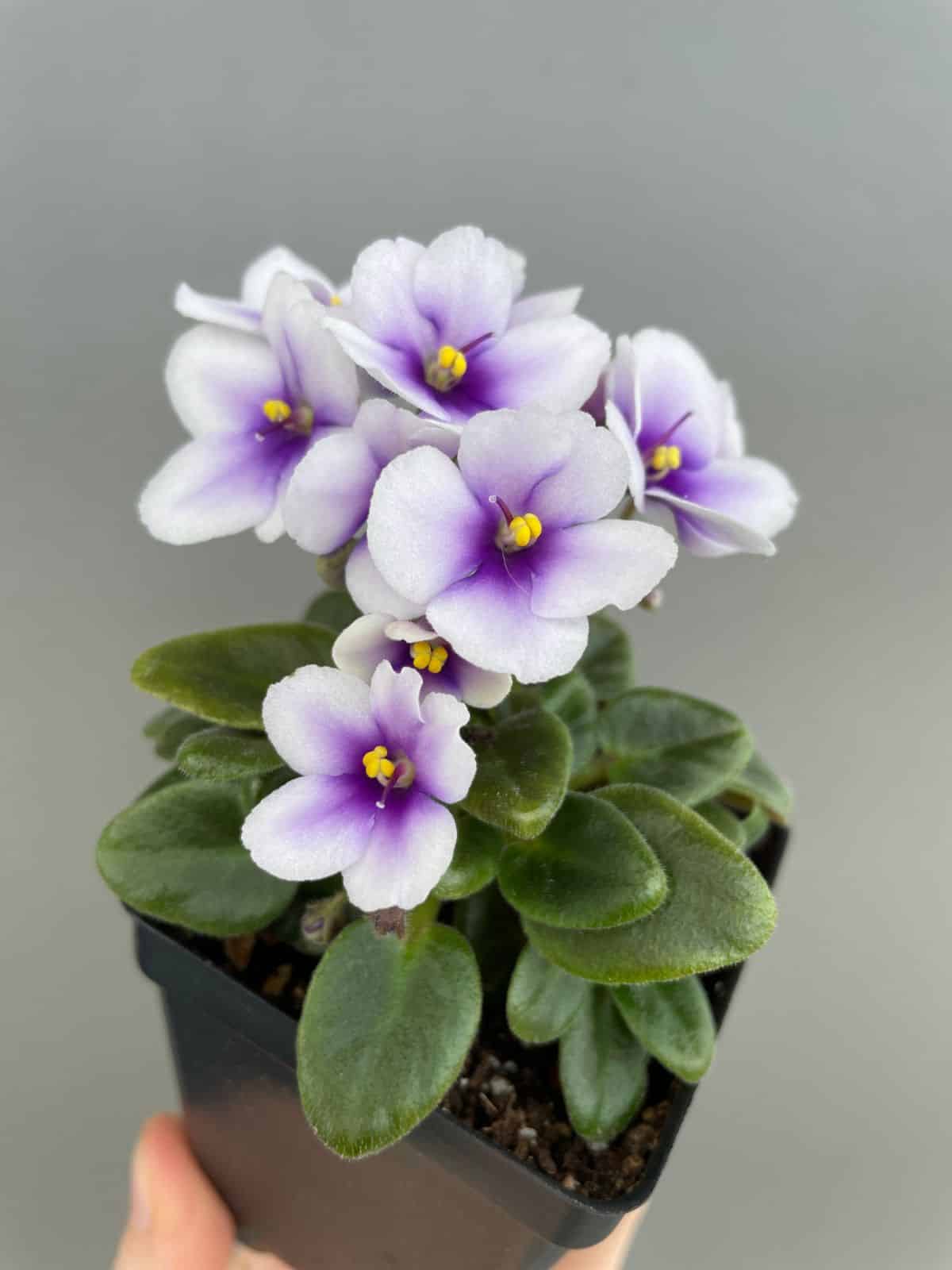 | | |
| --- | --- |
| Plant name: | African violet |
| Lighting: | Bright, indirect light |
| Watering: | Moderate |
| Humidity needs: | Moderate |
| Height: | 3 to 6" high |
| Toxic to pets? | No |
Ever popular African violets are prized for their pretty and colorful flowers and fuzzy leaves. But did you know they come in mini sizes too? Mini African violets stay much smaller than standard violets, and rarely grow larger than 3 to 6" in diameter.
Like other African violets, minis do best when potted up in African violet soil. You'll also want to take care when watering these plants because they don't like getting their leaves wet, which can cause mold and leaf spotting.
8. Succulents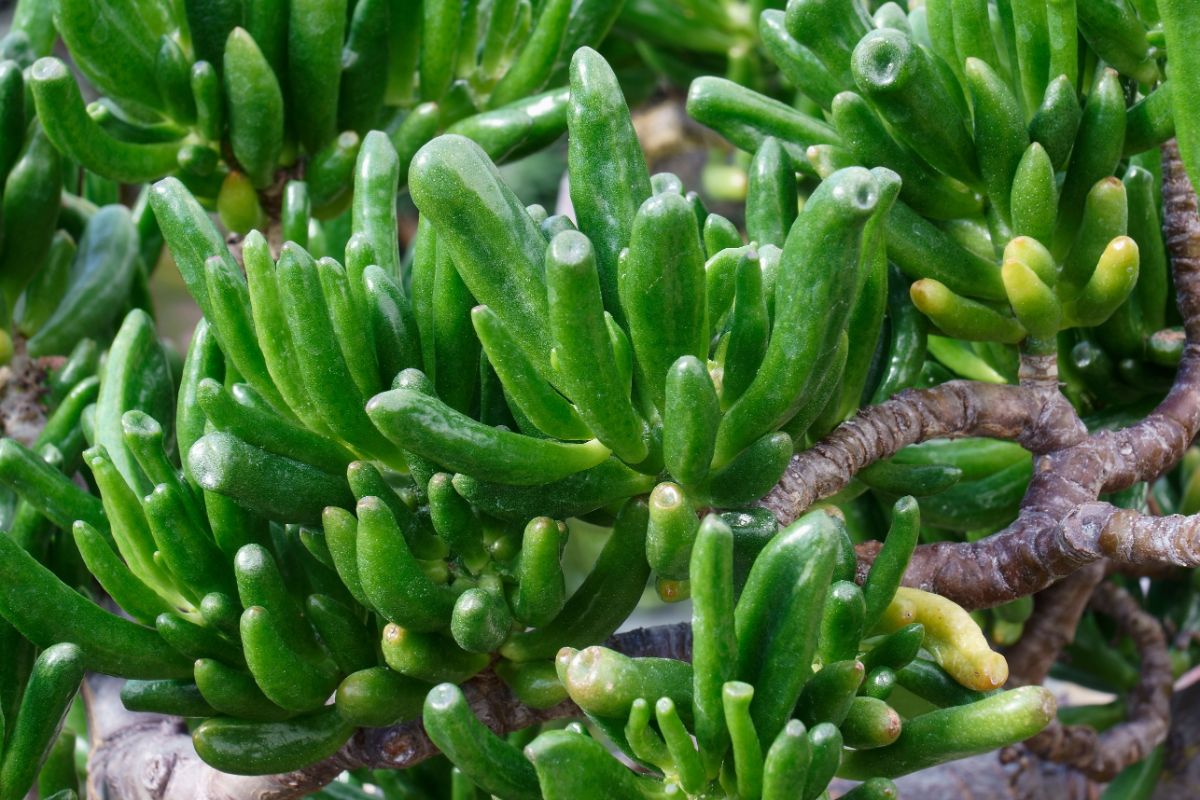 | | |
| --- | --- |
| Plant name: | Succulents |
| Lighting: | Depends on species, but most prefer bright light |
| Watering: | Low |
| Humidity needs: | Low |
| Height: | Depends on species |
| Toxic to pets? | Depends on species |
For a lower maintenance solution to your fairy garden, succulents are an obvious choice. Succulents are drought-tolerant plants that require minimal watering and little fuss. They come in tons of varieties too with lots of interesting shapes and colors, and some occasionally flower.
Some fun choices for fairy gardens include 'Gollum' jade (which has strangely shaped, cylindrical leaves), 'Black Knight' echeveria (with dark leaves for a spooky look) and haworthia (for a spiky, architectural vibe).
Requiring little water or humidity, succulents are quite adaptable plants, but most do require bright light to keep them from getting leggy.
9. Venus flytraps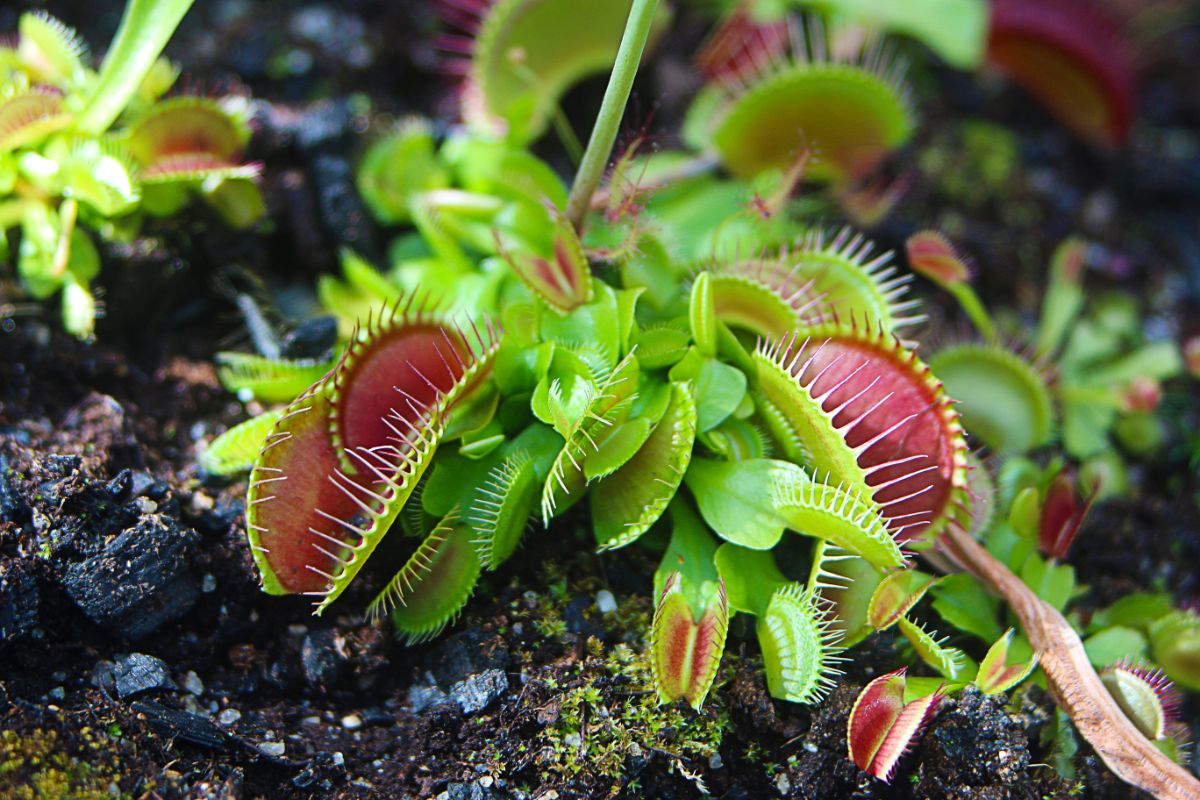 | | |
| --- | --- |
| Plant name: | Venus flytrap |
| Lighting: | Bright, indirect light |
| Watering: | High |
| Humidity needs: | High |
| Height: | 8 to 12" high |
| Toxic to pets? | No |
If you like oddball plants, or want to create a very unique fairy garden, Venus flytraps are an excellent choice. These funky, carnivorous plants are known to catch flies and other pests with their jagged, movable traps atop long and slender leaves.
Native to boggy areas of the southeastern United States, Venus flytraps do have specific growing needs that you'll need to follow if you plan to keep them. In nature, they grow in nutrient poor soil, so they need to be planted in a specific potting mix specially designed for carnivorous plants. They are also sensitive to chemicals, so they should never be fertilizer and they should be watered with distilled or rain water only.
10. Mini ivy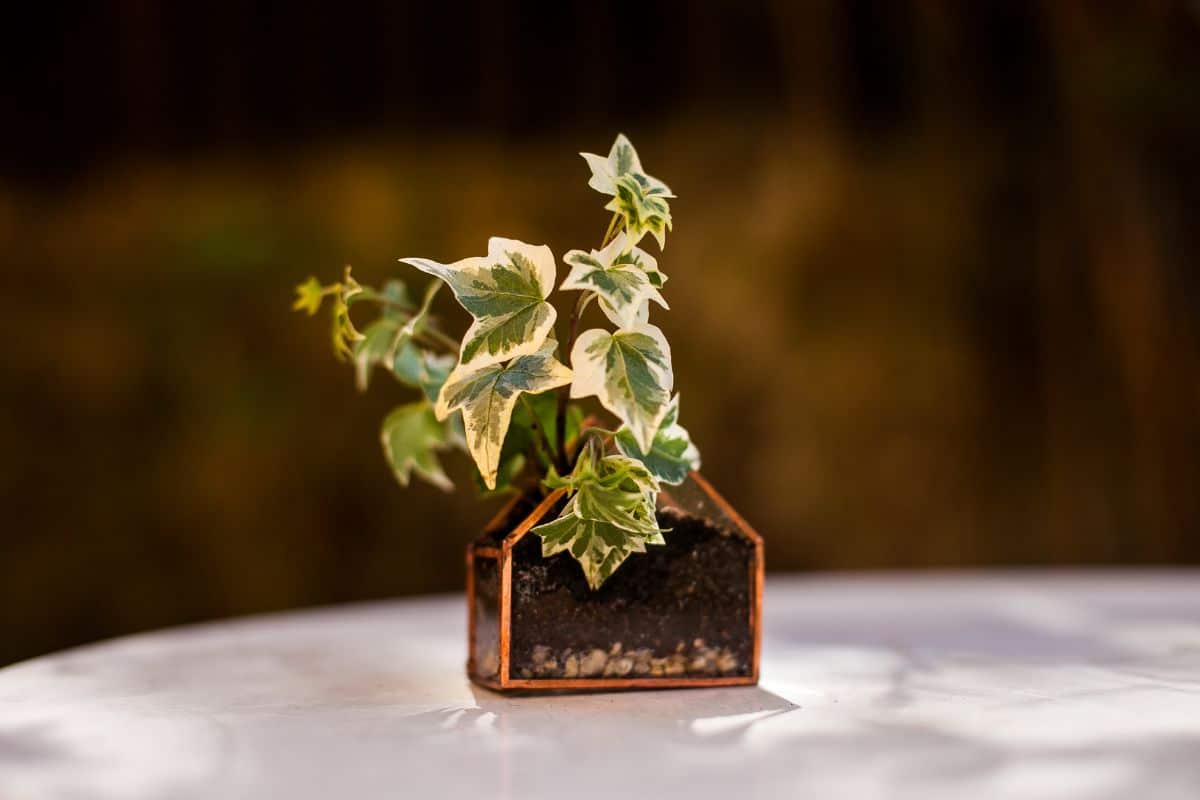 | | |
| --- | --- |
| Plant name: | Mini ivy |
| Lighting: | Bright light |
| Watering: | Moderate |
| Humidity needs: | Moderate |
| Height: | Low-lying, this plant is about 2" high, but it can grow quite long without pruning |
| Toxic to pets? | Yes |
English ivy is a hardy and tolerant vining plant that makes a great houseplant, as its invasive tendencies can be more readily managed indoors. Known for their thick, almost leathery, lobed leaves that come in both solid green and variegated coloration, English ivy also comes in mini types too that are perfect for fairy gardens.
These super adorable plants are very easy to manage in planters, but you will want to keep them pruned to prevent them from spreading too much. Ivies also prefer bright light and average moisture levels. Just keep in mind, these plants are toxic to house pets.
Frequently asked questions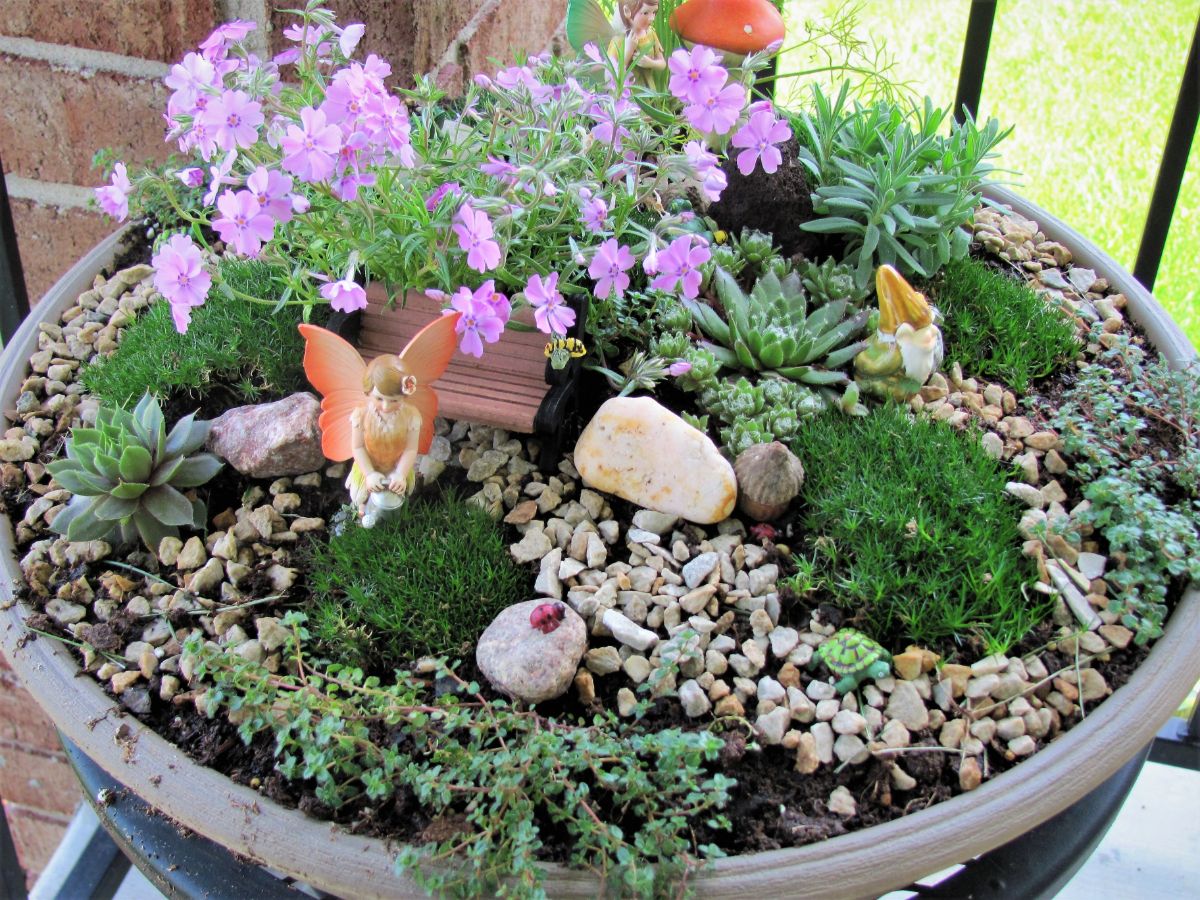 What can I use for a fairy garden container?
Any large planter or pot will work well for a fairy garden, but ideally you'll want to choose one with drainage holes at the bottom. You can also upcycle containers like storage totes, concrete mixing tubs or buckets to create a sweet and inexpensive mini fairy garden.
Do fairy gardens need sunlight?
Yes. Unless you fill up your fairy garden with faux plants and decorative items, you will need to provide a steady source of light to keep any live plants happy. In a pinch, a grow light can help!
What goes in the bottom of a fairy garden?
Just soil. While some growers place pebbles in the bottom of planters, this actually doesn't improve planter drainage. Instead, ensure that your pot has drainage holes and then fill your planter up with a quality potting mix.
How do I make my backyard look like a fairy garden?
Indoor fairy gardens are nice, but for lots of impact, outdoor gardens can be converted into fairy spaces too. Add whimsical décor like windchimes and decorative "fairy doors" to trees and plant a range of colorful plants, like lantana or fuchsia, that fairies (and pollinators like hummingbirds) are known to like!
Summary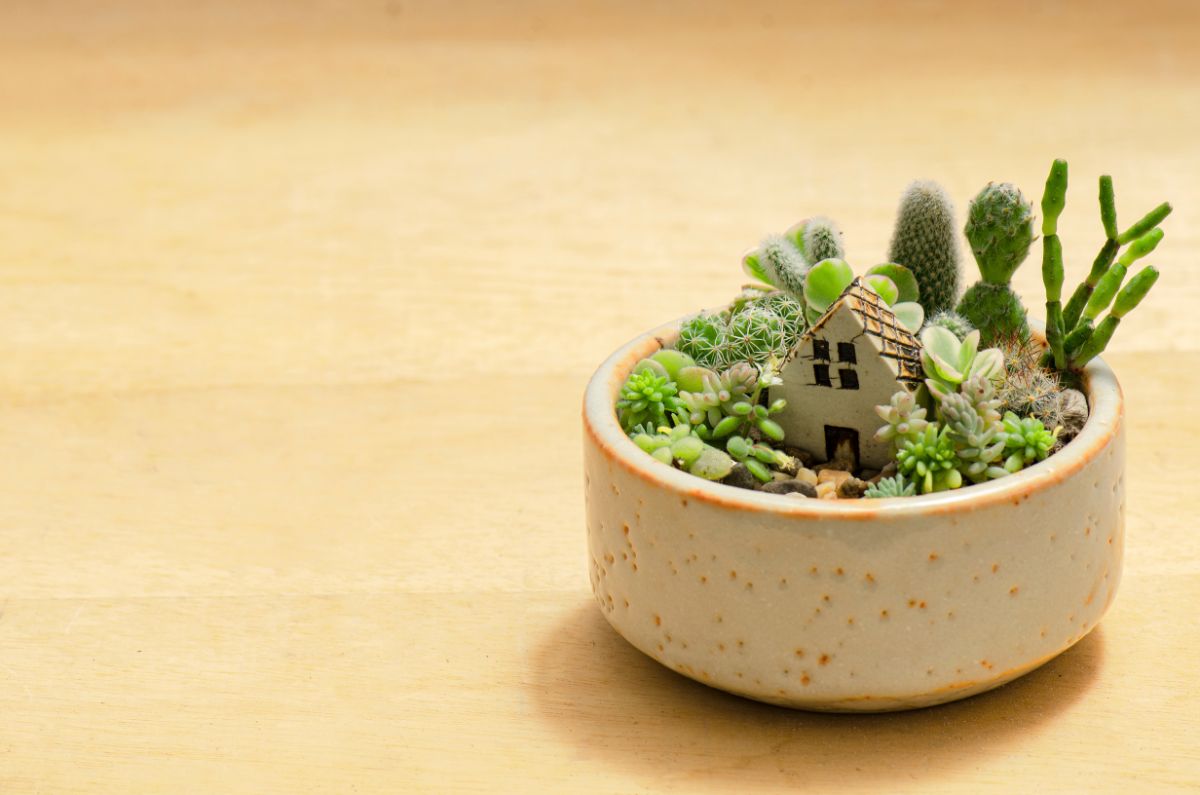 Fairy gardens have been gaining popularity for some time, and it's no wonder why. These adorable indoor planter arrangements are fun to create and even more enjoyable to grow when you get the hand of landscaping in miniature.
For kids of all sizes and crafty adults, this fairy garden project is the perfect craft for a rainy weekend. If you enjoyed this project, check out our other DIY ideas here.