Among the most popular spring-blooming perennials are hyacinths. These bulbs produce stalks with breathtaking blooms that make a lovely complement to other bulb flowers, such as tulips.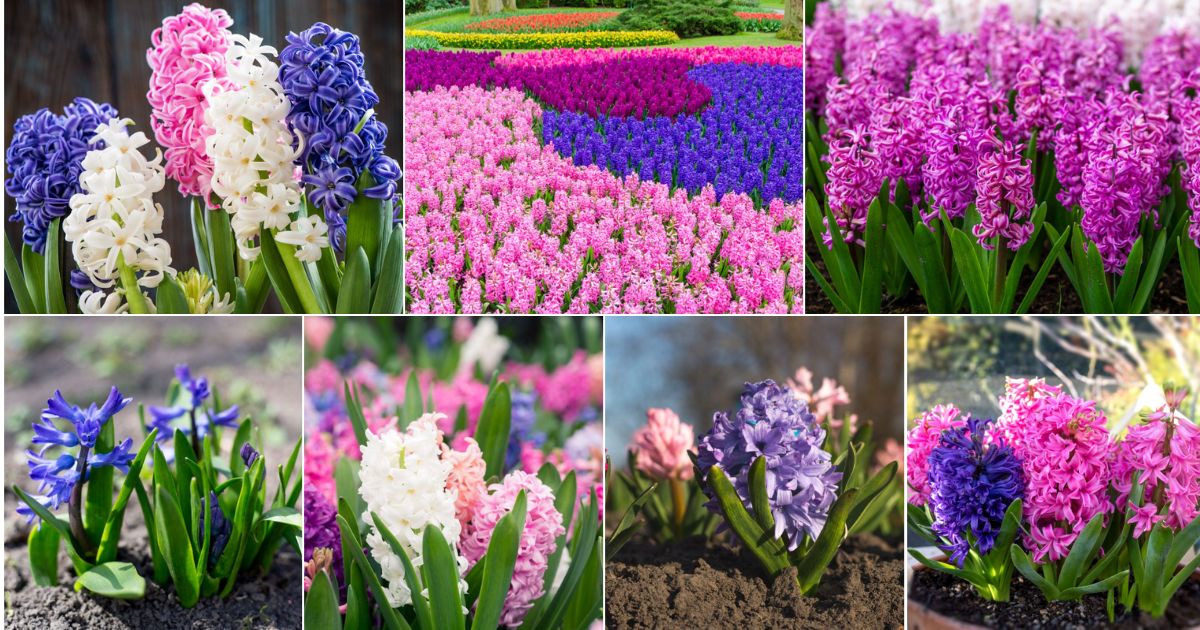 In this detailed growing guide, we will introduce you to the care requirements for this perennial, along with instructions for planting.
If there is a specific section you want to jump to, you can use the table of contents below. Otherwise, read on for the full guide.
Jump to:
Hyacinth Basics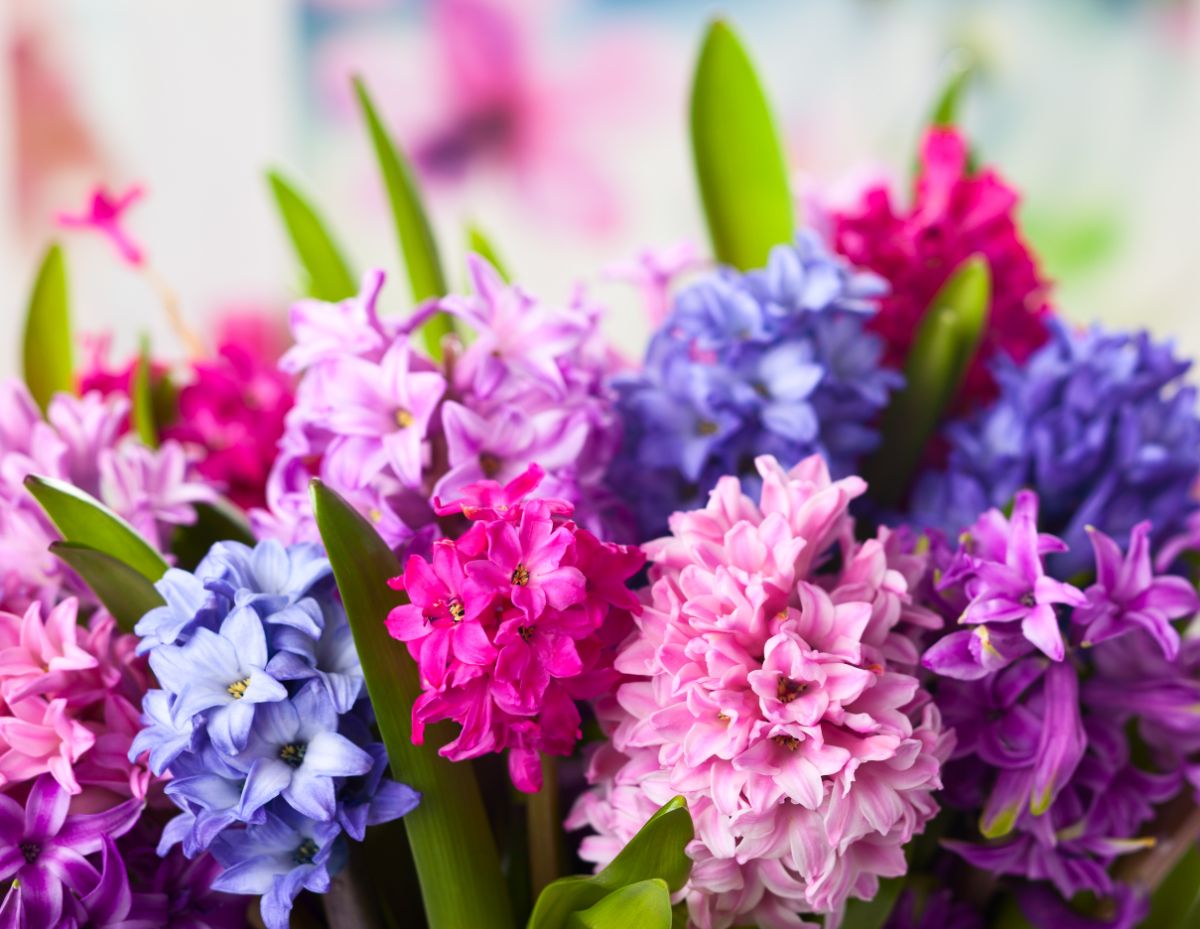 Zones: 4-8
Blooming season: Spring
Expected height: Up to 10"
Soil: Loose, well-drained
Sun: Full to partial
Where to Buy Hyacinths
Are you excited to plant these stunning spring bulbs in your garden? Shop hyacinth bulbs online to bring a variety of colors to your landscaping along with the breathtaking fragrance of hyacinths.
Water Hyacinths Floating Water Garden Plants (12 live plants)
You will receive 12 live floating water hyacinths. Just place in your water garden and watch them grow.
Due to state regulations, this plant can not ship to the following states: AL,AZ,CA,FL,PR,SC,TX,AR,LA,NE,WI,MN,MS
Where Do Hyacinths Grow?
Hyacinths are native to the Mediterranean region. But because they thrive well in a variety of climates, they are now cultivated around the world.
Why Grow Hyacinths?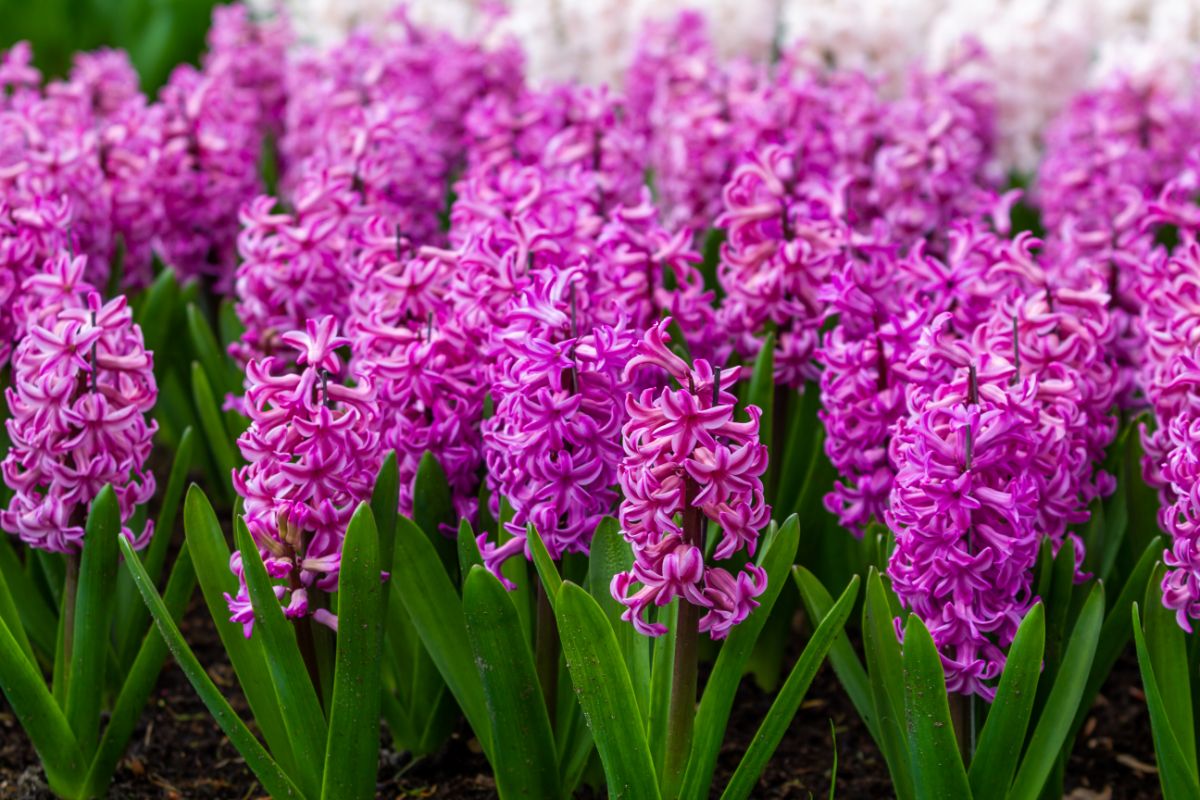 Here are a few of the benefits of hyacinths in your garden.
Hyacinths smell amazing—so much so that Homer and Virgil both wrote about their legendary scent.
You can "force" hyacinths indoors if you want to savor a taste of spring early. In fact, you can even enjoy hyacinths by the end of December if you use bulbs that are untreated.
Insect infestations and diseases are not common issues with hyacinths, which makes them easy to care for. Just make sure that the soil is draining well.
Butterflies and bees are attracted to hyacinths, making them an excellent addition to a pollinator garden.
Hyacinths are available in a rainbow of colors including blue, pink, white and more. You can create some very artistic effects with imaginative landscaping.
A hyacinth plant does not require a whole lot of watering, though you do need to be mindful of its changing needs throughout the year.
Hyacinth Landscaping Ideas
While there are many different ways you could make use of hyacinths in your garden, here are a few popular landscaping ideas.
Line walkways in your garden. One popular way to use hyacinths is along garden paths. The benefits are twofold. Not only do the hyacinths add color to the paths, but you also can enjoy their fragrance as you stroll through your garden.
Plant them near your windows. Just as garden paths make a convenient place to plant hyacinths to enjoy their scent, the same is true for locations near windows. During the spring, as you open your windows to bring fresh air into your home, the fragrance of the hyacinths will drift inside to delight your senses.
Neat shapes and rows. If you plant your hyacinths relatively close together, you can easily create neat rows, circles, or other shapes. In fact, you can plant rows in different colors to create a beautiful formal effect. Let your creativity run wild—you may be amazed at what you achieve.
Recommended Hyacinth Varieties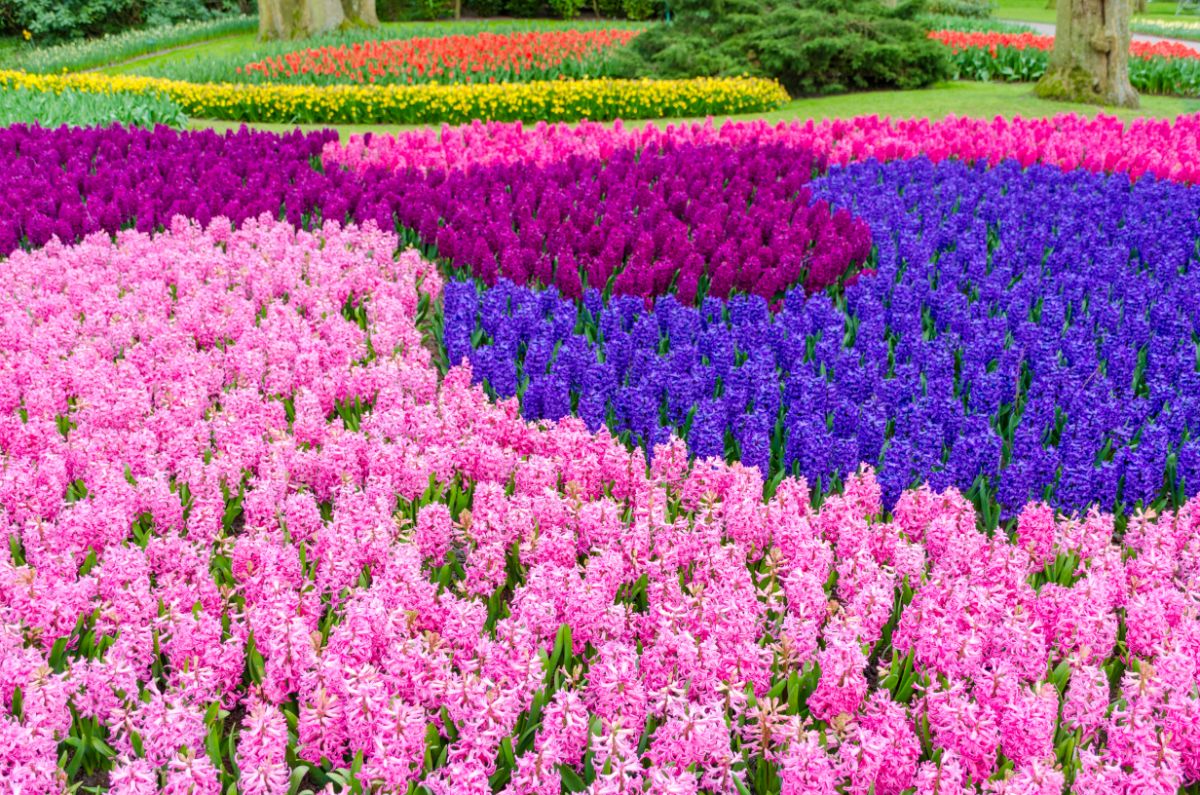 It comes as no surprise that these flowering bulbs come in quite a few gorgeous varieties. Here are some cultivars you may enjoy.
Blue Festival: One cultivar you might consider for blue flowers is the aptly-named "Blue Festival." You can fill out an area of your garden quickly with this variety, since each bulb produces as many as half a dozen clusters of flowers. The blossoms appear in the middle of spring, and may sometimes last as long as 3 weeks.
Blue Star: When you behold the wondrous blue blooms of this variety of hyacinth, it will be easy to understand the origin of the name "Blue Star." The flowers have a very star-like shape to them, producing a very full appearance on the stalks. The color is also very much "blue" rather than "purple."
Blue Jacket: If you want a variety of hyacinth that includes flowers with a really deep blue hue, this cultivar could be perfect for your garden.
Anna Marie: A cultivar with pale pink blossoms is this one, blooming in mid spring. It is prized (literally—it has won awards) not only for its beautiful flowers, but also their spectacular fragrance.
Pink Festival: This variety is similar to Blue Festival, except that the flowers are hot pink. They feature petals that are darker pink in their centers and lighter pink at their edges for a dramatic appearance.
Carnegie: If white petals are more your thing, think about planting the snowy "Carnegie" cultivar.
Delft Blue: Here is a cultivar of hyacinth that has an appearance that is fairly close to that of the "Blue Star." It is particularly recommended if you want to force hyacinths for indoor enjoyment.
Pink Surprise: The stalks of this variety of hyacinth produce compact, dense clusters of pale pink blooms.
Jan Bos: If you prefer darker pink flowers, the "Jan Bos" cultivar of hyacinth is just what you are after.
Pink Pearl: These hyacinths produce flowers that are mostly light pink, but have thin dark stripes through the middles of the petals. Their look is very distinctive.
Splendid Cornelia: This type of hyacinth produces petals in light purple.
Woodstock: Want a cultivar of hyacinth with deep purple petals? Consider "Woodstock." They have a warm, slightly pinkish tone and a deeply saturated appearance.
White Festival: Just as "Pink Festival" and "Blue Festival" cultivars exist, so does a "White Festival."
City of Haarlem: If you are looking for a different hue than pink, white or blue, you will love the spectacular pale yellow blossoms of the "City of Haarlem" cultivar. These flowers can look lovely next to daffodils, which share similar hues, or in contrast with blue hyacinths.
Hollyhock: Another type of hyacinth that sports a spectacularly unexpected color is the "Hollyhock" cultivar. The blooms on this variety are red.
Miss Saigon: An option if you want a purplish-pinkish cultivar of hyacinth is "Miss Saigon," which produces dense blossoms for an eye-catching look.
Top White: This bright white cultivar produces showy blossoms.
Gipsy Queen: Among the most unique color options for hyacinths is the pale coral color of the "Gipsy Queen" cultivar.
This is not a full list of all cultivars for these perennial bulbs. Online, you will find the largest selection of hyacinth varieties.
When Do Hyacinths Bloom?
Look for your hyacinths to start blooming in early or mid-spring.
How Long Do Hyacinths Bloom?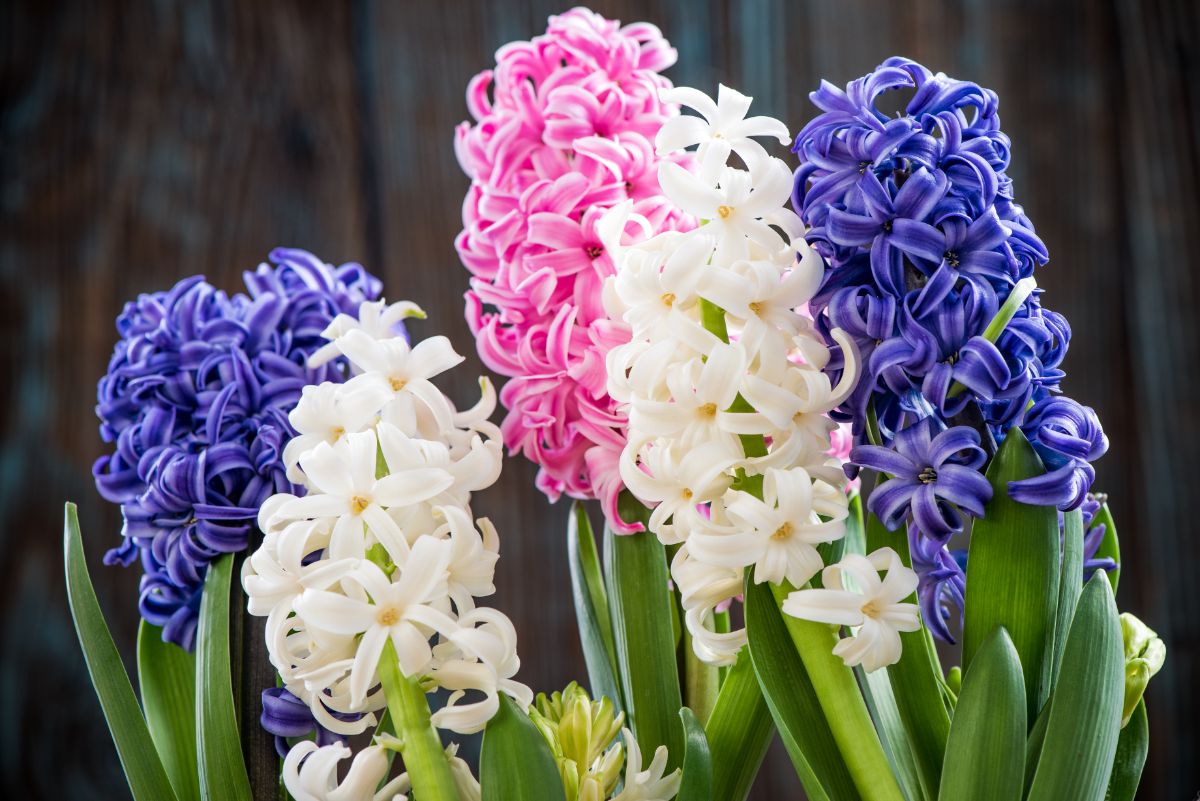 You can look forward to enjoying your hyacinth flowers each year for around two weeks, sometimes a bit longer.
That may not sound like very long, but if you compare the bloom period to that of some other bulb flowers that blossom in spring, you will discover it is not bad at all.
When to Plant Hyacinths
The right time for planting your hyacinths is in the autumn. You want to wait until the first frost, but get them in the ground prior to the first freeze.
Ideal Growing Conditions for Hyacinths
Let's talk about the sun, soil, and water requirements for hyacinths to flourish at their best.
How Much Sun Do Hyacinths Need?
You are good to go with full sun or partial shade when planting hyacinths. That said, you will usually get the best results if they receive full sunlight.
What Type of Soil is Right for Hyacinths?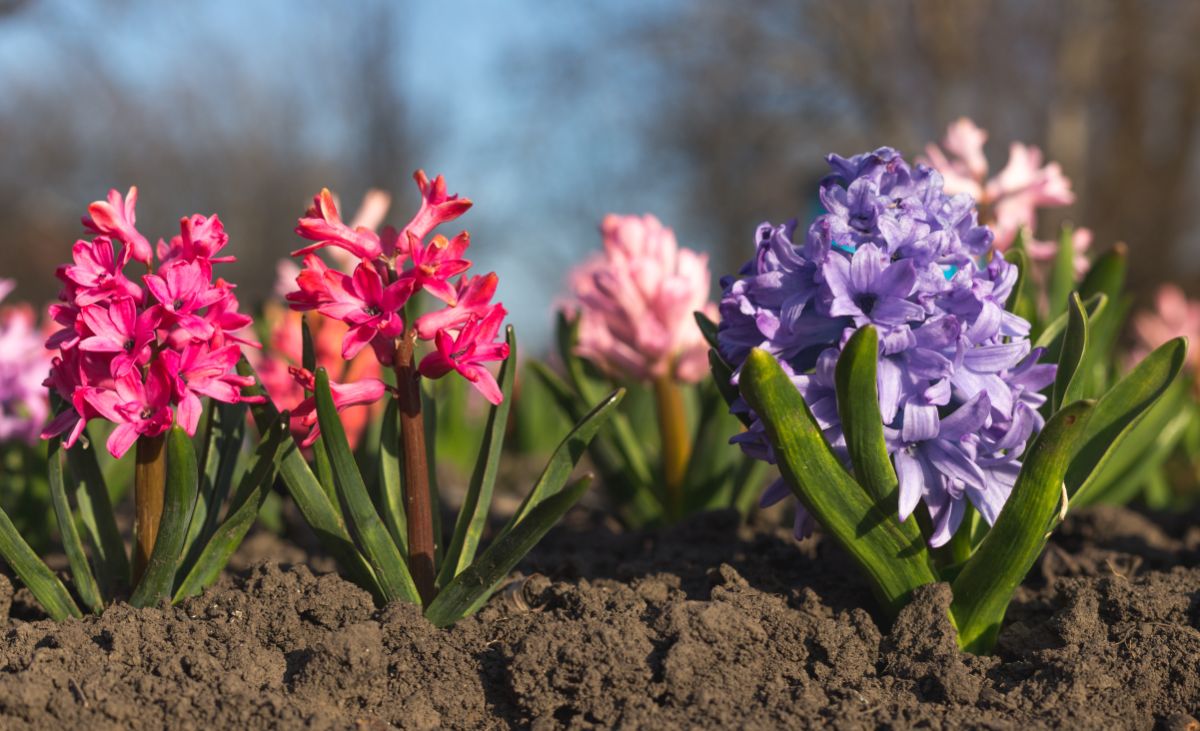 Loamy, well-draining soil is best for hyacinths. A pH between 6.0 and 7.0 is most suitable, but hyacinths are pretty flexible in that department. That said, the pH can influence bloom color. See the FAQ for more information.
Dutch Grown emphasizes, "Flower bulbs are tough cookies that are easy to grow, but one thing they hate is getting their feet wet: a bulb that is 'bathing' in water will rot in no time. So avoid soggy soil at all cost – this means places where you can still see puddles 5-6 hours after a rainstorm. Another thing you can do is to upgrade potentially soggy soil by adding organic material such as peat, bark or manure."
How Much Water Do Hyacinths Need?
Proper care of your hyacinths involves giving them the proper amount of water throughout the year. Follow the guidelines below:
After planting in autumn, water deeply. The amount you give should add up to 1 inch.
After the watering above, take a break from watering altogether.
When your hyacinths start to grow during late winter or early spring, you can resume watering. During this time, hyacinths require little water. Push your finger down into the soil. If the top 3 inches are dry, then it is time to water. Once again, 1 inch is sufficient.
Hyacinths need even less water once the leaves die in summer. At that point, 1 inch a month is usually all that it takes. If there is enough rainfall, you might not need to do this yourself.
When it is time for dormancy, no water is required. You then begin again in late winter or early spring.
It is best to water near the soil, rather than from above. That way, it is less likely that you will have problems with moisture and rot.
Under no circumstances should your hyacinths be allowed to have wet feet. If standing water is present, you need to relocate the plants and/or amend the soil so that it can drain.
How to Plant Hyacinths
Below, we give instructions for various approaches to planting and growing hyacinths. For container and ground planting, you will start out with bulbs.
Container Planting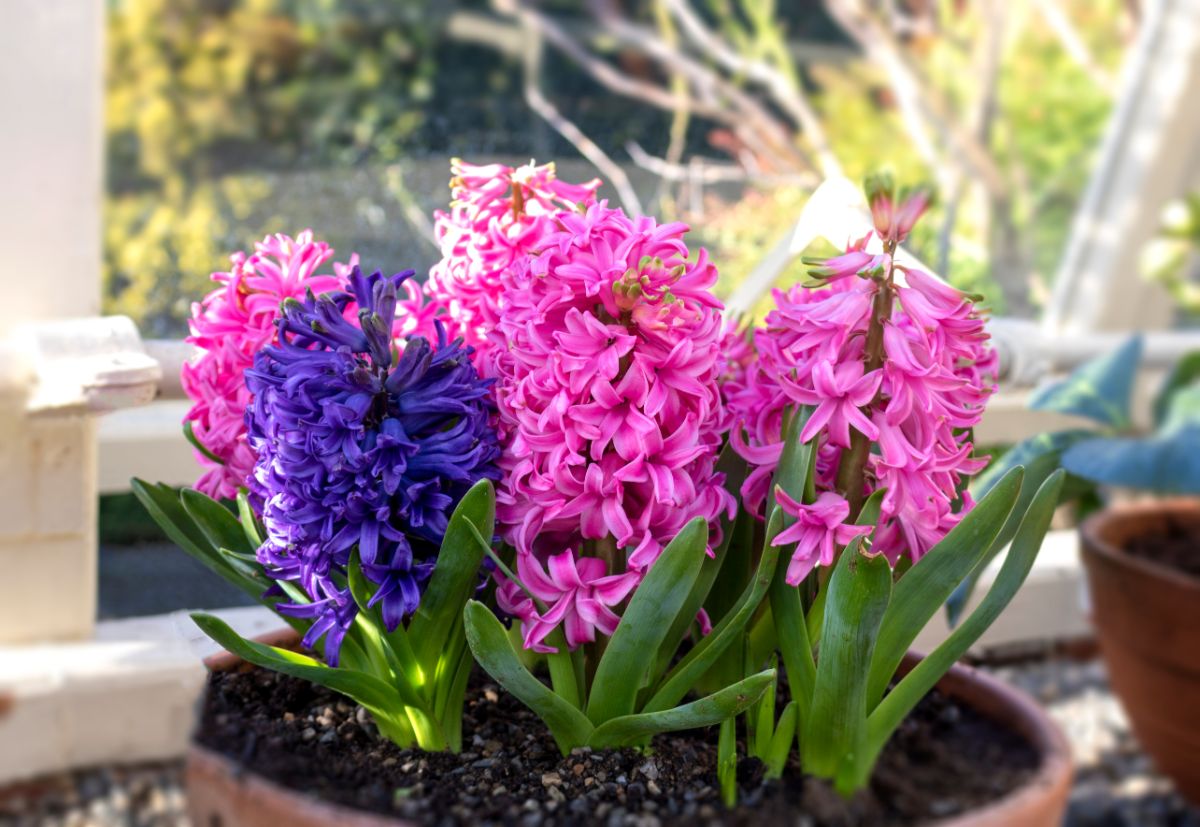 In fall, once the soil temperature outdoors has dropped to 60 degrees Fahrenheit, you can plant your hyacinths in pots.
When you receive your hyacinth bulbs in the mail, store them until they are ready to plant. They should be kept 40-70 degrees Fahrenheit somewhere dry. That means the air needs to be able to circulate to prevent rot.
Pick a container for your hyacinths. It is absolutely critical that it be able to drain well, so add holes to the bottom if necessary.
Add loose soil to the container.
Plant hyacinth bulbs in the container. You will have to dig holes for each of them. Turn them so the pointed ends face up, and place them 6-8 inches down. Ideally, you should put around 5-6 inches of space between the bulbs. In some case, you can get away with a tad less. How many hyacinth bulbs you can place in your container will depend on the size of that container.
Next, backfill the soil, then water deeply.
What you need to do your next depends on your location. If you are in zones 3 through 7, you should overwinter the potted bulbs in a cool location indoors. Outside those zones, you can keep the pots outside in your container gardens. When spring comes around, hyacinths in containers will blossom.
Going forward, you will need to keep overwintering as appropriate for your climate. Dutch Grown says, "Unfortunately containers can't protect bulbs as well as mother earth can, so when you live in hardiness zones 4-7 it might be better to let your containers spend the winter indoors, in a cool, dark, well-aired spot that won't get warmer than 60 degrees Fahrenheit, like an unheated basement or garage."
Ground Planting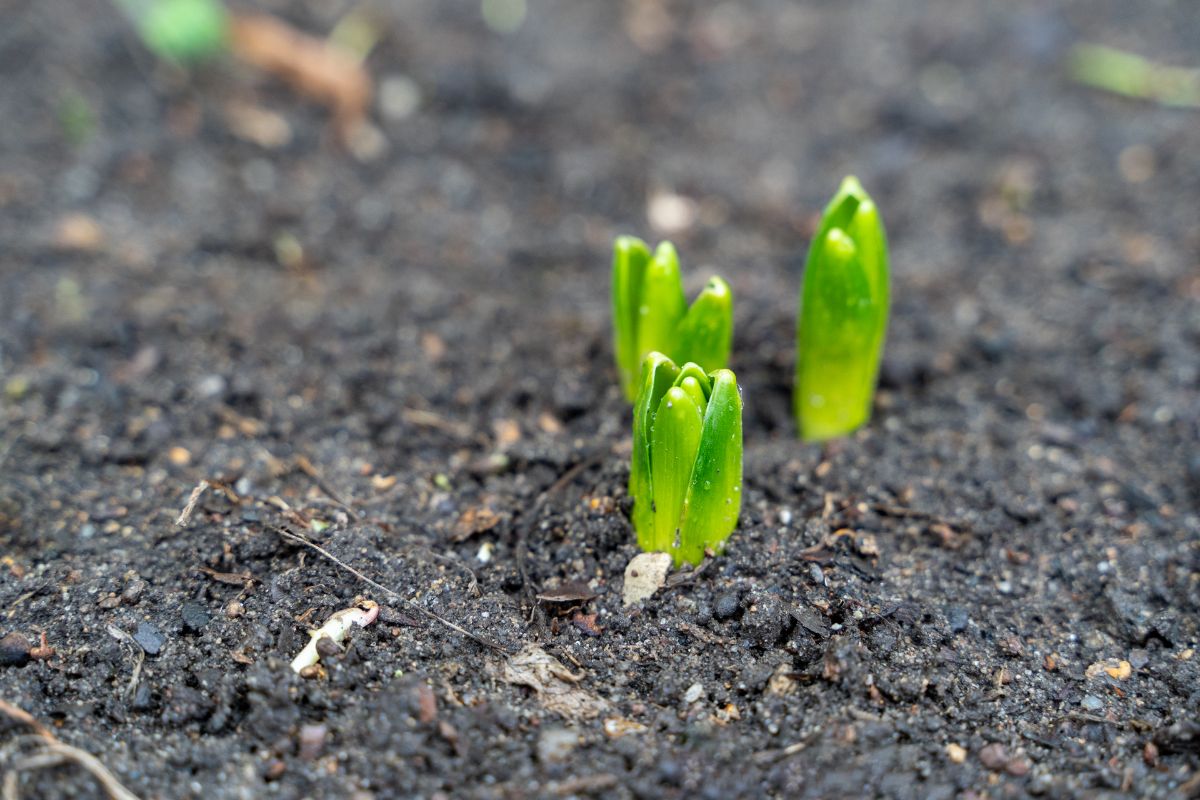 If you want to plant hyacinths directly in the ground, here are the steps. Once again, plant in autumn when the soil temperature is down to 60 degrees Fahrenheit or lower.
Pick a spot in your perennial garden for your hyacinths. The most important thing about the spot you choose is that the soil is able to drain. As we mentioned before, full sunlight is often deal, but some dappled shade can work too.
Prepare the soil. If necessary, you can amend the soil using organic materials. That may improve draining.
Next, dig holes and plant your bulbs, following the same directions for spacing that we gave above for potted hyacinths.
Backfill the soil and water deeply.
Now, you just need to be patient as you wait for springtime when your hyacinths will bloom.
Starting Hyacinths from Seed
You might be curious whether it is possible to start hyacinth plants from seeds. Hypothetically, the answer to that question is "yes." But it is not something that you are going to want to try to do. It takes a very long time, and it can be difficult to succeed at all. It makes a lot more sense simply to grow from bulbs.
Propagating Hyacinths with a Basal Plate Cutting
There is a method you can use to propagate hyacinths with a basal plate cutting. Here is how it works.
Look down around the bottom of the bulb where the roots emerge to locate the basal plate.
Using a curved scalpel, cut into the basal plate, pulling it away. After you do this, the shoot will no longer be attached to the bulb.
At this point, the bulb will become susceptible to fungal infections, so apply a treatment to the area you cut.
Find a warm, dark location where you can store the bulb for now. It will need to be placed upside-down.
The bulb will now produce additional bulbs, complete with root systems.
Once you see healthy roots on the new bulbs, you can separate them from the parent bulb.
You can plant the bulbs in autumn.
Growing Hyacinths in Water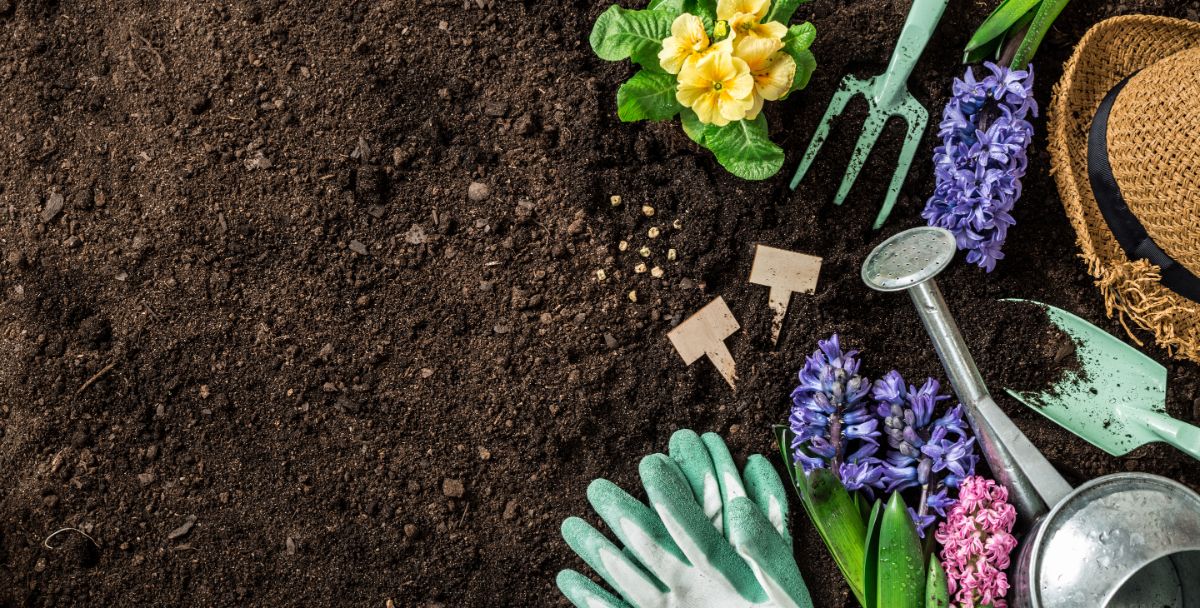 One fascinating thing about hyacinths is that it is actually possible to grow them in water. All you need for this is a bulb vase that has enough room for the bulbs and roots.
First, place the bulbs in your refrigerator for 8-10 weeks.
After you are done with this chilling phase, you can take the bulb out. Fill the bulb vase with water, and insert the bulb. The shape of this type of vase holds the bulb in place so it does not fall down into the water. The roots should be in contact with the water.
Find a cool, dark location for your bulb. A cellar or garden shed is ideal. Wait for around six weeks. If the water evaporates too much, make sure to add more so that the roots still can reach it. The roots will grow over the course of the six-week period, and you will notice the bulb producing a shoot.
Watch the shoot growing. After it has 2-3 inches of height, you can relocate the bulb from the dark, cool spot to a place that is warm and receives ample light.
Periodically turning the vase will help the shoot to continue growing upright. Enjoy the blossoms!
What should you do with the hyacinth bulb in water after flowering? As far as we can tell, the only thing you can do is transplant the bulb into soil, whether in a container or your garden bed. This is your only option if you want it to blossom again the following season.
How to Care for Hyacinths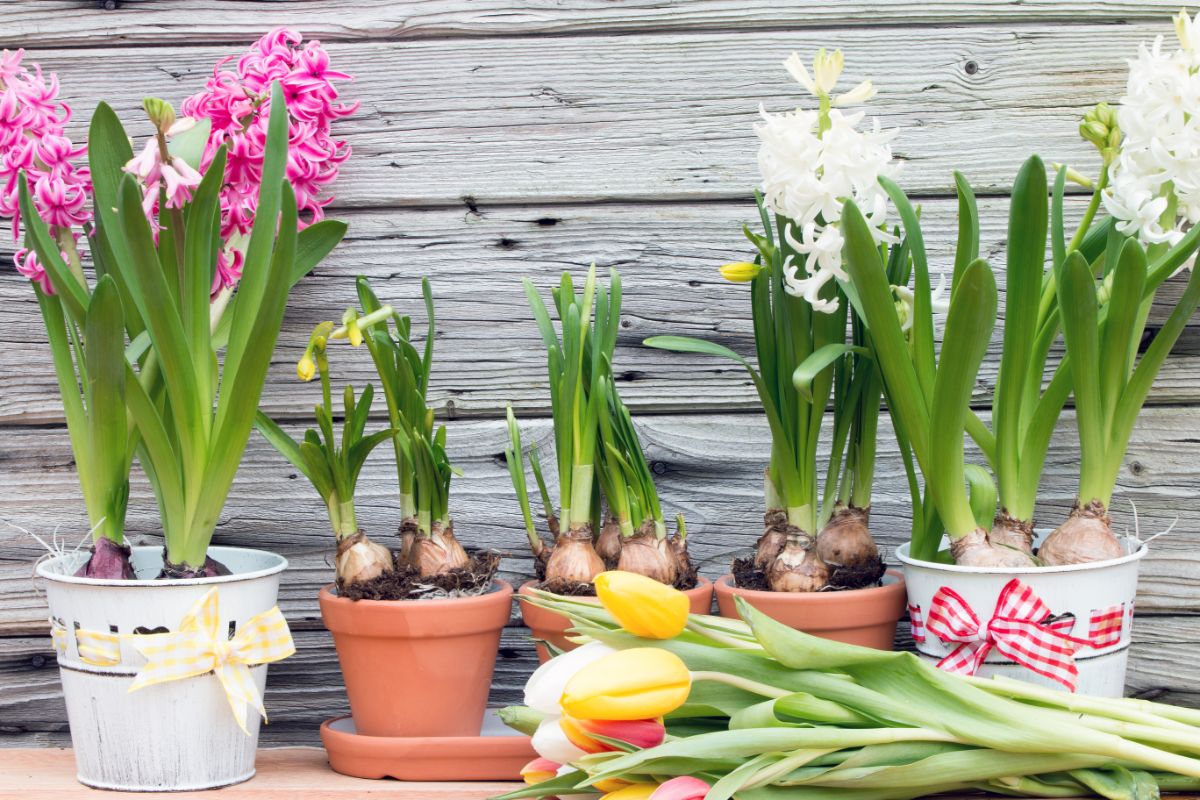 Now you know how you can plant hyacinths or propagate them. But how do you take care of them so that they produce beautiful blooms every year? Let's go over what you need to know about fertilizing, mulching, pruning and more.
How to Fertilize Hyacinths
Hyacinths do appreciate fertilizing, and there are a couple of options with the timing. White Flower Farm advises, "The best time to fertilize bulbs is in fall, when they are sending out new roots. The next best time to fertilize is in early spring, just as the foliage begins to push through the soil. We recommend using a slow-release fertilizer formulated especially for bulbs, such as a granular Daffodil fertilizer …We do not recommend using bone meal. It contains only one primary nutrient (phosphorus) and attracts dogs and rodents, which may dig up the bulbs."
How to Mulch Hyacinths
In most cases, it is not necessary to mulch your hyacinths. But if you happen to be located in USDA zone 4, you should consider applying it.
How to Stake Hyacinths
Sometimes, hyacinths can droop. First, you should make sure that the plant is getting the water and nutrition it needs.
If it is, but it is still flopping over, there are small stakes you can purchase specifically for hyacinths.
How to Deadhead Hyacinths
After your hyacinths are done blooming, you should deadhead them. You can do this by cutting off the stalk.
You should not cut hyacinths all the way back when you deadhead them—you should leave the foliage in place.
Eventually, the leaves will also die. After they do, you should get rid of them. If you do not, your plant may be more susceptible to fungus.
How to Transplant Hyacinths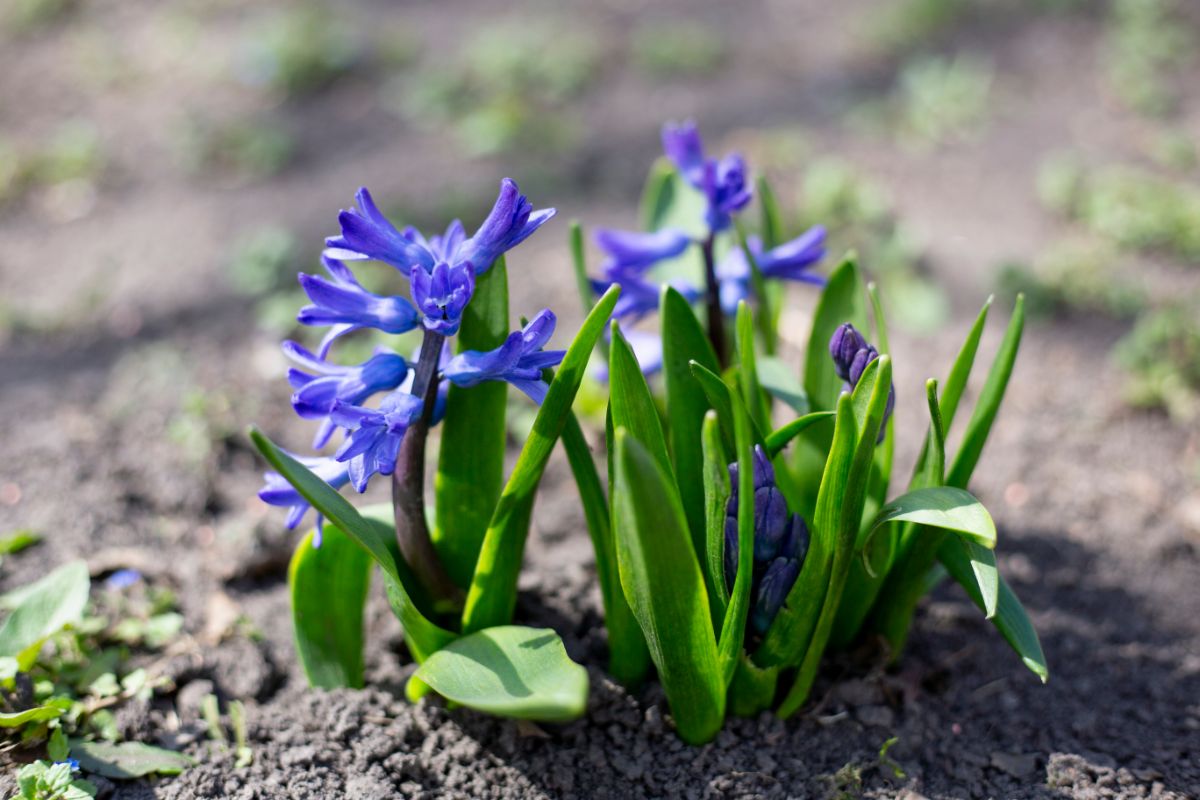 There might sometimes be situations where you need to relocate a hyacinth in your garden bed. Here are the steps.
In springtime, wait for the last flowers to wilt. Alternately, wait until autumn (spring is arguably easier, but fall is just fine).
Dig down into the soil with a shovel in a circle around the plant, and then dig down underneath and push upward to remove the hyacinth bulb from the ground. Make sure that you are going deep enough to not injure the roots.
If it is appropriate to divide the bulb clump, you can do so now.
Dig holes in your garden beds in new locations for your hyacinth transplants, and insert them into the soil.
Backfill the soil and water deeply.
For the next few days, you may need to provide a little extra water during establishing.
Resume with a regular watering schedule.
Are Hyacinths Vulnerable to Diseases or Pests?
There are not a lot of diseases that tend to trouble hyacinths. But you will want to watch out for botrytis blight, yellow disease, and soft rot.
The best thing you can do to prevent hyacinth diseases is to ensure that your hyacinths are not in soggy soil and that they are receiving plenty of airflow.
Some insects that may sometimes infest hyacinths include root knot nematodes and bulb nematodes. But on the whole, insect problems are rare.
Rodents can pose an issue for hyacinths, since they may like to dig up the bulbs. You would think issues with toxicity (see the FAQ) would discourage them, and sometimes, it does. But other times, groundhogs, squirrels, rats, and other animals are persistent, and continue to eat your hyacinth bulbs.
The situation is much the same with rabbits. If there are plenty of other sources of food, it is not likely that rabbits will disturb your hyacinths. But if there are not, they could.
What can you do about it? You will need to find a way to deter all these mammals. Sometimes, burying a garden fence around your hyacinths may work. You can also try hardware cloth.
One thing you probably will not need to worry about is deer. It is rare for deer to try to eat these fragrant plants.
Recommended Companion Plants for Hyacinths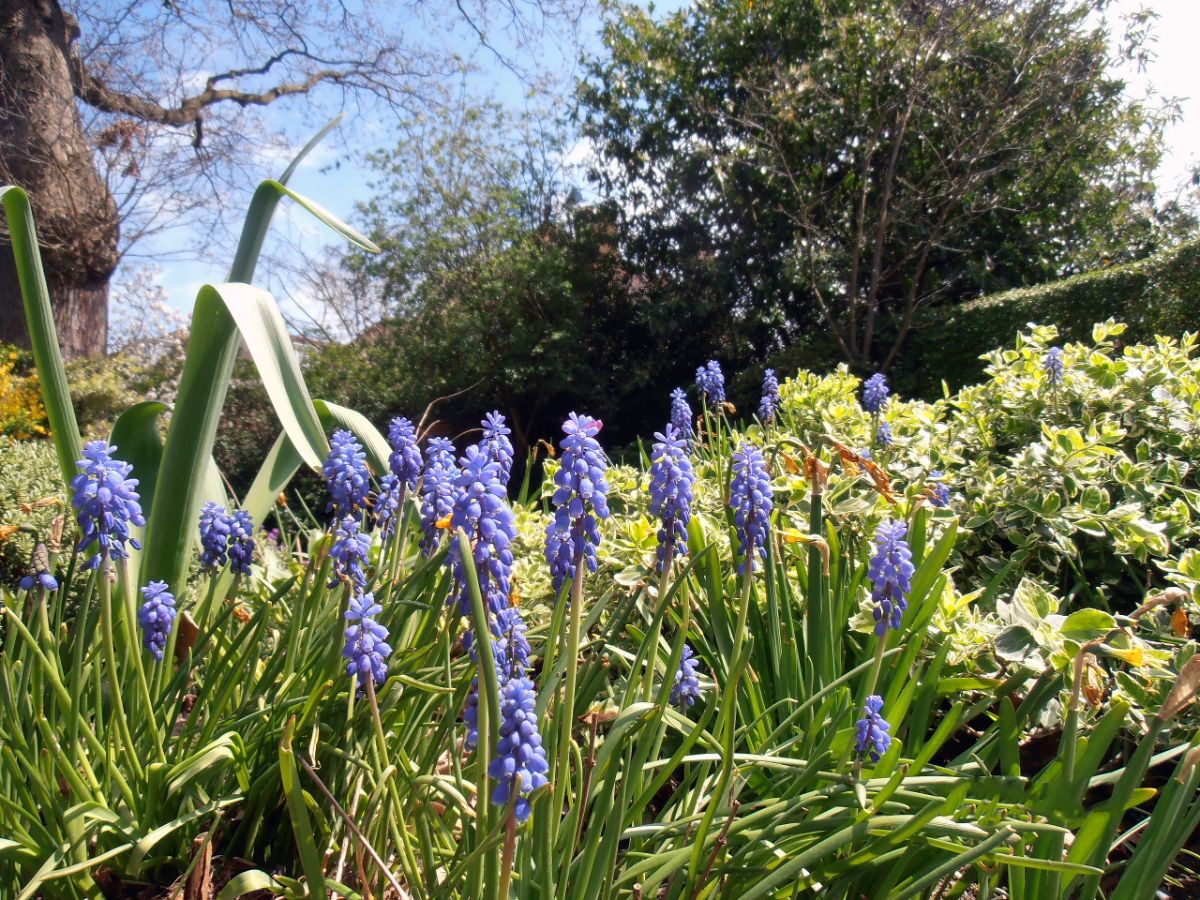 What are some companion plants that go well with hyacinths? Here are a few ideas.
Tulips: These spring bulb flowers thrive in loose, well-draining soil in zones 3-8 in full to partial sun. In other words, they flourish in the same conditions that hyacinths do, and they blossom during the same season. Since they are also iconic spring bulb flowers, they can help you create a really classic look when planted alongside hyacinths.
Daffodils: These are also bulb flowers that blossom in spring and grow well in loamy soil and full to partial sun. As such, they our ideal companion plants for your hyacinths and tulips.
Forsythias: For a stunning contrast with blue or purple hyacinths, consider planting golden forsythias. These perennial shrubs blossom dramatically in spring, and flourish in loose, well-draining soil and full to partial sunlight.
What Are Hyacinths?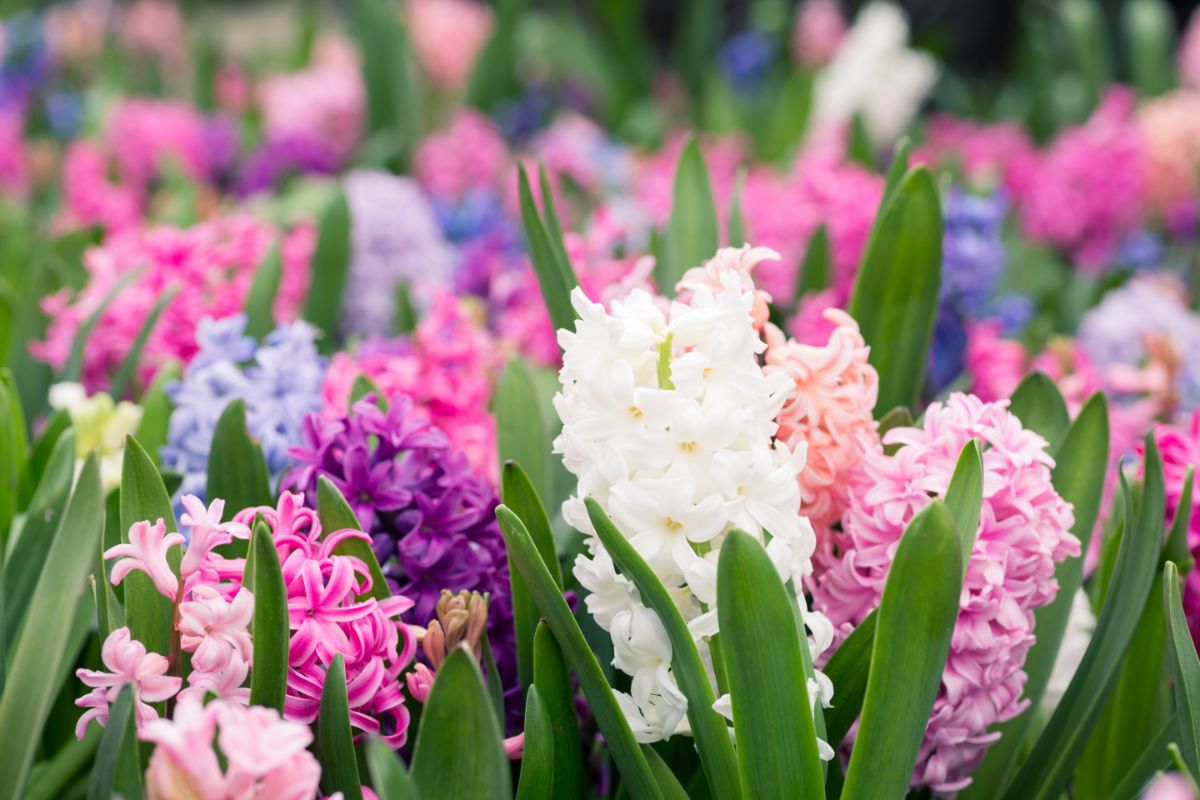 Hyacinths are flowers in the genus called Hyacinthus, which in turn falls under the family Asparagaceae. As you might guess, that is the asparagus family.
The classic hyacinth has a purplish color, but there are also cultivars that have white, pink, or creamy hues.
For many people, hyacinths are among the first flowers they think of when they look forward to spring. Traditional meanings linked to hyacinths include renewal and constancy.
Are hyacinths annuals or perennials? The short answer is "perennials," meaning they come back into bloom year after year.
That said, you may need to take some extra steps to get them to return, depending on your location.
Dutch Grown explains, "If you live in a warm climate zone, you need to dig up hyacinth bulbs after blooming and refrigerate them for 6 - 8 weeks before planting again in fall to get them to bloom. Many gardeners in these areas prefer to treat hyacinths as annuals, discarding the bulbs after blooming and choosing fresh ones to plant in fall."
This is the opposite of what we see with a lot of other perennials, which may be hardy in warmer climates, but susceptible to damage in colder climates. Those types of plants require overwintering in some areas.
And actually, that is also the case with hyacinths! If your winters are too cold, you might have to bring them indoors for a time.
So, while hyacinths can return year after year, they can be quite picky about your climate.
You might be wondering more about the history of hyacinths.
Although Ottoman rulers of the 15th century treasured hyacinths, it was not until the 17th century that these flowers really took off.
The University of Arkansas writes, "During the 17th century the color range of the flowers were expanded and the French began making perfumes from the flowers. At the end of that century a double-flowered form was discovered and the garden world went crazy for hyacinths. In the 1730s a market frenzy developed and double flowered hyacinth clones were selling for outlandish prices, just as had occurred with tulips a century earlier. At the start of the 18th century there were 50 clones of hyacinths being sold. By the end of the century, 2000 were being offered with two thirds of these double flowered selections."
Nonetheless, hyacinth's reign was not to last. The site continues, "Today there are only about three dozen hyacinth clones offered in the bulb trade with all of them single flowered. Double flowered forms are said to still be offered but I have never seen them listed nor have I seen one in flower."
Hyacinths vs. Grape Hyacinths
Are grape hyacinths hyacinths? Weirdly enough … no.
Like hyacinths themselves, grape hyacinths are popular perennials. They even have some similarities in appearance, being as the flowers grow in clusters on stalks, and often share a purplish-bluish hue.
But grape hyacinths actually belong to Muscari, an altogether different genus. That said, they do also belong to the asparagus family.
Frequently Asked Questions About Growing Hyacinths
To wrap up our guide, let's go over answers to some common questions that gardeners ask about hyacinths.
What eats hyacinths?
If something is eating your hyacinths, some possible suspects include rodents, nematodes, and rabbits. Thankfully, it is not too common to have these issues.
How do you force hyacinths indoors?
If you want to force hyacinths, you will need a well-draining container full of appropriate soil. You then will have to insert the bulbs.
Iowa State University writes, "Place one or more hyacinth bulbs on the soil surface. Adjust the soil level until the tops of the bulbs are slightly below the rim of the container … Once the bulbs are in position, place additional potting soil around the bulbs. However, do not completely cover the bulbs. Allow the bulb tops (noses) to stick above the potting soil."
It is wise to note the date you planted the bulbs on the container along with the cultivar. Right after you plant the bulbs, you need to water them.
Over the next 12-16 weeks, your hyacinths need to be kept in the dark at a temperature range between 40 and 45 degrees Fahrenheit. You might be able to use a basement for this purpose, or maybe a garden shed or even your refrigerator.
Iowa State cautions, "When using the refrigerator for storage, place the potted bulbs in a plastic bag if the refrigerator contains apples or other ripening fruit. Ripening fruit gives off ethylene gas which can inhibit flower development and plant growth."
Check periodically on the bulbs if the soil is getting dry, and water. After the bulbs have spent a sufficient amount of time in the cold, you can move them to a spot that is between 50 and 60 degrees Fahrenheit. Expose them to a low to moderate amount of light.
Wait for about 5 days. After that, you should see some green color on the shoots. Now you can move them to an even warmer spot in the 60 to 70 degrees Fahrenheit range. They should be exposed to a high amount of light. Do not forget to continue watering them as needed.
Within a few weeks, you should see them blossoming.
Do hyacinths cause skin reactions?
In some people, yes. Not everyone experiences this, but they could make you itch. If that is the case for you, try wearing gloves when you touch them.
I think my hyacinth flowers changed color. How did it happen?
Sometimes, you might notice that hyacinths that bloomed in one color last year are blooming in a different color the next. For example, maybe last year they were blue, but this year they are pink. What is going on?
Gardening expert Marianne explains the answer here, writing, "Hyacinths are like hydrangeas in that the color of the petals can change depending on the acidity of the soil. In acid soil with a lower pH the blooms will be blue. Even if you plant blue hyacinths, after a few seasons the roots may grow into your own more alkaline soil and turn pink. White varieties stay white."
So, even though hyacinths are flexible regarding pH, you might want to adjust your pH to produce the results you want—especially if you are doing something like rows of contrasting colors.
Marianne Binetti continues, "If you want to keep your hyacinths (or your hydrangeas) blue you can add aluminum sulfate to the soil to make it more acid. Look for this product with the label 'Garden Select' and you will be getting the form in a polymer coated granule just like Osmocote plant food. Just work the granules into the soil a bit, water and by next spring you should see more blue than pink hyacinth blooms."
Are hyacinths poisonous to cats and dogs?
Yes, they are. They contain a compound called calcium oxalate that can produce skin irritation, gastrointestinal disturbances, and respiratory problems.
State College Veterinary Hospital says, "Typical signs include profuse drooling, vomiting, or even diarrhea, depending on the amount consumed. There's no specific antidote, but with supportive care from the veterinarian (including rinsing the mouth, anti-vomiting medication, and possibly subcutaneous fluids), animals do quite well. With large ingestions of the bulb, more severe symptoms such as an increase in heart rate and changes in respiration can be seen, and should be treated by a veterinarian."
Every part of the hyacinth contains this substance, and poses is a threat to your pets. But the bulbs have the most calcium oxalate.
That means if your dog likes to dig, you should be extra mindful of him while he is in your garden. If he goes for the hyacinth bulbs, he could risk more severe poisoning.
Regardless of what part of the hyacinth your pet may have ingested, you should always contact your vet if you think that he has eaten any. That way, you can find out what you need to do to treat your pet promptly.
My soil does not drain. Can I not plant hyacinths?
The first thing you can do is try to improve the drainage of your garden beds with organic materials. If that doesn't work, however, you should not plant hyacinths in them. But that does not mean you are out of luck.
There are two other options you can consider. The first is planting hyacinths in pots. The second is to create raised garden beds. Both of these alternatives give you more control over soil conditions.
Can you grow hyacinths indoors?
It doesn't seem like most people grow hyacinths full-time indoors, though it is common to force hyacinths into blooming around the end of December.
Hypothetically, you just need to make sure your hyacinth is being exposed to the correct temperatures throughout the year, so it might be worth experimenting with hyacinths in your home year-round.