Sometimes you'll find a beautiful old rose growing in a cemetery, or in your grandma's yard, or at an old, abandoned house. Or you might have an old rose in your yard that one of your friends would like a cutting from. Plants are meant to be propagated, right? Especially when they're roses!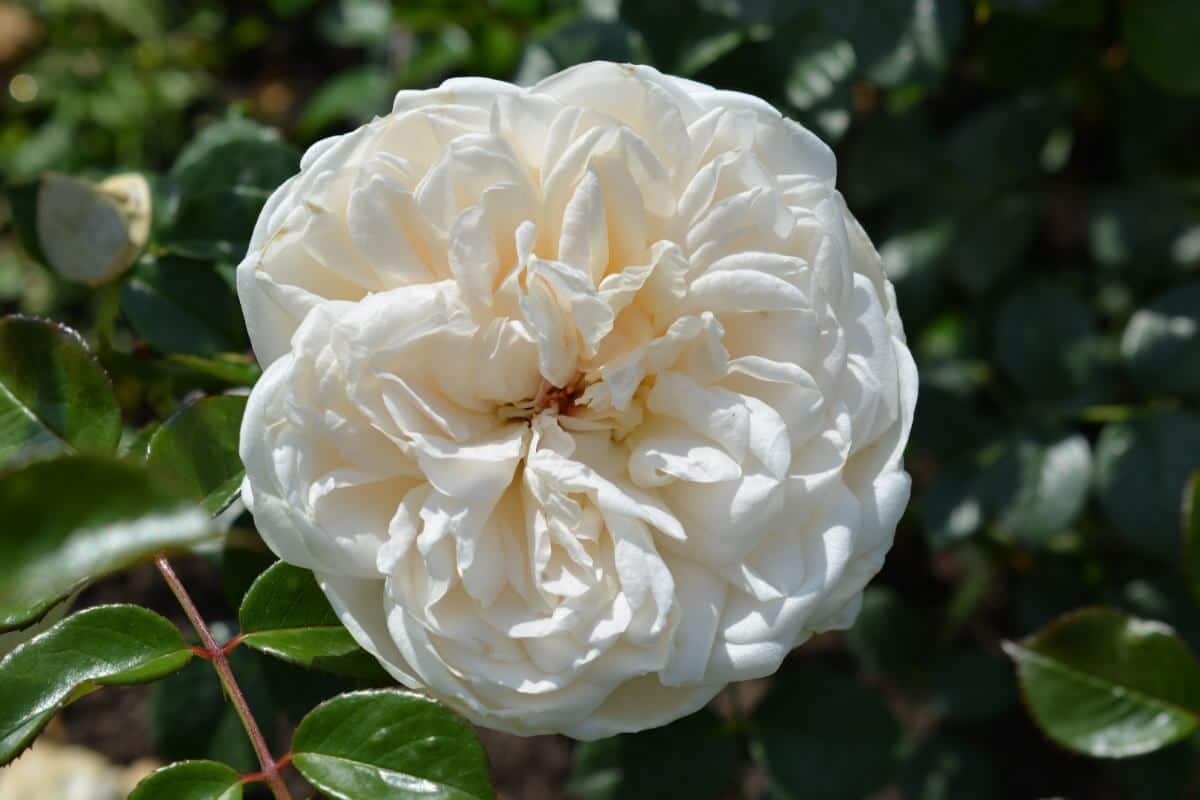 Jump to:
Well, if you have never taken a rose cutting before, or if you've had your cuttings fail, you're in the right place. Here are several ways to successfully take rose cuttings and grow your own bit of history.
"Your own bit of history? What's that all about?"
Well, there's often a lot of history in some of those old roses. My aunt is growing an old rose in her yard that once belonged to my Great-Great Grandma Ida Chilcoat, who died way back in 1918. This antique rose has a pink blossom with white in its center and a delicate apple
scent. It's also susceptible to powdery mildew – but nothing is perfect.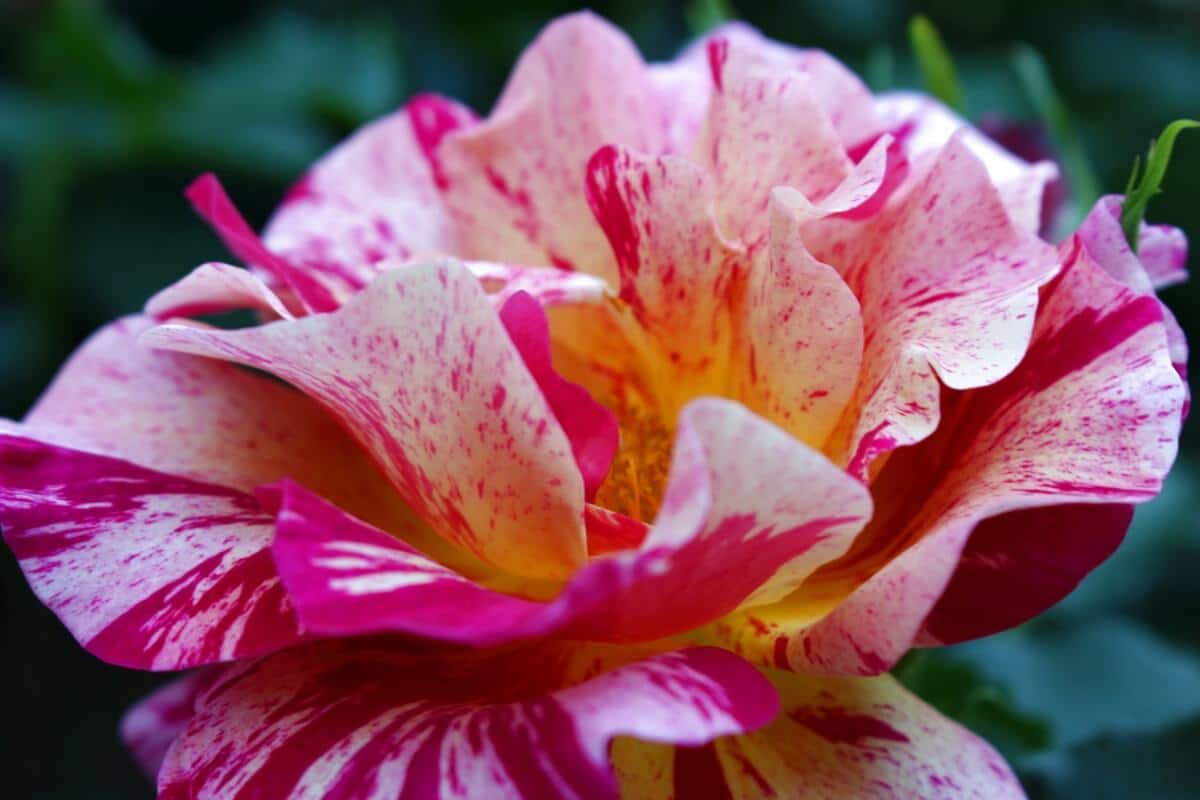 Even though my great-great-grandma is long gone memory, her rose is still here. I can enjoy the blossoms while thinking of how Ida cherished these same flowers so many years ago. I like the thought of saying to my kids, "This is the rose that your great-great-great grandma grew."
It's mind-boggling but pretty neat.
These old heirloom roses are just great plants to have in the yard. They're tough as nails – they have to be, to keep growing for decades – and their blossoms are gorgeous and smell so delicious. They're not like hybrid teas, which keel over if you look at them cross-eyed.
A Couple of Caveats Before You Start
It's better to ask permission than to get forgiveness.
If you want to take cuttings from a rose that's growing on somebody's property, always ask permission first. It's the polite thing to do, of course, and people generally say "Sure!" If the rose is growing in a public cemetery, you probably won't need to ask permission, though you should ask if it's an old private cemetery on somebody's land.
Don't propagate patented posies.
Taking cuttings from old roses is great, but be careful when it comes to taking cuttings from new roses, such as those that were recently bought from a nursery or mail-order business.
Many of these are patented roses, and it's illegal to propagate these plants in any asexual way (i.e. cuttings, layering). Before taking cuttings, check the label on your rose (generally the roses you buy will have a metal tag tied with wire to the base of the plant). If the plant name has a trademark symbol or a patent number, it's patented. If the tag says PPAF, that means "Plant Patent Applied For" which also means it's off-limits.
Don't peddle patented posies
And definitely don't sell cuttings from a patented rose, or make a profit from the plant in any way, because the patent owners will come for you! A couple of years ago, a rose grower illegally propagated the popular 'Knock Out' roses in order to sell them. Conard-Pyle Co. (now Star Roses), who holds the patent, found out about the knock-off Knock Outs, and hit the grower with a huge fine, and made them destroy all the offending roses. Whew!
However, don't despair. The patents often run out after 20 years. After the patents expire, the rose is generally fair game for propagation.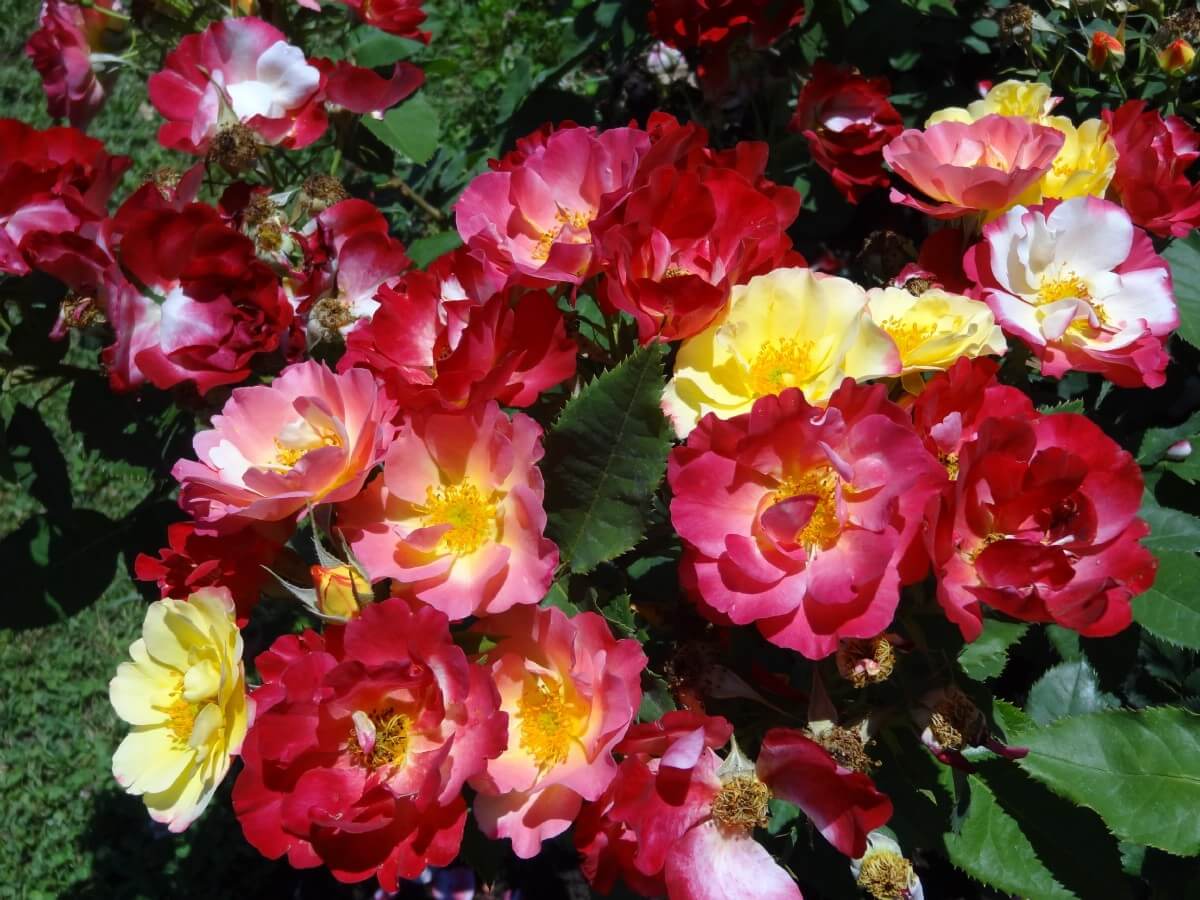 Now, if you find an old rose that's been growing for a couple of decades, and you plan to take cuttings for yourself and maybe give a couple to your grandma, take all the clippings you like, the rose police won't care. However, if your grandma runs an illegal rose-propagating ring and is involved in a turf war with various hard-bitten rosarians – well, you might sit this one out.
Rose Cutting Supplies!
Take a moment to get all your supplies lined up. Here's what you need:
A few large zip-lock bags
Several damp paper towels
Some clear 2-liter soda bottles (empty of soda). You'll cut the bottoms off and use the tops as miniature greenhouses for your rose cuttings.
Potting soil
A bottle of rooting hormone
Pruners/clippers
Several containers that are a couple of inches deep, with drainage holes.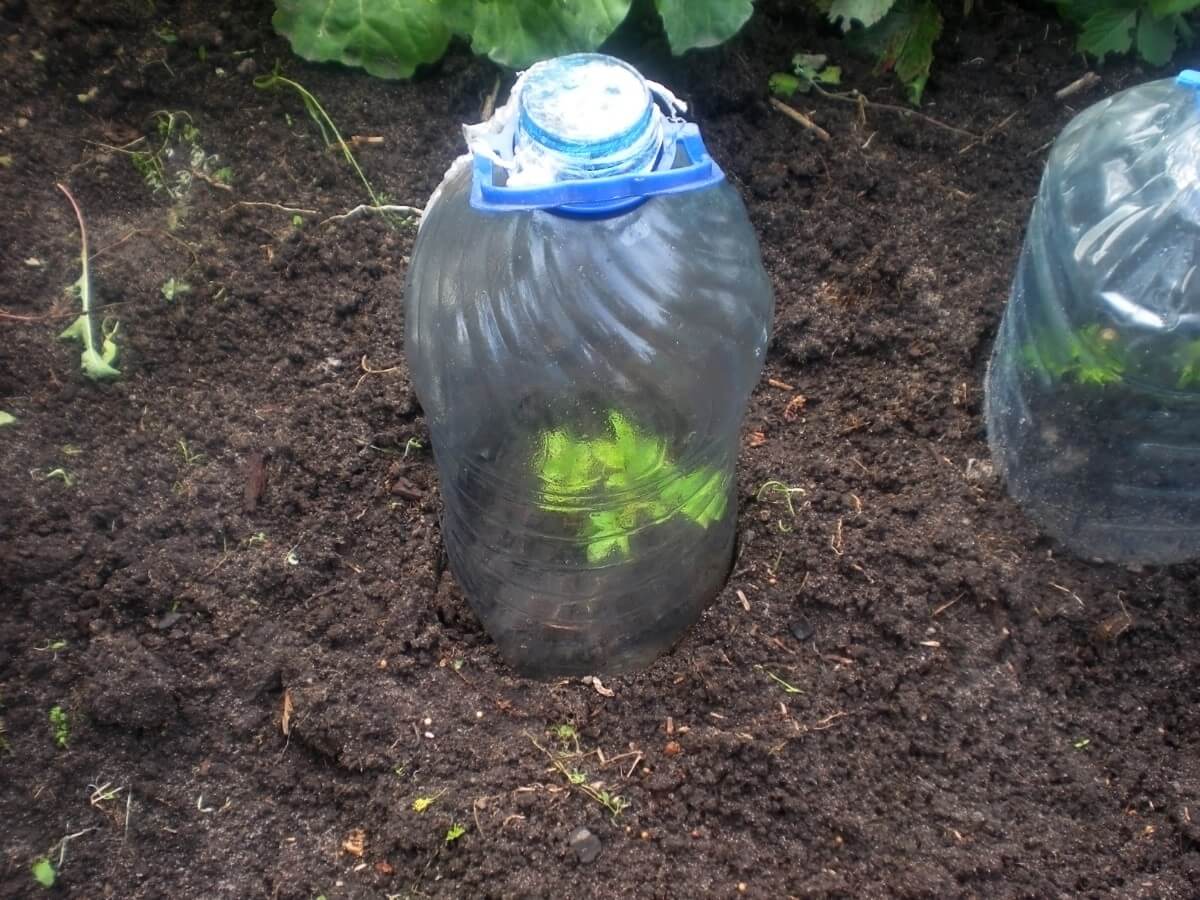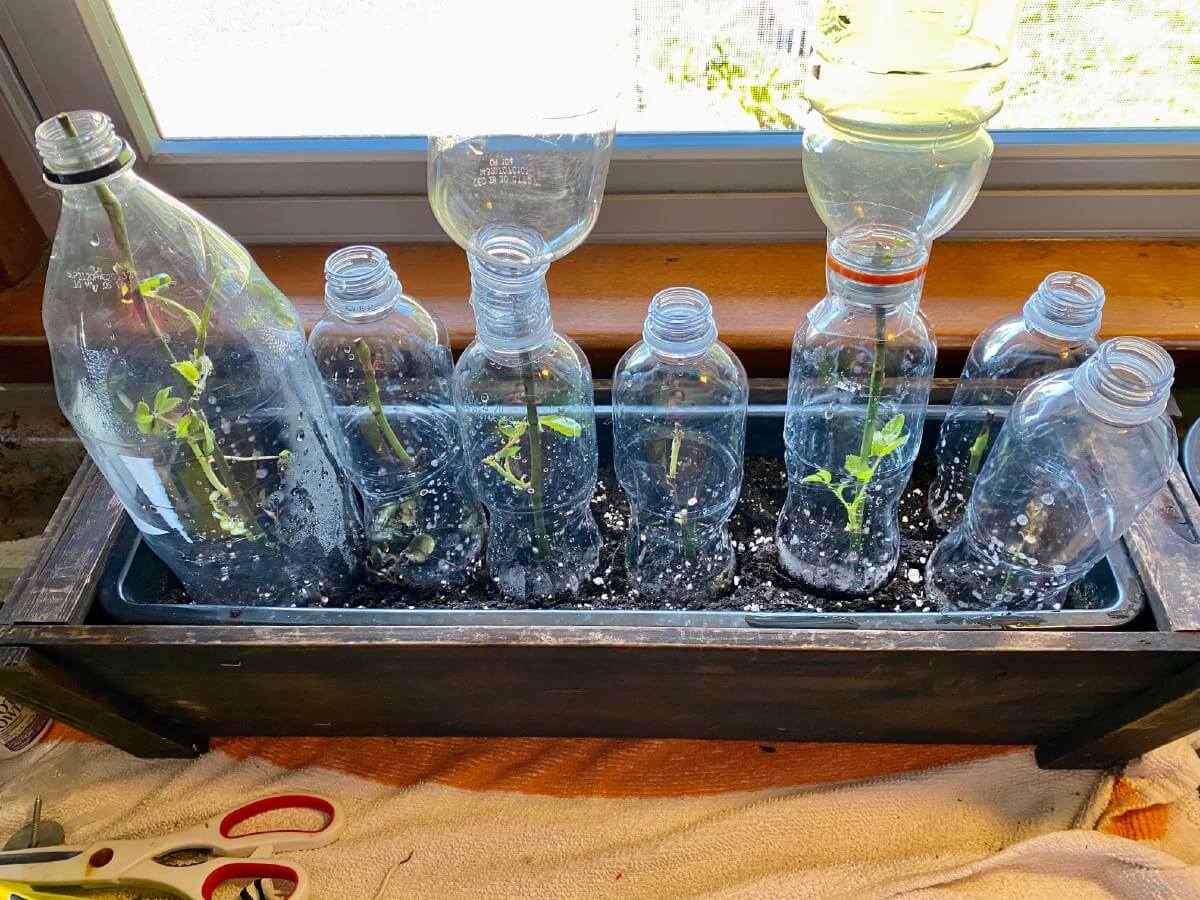 Taking Old Rose Cuttings
The best times to take softwood rose cuttings is in spring and fall when the plant cells are most active. Summer is also fine, as long as you have a cool place to keep the cuttings.
Morning is the best time to take cuttings because then the rose stems are full of water.
Always take more rose cuttings than you need. Propagation is an imperfect art, relying on the vagaries of weather, watering, disease, and the temperament of the rose itself. You should count on about 50 to 75 percent of your cuttings surviving to grow into viable plants.
When you go out to take cuttings, make sure you have a cool place to store them until you get them back to your potting shed. If you're taking only a few cuttings, you can wrap them in a couple of damp paper towels and stow them inside a sealable plastic bag. It's imperative that you keep the rose cuttings moist – don't let them dry out.
So: get a sharp pair of good clippers. Choose a rose stem that's about four or five inches long, preferably one that's finished blooming. Your cutting-to-be should be a pliable, soft-wooded, green shoot with at least four leaf buds on it.
Cut it off with a sloping, 45-degree cut, just below a leaf bud. (The new roots will come out of the buds.) Snip off all the leaves except for the top two, and clip off the dead flower if your shoot has one.
Some rosarians state that the cuttings are more likely to take if they have a "heel" – that is, a bit of the woody stem where the shoot emerges from the main cane – attached at its base. If you can find a small branch on the rose bush, snip it off right against the stem to
include the branch collar on your cutting.
Wrap your finished cuttings in the damp paper towel, pop them into the plastic bag, and take 'em home!
Once home, be sure to get the cuttings into the soil as soon as possible. Once they're cut off from the plant, they'll slowly start drying out.
Prepare your potting soil. You should have a couple of inches of potting soil in the container.
Moisten the bottom of the rose cutting slightly, dip it into rooting solution to lightly cover the bottom several inches, and pot it in a 4 or 6 inch pot. Stick each cutting into the soil with two buds under the ground and at least two above.
Carefully set the 2-liter bottle over the top of the cutting, and then set it in a shaded location. The soil should stay moist under your mini-greenhouse.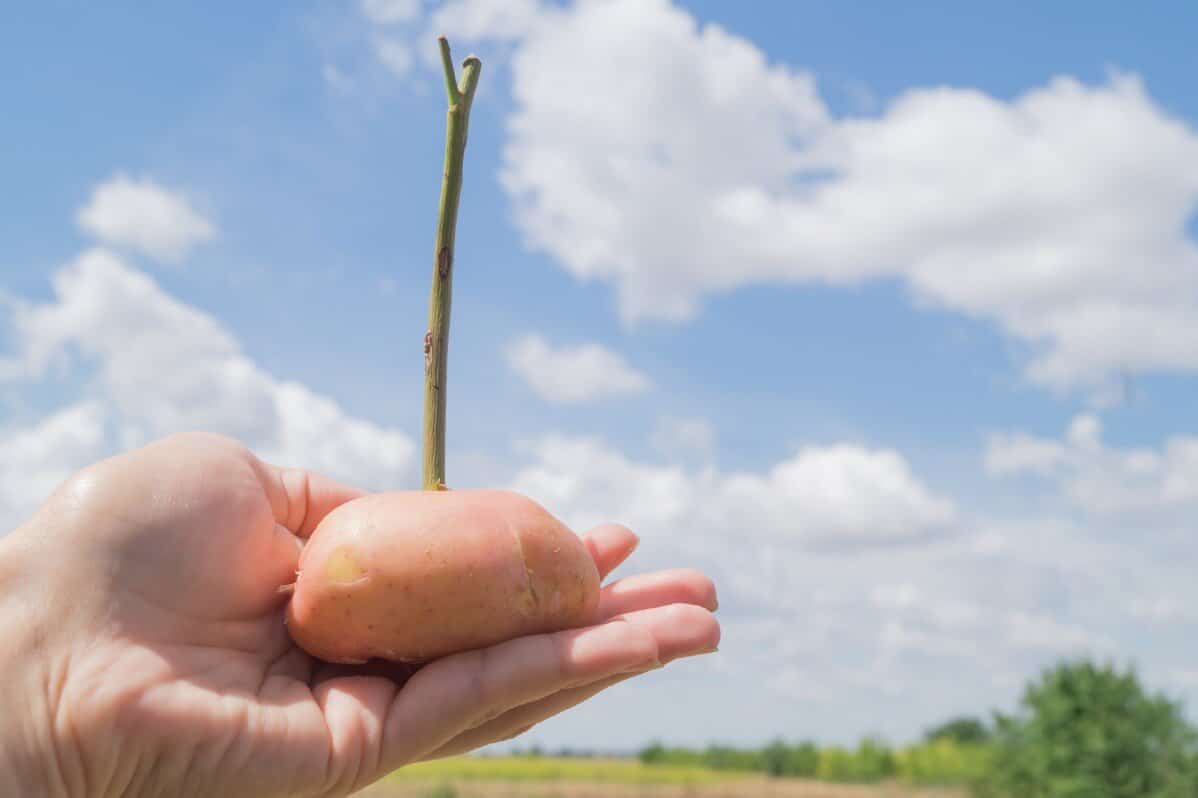 Willow Water for Rooting
Some rosarians swear by soaking the business ends of your rose cuttings in willow water to help them root.
This is how to make it.
Fill a bucket with a few inches of water, then cut a couple of willow shoots into matchstick-sized pieces and drop them in the bucket. Let them soak overnight.
The next day, after you gather the rose cuttings, set the bottom three inches of the rose cuttings into the bucket for several hours. The willow contains a rooting hormone that encourages the cuttings to start developing roots. (This rooting hormone, by the way, is the reason why you can cut a willow wand, stick it into the ground, and it will root almost right away.)
Patience! Patience!! Patience!!!
Rooting roses takes mainly shade, coolness, and moist rooting medium. But you don't even need a pot.
During one hectic spring season during my horticulturing years, I was given some cuttings of some moss roses. I didn't have time to pot them up, so I just stuck the cuttings in the damp peat moss in a wheelbarrow in my tool shed and forgot about them for several weeks.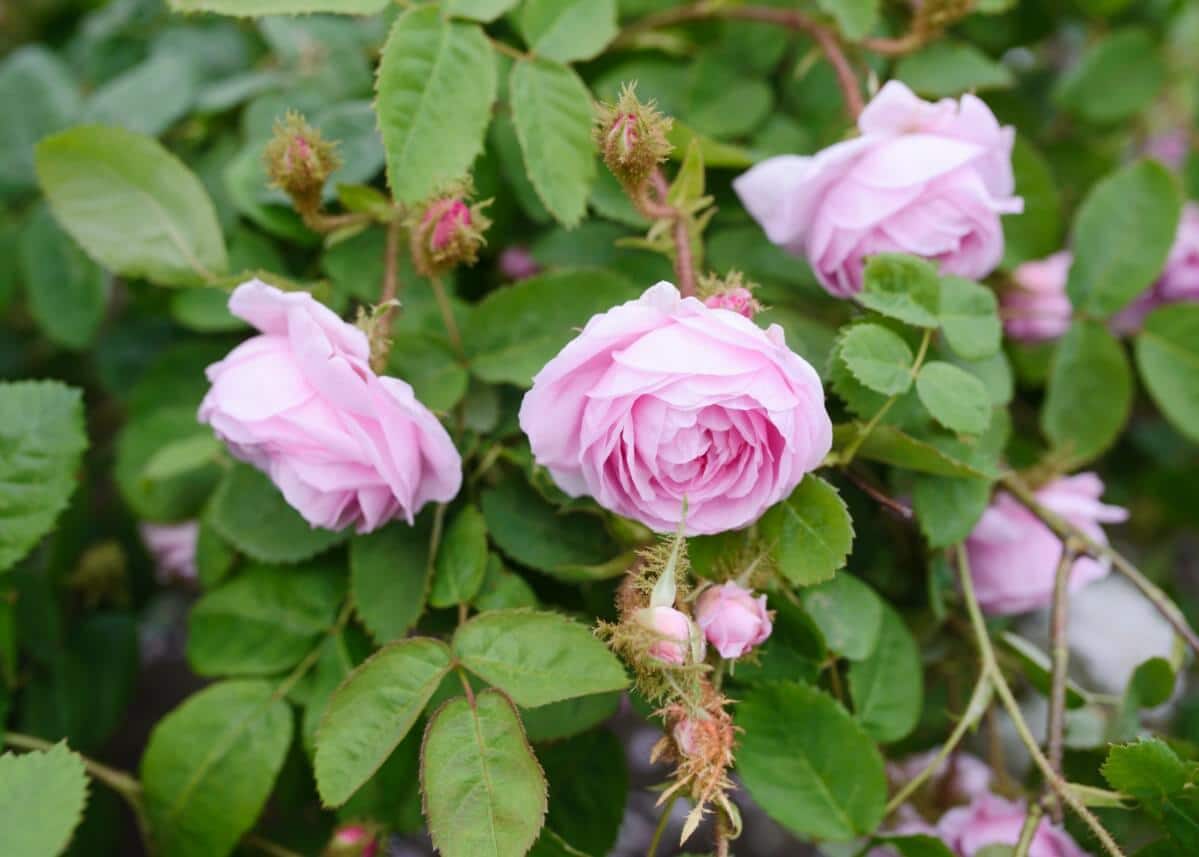 I remembered them when I needed the wheelbarrow, and to my surprise, these cuttings had formed some very healthy white roots and looked great. I needn't have been surprised, though. The tool shed was cool and dark, and the peat moss was just damp enough – all keys to successful rooting.
One danger that your rose faces is mold or mildew. If you see either of these, unscrew the top from your 2-liter greenhouse to let it air out a little. Pick off any yellowing leaves and get them out of there.
Roots form in four to eight weeks. Remove the 2-liter bottle when roots are two inches long. After that, fertilize the cuttings with a weak kelp emulsion fertilizer, half strength, about once a month. (Any liquid fertilizer works here, just as long as it's at half-strength.)
Check for roots near the surface now and then. When you start seeing them, transplant the rose clipping into a bigger pot and move it outside.
Early fall is a good time to plant your new rose in your garden. Give it a good, thick layer of mulch when winter comes to protect it from drying winds and rapid freezing and thawing.
Direct Rooting
You can also root rose cuttings directly in the garden.
In The Amateur's Practical Garden-Book (1900), the author states: "The writer has known women who could root Roses with the greatest ease. They would simply break off a branch of the Rose, insert it in the flower-bed, cover it with a bell-jar, and in a few weeks they would have a strong plant."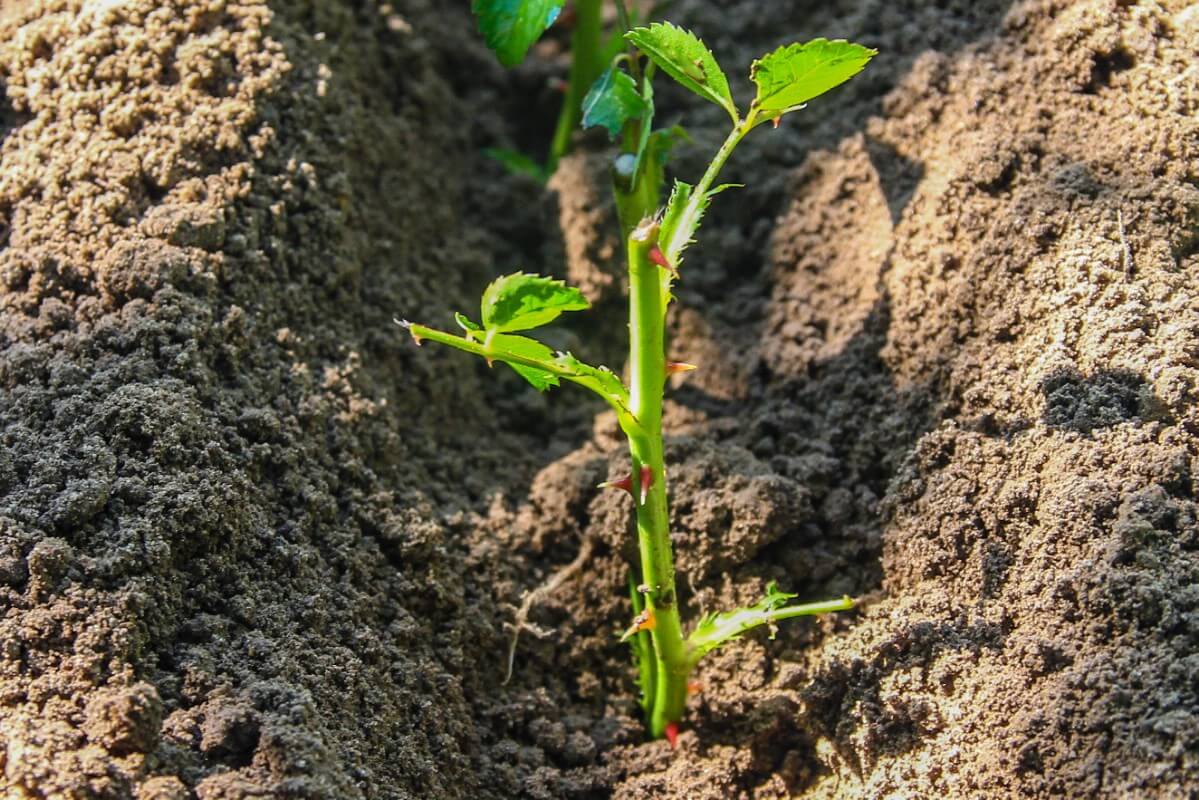 In lieu of a bell jar, grab your two-liter bottle and snip off the bottom, and boom, you have a shatterproof miniature greenhouse. Dig up the soil in a place in your garden out of the direct sun, tuck your cuttings in the ground, cover them with your "bell jars," keep the soil
around them watered, and get roots after a couple of weeks. How appealingly simple!
Layering Roses
Another way to propagate a rose is through layering. In this method, the baby rose is still attached to the parent, so it's easier to keep watered and alive while the roots are growing.
The best time to layer plants is in February and March, before plant growth starts, and then again in June and July, once the sap is going in the plants.
Take a pliable cane from your rose plant and bend it until it touches the ground.
Make a small cut on the cane where it touches the soil, just below a bud eye.
Bury the cut portion in about four inches of dirt, and set a brick on top of it so it won't pop out of the ground. You can also use a forked stick to "peg down" the layer.
Water the soil every week.
After three or four weeks, the shoot should have rooted, and you should see a new branch start to grow from the layered cane. That's how you know that your layer has formed roots.
Then you can cut it off the main plant.
You will have to wait a year for your new rose plant to get to a decent size, so be patient. When the rose has enough roots, plant it in a sunny location, digging plenty of rotted manure and compost into the ground around it.
And then you can sit back and enjoy your rose as it grows.
With a little luck, this rose will give you decades of beautiful flowers – and maybe someday, somebody will lean over the fence and say, "I love your rose! Do you mind if I take a few cuttings of it for myself?"