Aphids and soil gnats. If you have plants and gardens, especially indoor plants or seedlings, you've either had them or will have them.
They're annoying. They're disgusting. They're destructive. They could be spreading disease from plant to plant. And once aphids and soil gnats have set in, they can be hard to deal with.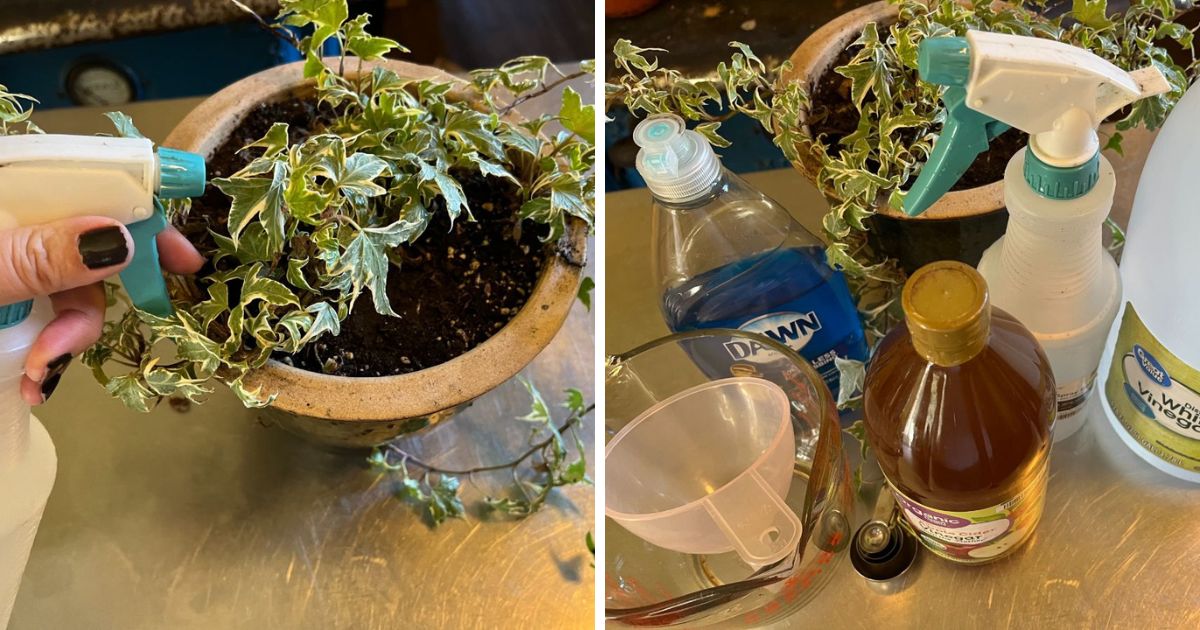 There are solutions, though. Simple solutions. Easy solutions. Clean, homemade solutions that use nothing more than water, vinegar, and the odd drop or two of dish soap.
Jump to:
How Vinegar Sprays Work to Kill Aphids and Gnats
How can something as simple as household vinegar be an effective insecticide?
Vinegar works through a process of dehydration. It breaks down the waxy cuticle on the bugs, which causes them to dehydrate and die. It's simple, effective, and safe for food plants.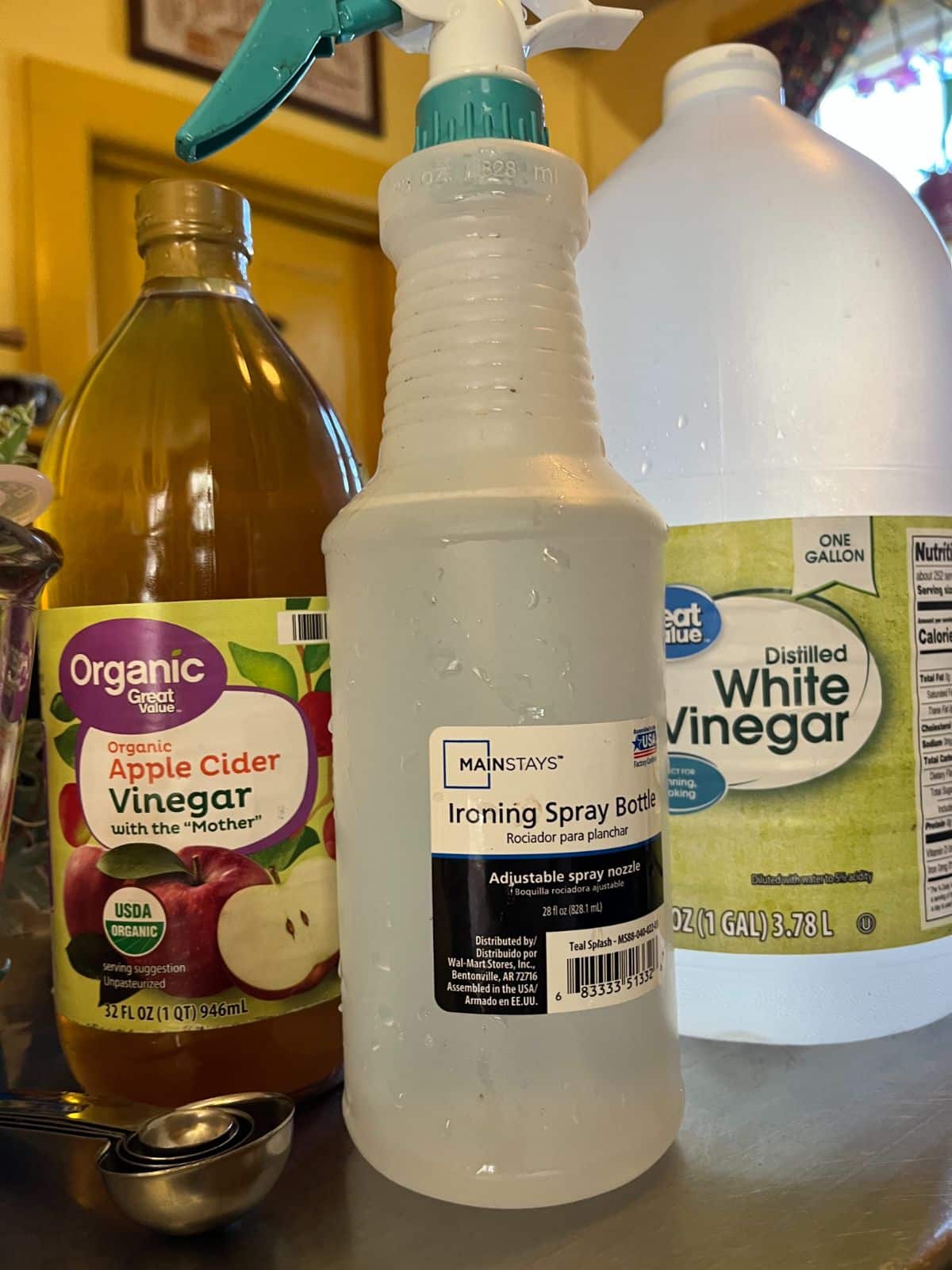 Of course, it will have a similar action on many beneficial insects, but this is easy to overcome. Simply make sure you are not spraying good bugs directly. The residual on the plants won't bother them as long as you don't let the wet spray come into contact with bees, ladybugs, and other beneficials.
This isn't much of a concern if you are using vinegar sprays indoors to control soil gnats and aphids or on houseplants or garden seedlings since beneficial insects are not something you'll have inside, but it can be something to consider if you are using your vinegar spray to kill aphids on plants outdoors.
Jump to:
Recipe 1: Homemade Aphid Vinegar Spray Recipe
Aphids can decimate a plant in a short time. They can leave a strong, healthy plant looking ugly, or they can easily do permanent damage from which they won't recover. You'll find these bugs have some plants they like more than others. Many herbs are prone to aphid infestations, as are roses and other ornamentals (though certainly, aphids love their fair share of fruit and vegetable crops, too).
Luckily, aphids are easy to deal with. Whip up this quick solution, spray, and forget about aphids eating your plants.
In a clean, one-quart spray bottle, combine the following ingredients:
1 cup white vinegar
3 cups water
(optional) 2 to 3 drops of liquid dish soap or castile soap
The dish soap is optional and primarily acts as an emulsifier that helps to hold the suspension together and in place. This gives it more time to work. The soap will also lend some smothering and insecticidal action to the recipe.
Clearly label this bottle and keep it on hand. Keep out of reach of children. The good news is that the spray is quite safe for children and pets and while very uncomfortable and bad tasting, if they do get hold of it, it will not cause major damage. The biggest risk would be to the eyes. But keeping ANY garden insecticides and sprays away from kids is just smart.
Keep an eye out for returning aphids and retreat in seven days or at the sign of new aphids. Stop treating when you no longer see aphids. Do not treat more frequently than seven days because overuse of this spray could also cause drying out and damage to your plants.
Recipe 2: Homemade Soil Gnat Vinegar Spray Recipe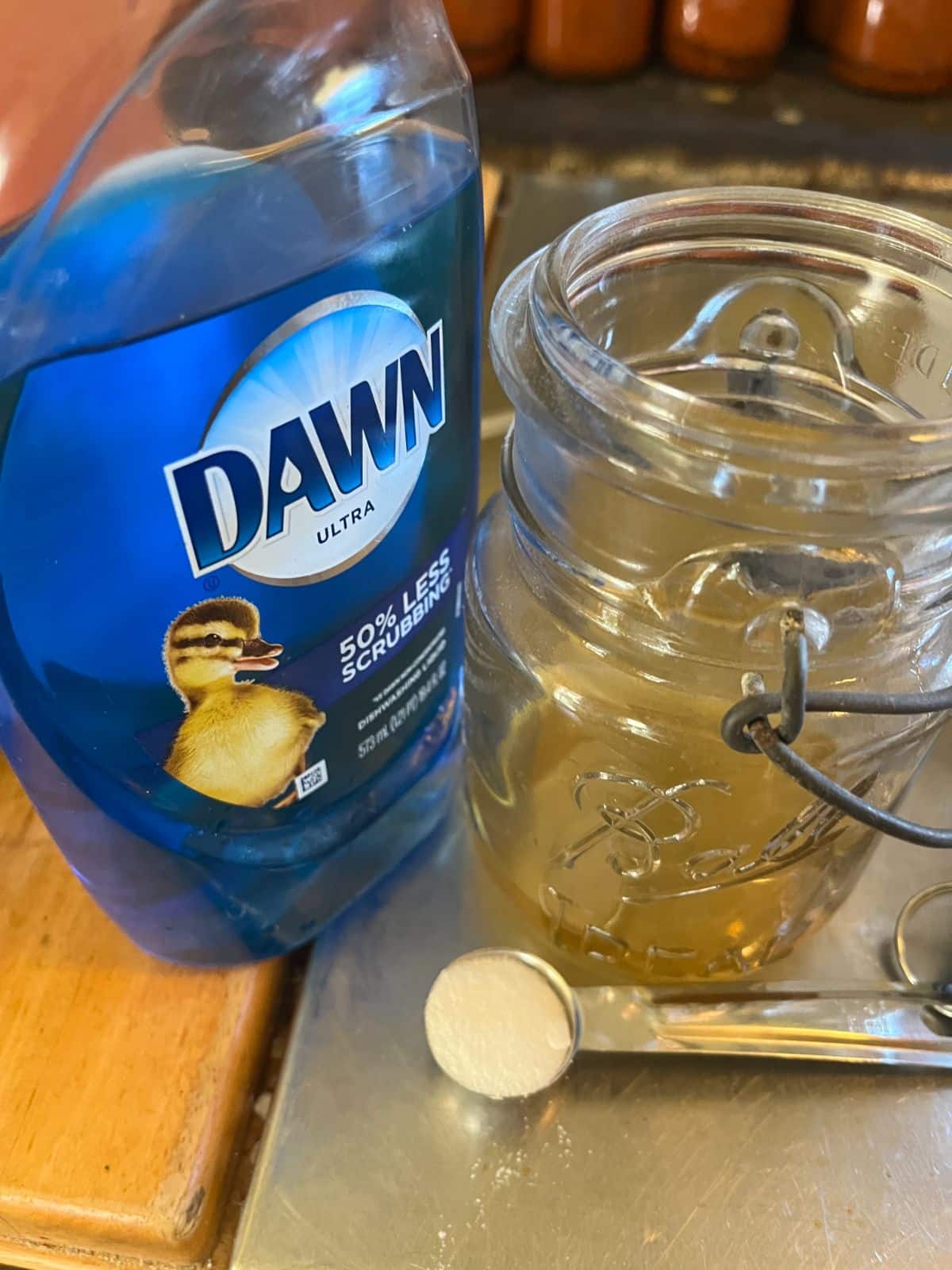 Soil gnats can be a big problem for houseplants and transplants that you are starting inside. They need a moist environment. In fact, letting the soil dry out is one way to kill off gnat eggs and larvae. But for young garden seedlings or moisture-loving houseplants, drying out the pot is also a good way to kill your plants.
Many gardeners who start seeds inside have trouble with soil or fungus gnats. Seedlings are pretty much always moist. Gnat eggs and larvae often come in bags of potting soil. It's hard to avoid but, luckily, easy to treat. Here's a simple spray that you can make in a minute. It only takes a minute to use it, too.
In a one-quart spray bottle, combine the following:
3 cups water
3 tablespoons of distilled vinegar
1 teaspoon of liquid dish soap
Mix the ingredients together. Label your spray bottle.
Like the aphid spray above, this mixture is quite safe but is smart to keep out of the hands of children. It will not harm kids, pets, or plants when used as directed.
To use this spray, spray the surface of the soil to kill fungus gnat larvae and eggs. Repeat in seven days to kill any new or remaining eggs.
This spray can also be used as an aerial spray to kill flying gnats (though hitting the gnats while flying through the air can be tricky). For adult flying insects, it is helpful to use a simple DIY vinegar trap along with the soil spray.
Double Duty: Make a DIY Fungus Gnat Trap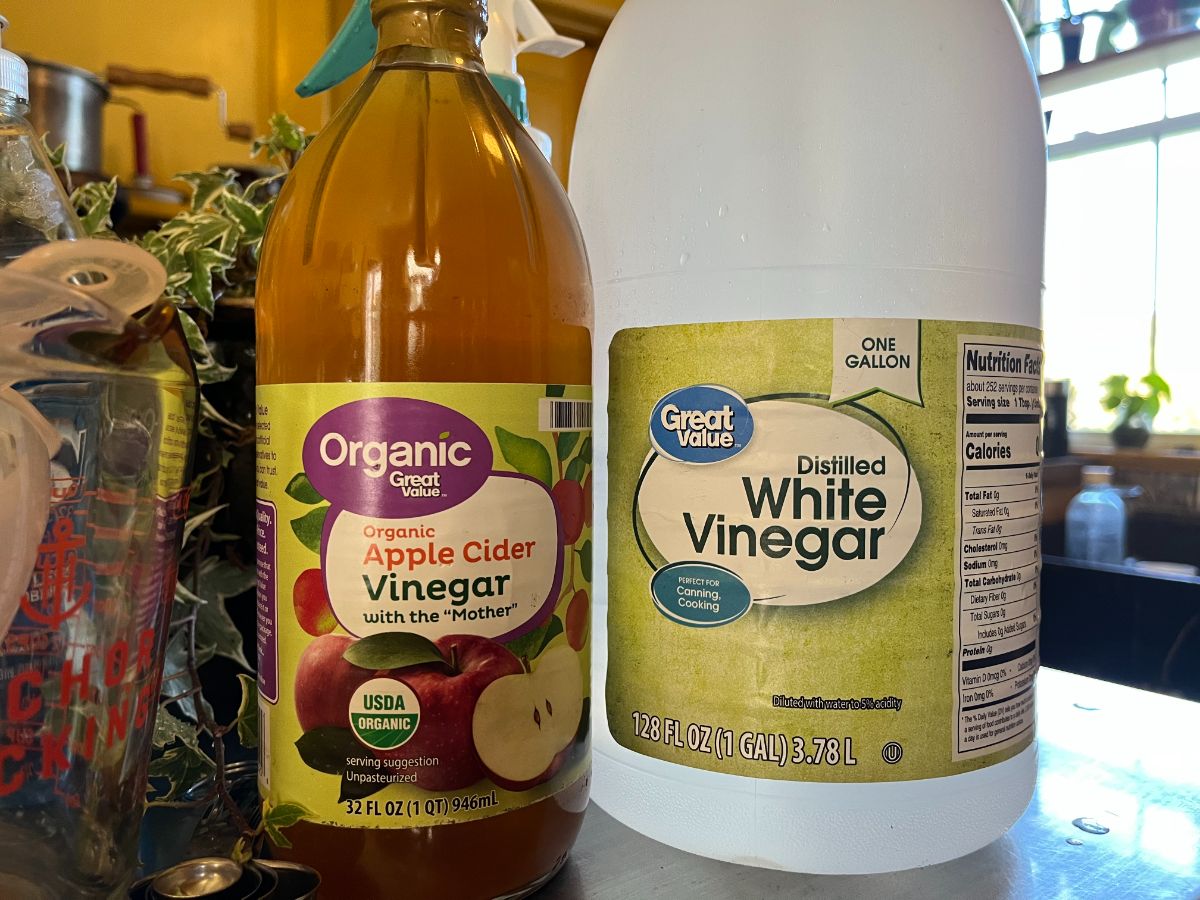 Use this trap and your DIY soil gnat spray to trap the adult gnats already buzzing around. If some gnats fly up when you spray, this simple trap should lure them to their demise.
Controlling the adults is important to solving the problem because one gnat can lay up to 200 eggs at a time. Those eggs only need about 24 hours to hatch, which adds to your problem.
In a jar or deep bowl, pour in ¼ cup of apple cider vinegar or red wine vinegar.
Add three or four drops of liquid dish soap.
Optional: stir in one teaspoon of sugar to the mix (gnats are attracted to sugar, so this can strengthen the lure)
Place your trap next to garden seedlings or infested houseplants. The mixture will attract the gnats, and the soap and vinegar will kill them.
Tips for Successfully Managing Gnats and Aphids with Vinegar Sprays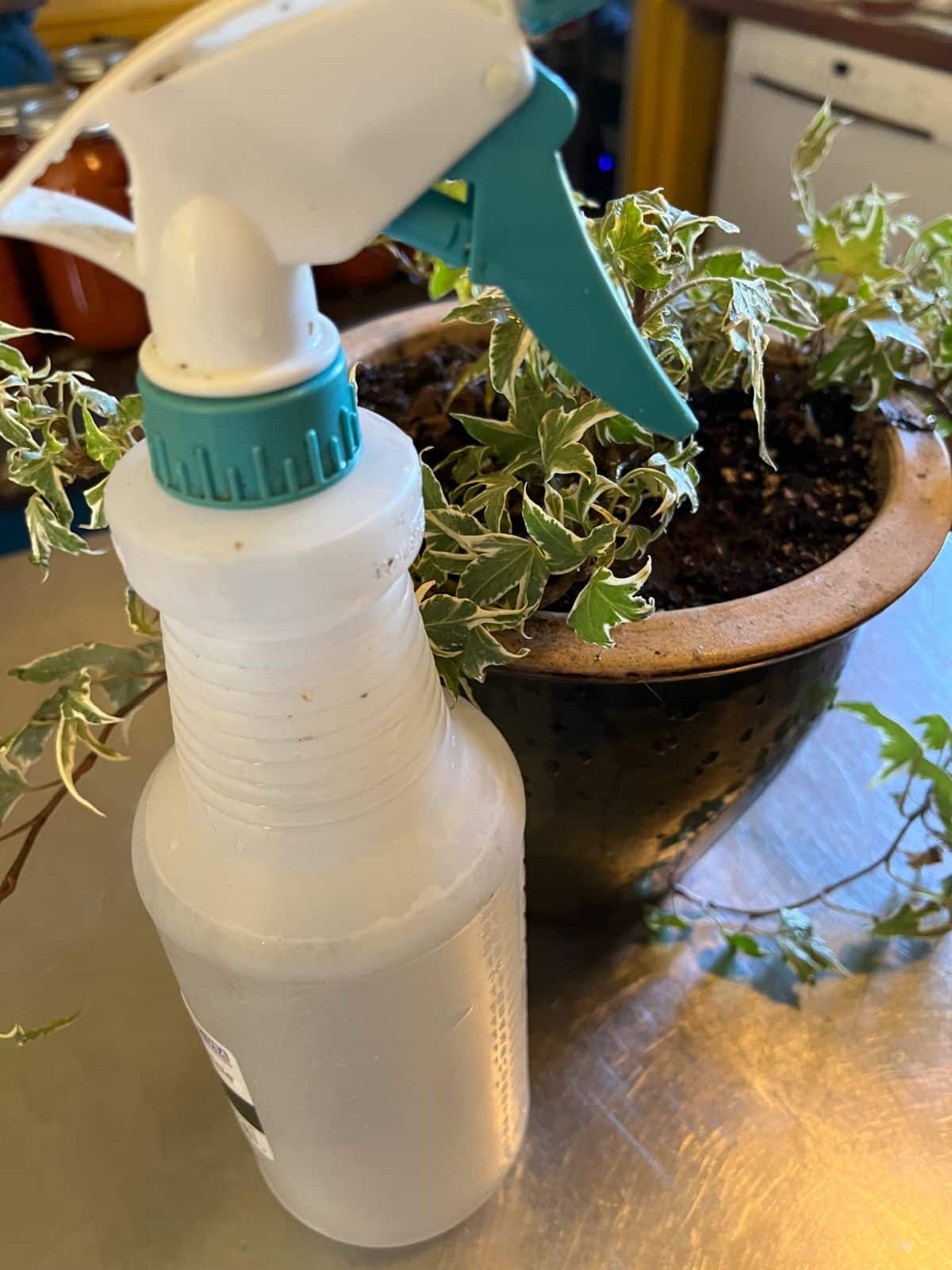 Treat gnats and aphids at the first sign of infestation. These insect populations can explode and spread quickly.
Treat the plant and the soil when moving from outdoors to inside. This will help eliminate indoor pests and prevent an explosion of insects in the protected indoor environment.
When starting new seedlings, spray the surface of the soil at the time of planting. This will help you get ahead of the problem before it starts. Gnat larvae are often present in soils, including bagged potting soils.
Be sure to spray the stems and all the leaves, including the undersides of the leaves.
Re-treat every seven days until the insects are gone.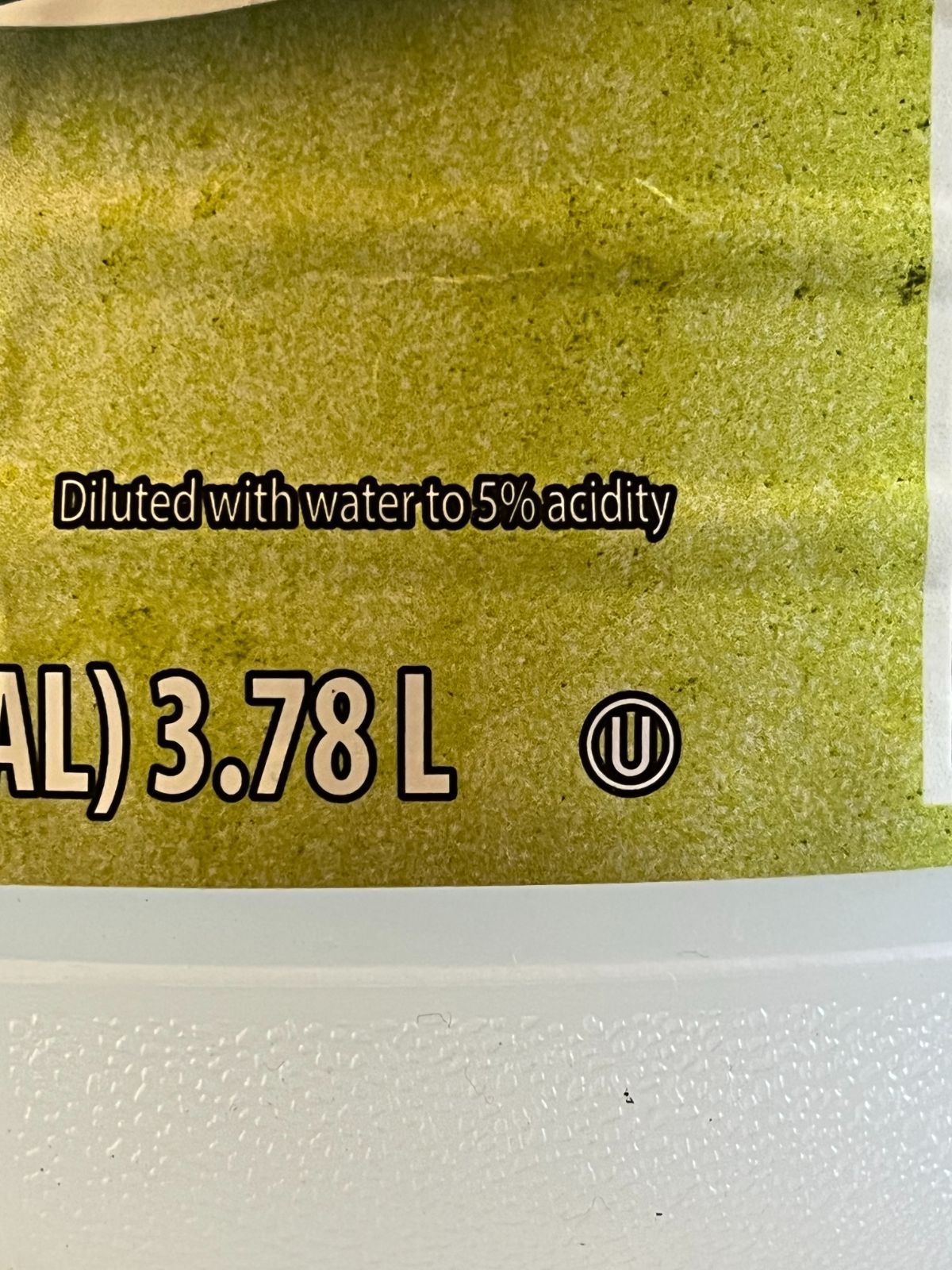 Do not increase the recommended ratios of vinegar to water. In large concentrations, vinegar is an herbicide and will damage or kill plants. It is safe to use in low concentrations when well-diluted in water.
Be sure to use only food-grade vinegar with an acidity level of 5% (this is the common acidity level of distilled household vinegar). Do not use horticultural vinegar, which has a much higher acidity level and is designed to kill plants.
Apple Cider Vinegar (ACV) and distilled white vinegar may be used interchangeably in these recipes (though ACV will work a bit better as a trap and attractant).