For decades, the flower bed has been separated from the garden bed as if they are two different countries with opposing customs and attributes; one is for beauty, and one is for food. However, this practice limits the potential of each garden and does us all a disservice. Edible landscaping marries ornamental with functional so that we can have both and live better lives because of it.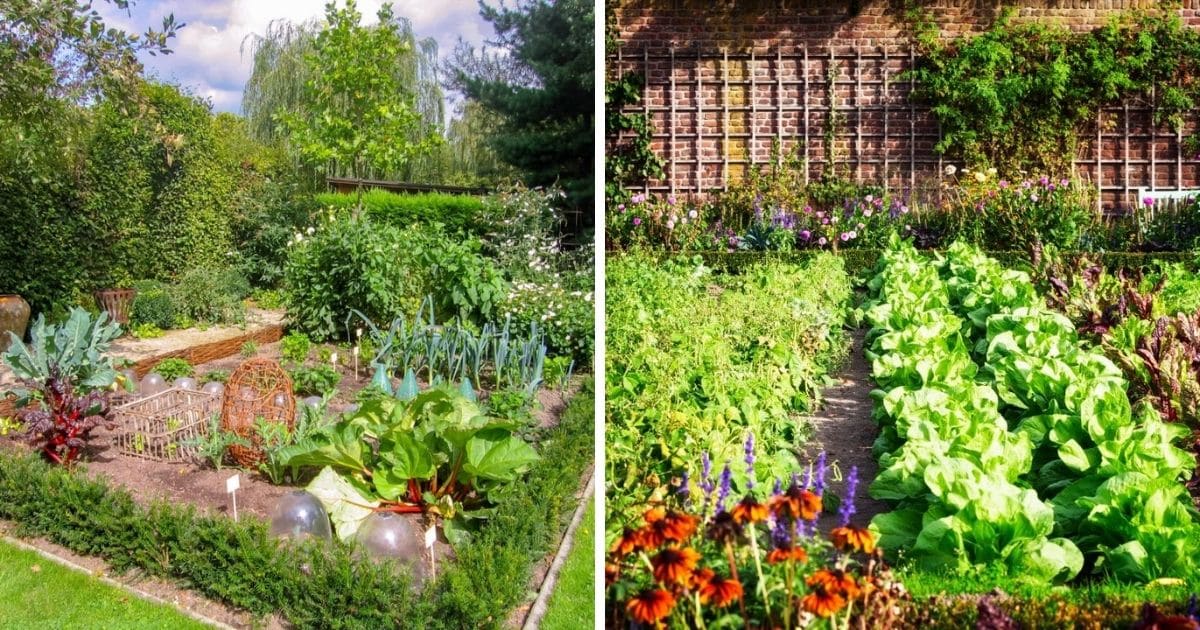 Historically, as gardeners, we've had to choose whether to plant vegetables or flowers, choosing one and forgoing the other simply because we've been taught they don't mingle well. Mostly this is because vegetable plants are considered ugly and unattractive -- nothing you'd want to be displayed on your property except in its designated messy spot, usually out back.
Edible landscaping overturns this idea, insisting functionality and beauty are not at odds. A landscape can and should be multi-functional and look good doing it!
Jump to:
What is An Edible Landscape?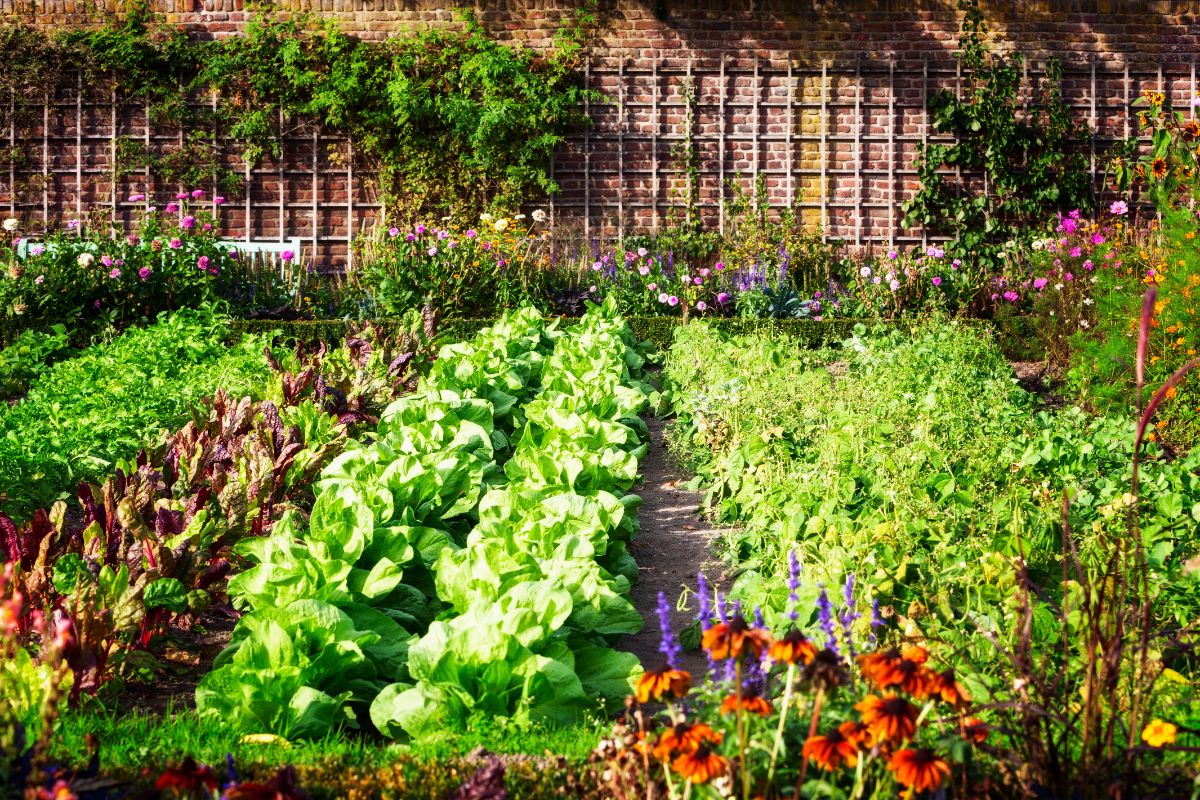 An edible landscape is a deliberate combination of functional plants that produce food with ornamental plants grown for their beauty. The practice is also called foodscaping. It takes the common practice of isolated garden spaces and tosses it out the door.
In a conventional landscape, so much space is wasted. Between perfectly mowed lawns and often vast unused space around ornamental plants, there is tons of potential. Plants can be intermixed, grouped by sunlight preferences, tucked into bare spots, and uglier plants hidden behind pretty ones.
Edible landscaping is a cross between farming and landscaping and can be done by the home gardener, regardless of location and current landscape.
Top 5 Benefits of Edible Landscaping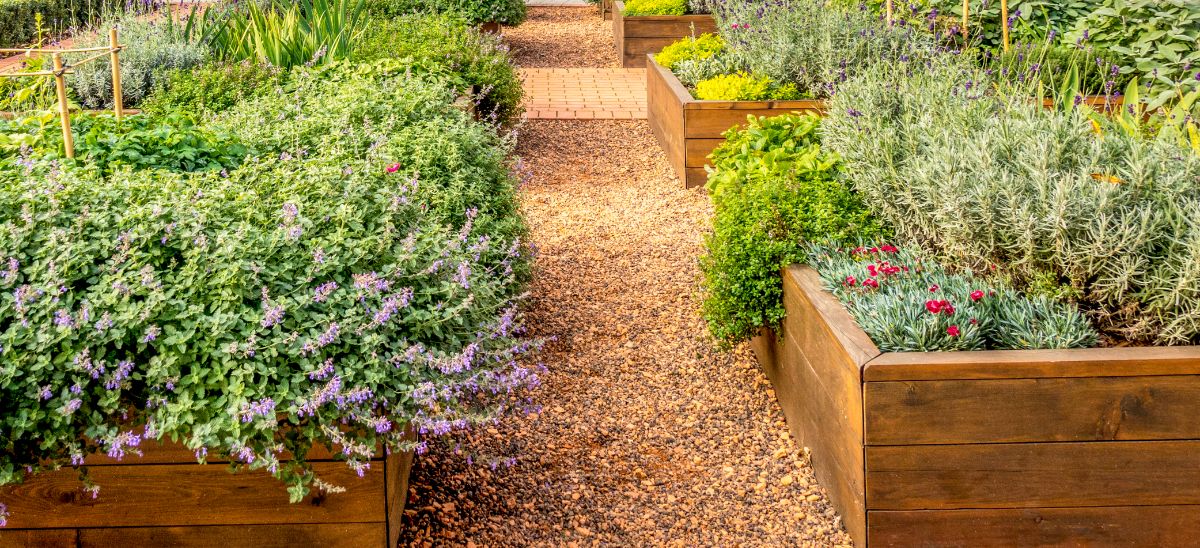 Food Security – Our current food system is unstable, as evidenced recently by the pandemic. Just the slightest bump, and we could be without everyday staples for months. Growing your own food is crucial since it operates outside the current system and is, therefore, more resilient to unpredictable circumstances.
Financial – Growing your own food costs less than obtaining it from the grocery store. Across the US, thousands of families don't have access to fresh vegetables because they're simply too expensive at the store. "Food deserts" are also a serious issue in many cities, where fresh food isn't available, or it's insanely expensive. Reducing dependence on stores means healthier foods, lower costs, and better options.
Health – Fresh vegetables and fruits are healthier, more nutritious, and taste better than processed foods and supermarket produce. A tomato grown in your garden will taste a thousand times better than from the store – a lot of kids refuse vegetables until they have the chance to try a just-fresh-picked veggie from the garden. The taste is incredible. Gardening leads to a better lifestyle, with better food options to keep you living well.
Sustainability – Growing plants is good for the environment. Bees, butterflies, hummingbirds, and other crucial wildlife species rely on a range of plants to gather nectar, provide habitat, and supply resources. These insects, birds, and mammals prefer mixed landscapes, where there are many options to choose from. Attracting more bees and butterflies to the landscape is never a bad thing, especially since we've destroyed so much of their natural habitat.
Edible landscaping uses less natural resources than commercial farming, so by creating one in your yard, you reduce the strain on the environment. It also usually uses fewer chemicals and pesticides because the plants are intermixed to act as natural deterrents.
Education – So many children (and adults!) have no idea where their food comes from – this vital part of our existence, and so few know how to do it. Creating an edible landscape at your home won't just educate and influence your own children but also those in the neighborhood. It's time to reconnect.
A Brief History of Edible Landscaping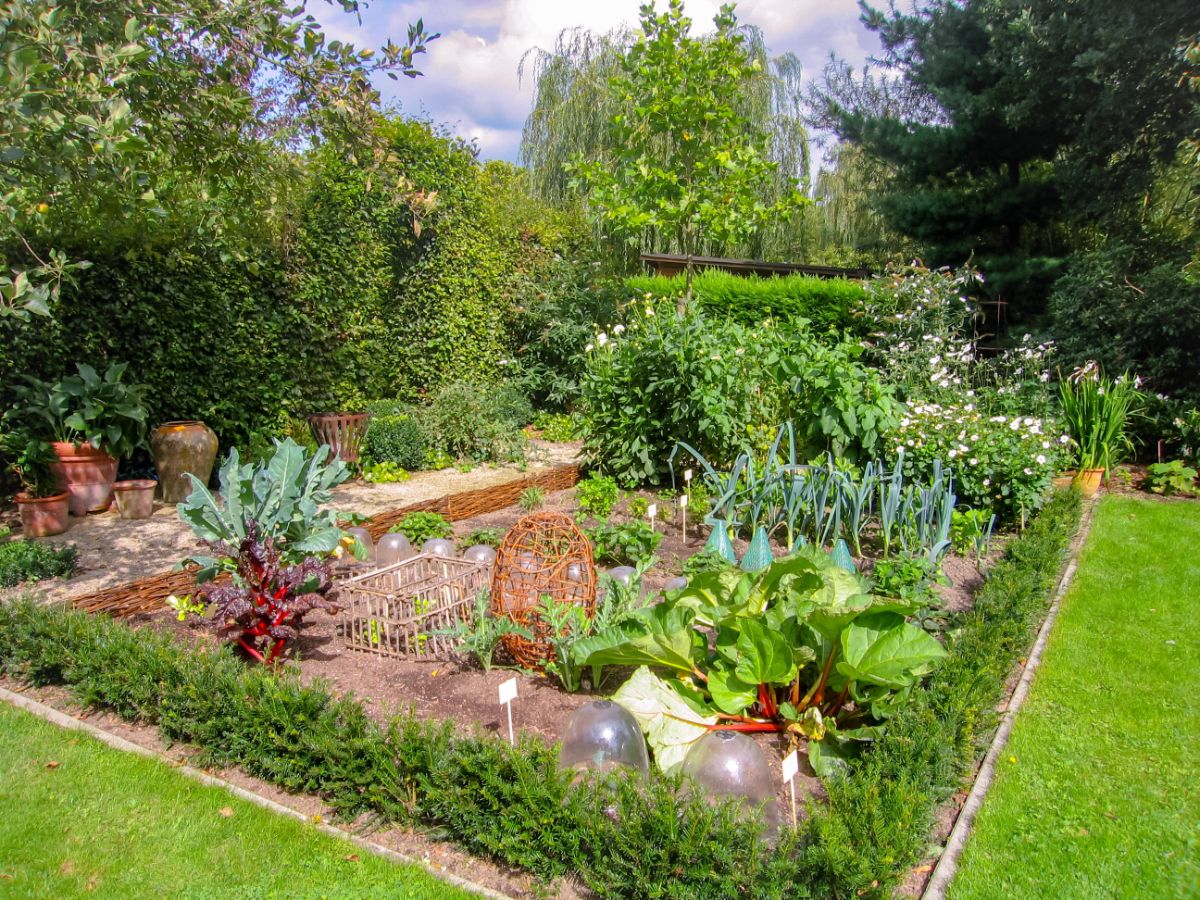 Aztec, Roman, and Babylonian gardeners used edible landscaping techniques, as did many other ancient civilizations. It is and was common sense to maximize garden space when you rely solely on these sources for food and surges of natural beauty.
During Renaissance times, folks began intentionally separating ornamental plants from food plants. And then came the era of the perfectly manicured, stale, and almost lifeless green lawn.
After so many years of separated gardens, a new renaissance in the 1970s brought food and flower plants back together. The main reasons for this renewed interest were rising food prices and environmental worries.
In the 1980s, landscape designer Robert Kourik coined the phrase "edible landscaping" to describe the unification of food production with aesthetic design. Since then, the idea of edible landscaping has been slowly catching on as an important practice with considerable benefits to the grower, the land, and the environment as a whole.
Edible landscaping is a way to get back to our roots, not rely so heavily on harmful agricultural practices, and become self-sufficient. We return to land management practices before the great commercial agricultural boom when we embrace edible landscaping.
How To Start Your Edible Landscape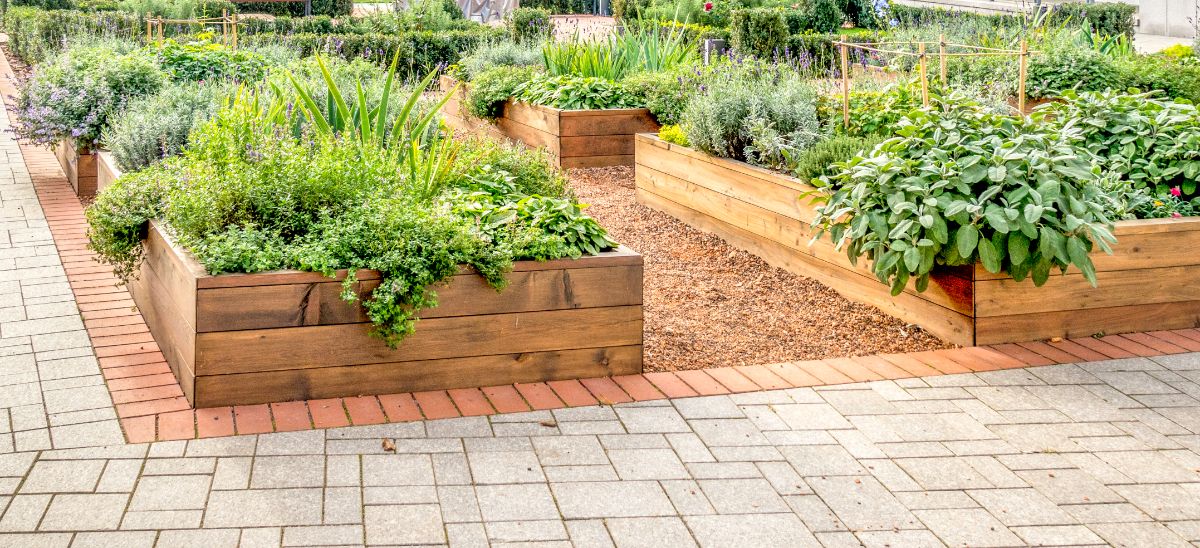 Get some paper (graphed is nice), some colored pencils, and a ruler. Draw an outline of your landscape (it doesn't have to be fancy), including all possible planting spots.
Observe your landscape – this will take time and patience but is essential to developing a successful edible landscape plan.
Track the sun throughout the day in all areas of the yard. Most vegetables need at least 6 hours of sunlight per day. But, there are many that will do well in partial shade, too. Shade from trees shifts throughout the day and the seasons (a tree with leaves vs. a tree that's dropped leaves); plan for this and use it to your best advantage.
Where are the closest water spigots? Is there space to set up rainwater catchments (do you get enough rain?), or would an irrigation system be a good idea? Be extra thoughtful with this one – gardens need watering 2-6 times a week, depending on your climate, and if watering is complicated, it's not going to be good for the garden.
What is the soil like in different areas of the yard? Some spots are probably rockier or sandier than others. There are likely hills or slopes or areas where water collects – this will make a big difference in what you plant there.
Where is a good place for paths? Don't forget paths! Everything needs to be accessible, or it won't get harvested. Soil that is constantly walked on becomes compact, and compact soil doesn't hold water or produce vigorous plants. Make sure you're not going to be walking exactly where you're planting.
What crops do you want to grow, and who are you feeding. The needs of a 2-person family are vastly different from a 6-person family. Choose foods you like and ones that will do well in the various growing conditions.
When planning where to put vegetable plants, make sure they are easily accessible to harvest. If the tomatoes are difficult to reach, they won't get picked as often as they should. Put lettuces, peas, and tomatoes along paths or at the front of garden beds. Vegetables that are harvested once, like pumpkins and potatoes, can be set further back or around a perimeter since you don't need to access them as often. Prioritize bed space, and you'll be much more successful.
Plant as many perennials as possible. Perennial plants use fewer resources and require less maintenance from you. Incorporating as many perennials as possible will reduce your overall workload while providing a pretty, self-developing landscape.
Carefully consider the mature size of plants and how they can work together in the landscape. Yes, a kale seed is small, but then it becomes a 2-3 foot plant. Tomatoes often reach over 6-feet, and pole beans and cucumbers easily will vine 8-10 feet.
What else is important about your climate and location? Do you get wind storms and need to plan for lots of trellises or supports? Are there any eyesores you want to cover up?
How long is the growing season in your area? You don't want to plant crops that won't have enough time to reach maturity. Look for your hardiness zone and choose plants and vegetables that grow well there.
Are there kids or pets who also use the space, and how can you incorporate and accommodate their needs? Think very carefully about this before you even start digging or planting. Both kids and dogs are well-known to take the shortest route to get from point A to point B.

This may be right through the center of your lavender plants, but that won't stop them. Consider this beforehand and plan around traffic streams or create diversions. You may create the most beautiful and functional paths, but it's wasted effort if the dogs will just shortcut it anyways. Being proactive is the key to not losing your mind when the kids dash through the strawberry patch because it's "faster."
Goal Planning - Making Your Edible Landscape Plan Work For You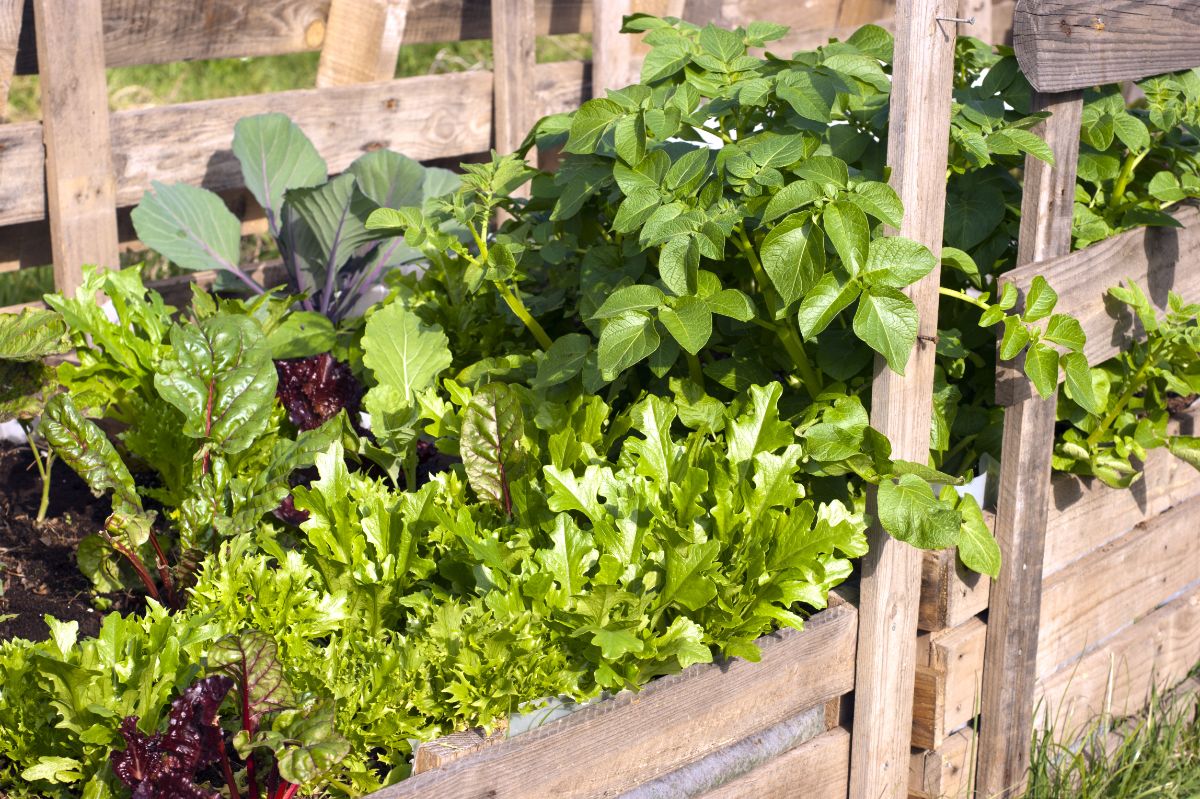 What type of garden do you want? Herb, shade, formal, casual, cottage, native-only, historical? There is no right or wrong answer here. Build what you want.
What foods do you like, and what do you want to grow? Make a list. You don't have to grow everything on the list, but it gives a good starting point.
How big is your edible landscape going to be? It's usually best to start off small and slowly incorporate new functions and designs each year. This way, it doesn't get overwhelming. It can be just yard space or include pots, containers, balconies, or windowsills – it's up to you.
Do you intend to use upcycled items? What items do you have that can be repurposed – old tubs, wheelbarrows, tools, bricks, stones, wood?
Do you care what the neighbors think? Is there an HOA to consider? If you have to, you may need to start in the backyard away from the neighbors' eyes.
Lastly, how much time do you have to commit to caretaking an edible landscape? Build to what you have time to manage so you don't drive yourself insane trying to keep up. Be realistic! Is there anyone else around who will help – spouse, kids, parents?
Make it Special – Embrace the Design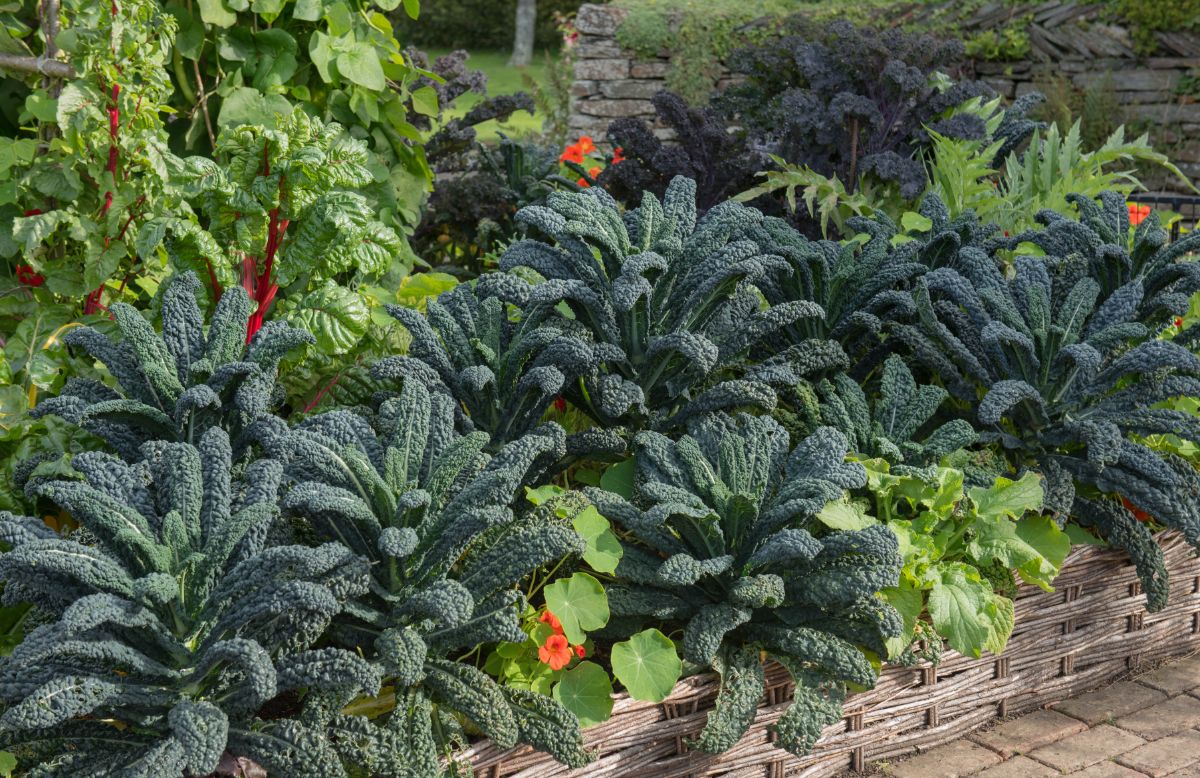 It may sound silly to folks not so interested in the aesthetics of the landscape, but choosing a unifying theme or designing around a concept enhances the space ten-fold. It doesn't have to be anything fancy or complicated; a simple design element is enough to bring the different areas together into one unified landscape.
It can be as silly or serious as you like; this is the time to add your personal touch or aesthetic to the garden. Do something that will make you happy to see every day as you tend your landscape.
A unifying design idea is something that you include in all parts of the garden. It's important because most edible landscapes are spread out, with different sections throughout the area which don't touch, making them seem unrelated. The unifying theme brings all these separate garden pieces together to create one all-encompassing design.
When you're thinking of your design, consider that plants, especially vegetables, have a short lifespan. This means, at times, there will be blank spaces after the plant matures. In your theme planning, think of something you can easily move around to take up these empty spaces as they occur so they don't detract from the overall aesthetic. For example, small metal sculptures or pinwheels can just be picked up and placed anywhere.
Unifying Design Ideas:
Use bricks, oversized or unique stones, or pebble designs
Install birdbaths of different sizes and shapes in each section – this is aesthetic and practical for the birds
Choose a single color or color palette to focus on – choose plants that are this color, or choose garden decorations and tools with this color.
Be whimsical – set up little fairy house all around the landscape, or frog figurines or whatever lights your fancy.
Combine a hobby with the landscape – if you like to paint, paint some stones or planters to be placed around the landscape. Sports fans can include team memorabilia or references in their garden. Beach fanciers might want to put seashells around the property, either randomly or arranged in intentional patterns.
Make it a butterfly garden and plant things specifically to attract all types of butterflies.
Focus on a particular shape – circles, rectangles, triangles – and make many of the gardens or aspects of each garden in this form
Create a fragrant garden by carefully selecting and intermixing sweet-smelling flowers and plants.
Easy Edible Plants To Incorporate Into a Preexisting Landscape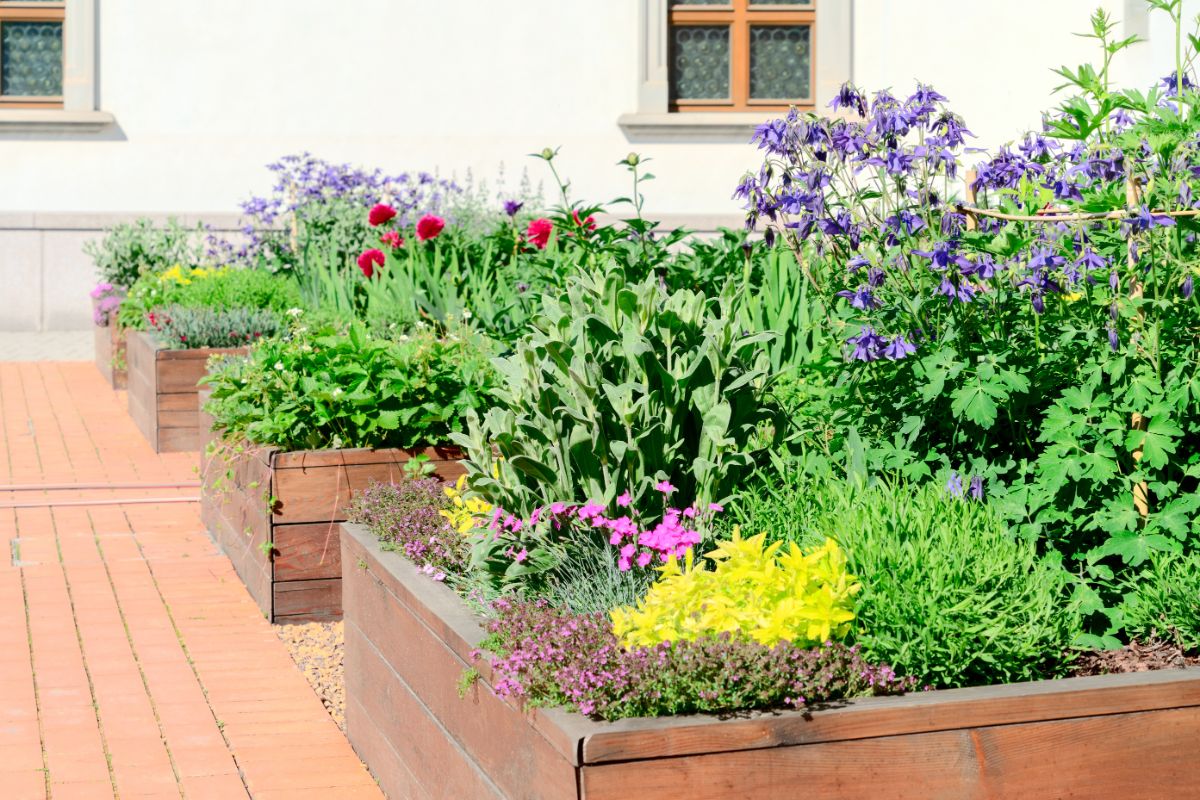 If you've already got a designed landscape, basic or fancy, you can start including edible plants without pulling everything up and starting from scratch. In fact, that's how most folks start out. Work with what you have – that's always the easiest and usually gives the quickest and best results.
Nasturtiums – beautiful and edible flowers that attract pollinators
Sunflowers – add height, color, structure, and are food for you and the birds
Kale – edible and available in lots of intriguing colors and shapes. Kale makes an excellent lively border.
Violets and pansies are edible and gorgeous.
Onions, garlic, and chives don't take up much space and can be easily tucked into many corners and in-between landscape plants.
Ornamental onions (Allium sp.) blooms look like magic spheres delicately placed on top of tall green stakes – a great architectural plant with brilliant color options.
Chard blends in with many flowers – plant it among low-growing or ground cover plants, and it will turn into the focal piece when mature, just like a flower.
Use blueberry or raspberry bushes as mini-hedges or borders around preexisting planting spaces.
Plant herbs along walkways as a fragrant, inviting border
Vining vegetables (peas, pole beans, cucumbers) around preexisting archways and arbors
Hot peppers provide stunning pops of color, and they grow easily in containers. Place them around the yard (maybe this is your unifying design element).
Okra flowers are spectacular and worth planting just for the blooms alone. The plants are tall and branching and simple to incorporate into existing spaces.
Lettuce can be exciting! In addition to the multiple shades of green lettuces, there are red, red-speckled, purple, curly, frilly, rounded, tall, and short options.
An edible landscape can be as simple or elaborate as you like. To get the most from the garden, though, it's best to sit down and put some thought into it. It does take some effort upfront to create a design that works for you and your space, but once it's established, the work significantly decreases. The best parts of an edible landscape, though, are growing your own food, reducing your reliance on outside entities, and creating a fabulous-looking property. All at the same time!