How do you make a poinsettia happy? You give it the right conditions to the best of your ability.
What does that mean?

It means you do your best to pick the spot that has the best light, the best temperature, you water it appropriately, and give it the best general conditions that poinsettias like.
Here, we tackle the question of light. (For more on the right temperature for keeping poinsettias, read here.)
Jump to:
How much light do poinsettias need? What's the best amount of light for a poinsettia?
Poinsettias need at least six hours of light each day. If that sounds on the low side, you should know that poinsettias are short-day plants, and they won't bloom unless they have 14 hours of complete darkness.
This period of darkness is not something you need to worry about—the grower will have already done that for you. It's what forces the poinsettia into its colorful bloom just in time for Christmas.
What kind of light do poinsettias need?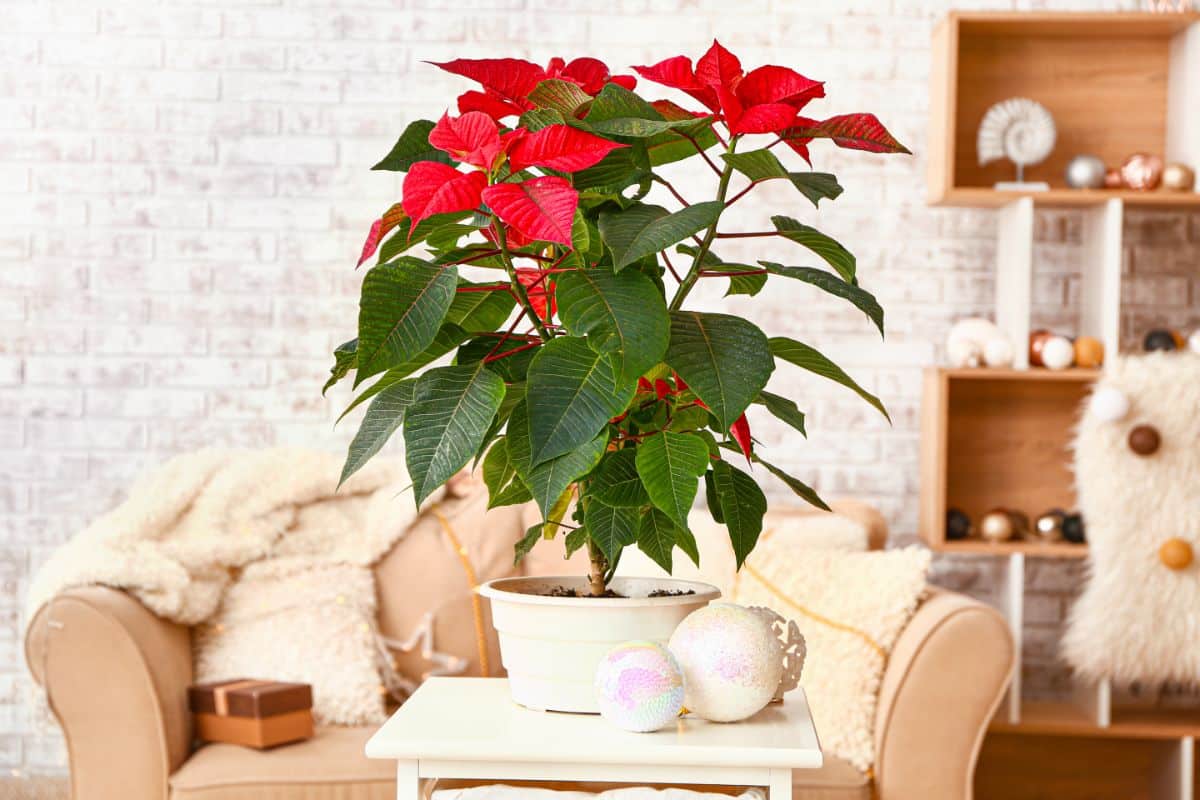 For every plant, indoors or out, there is a right "kind" of light. When you hear gardeners or plant growers talk about things like light, full sun, partial shade, direct light, or indirect light, they're talking about the kind of light that's best for the plant. The two we talk about for houseplants is direct or indirect light. You might also hear it referred to as bright light.
The answer to the question of what type of light is right for poinsettias is to give them bright, indirect light.
Poinsettias need good, bright light. They do not do well in low-light situations. However, your poinsettia won't perform as well in very bright, direct light, either.
If poinsettias are set in direct sunlight, their blooms will appear faded and dull because the light will bleach the color from them—kind of how a fabric that sits in direct sunlight gets faded over time.
Direct sunlight can also cause drying and browning at the tips of the leaves and bracts.
Natural light is important for blooming.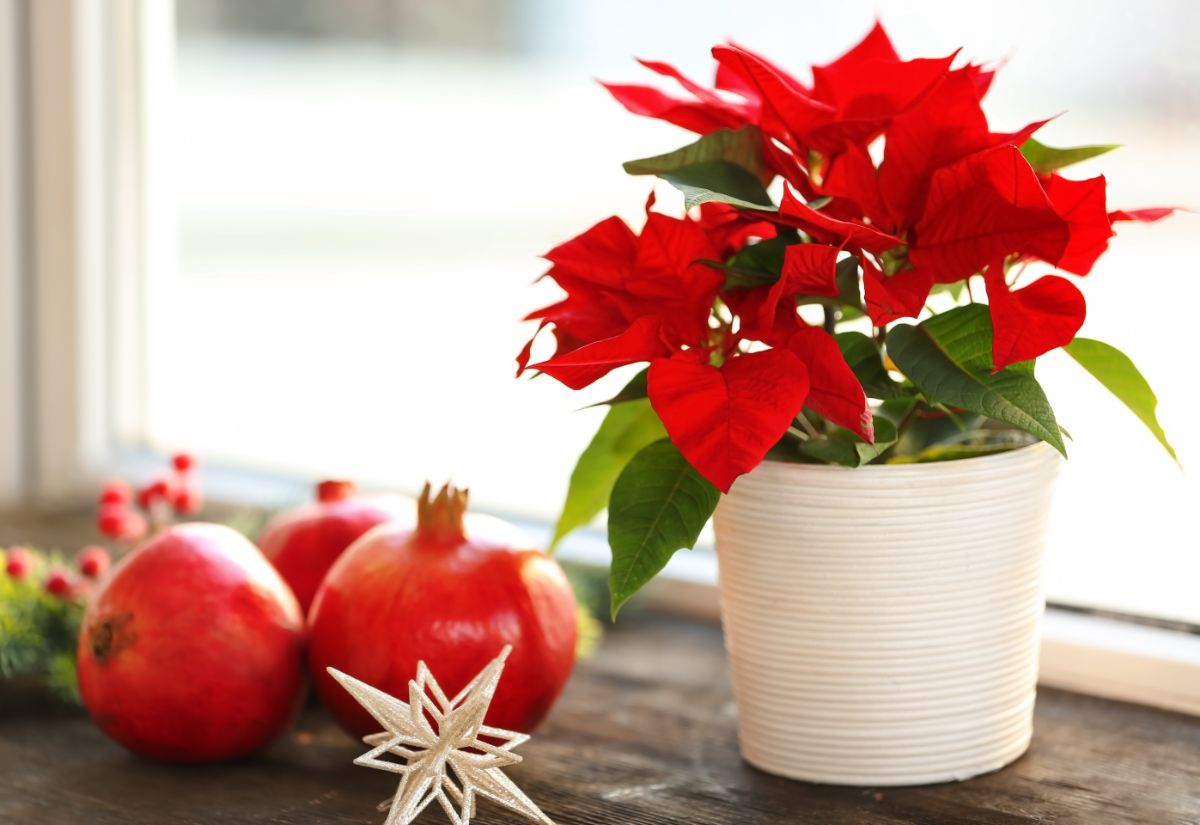 Dark rooms, dim rooms, and a lack of natural light result in more green foliage, but this also causes the blooms (the colorful bracts that we think of as the blossom) to turn green and eventually drop off. Some light from a natural source is needed.
It's fine if most of your poinsettia's six hours of light come from bright indoor lights or fluorescent lights, but it's best for your plant and its blossoms if it can grab at least some indirect natural light from a window.
Directional plant placement will help you find the right light for your poinsettia. What does that mean?
It means that if you place your poinsettia in a room or near a window that faces in the right direction, it should get all the bright, indirect, natural light it needs without overdoing it and without fading your plant. South, west, and east are all good directions for natural light for your poinsettia. If you do this, at some point in the day, your plant should get enough natural light as the sun moves throughout the day.
If the space where you want to put your poinsettias is too dark, or if it lacks natural light, give them a dose of sunlight for a couple of hours a day. If this is a bit too much management, get as close to that schedule as you can.
Does this sound confusing?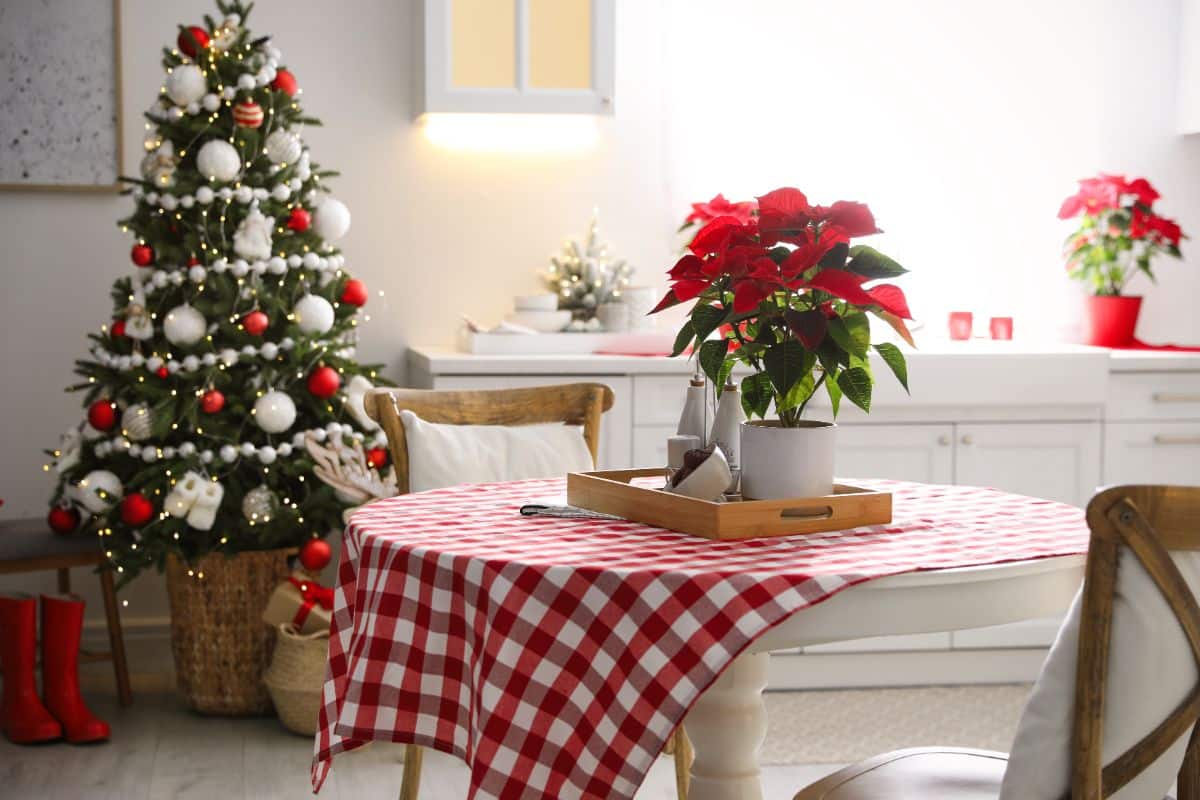 Bright light, but not too bright. A bright room, but indirect light. Natural light and a sunny window, but don't let the sun shine directly on your plant.
This does sound very confusing, doesn't it?
It doesn't have to be. Keep in mind these are the best light conditions for poinsettias. The ideal. While you need to give the plants their minimum of six hours of some sort of light, other than that, just think of it in terms of getting as close to these ideal light conditions as possible.
If a sunny window means that there is an hour of the day that your poinsettia will get full, direct sun, don't worry about it. A limited amount of time won't be a deal-breaker or a bloom buster. It would be spending several hours of the day being blasted by sunlight that would cause you problems.
Similarly, if your plant gets pretty good, bright light but most of it is from lightbulbs, that's not much of a worry, either. As long as your poinsettia receives some natural light and overall brightness, it should last you well throughout the holiday season.
If you get the light close to right for your poinsettias, you'll enjoy festive, bright blooms that will last you well for the Christmas and holiday season.
Wondering what the best temperature for keeping poinsettias is? We've got the answer here.