Do you ever find yourself staring out your window longing for a tropical vacation? Well, you might not be able to jump on a plane right now, but one thing you can do is bring the tropics to your own backyard by planting hibiscus flowers.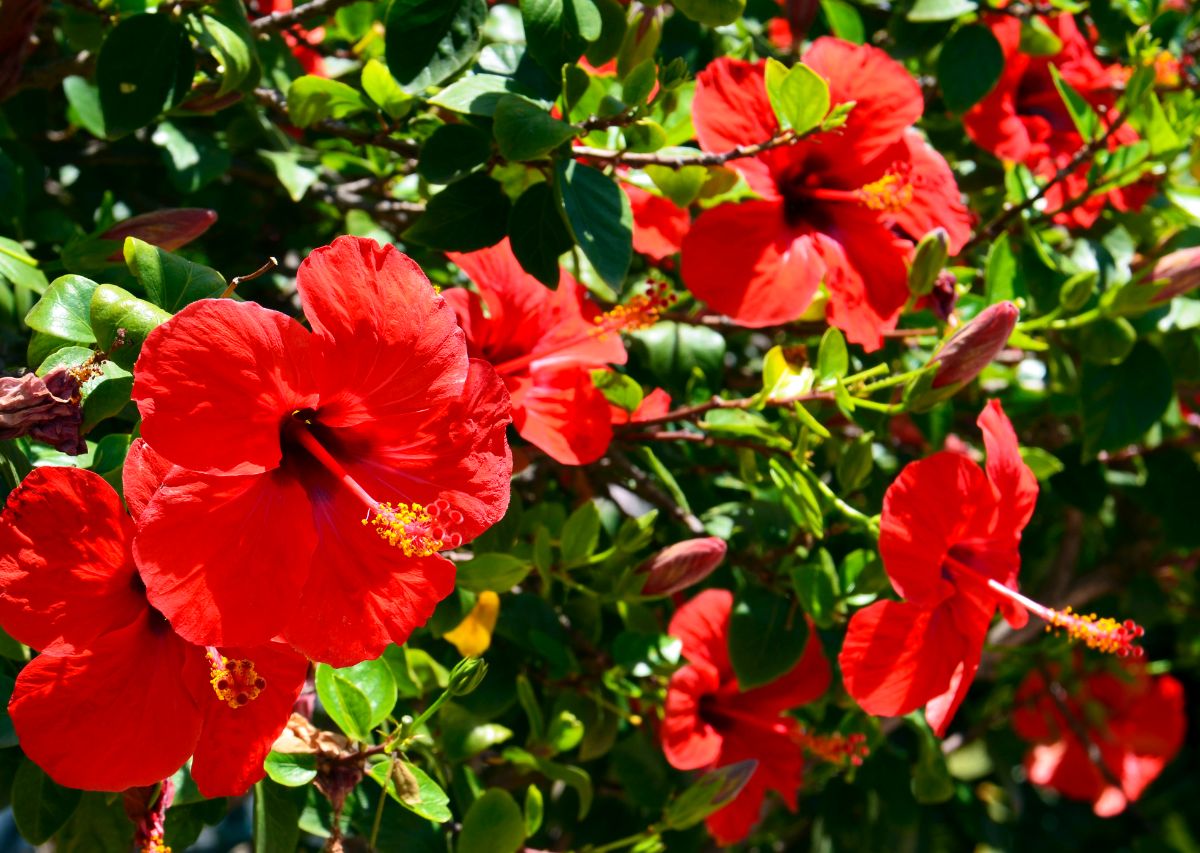 This guide will teach you how to grow and care for hibiscuses successfully. Jump to any section you need in the table of contents, or scroll past it for the full guide.
Jump to:
What Are Hibiscuses?
Hibiscus is the name of a genus within the family Malvaceae. This genus contains hundreds of species, several of which are popular in gardens.
If you have ever heard of "rose mallow" or "rose of Sharon," both of these names refer to hibiscus flowers.
There is quite a lot of variety among plants in this genus. The classic hibiscus flower most people are familiar with is a deep shade of pink. But you can also find hibiscus flowers in light pink, white, red, orange, peach, blue, purple and yellow.
There are even flowers that initially appear in one color and then fade to another as they get older. For example, Hibiscus tiliaceus flowers are initially yellow. They then turn orange, and then darken to red.
Because the flowers can range up to 18 cm across, they are impossible to miss. They are just the showy blooms you need to make your garden instantly shout "tropical."
Where to Buy Hibiscuses
The ephemeral blooms of hibiscus plants may only last a day each, but the showy tropical splendor they bring to your garden can last all season long. If you are ready to shop hibiscus cultivars now, click the link below.
Hibiscus Basics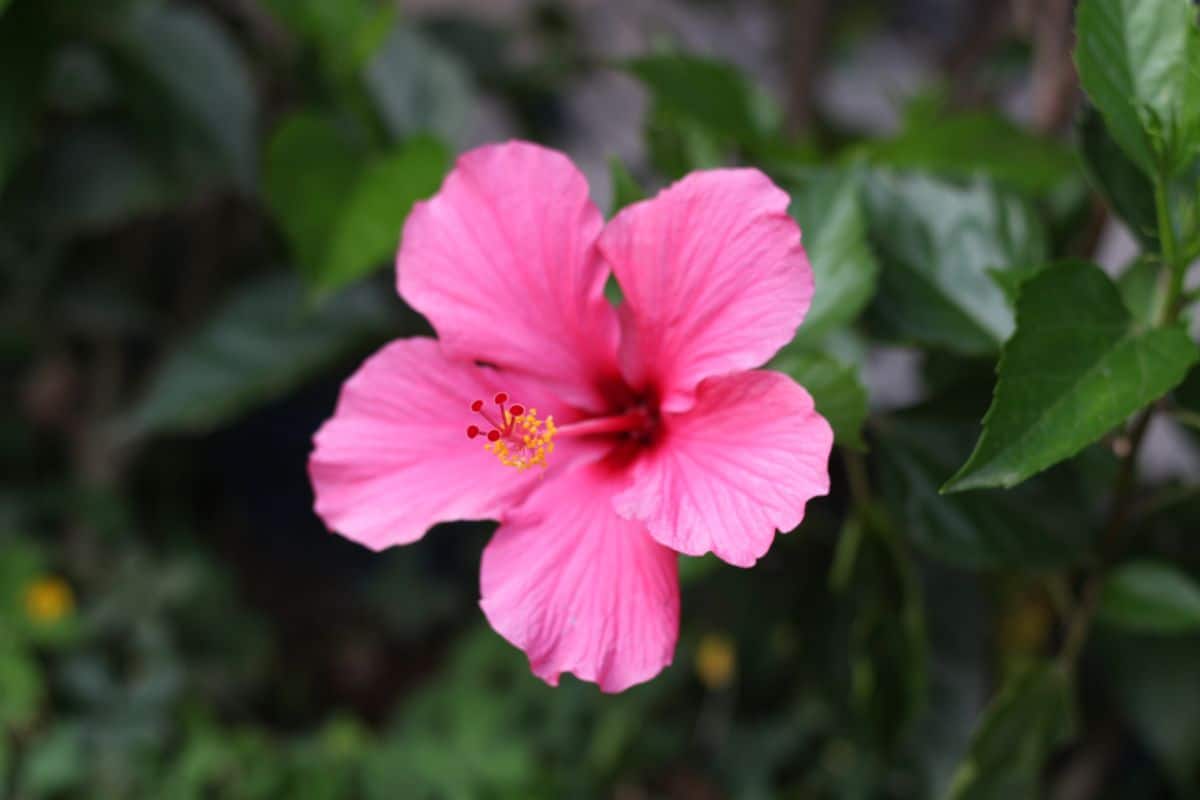 | | |
| --- | --- |
| Zones: | 4-12 (depends on type) |
| Blooming season: | Spring through autumn |
| Expected height: | 3-8 feet |
| Soil: | Rich, well-drained |
| Sun: | Full to partial sun |
Where Do Hibiscuses Grow?
Hibiscus plants are native to Hawaii, Madagascar, Mauritius, and parts of Asia.
There are also some hibiscus plants native to North America. One example is Hibiscus coccineus, which goes by the common name "scarlet rosemallow" or "swamp mallow." It is native to Florida.
Nevertheless, they have spread through cultivation around the globe. While some varieties will only do well outdoors year-round in zones 10-12, others can survive in zones 4-9, so they cover a pretty wide geographic range. Read more about this below.
Are Hibiscuses Annual or Perennial?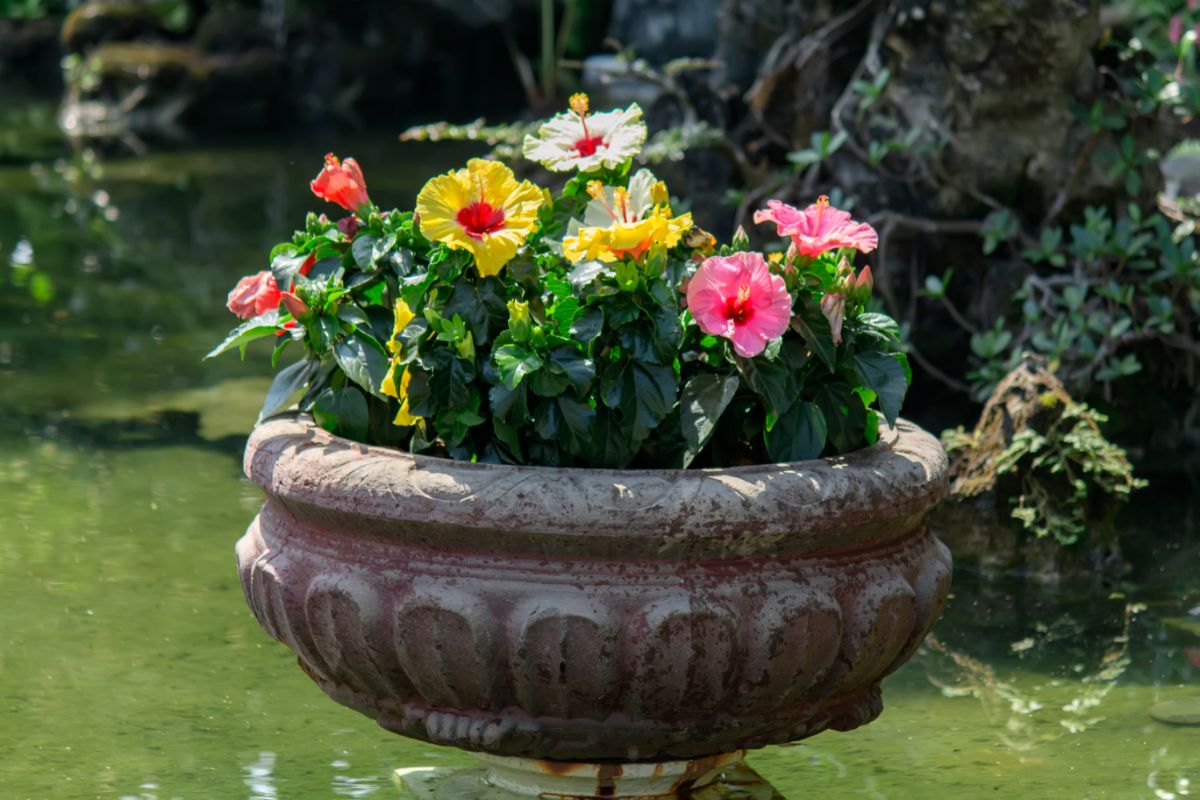 All types of hibiscus plants are perennials. But they are classified into two main groups:
Hibiscus plants that are labeled as "tropical" will only survive year-round outdoors if you plant them in zones 10 through 12.
The ones that you can grow year-round outdoors as perennials in climate zones 4 through 9 are the ones called "hardy" hibiscuses.
If you do not live in zones 10 through 12, you can still grow a tropical hibiscus as a perennial. You just need to be willing to bring it indoors during the coldest months of the year.
Why Grow Hibiscuses?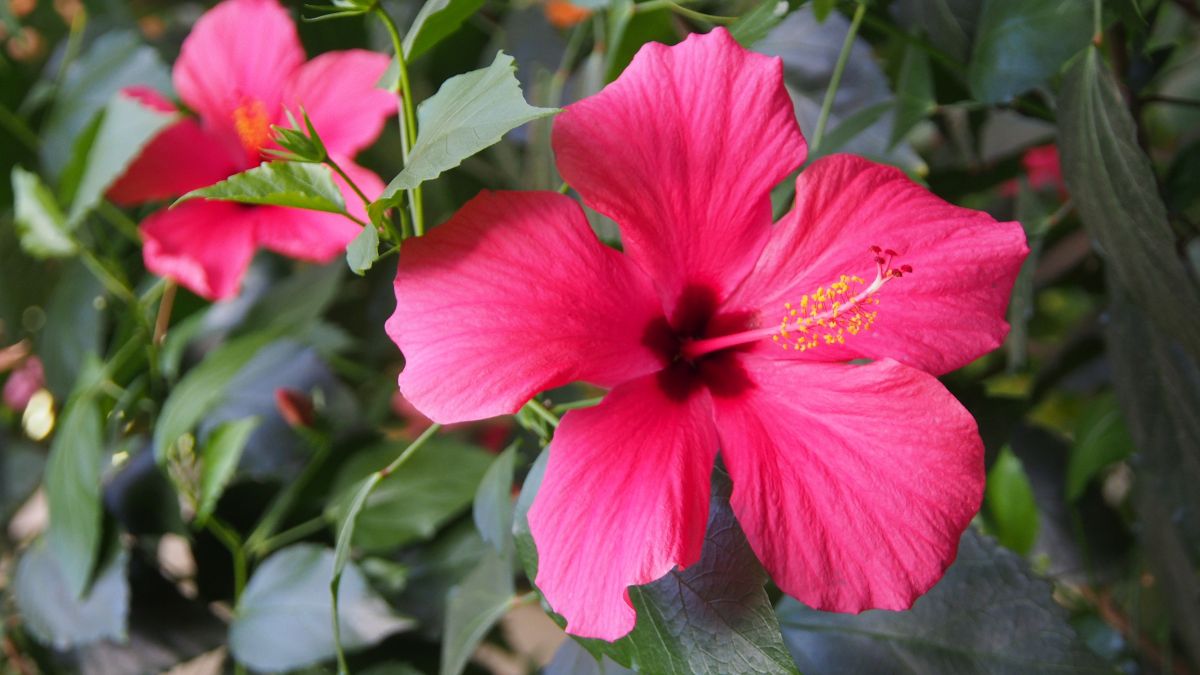 There is arguably no flower that is more recognizably tropical than the hibiscus. If you have spent any time at all in the tropics, just planting one of these in your yard will immediately take you on a trip down memory lane. Spending time in your backyard will feel like relaxing on a tropical getaway!
The huge variety of cultivars available means many exciting options to explore.
You can grow hibiscus plants outdoors or indoors. They make excellent container plants. In fact, keeping them indoors is a great idea if you live in a location that is too cold for them outside.
With their long bloom period, you can bring the beauty of the tropics to your garden for weeks on end.
These plants with their bright flowers can get to be up to 8 feet tall, which makes them ideal for creating a privacy screen.
While these showy flowers are not exactly low-maintenance, they are not too tricky to grow successfully. Indeed, the ease with which you can transplant them makes them a good choice for a beginner.
Hibiscus Landscaping Ideas
Here are some ways you can use hibiscus in your landscaping.
Line a walkway: One of the most popular things to do with hibiscus plants is to put a row of them alongside a sidewalk or garden path. You can even put a row on either side to completely hem in a pathway.
Grow along a fence: Just as hibiscuses make a lovely border for a walkway, they also can look nice planted alongside a fence. Indeed, if your fence is unsightly, they may be able to help conceal it and make for a more inviting appearance.
Make a border around a yard: Hibiscus plants can be pretty tall once they have had a chance to establish and grow. So, if you make a circle of them all around your yard, you can screen off your lawn from prying eyes. This is a great way to increase your privacy and get back to enjoying your outdoor space in peace. Not only will you be able to spend time outside without the neighbors staring at you, but you also will have something nicer to look at than nearby houses or the street.
Plant by your pool: If you have a swimming pool in your backyard, you can give it tropical vibes by planting hibiscuses around it.
Recommended Hibiscus Varieties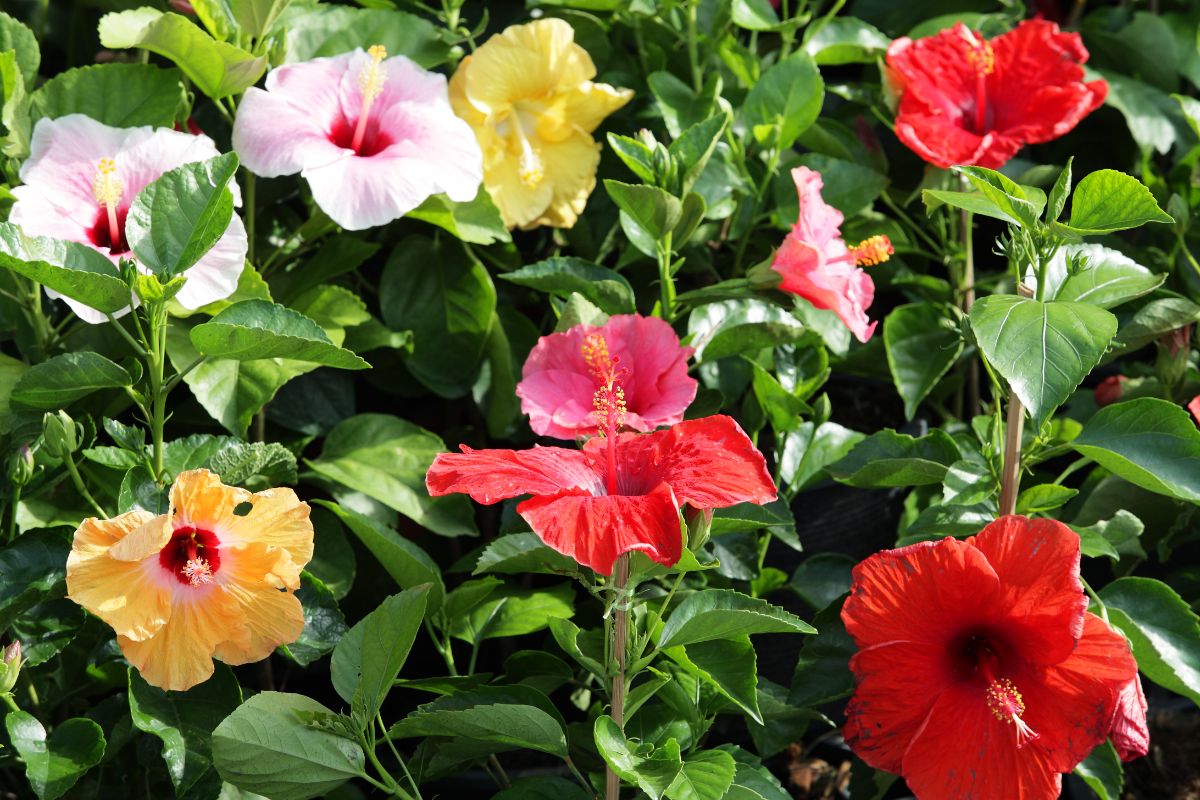 Let's take a look at tropical species and hardy hibiscus flowers you can consider for your garden.
Berry Awesome: This type of hibiscus won the 2019 Proven Winners Perennial of the Year™ award. The name of the plant refers to the abundant flowers in a "berry" shade of pink. It is a good choice if you are looking for a compact shrub.
Cranberry Crush: If you are seeking a hibiscus that produces blooms in a deep, true red, you may like this cultivar. There are flowers not only at the tips of the stems, but along their lengths.
Luna Rose: For hibiscus plants that produce vibrant blooms in bright pink, you cannot go wrong with this vivid cultivar.
Luna White: For white flowers, plant this cultivar, which produces huge blooms with white petals that are deep red in the centers.
Red Heart: This type of hibiscus produces white blooms similar to the "Luna White" cultivar, but with larger red centers. Plus, they have white stamen cones, which really stand out against the red.
Purple Pillar: Want blossoms with a beautiful multi-colored appearance? Consider this intriguing cultivar with its pillar-like growth and its light purple flowers with dramatic red centers.
Eye of Kali: This tropical plant produces blooms with a bicolored appearance. The petals are a vivid orange, and the middles are red.
Starry Starry Night: Purple foliage and light pink flowers with dark pink petals make this a particularly dramatic hibiscus cultivar. You will love how the prominent dark pink veins highlight the structural beauty of the petals.
C'est Bon': The ruffled flowers on this plant have a beautiful pink hue with white around the edges.
Crown of Bohemia: For double blooms with a sunny yellow hue, consider this cultivar. It is a great choice not only for its colorful flowers, but also for its size if you are looking for a privacy screen. It can grow up to 10 feet tall.
Alyogyne huegelii: Want blue flowers? Consider this hibiscus species. Technically, the hue of the flowers is more "purplish," but it is about as blue a hibiscus as you are going to find.
Golden Rain: The ruffled blooms of this hibiscus cultivar feature vibrant colors: yellow spattered with orange.
Midnight Marvel: If you want bold crimson flowers, "Midnight Marvel" could be the perfect accent plant for your garden. With their 8" width, these plants also feature a large bloom size.
Chinese Lantern: The scarlet blooms of the "Chinese Lantern" hibiscus are distinctive and unusual, making it one of the most intriguing tropical varieties. It is also sometimes known as the "Madagascar hibiscus."
Erin Rachael: These tropical beauties sport eye-catching flowers in bold colors. Each beautiful hibiscus bloom is bright pink toward the center with the petals shifting to fiery orange around the edges.
Fiji Island: For more vibrant pinks, consider the "Fiji Island" tropical hibiscus plant. The narrow petals are pink with maroon toward the centers.
Fleming Dwarf Hibiscus: If you are looking for a compact beauty, consider this cultivar. Not only is it a compact variety, but it is also one of the hardier varieties for cold climates featuring harsh winters. This series includes cultivars in a range of hues. Examples include "Copper Queen," "Fleming's Crown Jewels," "Cherub," "New Old Yella," "Robert Fleming," "Pink Comet," and more.
Now you have some appreciation for the variety of colors for hardy and tropical hibiscus plants. Whether shopping in tropical climates or cooler climates for outdoor or indoor plants, you can find just what you need to bring a bright spot to your home or yard.
When Do Hibiscuses Bloom?
Hibiscus plants begin flowering in spring and may continue to blossom through summer into fall.
How Long Do Hibiscuses Bloom?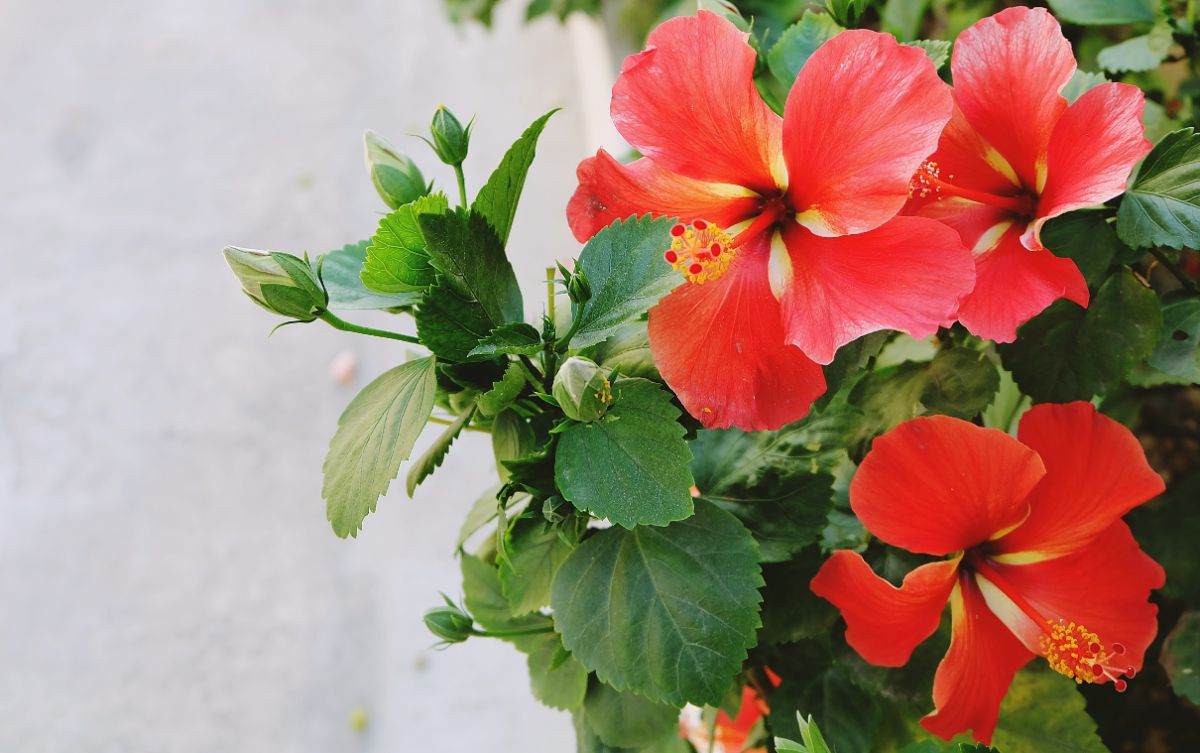 Hibiscus flowers are ephemeral. The University of Minnesota Extension explains, "The beautiful, exotic-looking flowers are short-lived, typically blooming for only one day. Once finished blooming, the flower will close up and drop off. There is also a shell-like structure supporting the flower. This too withers and drops a few days after the flower fades."
It would be easy to look at the ephemeral nature of these showy blooms as a drawback. But you could look at it as a case of mono no aware, the Japanese concept that translates to "the pathos of things." In Japanese culture, an appreciation of impermanence can be a positive. It is one of the reasons that cherry blossoms are so beloved. You can look at hibiscus flowers in much the same way.
But we are talking about the individual hibiscus flowers. Indeed, hibiscus plants have an advantage that cherry blossoms do not. Cherry blossoms bloom only once per season. Hibiscus plants bloom repeatedly for weeks or even months.
So, even though each hibiscus flower individually fades fast, you will be able to enjoy a long bloom period with this plant.
When to Plant Hibiscuses
Plant your hibiscus out in your garden after the last frost has passed in spring.
Ideal Growing Conditions for Hibiscuses
To grow these colorful blooms successfully, you need to know the soil, water and sun conditions that are right for hibiscus plants.
How Much Sun Do Hibiscuses Need?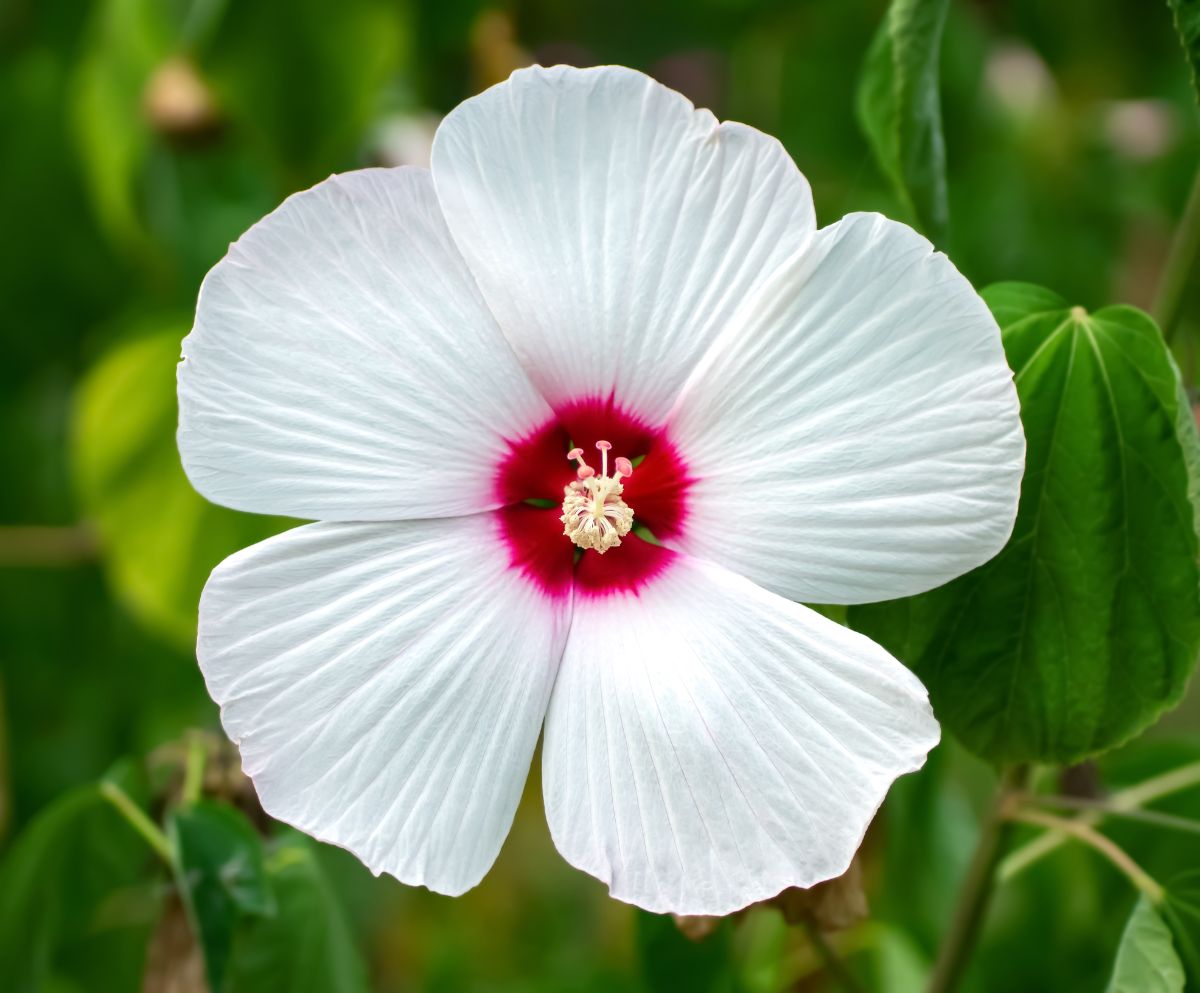 Your hibiscus plants need a minimum of 6 hours of direct sunlight each day. So, indoors, they should be placed near a sunny window. Outdoors, full sun is best, but partial shade is fine.
What Type of Soil is Right for Hibiscuses?
You should plant your hibiscuses in rich, well-draining soil. While you should keep the soil moist, wet soils can become problematic if they are too soggy.
Mildly acidic soil is most suitable for hibiscus plants. But if your soil is neutral, your plants should still thrive. They may even tolerate mild alkaline conditions.
How Much Water Do Hibiscuses Need?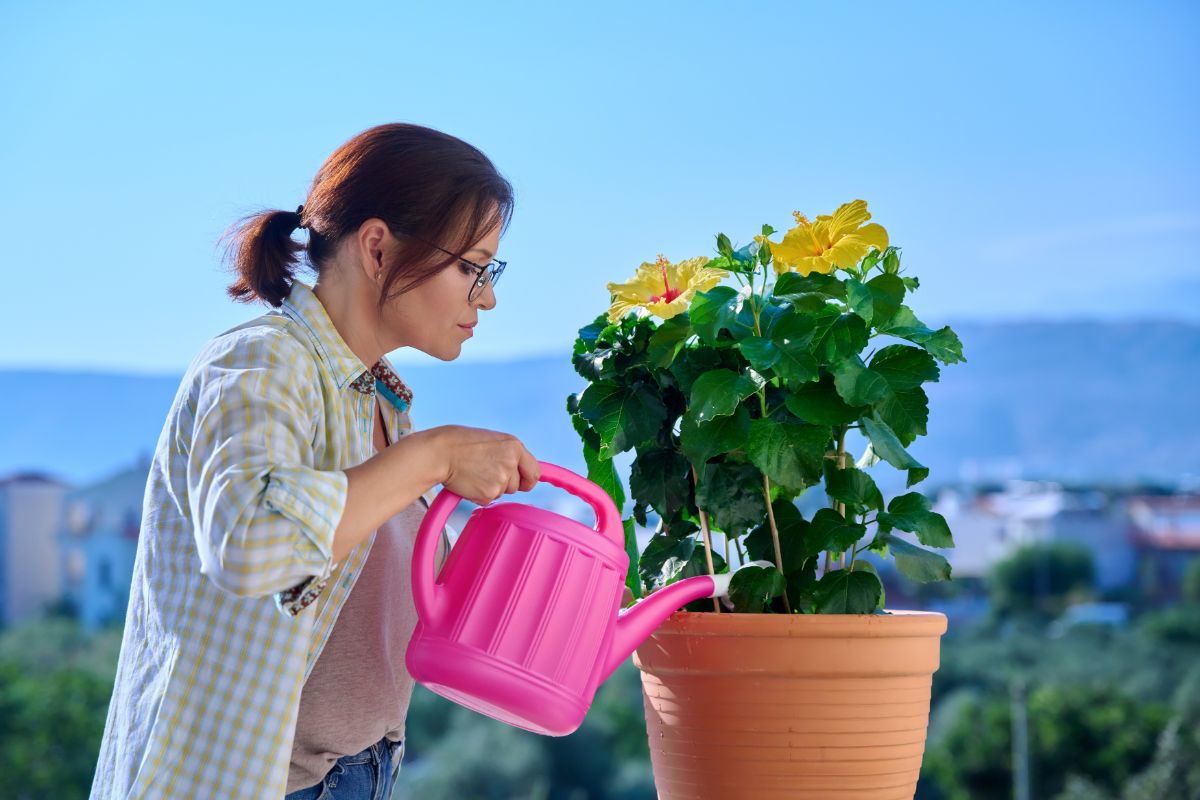 Hibiscus plants need plenty of water. Generally speaking, the rule is to water hibiscus weekly. But if it receives adequate water from precipitation, you may be able to hold off. Thankfully, it is difficult to go overboard with watering. Chances are good that even if you err on the side of excess water, your plants will do fine.
Be especially diligent about watering in dry conditions. If the top inch of the soil dries out, it is time for more water.
How to Plant Hibiscuses
Hibiscuses can be grown starting with a nursery plant, seed, or cutting. Below, we offer instructions for ground and container planting if you are starting with a nursery plant. You can scroll down after those directions to learn how to grow a hibiscus from seed or from a cutting.
Container Planting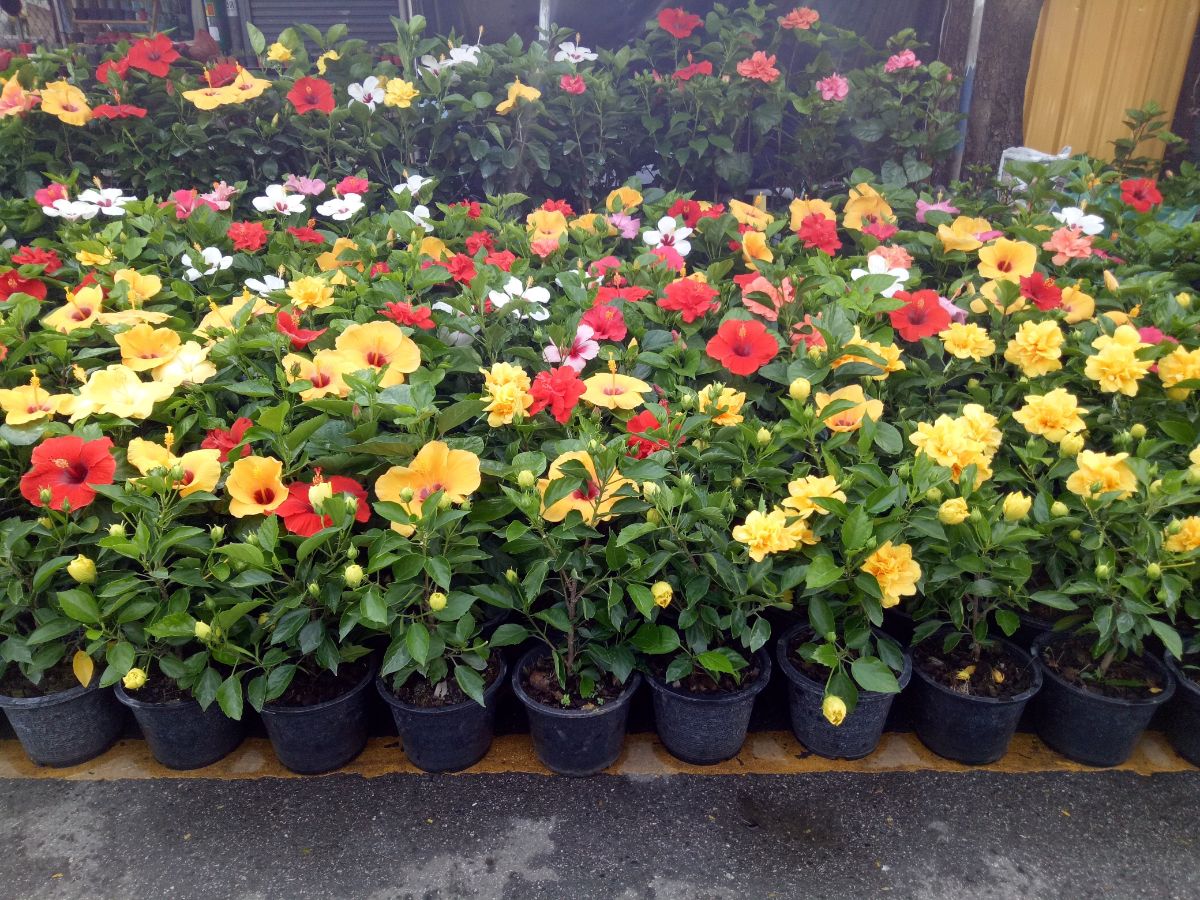 If you want to grow hibiscus plants in containers, you will need to start with the right pots. It may surprise you that you do not need a massive pot for these container-grown plants. Something around 10 inches in diameter should suffice. Put drainage holes in it if it did not include them.

You might be wondering if you will eventually need to upgrade to a larger pot. It may surprise you to learn that hibiscuses can be quite happy for the long term in relatively compact containers.
Fill the pot with potting mix. This should consist of potting soil, peat moss and perlite in a 2:2:1 ratio. In place of the perlite, you can also use vermiculite.
The easiest way to plant hibiscus is to only fill the pot to around the ⅓ mark to begin with. Then, put the plant inside. After you have placed it, you can add the rest of the potting mix so that you have covered the root ball.
Water well.
Decide where to put the potted hibiscus.
If you are keeping the hibiscus plants indoors, note that they can be surprisingly finicky, even within the shelter of your home. Something as simple as a gust from an air conditioner or heater could be enough to cause issues.
So, mind where you set your pots for your indoor container garden. Try and keep container hibiscus plants toward the interiors of rooms rather than near their doors. Do not place them near open windows, unless the outdoor temperature is the same as the indoor temperature. The more consistent the temperature stays, the happier your hibiscuses will be.
If you are picking an outdoor spot for your potted hibiscus, pick a spot where your plant will receive plenty of sunshine. But it should also be sheltered from harsh winds.
Once your part is situated, make sure you are watering frequently during the establishing phase. You will need to water the plant every other day or so for several weeks.
After that, you can switch back to a regular watering schedule. Just keep in mind that soil dries out more swiftly in containers than in the ground. So, potted hibiscus may require more frequent watering than hibiscuses in your garden beds.
Ground Planting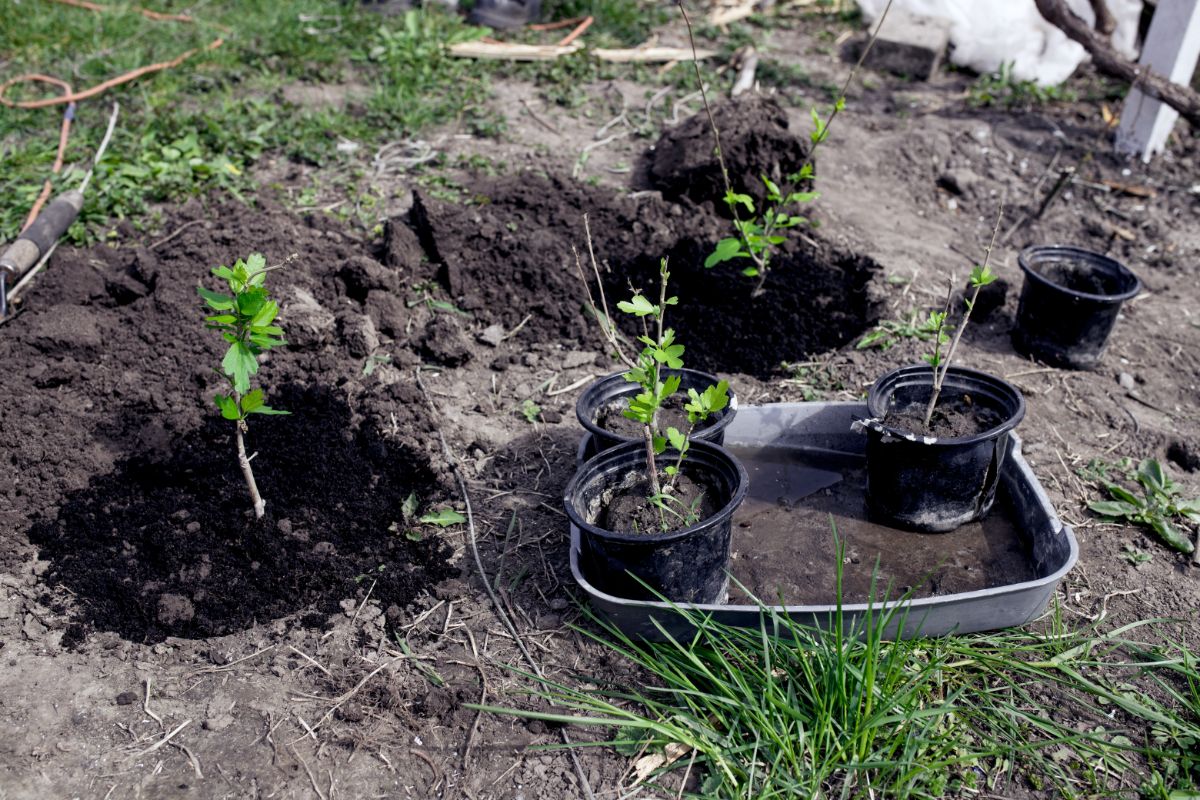 If you want to plant hibiscus directly in the ground, here are the steps.
Choose a sheltered, sunny spot in your garden.
Prepare the soil. This involves making sure that the soil offers the right permeability and drainage for water.
Hidden Valley Hibiscus suggests digging the hole for your plant, and then dumping a gallon of water into it. Then, wait to see how long it takes for the water to drain from the hole.
The site explains, "If it is still standing there after an hour you are probably planting into clay or over some other impermeable material, and may end up drowning the hibiscus roots. Alternatives are to build up a raised planting bed or to amend the soil with 'clay-busting' material available at most nurseries."
While you need the soil to be able to drain well, you also need water to be able to permeate effectively to begin with.
Hidden Valley Hibiscus recommends, "Test to see how well water soaks into your soil by digging a small well into the top of the ground. Fill the well with water 2 or 3 times and let it drain away for half an hour or so. Then dig into the soil, and look at the water line to see how far down the water has soaked. If the water is moist 8-10" down, then your soil has good permeability and it's safe to plant hibiscus in it. If only the top inch or two of the ground is moist, your soil does not have good water permeability, and your hibiscus could die of drought, no matter how much you water."
In such a scenario, the site says, "Before you plant your hibiscus, you will need to dig a very large hole that you fill with a high quality planting mix, allowing plenty of extra room for the hibiscus to grow roots into."
Sandy soil can also be problematic. This site suggests that if this is the type of soil you have, you either add compost to improve its consistency or you plant your hibiscus plants in raised garden beds or containers.
Dig the hole.
You will be carrying out this step concurrently with the one above. A good way to gauge how large the hole should be is to take a look at the pot your nursery plant arrived in. It is going to need to be a little bit larger than that pot.
The depth of the hole depends on your climate. In humid locations, it is better to plant hibiscuses shallowly. In dry climates, it is better to plant them more deeply.
If you are planting more than one perennial hibiscus, put around 3-6 feet of space between each. This spacing will ensure sufficient air circulation.
Pour water into the hole.
We mentioned pouring water into the hole to check the drainage of the soil. But it is also an important step to take before you plant the hibiscus for reasons of providing appropriate moisture for your plant.
Remove the plant from its current container.
The next step is to take the nursery plant out of the pot it arrived in. Normally, we would not even write out this step, but in the case of a hibiscus, it does require extra care.
The easiest method is to flip the container upside down, and gently squeeze the plant out of the container.
If the roots are tightly bound, you will need to loosen them up a little bit.
Plant the hibiscus.
Now you can put the plant in the ground. Backfill the soil.
Water well.
Provide extra water as your plant is establishing. It likely will not take too long for your hibiscus to look happy, as they tend to transplant easily.
Starting Hibiscuses from Seed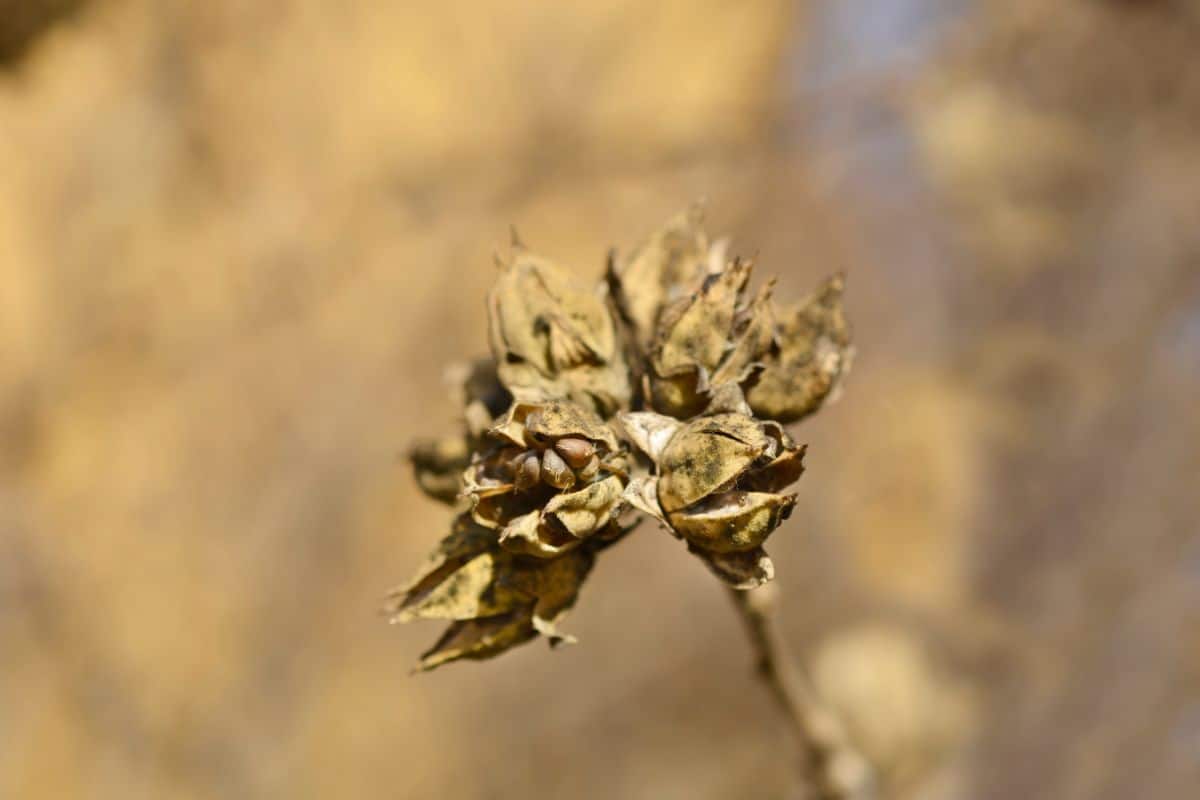 If you want to start hibiscus from seed, it will take a while, but it will help you save money.
6-12 weeks before you expect the last frost of the year is when you should start the process.
Soak the seeds overnight.
Get containers with holes for drainage and fill them with suitable soil.
Plant your hibiscus seeds. Each should be ¼ - ½" deep.
Find a sunny location for your seeds to germinate. It should be 75-85 degrees Fahrenheit.
Moisten the soil as needed, but do not let it get soggy.
After the seeds germinate, allow them to keep growing undisturbed until they have some leaves.
Once the last frost is behind you, you can harden the seedlings. Take them outdoors, then back in, then back out, then back in, then back out. They should spend longer and longer periods outside until they are used to it.
Now you can plant the seedlings in your garden beds, or transplant them into larger containers where they will live permanently.
Starting Hibiscuses from Cuttings
You can propagate hibiscus plants from cuttings, which is another great way to save money on new plants.
In spring or summer, look for softwood on a hibiscus plant to cut.
Make your cutting. You should remove 4-6 inches.
Leave the top leaves alone, but remove all the rest.
Right above the base of the cutting, there should be a leaf node. If there isn't, you should cut off a bit more of the stem so that the node is right near the base.
Dip the base into rooting hormone.
Get a container and fill it with potting soil mixed with perlite.
Dampen the soil mix.
Insert the base of the cutting into the potting soil.
Find a partly shady location for the cutting to grow. Cover it with a plastic bag, but keep the bag well clear of the cutting so it has sufficient room.
Check regularly on the cutting and dampen the soil as needed.
Within eight weeks, your cutting should develop roots.
Transplant the cutting. If you are putting it outside, do not forget to harden it.
How to Care for Hibiscuses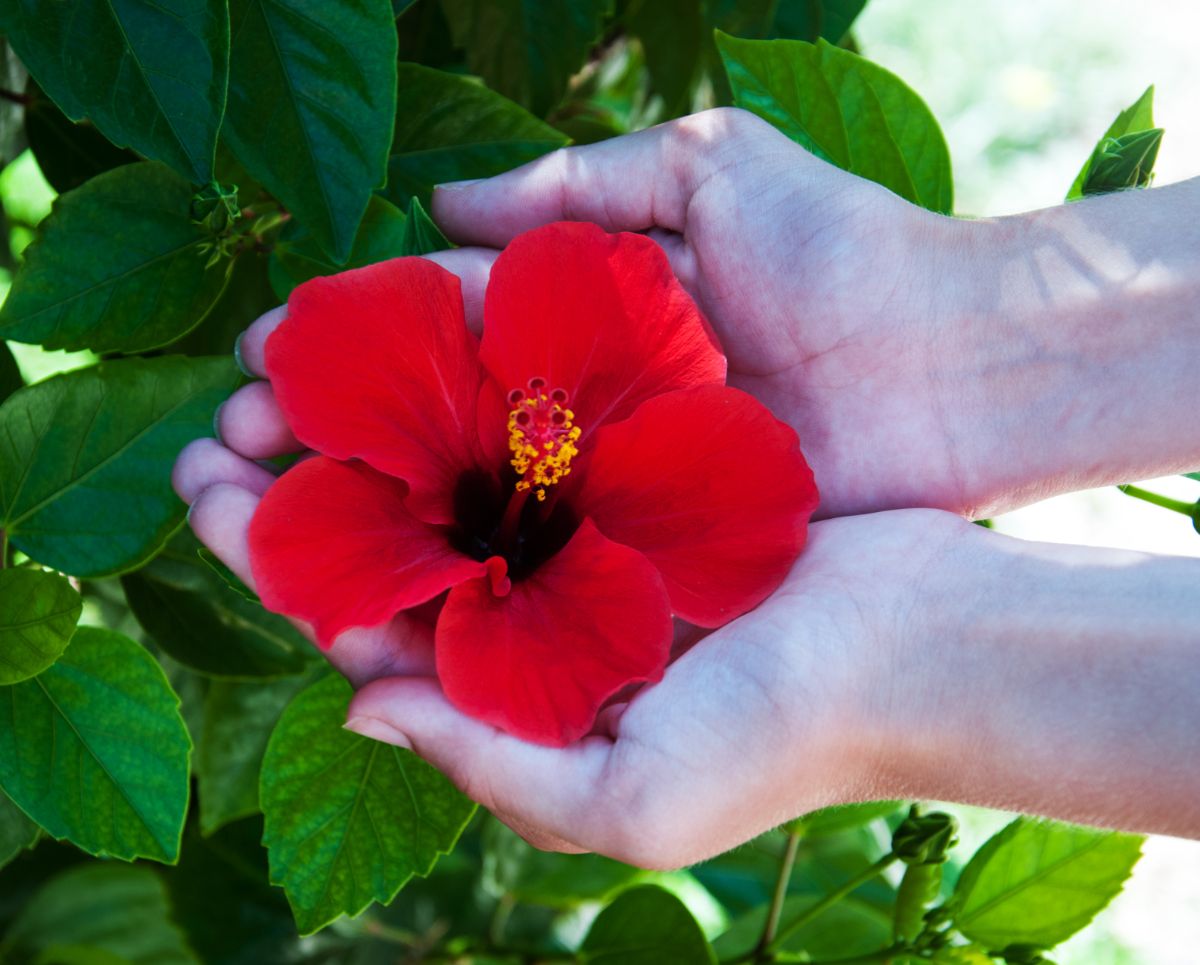 Now you are an expert in planting hibiscus! But how do you ensure that they live happily in your yard? Let's discuss fertilizing, mulching, pruning and more.
How to Fertilize Hibiscuses
Hibiscus flowers love fertilizer! UMN Extension writes, "Hibiscus are heavy feeders and require a balanced fertilizer such as 20-20-20 or 10-10-10. at half the label recommended strength every 2-3 weeks when placed outside for the summer. Indoors, fertilize less often, using ½-strength formulation, every month or so in spring and summer, less frequently in winter."
How to Mulch Hibiscuses
Mulching around hibiscus plants is a good idea. Doing so will keep weeds from crowding in on your plant, and will also enrich the soil and protect the roots. Additionally, it will help lock in moisture.
Around 3 inches of mulch is ideal. You should not put it too close to the stem, however, or you might encourage rot.
How to Stake Hibiscuses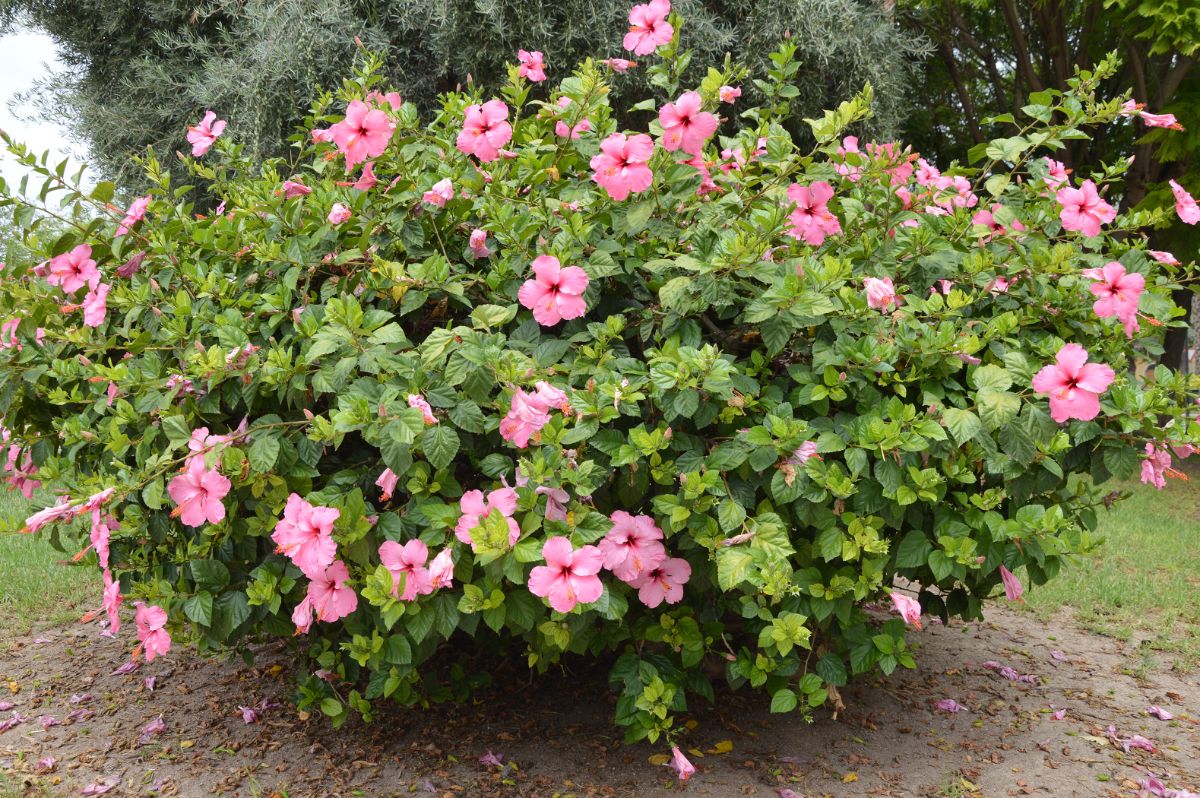 In some cases, it can be helpful to stake hibiscus plants. This may be particularly important if you live in a climate that receives a lot of high winds, and you are not able to provide your plants with adequate shelter.
If you think you will need to stake your hibiscus plants, the best time to do so is right after you plant them. The stake should be placed closed to the root ball, and should be around 1-2 feet deep.
Tie the plant to the stake. As it continues to grow, you can tie it in additional places further up the stake. Be aware that the stems will increase in diameter as the plant grows, so the ties may tighten. So that you do not harm the plant, loosen them as needed.
If you want, you can use staking not only to give your hibiscus plants extra support, but also to train them to grow to your liking. Pruning secondary stems and side shoots may help you get the direction and shape you want.
How to Prune Hibiscuses
If you want bountiful blooms and beautifully shaped plants, you will need to keep up with pruning. Below is what to know about deadheading, trimming, and other pruning tasks.
How to Deadhead Hibiscuses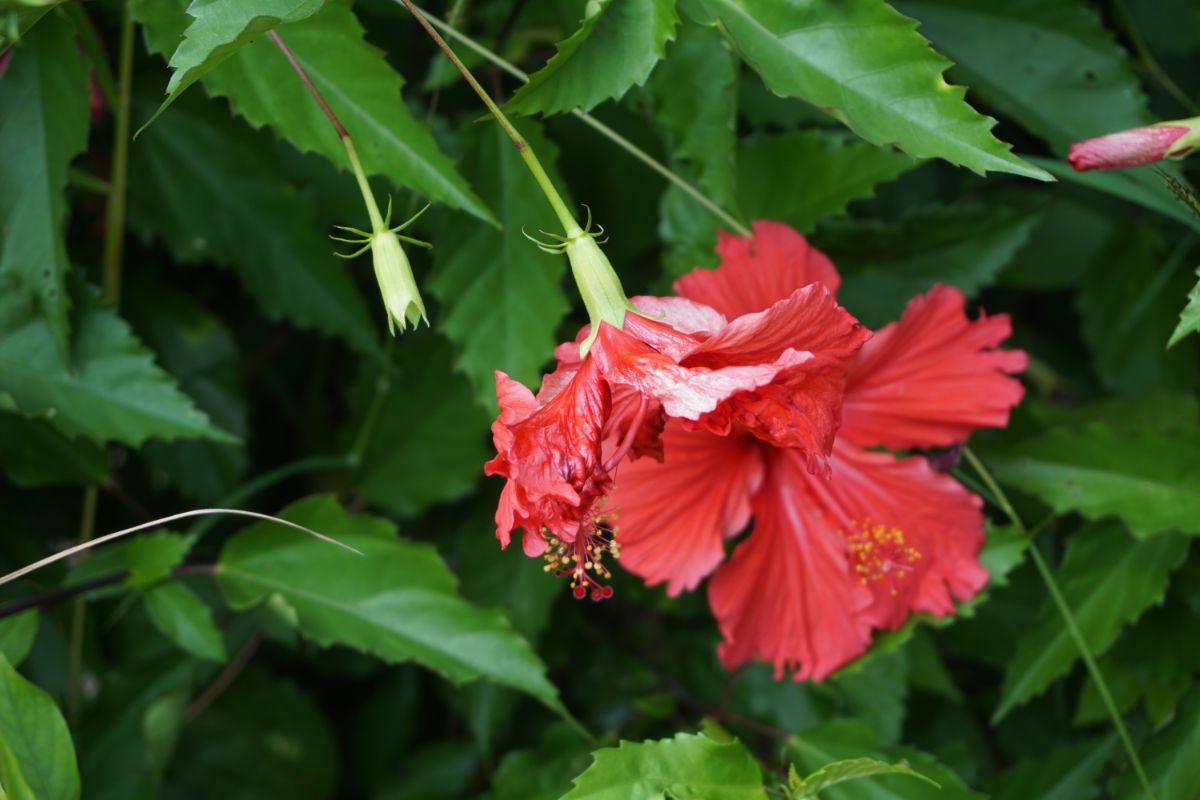 If you want to deadhead hibiscus, you can. You do not need to if you just want it to keep flowering; these plants do a great job of that on their own. And since each flower only lasts a day, the old blooms wilt and fall relatively quickly.
Nevertheless, you may make the plant look nicer by deadheading it, and you also can stop the plant from going to seed this way.
You may also want to pick old, dead blossoms off the ground when they fall. Otherwise, they may attract slugs and insects.
When to Cut Back Hibiscuses
You can regularly prune your hibiscus to encourage it to grow in the shape and direction you want.
You also can trim back hardy hibiscus plants. Some people do this in the fall, while others recommend winter or spring. The right time for you may depend on your climate. As a general rule, once you see stems and leaves die, you can trim those back.
There is also another pruning task you should be aware of for hibiscus plants, which is pruning their roots.
You only need to worry about this if your hibiscus plants live in pots. When you plant in containers, perennial hibiscus plants can become root-bound. So, you might need to grab a knife and cut away around 2" on the bottom. Be sure to sterilize the blade first so as to prevent disease. Replace the potting mix around the root-ball, and water well after you re-plant.
How to Divide and Transplant Hibiscuses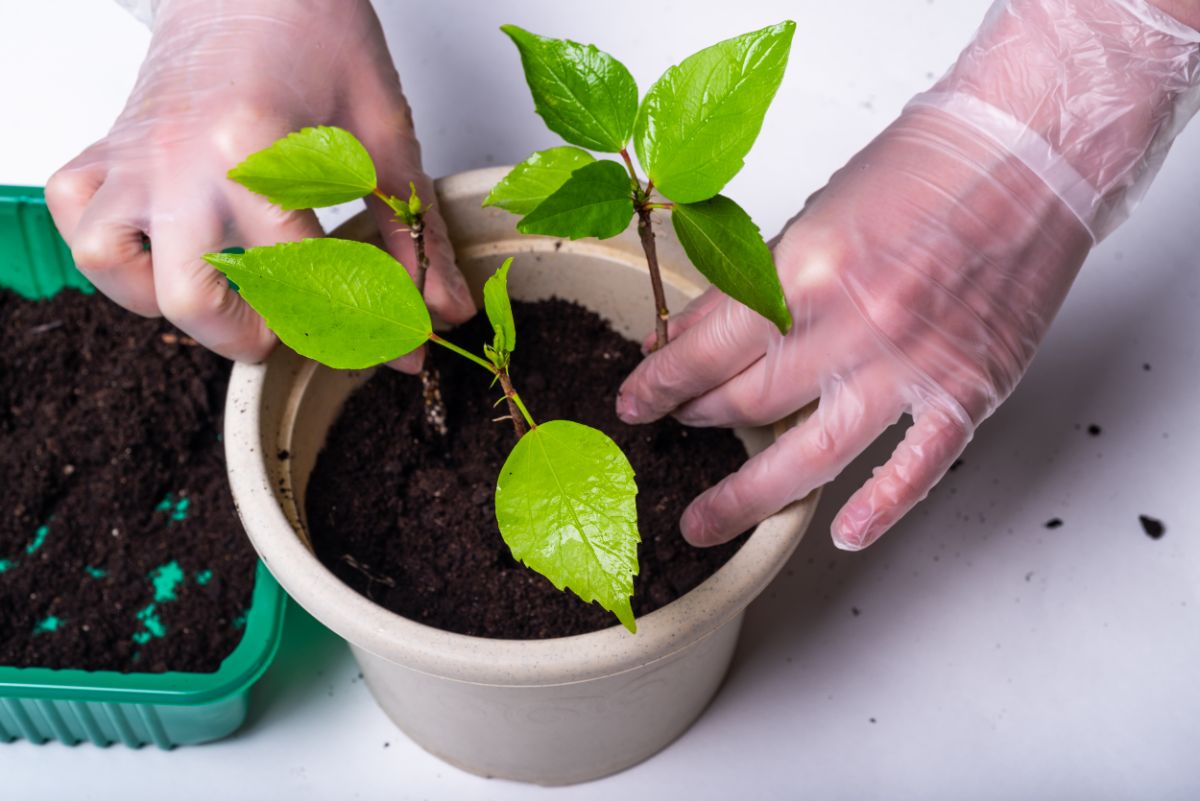 Once in a while, outdoor plants may need division. If you have some aging hibiscus plants that are no longer producing as many blossoms, it could be time to divide and transplant.
Early spring is an ideal time for this chore. Before the plant starts to flower, use a shovel to dig in a circle around it, steering clear of the roots. Then, push the shovel underneath to lift up the root ball.
Wipe away the loose dirt, then use a saw to split the root ball. Once you are done, you can plant the divided hibiscuses.
How to Overwinter Hibiscuses
Are you in a location where your outdoor hibiscus plants might not make it through the winter? If you keep them in containers, you can bring them inside to overwinter them.
Whether you are bringing them in for the winter or putting them back outside for the next growing season, you need to be gradual with the transition.
UMN writes, "These plants benefit from being placed outdoors after danger of frost. Before placing them directly in full sun, it is important to acclimate them to the brighter conditions. Begin by moving the hibiscus to a porch, then to filtered light under a shade tree and finally into the bright sunlight. Reverse the process in the fall so that the plant is indoors before the first frost."
Are Hibiscuses Vulnerable to Diseases or Pests?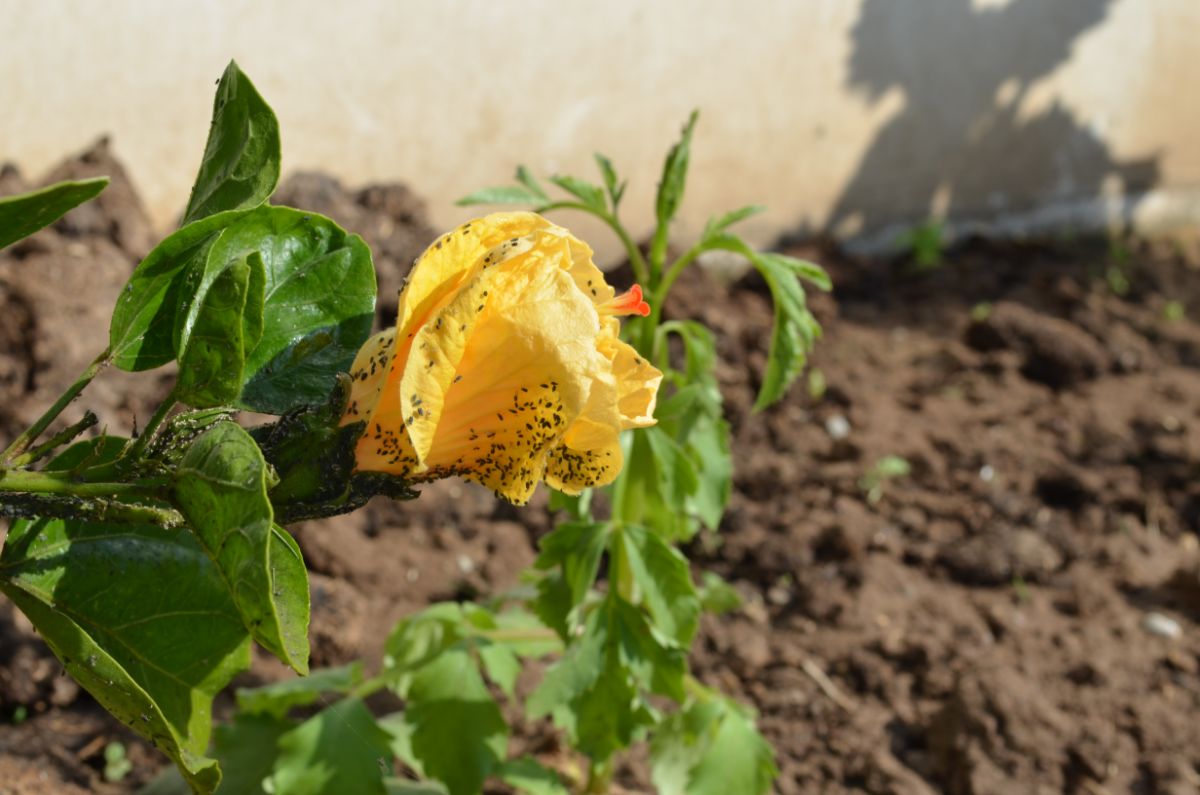 If your hibiscus plants are wilting, they could have "wilt disease" or "dieback disease."
"Wilt disease" is the more serious of the two, and is the result of fungal infections from Fusarium oxysporum and Verticillium.
Another name for the disease is "root rot," but this is a bit misleading, as the roots rotting is not the issue. Unfortunately, the roots are the means by which the fungus is getting into the plant. The damage is systemic.
If you are looking for detailed instructions on how to save a plant that has wilt disease, see this site.
The thing is, it is really hard to save a plant with this problem. So, the site advises that you try to prevent it from happening in the first place if at all possible. You can find detailed prevention tips on the same page.
If your plant has "dieback disease," the situation is less dire. The disease is not entering through the roots, but rather through a weak point in a stem. For that reason, the damage is more localized.
Treating the disease involves removing the compromised part of your hibiscus plant. So long as you do not see dark streaks in the cuts on the plant, you should be all set—the diseased parts are gone. If you do find them, just get rid of a little more.
The cuts you made may be vulnerable. But you can protect them by putting some grafting wax over them.
As with "wilt disease," it is possible to prevent many cases of "dieback disease." Check this page for details.
Moving on from diseases, pests can be an issue with hibiscuses. The University of Florida writes, "Scout your hibiscus regularly for pests such as aphids, whiteflies and mealybugs. These piercing sucking insects are usually found in clusters on leaves and flower buds. Scout by flipping leaves and looking for the pests or by noticing sooty mold growing on the honey dew produced. If caught early they are easily controlled with insecticidal soaps or horticulture oils. Be sure to read labels carefully— you should never use the pesticide malathion on hibiscus."
Slugs and snails also like eating hibiscuses—and "like" may be an understatement.
Alas, mammals also can really get into devouring hibiscuses. Deer enjoy them, and we have seen multiple sources state that they are a "common" food for rabbits.
So, you may want to install some fencing to protect them from mammals, and regularly remove slugs and snails that spot them.
Recommended Planting Combinations for Hibiscus
What should you plant with hibiscus?
Sweet alyssum: These beautiful flowers can make a nice carpet in front of your hibiscus blooms.
Baptisia: Like hibiscus flowers, baptisia plants enjoy lots of sunshine and moist but well-drained soil.
Bougainvillea: These ornamental vines are a great option for planting with tropical hibiscus varieties.
Another idea for a tropical garden accompaniment for hibiscus is lantana.
Frequently Asked Questions About Growing Hibiscuses
Q: What eats hibiscuses?
A: What doesn't eat hibiscus? While these plants have a lot of benefits, pest-resistance is not among them. Insects, slugs, snails and mammals all may enjoy dining on your hibiscus plants.
Q: I am having a hard time propagating tropical hibiscuses. Is this normal?
A: Yes. If you are struggling, try propagating hardy hibiscuses from cuttings first. It is easier, and less of a learning curve.
Q: How do you make hibiscus tea at home?
A: Hibiscus tea is a popular beverage, and if you have hibiscus flowers growing in your own yard, you can make it yourself.
Begin by harvesting some petals. That is the only part of the plant you will be using, so you can throw away the calyx, stamen, pistil and pollen.
Fill a saucepan with water on the stove, and add about 2 cups of petals. Turn the heat up to a boil.
When the water bubbles, you can take it off the stove. Cover it and let it steep.
Walk away and do something else for 20 minutes. Then come back and strain out the petals.
Your tea is now ready to drink! Heat it up again if you want to enjoy it hot, or chill it in your fridge for a different experience.
As with any other tea you would drink, you can add a bit of stevia or honey to sweeten it if you'd like. Some people also enjoy additions like lime or lemon juice.
You also can get creative with this recipe and make it more complex by adding other flowers or herbs during the boiling step.
Q: How do you make hibiscus syrup?
A: While you are learning to make hibiscus tea, you might also enjoy this recipe for hibiscus syrup:
Add 1 cup of water and 1 cup of sugar to a saucepan.
Raise the temperature to a boil.
After the mixture bubbles, remove it from the stove.
Add ½ cup dried hibiscus petals.
Walk away and do something else for 15 minutes as the mixture steeps.
Return and strain the petals out.
Keep the syrup in your fridge. It will be good for several weeks.
Hibiscus syrup goes great in cocktails, sodas, teas, desserts, and more. You will find all sorts of uses for it in the kitchen.