There are thousands of different types of scale insects, including hard bodied and soft bodied scale. While both types of scale are sap-sucking insects that can do a number on indoor and outdoor plants, hard bodied scales have armored exoskeletons making them particularly difficult to eradicate.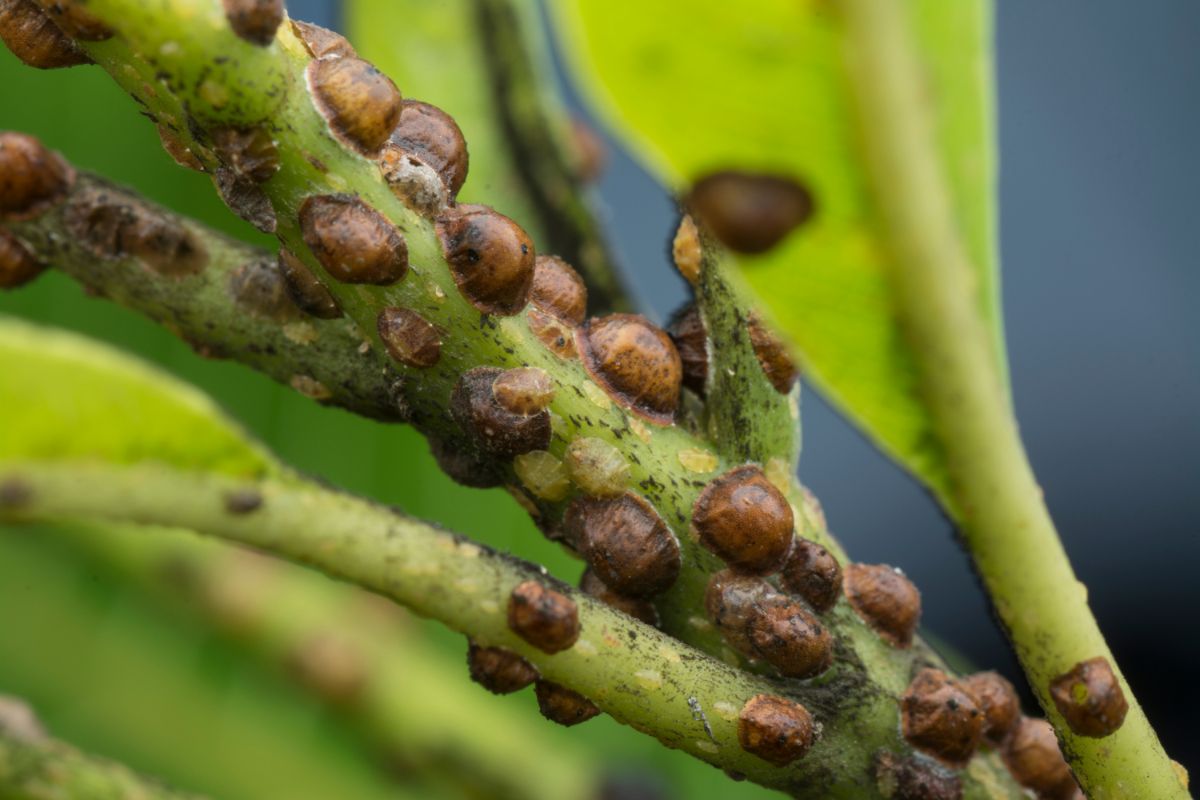 If you suspect that your houseplants are suffering from an infestation of hard bodied scale, it's important to act fast. These pesky insects can do a lot of damage and even kill houseplants. They can also spread in between plants and ruin an entire houseplant collection.
In this article, we'll help you to determine if you are dealing with hard bodied scale and provide chemical-free suggestions on how to treat and prevent these insects. Once scale has been eradicated, your houseplants should be able to bounce back quickly, and you'll be growing happy, scale-free plants once again!
Jump to:
Identifying hard bodied scale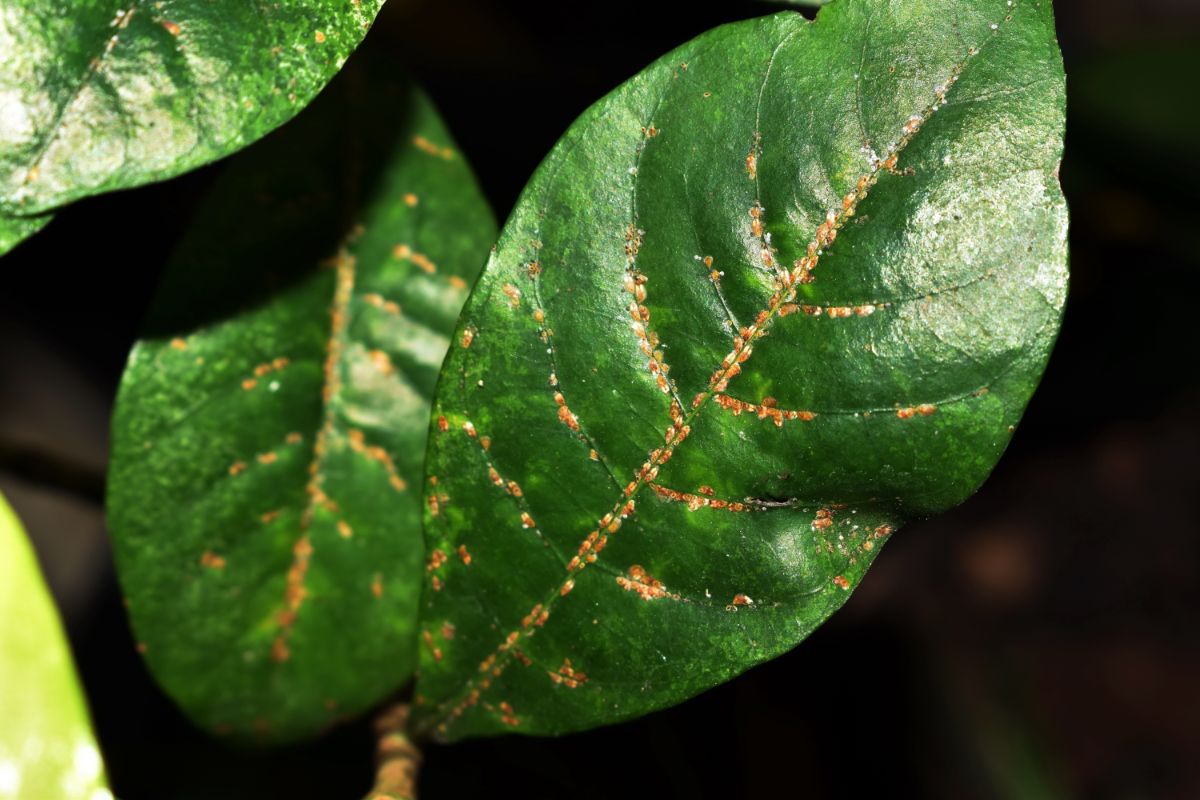 Often it takes houseplant keepers a while to realize that their plants have an infestation of hard bodied scale because these insects are very good at camouflage. Hard bodied scale come in a range of colors, including white, black, brown, and orange, but what they have in common is their hard, domed shell. That shell can blend right into plant stems and leaves, and many plant owners will mistake those scale insects for fungal issues or believe they're just part of a plant's normal coloration and texture.
Hard bodied scales attach themselves to plant leaves and stems and are often found congregating along the veins on the underside of plant leaves. While they range in size, hard bodied scales are all quite small and measure from 1/16 to ⅛" in length. This helps explain why they are frequently mistaken for natural bumps on plant stems.
Hard bodied scales are stationary for more of their lifecycle, so don't expect to see these insects scurrying about your houseplant collection. Hard bodied scales are only mobile as nymphs but become stationary as adults when they attach to plants and begin sucking the plant's sap.
The most obvious sign that you're dealing with scale is that you'll spot new bumps, growths, and spots on plant leaves and stems. As scale continues to feed on your plants, plant leaves will develop discoloration and yellow. If infestations are left untreated, plants will eventually weaken and die.
How to get rid of hard bodied scale insects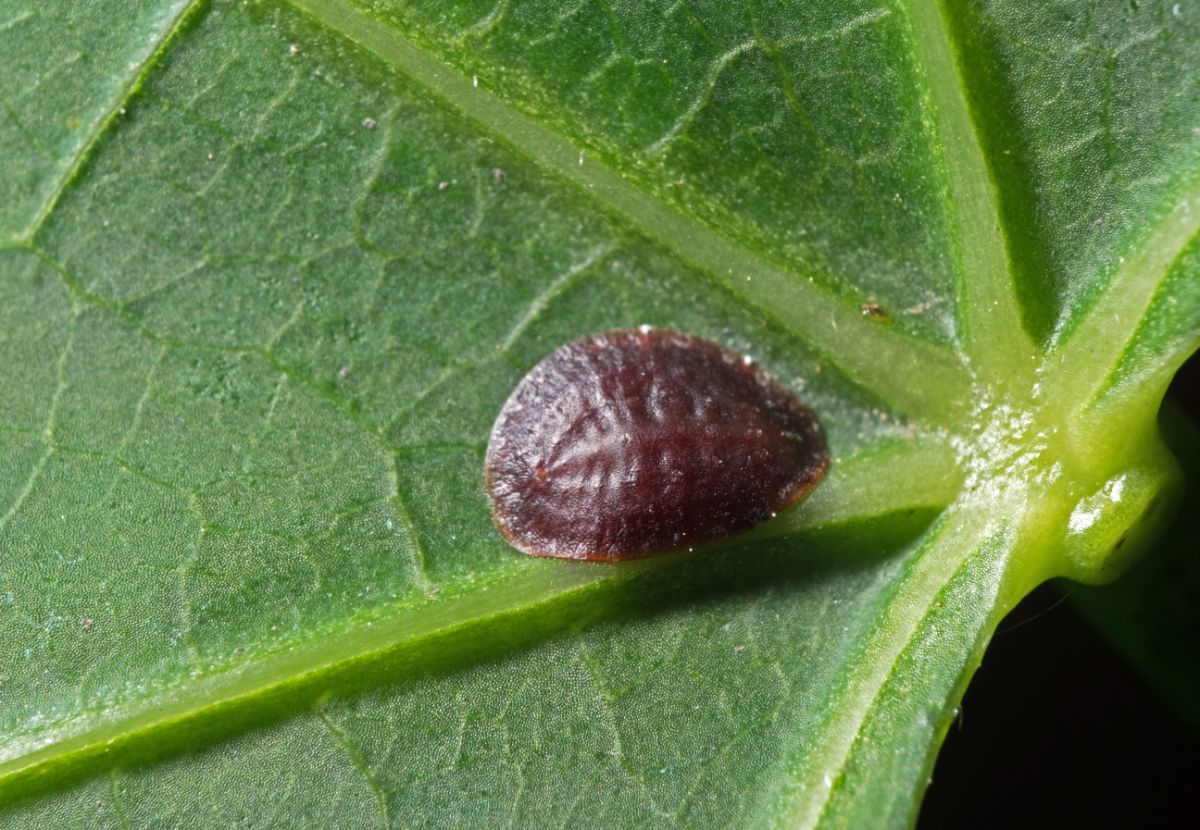 Because of their hard shells, hard bodied scale are much more difficult to eradicate than soft bodied scale. However, with persistence and a bit of knowledge how you can get rid of these destructive insects once and for all with a few simple ingredients. Best of all, you don't need to resort to toxic chemicals, either.
Below are our top tips for eradicating scale. If you don't have an existing scale infestation but have a large houseplant collection you'd like to protect, skip ahead to our section on preventing scale to ensure these troublesome insects never crop up in your indoor plants.
Act fast.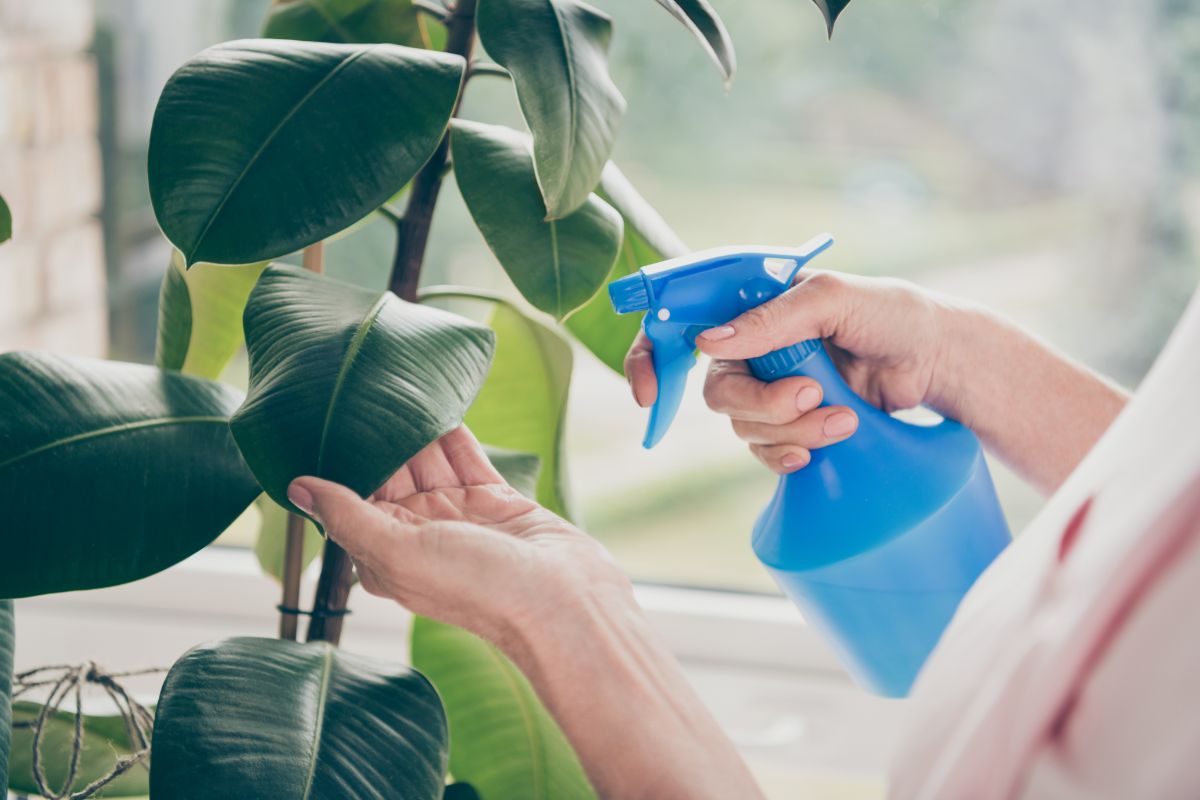 Hard bodied scale can be problematic in outdoor orchards and garden spaces, but they are even more troublesome on indoor plants. Indoors, hard bodied scale don't have any natural predators, so infestations can spread unchecked and affect an entire houseplant collection. To prevent this, it's very important that you act quickly as soon as you suspect that you're dealing with scale.
Sometimes, if only one plant is infected, you may just want to toss the plant. However, if a scale has hit your favorite plant or if it has spread to other plants in your home, this may not be a good solution.
Isolate infected plants.
Because scale insects can spread from plant to plant, it's a good idea to isolate any affected plants as soon as you can. While scale insects won't target all houseplant varieties, they are particularly drawn to indoor fruit trees, like Meyer lemons and kumquats, as well as woody stemmed plants like bay.
Be consistent.
Hard bodied scales are easiest to eradicate when they are in their nymph stage; however, with a bit of effort, you can target other life stages of this insect too.
The key to getting rid of scale is that you may need to treat your plants several times to really be sure the infestation is gone. Treating your plants once may effectively get rid of all nymph and adult scale, but there may still be a few eggs left over that can hatch into new scale.
If you choose to use a treatment spray, you'll want to reapply the spray once every 7 to 10 days until all signs of scale insects are gone. After that, treat your plants once more to be safe. However, it's important to follow the manufacturer's treatment instructions for the particular product you're using.
Start pruning.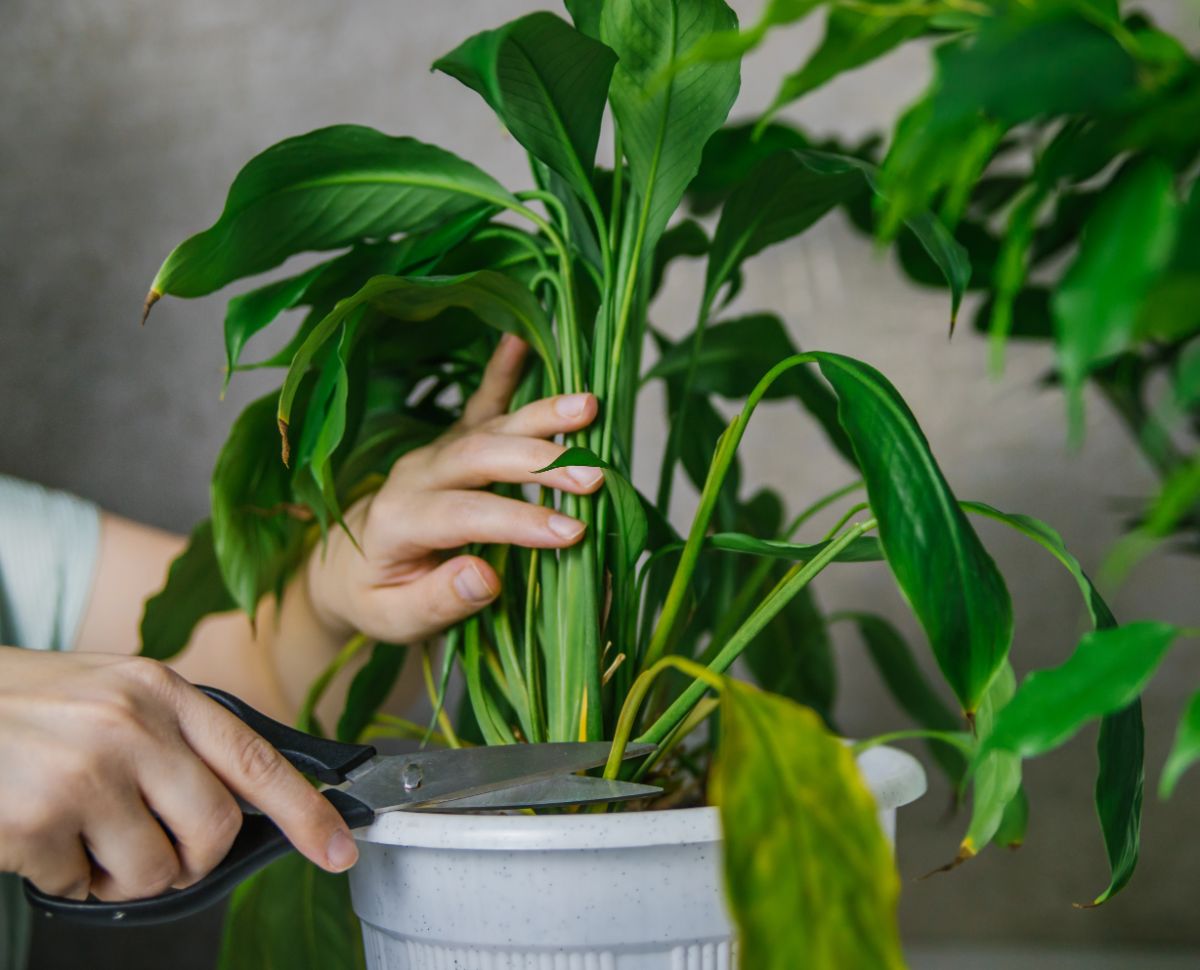 One of the quickest and most effective ways to get rid of hard bodied scale is to prune away as much of the infected plant tissues as you can. If the infestation has spread throughout the entire plant, this may not be possible, but if only a few leaves are affected, snip them away and dispose of them.
After pruning away any infected plant tissue, be sure to remove infested leaves and stems and seal them in a plastic bag or toss them away outside. It's also a good idea to sterilize your pruning shears in between plants if you have to prune leaves from more than one houseplant.
Spot treat with rubbing alcohol.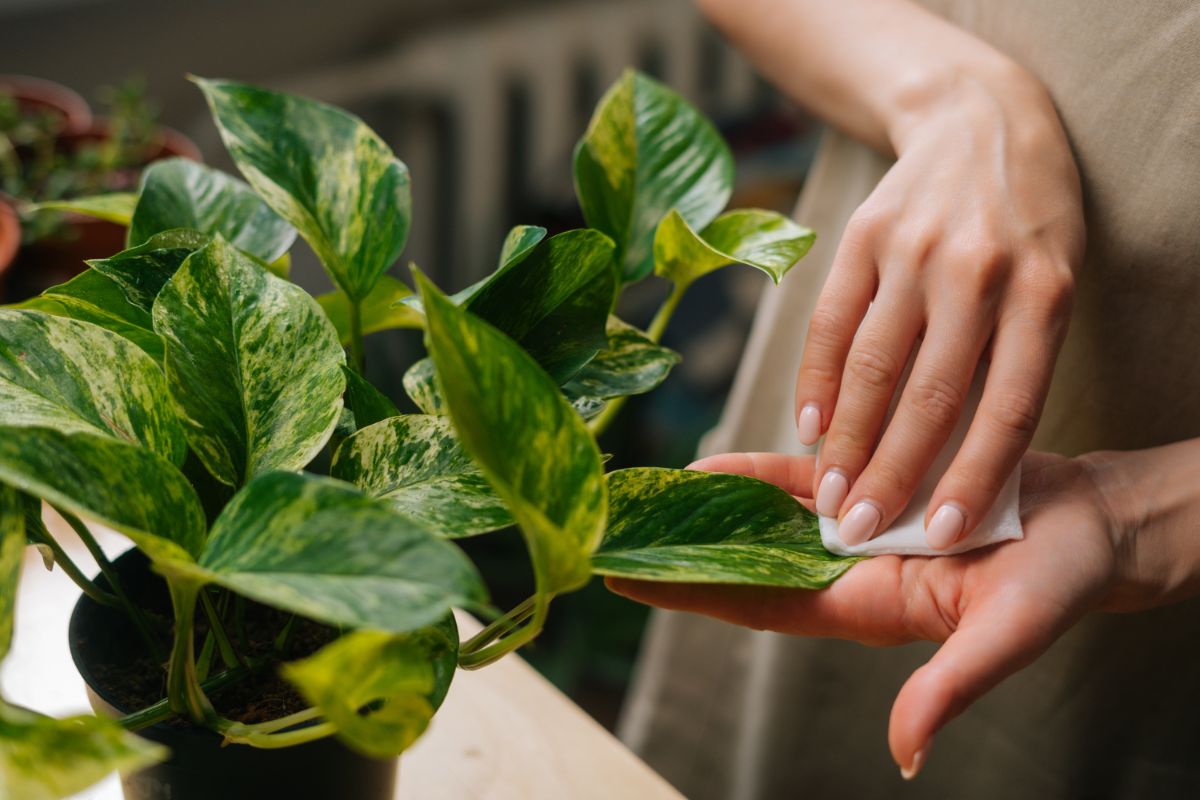 For smaller infestations, spot treating leaves and stems with a bit of rubbing alcohol can effectively remove hard bodied scale. To use this treatment method, simply dip a Q-tip in rubbing alcohol and rub it across leaves and stems that show signs of scale. Make sure the Q-tip makes contact with the scale insects and thoroughly wets them, which should kill them on contact.
For larger infestations, you can mix 1 cup of rubbing alcohol into 1 quart of water and then add 1 tablespoon of Castile soap. Mix thoroughly and then spray your plant.
Whichever treatment method you use, be sure to reapply the rubbing alcohol every 3 days for 2 weeks.
Additionally, it's important to keep in mind that hard bodied scale may also remain attached to leaves even after they've died, making it difficult to determine whether the treatment has been effective or not. In order to figure out if hard bodied scale is still alive, rub across scale insects gently with your finger or a Q-tip. If they easily detach from the leaves, the treatment worked; however, if they still remain firmly fixed to your plant's leaves, you'll need to treat your plants again.
Try out horticultural oils.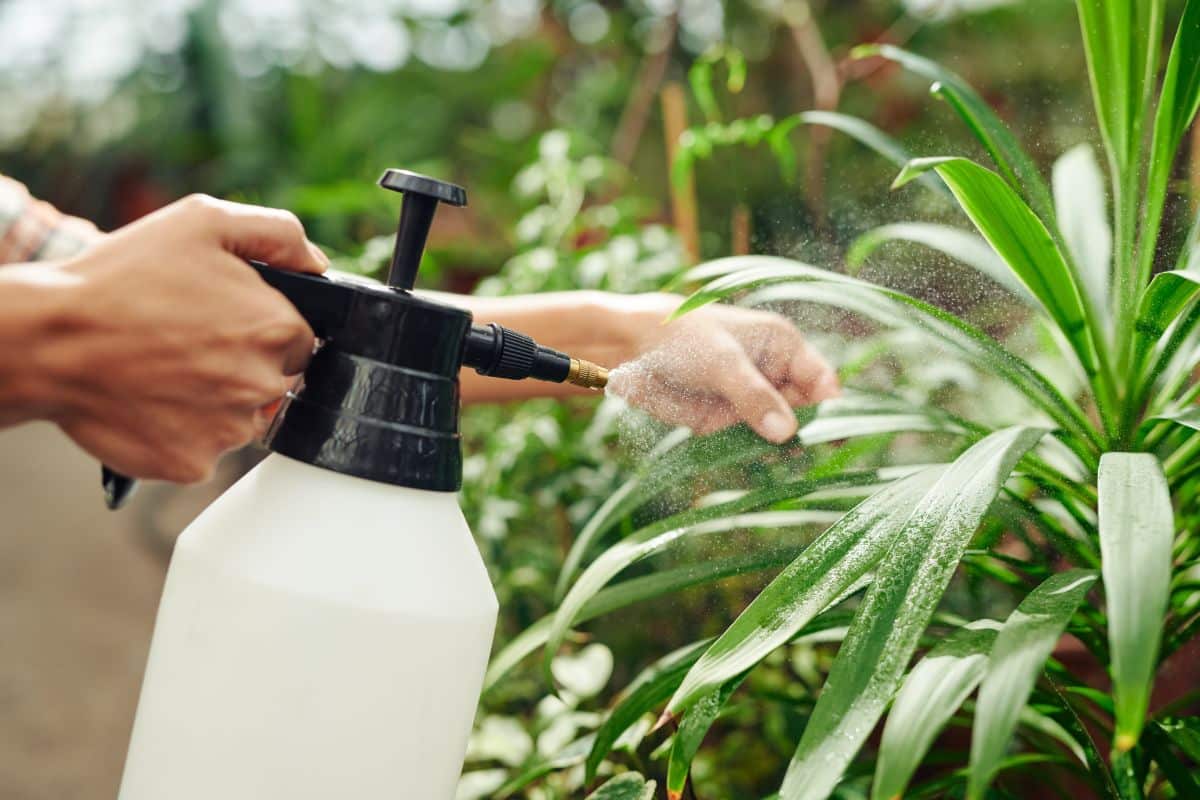 Horticultural oils are one of the most useful products for ridding plants of a range of troublesome insects, including hard bodied scale. These oils can be used on indoor or outdoor plants, and they function by clogging insects' breathing holes and smothering them. These oils are also approved for organic gardening methods and are safer to use than chemical pesticides.
You can purchase horticultural oils online or at many plant nurseries. While you're at it, you may also want to pick up a pump sprayer for easy application. Be sure to follow the manufacturer's instructions when applying these products.
Use an insecticidal soap spray.
Insecticidal soap sprays can work on hard bodied scale, but you need to be consistent with the application. For best results, be sure to thoroughly drench your plants with the spray when applying and reapply the spray once every 7 to 10 days until all signs of scale have disappeared. Then apply the spray one more time to be safe.
You can purchase organic insecticidal soap sprays online, or your can make your own by adding a splash of Dawn dish soap or Castile soap to a quart of water. You can also add a tablespoon of neem oil to the mix to make it pack even more of a punch. When applying, take the time to spray the tops and bottoms of leaves.
Spray with neem.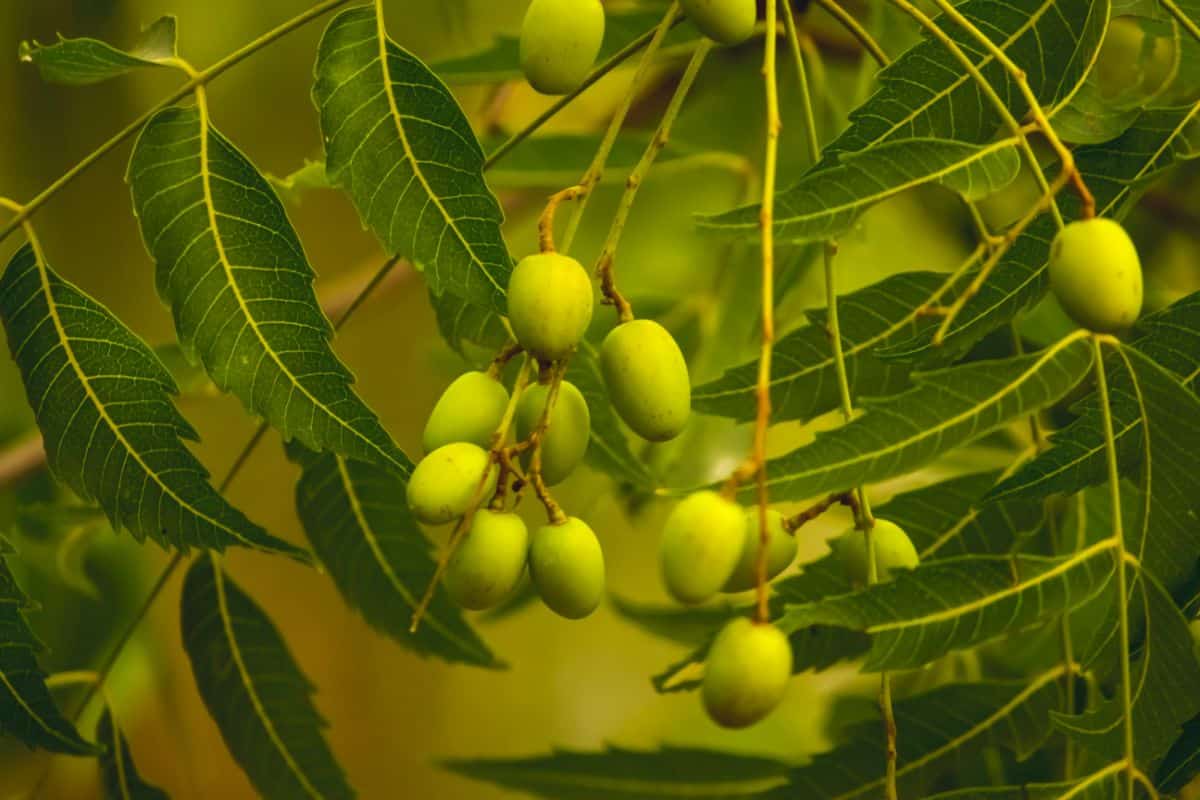 Neem oil is produced from the seeds of the neem tree and is 100% natural and safe for organic gardening. This powerhouse product can be used in conjunction with insecticidal soap sprays or applied on its own.
Like horticultural oils, neem oil sprays work by clogging up insects' breathing holes. Neem oil may also have some residual effects for some time after application, making plants naturally less attractive to pests like scale.
For best results, spray your plants every 7 to 10 days until all signs of scale are gone. It's also important to note that you'll want to only treat your plants in the evening after the sun sets, as neem oil can cause sun damage to plant leaves when used in direct light.
Consider beneficial insects.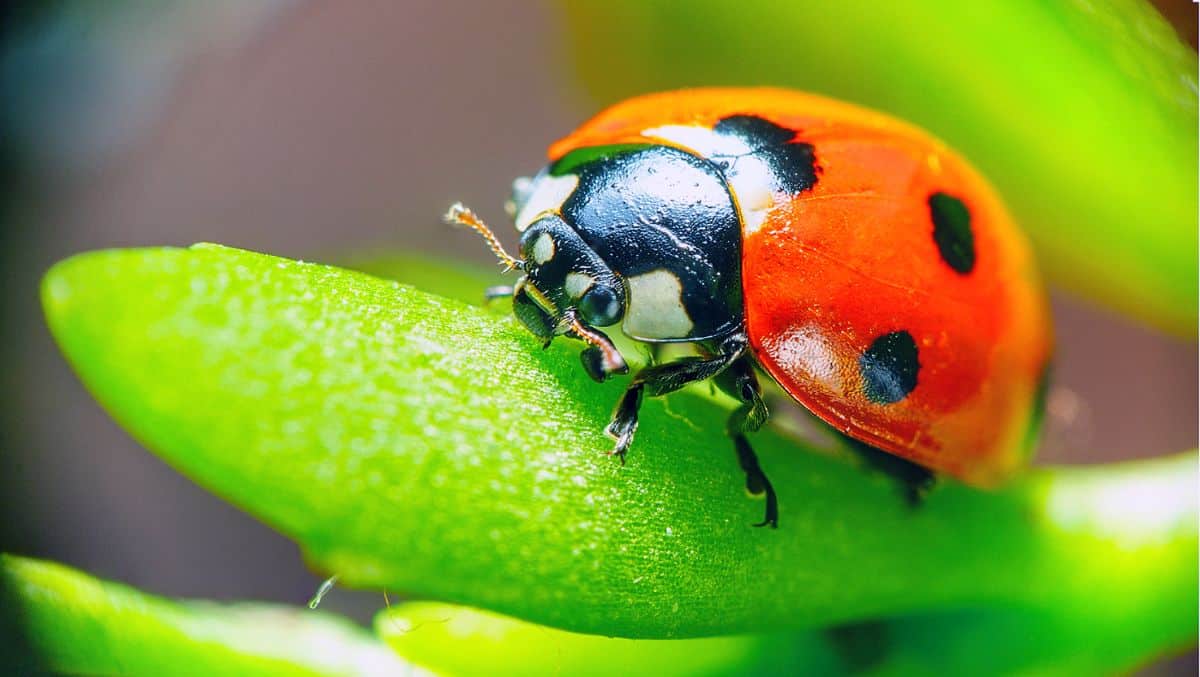 This option may not be for everyone, but beneficial insects can help control scale populations too. While beneficial insects are mostly used in outdoor gardens, you can release a small population indoors for pest control. Ladybugs are an obvious choice as they naturally eat scale, as do lacewings.
Beneficial insects can be purchased online in small quantities for houseplant collections.
How to prevent hard bodied scale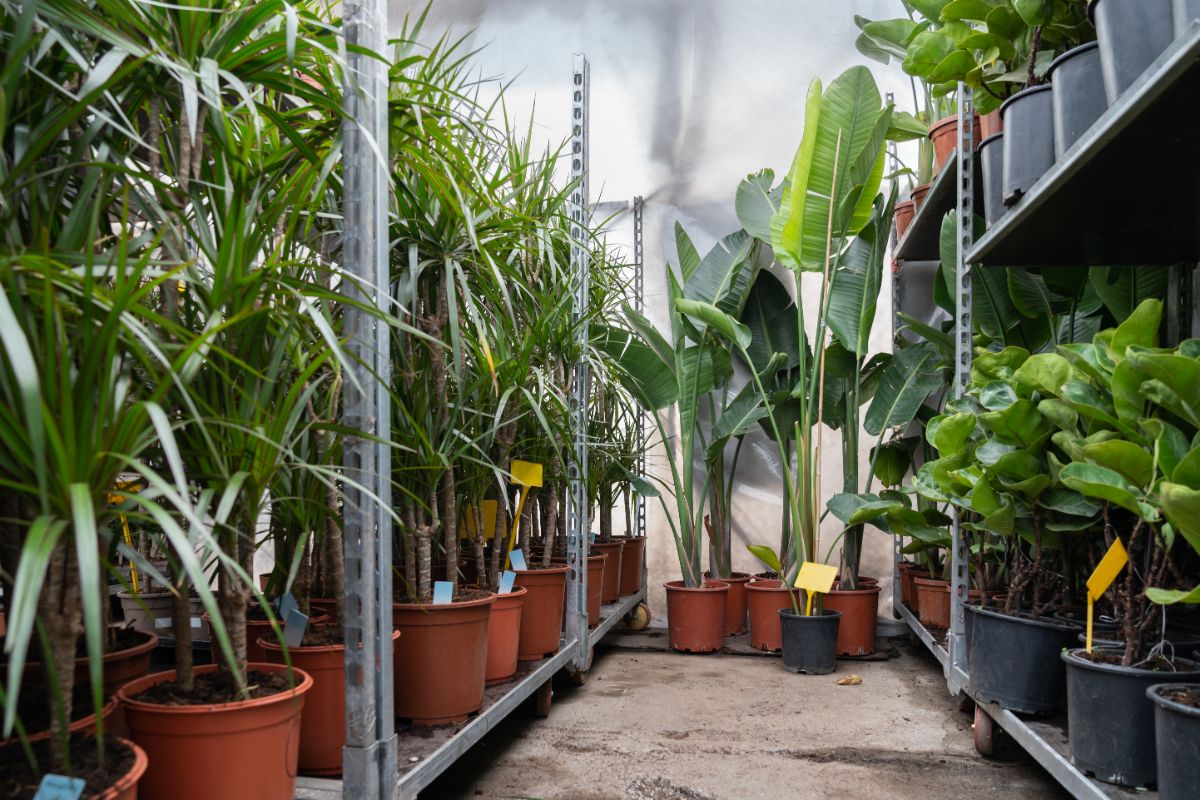 While it is possible to treat hard bodied scale on houseplants, it's much better for your plants and less stressful for you if you can prevent them from infecting your plants at all. In order to do this, you'll want to make sure that you:
Always check new plants before bringing them into your home.
Buying a new houseplant is exciting, but if you already have houseplants at home, you'll want to be doubly careful when bringing new plants inside. Even plants from reliable suppliers can sometimes be harboring unwanted pests, so be sure to check plant stems and leaves carefully for any signs of scale.
Inspect plants thoroughly if they've spent any time outdoors.
If you choose to keep your houseplants outdoors during summer, check them over carefully before bringing them back indoors. Scale insects can be common in outdoor gardens, and you definitely don't want to be bringing any hitchhikers inside at the end of the growing season.
Consider treating your plants "just in case."
Since scales are so small, they can be difficult to spot, so if you're bringing a new plant indoors, you may still want to treat your plants preventatively for scale. Just a few scale insects can create a large population of scale, after all!
How you decide to treat your plants is up to you, but spraying your plants with an organic insecticidal soap or neem oil spray should do the trick.
Frequently asked questions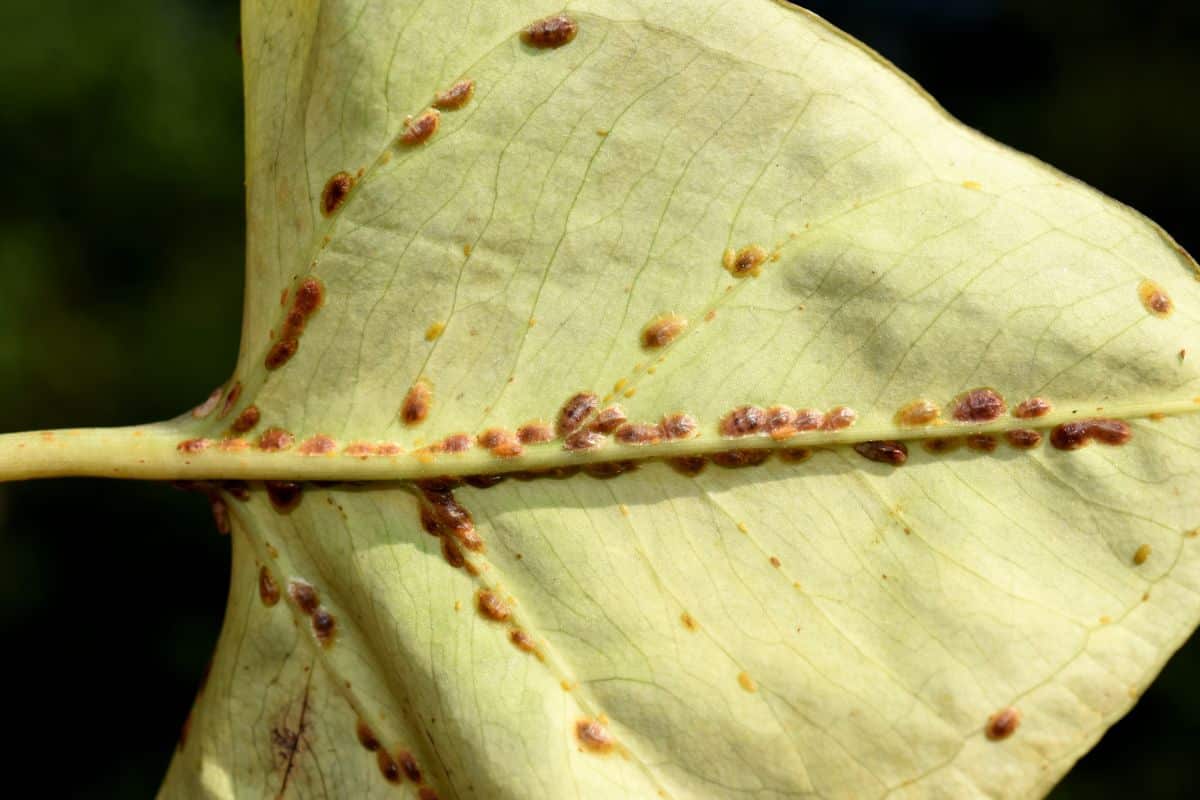 What is the difference between a soft scale and a hard scale?
Hard bodied scale have armored shells over their bodies which helps give them added protection against predators. This armor also makes hard bodied scale more difficult to eradicate than soft bodied scale.
What kills hard scale?
Rubbing alcohol is one of the fastest ways to kill hard bodied scale and will kill them on contact. Additionally, horticultural oils, neem oil sprays, insecticidal soap sprays, and beneficial insects (like ladybugs and lacewings) can kill scale too.
Why does the scale keep coming back?
Despite your best efforts, it's very easy to miss a scale insect or two when treating your plants, and these insects can reproduce more scale insects rapidly. That's why being consistent with your treatment plan and treating plants more than once is recommended.
Will scale spread to other plants?
Yes, if one of your houseplants is infected, the scale can and will spread to other houseplants in your collection. While scales are stationary as adults, they can move around in the nymph stage and spread from plant to plant. That said, scales are not attracted to all houseplants, so you may find that some of your plants are naturally resistant to scale.
Does rubbing alcohol get rid of the scale?
Absolutely! Rubbing alcohol is one of the most effective treatments for scale insects and can kill them on contact. Rubbing alcohol can be applied with a Q-tip for small infestations or mixed into a spray with water and soap for larger infestations.
How do you get rid of scale infestation naturally?
There are a lot of different treatment methods for dealing with a scale that are approved for organic gardening. Organic insecticidal soap sprays, neem oil sprays, horticultural oil sprays, rubbing alcohol, and beneficial insects are all effective options.
Summary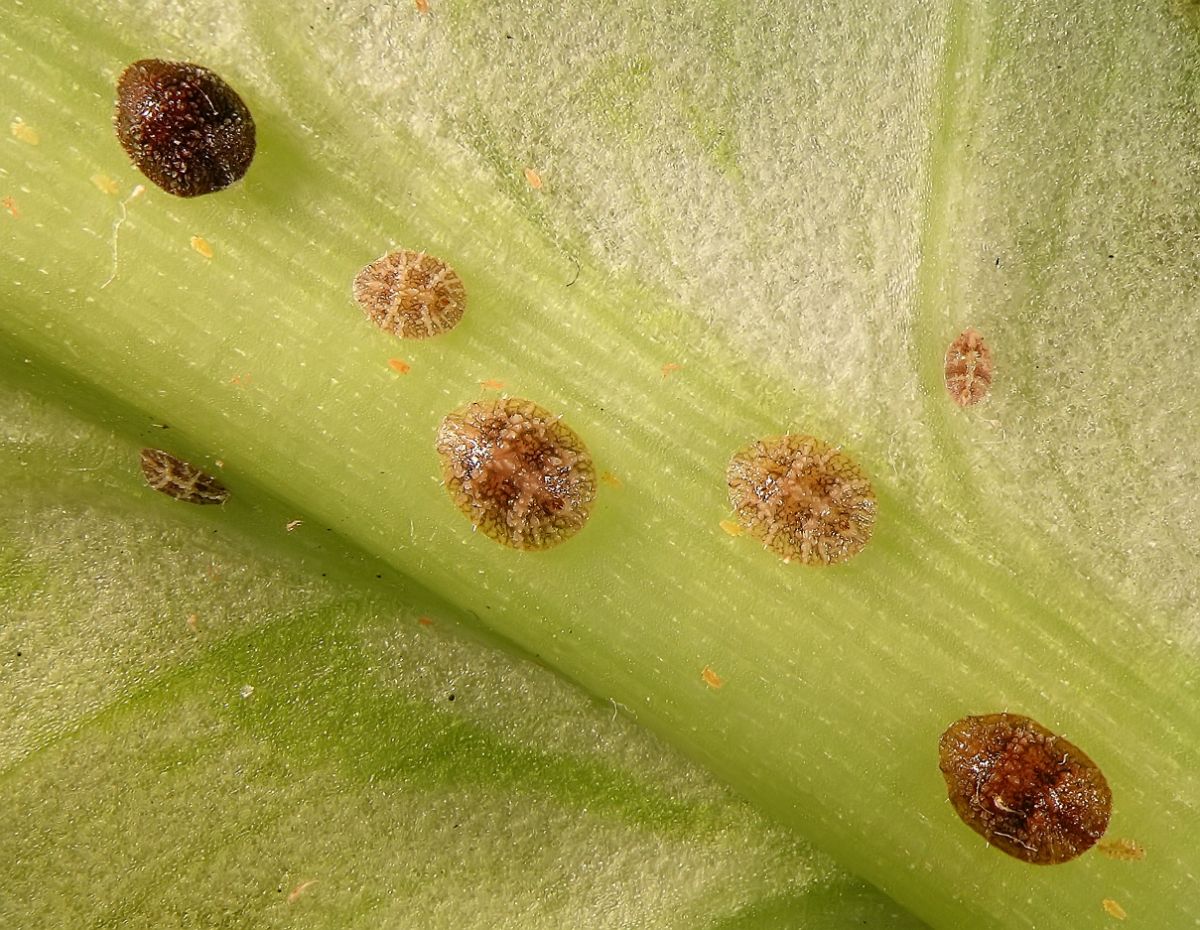 Hard bodied scale can be one of the most challenging indoor pests to eradicate, but if your houseplants have come down with a bad case of these sap sucking insects, don't despair! There are actually a number of treatment methods that work well for hard bodied scale that will have your houseplants back to normal in no time.
Like other pests, treating hard bodied scale usually requires a bit of persistence and consistency. Whatever treatment method you choose, you'll probably want to apply it more than once and continue to monitor your plants for any signs of scale. Combining several of the treatment methods we've covered today can also increase the likelihood that scale insects won't return.
We hope you liked this article! If you want to learn more about organic pest control, check out our related content here.