The ground cherry, also commonly known as the husk tomato, husk cherry, cape gooseberry, and strawberry tomato, is an easy-to-grow, delicious edible fruit that many gardeners aren't aware of yet.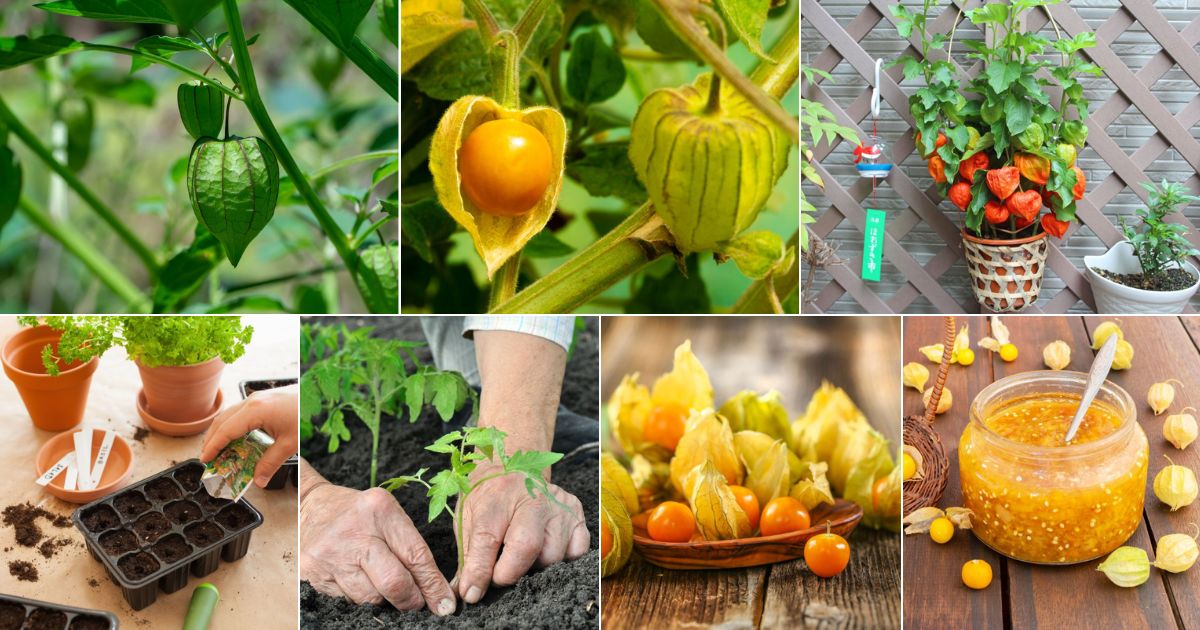 But they should be; this little-known fruit with a tropical taste is a golden treasure! Ground cherry plants grow quickly and produce abundant sweet fruits, making them a perfect choice for any home garden.
Jump to:
What Are Ground Cherries?
When people see ground cherries for the first time, they usually comment on the resemblance to tomatillos due to the papery husk encasing the fruit. And, they're not too far from the truth. Ground cherries are part of the nightshade family, which includes tomatoes and tomatillos. They are native to North and South America, and there are 75 species in the family; only a few are common as a garden plant, though.
Ground cherries are not actual cherries or even related to the well-known true red cherries. They are so named because they are round like cherries and because the fruit falls to the ground when it is fully ripe.
Ground cherries are an annual plant, which needs to be replanted each year. However, it also easily self-seeds. So, if you plant it one year, it's highly likely you'll have volunteer plants in the garden the following year unless you carefully pick up all the fruit (which contains the seeds).
Ground cherries are beloved for their sweet, tropical-like flavor. They taste like a mix between strawberries and pineapple with a hint of citrus. It is truly a unique and enticing flavor, which will impress all the foodies and fruit-lovers in your life.
The ground cherry plant grows much like a tomato or tomatillo plant, too. The stems are large and sprawling, and the plants can spread out quite far if given space. The husked fruits look like little Chinese lanterns hanging off the branches.
Ground cherry fruits grow in a papery husk that easily comes off to reveal the juicy treat inside. As the fruit matures, it turns from a light green-yellow to a deep yellow or orange. The texture is between that of a firm cherry tomato and a plum. Each groundcherry is loaded with tons of tiny seeds, but they aren't that noticeable when eating.
Types of Ground Cherries
Seed companies have been selling ground cherries for decades, but nowadays, they are usually only found in specialty or heirloom catalogs. Ground cherries used to be quite popular, and there are quite a few varieties to choose from.
Gardeners around the globe have been developing new varieties on their own, saving seeds as they go. There are some beautiful stories to go with the seeds; over the years, many of these varieties survived only through the efforts of home gardeners. This is the miracle of heirloom seeds.
Physalis pruinosa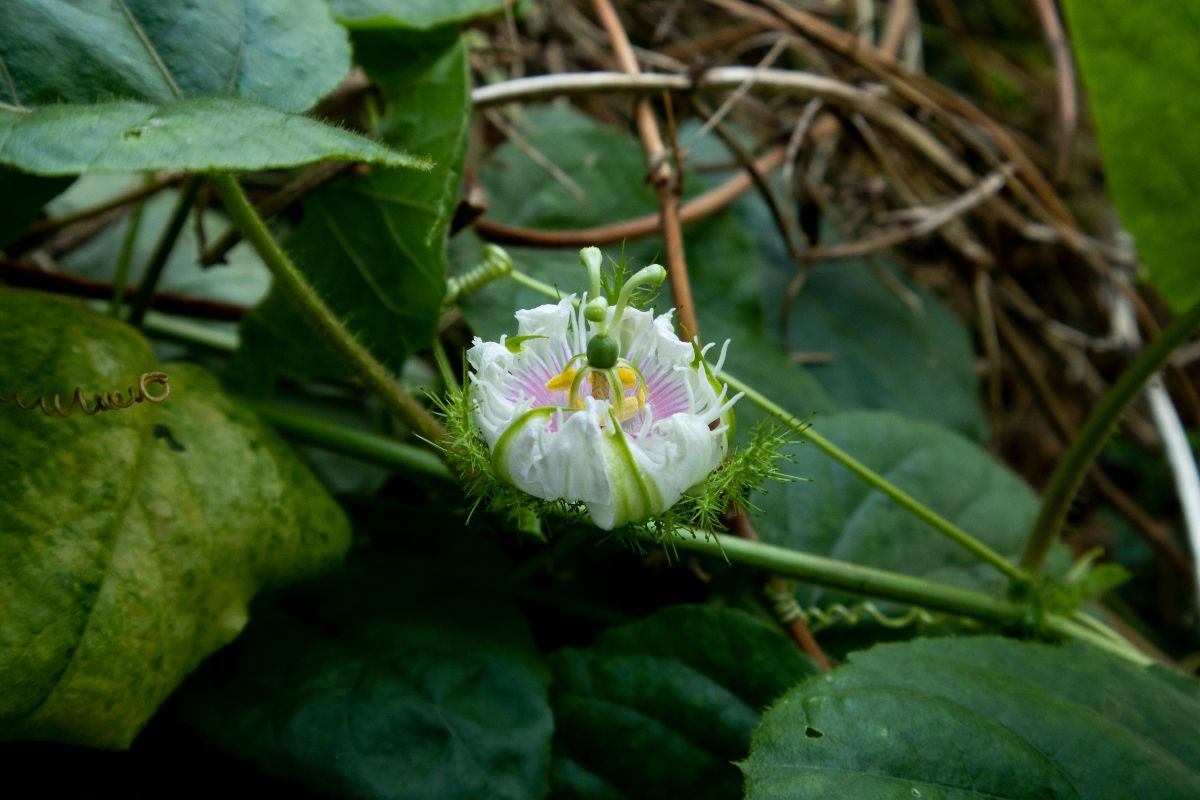 Native to Central America, this variety is the most popular and widespread garden ground cherry type. There are numerous cultivars with varying flavor profiles and growth habits. The plants are prostrate, spreading outwards as well as growing upwards. The fruits are usually ½" wide and fall off the plant when ripe.
Aunt Molly's – An heirloom variety from Poland, recorded in the United States as far back as 1837. Plants average 2.5 feet tall and wide. Fruits are ¾" in diameter and golden yellow. 70 days.
Cossack Pineapple – Deep golden yellow fruit has a predominant pineapple flavor. Plants average 2-3 feet tall. Also from Poland, possibly the same as Aunt Molly's. 75 days.
Goldie – An Austrian cultivar known there as Huberschmidt. Larger berry than Cossack; averages 2-3 feet.
Mary's Niagara – Original seed acquired from a woman named Mary in Niagra-on-the-Lake, Ontario, who was selling these on a roadside stand. Marble-sized golden fruit with hints of pineapple and vanilla. Grows 3 feet tall and 4 feet wide. Fruits ripen earlier than others; ideal for short growing seasons.
New Hanover – Developed by Katie Hoffman Slonaker from Pennsylvania. Extra sweet and fruity. 65-75 days
Yantar – Developed in Belarus, "yantar" means 'amber.' Rare, similar to Cossack Pineapple. Smaller than most varieties, it only spreads 6-18" wide.
Physalis peruviana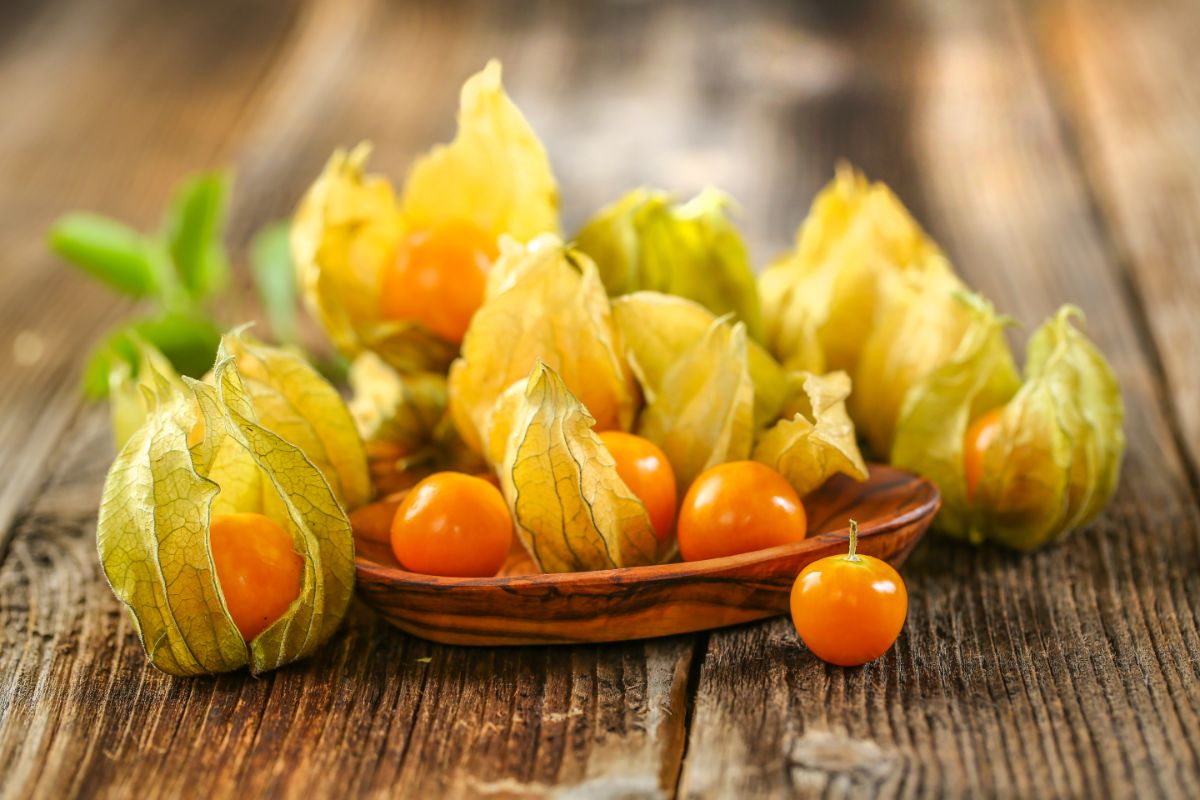 A native Peruvian groundcherry, this is usually the fruit found in grocery stores or specialty markets under the name Golden Berry. These plants are tall and grow upright, often reaching 4-6 feet. The fruit is cut or pulled off the plant. It is commonly called ground cherry in seed catalogs and stores, which is very confusing!
This is not the ground cherry that we refer to or discuss in this grow guide. However, feel free to grow this one as well if you have the space!
Planting Requirements For Ground Cherries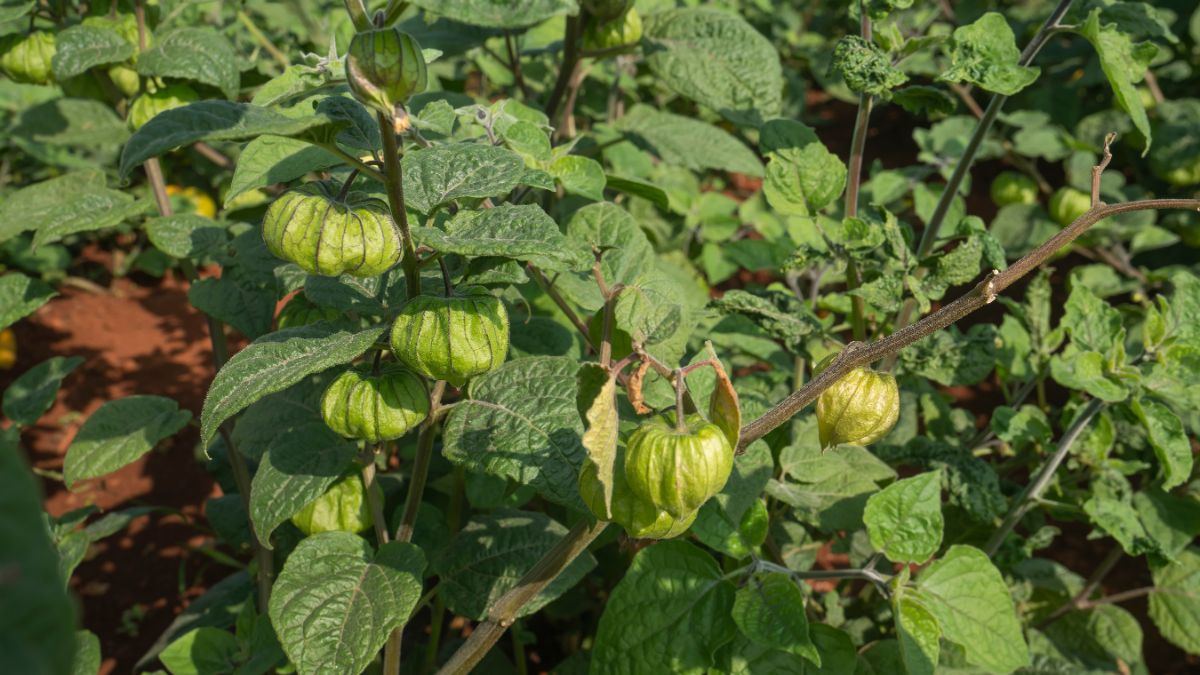 Hardiness zone 4 or higher
Space – most varieties grow 2-3 feet tall and 2-4 feet wide.
Full sun.
It can be grown in the garden or in containers.
Plant ground cherries away from other members of the nightshade family, so pests and diseases don't pass between them all (this includes potatoes, tomatoes, peppers, and eggplant).
Ground cherries are self-fertile, so you only need to grow one to form fruit.
How To Grow Ground Cherries
Ground cherries are slow to germinate, so it is best to start them indoors and then transplant them to the garden or a container once they sprout. They can be direct sown as well; the best choice for you depends on the climate.
These sweet sprawling plants also have low germination rates, meaning not every seed you plant will sprout successfully. Always plant more ground cherry seeds than you'll need. If you end up with too many seedlings, you can always gift them to neighbors or friends.
Starting Seeds Indoors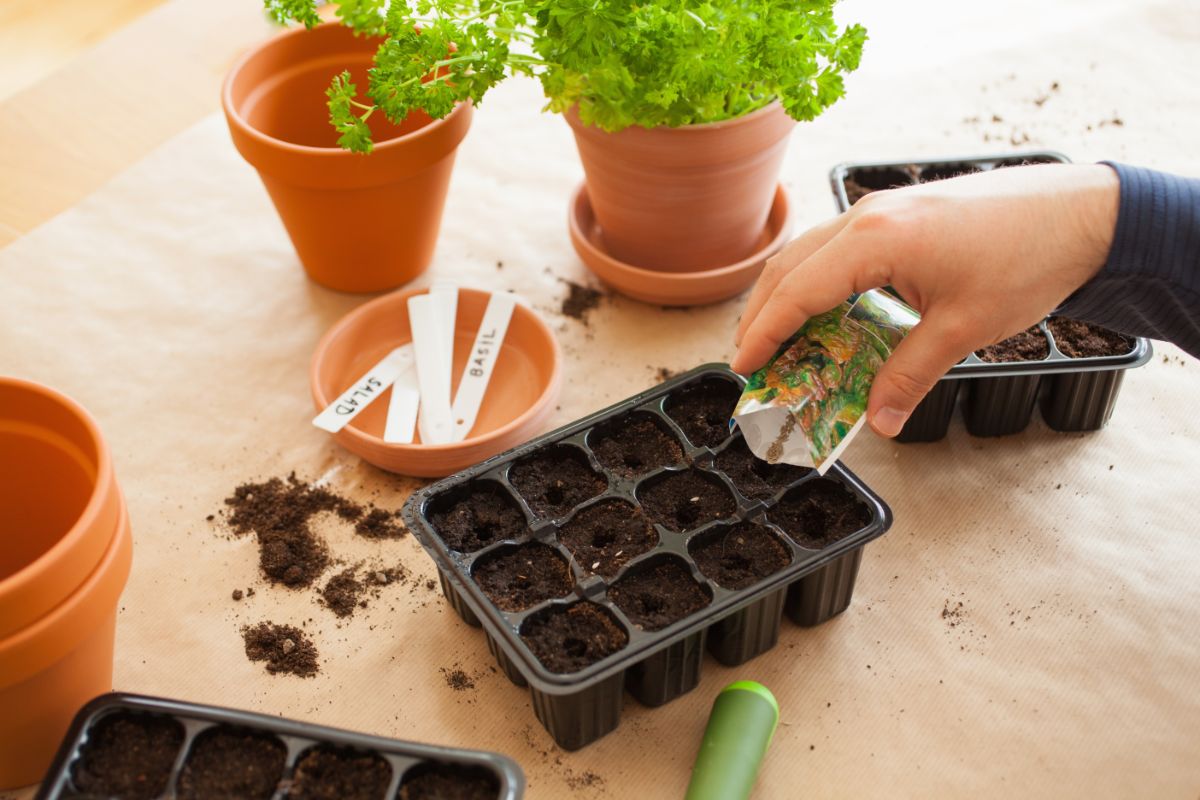 Plant seeds indoors 6-8 weeks before the last frost.
Fill a container with a good quality seed starting potting soil mix, and moisten. Wet the soil before planting, so the seeds aren't disturbed by doing it afterward.
Place 2-3 seeds in a container, covering them with ¼-inch soil. Gently press down the soil to secure seeds.
Cover the container with a plastic bag to keep in the humidity. Leave one corner of the bag open for airflow.
Lightly mist the soil every day.
In 6 days to 2 weeks, the seeds will sprout.
Remove the plastic humidity bag once the sprouts come up.
Continue watering them lightly every day.
Once the seedlings are 2-3 inches tall, they are ready for transplanting.
Do not transplant seedlings to the garden until all danger of frost has passed.
Acclimate the tender seedlings to outdoor temperatures by hardening them off. This means taking them outside for small increments of time each day so they can adjust to the temperature changes. On the first day, leave them out for an hour. Increase it by an hour each day until, by the end of 10 days, they are outside full time.
Plant seedlings in the garden 2 feet apart in all directions. These babies sprawl and spread!
Direct Sow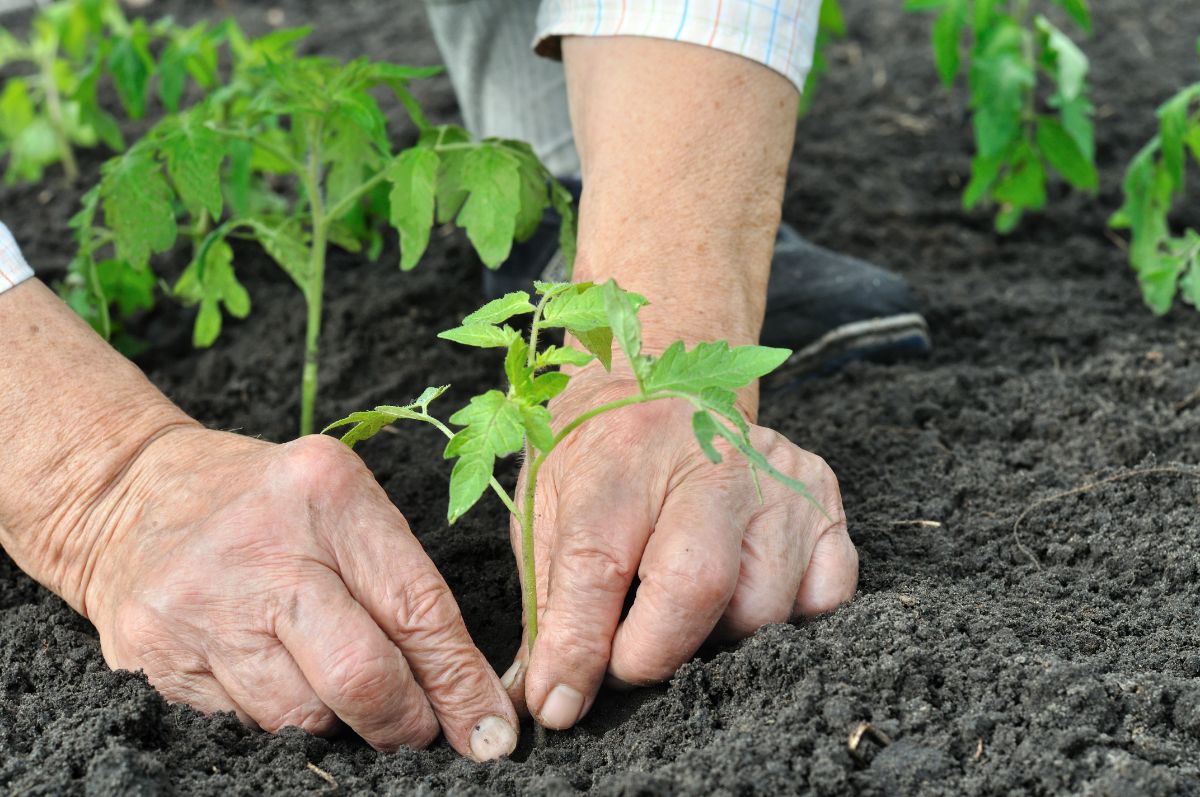 Plant after all danger of frost has passed.
Moisten the soil before planting (if you do it after planting, you're likely to disturb the seeds).
Place seeds on top of the soil and cover with ¼-inch of dirt. Pat soil down gently to secure seeds.
Water every day with a gentle spray so as not to disrupt the seeds.
It can take up to 2 weeks for seeds to germinate and show sprouts.
Once seedlings are 2-3 inches tall, thin them, so they are at least 2 feet apart.
Plant Care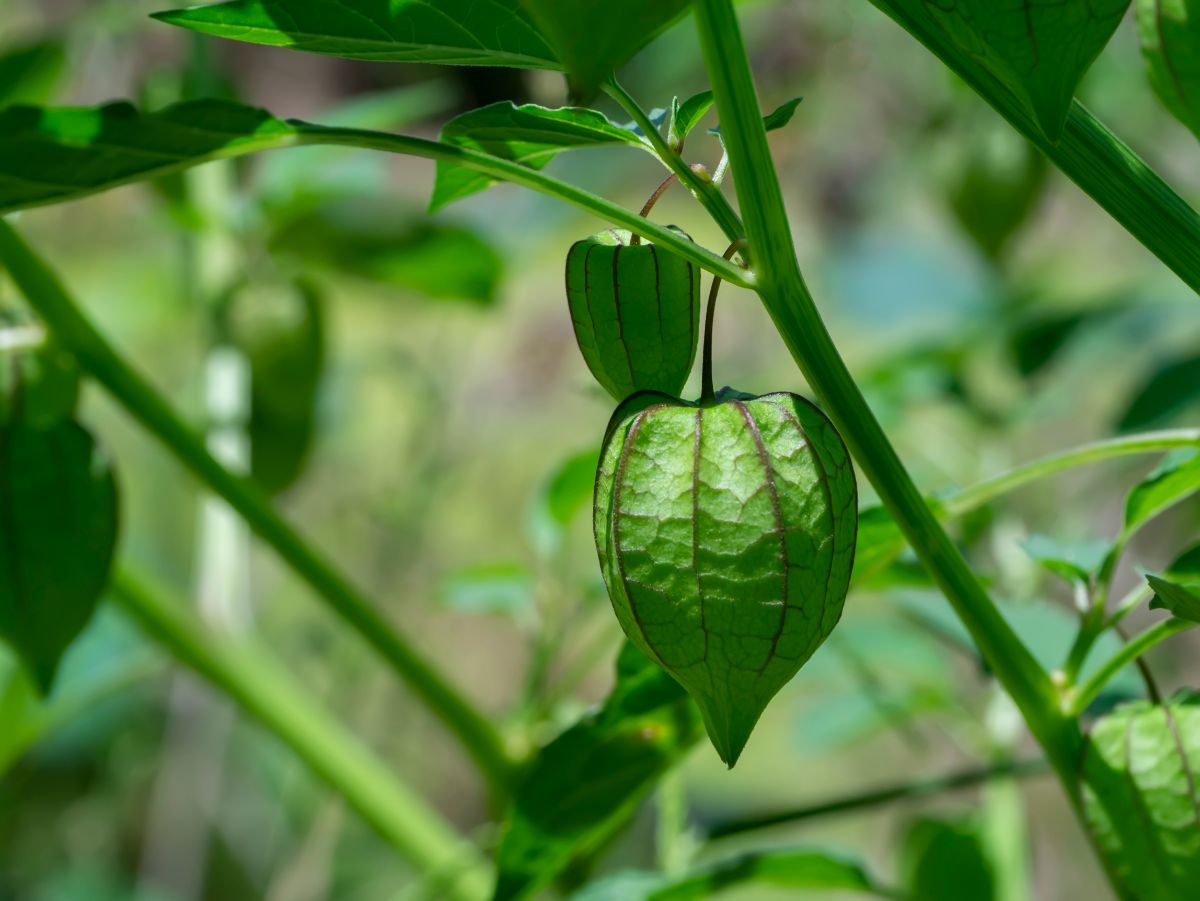 Water every few days, so the soil stays regularly moist. Be mindful of overwatering; ground cherries do not like soggy or overly wet soil.
In dry or drought conditions, you may need to water every day. While they don't like soggy feet, they also don't like completely drying out. If conditions are too dry, they'll drop their flowers and not set fruit.
Mulch beneath and around the plants to prevent weeds. This also makes harvesting much easier later on and helps with moisture retention.
Do not vertically stake the whole plant; this decreases fruit production. However, we highly recommend propping up the branches, so they aren't lying on the ground. You can use a tomato cage or trellis, but don't force the groundcherry plant only to grow upwards; let it sprawl.
Plants are not frost-tolerant. If there is a risk of frost, cover the plants.
Container Growing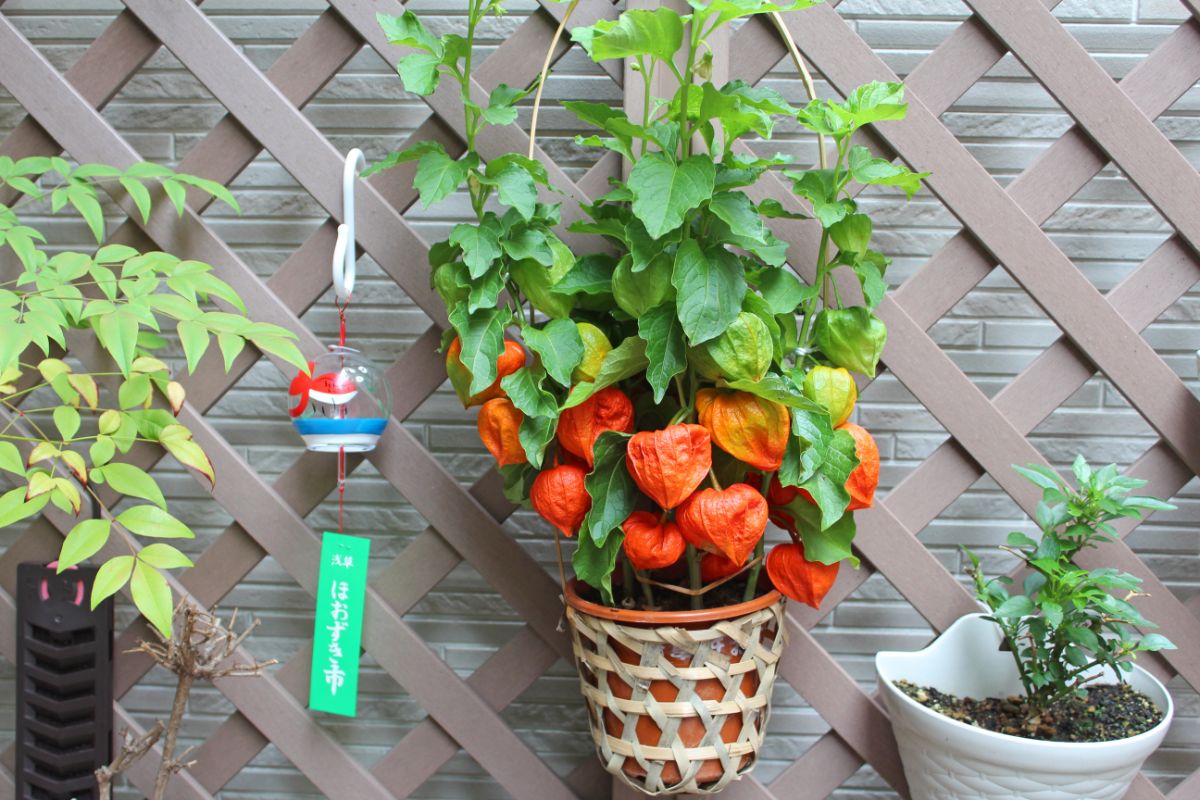 Transplant seedlings (or start seeds) to a gallon-sized container or larger. Remember, these plants get quite large, and this means an extensive root system, as well.
Harvesting and Storing Ground Cherries
One of the most extraordinary things about ground cherries is they let you know when they are ready to harvest – they simply fall off the bush. They tend to ripen slowly after forming, so be patient. When they're on the ground, they're ready to be eaten.
Ground cherries will continue growing and maturing in succession, much like tomatoes, up until the first frost. Starting in late July or August, keep a lookout underneath the plants to see if the berries are ripe yet.
To harvest, simply pick them off the ground. We recommend placing a piece of cardboard underneath the plants once the fruits begin maturing, so they are easier to collect. It can be challenging to see the husked fruits on the ground underneath the plants if some weeds or grass are growing there.
Do not pull the fruits off the plant unless you are harvesting the tart, unripened berries for a reason. They will not continue to ripen well off the plant. Once you start seeing a few ripe fruits under the groundcherry plant, check every couple of days and pick up the mature berries when you see them. They will rot on the ground if left there too long.
To eat ground cherries fresh, simply remove the papery husk and pop the fruit in your mouth. Don't eat the husks.
At the first frost, all the fruits will suffer, and the plant will start to die – it is not tolerant of cold at all. Usually, though, there are still tons of green fruits on the plants waiting to mature. If you leave them on the plant, they'll get frostbite and be inedible. However, if you pay close attention to the frost dates, you can pick all the green fruits off beforehand. They won't ripen to full sweetness, but they are great pickled or used in salsa, much the way as with green tomatoes.
Ground cherry fruit stores well in the husk for up to 3 months. Arrange fruits in a single layer, and don't remove the husks until you plan to eat them. Store in a cool, dry location. A root cellar or basement is usually good.
Potential Pests and Disease
Ground cherry plants are hardy and rarely bothered by disease, but there are some insects and pests to consider. The biggest troublemakers are usually errant wildlife who want a sweet snack. Raccoons, deer, and squirrels all enjoy a snack of ground cherries. However, being as the ripe fruit falls to the ground beneath the sprawling plant, it's not the easiest for those 4-legged critters to find.
Three-Lined Potato Beetle (Lema daturaphila)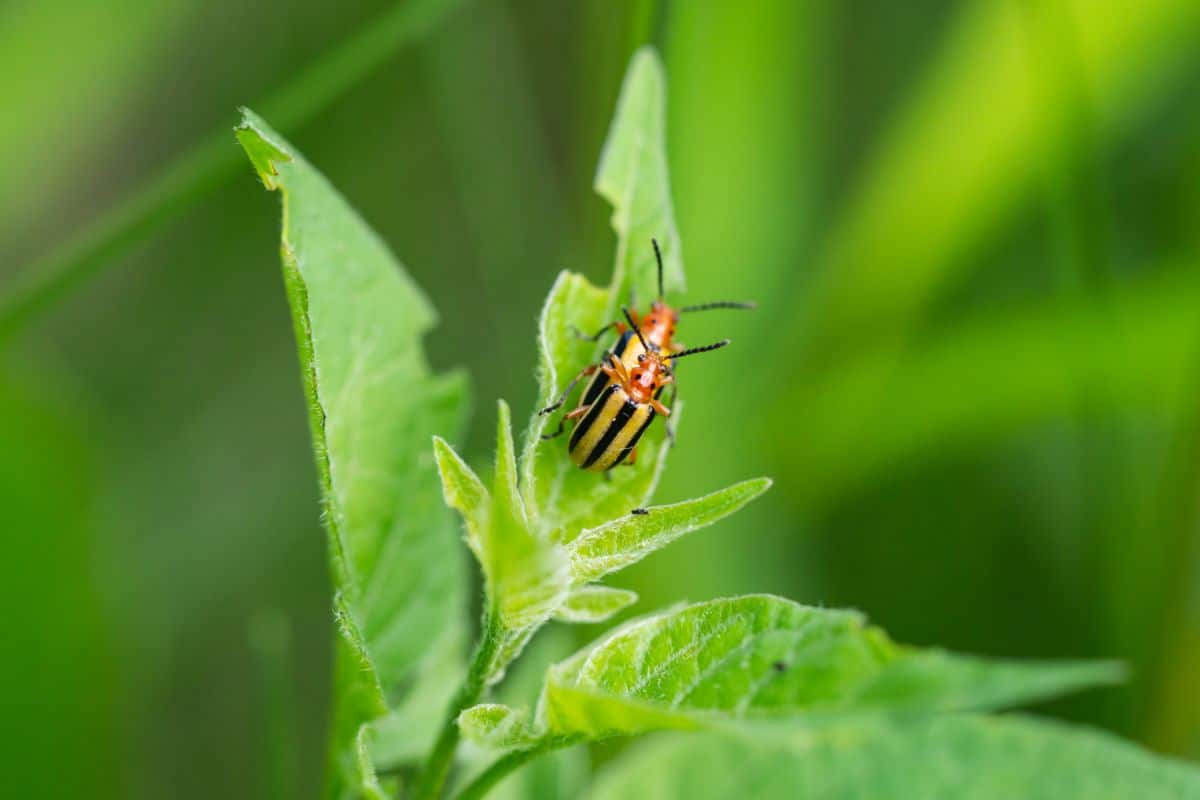 A serious and significant pest to ground cherry and tomatillo plants, the Three-lined potato beetle doesn't mess around. Funnily, though, it rarely bothers potatoes. It may have gotten that name because it slightly resembles the Colorado potato beetle in appearance.
Three-lined potato beetle larvae hatch in summer in large groupings and eat every speck of foliage they can find. A key to identifying the larvae is that they cover their backs with their own feces (gross!!), so you'll see piles of round dark stuff on top of their bodies.
The adults are 7-8 mm long and bright yellow-orange in color. Their wings feature dark brown stripes on either side and one down the middle. This is where their common name originates. They lay clusters of bright yellow eggs on the underside of leaves; keep an eye out for those, too, as well as the larvae and adults.
Larvae, eggs, and adult beetles can all be hand-picked off the plants and disposed of; however, this is time-consuming if you've got a significant infestation. A neem oil spray works well to combat the larvae and eggs (it doesn't work on hard-bodied beetle adults).
Tomato Hornworms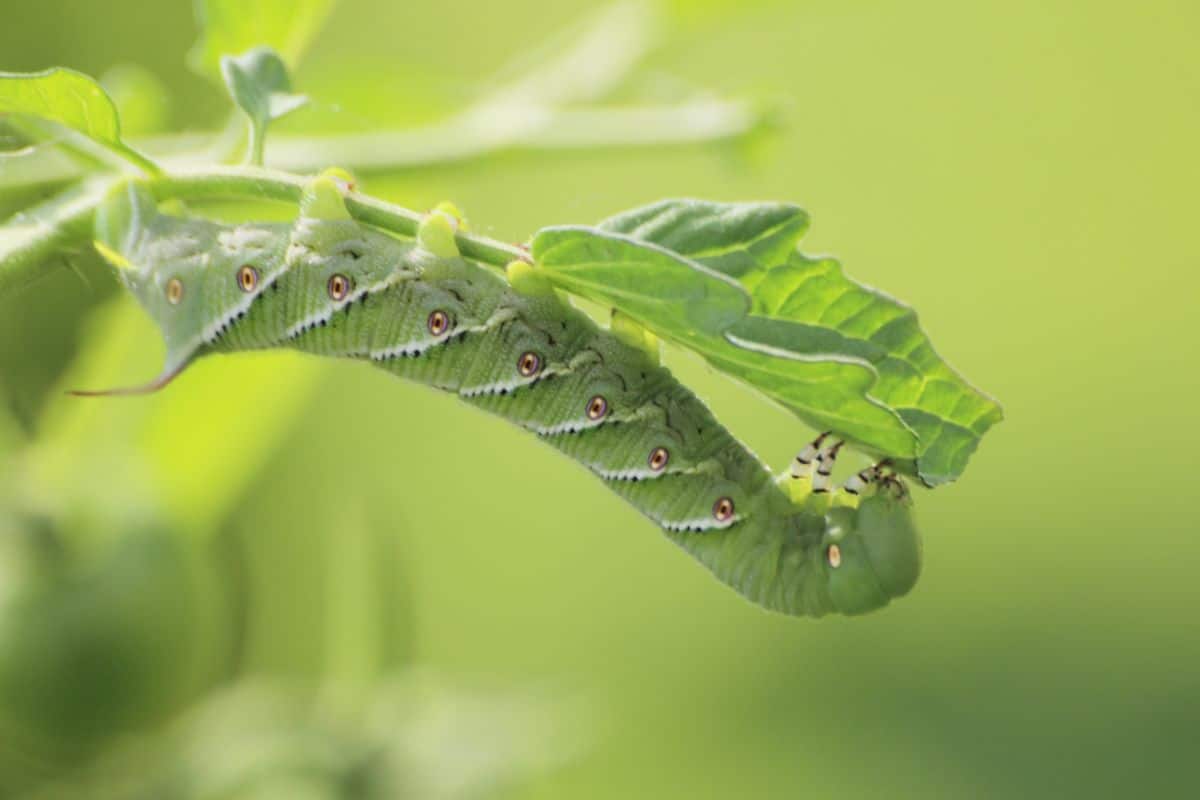 Since ground cherries are a member of the nightshade and tomato families, they are also susceptible to tomato hornworms. The massive green caterpillars are impossible to miss. Pick them off and rehome them far from your garden – the tomato hornworm morphs into a gorgeous Sphinx Moth later on.
Cutworms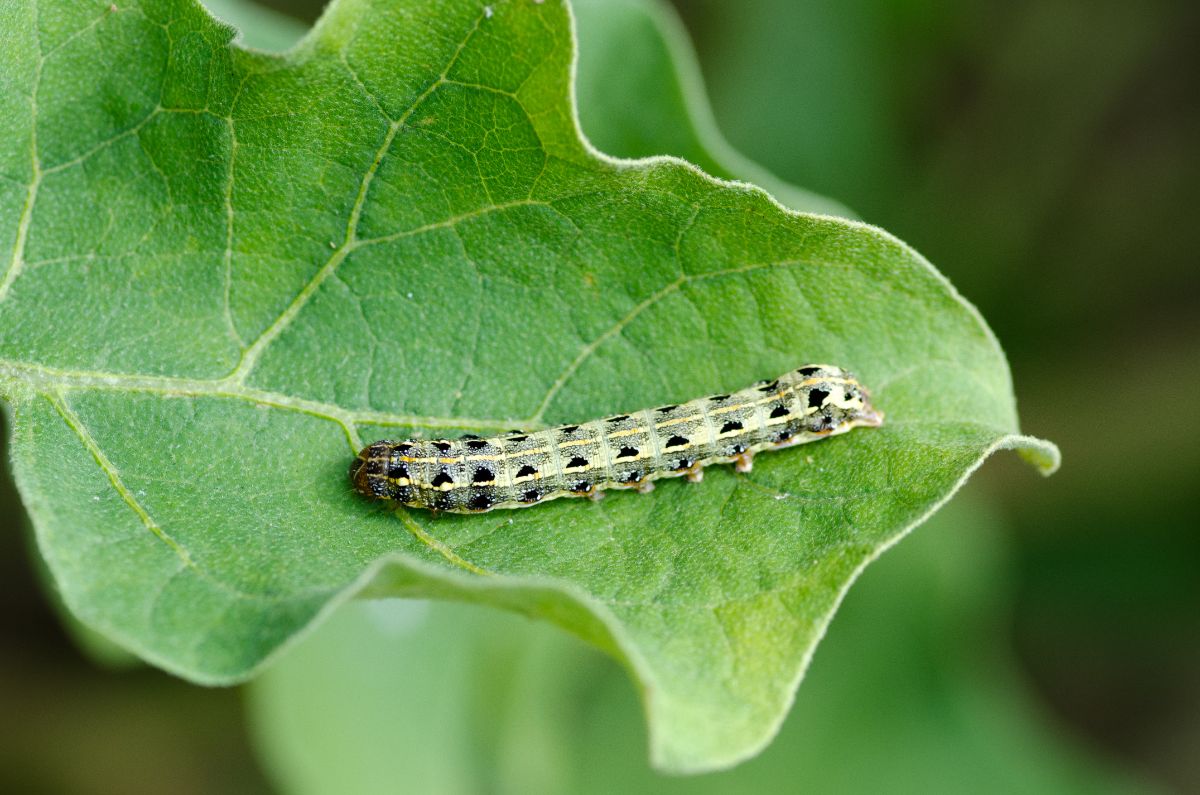 These sneaky insects attack young seedlings, cutting the stem at the base of the plant. Cutworms are a common garden pest and not just an issue with ground cherry plants. Unfortunately, you often don't know they're there until you see the cut-down baby seedlings. To prevent cutworms from accessing the new plants, place a collar around the base of the plant (a paper cup with the bottom cut off works great!).
What To Do With Ground Cherries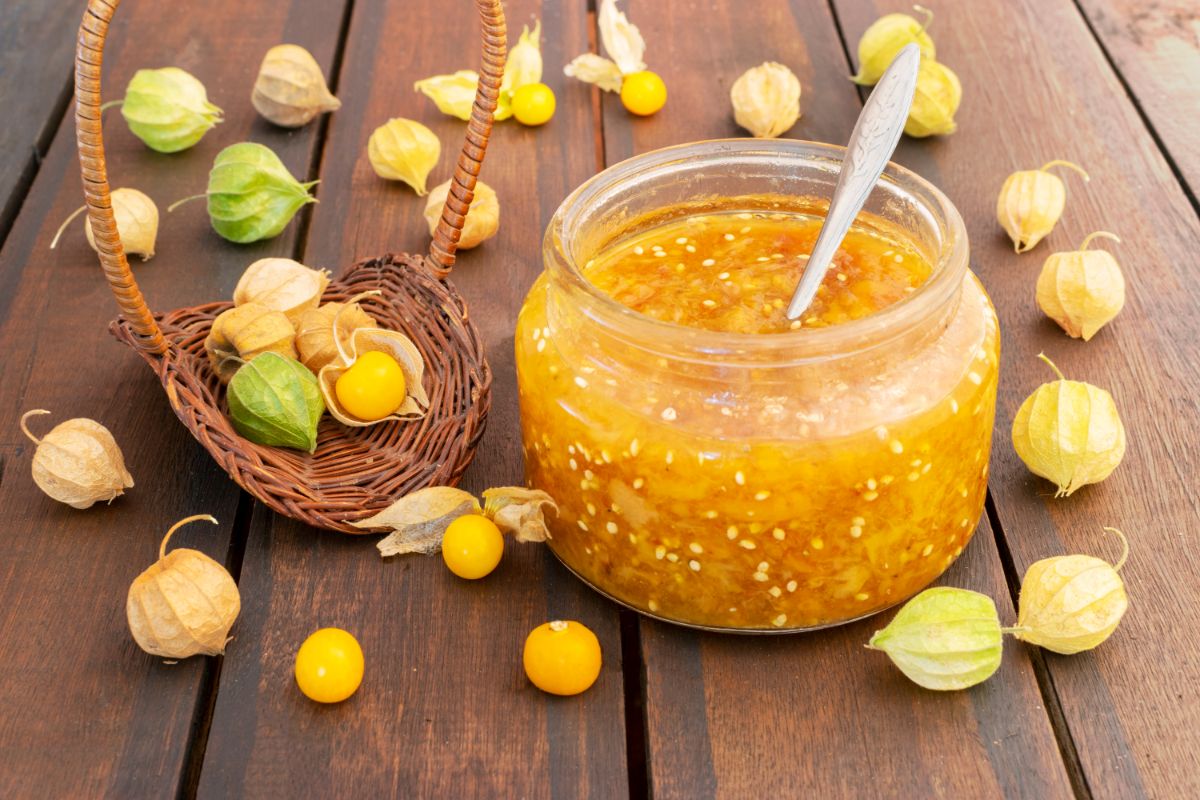 Eat them raw as a sweet treat.
Immature green fruit is sour and tangy. They are an excellent snack if you like tart fruits.
Add to a green salad
Dip in chocolate
Dehydrating (then added to trail mix, cookies, and bread, in the same way raisins are used)
Cut up and add to oatmeal or cereal.
Freeze cut up or whole (excellent for adding to smoothies later on).