If you want to add long-lasting color to your garden each year, you can plant geraniums. These tender perennials can thrive easily in hot climates, re-blooming year after year. In other climates, you can overwinter them to grow them as perennials.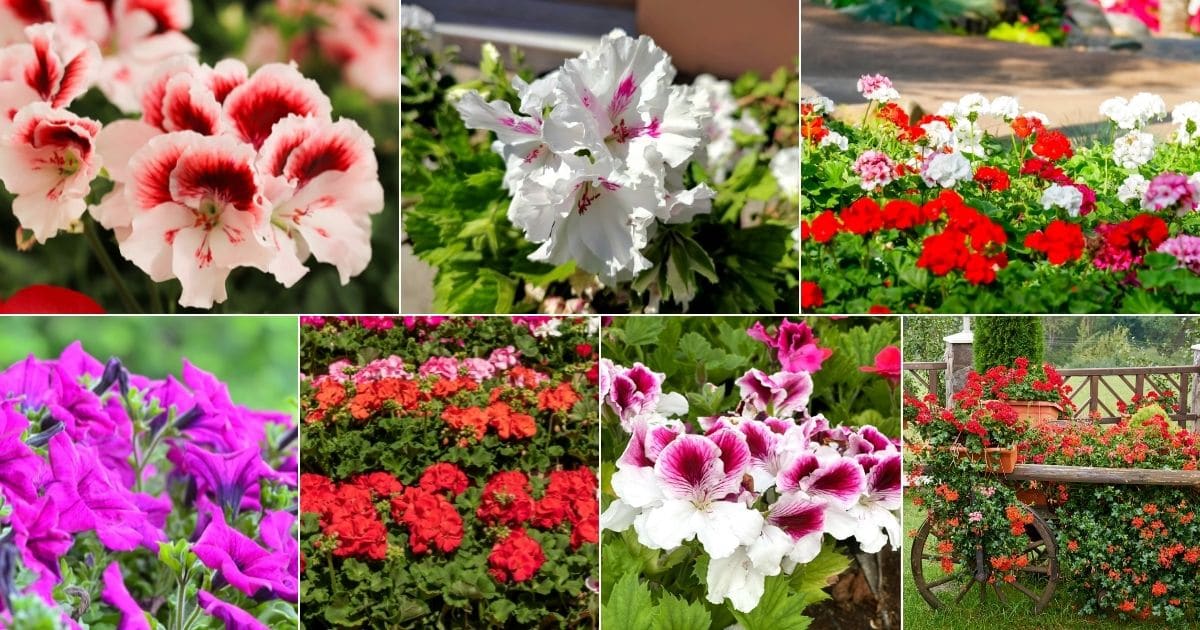 This guide will teach you all the basics of geranium care. You can skip to the section you want by jumping around in the advanced jump below, or read on for the full guide.
Jump to:
What Are Geraniums?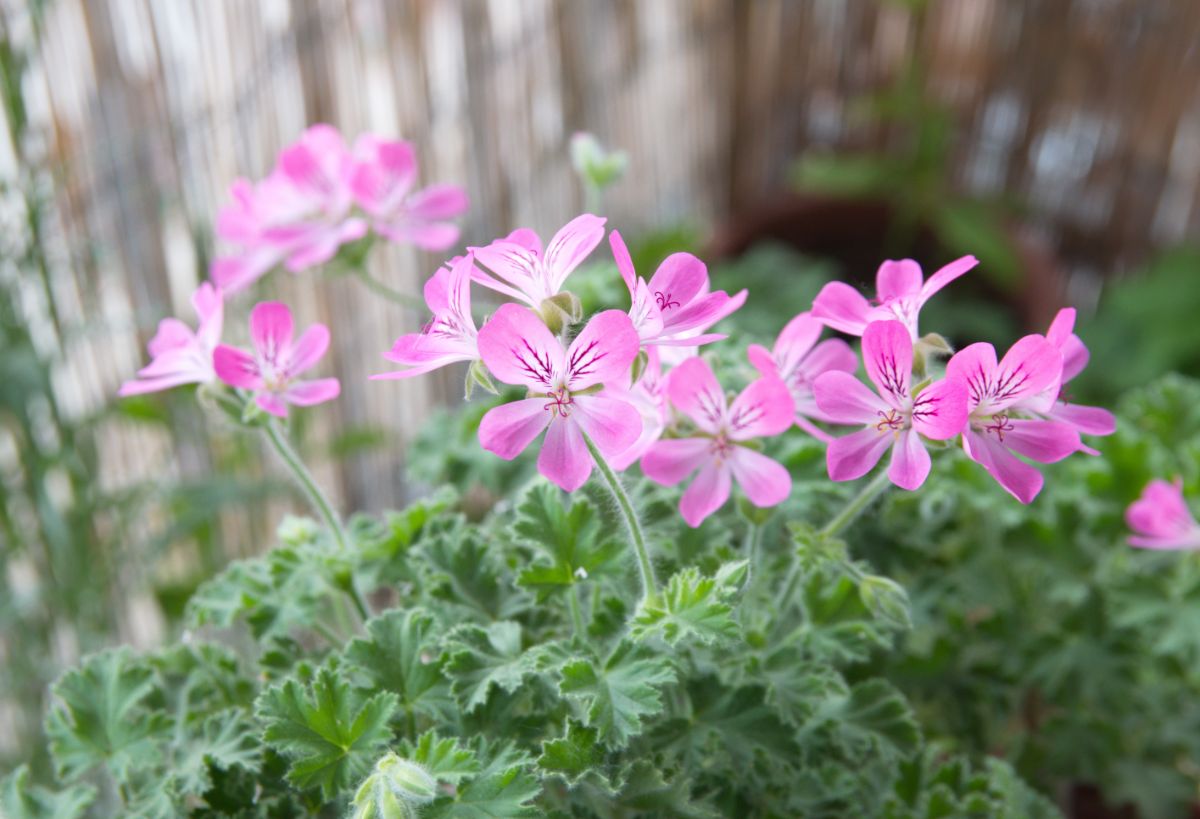 Geraniums are plants belonging to the genus Pelargonium. Other common names for plants in this genus include pelargoniums and storkbills.
Just to make life complicated, there is a genus of plants called Geranium as well. These plants go by the common name "cranesbills" or "hardy geraniums." But plants that belong to the Geranium genus are not the ones most people are referring to when they mention "geraniums." They are usually talking about members of Pelargonium.
There is a connection between Geranium and Pelargonium, however, which is that they both fall under the Geraniaceae family.
Not only that, but historically, they were all lumped together into a single genus, which Carl Linnaeus called Geranium.
But in 1789, Charles Louis L'Héritier de Brutelle split that genus into the two we have today.
The roughly 280 species in the Pelargonium genus include shrubs, perennials and succulents. This is the genus we will be focusing on in this post.
Are Geraniums Annuals or Perennials?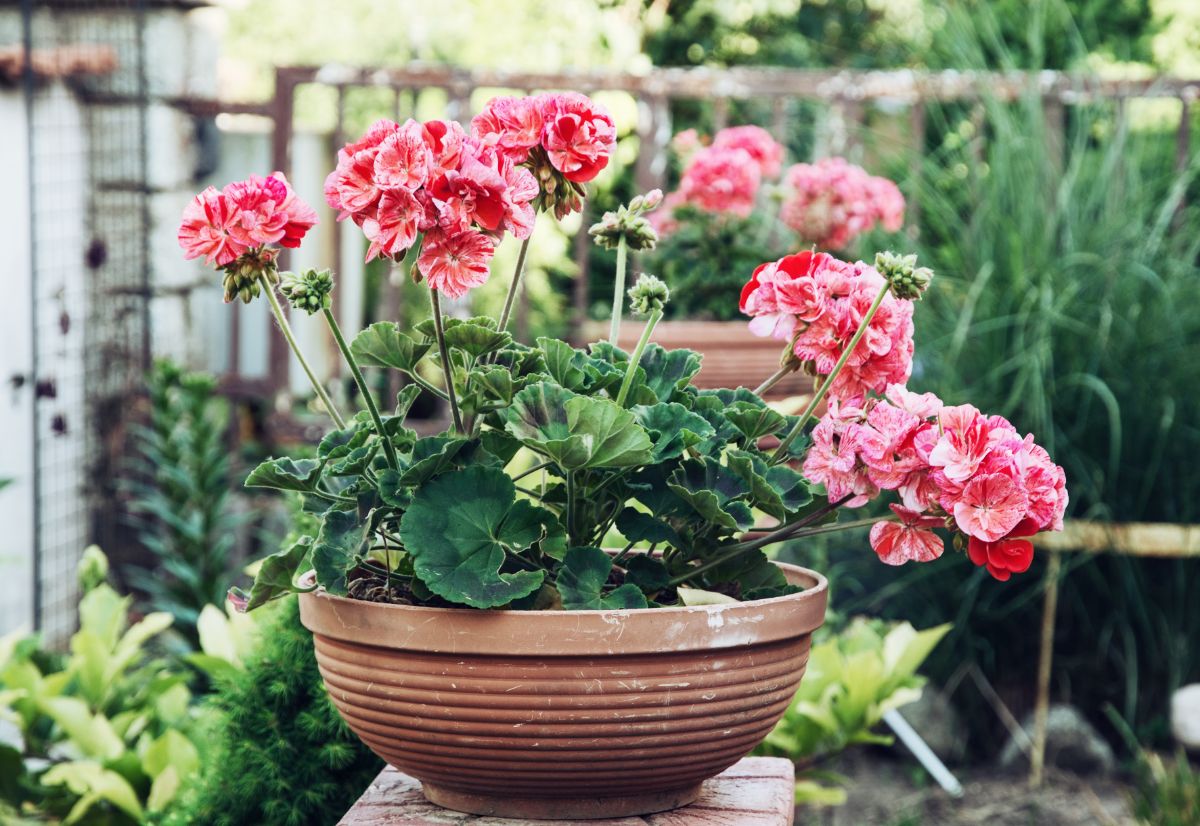 You may feel some confusion as to whether geraniums are annuals or perennials. That is because they are classified as tender perennials.
What that means is that whether or not they grow as perennials depends on what climate zone you are in. In hot enough climates, they are hardy enough to survive the winter. But in colder climates, they cannot survive outdoors year-round.
Specifically, geraniums can be grown as perennials in climate zones 10 and 11. That means you can leave them outdoors all year in parts of Florida, Southern California, Arizona, and Hawaii.
If you live elsewhere in the country, there are a couple of other options for how you can keep your geraniums coming back year after year.
One option is to grow them outside but bring them in each year during the winter when they can stay safe and warm indoors.
Another possibility is simply to enjoy them as indoor plants year-round.
Whichever option you choose, you can enjoy their blossoms time and again. There is no need to grow them as annuals.
Geranium Basics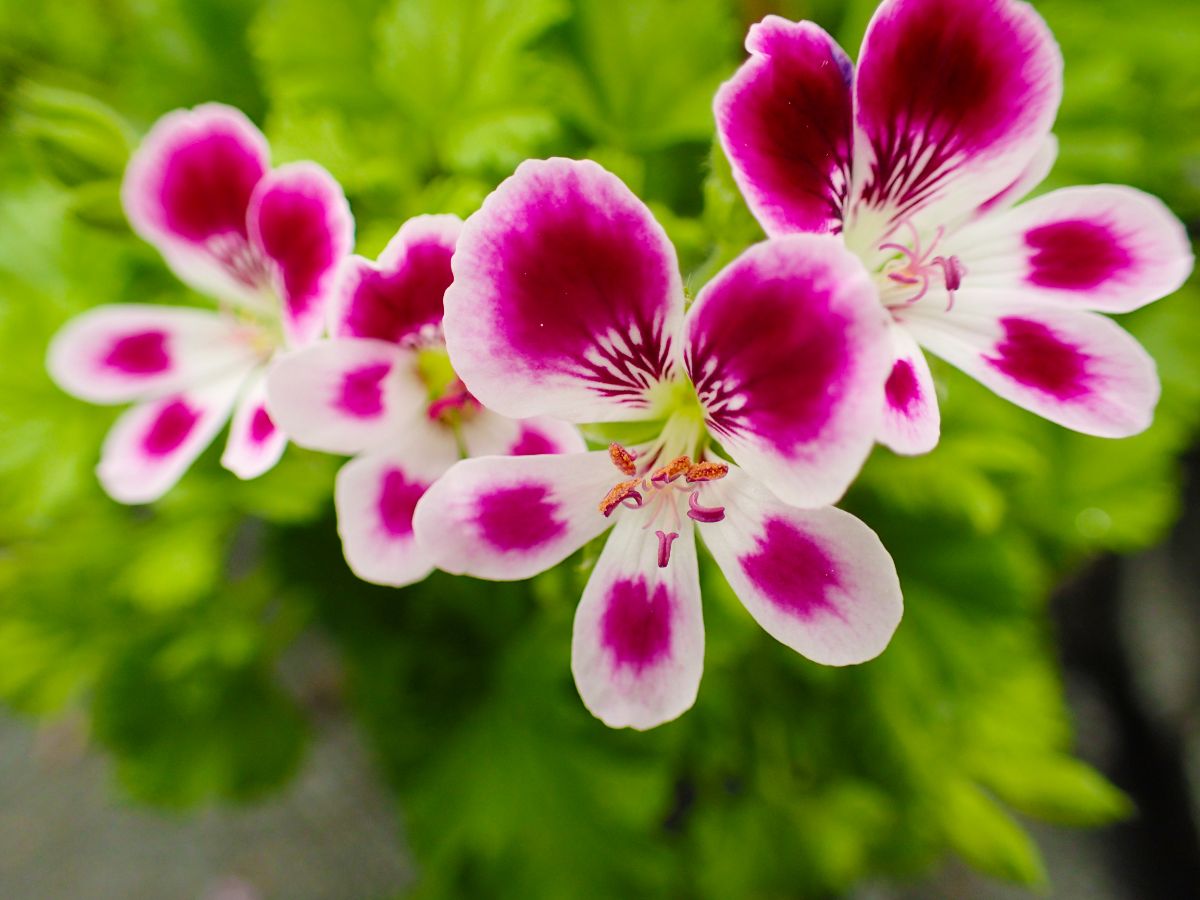 | | |
| --- | --- |
| Zones: | 10-11 (as perennials) |
| Blooming season: | Spring and summer |
| Expected height: | Up to 4 feet |
| Soil: | Rich, loose, well-draining soil |
| Sun: | Full |
Where Do Geraniums Grow?
Geraniums are native to Australia and southern Africa. But they are now cultivated around the world.
Why Grow Geraniums?
Here are some top reasons to grow geraniums in your perennial garden:
Diverse cultivars. There are thousands of different cultivars of geraniums you can grow. You will be astounded by the variety of colors for these beautiful blooms.
Long bloom times. A lot of plants flower in your yard each year for just a couple of weeks, and then are done for the season. But geraniums can bloom through the entire growing season with proper care.
Delightful fragrance. Not only can geraniums add a burst of color to your garden, but they will also contribute beautiful scents. The flowers themselves are not as famous for their scents as the leaves of fragrant geranium varieties.
Japanese beetles are repelled by geraniums, which are poisonous to them. These are some of the most notorious pests in the garden, attacking many different plants. So, liberally planting geraniums among plants that are vulnerable to Japanese beetles may help to protect them.
You can add geranium to recipes. They work well in desserts and in beverages.
Geraniums are relatively deer-resistant. Unless other food sources are depleted, deer will usually leave the colorful geraniums in your garden alone.
Geraniums may help you control pests. Along with planting geraniums for their brilliant blooms, you can add them to your garden to help deter certain insects from neighboring plants.
Geranium Landscaping Ideas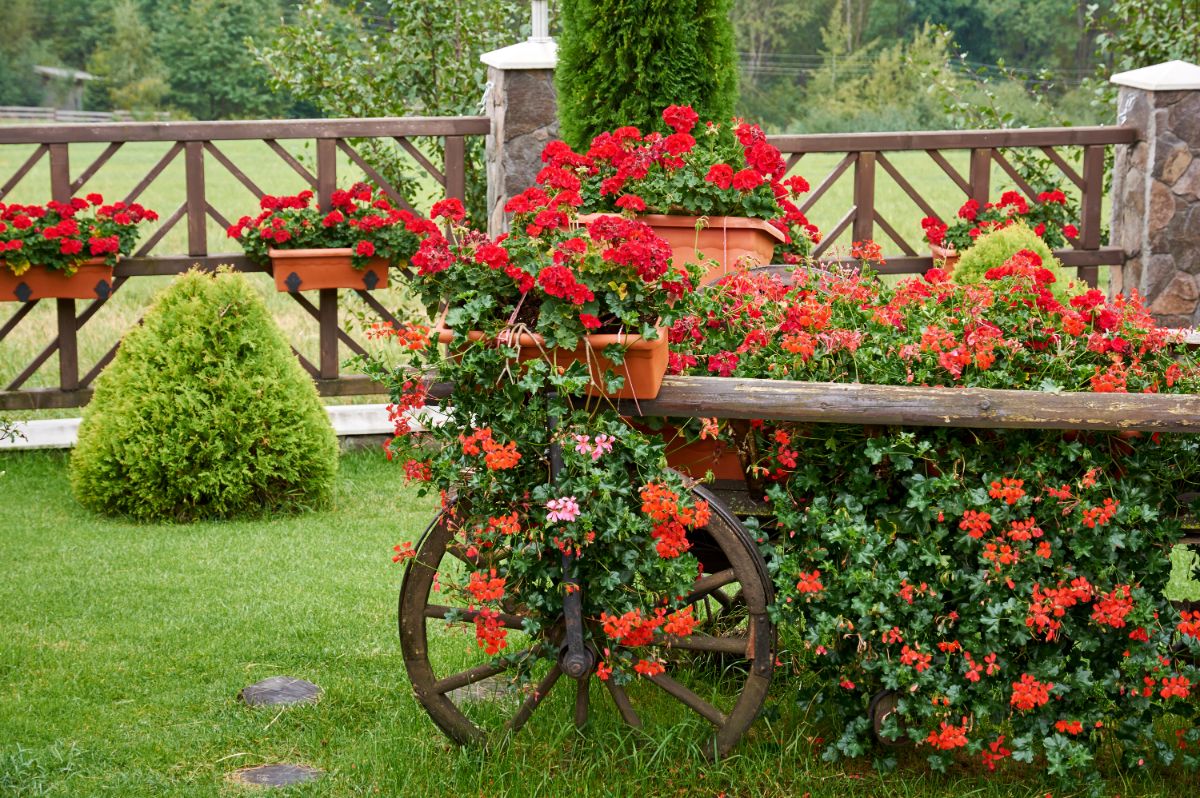 Geraniums can be grown in your flowerbeds, but many people consider them the ultimate potted plant. Here are some ways you can use geraniums in containers:
Grow geraniums in pots on your deck or patio, or hang them in baskets.
Plant geraniums in a decorative urn, and place this urn on a pillar as a focal point in your garden.
Place potted geraniums along a walkway or even a staircase.
Grow geraniums in window sill planters.
Types of Geranium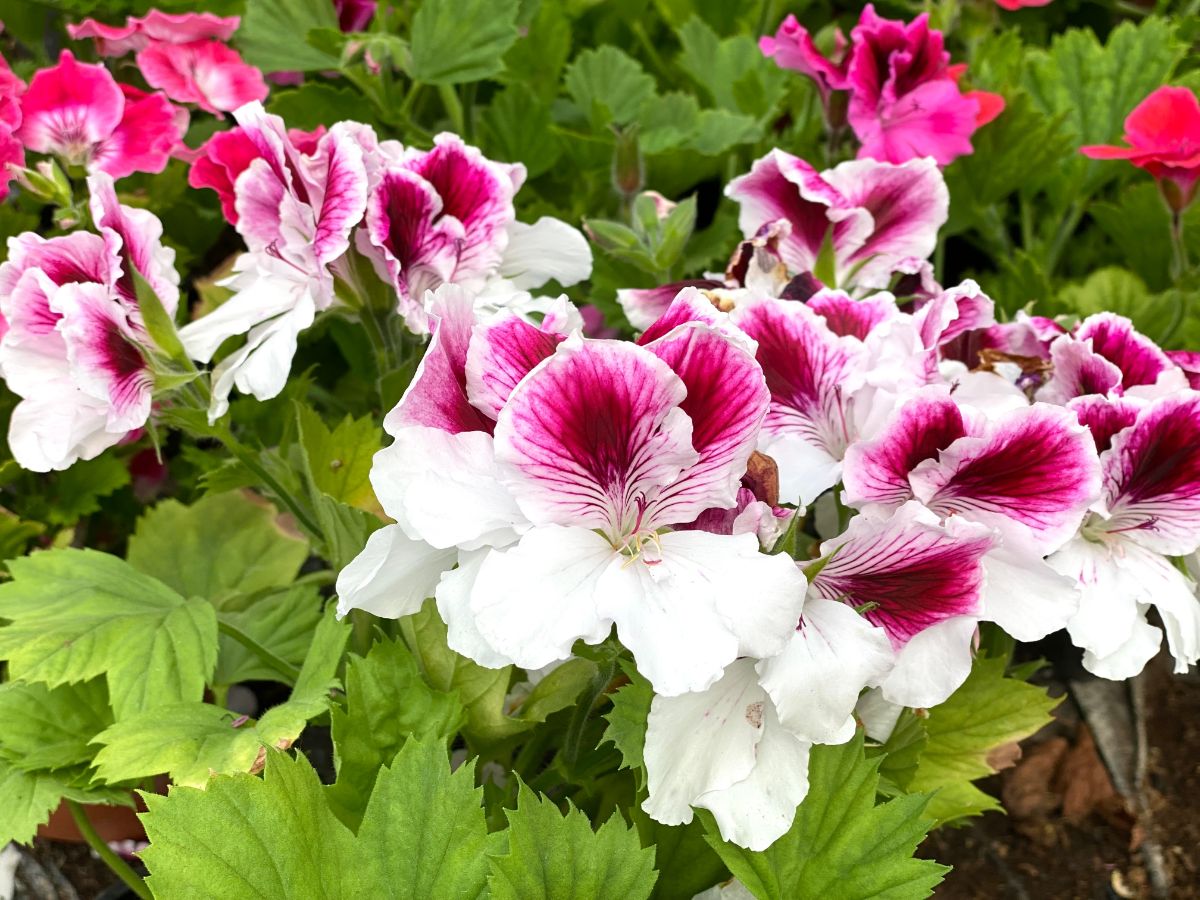 Pelargonium plants can be sorted into the following categories:
Zonal: Most garden geraniums you find for sale fall into this category. These are the types of geraniums you typically plant in containers. The flowers are normally orange, red or pink.
Regal: Geraniums in this category are renowned for their large flowers. The leaves may be aromatic.
Fancy Leaf: If you want geraniums with eye-catching leaves along with along with lovely blooms, the vibrant beauty of fancy leaf geraniums may be perfect for your garden.
Ivy Leaf: This type of geranium is named for the resemblance it bears to ivy. If you need a geranium that is suitable for a basket, ivy leaf varieties are ideal.
Angel: If you like the look of Regal geraniums, but you would prefer something smaller, Angel geraniums may be just what you are looking for.
Scented Leaf: The perennial beauty of scented leaf geraniums comes not just from their flowers, but from the stupendous variety of fragrances produced by their leaves.
Decorative: Technically, you might think of any geranium as being "decorative," but the word refers to a specific subset of geraniums. You will find lots of diversity within this group.
Unique: If you want a scented leaf geranium, but would prefer that the flowers be more prominent, you might consider something in the "unique" category.
Stellar: These types of geraniums are so-named because of the appearance of their flowers, which look a bit like stars.
Recommended Geranium Varieties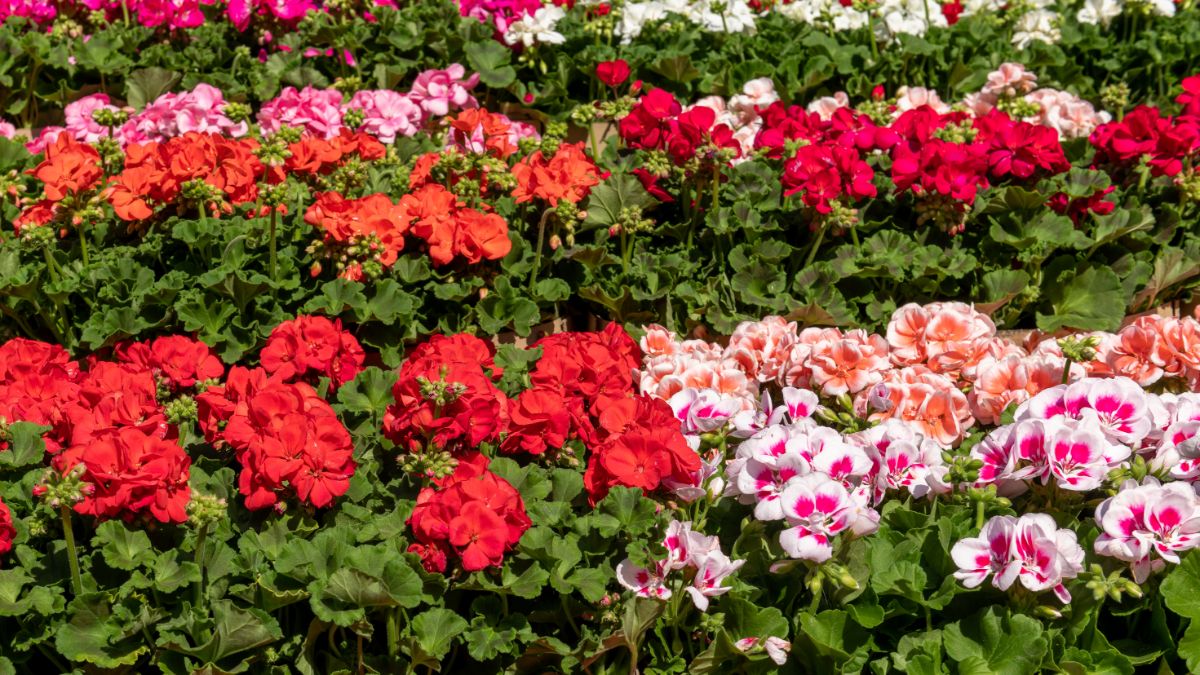 Now that you know about the different categories of varieties of geraniums, we can recommend some specific cultivars.
Jack of Hearts: This compact cultivar makes a bold addition to your garden bed with its reddish-pinkish flowers which are brighter around the edges and darker toward their centers. They are relatively tolerant of hot weather, and hummingbirds like them.
Lily: For a type of geranium that produces really deep, dark red flowers, consider the "Lily" cultivar. As with "Jack of Hearts," "Lily" is attractive to hummingbirds.
Moras Shubert: In the right conditions, this evergreen type of geranium can blossom year-round. It does not need a lot of water, and is winter hardy as low a 20 degrees Fahrenheit. The flowers have a bright lavender hue with some darker pink markings on the petals.
Rosemary: This type of geranium is compact and sports pink flowers that feature dark patches near the centers for a distinctive contrast. It works well for cascading.
Gloriana: Here is another type of geranium that is winter hardy in temperatures as low as 20 degrees Fahrenheit, does not require much water, and can bloom year-round in some climates. The flowers have a bold magenta hue.
Burgundy: Just as the name implies, this geranium produces flowers with a deep burgundy color. They are relatively winter-hardy, do not need much water, and once again may be year-round bloomers in some locations.
Caroline's Citrine: This type of geranium derives its name not from its lavender pink blooms, but from its yellow leaves.
Lord Bute: This type of regal geranium produces distinctive blossoms in a dark purplish-reddish hue with lighter purplish rims.
Dark Secret: For dramatic burgundy flowers, consider planting the regal geranium called "Dark Secret."
Angel's Perfume: This hybrid geranium produces flowers that feature a combination of pale and dark pink. The leaves have a lemony fragrance. It is a compact option.
Apple: If you enjoy the scent of apples, you may like the scented leaf geranium that goes by the same name.
Cedar: Wish you could enjoy the scent of cedar in your garden, but do not want to grow cedar trees? Try planting this type of geranium. The flowers are light pink with dark pinkish-reddish veins.
Apricot: There is a lot to love about the "Apricot" cultivar of geranium. The large pinkish-reddish flowers are eye-catching, and the apricot-like fragrance is delightful.
Cinnamon: This beautiful geranium features small pink flowers. But what will really grab your attention is the spicy cinnamon scent.
Attar of Roses: If you want to mimic the scent of roses with surprising accuracy, you can plant this cultivar of geranium. In fact, sometimes when you think you smell rose in a personal grooming product, it is actually the oil of this type of geranium. You will also enjoy the bright pink blooms with their dark red veins.
Lime: If the intoxicating scent of lime is one of your favorites, then you will definitely want to plant the "Lime" cultivar of scented leaf geranium. The flowers are not all that noticeable, but the aroma is amazing.
Peppermint: This type of scented geranium can trick you into thinking you are smelling a mint plant in your garden. But the white flowers with their dark pinkish veins will remind you that it is in fact a geranium.
Nutmeg Hybrid: Just as the name advertises, this cultivar of scented leaf geranium features a nutmeg-y aroma. "Cody," "Old Spice" and "Logee" are additional names for it.
With around 17,000 cultivars available, geraniums offer something for everyone!
When Do Geraniums Bloom?
Geraniums start blooming in spring, and may bloom all the way through summer and fall. The exact bloom period depends on the cultivar. In a sufficiently warm climate, it is also possible to see geraniums bloom in winter.
How Long Do Geraniums Bloom?
Each time your geraniums bloom, it will typically be for a couple of weeks. But you can get geraniums to bloom repeatedly during a growing season. So, altogether, the blooms can span many weeks.
When to Plant Geraniums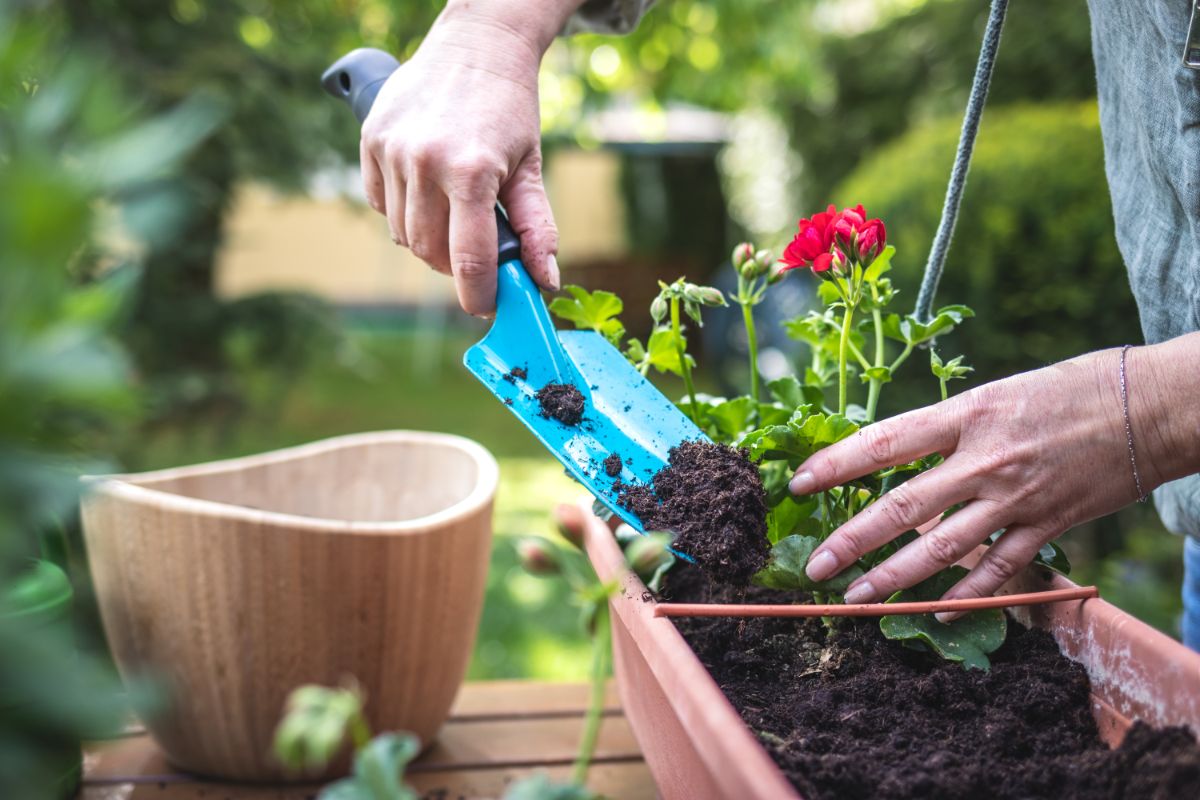 Spring is the best season for planting geraniums. Make sure the last frost has passed before you do.
Ideal Growing Conditions for Geraniums
To keep your geraniums happy, you need to provide them with the right amount of sun and water, and grow them in suitable soil. Let's go over the requirements for each.
How Much Sun Do Geraniums Need?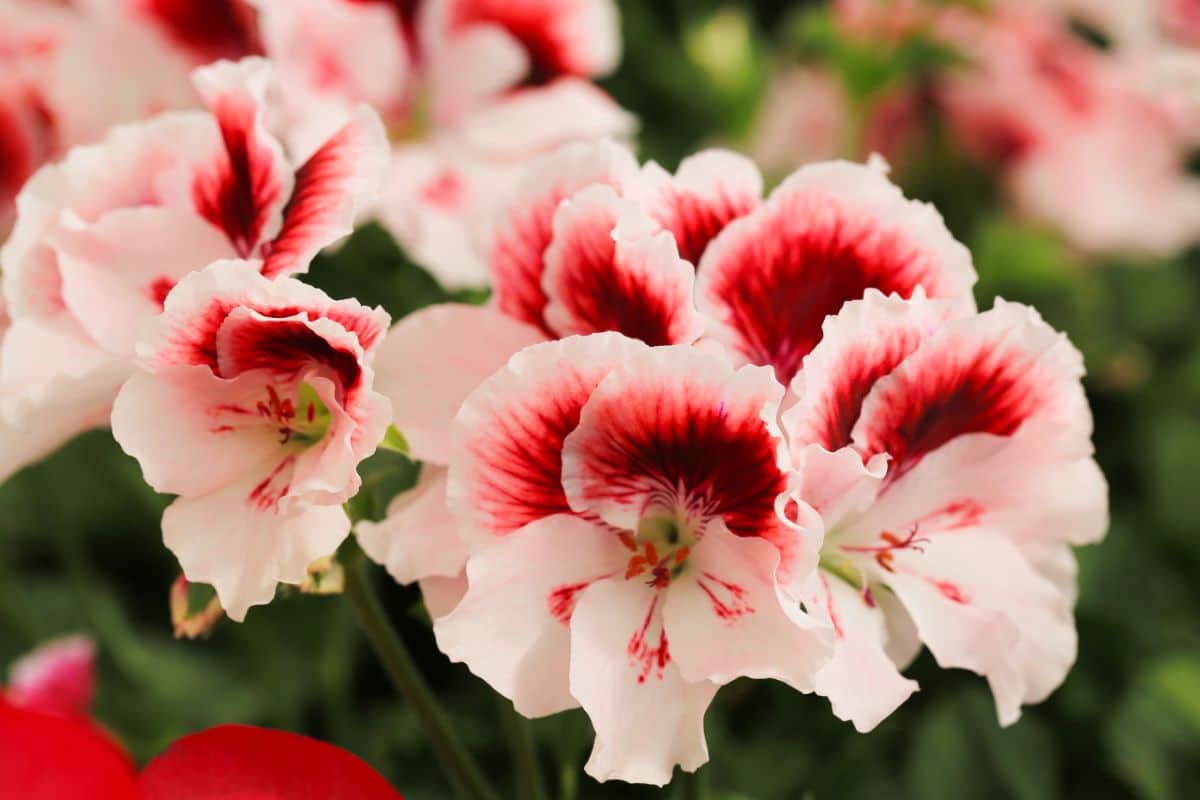 You will need to find a sunny location in your garden for your geraniums. At a minimum, they require 4 hours of sun a day.
While full sun is usually best, sometimes geraniums may do better if you choose a sunny spot that receives some shade in the middle of the day. Even though these plants do best in hot climates, they can still struggle if it gets too hot in the afternoon.
What Type of Soil is Right for Geraniums?
Loose, fertile soil is ideal for your geraniums. While geraniums like moist soil, they do not want wet feet. So, drainage is especially important in your garden soil. Compost or other organic amendments may improve both drainage and richness, especially in heavy soils.
Geraniums prefer their soil to be on the acidic side. If your soil is neutral or alkaline, just adding compost can sometimes push the pH down sufficiently. You also can try adding sulphur.
How Much Water Do Geraniums Need?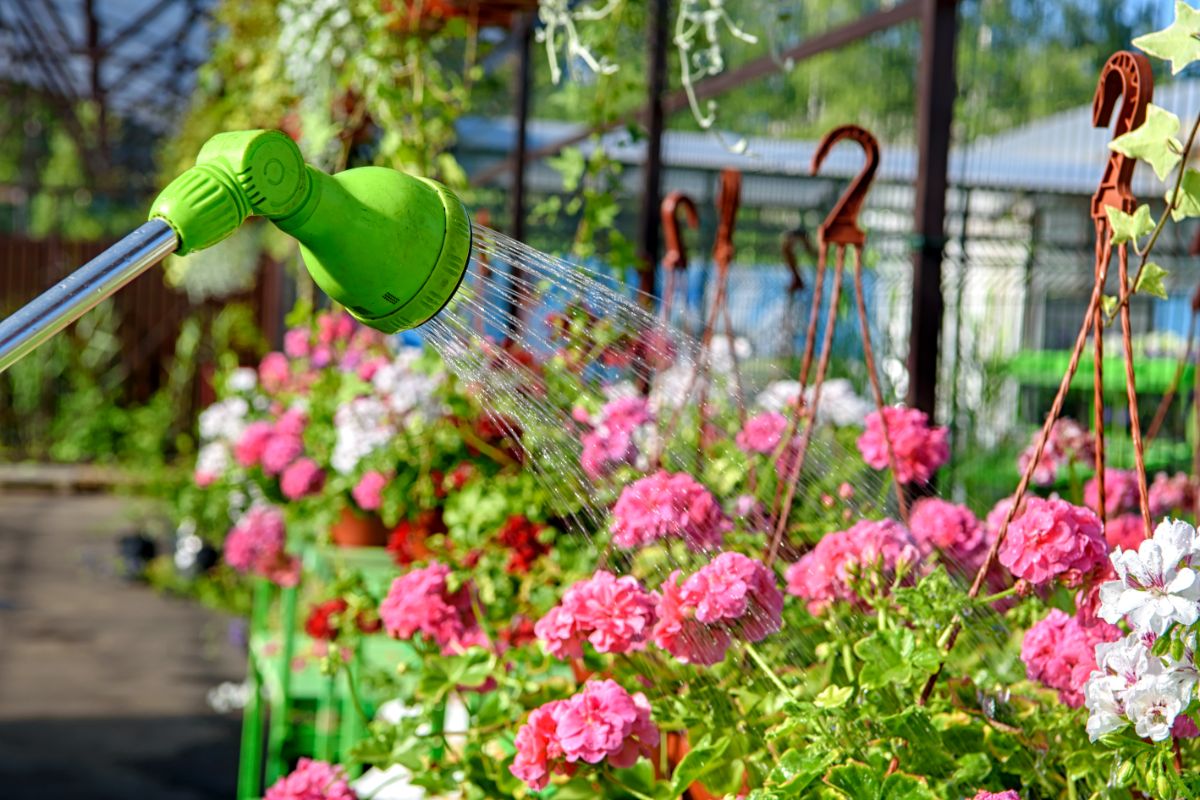 Consistent watering a couple times a week is usually ideal for geraniums during their growing season. Sometimes, precipitation may provide enough water. To check whether you need to water your geraniums, see if the top couple inches are moist or dry. When they dry out, add more water.
How to Plant Geraniums
You can grow geraniums using nursery plants, seeds, or cuttings. First, we will give you directions for how to plant geraniums in containers or your garden beds starting with the nursery plants. Then, we will talk about starting geraniums from seeds or cuttings.
Container Planting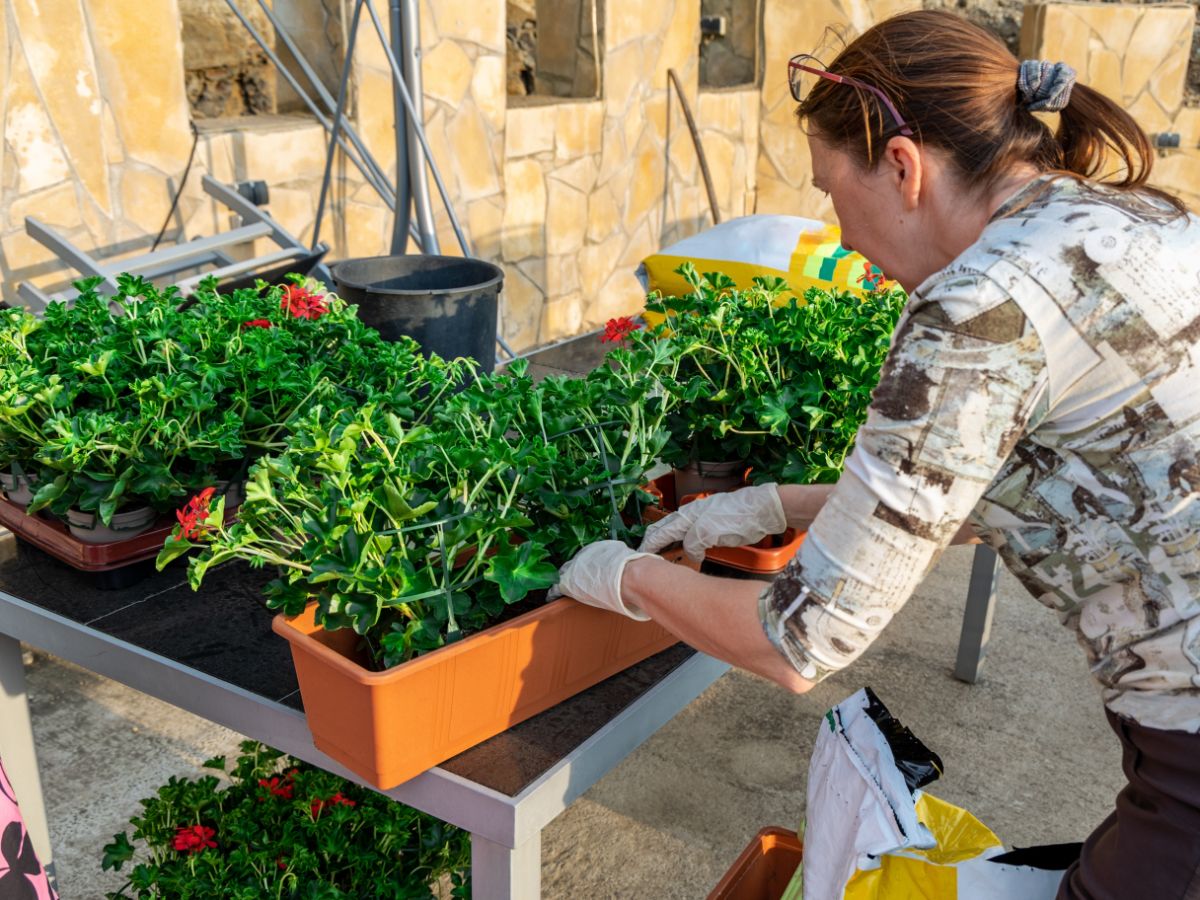 Geraniums are one of the few types of perennials that people tend to keep in containers by default. It is not your only option, of course, but it might be a smart choice for reasons of overwintering indoors.
Begin by choosing a suitable container for your geraniums. Potted geraniums require containers that are around a foot in diameter.
Choose a moist, well-draining potting soil for your geraniums in containers. You may want to add compost or peat moss.
Make holes for the geraniums and insert them into the soil. Then, backfill the soil.
Water well.
Find a suitable spot for your potted geraniums indoors or outdoors.
As the geraniums are establishing in their pots, give them extra water. Then, reduce to a regular watering schedule.
Do not forget that soil in pots dries out faster than soil in the ground, so your geraniums may require more watering in containers than they would in your garden beds.
Ground Planting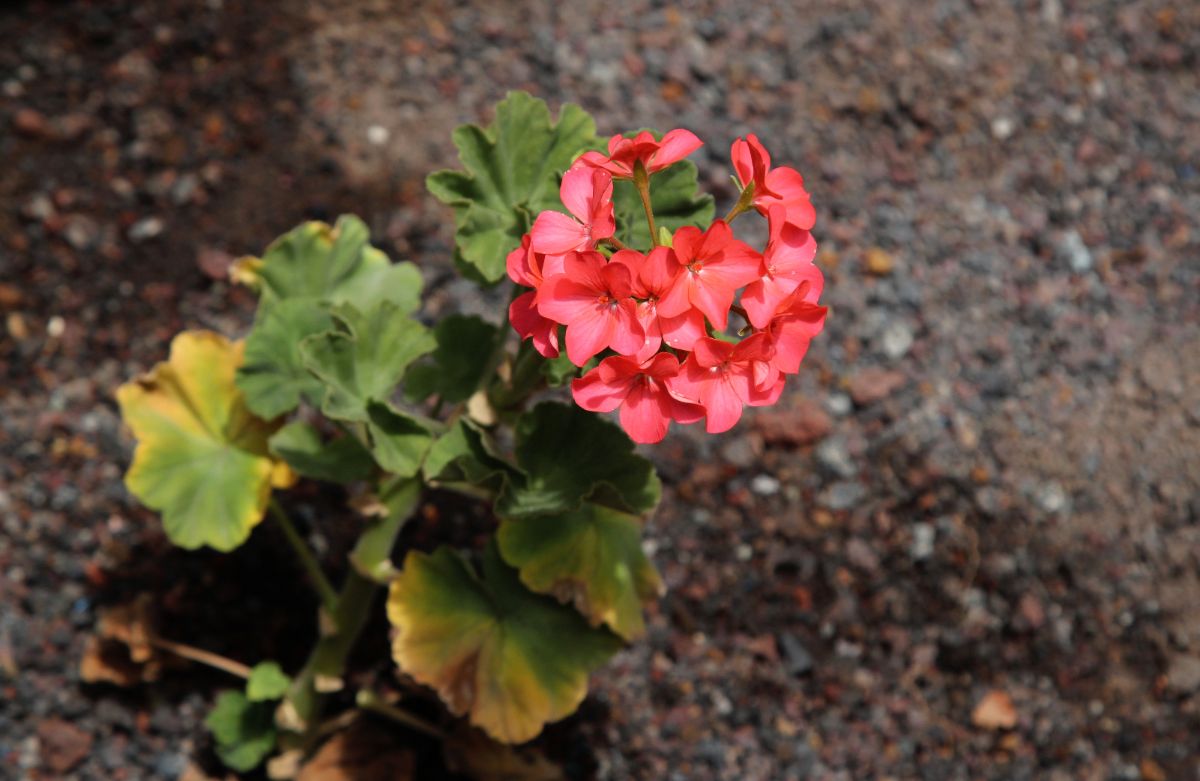 First, pick a suitable spot in your garden for the geraniums.
Prepare the soil. This entails adding around 3-4 inches of peat moss or compost.
Make holes for the geraniums. You should space apart your plants by a minimum of 6 inches, or up to 2 feet, depending on the variety.
To figure out how large the holes need to be, you can look at the containers you got the nursery plants in. Double the measurement for the diameter of each, and dig holes that large.
Plant the geraniums. After you do, backfill the soil and immediately water well.
As the geraniums are establishing, they will require extra water.
Starting Geraniums from Seed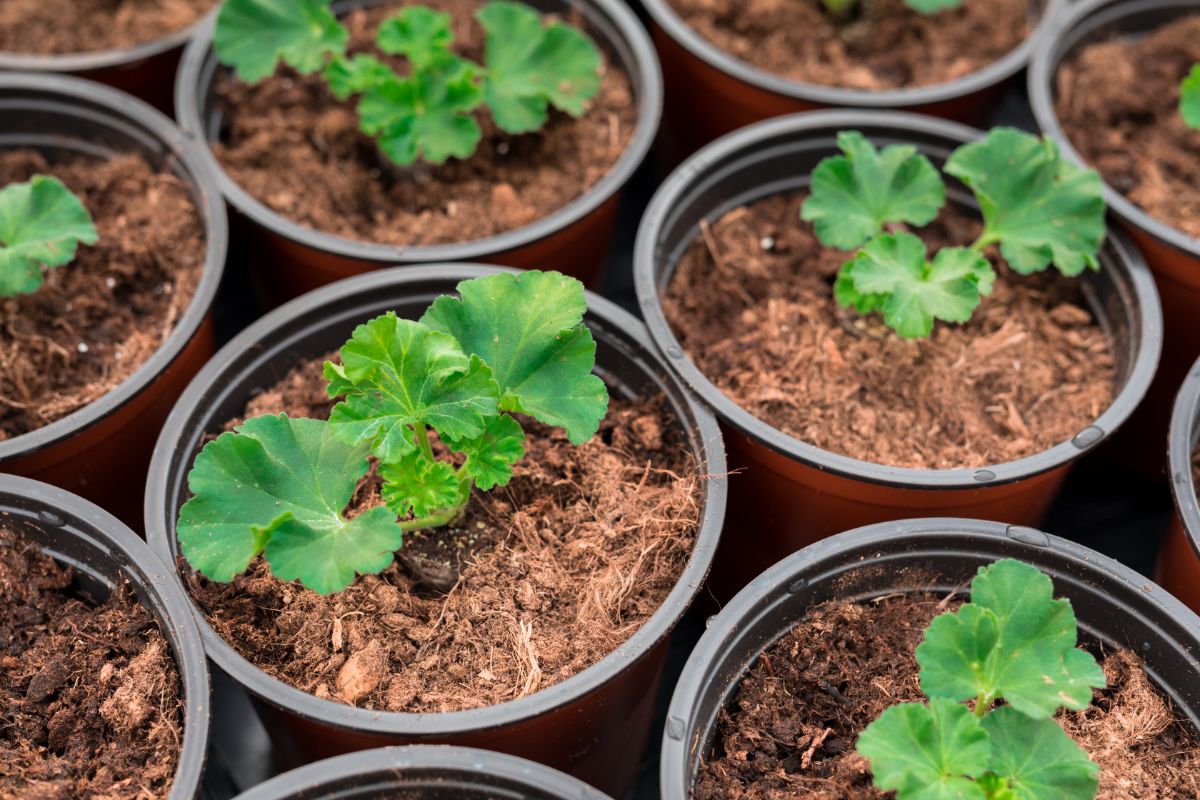 The right time for starting geraniums from seed is mid-February. While you can sow them in the ground if you are located in zones 10 or 11, you will have to start them indoors in other zones.
Get seed trays with drainage holes and fill them with a soilless potting medium.
These seeds have hard coats, so you need to scarify them before planting.
Put each geranium seed 2-3 inches away from its neighboring seeds on top of the potting medium.
Add ¼ inch of potting medium to the top.
Use a spray bottle to carefully dampen the soil.
Put plastic wrap or a lid on top of the tray to lock in the moisture.
Keep the tray at a temperature in the range of 70-75 degrees Fahrenheit. It should not be exposed to direct sunlight.
Check periodically on the tray to see if the potting medium is drying out. If it is, spray it again.
Once the seeds sprout, you can take off the plastic wrap or lid.
Move the seedlings to a location where they can receive more light. They should get around 12-16 hours from a 40-watt fluorescent grow light.
Continue to monitor the seedlings and water them as needed.
Once true leaves form, it is time to thin them out. If you want to keep all of the seedlings, they will need larger pots. So, you could transplant them.
Every other week, fertilize the seedlings. Make sure to dilute it first.
If you want to move the geraniums outside, you can harden them once the last frost is past. You can then plant them in their permanent homes.
Starting Geraniums from Cuttings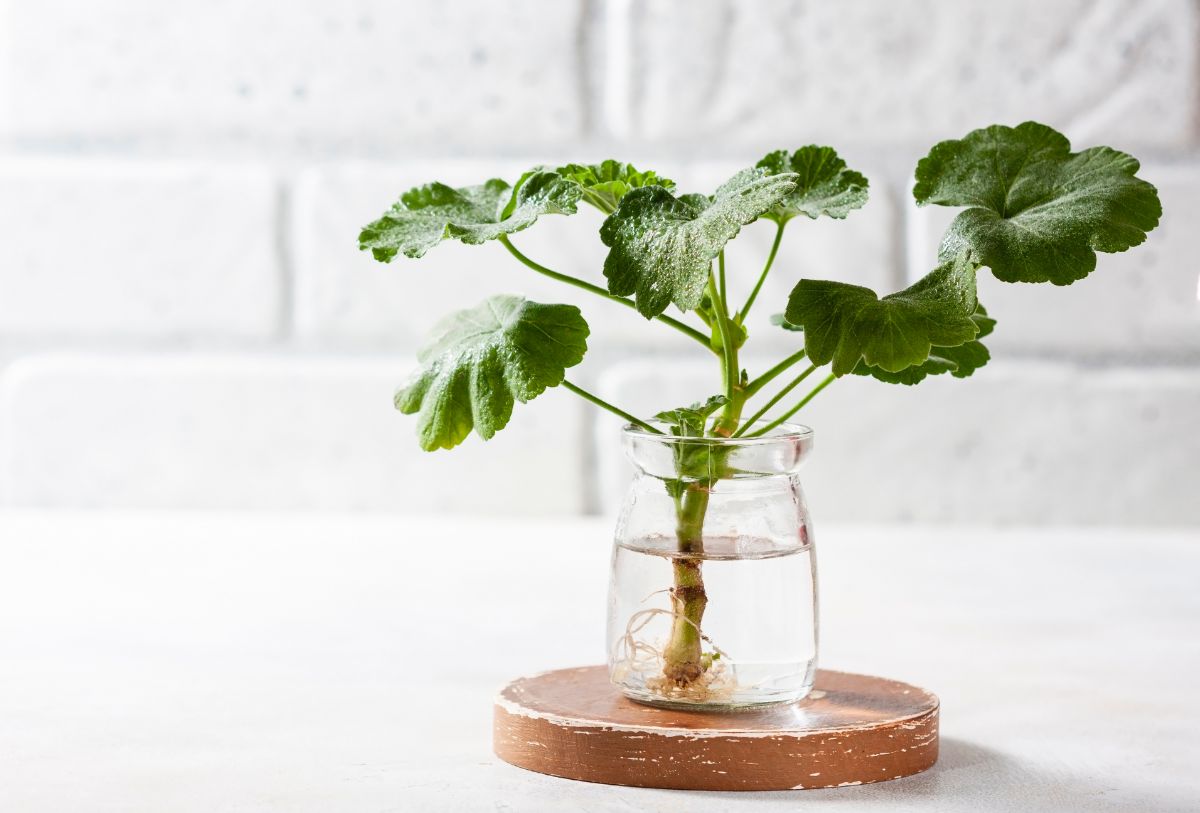 Early in spring, you can take cuttings from your existing geraniums to propagate them. Here are the directions.
Locate some fresh stems to cut. Use a knife to make your cuttings. Each should be around six inches long. Try and cut right over a node if you can.
Leave the top leaves in place on each cutting, but remove the rest of the leaves.
Dip the bottoms of the cuttings in rooting hormone.
Add several inches of water to a clear container.
Insert the cuttings. Do not let the leaves get wet.
Find a spot inside your home for the cuttings to grow. They should not be exposed to direct sun.
Keep an eye on the cuttings. Every day, you will have to pour out the old water and replace it.
After about four weeks, the roots will begin to appear.
Continue taking care of the cuttings, replacing the water each day. Watch as the roots keep growing.
Once the roots are more than an inch in length, you can transplant the cuttings into pots.
Harden the new geranium plants before you plant them in their permanent outdoor homes.
How to Care for Geraniums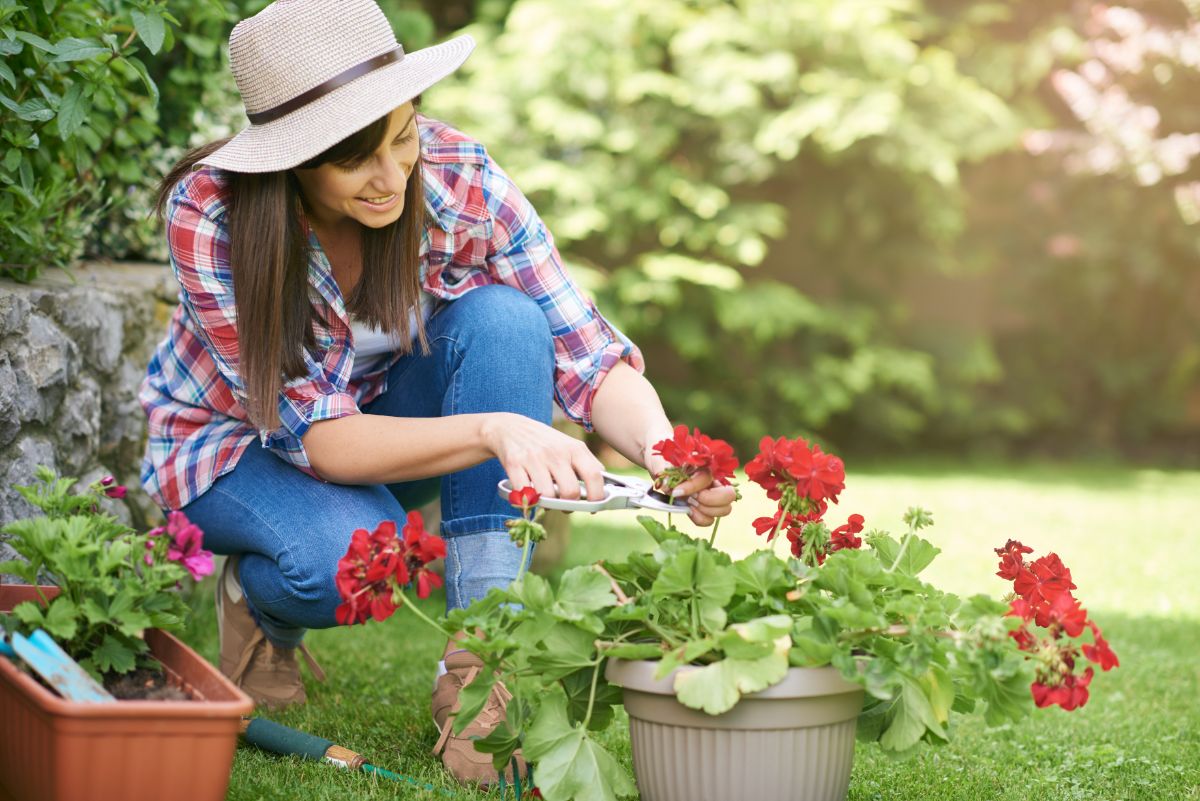 Now that you know how to plant geraniums, let's talk about how you can take care of these tender perennials. We will discuss fertilizing, pruning, staking and more.
How to Fertilize Geraniums
You should fertilize geraniums. Clemson Cooperative Extension recommends, "Geraniums respond well to fertilizer and are stunted and yellowed if not provided enough nitrogen. Fertilize new flowerbeds with one pound of a 10-20-10 fertilizer or the equivalent per 100 square feet. Mix the fertilizer into the soil well. Geraniums usually require additional fertilizer during the growing season every four to six weeks. A water-soluble formula works well for follow-up fertilizations."
How to Mulch Geraniums
Geraniums can benefit from mulching, which helps to lock moisture into the soil and prevent weeds from intruding.
Pine straw and shredded leaves make suitable options for geranium mulch. Apply your mulch at a depth of two to three inches. Do not place the mulch too close to the geranium stems to avoid rot.
How to Stake Geraniums
Some of the taller types of geraniums can sometimes get a bit floppy. If you run into this issue, you can push some garden stakes into the ground and use twine to tie the geraniums upright.
How to Prune Geraniums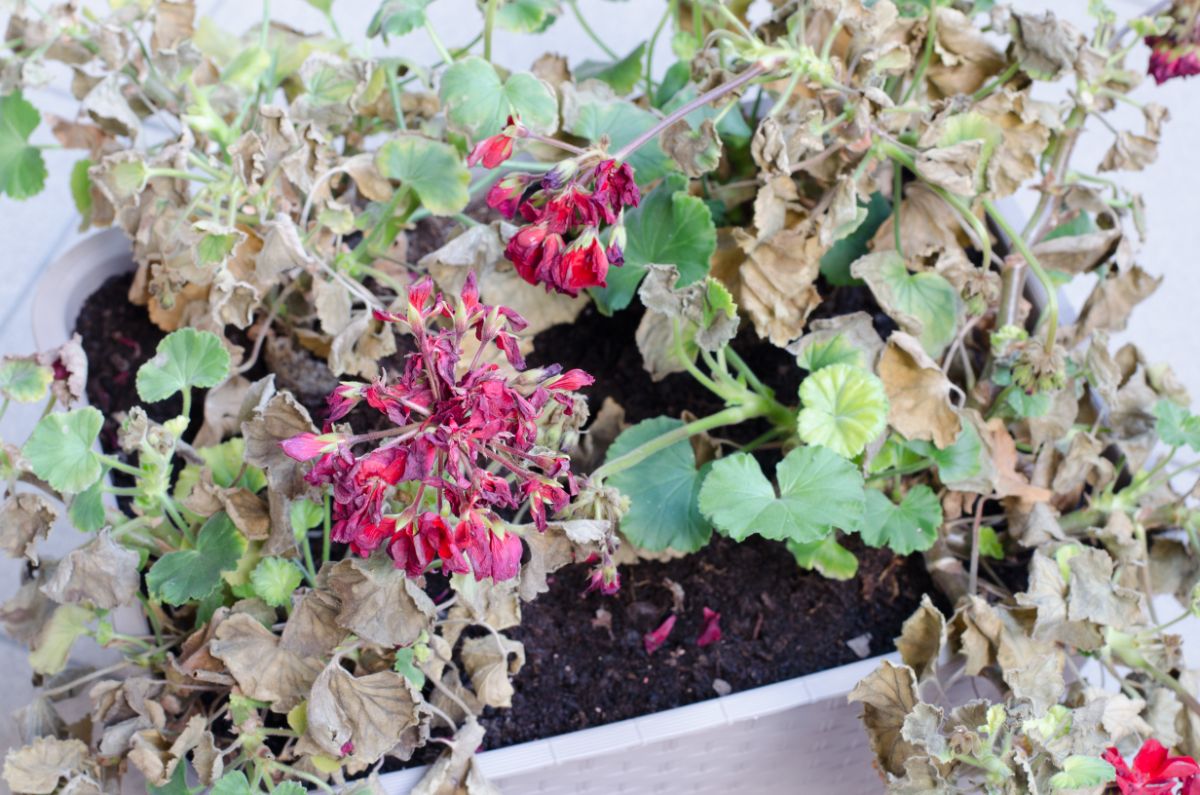 Pruning geraniums involves both deadheading and trimming them back.
How to Deadhead Geraniums
You should deadhead your geraniums because doing so gives them a chance to produce additional flushes of blooms throughout the growing season. Try to keep up with the task as soon as you see old flowers beginning to wilt.
It is important to note that you cannot just pinch off the flowers as you might be able to do with some other plants. Instead, you need to break off the stems under the nodes. You might be able to do this by hand. If you are having difficulty, however, you can just use shears.
Within several days of deadheading, you should start seeing new blossoms.
When to Cut Back Geraniums
Regardless of whether your geraniums are staying outdoors all year or you are overwintering them, you should trim them back.
The recommended time for cutting back geranium seems to vary a lot depending on the source you check. This might be because of a mixture of advice for pelargoniums and hardy geraniums showing up. Oftentimes, people do not bother to say which type of geranium they are discussing.
So, to answer this question, we will turn to gardening expert Melinda Myers, who answered a question specifically about pruning geraniums that are overwintered indoors. In most climate zones, that is what you will do with pelargoniums, so we can rest assured this advice is applicable to the type of geranium we have centered this growing guide around.
Myers writes, "Mid March is a good time to prepare geraniums for the upcoming season. Pot up and prune back geraniums stored in a cool dark place for the winter."
She also says, "Geranium growing as houseplants will also benefit from a spring trim. Pruning plants back to 4-6 inches will encourage thicker more compact growth. Fertilize these plants once the new growth begins."
How to Divide and Transplant Geraniums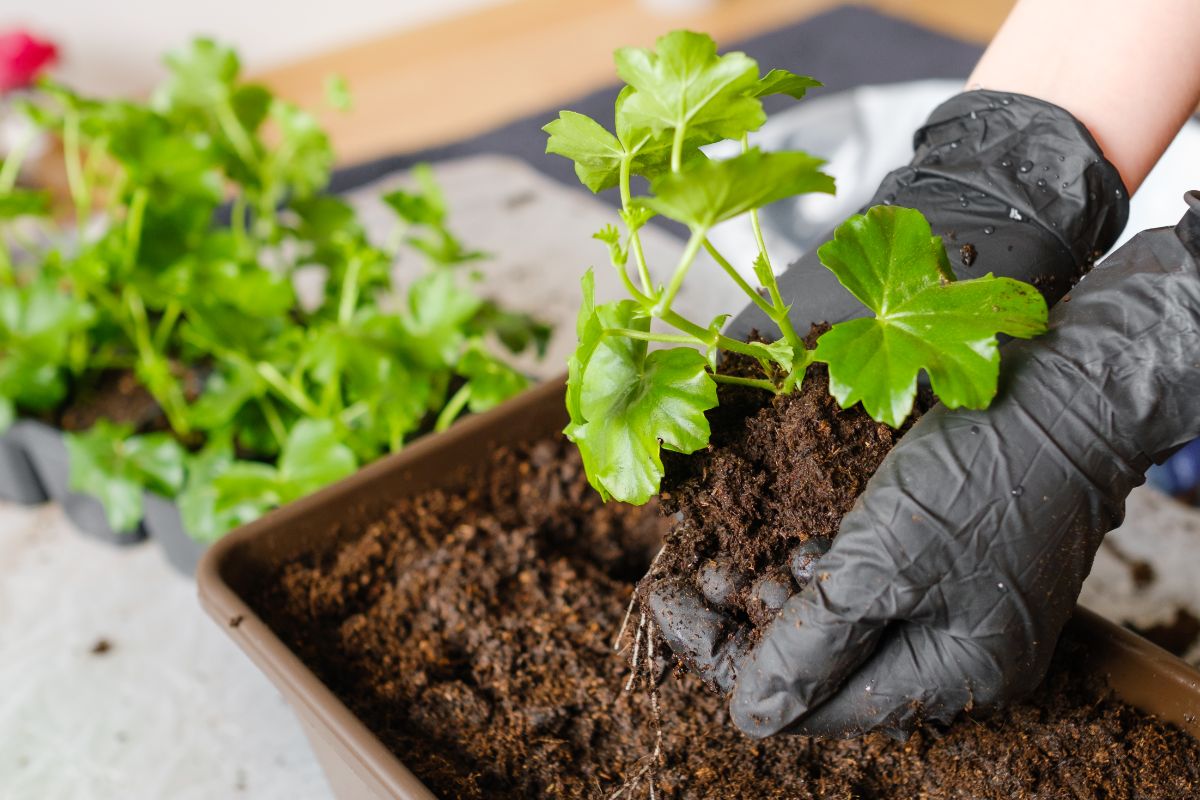 Most instructions for dividing and transplanting geraniums are specifically for "cranesbill" plants, rather than the Pelargonium geraniums we are focusing on in this article.
This is probably because so many people grow regular geraniums as annuals, and therefore never need to divide them.
Plus, if you are concerned with dividing geraniums for propagation reasons, it is easier to just propagate from cuttings.
In theory, if you have had a geranium for a number of years and it is starting to look leggy, you could follow the general directions for dividing perennials.
This is simply a matter of digging carefully in a circle around the plant and pulling it up. Then, you make your divisions and plant them again. After that, you water well and continue to provide extra water as the newly divided geraniums are establishing.
How to Overwinter Geraniums
If you are living in a climate where your geraniums cannot survive the winter outdoors, you can bring them in each year,
You might need to do this regardless of whether you plant geraniums in the ground or in pots. But keep in mind that geraniums in containers are extra vulnerable to drops in temperature.
Nevertheless, it might be more convenient to keep your geraniums in pots all year anyway, since that makes it easier to bring them indoors when the time comes.
During the winter, you should choose a sunny spot in your home for the geraniums. It is safe to return them outdoors after the last frost of spring.
Are Geraniums Vulnerable to Diseases or Pests?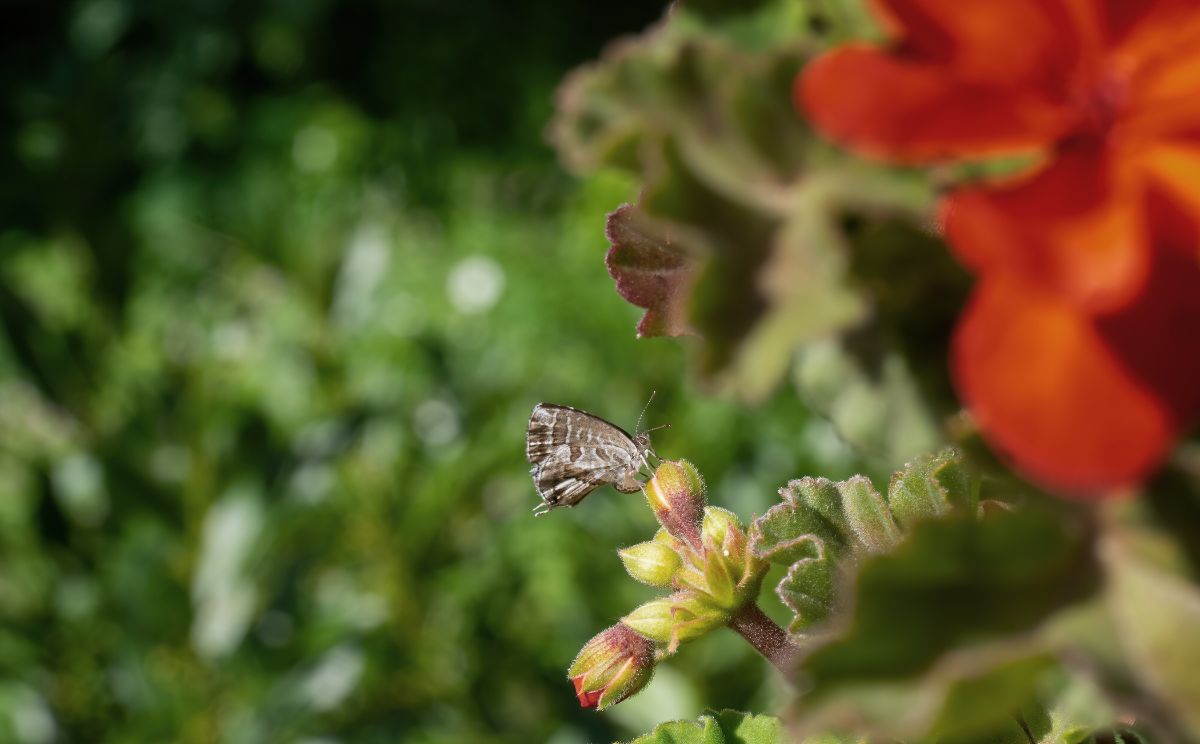 Geraniums may sometimes contract diseases such as crown rot, root rot, flower blight, botrytis leaf blight, damping-off, leaf spot, and other conditions.
You can find a list of diseases that affect geraniums at PennState Extension. This page provides detailed descriptions of geranium disease symptoms and recommendations for the management of each individual condition.
Sometimes, insects go after geraniums. Some common issues may include fall cankerworms, aphids, lined plant bugs, and cabbage loopers. Slugs and snails in your garden may eat geraniums too.
Some pests such as spider mites appear to be repelled by scented geraniums. So, there may be a role in your garden for natural and safe pest control using these perennials.
Interestingly enough, geraniums may also assist you in combating Japanese beetles, as explained in this article.
The post explains that Japanese beetles will try to eat geranium flowers, but doing so has toxic effects.
The article says, "within 30 minutes of consuming geranium petals, the beetle rolls over on its back, its legs and antennae slowly twitch, and it remains paralyzed for several hours. The beetles typically recover within 24 hours when paralyzed under laboratory conditions, but they often succumb to death under field conditions after predators spot and devour the beetles while they are helpless."
What about mammals? Do they eat geraniums? Thankfully, no, they tend to avoid them—once again because of toxicity.
Keep in mind that hungry enough rabbits and deer will sometimes still chew on geraniums.
Recommended Planting Combinations for Geranium
Here are a few plants that can work well next to geraniums in your garden:
Chrysanthemums: These plants produce dramatic blossoms and have similar sun and soil requirements to geraniums.
Coleus: The colorful leaves of this plant can be a dazzling accompaniment for geranium flowers.
Tickseed: These flowers are also popular to plant with geraniums. Typically bright yellow in hue, they add a splash of sunshine to your geranium displays.
Anything you want to keep spider mites and other pests away from. Specifically, you should try planting scented geraniums as companions for these plants. They may have a repellent effect on the insects.
Frequently Asked Questions About Growing Geraniums
Are geraniums toxic to animals?
Yes, geraniums are toxic to dogs and cats. So, you should avoid letting your pet run around near them unsupervised.
Additionally, Farmers Almanac states that geraniums can make children throw up if they eat them.
What eats geraniums?
A: Some insects eat geraniums, as do slugs and snails. Mammals get into them when there are not a lot of other food options available.
What are scented geraniums?
A: Scented geraniums are specific types of geraniums that feature fragrant leaves. The scents of these leaves are widely varied. Some can be compared to rose, others to chocolate, and others to mint, lemon or cinnamon.
You may sometimes hear them referred to as "fingerbowl geraniums." This is a reference to the habit of rinsing hands off in bowls of water and scented geranium leaves during the Victorian era.
Despite the fact that Farmers Almanac mentions that children can throw up if they eat geraniums, scented geranium is edible to human adults. So, you can add it as an ingredient to dishes like salads. But make sure that your pet does not eat any.
Where to Buy Geraniums
Are you ready to grace your garden with the classic beauty of geraniums? Whether you grow them indoors full-time or they spend all or part of the year out in your yard, you will delight every year in their beautiful colors and scents.
Click the link below to shop geranium cultivars online now.