Do you want to look forward to a vibrant explosion of yellow flowers in your garden year after year? Then you may want to plant a few forsythias around your yard. These shrubs produce abundant golden blossoms in spring.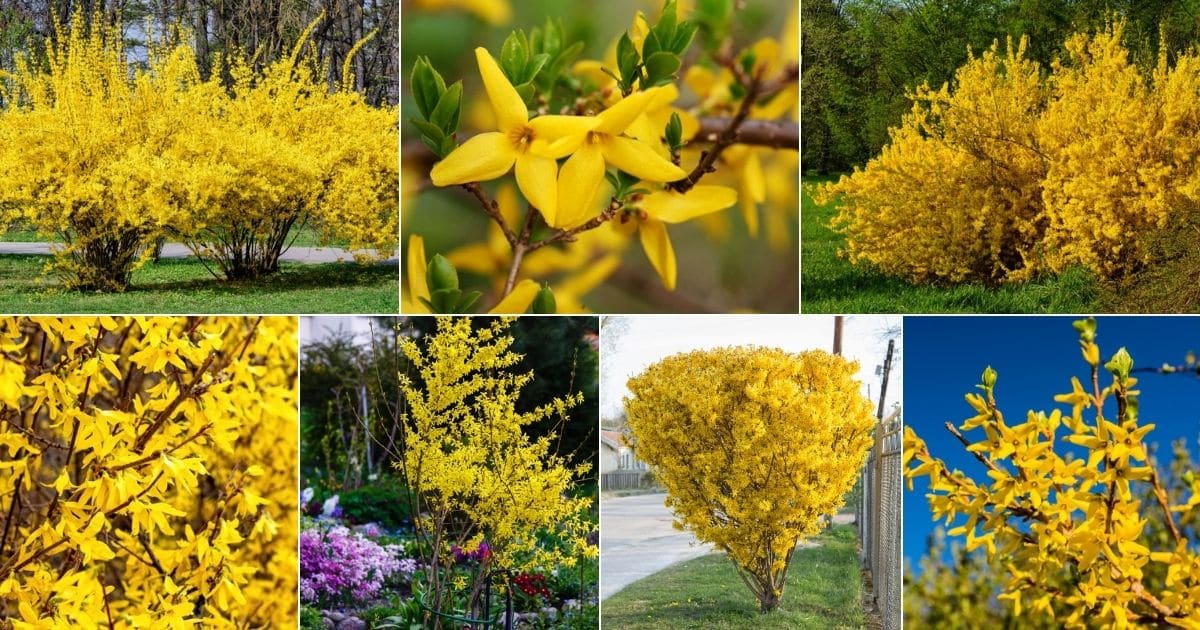 In this in-depth guide, we will teach you all you need to get started with forsythias in your perennial garden.
We will tell you how to plant forsythias, what you need to do to take care of them, and what conditions are best for them.
You can read our full article to get a broad view on what you need to do to grow forsythias successfully, or you can use our handy table of contents to jump to the section you need.
Jump to:
What Are Forsythias?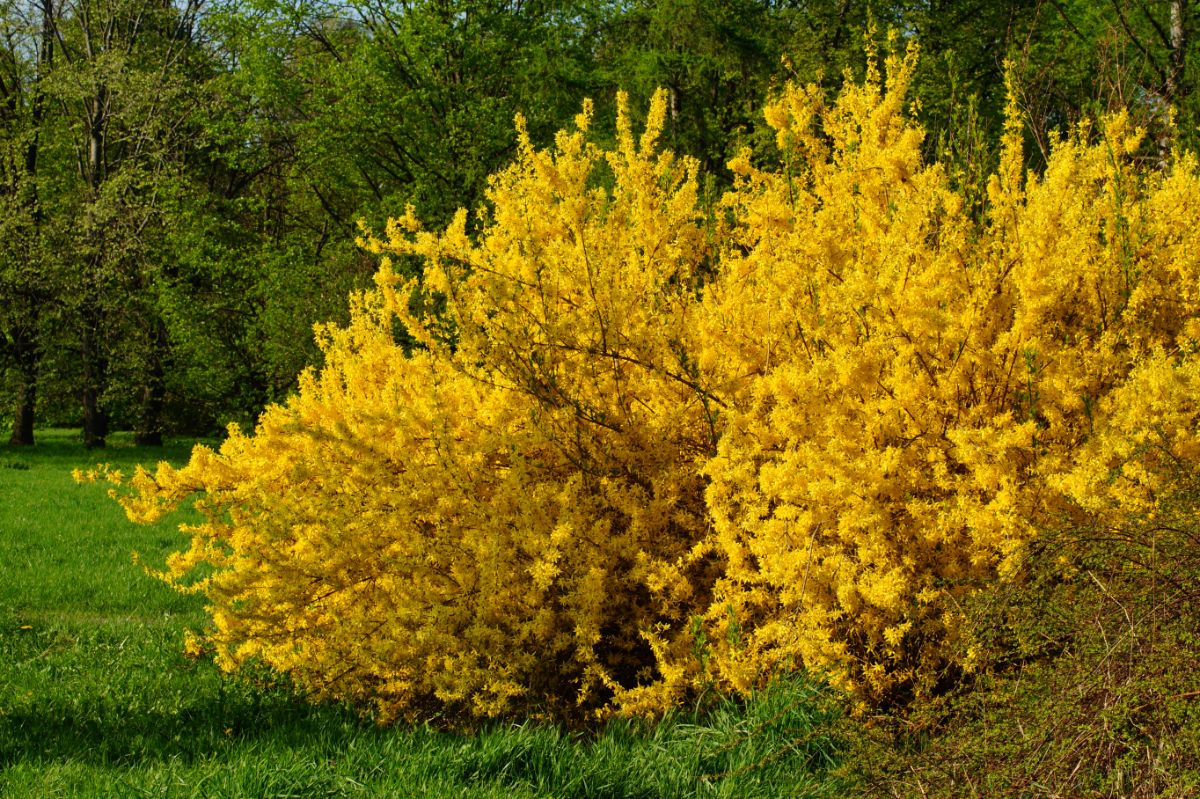 The name "forsythia" refers to a genus of plants that contains around 11 species. It is part of the family Oleaceae, which also contains olive trees. The name "forsythia" is derived from that of the 18th-century botanist William Forsyth. He was famous for helping to establish the Royal Horticultural Society.
Forsythias are shrubs, typically growing to anywhere between 3 feet and 10 feet tall. But sometimes, they can reach up to 20 feet in height.
The main reason to plant forsythias is to enjoy the flowers they produce each year.
Forsythia Basics
Zones: 3-8
Blooming season: Spring
Expected height: Up to 20 feet
Soil: Loose, well-draining
Sun: Full to partial
Where Do Forsythias Grow?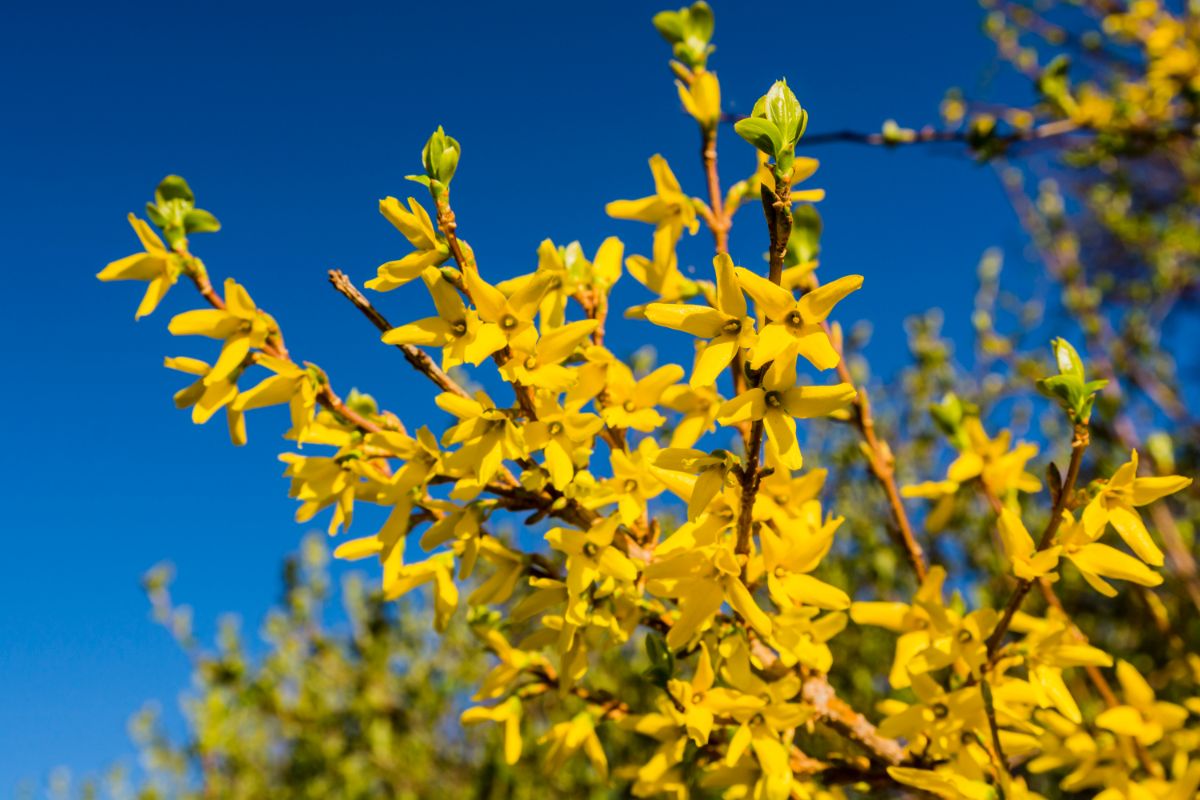 The majority of species of forsythia hail from Asia. There is a solitary forsythia species that comes from Europe, however.
It is actually quite easy to trace the history of this plant's cultivation and spread around the globe. Swedish naturalist Carl Peter Thunberg's fancy was captured by a specimen of Forsythia suspense while visiting a Japanese garden. It just so happened that he knew people in the Dutch East India Company. So, before long, the plants were shipped out to Europe.
Thunberg was not the only European botanist to take an interest in forsythia. It also captivated Robert Fortune, who was visiting China. He took a liking to Forsythia viridissma, so before long, it also could be spotted in gardens in Europe.
Being as forsythias can live in zones 3-8, these flowery bushes can be grown in a wide range of locations, including North America.
Why Grow Forsythias?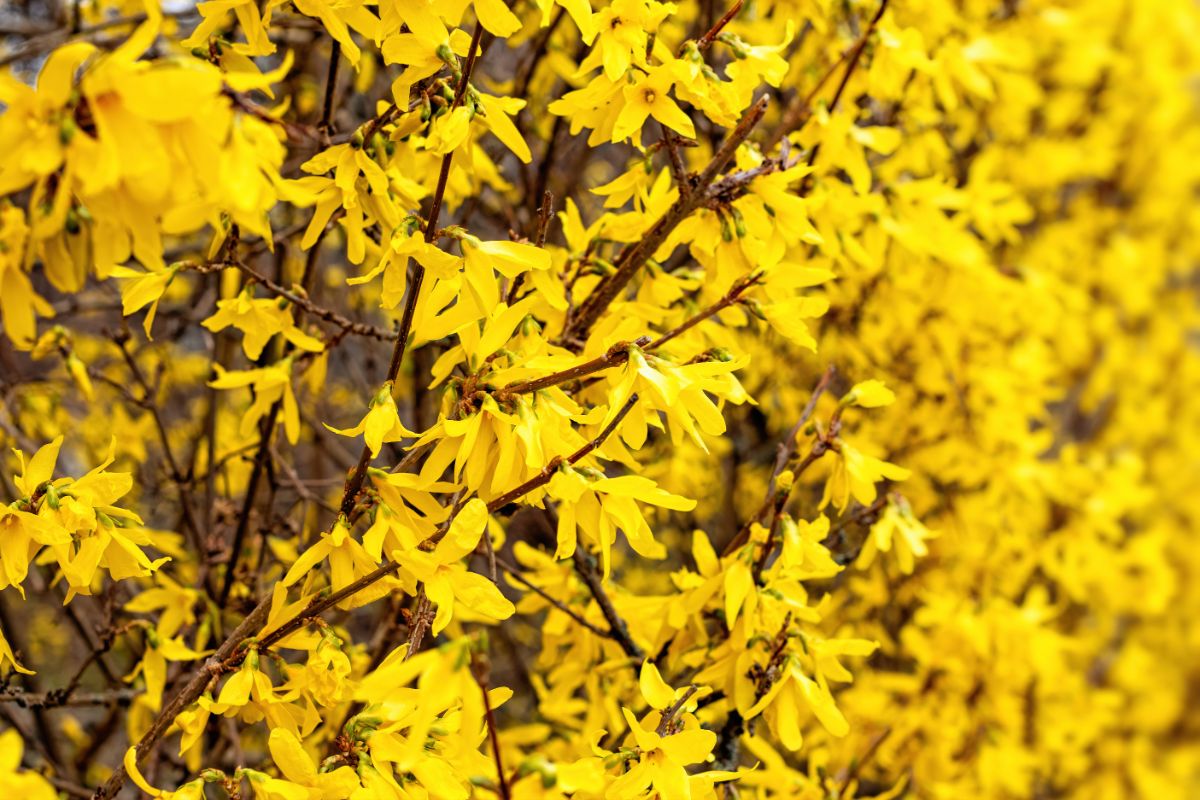 Pollinators will be in heaven flitting among the yellow flowers. Expect to see birds, bees, and butterflies frequently your forsythia plants.
It is actually possible to get forsythia branches to bloom right in your own home. This process is called "forcing" forsythia blossoms. See the FAQ for directions on how to enjoy this harbinger of spring early.
It is so easy to grow forsythia. Plus, this plant is super versatile. The Highlands Current writes, "It forgives nearly everything and will tolerate neglect, poor soil, hot summers and cold winters. It can be used as a hedge or make a decent stand-alone shrub. It can be shaped or left to its own devices."
There are many methods for propagating forsythias. So, you have a lot of options for how you can increase the number of forsythia plants you have in your yard starting from just one plant, allowing you to choose whatever you find easiest.
Forsythias are drought tolerant and do not require much watering if there is normal precipitation. Even in a dry season, they do not require a ton of care.
Pests and diseases rarely plague forsythias. These plants are also deer-resistant.
Forsythia grows rapidly and can make for a nice privacy screen.
The sunny sight of forsythias is always a delight each year. They will really transform the look of your yard. They are also lovely during summer and fall. The flowers fade fast, but the foliage is nice.
Forsythia Landscaping Ideas
The versatility of this deciduous shrub together with its dense green foliage makes it easy to work into your landscaping plan. Here are a few ideas:
Create dramatic borders. For maximum dramatic effect, think about using forsythia as a border plant. Border forsythia can line an entire driveway or walkway with yellow blossoms so that you will feel like you are walking up a corridor of light.
Individual forsythias can serve as focal points in your outdoor living space. Scatter them artfully around your landscape to draw the eye and highlight other plants.
Give shorter flowers a backdrop. Many flowers can be delightful paired with forsythia. Check our companion planting section for ideas.
Spruce up your patio with potted plants. All too often, the deck or patio may be devoid of all but the most neutral hues. Bring a spot of sunlight to these spaces where you relax outdoors with forsythias.
Create a privacy screen. Because forsythias can grow to be tall and wide, they can bring privacy to your outdoor spaces. Block off unsightly views and keep passersby from watching you.
Recommended Forsythia Varieties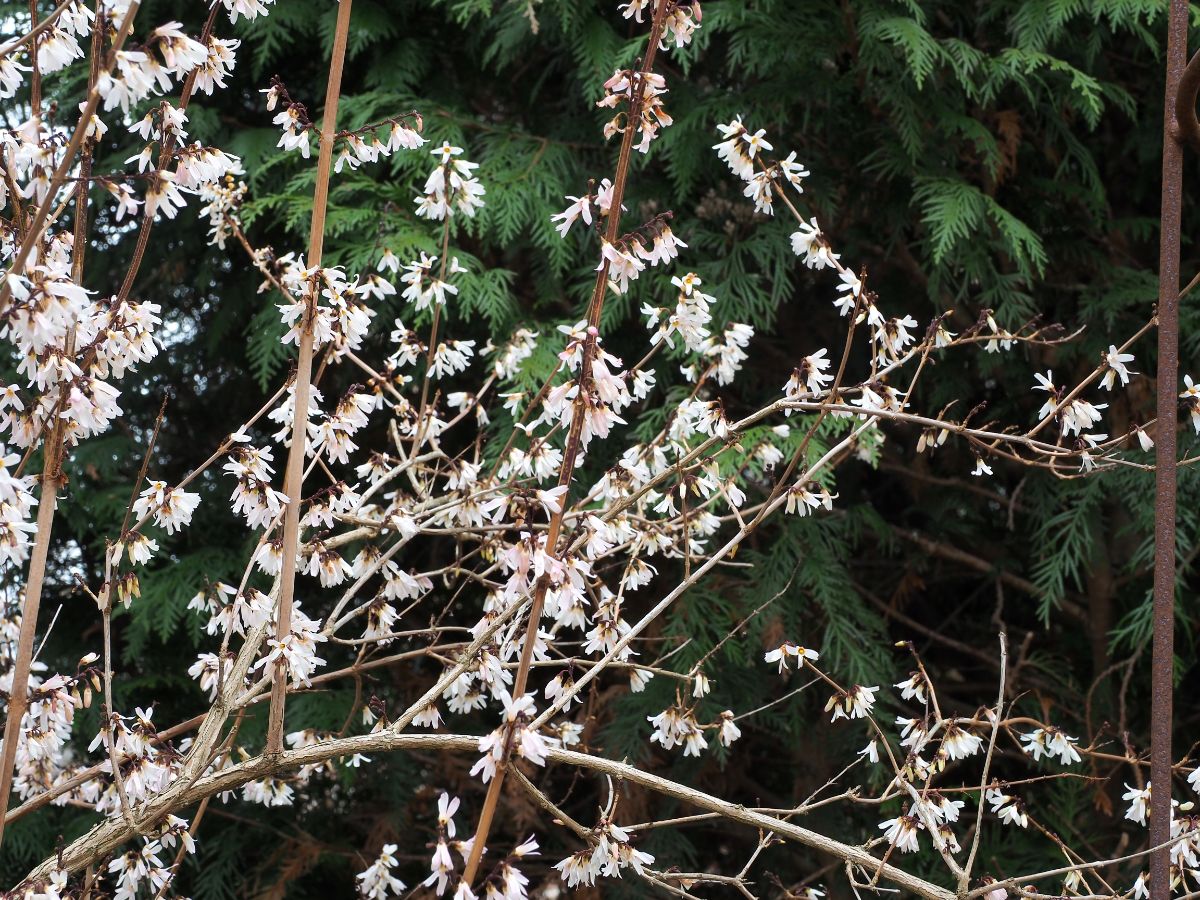 Like many other perennials, forsythias are available in a range of delightful varieties. Here are a few that might brighten up your lawn and garden.
Bronxensis: This compact form of forsythia has the scientific name F. viridissima. It maxes out at three feet tall, blossoming late in spring. Consider it for lining a path or for planting in pots.
Northern Gold: Do you need a type of forsythia that can withstand cold temperatures? Then you are going to want to plant this cultivar, which will survive winters even if your temperatures drop down to 30 degrees below.
Beatrix Farrand: You can bring stunning spring color to your yard with these tall shrubs. Soaring as high as 10 feet, this big plant also produces impressively large blooms.
Weeping Forsythia: This type of forsythia has the scientific name forsythia suspense. As its name implies, it has a weeping shape, draping gracefully where you plant it. The flowers are a lighter shade than what some other varieties produce.
Golden Bells: This shrub may also be referred to as "Border Forsythia." As a hybrid, its blossoms are spectacularly vivid.
Lynwood Gold: While all forsythia plants are relatively low-maintenance, an especially easy type to grow is the "Lynwood Gold" variety.
Citrus Swizzle: This forsythia plant is even shorter than Bronxensis, maxing out at around 2 feet. Not only does it grow beautiful flowers, but it also produces lovely foliage. The leaves are green in the middle and yellowish around the edges.
White Forsythia: Love the overall appearance of forsythia, but not fond of the bright yellow color? One option you may love is the white forsythia, which has an airy, angelic look thanks to its white flowers.
Vermont Sun: This type of forsythia is a wonderful choice if you are looking to bring some early color to your garden each year. You'll see yellow blossoms as early as February.
Sunrise: If you are in search of a forsythia shrub that is neither compact nor large, this mid-sized option might work for you.
Karl Sax: Wish you could keep enjoying yellow flowers after your other forsythias fade? Add a couple of Karl Sax forsythias to your yard.
Goldilocks: Also known as "Gold Curl," this is a mutated form of Spring Glory. It can weather winters well and is on the compact side.
Fiesta: If you want the stems of your forsythia to add to the visual interest, you might consider the red-stemmed variety called "Fiesta." Indeed, the canes retain their color even during winter, so they may be more enjoyable to behold than other cultivars as you are waiting for the next bloom season.
Gold Tide: "Courtasol" is another name for this variety. Reaching only around 2 feet tall, this plant works great for lining your paths.
Kumson: Want your forsythia's leaves to be of interest after the flowering period is over? Consider this striking variety. Prominent light veins stand out against a darker green, making for a lacy appearance. The canes also have a reddish color. So, in every season, Kumson will take your breath away.
Magical Gold: This type of forsythia blossoms early and features stunning flowers and foliage. It also goes by the name "Kolgold."
Arnold Dwarf Forsythia: Another compact variety, Arnold Dwarf can grow up to three feet tall. Think about growing a border from these plants.
Meadowlark: Need another option for a cold climate? Consider planting "Meadowlark." It can grow as high as 10 feet.
These are not all of the varieties of forsythia. So, look up others before you decide what to plant.
When Do Forsythias Bloom?
You'll get to enjoy the sunny flowers of forsythias during early springtime.
How Long Do Forsythias Bloom?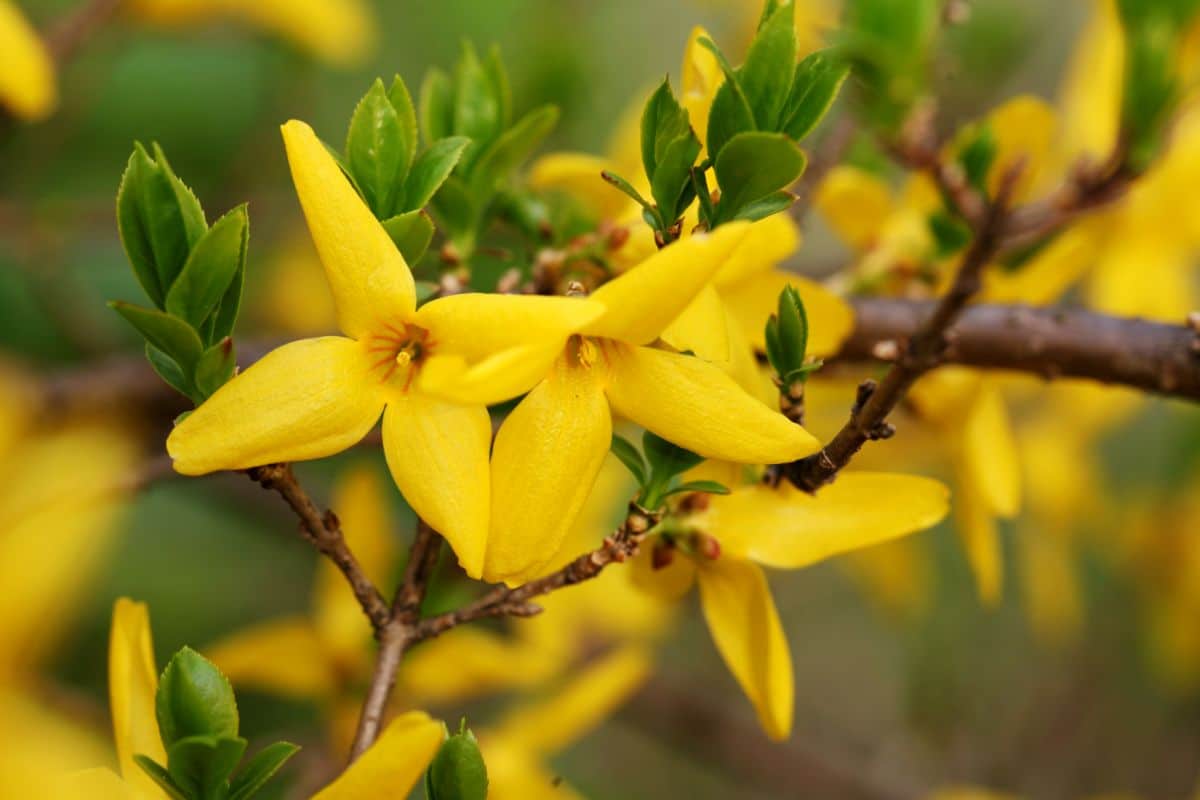 Alas, one of the drawbacks of forsythias is that their blossoms are ephemeral. They will only stick around for about a week and a half to two weeks. After that, you will have to wait for next year to enjoy them again.
When to Plant Forsythias
As with many other perennials, you can choose between late autumn or early spring to plant your forsythias.
Where to Buy forsythias
Are you ready to bring a profusion of yellow blossoms to your yard every year? Click the link below to shop forsythias now.
Ideal Growing Conditions for Forsythias
Now that you know when to plant forsythias and when you can expect them to blossom, we can discuss the conditions that will promote the most abundant blossoms and exquisite foliage. Let's go over sun, soil and water requirements for these flowering shrubs.
How Much Sun Do Forsythias Need?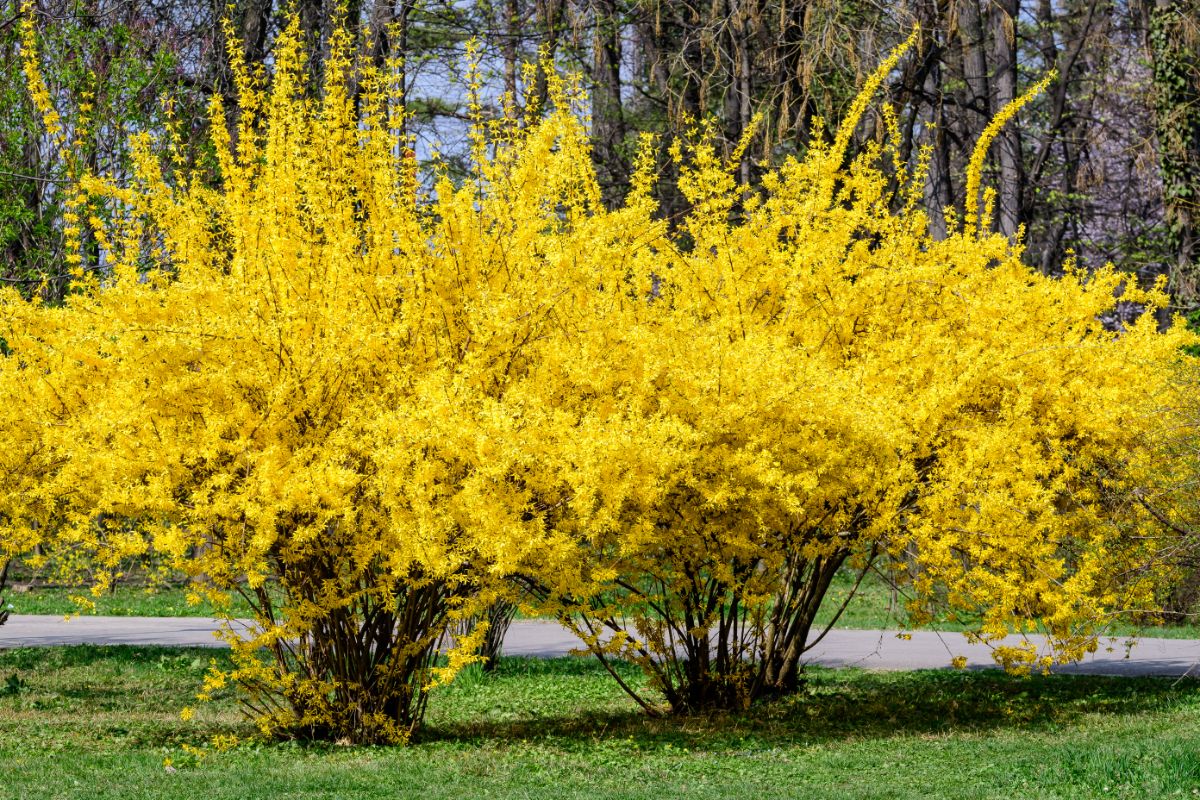 The best thing to do with your forsythias is plant them in full sun. But partial sunlight is okay too. Six hours of sunlight will help these plants to flourish. Whatever you do, avoid shade planting.
What Type of Soil is Right for Forsythias?
For forsythias to do well, you need to plant them in the right type of soil. It should be moist, but drain adequately. You do not want to let your forsythias get wet feet.
The pH of the soil should ideally be anywhere from 5.0 to 8.0.
Thankfully, you do not generally need perfect soil for forsythias to grow. These plants are tolerant of diverse soil conditions.
How Much Water Do Forsythias Need?
For forsythias to enhance your outdoor space with healthy growth, they need to receive the right amount of water.
Thankfully, forsythias are drought resistant, and do not need much manual watering after they are done establishing.
In fact, if they are getting enough rain, you probably will not have to water them at all.
But during a drought, you should water them. They will weather conditions admirably, but you do not want them to get any more parched than necessary.
How to Plant Forsythias
It is most likely that you will plant forsythia starter plants from the nursery in your yard. Below, we will discuss the steps for doing so in containers or in your garden beds. We will then talk about starting forsythias from seed or from cuttings.
Container Planting
Being as forsythias are large bushes, it might surprise you that you can plant them in pots. But actually, this is a popular thing to do.
Why? Forsythias may be beautiful, but they can also spread easily. So, gardeners sometimes plant them in containers to help prevent that issue. See the FAQ section where we answer the question, "Are forsythias invasive plants?"
Below, we discuss how to plant forsythias as in containers in your garden. We will assume you are starting with nursery pots.
Get a large container for your forsythia shrub. Put drainage holes in the bottom if it did not come with them.
Combine potting soil and compost in a 1:1 mixture.
Make a hole in your mixture in the pot and insert the forsythia. Backfill the potting soil/compost.
Water the soil deeply.
Pick an appropriate location for the container. Full sun or partial shade are both acceptable. If you want to prevent any chance of your forsythia spreading, keep the pot on a patio.
While your forsythia is establishing in its container, be sure to give it plenty of water.
Soil in containers dries out faster than soil in garden beds, so monitor your potted forsythias closely during drought conditions. If the soil is drying out, be sure to provide some water.
Aside from that, caring for forsythia in containers is pretty much the same as caring for it in your garden beds.
Ground Planting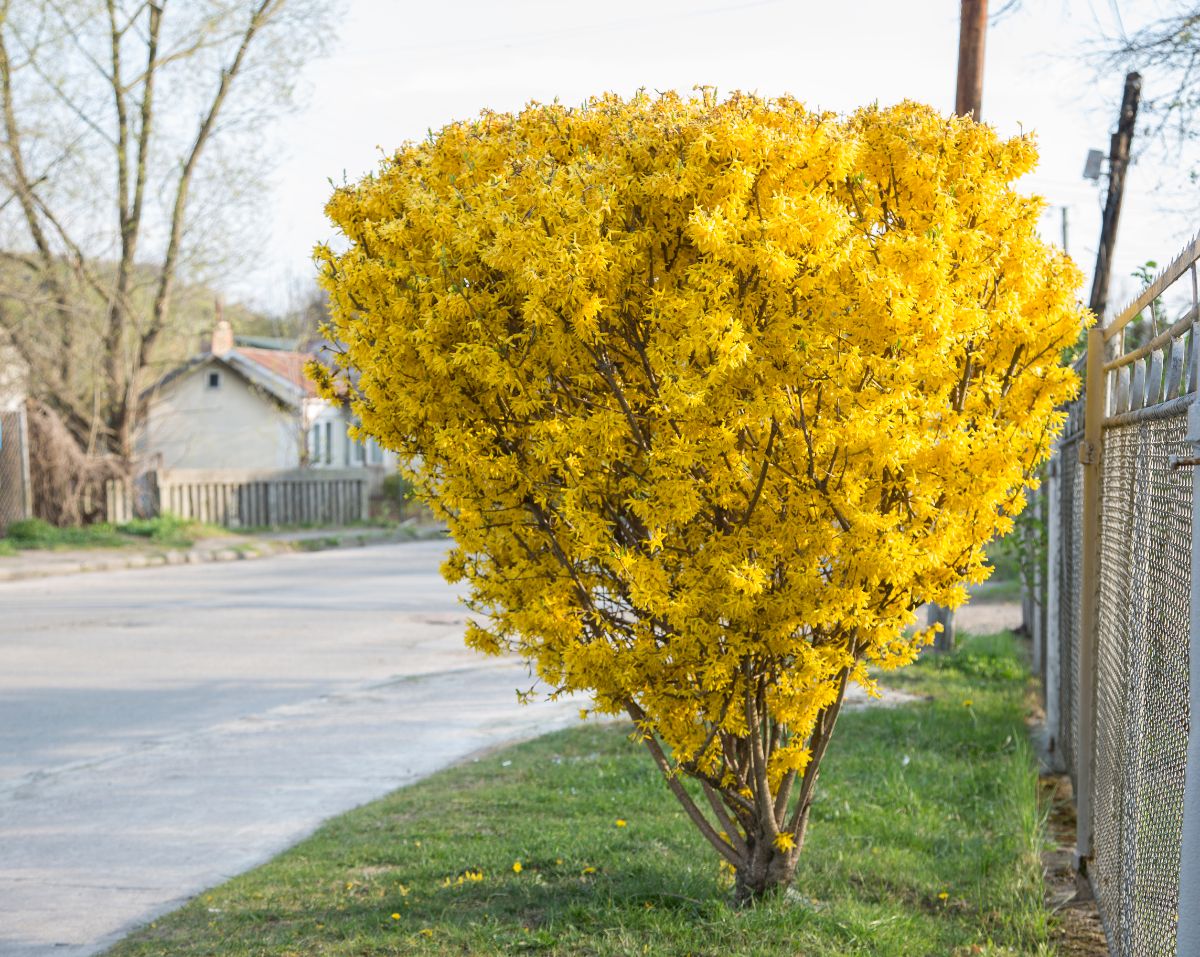 You can pant these perennials directly in your garden beds if you want. Just do not forget that they can spread if you are not careful. Here are the steps:
Pick a sunny spot for your forsythia.
Dig a hole. It should have around double the root ball's width. Plant the forsythia. Backfill the dirt.
After tamping the dirt down, water the forsythia deeply.
While the plant is establishing, take care to give it extra water.
Planting more than one forsythia? For your plants to be disease-free and produce gorgeous flowers, they will need plenty of space. Separate them by 4-6 feet at a minimum. This amount of spacing can give you a hedge. If you do not want a hedge, plant them farther apart.
Starting Forsythias from Seed
It is most common to plant nursery plants or cuttings when adding forsythias to your yard, but it is possible to start these cheerful yellow shrubs from seed. Let's go over the directions.
Pick a container that drains well (add holes if necessary).
Put seed starting medium or potting soil in the container.
Use a spray bottle to make the potting soil moist, but not wet.
Scatter several seeds on the surface of the potting soil.
To lock in moisture, put a lid on top or plastic wrap.
Put the container somewhere warm while you wait for your seeds to germinate. But do not expose the seeds to direct sun.
Check the soil regularly to see if it needs additional moisture. When it does, use the spray bottle.
After you see the seeds sprouting, you should take off the cover. Transfer the container to where it can receive direct sunlight.
Wait for your seedlings to continue growing. Once spring or autumn arrives, you can harden your seedlings. Take them outdoors for a little while, then bring them back inside. Then take them out, and then back in. Repeat for longer durations until your plants are used to living outdoors.
Plant your young forsythias in garden beds or permanent containers.
Starting Forsythias from Cuttings
Cuttings offer a more popular method for propagation of forsythia plants. To start a new forsythia from a cutting, follow these steps. June and July are the ideal months for this process.
Choose a suitable container with holes in it, or make the holes yourself so that water can drain.
Add sand or perlite to your pot.
Water the contents of your container. Allow the water to drain, leaving the perlite moist, but not wet.
Cut 4-6 inches of growth from your existing forsythia plant. Just take it from one of the ends. If you want multiple new forsythia plants, then take more than one cutting.
Leave the upper leaves alone, but snip off the lower leaves.
Dip your cutting in rooting hormone (the end that you cut, specifically).
Push the end of the cutting down into your perlite or sand.
To hold moisture in while your cutting is rooting, put the container inside a plastic bag.
Choose a warm spot for your cutting to root, but do not expose it to direct sun.
Check periodically to make sure that the perlite is still moist. If it is drying out, use a spray bottle to moisten it.
Several days after you plant the cutting in the container, it should be safe to unseal the plastic bag. But you still need to maintain the moisture in the perlite or sand.
Continue tending to your cutting over the next 6-8 weeks. Within that time span, it should develop adequate roots.
Depending on the season, you may be able to plant the cutting outdoors right away. But if it is not spring or autumn, you may need to relocate the cutting to a bigger container while it continues to grow indoors.
When spring or fall does come around, you can harden your cutting.
After hardening is complete, you can transplant the cuttings into your garden beds or permanent outdoor containers.
Starting Forsythias by Layering
Because of forsythia's nature as a stoloniferous plant (see the FAQ question about invasiveness), there is an additional option for propagating it called "layering." Here is how it works.
Wait for your forsythia plant to stop blooming. But do not wait too long—you want to get at one of the canes that is not already leafy. It, should, however, have one or more nodes ready to produce leaves.
Use a knife to scrape the bark from the cane to expose the inner flesh. The ideal place to do this is around 10 inches from the cane's end.
Get a container and fill it with potting soil. Place it within reach.
Dig a little hole in the potting soil, and push the scraped section of the cane into it. Cover this section with soil, but not the tip. It should be around 2 inches deep.
If the cane keeps wanting to pop up above the soil, you might need to weigh it down. You can do this just by setting down a small rock.
Regularly check on your container. If the soil starts drying out, moisten it.
Eventually, the segment of the cane that you buried will root.
Wait for the roots to establish a bit, watering regularly. You now have a second forsythia growing, still attached to the original.
Separate your two plants. This is as simple as snipping through the stem as if it were an umbilical cord.
Continue to care for your new forsythia diligently. If you want, you can now move it to a new location.
There is also a related method for propagating forsythia called "air layering." For detailed instructions on how to do air layering, see the Royal Horticultural Society's page here.
How to Care for Forsythias
Now that you know tips for planting these perennials, let's discuss proper care of forsythia. Below, we discuss fertilizing, mulching, pruning and more for healthy plants.
How to Fertilize Forsythias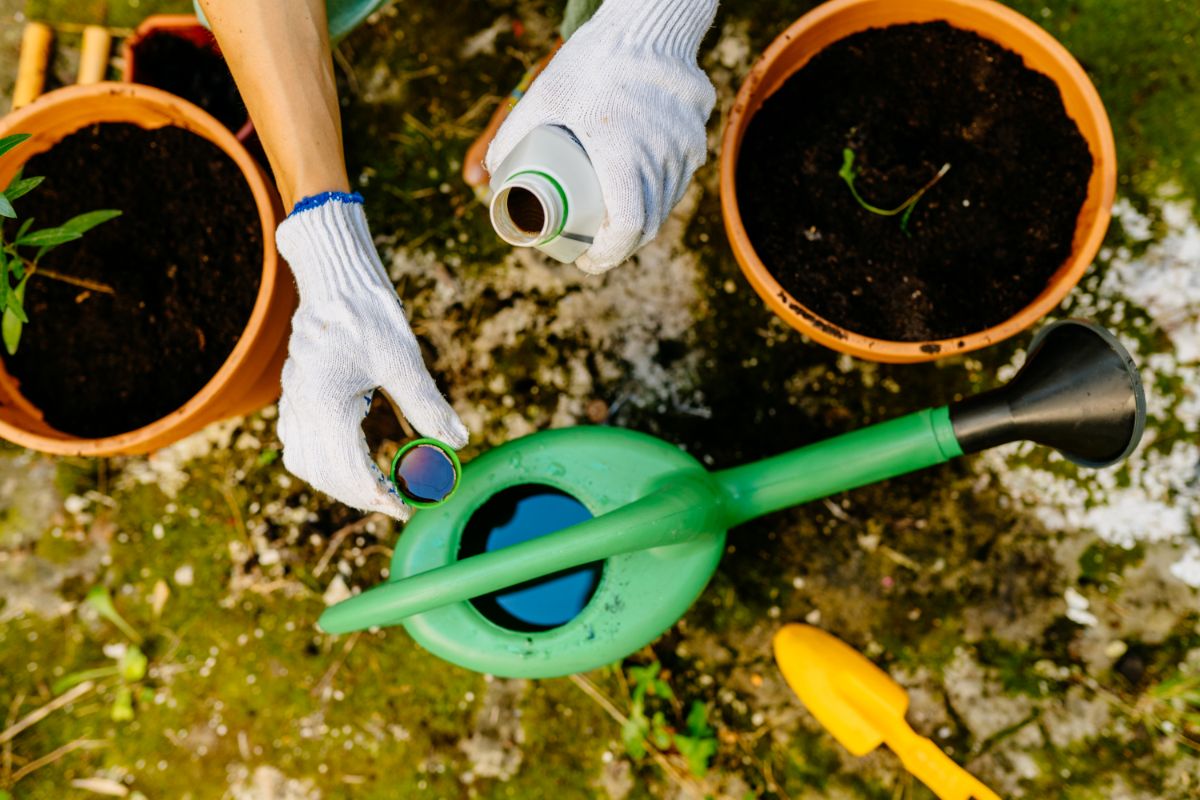 You should fertilize your forsythias yearly. The best time to do this is early in springtime. Make sure the fertilizer you choose has a high phosphorus content.
How to Mulch Forsythias
Forsythia can benefit from mulch as it will help to deter weed growth while also locking moisture into the soil. Indeed, this may be particularly wise in areas that are prone to hot, dry days.
Chopped leaves make a good material for mulching forsythias, but whole leaves do not. While whole leaves will help trap moisture that is already present in the soil, they will make it hard for you to effectively water your plants. Other types of mulch that can be suitable include shredded bark and wood chips.
How much do you need? Around 2-4 inches of depth is appropriate. Do not pile the mulch up against the canes! If you do this, you will make it impossible for moisture to effectively disperse from the stems. The result will be rot.
How to Prune Forsythias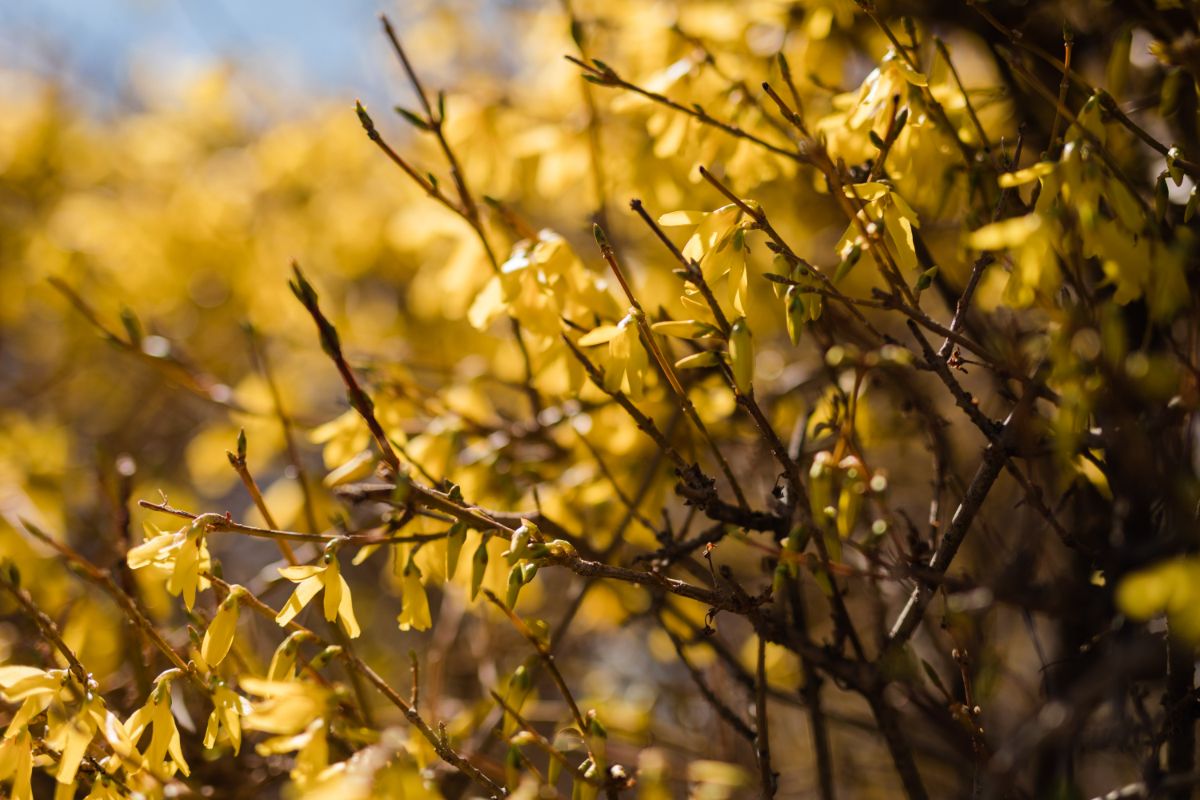 What do you need to know about pruning forsythias? Normally when we talk about pruning perennial flowers, we discuss deadheading them and cutting them back. But forsythias are a bit different since they are bushes.
Your forsythia will require spring pruning. Farmer's Almanac says, "Prune the shrub in the spring—right after it has bloomed—in order to avoid cutting off next year's buds, which will develop in the subsequent summer."
You may spot some old branches on your bushes that are not likely to thrive this year. If you do, you can remove them. Do this at the ground level.
Now, you can enjoy your forsythias in blossom. But as the season progresses, you may need to revisit your trimming.
Farmer's Almanac says, "Later in the spring, new growth can be trimmed back to the nearest joint, if desired. Keep in mind that forsythia blooms on old wood, so this year's growth will produce flowers nextspring."
If you do not keep up with trimming your forsythias through the season, you might end up with growth that is not aesthetically pleasing. Your forsythias are going to be one of the most prominent features in your garden, so shaping them with care is important.
There is also the potential issue of long canes draping to the ground and then taking root, resulting in unwanted spreading of your forsythias. Keeping the plants neatly pruned throughout the growing season can help to prevent this.
If some of your forsythia bushes are starting to bedraggled, you can try cutting them way back in winter. Just leave 3-4 inches. As the weather warms up, you should see fresh growth. Keep up with pruning and maintenance this time around, and you will have more voluminous shrubs. If you miss your chance to trim the forsythias back in winter, you can still do it in spring if you get to it early enough.
How to Protect Forsythias in the Winter
A harsh winter can be hard on forsythias, so it is important to protect your plants during the winter months.
If your plants are in a sheltered location, they are more likely to endure the winter without suffering, but either way, it is wise to take some extra steps.
Thankfully, you may already have taken one of them by mulching your plants. Leave the mulch in place during winter dormancy so that roots have some protection.
You will have to protect the canes of the forsythias as well. Tying them together carefully can help. You also can cover the plants carefully with burlap. This material will give them some shelter from snow and wind. But it will not prevent the airflow your plants need to stay free of rot.
Are Forsythias Vulnerable to Diseases or Pests?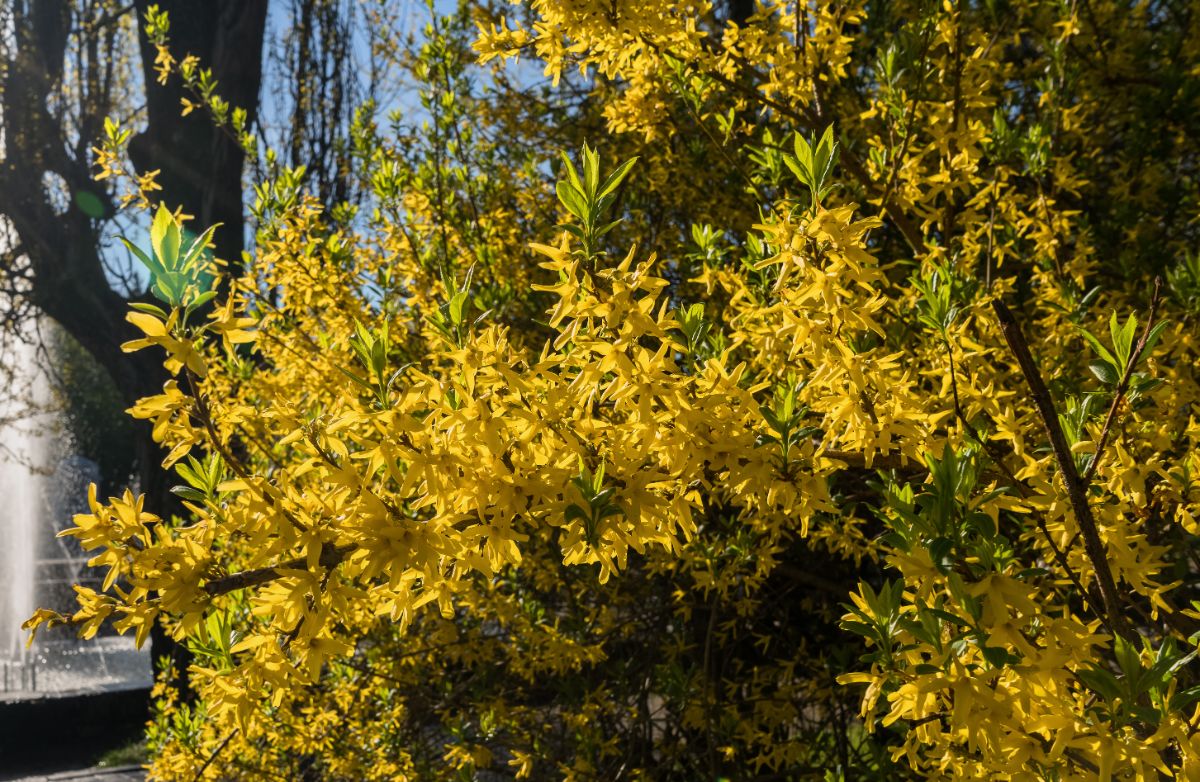 One of the things that makes forsythias easy to care for is that they are not particularly disease-prone, nor do a lot of pests bother them. Indeed, an awesome thing about forsythias is that they are resistant to the Japanese beetles that plague so many other flowering plants!
But that does not mean that pests never attack forsythias. Some insects to be on the lookout for include redheaded flea beetles, four-lined plant bugs, two-banded Japanese weevils, and white peach scale insects.
Sometimes, slugs and snails may also take an interest in your forsythias.
What about mammals? Thankfully, deer are not likely to be a problem. Rabbits, on the other hand, might be more than intrigued by the prospect of chomping on these shrubs.
Now, let's talk about disease. Some issues your forsythia hedge might be susceptible to include leaf spots, bacterial blight, stem gall, crown gall, crown rot, root rot and collar rot.
If you want to prevent disease, you can take care not to let forsythia not to get wet feet, and you can get rid of old branches.
How to Divide and Transplant Forsythias
Now and again, you might want to divide your forsythias and transplant them. You should this following flowering, and should wait until your shrub has been in place for several years. If you try and divide a forsythia that is not so well-established, it might not survive the process.
Dig down around your forsythia plant in a circle. Make sure that you are doing so far enough away that you will not cut the roots.
Once the soil around the plant is loose, you can start digging underneath it. Make sure you have gone far enough down that you will be able to get fully under the roots. Then, pry upward to lift the forsythia free from the ground.
Laying down the shrub, divide it at the crown. You will probably need an axe to do this.
Dig holes for your newly divided forsythias. Plant them and backfill the soil.
Water your transplants regularly while they are establishing. After that, you can return to a reduced schedule.
Recommended Companion Plants for Forsythias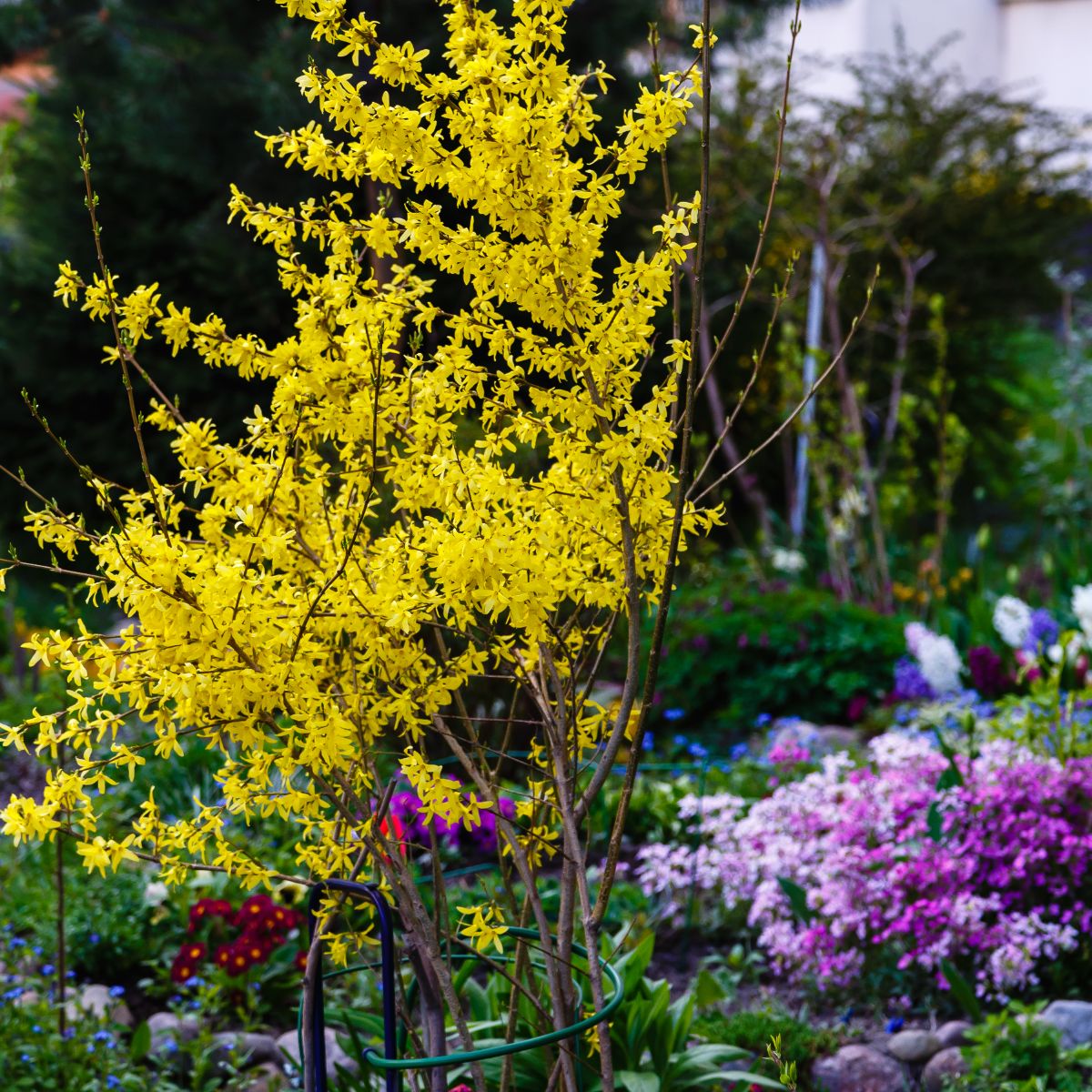 Since forsythias create beautiful backdrops, there are plenty of companion planting ideas from an aesthetic standpoint. They also make good companion plants from a practical standpoint as well, since they are deer-resistant. In fact, consider planting anything you want your deer to ignore close to your forsythias.
Here are a few specific ideas for what you can plant with your forsythias:
Tulips: As spring flowers, tulips can look lovely with forsythias behind them. You have your pick of just about every color you can think of, giving you a vast range of possibilities.
Hyacinths: These flowers blossom during the spring, and can provide a rich contrast with the yellow of your forsythias.
Alliums: Like tulips and hyacinths, alliums blossom in spring, and can be beautiful framed by forsythias.
Flowering almond: This shrub also blossoms during the spring, but produces flowers in white or pink. You could alternate between flowering almond and forsythias to achieve a pleasing effect.
How do you force forsythia blooms indoors?
Can't stand looking outside at your barren lawn? If you want to brighten things up, you can actually enjoy forsythia flowers a little bit early by "forcing" them indoors.
The word "forcing" with respect to plants simply means to get them to blossom before they would go outdoors. You can do this as early as February with forsythias, but March works too. The weather outside must not be freezing for this to work.
Your forsythia is a large plant. So, obviously, you cannot bring the whole thing into your home. But what you can do is instead bring in one or more cuttings.
Here are the steps.
Take however many cuttings you want. They should be no taller than 3 feet (with longer cuttings like this, you can create quite a dramatic display).
Fill a container with water. The water should be lukewarm. The container needs to be large enough that you can reach down inside it with pruning shears for the next step.
Insert the cuttings into the water, and clip the base of each stem with the shears. Remove about an inch. It is very important that you do this step with the stems in the water. Do not pull them out.
Walk away and do something else. Come back a few hours later.
Dump out the water. Put new water in along with floral preservative.
Now, repeat the same step you did before with the shears, again keeping the stems underwater.
Choose a spot for your bucket of forsythia stems. Since you want to imitate spring conditions, it should be temperate, but not hot. Direct sun should be avoided if possible, but the indirect sun will help.
Monitor your branches. Get a spray bottle to use to moisten them, but do not soak them. If your humidity level is high enough, this may not be necessary. Keep an eye on the water too. Is it getting cloudy? If so, replace it. Within several weeks, you should start to see golden blooms.
You will love having some color and life to admire in your home as you await the spring season when the flowers out in your yard can come into bloom.
You do not need to throw away your cuttings after the blossoms fade. While they are in the water, they should actually begin to develop leaf buds and roots.
That means that you can transplant them and propagate more forsythias in your garden!
Frequently Asked Questions About Growing Forsythias
What eats forsythias?
Plant bugs could be responsible for chewing on your forsythias. Another possibility is rabbits.
What does forsythia mean in the language of flowers?
If you are trying to send a message with flowers, including forsythia in your arrangement is a way of conveying anticipation.
Is forsythia invasive?
In some locations, you need to watch out, because forsythia is considered invasive—but not for the reasons you might be expecting.
The problem is not that forsythia seeds like crazy. In fact, you can plant varieties that do not go to seed at all.
The issue is the "stoloniferous" nature of the plant. Basically, sometimes the branches of this plant can drape down to the soil. With most plants, this wouldn't be an issue, but with stoloniferous plants, it is, because they can root right on the spot. Before you know it, you have an additional forsythia growing right next to the first.
The Highlands Current notes, "Forsythia doesn't appear on the U.S. Department of Agriculture's list of invasive plants, although the characteristics … are similar to some other invasive plants. It doesn't colonize and crowd out native plants like Japanese barberry or Euonymus (burning bush) do. These plants escape from their original site and can spread quickly and easily."
Note, however, that sometimes it may be difficult to get other plants to thrive close to your forsythias.
If you are concerned about forsythia plants behaving invasively in your yard, you may want to plant them in containers.
Remember, however, you still need to be concerned about branches going to root if they reach the ground nearby.
So, forsythias might be better off placed on a patio where they are some distance from your garden beds.

Are forsythias annual or perennial?
Forsythias are perennials. Each year, you can look forward with excitement to the explosion of yellow flowers that will cover their branches and brighten up your yard.
What do forsythias look like in winter?
Forsythia shrubs are not particularly attractive during the winter. They simply turn bare. They are not ugly, by any means, but they are not terribly interesting either.
On the bright side, the leaves do turn in the autumn, so they at least add fall interest before they all drop off for the winter.
How fast do forsythias grow?
If you are in search of a fast-growing flowering hedge, forsythia is it! You can expect a growth rate of 24" or so yearly.