Whether you live in an area where water is scarce, or you just aren't great about remembering to water consistently, we've got you covered. There are lots of drought-tolerant plants that have adapted to dry climates and minimal watering. You can have a gorgeous landscape without taxing your water resources or requiring extensive maintenance.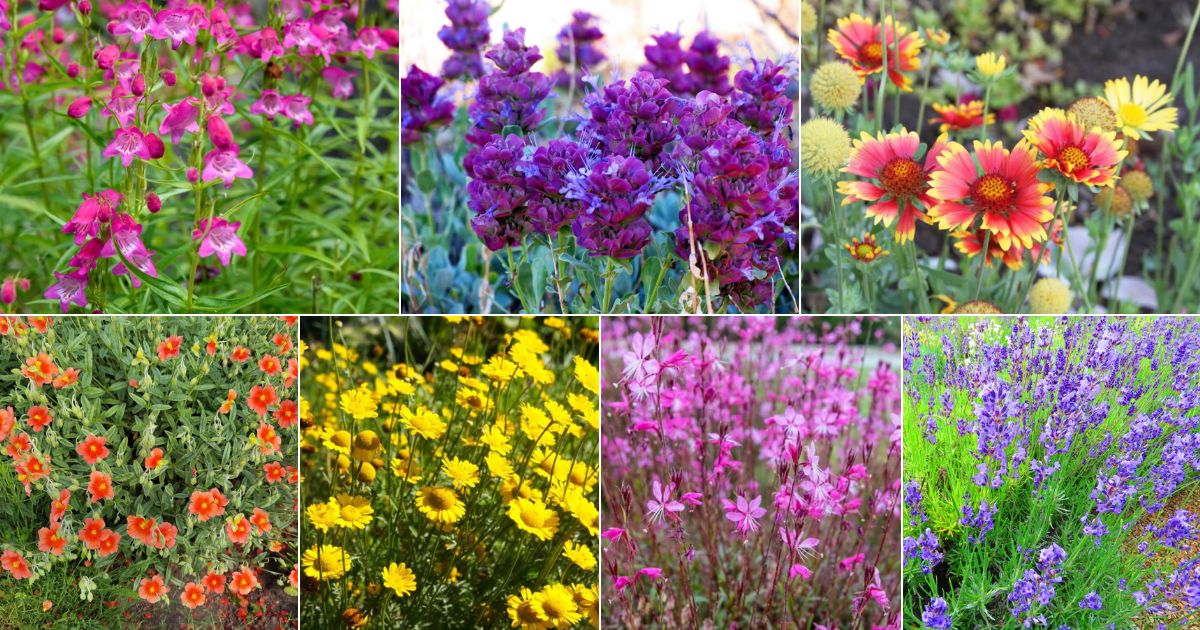 This list of drought-tolerant perennials is for gardeners living in areas most affected by drought, lack of water sources, and heat. However, even if you live in a wetter climate, it is nice to have some drought-tolerant perennials because conserving water is smart gardening. This is especially true if you're paying for your water; planting roses or other water-needy perennials isn't great for your wallet!
Another aspect to consider is the dwindling availability of potable (drinkable) water. In many areas, it may feel like water is an endless resource, but that is quickly changing as populations grow, pollution continues and increases, climates change, and more people and industries make demands on our water system.

Jump to:
Tips For A Low-Water Garden
Use mulch to improve water retention and lower soil temperatures. Mulch reduces water evaporation, so the water stays in the soil with your plants where you want it.
Stop tilling! Digging up the soil regularly decreases the effectiveness of organic matter and reduces fertility over the long term. When the soil becomes lower-quality, it requires more water to keep it producing. Look into "No dig" gardening methods that focus on feeding the soil, not the plants, for a healthy, dynamic garden.
Plant perennials to reduce soil disturbance and water use. Perennials develop more robust root systems than annuals, creating stronger, well-established systems that don't need much care or water.
Use taller plants to provide shade for shorter ones; this will reduce water evaporation and increase the health of your garden. Hedgerows, shrubs, and bushes are especially effective if they block the mid-day sun during the hottest part of the day.
The 19 Best and Beautiful Drought-Tolerant Perennials
Blanket Flower (Gaillardia)
One of the absolute best drought-tolerant perennials, the Blanket Flower not only delivers blooms in dry weather; it is also wonderfully bright and colorful. Blanket Flowers are tall, daisy-shaped with notched petals, and have a large cone in the center. They get their name from their resemblance to multi-colored Native American blanket quilts. Plant these cheerful, long-blooming perennials in patches in full sun, and your garden will be a center of festivity.
There are hundreds (maybe thousands) of Blanket Flower hybrids. Most feature a colorful combination of reds, oranges, and yellows. Flowers also come in single, double, and semi-double forms and may have frilled petals. There are a lot of options with this flower!
Favorite Blanket Flower cultivars: Arizona Apricot (golden yellow and apricot orange), Fanfare (scarlet red with yellow tips and fluted petals), Oranges and Lemons (peachy orange and yellow), Sun Devil (crimson red, yellow, with fluted petals), Sunset Mexican (dark pink with yellow tips), Sunset Spice (double-flowered, red and yellow)
Hardy to zones 3-10, varies by type
Full sun
Deer resistant
Attracts butterflies, bees, and hummingbirds
Beeblossom (Gaura lindheimeri)
This native wildflower from Texas and Louisiana has delicate, airy flowers that resemble butterflies floating through the landscape (hence the other common name, Whirling Butterflies). Beeblossom blooms in early summer through fall and thrives in dry, hot locations. The plants grow in clumps 2-4 feet tall and produce clusters of arching stems with many flowers on each one. Beeblossom blooms add a graceful elegance to the garden; they look especially enchanting planted along a border or in large drifts.
Hardy to zones 5-9
Full sun
Drought, heat, humidity, poor soil, and partial shade tolerant
Deer and rabbit resistant
Attracts hummingbirds, bees, and butterflies
Golden Marguerite (Anthemis tinctoria)
The blooms on this drought-tolerant perennial are so bright and golden that you might mistake them for the sun. Golden Marguerite's daisy-like flowers with rounded yellow center cones literally shine; planted in large groupings, they are simply stunning. The plants are 2-3 feet tall, and the flowers appear prolifically above the lacy green foliage all summer long. Golden Marguerite leaves smell a bit like chamomile, adding to its already massive appeal.
Hardy to zones 3-8
Full sun
Deer resistant
Sea Thrift (Armeria maritima)
Rounded clusters of bright pink flowers bloom on slim stalks above the foliage from mid-spring into summer, adding a sea of color to the landscape. Sea Thrift foliage is grass-like and grows in mounded clumps 6-12 inches high. A drought-tolerant gardener's dream, Sea Thrift blooms effortlessly and with very little care. This native perennial really shines as a low-growing border plant, especially along walkways and paths.
Hardy to zones 3-9
Full sun
Deer resistant
Attracts butterflies and bees
Wormwood (Artemisia schmidtiana)
A landscape needs more than pretty flowers, and Wormwood is happy to oblige. The soft silvery leaves of this semi-evergreen perennial form short branches, like little fuzzy antlers. Wormwood provides important color and texture contrast. It's incredibly hardy and grows in dry climates, tolerates poor soil, and doesn't fade during a drought. The drought-tolerant Wormwood is short, averaging 3-6 inches tall, but is captivating as a border plant or used as a backdrop for bright scarlet, pink, or purple flowers.
Hardy to zones 4-8
Full sun
Rabbit and deer resistant
Stonecrop (Sedum)
With over 400 varieties to choose from with flower colors ranging from pink to maroon to yellow to white, there is definitely one (or ten) types of Stonecrop that will look good in your landscape. Stonecrop is a frequently used drought-tolerant perennial because it is so hardy and always looks great, even when not in bloom. The foliage is glossy, succulent green, often with red or purple-edged tips, which changes colors through the seasons. In late summer, dense clusters of brightly colored flowers appear much to the delight of resident bees, butterflies, and hummingbirds. Stonecrop is gaining in popularity because it tolerates neglect, rarely needing much care once it is established.
Sedums are classed by growth type – mat-forming, creeping, and upright
Hardy to zones 4-9
Full sun
Deer resistant
Tolerant of heat, drought, and poor soil
Beardtongue (Penstemon)
The delicate, wide-mouthed little tubular flowers of Beardtongue bloom in showy abundance from late spring straight through to fall. Beardtongue flowers grow along stout stems and are visited by all the pollinating insects in vast droves. Butterflies, bees, hummingbirds, and moths all adore this native drought-tolerant perennial, and we agree. Beardtongue is known for its fuss-free habit and its stunning appearance planted in large groupings.
Flower colors vary widely by type. There are several native species, plus hundreds of cultivars to choose from.
Favorite Beardtongue cultivars: Arabesque Red (bright pink with white centers), Rich Ruby (burgundy red), Midnight Masquerade (lavender purple), Garnet (lipstick pink),
Hardiness varies widely by type; be sure to double-check before planting. Range is from zones 5-10
Full sun
Rock Rose (Helianthemum)
The low-growing Rock Rose may be diminutive, but its elegant showy rose-like flowers more than make up for its size. Rock Rose blooms for months, starting in late spring and continuing through summer. Each flower only lasts a day, but the new buds open continuously and abundantly. Rock Rose is a delightful drought tolerant ground cover and also stands out as a low border or edging plant.
Favorite Rock Rose cultivars: Red Dragon (crimson red), Henfield (bright orange), Raspberry Ripple (deep pink), Amy Baring (yellow), The Bride (white)
Hardy to zones 5-9, depending on the type
Full sun
Rabbit and deer resistant
Lavender (Lavandula angustifolia)
Deep purple flowers and a heavenly fragrance make Lavender an ideal garden choice. Lavender is a Mediterranean plant, so it grows best in full sun and with soil on the drier side. Butterflies and bees love Lavender, too. This drought-tolerant perennial is reliable, low-maintenance, and rewarding. There are dozens of cultivars to choose from, with a vast range of sizes, growth habits, flower colors, and fragrance intensity.
Hardy to zones 5-9
Full sun
Deer and rabbit resistant
Rose Sage (Salvia pachyphylla)
This Southwest native perennial sage is showy and spectacular, with silvery gray leaves and deep purple flowers. Rose Sage is a long bloomer and beloved by bees, butterflies, and hummingbirds. In the garden, Rose Sage is a low-maintenance, cold hardy, drought-tolerant, easy performer that smells fantastic, as well. A must for any rock garden, xeriscaping, or simply as a fuss-free landscape champion. This sage is shrub-like and grows 2-3 feet tall.
Hardy to zones 5-9
Full sun
Deer and rabbit resistant
Russian Sage (Perovskia atriplicfolia)
We're not above planting the entire landscape with different sage varieties! Sages are fragrant, a favorite of pollinators and drought-tolerant, and Russian Sage is no different. Russian Sage is a bushy variety, with tall stems covered in lavender flowers and a long blooming season. It averages 3-4 feet tall and is a magnet for butterflies, bees, and hummingbirds. Russian Sage doesn't just tolerate drought and heat; it holds up in poor soils and is rarely affected by pests.
Hardy to zones 5-9
Full sun
Deer and rabbit resistant
Ornamental Grasses
Ornamental grasses often get overlooked because they aren't particularly showy and don't produce extravagant flowers. However, grasses add significant contrast, depth, volume, and aesthetic to the landscape. Many ornamental grasses are drought-tolerant, fuss-free, and an excellent option for the low-care or desert garden. Grasses are also critical habitat for birds and have multiple uses in the landscape, like meadow restoration and erosion control. When choosing ornamental grasses, please consider native species first. Grasses spread quickly, and non-native types easily become invasive over time.
Bluestem (Andropogon sp.) – These native grasses are tall with light green foliage that turns reddish copper in the fall. Bluestem is elegant and an excellent backdrop for flowerbeds or wildflowers.
Bluejoint (Calamagrostis canadensis) – A incredibly hardy native ornamental grass, Bluejoint is attractive throughout the seasons. The foliage begins blue-green, then matures to a blonde-ish tan. It averages 3-5 feet tall and provides an important food source for birds.
Prairie Dropseed (Sporobolus heterolepis) – A highly decorative grass that grows in attractive bunches, Prairie Dropseed has long been favored by landscapers, with good reason. In summer, the foliage is deep green; in fall, it matures to golden yellow and then to a light bronze.
Hairgrass (Deschampsia cespitosa) – The short, mounding Hairgrass is an elegant choice for the landscape. It starts out dark green, then turns golden bronze. The airy silver hair-like flowers provide stunning contrast, resembling cloud puffs above the foliage.
Globe Thistle (Echinops)
The densely packed golf-ball-sized flowers of Globe Thistle are fun and festive, adding a cheerful vibe to the flower garden. Drought-tolerant, resilient, and versatile, Globe Thistle is a top choice for any landscape. Globe Thistle plants average 2-5 feet tall and have highly attractive silvery-green foliage. The flowers grow on top of tall, erect stems above the foliage, like flower lollipops. Butterflies and bees truly adore the blooms. Flower colors range from blue to purple to silvery-white, depending on the species.
Hardy to zones 4-9
Full sun
Tolerates poor soil, heat, drought
Deer and rabbit resistant
Yarrow (Achillea)
Often overlooked because of its commonality along roadsides and meadows, Yarrow is a vital drought-tolerant flower with a long bloom time. Butterflies flock to Yarrow, so if you are trying to bring more butterflies around (and who doesn't want that!), you must plant Yarrow. This fuss-free perennial comes in various colors, including yellow, red, pink, cream, and bi-color options. The enormous flat flower clusters of Yarrow are eye-catching, while the fern-like foliage is exceptionally handsome.
Hardy to zones 3-9
Full sun or very partial shade
Dry soil, heat, humidity, and drought tolerant
Deer and rabbit resistant
Poppy Mallow (Callirhoe)
Featuring abundant brightly colored cup-shaped flowers, Poppy Mallow is vibrant and captivating. Poppy Mallow plants are native perennials, sprawling and low-growing, averaging 8-18 inches tall. The foliage is deep green, heavily lobed, and evergreen in milder climates. Poppy Mallow flowers resemble poppies, hence their common name, and are an excellent drought-tolerant, hardy, native perennial that will add immense appeal to the landscape.
Bush's Poppy Mallow (C.bushii) – Magenta flowers, 12-18 inches tall, native to the Southern United States
Purple Poppy Mallow (C.incolucrata) – Magenta flowers, 6-12 inches tall, native to Central and Eastern North America
Hardy to zones 4-8
Full sun or partial shade
Tolerates poor soil, heat, and drought
Snow in Summer (Cerastium tomentosum)
As the name suggests, when this drought-tolerant perennial is in full bloom, it looks like a blanket of snow in the summer garden. Snow in the Summer is a low-growing, fuss-free flower that looks especially captivating as ground cover or planted in large groups. The foliage is silver-gray, which only causes the brilliantly white star-shaped flowers to stand out even more. From late spring into summer, Snow in the Summer blooms appear in profuse numbers.
Hardy to zones 3-7
Full sun
Hummingbird Mint (Agastache)
Beautiful and aromatic, Hummingbird Mint provides long seasons of interest and attracts masses of butterflies, bees, hummingbirds, and other beneficial pollinators. This is a drought-tolerant perennial that just keeps on giving. From early summer through fall, Hummingbird Mint blooms abundant delicate small, 2-lipped flowers without ceasing. There are many varieties of Hummingbird Mint, with colors ranging from lavender purple to blue to magenta to peach to yellow. We recommend them all!
Favorite Hummingbird Mint cultivars: Kudos Coral (coral pink), Blue Boa (violet-blue), Acapulco Deluxe Peach (peach), Desert Sunrise (purple), Coronado (red), Red Happiness (deep pinkish purple)
Hardy to zones 5-10, depending on the type
Full sun
Poor soil, dry soil, heat, and drought tolerant
Deer and rabbit resistant
Fringed Blue Star (Amsonia ciliata)
A native perennial with alluring pale blue star-shaped flowers, Blue Star is a fantastic choice for the landscape. Blue Star prefers moist soil, but it is highly drought tolerant and resilient once it's established. The plants range from 24-26 inches tall and feature light green lance-shaped leaves that turn bright yellow in fall. Blue Star flowers appear above and intertwined in the foliage, creating a sea of delicate blue blooms.
Hardy to zones 5-9
Full sun or light shade
Deer resistant
False Indigo (Baptisia)
Native False Indigo is so bright and colorful when in bloom, it becomes a magnet for butterflies and hummingbirds and people! The pea-shaped flowers are naturally blueish purple, but there are also white, pink, yellow, and blue varieties. False Indigo grows 3-4 feet tall, with upright stems rising above the foliage covered with dozens of enchanting flowers. This drought-tolerant and hardy perennial looks stunning planted in groupings or as a border to a butterfly or native plant garden.
Favorite False Indigo cultivars: Vanilla Cream (white), Solar Flare (bright yellow), Sparkling Sapphires (purple), Pink Truffles (pink with purple and yellow highlights), Pink Lemonade (yellow with pink highlights), Dutch Chocolate (dark purple)
Hardy to zones 3-9
Full sun
Deer and rabbit resistant