If you picture one classic bloom associated with the Mountain Region of the USA, it is probably columbines.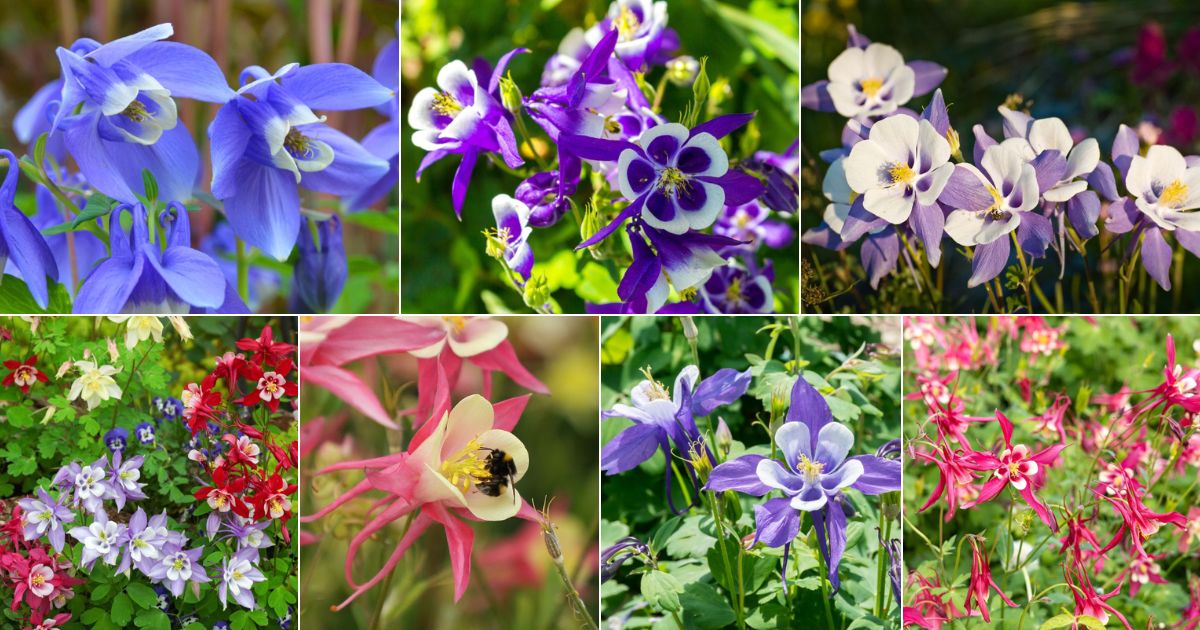 Indeed, columbines are the state flower of Colorado.
Want to grow these lovely perennials in your own garden? In this post, we will introduce you to columbine basics, landscaping ideas, growing conditions, planting instructions, and care requirements.
You can jump to any section in our convenient table of contents below, or read on to learn all about columbines.
Jump to:
What Are Columbines?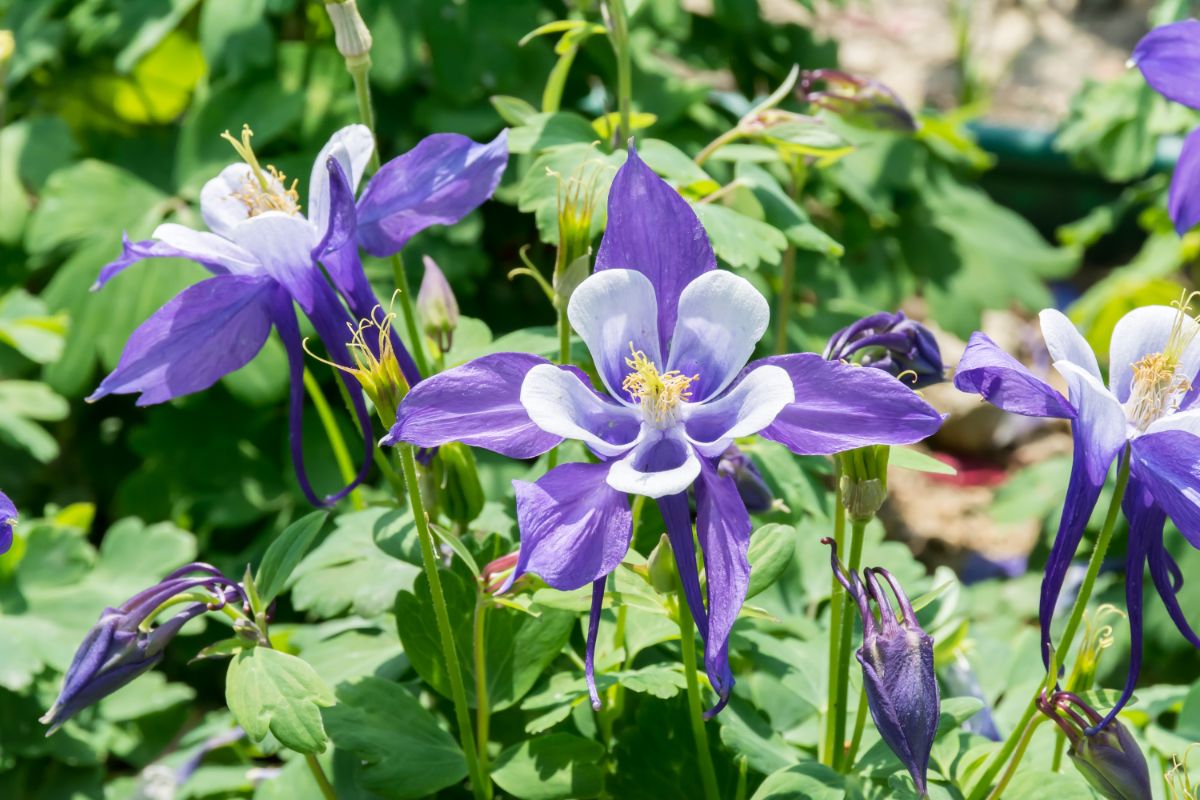 "Columbine" is the common name for the genus of plants with the scientific name Aquilegia.
Sometimes, these plants are also referred to as "granny's bonnet" flowers.
In total, the genus contains around 70 species. The spurs on the flowers make them instantly recognizable, standing out from all others.
As a point of interest, the root of the name Aquilegia is the Latin word aquila. This word translates to "eagle." The reason for the name is the flower's spurs. They remind some people of an eagle's extended claws.
If you want to learn more about columbine spurs, see our FAQ, wherein we discuss a bit about how they evolved for different pollinators.
Somewhat ironically, the name "columbine" also is derived from the Latin. But the word it references translates to "dove." While eagle's claws are one association people have with the shape of the flower, others think that it looks like a group of doves.
Whether columbines remind you of eagles or doves, you will love the elegant beauty they bring to your garden.
Since they are perennials, they will come back year after year.
Not only that, but their hardiness makes them easy to care for even over harsh mountain winters.
Columbine Basics
Zones: 3-9
Blooming season: Spring and summer
Expected height: 1-3 feet
Soil: Well-drained soil
Sun: Full to partial
Where Do Columbines Grow?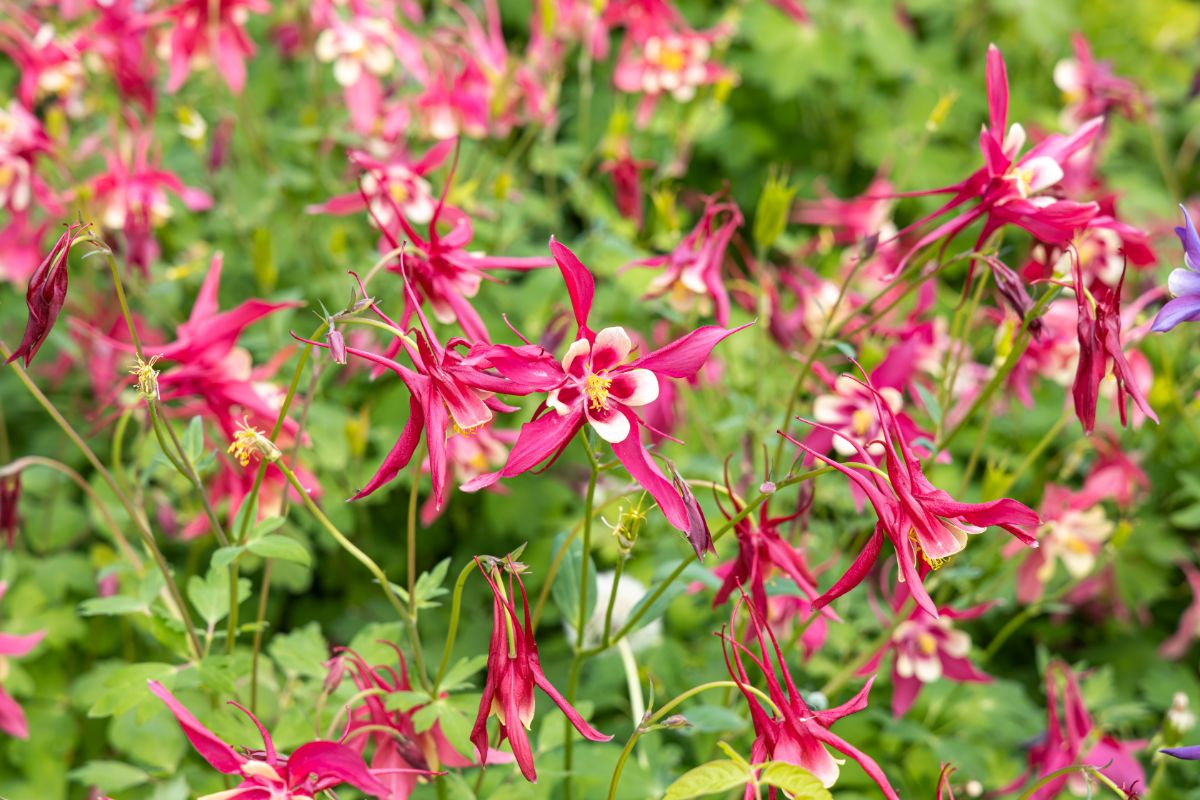 Originally, columbines came from Central Asia and Eastern Europe.
The US Forest Service says, "DNA analyses have determined two European species and one Asian species form the ancestral group from which all other species of Aquilegia evolved. One species of columbine expanded its range across the Bering land bridge connecting Asia and North America during the glacial period 10,000 to 40,000 years ago. The DNA analyses demonstrate that the Asian species Aquilegia viridiflora separates out with the North American species and thus may share an ancestral species with the North American columbines."
The Forest Service continues, "Once the land bridge ceased to exist, this Old World "founder" species may have evolved over time into the present-day columbine we call Aquilegia brevistyla (small flower columbine)."
Today, columbines are found across wide swaths of North America as well as other locations around the world. Because they are hardy in zones 3-9, they can flourish in many environments.
Where to Buy Columbines
There are so many gorgeous varieties and cultivars of columbine plants! You can find the biggest selection by checking online. Click the link below to shop columbines now.
Why Grow Columbines?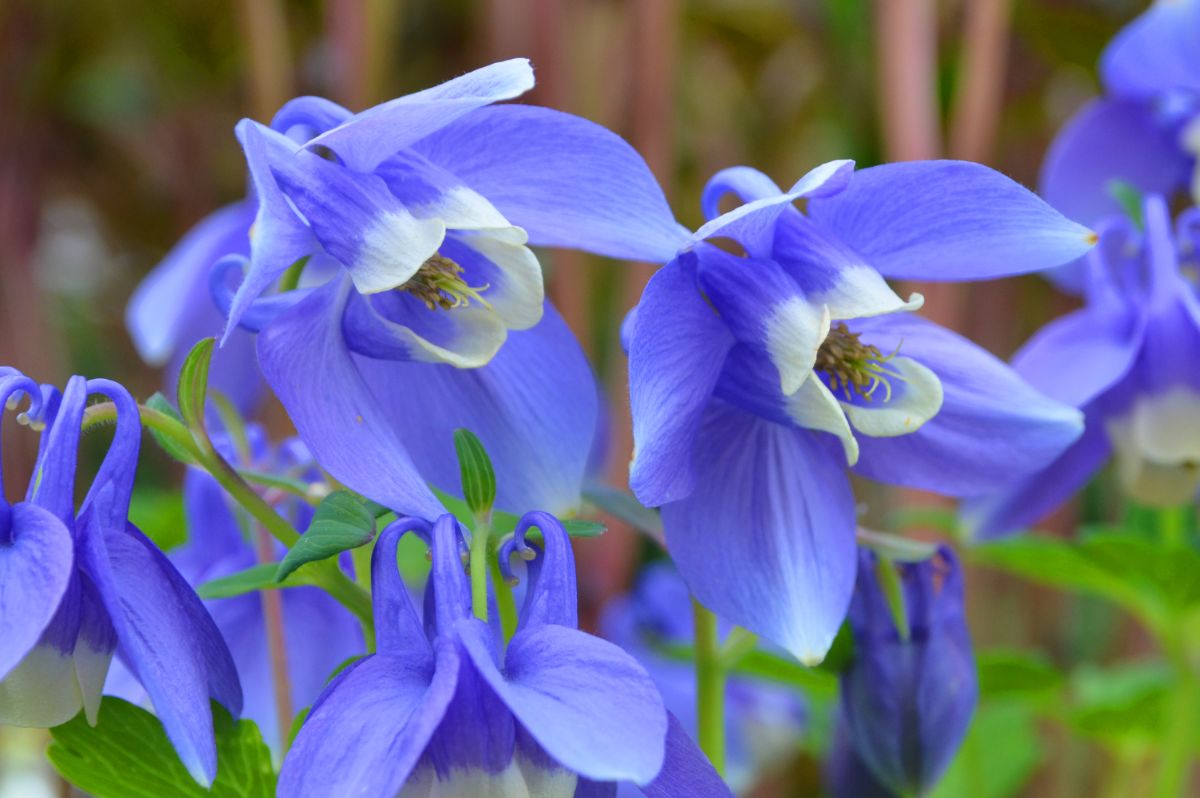 Here are some reasons the wide variety of columbines make a wonderful addition to your perennial garden:
Columbines are a classic mountain flower. Indeed, if you live in Colorado, your perennial garden will not even feel complete without them.
These flowers are beloved by pollinators. If you want to enjoy the company of bees, moths, and hummingbirds, you cannot go wrong with columbines.
You can attract specific pollinators to your garden with specific types of columbines. This has to do with the way that columbines evolved (see the FAQ). The Forest Service explains, "In the western United States, the red-flowered columbines are mainly pollinated by hummingbirds. However, on rare occasions, hummingbirds have been observed gathering nectar from yellow and white flowered columbines which are generally pollinated by hawk moths." So, if you want hummingbirds, for example, you could try planting red columbines. If you want moths, you could try planting white or yellow ones.
Columbines come in a rainbow of colors. As just mentioned, different hues may draw different pollinators. But they also can bring aesthetic beauty to your garden.
These flowers are pretty easy to grow. Even a beginning gardener can be successful with them, whether starting with nursery plants or seeds.
Columbines are drought-resistant after they establish.
These plants are deer and rabbit resistant.
Columbine Landscaping Ideas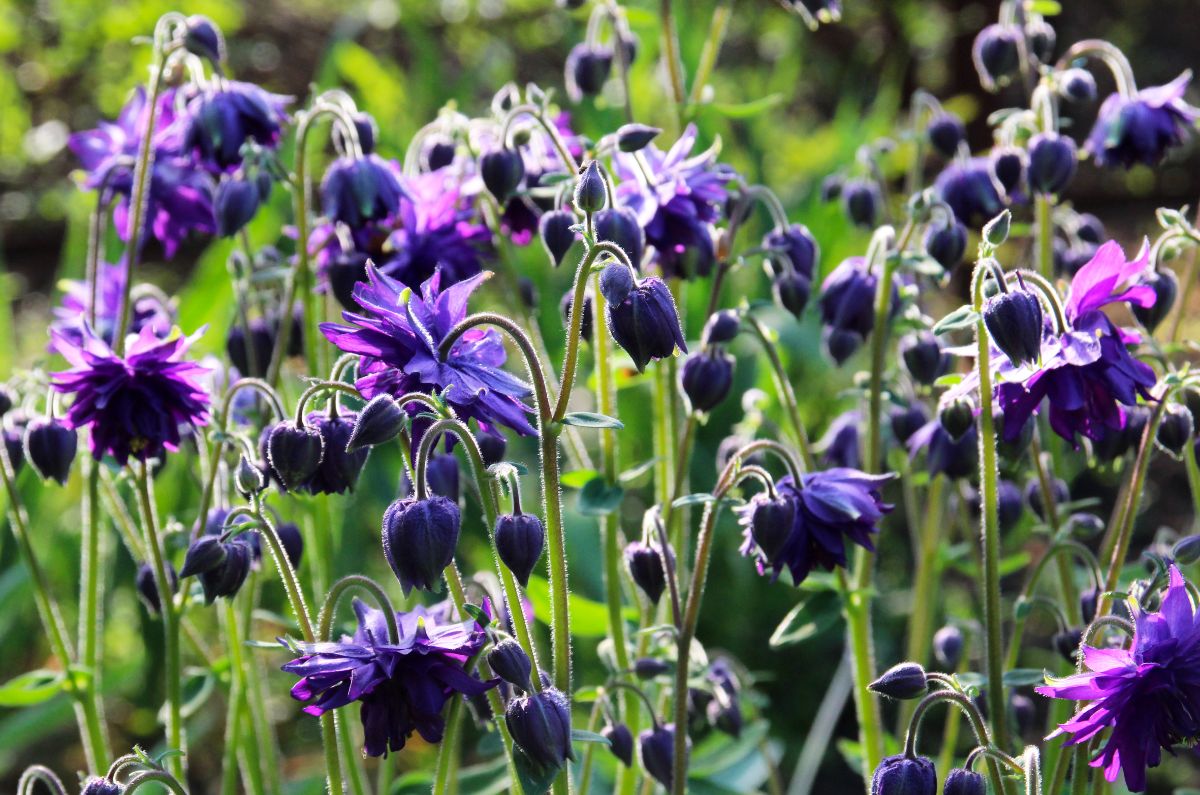 What are the best ways to use columbine flowers in your landscaping?
Bring pollinators to your deck or patio. By planting columbines in pots, you can distribute them on your deck or patio. That way, you can sit outside and enjoy being surrounded by butterflies, moths, or other pollinators.
Make a mountain garden. Plant columbines alongside other classic mountain flowers. Naturally, this will work best if you are located in a mountain region.
Add them to a forest or shade garden. Despite the fact that columbines prefer partial shade to full shade, it seems popular to put them in shade gardens. Just make sure they are situated in a spot where they are getting dappled shade when possible instead of deep shade. Alternately, buy a variety that specifically is tolerant of close-to-full shade.
Plant a wildflower garden. Columbines look beautiful next to all sorts of wildflowers. Choose some that are suitable for the planting location you have selected (i.e. partial shade or full sun).
Columbines are a good choice for cottage gardens. They probably are not the first plant that will spring to mind when you think of them, but they can work beautifully with this style.
Recommended Columbine Varieties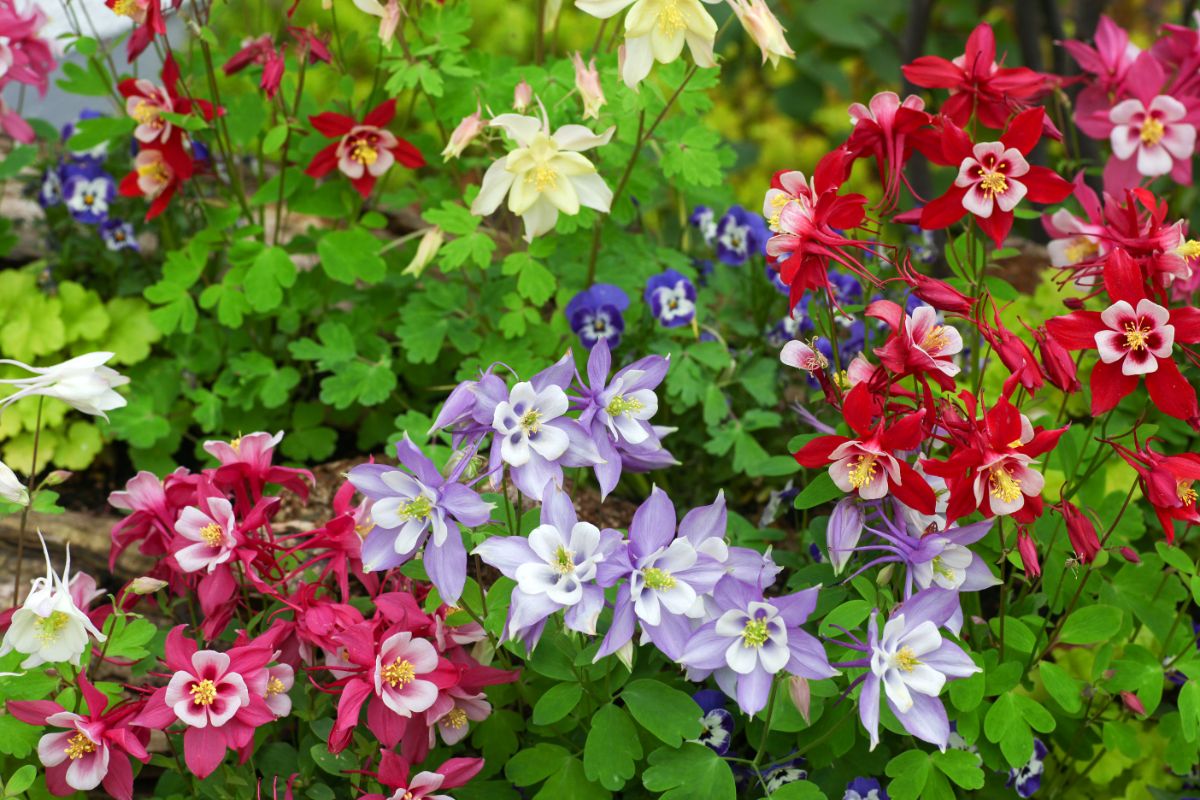 Let's take a look at some varieties and cultivars of these beautiful flowers worth considering for your garden.
Colorado Blue Columbine: Perhaps the most iconic and popular choice for columbines is the Colorado state flower. With yellow middles and blue and white flower petals, these are the mountain classic you need for your garden bed.
Earlybird Purple Blue: If dwarf varieties of columbines intrigue you, you might consider this plant. It features darker purple outer petals around ligher bluish-purple inner petals. Because it can adapt to cold and hot climates, it is an excellent option for a wide variety of locations.
Earlybird Red Yellow: These bi-colored flowers feature a combination of red and yellow petals. The foliage has a lacy texture.
Kirigami Deep Blue and White: Looking for large, elegant blue flowers? This beautiful columbine cultivar has a graceful look. The outer petals are purplish-bluish, and the inner petals are white.
Kirigami Yellow: For a yellow flower, consider planting the "Kirigami Yellow" cultivar. Both the inner and outer petals share the same unique yellow hue.
Kirigami Red and White: Looking for a lengthy bloom time and bright, vibrant colors? This type of columbine features white inner petals and red outer petals, and will delight you with its large blossoms.
Kirigami Rose and Pink: Pink and rose petals with yellow stamens make these columbines a lovely addition to your garden beds.
Eastern Red Columbine: This type of columbine also is called the "Canadian Columbine." The petals feature long red spurs, and they fade toward yellow at the edges.
Bluebird Columbine: Plant attractive "Bluebird Columbine" flowers to enjoy upward-facing blossoms in white and light blue.
Clementine Dark Purple Columbine: This type of columbine looks very different from most others. This is in part due to its distinctive deep wine-colored hue, but also to its double flowers. Reaching up to 18 inches in height, they will make a bold and unexpected statement.
Dwarf White Fan Columbine: Another option for a compact columbine that is not even a foot high is this unique cultivar. Just as you would guess, it features gorgeous white blooms.
Little Lanterns Columbine: If you want a Native American columbine, consider these foot tall plants with their red and yellow blossoms. It is a good choice if you want a shade plant.
Winky Double Blue and White Columbine: For another type of columbine that looks quite different from traditional forms of the flower, you might try planting this unusual cultivar. The flower petals are a combination of deep purple and lavender, and the blooms look more like carnations than regular columbines. Indeed, most people would probably not recognize these as columbines if they did not know what they were.
Songbird Cardinal Columbine: This type of columbine sports a vivid contrast between the deep red outer petals and the white inner petals. It faces upward.
Crimson Star Columbine: These flowers feature red outer petals. The inner petals are also red, but fade to white around their edges. They may be an ideal choice if you get warm weather.
Origami Red and White Columbines: These flowers have coloration similar to the Crimson Star, but with super long, thin, spindly spurs.
Siberian Columbines: Deep bluish flowers will be attractive to hummingbirds.
Kristall Columbine: Looking for taller columbine flowers? Growing up to 3 feet tall, these gorgeous plants blossom in white.
Tequila Sunrise Columbine: A particularly eye-catching type of columbine is this colorful cultivar. The outer petals are red, while the inner petals are bright yellow.
Pagoda Pink and White Columbine: This type of columbine produces pink petals. The inner petals fade to white around the edges.
Pink Petticoat Columbine: This type of columbine features down-ward facing blooms with layers of pink petals. Their full look gives them the appearance of fluffy petticoats.
Black Barlow Columbine: Want a really dark hue for your columbine plants? Try this cultivar with its deep near-black petals. These are double flowers, so they look quite different from traditional columbines.
Swan Pink and Yellow Columbine: These downward-facing blossoms feature prominent inward-curving spurs and light pink and yellow petals.
European Crowfoot Columbine: These columbines feature white inner petals and purple outer petals. The outer petals and spurs are quite thin.
When Do Columbines Bloom?
Beginning in mid-spring, you will start seeing your columbines blossoming. They also bloom in summer.
How Long Do Columbines Bloom?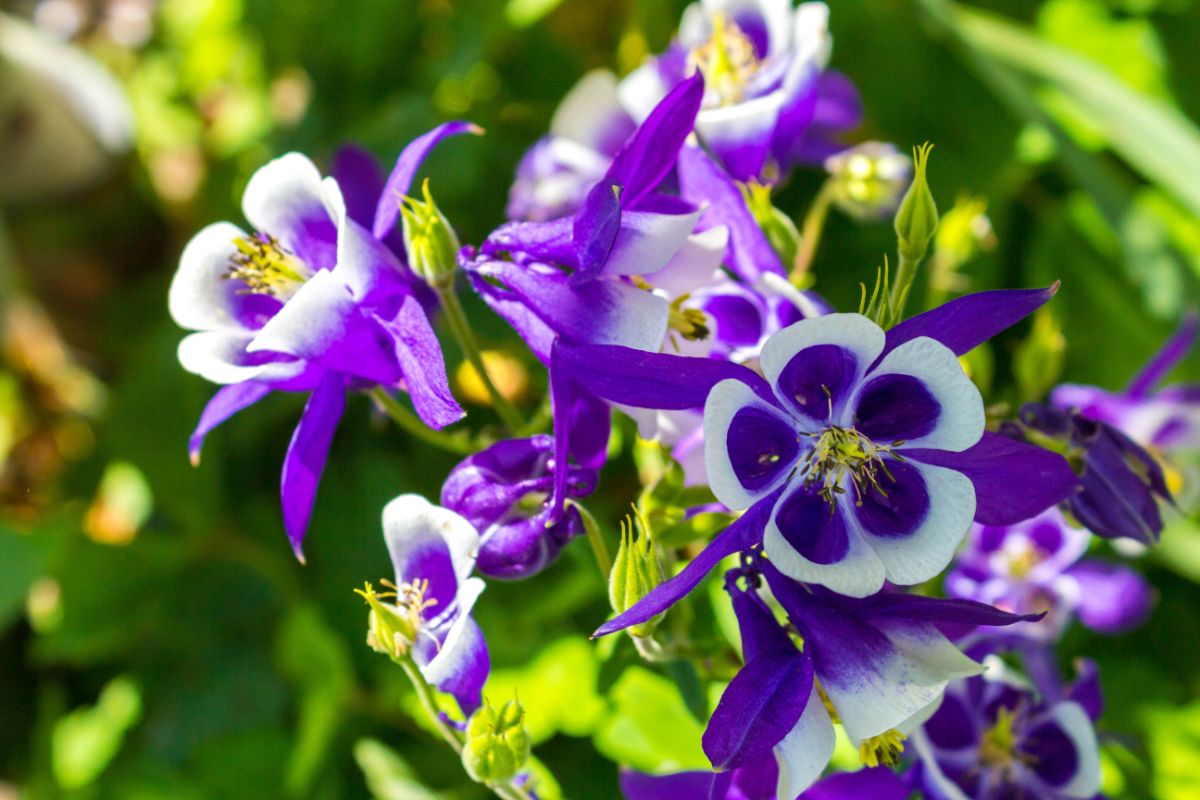 You can expect around a month's worth of blossoming from any given columbine plant. Some columbines may stay in bloom even longer than that.
When to Plant Columbines
Like quite a few other perennials, you can plant columbines in either the spring or fall.
Ideal Growing Conditions for Columbines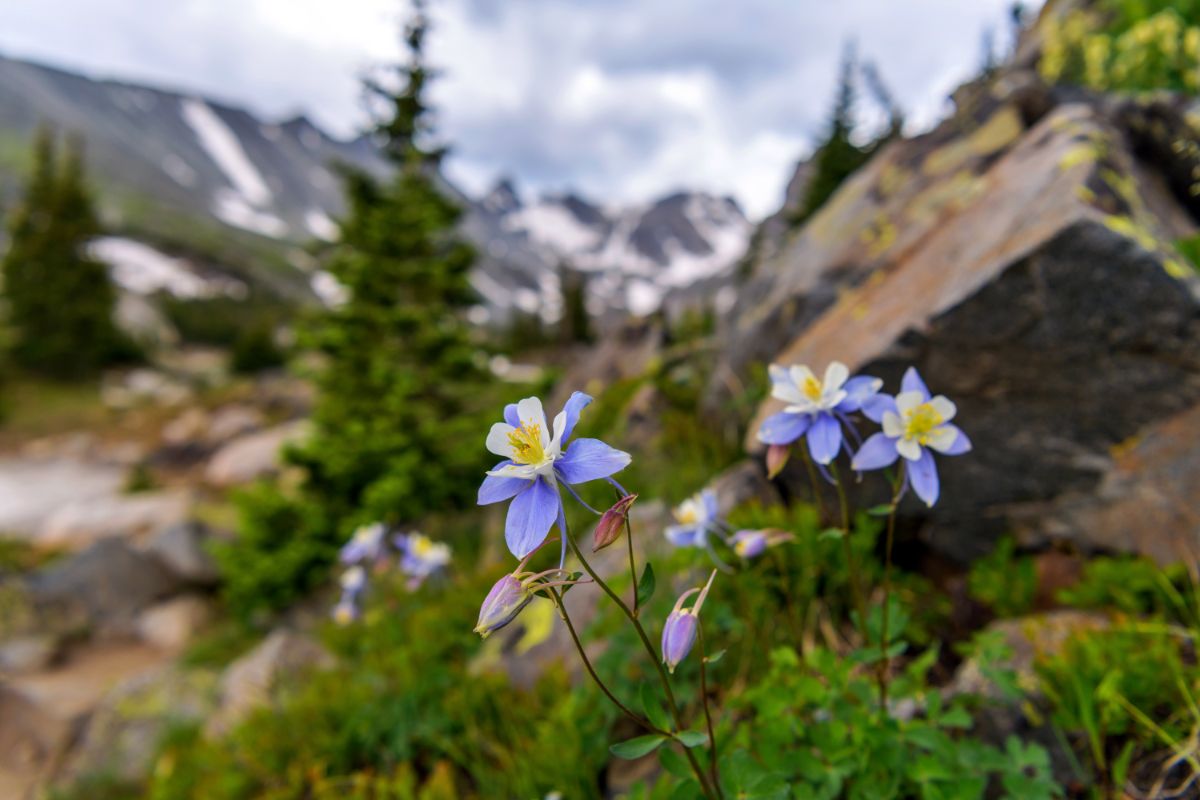 If you want to have beautiful blooms from your columbines every year, you need to ensure that they receive the right amount of sunlight and are planted in suitable soil conditions. You also need to give them the right amount of water. Below are the details for all three requirements.
How Much Sun Do Columbines Need?
You can grow columbines in full sun or partial shade. If your area does not get to be too warm in the summer, you will do best with full sun. In shade gardens in such regions, your plants may not produce the bountiful blooms you are looking for.
On the other hand, dappled shade is better than full sun if you can expect blazing summer heat. Why? Too much hot summer sun can actually burn the leaves of columbines. In extreme cases, the plants can even go dormant right when you would expect them to bloom during the summer months.
What about full shade? It is typically not recommended, though some varieties of columbines may do okay with minimal direct sun.
What Type of Soil is Right for Columbines?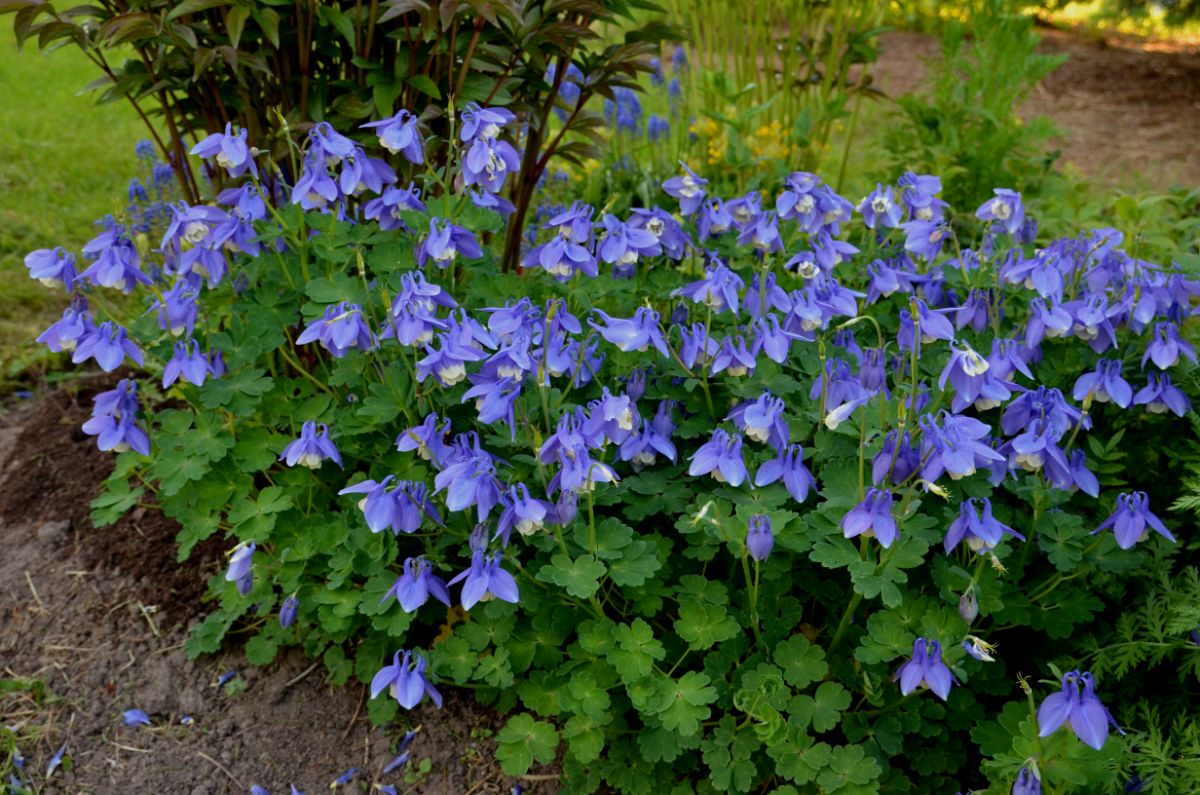 Soil for columbines should be moist, but not soggy. Columbines planted in boggy soil will not survive. They do appreciate richness, so if your soil is not that nutritious, you should add compost.
In terms of pH, columbines thrive best in neutral to acidic conditions.
One thing that is super important when planting columbines is to ensure excellent drainage. In fact, that is another benefit of adding compost to your soil.
If your soil is on the sandy side, that is great. But if it is clay, it could be hard for you to raise columbine successfully.
As we just suggested, you can try amending heavy clay soils. But if that does not do the trick, you could instead try planting columbines in well-draining soil in raised planter beds or in containers.
How Much Water Do Columbines Need?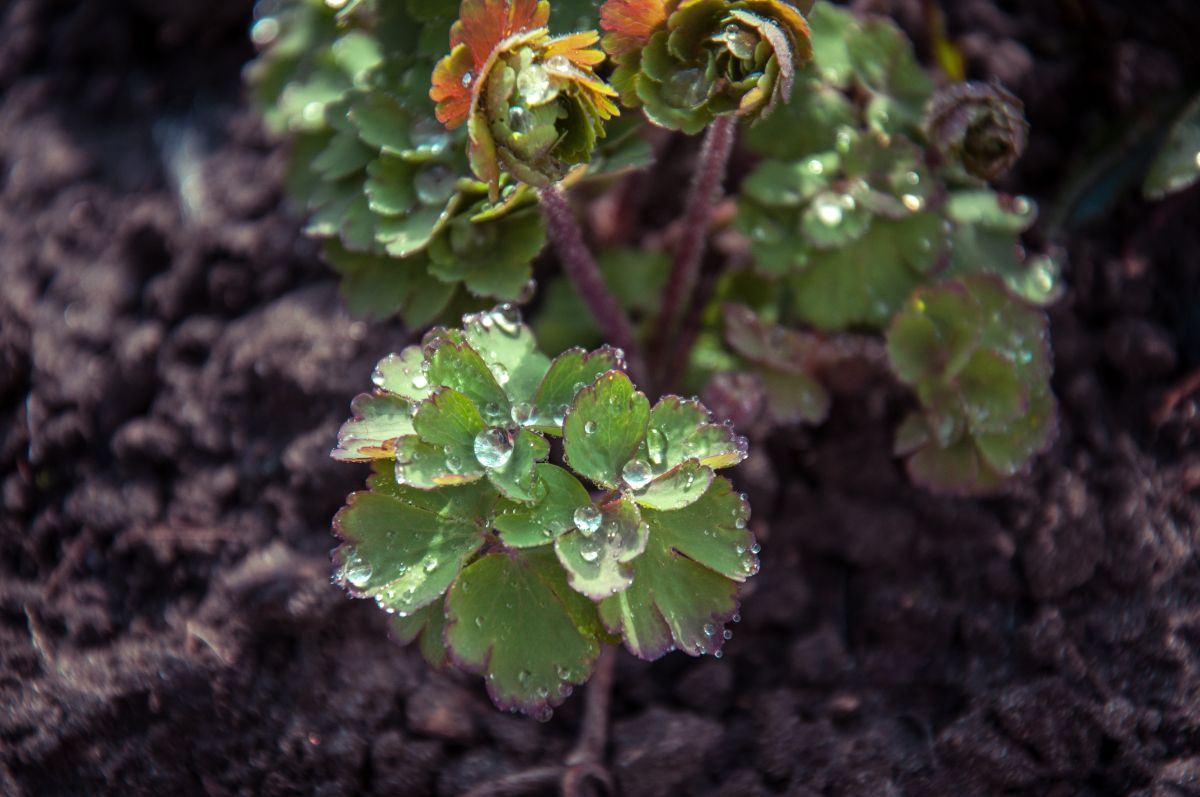 Since soil moisture is important for columbines, so is keeping up with their watering needs. Check the top 1-2 inches of the soil. If they are still moist, you do not need to water. But if they are dry, then it is watering time. Normally, this comes out to needing to water once weekly.
How to Plant Columbines
You can plant columbines starting with nursery plants or you can grow flowers from seed. Both are common. The benefit of using a nursery plant is that it is fast and easy, and your flowers can bloom in the first year.
With seeds, on the other hand, your flowers will not bloom during the first year. But seed growing is less expensive, and a good way to slowly increase the number of columbines in your garden without spending extra money.
Not only that, but these plants are not too hard to grow from seed. So, even if you are a novice, you should be up to the task.
Below are instructions for planting columbines in containers or in your garden beds using nursery plants. After that, we talk about growing plants from seed.
Container Planting
Start by getting a container with drainage holes.
Choose a rich potting mix to fill your containers with.
Make holes for your columbines and place them inside. Backfill the soil.
Water well.
Find a location for the containers. Choose full sun or partial shade depending on your climate conditions.
As your potted plants are establishing, be sure to give them some extra water. Once they are done establishing, return to a weekly watering schedule (or as needed, depending on how much precipitation you are getting).
Be aware that soil in containers dries out more rapidly than soil in garden beds. For that reason, you might need to water your potted columbines more frequently than those you planted directly in your garden.
Ground Planting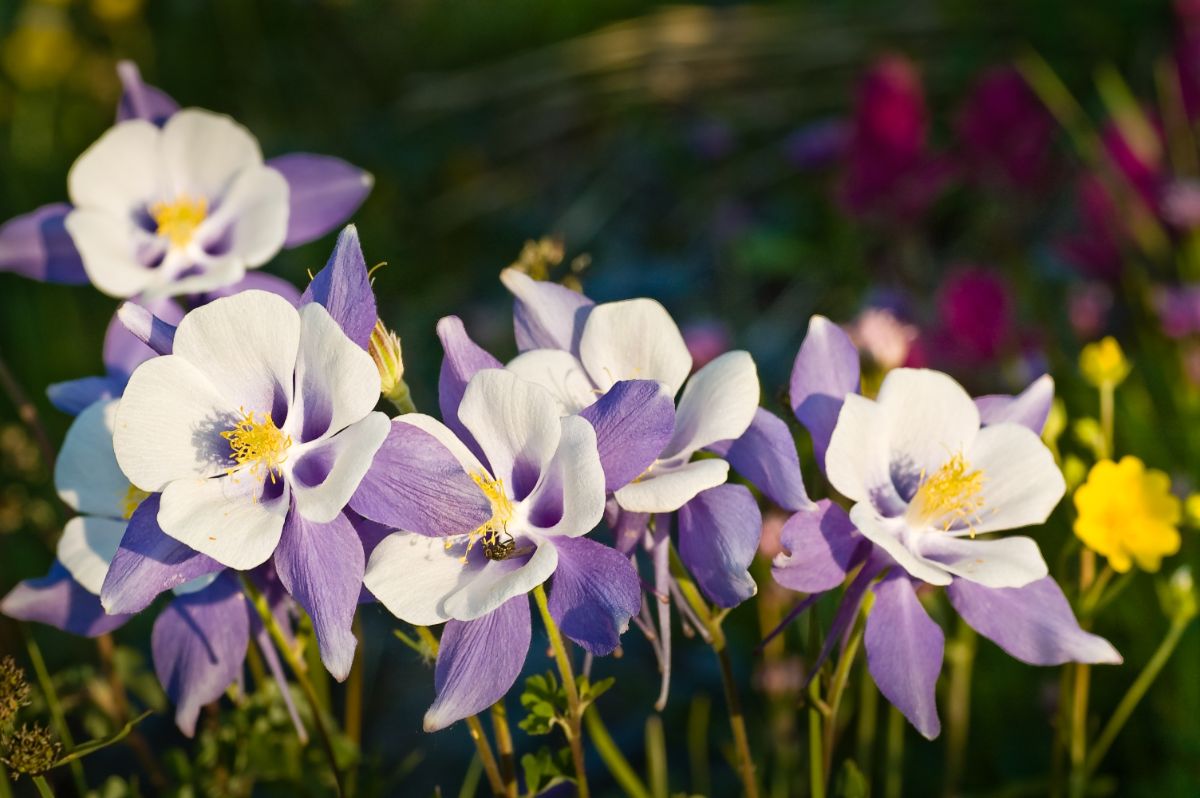 The directions for planting columbines in your garden beds are very similar to those for planting them in containers.
Find a location that will suit your columbines in full sun or partial shade.
Amend the soil with compost. If the soil is heavy clay, do your best to increase the drainage.
Make holes for your columbine plants and put them in the soil. Then, backfill the soil.
Water the newly-planted columbines well.
Continue to provide extra water as your columbines are establishing.
Starting Columbines from Seed
You can either buy columbine seeds from the store, or you can wait for your existing columbine plants to go to seed after flowering. You can then proceed with the following instructions:
Indoors
Sowing columbine seeds directly outside is easier than doing so indoors, but in some circumstances, indoor sowing may make sense.
Get some small containers for the seeds. Put drainage holes in them if they are not there already. Fill them with sterilized seed starting mix.
Use a spray bottle to get the seed starting mix moist. Wait for any excess water to drain.
Sow the seeds in the containers.
Cover the trays with plastic wrap.
Refrigerate the trays for the next 2-3 weeks.
Take the trays out of the fridge. Rather than keeping them indoors, it is recommended that you move them outside. Make holes in the ground for them somewhere with shade. Place the trays in the holes.
Get a glass or plastic lid to place over top of each of the trays. Do not actually bury them.
Keep an eye on the trays, moistening the seed starting mix as necessary. Within 1-3 months, the seedlings will sprout.
Once the seedlings are ready, you can remove them from the trays and plant them in your garden beds or containers.
Outdoors
In fall or winter, scatter the columbine seeds in an appropriate place in your garden. The reason for choosing these seasons is so that the seeds will be cold. Think of this as the "refrigeration" phase that we talked about for indoor planting.
Wait for the seeds to germinate. This should happen by spring.
Care for your columbines through their first year, but do not expect flowers. Keep caring for them through the second year, and you should see blooms.
How to Care for Columbines
Planting columbines is easy. But what is it like to maintain them? You will discover that pruning, mulching, and fertilizing these plants is pretty straightforward. You can find directions below.
How to Fertilize Columbines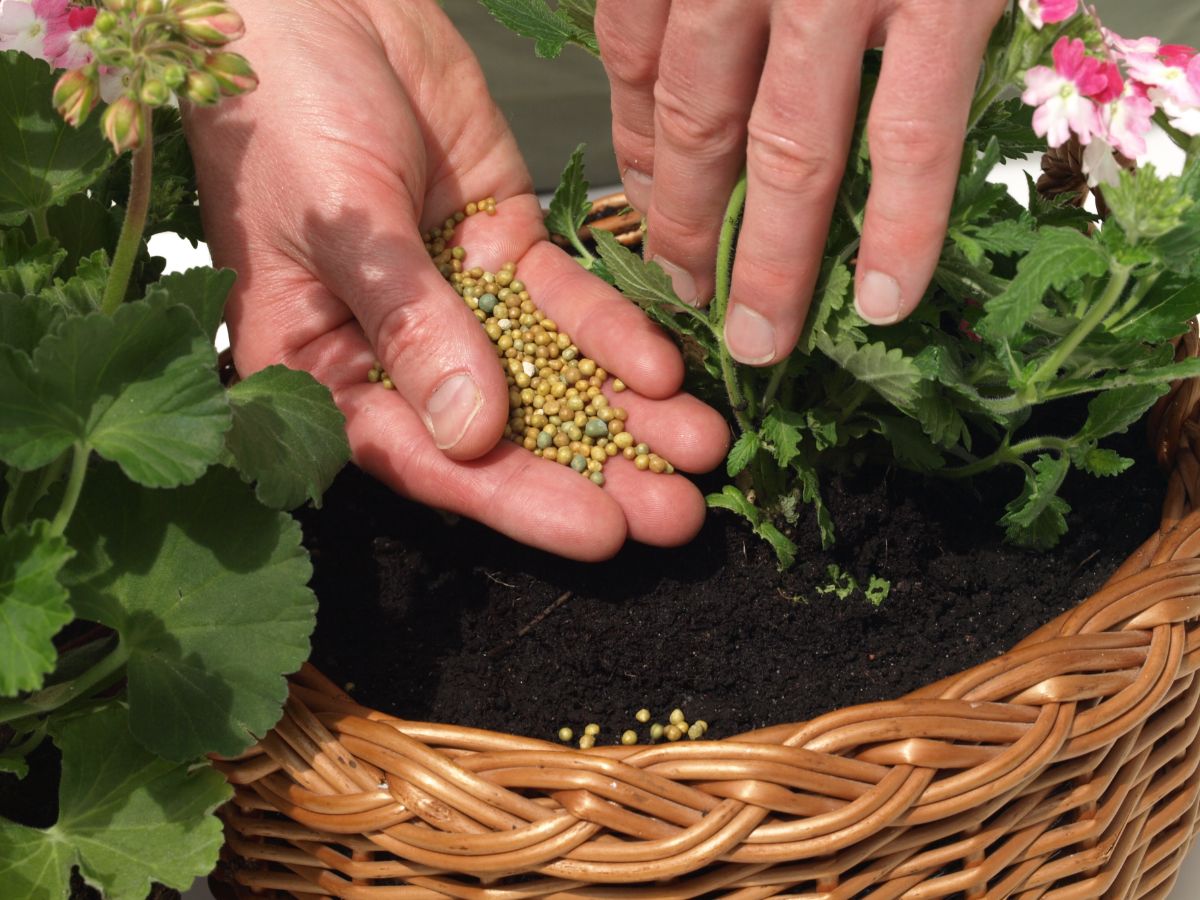 Columbines do like some fertilizing. American Meadows suggests, "A top dressing of compost or well-rotted manure is sufficient to keep Columbine blooming well and not becoming overly leggy."
Other sources suggest that you feed your plants water-soluble fertilizer once a month.
How to Mulch Columbines
It is a good idea to mulch your columbines in late autumn, even though they can stand up to winter cold pretty well. Insulating the soil reduces the exposure of the roots to damaging temperature fluctuations.
An additional benefit of mulching for columbines is moisture retention in the soil.
Finally, mulch stops weeds from growing too close to your columbines.
How to Stake Columbines
It is rare to have to stake columbines. The only situation where it might be necessary is if the richness of your soil is too high.
How to Prune Columbines
Below, we go over what you need to know about deadheading and cutting back your columbines.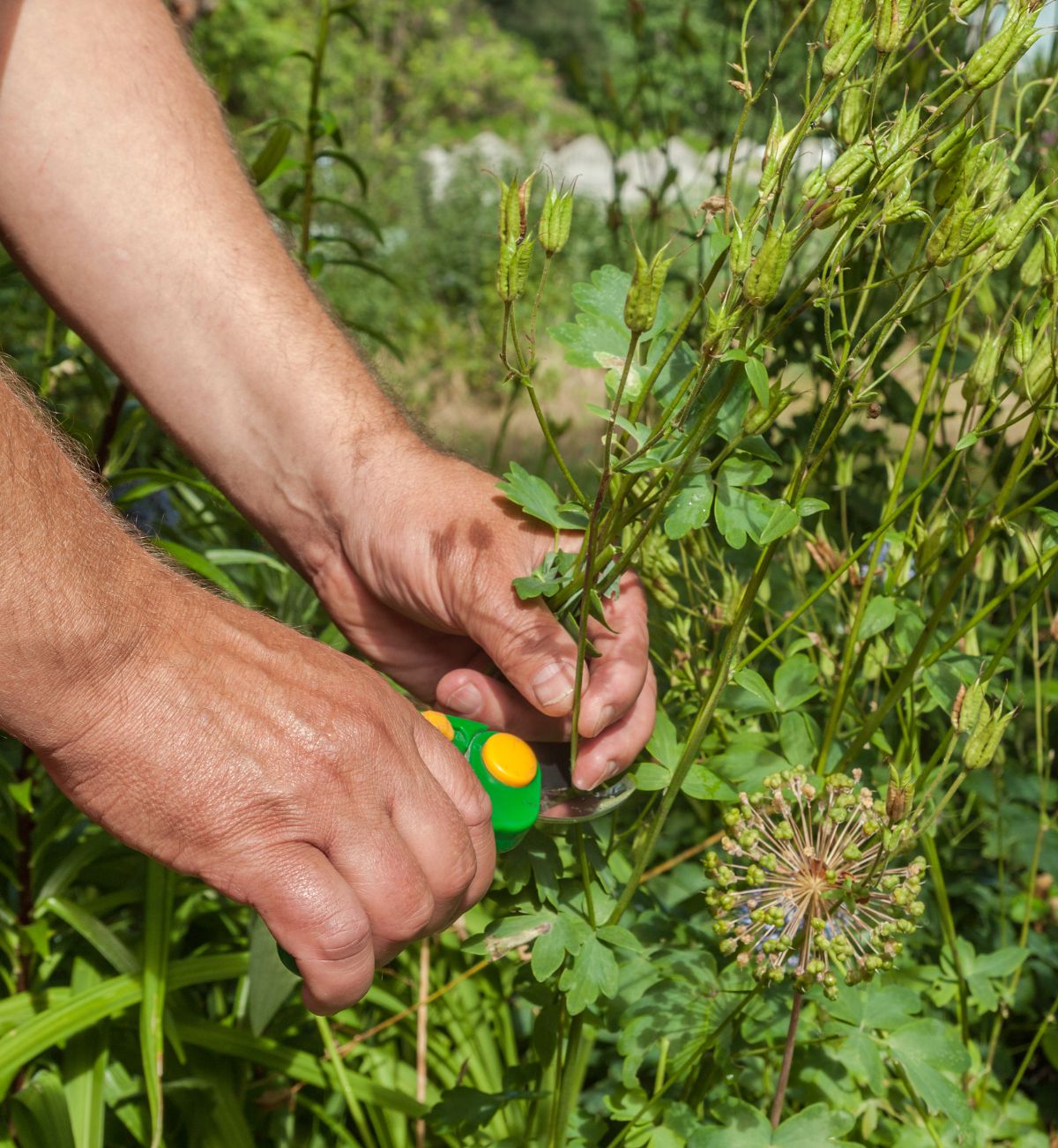 How to Deadhead Columbines
You should consider deadheading your columbines, which is what we describe in the section below on cutting them back.
Deadheading will not produce a second flush of blooms, unfortunately. But it does have other potential benefits.
For starters, it can beautify your garden beds and aid in pest control (as we discuss below).
For another thing, it can stop columbines from going to seed.
Now, whether or not you want to stop that is up to you.
Some people prefer to prevent it because columbines are prolific in the seed-producing department.
Others, however, may actually want to allow the columbines to seed so that they can collect the seeds or simply leave them in place to take root.
Despite the abundance of the seeds, it is quite unlikely that your columbines will take over your yard.
You might actually enjoy them spreading a little.
When to Cut Back Columbines
You will notice that not long after columbine flowers wilt, the leaves will begin browning. This is an ideal time to cut the plant back at the base.
One of two things will happen after you do this. Either:
1-You will get fresh leaves, or …
2-Your plant will become dormant.
The latter outcome is more likely in hot or bright settings.
Either way, however, you end up with a cleaner look to your garden.
Also, if you have been having problems with leaf miners, this is an opportunity for you to get rid of them.
Doing so may not only protect your columbines, but surrounding plants as well.
How to Divide and Transplant Columbines
If it is time to divide your columbines, you can follow the steps below.
Use a shovel and dig in a circle around your columbine. Be aware that the roots can penetrate deep into the soil. So, if you do not dig down deep enough, you can slice through them by mistake. Make sure you have gone far enough down.
Push the shovel under the plant and lift upward to free it.
Place the columbine on the ground. Use a spade to slice through it. Do not shake loose the soil.
Dig holes for your divided columbine plants and insert them in your garden beds. Backfill the soil and water well.
As the plants are establishing, give them extra water.
Are Columbines Vulnerable to Diseases or Pests?
A few pests can go after your columbines, the most notorious being leaf miners.
Leaf miners are not a disaster—but you probably will find them upsetting. American Meadows explains, "Leaf miner is the best-known scourge of columbine. It winds its way through the leaves between the leaf surfaces, and thus is not affected by sprays. The damage is purely cosmetic however and many a clump of Columbine in a cool summer will remain green with these white tunnels 'decorating' the foliage. But if you wish to work towards removing this pest in your garden, cut the foliage to the ground and throw it away – do not compost it. New foliage will emerge if temperatures are not scorching."
Along with leafminers, the other type of insect that can cause problems for columbines is the columbine sawfly.
Be on the lookout for their larvae between April and June. Turn the leaves upside-down to check for them, as that is where they typically hide. If you see them, you may mistake them for caterpillars. Left to their own devices, they will munch on the leaves of your plants. Sometimes, they can entirely eliminate those leaves.
Nevertheless, you should not panic over columbine sawflies any more than you should over leafminers.
University of Wisconsin-Madison explains, "Severe infestations can kill a plant but this is rare. Their feeding damage is primarily cosmetic and even columbines that are completely defoliated will recover. Unless stressed by other factors, within a few weeks it will put out another flush of leaves."
It is ideal to physically remove these larvae yourself rather than try to kill them with a pesticide. The university says, "BT will not [kill them], as it only kills true caterpillars. Because birds eat or feed sawflies to their young, other types of pesticides with residual activity should be used only as a last resort for severe infestations. If most of the leaves are already gone, cut the plant down to the ground and destroy the remnants."
A few additional insects that can cause problems for columbine plants include Asiatic garden beetles, columbine aphids, columbine borers, stalk borers, and columbine skippers.
Now we have talked about the most common columbine pests. But what about diseases? In this area, you need to watch out for gray mold, wilt, powdery mildew, and mosaic.
Recommended Planting Combinations for Columbine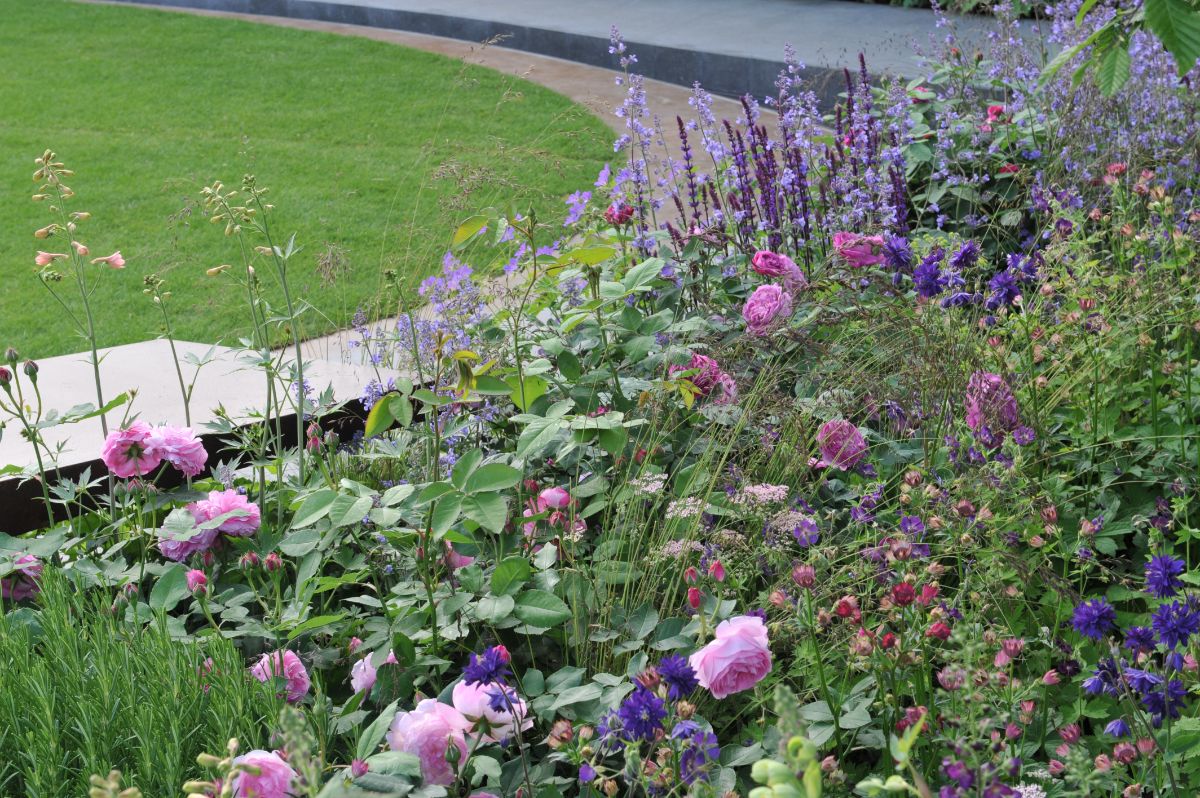 What are some plants that work well in combination with columbines? Here are a few ideas:
Ferns: If you are growing your columbines in a partially shaded location, you should find that ferns do well next to them.
Butterfly milkweeds: These perennials produce fiery orange blooms between May and September. As you might guess given the name, they are popular with butterflies. So, they can make a nice accompaniment to columbines in a pollinator garden.
Purple coneflowers: These lovely perennials make a beautiful complement to columbines with their purplish drooping petals. This plant is also known as Echinacea. Have a look at Coneflowers Full Growing Guide: How to Plant, Grow, and Care for Coneflowers.
Bleeding hearts: These shade-loving plants produce distinctive blooms in spring. See Bleeding Hearts Full Growing Guide: How to Plant, Grow, and Care for Bleeding Hearts.
There are lots of other possibilities for plant combinations with columbines planted in the sun or shade, but now you have a starting point!
Frequently Asked Questions About Growing Columbines
What eats columbines?
Neither rabbits nor deer are likely to eat columbines. Slugs and snails do not seem particularly drawn to them either. So, if something is eating yours, it is probably some type of insect. The most likely culprits would be leaf miners or columbine sawflies.
Are columbines good for planting near windows?
That depends on the types of pollinators your columbines are attracting. If they are drawing butterflies or moths, putting them near your windows can allow you to enjoy them from inside.
But if they are attracting hummingbirds, you might not want to put the plants too close to the windows. The reflections in the glass could confuse the birds, which might fly into the windows.
Similarly, if your columbines are popular with bees, it is best to keep them away from doors.
Why are columbines important in the study of evolution?
One interesting point of trivia regarding columbines is that scientists have learned a lot about evolution from studying them.
Columbines demonstrate a process called "adaptive radiation." This refers to a situation where the environment presents one or more new opportunities to an existing species. Members of that species then rapidly make adaptations that allows them to exploit those opportunities. As they do so, they form new species, each with its own unique traits.
You will notice when you are looking at different species of columbines that some have shorter spurs and others have longer spurs. Indeed, in some, the spurs are quite dramatic, while in others, they are almost negligible.
The different lengths of spurs directly correlate with different pollinators. So, for instance, some columbines evolved to be pollinated by bees, while others evolved to be pollinated by hawkmoths. Still others evolved to suit hummingbirds, and so on.
Not only do columbines serve as a fascinating example of adaptive radiation, but they also offered intriguing insights into the cellular processes involved.
Smithsonian Magazine writes, "For decades, scientists had thought that the differences in nectar spur length were due to the number of cells in the nectar spur. But when the researchers counted the number of cells and calculated the area and degree of elongation of each cell–which required more than 13,000 measurements across several species–they found that the assumptions were wrong. Nearly all of the difference in spur length can be attributed to the length of the cells."
The magazine continues, "In each species, cell division in the nectar spur stops when the spur is about 5 millimeters long. Then the spurs begin to elongate, and how many days they spend growing determines the eventual length of the spur."
Pretty amazing, right?
My columbine flowers droop, and I can't see them well. What can I do?
Well, assuming your plants are healthy and you simply planted a type of columbine with downward-facing flowers, you could always add some different varieties to your garden next year. There are now columbine cultivars with flowers that face upward that are easier to see.
Are columbines toxic?
Yes. In particular, the roots and seeds of the plant are toxic due to the cardiogenic compounds they contain.
In small amounts, it is possible that the only results of consuming these toxins could be heart palpitations and gastrointestinal symptoms. But columbine poisoning can be lethal. So, even though there is a history of medicinal use of the root of columbine among members of indigenous tribes, you should not eat it!
You might be wondering if columbines are poisonous for cats, dogs and horses, or just to you.
The Deerfield Veterinary Clinic clearly lists columbines among "plants poisonous to your pets." So, the answer is, "Yes." Columbines are toxic to humans and animals.
So, definitely keep your pets away from your columbine plants.
Are columbines annual or perennial?
Columbines are hardy perennial plants that can thrive in many climate zones.