Who doesn't love a garden filled with all types of bright and brilliant flowers? A colorful flower garden doesn't just please us; bees, butterflies, and hummingbirds are also drawn to a rainbow of colors. Using perennials to add color to the landscape is a must for every gardener. Brightly colored perennial flowers fill the garden with sunshine year after year without a lot of effort or upkeep. The landscape will be a stunning artist's palette with this array of colorful perennials.
Jump to:
The Benefits of a Brightly Colored Garden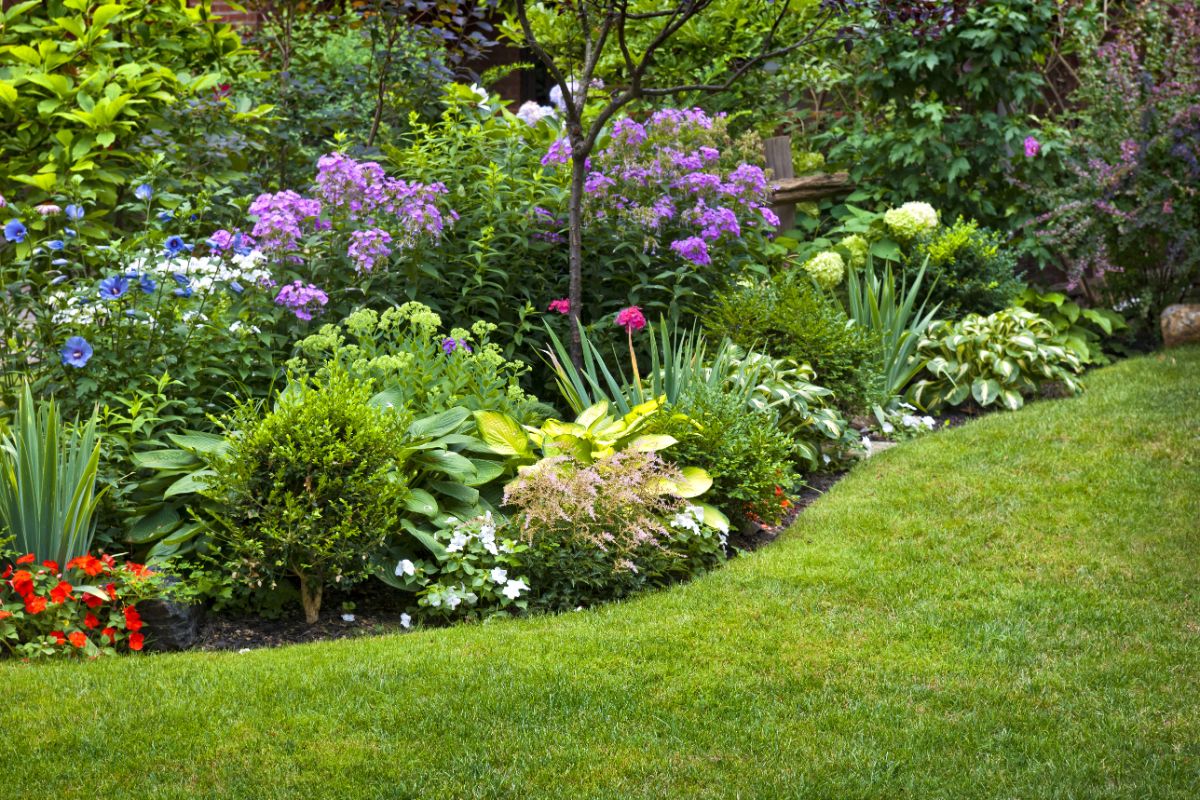 Colorful flowers bring joy and life to the landscape.
Bright perennials conceal or take attention away from unsightly fences, structures, and unattractive aspects of the landscape.
Vivid flowers create a mood; the overtone of the whole landscape can be altered with flowers.
Multi-colored perennials accent areas or structures that you want to be noticed.
Butterflies, bees, birds, and hummingbirds adore bright flowers.
Ways To Incorporate Color Into The Landscape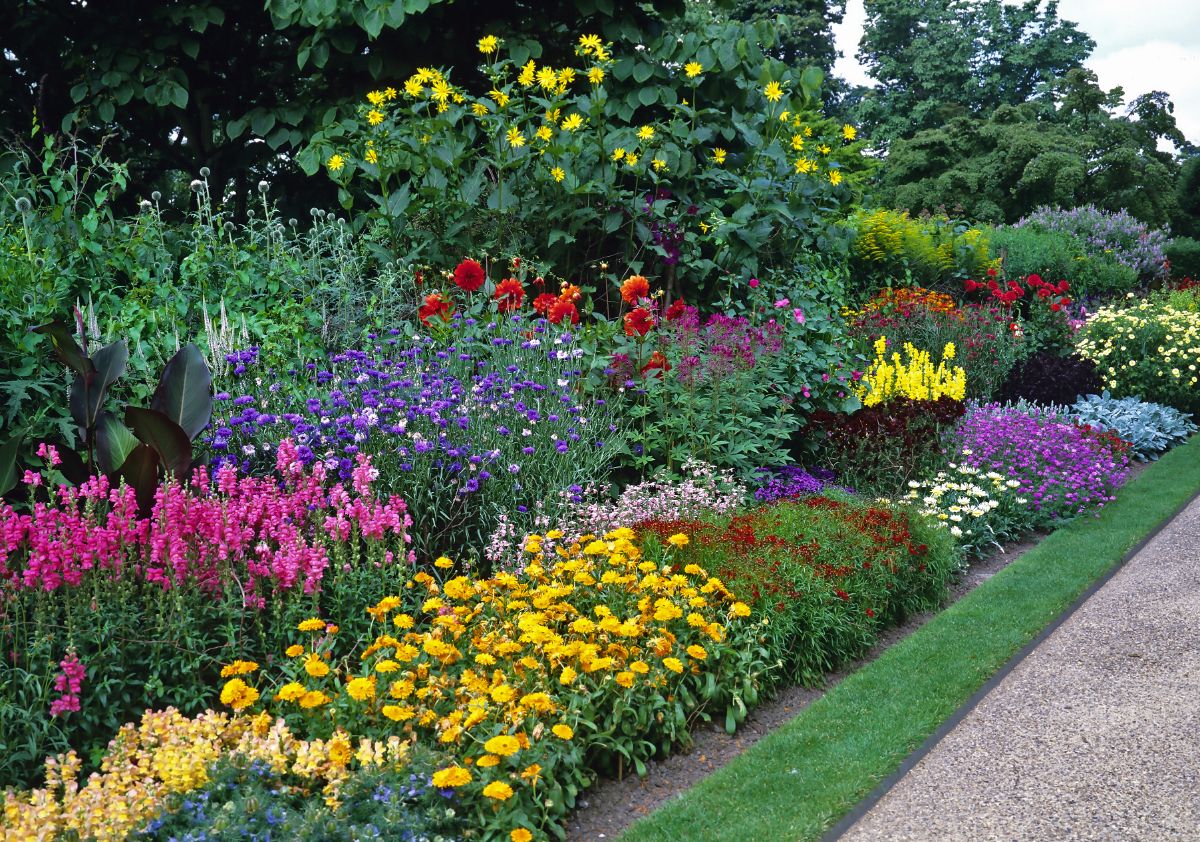 To turn the landscape into a true work of art takes more than just planting the flowers. Of course, just throwing a bunch of flowers or seeds into the garden isn't necessarily a bad idea, but it may not get the results you want. If you're looking for a specific aesthetic, you'll need to do a little planning ahead.
Think about what you want the garden and landscape to do for you. Is this a place of retreat, where milder, more contemplative colors might be desired? Do you want the garden to lift your mood and spirits? Is there a favorite color that you want to highlight? Is the goal to encourage as many beneficial insects and pollinators as possible?
Never forget, color changes a space and elicits a mood. A garden entirely of bright pink flowers will have a completely different feeling than a landscape planted with baby blue perennials.
Use a color scheme: Think monochromatic, like all magenta flowers or all yellow. Or, plant all your favorite color. Monochrome doesn't equal boring. Pick perennial flowers of varying heights, fullness, and growth habits to add depth and interest.
Create a gradient color scheme or wheel: Start with one color shade and plant flowers in a succession of darker and darker colors (or lighter).
Make a rainbow: Plant the perennial flowers in progression, following the colors of the rainbow.
Plant opposite colors together: For example, on the color wheel, orange and blue are opposites, and they are a vivid combination in the landscape. Red/green and yellow/purple are also opposite colors.
Sow for the pollinators: Look up the native butterfly and bee populations and plant the colorful perennials they seek out.
Use a single color as a focal point: Plant all white flowers in the center of the garden, and then an array of different colored blooms around it. Be judicious with this approach; too many focal points will detract from each other.
Create unity: Choose perennials to plant between other landscape objects to bring them together.
Plant a pattern: Arrange the flowers in a pattern, so when they grow, they create a plaid design or a smiley face. Get creative with this one!
Do a recurring motif: Repeat specific colors in lines, blocks, or groupings at regular intervals to create a rhythmic effect in the landscape.
Don't overlook white: White may seem like a plain neutral color, but white flowers glow in the early morning and late evening light. If you're going to be in the garden more after dark, consider planting a lot of white flowers and plants with silver foliage. They will really stand out.
16 Of The Best Colorful Perennial Flowers
Daylilies (Hemerocallis)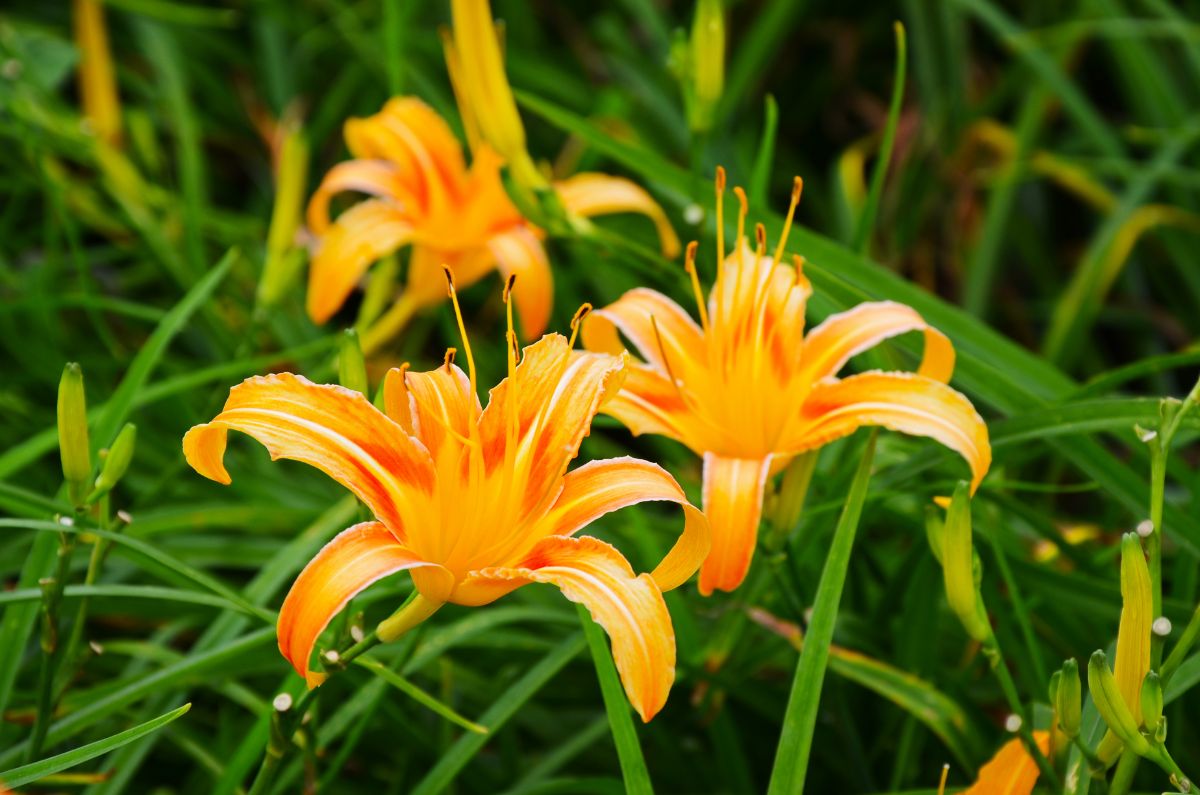 There's a reason this flower is so loved. Daylily flowers span the gamut of colors, and many of the color combinations are opposite and vivid. Think purple and yellow, yellow and magenta, dark purple and cream, or crimson red and lime green. Daylilies also come in single shades, like pure white or soft peach. With thousands of cultivars to choose from, there is definitely a daylily that fits your landscape.
Besides the color attraction, daylilies stand out in the garden due to their growth habit and height. Daylilies are an ideal accent or focal point perennial. To add to their showy appeal, daylilies are also extremely hardy, low-maintenance, and cover a range of blooming seasons.
Zones 3-9
Full sun
Drought, heat, and stress-tolerant
Attracts hummingbirds and butterflies
Lupine (Lupinus)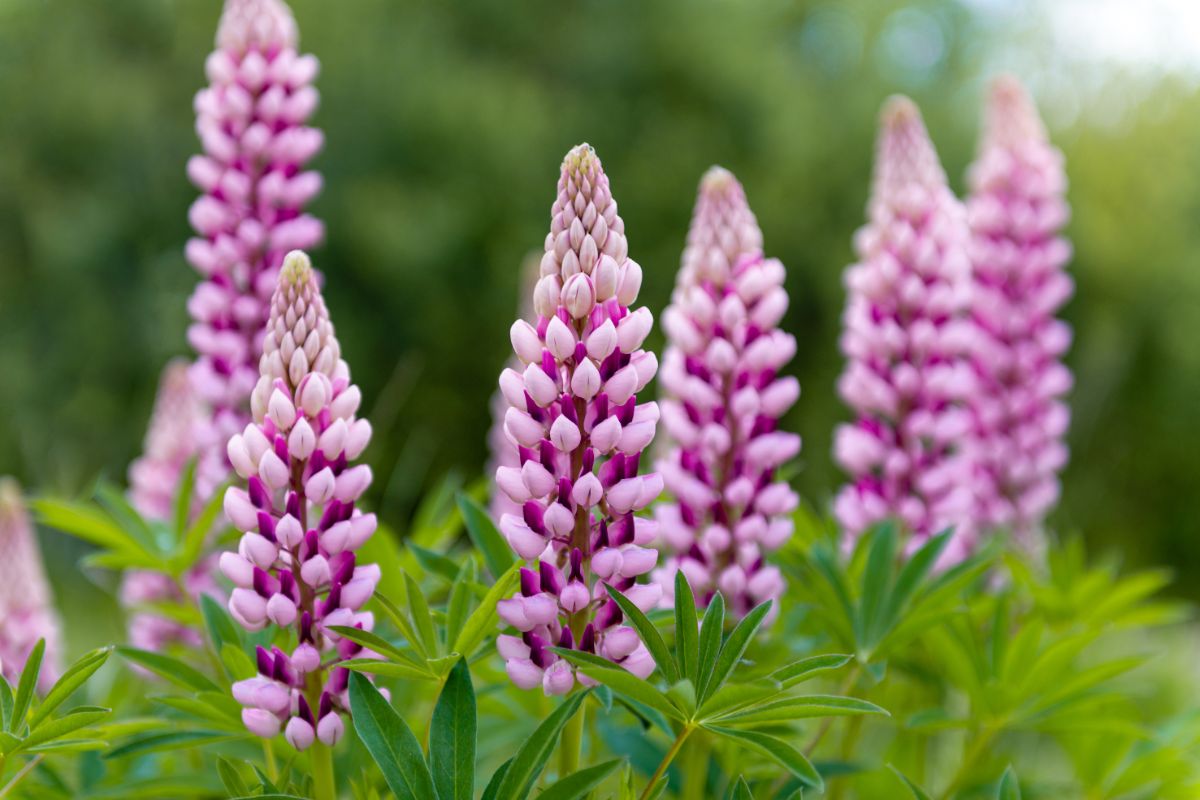 Tall spikes of brightly colored flowers are the trademark of Lupine. Available in shades of purple, red, pink, white, yellow, and bi-color, there is an option for everyone. Butterflies and hummingbirds find Lupine flowers irresistible, adding to their landscape value. Their height makes Lupine an excellent choice as a focal flower or to cover up unsightly parts of the yard.
Lupines look best planted in groups, and even when not in bloom, their foliage adds a unique and attractive element to the garden. For an elegant, colorful touch, plant a variety of Lupine flowers with diverse color schemes.
Zone 4-8
Full sun
Deer and rabbit resistant
Attracts hummingbirds and butterflies
Coneflowers (Echinacea)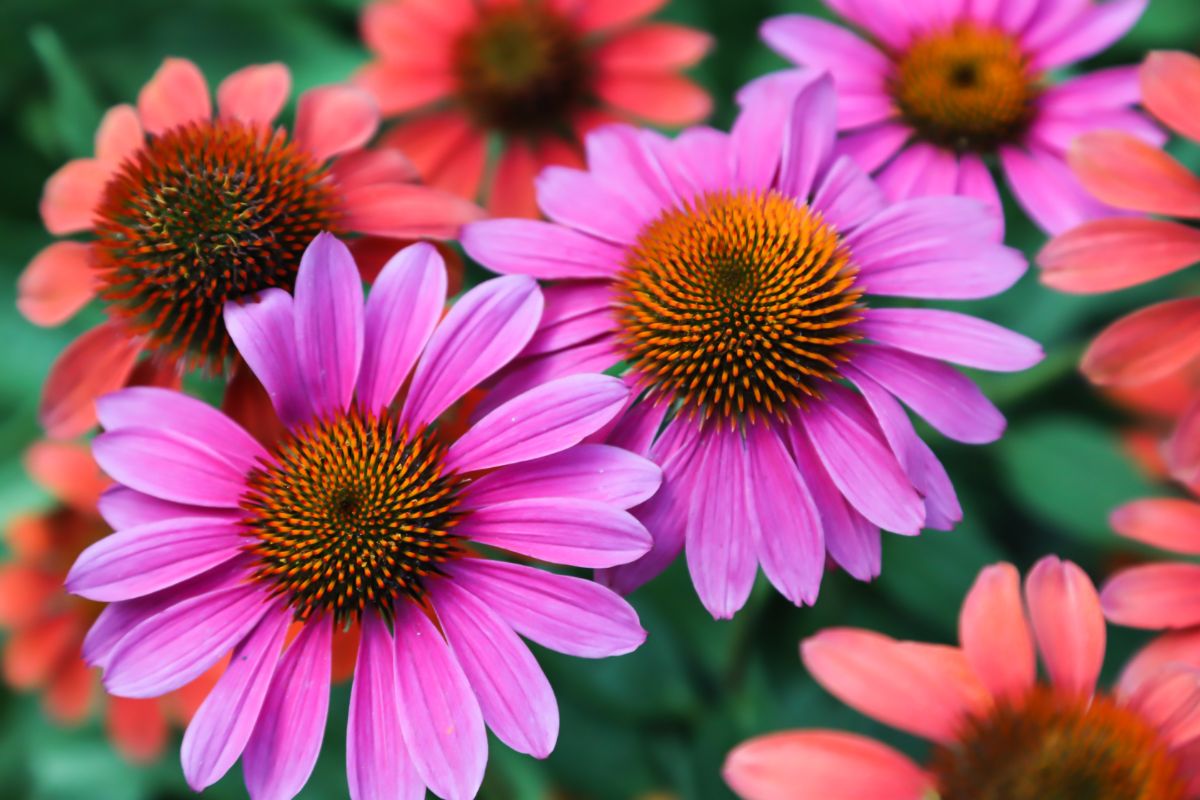 There's a Coneflower in almost every color of the rainbow, and we love them all. The flowers are large, daisy-shaped, and brilliantly colored. From tomato red to buttery yellow, from sunset orange to flamingo pink, the planting of Coneflowers is a vibrant landscape statement. They look best in big groupings, and the tall ones can easily block small unattractive portions of the yard.
In addition to their cheerful, upright habit, Coneflower plants are also tough and trouble-free. They are drought-resistant, heat-tolerant, deer and rabbit resistant, and even don't mind poor soil.
Zones 3-10
Full sun
Drought, heat, humidity, cold, and partial shade tolerant
Deer and rabbit resistant
Attracts butterflies, bees, and birds
Native North American wildflower
Hardy Hibiscus (Hibiscus moscheutos)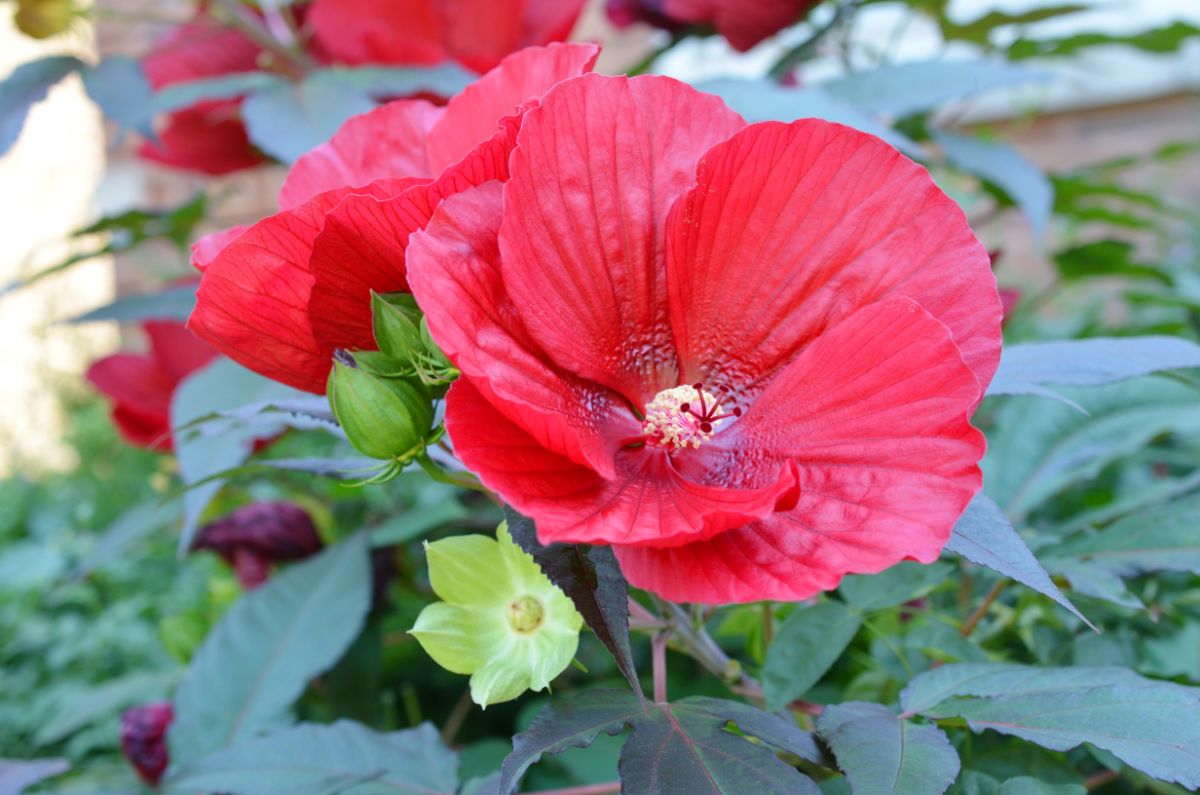 With contrastingly colored flowers the size of dinner plates, there is much to adore about Hardy Hibiscus. The petal colors are usually offset by a sharply contrasting center eye that demands to be seen. However, there are single-colored Hardy Hibiscus shrubs, too, if you're going for a monochromatic look. Colors range from baby blue to light pink to magenta red and sunny yellow. The protruding center stamen in either yellow or white only adds to the intriguing and flamboyant display.
In full bloom, a Hardy Hibiscus bush easily produces 20 or more blossoms in a day. It is a prolific and long bloomer that all the pollinating insects and birds adore. Hardy Hibiscus is a North American native; choose this one over the other popular, yet invasive, Rose of Sharon.
Zones 4-9
Full sun
Drought tolerant
Attracts butterflies, bees, and hummingbirds
Native to North America
Mountain Laurel (Kalmia latifolia)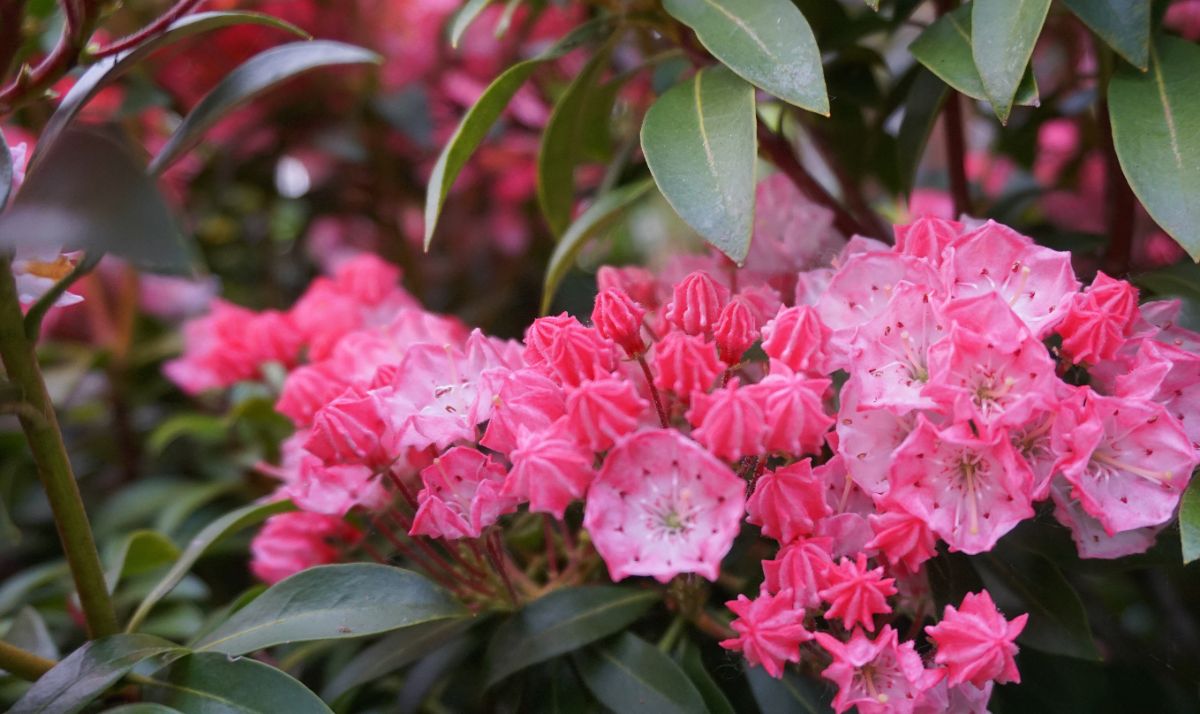 Unlike some other plants in this list, Mountain Laurel doesn't come in a multitude of colors. Mountain Laurel flowers are either deep pink or white, but that's just fine because they bloom in such profusion that it is like a beacon of color in the garden. This showy native shrub deserves a central location where it can be admired in all its brilliance.
It isn't just the flowers, though, that deserve attention. Mountain Laurel is evergreen, keeping its foliage even in the deep of winter. For folks in cold climates, a splash of green in the winter landscape is a life-saver. The leaves are deep dark-green, oval, thick, and glossy. This shrub averages 5-15 feet tall and makes an excellent natural screen for blocking unattractive fences or buildings.
Zones 4-9
Partial shade to full shade
Deer and rabbit resistant
Attracts hummingbirds and butterflies
Native to North America
Red Hot Poker (Kniphofia)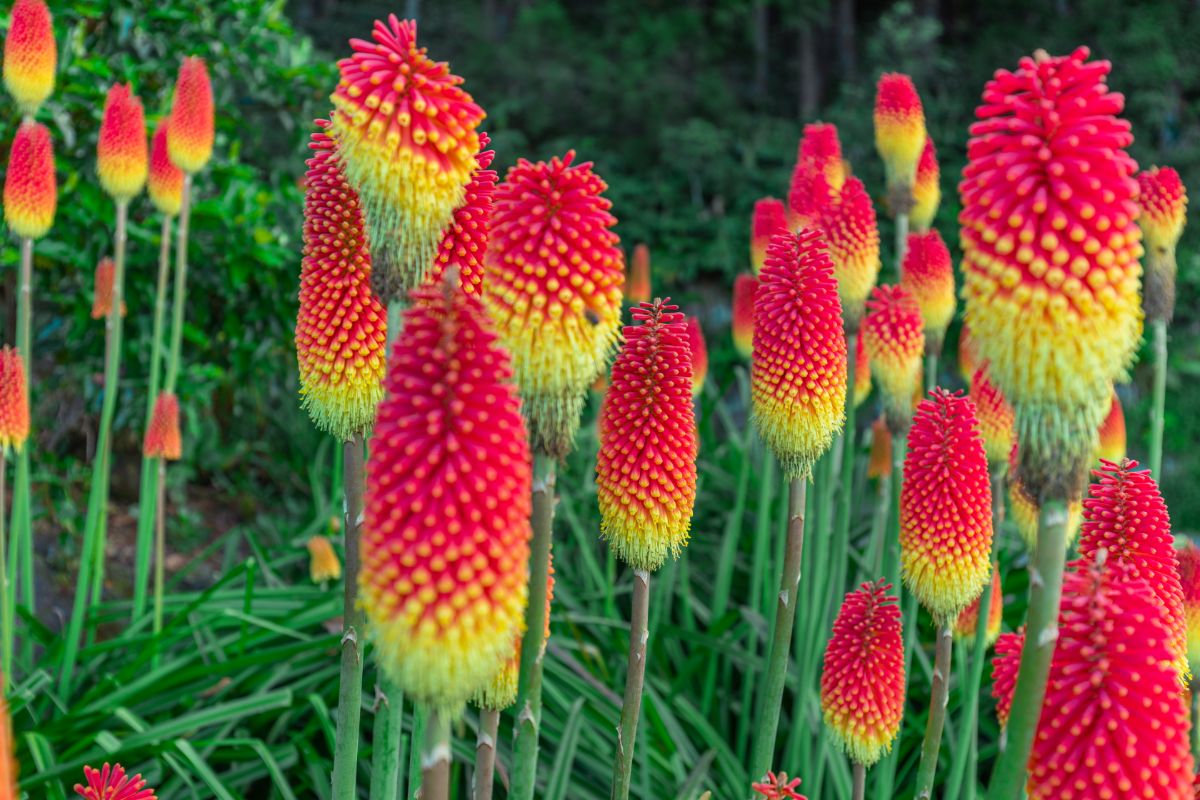 This is a bold flower that literally bursts with color when in bloom. Red Hot Poker flowers grow in dense clusters on tall, erect spikes that look like the flower version of a tiki torch. It is available in a range of shades, from red to orange to yellow and green, most of which change colors as they mature, giving the flower a bicolor appearance.
Plant Red Hot Pokers in large groupings for a genuinely spectacular vertical statement in the landscape. They range from 18 inches to 6 feet tall, depending on the cultivar. Choose several varieties of varying colors and heights for an even more dramatic display.
Zones 5-9
Full sun
Drought-tolerant
Deer and rabbit resistant
Attracts hummingbirds, butterflies, and birds
Peonies (Paeonia lactiflora)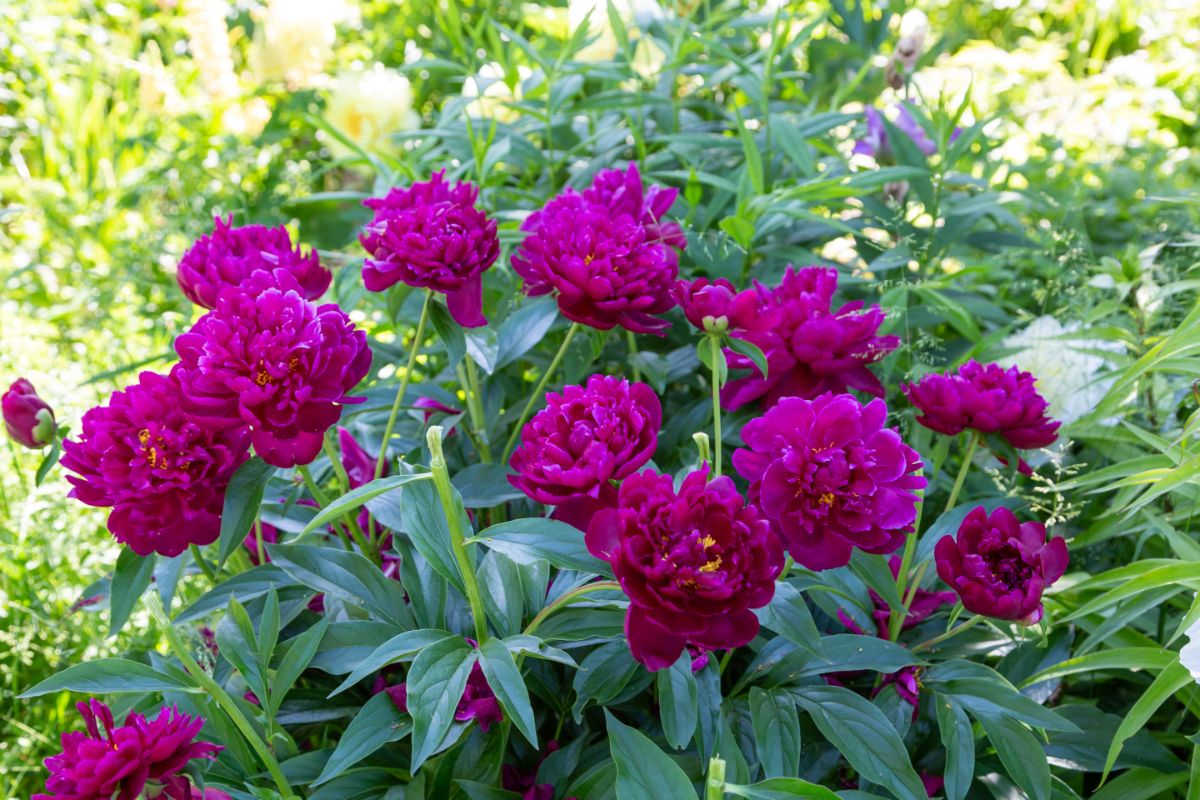 Huge and vibrantly colored, Peonies quickly take center stage when in bloom. Most Peonies are also very fragrant, adding an extra layer of splendor to the garden. The exquisite flowers appear prolifically for weeks and are available as single, semi-double, or double flowers. Color options include almost every shade of pink ever imagined, as well as red, white, and yellow. Choose Peonies with different bloom times for a brilliant, season-long staggered display.
Zones 3-8
Full sun or partial shade
Deer and rabbit resistant
Attracts butterflies and bees
Bearded Iris (Iris germanica)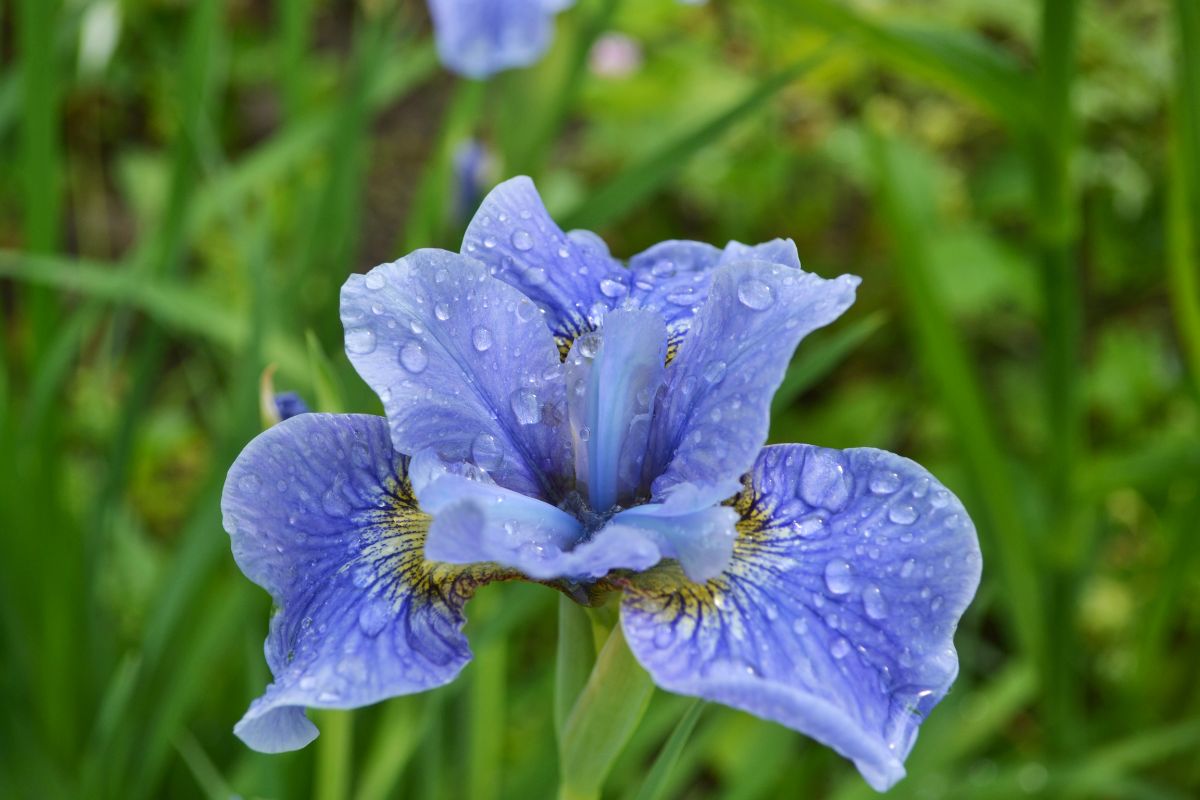 The Bearded Iris isn't just a colorful gem; it's also elegant and noble, adding a touch of grandness to the landscape. It's easy to include Bearded Irises in the landscape with thousands of cultivars to choose from and a slew of inspirational color combinations. There are six classifications of Bearded Irises, grouped by height and flower size. For a long-lasting and spectacular display, plant Bearded Irises from each group.
Miniature Dwarf – Up to 8 inches tall, flower size 2-3 inches.
Standard Dwarf – Between 8-16 inches tall, flower size 2-3 inches.
Intermediate – Between 16-28 inches tall, flower size 4-5 inches.
Miniature Tall – Height 4-5 inches, flower size 4-5 inches.
Border Bearded – Height 28 inches, flowers 4-8 inches.
Tall Bearded – Height 16-28 inches tall, flower size 2-3 inches.
Bee Balm (Monarda)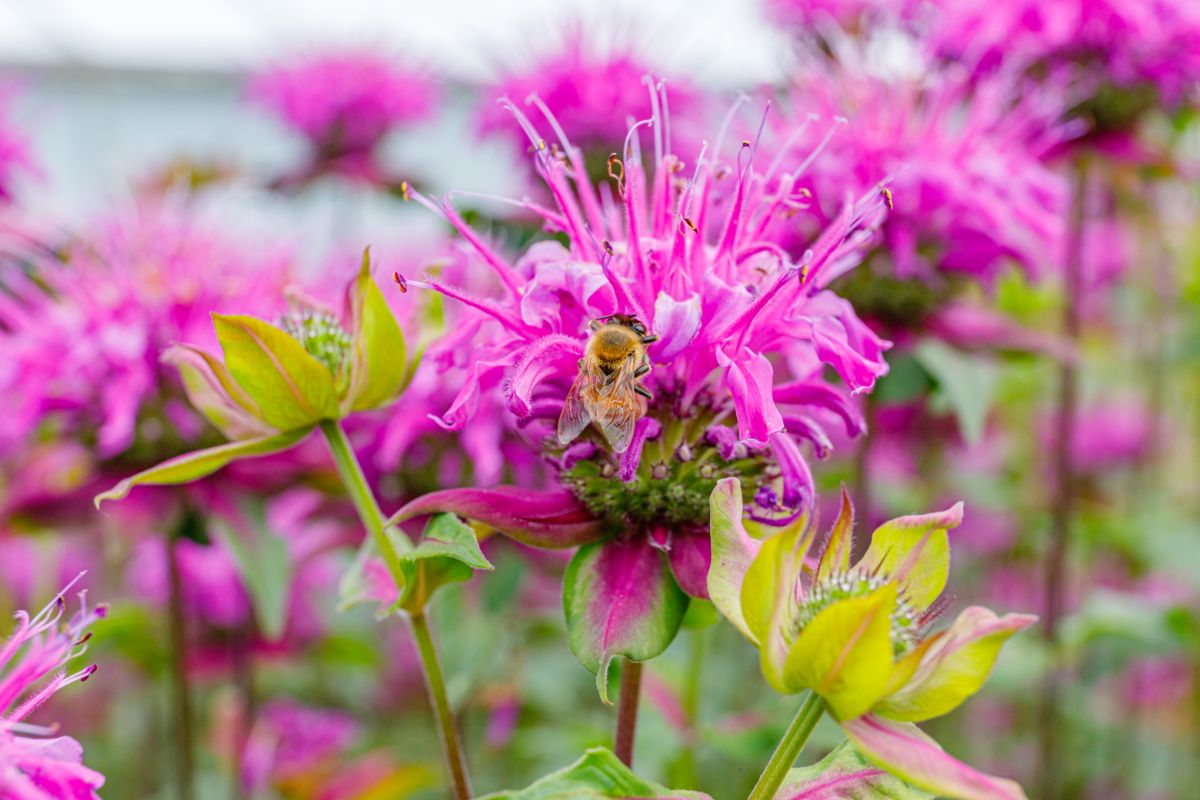 The showiness of Bee Balm is hard to ignore, especially when it is planted in large swathes. Bee Balm blooms are distinct, unique, and come in a rainbow of colors. The flowers grow atop erect stems well above the minimal foliage. They look like miniature brightly decorated jester's hats reaching out for the sunshine.
Bee Balm, also known as Bergamot, grows 1-4 feet tall depending on the variety and often blooms upwards of 6 weeks. Butterflies are drawn like magnets to the bright, colorful flowers.
Zones 3-9
Full sun
Attracts butterflies, hummingbirds, and bees
Deer and rabbit resistant
Astilbe (Astilbe)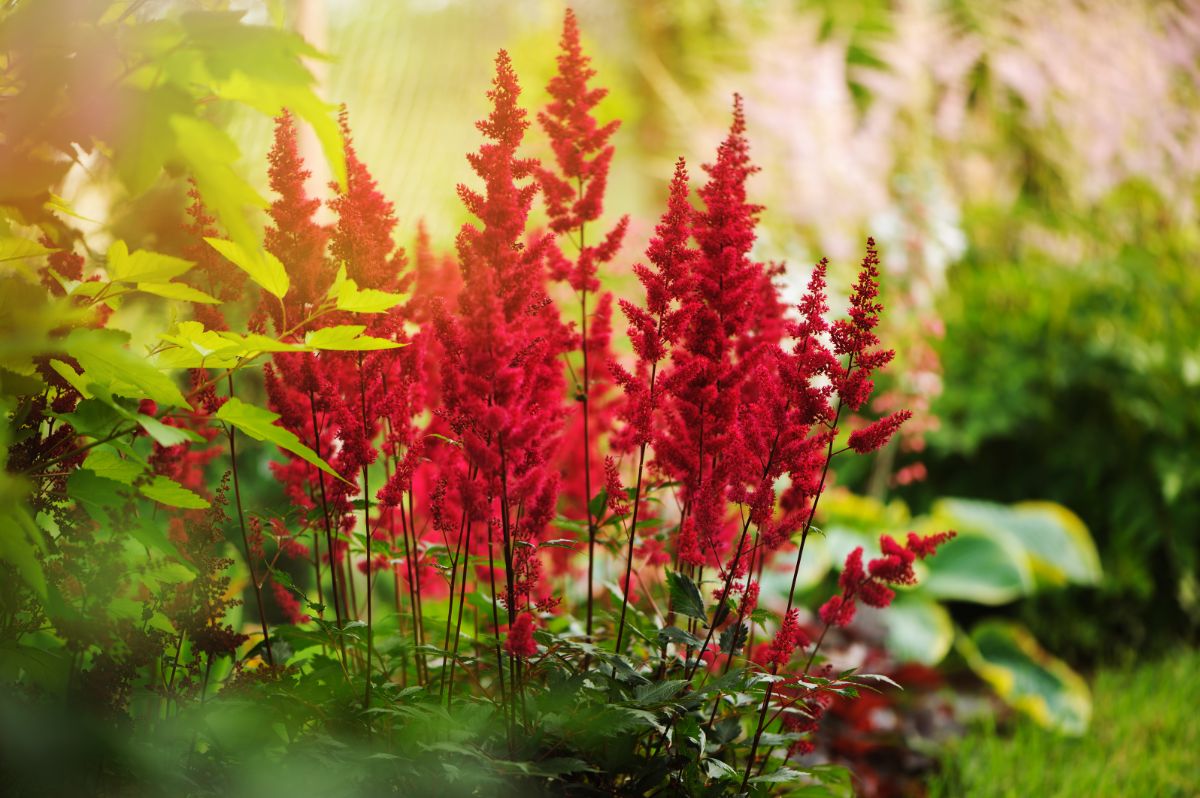 One of the best things about Astilbe is the long blooming season. These tall perennial blooms will go all summer long, often even longer. Then, once done blooming, the foliage transitions from a deep green to red, orange, or yellow, continuing the colorful display. Astilbe flowers grow in massive, tall plumes; hundreds of densely packed tiny flowers cover each plume.
When grown in groupings, it looks like a bunch of 3-foot tall colorful feather dusters rising up from the garden. A fun and unusual perennial with lots of character, Astilbe is a delight in the landscape. Most of the color options are in the light or pastel range, but there are some really spectacular and bright cultivars, too, like "Fanal," "Hip Hop," "Black Pearls," and "Granat."
Zones 3-8
Partial shade to full shade
Tolerates wet soil
Deer and rabbit resistant
Attracts butterflies and bees
Coreopsis/Tickseed (Coreopsis)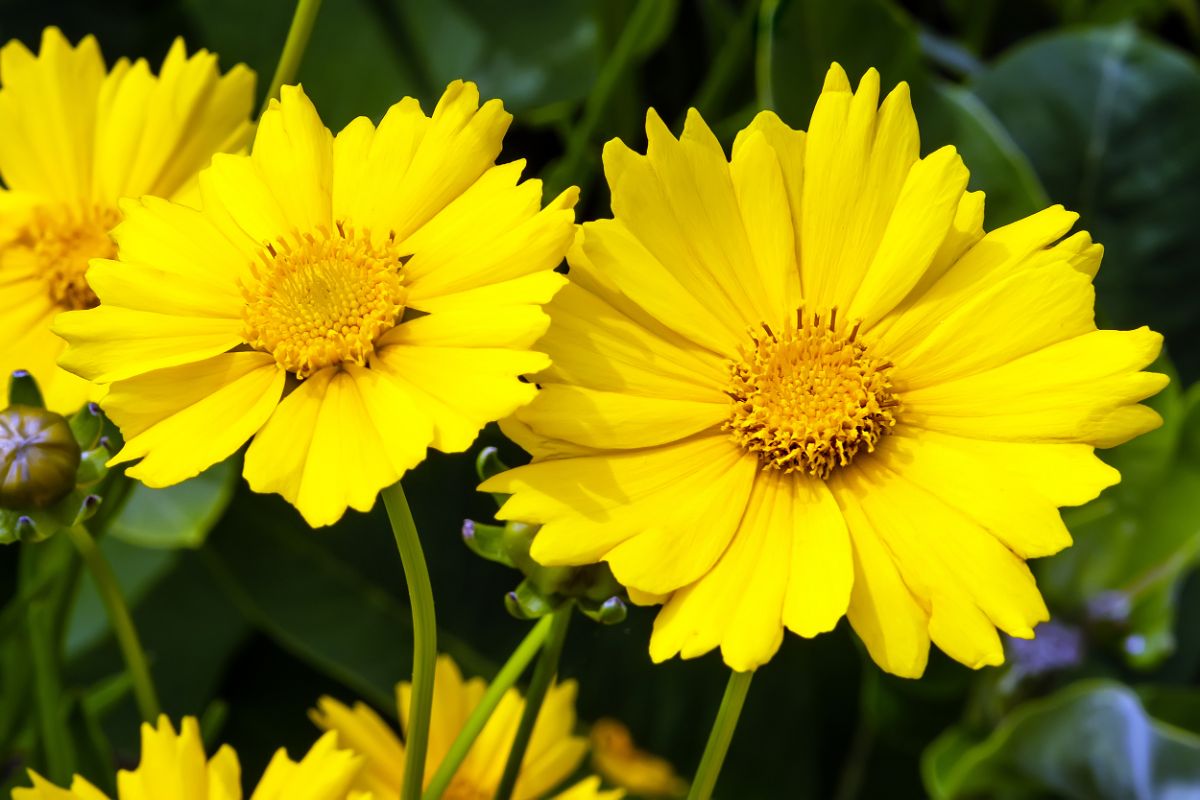 Like many multi-colored pinwheels dancing in the sun, Coreopsis flowers bring sunshine and happiness to the garden. There are a plethora of colors to choose from, ranging from single-colored varieties to bi-color and tri-color options. If you're a fan of yellow, there are tons of choices. However, there are also red/orange, white/magenta, and yellow/burgundy cultivars.
Coreopsis is beloved by gardeners for its drought tolerance, exceptionally long blooming season, prolific flowering, and brightly colored blooms. Butterflies and birds adore the daisy-like flowers of Coreopsis too. Be aware; there are annual and perennial Coreopsis types.
Zones 5-9
Full sun
Drought tolerant
Deer resistant
Native wildflower of North America
Helenium/Sneezeweed (Helenium)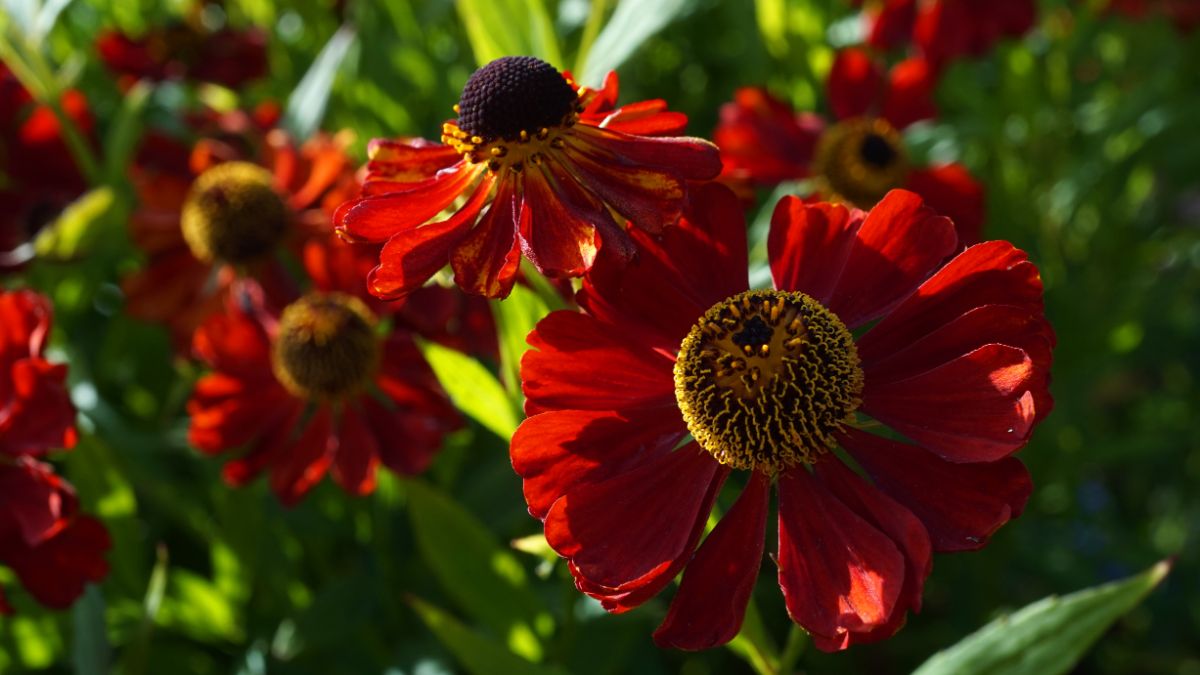 A native perennial wildflower that bursts with color, Helenium is made to brighten up the landscape. Helenium is especially remarkable because it's a late bloomer, which means you'll still have lots of spectacular colors in the garden in autumn. The daisy-like eye-catching flowers of Helenium come in shades of red, orange, and yellow. Each bloom has a prominent center cone that only increases the showiness and appeal.
Some Helenium varieties grow 4-5 feet tall, adding a vibrant vertical element to the garden, as well.
Zones 3-8
Full sun
Deer and rabbit resistant
Attracts hummingbirds, butterflies, and birds
Native to North America
Oriental Poppies (Papavar orientale)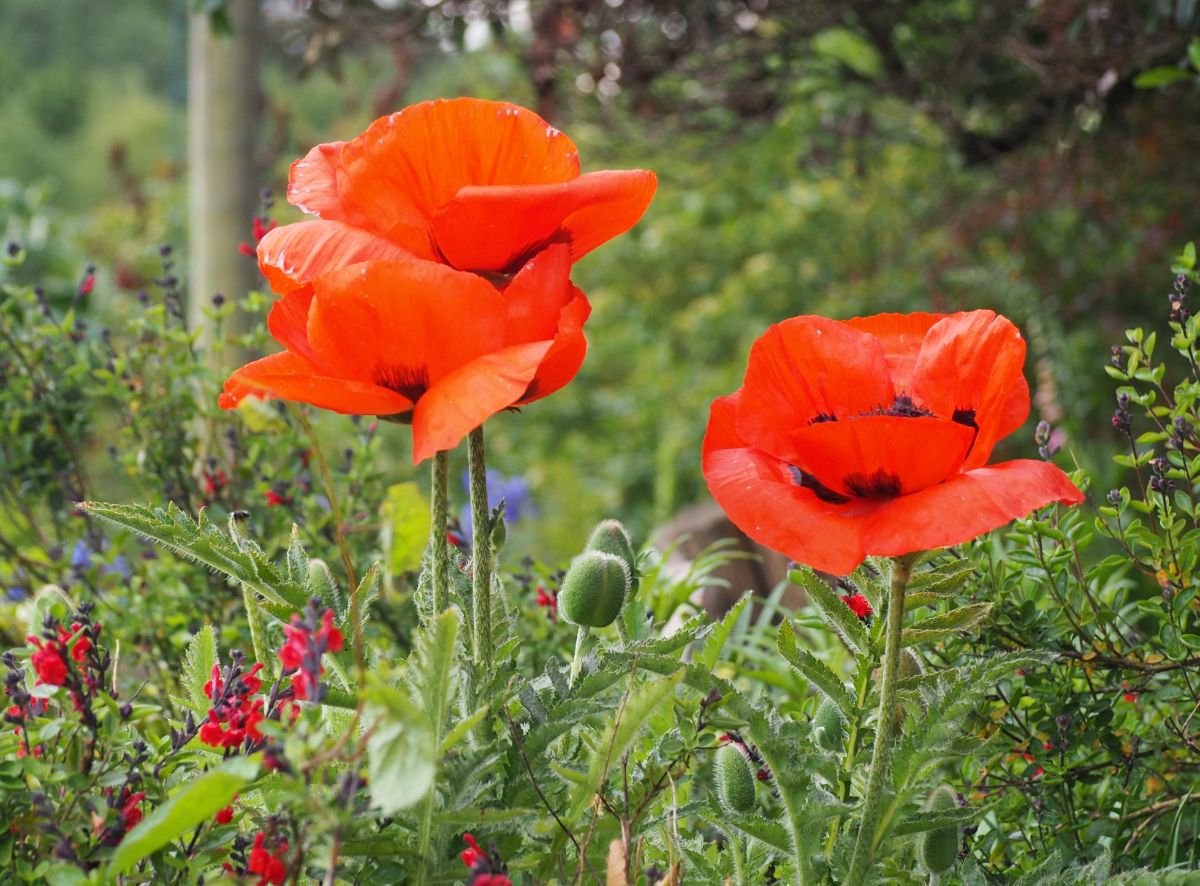 The giant vividly colored crepe paper-like flowers of Oriental Poppies are simply breathtaking. With some truly vibrant colors to choose from, like tangerine orange, scarlet, magenta, and plum purple, it's impossible to go wrong with this perennial. Oriental Poppy blooms aren't just attractive for their colors; the cup-shaped satiny flowers also feature an intricate center seedpod that adds another element of beauty to the garden.
Reliable, fuss-free, and easy to grow, Oriental Poppies are an exquisite and dramatic addition to the landscape. They grow between 2-3 feet tall and bloom in early summer.
Zones 3-8
Full sun
Drought tolerant
Deer and rabbit resistant
Attracts butterflies
Rose Campion (Lychnis coronaria)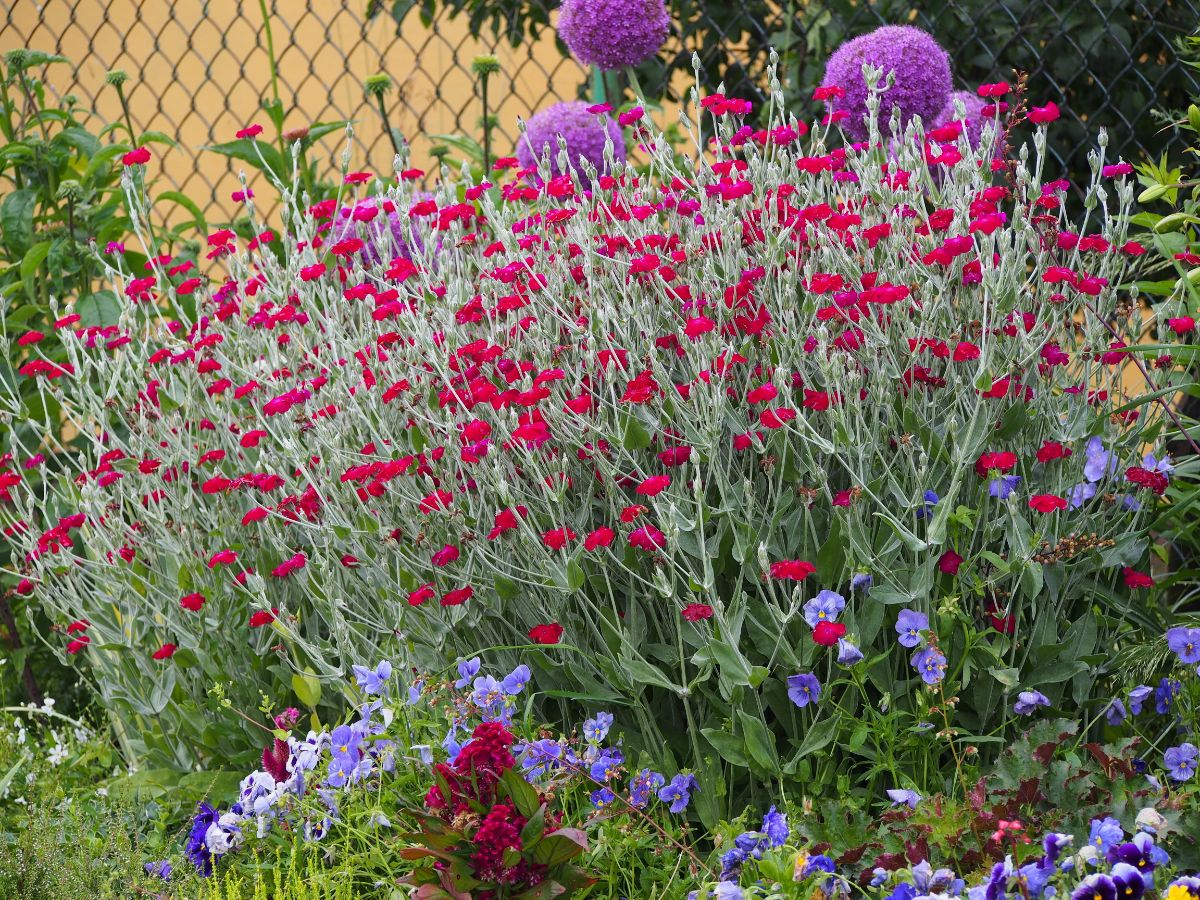 This evergreen (or evergray) perennial has beautiful flowers and foliage. Rose Campion flowers are small, usually about 1" wide, and magenta red. The blooms appear in prolific abundance, creating a glorious display, especially contrasted against the silvery-gray foliage.
Rose Campion is extremely easy to grow, fuss-free, and blooms from late spring all the way through late summer. It grows 18-24 inches tall and looks fabulous planted along a walkway or used as a border plant.
Zones 3-8
Full sun or partial shade
Drought tolerant
Deer resistant
Attracts hummingbirds and butterflies
Hollyhock (Alcea rosea)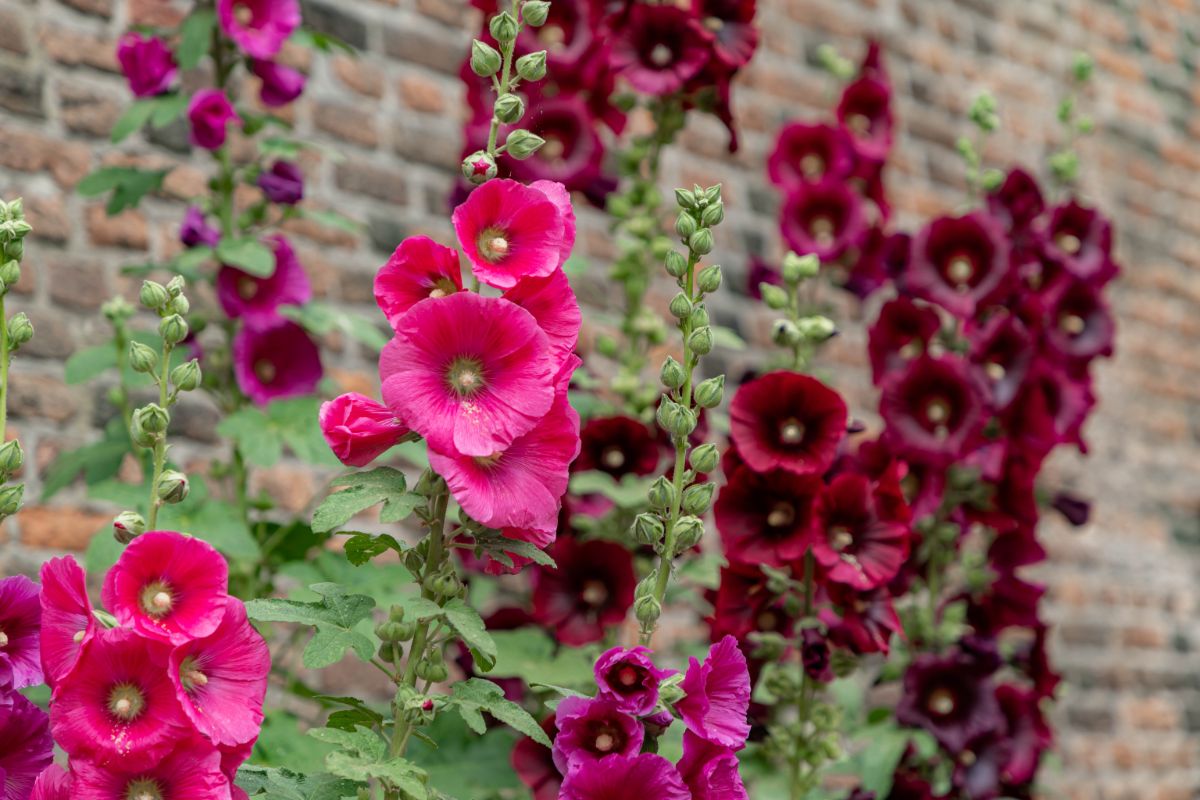 For vivid colors and architectural brilliance, plant an array of Hollyhocks. These perennials average 5-6 feet tall and feature absolutely stunning, often multi-colored, blooms. Hollyhock flowers cover the tall, sturdy flower spikes, blooming in succession from the bottom up until the stem is covered with blossoms.
Because of their height, Hollyhocks are best grown against a fence or wall for support. They are an easy-to-grow perennial and come in a vast array of colors, even black!
Zones 3-8
Full sun
Rabbit resistant
Attracts hummingbirds and butterflies
Dianthus/Pinks (Dianthus)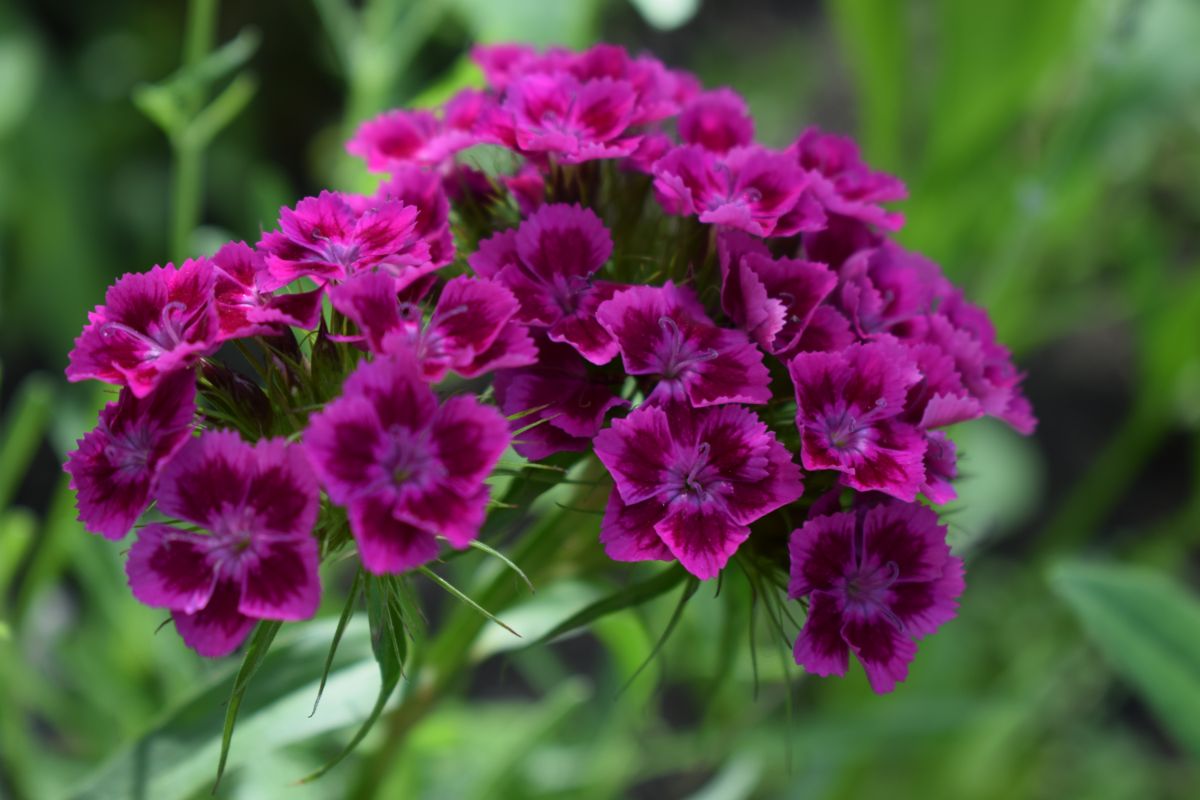 Although short in stature, Dianthus totally makes up for its size with its sheer brilliance of colors and profusion of blooms. Dianthus flowers aren't just beloved for their prolific blooms and bright colors; they also smell wonderful. There are hundreds of shades of pink Dianthus to choose from and some interesting white, red, magenta, and even light green options.
Dianthus flowers bloom from spring through the end of summer and look incredible wherever they are planted. They're easy to grow and add long-term color to the landscape.
Zones 5-9
Full sun
Deer and rabbit resistant
Drought tolerant
Attracts bees and butterflies
Adding bright and colorful flowers to the perennial garden is an excellent way to bring life to the landscape. Bright colors are known to improve moods and lift spirits, and perennial flowers are an easy way to get this colorful beauty into our lives.