If you like coral bells, another ornamental plant with a similar appeal that you may enjoy having in your garden is coleus. These plants produce astonishing evergreen foliage along with some modest but appealing blooms.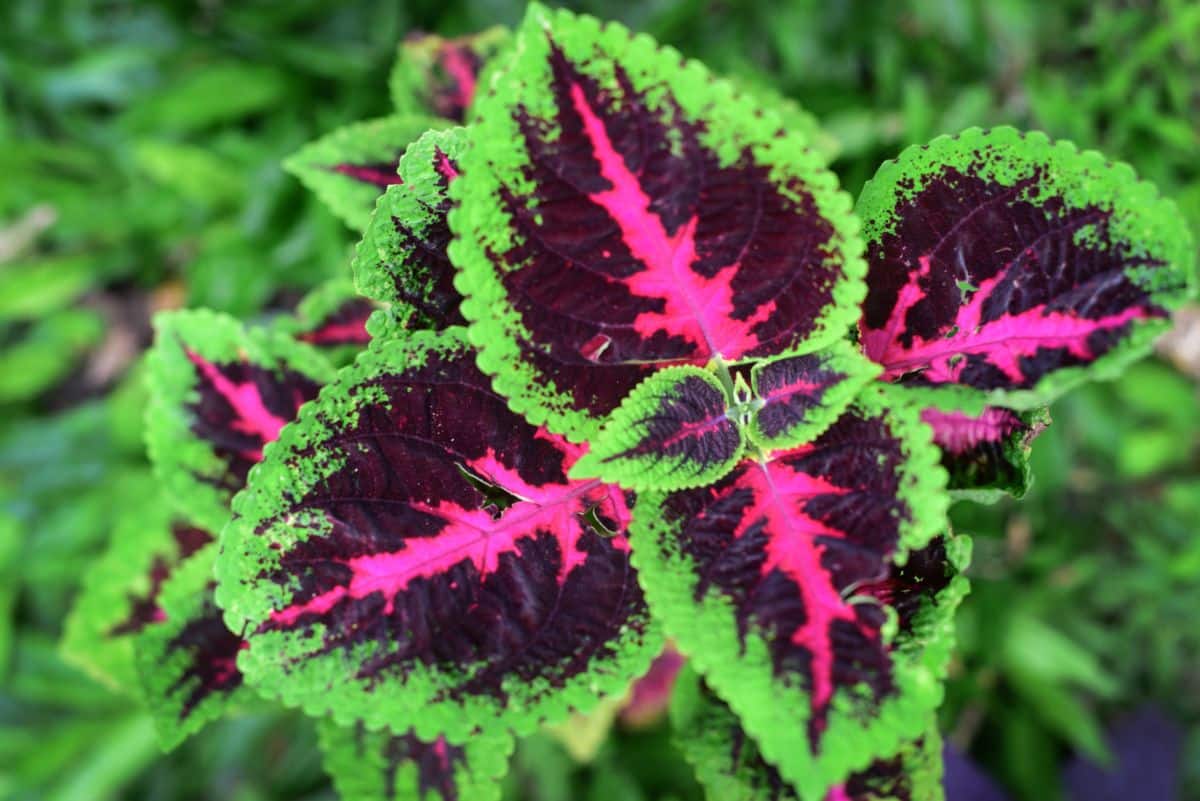 This guide will teach you how to plant and grow coleus. Use the advanced jump below if you are looking for something specific; this is an in-depth guide covering all aspects of coleus care.
Jump to:
What Are Coleuses?
Coleus plants belong to the genus Coleus. Plants in this genus may be classified as herbs, shrubs, or succulents—so there is a lot of variety to choose from. This genus is part of the family Lamiaceae, which is the mint family.
Usually, people just call coleus plants by the name of the genus. But sometimes, they may also refer to them by names like hedgehog flower, spurflower, hullwort or flybush.
Like the popular coral bells perennial plants, coleus plants do produce blooms, but their foliage is the main attraction. The leaves come in a range of vivid hues and can add a lot of color to your garden. From a distance, it is easy to mistake the vibrant foliage for flowers.
Coleus is a tender evergreen perennial. That means that if you live in a hot climate zone (10 or above), you can enjoy it year-round in your garden year after year. But if you live in a cooler climate, then you will need to overwinter it indoors.
Do not be fooled by coleus plants being marketed as "annuals" in your area; you do not need to throw these plants away at the end of the growing season. Taking care of them over the winter is easy if you plant them in containers, and you can continue to enjoy them for a long time to come.
Coleus Basics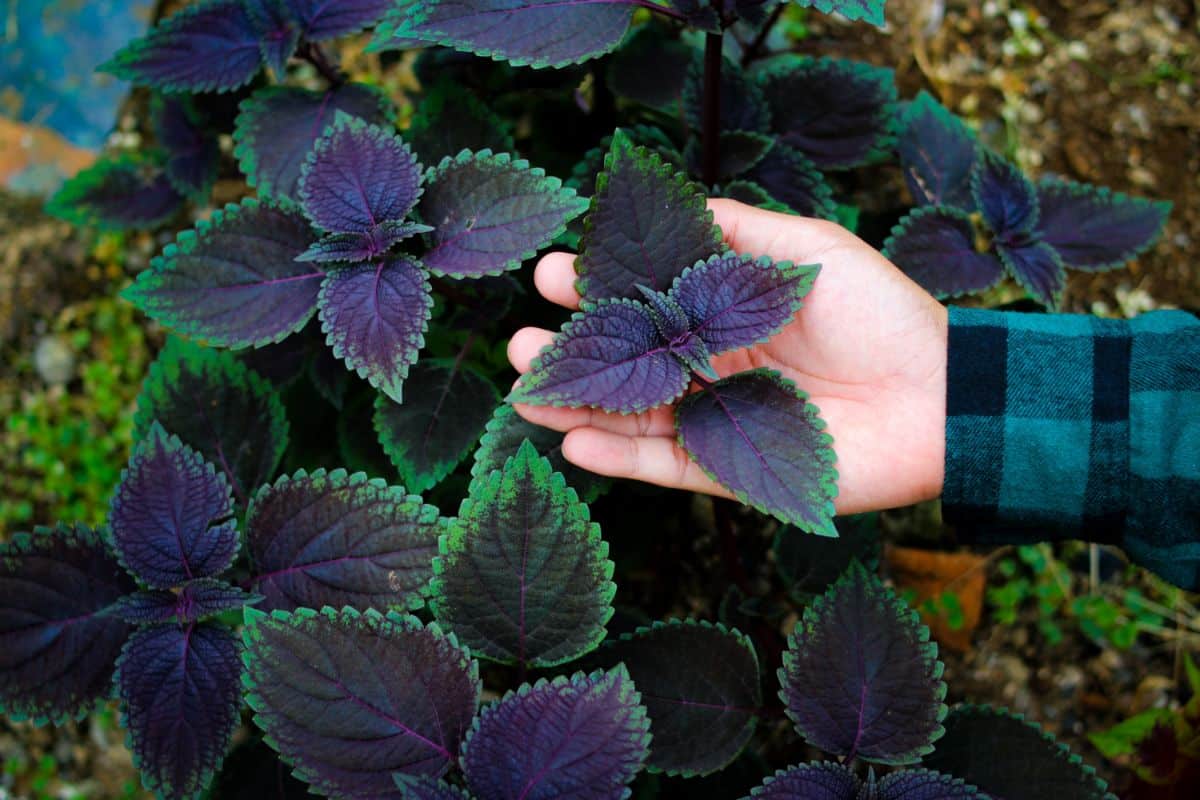 | | |
| --- | --- |
| Zones: | 10+ |
| Blooming season: | Summer-fall |
| Expected height: | Up to 3.5 feet |
| Soil: | Rich, well-draining |
| Sun: | Full sun to partial shade or full shade |
Where Do Coleuses Grow?
The native range for coleus is Australia and southeast Asia. But they are now cultivated around the world, especially in hot climate zones.
Why Grow Coleuses?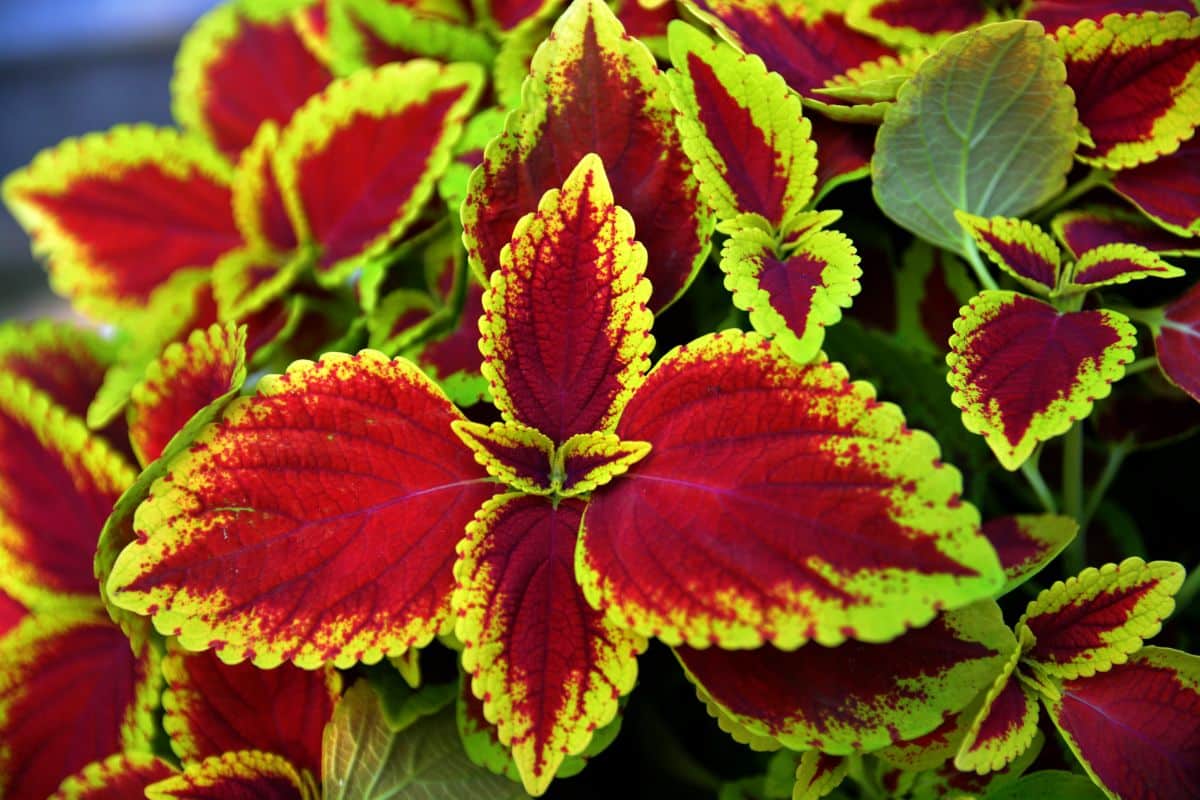 Here are some reasons to consider growing coleus in your garden.
• Even though many people mistake coleus plants for annuals, they are perennials that can live for years. Overwintering them is easy.
• These popular plants make a bold statement with their colorful foliage, which can be every bit as vibrant and eye-catching as many of the flowers in your garden.
• If you allow your coleus to bloom, the flowers are pretty, even though they are small, coming in shades of white, purple, and blue. They will attract hummingbirds, bees, and butterflies to your garden (caveat: some gardeners say that coleuses tend to die if you do not deadhead them).
• If you do cut off the flowers of the coleus before they are done blooming (as may be best for the plant), you will find that they work well in bouquets.
• Coleus cultivars grow in a variety of habits, which adds to their versatility for landscaping. You can even train them to grow as standards.
• Coleuses are deer-resistant and rabbit-resistant plants.
• If you happen to live in a hot climate zone, you will find that coleus flourishes happily where many other plants may struggle.
• You can make a dramatic impact in your garden with a wide range of cultivars. Exploring their incredible variety never gets old.
• Another advantage of coleus plants is that they are evergreen. Although they need pruning, you do not trim them all the way to the soil. They continue to bring color to your garden year-round.
• You can propagate coleuses with relative ease. That means that you should be able to increase your coleus collection pretty quickly, even just starting with a single-parent plant. Hopefully, you will properly care for your coleuses, and each of them will last for years, but if anything goes wrong with the parent plants, you can grow new ones from cuttings.
• Aside from some light pruning now and again, coleuses are pretty low-maintenance and easy even for beginners to grow.
When Do Coleuses Bloom?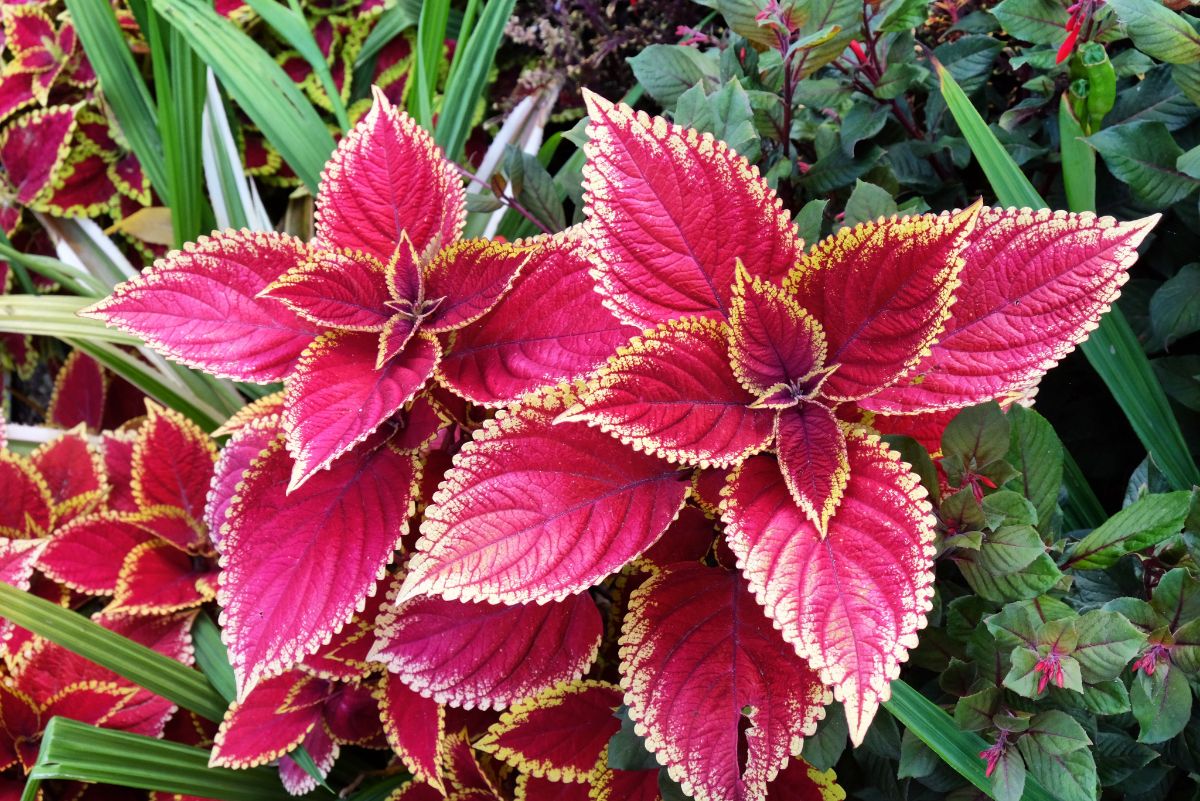 Coleus plants bloom in summer and fall.
How Long Do Coleuses Bloom?
The bloom period for coleus plants is generally a few weeks late in the season. During fall especially, pollinators in your area may be appreciative of the blooms.
When to Plant Coleuses
You can plant coleus outdoors in spring. Make sure that the last frost is behind you.
Ideal Growing Conditions for Coleuses
To enjoy the vibrant colors of coleus plants in your garden, you need to plant them in the right conditions. Here are the sun, soil, and water requirements for these evergreen perennials.
How Much Sun Do Coleuses Need?
How much sun to give your coleus depends in large part on what cultivar you have. Most coleus plants prefer partial sun, but some can live in full sun or full shade.
By default, bright morning light followed by afternoon shade is best—just as it is for many other perennials. The morning sun is less likely than the afternoon sun to scorch the plants.
What Type of Soil is Right for Coleuses?
Rich soil with plenty of nutrition is best for coleuses. It is also important that it be loose soil that drains efficiently.
Amending soil with compost can be a good idea if your soil has deficits in either of these areas. You will add nutrition and help water to drain, preventing soggy soil.
A good pH for the soil is neutral or a little bit acidic. When you add compost, you might increase the acidity, but only if you are using acidic compost. If it is alkaline, you may need to put in another amendment to bring the pH down. Sulfur or coffee grounds can increase the acidity of your soil.
How Much Water Do Coleuses Need?
How often to water coleus plants depends on where they are planted and what time of year it is.
University of Minnesota Extension says, "A plant in full sun will require more frequent water than one in the shade. Plants grown in containers will require much more frequent watering than those grown in garden beds. Only water when the top 1-2 inches of soil are dry if growing in a garden bed. Water daily for container plants, but make sure the container has drainage holes at the bottom to allow excess water to run out."
We have even seen some gardeners say that if the coleus is in containers and the summer weather gets to be very hot, they might need to be watered twice daily.
How to Plant Coleuses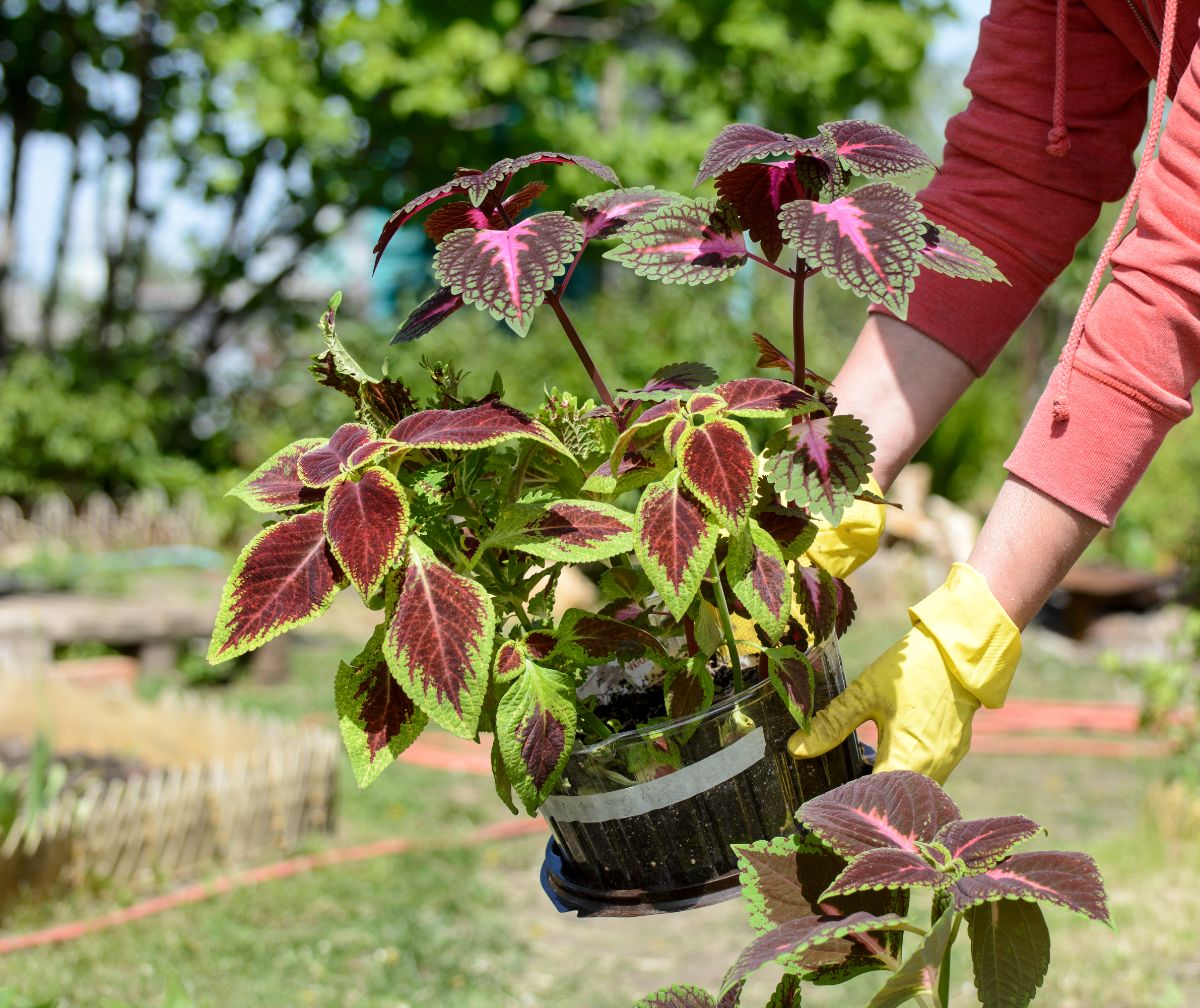 You can grow coleus in containers or in your garden beds. We recommend you only plant coleus in your garden beds in zones 10 and up. In most climate zones, you should keep it as a container plant. That way, you can bring outdoor containers inside for overwintering, growing coleus as a perennial.
Ground Planting
1. Pick a spot for coleus, and then spend some time loosening up the soil. Some organic compost can make a handy addition since it can enrich the soil and maximize drainage.
2. Take the plants out of their original containers and carefully pull the roots apart if they are tightly bound.
3. Dig holes and plant your coleuses. They should be about 6-12 inches apart.
4. Backfill the soil. The depth of planting should be even with the soil surface.
5. Gently tamp down the soil.
6. Water deeply.
While coleuses establish, they require extra water.
Container Planting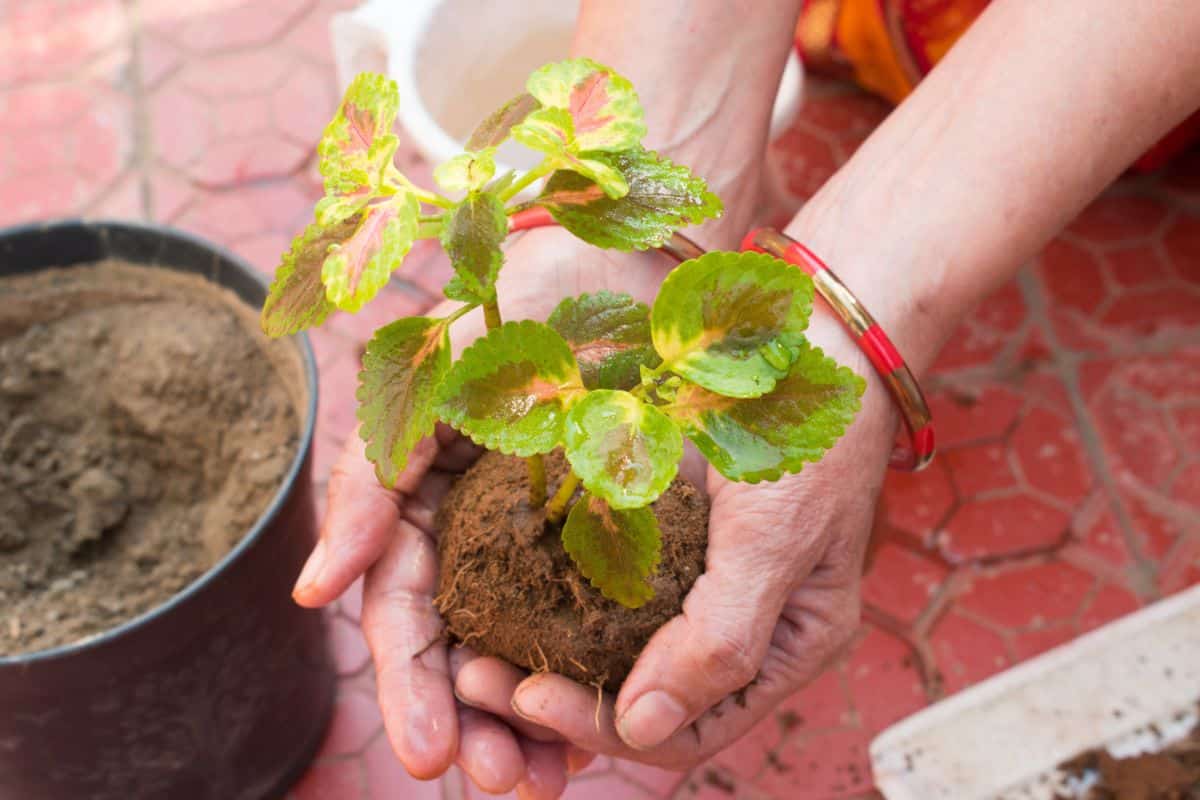 1. If you are growing coleus plants in containers, you can figure out the right sizes by measuring the root balls and then adding several inches. Go with plastic or ceramic if you can, and make sure that there are drainage holes.
2. Start filling the container with potting mix. Then, take the coleus plant out of its nursery container and place it inside the new container.
3. Fill in the rest of the potting mix, leaving the top of the root ball at the same level as the surface of the potting mix.
4. Tamp down gently, then water well.
5. Find a spot to put your container, and remember to bring it indoors over the winter if you are not in climate zone 10 or above.
Water potted coleuses extra while they are establishing.
How to Propagate Coleuses
You have multiple options for coleus propagation: cuttings, seeds, and divisions.
Starting Coleuses from Seed
Follow these steps to grow coleus from seed:
1. Fill small containers with seed starting mix. Remember, the containers need to have drainage holes.
2. Use a spray bottle to moisten the seed starting mix, then wait for the excess water to drain.
3. Sow the seeds on top. We recommend that you do not put them too close together. In fact, you might want to just put one plant in each little container. That way, you do not have to worry about thinning them out (which, trust us, you are not going to want to do—it is easy to fall in love with each new plant and its amazing leaves).
4. The seeds cannot germinate without light, so you must not cover them. But you should push them down a little bit to lodge them in the seed starting mix.
5. Choose a spot for the seeds where they get plenty of light, and the temperature is in the 70 to 75 degree Fahrenheit range.
6. Regularly use the spray bottle to keep the seed starting mix moist.
7. Wait for the plants to germinate, and then develop real leaves. After they do, you can move them to their permanent homes.
Starting Coleuses from Cuttings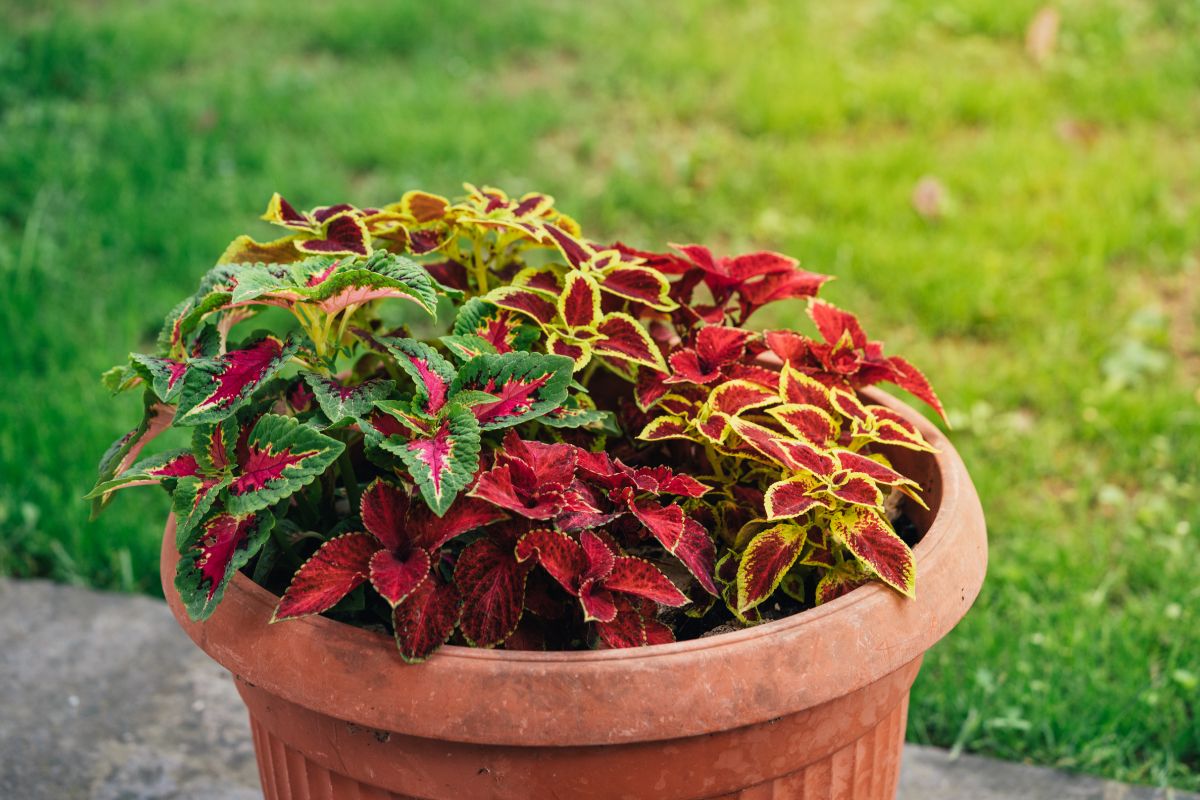 You can get the most predictable results using cuttings rather than growing coleus from seeds. Follow the steps below:
1. Use sanitized scissors to take some cuttings. Each one should measure roughly 4-6 inches. A good time to do this is when you are doing your regular pruning.
2. Leave the top two sets of leaves alone, and get rid of the rest on each of your cuttings. If there are blooms, remove those as well.
3. Fill a clear jar or glass with water, and set the coleus inside. If you have multiple cuttings, you may need more than one jar, but only if you have a lot. If it is just two or three, they can all root in the same jar.
4. Choose a location with bright, indirect light for the cuttings. The ideal temperature range is 60 to 75 degrees Fahrenheit.
5. Keep an eye on the coleus cuttings, changing out the water now and again so it stays fresh and you do not promote disease. After about 3-4 weeks, the cuttings will root.
6. You will need to leave the coleuses in the water for a little longer while the roots continue to develop. After those are a couple of inches long, then you can transplant them into containers.
How to Divide Coleuses
If you have a mature coleus, you can divide it into smaller plants using the following steps.
1. The day prior to making the divisions, you should water the parent plant deeply.
2. Prune your coleus to no taller than 6 inches. Yes, this may feel extreme, but it will help the coleus survive the division process.
3. Use a shovel to dig in a circle around the coleus and then push underneath it to lift it out of the ground.
4. So that you can see more clearly what you are doing, wipe away extra dirt.
5. Divide the coleus. You probably can do this without any tools.
6. Transplant the freshly-divided coleuses, backfill the soil, and water well.
How to Care for Coleuses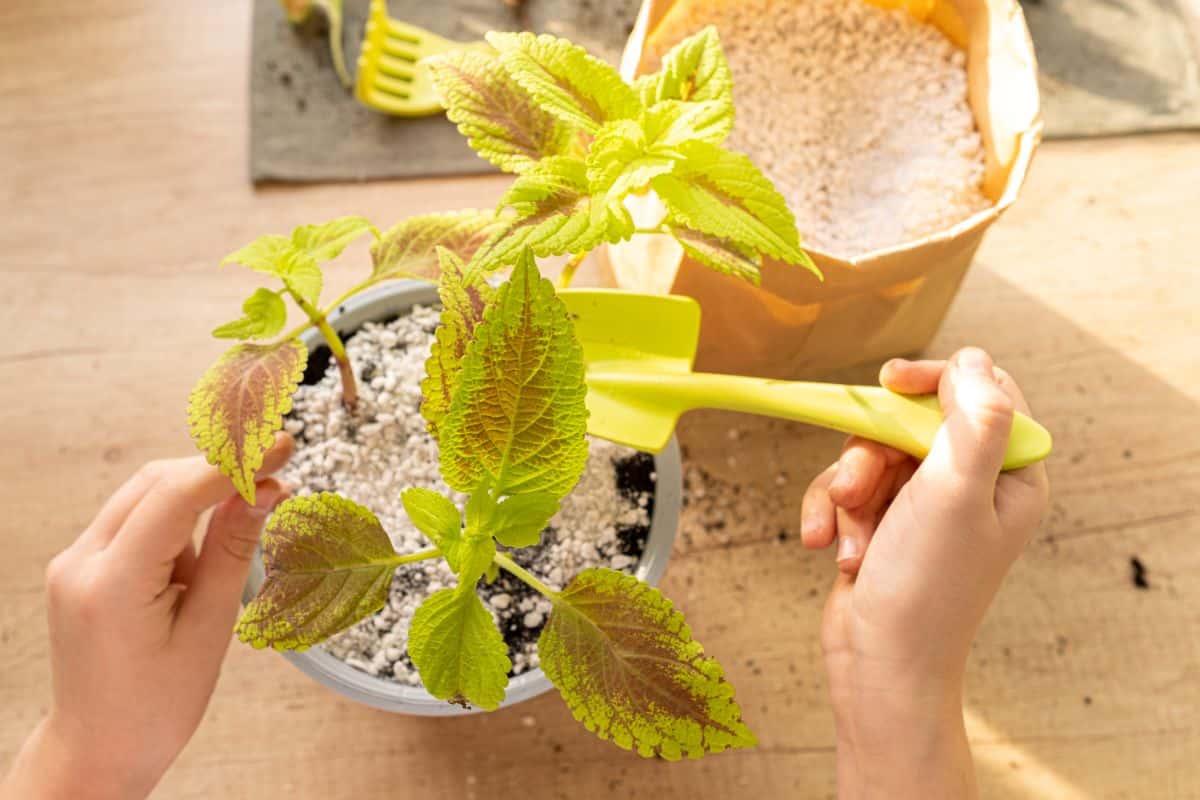 How do you maintain this tender perennial? Let's go over what you need to know about fertilizing, mulching, staking and pruning coleuses. You also will learn about pests and diseases.
How to Fertilize Coleuses
Yes, you do need to fertilize coleus. Napa Master Gardener Column says, "Because coleus like water and frequent watering can leach nutrients, feed coleus frequently with a water-soluble fertilizer such as fish emulsion. Follow the dilution directions on the bottle. Too much fertilizer will suppress vivid colors, so pay attention to how your plants look as you care for them."
How to Mulch Coleuses
It can be a smart move to mulch your coleus plants. During the summer, mulch will help prevent moisture from evaporating from the soil.
Do you need it in winter? Not really. If you are not in a climate zone that is coleus-friendly year-round, you are almost certainly going to bring the plants indoors for winter anyway, in which case the mulch would be unnecessary.
There are a couple of caveats to mulching your coleuses:
• You must not overdo it. Too much mulch will invite pests, and mulch too close to the stem will invite disease.
• Cedar reportedly has a toxic effect on coleus plants. So, you should not use this material as mulch for your coleuses.
How to Stake Coleuses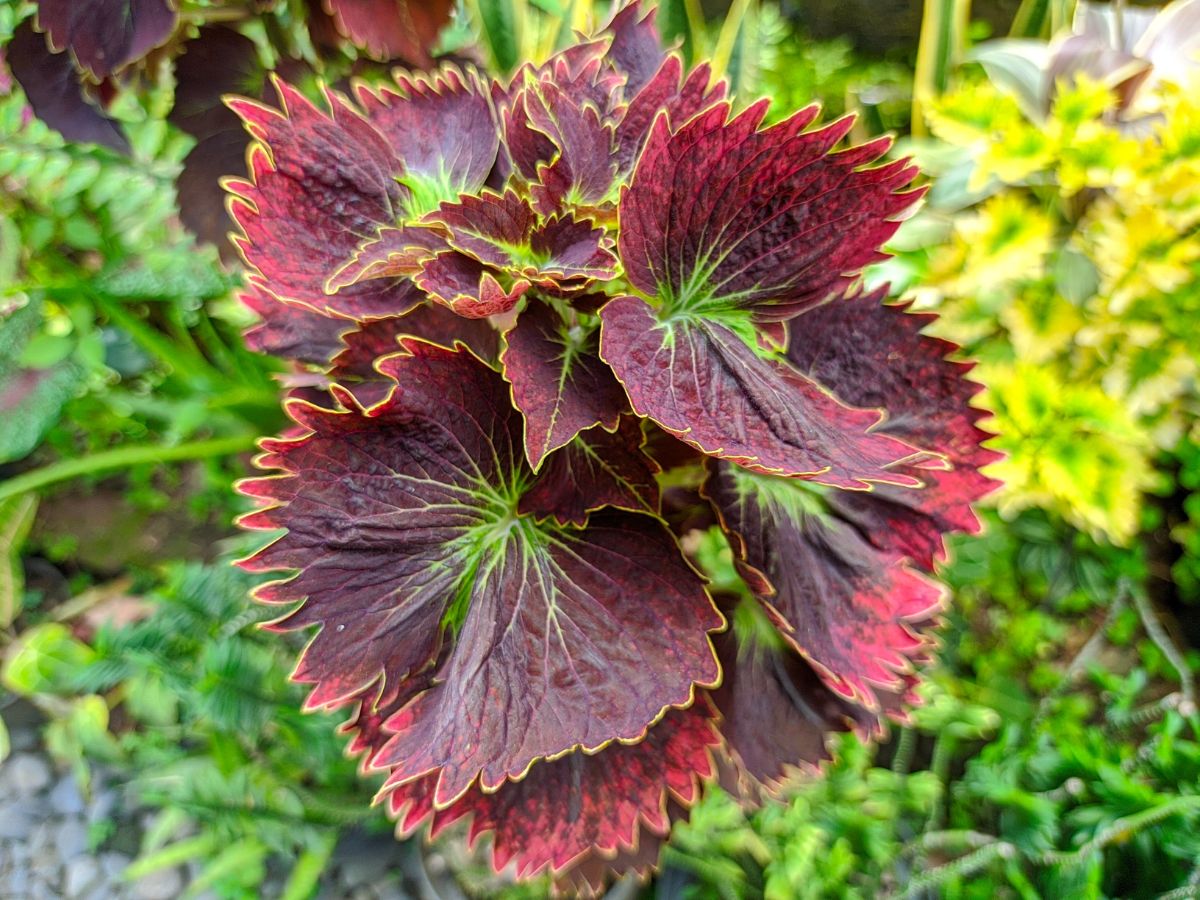 In most cases, there is no need to stake coleus. But if you want to grow it as a standard/topiary, then you will need to do so.
You also will need to do some pruning to create the shape of the topiary (not the regular coleus pruning we discuss in the next few sections).
1. Start by trimming off every stem except the one that you want to use to form the 'trunk" of your standard.
2. Carefully insert a bamboo stake into the soil next to the coleus.
3. Use garden ties to attach the stem of the coleus to the stake.
4. Cut off new stems if they form, and keep tying the coleus to the stake as it puts on more height.
5. Pinch off the top stems when you are satisfied with the height of the plant. The coleus will produce more foliage on top, giving it that tree-like shape you are going for.
6. Over time, the stem of the coleus standard will become more and more sturdy. You may still need to use the stake for support, but not necessarily.
How to Prune Coleuses
To keep coleus producing dense, colorful foliage and to maintain its shape, you will need to do some pruning. Let's talk about deadheading coleus and trimming it.
How to Deadhead Coleuses
Whether or not you deadhead coleus is up to you and depends on how you feel about the flowers. If you like them, you can leave them be. But if you are indifferent to them, you might consider deadheading them so that the plant can spend more of its energy on continuing to produce beautiful foliage.
In fact, we have even seen some reports that coleuses die after flowering, but only if you do not deadhead them. Apparently, these plants figure once their reproductive duties are accomplished, they do not need to stick around.
So, you might want to play it safe and deadhead the flowers quickly when they appear. This may increase the chances that you can keep enjoying your coleus through future seasons.
When to Cut Back Coleuses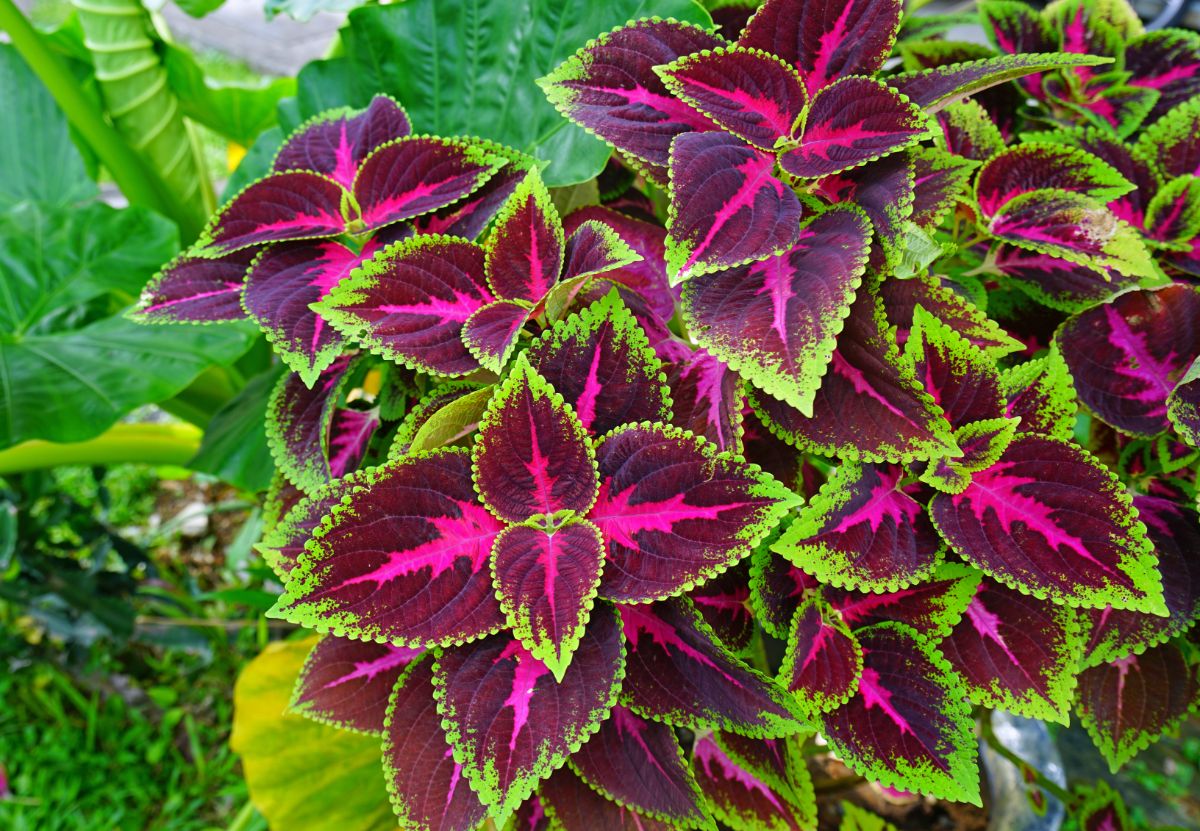 Unlike many other perennials in your garden, you do not cut back coleus for winter. This plant is evergreen.
But there is still pruning involved with coleus. Many gardeners pinch off stems regularly throughout the year to help encourage new foliage growth.
The most important time of year for pruning coleus is midsummer. This is done to keep the plant from going overboard on growing; the branches can get too heavy if you do not do this. As a result, they can break.
How to Overwinter Coleuses
For some reason, we see a lot of people advise that if you want to "overwinter" coleus, you should simply take cuttings of it to grow indoors and then dispense with the parent plant. In other words, they are still treating it as an annual.
It is unclear why this practice is so common, as we have also seen other gardeners say you can grow coleus indoors as a houseplant, and it can live for years.
Perhaps the best practice is to take some cuttings to be on the safe side, but go ahead and bring the parent plant indoors for the winter. With proper care and conditions, it should survive, and you can put it outside again when the weather warms back up. Again, coleus is a tender perennial.
Are Coleuses Vulnerable to Diseases or Pests?
Coleus diseases may include tomato spotted wilt virus, impatiens necrotic spot virus, downy mildew, stem rot, and crown rot. The standard advice applies: keep your coleus from getting too damp by ensuring drainage and airflow, and many of these problems are less likely to occur.
Pests that go after coleus include whiteflies, aphids, mealybugs, slugs, and snails. Deer and rabbits usually do not try to eat it.
Recommended Planting Combinations for Coleus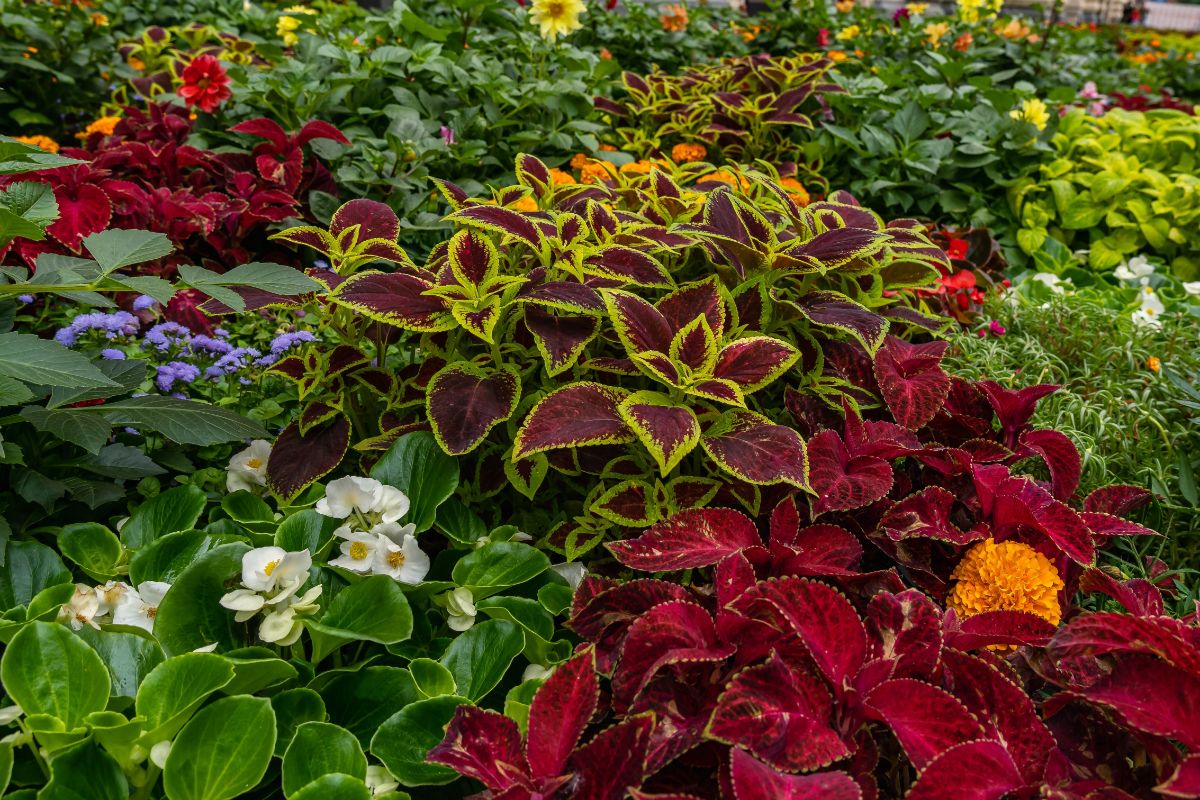 Here are a few ideas for companion plants for coleus:
• Impatiens: Like coleus, impatiens are often marketed as annuals but are actually tender perennials. They can make great companions for your coleuses.
• Begonia: These stunning tender perennials will flourish in the same hot climates that coleus is happiest in. See our Begonia Full Growing Guide to learn how to plant and maintain them.
• Coral bells: These perennials with striking, colorful leaves may make good companions for coleuses in partial shade. Keep in mind that coral bells are a great deal hardier in cooler climate zones but may not be as happy in really hot climate zones. So, they work best as a companion in situations where you are overwintering your coleuses indoors. But you do not need to overwinter the coral bells.
You can also try planting coleus around other garden perennials you want to keep deer and rabbits away from.
Coleus Landscaping Ideas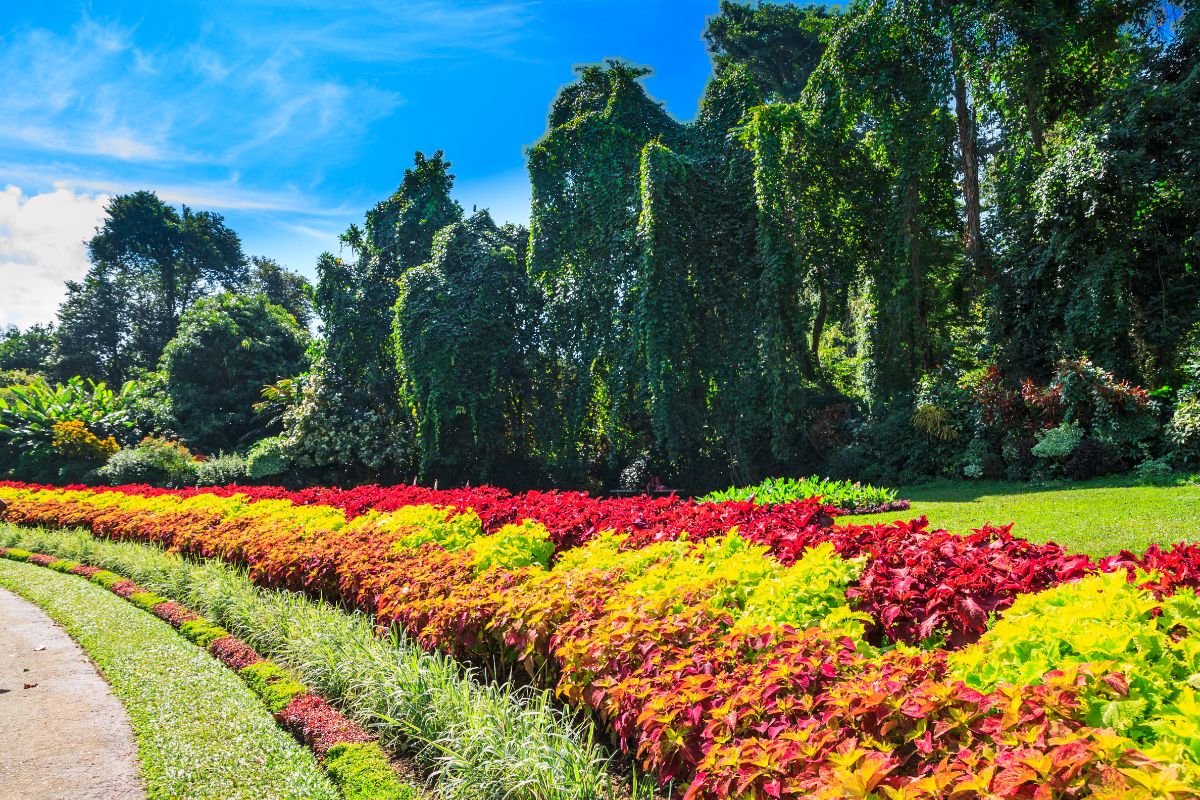 Coleus boasts excellent versatility for landscaping thanks to a range of growth habits, textures, and hues.
• Container garden: The best way to use these plants with their colorful leaves is usually to fill out a container garden. In most climates, to keep them as perennials, you need to take them indoors each winter, so you might as well make it easy on yourself. They look awesome in pots, too, so you should be pleased with this setup.
• Hanging baskets: Speaking of containers, if you get coleuses with trailing habits, they can look wonderful hanging overhead. Baskets, like pots, are easy to bring indoors for winter as well.
• Standard: You can train a coleus so that the central stem looks similar to a slender tree trunk and then encourage it to form a ball of foliage at the top. A few of these placed well throughout your landscape will have an elegant effect.
• Borders: Coleus plants can make beautiful, colorful borders, bringing contrasts of texture and hue to your plantings. You can even do rows of different types of coleus to get bands of color or alternate them with flowering perennials.
• Focal points: A single coleus plant can draw the eye from across your garden to create a focal point.
• Pollinator garden: If you do not plan to deadhead your coleus plants right away, you might try adding them to a pollinator garden, among other flowers that bees, butterflies, and birds adore.
Recommended Coleus Varieties
Excited to discover the coleus plants with the most brilliant coloring? Let's check out some of the most vibrant and distinctive coleus cultivars you can plant in your garden beds or containers.
• Campfire: If you want a type of coleus that boasts a leaf color that is every bit as bold and spectacular as many of the flowers in your garden, go with the bright red "Campfire" cultivar.
• Black Dragon: Dark purplish burgundy foliage that is almost black gives this cultivar its dramatic name.
• Wizard Rose: The bold leaf color of this cultivar is actually a mix of hues: bright green, hot pink, and creamy white. The flower stalks are lovely with their tiny blooms.
• Wizard Jade: This cultivar produces leaves that are a pale yellowish-greenish hue in the centers and a medium green around the edges. The blooms are dainty and bluish, offering a nice contrast if you leave them in place.
• Sun Crimson Gold: The light yellowish-greenish rims around the brownish-reddish leaves of this plant make every single one of them stand out.
• Fairway Mosaic: Here is a cultivar that will catch your attention; the bright green leaves have splotches of brownish-reddish hue across them.
• Wizard Velvet Red: The deep red hue of this cultivar's foliage will put you in mind of red wine.
• Henna: The serrated leaves of this cultivar are truly dazzling; they are green on top and purplish on the bottom.
Now you have some examples of stunning coleus cultivars! But there are plenty more out there for you to discover.
Frequently Asked Questions About Growing Coleuses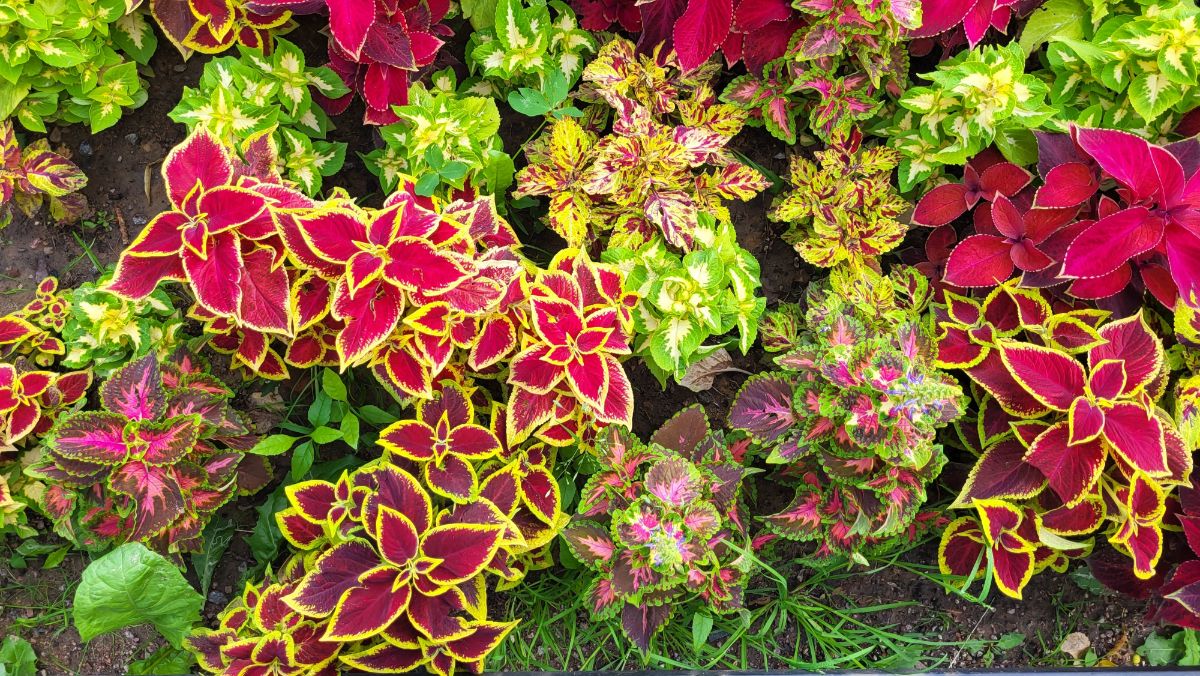 Here are answers to a few common questions you might have about coleus plants.
What eats coleuses?
Slugs, snails, and certain insects may eat coleus plants, but mammals are unlikely.
Are coleus toxic to dogs or cats?
Yes, coleus is toxic to dogs and cats and also is poisonous to rabbits. You should not let your pets ingest the plant. Contact with it may also cause unpleasant symptoms, as it is the oils that carry the toxin.
Does coleus spread?
Not especially. Over time, a coleus clump can get to be larger, after which you will usually divide it.
They can theoretically self-seed and spread, but most gardeners do not let them go to seed in the first place. In fact, if the blooms do not interest you, you might even end up removing them before they start to wilt.
Does coleus need a lot of water?
Yes, especially coleus plants that are in containers, which can dry out fast. But like any other plant in your garden, coleuses can be overwatered. So, make sure that you do not overdo it.
Where to Buy Coleuses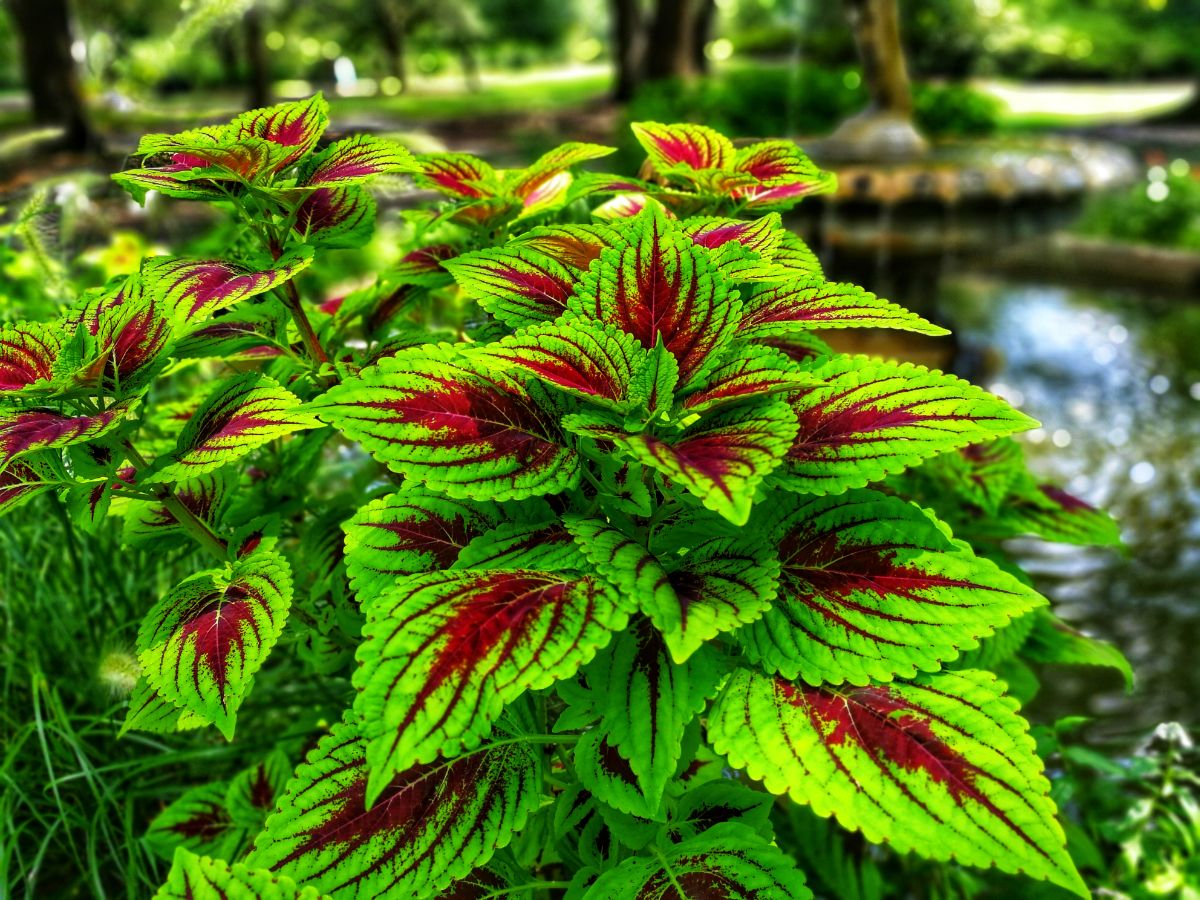 If you want to bring the colorful leaves and attractive flower stalks of coleuses to your garden, you should shop online for the biggest selection of cultivars. With what you have learned in this guide, they should be easy for you to grow successfully.