With climbing roses, you can have beautiful flowers not only in your garden beds and pots but also climbing up your walls and over your trellises.
In this guide, we are going to tell you all you need to know to grow climbing roses successfully and avoid common mistakes.
We will also introduce you to a wide variety of climbing rose cultivars to consider for your garden.
Below, you can jump to the section you are interested in using our table of contents. Scroll down for our full guide!
Jump to:
What are Climbing Roses?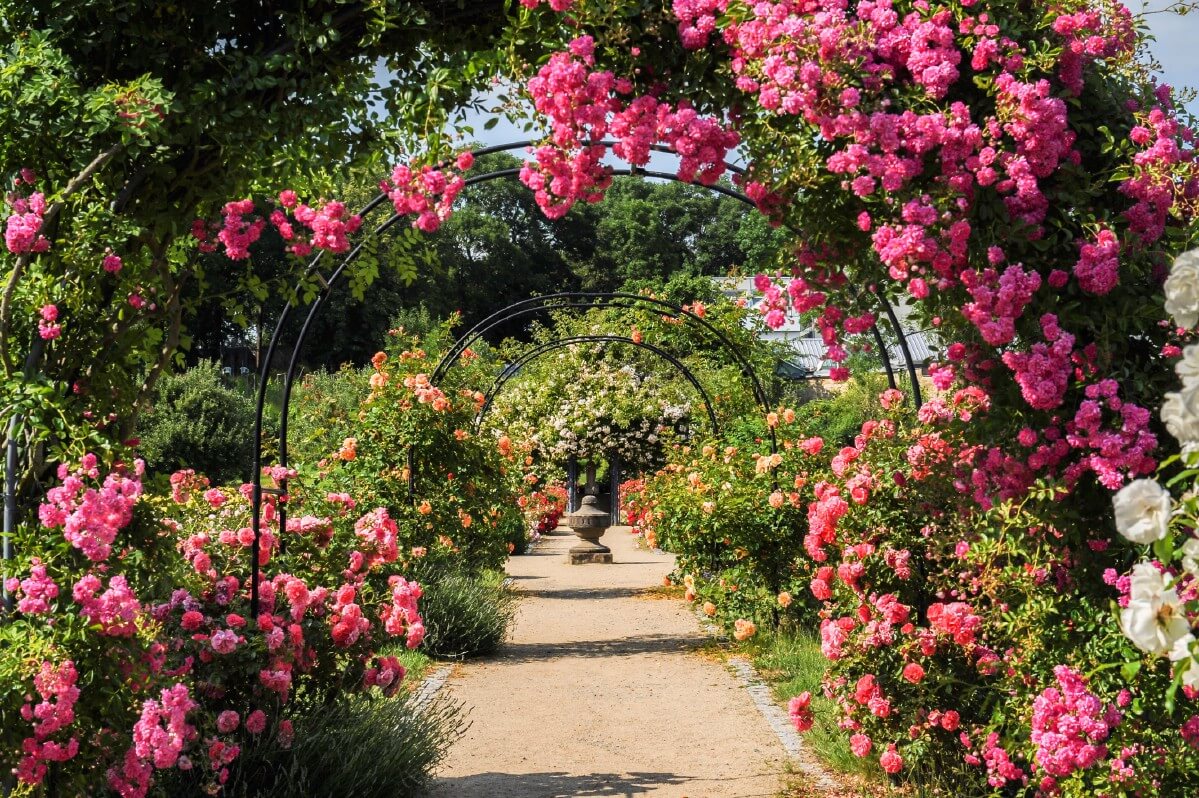 Climbing roses are exactly what they sound like—roses that climb.
You can contrast them with roses that grow in bushes.
You will get the most abundant blooms from most climbing rose cultivars during the spring. But if you have a repeat-blooming variety, you can expect more blooms as the season progresses.
Why Plant Climbing Roses?
Here are some of the benefits of climbing roses: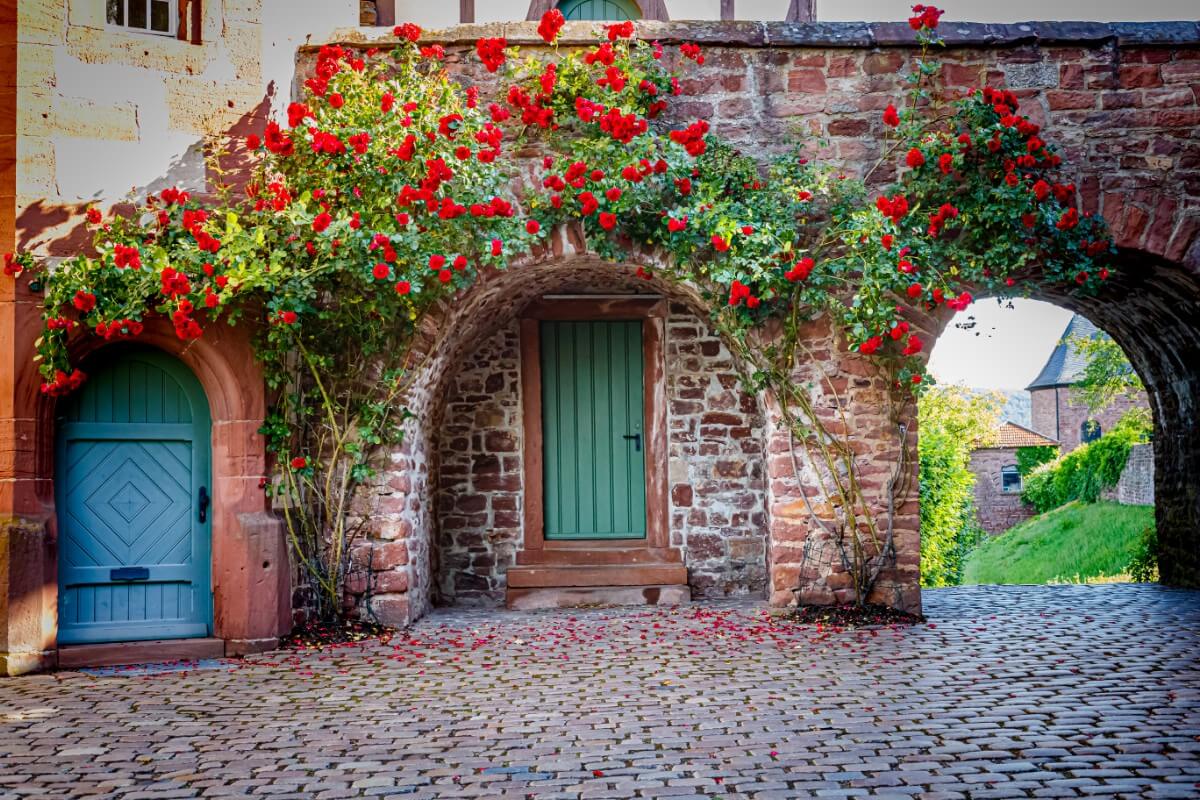 Fill out your garden vertically. Most flowers grow close to the ground. While there are some taller species you can plant, climbing roses allow you to reach new (literal) heights with your planting.
Get that cottage garden look. Cottage gardens feature fullness and abundance. Climbing roses do a wonderful job helping you to capture that look.
Climbing roses are easy to grow. No roses are really "low-maintenance," but many people do find climbing roses more manageable and less finicky than those that grow on bushes. So, they actually can be a great starting point for a novice rose gardener!
There are so many spectacular cultivars you will love. Whatever colors and scents you want in your garden, you can find the perfect climbing rose varieties to bring delight to your outdoor space.
Climbing roses can be functional, not just aesthetic. You might achieve more than just beautifying your garden by growing climbing roses. For example, they can help you create a privacy screen.
You may get repeat blooms, depending on the variety. While there are climbing roses that only bloom a single time during a season, there are many cultivars that flower repeatedly, giving you a long bloom period to enjoy.
You can bring a lovely fragrance to the upper floor of your home. By planting a rose to climb up the wall of your house, you can have blossoms next to your upper-story windows. That means that when you open them, the fragrance can drift inside! Depending on how abundant they are and how close they are located to the window, you might also be able to see some of them from upstairs.
Climbing Rose Varieties
Now you know some benefits of planting climbing roses in your garden. But what varieties should you consider? Below, we share some of our favorite climbing rose cultivars with you.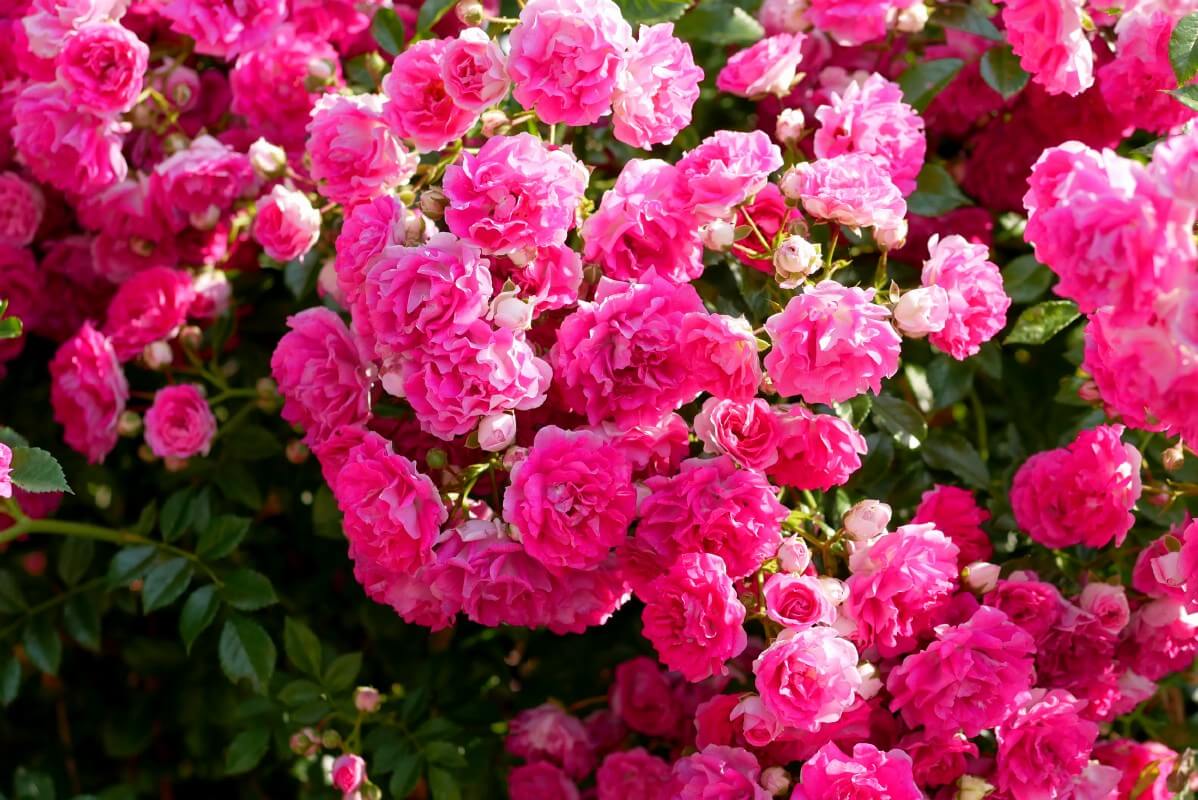 1. Zephirine Drouhin
UGA Cooperative Extension writes, "An interesting twist on the climbing rose is the Zephirine Drouhin. This deep rose-pink variety is virtually thornless. The blooms are fragrant and have been described as the scent of raspberries. Its canes are burgundy colored and easy to train because of their flexibility. Zephirine Drouhin is an antique rose that can grow in partial shade. When in more sunny locations, it produces blooms in great quantities. It is a continual bloomer that reaches 10-12 feet."
2. Danse De Feu (Rosa 'Danse De Feu')
This variety of climbing floribunda rose features clusters of flowers with a deep pinkish reddish color. Cutting these deep pink blossoms for a bouquet is easy thanks to this clustering growth pattern. Hardy in a range of conditions, it blooms multiple times over the course of a season and may reach up to 13 feet in height.
3. Altissimo (Rosa 'Altissimo')
If you fancy single flowers, you will love the bright red blossoms of the "Altissimo" cultivar of climbing floribunda rose. The yellow stamens in the centers of the red petals form a vivid contrast. You also will enjoy the glossy sheen of its beautiful green leaves.
4. Sea Foam
Looking for a climbing rose that features white flowers? Consider the poetically named cultivar "Sea Foam."
Technically, this is more of a rambler than a climber, but it can climb as well, albeit not as high as some other varieties.
Texas AgriLife Extension Service suggests, "Ideal for use on pillars and trellises, or to drape along the top rail of a rustic fence. Of course, Sea Foam can also be trained as a weeping standard. This form can be very dramatic in the landscape."
5. Climbing Pinkie
Texas AgriLife Extension Service describes the popular Climbing Pinkie. The site says, "Having very few thorns makes Climbing Pinkie the perfect rose to train on columns, trellises, and arbors. It is beautiful, cascading down a rock retaining wall or along the top of a rail fence. It can even be grown trailing down a steep incline, as a large mounding shrub or plant several for an informal hedge. Climbing Pinkie will tolerate saline irrigation water as long as there is plenty of organic matter in the soil and the irrigation is done in a way that protects the foliage from contact with water."
Like the Sea Foam above, Climbing Pinkie is classified as an "Earth-Kind Rose." The name is a reference to the Earth Kind Landscaping Program at Texas A&M. Roses that fall into this category are considered easy to grow. If you want a low-maintenance climbing rose, consider an Earth-Kind variety!
6. Souvenir Du Docteur Jamain (Rosa 'Souvenir du Docteur')
Next, we have "Souvenir Du Docteur Jamain," a climbing rose with blossoms in striking hues of burgundy and purple. It is a great option if you want a rose that will thrive in a shadier spot. That being said, watch out for too much moisture—hybrid roses of this cultivar can easily become diseased.
7. American Beauty (Rosa 'American Beauty')
Interested in hybrid tea roses? One hybrid tea climber to consider is the "American Beauty." This type of roses grows up to 15 feet tall, and features deep pink flowers with a classic appearance.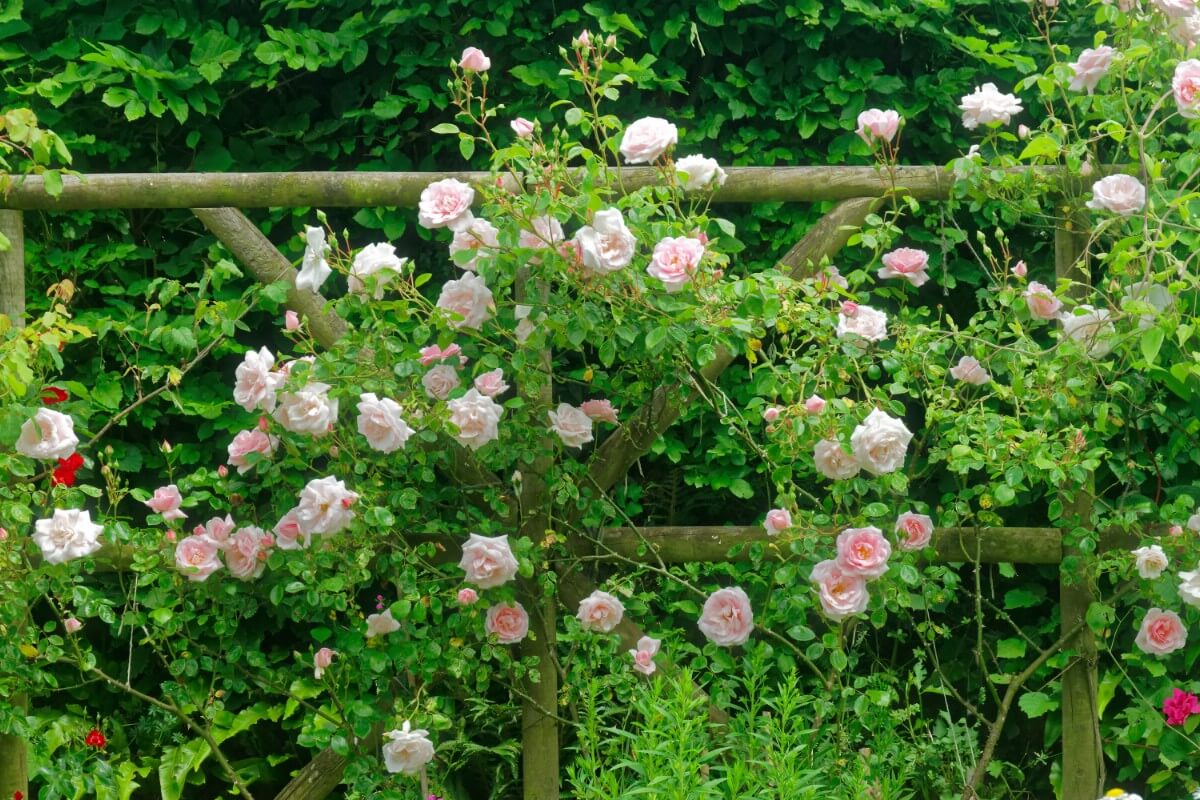 8. New Dawn
Here's an Earth-Kind Rose with a dramatic name. New Dawn will bring a glorious new dawn to the beauty and splendor of your garden. As a vigorous climber, it can reach up to 20 feet in height. The flowers are a delicate pale pink.
If you are into historic roses, this is definitely one to think about. Texas AgriLife Extension Service says, "The Plant Patent Act of 1930 granted the breeder or discoverer of a new plant variety the right to control its propagation and distribution for 17 years, after that it was common property. 'New Dawn' has historical significance because it holds the first plant patent ever granted." Pretty cool, right?
You will find that this climbing rose is a survivor. If you have poor soil conditions, it might be able to grow anyway, and it can handle a bit of shade as well. It is less likely to catch disease than some other climbing roses too, which is another selling point.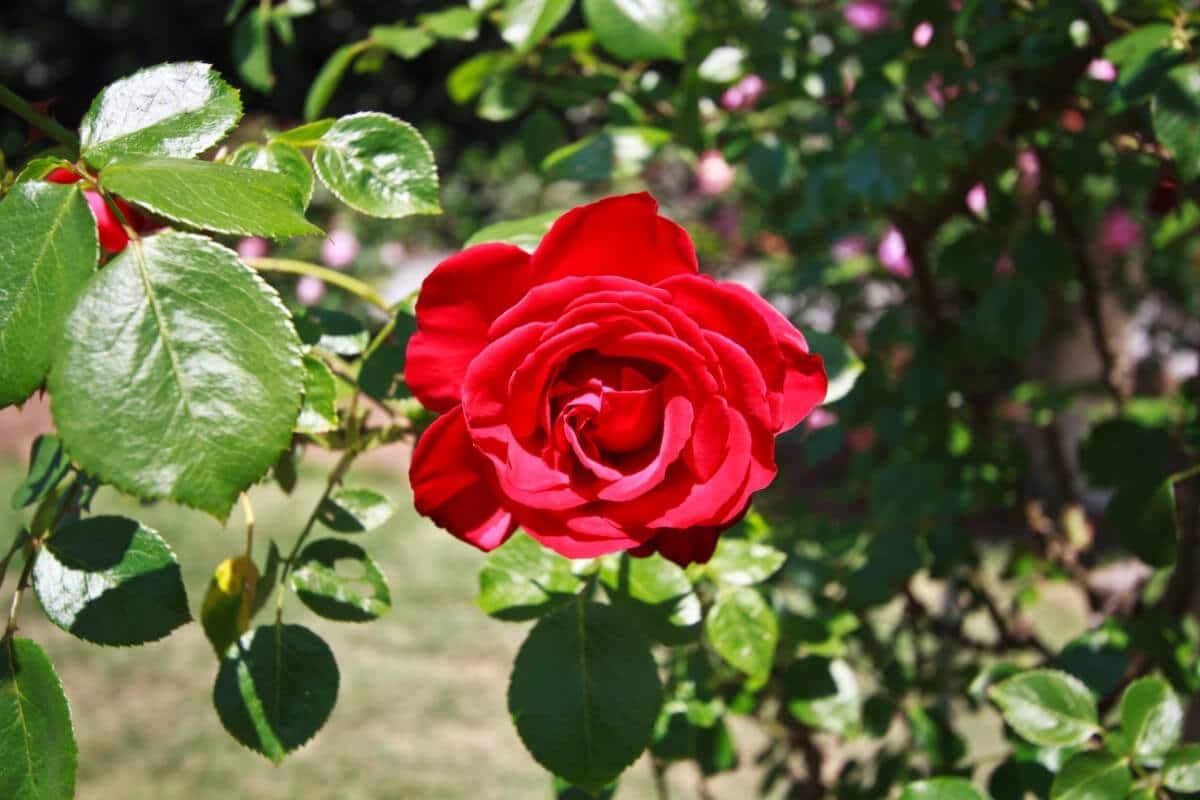 9. Dublin Bay (Rosa 'Dublin Bay')
If you want a light fragrance but dramatic red flowers, you should consider the "Dublin Bay." The long bloom period is another attraction for this plant. Just make sure it is getting lots of sun.
10. Fourth of July
Since 1999, "Fourth of July" has been among the popular types of disease-resistant climbers to grace many a rose garden. The blossoms are a fantastic combination of red and white with yellow centers. Indeed, they almost might remind you of Fourth of July fireworks.
The flowers also have a uniquely delicious fragrance, which we could describe as being "spicy."
With their disease resistance, they may be a good option for beginners who are looking for healthier plants that are easy to maintain.
11. Reve d'Or
One more Earth-Kind rose you might consider planting to climb in your garden is "Reve d'Or." The beautiful flowers have a warm, peachy hue and a strong fragrance. Indeed, the name is a reference to this color. In French, it means "golden dream."
Texas A&M writes, "Because the canes are thin and flexible when young, they are easy to handle and can nicely be used to cover structures such as arches and pergolas. Reve d'Or is nearly thornless making it especially useful on structures near where there is frequent human traffic. It strongly resents any pruning beyond shortening its vigorous summer shoots. This cultivar is so outstanding that it was named 'Earth-Kind® Rose of the Year' for 2010 by the Texas AgriLife Extension Service."
So, these lovely flowers with their heady fragrance may be among the easiest to take care of, being as you should not over-prune!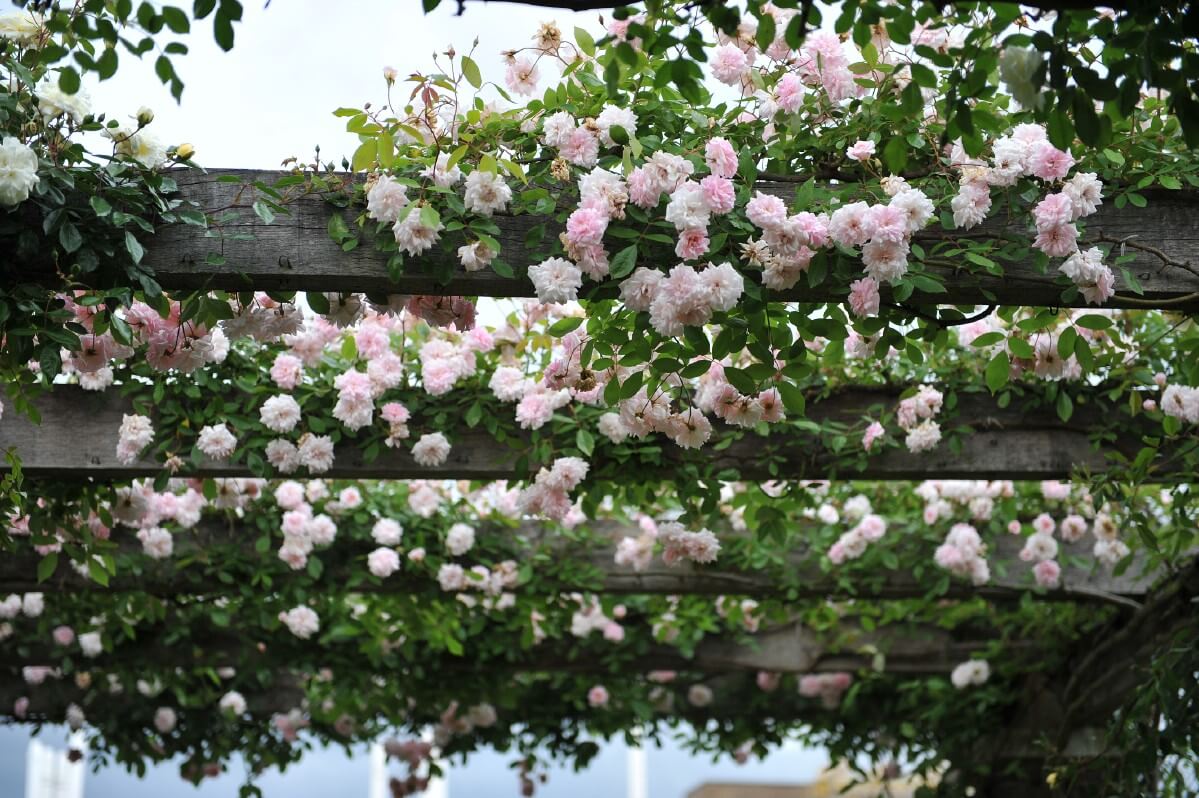 12. Cécile Brunner (Rosa 'Cécile Brunner')
If you fancy a tall climbing rose plant that features particularly delicate flowers, you might enjoy the hybrid tea rose variety named "Cécile Brunner." Soaring up to 20 feet, it features small clusters of pale pink flowers. The scent is a mixture of spicy and sweet. It is a single-bloom cultivar.
13. Alchymist (Rosa 'Alchymist')
Clusters of flowers with a pale apricot color and a strong fragrance will delight you once a year with the "Alchymist" cultivar. Alas, since it does not produce repeat blooms, you will spend much of the season longing for its return the next year.
14. Iceberg (Rosa 'Iceberg')
Another option for a white rose that features large, dramatic blossoms is the "Iceberg" cultivar.
While many people love the scent of roses, some people do find them overwhelming. If you would prefer a cultivar that does not produce a lot of scents, "Iceberg" may be an ideal choice for your garden.
Take note that the iceberg is especially susceptible to blackspot, so make sure that it is not crowded by other plants.
15. Highwire Flyer
Despite its name, this is actually not the tallest climber around—it will only reach around 6 feet in height. Still, what it lacks in height, it more than makes up for in spirit.
It resists disease, making it easy to care for, and it has an especially long bloom period. The bright pink blossoms are particularly vivid, catching the eye easily from across your yard.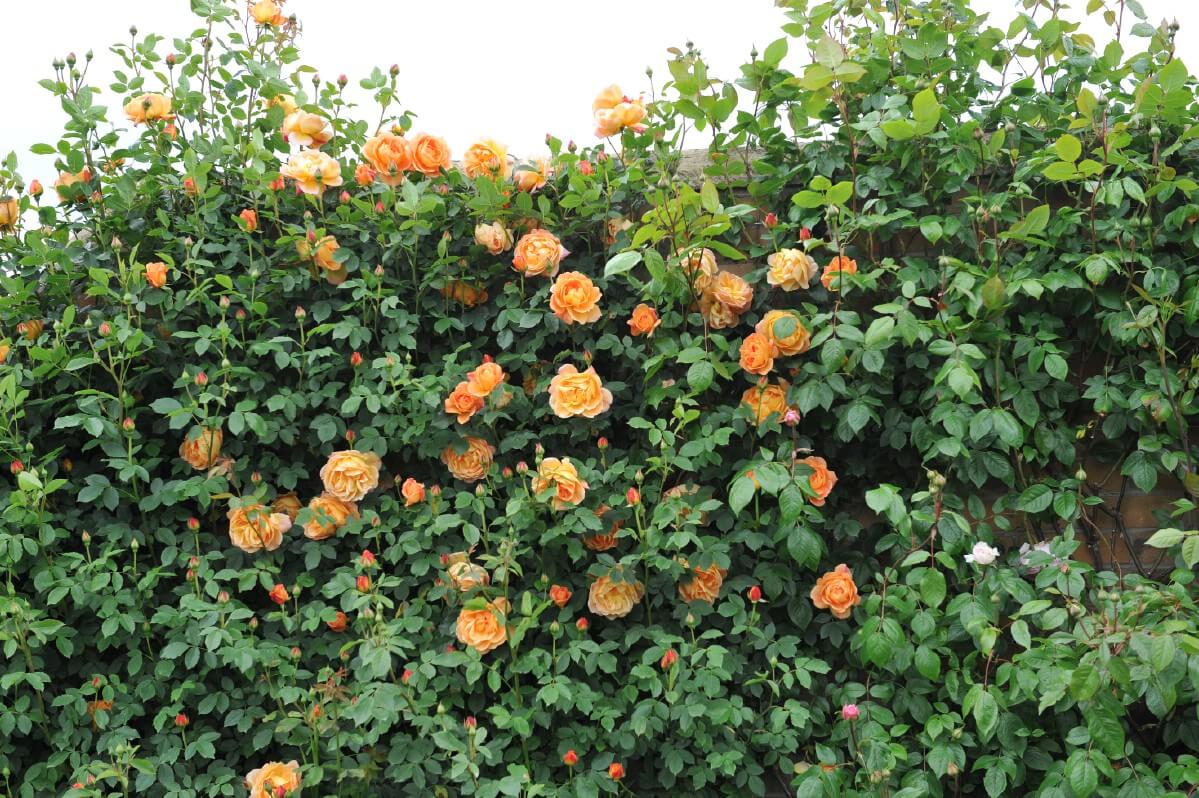 16. Lady of Shalott
Named for the tragic figure of Arthurian legend, "Lady of Shalott" is a beautiful romantic climbing rose that does well even in poor soil conditions. The blossoms are a rich apricot color that is so deep at times that it is almost orange.
17. Tangerine Skies
If "Lady of Shalott" still is not vivid enough for you, consider planting "Tangerine Skies." This disease-resistant climbing rose cultivar will astonish you with its bold orange hue.
18. Peace (Rosa 'Peace')
Staying within the same color spectrum, the "Peace" cultivar of climbing rose is especially popular and can reach up to 20 feet in height.
As a hybrid tea rose, it produces especially large blossoms. But what is really magnificent about this particular rose is its range of colors. A single blossom may feature shades of gold, peach, and pink, with the petals darkening around the edges. It looks like a sunrise or a sunset.
19. Royal Sunset (Rosa 'Royal Sunset')
While "Peace" may look like a sunset, there is actually a type of climbing rose that is called a sunset, specifically the "Royal Sunset."
The flowers these climbers produce are peach in hue. What is interesting is that on a single plant, you can see pale peachy blossoms that are almost white and deep peach blossoms that are surprisingly dark. To make this plant even more astonishing, it features dark, almost bluish-green leaves. These make the peach blossoms really stand out.
20. Don Juan
Glossy green leaves contrast spectacularly with deep red blossoms on the "Don Juan" variety of climbing rose. If you are trying to grow roses in a humid location, this cultivar may do okay.
21. Westerland (Rosa 'Westerland')
For double flowers that are big on color and fragrance, consider planting the Westerland climbing rose. With its large, wide petals and its brilliant peach color, it will be the centerpiece of any landscape.
22. Clarence House (Rosa 'Clarence House')
Looking for a climbing rose that you can enjoy that is quintessentially English? You will probably love the "Clarence House" variety. The blossoms will appear in June. Each flower contains a dense profusion of petals with a creamy yellowish color and a rounded shape. The look is quite distinctive, and will instantly command attention. You also will love how luminous the contrast of the blossoms is with the dark leaves.
23. Souvenir de la Malmaison (Rosa 'Souvenir de la Malmaison')
Wouldn't it be awesome if you could get an old bourbon rose to climb? Well, that is pretty much what you get with "Souvenir de la Malmaison." The pale pink flowers smell amazing, and thanks to the 20-foot height the plant can reach, you might even be able to enjoy their fragrance from the upper floor of your home.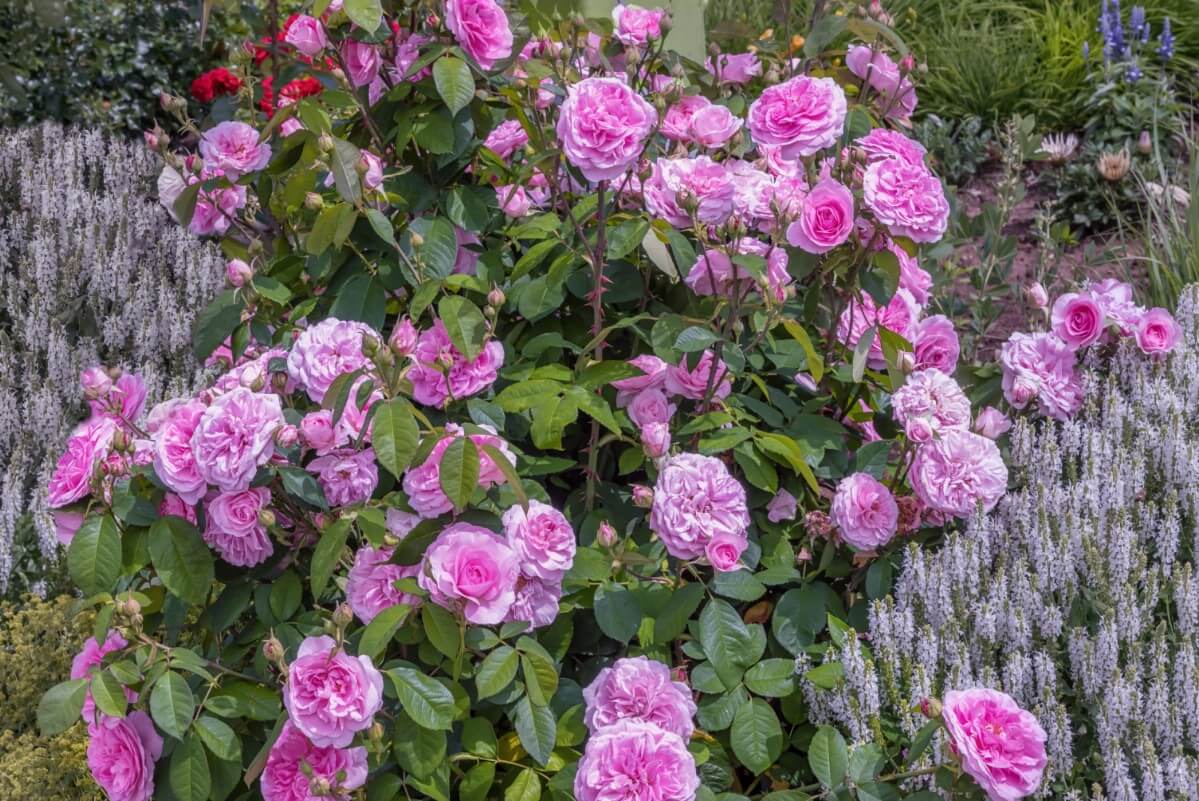 24. Gertrude Jekyll
Our next recommended cultivar is another English one called "Gertrude Jekyll." Each flower that grows on this climber can have as many as 80 petals! So, if you like the dense look of the "Clarence House," but you would prefer a bright pink color instead of the creamy yellowish hue, "Gertrude Jekyll" maybe your dream cultivar.
25. May Queen (Rosa 'May Queen')
If you would like a climbing rose that produces large, dense flowers with a medium pink hue, the "May Queen" may be just perfect for your garden. While this rose looks great growing on a trellis or other structure, it also is popular to grow in trees.
26. Eden
One type of climbing rose with a particularly distinctive look to it is the "Eden." This rose produces flowers that feature a combination of cream and pink petals, which are a richer, deeper pink toward their centers, becoming more pale and creamy at the outermost petals. The World Federation of Rose Societies voted it the "World's Best Rose" at one point.
27. Quicksilver
While most of the climbing roses we have shared feature hues that are pinkish or peachy, you might be looking for something with a cooler tone. The "Quicksilver" is a lovely purplish color, and features stunning arrangements of petals with a classic, old-fashioned appearance. Not only does it have a wonderfully romantic look and feel, but it also does a good job of resisting diseases.
28. Warm Welcome
This cultivar of climbing rose is named both for its color—a warm, orangey-reddish hue—and its intended purpose.
It is a miniature climbing rose, so you can grow it up against your mailbox, a small archway leading into your garden or another modest structure. That way, it will be there to welcome you and others to your home!
Climbing roses come in so many flower colors and fragrances. So, be sure to keep researching to discover other exquisite varieties of roses!
Climbing Rose Growing Guide
You've now learned about many beautiful cultivars of climbing roses. But how do you grow them successfully? Continue on to read our full growing guide.
Where to Plant Climbing Roses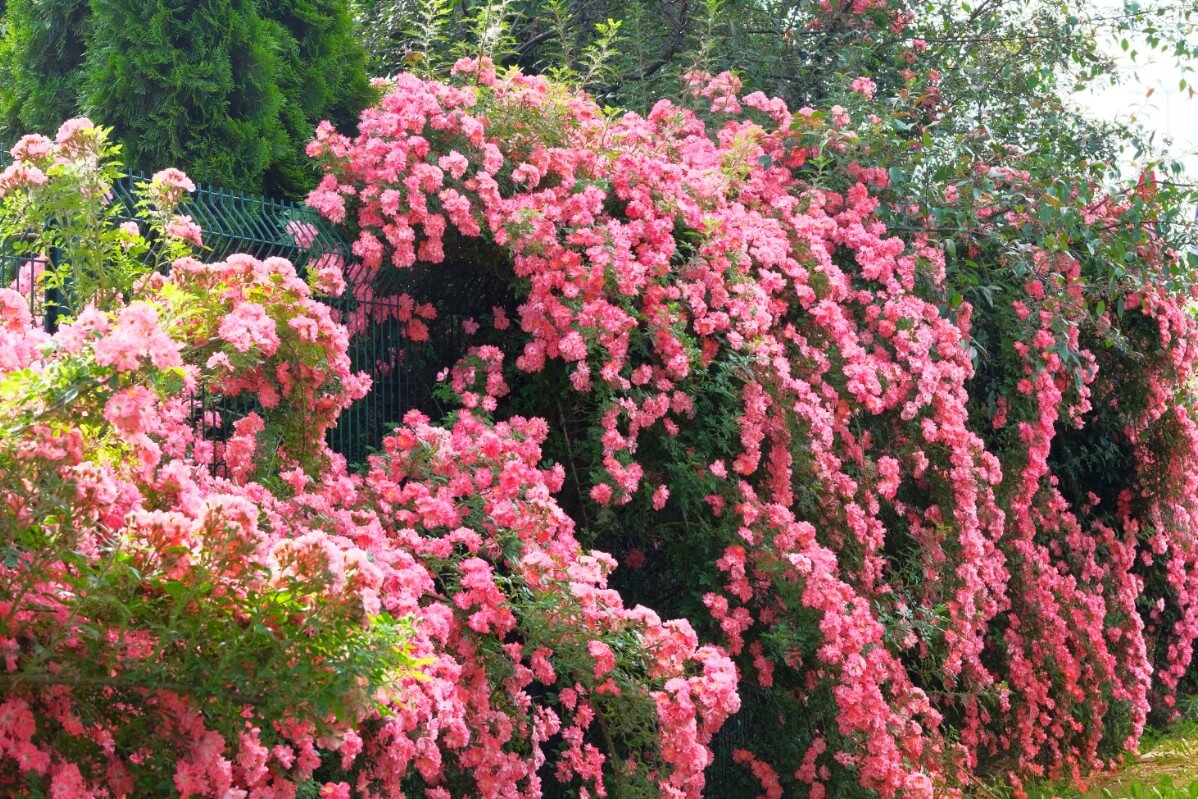 Climbing roses are very versatile and can be anchored to any number of surfaces. For example:
Walls
Posts
Fences
Trellises
Pillars
Obelisks
Statues
Arbors
Any of these can work as a planting location, assuming conditions are right (see below).
Ideal Conditions for Climbing Roses
We've talked about where you can grow climbing roses. But what conditions are necessary for optimal growth? Let's talk about sun, soil and water requirements.
How Much Sun Do Climbing Roses Need?
Make sure that your climbing roses will be able to get a minimum of 4-6 hours of direct sun daily.
What Type of Soil is Right for Climbing Roses?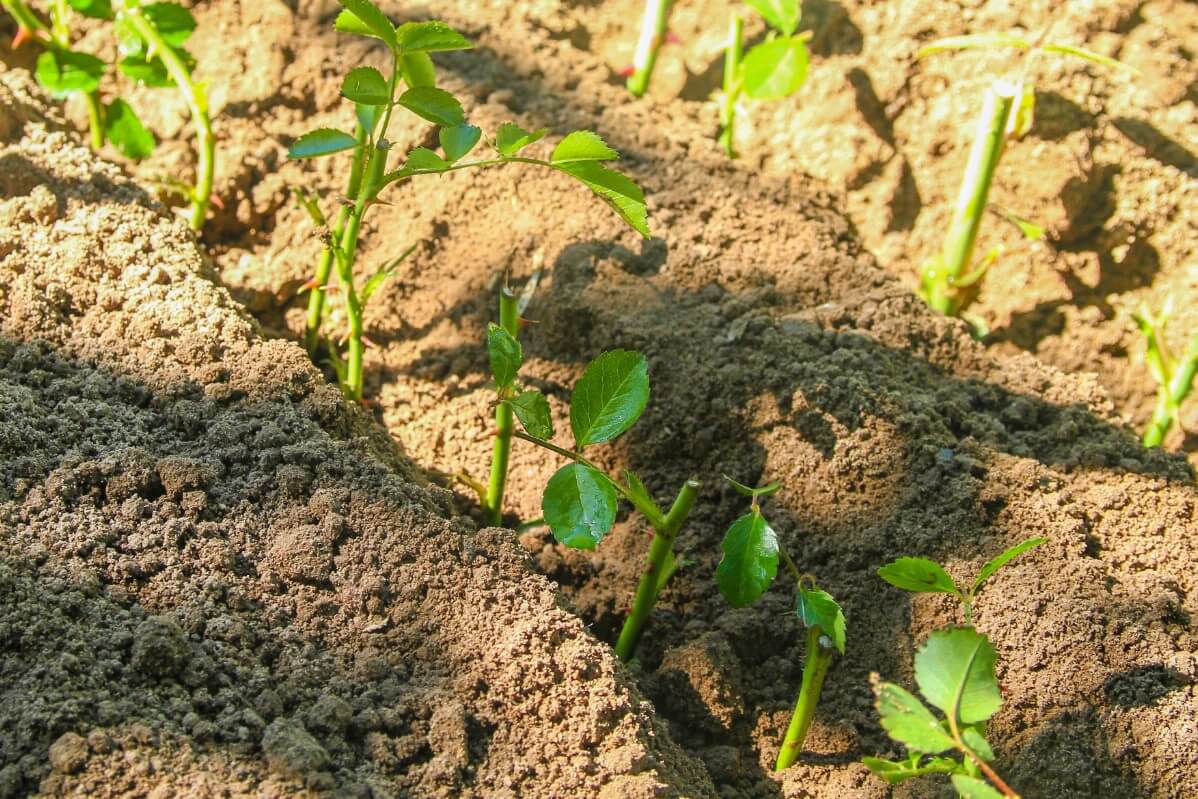 Roses will not do well in poor soil or wet soil. The best soil conditions are rich, loose, and well-draining. The ideal pH is around 5.5-6.5.
How Much Water Do Climbing Roses Need?
An inch of water per week is usually appropriate for climbing roses. But if your climbing roses are growing in sandy soil, increase that to two inches per week.
When to Plant and Train Climbing Roses
The right time to plant climbing roses is during spring.
How to Plant Climbing Roses
How do you plant a climbing rose starter plant in your garden? Here are the basics steps.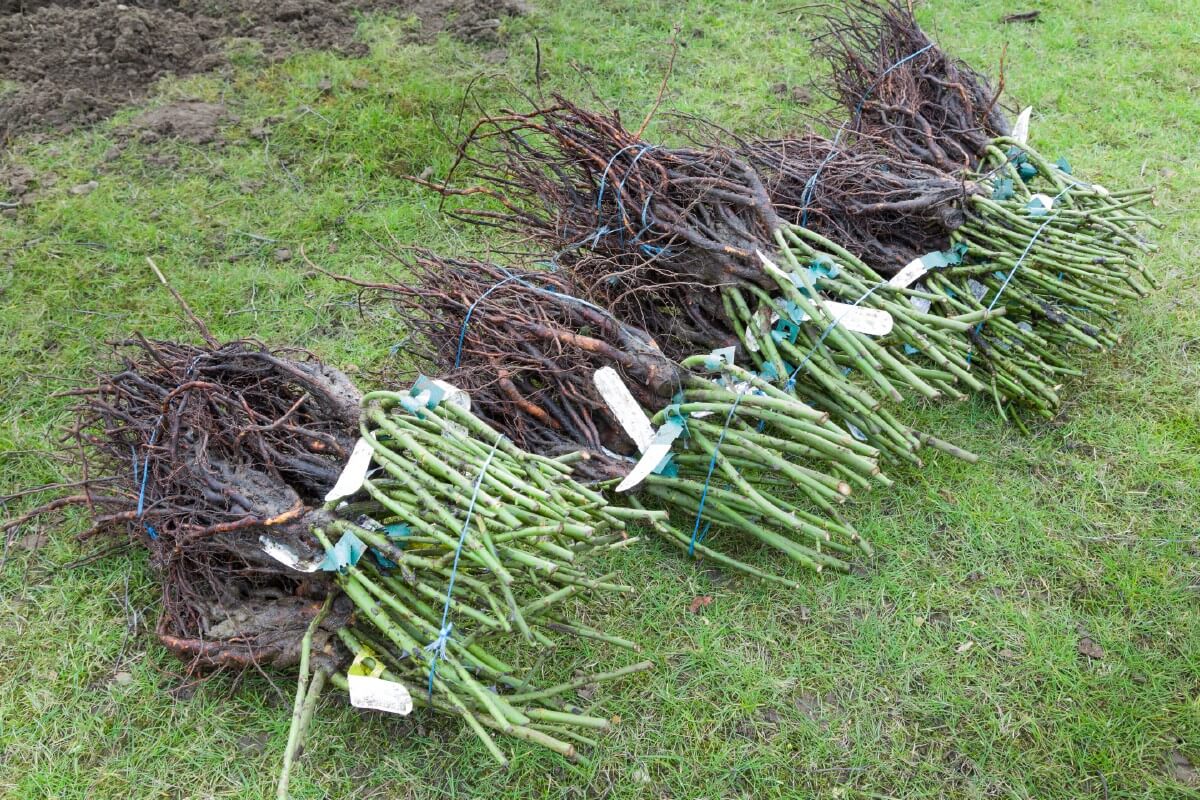 1. Water it. You should water the climbing rose starter plant before you take it out of its container.
2. Make a hole. The hole you dig for your climbing rose will need to be about 16" wide and 24" deep. You are going to need to use a spade for this step, as this is quite a large hole.
3. Loosen the soil. Dig down into the place where you will be planting the rose with a fork. Loosen up the soil as best you can. The roots of your plant will appreciate this.
4. Prep the soil. It is usually recommended that you amend the soil at this point. Consider an organic form of compost like mushroom compost or manure. Mycorrhizal fungi also can be great for helping your roses to create more extensive roots.
You also can try adding an organic 2-5-2 fertilizer to the soil.
5. Plant the rose. Now, put your rose plant in the hole. You should angle the plant toward whatever vertical surface you are hoping to direct it up. Then, backfill the soil.
6. Pat down the soil. Push gently down on the soil around the rose after you backfill it. Do not compact it—it should be firm, but not hard.
7. Water your rose. You should now water your rose again. Pay extra attention to it while it is establishing.
8. Begin training your rose in the second year. K-State Research and Extension writes, "The first year, let the climber grow upward and make no attempt at training. As the canes grow, tie them loosely to the support with strips of stretchy material at 15-inch intervals. Allow at least 4 to 6 inches of "give" to the ties so air can circulate behind the canes."
K-State continues, "The second year, start training the main canes to a horizontal position to encourage the production of side shoots, called laterals, off the main canes. Roses produce more flowers when the main canes grow horizontally. Select the sturdiest canes and tie them loosely as before. Space the canes evenly and as close to horizontal as possible."
How to Care for Climbing Roses
Now that you know the basics of planting and training your climbing rose, let's go over other care instructions.
How to Fertilize Climbing Roses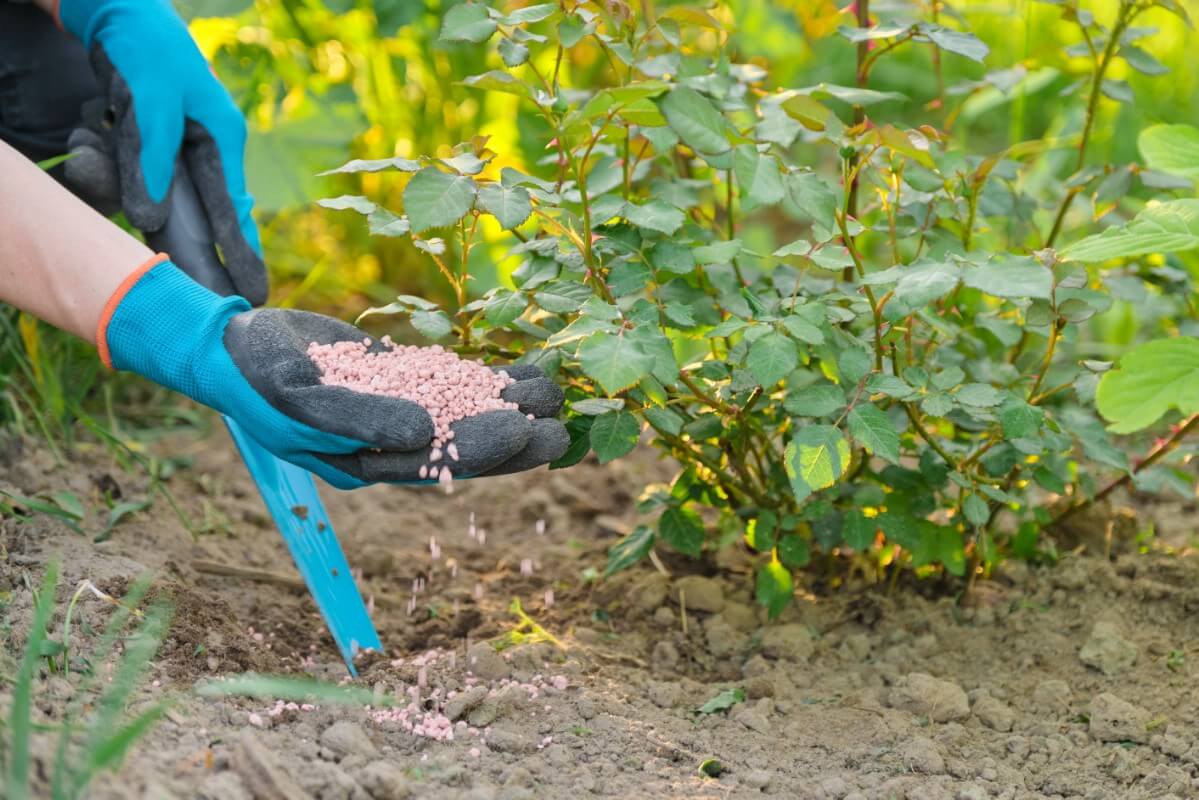 Few plants in your garden are going to be as hungry for fertilizer as roses. As we discussed already, you may want to add fertilizer along with compost during the planting stage. But what about after?
It is wise to fertilize your roses when you see new growth in the spring. A day prior, water them to prevent the fertilizer from burning them. After you add the fertilizer, water them again.
If you go with a slow-release product, it should get you through the entire season. Otherwise, you might need additional fertilizer applications (sometimes as often as every 2-4 weeks). At the end of the season, you should fertilize again, but go with a 4-6 week product.
How to Mulch Climbing Roses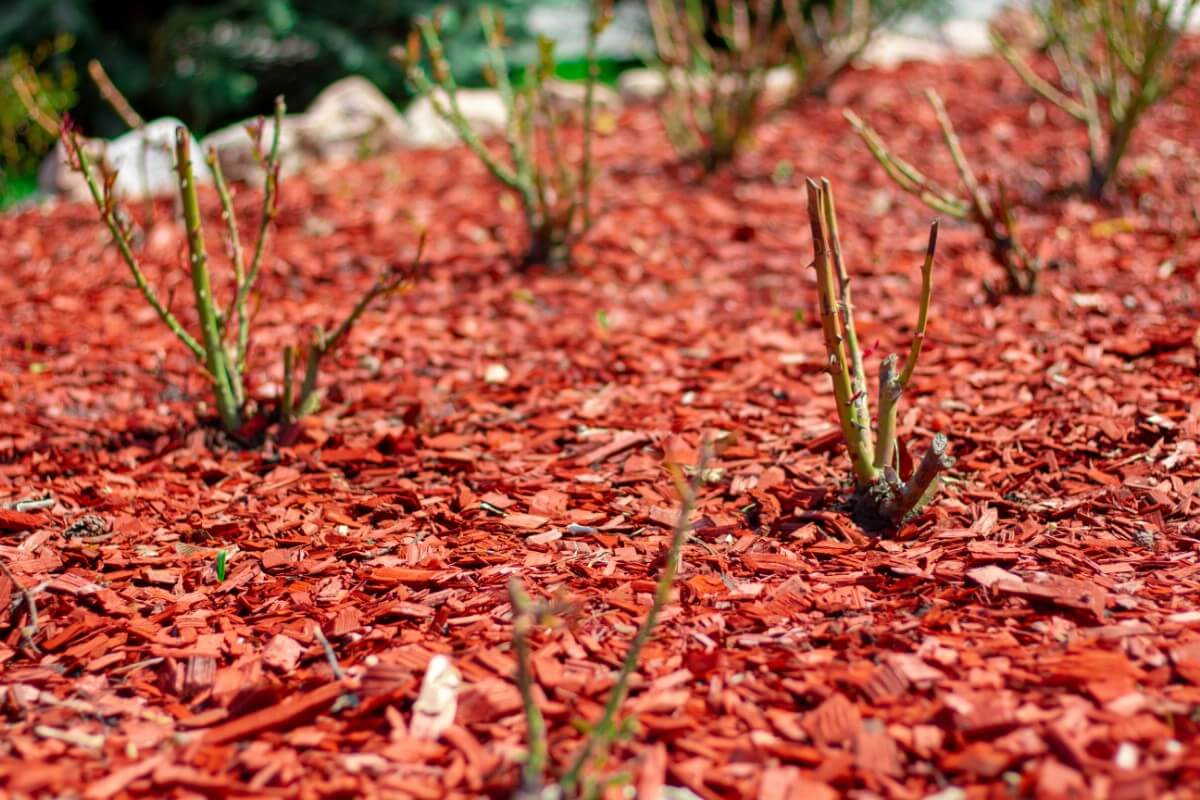 In spring, add a couple of inches of mulch to the soil around your climbing roses. Doing so will help lock in moisture during the summer. When the first frost comes in fall, add more mulch. This will help to keep the roots of your plants warm.
The amount of mulch you have during the winter will be too much during the summer, so reduce it again in the spring to several inches.
Are you located in a cold climate zone? If your zone is 5 or colder, you either need to:
1-Grow climbing roses that are suitable for your climate zone and can weather your winters, or …
2-Winterize your climbing roses.
To winterize them, start by getting rid of dead plant matter and doing your fall pruning.
Then, tie together the tips of canes so that they do not blow around by themselves in gusts.
As we talked about, you should mulch around the base of the plant.
Next, you can get some large sheets of burlap and use them to wrap up your climbing roses or cover them (depending on the surface they are growing on).
You can just use twine to tie the burlap in place.
Do you get a lot of rain? Note that wrapping your plants during the winter will increase the risk of mold and disease because of the limited air circulation.
So, you will need to figure out which threat is worse—the cold or the moisture. Burlap is a breathable material, so you may want to give it a try, but periodically check on your roses to make sure that they are airing out okay.
How to Anchor Climbing Roses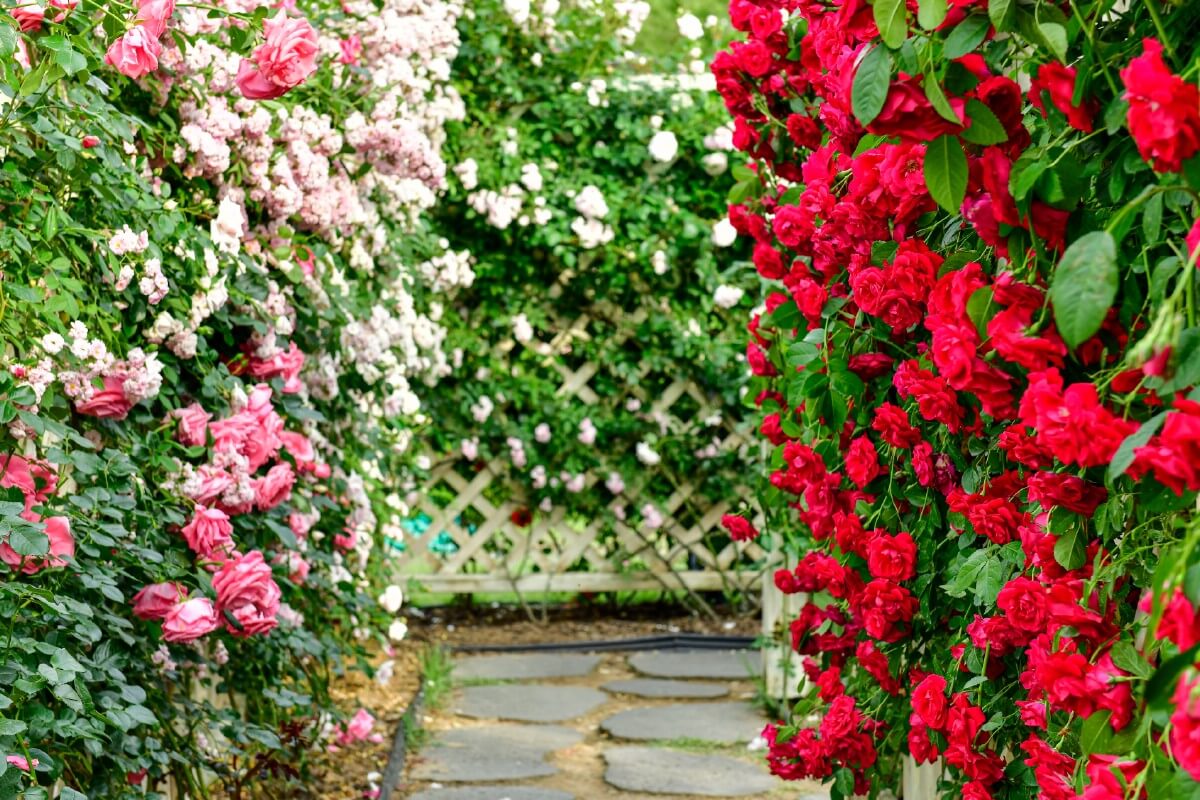 With climbing roses, we need to talk about how to anchor them to the structure they are growing on.
You can use vinyl tape or fiber twine for this purpose.
What about metal wires? You will want to steer clear of these. If the ties you choose are too hard, they can actually hurt the plants.
Here are a few helpful things to know as you are shaping, training, and anchoring your climbing roses:
Horizontal canes will produce a larger number of shoots. The result will be more blossoms.
It is the shoots that produce the majority of the flowers, not the major canes.
The placements of the major canes determines the overall shape of the climbing rose.
You should space out the major canes.
Do not bend canes too sharply or they can die.
Do not try to manage a big bend all at once if the cane is resistant. Bend it a little bit, then come back a few days later and bend it a little more, then do the same a few days later, and so on.
You can twine minor canes around major ones or spread them out. It is up to you.
How to Prune Climbing Roses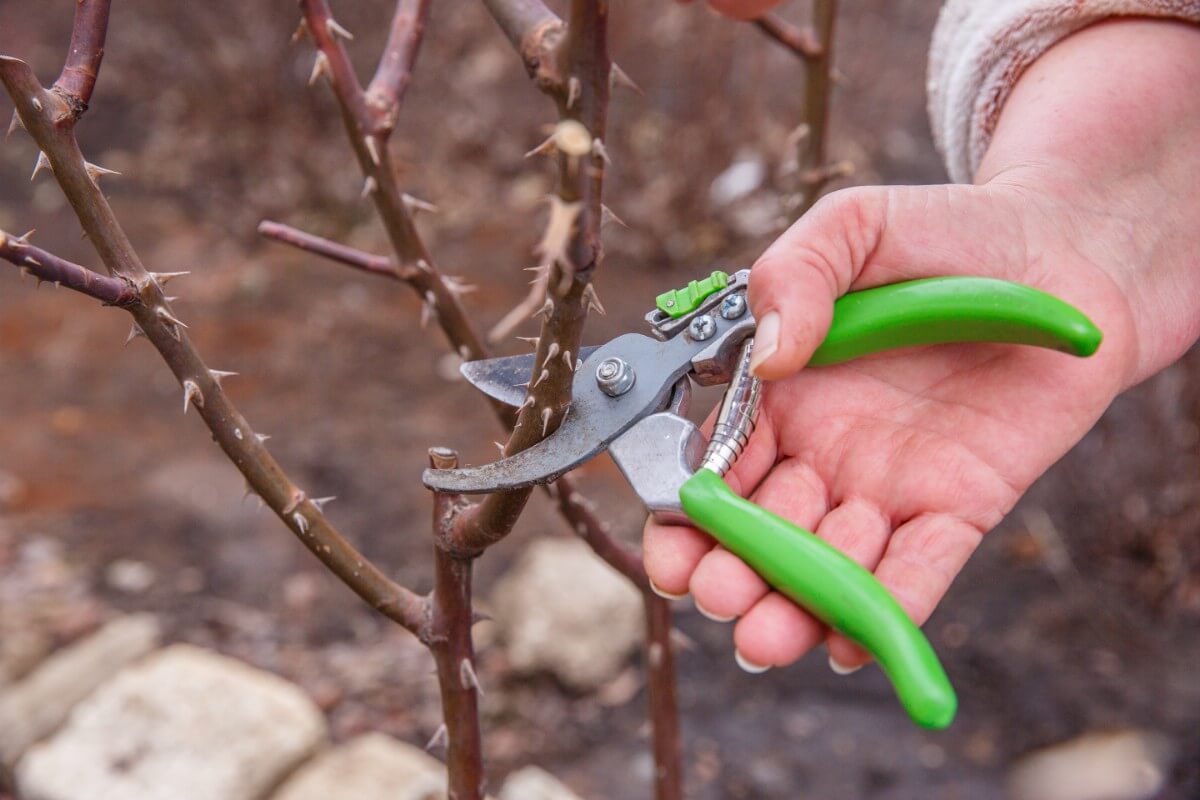 University of California Cooperative Extension Master Gardeners of Tulare-Kings Co. says that when you should prune your climbing roses depends on whether they bloom once per season ("once-blooming climbing roses") or multiple times per season ("repeat-blooming climbing roses").
The extension writes that for once-blooming climbing roses, you should "Prune these roses right after flowering is finished. If the plant produced many canes, remove several of the oldest and weakest canes to the bud union. If only a few canes were produced, cut them back to several feet above the ground. Train these canes horizontally to your fence, wire or trellis. Winter pruning of these roses should be kept to only removing suckers coming from below the bud union, twiggy and dead growth, and leaves and rose hips (seed pods). Untie and rearrange canes into as horizontal a position as possible."
You can also find recommendations for pruning repeat-blooming climbing roses in this same article. The extension says, "Climbers that are arranged horizontally on arbors, trellises or fences can bloom for many years on the same older canes. Eventually, if the roses decline in vigor, allow new canes to grow and replace the old ones. Repeat-blooming climbers are pruned in the winter or very early spring when the plants are dormant. Remove all suckers coming from below the bud union. Remove all dead or twiggy growth extending from the bud union. Cut all the flowering laterals that rise from the horizontal growing canes back to 2 or 3 buds. Remove all remaining leaves. Untie canes and reposition them on their support into as horizontal a position as possible."
Should You Deadhead Climbing Roses?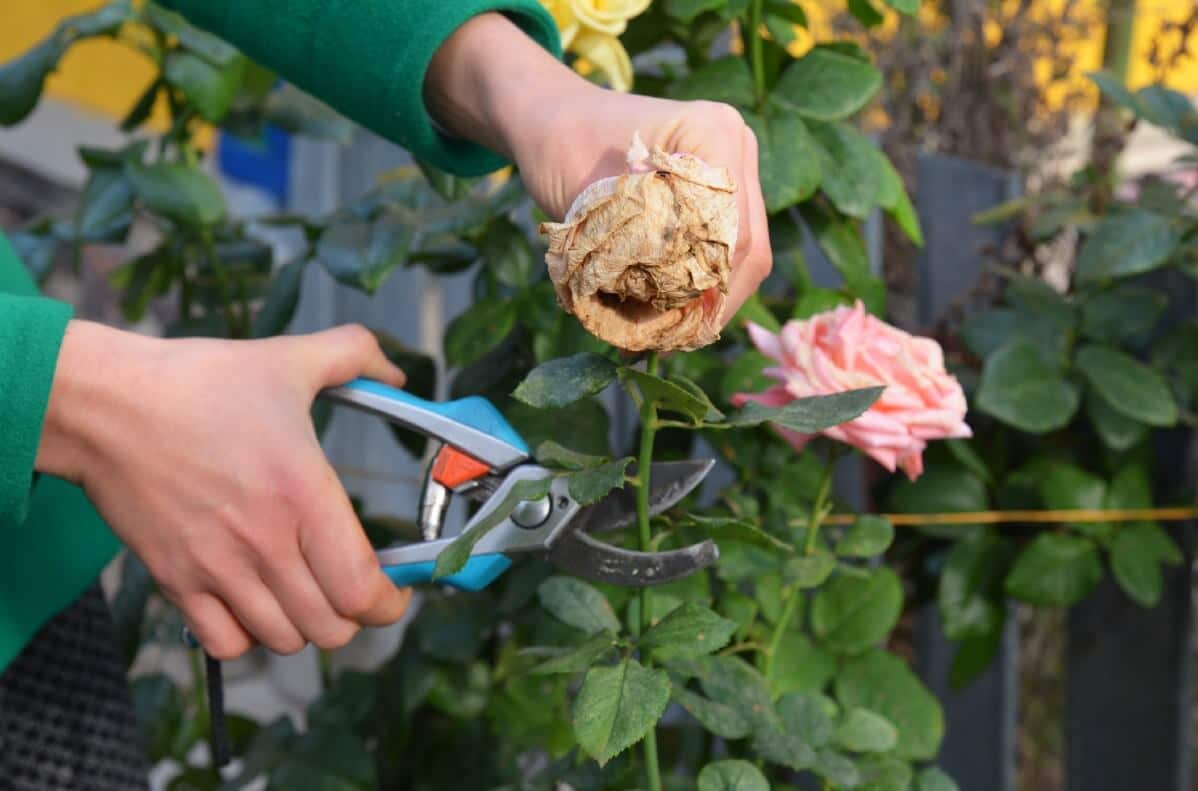 While discussing proper pruning, we must also talk about deadheading climbing roses for repeat-blooming varieties.
If you are not familiar with deadheading, it is the process where you remove spent blooms.
Your roses are more likely to produce extra rounds of blooms during the season if you do this.
It has an additional benefit for climbing roses as well, which is to prevent leggy canes.
The University of Illinois Extension instructs, "Cut at a 45-degree angle about ¼ inch above outward-facing bud. The cut should slant away from the bud … If cane borers are a problem, it is suggested to seal the ends of the cuts to prevent the entry of cane borers. White glue works well."
Are Climbing Roses Vulnerable to Diseases or Pests?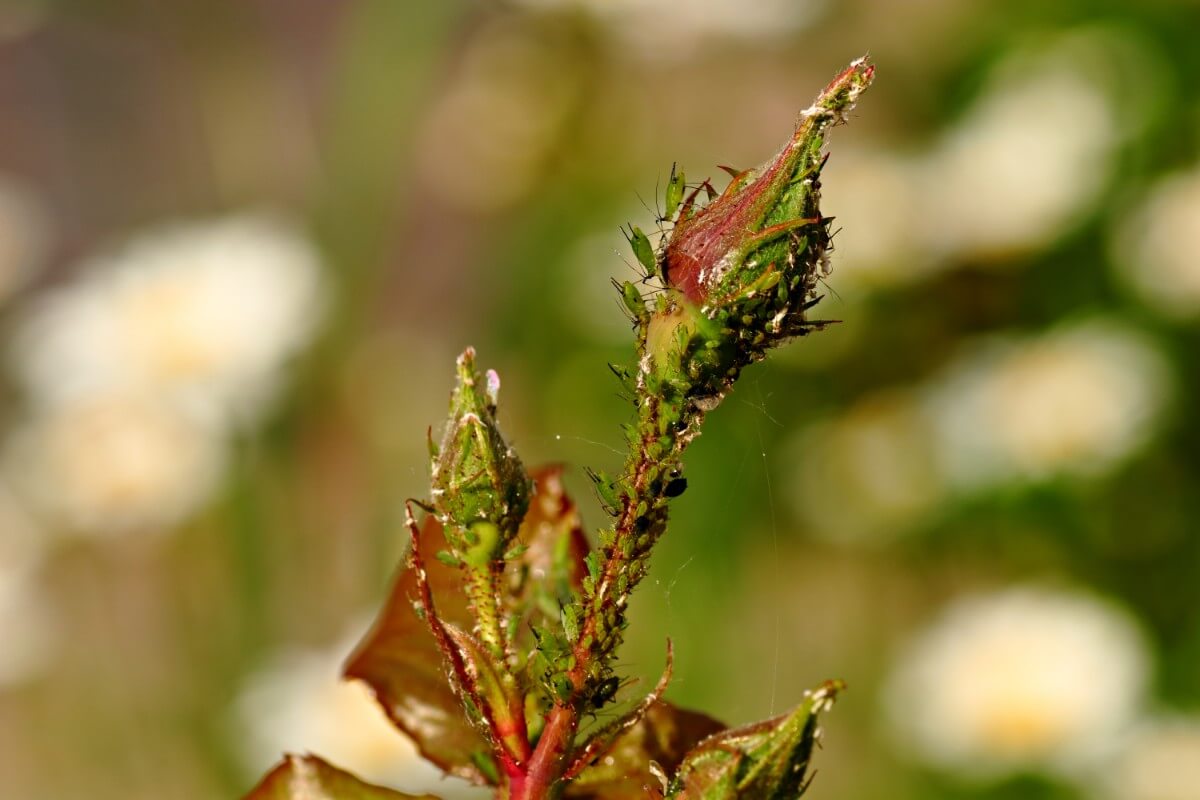 One of the very few drawbacks of roses is that they are notoriously popular targets for pests.
Some of these include Japanese beetles, thrips, aphids, slugs, snails, and caterpillars.
They also can be susceptible to diseases such as blackspot, stem cankers, powdery mildew, Botrytis blight, mosaic, rose rosette and crown gall.
University of Illinois Extension provides some good, detailed information on these diseases and pests along with recommendations for control.
Mistakes to Avoid When Growing Climbing Roses
Now that you know the basics of how to grow and care for climbing roses, let's go over a few common mistakes to avoid.
1. Using the trellis that was included with your climbing rose.
Did your climbing rose come with a plastic trellis? A lot of novices are tempted to use this, but doing so is a mistake. Why? Because within a year, it will not be able to support your rose's weight.
2. Pruning your climbing roses the way you do your bush roses.
As we've discussed, proper pruning for climbing roses requires pretty specific pruning tools and techniques. Don't forget that your climbing roses need different pruning care than your regular rose bushes!
3. Panicking when there isn't much early growth.
Don't see large canes developing in the first year or two? Not seeing a single rosebud? The worst thing you can do is assume you screwed up and then start trying to "fix" it.
Indeed, the biggest mistake you could make would be to cut the main cane, thinking that will urge it to flower. Doing this will only make it take even longer.
A delay in blooming is typical with climbing roses after you plant them. Just give them a little more time, continuing to care for them as you have been. In the third year, you probably will see a significant growth surge.
4. Waiting too long to make corrections.
If your rose shoots out a cane in a direction you do not like, you will need to direct it in a way you prefer.
You might think that it is okay to wait to do this, but if you do, it will be harder to make the adjustment.
So, take care of it as soon as possible, even if you don't feel like it right now.
5. Not planting deep enough.
Your climbing rose should be planted a couple of feet deep, as discussed before. Sometimes novices do not plant them deep enough.
6. Working with dull clippers.
You will be surprised by just how tough it can be to prune some canes. Make sure your clippers are always nice and sharp.
7. Not giving your roses plenty of air circulation.
Roses need to breathe, and it is vital that you not crowd them. Give them lots of space from other plants.
If you do not give them enough, do not be surprised if they come down with the disease.
That being said, it is best to keep them out of the wind, so try and plant them in a sheltered location if you get a lot of heavy gusts.
8. Letting someone else prune your roses.
Maybe the biggest mistake you can make with a beloved climbing rose is to allow another person (i.e. a contractor or neighbor) to prune it.
Think about all of the painstaking work you put into your climbing rose. Even if it seems convenient to let someone else take care of it for any reason, you will regret it terribly if you come back later to find they have trimmed it way further back than you wanted.
This mistake happens more often than you might expect!
Where to Buy Climbing Roses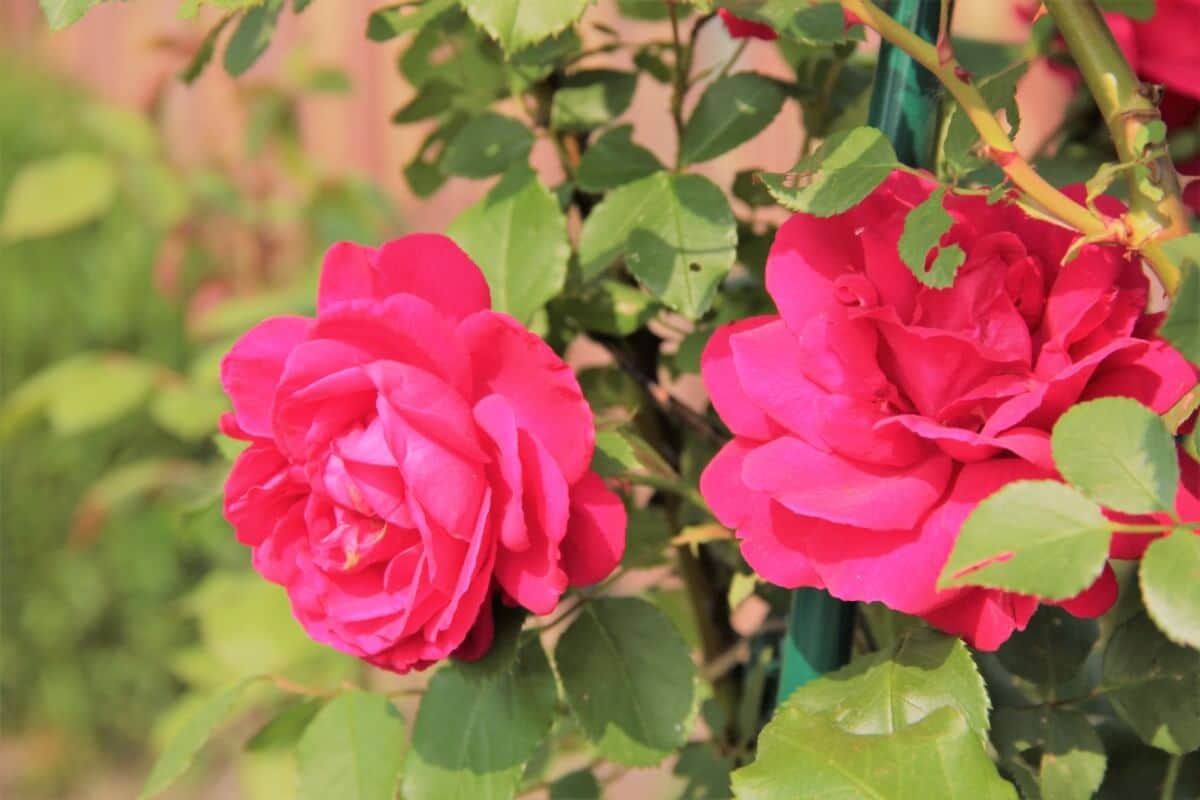 Excited to plant your own climbing roses? Now that you have read through our full guide, you can avoid common mistakes and train your roses to grow anywhere your garden to bring beautiful scents and spectacular colors to walls, doorways, trellises, and more. Click the link below to shop climbing rose cultivars now.