Are you looking for a showy perennial herb that can serve as a beautiful ornamental plant in your garden? You might be interested in planting catmint.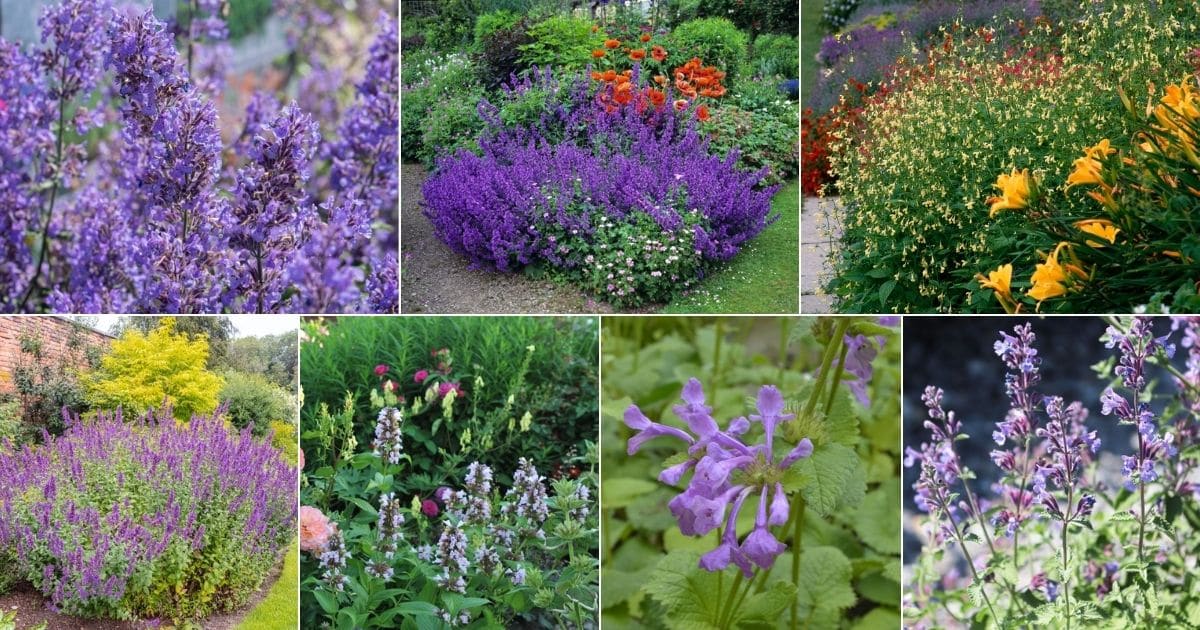 Indeed, beginners will find that this is an easy plant to get started with that offers a lot of benefits.
In this guide, we will explore those benefits in detail, as well as what you need to know to grow catmint in your perennial garden successfully.
In the table of contents below, you can jump to any section you are looking for to get fast answers to your questions.
Jump to:
What Are Catmint Plants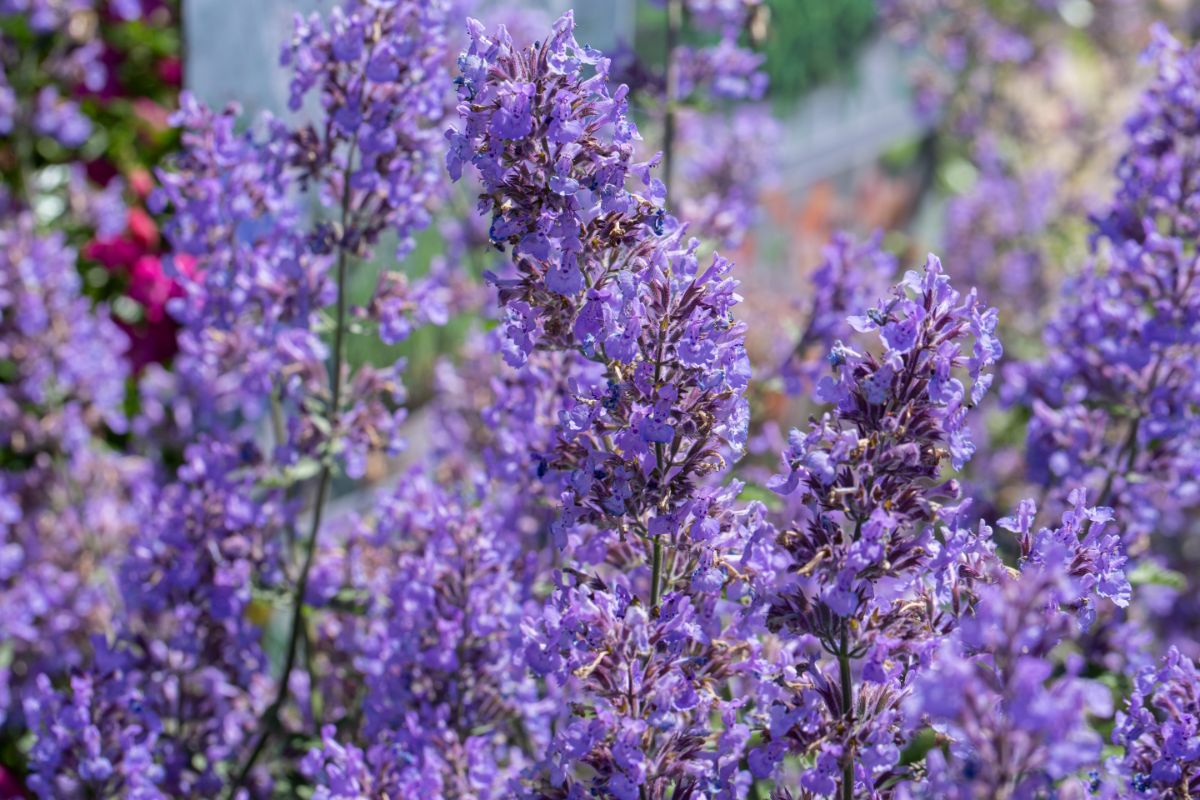 "Catmint" is a name that refers to various plants within the genus Nepeta. Not all members of this genus are called catmint, however. In all, there are around 250 species contained within the Nepeta genus.
The plants that we do call catmint are generally the ones that are beautiful enough to be grown for their appearance.
Are you wondering about "mint" in the name? This is a reference to the family that catmint plants are in, which is Lamiaceae. That is the mint family.
You may be wondering whether the plural form of catmint is "catmint" or "catmints." We prefer "catmints," but we have seen both in use, so either is fine.
Catmint vs. Catnip: Are They the Same
One of the first questions you probably have about catmint is whether it is identical to catnip.
The answer to that question is "no."
The main thing that catmint and catnip have in common is that they both belong to the Nepeta genus.
But most people are not as impressed with how catnip looks as they are with how catmint does, so it is rare for gardeners to choose catnip for ornamental value.
Another thing that catmint and catnip share in common is the presence of the compound nepetalactone.
This is the compound that gets your cat excited in catnip.
Does that mean your cat will go crazy over the catmint you are growing?
Maybe, maybe not. Catmint does not contain nearly the same levels of nepetalactone as catnip does.
So, it really just depends on how sensitive your kitty is to nepetalactone. An extra-sensitive cat may really get into catmint. But one that is not very sensitive to the compound might just ignore it.
Catmint Basics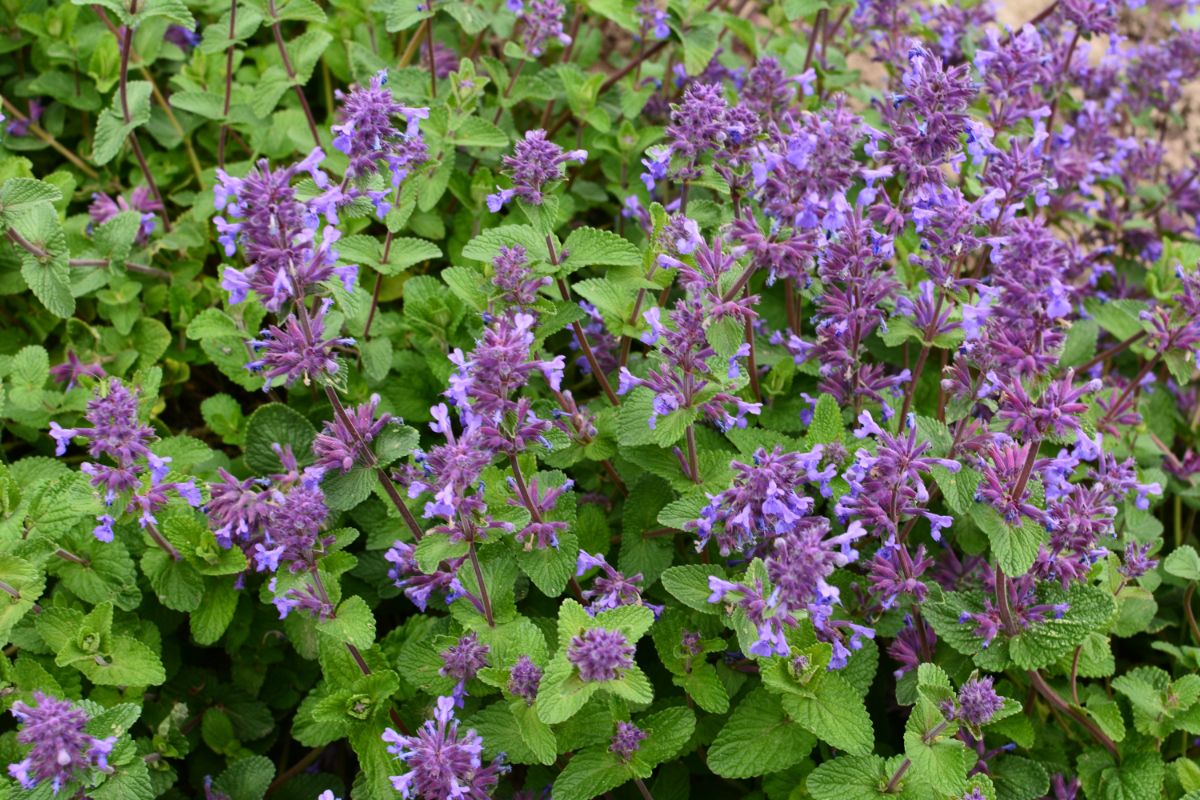 Zones: 4-8
Blooming season: Late spring and summer
Expected height: 10-24 inches
Soil: Dry, well-draining
Sun: Full to partial
Where to Buy Catmints
Sale
Ready to enjoy the beauty of these easy-to-grow perennials in your own garden? To shop for catmint varieties now, click the link below.
Where Do Catmint Plants Grow
Catmints are native to Asia, Europe, and Africa. But since they can grow in zones 4-8, they have been cultivated in many locations around the globe.
Why Grow Catmints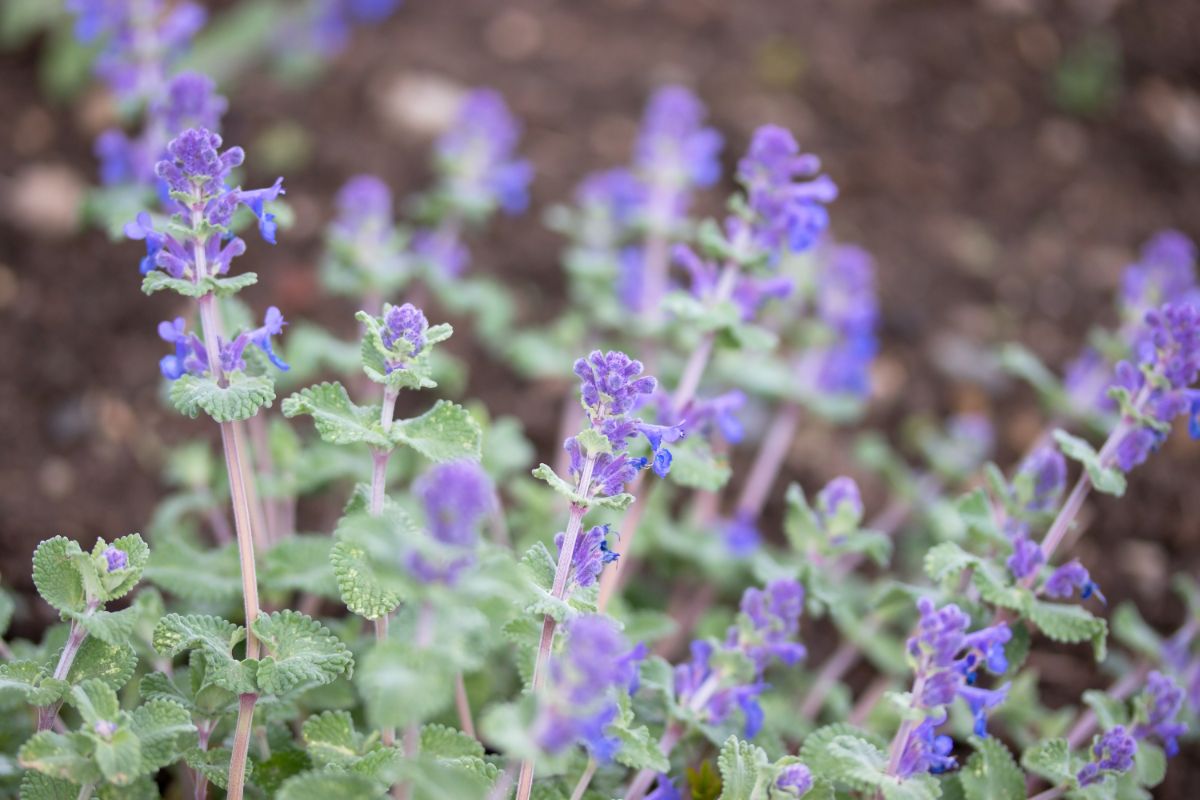 Here are a few reasons to plant catmints in your garden bed or containers:
One of the catmint's many benefits is that it can help to deter unwanted guests in your garden. North Carolina Extension says, "As a garden plant, catmint acts as a repellent for certain insects, including aphids and squash bugs." So, if you have been in search of a natural, healthy way to keep pests out of your garden, catmint may be a big help.
You can eat catmint. Just as its name suggests, the flavor of catmint is minty. You will find it more subtle and sweet than some other mint species. You can harvest it as an herb and use it in recipes and teas.
This plant is drought-tolerant. If you have dry conditions, catmint is the plant for you! This perennial requires minimal regular watering and is the drought-resistant, hardy herb that will thrive every year in your garden.
Caring for catmint is ridiculously easy. Seriously, you are going to be amazed at just how little you need to do to keep your catmint plants alive.
Bees love catmint. Additionally, hummingbirds and butterflies may pay your catmint herb garden a visit as well.
You can enjoy a super long bloom period. Some types of catmint will blossom for 4-5 months with the right care!
Catmint can be considered deer-resistant. Moreover, rabbits and raccoons do not usually bother with it either.
Your cat might be into catmint. If so, great—you have all the benefits of catnip plus additional ones! Catmint is much nicer to look at growing in your garden.
Catmint comes in multiple appealing varieties. You will enjoy the variety of colors you can get by planting multiple cultivars in your garden.
Catmint Landscaping Ideas
Here are a few possible uses for catmint in your landscaping:
Rock gardens: Because catmint can thrive in rocky soil, it makes an excellent addition to a rock garden. In particular, varieties that form a compact mound are popular in this setting. But any type of catmint can make an attractive addition to a rock garden.
Container planting: You will discover that growing catmint in containers is easy and rewarding.
Cottage gardens: Catmint can help you to create the abundant look of a cottage garden, especially in conjunction with other flowers that are traditional in that style of garden.
Retaining walls: Catmint can spill over retaining walls in an elegant cascade.
Borders: Many gardeners like to use catmint as part of their borders.
Recommended Catmint Varieties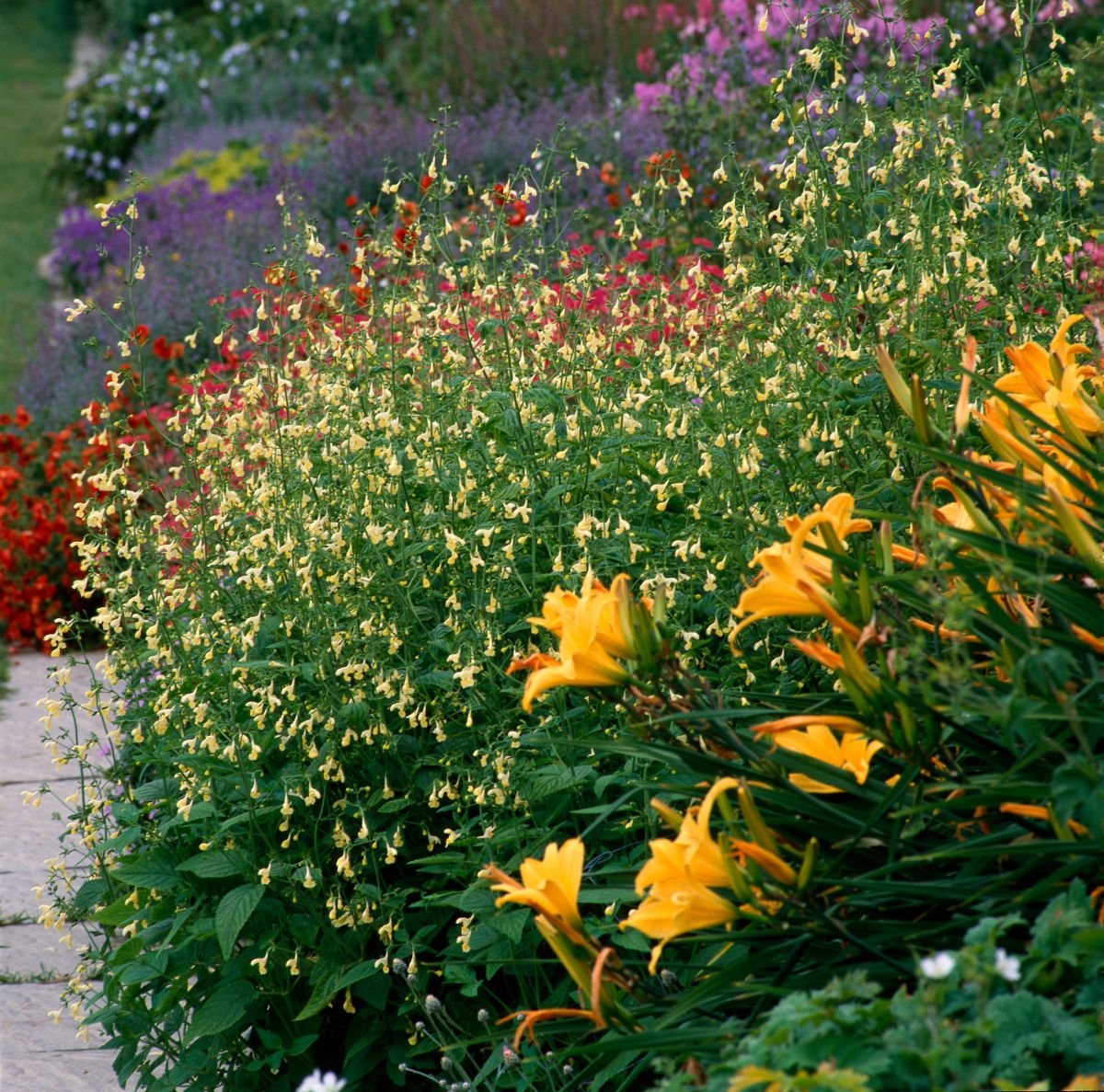 Let's look at a few different types of catmint that you might want to try growing in your garden.
Walker's Low: This species of catmint, Nepeta racemosa, is the best-known. In fact, a lot of people specifically mean "Walker's Low" when they refer to "catmint." This type of catmint reaches about a foot in height and grows to be about 18 inches in width. Gray-green foliage and flowers that may be blue, purple, or white make for a lovely addition to any garden.
Six Hills Giant Catmint; Another type of catmint you can plant for purple flowers is this one, Nepeta x faassenii. This is the type of catmint you want if you would like a plant that grows up to 3 feet tall. Just be aware that without staking, the stems will start to droop past a certain height. But this also makes the Six Hills Giant Catmint ideal for cascading over retainer walls.
Yellow Catmint: Purple blooms may be most common, but did you know that yellow-flowering plants exist among catmints as well? This plant has the scientific name Nepeta govaniana, and an reach an astonishing 4 feet in height. What's more impressive is that it often does not need as much support at this height as other catmint varieties. Plus, it can handle cool, moist conditions better than many others. But as always, soggy soil is a strict no-no.
Japanese Catmint: If you want lavender-blue flowers, one popular option is planting some Japanese catmint. Nepeta subsessilis is pretty short, and can handle moisture better than most other catmints. With proper deadheading and pruning, you can get it to blossoms repeatedly from May through September.
Greek Catmint: One of the tallest types of catmint is this one, Nepeta parnassica. Astonishingly, it can rise as high as 6 feet, with a 3-foot width. The lavender-blue flowers are also quite big, reaching up to 2". Consider planting it as a backdrop for shorter plants.
Siberian Catmint: Another type of catmint to think about planting is Nepeta sibirica, which produces purple flowers. Its maximum height is around 4 feet. The deep color of the flowers is attractive, along with the bluish tint of its foliage. Some people also plant Siberian catmint specifically for its fragrance. The aromatic plant smells somewhat like cinnamon.
Now you are familiar with some of the most popular catmint varieties. There are other types of catmint out there too, so research to discover more!
When Do Catmints Bloom
The initial bloom period for catmint flowers is May and June. And what is really outstanding about this perennial herb is that you can get it to bloom again when August rolls around. You just need to deadhead your catmint plants to enjoy this second flush of flowers.
How Long Do Catmints Bloom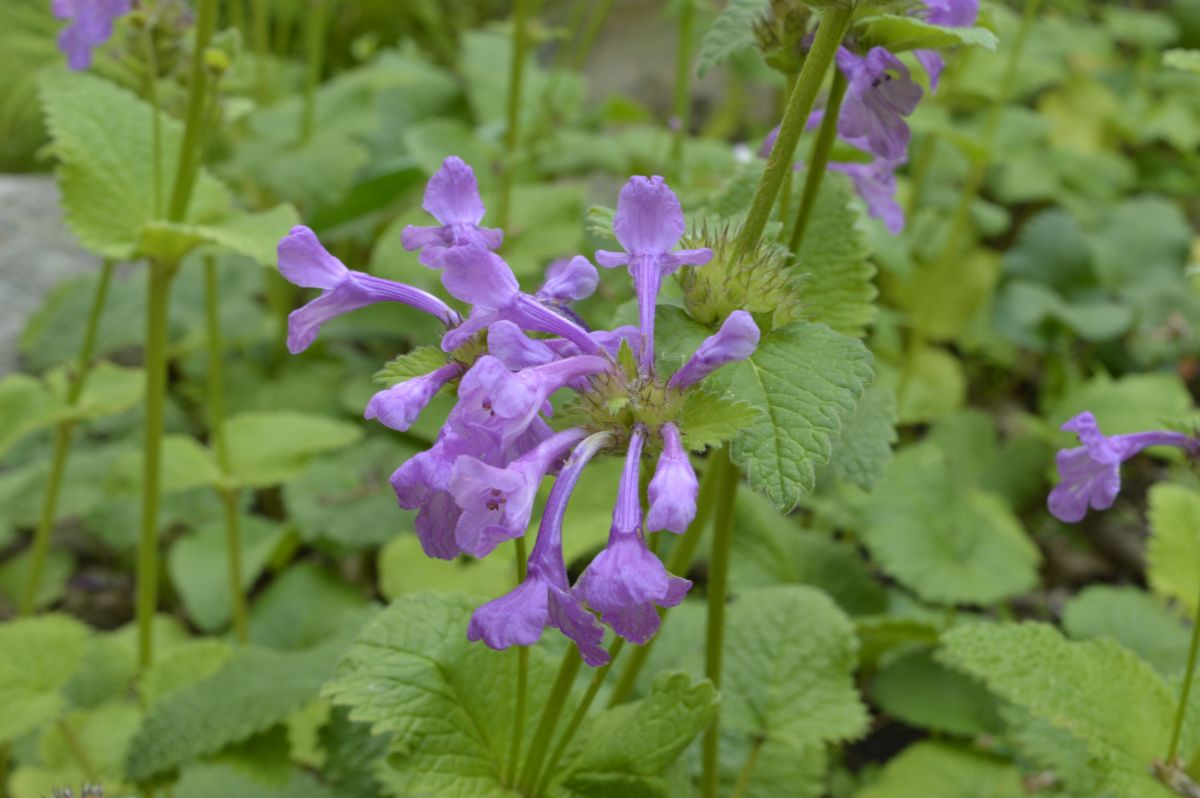 This plant offers a lengthy bloom period. Michigan Gardener says, "The flowers begin in mid-June and will persist until the beginning of August. Deadheading is not necessary, but shearing the top third of the plant can prolong the bloom time by a few weeks."
When to Plant Catmints
Now you know when your catmints will bloom, but when should you plant them? After the last frost has passed in spring, that is a good season to plant catmints. You can also plant them in the early part of autumn. Just keep in mind they need time to establish before the first frost.
Ideal Growing Conditions for Catmints
Wondering what catmints need in terms of sun, soil, and water? As you will discover in the next sections, these plants are incredibly easy to care for!
How Much Sun Do Catmints Need
Sun conditions for catmint are flexible. You can plant it successfully in full sun or partial shade. Full sun is preferable.
What Type of Soil is Right for Catmint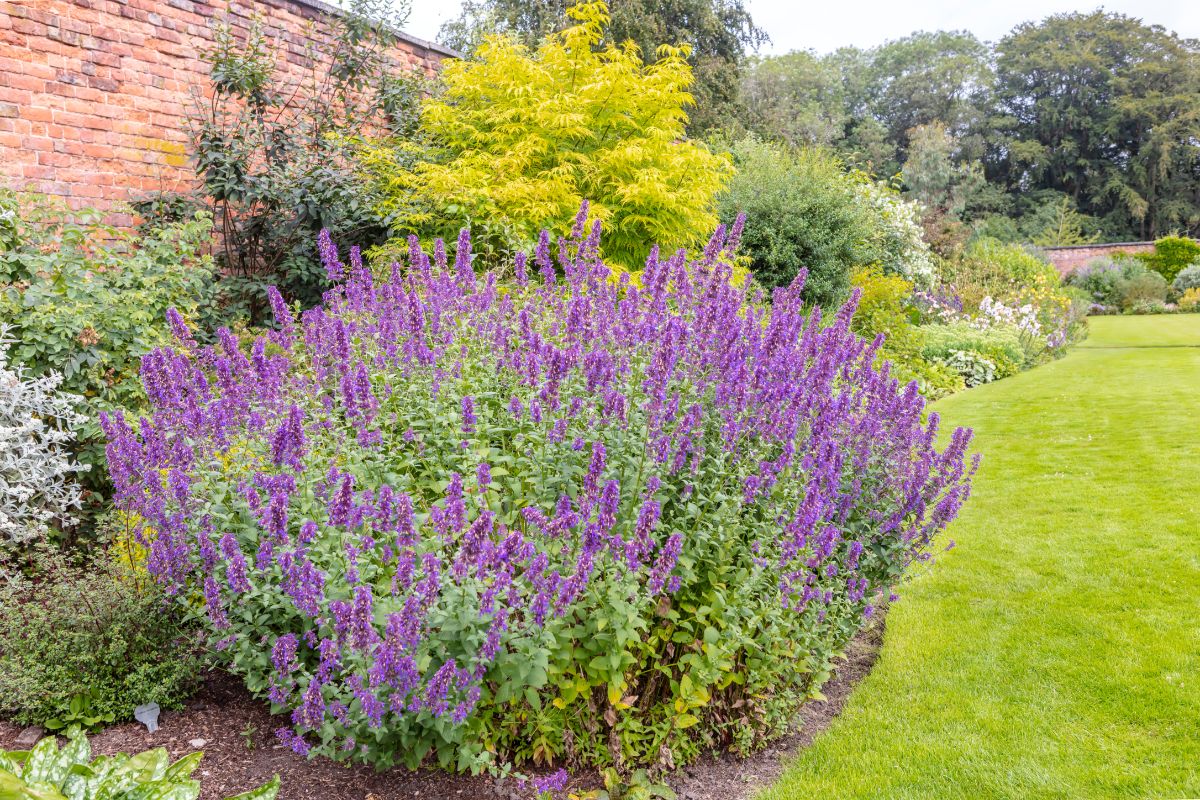 Dry to average well-drained soil is ideal for catmint, and pH can range between alkaline and acidic.
Indeed, catmint can adapt pretty well to a wide range of soil types. North Carolina Extension writes, "is less picky about its soil and will grow in clay, loam, sandy, or shallow rocky soil."
So, whatever type of soil you have in your garden, it is probably worth giving catmint a try.
How Much Water Do Catmints Need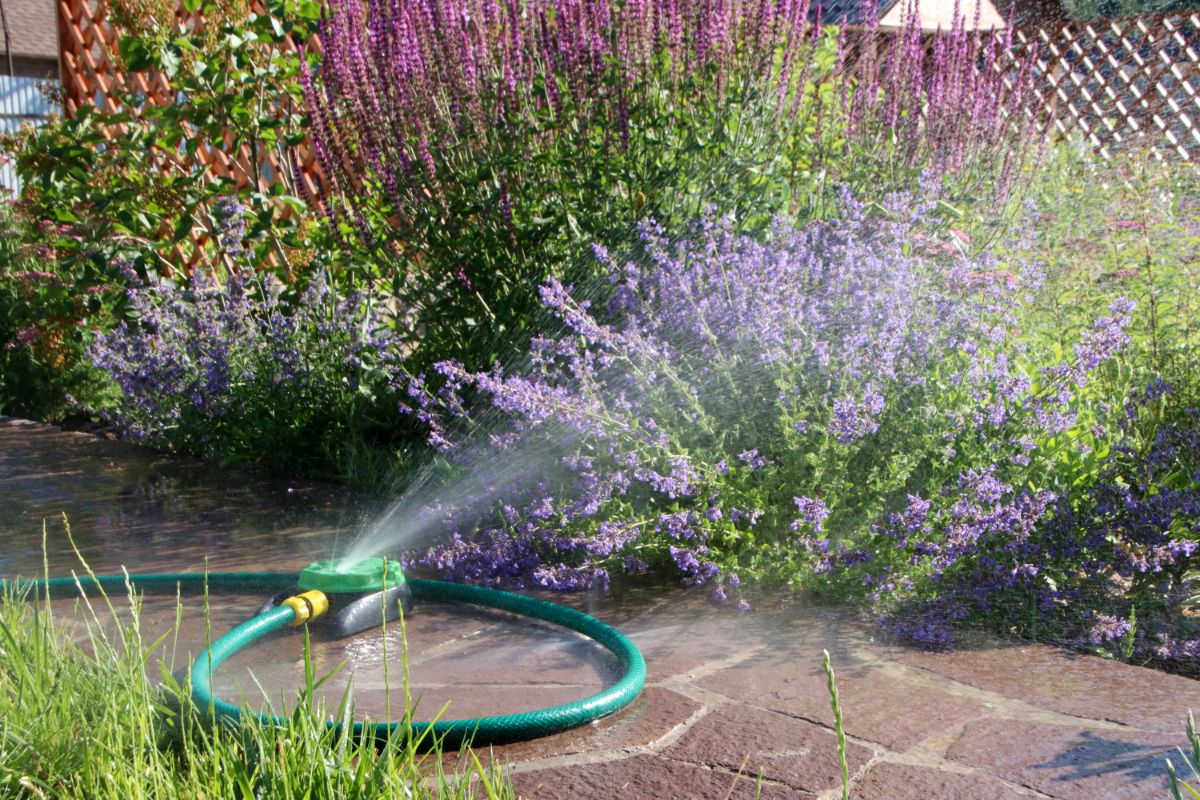 The water requirements for catmints are minimal. You should water weekly while the plant is establishing. But after that, you can switch to a schedule of once every three weeks.
How to Plant Catmints
Although you can grow catmint from seed, you will probably use a nursery transplant or a division. The reason is that you cannot depend on seeds from hybrids to produce plants that look like their parents. Plus, some types of catmint are not able to produce viable seeds.
Below, we share the instructions for planting catmints in containers or in your garden beds.
Container Planting
Want to grow these aromatic flowers in pots? Here are the steps for planting.
Choose the right pot. The roots of catmints can take up a lot of space. So, for just one catmint, you need a very large container. Around two gallons of capacity should do it. If there are no drainage holes in your pot, add them.
Add potting soil to your container, and amend it with a little organic compost if you want.
Dig a hole and insert your catmint starter plant. Backfill the soil.
Water well.
Find a spot for your catmint. In most locations, full sun is ideal, but afternoon shade is a good idea if it gets really hot.
Note: You can, of course, use any shape of the container you want for catmint. But we recommend you consider long, rectangular containers rather than round ones.
Why? Because you can line these containers up together, placing them at a height, like on top of a retainer wall.
That way, when the catmints start to flop over (more on that later in the guide), they will have a pleasant "waterfall" effect. With round containers, they can still do this, but you will end up with a messier look that does not seem as intentional.
Ground Planting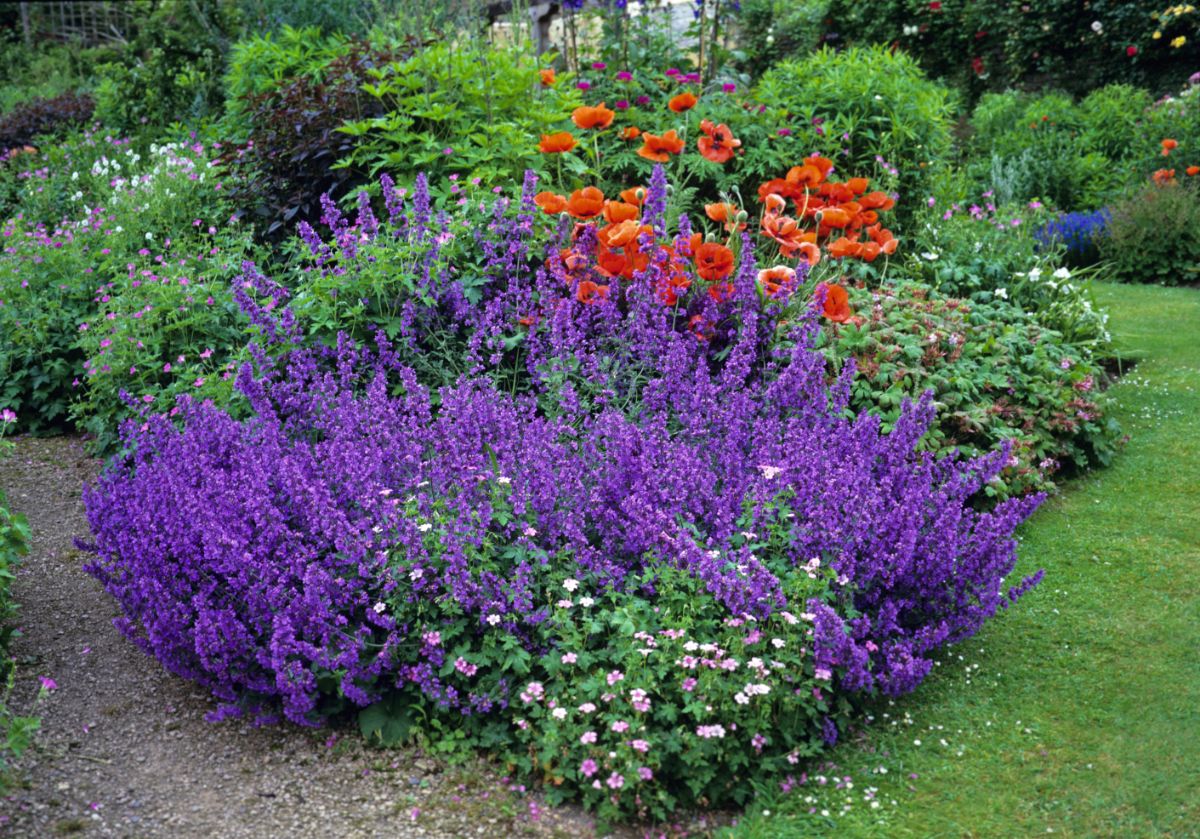 If you will be planting catmints directly in your garden beds, follow these instructions:
Choose a suitable location. Ideally, it should be in full sun, but partial shade is fine (in fact, afternoon shade may even be preferable if your location is really hot). If you do not want to spend a lot of time pruning floppy catmints later in the season, strongly consider the top of a retainer wall!
Prepare the soil.
Catmints tend to do fine in rich or poor soil. But if the soil is poor, amending it with a little compost may be helpful.
Make holes for your catmints and insert your starter plants into the soil. The ideal spacing is 12-24 inches between catmints.
Backfill the soil.
Water your catmints.
You will need to keep the soil moist while your catmints are establishing. This takes about four weeks. After that, you can switch from watering weekly to watering every three weeks.
How to Grow Catmints from Seed
Interested in growing catmint directly from seed rather than from a nursery plant? Here is how to germinate catmint seeds.
Begin with seed trays or little plastic containers. If they do not have holes for drainage, add them.
Add potting soil to your trays or containers. Water the soil BEFORE proceeding to the next step.
Put some catmint seeds in each of your containers. You only need to add several to each. Do not cover them with soil. Just leave them on the surface.
Get a spray bottle and give the seeds a quick spritz. This should have the effect of pushing them just a tiny little bit into the potting soil without burying them or washing them out.
You need to lock the moisture in, so you should set lids on top of each of the containers and/or cover them in plastic wrap.
The seeds need to be exposed to light to germinate. That means you should either put them on a sunny windowsill where they can get sun or you should put them under grow lights.
Check regularly on the containers. If the soil is getting dry, you need to spray it again.
Wait for the catmints to germinate. You should see them sprout within 5-10 days or so.
Continue to mist the soil as needed. Wait for the plants to grow half an inch. At this point, you can discard all but the most successful plant in each container.
Wait for two sets of leaves to grow on each of the seedlings. Once they do, it is time to move them to the containers they will live in over the long term.
Harden the plants. That means bringing them back and forth between indoors and outdoors for about a week, so they get used to outdoor life.
Move them to where you want them in the garden over the long term.
How to Care for Catmints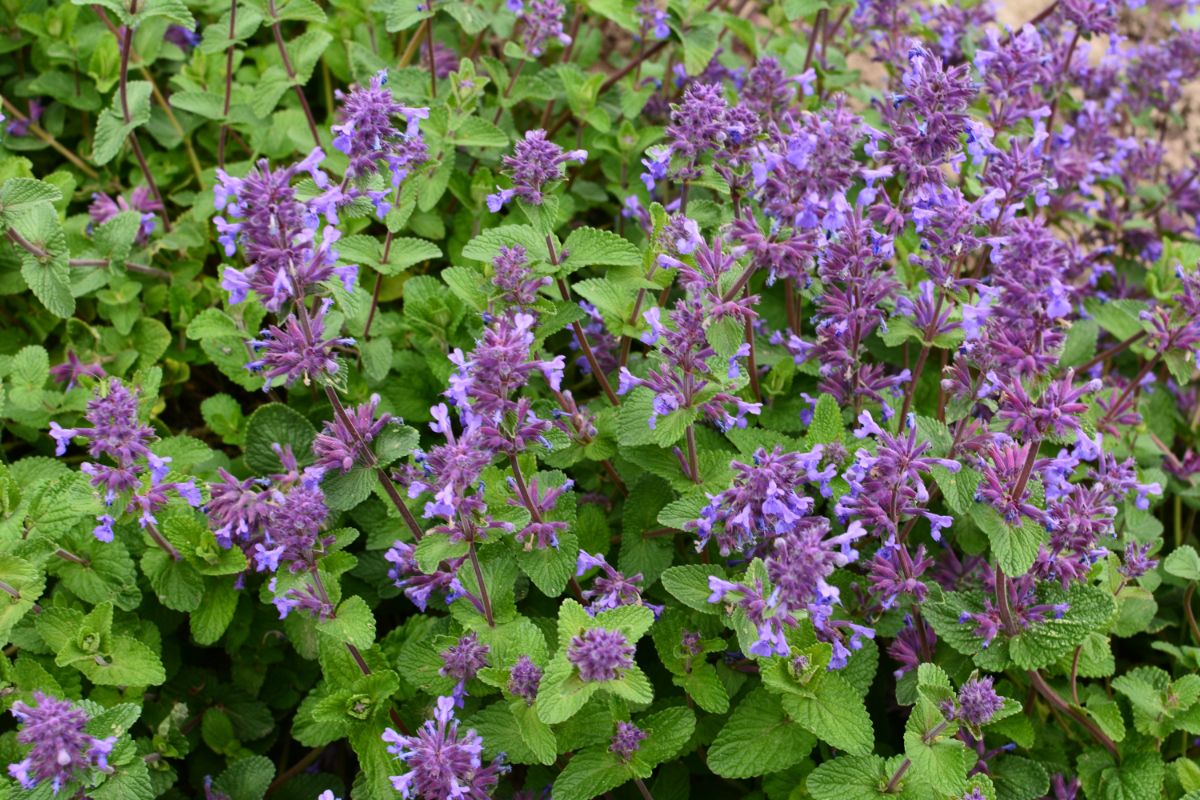 You now know how to plant catmints and how to start them from seed. But how do you take care of them? Below, we talk about fertilizing, staking, and more. You will discover that caring for catmints is super easy!
How to Fertilize Catmints
In autumn, you may want to apply some compost to the soil around your catmint plants. Beyond that, it should not require further attention in this area. Indeed, this is one of the many reasons it is so easy to care for.
How to Mulch Catmints
Beyond the composting mentioned above in the fall, there is really no need for further mulching of your catmints. These plants appreciate relatively dry conditions, so locking in moisture is not all that essential.
How to Stake Catmints
You may notice as the season progresses that your catmints begin to flop over. This is expected. Staking them might be one solution. But most gardeners simply prune them instead.
The third idea is to let them flop and integrate that habit into your landscaping plan. For example, you can deliberately plant them so that they will flop over a retainer wall. That way, instead of the flopping being unsightly, it will actually be aesthetically pleasing. Naturally, this is the most low-maintenance solution.
How to Prune Catmints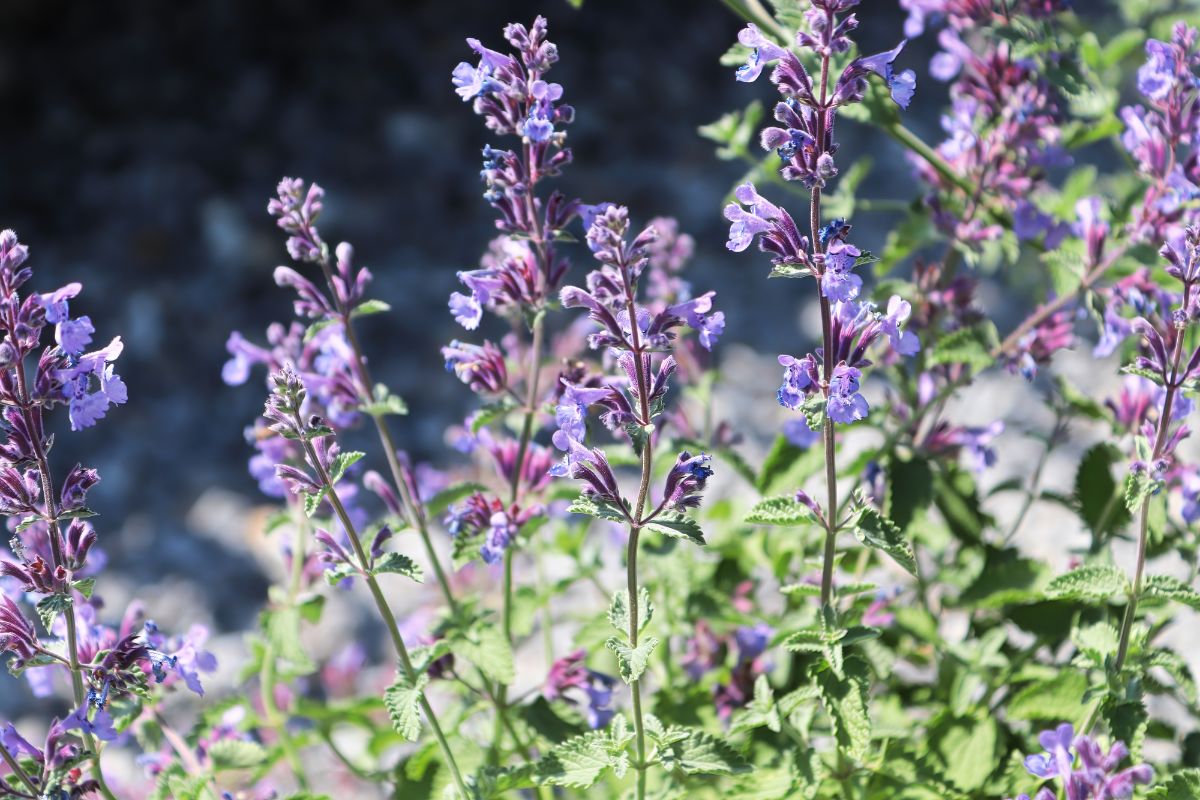 While catmints are largely low-maintenance, one area where you may need to put in some work each season is pruning. Let's talk about deadheading and cutting back catmint plants.
When to Cut Back Catmints
You can do routine pruning through the season to encourage new flowers (see the next section on deadheading). This also can help you to keep their appearance neat.
In late autumn, your catmints will stop producing new blossoms. At that point, you can go ahead and trim them all the way down to about 2 inches above the soil.
How to Deadhead Catmints
You should regularly deadhead your catmints. You can do this at the same time you are giving them water. Just pinch off any spent blooms when you spot them. You should not need any gardening tools to do this; it is pretty easy by hand.
While this will help to encourage fresh blossoms, you are going to need to go a bit further to get a spectacular new flush of blooms. When you see a lot of flowers wilting, you can trim the stems beneath the bloom spikes. This will bring your plant down to roughly half its height.
You should see new blossoms and growth not long after doing this. You can repeat this pruning a couple more times as needed. Do so with diligence, and you can enjoy catmint flowers throughout the season.
Are Catmint Vulnerable to Diseases or Pests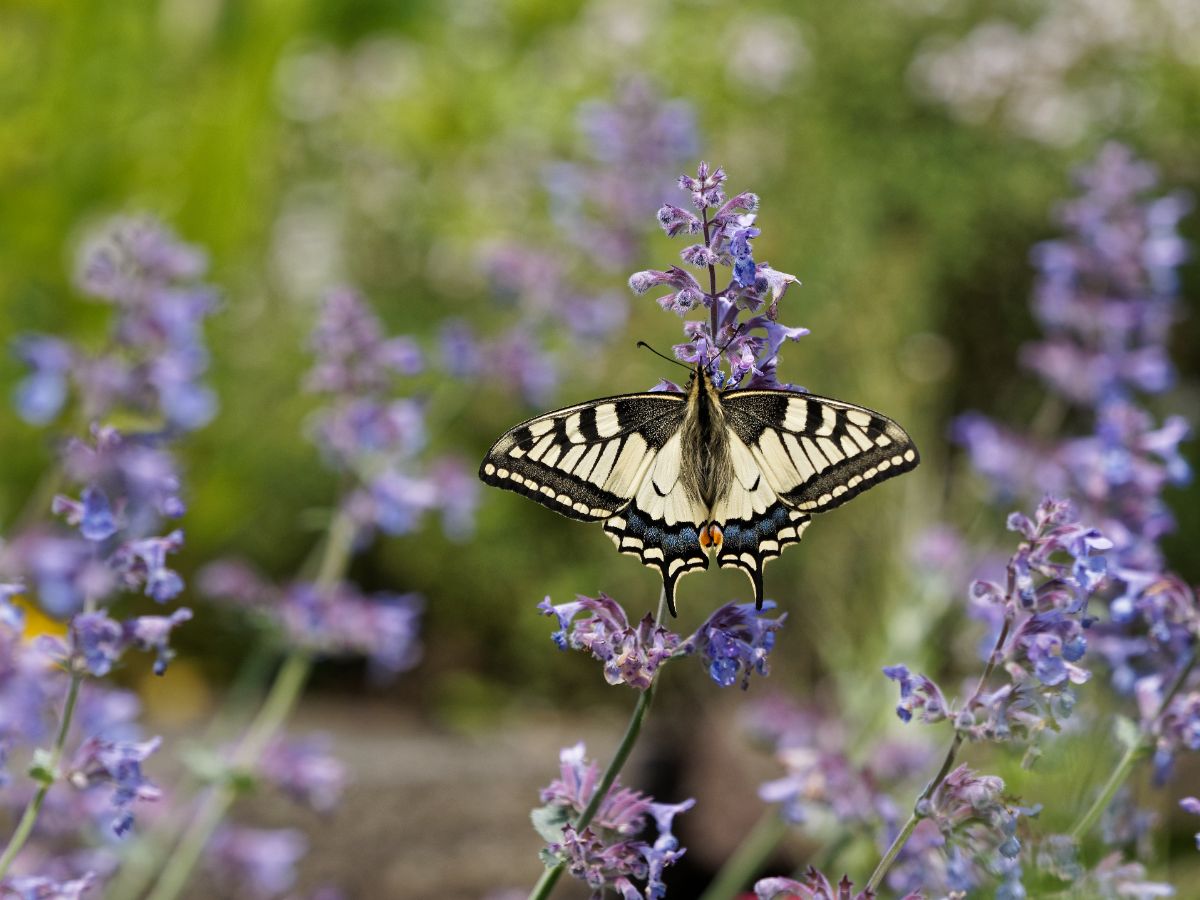 One awesome thing about catmints is that they tend to resist pests and diseases admirably. That being said, if you plant your catmint in soggy soil, you are probably going to run into root rot. It also can be subject to powdery mildew as well as leaf spot. So, make sure you plant only in well-draining soil and that your plants have enough room to breathe.
We have seen reports that spider mites sometimes affect catmints. But on the whole, these plants are pretty pest-free and indeed can actually drive away pests. Consider planting them near other plants you want to protect.
How to Transplant Catmints
If your catmints have been established for a while and are beginning to look a bit ragged, it could be time to divide and transplant them.
You are going to need to do this every several years. The best times are spring after the last frost or early autumn well before the first frost.
Here is how to divide and transplant catmint:
Dig down into the soil around your catmint, and then use a trowel to help you carefully extract it from the ground.
Break apart the rootball. In many cases, it is fine just to cut it in half. But even a small piece of catmint will grow, so long as it has roots.
Dig holes for the newly divided catmint plants.
Plant the divided catmints and backfill the soil.
Water well, and remember to provide extra water while the divided catmints are established.
Because you can grow new catmint from even a small division, you can skip the digging-out step entirely if you are so inclined.
Just dig down into the soil with a spade and cut down through the roots to loosen a section. Then, remove that section from the soil, leaving the rest of the plant alone.
Take note: Catmint plants sprawl. It is just what they do. So, you need to be ready for this when you first plant it. You are going to be dealing with it year after year, and sprawling alone is not really a good reason to divide and transplant.
Instead, you should take the sprawling nature of the perennial into account when you plant it in the first place. Put it somewhere in your garden where the sprawling will work to your advantage, not your disadvantage.
How to Propagate Catmints from Cuttings
While dividing your catmints and transplanting them is one way to increase the number of catmint plants in your garden, it is not the only way. Another option is to take cuttings and propagate new plants from those.
During early spring, take your cuttings. The best time to do this is before the plant begins budding. Each cutting should be about three inches long.
Get a container and fill it with the peat-perlite mix. Sand works too.
Moisten your medium.
Plant the cuttings in the medium.
Keep the medium moist as you wait for the cuttings to grow. After 2-3 weeks, they should form roots.
Transplant your new catmint plants into containers.
Harden the catmints.
After the catmint plants are used to the outdoors, you can either place the containers in a permanent outdoor location or you can transplant the catmints into your garden beds.
Recommended Companion Plants for Catmints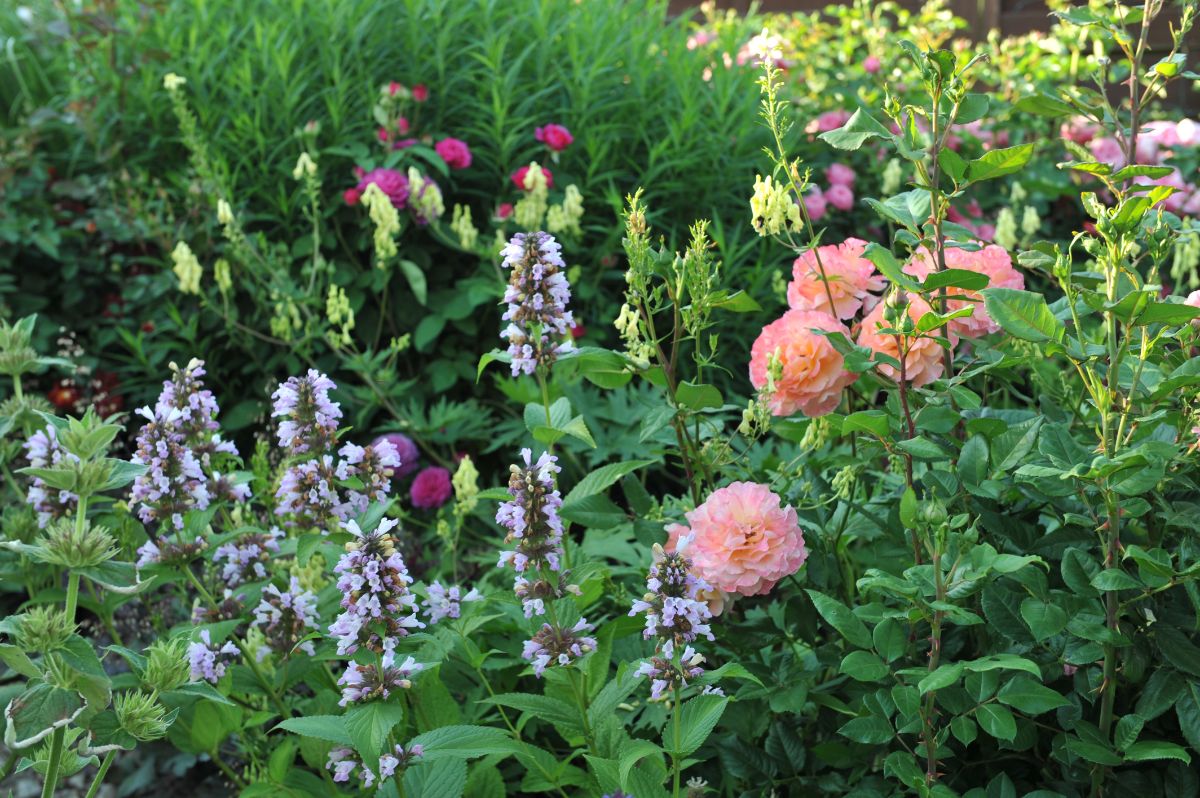 Catmints offer lots of great companion planting possibilities, both from a practical and aesthetic point of view. Below are a few ideas to consider.
Remember, if there is any plant in your garden that is being attacked by pests, planting some catmint next to it may help to discourage those unwelcome critters.
Roses: One of the best companion plant ideas for catmint is roses. Indeed, if you do not like the scraggly look of the lower parts of your rose bushes, you can cover them up with catmint plants.
Shasta Daisies: These cheerful flowers look lovely with catmints in the summertime. You will enjoy the delightful color contrast between the two plants. Plus, like catmints, Shasta daisies tend to be easy to care for. So, for the novice gardener or the gardener without a lot of free time, they are ideal companion plants.
Salvia: This plant has a somewhat similar appearance to catmint and likes similar growing conditions. So they can blend together quite nicely.
Goldenrod: This plant blossoms in fall, when your catmint plants should still be in bloom if you have been deadheading and pruning them diligently throughout the season. Their contrasting colors make for a pleasing effect.
Frequently Asked Questions About Growing Catmints
Are catmints annual or perennial?
Catmints are perennial plants. They come back every year. Because they are so easy to care for and require so little attention, they are a favorite among gardeners of all experience levels.
Can you grow catmint indoors?
Hypothetically, yes, you can grow catmint indoors (or catnip, at that rate). Just be aware that the floppy nature of catmint later in the season means you will need to be up for some serious pruning. Otherwise, it will be too much of a mess to keep in your home. If it gets to be too much of a hassle, you can move it outdoors after hardening it.