Pollinator habitat gardens are becoming increasingly popular today thanks to their beauty and the benefits they offer for local wildlife. But while most gardeners focus on what annuals and perennials will grow best in pollinator gardens, many full-sized trees offer even better shelter and nesting sites for pollinators. Not to mention, many of these pollinator-friendly trees bloom early in the season, long before most other ornamental plants emerge from winter hibernation.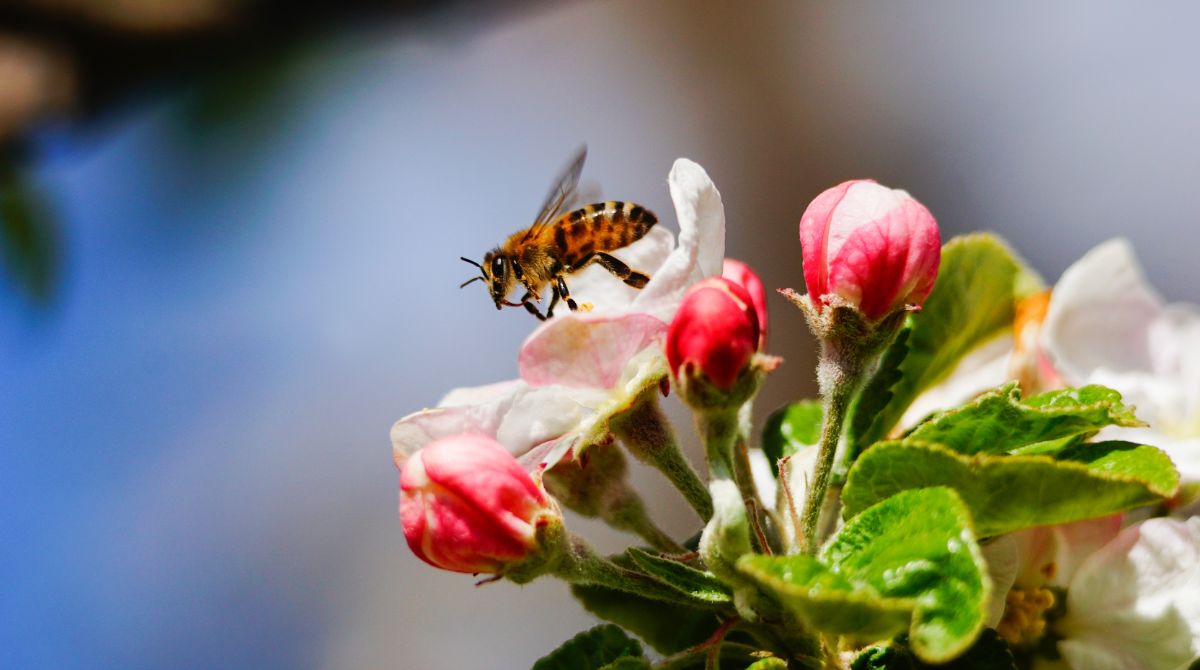 If you want to construct a pollinator habitat or you're just looking for the best native trees for your garden, you've come to the right spot! In this guide, you'll find an assortment of both native and non-native tree varieties that will offer food and shelter for bees, butterflies, and other beneficial insects. When used as foundation plants in garden beds, these trees will add height and drama, but they'll also lure your favorite pollinators to your yard too!
Jump to:
15 best trees to grow in a pollinator garden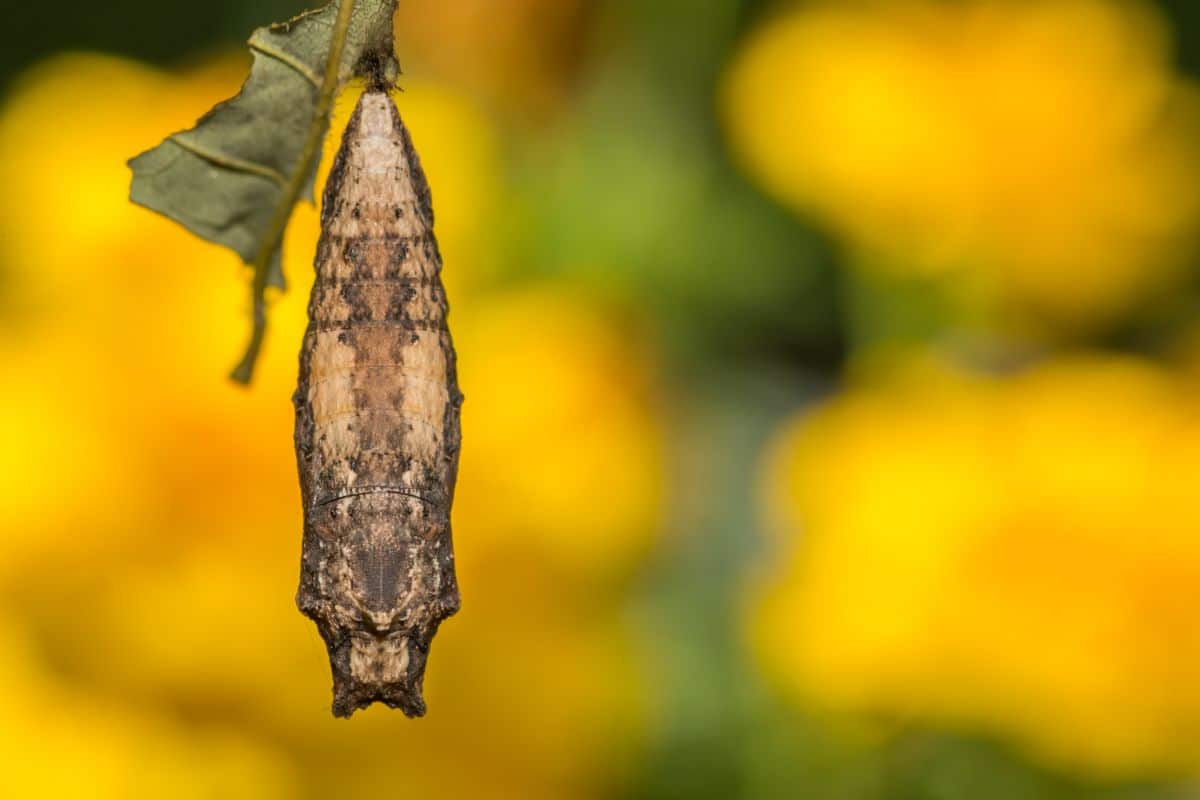 The right pollinator trees will produce pollen and nectar for insects, nuts and berries for birds, and shelter for an assortment of wildlife as well. While there are other beneficial trees that you can grow in your garden space, below are some of the absolute best trees for pollinators that you can find.
1. Native evergreens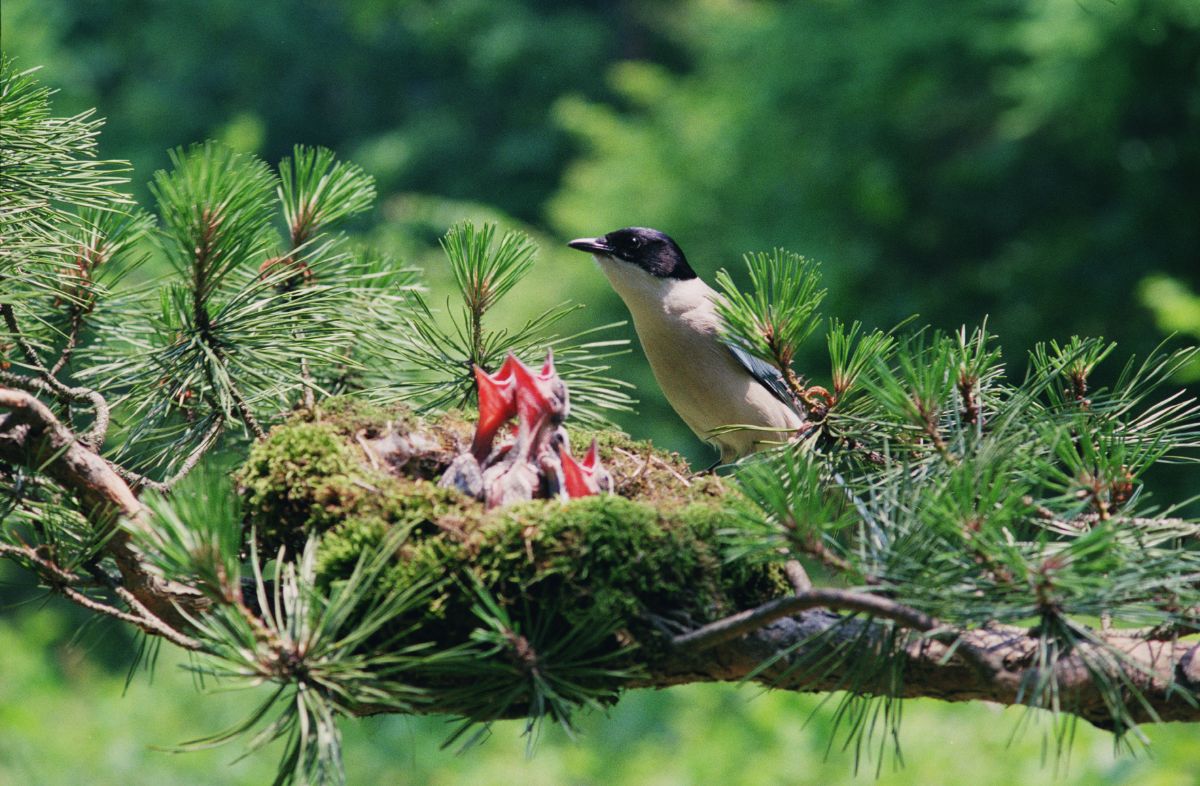 | | |
| --- | --- |
| Tree name: | Native evergreens |
| Light requirements: | Full sun |
| Water requirements: | Moderate to low |
| Growing zone: | Depends on variety |
| Bloom time: | Conifers produce pollen-rich cones rather than flowers in spring |
Native pines, spruce, firs, and other evergreens provide some of the best shelter around. In spring, summer, winter, or fall, birds and other wildlife can nestle in the thick branches of evergreens and be protected against rain, snow, and heat. Plus, native pines are essential for fireflies, which lay their eggs in the canopies of pine trees.
What evergreens are native to your area will depend on your growing zone, but some common choices include white pine, blue spruce, and Fraser fir. Beyond their usefulness for pollinators, evergreens provide year-round privacy to backyards and patios, and they can even be grown as windbreaks to protect other plants. Better still, some evergreens produce edible tips that can be used to make jellies, flavored sugars, and other delicious treats!
2. Oak (Quercus spp.)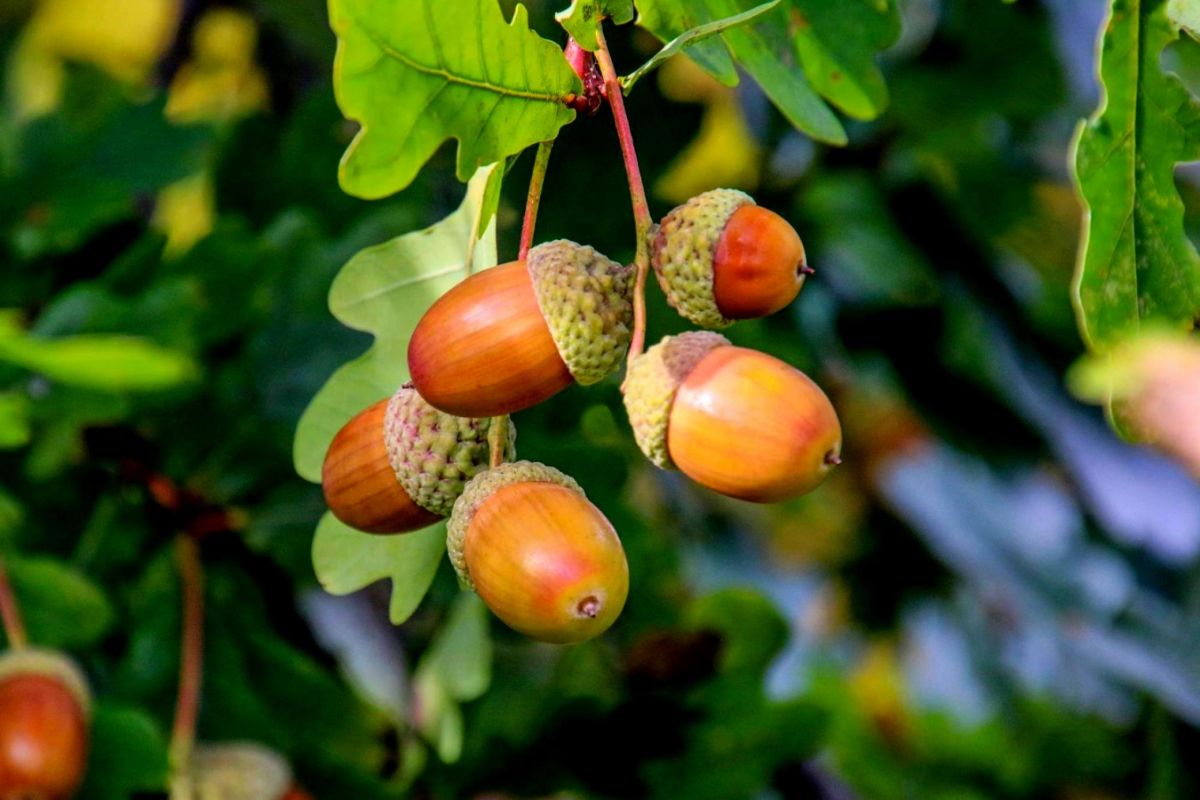 | | |
| --- | --- |
| Tree name: | Oak |
| Light requirements: | Full sun to part shade |
| Water requirements: | Moderate to low |
| Growing zone: | Depends on variety |
| Bloom time: | March through May |
Native oaks are known as "keystone species" because they are just so important to the ecosystems they grow in. In the wild, oaks provide shelter and food for a variety of wildlife and pollinators, but they'll bring the same benefits to your garden too. As with evergreens, the best oak trees to grow are the types that are native to your area, but red oaks, white oaks, and live oaks are all common choices.
In addition to offering shelter and nesting habitats for birds and squirrels, oak trees shed an incredible amount of acorns in autumn, providing a veritable feast for all sorts of wildlife, including chipmunks and turkeys. Oak trees also have rough bark that can shelter small insects, and their fallen leaves make an excellent habitat for overwintering insects too. Plus, while oak trees are generally wind-pollinated, their pollen still attracts honeybees, as well as native bees and other pollinators, and they are also host plants for an assortment of butterflies.
3. Pussy willow (Salix discolor)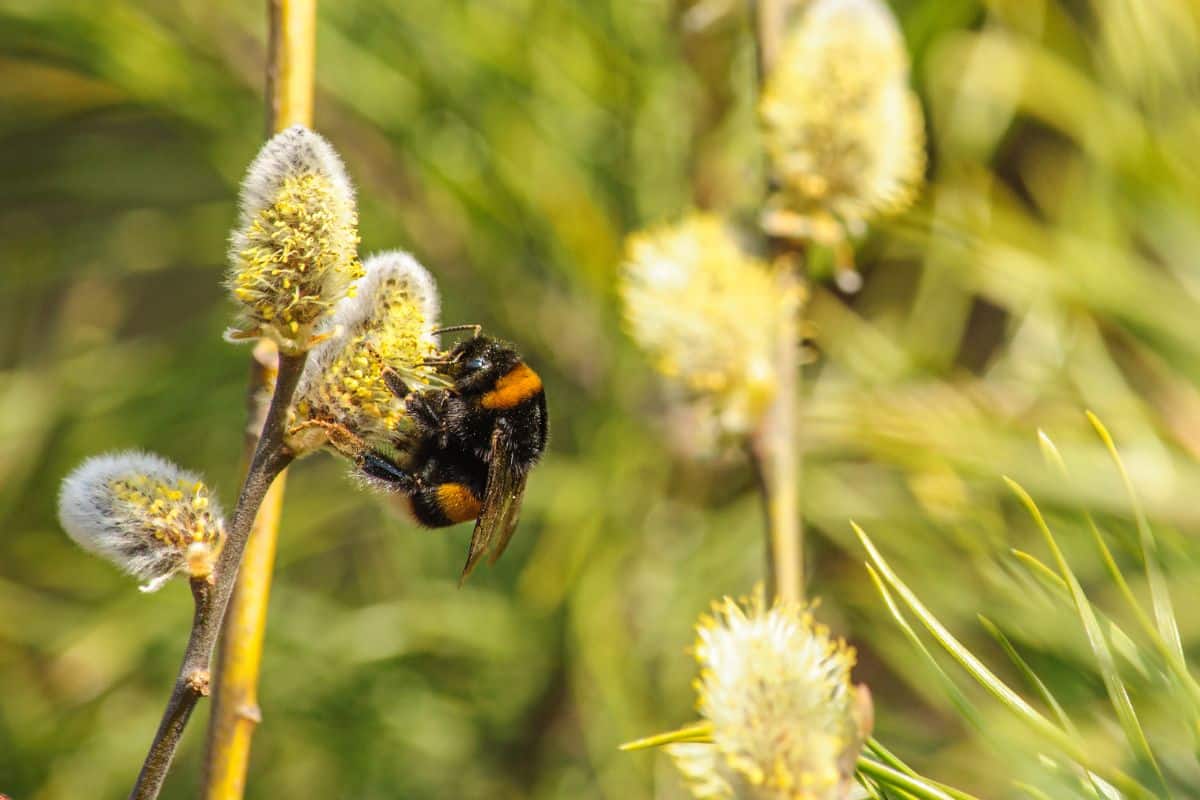 | | |
| --- | --- |
| Tree name: | Pussy willow |
| Light requirements: | Full sun to part shade |
| Water requirements: | High to moderate |
| Growing zone: | Zones 4 to 8 |
| Bloom time: | January to May, depending on the growing region |
All willow trees can benefit pollinators, but the pussy willow is one of the ultimate pollinator plants for a good reason. Florists love pussy willows for the ornamental appeal of their fuzzy catkins, but the pussy willow is important for pollinators because it flowers so early in the spring. Even before spring ephemerals and bulbs begin to emerge, pussy willow is usually in bloom… and already coated with whatever pollinators have emerged from their long winter snooze!
Pussy willows are relatively small trees that only grow to about 25' high, so they're a good choice if you have a smaller pollinator garden but still want to make a big impact. These plants grow best when provided with regular watering, as they're often found growing along streambanks in the wild. In gardens, pussy willows usually need about 1" of water per week, but you can cut down on your tree's watering needs by adding a thick 1 to 3" layer of mulch around the base of your plant to slow down soil evaporation rates.
4. Hazel (Corylus spp.)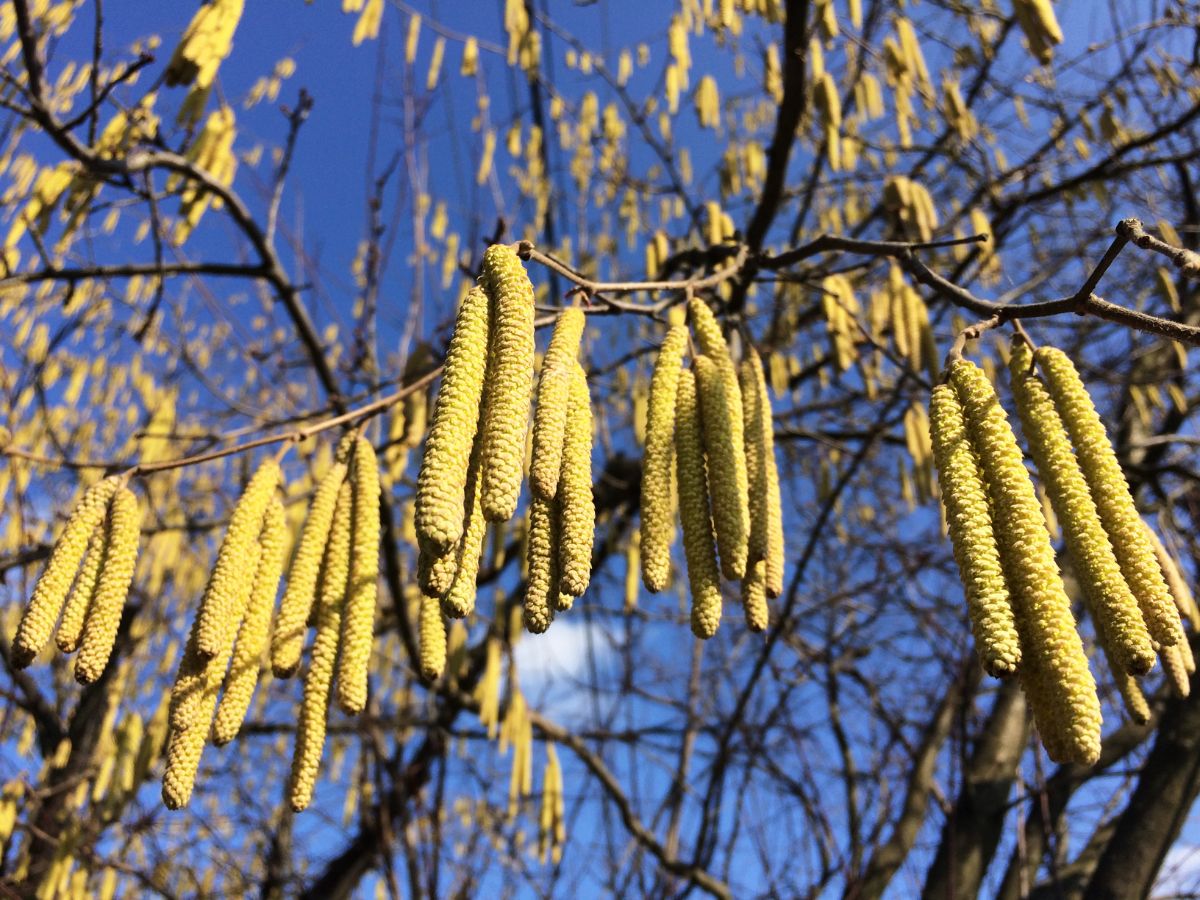 | | |
| --- | --- |
| Tree name: | Hazel |
| Light requirements: | Full sun |
| Water requirements: | Moderate |
| Growing zone: | Zones 3 to 8 |
| Bloom time: | March to April |
Like pussy willow, hazel flowers earlier in the season than many other plants, providing nectar and pollen to insects long before the rest of the flower garden wakes up. In fact, hazel often flowers as early as January to March, and it's sometimes the only food source pollinators can find. These plants are also important host plants for a variety of moths and butterflies, and their leaves attract caterpillars that provide food for bird nestlings.
A single pair of chickadees need to feed their young about 6,000 to 9,000 caterpillars before their fledglings leave the nest. Considering the massive amount of insects needed to support nesting birds, growing plants like hazel that host caterpillars is essential if you want to keep a flourishing pollinator garden. But if you needed even more reasons to grow hazels, these trees also produce nuts that will feed wildlife too!
5. Cherry (Prunus spp.)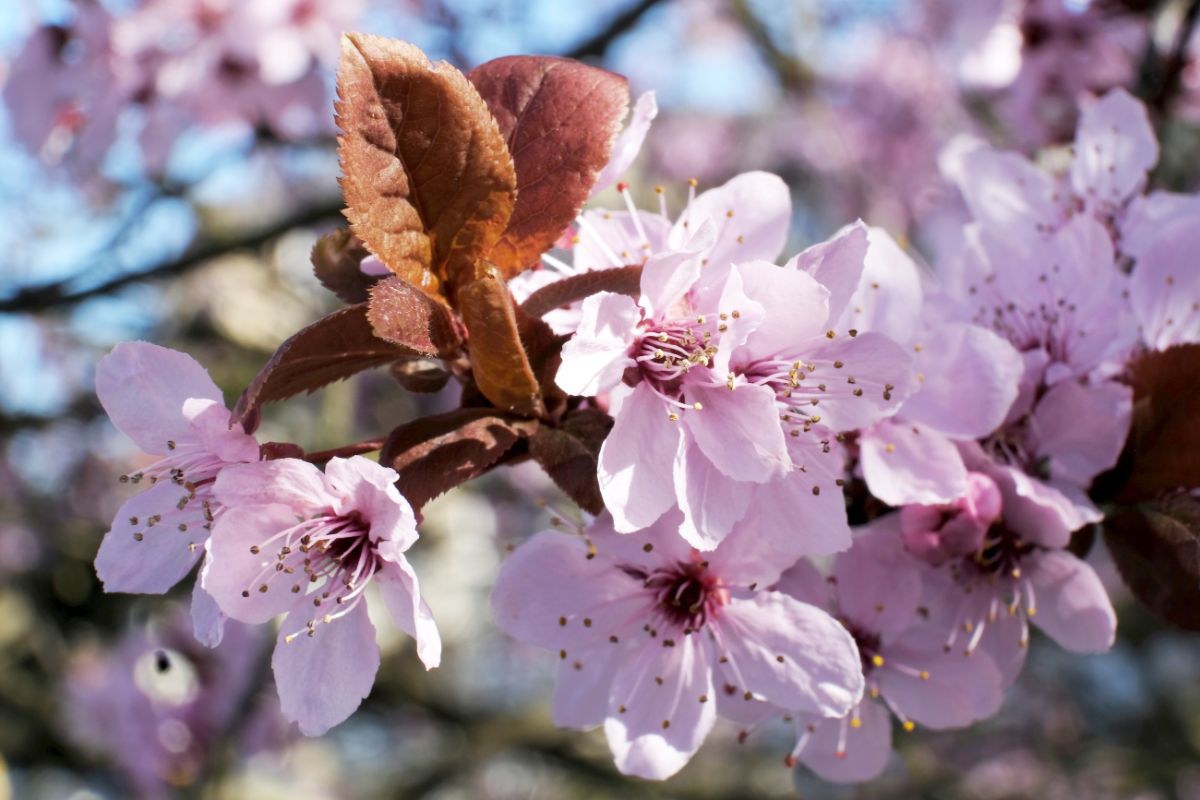 | | |
| --- | --- |
| Tree name: | Cherry |
| Light requirements: | Full sun |
| Water requirements: | Moderate |
| Growing zone: | Zones 4 to 9, depending on variety |
| Bloom time: | March to April |
Cherries don't flower quite as early as hazel and pussy willows, but they are still early bloomers. In pollinator gardens, cherry trees are often coated with bees, butterflies, and beetles in spring, which feed on the plant's protein-rich pollen and sweet nectar. Additionally, even the ornamental varieties of cherries can produce fruit, which birds and other wildlife will readily gobble up.
Cherries are usually thought of as edible plants that are prized for their luscious and juicy berries. But you can grow cherry trees strictly as ornamentals and allow their springtime blooms and colorful bark to liven up even the barest garden design. If you love striking silhouettes, you may also want to try out weeping cherries, which will dazzle you with their sweeping branches and flashy pink flowers.
6. Serviceberry (Amelanchier spp.)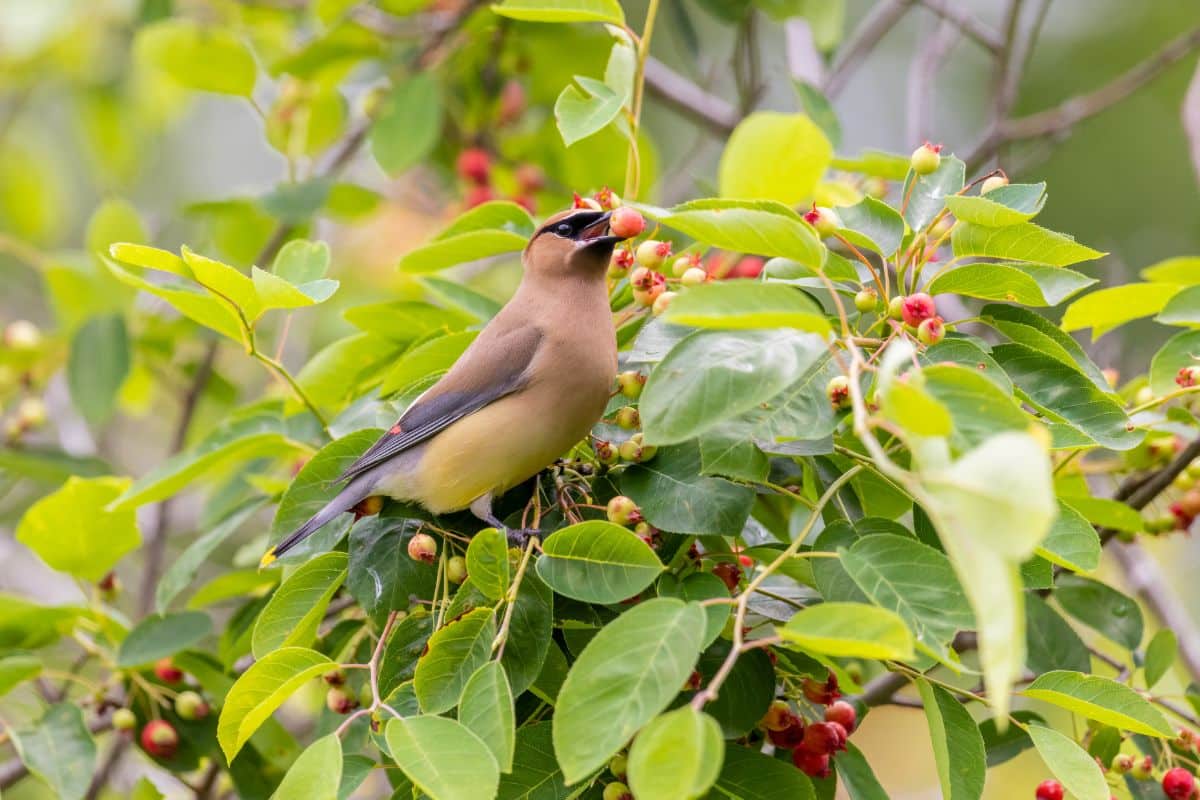 | | |
| --- | --- |
| Tree name: | Serviceberry |
| Light requirements: | Full sun to part shade |
| Water requirements: | Moderate |
| Growing zone: | Zones 4 to 9 |
| Bloom time: | March to April |
When serviceberry blooms in spring, its delicate flowers attract mining bees and other native pollinators to garden beds. Later in summer, serviceberry produces berries that are highly attractive to an assortment of wild birds, and the plant's leaves also serve as a solid food source for striped hairstreak butterflies and other Lepidoptera species. There are several different serviceberry types that are commonly grown in gardens, including the Canadian serviceberry, Saskatoon serviceberry, and common serviceberry.
Beyond their utility in pollinator gardens, serviceberries have a bit of a morbid backstory to them that history buffs may find intriguing. In centuries past, funeral services couldn't be held before the ground thawed and the graves could be dug. Because serviceberry begins to bloom when the ground warms, it became an unofficial marker of springtime and earned its name "serviceberry" as a result.
7. Maple (Acer spp.)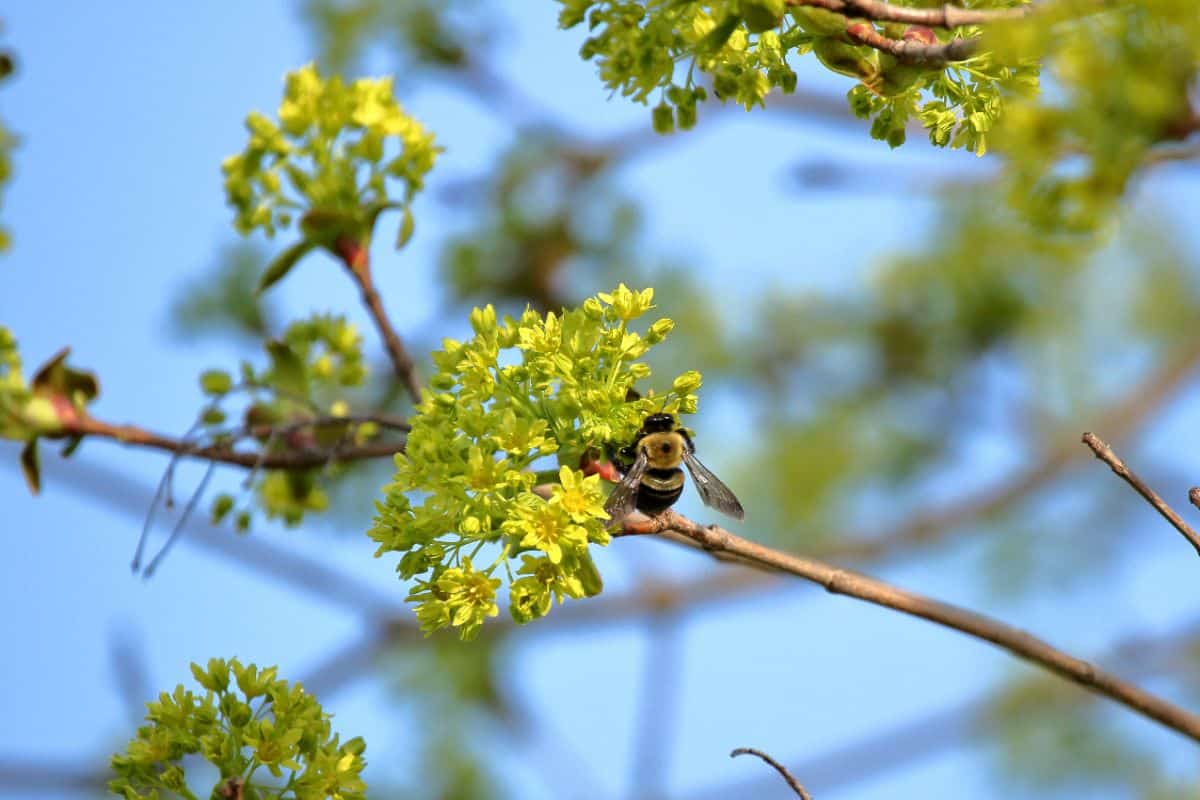 | | |
| --- | --- |
| Tree name: | Maple |
| Light requirements: | Full sun to part shade |
| Water requirements: | Moderate |
| Growing zone: | Zones 4 to 9 |
| Bloom time: | March to June |
Maple trees are cherished among foragers and survivalists who harvest the trees' nutritious sap for maple syrup making. But these trees are also pretty enough for landscaping purposes, and they offer a lot of benefits for pollinators too. In addition to providing shelter and shade, maple trees attract bees and other beneficial insects with their pollen and sweet sap, and they're hosts for the cecropia silk moth.
When woodpeckers drill into maple trees, the holes they make leak sap that bees and other insects feed on. Sapsucker bees can also bore into maple bark in search of sap, and tiger swallowtail butterflies use maple trees as host plants. What's more, when maples shed their windborne seeds, they provide food for squirrels and other rodents!
8. Locust (Robinia spp.)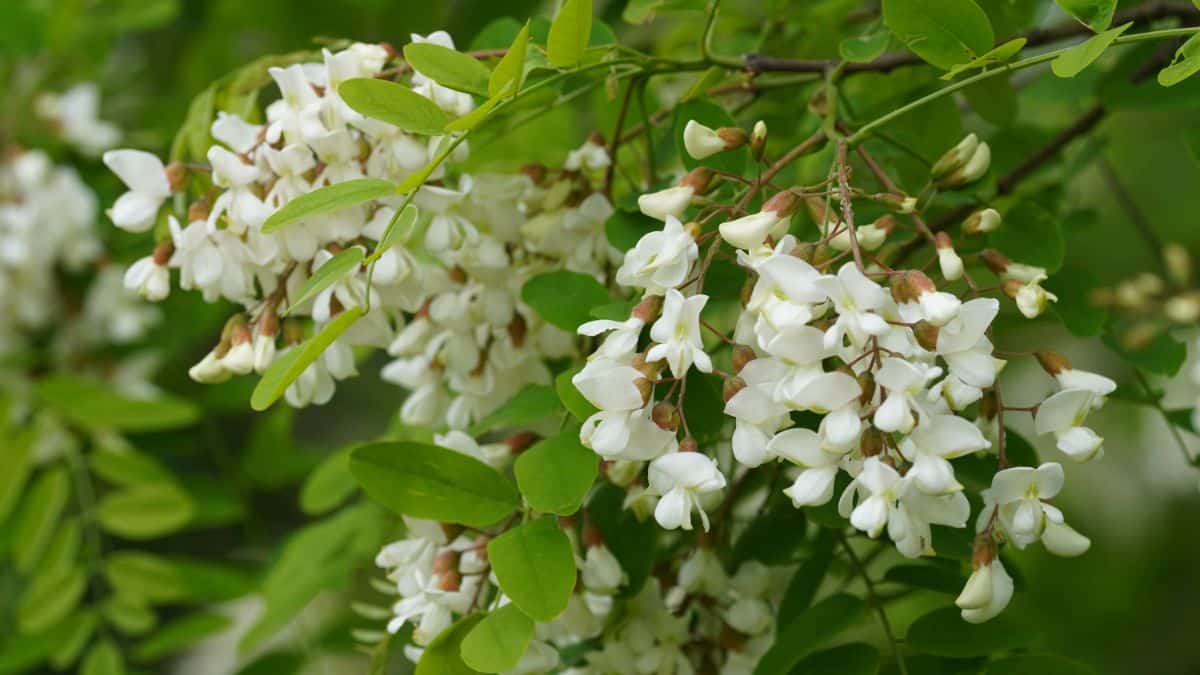 | | |
| --- | --- |
| Tree name: | Locust |
| Light requirements: | Full sun |
| Water requirements: | Moderate to low |
| Growing zone: | Zones 4 to 9 |
| Bloom time: | Late May to June |
Black locust trees are very useful for bees; however, due to the plant's invasive tendencies, you may not want to plant black locust in your garden, depending on where you live. The good news is that there are lots of other locust trees to try, including the honey locust, New Mexico locust, and bristly locust, which usually don't grow as aggressively. These plants are known for their sturdy wood and fragrant flowers that often grow in cascading forms and add an airy feel to any planting design.
Black locust trees are native to the Appalachian mountain range and surrounding areas, and they are especially well-suited to the native pollinators of that region. When in bloom, black locust is a hit with honeybees, and beekeepers often cultivate this plant because it is one of the main sources of springtime honey. Most often, black locust flowers are a nice, creamy white, but some locust trees have flashy magenta-toned blooms that are hard to miss.
9. Apple (Malus domestica)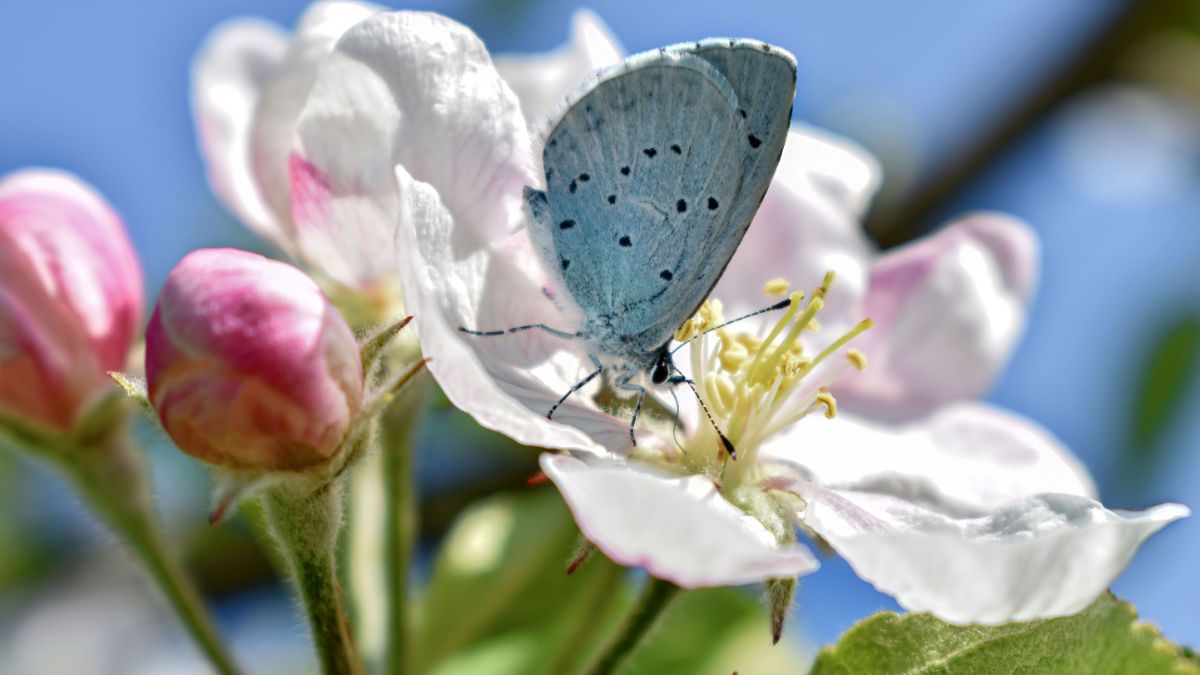 | | |
| --- | --- |
| Tree name: | Apple |
| Light requirements: | Full sun |
| Water requirements: | Moderate |
| Growing zone: | Zones 4 to 8 |
| Bloom time: | Early spring to late summer |
Like cherry trees, apple trees don't just produce edible fruit for humans. When they flower in spring, apple trees will attract bees and other pollinators to your garden, and windfall apples can also feed insects and wildlife in autumn as well. Many butterflies use apple trees as host plants, too, including the Viceroy butterfly, Tiger swallowtail, and spring azure butterflies.
Depending on the size of your garden, you can grow just a couple of dwarf apple trees, or you can plant an entire apple orchard! For small space growers, apple trees can also be espaliered, which can allow you to grow apples in even an urban garden.
One thing to consider if you're growing apples for pollinators is that it's important to choose organic pest control methods when you can in order to avoid harming beneficial insects. To this end, you may want to try out fruit protection bags and utilize companion planting, which will help you control pest insects naturally.
Tip: Crabapple trees are also much beloved by bees and other pollinators, and they produce a riot of springtime flowers too!
10. Linden (Tilia spp.)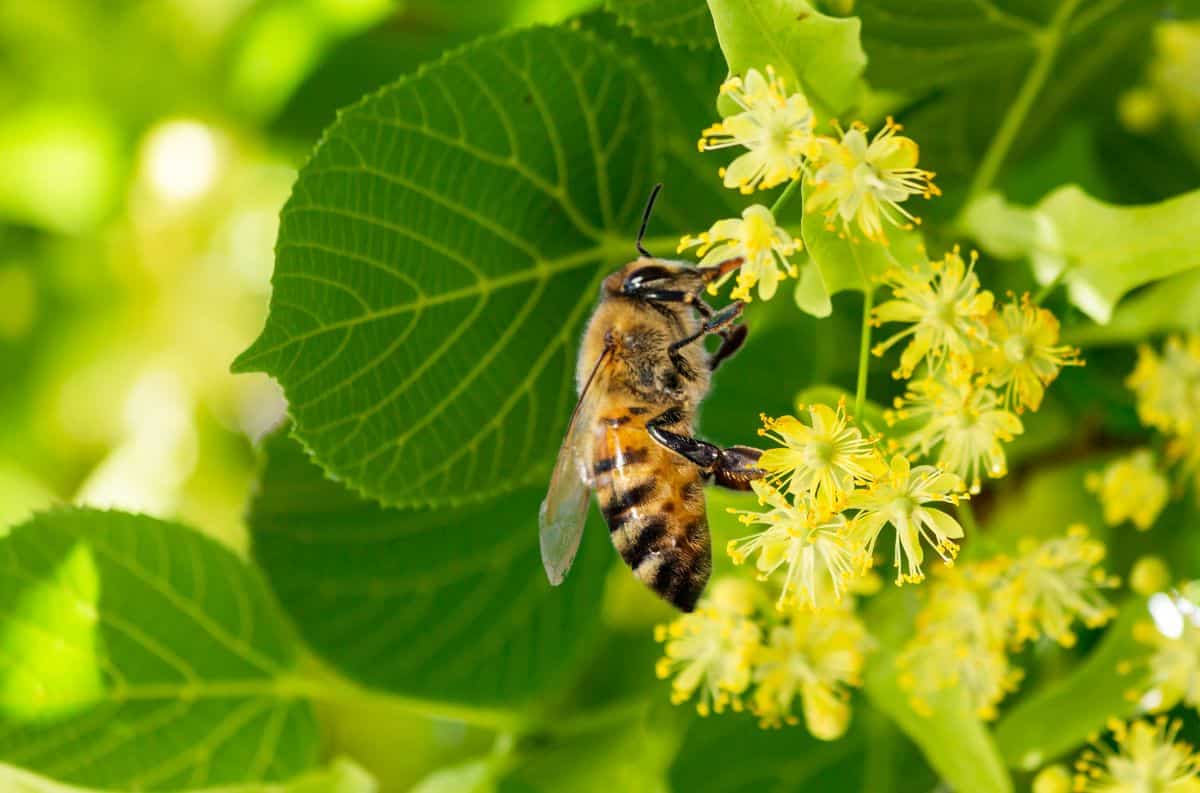 | | |
| --- | --- |
| Tree name: | Linden |
| Light requirements: | Full sun to part shade |
| Water requirements: | Moderate |
| Growing zone: | Zones 3 to 8 |
| Bloom time: | May to July |
American Linden or basswood trees are related to mallows, and they're native to areas throughout North America. An important host plant for pollinator species like the question mark butterfly, Linden trees are another beekeeper's favorite since bees are always drawn to linden flowers. In spring, Linden blooms are nearly bursting with nectar, and some of the critters you'll find visiting them include sweat bees, bumble bees, and certain species of flies.
In the past, linden trees have occasionally been associated with mass bee deaths, and some researchers concluded that linden pollen might have been toxic to bees. However, more recent research suggests that these bee deaths were caused by the bees not having enough food after the linden trees stopped flowering and producing nectar. To avoid this, be sure your pollinator garden includes plants and trees that flower throughout the growing season so that pollinators will always find nectar and pollen whenever they visit.
11. Eastern redbud (Cercis canadensis)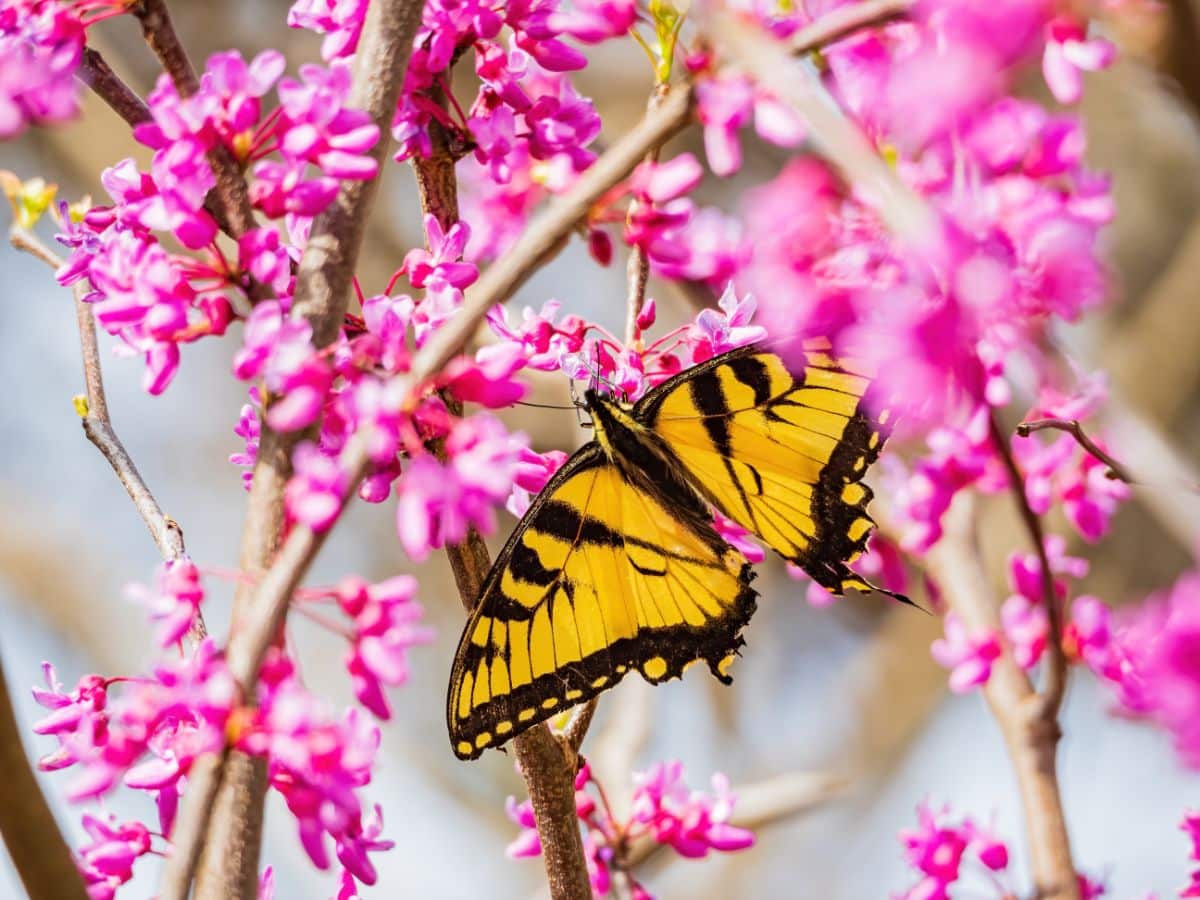 | | |
| --- | --- |
| Tree name: | Eastern redbud |
| Light requirements: | Full sun |
| Water requirements: | Moderate |
| Growing zone: | Zones 4 to 8 |
| Bloom time: | March to April |
Another North American native, eastern redbuds, are small trees or shrubs that are commonly grown in gardens for their springtime blooms. From March to April, redbud trees produce a spectacular show of pinkish-purple flowers that are certain to be the highlight of any garden or neighborhood street. In pollinator beds, redbud flowers are always a welcome sight after a long, cold winter, and they provide an easy source of pollen and nectar for honeybees and other native bee species too.
Beyond bees, there are several types of caterpillars that rely on redbuds as host plants, including the Io moth. Interestingly, redbuds are actually closely related to beans and peas, which helps explain why these plants produce pea-shaped seed pods after their flowers fade. When fully grown, redbud trees only reach about 20 to 30' tall, so they're easy to squeeze into smaller garden spaces.
12. Magnolia (Magnolia spp.)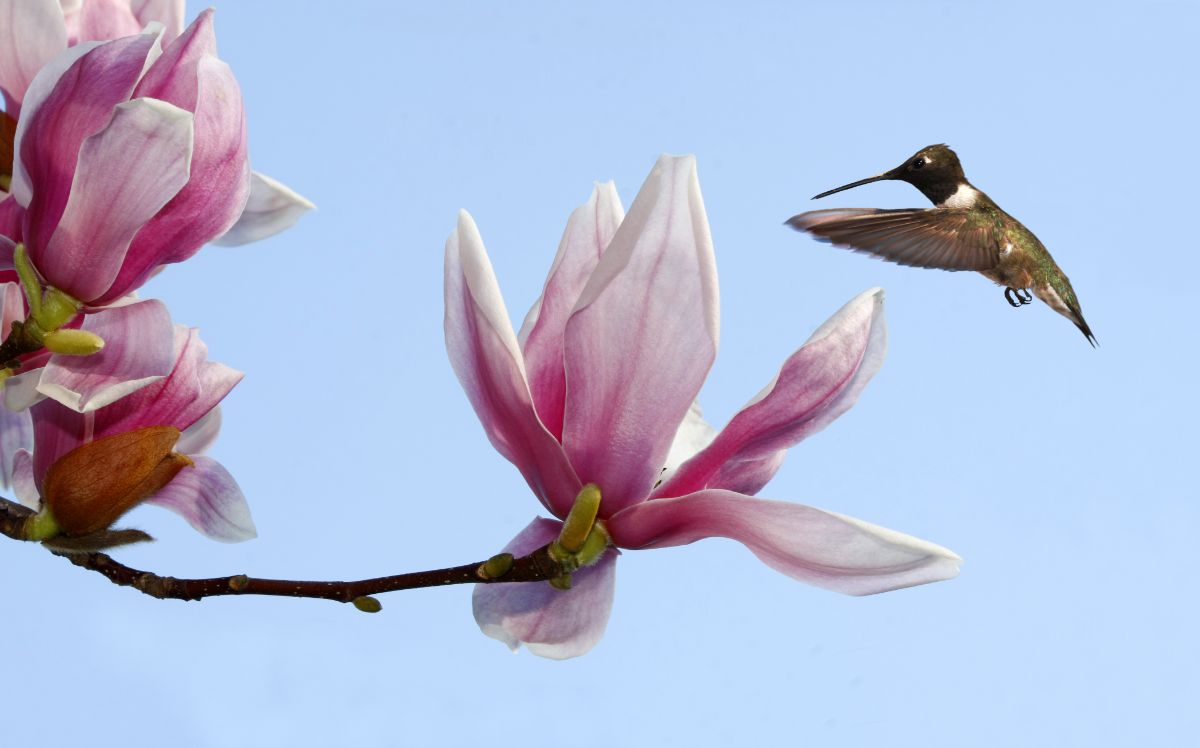 | | |
| --- | --- |
| Tree name: | Magnolia |
| Light requirements: | Full sun to part shade |
| Water requirements: | Moderate to low |
| Growing zone: | Zones 5 to 9 |
| Bloom time: | March to April |
Most native trees are predominately wind pollinated, which is why they have relatively inconspicuous flowers and lots of pollen. However, one look at Magnolia's large and fragrant flowers is enough to tell you that these showy plants use a different method to ensure their flowers get pollinated. And the secret to magnolia pollination is insects!
Magnolias are an ancient plant that evolved very early in Earth's history, long before some of our most common pollinators even existed! When magnolias first emerged, beetles were some of the most important pollinators around, and magnolia's flowers evolved to accommodate the foraging habits of beetles. Today, magnolias are still pollinated by beetles, but other pollinators visit them too, and they also serve as host plants for various butterflies, including tiger swallowtails.
13. Crepe myrtle (Lagerstroemia spp.)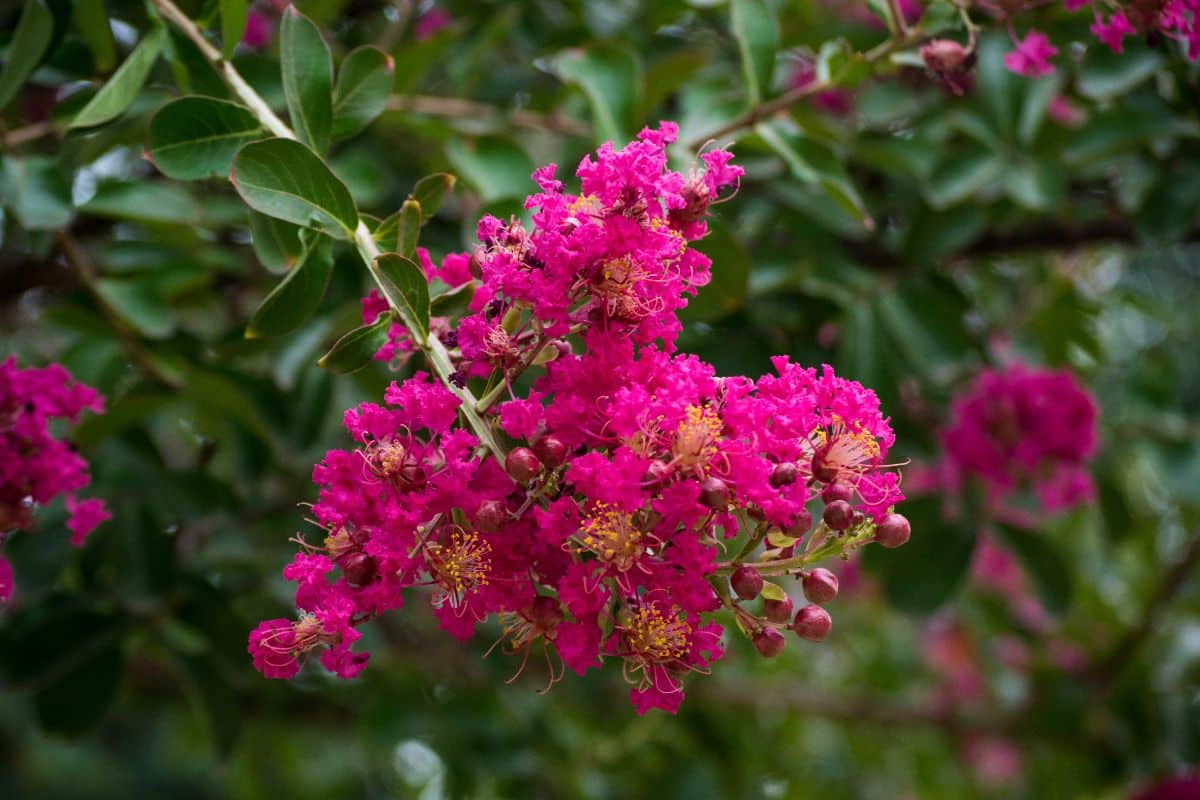 | | |
| --- | --- |
| Tree name: | Crepe myrtle |
| Light requirements: | Full sun |
| Water requirements: | Moderate |
| Growing zone: | Zones 7 to 10 |
| Bloom time: | Mid-May to June |
In the southern United States, crepe myrtle trees are about as ubiquitous as sweet tea and pecan pie, and many growers assume crepe myrtles are native to the area. However, crepe myrtles actually originated in Asia, and they were imported to the United States in the 18th century. Ever since crepe myrtles have been prized for their colorful flowers and striking silhouettes that can make a big impact in any garden.
Crepe myrtles are named for their papery flowers that have thin petals that are somewhat reminiscent of crepe paper. You can find crepe myrtle flowers in just about any color you could want, but pink and red crepe myrtles are particularly popular. Crepe myrtles bloom for several months and provide a reliable source of food for pollinators, but these plants are only hardy in zones 7 to 10.
14. Black tupelo (Nyssa sylvatica)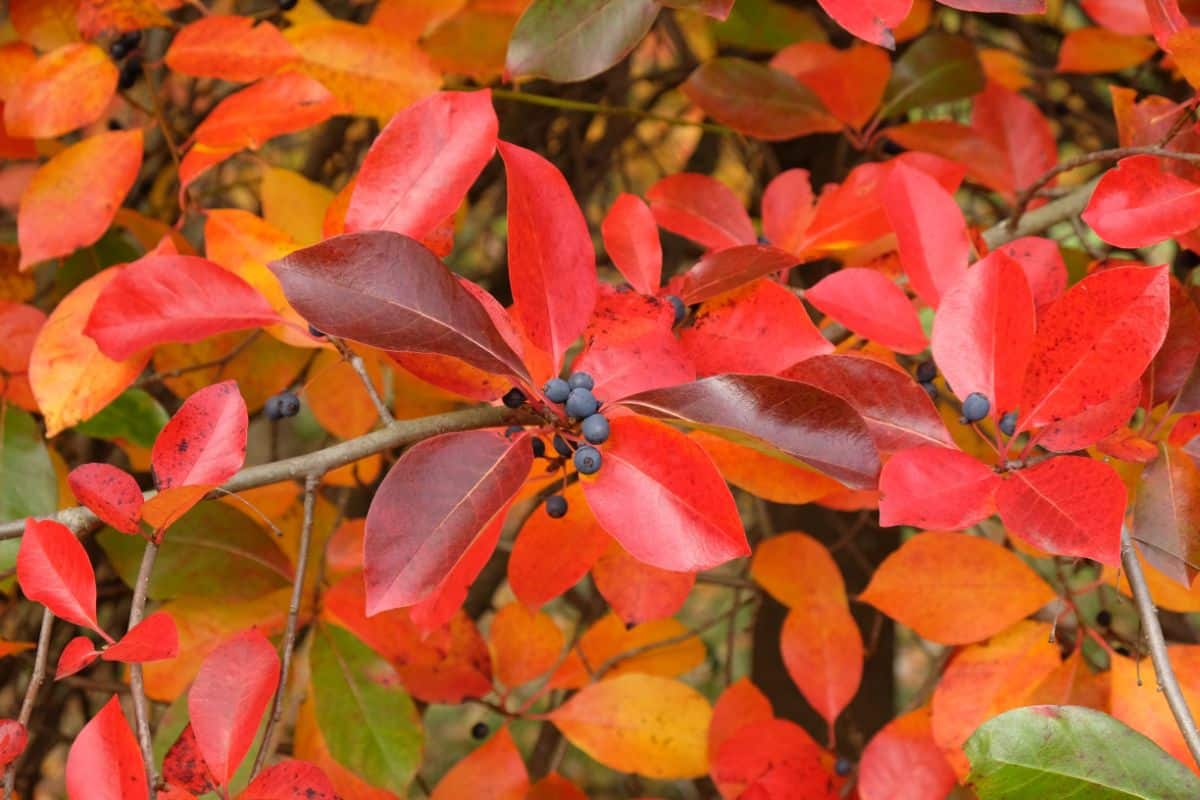 | | |
| --- | --- |
| Tree name: | Black tupelo |
| Light requirements: | Full sun to part shade |
| Water requirements: | Moderate to low |
| Growing zone: | Zones 4 to 9 |
| Bloom time: | April to June |
Also known as sour gum or black gum, black tupelo trees are a deciduous species that are native to areas of North America. These plants are mostly kept for their bright autumn foliage, but they are attractive throughout the year thanks to their deep green and glossy leaves. In autumn, these plants also sprout dark blue berries that are a critical food source for migrating birds.
Full-grown black tupelo trees grow to about 50' tall, and they can thrive in a variety of conditions, although they prefer slightly acidic and well-draining soil. When they flower in late spring to early summer, these trees are very popular with bees, and they're also hosts for several butterfly species. If you're lucky, you may find black tupelo trees at your local nursery, but you can also order them online from native plant nurseries or organizations like the Arbor Day Foundation.
15. Horse chestnut (Aesculus hippocastanum)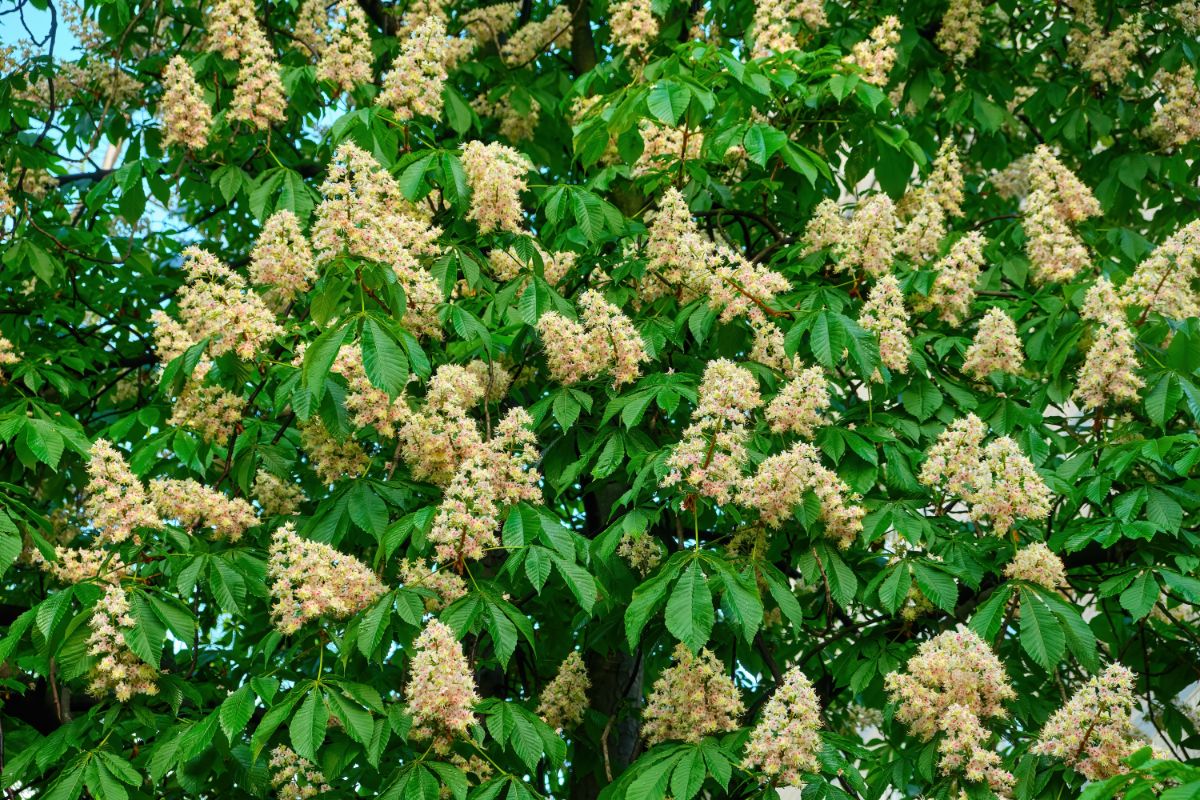 | | |
| --- | --- |
| Tree name: | Horse chestnut |
| Light requirements: | Full sun to part shade |
| Water requirements: | High to moderate |
| Growing zone: | Zones 3 to 8 |
| Bloom time: | April to June |
When horse chestnuts flower in May to early June, their large spires of pinkish-white flowers are always abuzz with bees. Horse chestnut flowers can grow up to 1' tall, and they change color as their blooms mature, which can tell you whether the flowers have been pollinated or not. When they first emerge, horse chestnut flowers are usually white, but they turn red after they've been pollinated to signify to insects that they're "no longer open for business."
Horse chestnuts are native to the Balkans, and they were first brought to the United States as ornamentals around the 1740s. Despite their resemblance to sweet chestnuts, horse chestnuts are toxic to humans, and they should not be consumed. Deer and other wildlife will often feast on horse chestnuts though, so you don't need to worry about them going to waste.
Frequently asked questions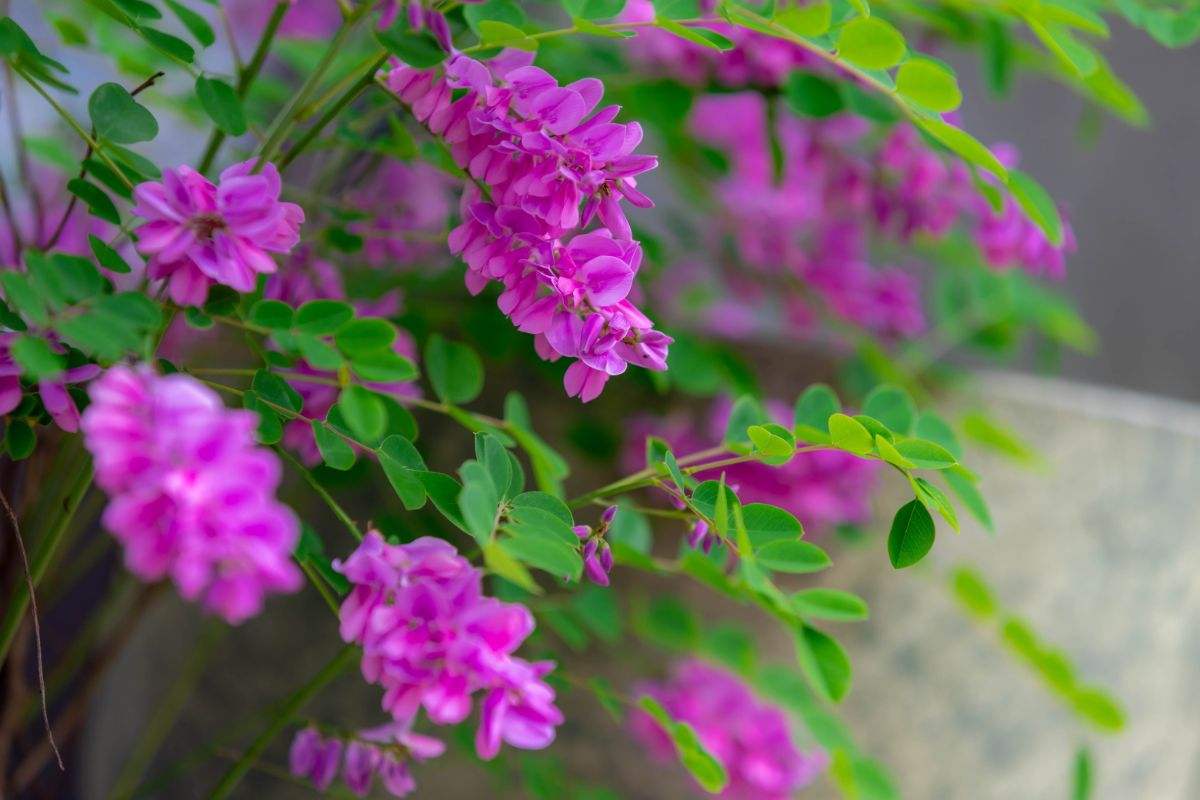 What tree attracts the most bees?
Any tree that produces nectar and pollen-rich flowers will benefit bees, but native trees like redbuds and black tupelo are particularly beneficial for both honeybees and native bees. Flowering fruit trees, like cherries, apples, and crabapples, are also ideal for attracting bees to your garden, and you'll reap the rewards from all that pollinator activity in the form of delicious, homegrown fruit!
What tree makes the best honey?
Beekeepers all have their own preferences about what trees make the best-flavored honey, but some popular choices are linden, willow, horse chestnut, and maple trees. Many flowers are also famous for creating excellent honey, including lavender, clover, and blackberries.
What trees do honey bees nest in?
Honeybees will nest in many different tree species as long as they have a spacious cavity for hive building. Hazels, redbuds, locust, willow, black tupelo, and linden all make excellent nesting sites for wild honeybee hives.
Are oak trees good for bees?
Yes! While oak trees don't produce traditional nectar, they do have protein-rich pollen that will attract bees. Additionally, when insects like weevils bore into acorns, the nut releases a sweet honeydew that bees and other insects will gladly lap up.
What oak is best for pollinators?
All oak trees benefit pollinators, but white oak is a particularly impressive pollinator plant. This single oak type can act as a host plant for hundreds of different butterfly and moth species. Plus, bees are very attracted to the nectar and sweet honeydew of white oaks, and their acorns provide sustenance for hibernating wildlife too.
Do I need 2 apple trees to pollinate?
Apple trees are not self-fruitful, which means they cannot pollinate themselves. So, if you want to get apples, you'll need to plant at least two trees in your yard.
Summary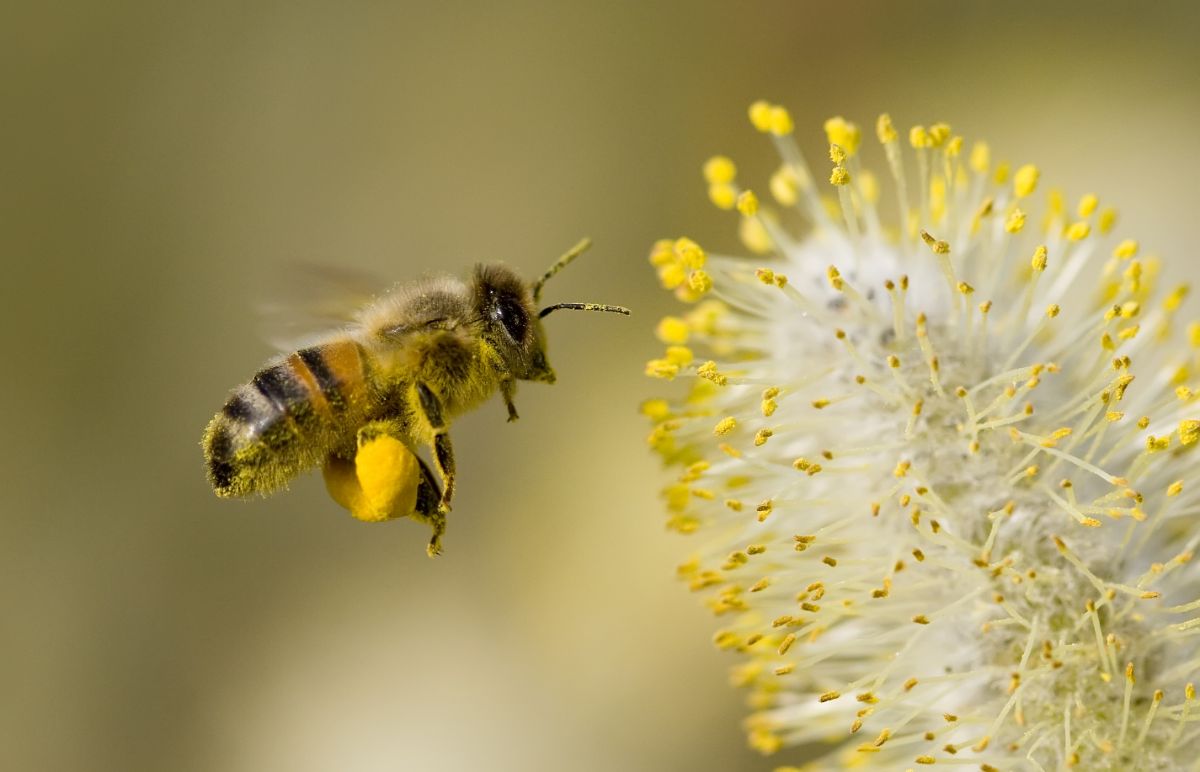 When people think about pollinator gardens, they often consider what annuals and perennial plants they want to grow in their ornamental beds. But trees can provide even more benefits for pollinators as they often bloom earlier in the season than other flowering plants, and their canopies and branches provide shelter for wildlife as well. Plus, trees are the perfect foundation plants that can anchor your entire landscape design and make your garden look more intentional and pulled together.
From native oaks to tropical ornamentals like crepe myrtles, there are lots of different flowering trees to grow in a pollinator garden. But if you're looking for even more inspiration for your wildlife habitat, check out our guide on the best vining plants for pollinators. Many of these plants will grow exceptionally well with pollinator trees, and they bloom at different times of the year, which will attract even more pollinators to your space.