Keep your chickens safe and get rid of pests naturally with a mobile chicken tractor!
If you have the space for it, keeping chickens in your backyard can offer a lot of benefits for the home gardener. As they forage in your compost pile, chickens can help turn and process your compost more quickly. Chickens are also delightful to watch, thanks to their wild antics, and they're a ready source of fresh manure for your garden too.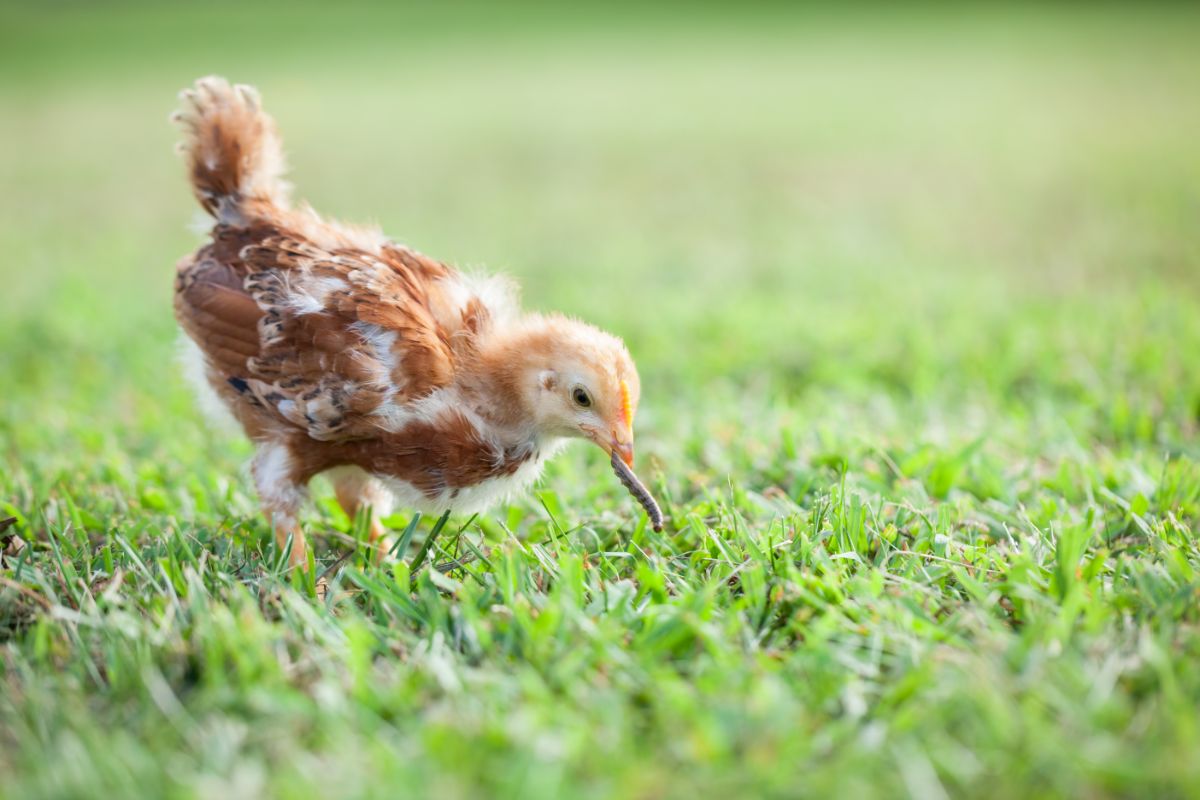 Chickens are also famously great for controlling garden pests, as these voracious eaters love to gobble up a wide range of destructive insects. Putting your hens to work at controlling garden pests can reduce pest activity and eliminate the need for pesticides.
But if you don't want your chickens taking over your yard, chicken tractors are handy, and mobile mini coops that can be moved about your garden to particular areas that are under pest attack. Once in place, chicken tractors can simplify your gardening and chicken care immensely. To help you pick the right chicken tractor for your landscape, we've listed some of our favorite set-ups below.
Jump to:
Why use a chicken tractor?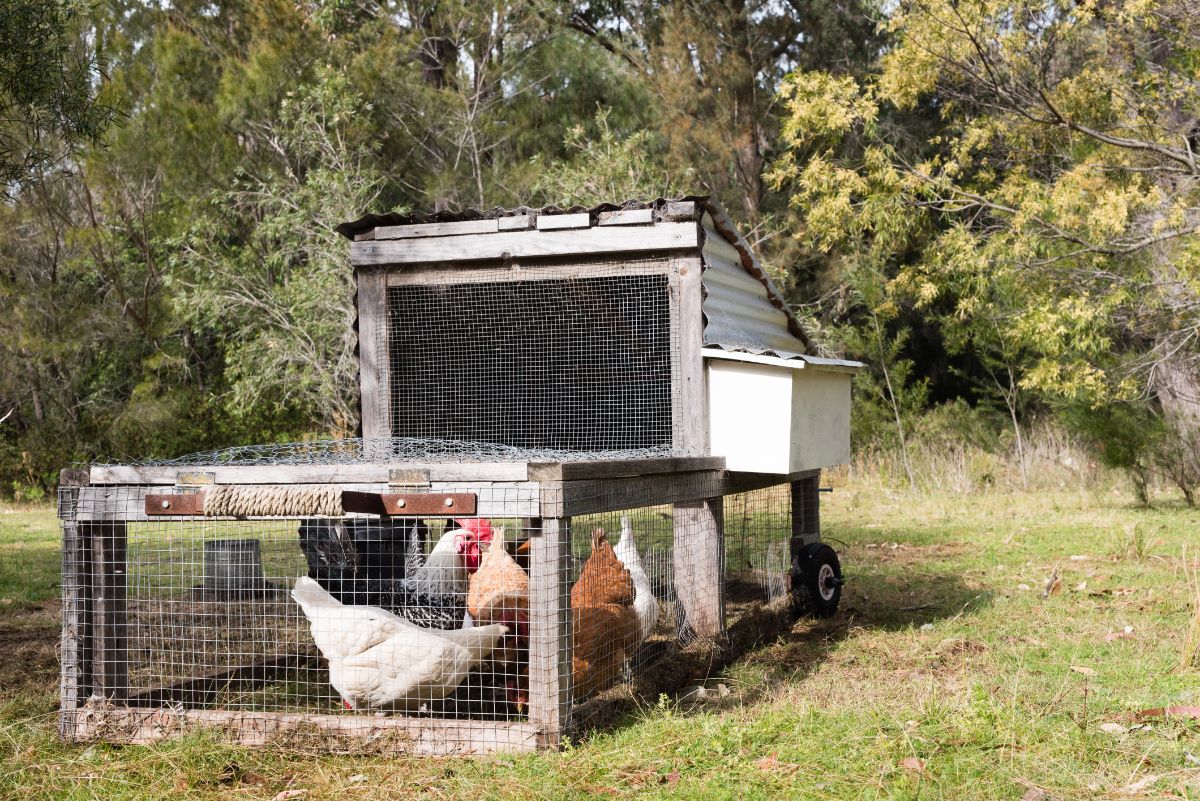 While chickens are famously good at eating insects, they aren't picky eaters, and they may eat your garden produce, seeds, and seedlings too! Although free-ranging chickens is convenient, keeping your chickens in tractors will make sure your feathered friends don't poke beak-sized holes in your prize-winning tomatoes and watermelons!
Beyond helping to protect your garden, chicken tractors protect your chickens too. Chickens are prey animals that are hunted by neighborhood dogs, hawks, foxes, and more. Keeping your chickens protected in an enclosure as they forage will make sure your flock stays intact.
Finally, chicken tractors are particularly handy if you live in a neighborhood and you don't want your chickens roaming into other yards. But even though these mobile coops limit your chickens' movement, they will still give your chickens a bit more space to run around in, so they don't get bored in their standard coop.
What pests do chickens target?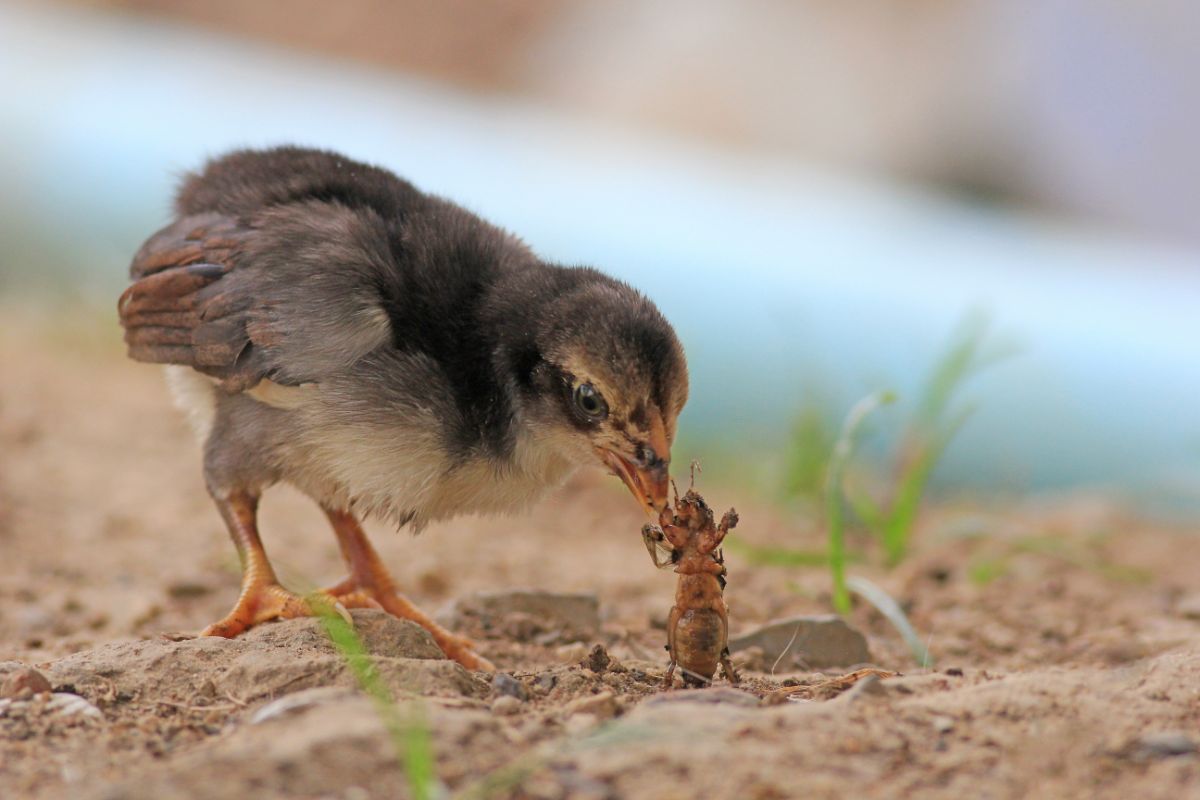 Chickens make short work of a lot of different garden pests. Although they don't generally go after very small insects, like aphids, they love to munch on:
Tomato hornworms, cabbage loopers, and other caterpillars
Beetles, like Japanese beetles and Colorado potato beetles
Slugs and snails
Ticks
Grasshoppers
Squash bugs
Squash vine borers
So, if you've had a problem with these pests, you may want to put your hens to work and let them get rid of your garden pests for you!
Note: It's estimated that a single chicken can tackle pests in 120 square feet of gardening space within a single week. However, since chickens are social creatures, it's a good idea to have at least 3 chickens in your home flock to keep your hens happy and stimulated.
Best chicken tractors for natural pest control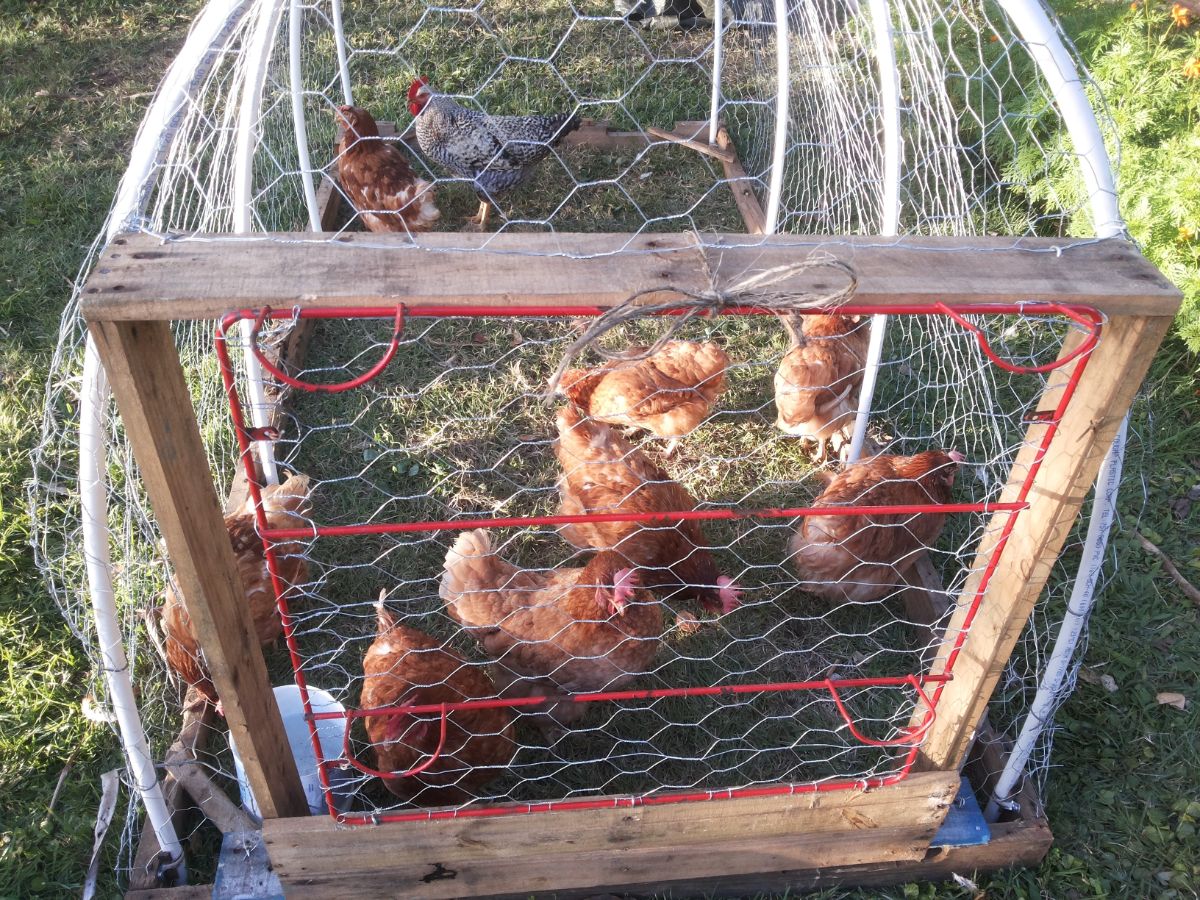 Once you've decided that you want to use your chickens for organic pest control, the next question you need to ask yourself is what sort of chicken tractor you want.
If you're handy with tools or on a strict budget, you may want to make your own chicken tractor. Otherwise, there are lots of adorable and useful chicken tractors or fencing options that you can buy premade. Below we'll introduce you to some of our top picks to help you find the perfect chicken tractor for you!
Homemade chicken tractors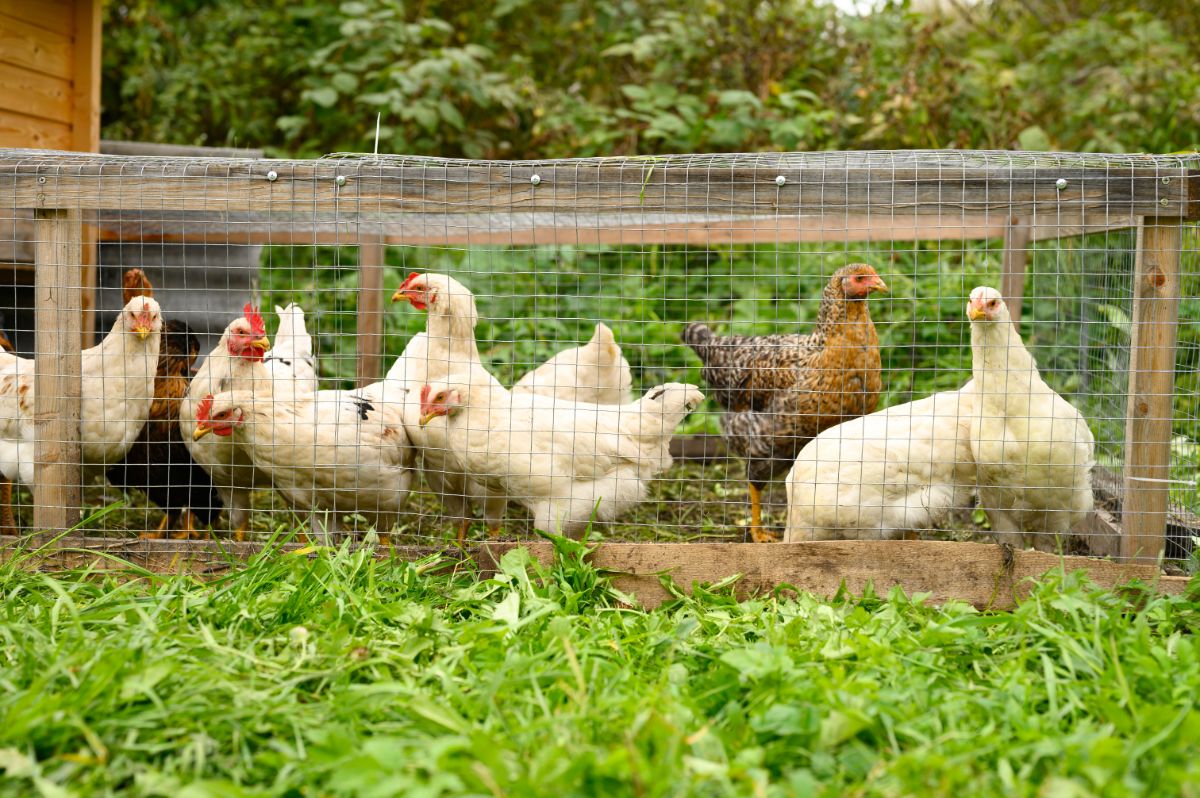 Homemade chicken tractors are usually cheaper than premade options. What's more, because you're designing them yourself, you can make them the exact dimensions you need for the number of chickens you have. You can also personalize your homemade chicken tractor so that it coordinates with your landscape design.
PVC Chicken Tractor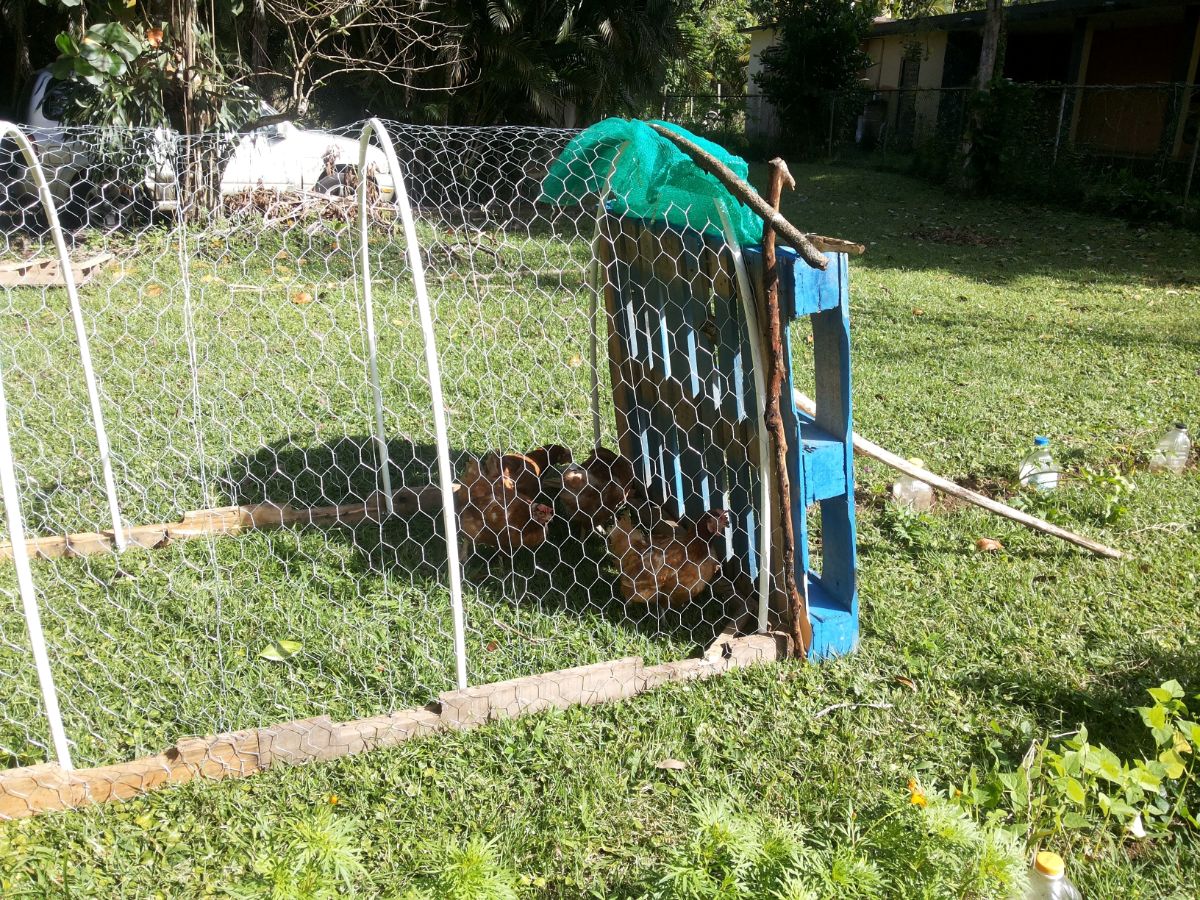 PVC is budget friendly and easy to find. When used to build the framework of your chicken tractor, PVC will create a sturdy yet lightweight tractor that is easy to move around your yard. PVC also comes in many different lengths, so you can create a tractor that's just the right size for your chickens and your garden space.
PVC sections can be attached to one another using elbows and tee pipe fittings, and you can even bend thinner sections of PVC to create curved designs. Once you've formed the structure of your chicken tractor, you can attach hardware cloth or chicken wire to your design with zip ties to keep your chickens safe. There are many sample designs for tractors you can make online, including simple PVC tractors and PVC tractors with wooden elements for extra predator protection.
Upcycled Chicken Tractor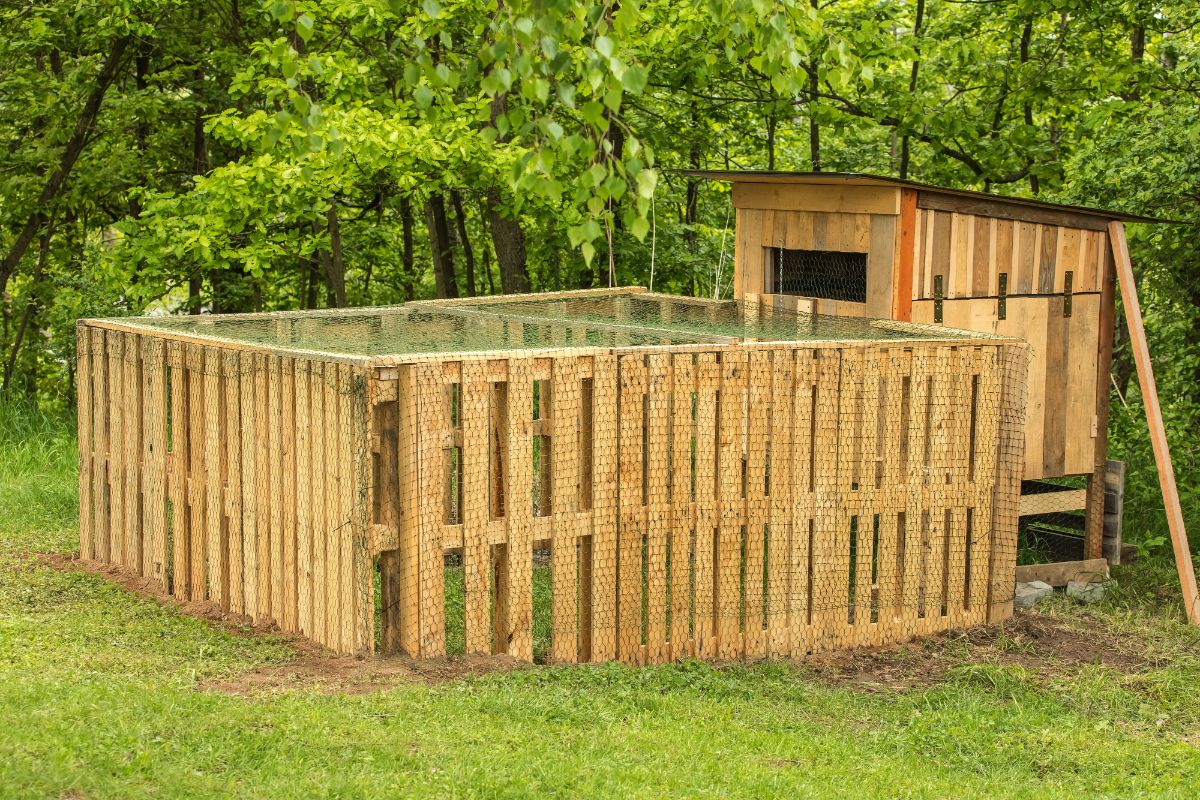 There's no reason to go out and buy materials for your homemade chicken tractor if you already have scrap wood lying around. The benefit of this is it's so much cheaper for you, and it's eco-friendly too.
For a very basic design, try creating a framework for your tractor out of upcycled wooden pallets. Then use a staple gun to add chicken wire or hardware cloth, and – voila – you've made a basic but effective chicken tractor.
Note: For safety, make sure you use wooden pallets that are stamped with 'HT' for heat treated. Wooden pallets are often sprayed with toxic chemicals to keep pests away, but heat-treated pallets are safer for garden (and chicken!) use.
A-Frame Chicken Tractor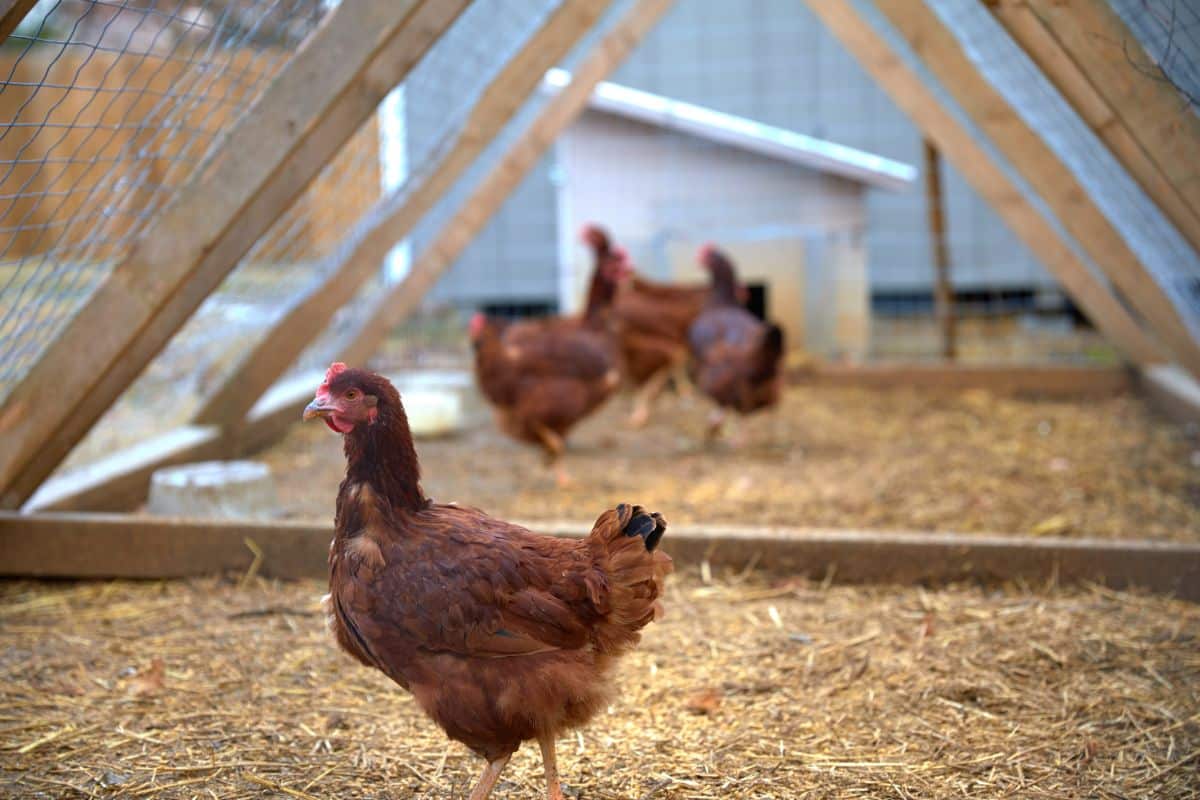 A-frames are classic choices for chicken tractors for a number of reasons. These simple structures feature a highly peaked roof, which gives your chickens a bit more room for their wings. The peak of the roof also helps ensure water doesn't pool on the roof and cause issues.
If you'd like to create an A-frame tractor, this design even uses some leftover roofing shingles on the roof to give chickens a bit more added protection against the elements.
Chicken Tractor on Wheels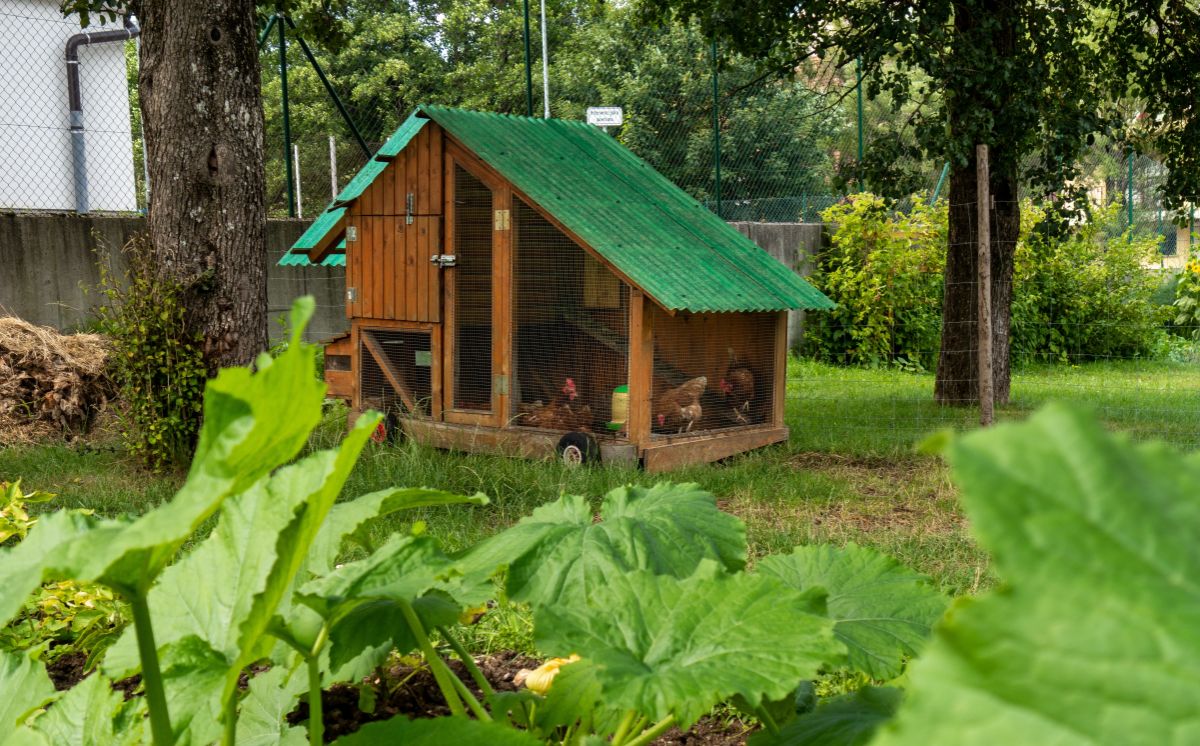 Even though chicken tractors are relatively lightweight, they can be bulky to move around, especially if your backyard isn't level. Adding wheels to your chicken tractor can make moving your tractor a breeze, even if you don't have a helper to move your tractor with you.
This mobile chicken tractor design features a PVC structure, an angled roof covered in corrugated plastic for weather protection, a wooden nesting box, and… of course… big wheels for easy transport!
Storebought Chicken Tractors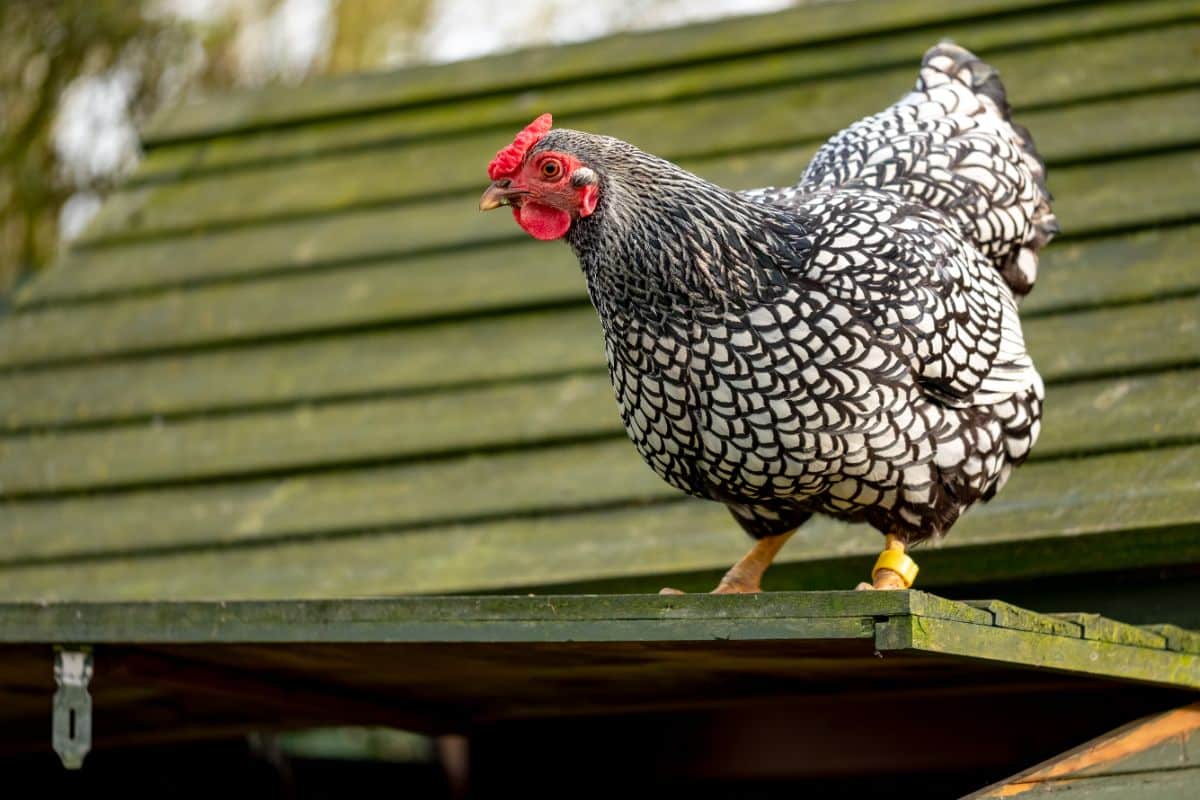 Storebought chicken tractors can be incredibly charming looking, and since they're already prebuilt, you won't need to spend as much (or any) time assembling them. Many chicken tractors can be purchased online or at your local livestock feed store. Just be sure to check the measurements on premade designs, as they usually run a lot smaller than homemade chicken tractors.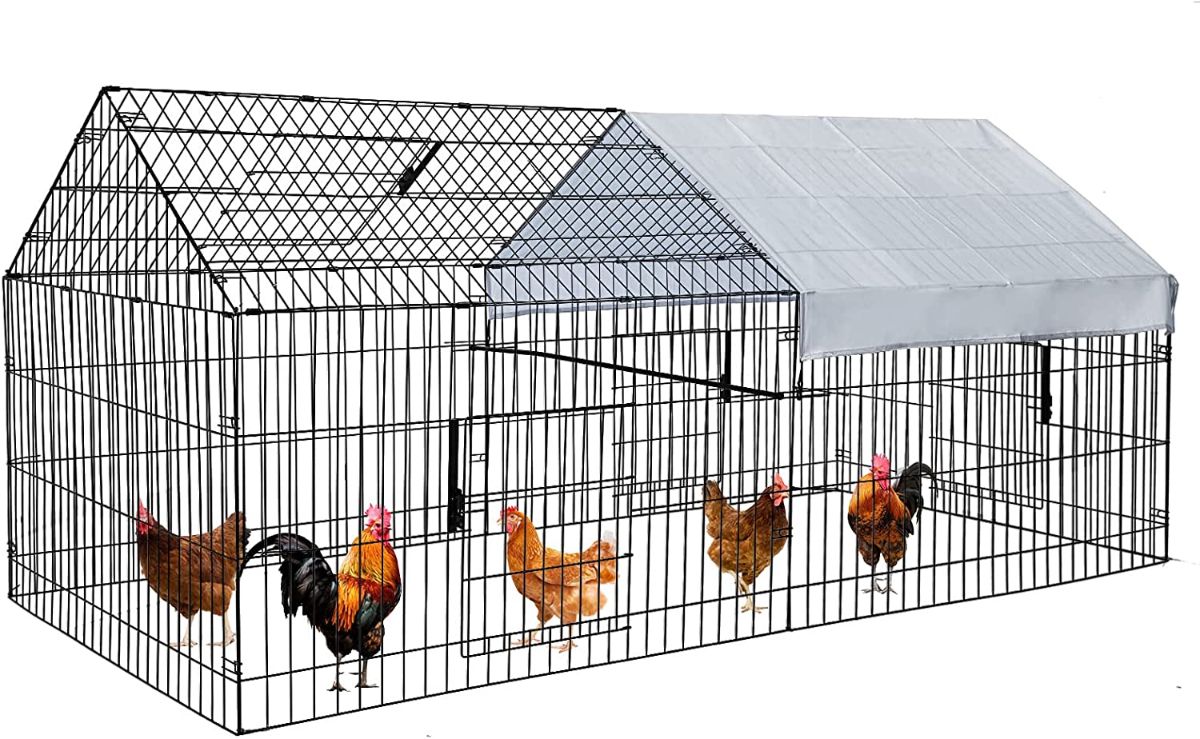 This foldable chicken tractor is made of rust-proof metal, which is sturdy enough to keep predators like hawks away. It also has a lockable door and a roof covering to help block out the rain and hot sun. Measuring 86" x 39", this tractor design is large enough to hold a few chickens, and it has plenty of vertical space so they can flap their wings.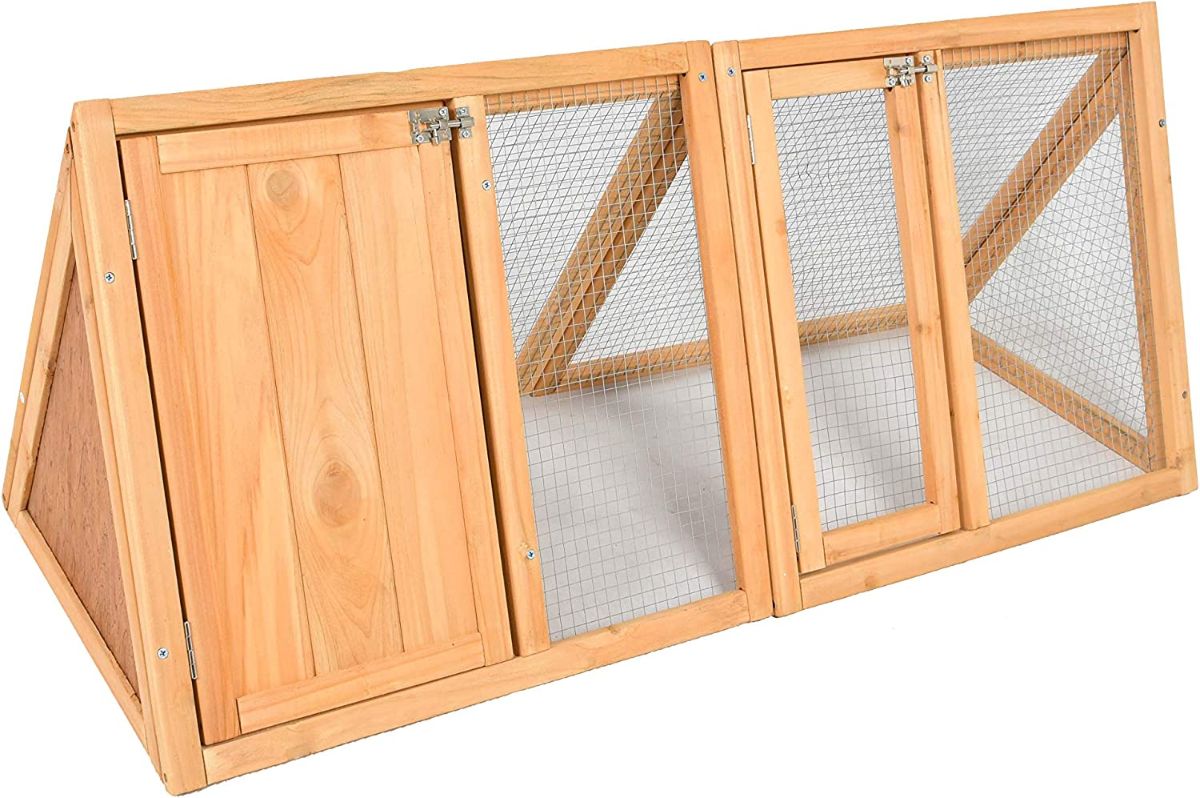 If you like the look of A-frame tractors but you don't want all the fuss of building one, you can buy a premade tractor instead. This tractor is made of fir wood and screening and has an enclosed area where chickens can lay their eggs in. The entire setup measures about 47" long by 18" wide, so it's not very large, but you can rotate different chickens into your tractor throughout the day, so all of your hens get a chance to explore!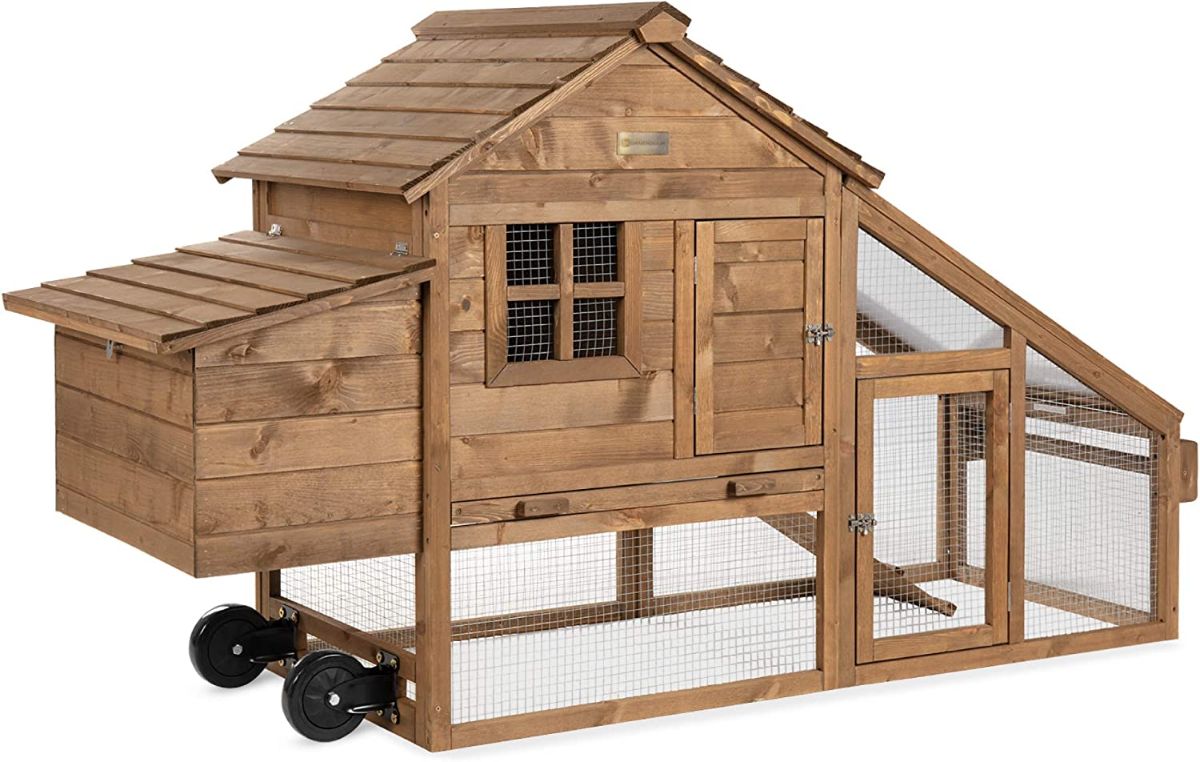 This attractive wooden tractor has an enclosed wooden house and nesting box to give your chickens a nice place to rest. The exterior section of this design is enclosed with mesh screening as well to keep predators out. Even better, this tractor has wheels, so it's easy to move too!
The entire design measures 71" x 26".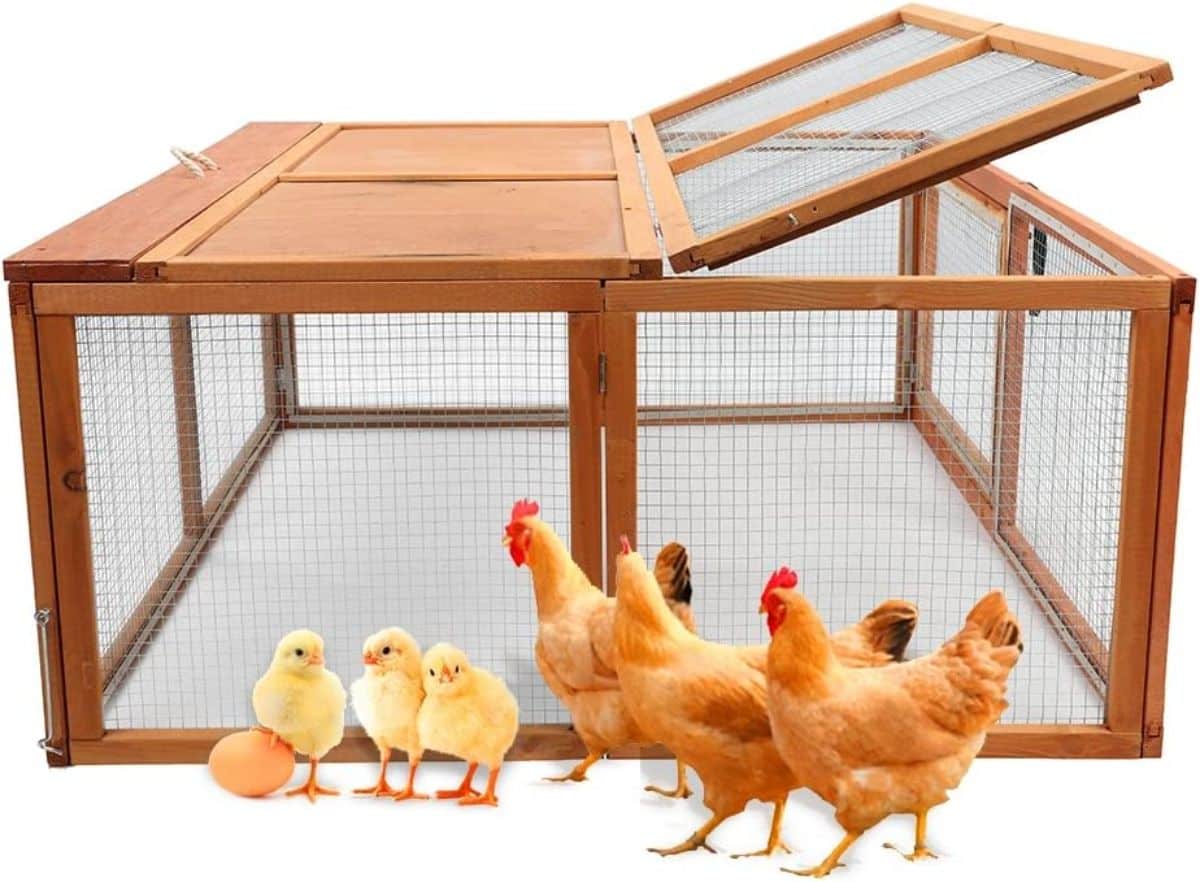 Made of natural pine wood, the Magshion chicken tractor is super handy and doesn't even need to be assembled. The foldable design is easy to put up and features two top doors with locks to keep your hens safe. Measuring about 45" x 41", this isn't a very large tractor, but it is roomy enough for a few chickens or small chicks.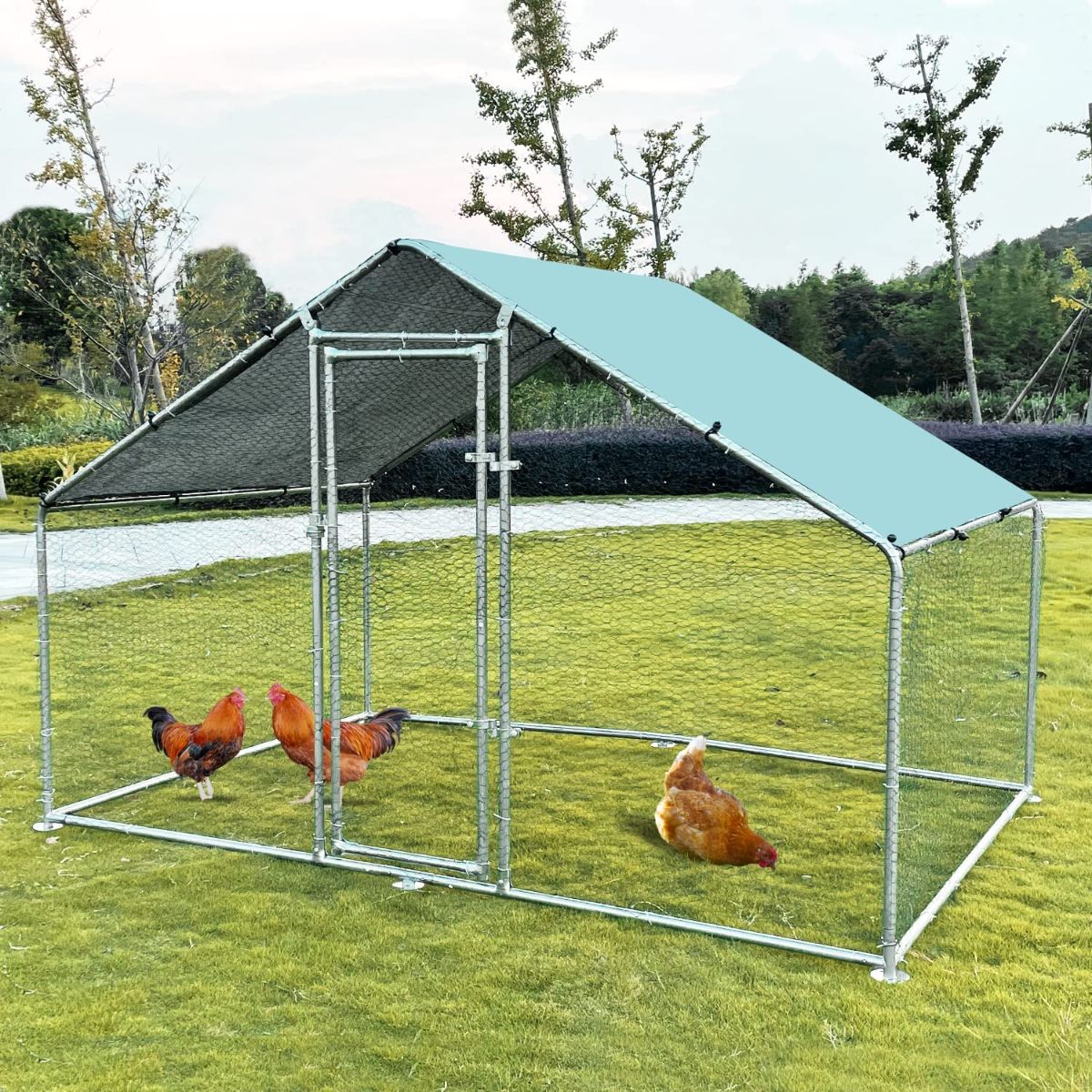 This chicken tractor looks a lot like a dog pen and has lots of space for your chickens to move around in. The hollow tube structure makes this design relatively lightweight, so you can push it around your yard. It also features a lockable door and a waterproof roof covering for ultimate protection.
Fencing options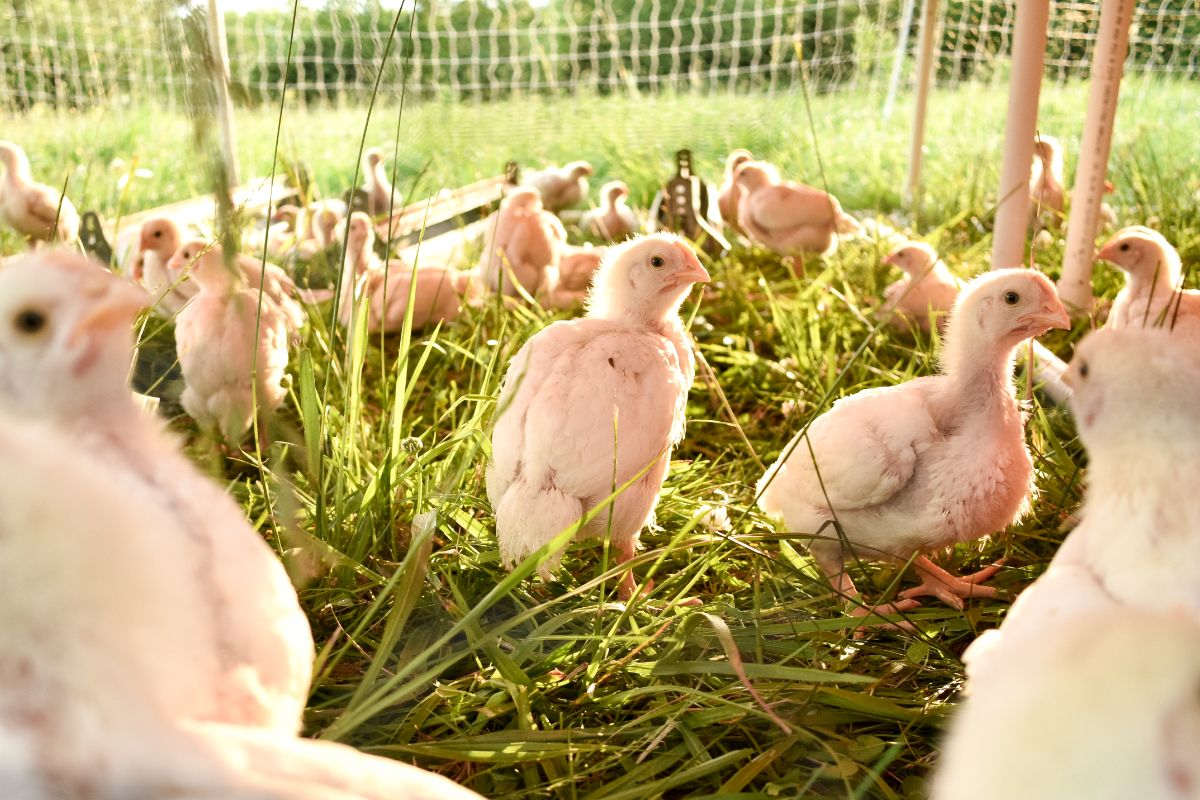 While chicken tractors are handy, if you have a hilly yard or you have raised beds, standard chicken tractors may be difficult to maneuver into place in your garden for pest control. Moveable fencing is an easier solution that gives you tons of flexibility when you install it.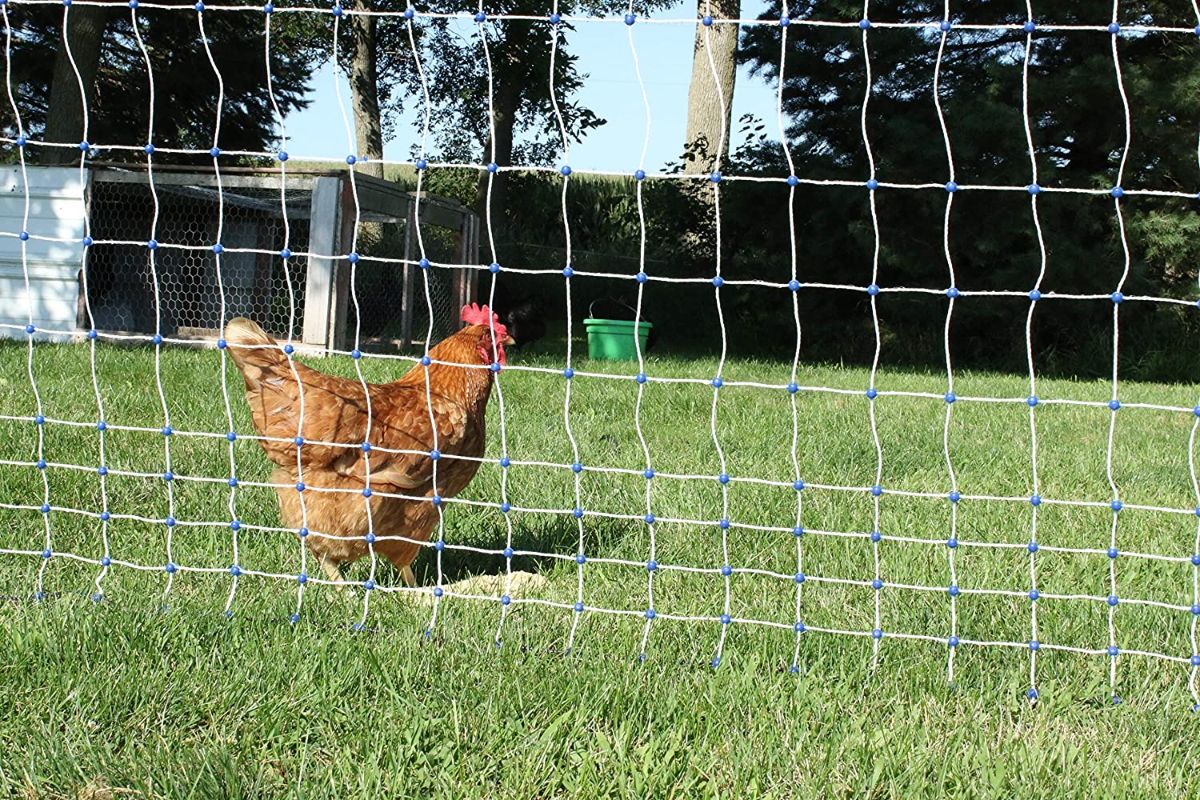 This poultry netting kit is designed for chickens, but it can be used with other poultry too, including ducks and geese. The electrified netting helps to keep chickens in a while keeping predators out. The easy-to-install design also has handy stakes that can be pushed into the ground or moved to different locations with minimal setup.
Having a moveable fencing design will allow you to encircle raised beds, your compost heap, or any area of your backyard where you'd like to focus your chickens' attention. Just keep in mind that these fencing options don't have roofs, so they won't protect your hens against hawks and other predatory birds.
Frequently asked questions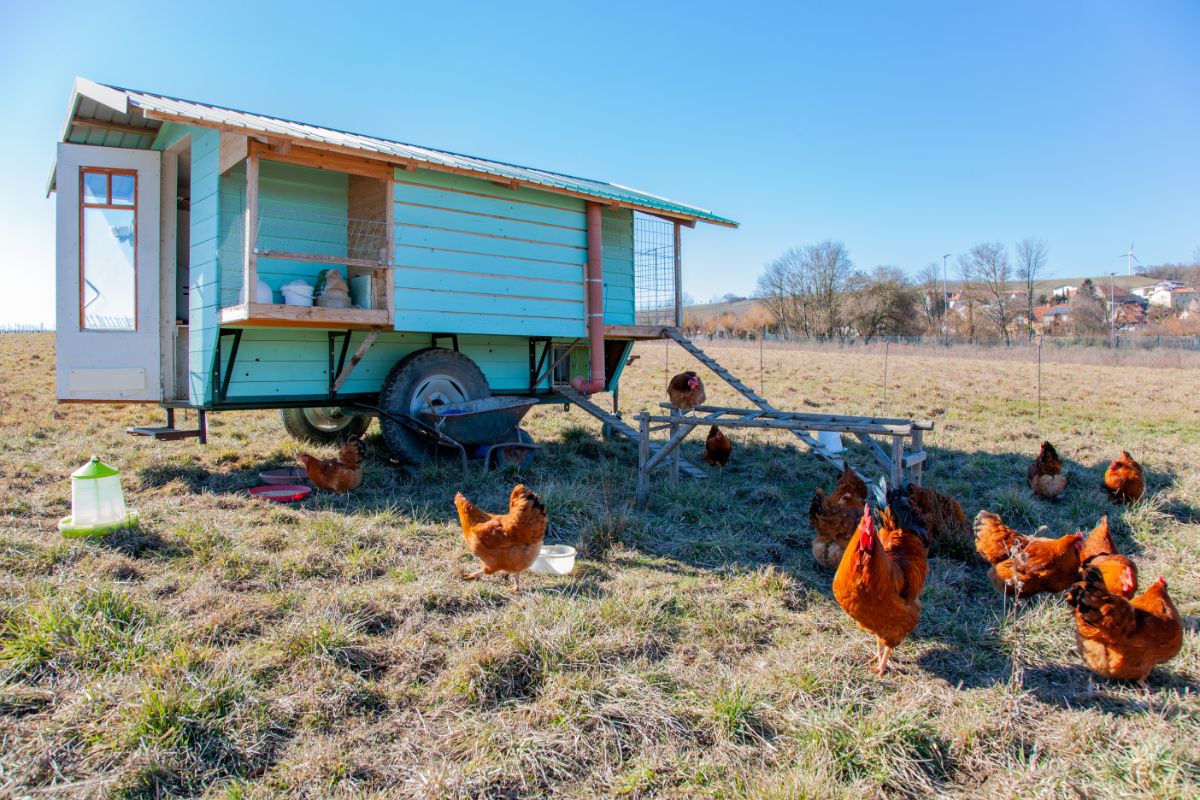 Summary
Backyard chickens offer tons of benefits to home gardens, but they are especially useful for pest control. If you don't want to use pesticides but you still want to protect your garden plants, employing these feathered garden helpers can be just the solution you're looking for.
But in order to keep your garden safe from hungry chickens and prevent chicken predators, investing in a chicken tractor can be very wise. These mobile coops are excellent predator prevention, and they focus your chickens' foraging abilities right where you need them. If your veggie patch needs pest control or your compost pile needs turning, just move your chicken tractor nearby, and your little hens will do the work for you!
Beyond pest control, chickens can also provide free fertilizer for your garden. Check out our guide on how to safely use chicken manure in your backyard right here.