In search of bell-shaped flowers to bring some bright color to your flower garden?
In this guide, we will introduce you to a wide variety of bell-shaped blooms you can plant.
But first, let's briefly go over some reasons why you might want to plant beautiful flowers with a bell shape.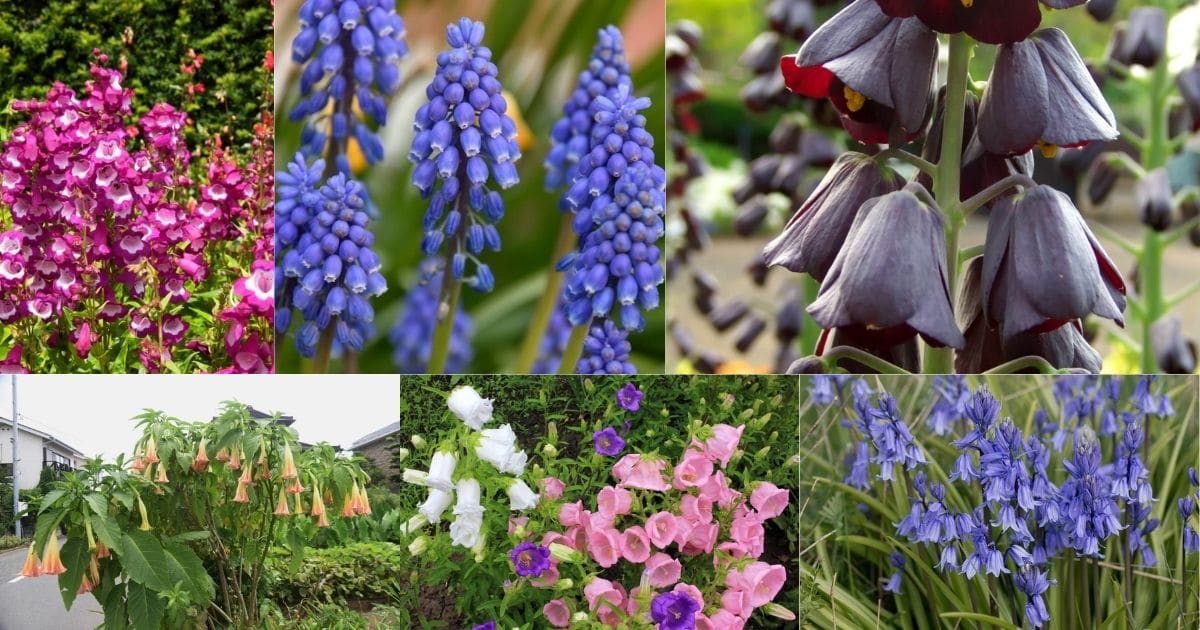 Jump to:
Why Plant Bell-Shaped Flowers?
They are elegant. The simple shape of a bell is appealing to the eye, as is the curved stems from which some bell-shaped blossoms dangle.
They add different textures and shapes to offset other flowers. Intersperse them with different types of blossoms to bring more interest to your garden beds.
They come in many different colors. The variety of colors means that there is something to suit any spot in your garden.
They look great wherever you plant them. Bell-shaped blossoms are gorgeous in garden beds as well as pots.
Bell-Shaped Flowers to Bring a Splash of Color to Your Garden Space
1. Canterbury Bells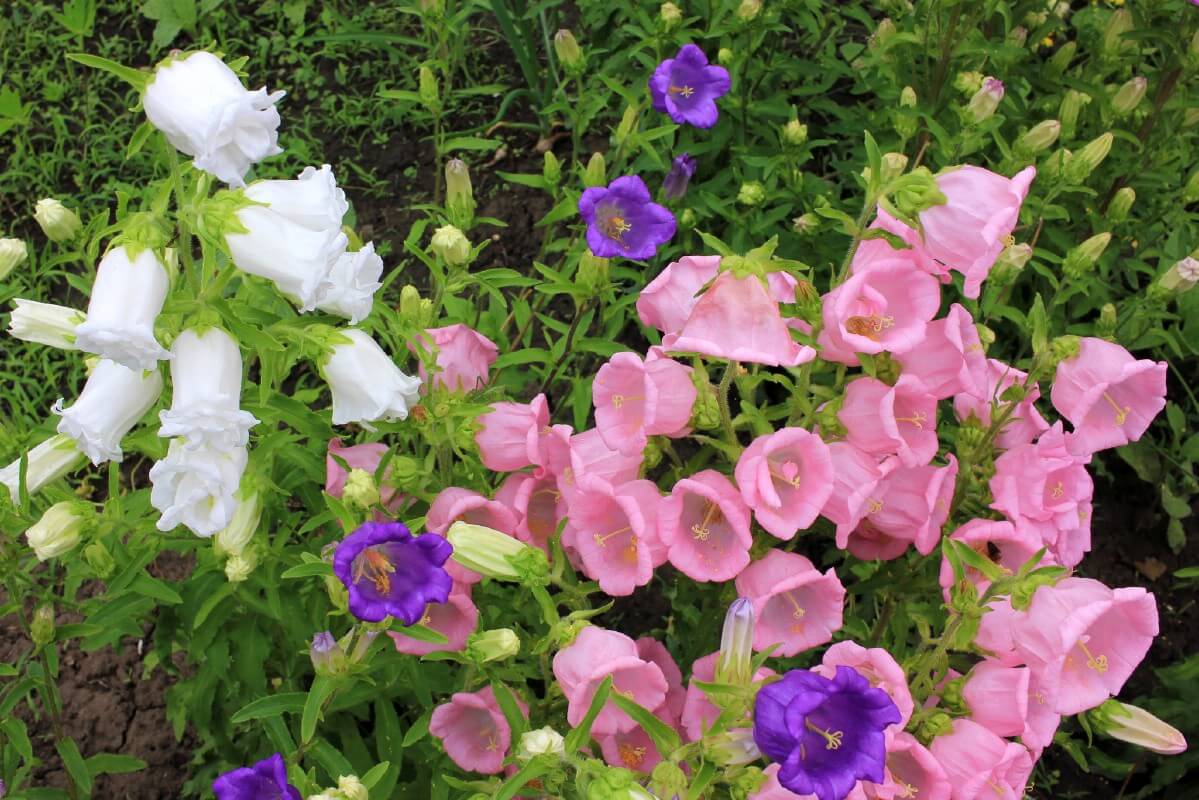 One type of bell-shaped flower to consider planting is the Campanula flower, better known as "Canterbury bells." Its full scientific name is Campanula medium.
Canterbury bells may be either biennial or annual. Its maximum height ranges between 60 and 80 centimeters.
In terms of appearance, Canterbury bells form large clusters of bell-shaped flowers. Each of these clusters is known as an "inflorescence."
The majority of Canterbury bells feature purple blooms. But along with shades of purple, these blossoms also come in pink and other hues.
Zones: 4-10
Sun: Full to partial
Water: Regular water to moisten the soil
Soil: Well-draining soil
Why Plant Canterbury Bells in Your Garden?
Bees and butterflies like to pollinate these flowers. So, they can help you to attract either or both to your garden.
The flowers last for a really long time, bringing lasting beauty to your garden.
The clusters of bell-shaped blossoms can be full and dramatic.
Cultivars to Consider
Alba: This is an option if you are looking for Canterbury bells that feature white blooms. It can reach up to 30 inches tall and live for up to two years. It is an efficient self-seeder, so chances are good that you will see a new Alba plant the next year.
Champion Blue: One of the most dramatic types of Canterbury bells is the "Champion Blue" cultivar. It reaches 24 inches tall, and features flowers with a rich, dark, purplish color.
Champion Lavender: If you want purple flowers with a lighter color, you might consider the "Champion Lavender" cultivar of Canterbury bells. It is a taller form, reaching up to 36 inches.
Champion Pink: As the name indicates, this is a type of Canterbury bells plant which produces pink blossoms. It maxes out at around 24 inches in height, and produces dense blossoms.
Chelsea Pink: Another cultivar to consider if you want pink flowers is the "Chelsea pink" variety. This one can reach up to 48 inches in height.
Russian Pink: Do you want a dwarf variety of Canterbury bells? The "Russian Pink" cultivar grows to just 12 inches at full height. The blossoms are a light pink color.
2. Bluebells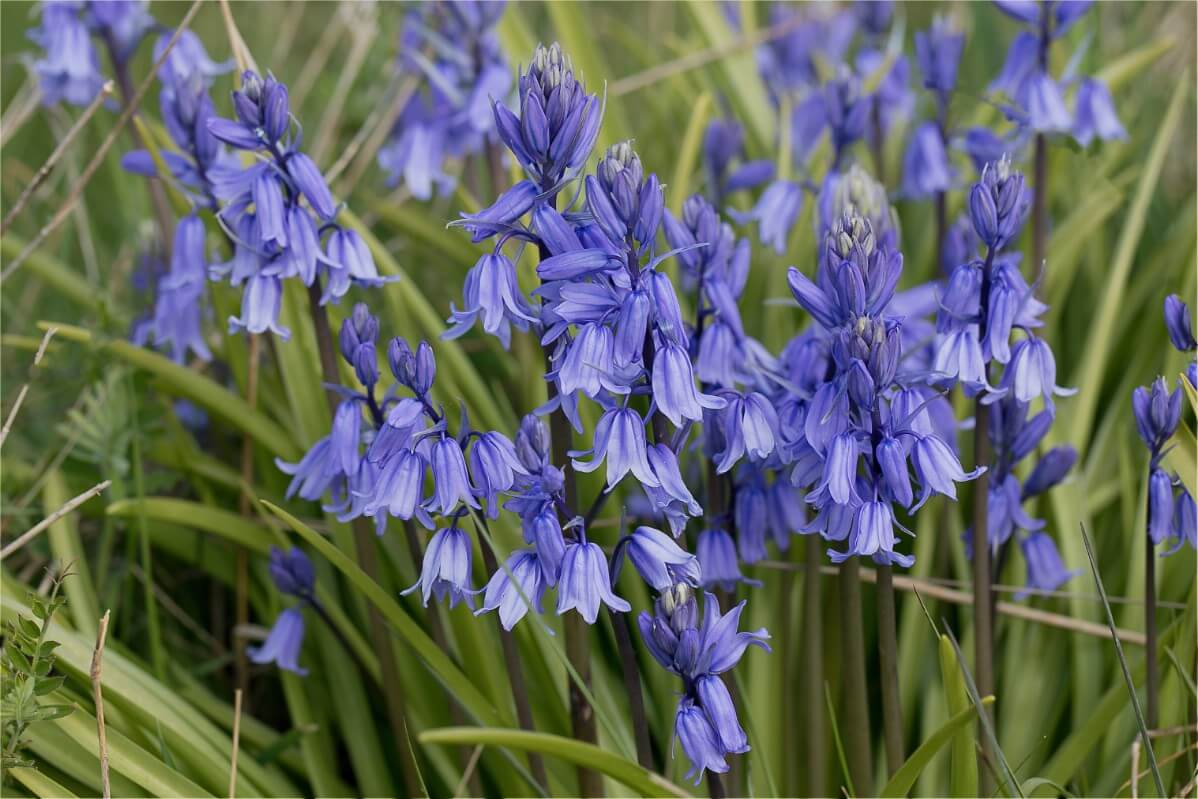 The scientific name for the perennial "bluebells" is Hyacinthoides non-scripta. Sometimes, these flowers are referred to as "common bluebells," "English bluebells," or "wood hyacinths."
Bluebells feature downward-drooping bell-shaped purplish flowers on an arcing stem for an elegant look. Their maximum height is around 10 inches.
Zones: 4-9
Sun: Partial
Water: Water regularly, but do not over-water or bulbs may rot
Soil: Chalk, sand, loam, clay
Why Plant Common Bluebells in Your Garden?
The elegant drooping arc of English bluebells is appealing to the eye.
Bees fancy common bluebells, and planting these flowers may help to attract them.
Do you have a shaded, woodland garden? English bluebells should thrive there.
3. Virginia Bluebells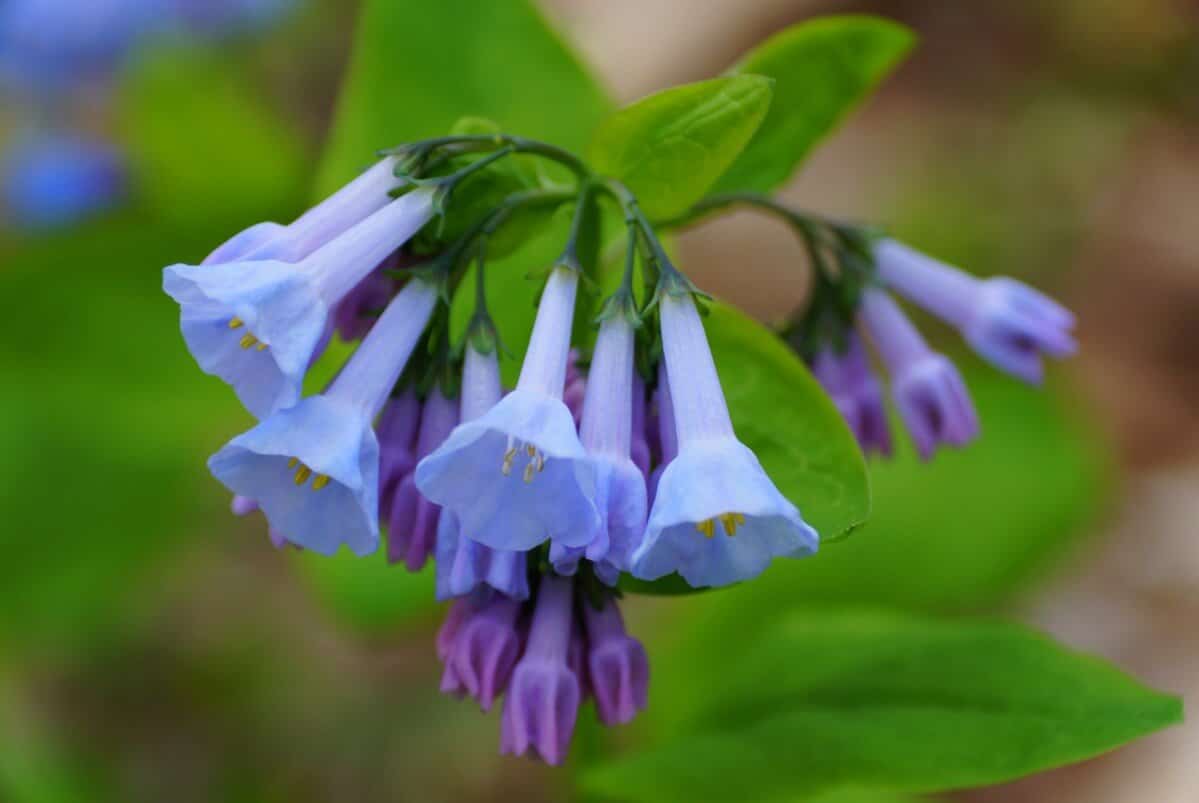 If you fancy common bluebells, a similar-looking flower that may appeal to you is the Virginia bluebell.
Despite the similarity in both name and appearance, this plant is unrelated. Its scientific name is Mertensia virginica.
Other names for Virginia bluebells include Roanoke bells, Virginia cowslip, and lungwort oysterleaf.
The plant can reach up to 24 inches tall, and features gray-green leaves. When the buds appear, they are pink. But as the flowers bloom, they have a purplish color (usually—you can find them in white or pink occasionally).
Sometimes, the blossoms on this spring ephemeral plant may actually appear closer to a true blue than those on common bluebells.
Zones: 3-8
Sun: Full to partial
Water: Water extra if they are in the fuller sun
Soil: Moist, rich soil
Why Plant Virginia Bluebells in Your Garden?
Virginia bluebells are deer-resistant and rabbit-resistant. That is a big deal in Virginia and in other locations where it is possible to grow these bell-shaped flowers.
These flowers will attract pollinating friends to your garden. Wisconsin Horticulture Division of Extension writes, "The flowers up to one inch long are pollinated by bumblebees and other long-tongued bees but are visited as well as by several types of butterflies, skippers and hummingbird moths, flower flies (syrphids), bee flies and hummingbirds. The bloom period is about 3 weeks."
The sky blue color that some of these bluebells achieve is particularly striking, and not a common hue among flowers.
4. Coral Bells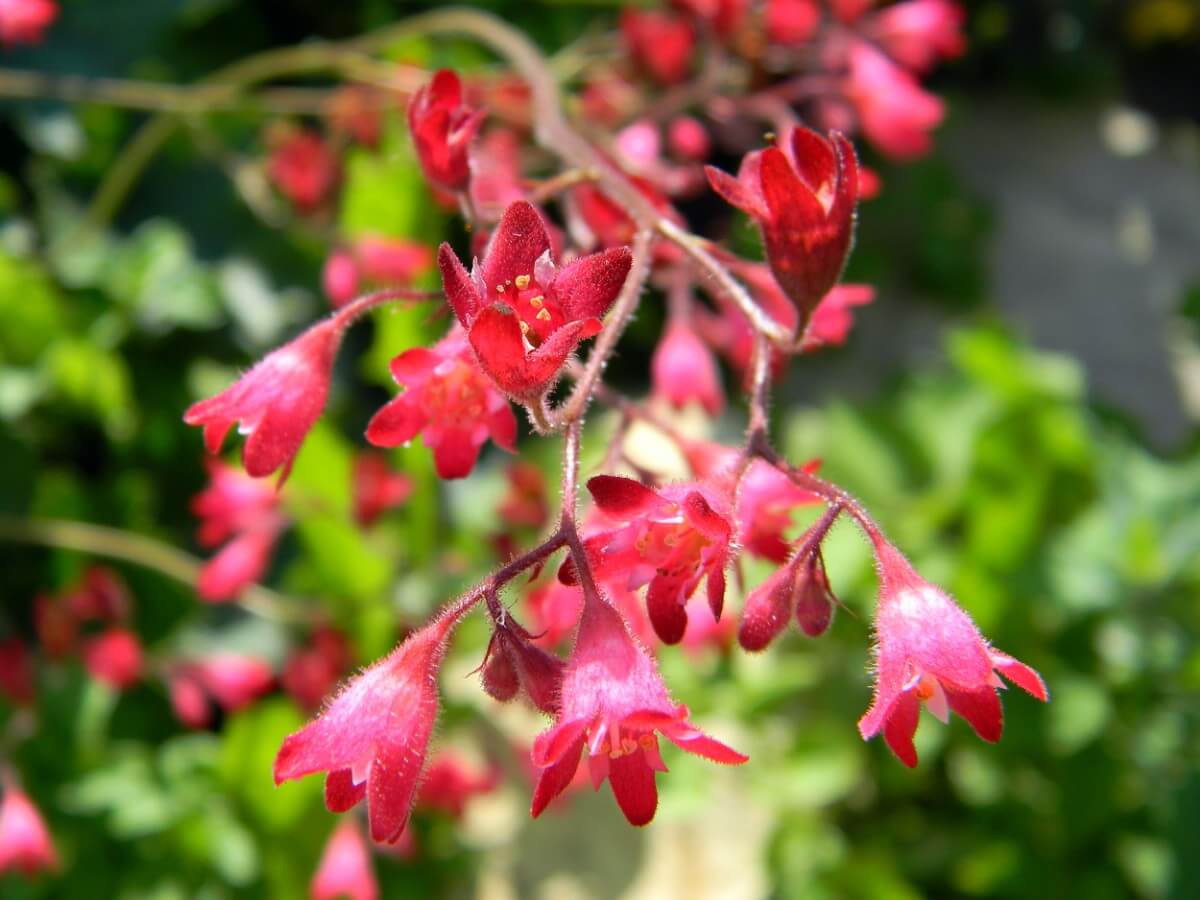 Coral bells, also commonly called "alumroot," are plants in the genus Heuchera. There are around 37 species in the genus, and many lovely cultivars to consider for your garden.
Colorado State University writes, "Coral bells (Heuchera) are familiar and popular perennials because they adapt to various exposures and bloom reliably. Varieties of this plant grow well in sun, and partial or even full shade, and most are hardy to 8,500 feet. Coral bells are no longer simply coral. These perennials produce flowers ranging in color from white to amber to purple. Panicles of small blooms on sturdy, wiry stems rise from the plants in late spring or early summer. The blossoms make excellent cut flowers for bouquets."
Zones: 4-9 (varies)
Sun: Full-partial
Water: 1 inch per week, extra in full sun
Soil: Moist, rich, well-drained
Why Plant Coral Bells in Your Garden?
It isn't just the dainty bell-shaped flowers that make coral bells attractive—they also produce stunning foliage. Indeed, many gardeners plant them largely to enjoy their spectacular leaves.
The variety in appearance from one cultivar of coral bells to another can be striking (with respect to leaves and flowers alike).
Coral bells are highly recommended as companion plants for a broad variety of other flowers.
Butterflies and bees do find coral bells attractive.
You can often grow coral bells regardless of your sun/shade conditions. You just need to choose a cultivar that is appropriate for the amount of sun you have available.
Issues with diseases and insects are not all that common.
The foliage is evergreen. That means you get to enjoy it all year long.
Cultivars to Consider
Shanghai Heuchera: Purplish leaves, dark stems, and white flowers form a breathtaking contrast with this cultivar of coral bells. Indeed, looking down from above, the white bells look like a constellation of tiny stars against a purple backdrop.
Stainless Steel Heuchera: The name "Stainless Steel Heuchera" refers to the silvery appearance of the leaves of this cultivar. If you turn over the leaves, you will see that they have an eggplant color underneath. The veins that run through the leaves are also purplish. The flowers are white, beginning as pink buds. It is recommended that one plant the "Stainless Steel" variety in the shade.
Dolce Blackberry Ice Heuchera: For startlingly dramatic color, consider the "Blackberry Ice Heuchera" plant. The colorful purplish leaves of this cultivar really do call to mind the rich hues of blackberries (though not quite so dark). It can handle a wide range of sun and shade conditions and produces flowers with a yellowish color.
Citronelle Heuchera: Large, fluffy, greenish-yellowish leaves characterize the "Citronelle Heuchera." How yellow or green they depend on how much sun or shade they receive. If you want a more chartreuse hue, go with shade. Were you to lift up the leaves of these plants and view their undersides, you would see that they are silvery. The flowers have a color that can be called "creamy."
Dolce Cherry Truffles Heuchera: Prefer coral bells that feature more reddish leaves? The Dolce Cherry Truffles Heuchera variety may suit you. The light pink flowers form a nice contrast with the darker leaves.
Ginger Ale Heuchera: The gingery colors of the leaves of this plant give it the name "Ginger Ale Heuchera." The flowers are yellow and pink. Consider planting it next to something with darker leaves, maybe a different type of coral bells plant-like Blackberry Ice. The contrast between them will make the leaves of both stand out more in your garden.
Glitter Heuchera: One of the most mesmerizing types of coral bells you can choose for your garden is Glitter Heuchera. The leaves have a shiny, silvery sheen, and dark, prominent veins. The pink flowers stand out more than those of a lot of other coral bells, so if bell-shaped flowers are your main reason for planting these perennials, you probably will love this cultivar.
Lime Ruffles Heuchera: The name "Lime Ruffles Heuchera" references the ruffly shape of the lime-green leaves of this cultivar. The flowers are white. If you need a type of coral bells that can stand up to heat, you may have more luck with this variety than some others.
Obsidian Heuchera: Not surprisingly, this cultivar of coral bells features rich, dark leaves. While the leaves may be called "black," they are more properly a deep reddish-purplish color. Since the flowers are white, they present a vivid contrast.
Amber Waves: Plant "Amber Waves" in your garden, and you can look forward to amber waves of leaves. It is like having a little bit of autumn in your yard all the time. The flowers on this variety are pink.
Midnight Rose: One of the most intriguing varieties of coral bells is the "Midnight Rose" cultivar. The dark reddish leaves are spattered with brighter pinkish coloring. The flowers are a creamy white color.
5. Lily of the Valley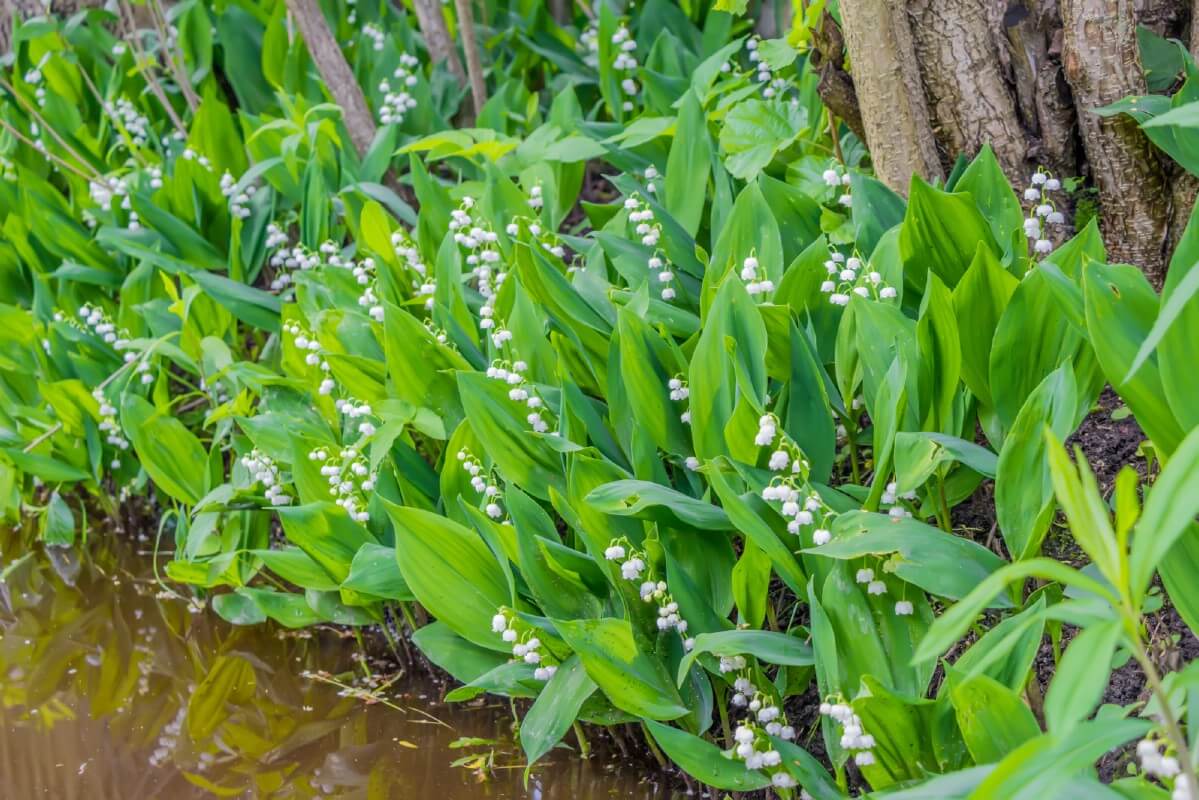 Lily of the valley is another classic bell-shaped flower to think about adding to your garden. Its scientific name is Convallaria majalis.
While "lily of the valley" is the most common name used to refer to it, you might also hear it called "Mary bells," "Mary's tears," or "Our Lady's tears." A couple of names that are now largely defunct include glovewort and Apollinaris.
Despite the name, this is not actually a type of lily. It is related to asparagus. But that does not mean you should at it; it is toxic.
As a perennial flower that grows in woodlands, it is an excellent choice for partial shade. It can reach anywhere from 6-12 inches tall when fully grown.
The Lily of the valley produces its flowers in spring, delicate little bell-shaped pendants that dangle from its stems.
Blooms with all-white petals are most common, but on rare occasions, you might see pink flowers.
Zones: 3-7
Sun: Partial
Water: Water as needed for moist soil
Soil: Loamy, sandy
Why Plant Lily of the Valley in Your Garden?
This is a relatively pest-resistant type of flower, making for easy care.
Lily of the valley has a distinctive appearance. It isn't a flower you can easily confuse with another. While the white bells are small, they stand out easily from the green foliage around them.
If you have a woodland garden, lily of the valley should do well. It will be happy in partial shade.
6. Foxgloves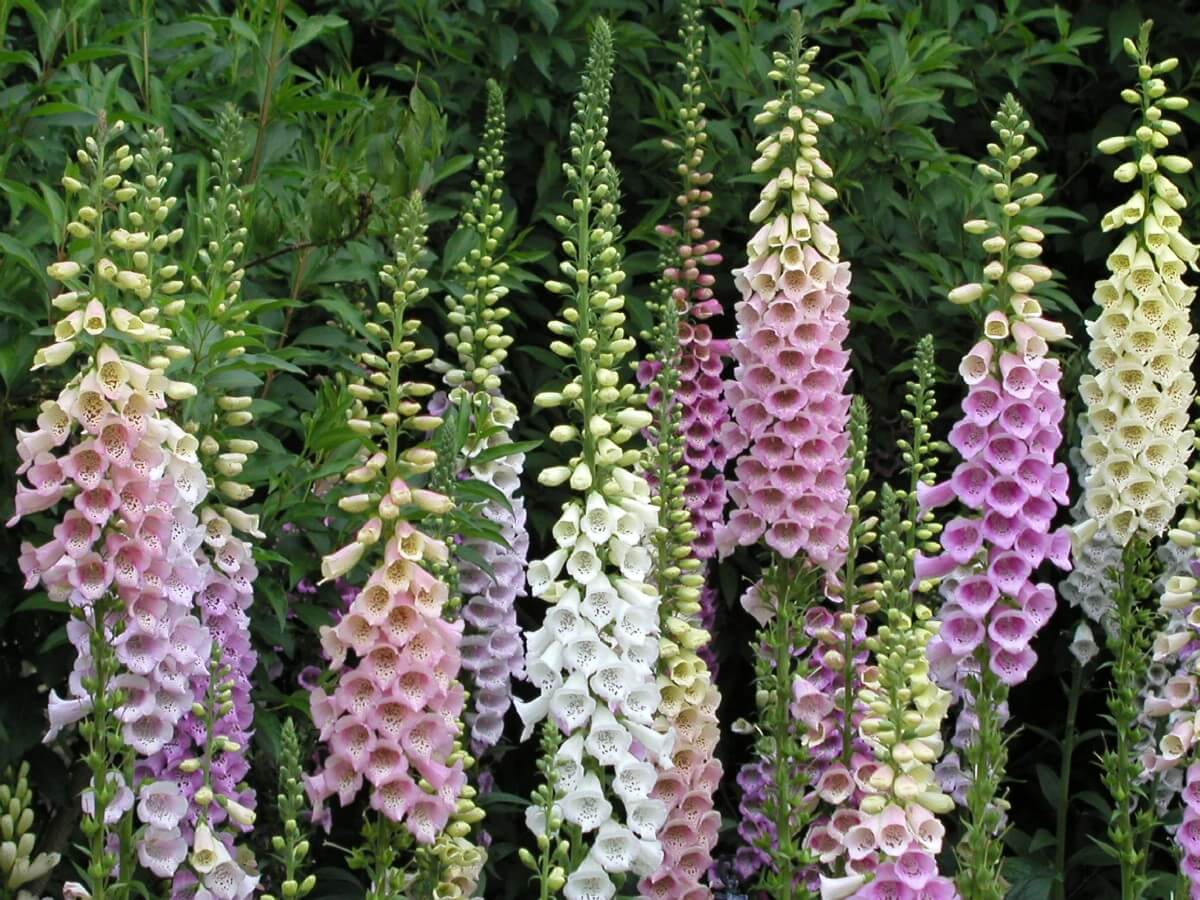 In search of a deer-resistant bell-shaped flower to grow? Consider planting some foxgloves.
These perennial and biennial plants comprise around 20 species belonging to the Digitalis genus.
Each foxglove plant produces a tall spike that is covered in numerous tube-shaped flowers.
Most foxgloves are purplish or pinkish, but there are some white and yellow varieties.
If you look inside the bell-shaped blooms of a Digitalis plant, you may see a lovely spackled appearance.
Foxglove has medicinal uses, but it is also extremely poisonous and can be deadly. This fact was recognized by William Withering, the British physician who promoted its (careful) use back in the 18th century.
The American Association for the Advancement of Science quotes Withering as explaining, "the Foxglove, when given in large and quickly-repeated doses, occasions sickness, vomiting, purging, giddiness, confused vision, objects appearing green or yellow; increased secretion of urine...slow pulse, even as slow as 35 in a minute, cold sweats, convulsions, syncope (unconsciousness), death."
In short, don't eat it. And don't let your pets eat it, or your kids.
Zones: 4-9
Sun: Full
Water: Water to keep soil moist
Soil: Loamy
Why Plant Foxgloves in Your Garden?
Foxgloves are deer-resistant. Because of their toxicity, deer know better than to try and eat foxgloves. This makes them one of the best perennials to plant if you want to avoid having your flowers munched on.
You can use them to discourage deer from other plants. For example, you could plant a bunch of them close together to form a kind of boundary, with the plants you want to protect on the other side. It does not guarantee that the deer won't simply go through them, but it is at least a deterrent.
These tall plants have a dramatic effect. With their tall spikes and their large, colorful, bell-shaped flowers, foxgloves stand out, making a statement in your garden. They can make a nice backdrop to frame shorter plants in front.
Enjoy unique color gradients. A lot of foxglove blossoms change color as they fade. That means that on a single stalk, you often will see a beautiful ombre effect.
Cultivars to Consider
Alba: This is a type of foxglove that features white blooms.
Candy Mountain: The blossoms on this cultivar start out a rosy pink color, and then deepen to purple.
Foxy: This variety of foxgloves features white, cream and pink flowers.
Camelot: Reaching up to 4 feet tall, this cultivar includes white, pink and purple blossoms.
Apricot: This cultivar features unique shades of apricot and cream.
7. Persian Lilies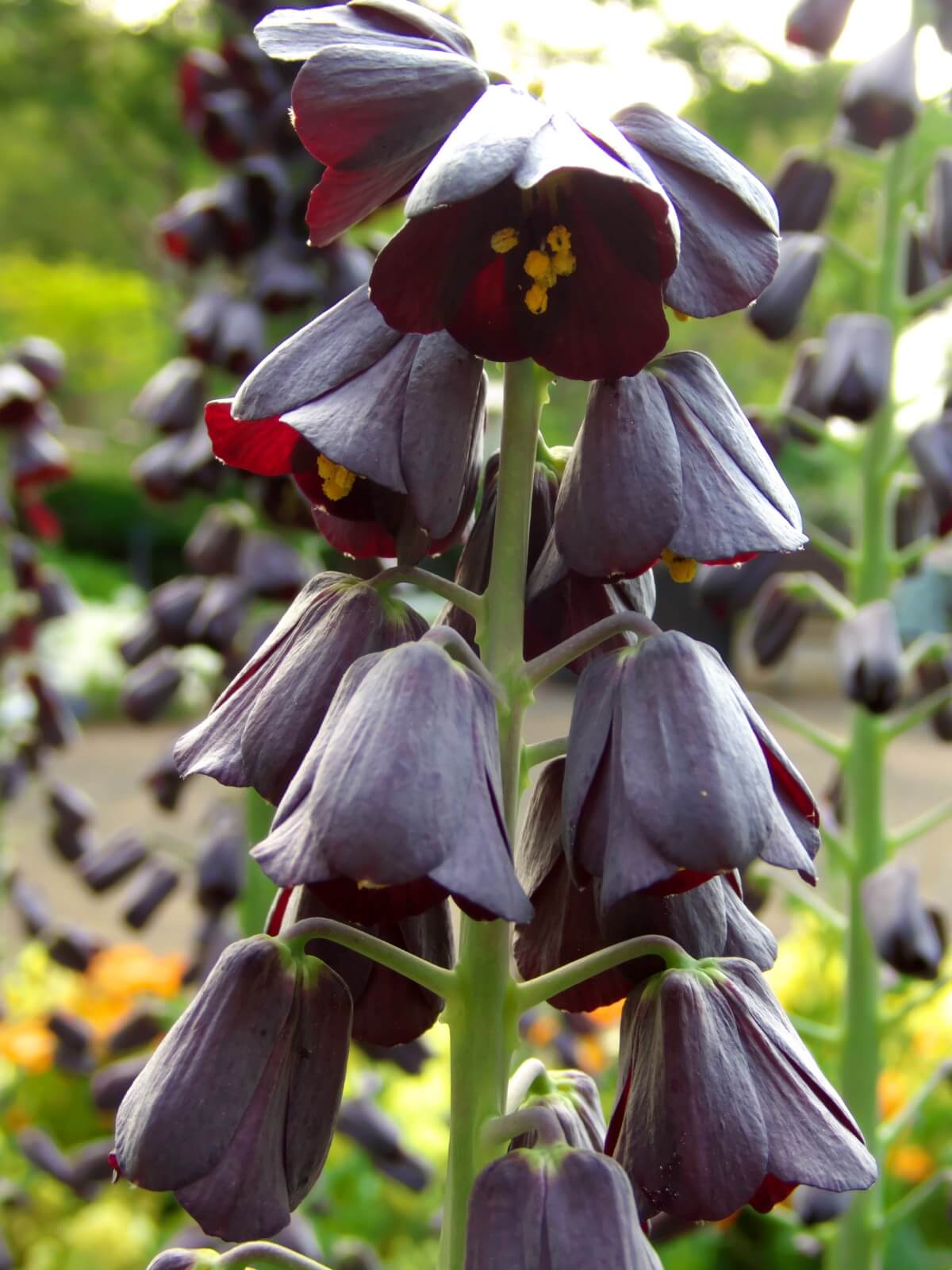 If you like foxgloves, another type of bell-shaped flower you might enjoy growing is the Persian lily, a plant with the scientific name Fritillaria persica.
Mature stalks can reach around 3-4 feet in height, and may feature as many as 30 flowers. The flowers have a bell shape, and droop gently downward.
Blossom colors may include green, ivory, deep red, and deep purple.
Like foxgloves, they thrive in full sun, and are resistant to deer and rabbits.
Zones: 4-8
Sun: Full
Water: Water an average amount
Soil: Chalk, loam, sand
Why Plant Persian Lilies in Your Garden?
Deer and rabbits are unlikely to try and eat them. Hopefully, they will be un-harassed throughout the season.
Persian lilies can feature striking and unusual colors. These are hues you will not typically find on a lot of other flowers.
The perennial blooms are tall and dramatic. Persian lilies can draw the eye from across your garden, and can also frame other, shorter plants beautifully.
Cultivars to Consider
Adiyaman: This variety of Persian Lily is the one that produces deep purple blooms. These blossoms are actually so dark that they are almost black.
Ivory Bells: Initially, these bell-shaped blossoms are green, but over time, they turn an ivory color, thus their name.
8. Guinea Hen Flowers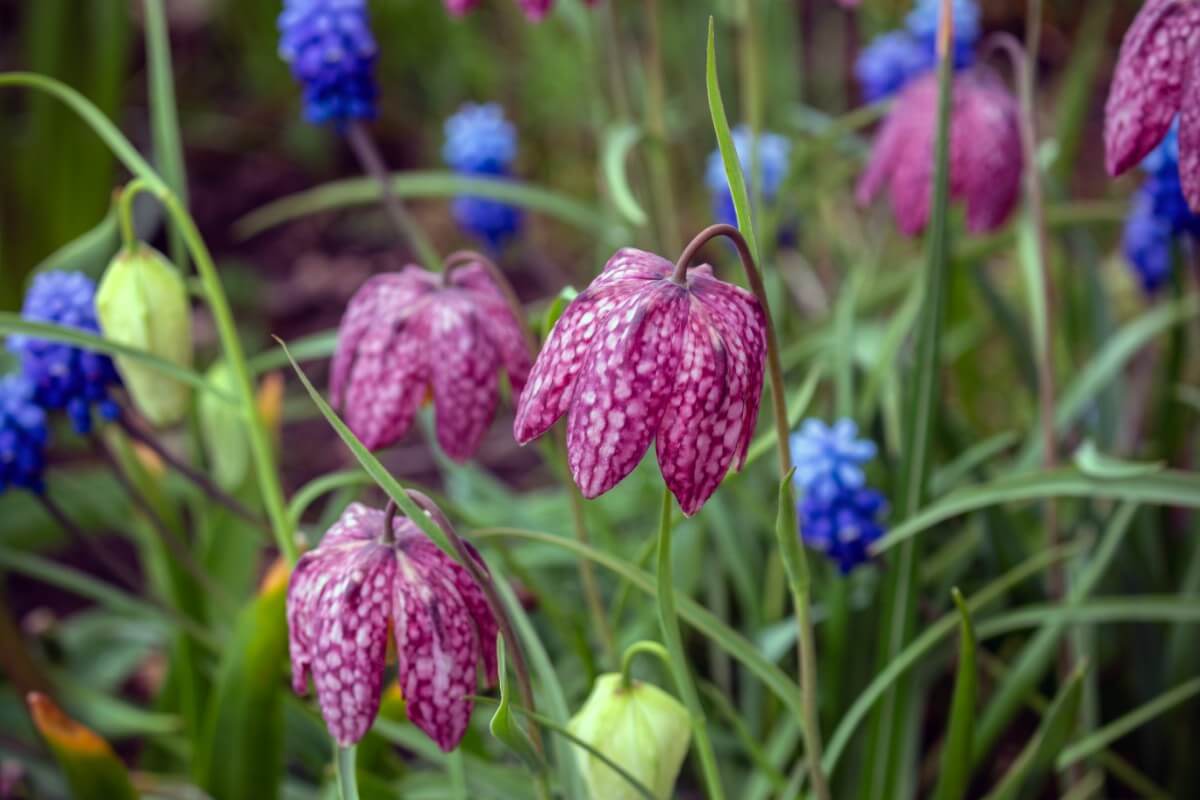 Related to Persian Lilies are Guinea Hen Flowers, with the scientific name Fritillaria meleagris.
Other names for the flower include "chess flower," "leper lily," "chequered lily," "frog cup," and "snake's head fritillary."
The appearance of these bell-shaped blooms is strikingly unusual. University of Wisconsin-Madison describes them thusly:
"Guinea hen flowers appear in mid-spring either singly or in pairs on the ends of delicate, upright, arching stems rising above the foliage. The nodding flowers are about 2" long, with six pointed tepals. Each square-shouldered bell sports a distinct, but variable, checkered or mosaic pattern in shades of maroon, dark purple, reddish purple, and/or muddy pink."
Zones: 3-8
Sun: Full to partial
Water: Average
Soil: Moist soil types
Why Plant Guinea Hen Flowers in Your Garden?
Guinea hen flowers offer an unusual look to enhance your garden. The checkered pattern on these blossoms is so regular-looking that it almost seems artificial. Indeed, if you were to look at a photo of these flowers for the first time without knowing any better, you might think someone had painted this strange design on the petals! But it is 100% natural.
These flowers feature vivid hues. The colors can stand out beautifully against green foliage.
9. Snowdrops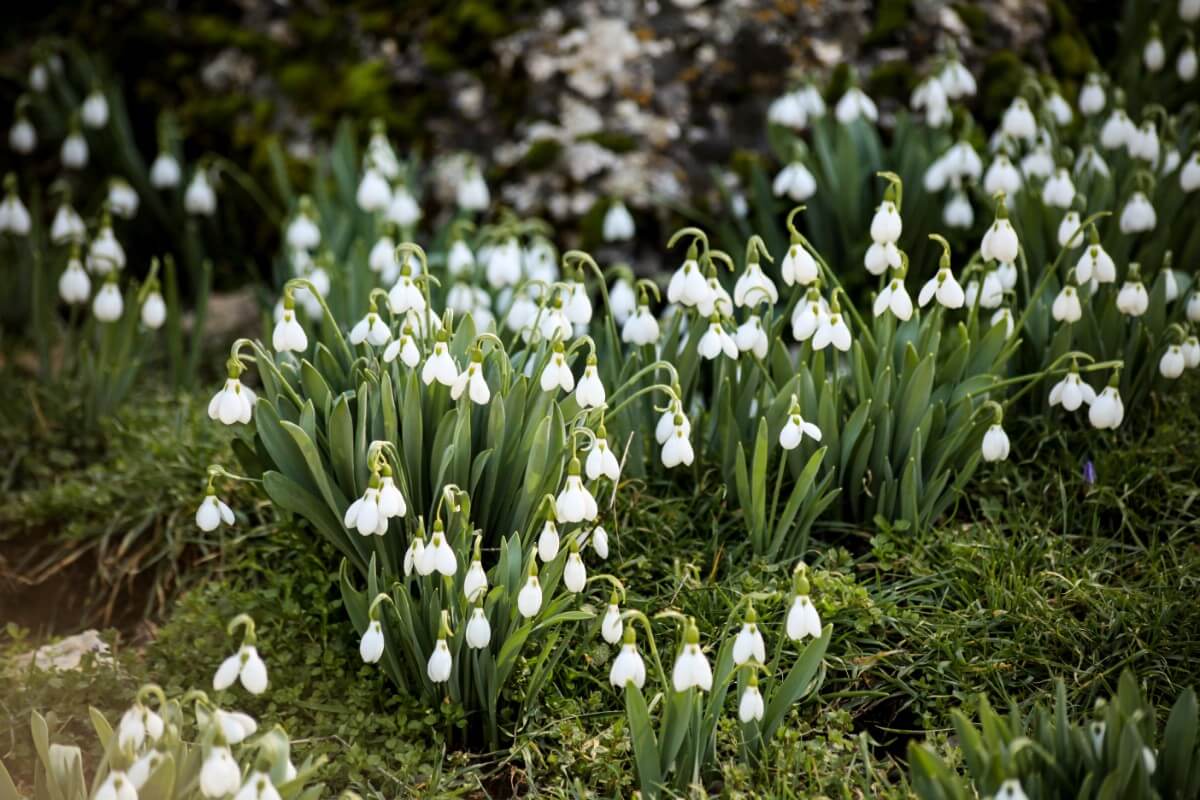 Another perennial bell-shaped flower you might enjoy in your garden is the snowdrop.
Snowdrops are flowers in the Galanthus genus. There are about 20 of them in total.
The plant takes its name from its unusual bloom period, which is during the winter season (typically—you may also see them blossoming in fall or spring).
The name also references its appearance, with its small, white, bell-shaped flowers that droop like drops of snow.
Zones: 3-7
Sun: Full to partial
Water: Water to keep soil moist
Soil: Rich, moist, well-draining
Why Plant Snowdrops in Your Garden?
Enjoy flowers in the winter. There are not a whole lot of flowers that bloom specifically in the winter. But while the rest of your flowers are dormant, you can look forward to snowdrops in full blossom.
These plants can tolerate low light conditions. That means that they can grow well in a shady garden, and also can thrive when the sun is behind winter clouds.
Snowdrops tolerate harsh weather. In fact, they can bloom even surrounded by ice and snow.
Cultivars to Consider
Galanthus nivalis: You will typically see this type of snowdrop in blossom in February. As one of the most common varieties, it is likely the first cultivar you picture when you think of snowdrops.
Galanthus nivalis f. pleniflorus 'Flore Pleno': This snowdrop has an unusual look thanks to its double shape. It blooms widely, making it easy to see both the inner and outer petals.
Bill Clarke: While most cultivars of snowdrops are white, some of them are yellow. One example is Bill Clarke. Indeed, you might find yourself thinking of them more as "sundrops" amid the snow.
Green Tear: The petals of this flower are a greenish color.
10. Angel's Trumpet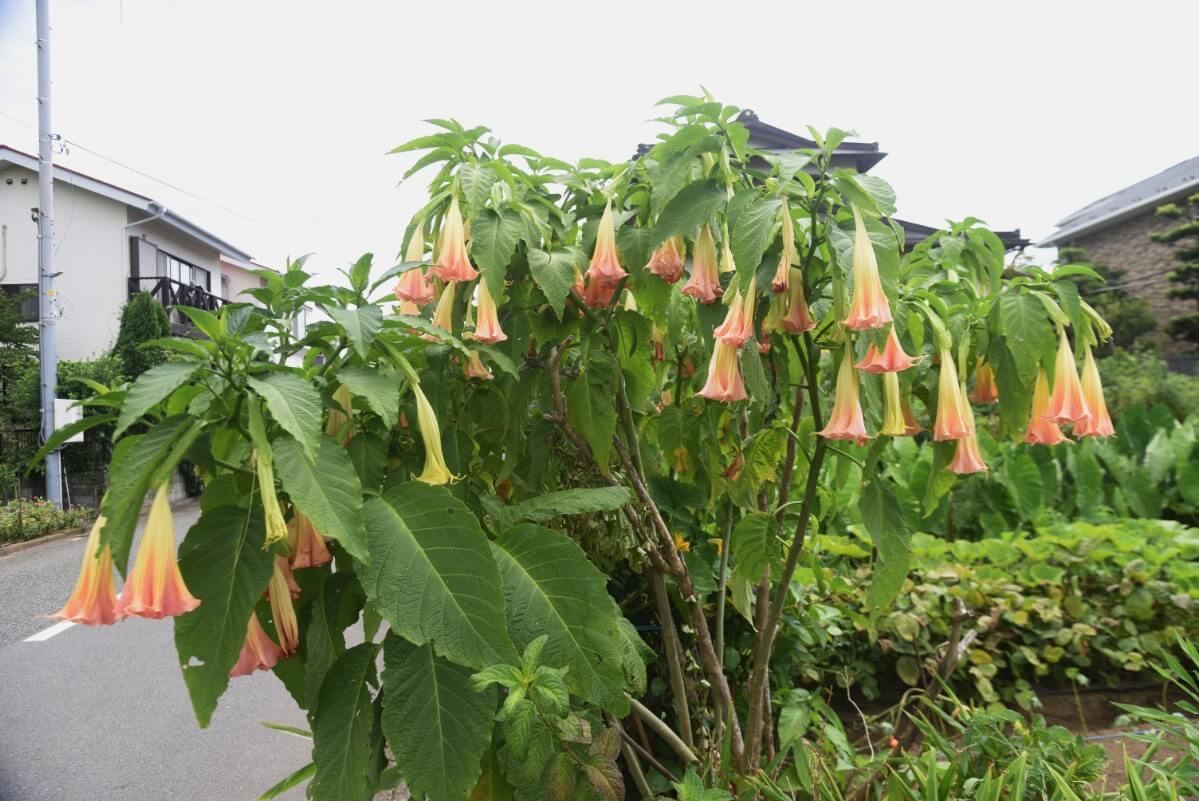 Do you reside in a hot, tropical climate? If so, you may want to try growing angel's trumpets.
Unlike most of the flowers to make this list, these ones grow on shrubs or trees. They are members of the Brugmansia genus and consist of seven species in all.
You will need sufficient space for this plant since it can grow to be anywhere from 15 to 20 feet wide and 30 feet tall.
In fact, that means that it can even be suitable as a privacy screen.
The large, trumpet-shaped flowers can measure up to 24" in length, and may occur in a variety of beautiful colors.
University of Wisconsin-Madison writes, "Some cultivars bloom throughout the growing season, others flower in flushes every 6-8 weeks, while some only produce flowers in cool weather. Some produce lots of flowers while others have few flowers. Flowering, flower color and flower form are all affected by light levels, pH levels, nutrition, stress, temperature and humidity, so flowering may vary even for the same cultivar depending on the location and conditions where it is grown."
The site also has some interesting comments on fragrance, stating, "Fragrance varies considerably, too, with intensity ranging from none (B. sanguinea) to overpowering. The intoxicating scents are variously described as musk, lemon, mint, lily, hyacinth, citrus, jasmine, gardenia, and more. Regardless, the fragrance is most noticeable on warm summer evenings."
Zones: 8-10
Sun: Full
Water: Keep moist (may need extra water)
Soil: Moist, well-drained
Why Plant Angel's Trumpets in Your Garden?
Admire huge, dramatic blossoms. Visually, angel's trumpets are spectacular to behold.
Increase your privacy. In contrast to the majority of plants on this list, this one can help to screen your yard off from your neighbors.
Enjoy beautiful aromas. Depending on the cultivar you choose, you may be able to enjoy a number of different fragrances. And since they can be quite strong, you may be able to smell them even from across your lawn.
You can grow angel's trumpets in containers. If you do not live in a tropical climate, you might still be able to get away with growing these plants, since you can put them in pots and overwinter them indoors. You can keep a potted angel's trumpet plant down to around 4 feet with appropriate pruning.
Cultivars to Consider
Charles Grimaldi: If you want fragrant blooms that change colors through a range of sunset hues, you may enjoy this variety. The flowers start out with a golden hue, and then shift toward orange. As they continue to mature, they deepen to salmon.
Inca Sun: You will notice that most angel's trumpets go through growing periods interspersed with flowering periods. But there is a cultivar that can do both at once called "Inca Sun." The blooms have a peachy hue. It is a suitable option for growing in a pot.
Shredded White: As the name would have you guess, this cultivar features white blooms. But the twisting nature of the petals gives it an altogether unusual appearance.
Ecuador Pink: If you want stunning pink flowers, consider this cultivar.
Cypress Gardens: A small cultivar of angel's trumpet tree, this one is ideal for container-growing, and produces flowers that start out white and then turn salmon in hue.
11. Bells of Ireland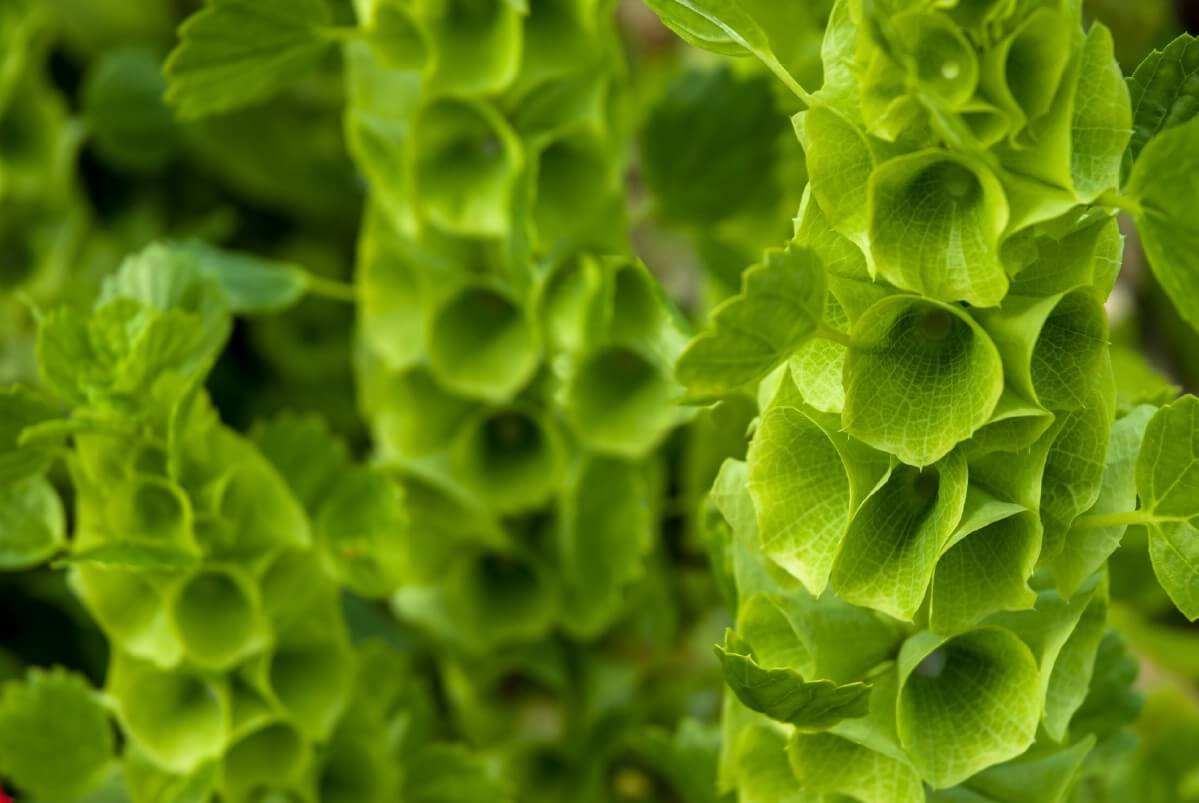 Another option for those who like foxgloves is the plant called bells of Ireland, or Moluccella laevis.
They may also be called "shell flowers," sometimes written "shellflowers," and belong to the mint family.
While you would naturally assume that this plant is native to Ireland, it actually hails from an altogether different part of the world, western Asia.
Similar to foxgloves, this plant produces tall stalks that are covered in bell-shaped flowers. They can reach over three feet in height.
Technically, the bells that grow on these stalks are not actually "flowers." They are actually the calyxes that surround the plant's flowers. If you appear inside one of the bells, you will see the actual flower, which is small and white with a beautiful aroma.
You could intersperse them with foxgloves, or you might plant them behind shorter flowers as a backdrop.
Zones: 2-11
Sun: Full to partial
Water: Keep moist
Soil: Moist, but well-drained
Why Plant Bells of Ireland in Your Garden?
Bells of Ireland can tolerate a wide range of climate zones. So, almost regardless of where you live, you probably can grow them successfully.
Their dramatic appearance and unusual green color will make them a standout feature in your garden.
They make beautiful cut flowers. A lot of people like to dry them for long-term use in arrangements.
Rabbits and deer tend to leave bells of Ireland alone.
12. Grape Hyacinths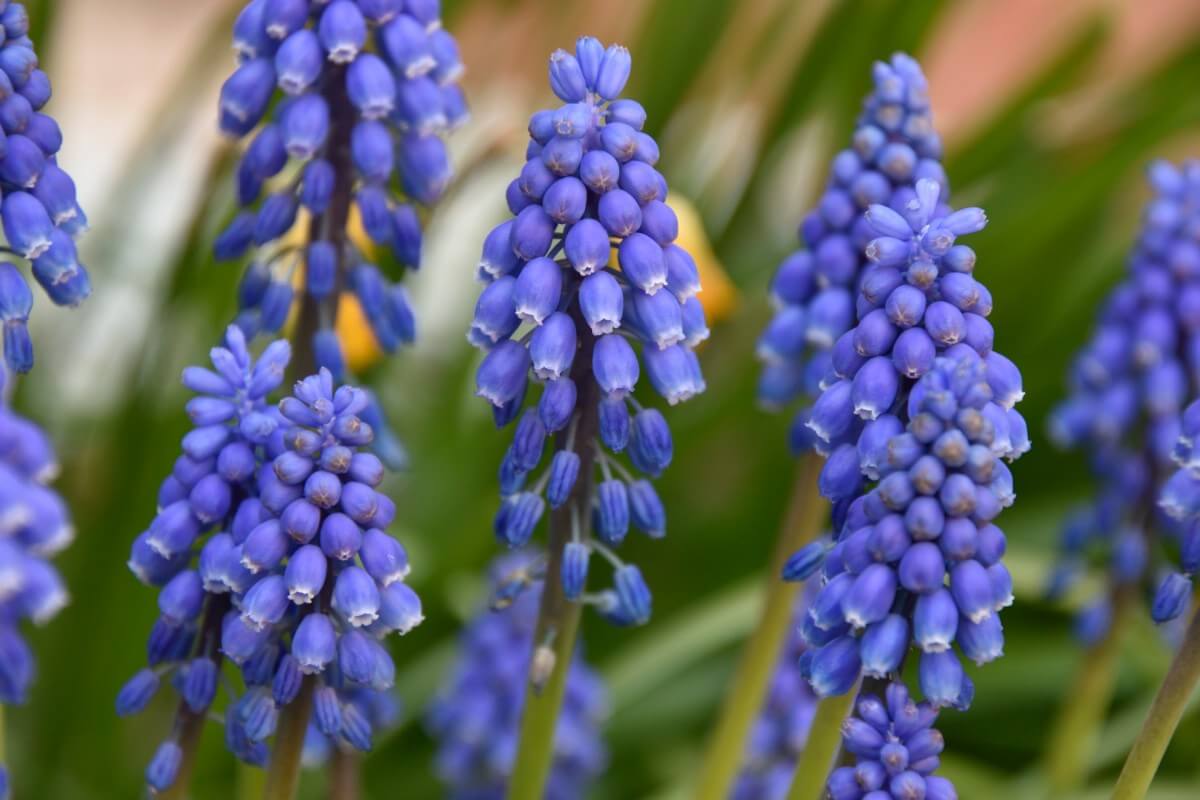 A favorite choice among many gardeners for bell-shaped flowers is the grape hyacinth.
Despite its name, this plant is not technically a type of true hyacinth, nor does it belong to the same family as true hyacinths (although it was categorized there in the past).
Indeed, this perennial belongs to the asparagus family, just like lily of the valley.
It comprises an entire genus of plants with the scientific name Muscari. There are around 42 species and a variety of cultivars.
In terms of appearance, they can grow to 6-9 inches tall. Each time is topped with a dense cluster of tight purple bell-shaped flowers.
The resemblance of each rounded blossom to a grape is what gives the plant its name.
While the bluish purple is most popular, there are other colors of grape hyacinths as well.
Zones: 4-8
Sun: Full to partial (full is best)
Water: Keep moist early in season, water less later in season
Soil: Moist, well-drained (sandy is best)
Why Plant Grape Hyacinths in Your Garden?
These beautiful flowers add dramatic color to your garden. Their rich hues can compliment or contrast mesmerizingly with other flowers you plant. For example, they are a popular companion plant for daffodils, since the purple and yellow stand out next to one another.
As low-maintenance plants, they are easy to grow and care for. So, even beginning gardeners should be able to successfully plant them.
These perennials are quick multipliers. That makes them ideal for covering a large part of your lawn if you wish.
The purple color is close to blue. It is hard to find flowers that are in this color range.
Cultivars to Consider
Blue Magic: This cultivar of grape hyacinth has a periwinkle hue.
Mount Hood: This intriguing cultivar features bunches of blooms that are bluish at the base and white at the top. The name is evocative of the appearance they have of a snowy peak.
Feather Hyacinth: This type of grape hyacinth looks completely different from others. Instead of tight, rounded blossoms, it features long, curly purple tubes.
Album: If you want an all-white variety of grape hyacinth, this is the one to pick.
Italian Muscari: Consider this cultivar if you are in the market for a type of grape hyacinth that you can grow successfully in a cold climate.
13. White Mountain Heather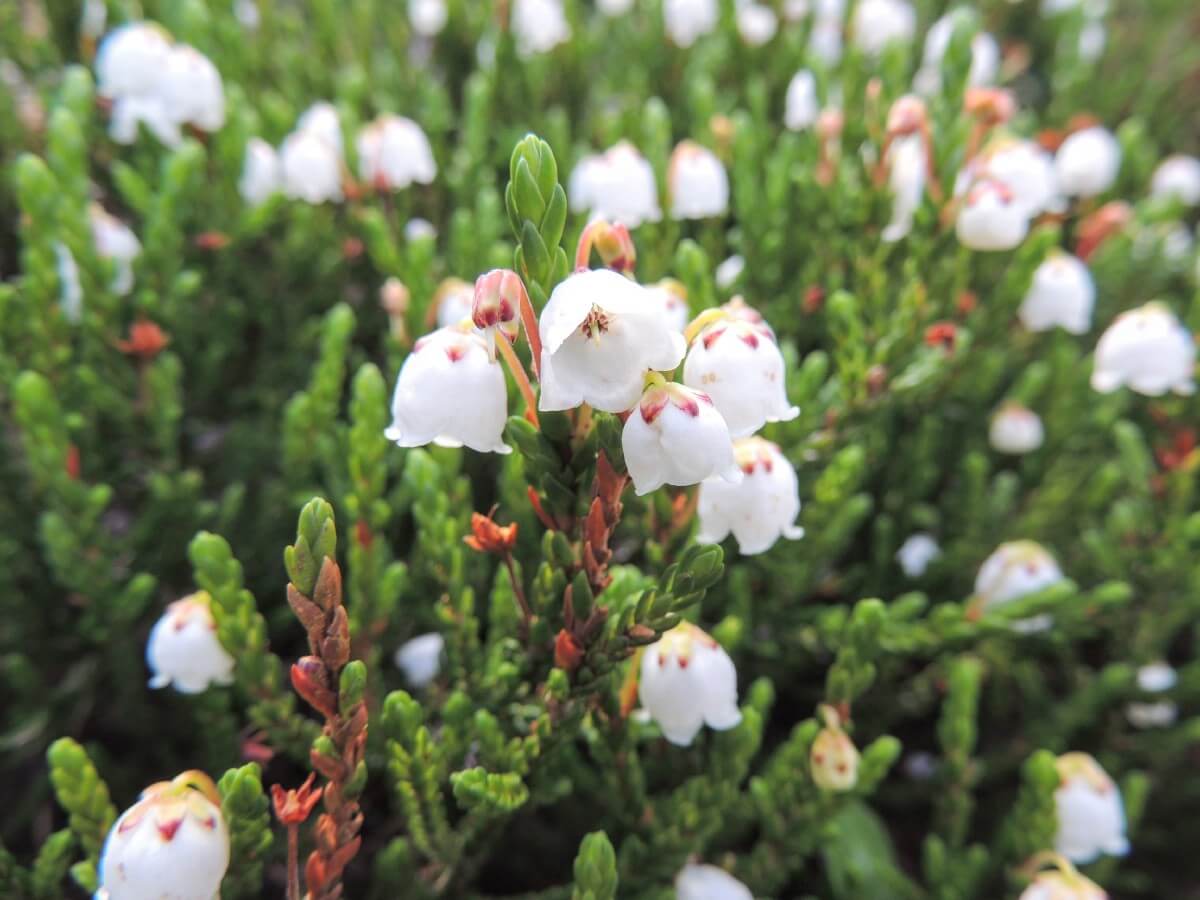 Love the look of wildflowers? One stunning type of bell-shaped wildflower you will see blooming in the mountains of the western US is Cassiope mertensiana, known as "white mountain heather" or "western moss heather." You may spot it growing between rocks, especially if you are at 1400 meters in elevation or higher.
Visually, the white mountain heather is striking for a couple of reasons. First of all, the leathery leaves are distinctive. Secondly, the white bells, which are similar in appearance to those of lily of the valley, contrast vividly with their red calyxes.
Zones: 3-8
Sun: Full to partial
Water: Average
Soil: Moist, but well-draining
Why Plant White Mountain Heather in Your Garden?
Grow wildflowers suitable for an alpine garden. If you live at elevation, you will probably find that these flowers take easily to your garden.
Give your garden an alpine look and feel. Since these flowers can thrive in a variety of climate zones, you might also be able to grow them in a non-alpine garden if you want to give it a more alpine ambience.
Enjoy the beautiful contrast of the white petals and red calyxes. These eye-catching blossoms will get a lot of compliments—and likely questions as well, since most people probably will not be able to identify them.
The evergreen foliage will remain beautiful throughout the year.
14. Twinflowers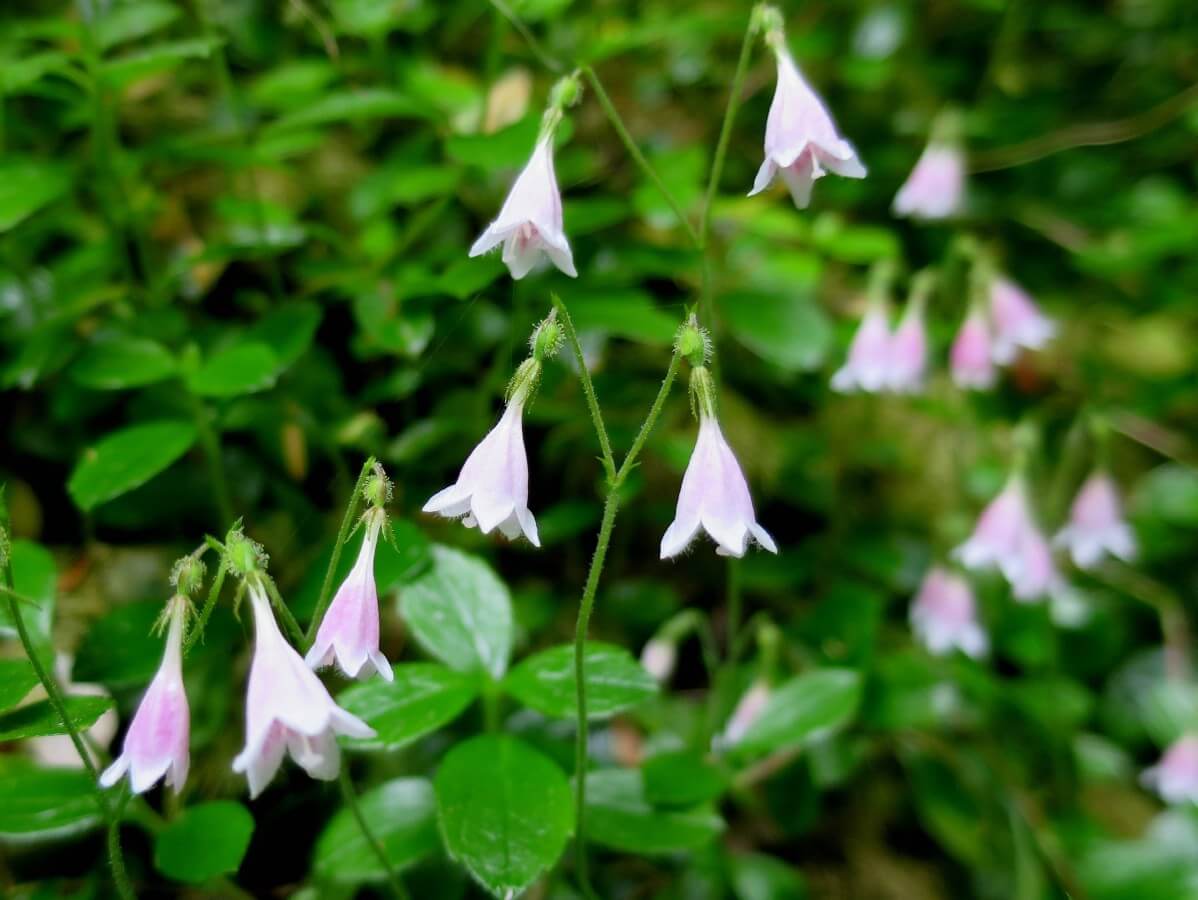 Twinflowers are bell-shaped flowers that are members of the honeysuckle family. Their scientific name is Linnaea borealis.
Most commonly, you will find twinflowers growing in the wild, usually in wooded areas. They're fond of shade, though they can also grow in sunlight.
The name "twinflower" is a reference to the distinctive way in which these flowers grow, with a pair of flowers on each stem, both drooping downward, usually in opposing directions.
Zones: 3-8
Sun: Full to partial, or full shade
Water: Keep moist
Soil: Moist, acidic, well-draining
Why Plant twinflowers in Your Garden?
These flowers love the shade. So, if you have a lot of tall trees shading the majority of your garden, you should find that they are right at home. Just make sure that they are getting plenty of water. They will languish if the soil dries out at all.
With their slender stems, twinflowers really stand out, especially against a dark backdrop. Consider planting something with dark leaves behind them. This will give you an illusion that they are almost floating.
15. Korean Bellflower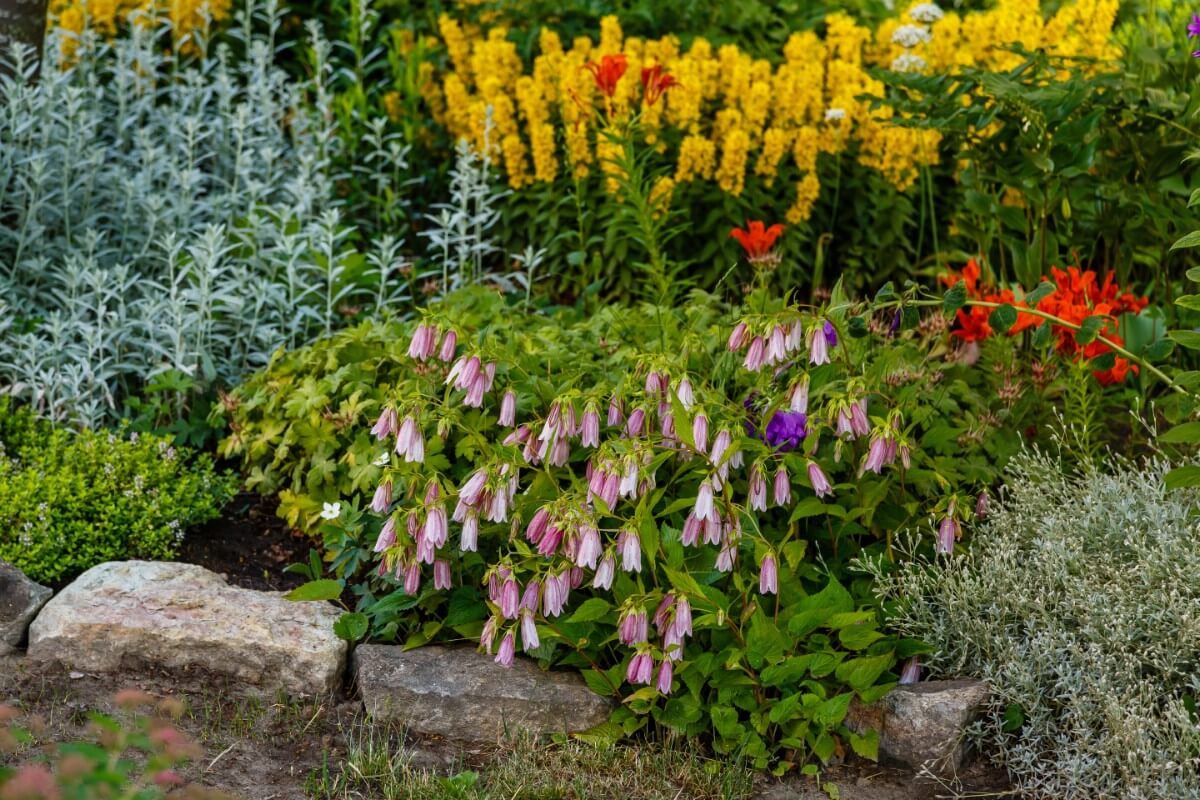 Another plant with bell-shaped flowers that can look lovely in your garden is the Korean bellflower, Campanula takesimana.
Although they are members of the same Campanula genus as Canterbury bells, they have a very different appearance.
Canterbury bells tend to face outward or even upward, but Korean bellflowers droop downward. They also are longer and thinner. They most commonly come in shades of white and pink.
Just as the name suggests, the plant is native to Korea.
Zones: 4-8
Sun: Full to partial
Water: Average
Soil: Chalk, loam, sand
Why Plant Korean Bellflowers in Your Garden?
Korean bellflowers are beautiful. The large flowers instantly grab the eye.
This plant spreads easily, but not too aggressively. Indeed, it has a similar appearance to another type of bellflower called "spotted bellflower." But spotted bellflower is notoriously invasive. By contrast, Korean bellflowers do spread fast, but are less likely to take over your yard than spotted bellflowers. Just make sure you are still keeping an eye on it so it does not spread out of control.
It is a low-maintenance plant that is good for beginners.
Pests tend to leave Korean bellflowers alone. That includes deer.
16. Peach-Leaved Bellflowers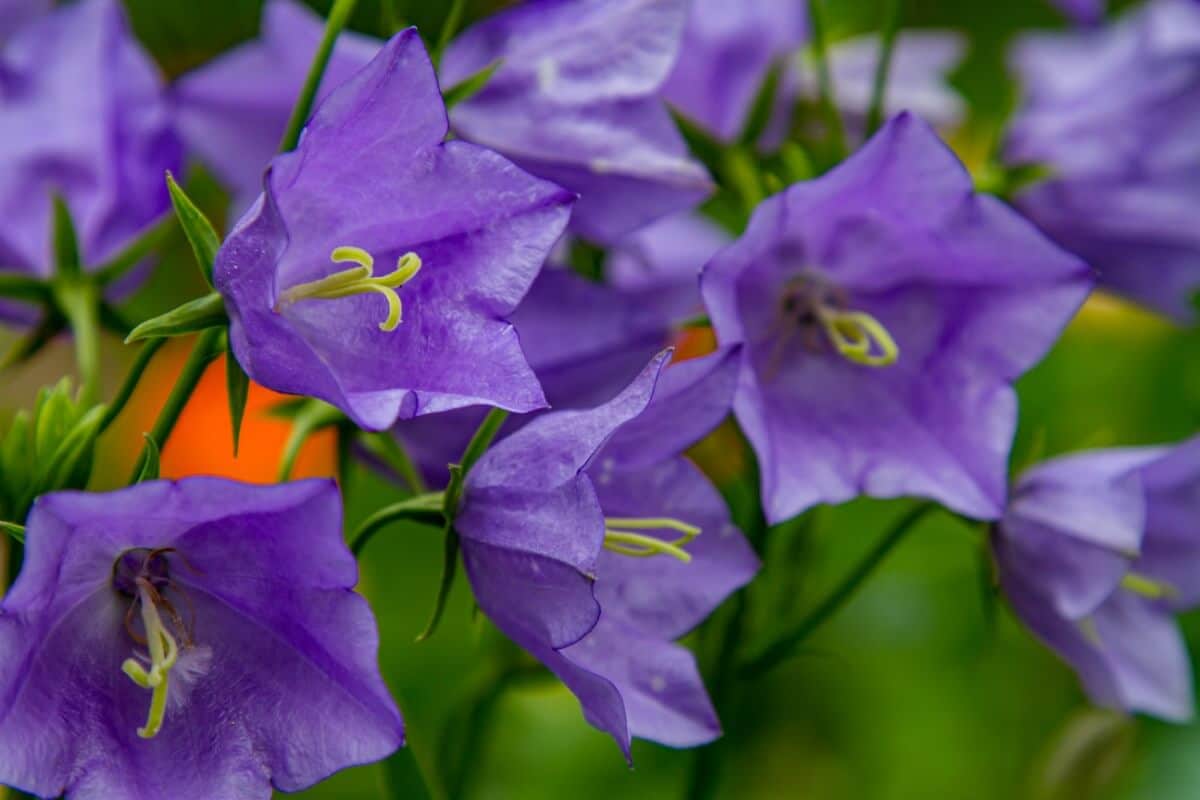 Another striking member of the Campanula genus is the peach-leaved bellflower. The stems of this perennial can grow as high as 3 feet, producing beautiful bell-shaped flowers that may vary in color from white to bluish purple.
You might think given its name that this plant would feature leaves with an unusual peach color, but the name actually references how similar the leaves look to peach tree leaves. They are green, like most plant leaves.
They look kind of similar to Canterbury bells, and can add a similar appeal to your garden.
Zones: 3-8
Sun: Full to partial
Water: Average
Soil: Most, well-draining
Why Plant Peach-Leaved Bellflowers in Your Garden?
These tall, colorful perennials can make a great backdrop for other shorter plants.
These bellflowers are deer-resistant and do not tend to attract pests.
If you plant peach-leaved bellflowers in a relatively warm climate, they may remain green through the winter.
Cultivars to Consider
Blue Bloomers: For the deepest, richest violet color, choose "Blue Bloomers."
Alba: This is a white variety of peach-leaved bellflowers.
Blue-Eyed Blonde: The "Blue-Eyed Blonde" cultivar is named in reference to its flowers, which are "blue" (closer to violet), and its "blonde" foliage—leaves that start out yellow and then turn green.
Chettle Charm: This is another option you can consider if you want white peach-leaved bellflowers.
Takion Blue: Another option you can consider for violet peach-leaved bellflowers is the "Takion Blue" variety.
17. Swamp Doghobble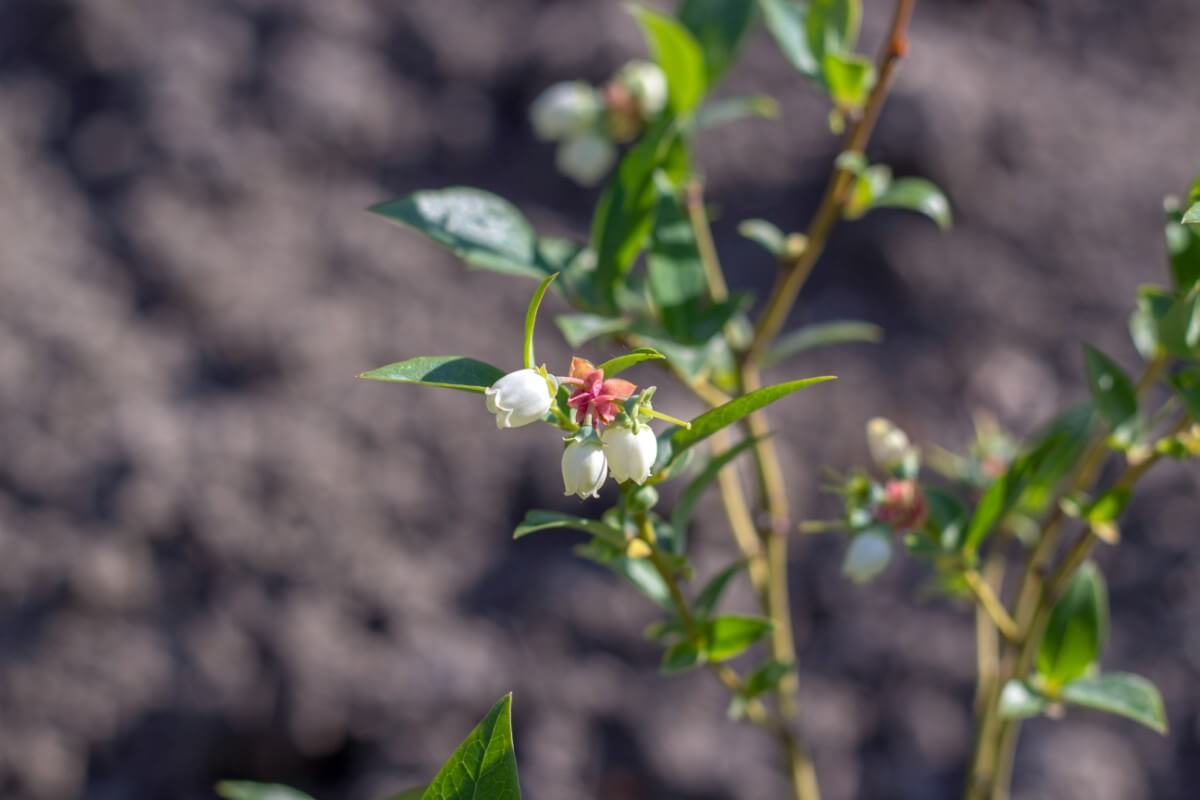 If you are seeking a larger shrub with bell-shaped blossoms, swamp doghobble might fit the bill.
The scientific name of this plant is Eubotrys racemosa, and it is also sometimes called "sweetbells Leucothoe."
When it matures, it can reach up to 6 feet in height, which means that you can use it to increase privacy in your yard.
When it flowers, you get long rows of drooping pendant blossoms extending out along its branches.
NC State Extension says, "It prefers a moist, cool, acidic soil. It can be grown in full sun, but must have good moisture. Does not tolerate drought or windy conditions. Although winter hardy to Zone 5, this shrub should be planted in a protected location and given a good winter mulch in cooler areas. Can be evergreen in warmer zones. This twiggy, spreading plant sends out suckers to form colonies. Use it along slopes, near ponds, in a woodland garden or as a foundation planting."
Zones: 5-9
Sun: Partial to full
Water: May need more water than average
Soil: Clay, sand, loam
Why Plant Swamp Doghobble in Your Garden?
The long rows of bell-shaped blooms are eye-catching and unique.
Enhance your privacy. As you have discovered while exploring this list, most bell-shaped flowers blossom close to the ground. This shrub gives you a chance to bring more privacy to your yard while enjoying blooms with the shape you love.
Enjoy green foliage year-round. If you are in a warmer climate, the swamp doghobble may help keep your lawn green through the winter.
It is not particularly disease-prone. So long as you are taking care of it properly, it will probably stay healthy.
18. Snowdrop Tree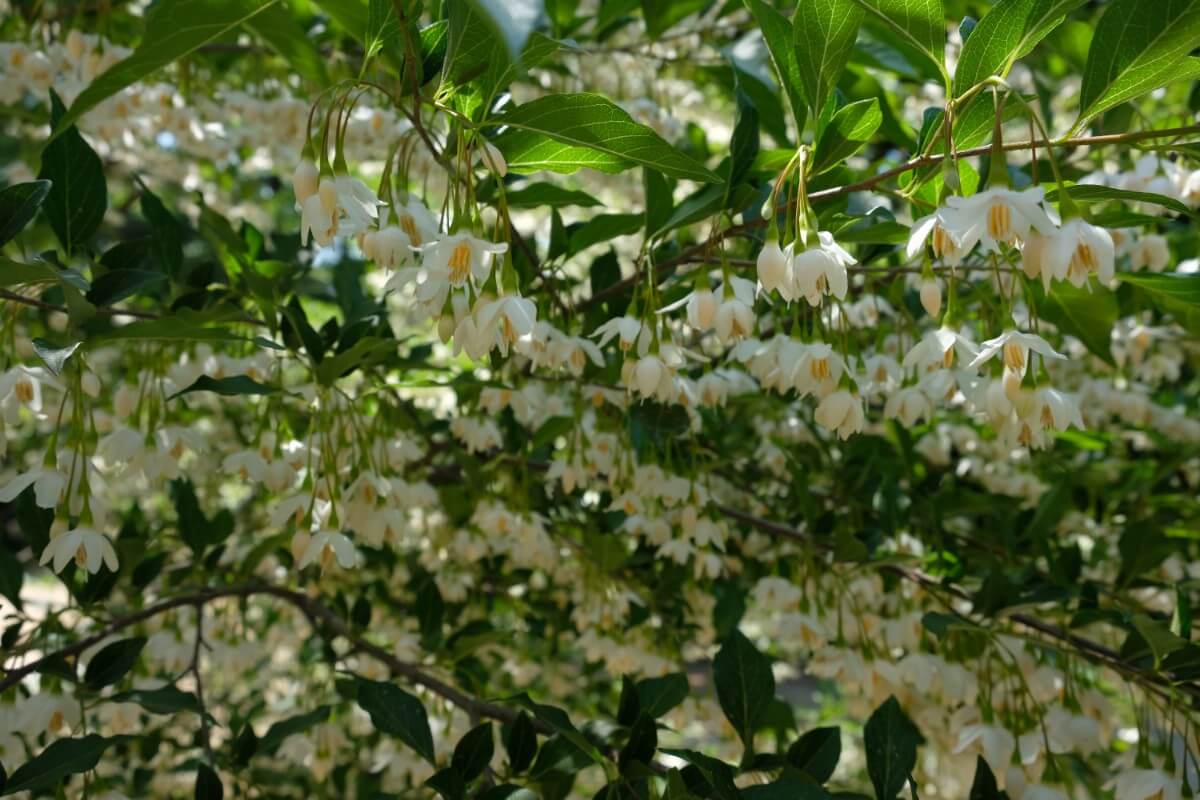 If you love snowdrops that grow on the ground, you will surely fall in love with the snowdrop tree.
Of course, it bears no actual relationship with regular snowdrops. But the bell-shaped flowers that blossom among its branches resemble the snowdrop. It is also called the "silverbell tree."
There are around four or five species of trees that are part of the Halesia genus. All of them are considered to be snowdrop trees.
North Carolina Extension Gardener suggests, "It makes an attractive specimen plant for a lawn or in a shrub border or woodland garden and is occasionally planted as an ornamental. It also looks attractive planted with rhododendrons and azaleas. Carolina silverbell is sensitive to heat, drought and soil compaction."
Zones: 6-9
Sun: Full to partial
Soil: Sandy, loamy, clay
Why Plant Snowdrop Trees in Your Garden?
This is an actual tree that produces bell-shaped flowers. It can sometimes soar to 80 feet in height. Once this tree gets big, you can imagine how stunning all the blossoms are.
Your tree should start blossoming fast after you plant it, and has a long lifespan. Even if you start the tree from a seed, within just a few short years, it should start producing its blossoms. It can live as long as a century, so if you will be passing your property down to your heirs, they will be able to enjoy it as well.
The tree is not prone to diseases or insects. This makes it easy to keep it healthy.
Cultivars to Consider
Silver Splash: The "splash" in the name of this cultivar refers to the splotchy pattern on the leaves.
Crushed Velvet: The leaves that grow on this cultivar are smaller than those on some of the others, and have a slight bluish tint to them.
Arnold Pink: If you are looking for a variety of this tree that produces pink flowers, this may be the cultivar that is right for you.
19. Penstemon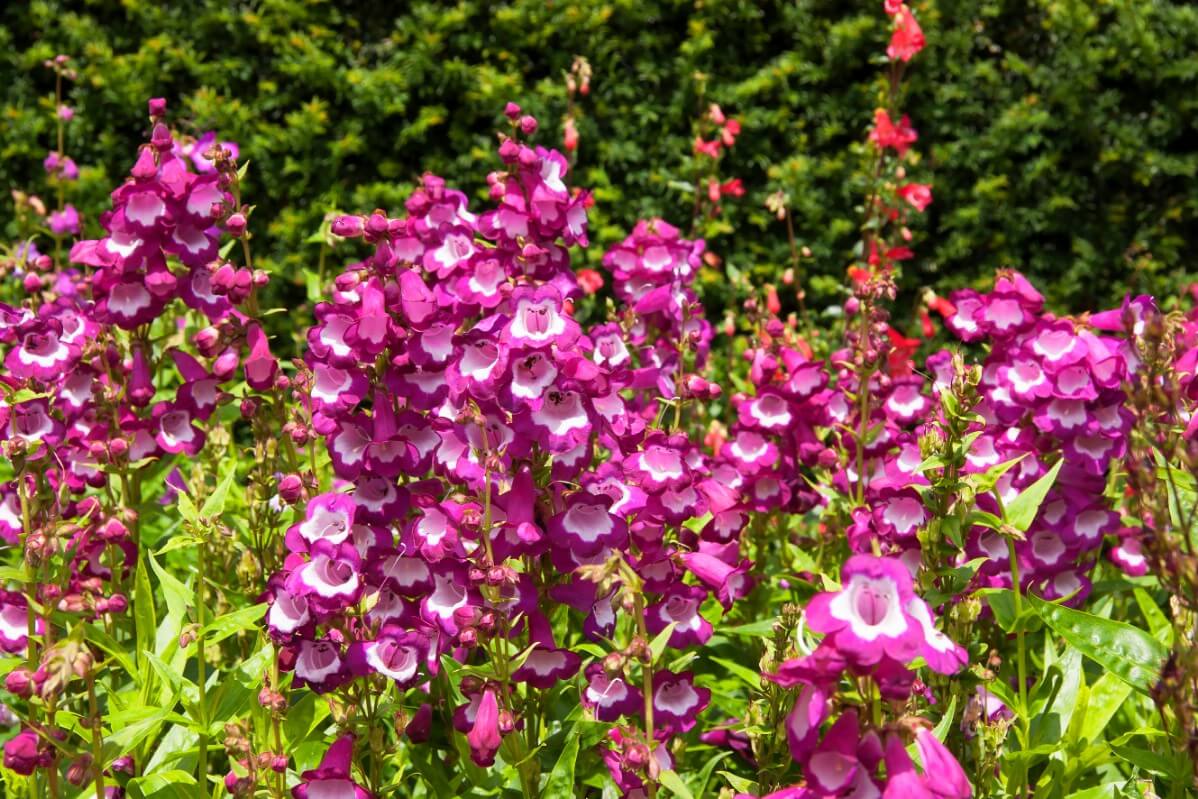 Penstemon perennial flowers belong to the genus by the same name, and sometimes are also called "beardtongues."
There are about 250 species of plants within this genus. Moreover, there are about 800 cultivars, so you can find quite a lot of variety.
The bell-shaped flowers grow on tall stems, and are available in numerous different colors.
Zones: 3-9
Sun: Full sun
Water: Average
Soil: Well-drained, not too wet
Why Plant Penstemon Flowers in Your Garden?
There are numerous cultivars to choose from. Whatever colors you want to fill your garden with, you are bound to find some options worth considering among the many varieties of Penstemon flowers.
The flowers are drought-tolerant. If you have been having a hard time finding bell-shaped flowers for a garden in a dry climate, these ones could be a good fit.
Pollinators love these plants. Hummingbirds and bees may frequent your garden if you plant these perennials.
Cultivars to Consider
Snowstorm: Also called "White Bedder," this variety features white flowers.
Pensham Czar: These white-throated blossoms feature purple around the edges of their petals.
Pensham Laura: This cultivar is quite similar to the one above, but instead of purple edges, they are pink.
Garnet: This cultivar's flowers are a deep red color.
20. Tulips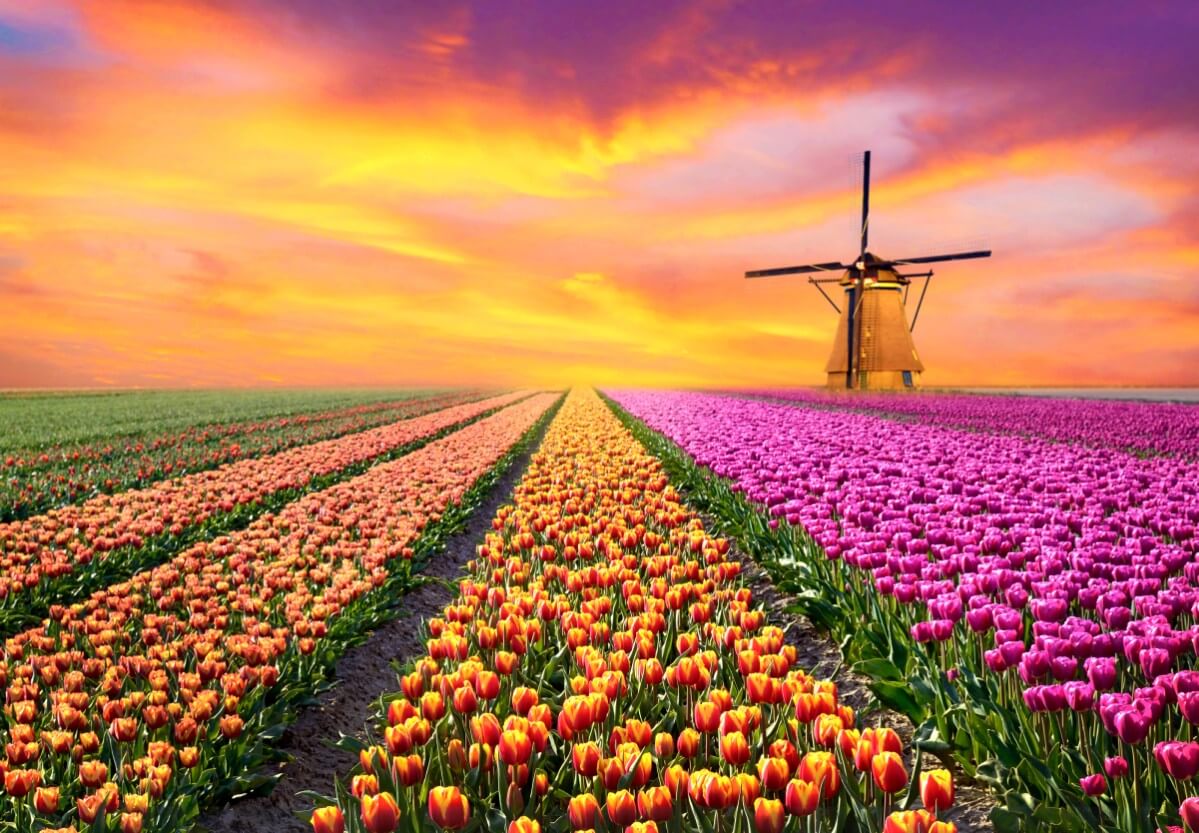 Finally, it is worth mentioning some of the most well known bell-shaped flowers out there, tulips.
These perennials produce large flowers with bell shapes that point directly upward.
In total, the Tulipa genus contains around 75 species. There are literally thousands of cultivars out there to enjoy.
Zones: 3-8
Sun: Full to partial
Water: Average
Soil: Loose, well-drained
Why Plant Tulips in Your Garden?
Tulips are spectacularly colorful. Wherever you plant them, their large blossoms will fill your garden with vibrant beauty.
You will never run out of new cultivars to plant. So, if you have been getting bored with the same thing every year, you will have fun with all that variety.
Growing tulips is easy. Even novice gardeners can grow them successfully.
Cultivars to Consider
Apricot Beauty: This variety of tulip features a warm apricot hue.
Giuseppe Verdi: Golden petals with red stripes make a statement on any landscape.
Bell Song: These coral and pink tulips feature white fringed edges.
Attila: The deep purple hues of these tulips make them an unforgettable addition to any garden.
Ballade: With purple petals rimmed in white, these graceful flowers seem to almost glow around the edges.
Fly Away: The slender, open petals of these orange tulips look almost like wings.
Buy Breathtaking Bell-Shaped Flowers for Your Garden Now
Now you know many different types of gorgeous bell-shaped blooms you can plant in your garden. Ready to shop these and other types of bell-shaped flowers? Click the link below to browse a wide selection.