Looking to add some color underneath your trees? Consider planting some begonias. These perennials can brighten up the shady parts of your garden with their vibrant hues. You'll find they are incredibly easy to maintain!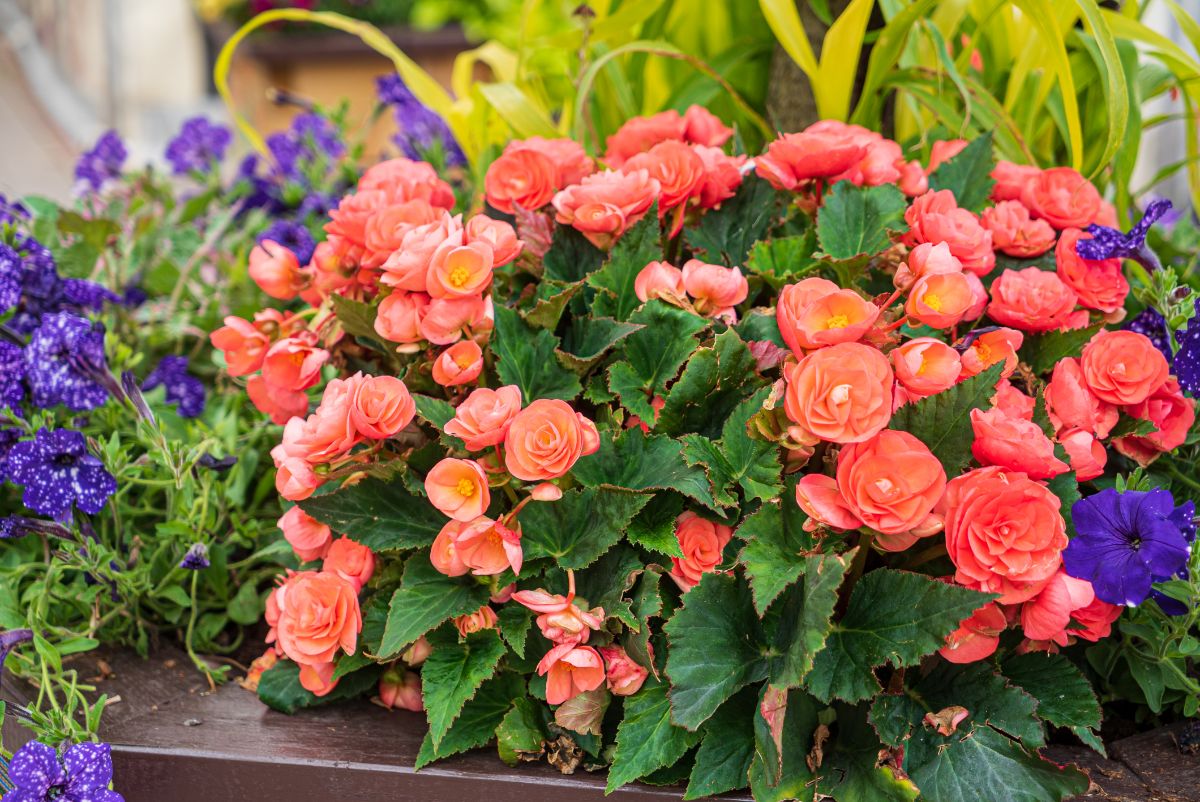 This post is your all-in-one guide to planting and taking care of begonias. We're going to go over planting instructions, propagation steps, ideal growing conditions, and more. You can use the advanced jump below to jump straight to the section you need.
Jump to:
What Are Begonias?
Begonias are perennial plants belonging to the genus with the same name, consisting of over 2,000 species. The Begonia genus is part of the family called Begoniaceae.
If you live in a warm climate zone, begonias will be happy outside in your garden. If you are in a colder climate zone, no worries—begonias make awesome houseplants!
With so many species, there are numerous cultivars and varieties presenting tremendous diversity in flowers and foliage.
Indeed, the Royal Horticultural Society has given the Award of Garden Merit to around 70 different begonia cultivars.
If you are brand new to begonias, you might find them a little intimidating. With so many different types to choose from (see below), it can be hard to know what to get. Plus, care instructions differ depending on what you buy.
Try not to let this daunt you. Once you know how to take care of the particular begonia you pick for your garden, you should find it is not too challenging to keep it flourishing.
Types of Begonias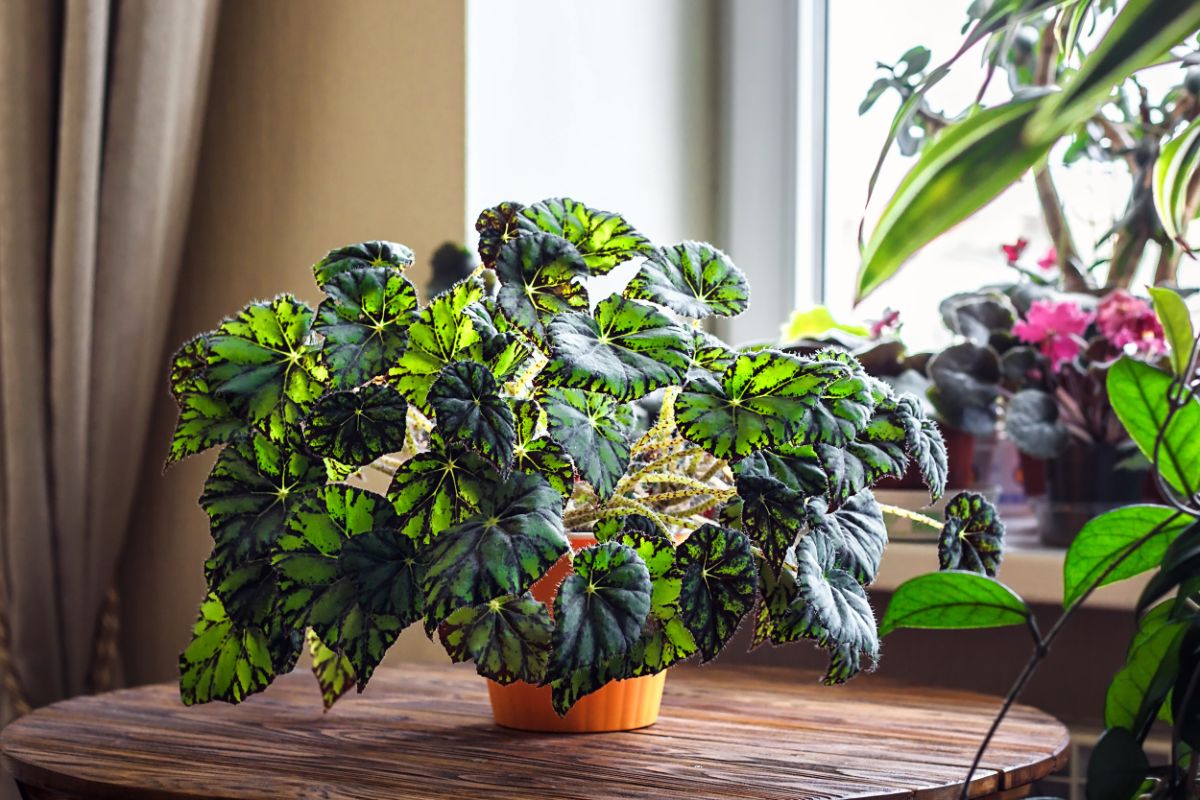 We will share some of our favorite cultivars of begonias with you in a later section. Now, we want to take a moment to introduce you to some of the broad categories of begonias.
• Wax begonias: These begonias are tender perennials, hardy in zones 10-11. If you are in a cooler climate, we recommend you grow them as houseplants. Indoor overwintering is also an option for outdoor plants in colder zones.
• Tuberous begonias: This category of begonias can grow as perennials in zones 9-11. You can either grow them as houseplants in cooler climate zones or overwinter them indoors.
• Rhizomatous begonias: What distinguishes these begonias visually is their foliage, which is fuzzy. People usually like to grow them indoors.
• Cane begonias: The stems of these begonia plants have joints, kind of like what you see on bamboo.
• Hardy begonias: As the name suggests, begonias with this classification may be able to survive cooler temperatures than some others, making them suitable for zones 6-9.
• Rieger begonias: This is actually a sub-classification of tuberous begonias. They do best in zones 8-11 outdoors, or you can grow them indoors.
This is not a comprehensive list of all the categories of begonias. There are others for you to explore as well, each with a wide range of exciting cultivars.
Begonia Basics
| | |
| --- | --- |
| Zones: | 2-12 (depending on the type) |
| Blooming season: | Spring-fall, or year-round |
| Expected height: | Up to 2 feet |
| Soil: | Well-draining |
| Sun: | Partial shade to full shade |
Where Do Begonias Grow?
Begonias are native to tropical parts of Central America, Africa, and Asia. Since then, they have been widely cultivated throughout the world.
Because they are tropical plants, they will be easiest to grow if you are in a warm climate. But do not assume you are out of luck if you are not. Some begonias can be grown in climate zones as low as 2.
Why Grow Begonias?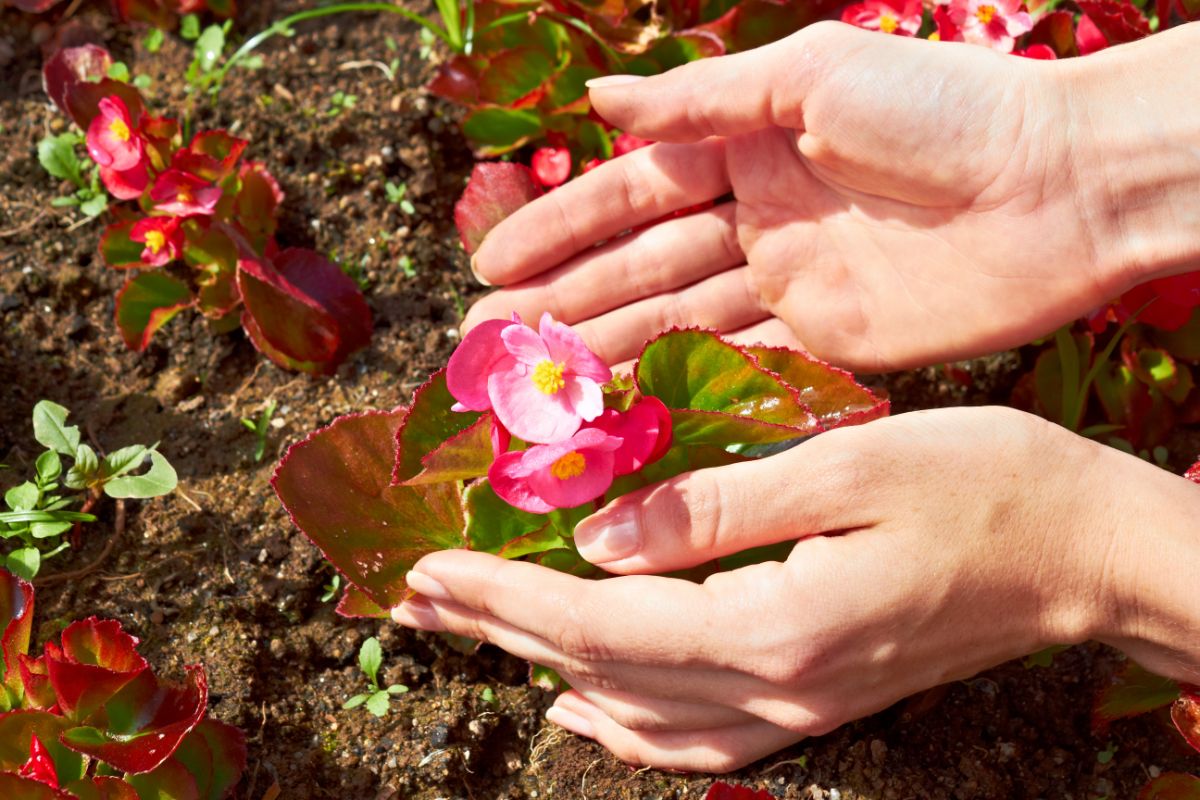 Here are a few reasons to think about growing begonias:
• No matter what climate zone you are living in, you can enjoy the spectacular beauty of begonias. They are suitable for growing indoors year-round, indoors part-time, or outdoors full-time, depending on the cultivar and your climate zone.
• With thousands of species and numerous highly-rated cultivars of begonias to explore, you will fall in love with the seemingly endless variety.
• These plants have a long bloom period, rewarding you with beautiful blossoms for months. Additionally, their foliage can be every bit as spectacular as their flowers.
• Begonias are generally rabbit-resistant and can sometimes be deer-resistant.
• Even though begonias require some maintenance (especially if you need to overwinter them), they are not too hard to grow after you figure out what you need to do for your specific type of begonia.
• It can be hard to figure out what to grow in shade gardens sometimes; many plants require more direct sunlight than you might have available. But begonias will be thrilled to enjoy filtered sun beneath the boughs of your trees.
Begonia Landscaping Ideas
Here are some popular ways to use begonias in landscaping:
• Borders: Perhaps the most common way to make use of begonias is to plant them in borders along walkways, lawns, etc. The dense blooms can create well-defined shapes, giving form to your landscape.
• Focal points: Consider planting begonias in a circle around a focal point in your garden, such as a tree. Indeed, they are particularly suitable for this purpose since they will grow well under the tree's shade. But they will also help to brighten up what might otherwise be a dark area underneath the tree.
• Shade gardens: Speaking of brightening things up, if you have a shade garden or wooded garden, begonias make it easy to add color and vibrancy.
• Container gardens: Begonias make wonderful potted plants. Place them on a deck or patio to enjoy the bright blooms.
• Indoor gardens: You can keep begonias as houseplants, either part-time or year-round.
Recommended Begonia Varieties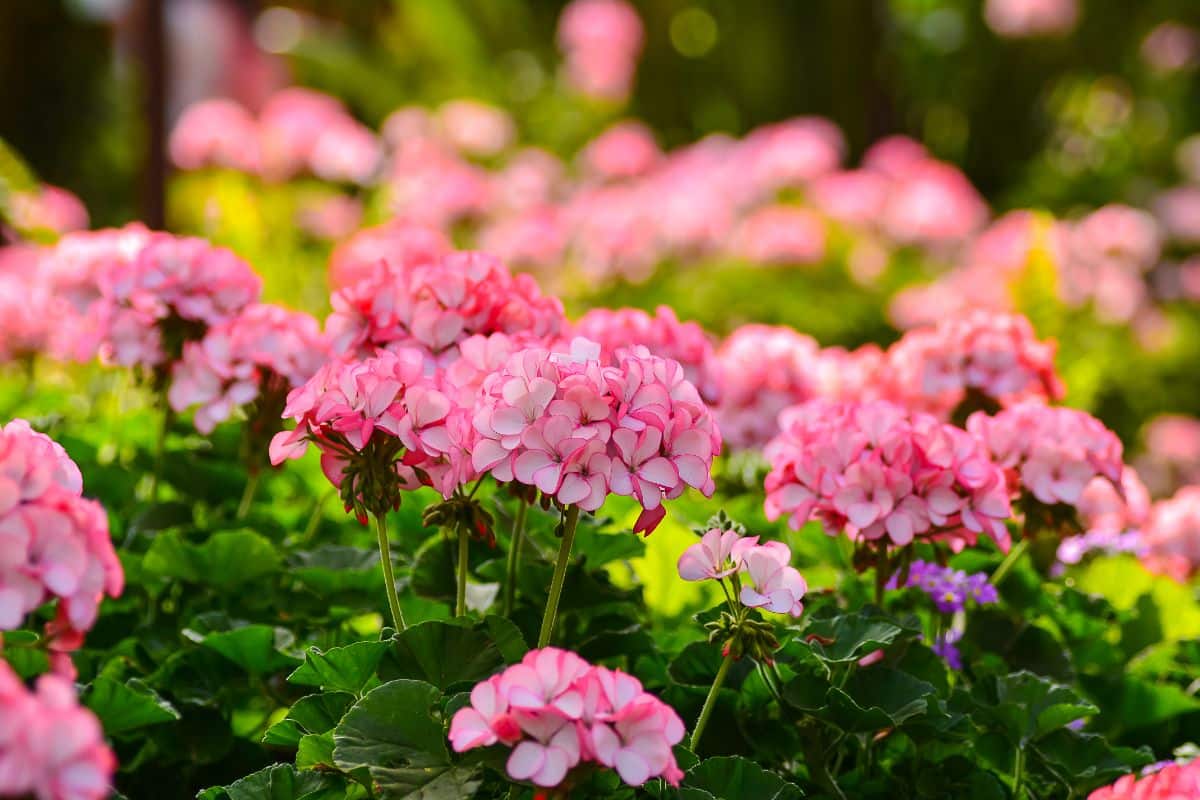 The varieties, cultivars, and hybrids of begonias will leave you with no end of choices for your garden. Let's take a look at some exciting options.
• Dusty Rose: This tuberous hybrid produces flowers that look similar to roses, thus the name. Indeed, at a glance, visitors to your garden might well mistake them as such. Roses, however, require lots of direct sun. So, Dusty Rose is a great option if you want to grow a rose-like plant in the shade where true roses would not thrive.
• Olympia Red: The showy flowers of this cultivar will catch your eye with their red petals and yellow centers. The leaves are waxy. This cultivar is ideal for borders.
• Double Up White: The double blooms of this cultivar of begonia are a showy white and very small. But as they are numerous, they are sure to grab attention.
• Bada Boom Pink: With a name like "Bada Boom Pink," you know that this is a cultivar that is going to shout across your garden with its vibrant colors! The leaves are dark, offsetting the hot pink blooms. If you have a bit more sun than is ideal for most begonias in your garden, this cultivar may do well. It can also withstand dry periods better than most.
• Victory Rose: These begonias are classic beauties featuring blooms that are a creamy color with pink edges.
• On Top Fandango: The fluffy blooms of this type of begonia are very pale pink, with the petals rimmed in thin lines of darker pink. These well-defined edges make every petal stand out individually for a beautiful effect.
• Begonia melanobullata. This is a species, rather than a cultivar, and one to consider if what you are after is a begonia with extremely unique leaves. They are green and covered in dark protrusions called bullae.
• Pin Up Flame: The single flowers on these begonias are named for their flame-like appearance. The centers are yellow, as are the petals close to the centers. They are orangey and pinkish around the edges, looking very much like fire.
• Amstel Clara: The white blooms of this cultivar have well-defined shapes similar to roses and make an elegant statement in your shade garden.
• On Top Sunset Shades: As you would expect, these double flowers are similar in appearance to those of On Top Fandango. But instead of being pink, they are a yellowish-peachy color with darker orange around the edges of the petals.
• Santa Cruz Sunset: For a type of begonia with an entirely different look than most, consider this cultivar. It features serrated leaves and orangey-reddish flowers that hang downward with long, narrow petals.
• T Rex Ruby Slippers: If you are planting begonias for their foliage, then you will love this cultivar with its reddish-pinkish leaves.
• Jurassic Silver Swirl: Another type of begonia with standout leaves is this cultivar. The name refers to the distinctive "swirl" shape of each leaf that looks kind of like what you would find on a shell. The contrasting dark and light green hues on each leaf and the rough edges add even more interest to its appearance.
• Heron's Pirouette: For a hardy begonia with gorgeous blooms, consider Heron's Pirouette. The dark green leaves make a lovely backdrop for the delicate bright pink flowers.
When Do Begonias Bloom?
Exactly when begonias bloom depends on the type of begonia, your location, and whether you are growing it indoors or outdoors. Many begonias start blooming in spring or summer and continue until the first frost.
How Long Do Begonias Bloom?
Begonias often produce continuous blooms for many months. In some conditions, certain types of begonias might bloom year-round.
When to Plant Begonias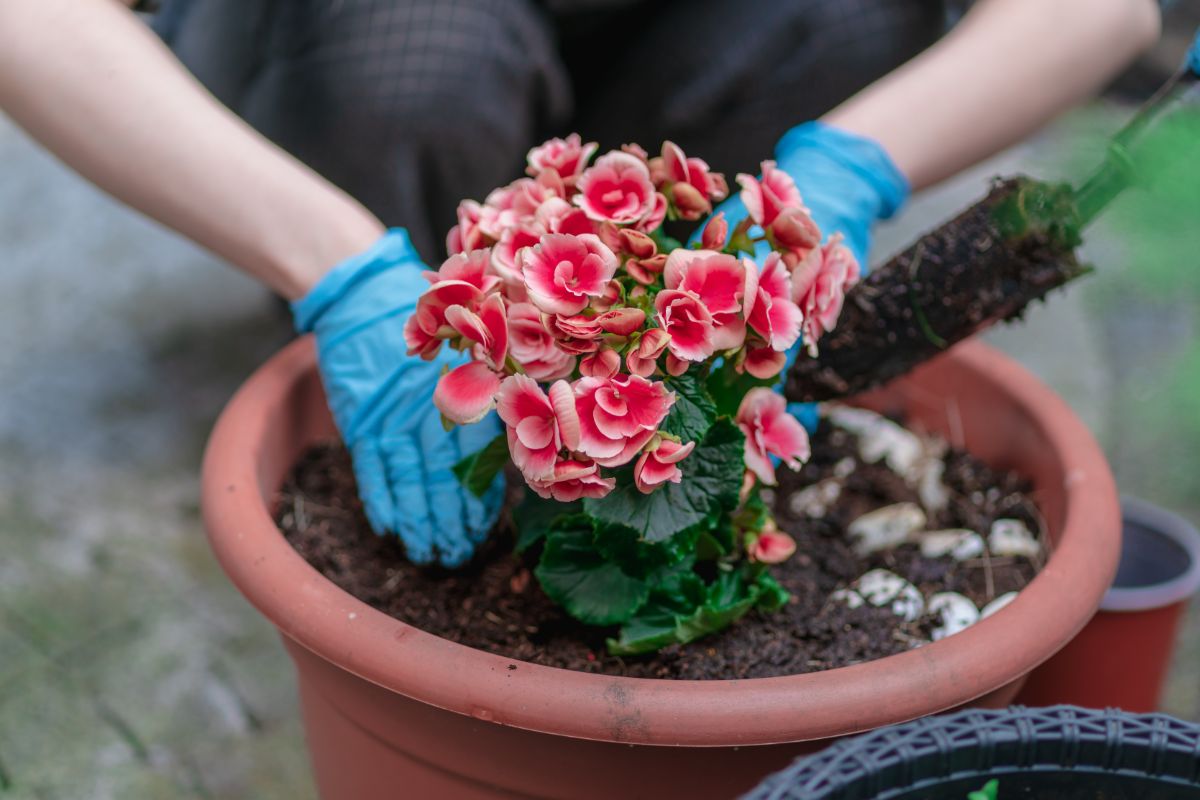 It is best to plant begonias in spring once you are confident the last frost is behind you. American Meadows suggests that if you are in zones 2-8, you start your tubers indoors 8-12 weeks earlier than that. The value of taking this additional step is that it can help the plant to produce more abundant flowers during the late part of the season.
The site suggests, "To help Begonia tubers warm up from their winter dormancy, place in a warm location (about 70°F) with indirect sunlight, preferably an east, west, or south facing window. If you don't have good natural light, grow lamps can provide the necessary light for growth. Water slightly every few days or when the soil has dried out. Water around the edges of your tuber, but not directly on it: avoid overwatering or soggy soil, as water can pool in the tuber's hollow dip and cause rot."
While you'll be doing some extra work, it will pay off when you get to enjoy more blooms later!
Ideal Growing Conditions for Begonias
For begonia plants to flourish, they need suitable sun, shade, and soil conditions. Let's go over their basic requirements so you can choose the perfect spot in your perennial garden for these colorful plants to grow their best.
How Much Sun Do Begonias Need?
Begonias do not like full sun. You should plant them in full shade or partial shade. If you choose a spot with partial sun, it is better if the sun falls on your begonias in the morning. The hot afternoon sun can easily be too much for them.
What Type of Soil is Right for Begonias?
Begonias like moist soil that drains effectively. In fact, begonias can develop rot at the drop of a hat, so soil drainage is absolutely essential. If you live in a colder climate zone, this becomes even more important. You can add organic materials to your soil if you need to enhance drainage. The best pH is in the range of 5.5-6.5.
How Much Water Do Begonias Need?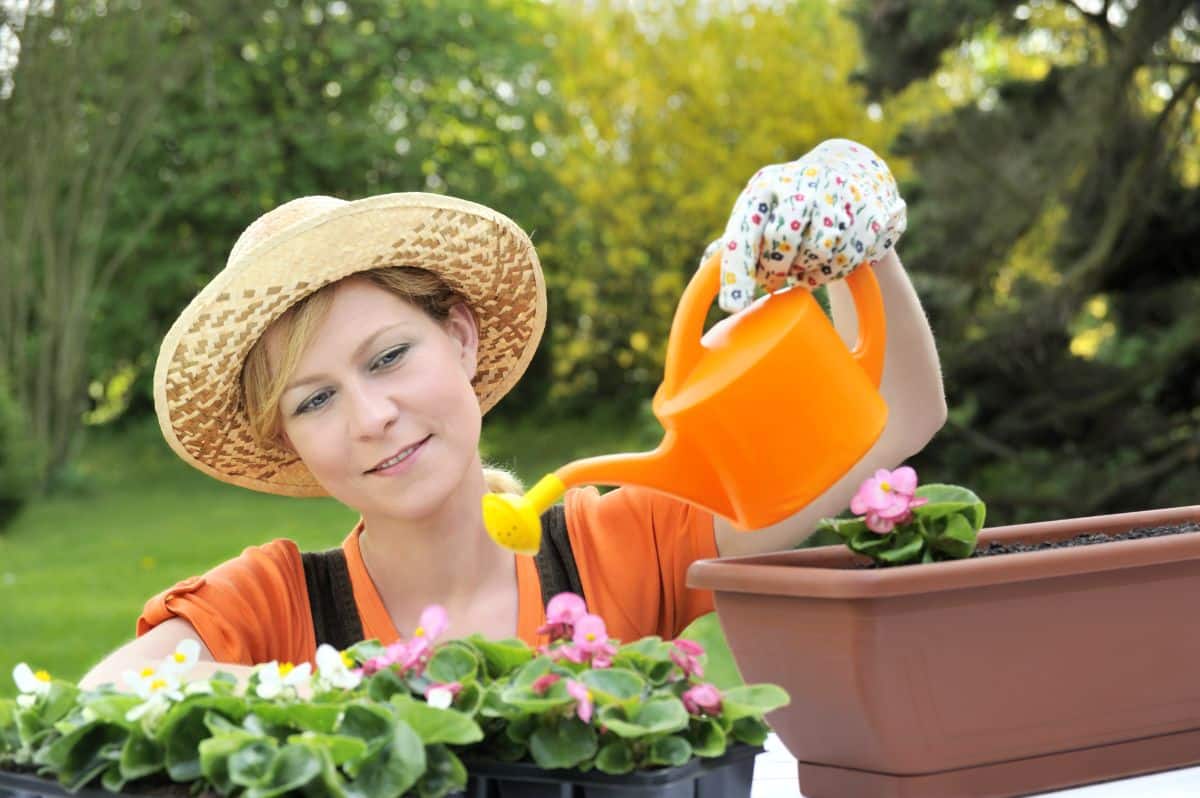 It is absolutely critical to make sure you are giving begonias an appropriate amount of water. If you give them too much, they will probably rot.
If there is plenty of rainfall, it might not be necessary for you to water your begonias. But if the soil is getting dry, then they could need water a couple of times a week.
You may want to water close to the base of the plant to avoid getting the water on the leaves. Not only will this reduce the chances of fungus and rot, but it will also prevent stains. Distilled water is least likely to discolor your begonia foliage and could be worth investing in if you have hard water in your area.
How to Plant Begonias
For our directions below on planting begonias in your flower beds or containers, we will assume you have a tuber, as this is more common than growing begonias from seeds.
Ground Planting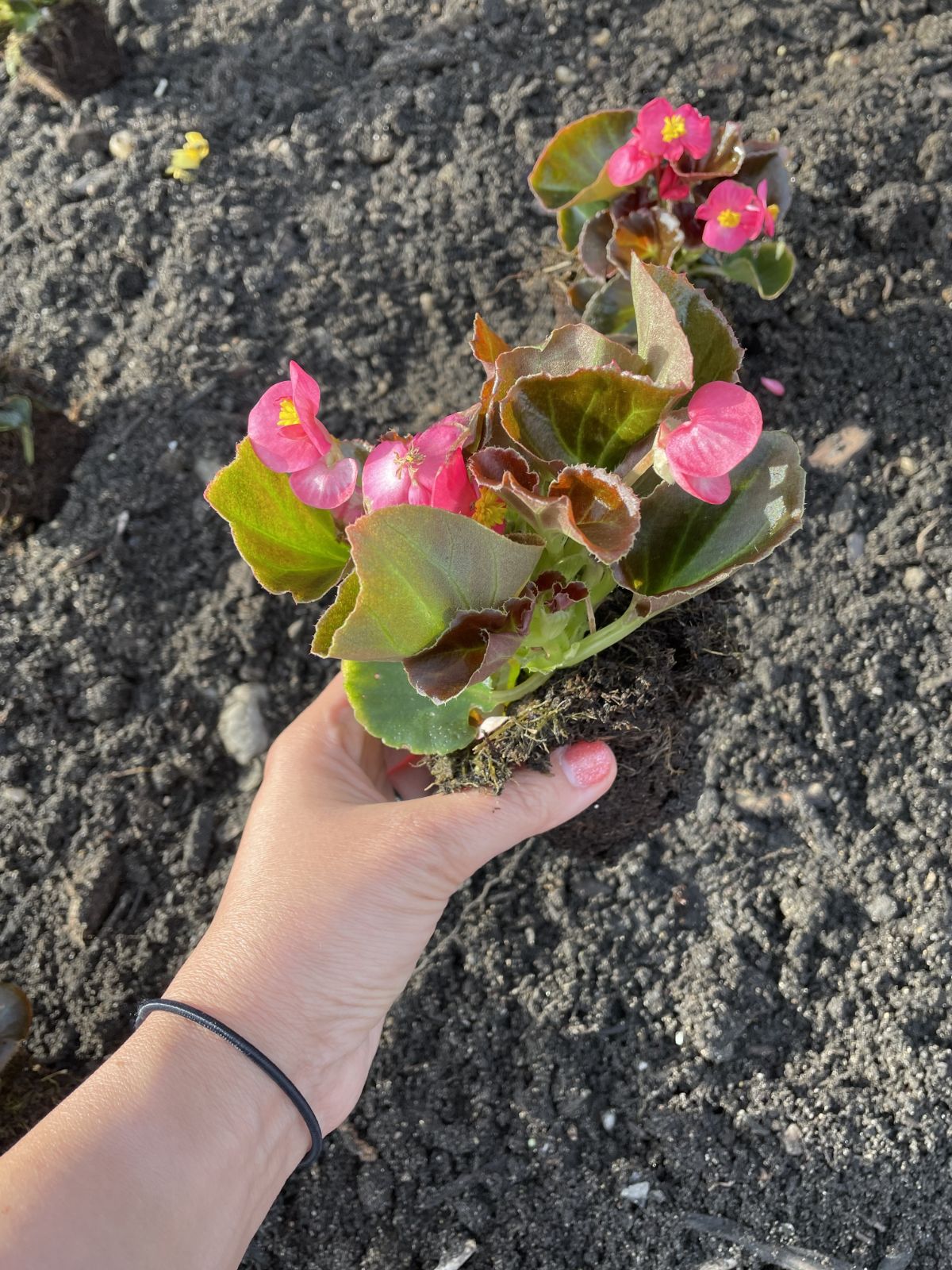 1. If you are planting your begonias in a cold climate, then start with the instructions in the section "When to Plant Begonias" for starting them indoors.
If, however, you are in zone 9 or 10, you can proceed immediately to the next step.
2. When there is no danger of frost, plant your begonias outside in your garden bed. Amend the soil if necessary to improve drainage, and then dig holes for your tubers.
3. Each tuber should be planted at a depth of about 1 inch. Space apart plants about 10-12 inches.
4. Backfill the soil and water well.
Container Planting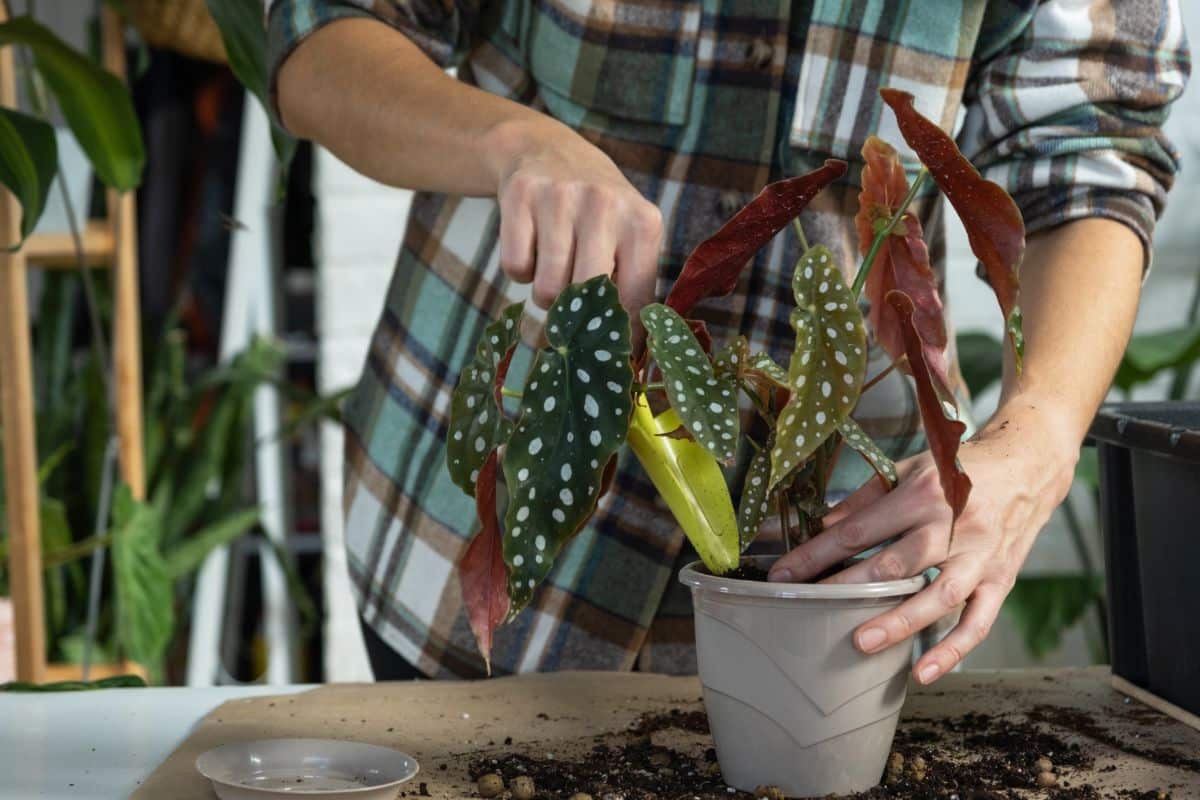 1. To plant begonias in containers, start by choosing pots with drainage holes.
2. Fill the containers with potting mix. Ideally, it should consist of loam, leaf mold, and sand in a mixture where leaf mold comprises the bulk. That said, potted begonias appreciate leaf mold, but it is not strictly necessary. You can get away with a standard potting mix if you have to.
3. Plant the begonias in the containers and backfill the soil.
4. Water the begonias in pots well.
How to Propagate Begonias
It is possible to propagate begonias using seeds or cuttings. Let's go over the directions for these propagation techniques.
Starting Begonias from Seed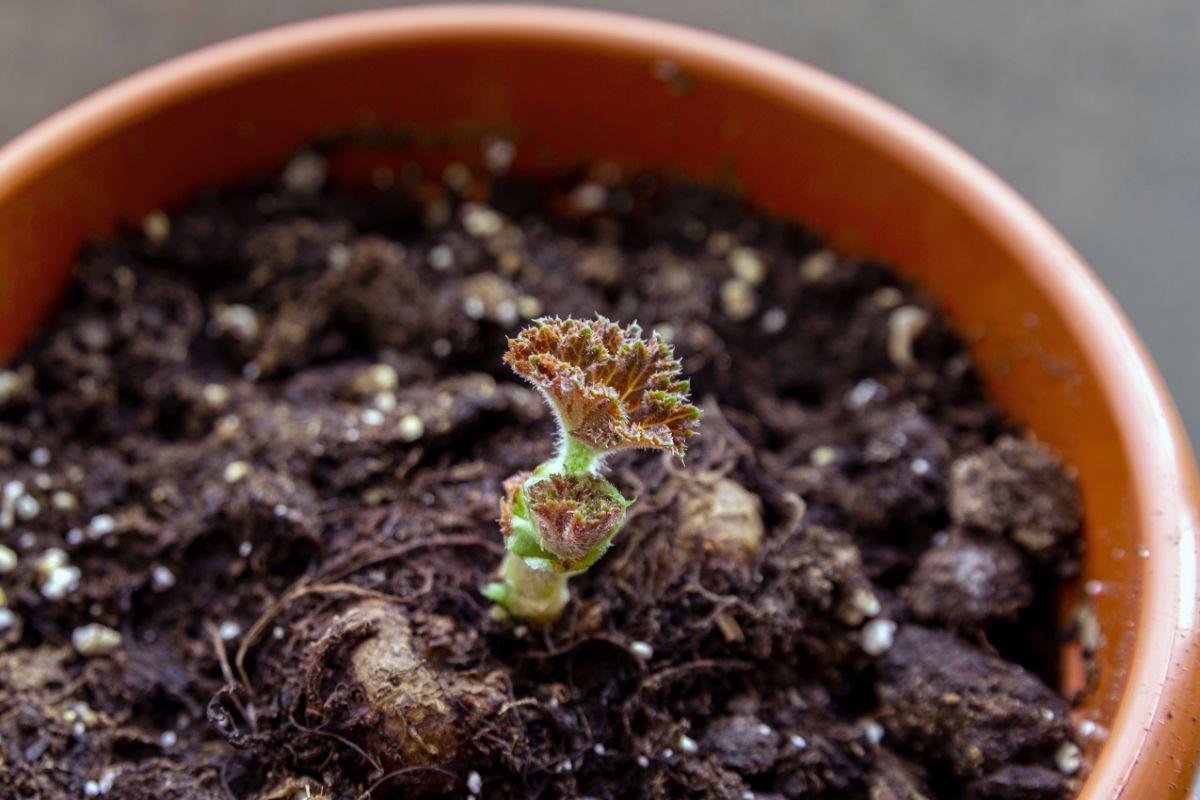 Below are directions for how you can start fibrous rooted begonias from seed. Note that with other types of begonias, you may need to vary your approach. Always look up the exact directions for your type of begonia.
Three months before you have marked your calendar for the last frost of the year, you can start the process.
1. Fill containers with drainage holes with seed starting formula.
2. Sow the seeds. You should only cover them with a super thin layer because they cannot germinate without light exposure.
3. Use a spray bottle to mist the seed starting formula, minding that you do not wash out the seeds.
4. Choose a well-lit spot for the seeds to germinate where the temperatures are around 70-75 degrees Fahrenheit. Consider heating the trays from below if they are in a spot where that will not make them too warm.
5. Monitor the trays and continue to keep the soil moist. If you are applying heat from below, you might need to moisten the soil more often as it may dry out more rapidly.
6. After around 15-21 days, you should see the seedlings sprouting. Once they do, put them somewhere; they will be exposed to more direct light. If you have a sunny sill available, that will work. If you do not, try using fluorescent grow lights for 16 hours a day. You should not let the plants get too hot though (in the window, for example).
7. Once the seedlings have two sets of true leaves, you can thin them out, so there is just one left in each cell.
8. 3-4 weeks after the seedlings pop up, you should feed them a starter solution.
9. After the last frost is beyond you, you can harden the seedlings. You may then transplant them.
Starting Begonias from Cuttings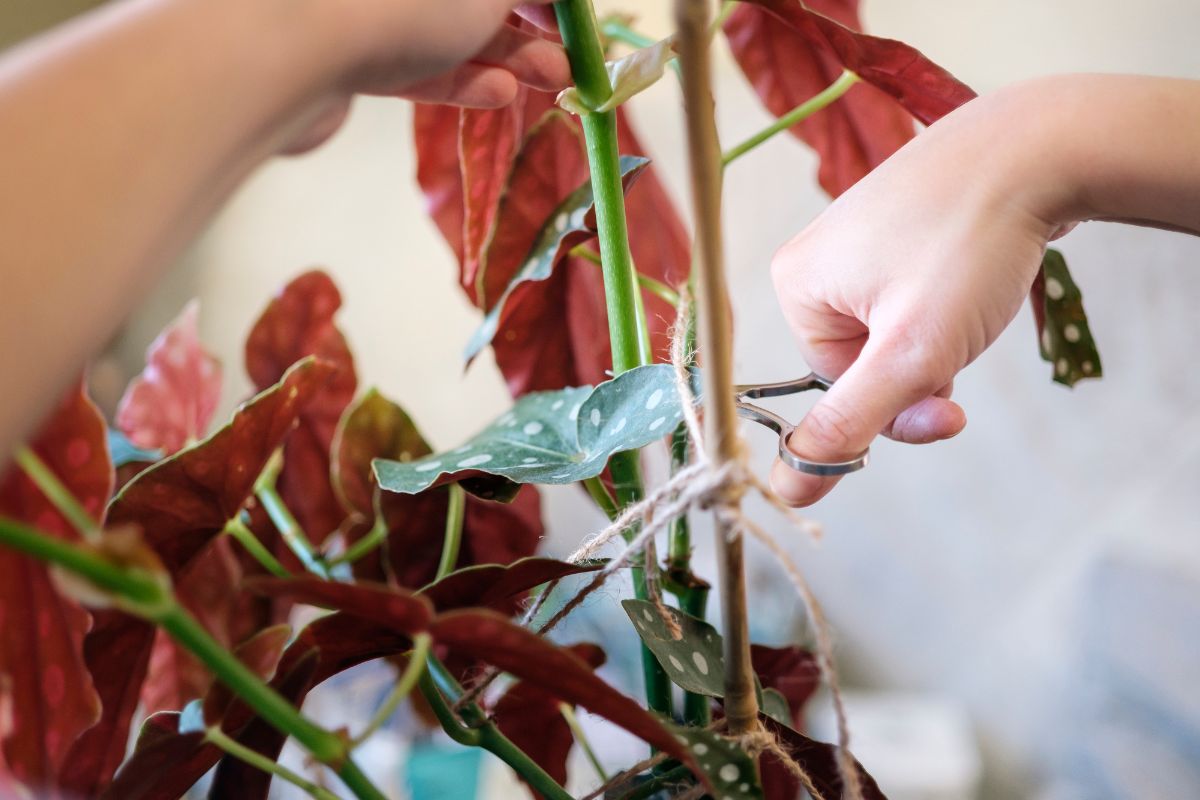 Propagating begonias from cuttings is simple and straightforward. Here is how to do it:
1. When the stems of your begonia plants are around 3", that is the perfect time to take some cuttings.
Should you cut above the tuber or into the tuber? Well, if you are willing to risk the tuber contracting disease, you can do it. But we don't really think this risk is worth the small benefit the bit of the tuber might give your cutting (assuming, that is, you care if the original tuber survives).
2. You do not need rooting hormone. Just insert the cut ends of the cuttings in potting mix in a container with drainage holes.
3. Use a spray bottle to gently moisten the soil.
4. Put a plastic cover on top of the container for the cuttings, but ensure it is not touching them.
5. Put the cuttings where they can receive some filtered light and wait for them to root. Moisten the soil when needed. After several weeks, you can take off the cover.
6. Transfer the rooted plant to its new home. If you are putting it outdoors, harden it first. It should blossom that same year.
How to Divide Begonias
It is possible to divide your begonias, but if you do it, you have to be careful. The University of Minnesota Extension writes, "Unlike potato tubers, you can't cut begonia tubers into pieces to produce more plants. Although some growers divide begonia tubers, they must make the divisions when the plant is actively growing, and the tuber pieces often become diseased and rotten. It is easier for homeowners to propagate rooting cuttings or starting from seed."
According to the Laidback Gardener, late winter or early spring are the best times for dividing begonia tubers if you are forced to do so.
The post suggests, "Locate two different sprouts, ones that are well separated on the tuber. (The further apart they are, the less there is a risk of rot reaching them.) Just use a clean, sharp knife and neatly cut the tuber in two between the sprouts, revealing white flesh … Dust the wound with sulfur or some other fungicide, then let it dry. I notice some websites say to let it dry for a few hours. I used to let the wound dry for 2 weeks or more until the cut surface was a crusty brown. Then you simply pot the tuber up."
Remember, you can simply skip the division and take the cuttings from the oversized tuber! Consider dispensing with the tuber altogether. Indeed, this gives you the opportunity to take bits of the tuber as part of the cuttings without worrying about the consequences for the original plant.
How to Care for Begonias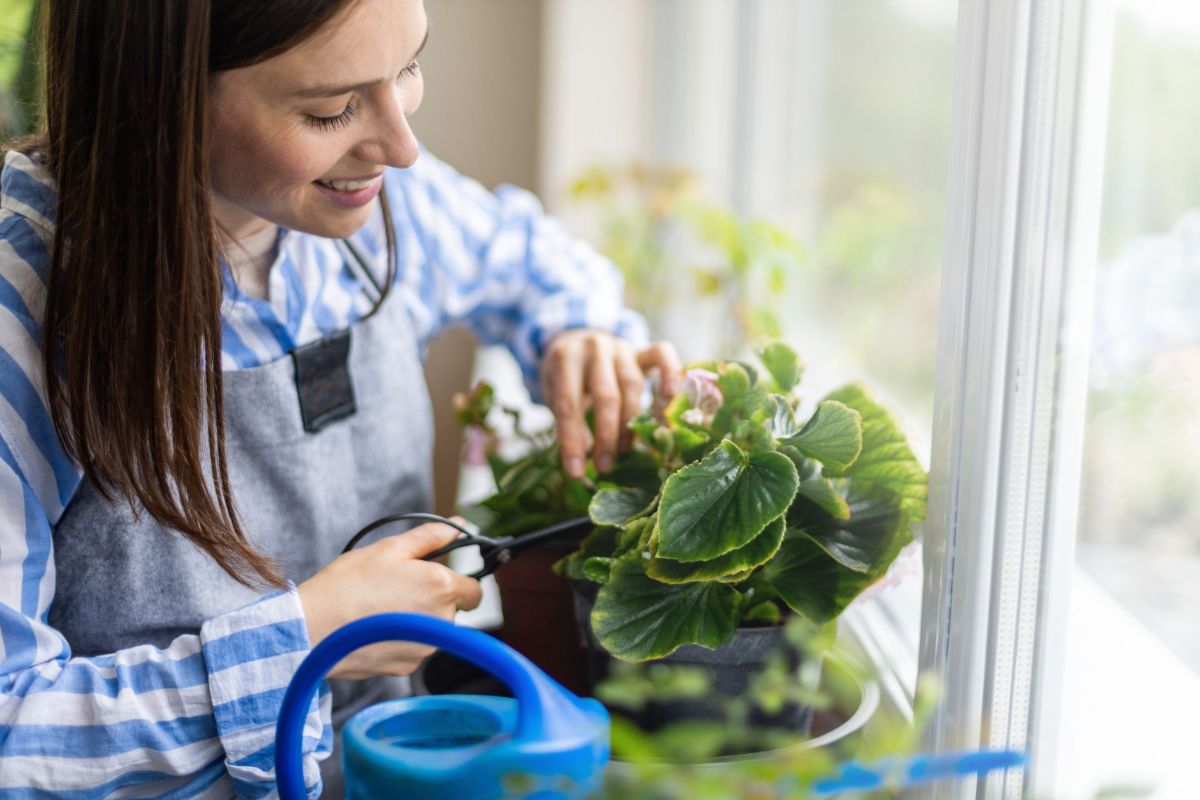 To keep your begonias happy and produce abundant blooms and spectacular foliage, you need to provide them with the care they need. Let's talk about their requirements for fertilizing, mulching, staking, and more.
How to Fertilize Begonias
It is recommended to use a balanced fertilizer for begonias when you plant them, after which you should switch to a high-phosphorus fertilizer to be used every month. But that is only if your goal is abundant blooms. If instead, you want the plant to produce more leaves than flowers, then a balanced fertilizer applied monthly will serve you better.
How to Mulch Begonias
You can mulch begonias growing in your flower beds, but you might not want to unless it is absolutely necessary. You can try using mulch if the soil is drying out rapidly or if weeds are growing too close to your plants. But if you are not having these issues, you may want to avoid it since mulch may improve water retention a bit too much. Whatever you do, do not put the mulch up against the stems. It takes so little for begonias to come down with rot. For begonias that are growing in pots, there is no reason to ever mulch them.
How to Stake Begonias
Staking begonias is sometimes necessary because their stems, leaves, and flowers can all be damaged by wind and rain. Planting them in a sheltered location can help, but you might need to use ties to attach taller cultivars to bamboo stakes or other stakes of your choice to prop them upright.
How to Prune Begonias
You should trim and deadhead your begonias to keep them looking their best. But the exact approach you should take depends on how you want your begonia plant to look.
American Meadows explains, "To encourage fuller, bushier growth, pinch back newly-formed growth tips when they are about 3-6 inches long. Repeat monthly until mid-summer. For fewer, larger flowers, pinch off new young stem growth while leaving new buds to grow into flowers. Pinch back to the second healthy bud from the tip. Deadhead regularly to clean up the tuberous begonia's look and to remove rotting old flowers that might infect the plants."
How to Overwinter Begonias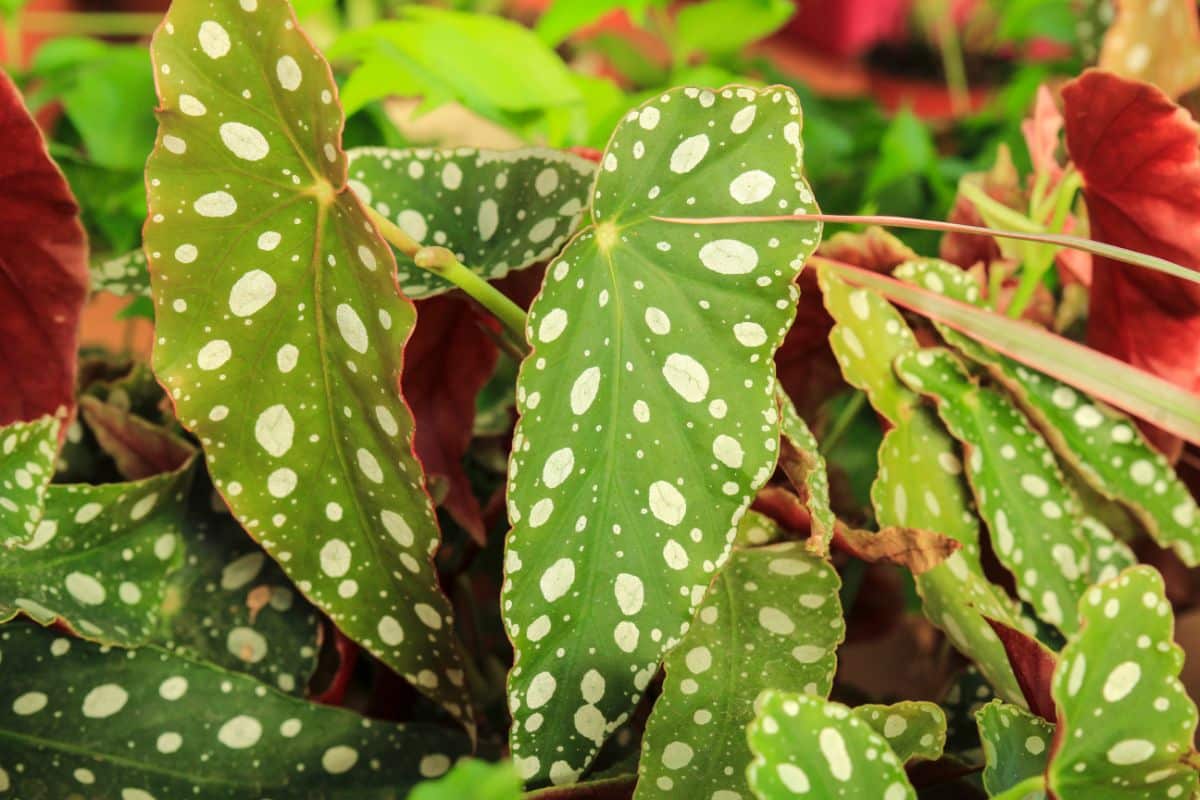 If you have begonias outdoors that cannot survive the winter, it is important to relocate them before the first frost.
If frost does manage to kill any of your begonias, you should get rid of them. If you do not, they may introduce disease to your garden.
After you finish trimming your begonias back for the winter, you can carefully dig them up. Wipe off the soil, and put them in boxes. Set those somewhere cool and sheltered (but not too cold). For example, they might do well in your basement. Wherever you store them, make sure they have sufficient airflow to prevent rot. You can then replant them in spring after the last frost.
What if your begonias are in containers? In that case, you do not need to dig them up and store them in boxes. Instead, you can just bring the pots indoors.
If they have bulbs, put them in a cool location where they can be dormant until spring. Do not water them. If they are fibrous, you can instead let them remain active as houseplants. Water them as usual and ensure they are receiving filtered sun.
Are Begonias Vulnerable to Diseases or Pests?
There are some diseases that commonly afflict begonia plants. Some of these include bacterial leaf spot, black rot, botrytis, damping off, and powdery mildew. They also may sometimes be hit by viruses. You can usually prevent these problems simply by ensuring adequate drainage and sufficient airflow for your begonias.
The pests that cause most problems with begonias include spider mites, scales, mealy bugs, thrips, slugs, and snails. Do not rush to use insecticidal soaps, however, because they can sometimes harm begonias themselves. You may need to take a careful approach to removing pests. If you can, try to prevent them altogether.
Rabbits usually avoid trying to eat begonia since they are toxic to them. So, that's great news if rabbits are a problem in your area!
What about deer? Whether or not begonias are deer-resistant varies from one type to the next. If you want to deter deer, consider choosing types of begonia that feature stems and foliage with textures that can be described as fuzzy, leathery, or waxy.
Elaborating on deer resistance among begonia varieties, Michigan State University writes, "Rex Begonias have rhizomatous stems, fuzzy leaves, and stunning foliage. Waxy-leaved begonias (e.g., bedding) have tuberous stems, waxy leaves and are grown more for their flowers than leaves. The large leaf wax begonias (e.g., angel wing begonia) have the most deer resistance because deer can still pluck smaller wax begonias right out of the ground (taste test), even if they do not want to eat them."
Recommended Planting Combinations for Begonia
What should you plant with begonias? Here are a few ideas:
• Ferns. Like begonias, ferns are shade-loving plants and can fill in the spaces around your begonias nicely in your wooded garden.
• Caladium. These plants, with their distinctive leaves, are sometimes called "elephant ear plants." Their delightful foliage will beautifully offset the leaves of your begonias.
• Bleeding heart: The shade and soil conditions that begonias prefer will also be conducive to growing bleeding hearts.
Frequently Asked Questions About Growing Begonias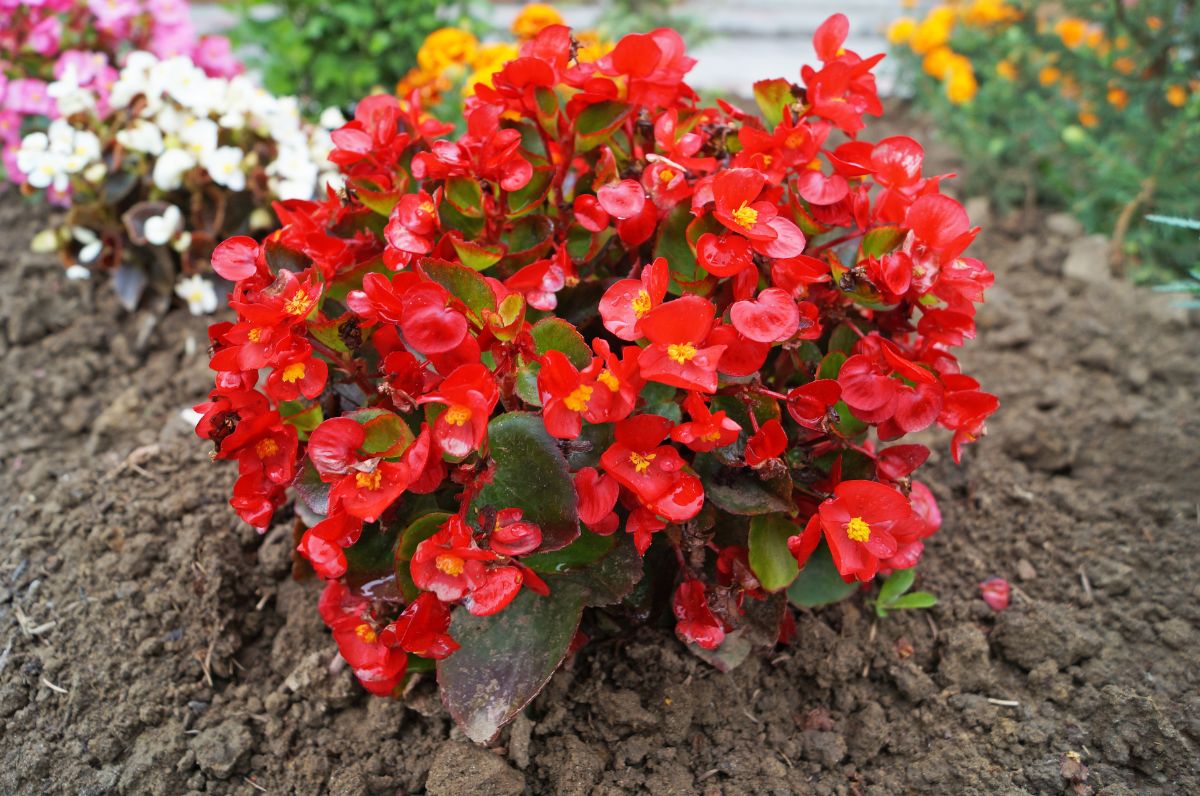 Let's answer a few questions we commonly see novice begonia gardeners asking about these popular plants.
What eats begonias?
Insects, slugs, and snails are most likely to be eating your begonias. Mammals are possible but less likely.
Are begonias poisonous to dogs and cats?
Yes, along with being toxic to rabbits, begonias are also toxic to dogs and cats. If they eat them, symptoms may include mouth pain, drooling, difficulty swallowing, and vomiting. If you notice these symptoms, call your vet. Try and keep these plants out of reach of your pets altogether.
Can you eat begonias?
It is not a good idea, at least not in significant amounts. There are parts of the world where people enjoy their sour flavor, but they only eat very small quantities of them. If you eat too much, you will be exposed to a toxic amount of oxalic acid. Frankly, we think it is probably best to play it safe and just not eat them.
Do begonias like to be rootbound?
To an extent, yes. Begonias want to be cozy in their pots and will thrive if they are able to fill them out before you move them. Of course, you do not want them to get overly root bound.
When it is time to relocate your begonia to a larger container, just choose one size bigger. If you try and increase the pot size too much at once, you might promote root rot. The American Begonia Society provides detailed instructions on potting and repotting begonias.
Do begonias have bulbs?
Note quite. They have tubers, which are similar to bulbs.
Are begonias annual or perennial?
Begonias are perennial plants that can produce blooms for years. How long they live depends on the care you provide, the conditions in which they are living, and the type of begonia you have.
A lot of people grow begonias as annuals in cold climate zones and simply let them die when temperatures drop too low. But overwintering these plants lets you keep them as perennials.
Where to Buy Begonias
Ready to bring the long-lasting beautiful blooms and attractive foliage of begonias to your garden? Online, you can shop the widest range of begonia cultivars. Enjoy months of colorful flowers year after year!