For an explosion of color in your flower beds, you might want to think about planting an herbaceous perennial plant known as the astilbe.
These stunning plants go by a couple of other names as well, the most common of which is "false goat's beard."
In this guide, we will teach you how to plant false goat's beard and care for it. We will also answer your questions about astilbe pests, diseases, companion planting, varieties, and more.
Jump to:
What Are Astilbes?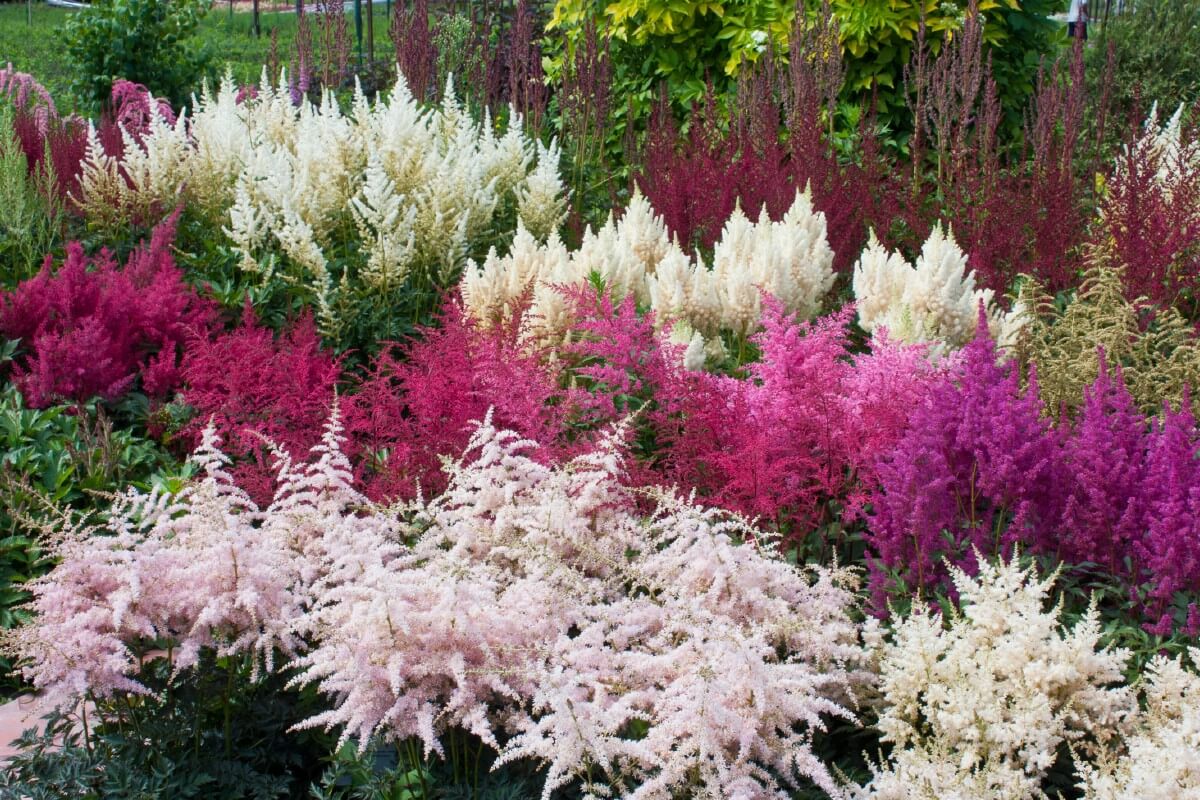 Astilbe refers to an entire genus of plants, comprising 18 species. They belong to the Saxifragaceae family.
The leaves of the plant are beautiful, as are the flower plumes. And since they are perennials, they will come back year after year for you to enjoy.
Though the common name most widely in use is "false goat's beard," the name "false spirea" is used as well sometimes.
The reason we call the plant "false goat's beard" is because it bears some resemblance to another plant with the common name "goat's beard."
Goat's beard is not related to false goat's beard, however. The scientific name for goat's beard is Aruncus dioicus. Sometimes it is also called "bride's feathers."
Astilbe Basics
| | |
| --- | --- |
| Zones: | 3-9 |
| Blooming season: | Spring and summer |
| Expected height: | 6 inches to 5 feet |
| Soil: | Loamy |
| Sun: | Part sun or shade |
Where Do Astilbes Grow?
False goat's beard is native to North America and Asia and is typically found in forests and ravines.
But it can be cultivated in any suitable climate zone. So if you are in zones 3 through 9, you should be able to grow it in your garden with the right sun and soil conditions.
Why Grow Astilbes?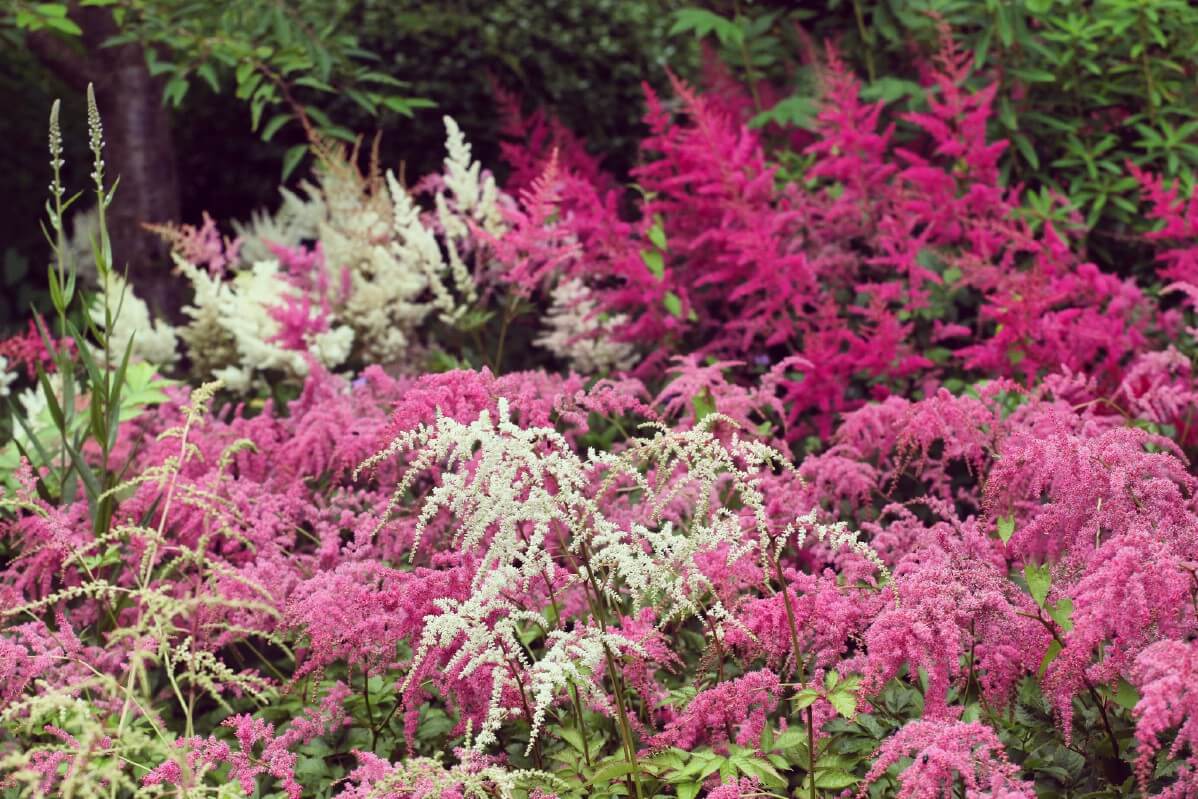 Here are a few reasons to think about planting false goat's beard in your garden:
These plants thrive in shady conditions, making them ideal for woodland gardens. They will be happy where more sun-thirsty plants might languish. They will appreciate the filtered sun that makes its way down through the trees above, while tolerating deep shade when they have to.
Unlike a lot of other plants, these ones do not mind water-logged soil. So, if you have been struggling to find something that can survive in your boggy soil, you will be happy to discover false goat's beard.
The big leaves are attractive. Sometimes when grown in really shady spots, these plants may not produce a lot of flowers. But the leaves themselves are gorgeous and can help fill out an empty spot beneath your trees.
The flower plumes are colorful and dramatic. They will easily catch the eye from all the way across your garden, and will stand out even without the sun shining on them.
Bees and butterflies like false goat's beard. The attraction in both cases is the plant's nectar.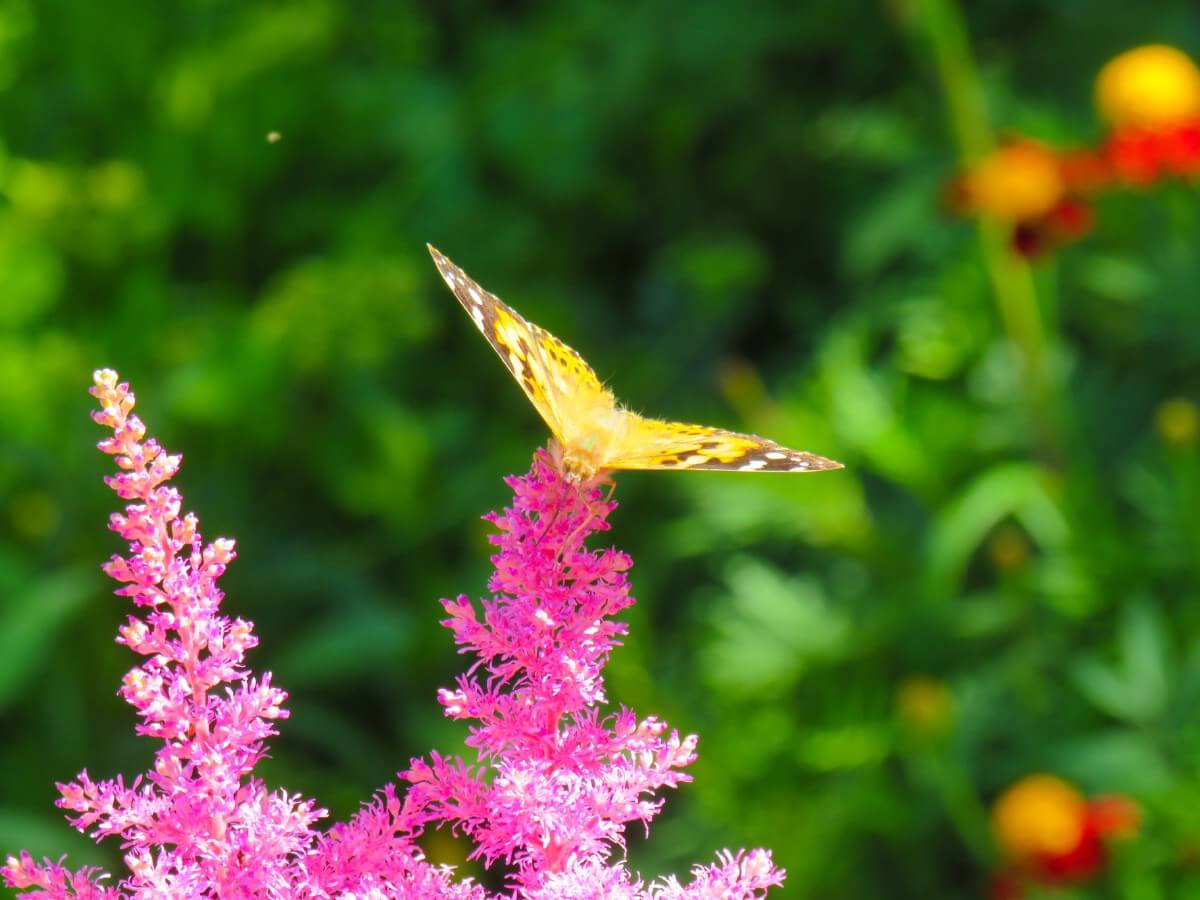 Up to several months of blooming is possible if you plant multiple cultivars.
Pests and diseases are not a major issue for this plant. Because this is the case, it can make a good choice for a novice gardener.
We can consider astilbe to be a deer-resistant plant as well as a rabbit-resistant plant.
Even slugs and snails are not into eating false goat's beard!
You can fill out a flower arrangement nicely with plumes of false goat's beard Indeed, even after you cut them, they can last pretty long. And when they dry up, they can still look good. So, they are perfect for this purpose.
Recommended Astilbe Varieties
Like many other perennials, false goat's beard comes in a number of different cultivars. Here are some that you might enjoy in your woodland garden: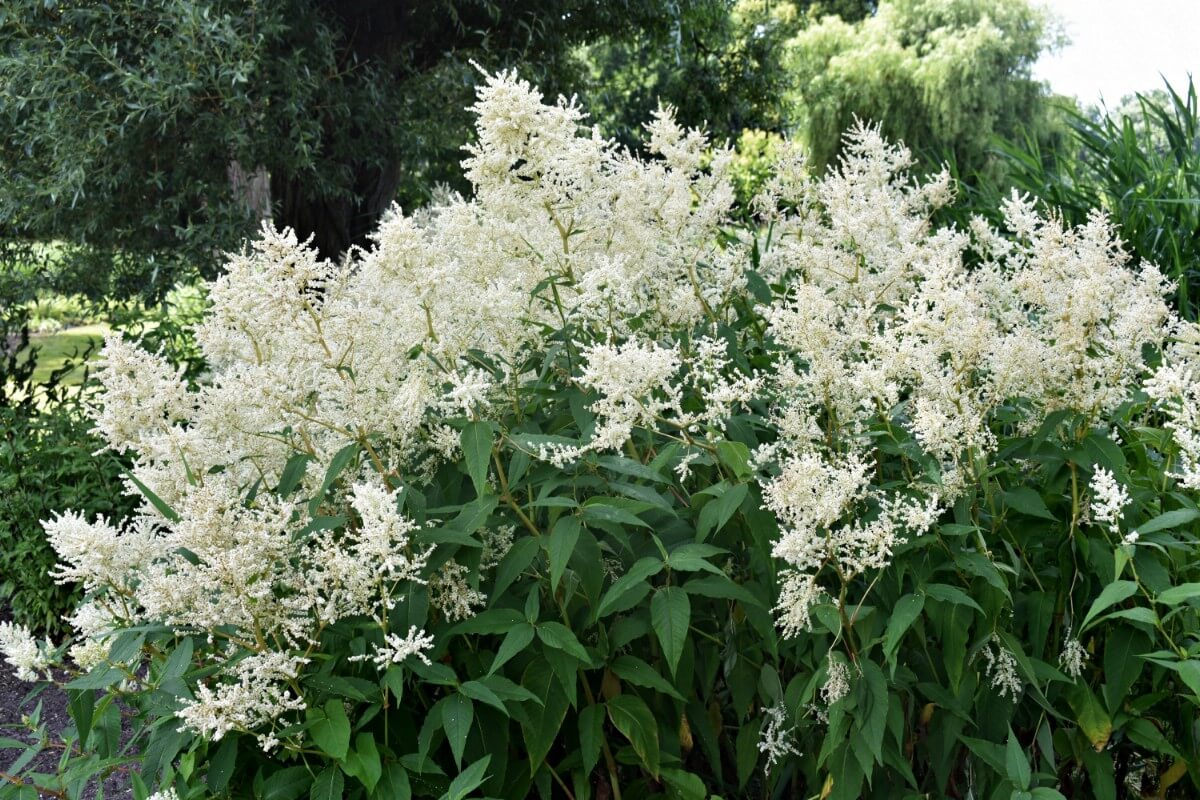 Bridal Veil: Given its name, it probably does not surprise you that this cultivar of astilbe features white plumes. They can contrast vividly with the dark shadows of their surroundings. Summer bloom times bring beauty to your garden in the early and middle part of the season.
Amethyst: This type of astilbe has a color that can be described as a light purplish pink. Indeed, it could be said to be closer in color to rose quartz than amethyst.
Deft Lace: Another intriguing variety of astilbe for those looking for pink flowers is the one called "Deft Lace." While the flowers are pink, the stems are red, and this results in a pleasing gradient of hues. Additionally, the leaves have a bluish tint to them, not unlike those of hostas.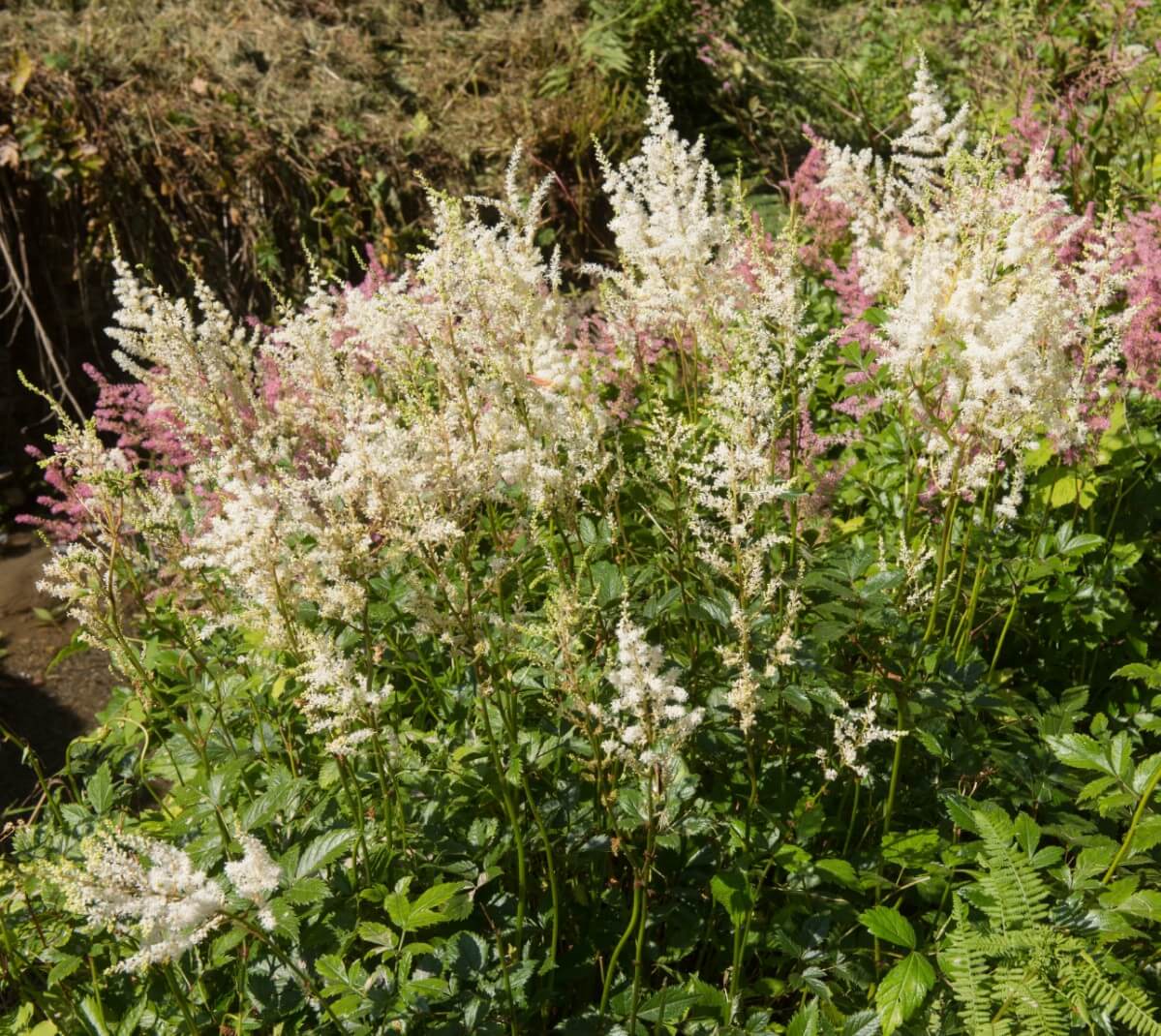 Diamond: Another option for white astilbe flowers is the "Diamond" variety. The plumes of this cultivar are more slim than those of some other varieties. This shape is one of the attractions of the cultivar, together with its white blossoms.
Chocolate Shotgun: Are you in search of a cultivar of false goat's beard that features unusual, attractive foliage for your shady garden? While regular green foliage is most common for these plants, this cultivar features leaves with a dark brownish-greenish color. As for the flowers, they are pink. Not only is "Chocolate Shotgun" striking to admire, but it boasts another selling point as well, and that is how easy it is to grow. It is more versatile than most, and can even handle warmth and sunlight if you water it sufficiently.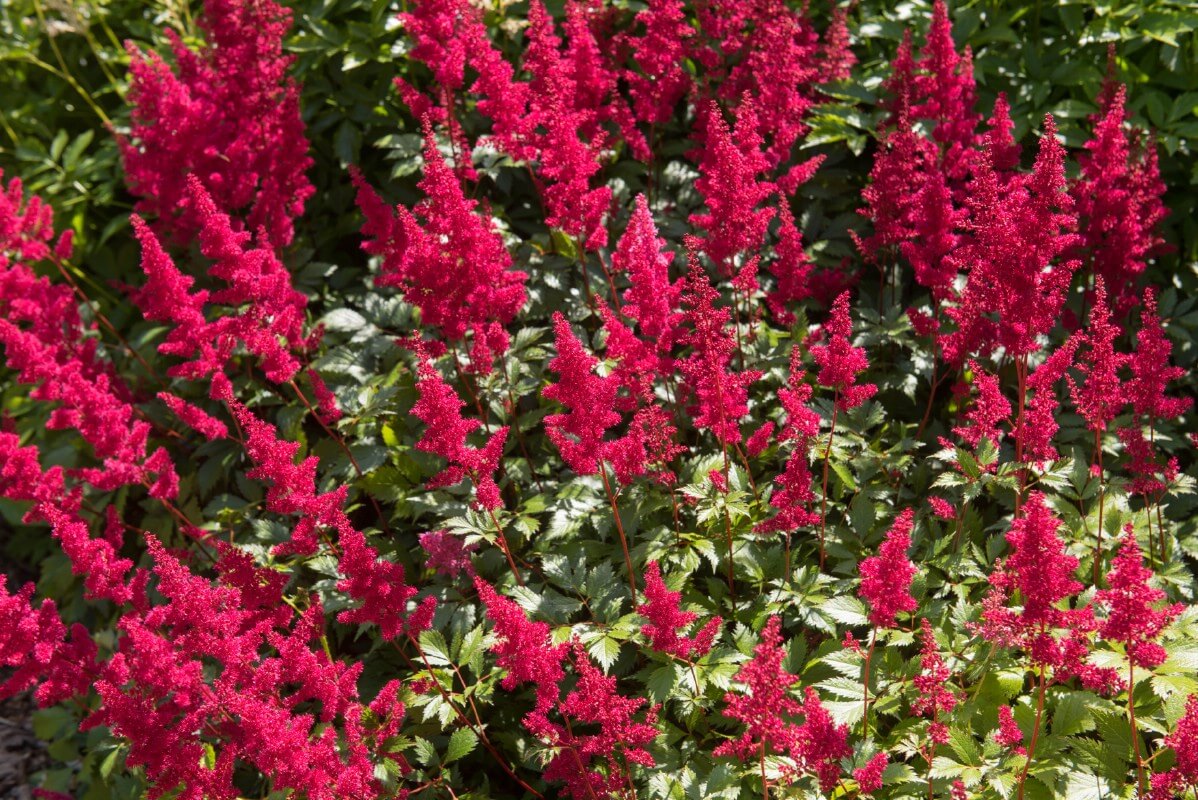 Fanal: Looking for plume-like flowers with a vibrant red hue? The "Fanal" cultivar of astilbe is sure to delight you.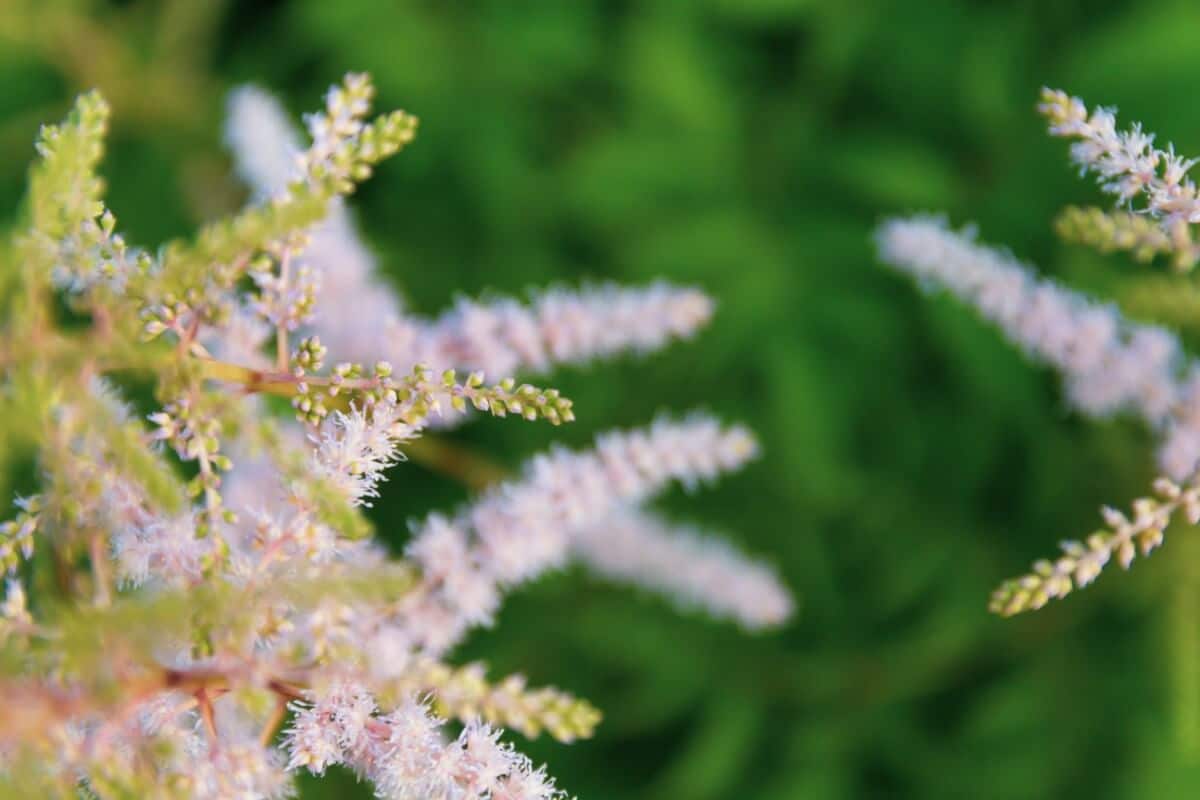 Peach Blossom: Another of our favorite astilbe varieties is "Peach Blossom," an early-blooming hybrid from Japan. True to its name, it sports spectacular peach blossoms.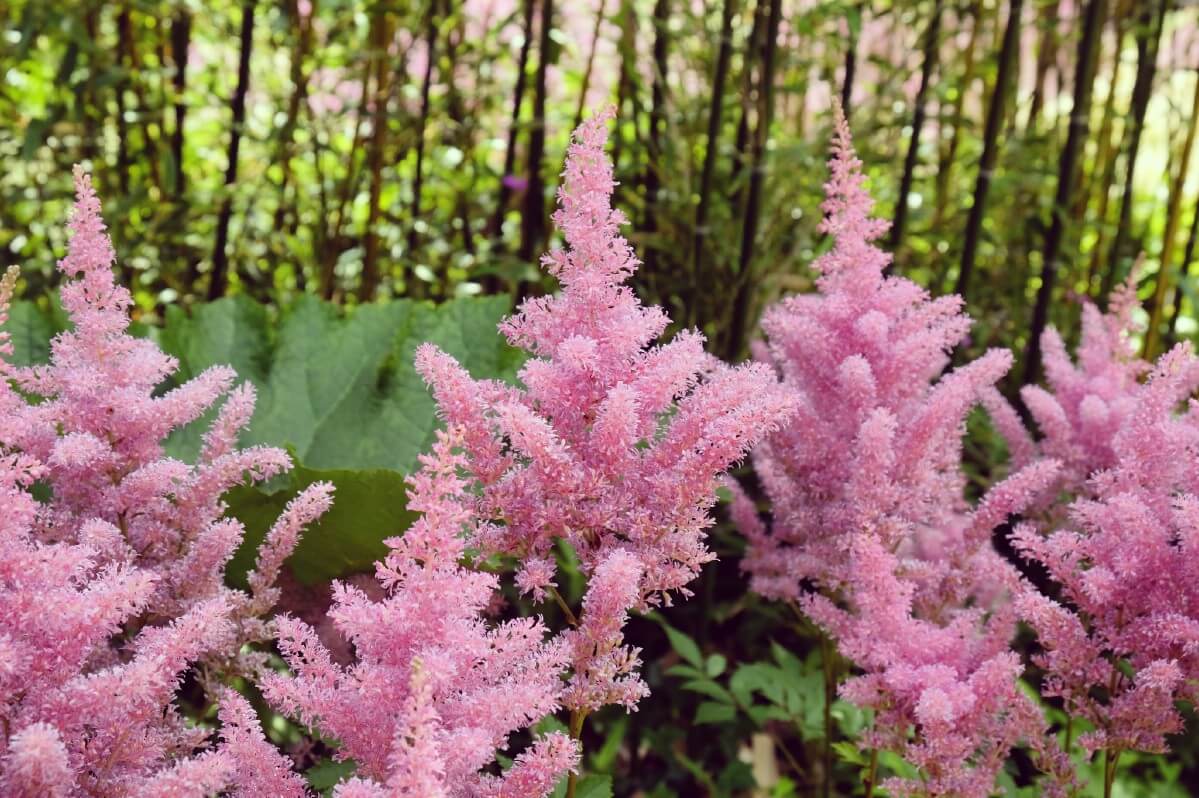 Rheinland: Want a really fluffy pink variety of astilbe? Consider "Rheinland," with its bountiful blossoms.
Younique Salmon: Just as its name indicates, this is a type of astilbe that produces salmon-colored blossoms. You will love their fluffy appearance and how long the blooms last.
Enjoy these cultivars of astilbe, and consider checking out others as well!
When Do Astilbes Bloom?
The exact bloom season for false goat's beard varies depending on the cultivar you plant. With some varieties, you might see colorful plumes as soon as May. With others, you might not have any flowers until as late as August. Still other cultivars bloom somewhere in between those months.
How Long Do Astilbes Bloom?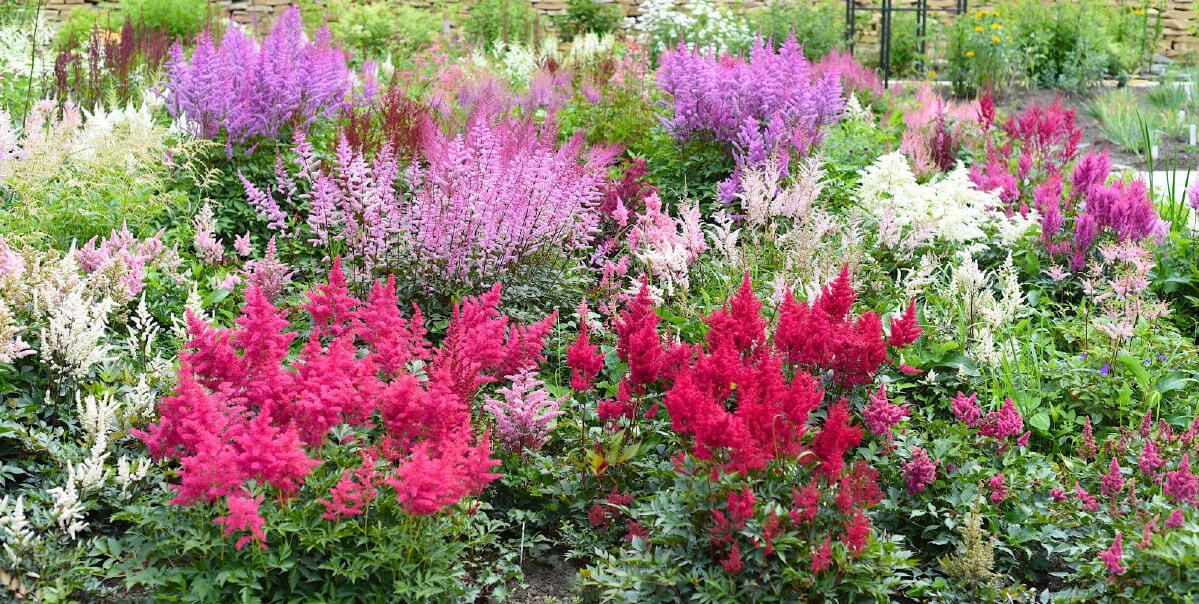 Once your astilbes are in bloom, you can expect to enjoy their vibrant colors until the 4-6 week bloom period is over.
If you plant more than one cultivar, and you choose some that bloom earlier and later, you may have some false goat's beard in blossom for as long several months.
When to Plant Astilbes
The best seasons for planting false goat's beard are in the spring and autumn.
How to Use Astilbes in Your Garden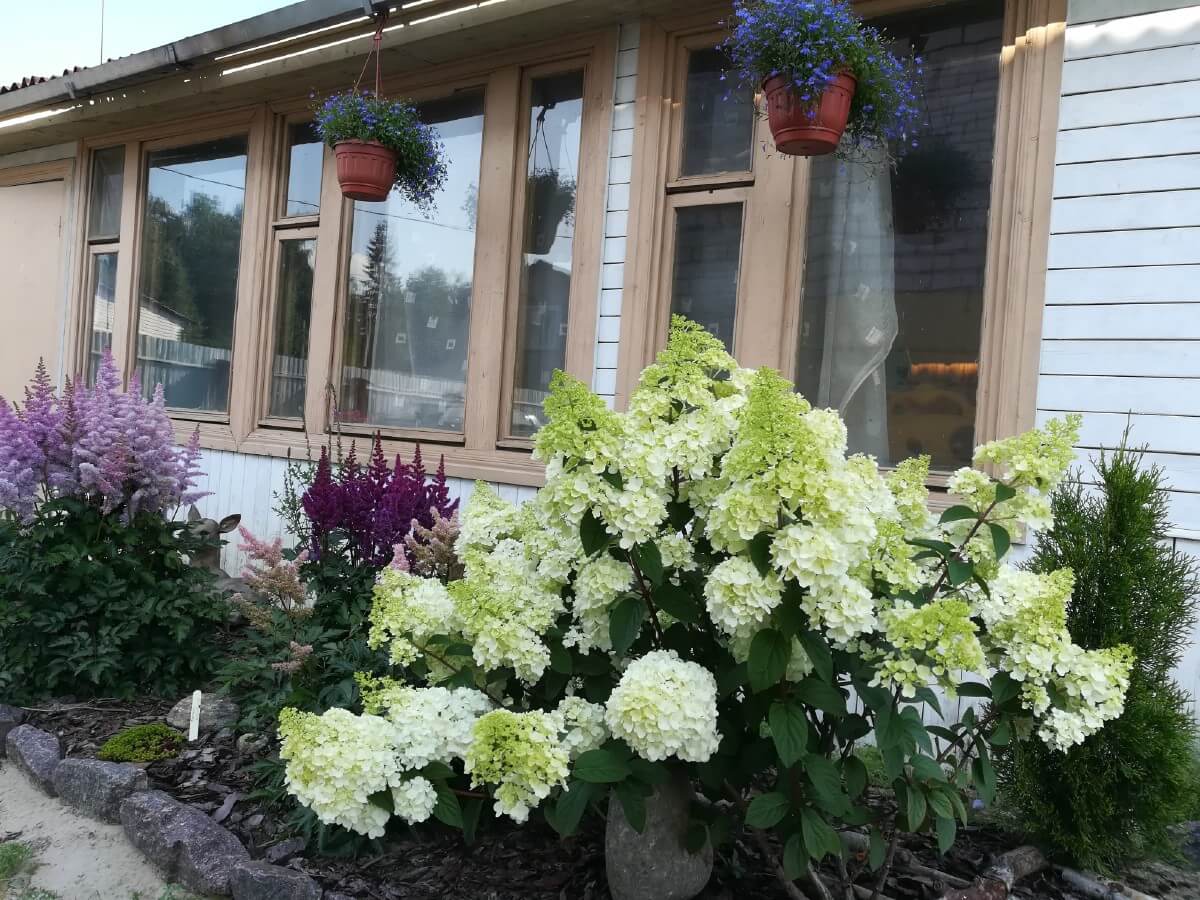 Add color to shady areas. Shaded spots in your garden may appear dark, detracting from the beauty of your garden. Other smaller, less vibrant shade flowers may not stand out much and may be easy to miss in the shadows. But the colorful plumes of false goat's beard will stand out even in the darkest spots, brightening them up.
Line a water feature. If you have a pond, stream, or other water feature in your yard, you can surround it with astilbes. Many other plants might not thrive in boggy soil, but these ones should. In fact, they can help attract the eye to your water feature, making it more of a focal point in your landscaping.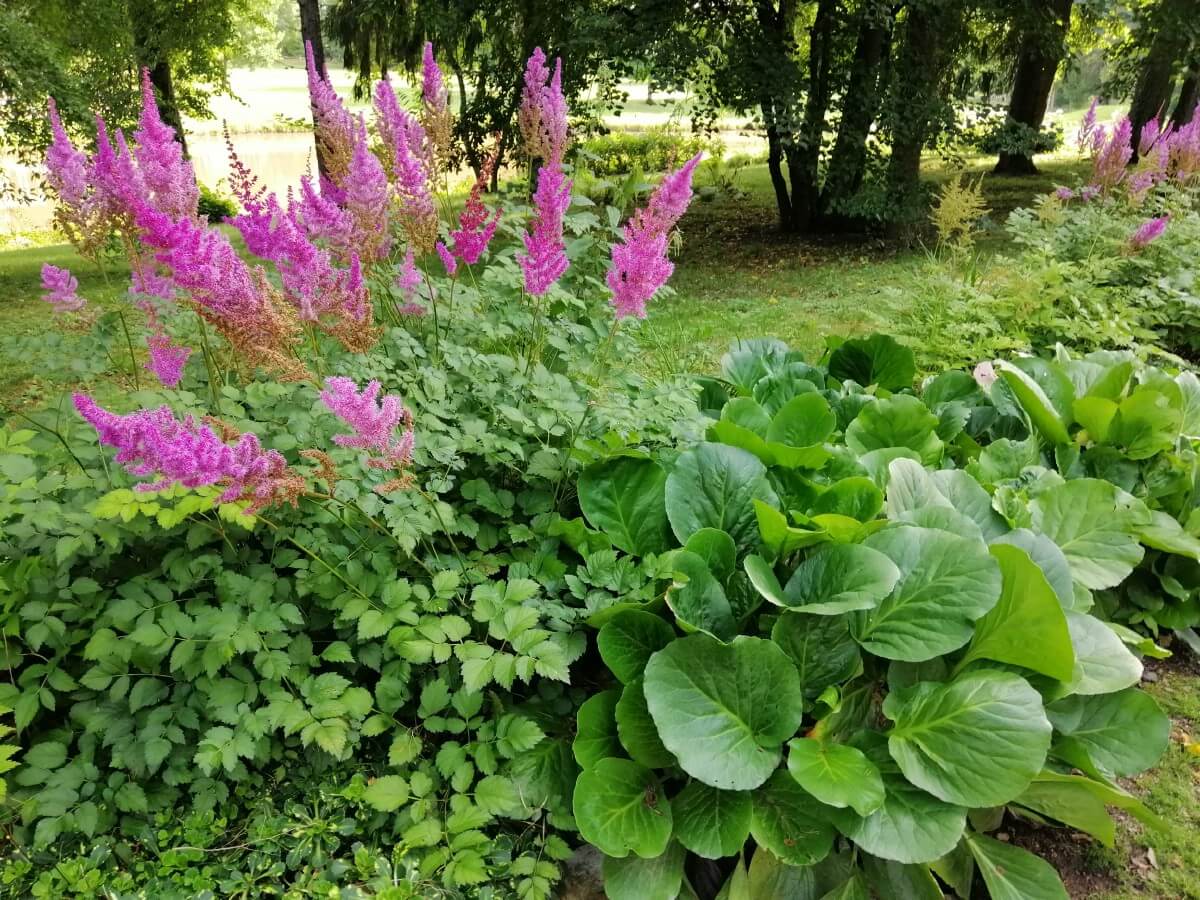 Fill out barren areas in deep shade. If there are barren spots under heavy foliage that you would like to fill out, the large leaves of this plant can do so nicely, even if it is very shady. This can help to make your shade garden look more voluminous and abundant.
Ideal Growing Conditions for Astilbes
We have talked about when to plant false goat's beard as well as when you can expect the fluffy plumes.
We also have discussed some landscaping ideas for these flowers.
But what are the ideal growing conditions for this plant? Let's discuss sun, soil and water requirements.
How Much Sun Do Astilbes Need?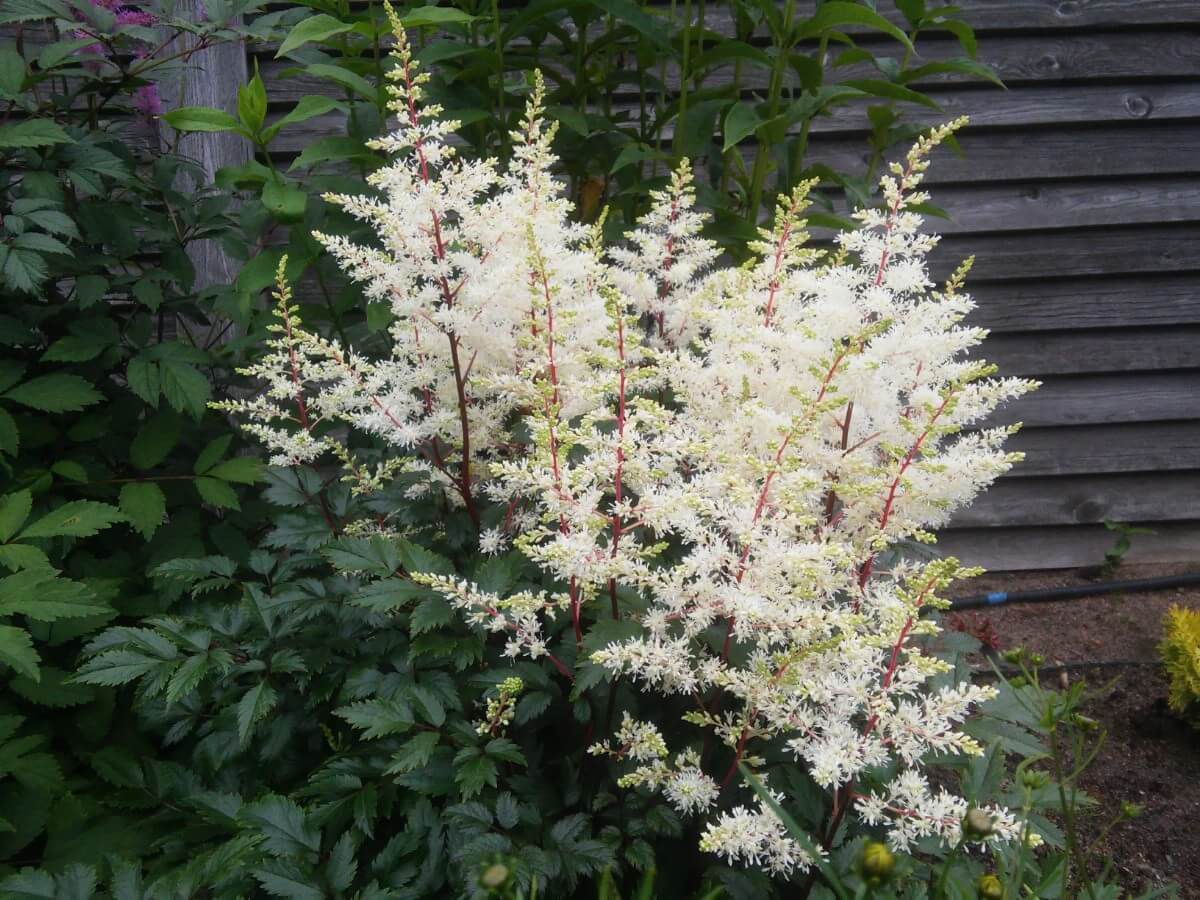 If you have a shade garden, false goat's beard will be right at home. Ideally, you still want it to get some sunlight, but it is preferable if it is filtered.
Can you grow these plants in deep shade? You can, if you have to, but they will not blossom as richly as they would if you allowed them to get some partial filtered sun.
Be aware that if you are in a warmer climate, your plants will be more sensitive to sunlight than they would be otherwise. In fact, direct sun could end up causing leaf damage.
What Type of Soil is Right for Astilbes?
Soil moisture is important for astilbes. Avoid dry soil, and consider soil with compost if it helps keep moisture from evaporating.
With most plants, soil drainage is critical. But that is not the case to the same degree with false goat's beard.
In fact, if you have a water feature such as a pond in your backyard and are looking for a pleasant shade border for it, you may discover that astilbe plants thrive in the waterlogged soil nearby.
As far as pH is concerned, neutral or slightly acidic soil is best for plants in this genus.
How Much Water Do Astilbes Need?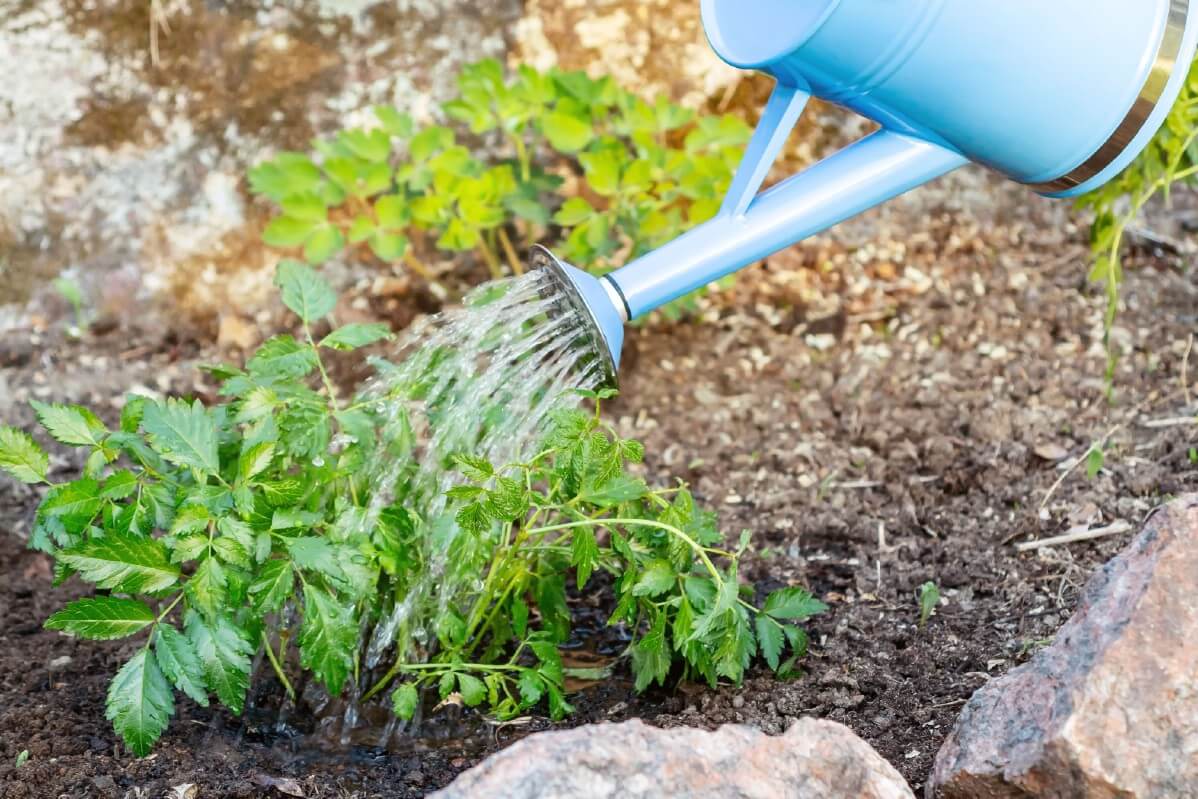 Water your false goat's beard as needed to prevent the soil from drying out. The plants might require frequent watering in the summer if heat causes moisture to evaporate rapidly in your garden.
How to Plant Astilbes
Now that you are familiar with the ideal growing requirements for false goat's beard, let's discuss how to plant it.
False goat's beard is one of those plants that is hard to start from seed unless you are really patient.
So, you will want to simply purchase plants from a garden center that have already been started. Then just transplant them.
Container Planting
Is it possible to grow false goat's beard in a pot? Yes! Here are the steps.
1. Get a container that features a diameter of 16 inches or more. It will need to be at least a foot deep. That is for planting a single astilbe. If you want to fit multiple astilbe plants in one pot, you will need a bigger one.
Even though a damp soil bed is okay for false goat's beard, good drainage is important. Your pot needs to have holes at the bottom for this purpose.
2. Fill your pot.
Now, add potting mix to your container. A combination of perlite, compost, and peat can work well.
3. Put the astilbe in the pot.
Now, just make a hole in the center, plant your astilbe, and backfill the soil.
4. Figure out where to put your potted astilbe.
False goat's beard that is living in a container should have the same light conditions as astilbe planted in your garden beds.
So, put these pots with these shade-loving perennials where they will not get too much sun.
Also, consider that with these plants in pots rather than directly in the ground, they may have access to less moisture.
For that reason, you should frequently check to see if the soil is drying out. In fact, during the hottest summer days, you might need to water them daily.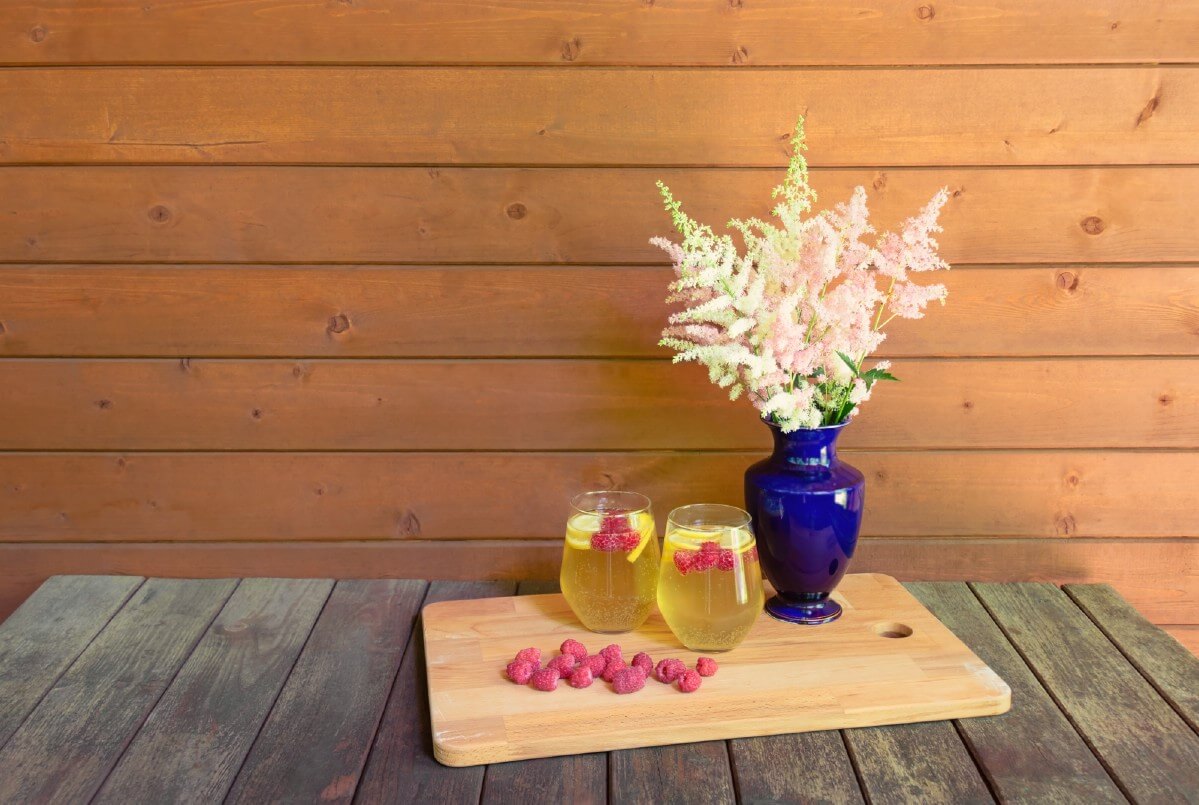 Ground Planting
As you might guess, the basic steps for planting false goat's beard in your garden beds are not so different from those for planting it in containers.
1. Choose a spot in your garden.
Look for a location in your garden that features partial shade and appropriate soil conditions.
Boggy soil is not the best, but you can go with it if that is the spot that you are trying to fill out.
2. Prepare your soil.
Start by working some compost into your soil. You might also consider adding about ¼ cup of all-purpose granular fertilizer.
3. Plant your astilbes.
Dig holes for your plants, and insert them. Back-fill, being sure the roots are covered.
Make sure that if you are planting multiple astilbes that you give each of them anywhere from a foot and a half to two feet of space.
4. Deep-water the soil.
Water deeply immediately after planting.
5. Mulch.
It is often wise to put some mulch on top of the soil after you plant false goat's beard.
That way, you lock in the moisture that this plant needs to thrive.
6. Water regularly.
Water frequently while astilbes are establishing in your garden beds.
Starting Astilbes from Seed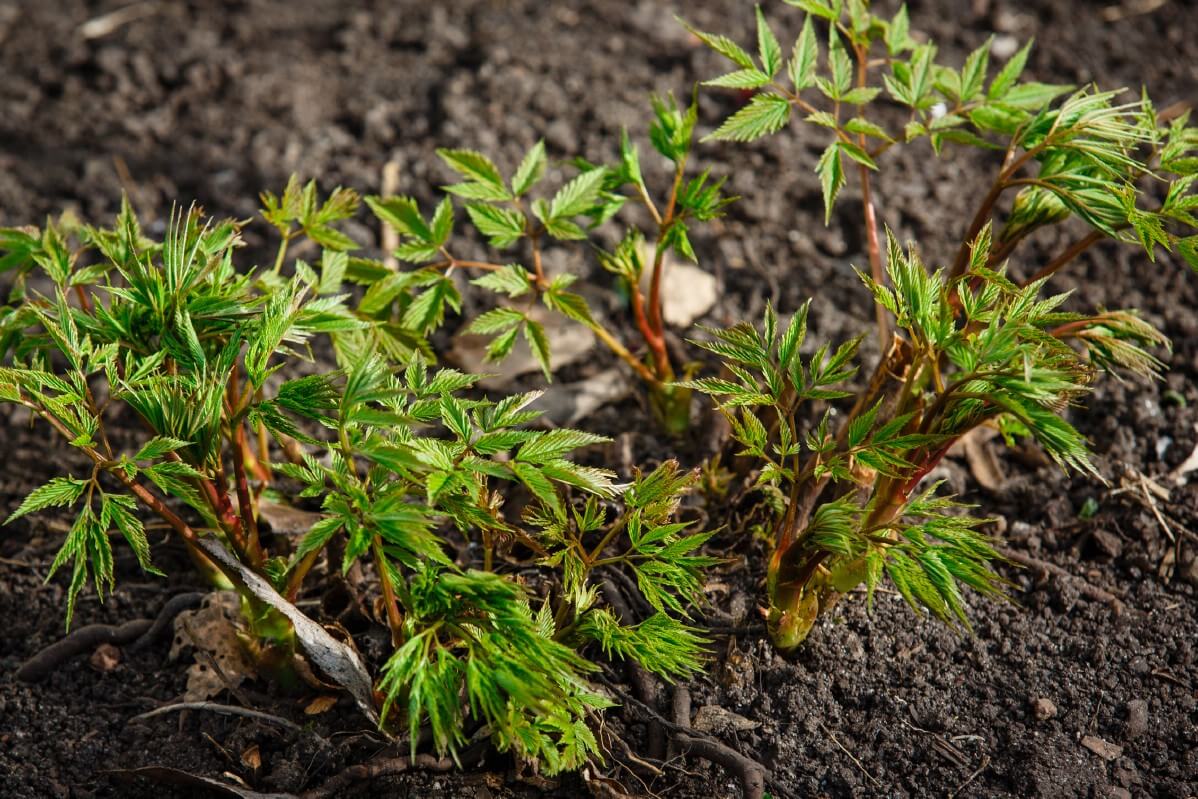 If you have astilbe seeds, you can start plants from them with some patience and effort.
1. Begin by obtaining seed starter trays.
2. Add soil-less starting mix to your trays.
3. In each cell, plant an astilbe seed. They should be covered by about a quarter-inch of starting mix.
4. Use a spray bottle to mist the soil.
It should be fine to do this after planting rather than before since the seeds are covered with a fair amount of starting mix. They are not likely to wash away.
5. Seal in the moisture.
The easiest way to do this is simply to put a bit of plastic wrap on top of your tray. But make sure that the seeds have room to breathe.
6. Find a spot for the seeds to germinate.
Ideal temperatures are 70 degrees Fahrenheit during the day and 50 degrees Fahrenheit at night. Although these plants like a lot of shade when they are grown, as seeds, they do require sunlight. So, putting them near a window is best.
7. Regularly mist the starting mix.
Several times weekly, you will need to use your spray bottle to gently mist the starting mix again. If it is particularly warm and dry in your home, you might want to check it more frequently. Do not let the trays dry out.
8. Take the plastic wrap off.
Eventually, you will see the seedlings sprouting. At this point, the plastic wrap will be in their way, so you should take it off.
Note that this can take some time. If you want the process to go as fast as possible, buy seeds earlier than you intend to start them. As they age, they are better able to germinate.
9. Wait for the seedlings to grow.
Check on your seedlings frequently. Make sure they are not drying out. Wait until they are 3-4 inches tall.
10. Harden the seedlings.
You can now think about moving them outdoors, assuming the last frost is past.
Do not attempt to move them outside all at once. You will need to harden them, moving them back and forth between indoors and outdoors for a week or more so that they have time to adjust.
11. Plant the seedlings.
After hardening your seedlings, you can plant them in your garden beds.
How to Care for Astilbes
Now that you know how to plant false goat's beard, let's talk about how you can care for these colorful flowers. We will discuss fertilizing, mulching, pruning and more.
How to Fertilize Astilbes
Iowa State University provides recommendations on fertilizer requirements for false goat's beard. The university writes, "Fertilize in the spring with a slow-release fertilizer according to label directions. A fertilizer ratio of 3-1-2 is preferred."
How to Mulch Astilbes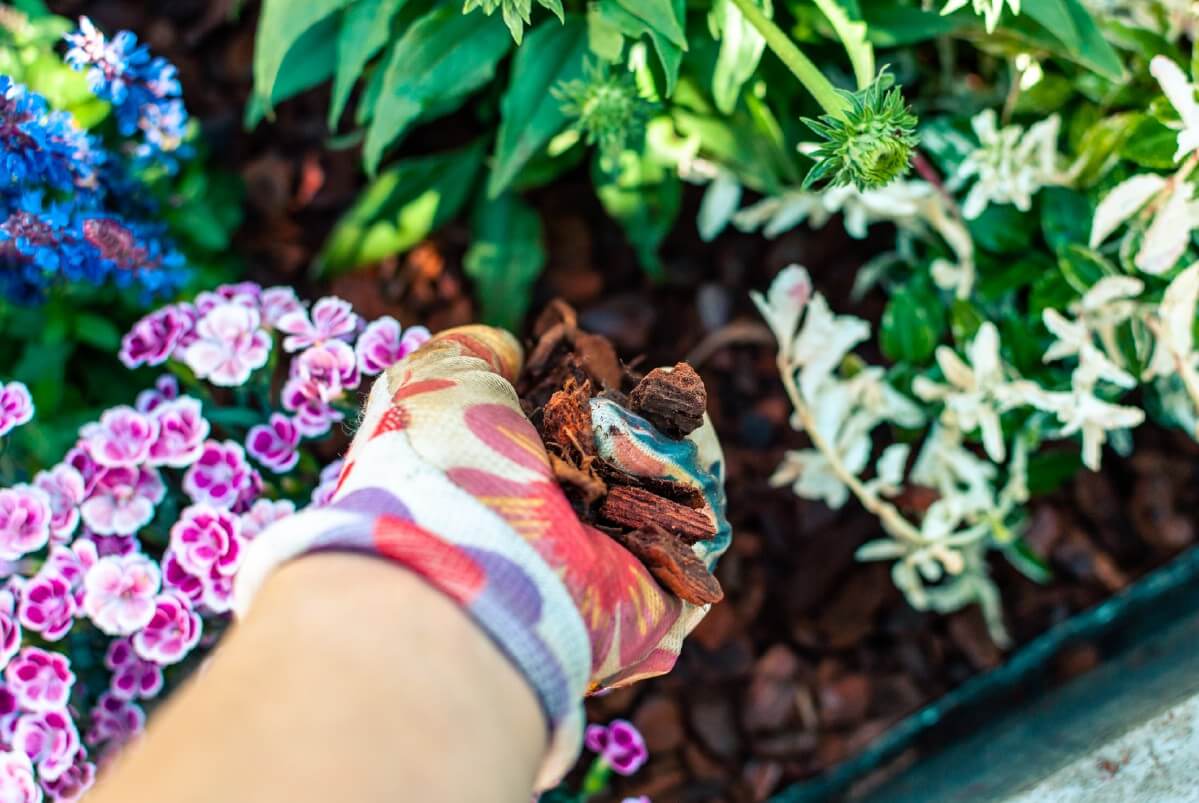 Right after you plant your astilbes, you can mulch them. Around 2 inches will do the trick. The hotter your climate is and the more easily water evaporates, the more important it will be to mulch. It may not be necessary if you plant your false goat's beard in soggy soil next to a water feature, however.
How to Stake Astilbes
Will you need to stake your astilbes? Probably not! These plants are not too heavy, and can stand upright without assistance. Plus, since you plant them in shade, they often will have a bit of shelter from the wind and rain anyway.
How to Prune Astilbes
Pruning astilbes involves very little work. Some people deadhead them, but it is not necessary.
When to Cut Back Astilbes
You can wait until fall or winter to prune your false goat's beard. When they start to get brown and dormant, you can do them a favor by trimming them back.
Are Astilbes Vulnerable to Diseases or Pests?
Now you know how to take care of false goat's beard. But will pests and diseases disrupt your efforts to grow beautiful flowers?
Good news. Iowa State University says, "Astilbe are quite pest- free. Although powdery mildew, wilt, and spider mites have been reported, control is seldom necessary."
At that rate, even deer and rabbits are not too interested in false goat's beard.
So, you can expect the amount of maintenance you need to do to protect your flowers to be quite minimal.
How to Divide Astilbes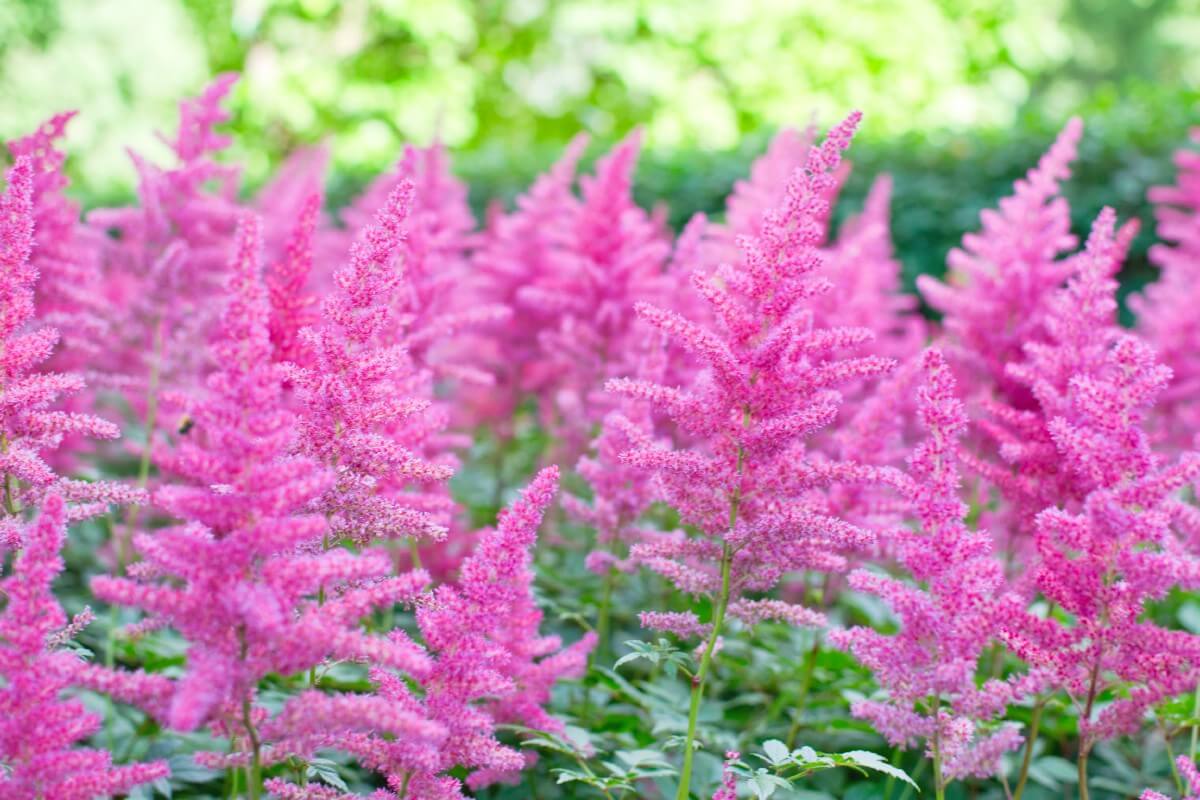 After three or four years, it will be time for you to divide your false goat's beard plants. The right time of year for this task is in the spring. But if you miss that window, fall may also be okay.
The most important thing is just not to do it during the summer. It is too hot and dry for false goat's beard to deal with extra stress during the summer months.
Following are the basic steps:
1. Begin by watering your astilbe.
Do this a couple days before you plan on digging it up.
2. Carefully cut down around the roots of your plant with a spade. Take care as you are doing this not to harm the roots.
3. Once you have freed the root ball, remove it from the ground.
Make sure that you do not injure the root ball as you are pulling it free. You might need to go back in with the spade to loosen the soil more.
4. Split apart the astilbe crowns.
You can do this by hand or with a set of shears.
5. Transplant the smaller astilbe plants.
Now you can dig holes to plant your newly-divided false goat's beard plants. Ideally, you may want to have those ready to go in advance. Remember, astilbe plants need moisture, and can easily dry out.
6. Water after planting.
After you transplant your astilbes, be sure and water them deeply.
You might want to mulch as well to ensure your plants have moist soil. Keep regularly watering your plants as they are established before returning to your normal watering schedule.
Recommended Companion Plants for Astilbes
Now you know how to plant astilbes. But what companion plants accompany the fern-like foliage and elegant plumes of false goat's beard best? Below are a few ideas.
Coral bells. The colored leaves of coral bells make them popular as companion plants for a wide variety of plants, but they can do very well next to astilbes.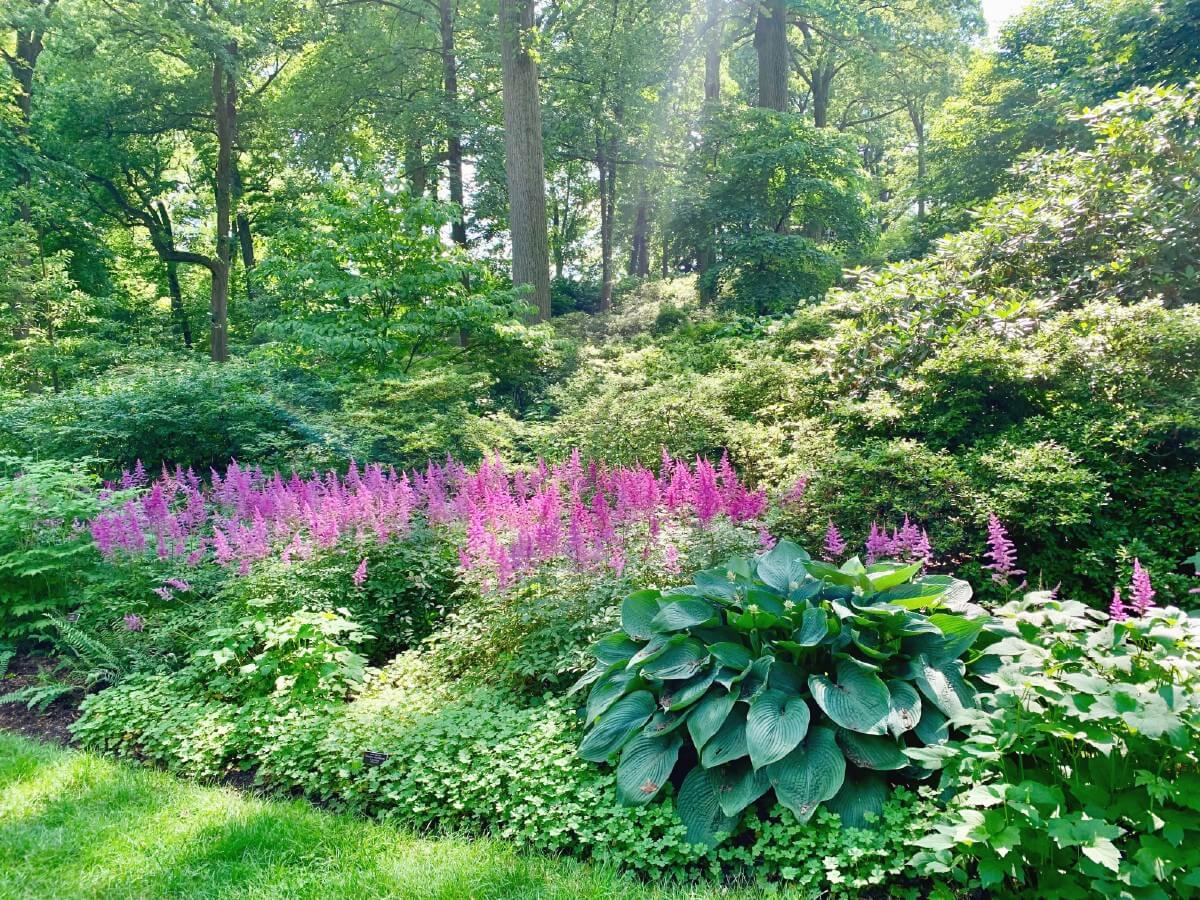 Hostas. Like astilbes, hostas enjoy shade. Their broad leaves can help to fill out spaces under your shade trees, just like the distinctive jagged-edges leaves of astilbes. The leaves have a bluish tint which is pleasing to the eye, and they produce lovely flowers as well.
Ferns. Not surprisingly, the ferny foliage of astilbes can look lovely next to actual ferns. You will find that ferns are right in their element under the shade of the trees where astilbes are happiest.
Trilliums. These woodland wildflowers will love the shady spot next to your astilbes.
Bleeding hearts: These plants adore lots of shade, and will do well next to your false goat's beard in your woodland garden.
Those are just a few possible companion plants for the colorful summer plumes of astilbes.
Frequently Asked Questions About Growing Astilbes
Is a false goat's beard the same thing as astilbe?
Yes, it is. False goat's beard is simply the common name for the astilbe plant. But do not mix up astilbe with a regular goat's beard. That is a different plant.
How do you deadhead astilbe?
You don't! There is no point in deadheading this plant whatsoever. It is not going to result in any additional blossoms, so do not trouble yourself.
Not only that, but the flower heads will remain in place even after they dry out. You can enjoy them for months, even into the winter.
What eats astilbes?
Black vine weevils and a few other insects occasionally might munch on astilbe plants. But thankfully, not a lot of creatures are interested in chowing down on false goat's beard.
Is false goat's beard invasive?
False goat's beard can spread with relative ease. But is it an invasive plant? No.
At that rate, goat's beard (a different plant) is not generally considered to be invasive either, although occasionally someone begs to differ.
That is probably why you might think false goat's beard is invasive. But rest assured, it is not.
What is best to plant with astilbes?
Anything that thrives in shady conditions with moist soil will do well as a companion plant for false goat's beard. Ferns, hostas, and bleeding hearts are several examples.
Are astilbes annual or perennial?
You will be delighted to learn that astilbe is a perennial flower. That means that when you plant it, you can enjoy it year after year.
Where to Buy Astilbes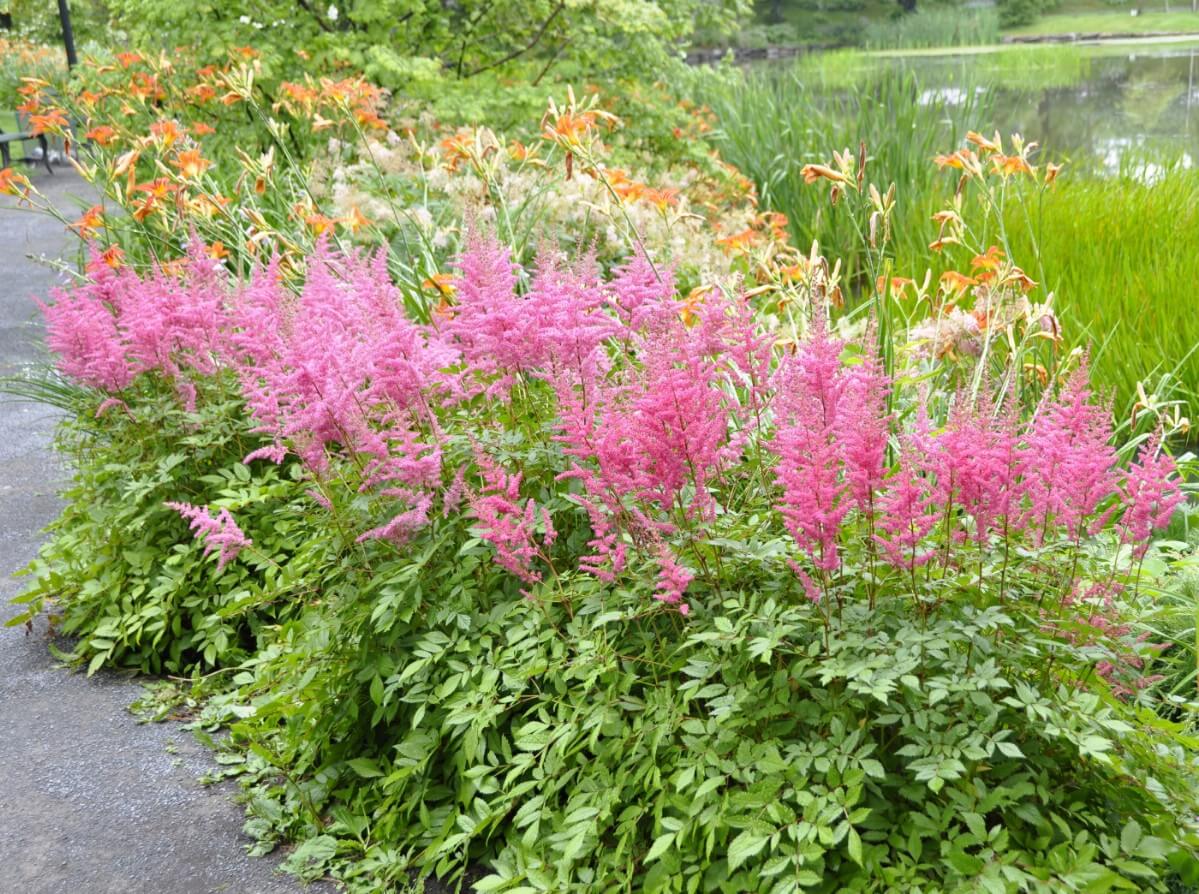 Now you know all about growing and caring for astilbes. Excited to enjoy these bold plumes of color in your shade borders? Follow the link to shop astilbes now.