Asters are classic perennials that are colorful and easy to grow. They can make a beautiful addition to your garden, even if you are a beginner.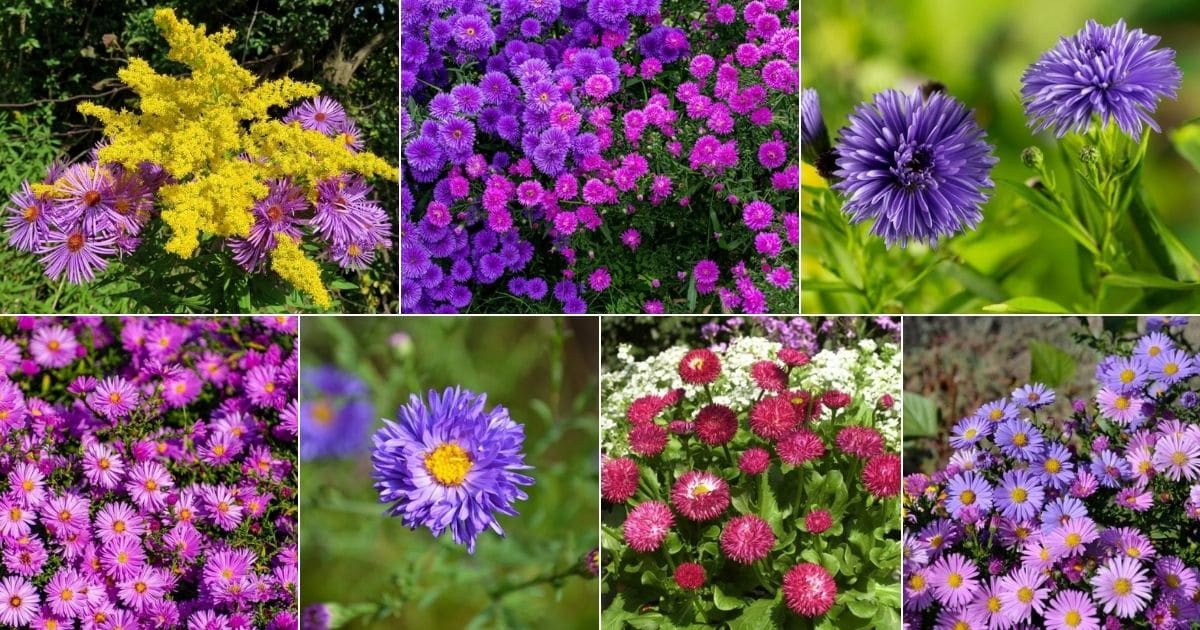 How can you grow your first asters successfully? To get these beautiful flowers to bloom in your yard season after season, you need to plant them in ideal conditions and take care of them properly.
In this guide, we are going to teach you how to do just that.
We are also going to share information with you about pests, companion planting, cultivars, and more.
You can use the table of contents below to jump straight to the section you are looking for.
Jump to:
What Are Asters?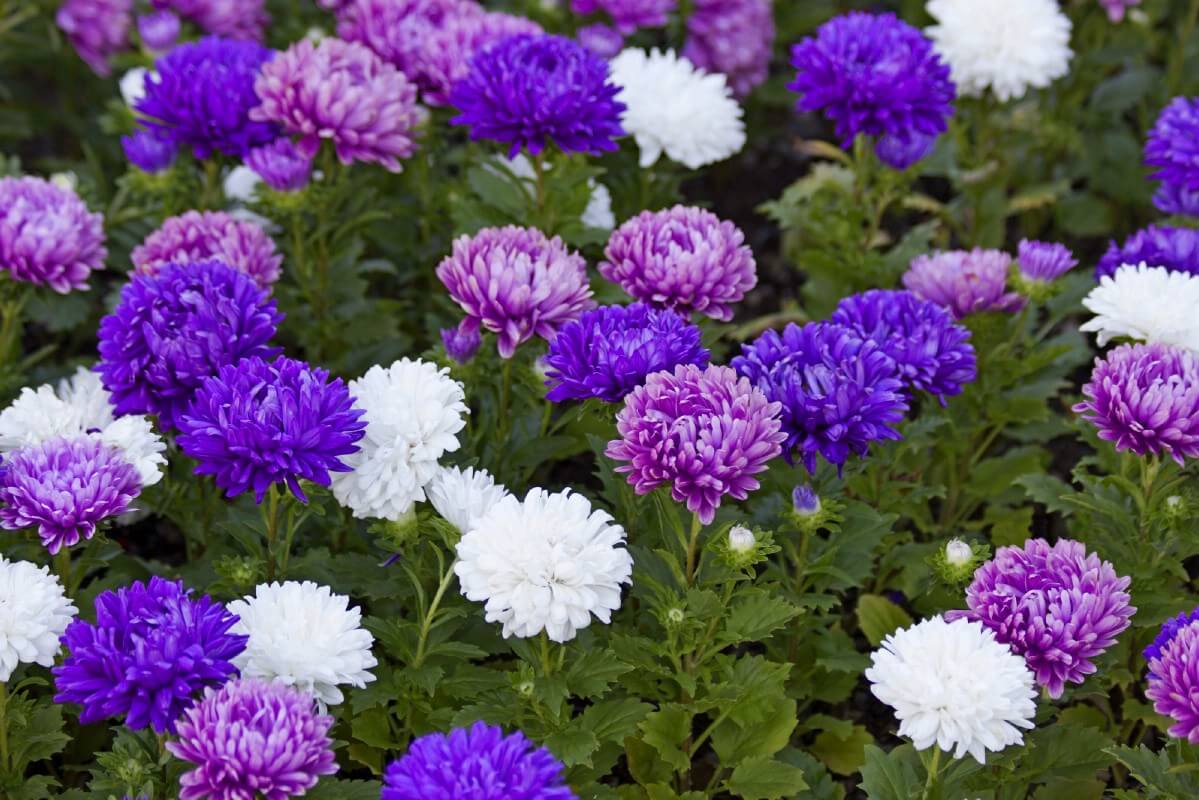 Let's get started by talking about the basics. What are asters?
"Aster" may refer to any flower in the Asteraceae family. Indeed, the word "aster" is the root of the name of that family.
The word itself comes from the Greek for "star." The petals of this flower have a somewhat star-like appearance.
Within the Asteraceae family, there are more than 32,000 different species.
Sometimes, people refer to the entire Asteraceae family as the "daisy" family or the "sunflower" family as well. It can also be called the "composite" family.
Within the Asteraceae family, there is a genus called "Aster."
In total, there are around 170 species in the genus.
As perennials, asters come back every year. So, they will grace your garden for a long time to come after you plant them.*
*That is the case for most asters you might plant in your garden. But the Asteraceae family does also feature some annuals and biennials.
What Are Daisies?
It is convenient to talk about daisies and asters together, because, as we just mentioned, sometimes the Asteraceae family is also called the "daisy" family.
Indeed, a number of different flowers within that family are commonly referred to as daisies. But they are not necessarily all members of the Aster genus.
If we ask you to think of a daisy, however, you probably will immediately picture a particular species of flower with yellow centers and white petals.
This species has the scientific name Bellis perennis. It is called the "common daisy," "English daisy," or "lawn daisy."
While it is a member of the Asteraceae family, it is in the Bellis genus.
It is also a perennial plant.
This post is going to focus mainly on asters. To find out more about planting and caring for daisies, see our Daisies Full Growing Guide.
Aster Basics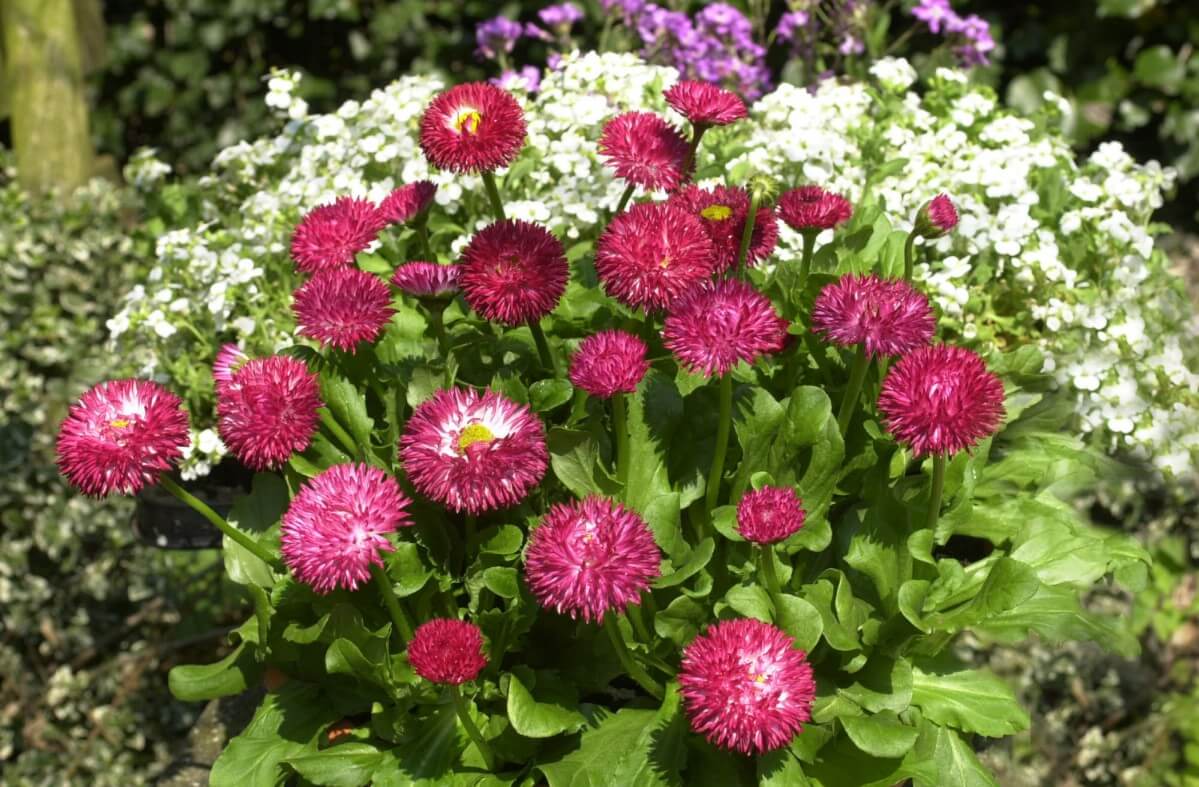 | | |
| --- | --- |
| Zones: | 3-8 |
| Blooming season: | Summer and fall |
| Expected height: | 1-6 feet |
| Soil: | Loamy |
| Sun: | Full to partial |
Where Do Asters Grow?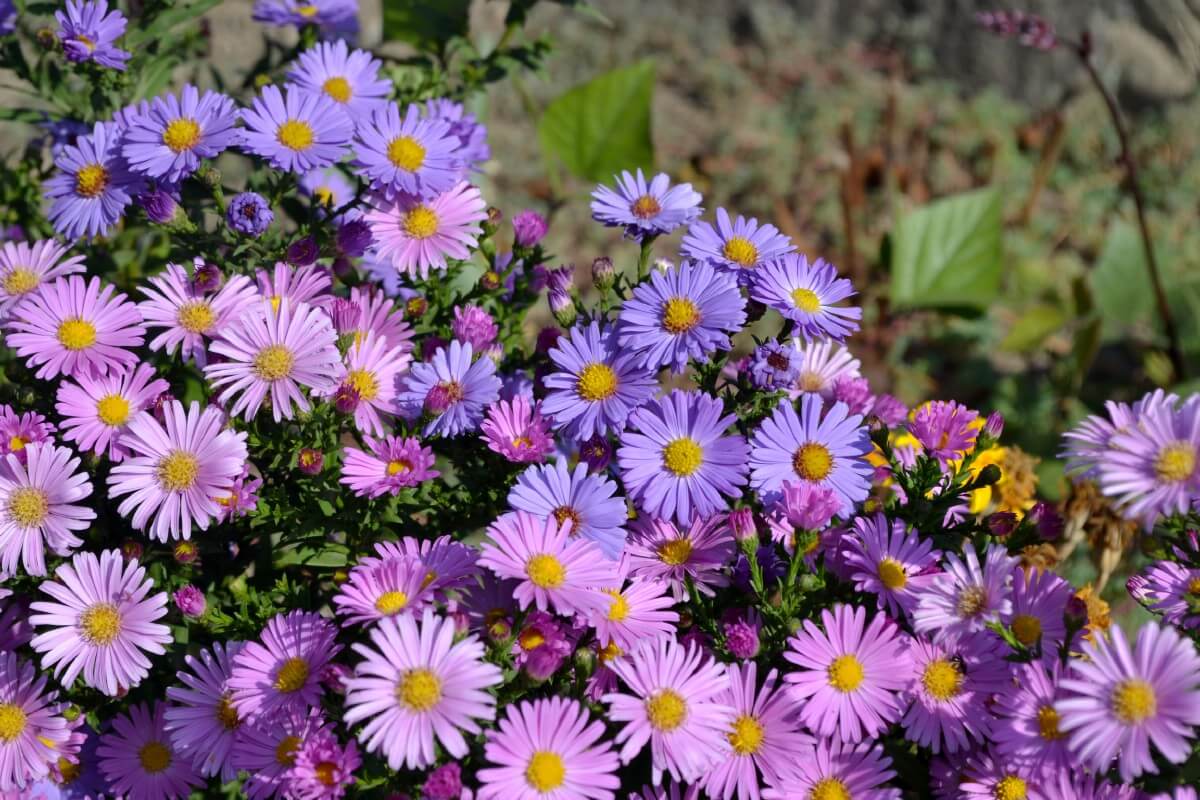 Focusing strictly on plants that are part of the Aster genus, almost all of them are native to Eurasia.
Within that genus, there previously were species native to North America as well. But since then, they have been reclassified. All, that is, except for one—Aster alpinus.
But remember, we may still call other genera within the Asteraceae family "asters," so there are more types of asters that are native to North America.
Summing up the taxonomy changes, NC State Extension explains, "Reportedly, there are over 250 different types of asters growing all over the world. Botanists have reclassified this genus after studying the plant's morphology and DNA. The Aster genus is restricted to plants native to Europe and Asia. The species native to North America belong to two other genera, Symphyotrichum and Eurybia. The common name remains Aster for all the genera."
So long as you are in zones 3-8, you should be able to cultivate asters in your location, wherever you might be.
Why Grow Asters?
Asters are beautiful, cheerful plants. But are they right for your garden? Here are a few reasons to think about growing them: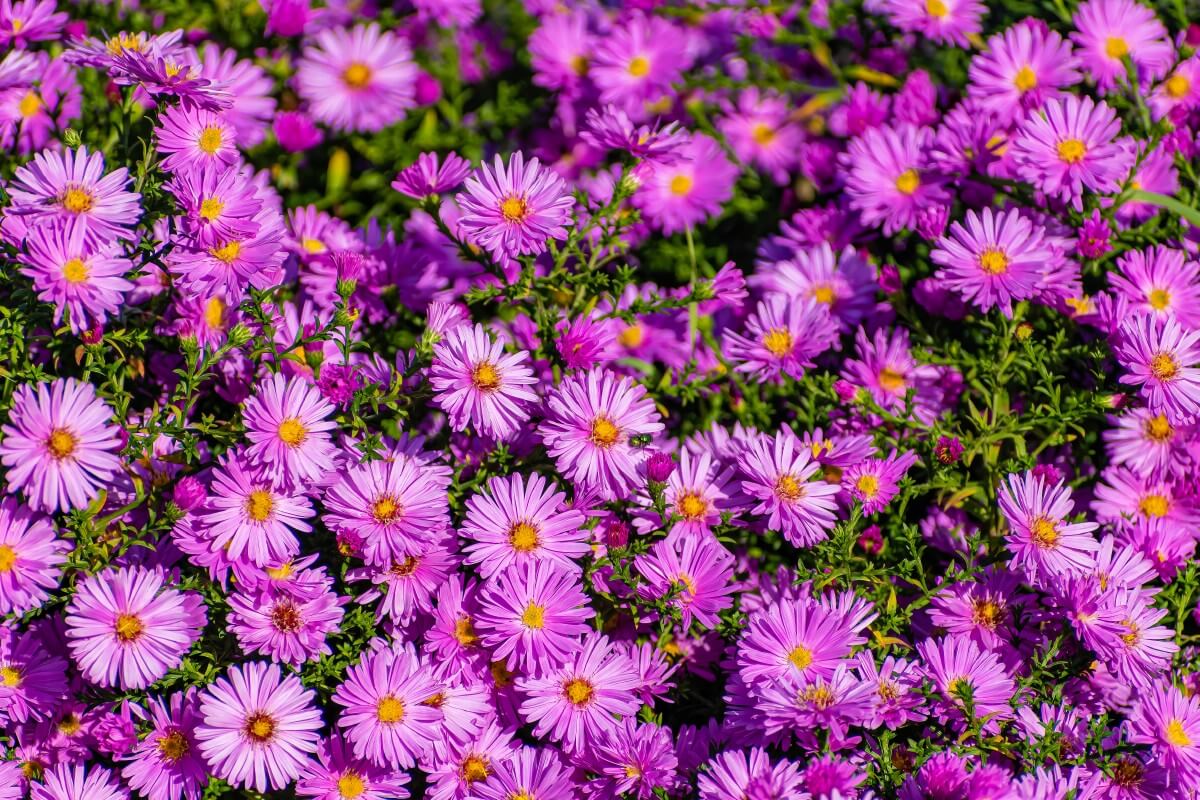 Invite bees and butterflies to your garden. Indeed, late in the season when other sources of nectar are depleted, asters can still welcome your favorite pollinators.
Enjoy tremendous variety. There are so many different types of asters out there, including hybrid varieties. You will find a whole rainbow of hues.
Even if you are a novice gardener, you should find it pretty easy to grow and take care of asters. The maintenance for these plants is minimal.
This plant is versatile. With so many cultivars from which to choose, you should be able to find something that will fit your garden. NC Extension says, "Depending on the species, the plant may tolerate full sun or prefer partial shade. Some species are more drought-tolerant while others may tolerate more moisture. They prefer rich loamy or clay soils. They may be propagated by seeds, division, root cuttings, or stem cuttings. "
Pests and diseases rarely cause major problems for asters.
Dividing asters is pretty easy if you use the cut-through-the-middle method (see the section on transplanting and dividing for more details).
You will also enjoy asters for flower arrangements. They make lovely cut flowers for all manner of bouquets, bringing just the pops of color you need to achieve a vibrant effect.
Aster Landscaping Ideas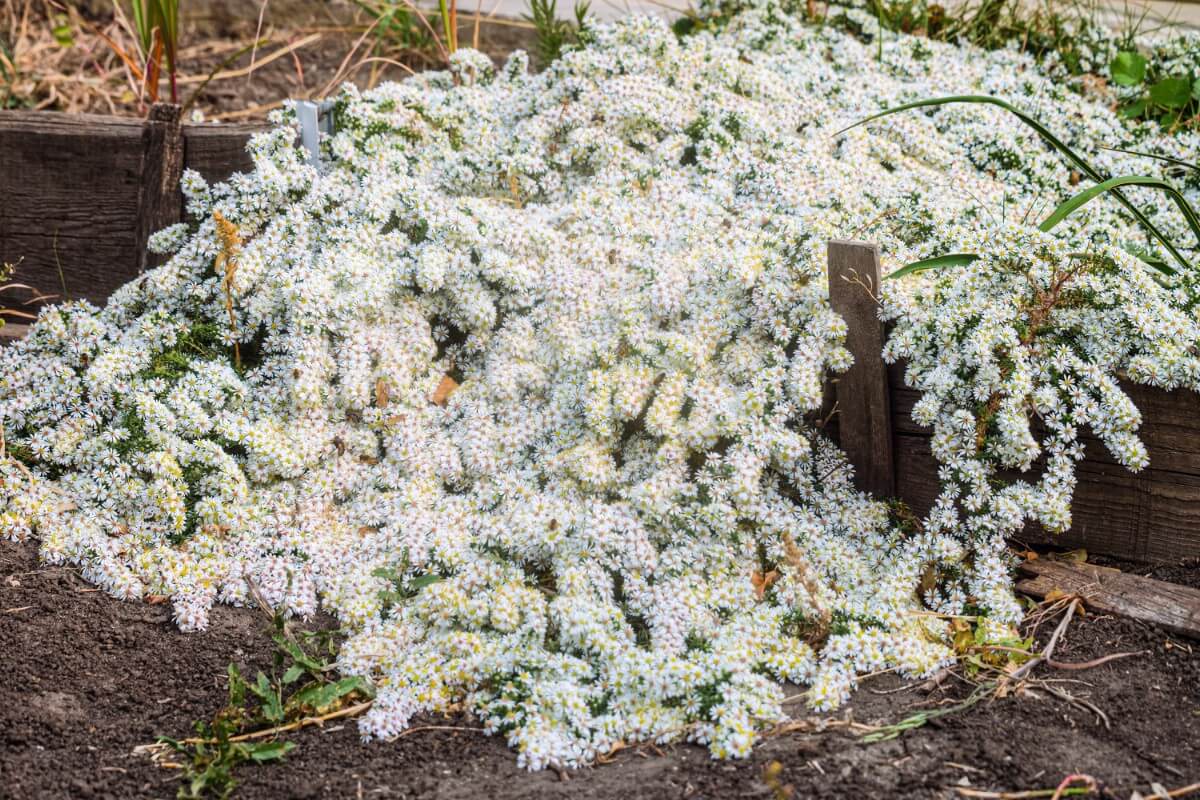 Plant mounds of asters next to other perennials that form compact mounds of flowers. They also can look nice interspersed with certain ornamental grasses that grow in clumps.
Consider using asters are part of a cottage garden. They can create that voluminous look of abundance you are aiming for.
While asters come in a variety of colors, most of them have a purplish color. That means that they can make a great accompaniment to other purple flowers in your garden or a vivid contrast to yellow or orange flowers.
Use them in a pollinator garden. Put them near other flowers that attract butterflies, bees and birds to make a particularly enticing display.
Grow them as potted plants and set them anywhere you want to bring a burst of color and exuberance to your garden.
Plant asters close to spring flowers so that after those spring flowers fade, your asters can take over, filling out those spots in late summer and fall.
Recommended Aster Varieties
There are many different varieties of perennial asters to consider for your garden—and some lovely annual asters too!
Below is a list of recommended aster cultivars to think about.
Lady in Blue: Quite a few aster varieties are considered to be "blue" asters. As with most other blue flowers, their color could arguably be called more purplish than blue. One example of such a cultivar is "Lady in Blue." Growing to a height of 10-12 inches, it is compact, producing aster flowers with purplish petals and yellowish middles.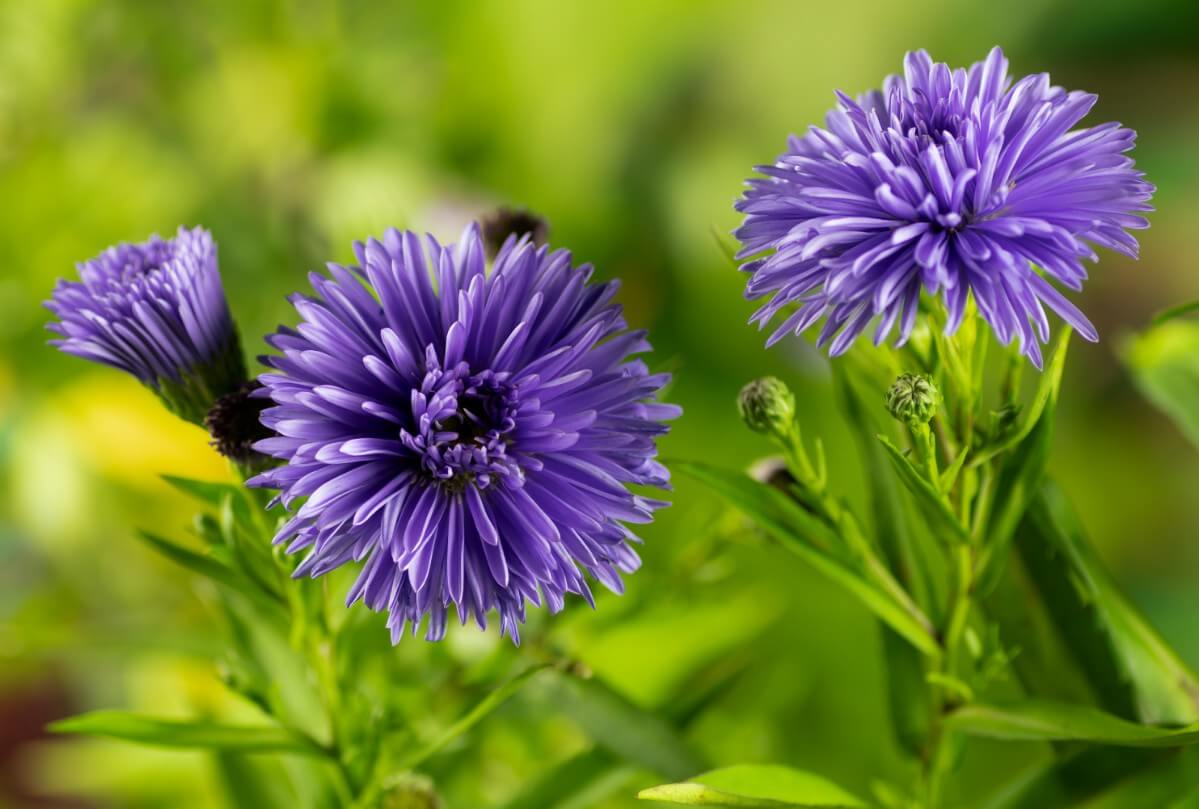 Marie Ballard: Another "blue" variety of aster is this cultivar which produces flowers with dense purple petals and yellow middles. This plant can reach up to 36 inches in height.
Harrington's Pink: If you are looking for pink flowers instead of blue flowers, here is a cultivar that may intrigue you. The one-inch wide blossoms open during late summer and fall. The petals are thin and dense, and the centers are yellow. It also happens to be a great cultivar to choose if you want your asters to be really tall; they can soar to six feet in height!
Carmine Red Asters: These plants are also known as "New England Asters," and may sometimes be called "KICKIN Carmine Red." It would be most accurate to call the color of the blossoms magenta rather than red. But they are very vivid and eye-catching. The beautiful blooms emerge in late summer and fall.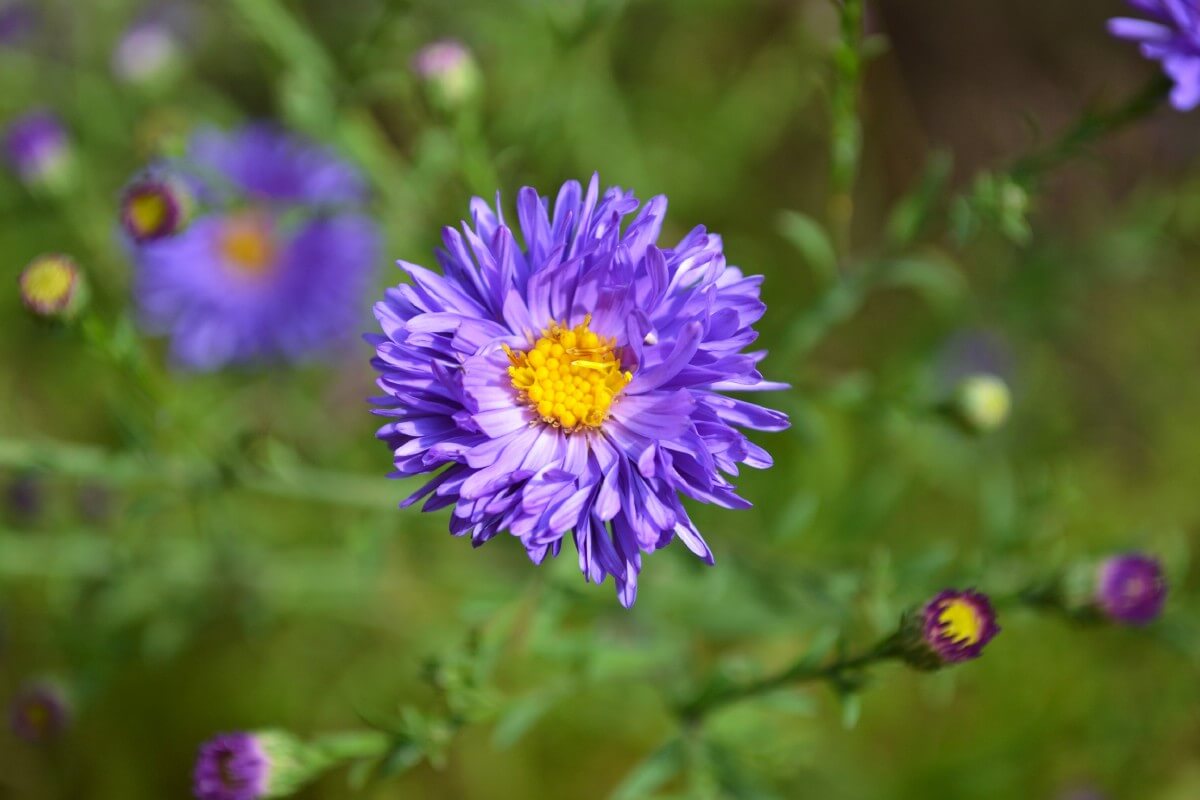 Grunder: If you want to plant aster that gets to be more than 24 inches in height, the "Grunder" cultivar may strike your fancy. The flowers have a purplish color with yellow centers.
Blue Wood Aster: This popular blue aster variety features purplish flowers with yellow middles, and can do well in a sunny spot or shade. It is a great option for bringing the familiar color palette so common with asters to your garden. Whether you have moist or dry soil, it should do well, making it a versatile choice.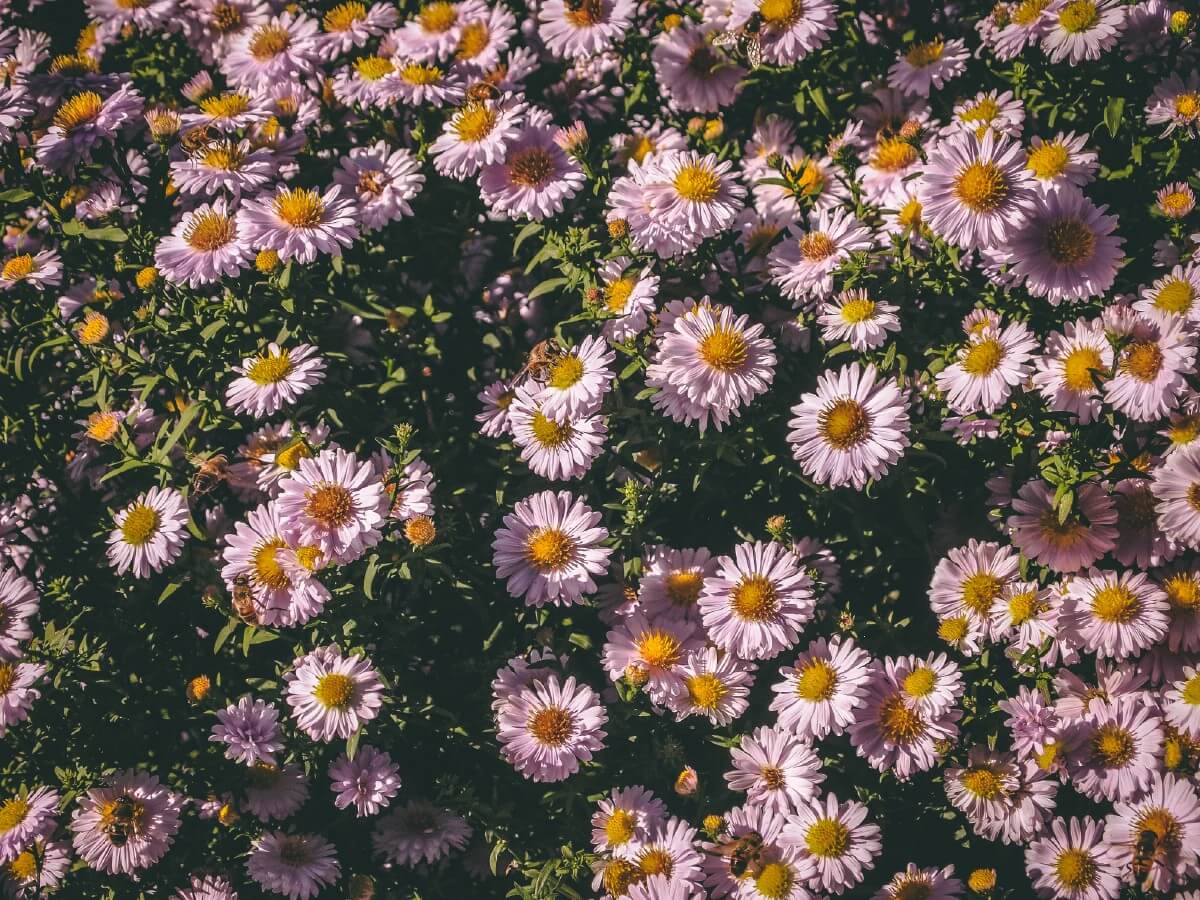 Calico Aster: Want a long-blooming aster variety with an unusual appearance? This plant flowers for around two months, producing flowers with pinkish centers and white petals.
With more than 170 species of true asters in the Aster genus and hundreds of cultivars, this is just a small sampling of what is available. Research to discover other exciting aster varieties to plant!
When Do Asters Bloom?
You can expect your asters to blossom during summer and fall. The Old Farmer's Almanac writes, "Asters attract great numbers of bees and butterflies, providing the pollinators with an important late-season supply of nectar. Thanks to the aster's late bloom time, they are sometimes called "Michaelmas daisies," which refers to the holiday of the same name that occurs annually on September 29!"
How Long Do Asters Bloom?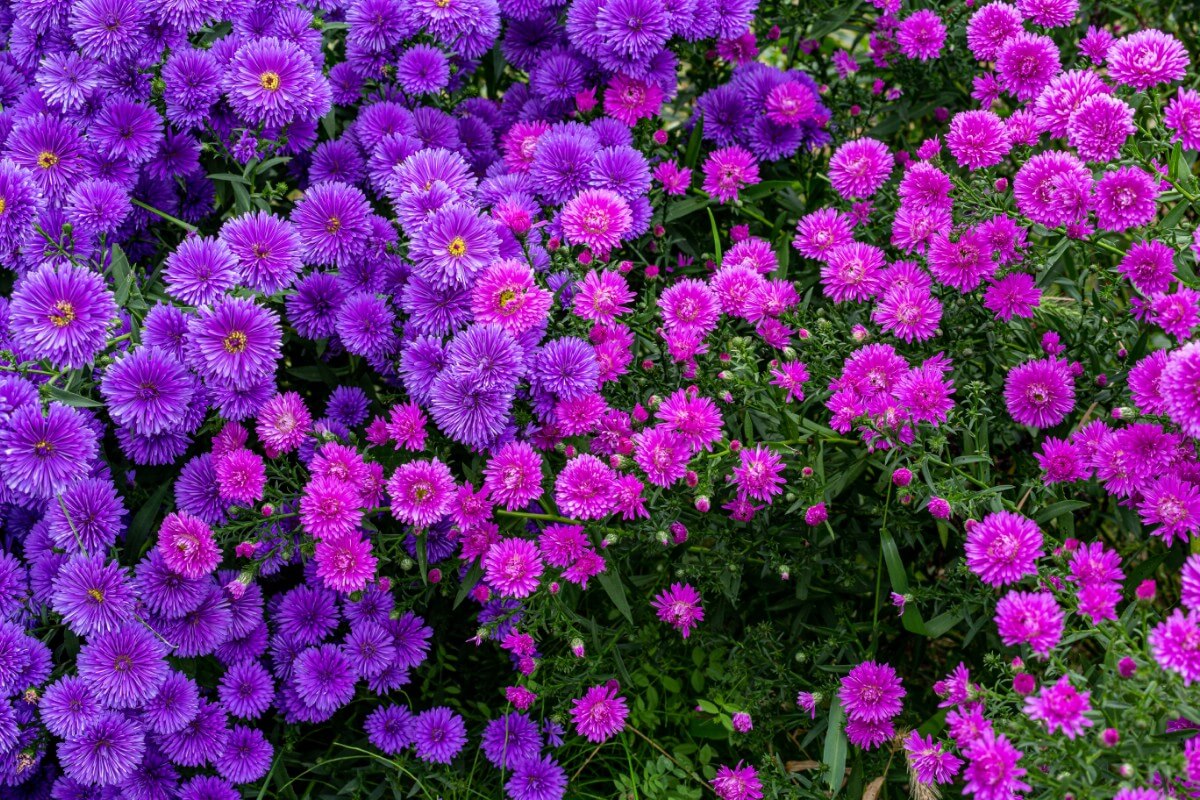 Some asters can bloom for weeks. And if you plant multiple varieties of asters, you can extend the overall bloom period for your asters for longer.
When to Plant Asters
Ideally, you should try and plant your asters in middle to late spring, particularly if they are seedlings.
You have more flexibility with starter plants. You can put them in your garden beds in autumn, which is usually when they go on sale.
Ideal Growing Conditions for Asters
Before you can grow asters successfully, you need to know how much sun and water and what type of soil they prefer. Let's discuss their ideal growing conditions.
How Much Sun Do Asters Need?
Full or partial sun is suitable for asters, depending on the specific varieties you are trying to grow. You can find more details in the section below.
What Type of Soil is Right for Asters?
Loamy soil is the preferred soil type for most asters. That being said, you can also plant them in clay soil or soil that is rich with organic matter. They can do well in alkaline, acidic, and neutral soils.
The University of Vermont Department of Plant and Soil Science writes, "Generally, most asters prefer moist, well-drained soil and full sun. There is a range of species, however, that can be grouped by their native environments and corresponding garden preferences. The first group prefers rich, moist soil in full sun … The second group of asters also prefer full sun, along with cool nights, and very well-drained soil … The third group of native aster species tolerate shade (under 4 hours direct sun per day), but bloom better in part shade (4 to 8 hours of direct sun). "
If you visit the link above, you can find examples of all three of these types of asters. These examples may help you to identify species that will do well in your garden.
How Much Water Do Asters Need?
If your location receives ample rainfall, you probably will not need to water your asters too frequently.
If the soil is drying out, however, you are going to need to water your asters.
How to Plant Asters
Now that you know the ideal growing conditions for asters, let's talk about how to plant them in containers or your garden beds.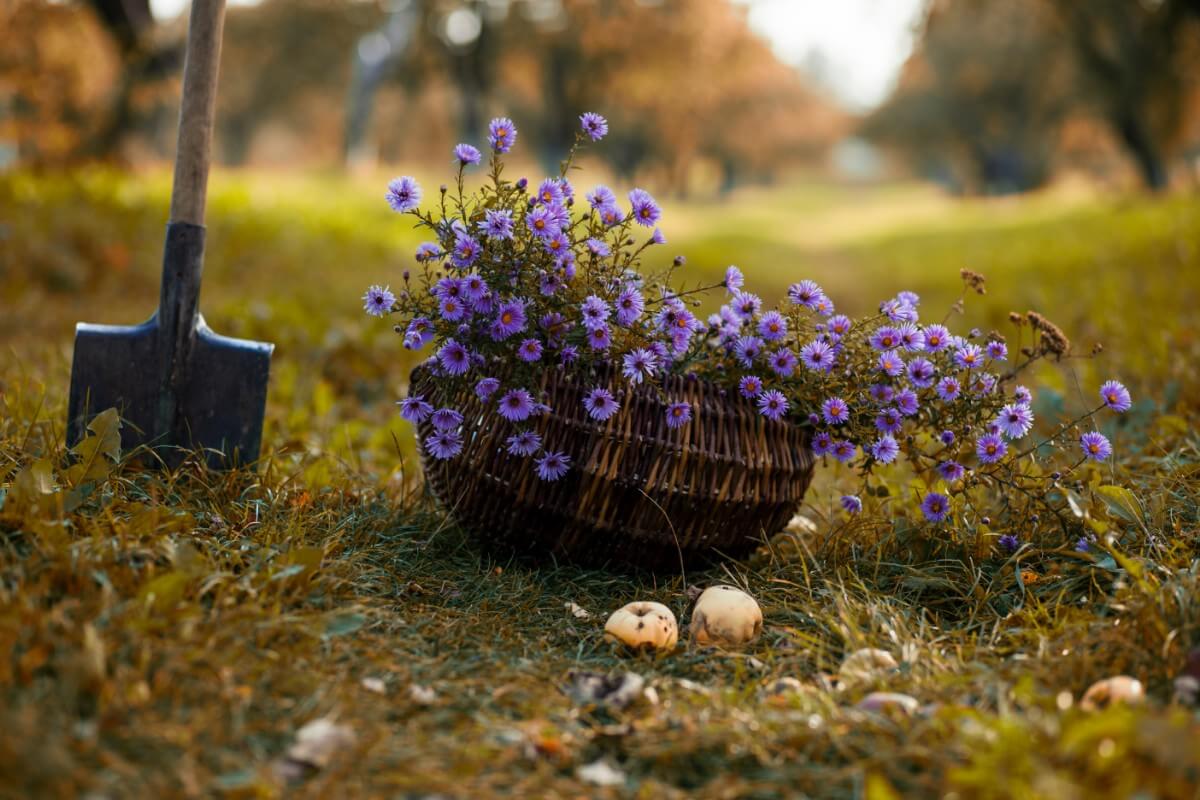 Container Planting
Can you grow asters in pots? Yes! Here are the steps to planting potted asters. We will assume you have a starter plant from the garden center.
1. Choose an acceptable container.
Choose a container for your aster that will give its roots sufficient space, but which is not going to be so large as to trap water and result in soggy soil.
Add drainage holes to the base of the container if it did not come with them.
2. Fill the pot.
Next, it is time to fill the pot. Should you use garden soil? Not if you want your potted asters to be happy. The soil will not be loose enough in the pot, and the roots will have a hard time picking up what they need.
Instead, go with a lightweight commercial potting mix.
3. Plant the aster.
The next step is just to plant the aster in the potting mix.
4. Water deeply.
After you plant your aster, you should water it.
5. Find a location for the aster.
Put your potted aster where it will get sufficient sunlight. Remember to give it extra water while it is establishing.
After that, you can switch to watering on a regular schedule. Just keep in mind that potted asters may dry out rapidly when it is extra hot. So, always pay close attention to them. Always make sure they have adequate moisture.
Ground Planting
Now that we have talked about how you can plant asters in containers, let's talk about how you can plant them in your garden beds. We will again assume that you are starting with starter plants.
1. Choose a suitable spot in your garden.
Remember, partial to full sun is appropriate, and loamy, free-draining soil is ideal.
2. Prepare your soil.
Before you plant your asters in your loamy, well-draining soil, you should mix in some compost.
3. Plant the asters.
Each of your asters will need 1-3 feet of space.
4. Water the asters.
Once you have planted your asters in your garden bed, water them deeply.
5. Mulch your asters.
You do not want the soil to become too warm. You also do not want weeds to start taking over around your asters. You can prevent both of these issues by mulching.
6. Tend to your asters as they are establishing.
As usual, keep an extra close watch over your asters while they are establishing. Ensure that they are getting plenty of water during this vulnerable time.
How to Start Asters from Seeds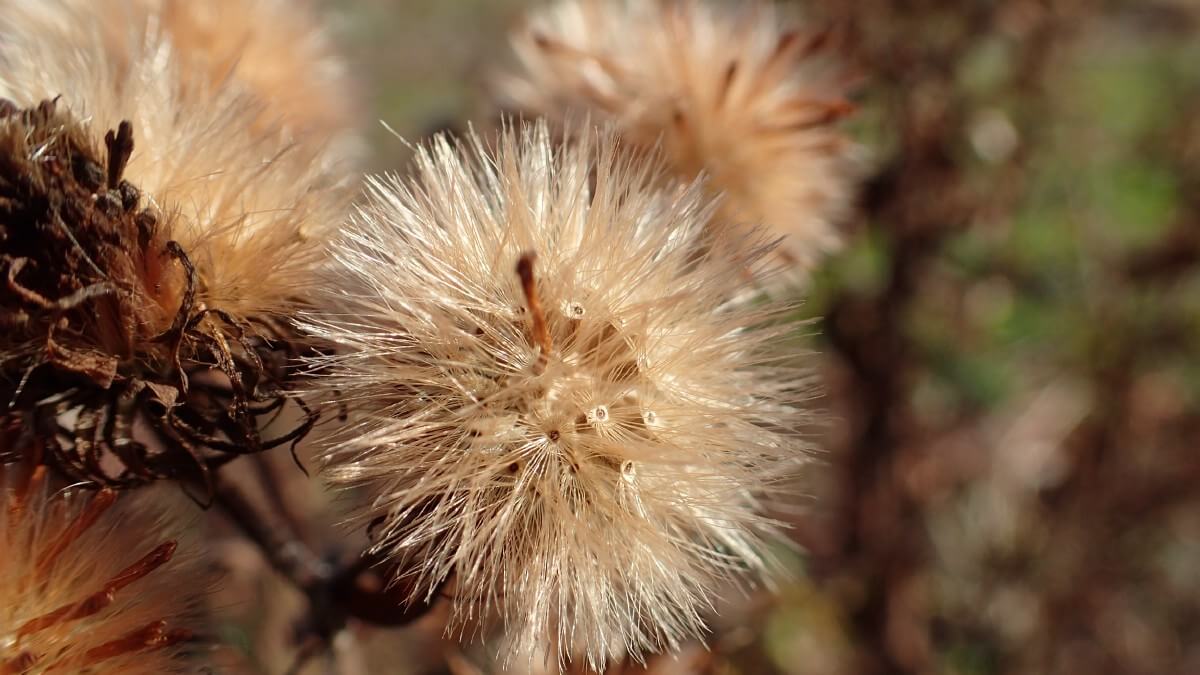 While you can find aster starter plants for sale, it is pretty common to start these perennials from aster seeds. Here are the steps.
1. Start the seeds indoors around 4-6 weeks before you expect the last frost of the year. Then they should be ready to transplant in your garden in spring.
2. Plant the seeds in peat pots.
3. Put the seeds in a location that gets plenty of sunlight, and try and keep the soil at around 65 to 70 degrees Fahrenheit.
The germination process should take between one and two weeks.
4. Maintain the seedlings as they grow.
The seedlings will need to continue to get lots of light. They also need airflow, so keep them ventilated.
Keep the soil moist, but use a spray bottle to mist, rather than pouring in water. This will prevent the seeds from washing away.
5. Harden the seedlings.
When the last frost is past, you can transfer your seedlings outdoors. But this needs to be done gradually. Move them back and forth between indoors and outdoors to harden them.
6. Plant the seedlings outdoors.
Now you can plant your seedlings in their permanent location, whether it be a container or garden bed. The soil temperature should be 70 degrees Fahrenheit or above before you do this.
How to Care for Asters
Now that you know all about starting asters from seeds and planting them, we can talk about how you can maintain them.
How to Fertilize Asters
Can asters benefit from fertilizer? The answer to that question is "yes!" The University of Massachusetts Amherst writes, "Use 150 to 200 ppm N constant feed program with a well-balanced fertilizer such as 15-16-17. Slow-release fertilizer can be used as top-dressing, but liquid fertilization may be needed as a supplement in case the fertility level drops, Asters are sensitive to high soluble salt levels. Injury is exhibited as root damage, leaf yellowing, and leaf drop."
How to Mulch Asters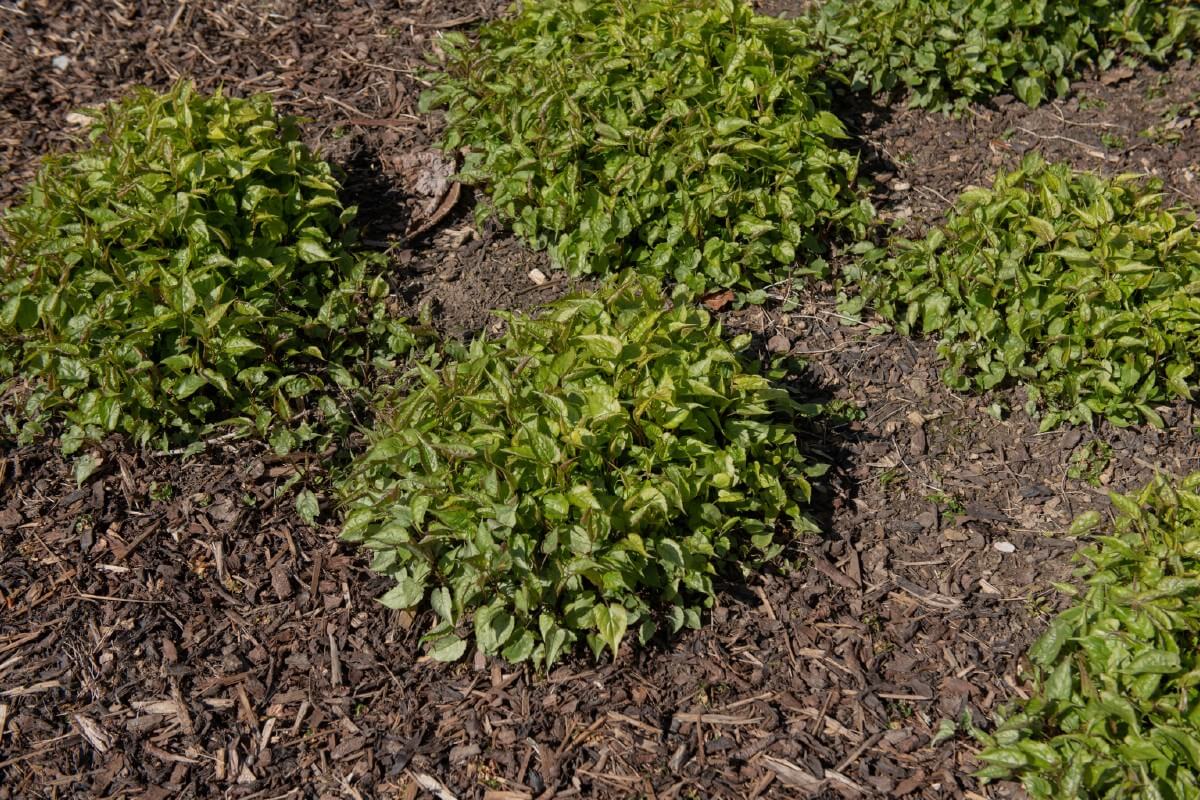 As we mentioned before in the section on planting, a layer of mulch can be good for asters as it prevents competition from weeds and helps keep the soil temperature stable.
Around two to four inches of organic mulch around your asters should be sufficient. Examples of acceptable materials include chopped leaves or wood chips. You can use or not use landscape fabric as you prefer.
How to Stake Asters
Short asters probably will do just fine on their own without staking. But if you plant a tall variety, it could flop over if you do not stake it.
Regular stakes or garden supports should work just fine for keeping plants upright.
How to Prune Asters
Now let's discuss what you need to do to prune your asters throughout the season.
How to Deadhead Asters
Deadheading is a process where you remove wilted blooms from perennials so that they might bloom again before the season is over.
Can you deadhead asters? Indeed, you can. Just wait until you see the blossoms start to fade, at which point you can remove them.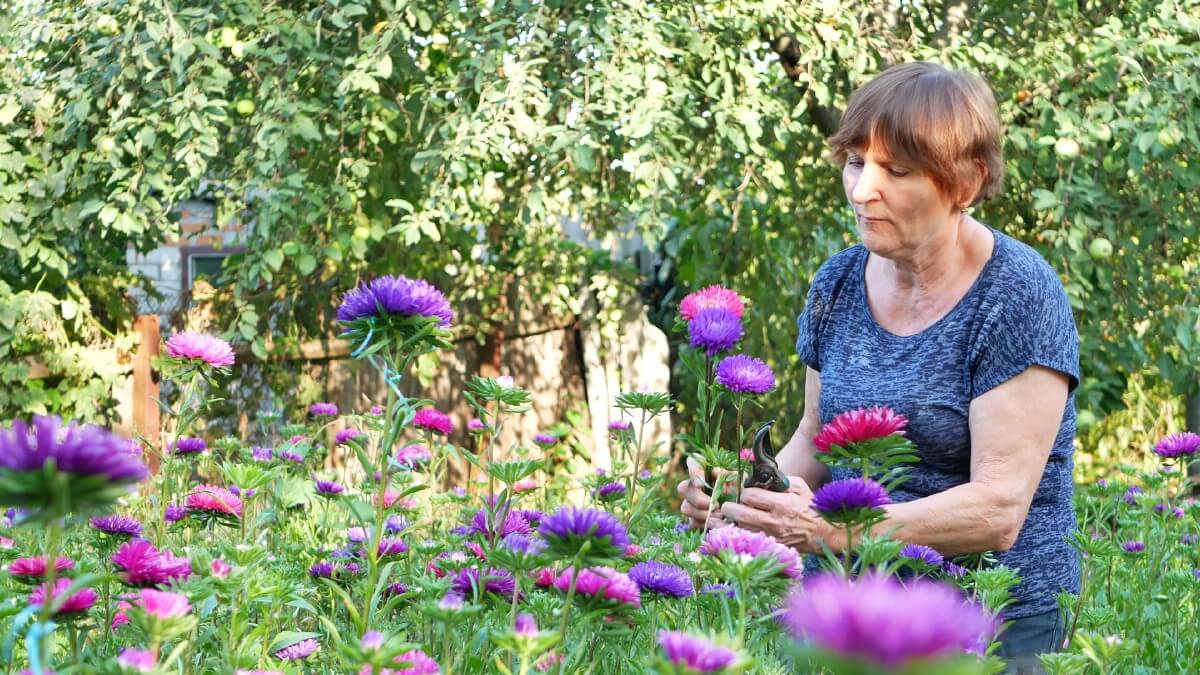 When to Cut Back Asters
Like many other perennials in your garden, asters should be cut back after they finish blooming for this season. You can take care of this chore in fall.
Use a pair of garden shears to cut the stems. Leave about 1-2 inches.
Make sure you clean up afterward. If you leave the dead, cut stems lying around, pests might move in. And that brings us around to our next section.
Are Asters Vulnerable to Diseases or Pests?
There are some pests and diseases that may affect asters, but on the whole, disease among asters is not that common, whether caused by fungal infection or other agents.
NC Extension says, "It would be wise to monitor for lace bugs, mites, aphids, and Japanese beetles. Rusts, powdery mildew, downy mildew, leaf spots, and Verticillium wilt can occur."
Of all of the pests listed, the lace bugs are usually the most trouble. If you discover an infestation, there are sprays you can use to get rid of it.
Slugs and snails may get at asters too, so those are more pests to be on the lookout for.
The University of Vermont writes, "Deer and rabbits can be quite fond of asters, too. There are repellent sprays for these. Low fencing for rabbits, and deer netting for these may be needed if repellents don't work. Keys are to train these animals early in the season, and to rotate among more than one repellent strategy or spray."
How to Divide and Transplant Asters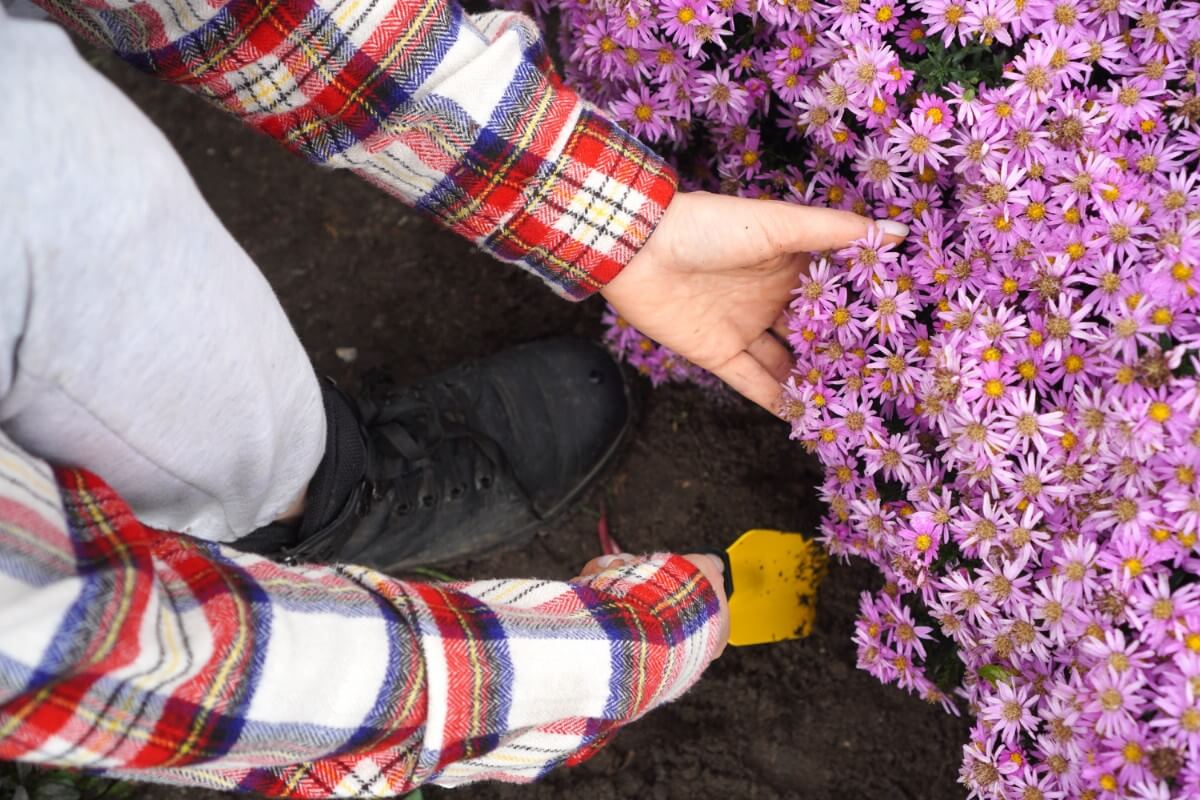 Asters are among the perennials that will require the most frequent dividing and transplanting in your garden. In fact, you will want to see to this every other year or so. The ideal season for this task is spring.
Make sure to divide your asters before they start budding. If budding has already commenced, just put off dividing them again until the following year. Here are the steps:
1. Cut the plant.
Do you know how with most plants you divide and transplant, you have to start by removing the entire plant from the ground first?
You can do that with asters, but you do not have to. Instead, if you want, you can just use a shovel to cut right down through the aster's middle to split in two.
The reason this is okay is that the center of your aster plant is probably dying or dead anyway. The edges contain fresh growth (assuming, of course, that your plant is ready for division).
2. Cut down around the part you want to pull up.
There is no need to dig the entire plant out of the soil. Your entire goal is to divide it, so why not leave one-half right where it is, and extract the other half and move that somewhere else?
So, dig down with your shovel and cut a semicircle around the half you are trying to remove. Watch out for the roots, and be careful not to damage them.
3. Pull up the half you are moving.
You should now be able to remove the section of the plant you want to relocate from the ground. You can get underneath it with the shovel to push it up and out.
4. Shake loose the extra soil.
Extra soil will come up with the plant. Shake it loose, and gently wipe away any excess.
5. Fill back in the hole.
There will be some missing mass from the hole, even though you just shook some of the soil back into it.
Fill in the hole with soil from somewhere nearby.
6. Remove dead parts.
Now you need to finish dealing with the section of the aster you removed from the ground. It might have some dead material attached to it. Remove that material with shears.
7. Transplant the aster section.
You can now dig a hole for your newly divided section of aster and put it in the ground. Backfill, mulch, and water as usual.
The benefit of the method above is that it saves you time and effort over digging up the entire plant to divide it.
The drawback is that you did not have a chance to remove dead plant matter from the portion you did not pull up out of the ground.
That means that while the overall appearance of that aster should improve during the next season, it may still not be quite as satisfactory as you would like, especially for asters that have been around for a while.
If you have more time and energy to invest in dividing and transplanting, you can get even better results by digging up the entire plant, separating it carefully by hand, and removing all of the dead plant matter from both sections before putting them back in the ground.
This is very much like the process you are probably used to for dividing and transplanting most other perennials in your garden.
Recommended Companion Plants for Asters
There are many flowers that can make a stunning accompaniment to asters. Here are a few companion planting ideas to consider: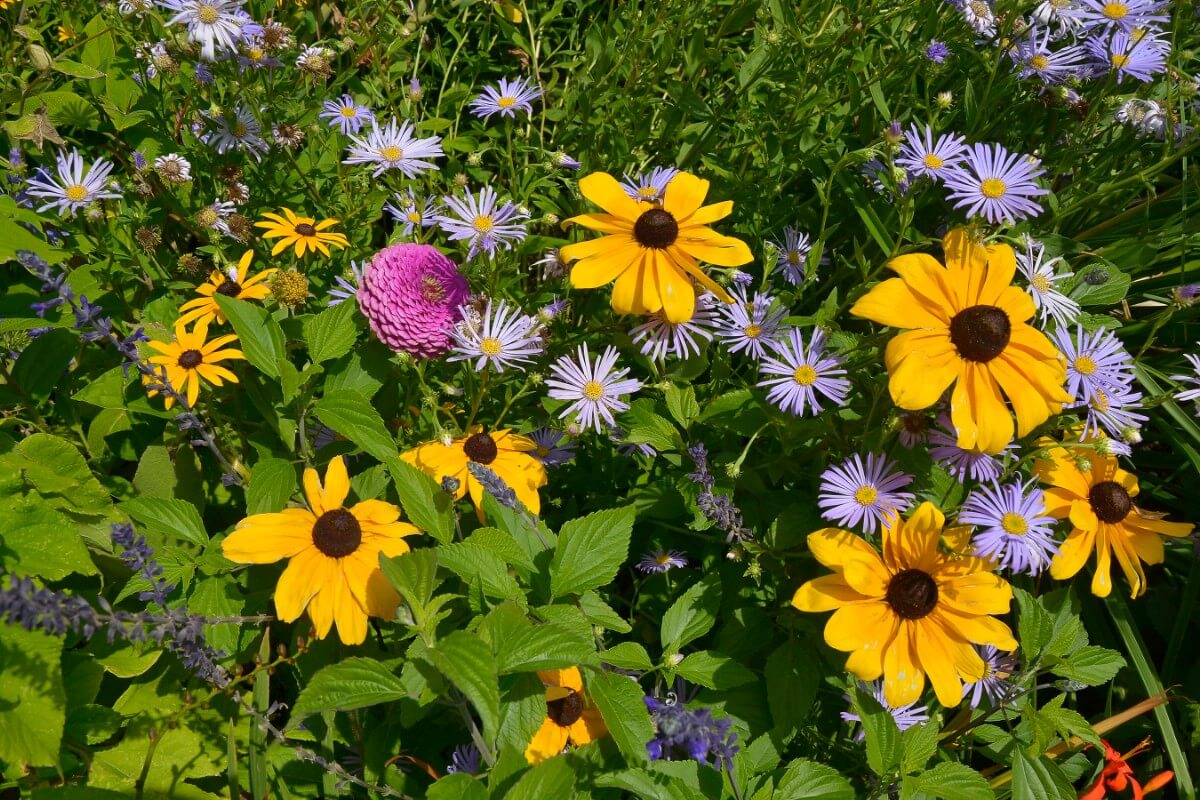 Black-eyed Susans: These yellow flowers with dark centers are members of the same family as asters. They also blossom during the summer months and can mix in nicely with your asters. In fact, we have put together a whole growing guide for black-eyed Susans. Be sure and check it out!
Coneflowers: These flowers look similar to daisies, but typically feature drooping petals. It is most common to find them in a purplish-pinkish hue. They look stunning next to asters.
Zinnia: This plant also belongs to the daisy family, but the flowers can look completely different from asters. Often, they feature fluffy petals and come in shades of pink, red, yellow, orange, and white. Alongside your asters, they offer a cheerful look.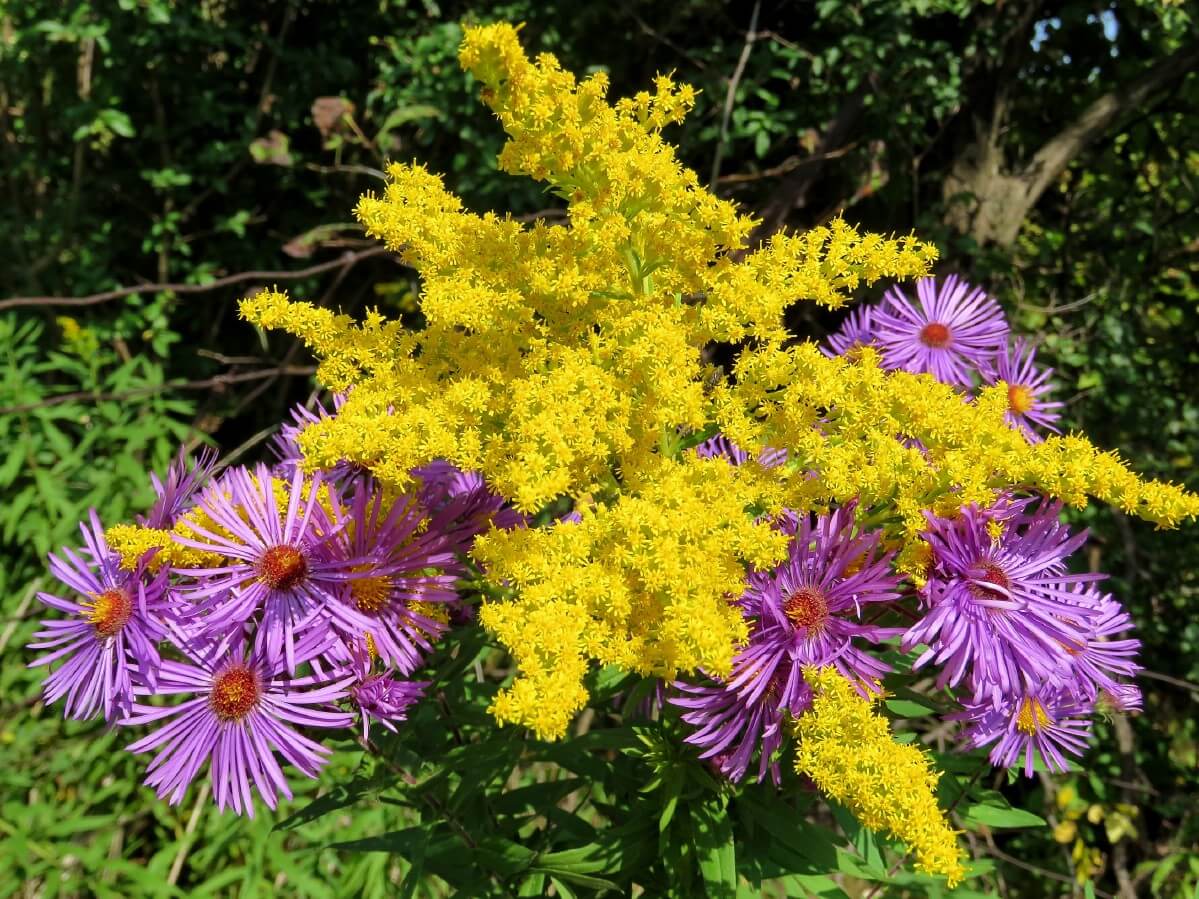 Goldenrod: These cones of yellow flowers can blossom around the same time as your late-blooming aster cultivars. They add textural interest by providing a contrast with the aster blooms.
Those are just a few ideas for companion plants for your asters. You could come up with dozens more.
Frequently Asked Questions About Growing Asters and Daisies
Are asters the same as daisies?
The words "aster" and "daisy" may be used interchangeably or not, depending on the exact context.
"Aster" may refer to any plant in the Asteraceae family, for example, but we also call this family the "daisy" family. So with respect to plants in that family, yes, one could use the words interchangeably.
There are also some plants in the Aster genus that may be referred to as daisies. For example, there is the Aster amellus. The common name of this plant is the "European Michaelmas daisy."
But the common daisy Bellis perennis is part of the Bellis genus, not the aster genus.
Still, it belongs to the Asteraceae family, so we can still consider it to be an aster in the sense that it is part of the "aster family."
What eats asters?
Slugs, snails, various insects, deer, and rabbits may all be the pests eating your asters. Monitor the plants and the types of damage to try and figure out what the culprits are.
What is best to plant with asters?
Black-eyed Susans, zinnias, goldenrods, and coneflowers are a few ideas.
Are asters annual or perennial?
The Asteraceae family includes annual and perennial plants as well as biennial plants. But most asters are perennials. Daisies also are also usually perennials, but some annual daisy cultivars exist.
Where to Buy Asters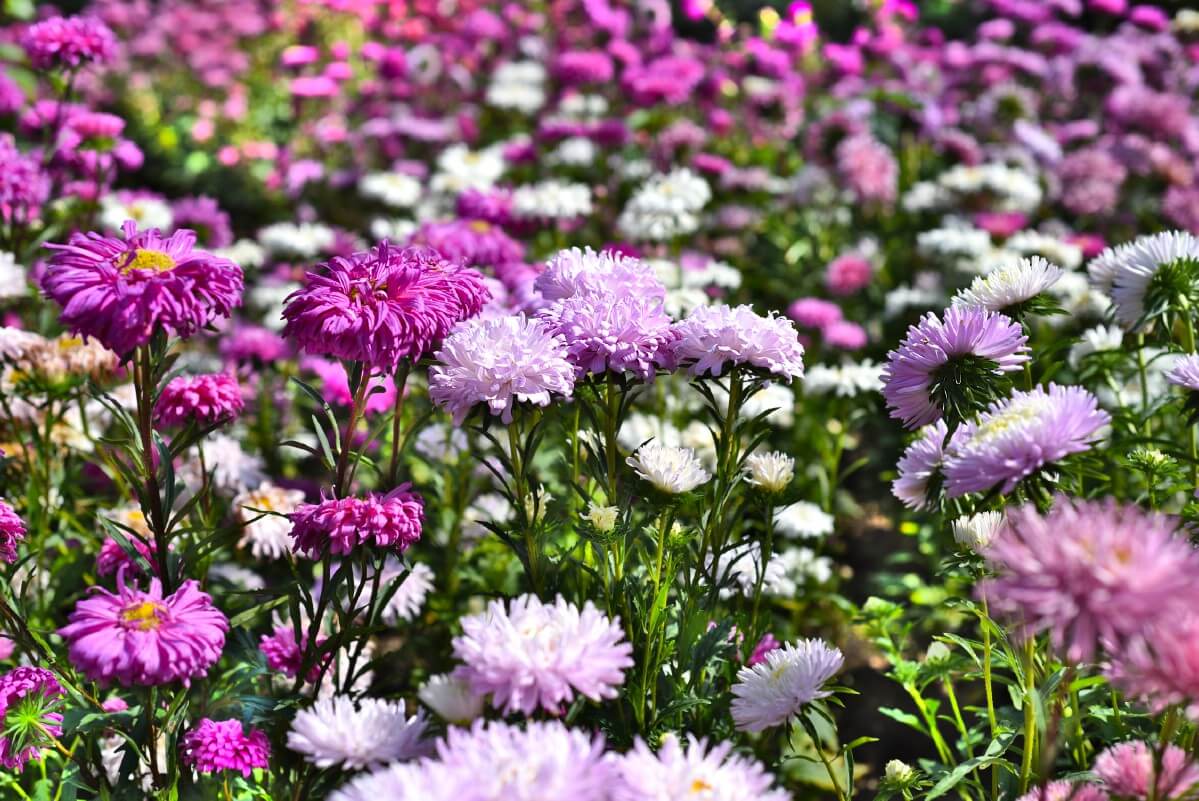 You now know all about asters. These diverse plants can add a variety of colors to your garden while being relatively easy to maintain.
Aster seeds on Amazon.
Bestseller No. 1
Green Promise Farms s Woods Aster Live Shurb Plant, 2 Size Container, purple flower
It is fully rooted in the soil and can be planted immediately upon arrival, weather permitting. We advise not to plant during frigid winter months or under drought conditions
For best results, plant in USDA Zones 4-8. Mature height is 12-15in, mature spread is 18-24in
Dense, mounded form with light pinkish-purple flowers starting early September which can completely cover with flowers at certain points
Bestseller No. 2
Aster Rainbow Mix Flower Seeds for Planting, 300+ Seeds Per Packet, (Isla's Garden Seeds), Non GMO Seeds, Botanical Name: Callisteephus chinensis, Great Home Garden Gift
🌼 🌱 Beautiful and wonderful landscape or cut flower.
🇺🇸 All our seeds are Home Grown in the USA - Isla's Garden
🌎 Hardiness Zones: 1,2,3,4,5,6,7,8,9,10,11,12
Bestseller No. 3
Seed Needs, New England Aster Wildflower Seeds for Planting (Aster novae-angliae) Heirloom & Open Pollinated, Attracts Butterflies (1 Pack)
QUALITY - All seeds packaged by Seed Needs are intended for the current and the following growing seasons. All seeds are stored in a temperature controlled facility that is free of significant amounts...
QUANTITY - Seed packets by Seed Needs offer generous quantities. You can share with friends and family, or save your extra seeds until the next season, if properly stored.
PACKETS - Each packet displays a beautiful illustration of the variety to be grown, as well as detailed seed sowing information on the reverse side as well. Measures 3.25" wide by 4.25" tall.
Bestseller No. 4
Outsidepride Perennial New England Aster Wild Flowers - 1000 Seeds
New England Aster grows as a perennial in USDA Zones: 3 - 9. These wild flowers thrive in full sun and can adapt to a variety of soil conditions.
These asters are a very hardy plant and have large purple blooms that are deer resistant and will last from late summer to fall.
New England Aster is the perfect wildflower for any flower garden or meadow, growing anywhere from 36 - 48 inches tall they also make wonderful cut flowers.
Bestseller No. 5
Outsidepride Paeony Aster Garden Cut Flower Plant Seed Mix - 1000 Seeds
You cannot go wrong with this incredible mix of colors! This Aster seed mix offers colors of yellow, scarlet, apricot, dark blue and more.
This aster paeony mix grows as an annual reaching 28 inches tall and grows in USDA zones 3 - 9.
Duchess Asters have huge, double blooms with incurved petals that grow on tall, upright plants with 5 to 8 floral stems.
Ready to bring these summer blooms to your garden? Click the link below to shop a wide variety of asters now. Online, you will find a wider selection than your local garden center is likely to carry.