Flat top grills are all the rage, and for good reason. They do an excellent job of cooking moist, delicious meats, grilling, roasting, and sautéing all sorts of vegetables. They're highly versatile, and your food tastes fresh without the charcoal char flavor of flame and charcoal grills.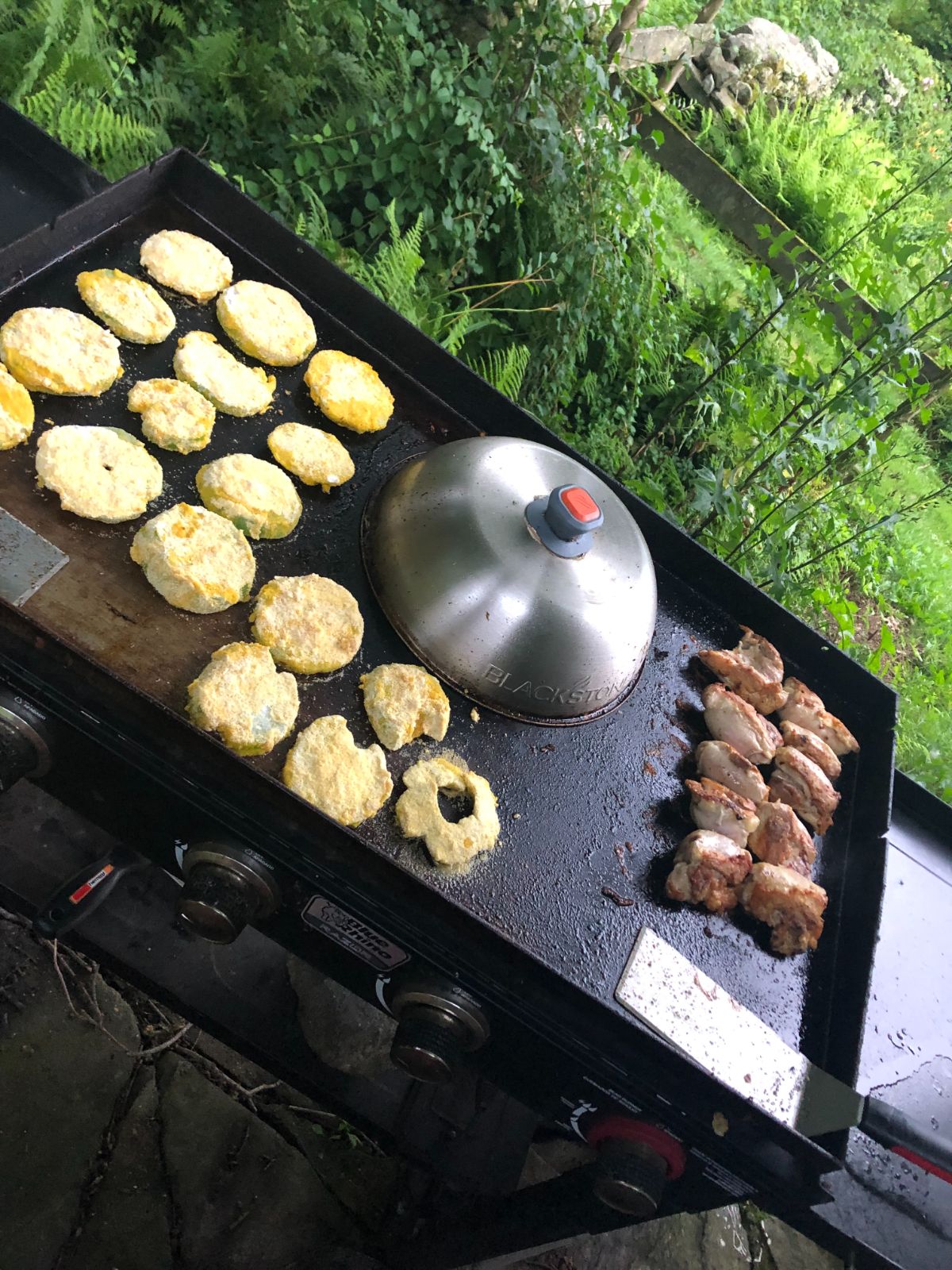 There are probably no vegetables that can't be cooked on a flat top griddle grill in one way or another. At least, no vegetables that couldn't be cooked on or in a regular stove or range.
Cooking on a flat top grill is a little different than cooking vegetables on a stove or on a more traditionally-styles grill with grates. You probably have more options and flexibility on the griddle-style grill. But to cook vegetables well on a flat top grill, there are a few essential pieces of equipment you have to have. And a few others that are just a really good idea.
Here's what we recommend to make the most of grilling vegetables on the flat top.
Jump to:
Accessories You Really MUST Have for Grilling Veggies on a Flat Top
The list of "must-have" flat top grill accessories is a short one. However, you'll want to consider buying more than one of each of these two must-have pieces of grilling equipment:
Basting Cover (Correction—CoverS!)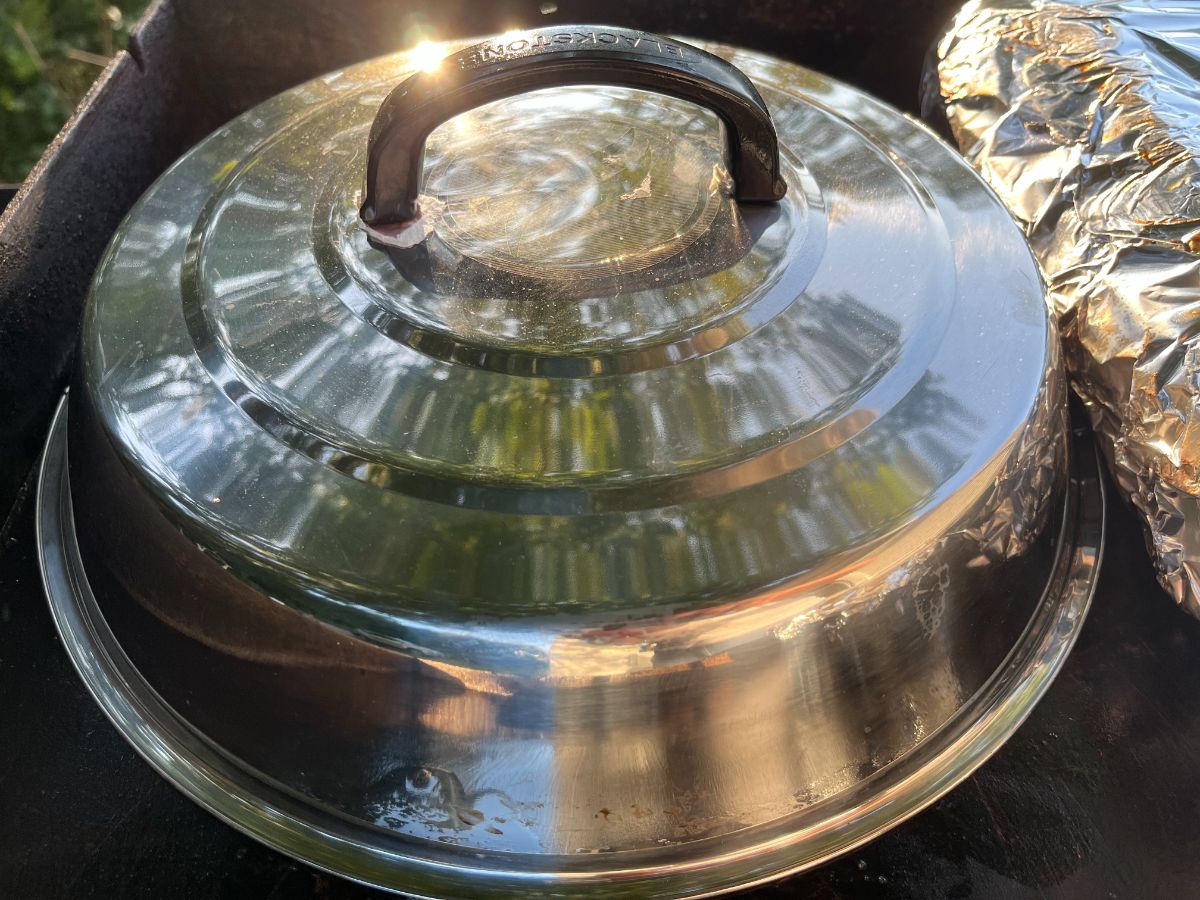 Try cooking vegetables well on the grill once without a basting cover. You'll quickly learn what you're missing.
Cooking small sauté or stir fry-type vegetables without a basting cover works, but for anything that needs more time, heat, or steaming, you have to have one.
Basting covers hold in the heat and steam and help vegetables cook evenly even when only part of the vegetable is directly exposed to the heat. Without one, too much heat escapes, and it takes too long for a lot of vegetables to cook. Cooking will be uneven, and the lack of steam and even heating results in dry and overdone vegetables—not a good way for your fresh garden vegetables to go!
With a basting cover, you can make even whole roasted potatoes on your flat top grill. Small to medium potatoes do best, but with time and patience, even large spuds are game on the flat grill.
If you really want to set yourself up for success, buy more than one basting cover. Three (or more) is not an unreasonable number. You'll like having options on hand and having at least one cover to use when you're cooking meat alongside your vegetables.
A couple of different shapes won't hurt, either. Round is right for a lot of things, but longer vegetables like corn on the cob (along with a lot of large cuts of meat) might be easier with a larger, rectangular style of basting cover.
We also recommend that you get basting covers with heat-proof handles to make it faster and easier to move the covers off and on while you cook.
Large Flat Spatula(s)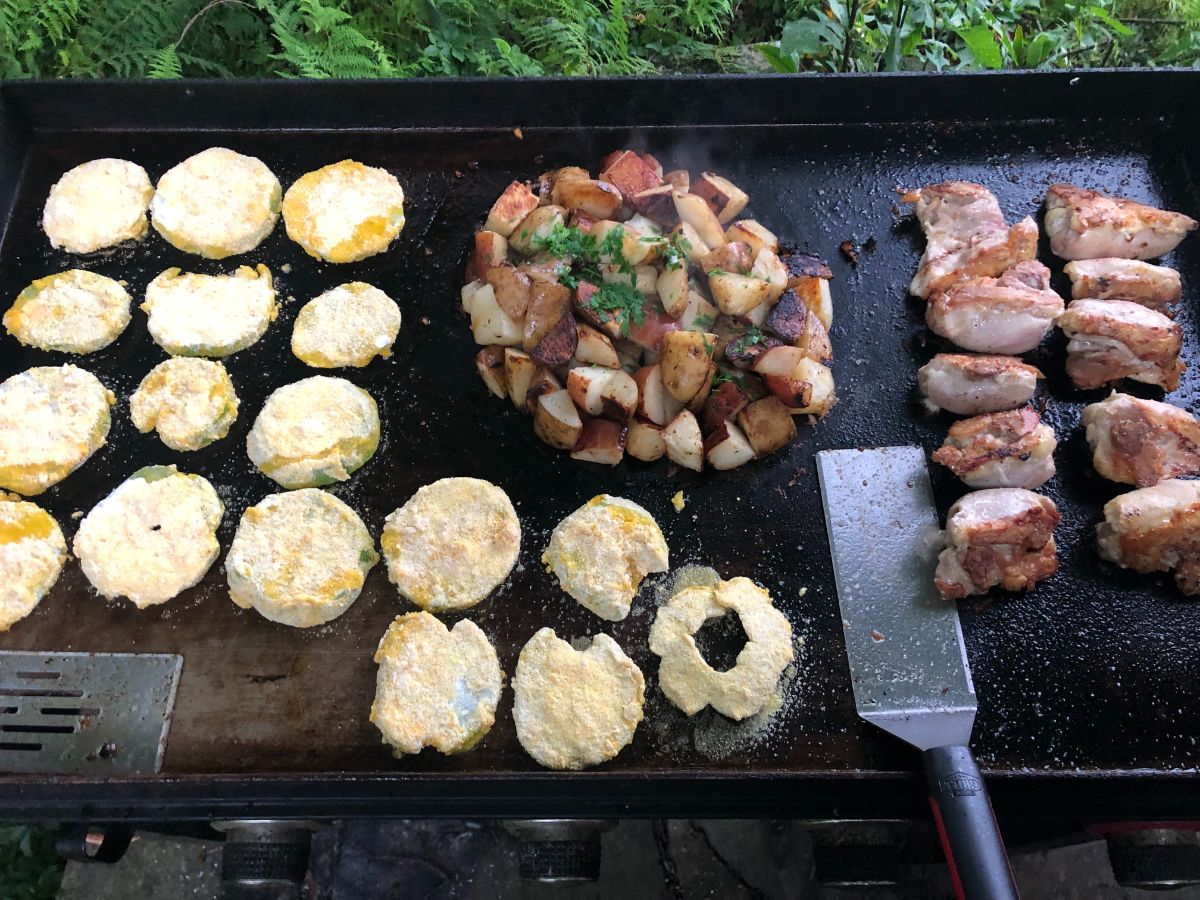 These are essential for turning and flipping roasting vegetables on the flat top grill. You'll get a faster and more even turn if you use a long, wide spatula. You want one that is at least two and a half to three inches wide and four or five inches long.
It is a good idea to have one that is slotted and one that is solid, so you can choose which is best for the food you're cooking and if you want any liquids, fats, or oils to strain off when you flip or turn back into the vegetables you're cooking.
You can find some very large and wide spatulas out there, which might also be nice to have. For starters, start with a basic long, flat-bladed spatula—this will do most any job on your flat top grill easily. If you like good gadgets, though, you might also consider this griddle turner.
Accessories You Really SHOULD Have for Flat Top Grilling Vegetables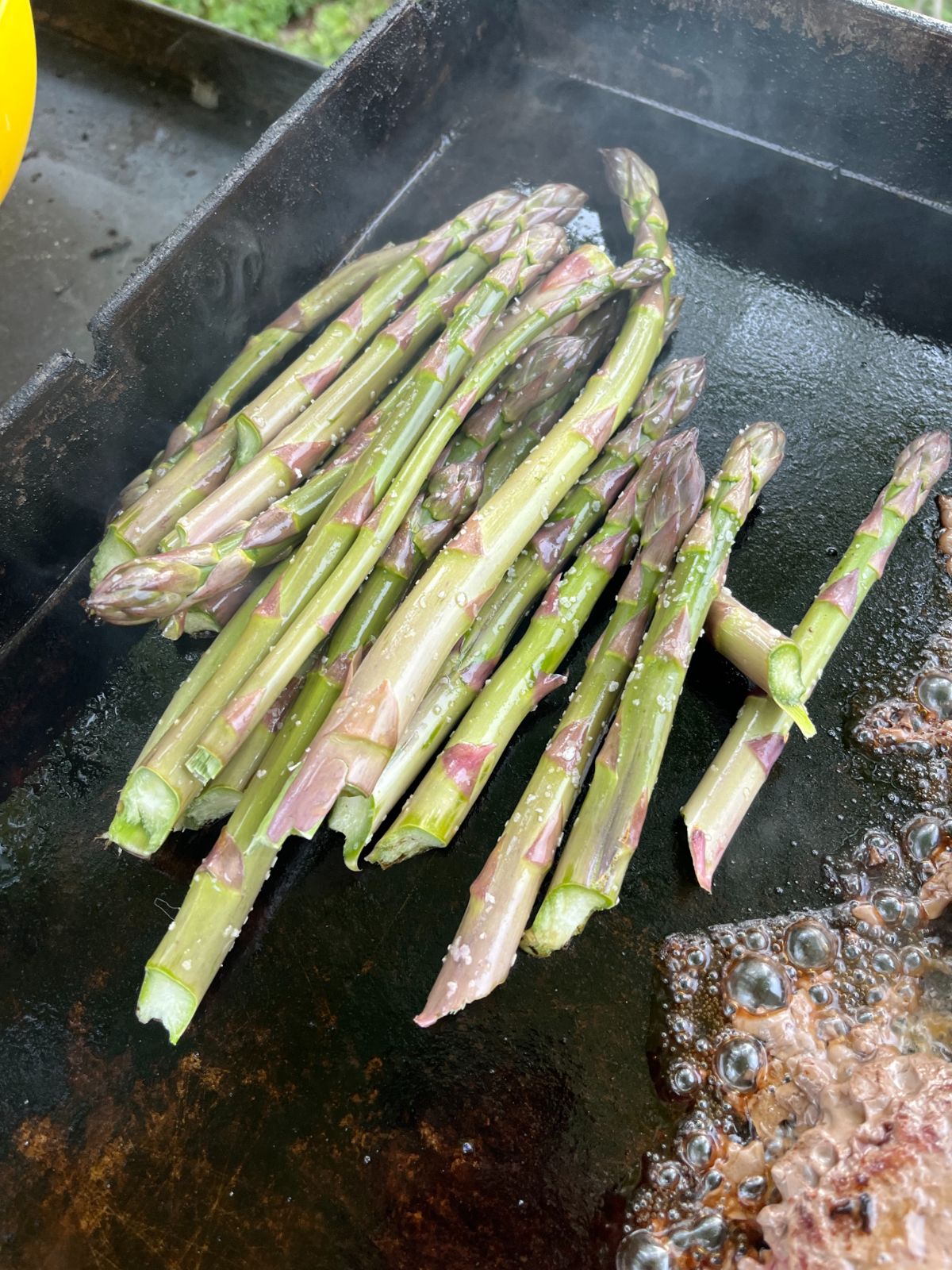 Once you start cooking your vegetables on your flat top grill, you're not going to want to stop. There are several utensils and accessories that will come in handy when you start grilling your vegetables more frequently and as you start experimenting with preparation.
Here's what we suggest you have:
Basting Brush
Basting brushes make it easy to paint on sauces, butter, oils, and seasonings. They're really a must-have for any kind of grilling, and they're quite handy for grilling vegetables on the flat top.
Basting Bottles or Sauce Bottles
It's not always practical to brush oil, sauce, or seasonings onto small vegetables. Basting bottles make the work easy. It's handy to keep a bottle filled with good cooking oil of your choice (olive oil is our favorite). Oil is important to keep vegetables from sticking and to help them cook properly all around.
Basting bottles are similar to (or the same as) the squeeze bottles restaurant condiments and dressings are served in. They're handy to have a grill side, and you can fill them with whatever you need. Keep one filled with water for cleaning off the grill after you cook.
Tongs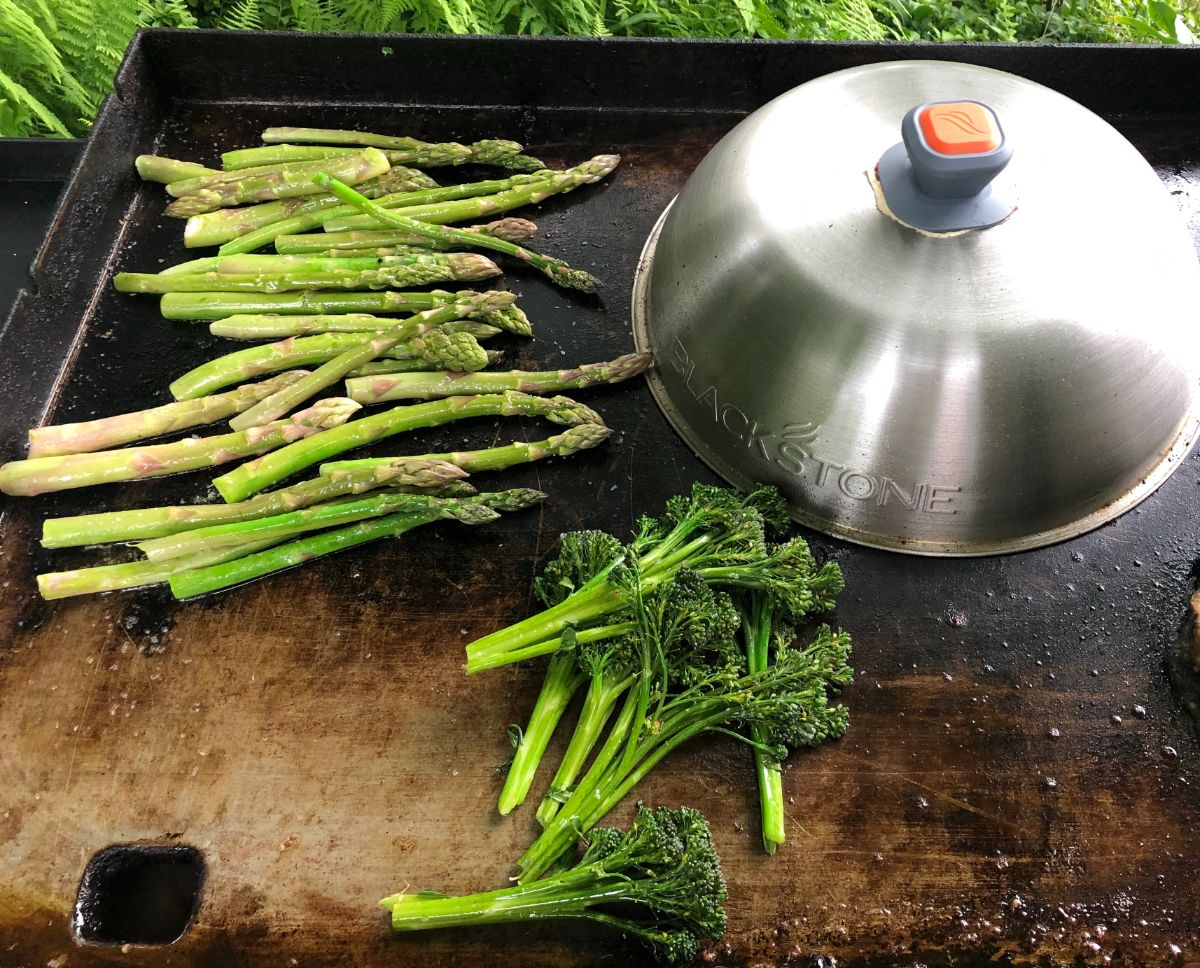 Some vegetables just don't lend themselves well to turning with a spatula. Whole roasted potatoes and corn come to mind, as do spears of asparagus and Swiss chard greens.
There are some things you'll want a decent set of tongs for. You might prefer a long-handled grill type, or a more rounded kitchen type with a better grip and tongs. It's not a bad idea to have them both available. There's even a hybrid version of tongs that is something of the best of both worlds.
Heat Resistant Gloves
You could probably live without a pair of heat resistant gloves for grilling vegetables, but why should you?
A good pair of heat resistant gloves makes it a lot easier to handle large grilling packets, like when you're grilling foil-wrapped packs of corn on the cob. They are also easy to keep on when you're cooking a variety of things all at once, and you might have to handle different hot foods or equipment. Heat resistant gloves make it easy to turn large packets and pull off things like foil-wrapped potatoes or whole large vegetables (again, corn and potatoes, here).
These gloves can be useful not only while you're cooking on your flat top grill, but afterwards when hot vegetables and ears of corn need to be peeled or hot foil wrappers need to be opened.
Burger Press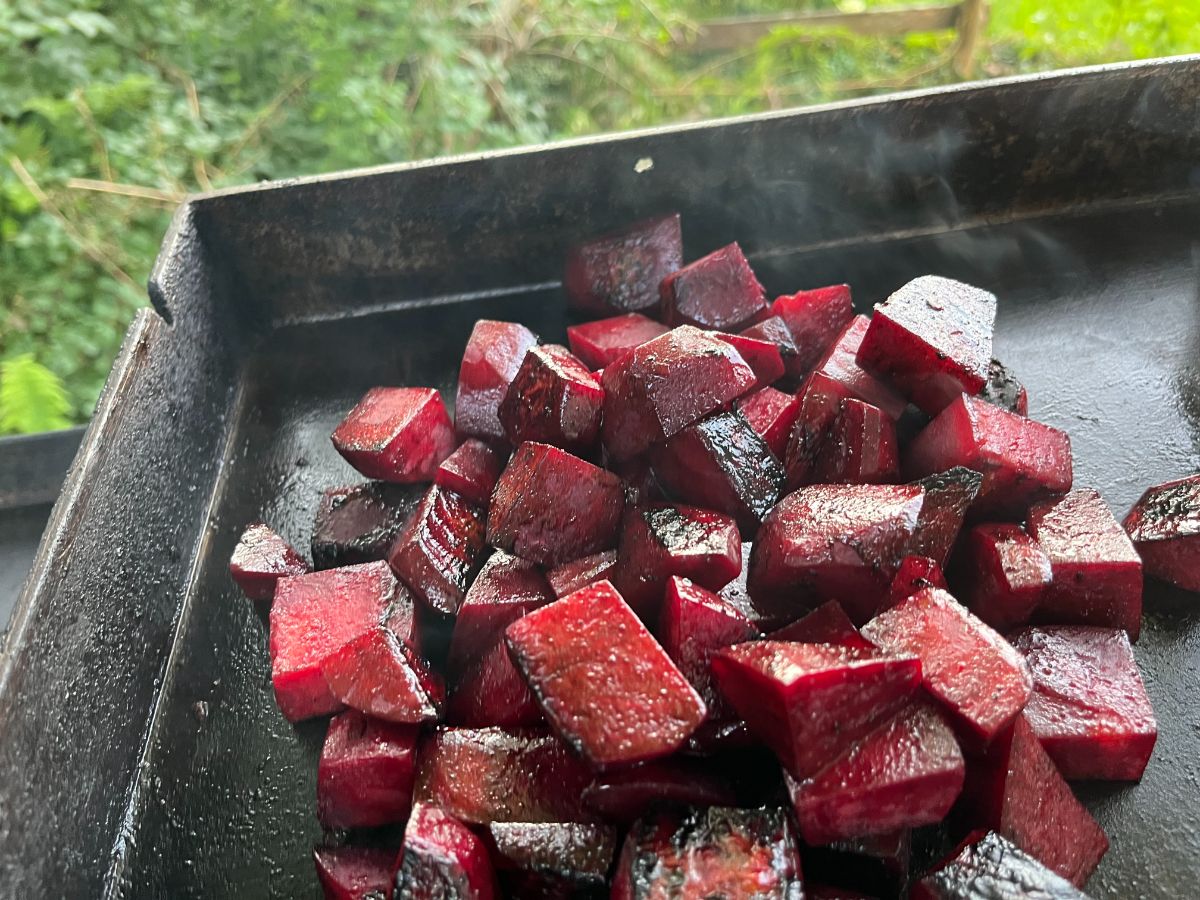 A burger press isn't something you will need for every kind of vegetable you cook on your flat top grill, but it's something that can be useful for certain dishes—and having one opens up your culinary options.
A nice, heavy burger press will come in handy if you want to make something like smashed potatoes on the griddle grill—which is, incidentally, the perfect place to make them! They're easy to make and smash all in one place, there are no pans to dirty, and the hot grill top crisps them up perfectly. Try it!
Oh...and we suppose you could use your burger press to make burgers or bacon on your grill to go with.
Some Consumables and Grocery Items that You'll Want, Too
You'll find there is a theme to the grocery items and ingredients you use when you make a habit of cooking vegetables on a flat top grill. These are a few we suggest you have on hand:
Good cooking oil. Olive oil comes to mind first, but if there is another oil or oils you like best, go for it. You will absolutely want a good cooking oil to coat vegetables, flavor them, and keep them from sticking on the grill.
Aluminum foil. Aluminum foil is versatile and is the best way to hold in heat without a basting cover. It is also the best way to keep small vegetables and combination dishes collected while grilling, especially if you want to keep a liquid or oil in.
You'll want at least salt and pepper, but think of some seasonings that could kick your grilled veggies up a notch. Some good seasoned salts, spice blends, or herbs fresh from your garden (or dried for later use!) are nice things to have around to spice up your vegetable repertoire.
Improvised Flat Top Grill Accessories to Use in a Pinch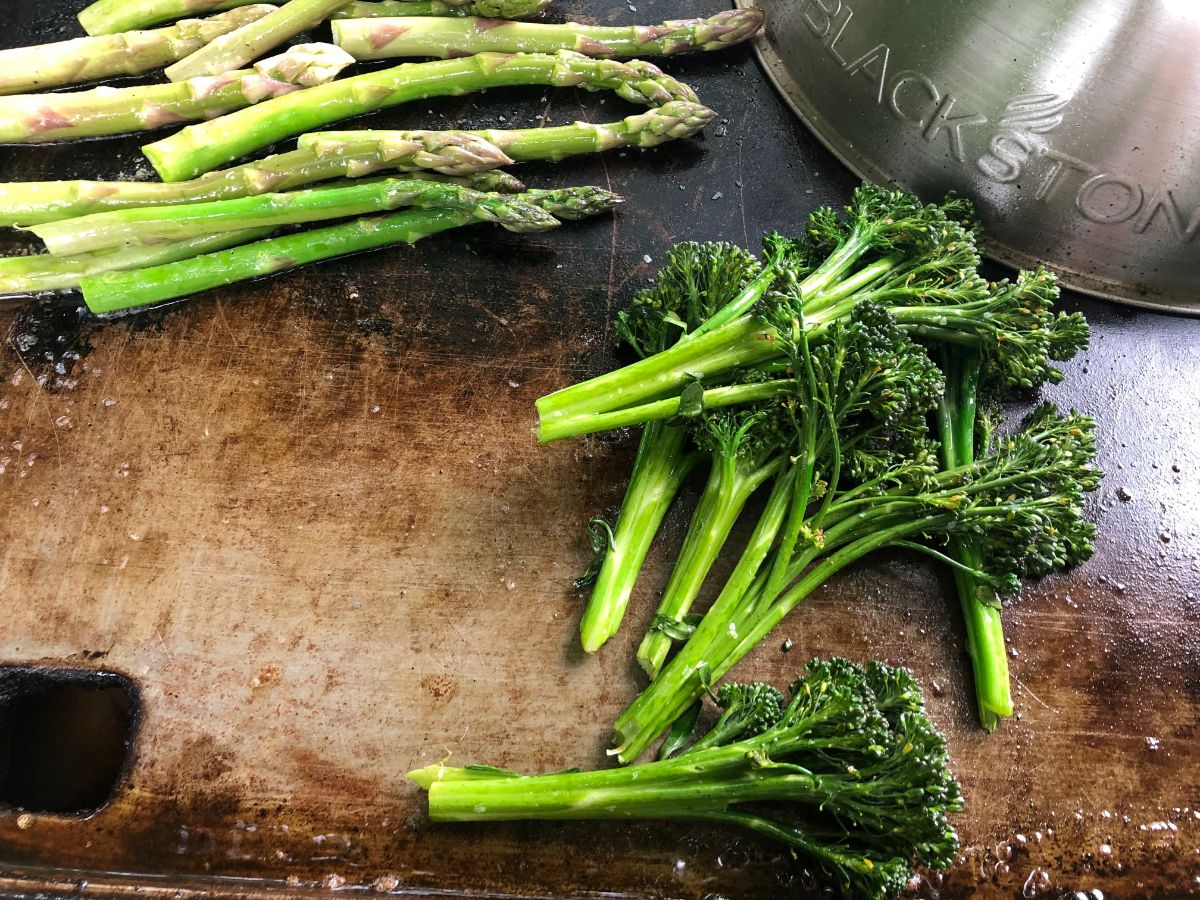 Until you collect these recommended flat top grill utensils and accessories, there are a few things you can usually find lying around your kitchen to use in a pinch. (They're good when you're caught short, but once you've fumbled with them long enough, you'll know why you want to make the small investment in these recommended grill utensils.)
Here are some hacks we've found that work to cook vegetables on a flat top grill when you don't have the real thing:
Large pan covers. Large pan covers can stand in for basting covers. Avoid using glass because the direct heat from the grill may not be safe for the cover. Covers from large stock pots are usually best. You want something domed and as tall or deep as you can find—at least a couple of inches high at the top.
Overturned baking pans. A baking pan—like a cake pan or metal casserole dish—can also stand in for a basting cover. They're not very convenient to use because they don't have handles, so they're cumbersome to open, close, and reset. But, in a pinch, they work to hold in the heat. And then, after dinner, you can go online and order the real thing.One advantage that baking pans do have is that they are deep, so they might give you more height and volume than a pan cover could. Again, when choosing your pan, metal is best, and you should avoid using any glass or stoneware pans on a flat grill—the heat is too direct and too high for them to handle it.
Bench scrapers. A bench scraper is a good tool to have in any kitchen. They are handy for grilling vegetables on flat top grills, too. You can use the scraper to cut open cooking vegetables, chop them while they're cooking, test them for doneness, or use as a backer against a spatula or another utensil while you're scraping and turning the veggies. A good bench scraper is a versatile tool. It also works to scrape and clean the grill (though we've found wide joint knives or a six or eight inch joint compound taping knife from the hardware section are excellent for this, and they have a handle to keep you away from the heat and steam.)
Flat top griddle-style grills have truly elevated backyard grilling. They've expanded the options of what can be cooked on a grill, and the food and versatility are all the better for it. If you haven't joined this trend, you're missing out, and if you're not cooking your fresh, local, and homegrown vegetables on your flat top grill, you're missing out even more.
If (or when) you are on board, do yourself a favor and collect these must-have and highly recommended grilling accessories. They'll make easy, delicious work of cooking your vegetables on your flat top grill.