One of the most popular vegetables to grow among backyard gardeners, cucumbers are reliable producers and easy to keep for beginning gardeners too.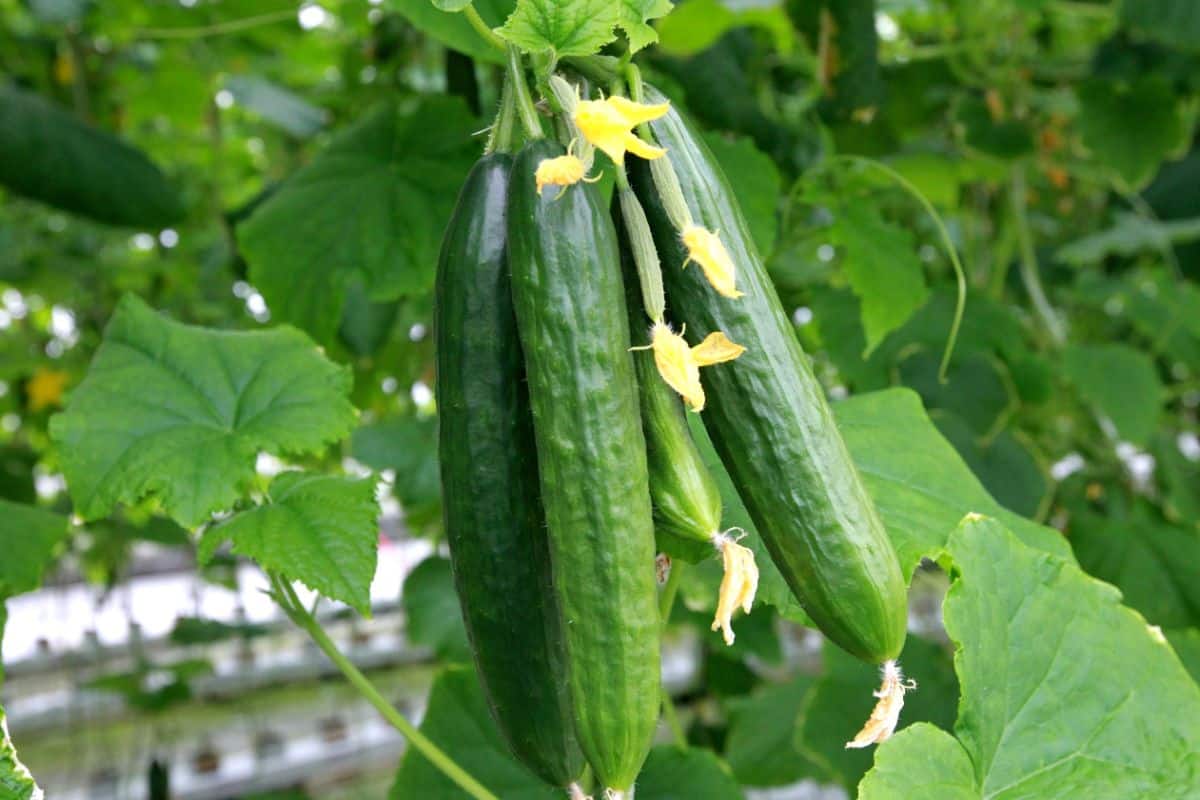 Originally grown in South Asia, cucumbers belong to the Cucurbitaceae or gourd family, which also includes squash, zucchini, pumpkins, and melons. Interestingly, North America has a native plant known as the wild cucumber (Echinocystis lobata), although this plant is a completely different species and not related to cultivated cucumbers.
Cucumbers are mostly eaten raw in salads or when pickled; however, they can also be blended into fresh soups, like gazpacho, or cooked like zucchini. However you prep them, these delightful plants are rewarding to grow and easy to care for as long as you follow a few simple tips.
Jump to:
Where to plant cucumbers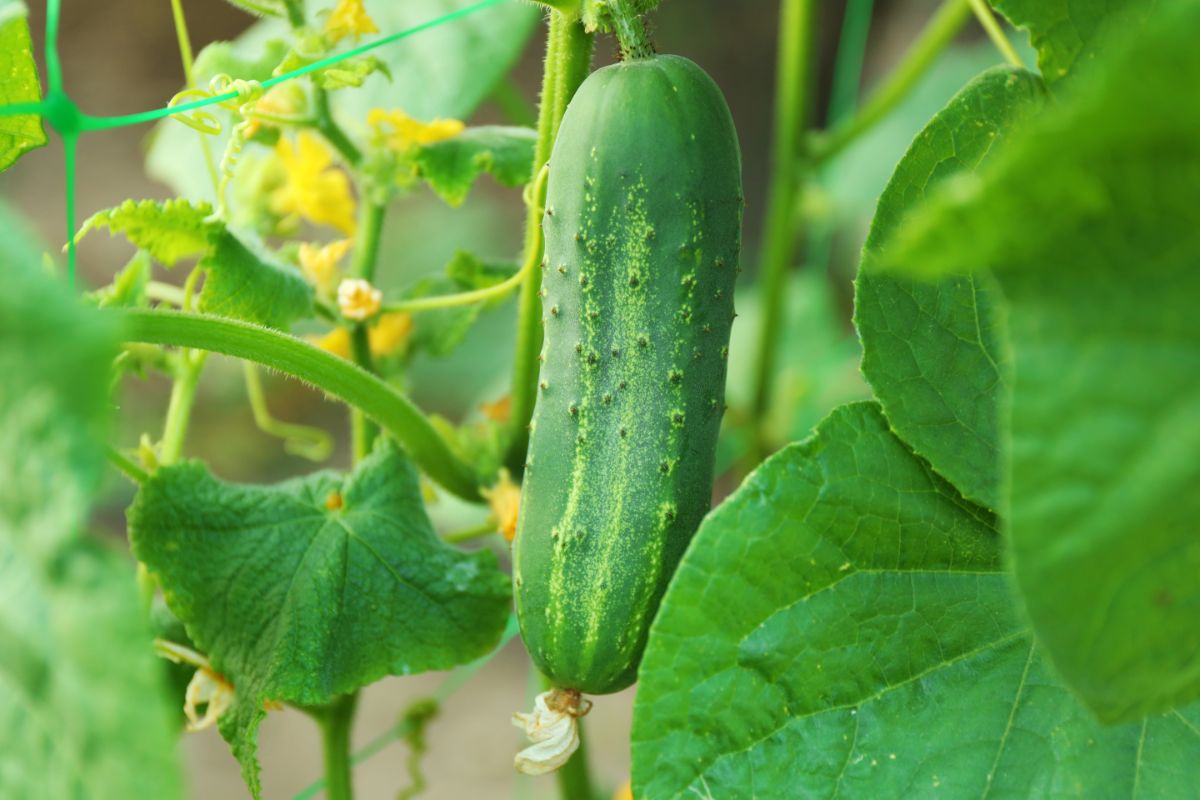 | | |
| --- | --- |
| Scientific name: | Cucumis sativus |
| Other names: | Cuke, gherkin |
| Growing season: | Spring, summer |
| Direct sow or transplant? | Both |
| Size: | 4 to 6' long for vining plants; 1 to 2' long for bush-type plants |
| Days to maturity: | 50 to 70 days |
| Light requirements: | Full sun |
| Water requirements: | Moderate |
| Soil pH: | 6.0 to 6.5 |
| Recommended fertilizers: | Compost, aged manure, low nitrogen fertilizer |
| Colors: | White, yellow, green, and bicolor |
| Common pests: | Powdery mildew, downy mildew, cucumber beetles, aphids, white flies, thrips, squash bugs, squash vine borers, spider mites |
Cucumber plants love lots of bright sun and plenty of moisture, so choose a spot in your garden that receives at least 6 to 8 hours of full sun daily. Soil should be rich and moist yet well-draining. To boost the nutrient content of your soil, try mixing 3 to 4" of compost or aged manure into the top 6 to 8" prior to planting your cucumber seeds.
If your soil is very heavy with clay or too sandy, you can amend it with organic matter, like compost, leaf mold, or manure. Growers in northern locations may want to choose soil that has a bit more sand in it, as this soil type will warm up sooner in spring for earlier planting. Either way, soil with a pH of between 6.5 and 7.0 is recommended for cucumbers.
Beyond soil and sun, you also need to keep in mind that vining cucumber varieties can take up a lot of space. If you choose to grow these cucumber types, make sure you have enough room to add a trellis for vines to grow on. Alternatively, if you only have a small garden, consider growing bush-type cucumbers, which are small enough to keep in containers.
How to plant cucumbers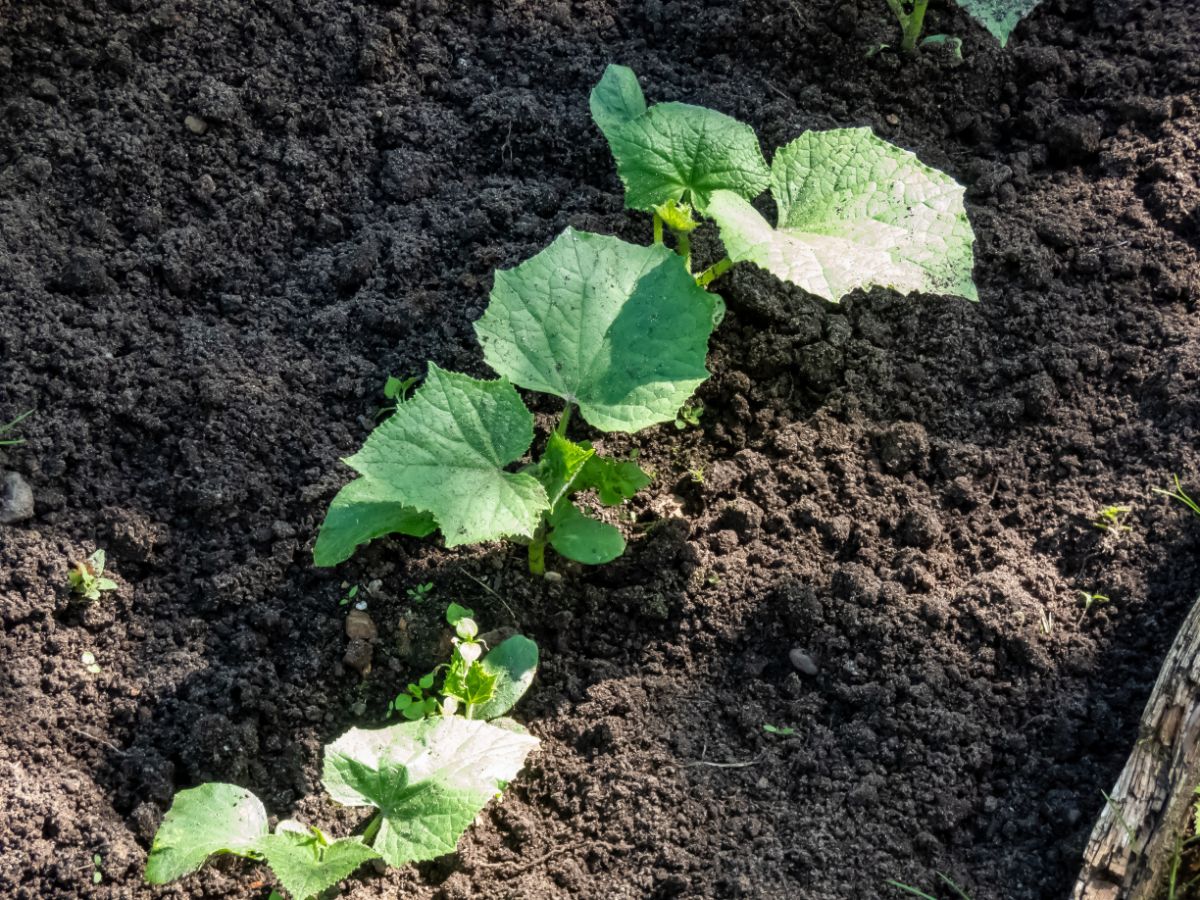 Growers in cooler regions may opt to start their seeds indoors about 3 weeks before their last frost date to get an earlier harvest. Cucumbers started inside should be placed under a bright grow light, and you may want to add a heating mat under your seed trays to speed up germination. Just keep in mind that cucumbers will vine, and they have delicate stems, which makes transplanting a bit tricky.
You can also direct sow cucumbers outside, but they are very sensitive to frost, so they should only be planted outdoors in late spring, about 2 to 3 weeks after your last frost date. Soil temperatures should be around 70ºF for optimal germination. You can help your soil warm up quicker by covering it with a layer of black plastic, although this is not necessary.
For bush-type cucumbers, sow 2 to 3 seeds per hole and space your holes out in rows 3' apart. Vining cucumbers can be planted more closely together, but you should leave about 1' of space between each planting hole. After sowing your cucumber seeds, cover them with about 1" of soil.
Alternatively, some growers opt to cultivate their cucumbers in hills spaced 1 to 2' apart, with 2 to 3 seeds planted per hill. Once seeds reach roughly 4" high, they should be thinned out, leaving just one cucumber plant per hill.
If you're growing vining cucumbers, it's a good idea to install your trellis before you plant your seeds so that you won't need to disturb your plants later on. A cattle panel trellis makes great support for cucumber vines, and they are usually quite easy to find at local livestock feed stores or garden centers.
For a more abundant harvest, some gardeners opt to succession plant their cucumber seeds every 2 weeks through mid-summer.
Tip: Cucumber seeds can be very attractive to birds, rodents, and other garden visitors. To keep critters from gobbling up your seeds, try installing a floating row cover over your cucumber bed until your plants germinate. You can also cover up planting holes with a moistened paper towel and then remove the paper towels after your plants sprout.
Growing cucumbers in your garden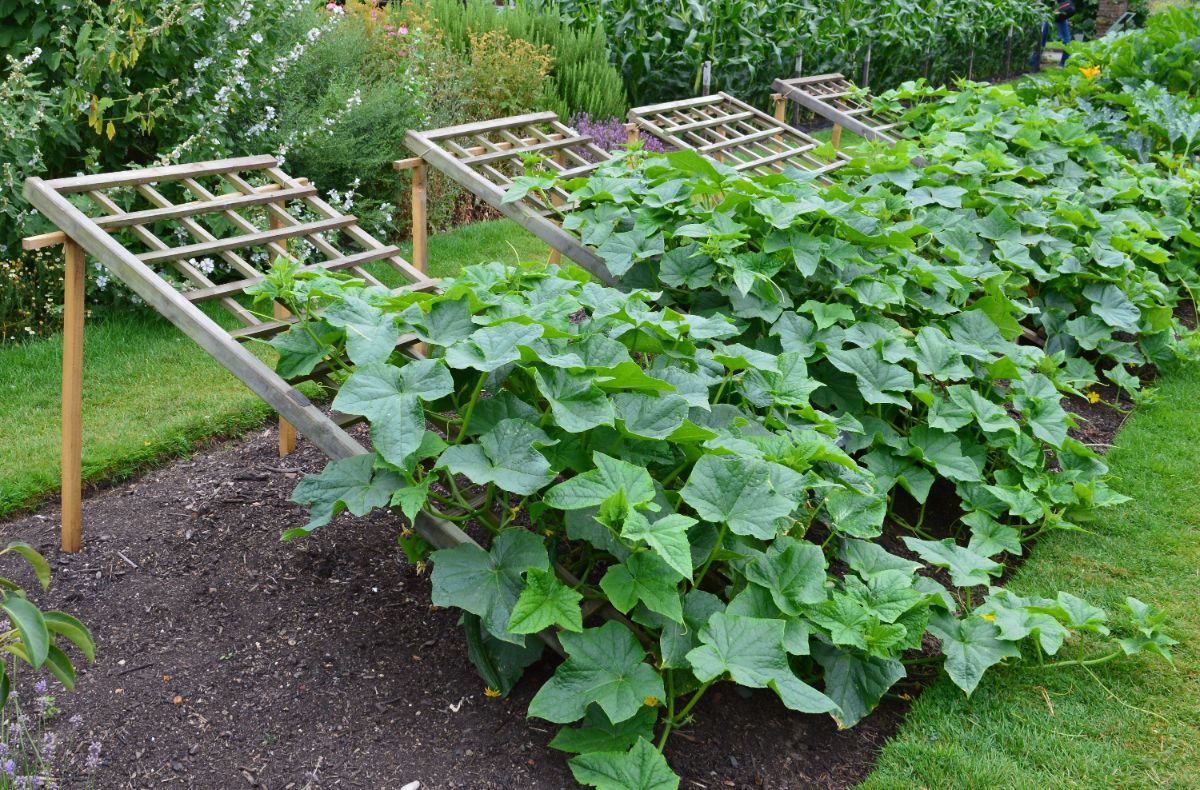 Cucumbers are not difficult plants to grow, just as long as you are consistent with tending your garden. Provide your plants with adequate sun and water and keep a look out for common pests, and you should be rewarded with a large harvest of cucumbers for fresh eating and pickling!
Light
Cucumbers grow best in full sun and should receive at least 6 to 8 hours of bright light daily.
That said, growers in very hot climates may have better success growing cucumbers in an area of their garden that receives some partial afternoon shade.
Soil
Cucumbers grow best in rich, well-draining soil that remains consistently moist.
Heavy, dense, or nutrient-poor soils should be enriched with organic matter prior to sowing your cucumber seeds to boost plant growth.
Water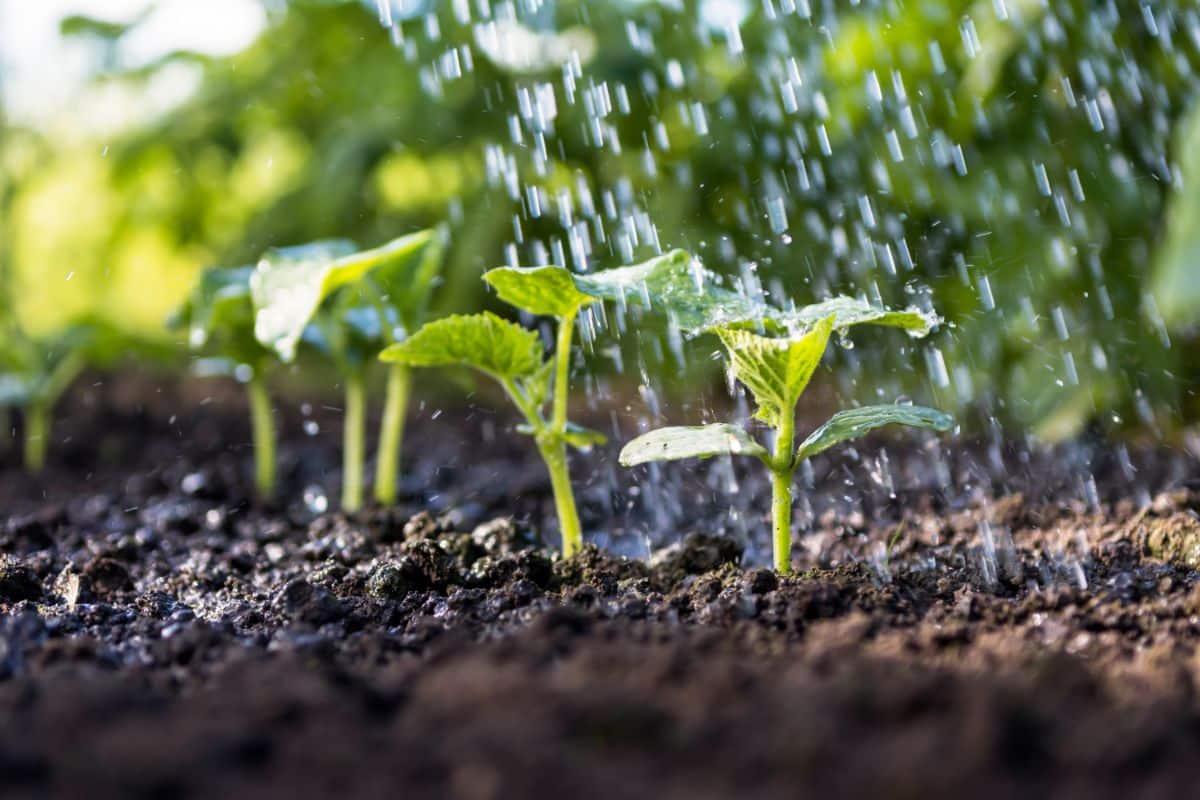 Consistent watering is essential to growing healthy cucumbers. Inconsistent or inadequate watering can reduce your cucumber yield and produce bitter-tasting fruit.
To avoid this, aim to water your cucumber plants with at least 1" of water per week, although more may be needed in hot weather. Watering your plants in the early morning is best, and always use bottom water to avoid getting leaves wet, which can promote mildew. Using a dripline system can help simplify the watering process, but if you're hand watering, try to water slowly and deeply for the best results.
After your cucumbers sprout, you may want to add a thin layer of organic mulch around your plants to keep weeds down. Additionally, mulches like weed-free straw and pine needles can keep soil from drying out. Mulch will also keep bush-type cucumbers from touching bare soil, which can cause rot.
Fertilizer
To give your cucumber plants a jumpstart on the growing season, enrich your soil with compost or aged manure before you plant your seeds. If you do this, you won't need to fertilize your cucumbers again until they begin to bloom.
Once your cucumber vines start flowering, fertilize them with a low-nitrogen fertilizer about 1 week after blooming begins. After that, apply a low-nitrogen fertilizer every 3 weeks throughout the growing season. You can also use a slow-release, granular fertilizer and apply it more sparingly.
It's important to use a low-nitrogen fertilizer with cucumbers, as too much nitrogen can cause leaves to grow at the expense of the fruit. This will result in stunted cumbers.
Harvesting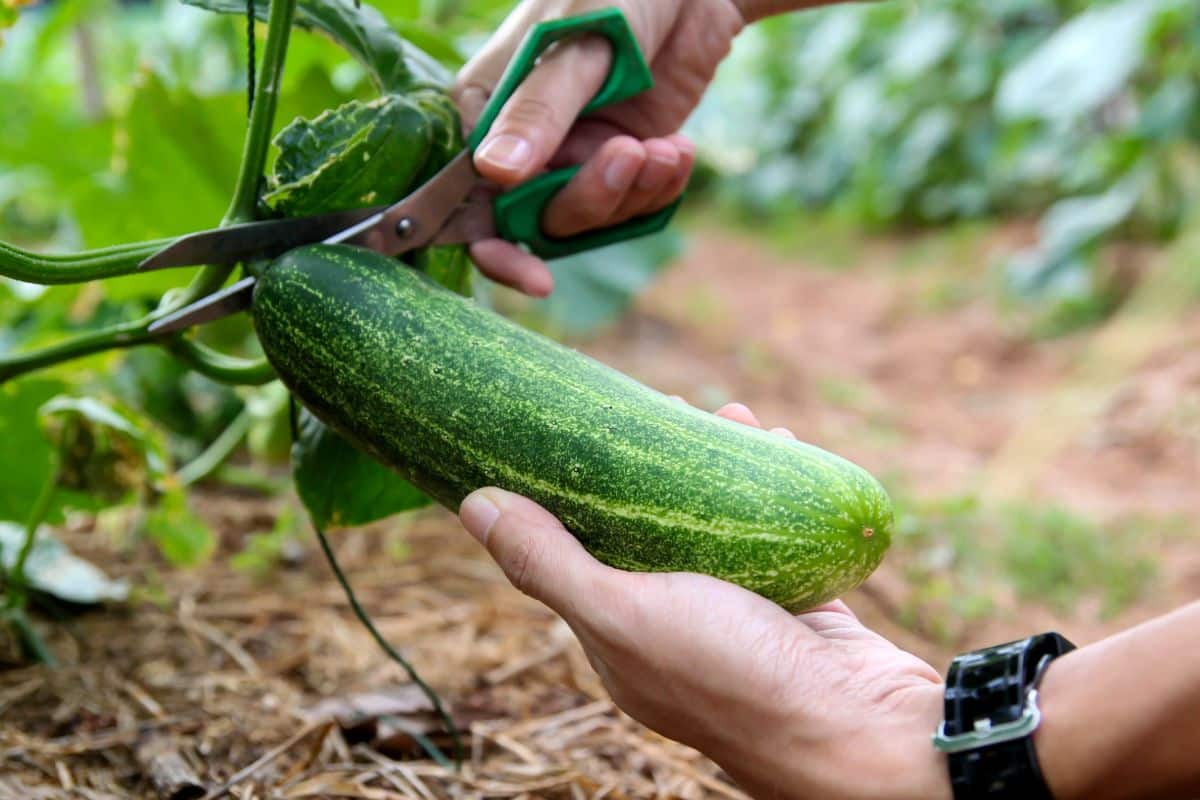 Cucumbers are fast-growing plants and are usually ready to harvest about 50 to 70 days after planting. At peak harvest time, aim to pick your cucumbers every day or two, as cucumbers left on the vine too long will become bitter and develop tough skins.
Always pick your cucumbers when their skins are green and before they turn bitter and yellow. Slicing cucumbers are usually ready to pick when they are about 6 to 8" long, while pickling cucumbers should be harvested when they are smaller – about 4 to 5" long.
When harvesting, use a knife to cut your cucumbers from their vines. This will make certain that you don't accidentally damage your plants.
Storing cucumbers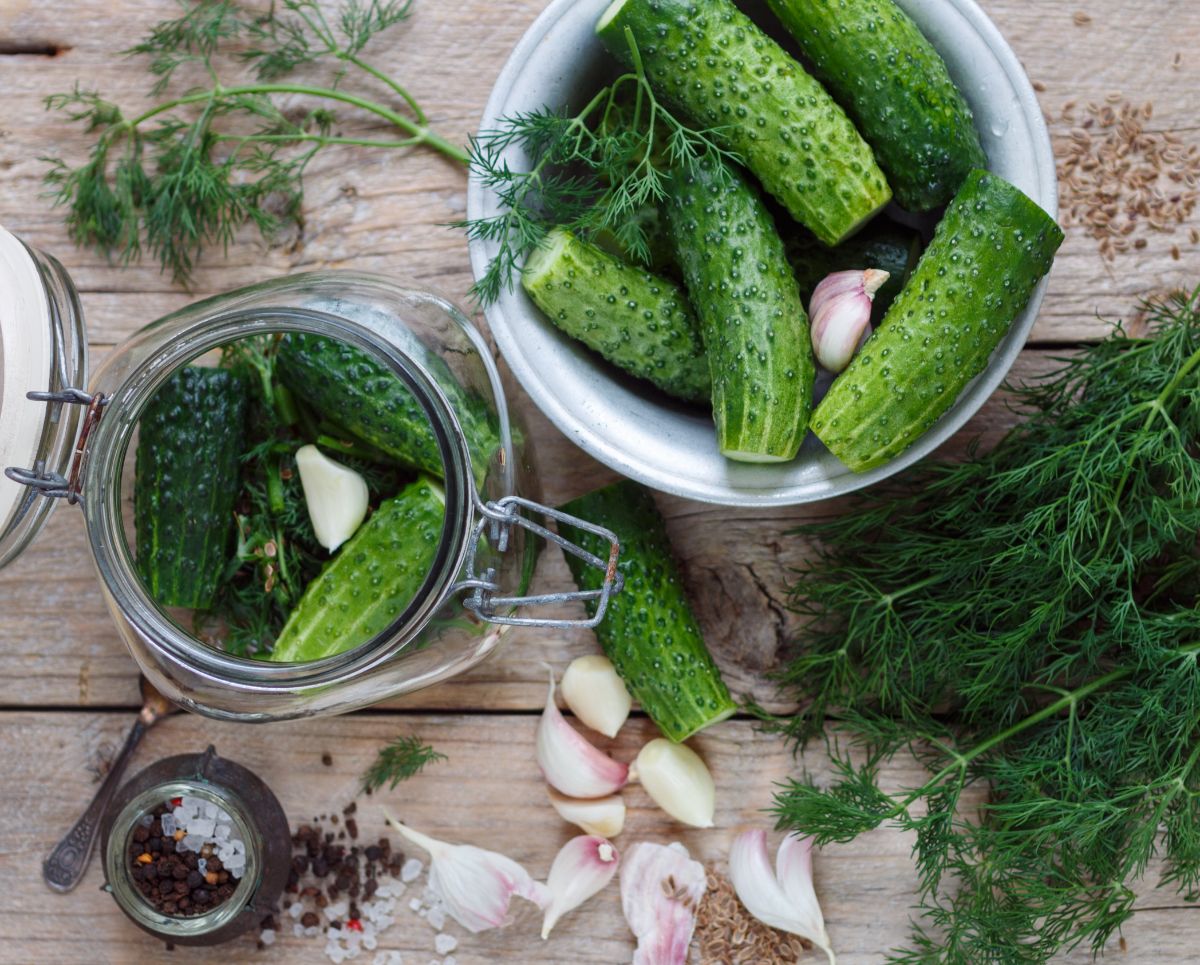 Cucumbers are often eaten fresh, but they can be stored in your fridge for up to 1 week after harvesting. For larger crops, you may want to freeze your cucumbers and add them to stir-fries and cozy winter soups.
Of course, cucumbers also are famously easy to preserve via canning and pickling. Try making your own homemade, lacto-fermented dill pickles that taste like you ordered them from a New York deli. Alternatively, cucumbers can be preserved with water bath canning methods to create sweet relishes, bread and butter pickles, and more! They also make tasty snacking chips when dried!
Cucumber companion plants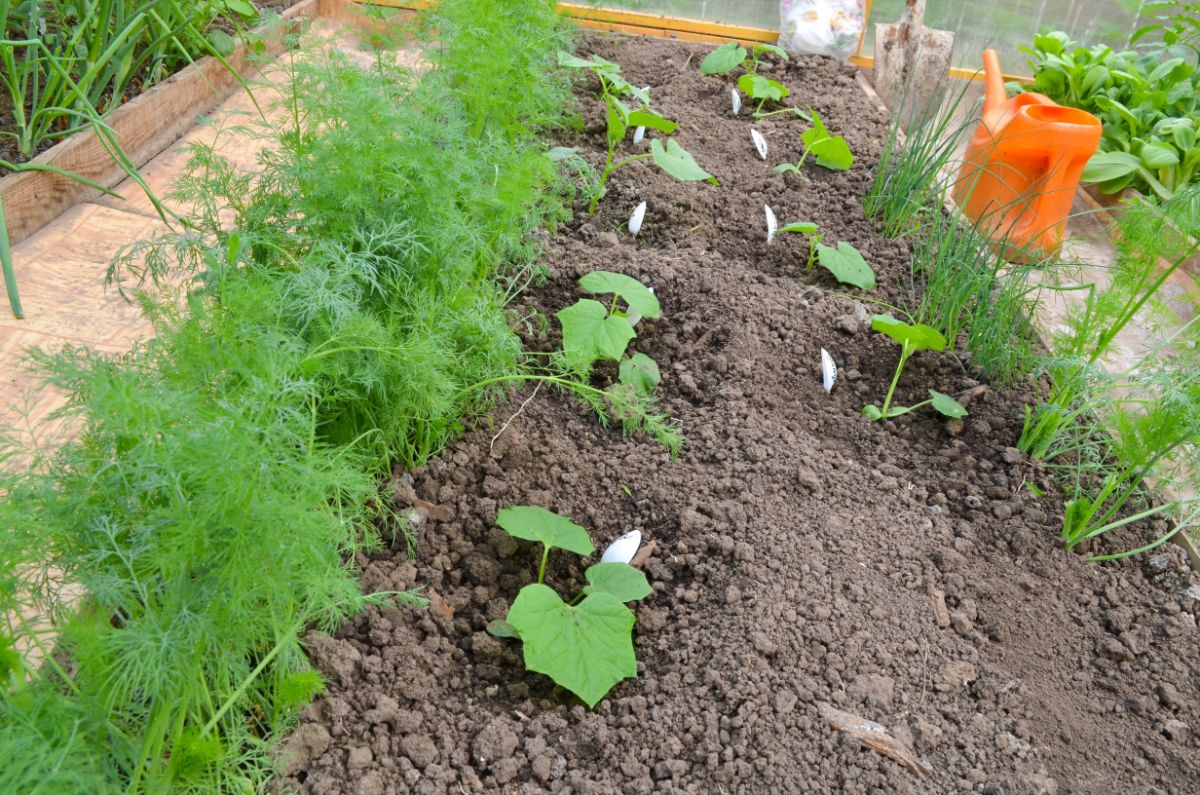 Growing the right plants together can boost plant growth and aid in pest protection too. Although there are other excellent plants to sow with your cucumbers, below are the top cucumber companion plants to try.
Beans and peas
Beans, peas, and other legumes are nitrogen-fixing plants that naturally improve the soil for any plants grown nearby. This can boost your cucumbers' growth. Even better, beans and peas can share a trellis with your vining cucumbers for ultimate space savings!
Root vegetables
Root vegetables, like carrots and beets, won't compete with your cucumbers for light or nutrients. Sowing these plants together will also maximize your gardening space and help fill any bare spots around the bases of your cucumber vines.
Dill
Who doesn't love dill pickles? If you plan on making homemade dilly pickles, you need to grow some dill plants. What's more, dill will attract beneficial insects to your cucumber plants to increase pollination rates and ward against cucumber pests.
Common pests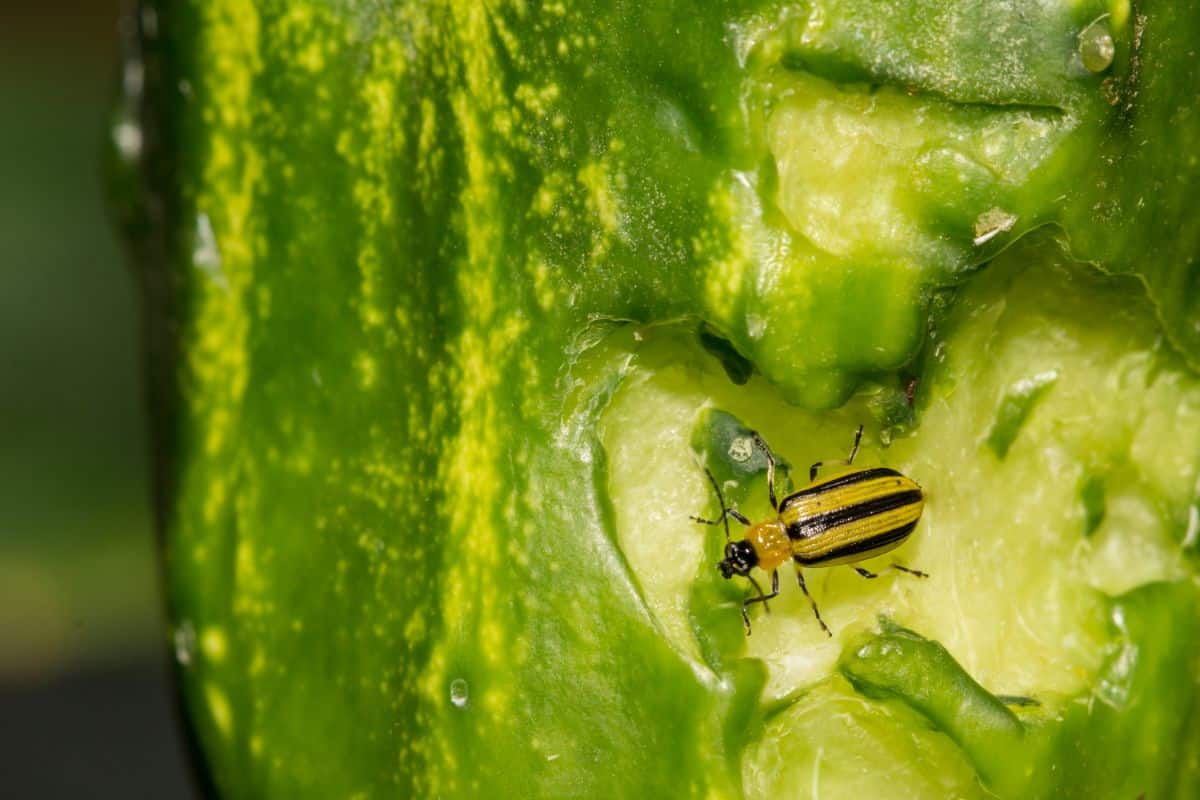 Some cucumber varieties are naturally resistant to common pests and diseases. Choosing resistant varieties of plants can cut down on your garden maintenance practices and help to keep your plants pest-free.
Below are some of the most common pests and pathogens you may encounter when growing cucumbers and some tips on how to treat them.
Powdery and downy mildew
Powdery mildew presents as a white, powdery film on plant leaves, while downy mildew results in a mottled leaf appearance. Both issues are caused by improper air flow and wet leaves. To avoid these issues, be sure to follow proper spacing instructions when sowing your cucumbers and only water your plants at the soil line.
Cucumber beetles
Cucumber beetles can have either striped or spotted shells, and they feed on cucumber leaves and fruit, riddling both with holes. They can also transmit different plant diseases, including bacterial wilt.
Installing floating row covers over your plants can keep these pests away. Existing infestations can be difficult to treat as these beetles fly whenever disturbed. To address this, try knocking cucumber beetles off your plants and into a bucket of soapy water or use an insect vacuum.
Squash bugs
Squash bugs are a gardener's nemesis and these pesky insects love cucumbers! Squash bugs are larger than most pests and have brown, angular bodies. They can look a lot like assassin bugs, which are beneficial insects; however, squash bugs often cluster together, while assassin bugs are solitary.
Squash bugs can be prevented with floating row covers and by performing proper annual garden maintenance. If you spot squash bugs in your garden, act fast to prevent their spread! Handpicking squash bugs into a bucket of soapy water is usually the best solution.
Cucumber varieties to try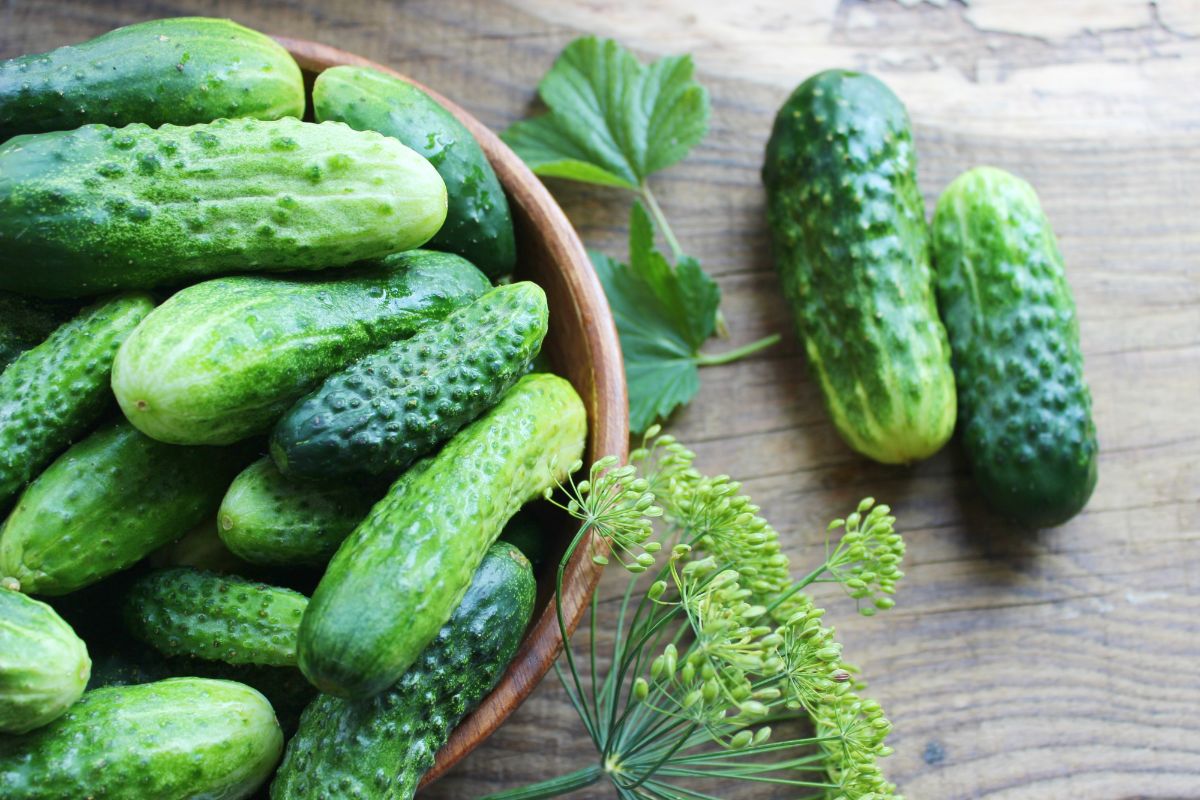 When choosing which cucumbers to grow in your garden, you'll need to consider a few key questions.
How much available space do you have for your cucumber plants?
How do you want to use your cucumbers? For fresh eating on salads? For pickles and relishes?
While there is a wide variety of cucumber cultivars available for the home grower, they are usually broken down into a few key categories.
Vining cucumbers, as the name implies, are known for their vigorous vines that can stretch about 6' long. These cucumbers produce fruit for a longer length of time, and they also grow more cucumbers in general. However, due to their size, vining cucumbers may not be appropriate for small spaces, and they require trellising or other supports.
Bush-type cucumbers are more compact and can be grown in containers for small-space gardeners. Just make sure their containers hold at least 5 gallons of soil. These cucumbers aren't as abundant as vining cucumbers, and they tend to produce their fruit all at once, which can be helpful for pickling.
Growers can also choose between slicing cucumbers and pickling cucumbers. Slicing cucumbers grow larger, generally have smoother skins, and are perfect for fresh salads and cooked dishes too. Pickling cucumbers are naturally smaller, have more textured skin, and are ideal for pickles and relishes.
'Little Leaf H-19'
One of the most popular pickling cucumbers around, 'Little Leaf' is a compact plant that rarely needs trellising. Leaves are undersized, which is helpful for boosting airflow around your cucumbers and limiting mildew growth. Despite their small size, 'Little Leaf' picklers produce a large harvest of fruit for fresh eating or canning.
'Marketmore 76'
Another popular pick, 'Marketmore' develops a large harvest of uniformly sized fruit with deep green skins. This cultivar is also naturally resistant to many common cucumber diseases, including powdery and downy mildew.
'Shintokiwa'
A long-fruited, Asian cucumber type, 'Shintokiwa' makes a delightful slicing cucumber thanks to its crisp texture and mild, slightly sweet flesh. This hardy cucumber type is naturally resistant to many diseases and produces cucumbers that frequently measure 10" or longer.
'Lemon'
Most cucumbers turn bitter when they get yellow, but not 'Lemon'! This funky, oddball cucumber type has lemon-yellow skin and a globular shape. Not prone to bitterness, the fruit is crisp and sweet and makes an excellent garden snack too!
Frequently asked questions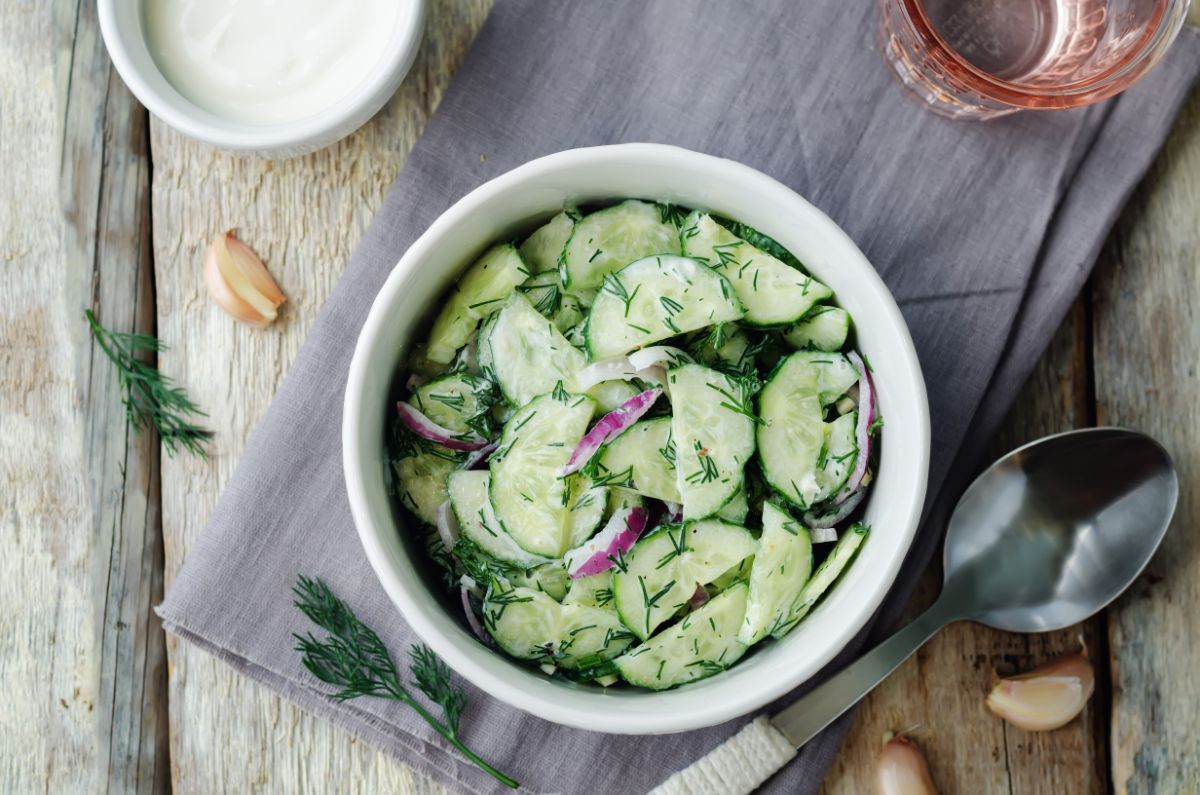 Is it OK to eat a cucumber that is bitter?
Bitter cucumbers are safe to eat, although they don't make the most pleasant snacks. If your cucumbers have gotten too bitter, you can improve their flavor with cooking or by processing them into pickles or relish.
How do you stop cucumbers from being bitter?
Certain cucumber varieties are less prone to bitterness, so the first step is planting the right kinds of cucumbers. Beyond that, be sure your cucumbers receive adequate watering and pick your cucumbers regularly, so they don't turn yellow and bitter on the vine.
Do cucumbers need to climb?
Vining cucumbers climb and should be grown with trellising. Bush-type cucumbers, on the other hand, are much more compact and generally don't need to climb.
How many cucumbers do you get from 1 plant?
During the peak of cucumber season, a single cucumber vine should produce about 10 large cucumbers or 15 small cucumbers within a 3-week timeframe.
Why are my cucumbers turning yellow before they grow?
Overwatered cucumbers may turn yellow on the vine. Alternatively, some cucumber varieties, like 'Lemon' naturally develop yellow skin as they ripen.
What causes blossom end rot in cucumbers?
Sometimes blossom end rot is caused by soil that is deficient in calcium. However, more frequently, blossom end rots develops as a result of irregular watering practices.
Summary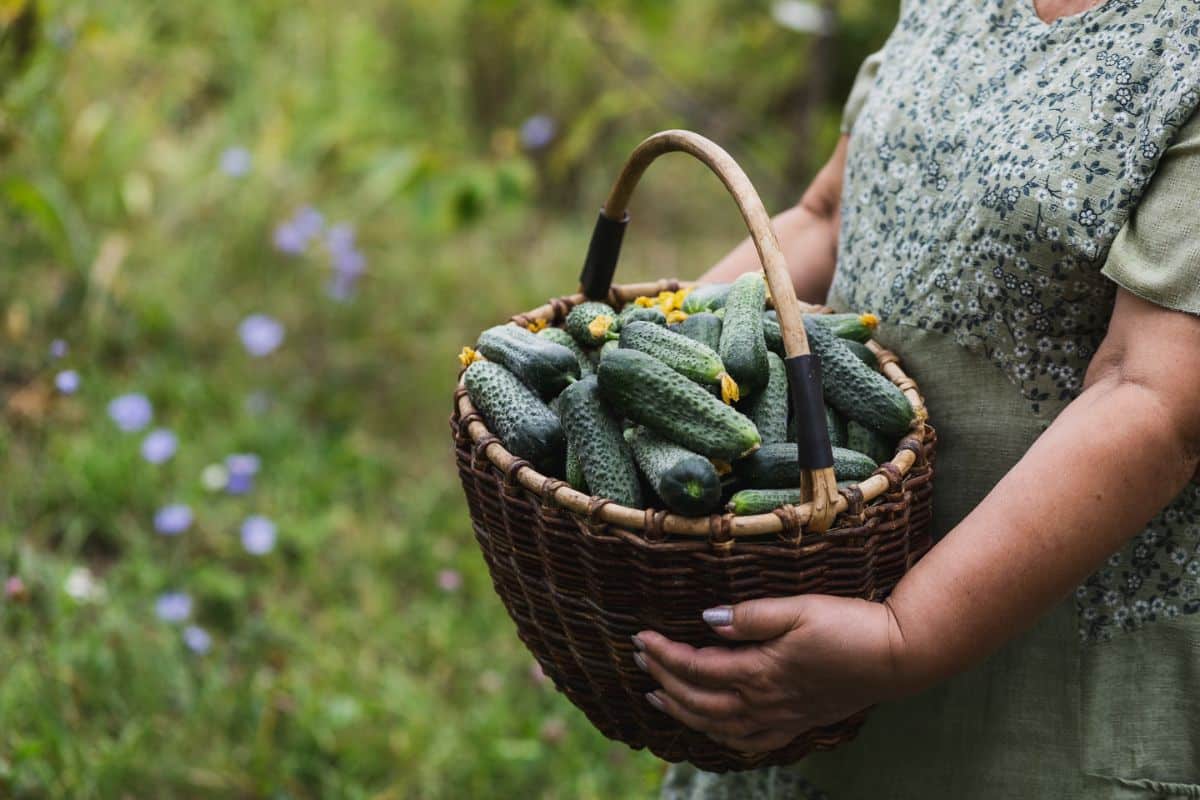 A properly maintained cucumber plant can produce an impressive amount of fruit in just a few weeks. If you're a beginning gardener, that wealth of cucumbers can feel very rewarding and is definitely something to be proud of!
Cucumbers are some of the best vegetable plants to grow if you're just starting out because they are so easy to keep. Simply provide them with plenty of sun, water, and trellising (if needed), and your plants should grow happily throughout the season. All you need to do is get ready for canning your homegrown pickles, relishes, and more!
If you're just getting started with vegetable growing, check out our other edible garden content here.