Perennials quickly become treasured garden friends as they bloom year after year, filling your yard with brilliant colors and attractive blooms. There are lots of sun-loving perennial shrubs and flowers to choose from; it can be overwhelming deciding which ones to plant. We've compiled this list for you of the most delightful perennials for sunny locations so your garden, yard, and walkway will be full of beauty year after year. With proper planning, you can create a landscape of easy-going perennials that provide blooms spring through fall.
Jump to:
1. Hollyhocks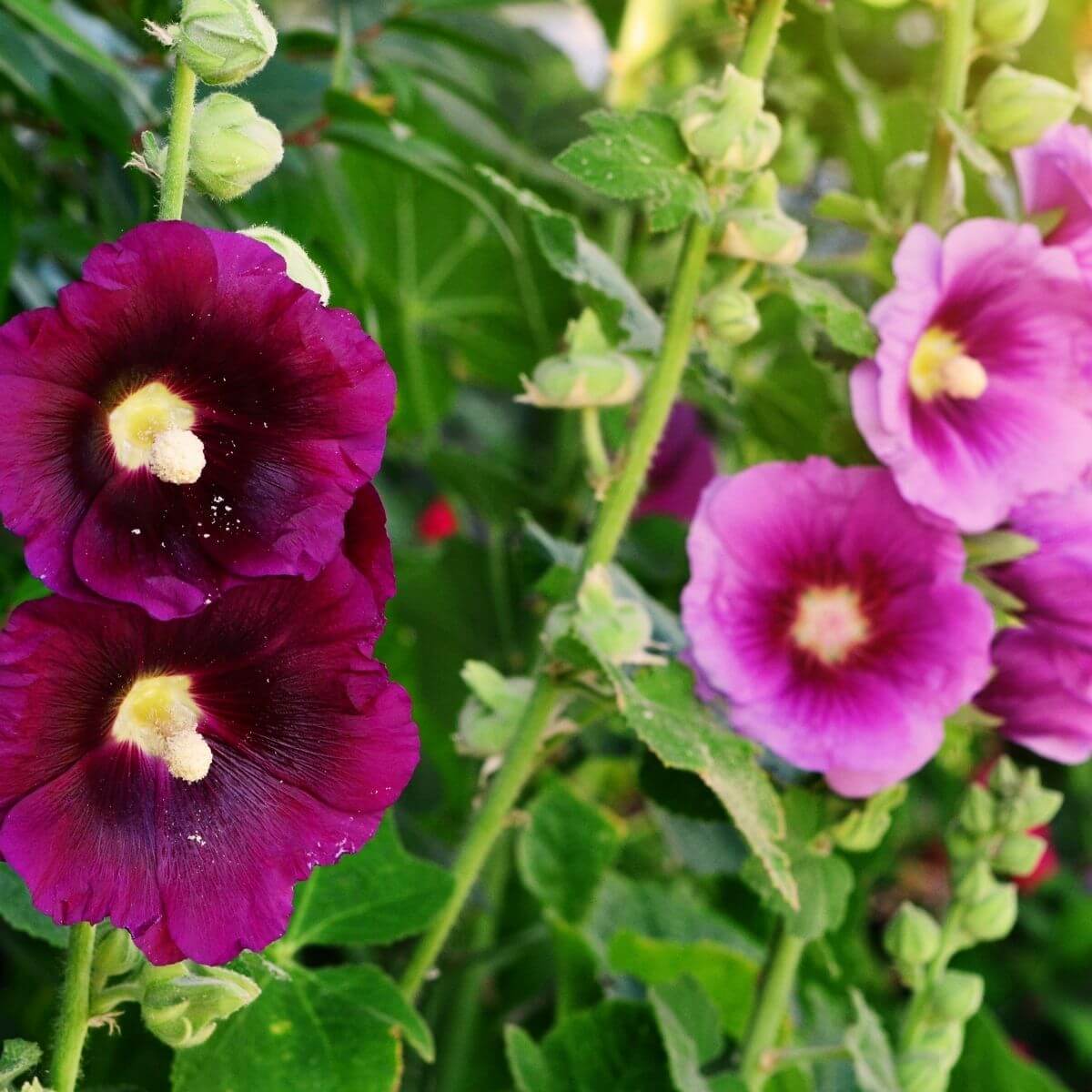 The unique feathery petals of the Hollyhock flower atop tall stalks make this a striking option for the flower garden. The flower stalks reach up to 7-feet, so be sure to plant this where it has space to grow up to its full imposing height.
Native pollinators like butterflies and bees love the flowers of this winter-hardy plant, increasing its appeal for the perennial garden. After the flowers fade, cut the stalks off at the base so they will grow strong the following year.
Hollyhocks are available in many colors, including pink, blue, white, purple, yellow, and even black! Hollyhocks are hardy to zones 3-8.
Get seeds or plants from: Amazon, Etsy.
2. Evening Primrose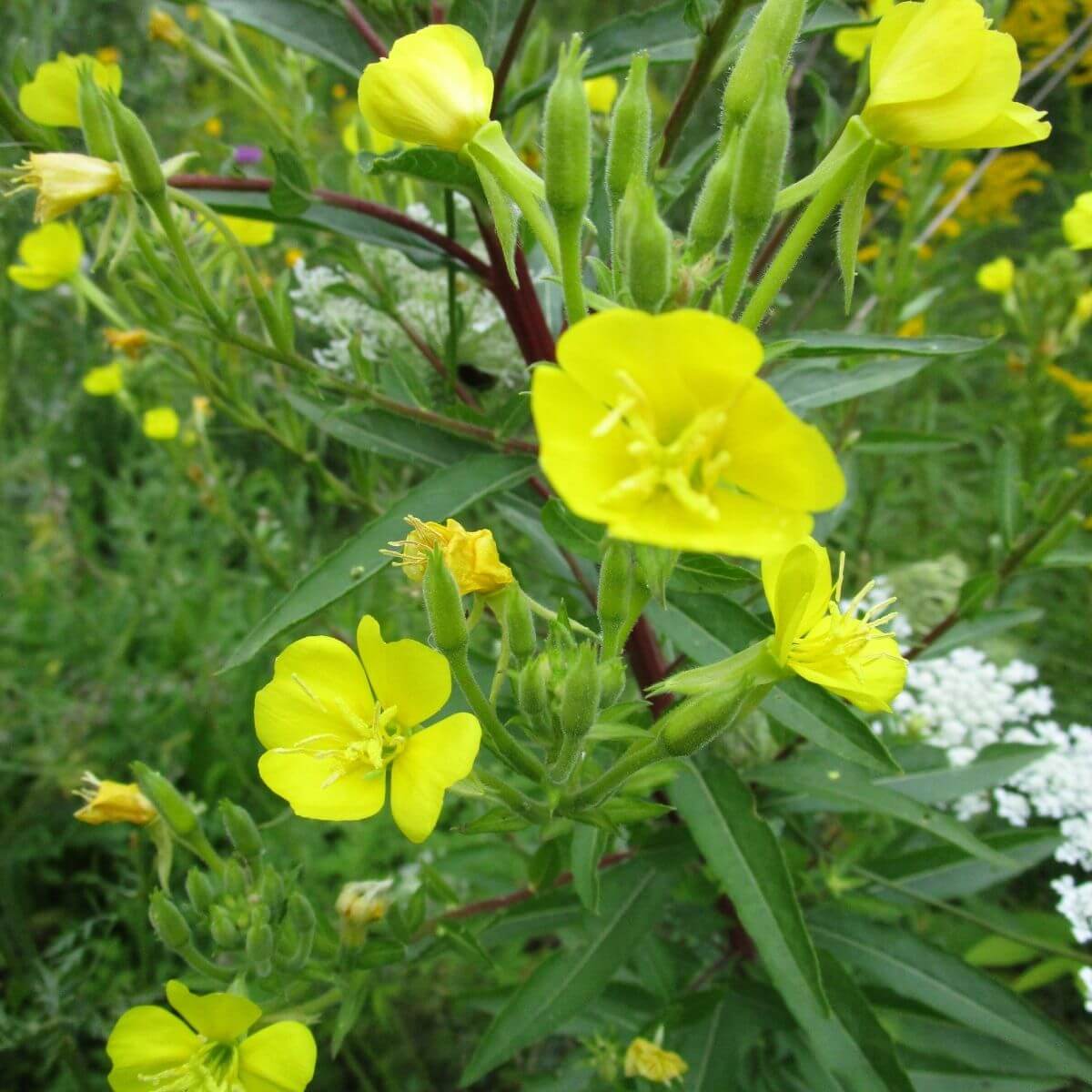 The buttercup yellow flowers of the Evening Primrose are hard to resist. The blooms appear in late summer or early fall and are prolific. Evening Primrose flowers grow along tall leafy, purple-tinged stems.
The deep-green foliage is the perfect contrast to the splashy, cheerful flowers, and it is a top choice for the full-sun perennial garden. Evening Primrose flowers also smell delicious, like sweet lemons.
Many of the flowers in this species only open at night, drawing in the evening pollinator species; this is how it got its name! Hardy to zones 3-9.
Get seeds or plants from: Amazon, Etsy.
3. Pincushion Flower (Scabiosa)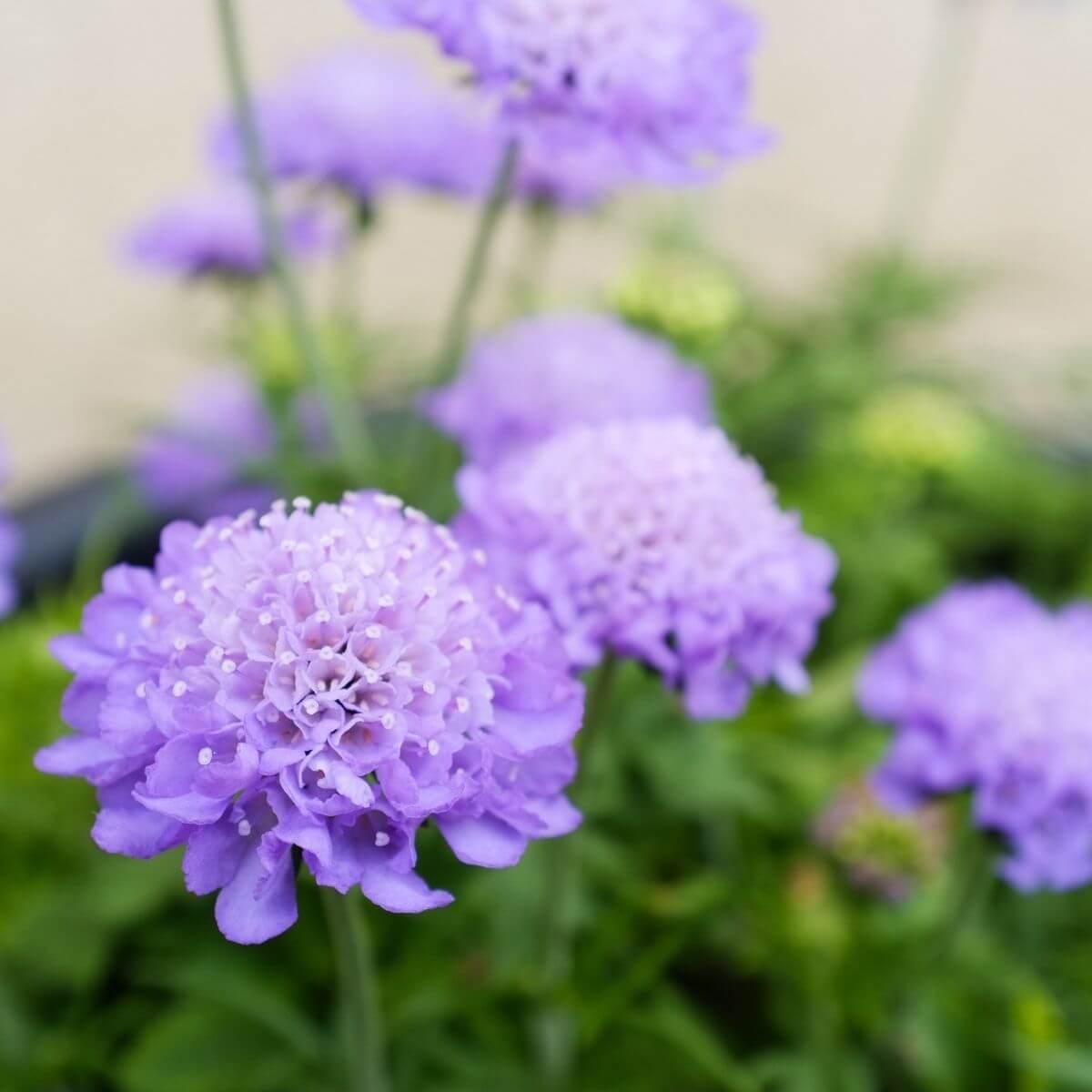 These striking odd-looking flowers get their name because the white stamens stick straight up out of the fluffy center of the flower, giving the appearance of pinheads in a pincushion.
We love these sun-happy flowers for their uniqueness, simplicity of care, and because with their small stature, they mix and meld into the flower garden with ease.
There are annual and perennial types, so be aware of that when buying seeds or starts. Pincushion Flower foliage is also unique and attractive, featuring grayish-green lance-shaped basal leaves mixed with deeply lobed stem leaves.
Some great cultivars are Pink Mist, Fama White, and Fama Deep Blue. Hardy to zones 4-8.
Get seeds or plants from: Amazon, Etsy.
4. Candytuft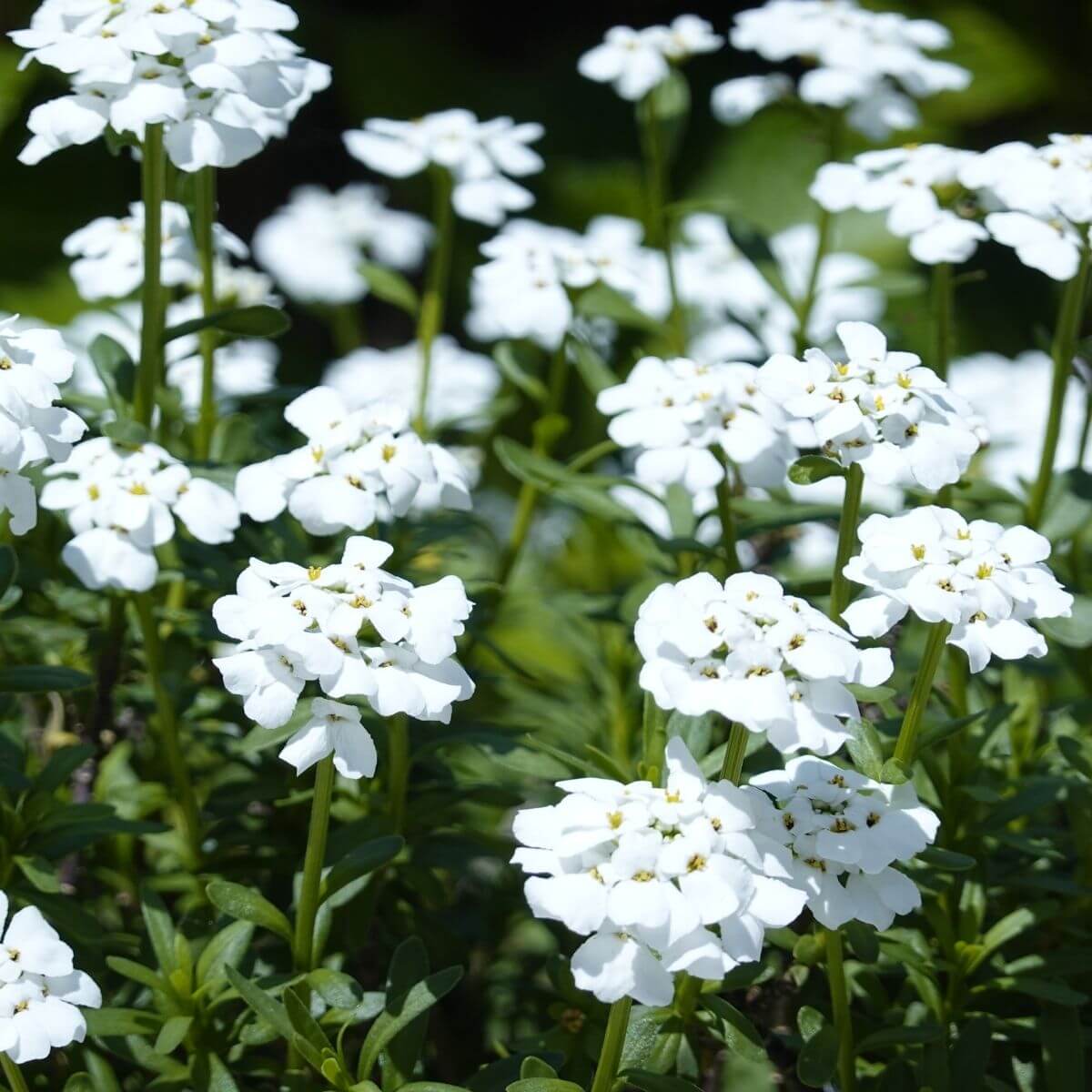 With its dense swarming white flowers, this low-lying shrub-like plant is ideal for low borders, walkways, and along fences. Candytufts don't grow tall, usually between 6-12-inches, but they don't need to be tall to be showy and stand out.
Candytuft blooms twice every year, with prolific sweet white flowers appearing like a mass of clouds above the green mounding foliage. The flowers are so dense that it is often difficult to see the emerald-colored leaves underneath.
This sun-worshiping perennial is drought-tolerant and loved by pollinators. Hardy to zones 3-8.
Get seeds or plants from: Amazon, Etsy.
5. Gaura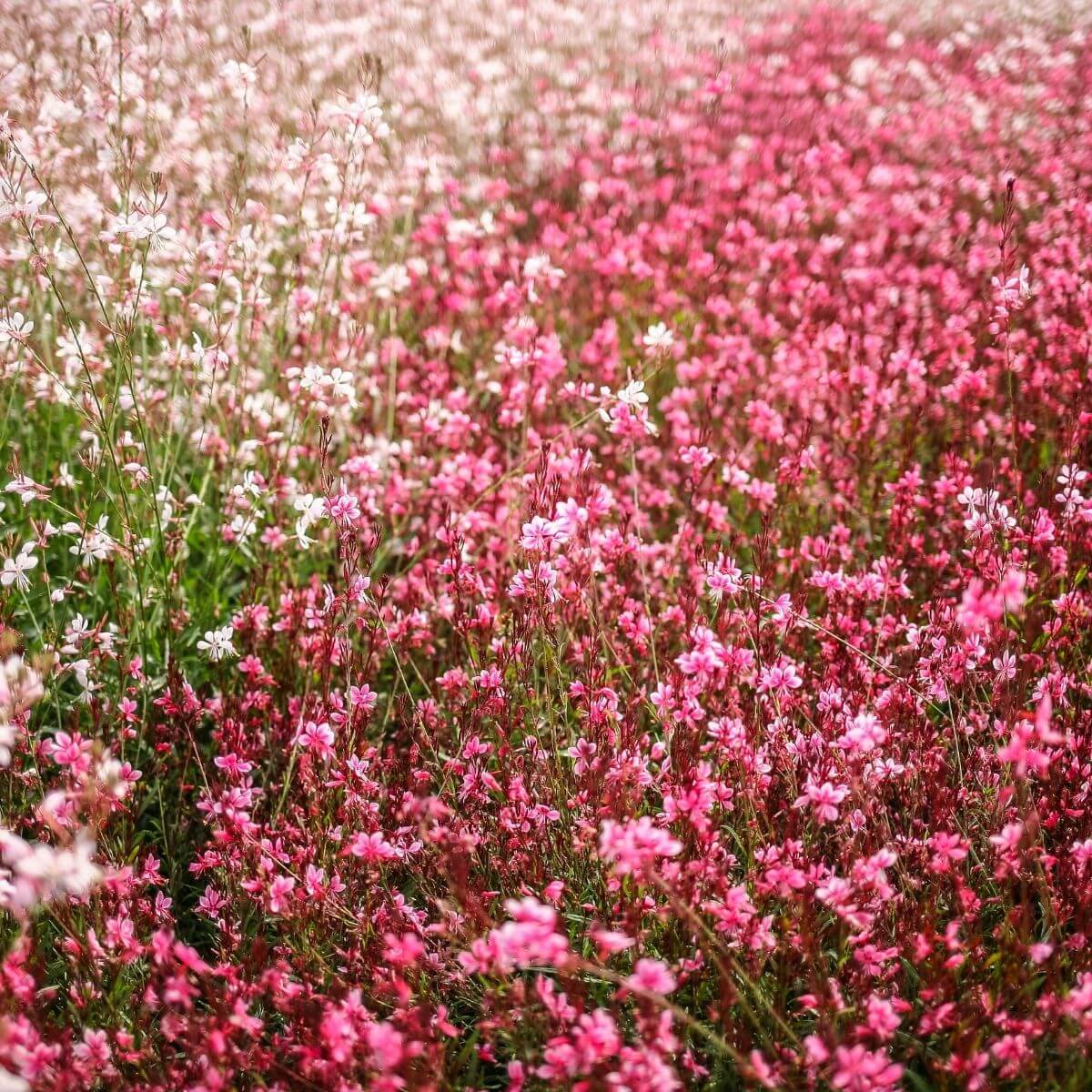 A wispy, delicate plant with graceful star-shaped flowers, Gaura adds a sweet elegance to the garden. Also known as "Whirling Butterflies," Gaura does not disappoint as its flurry of flowers twirl in the late-summer breeze.
Most Gaura flowers start out white, then change to pink, and then to deep coral as the weeks progress. Some stay white all season. Graceful Gaura plants are ideal along borders or as a sweet focal point.
This native wildflower from Texas is drought-tolerant, easy-going (despite its fragile appearance), and is frequently visited by native bees and butterflies. It grows 2-5-feet tall and is hardy to zones 5-9.
Get seeds or plants from: Amazon, Etsy.
6. Meadowsweet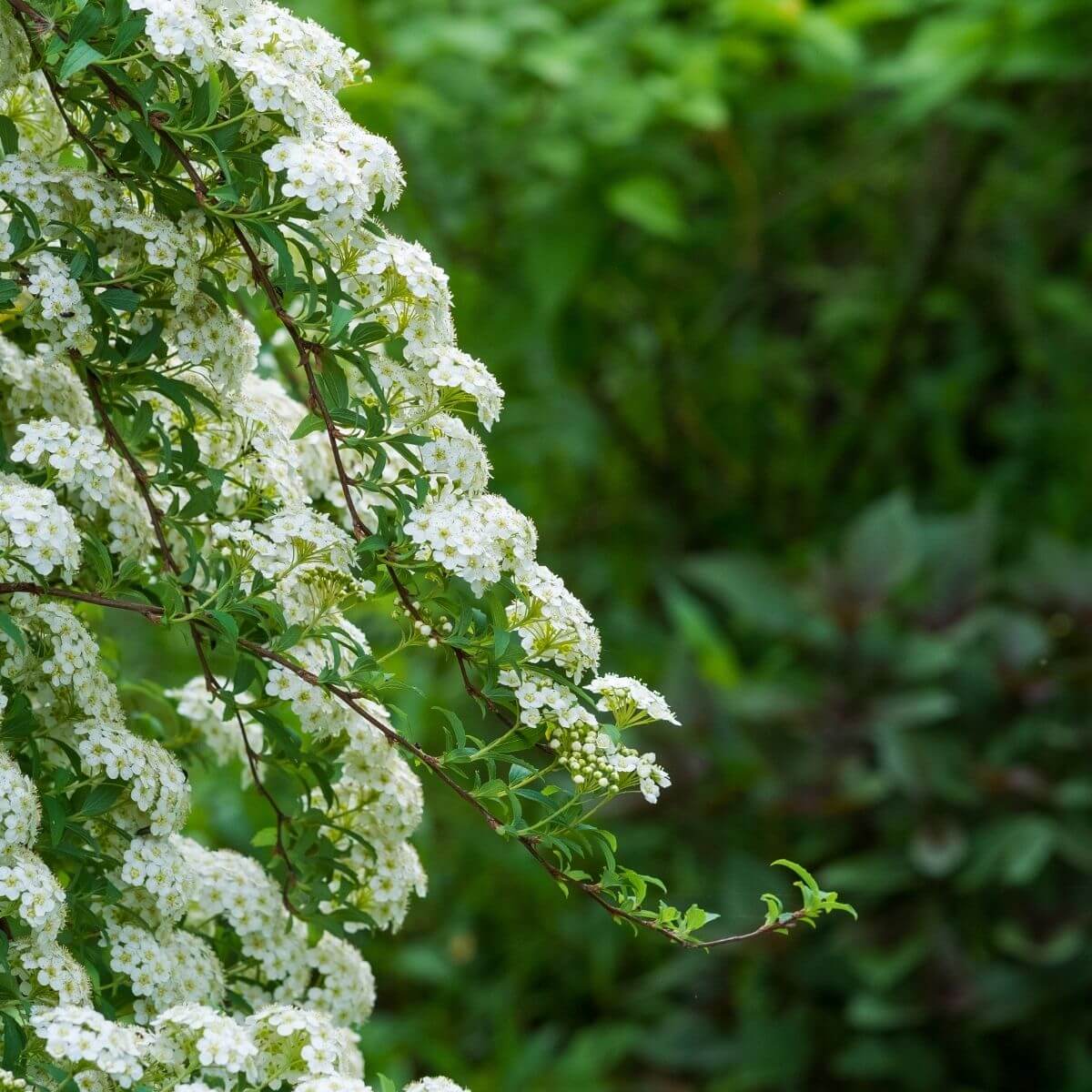 The foliage and flowers of Meadowsweet are equally attractive, adding tons of interest and dimension to the garden. Meadowsweet features clusters of graceful, delicate creamy-white flowers on tall, thin branches.
When they appear, they look like soft fluffy clouds, and they give off a sweet wintergreen scent (hence their name). The foliage is dark-green, fern-like, and curiously smells quite different from the flowers; it has an almond scent.
Meadowsweet is a carefree naturalized native plant that requires little care and blooms for months. Bees, birds, and butterflies all appreciate Meadowsweet for its fragrance, flowers, and seeds. Hardy to zones 3-8.
Get seeds or plants from: Amazon, Etsy.
7. Torch Lily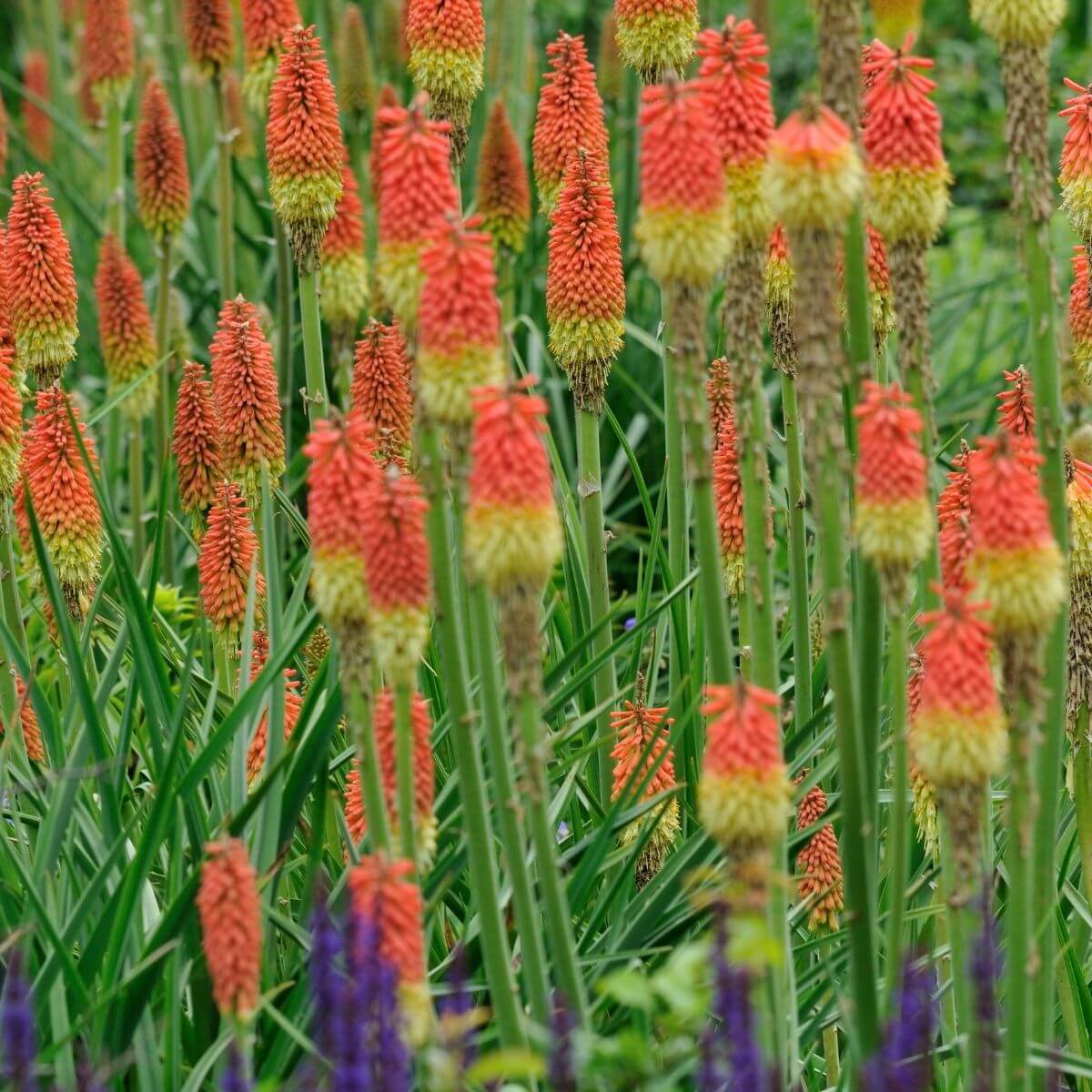 A plant with few equals, Torch Lily or Red Hot Poker produces cascades of vibrant tubular flowers on 2-5-foot stalks. They look like giant multi-colored torches and are definitely a dramatic statement plant.
Be sure to plant this flower where it will be seen! Bloom time varies by variety, and if you have space, we suggest choosing several so you can enjoy these stunning flowers all season long.
The tubular flowers traditionally change from red to orange, then golden yellow, and often all three colors are displayed simultaneously as the flowers transition.
There are tons of color variations available on the market today; be sure to explore all the options before purchasing. Our favorites are "Bee's Knees (yellow/green)," "Buttercup (yellow/orange)," "Flamenco (red/orange/yellow)," and "Mango Popsicle (bright orange)." Torch Lilies are hardy to zones 5-9.
Get seeds or plants from: Amazon, Etsy.
8. Indian Pink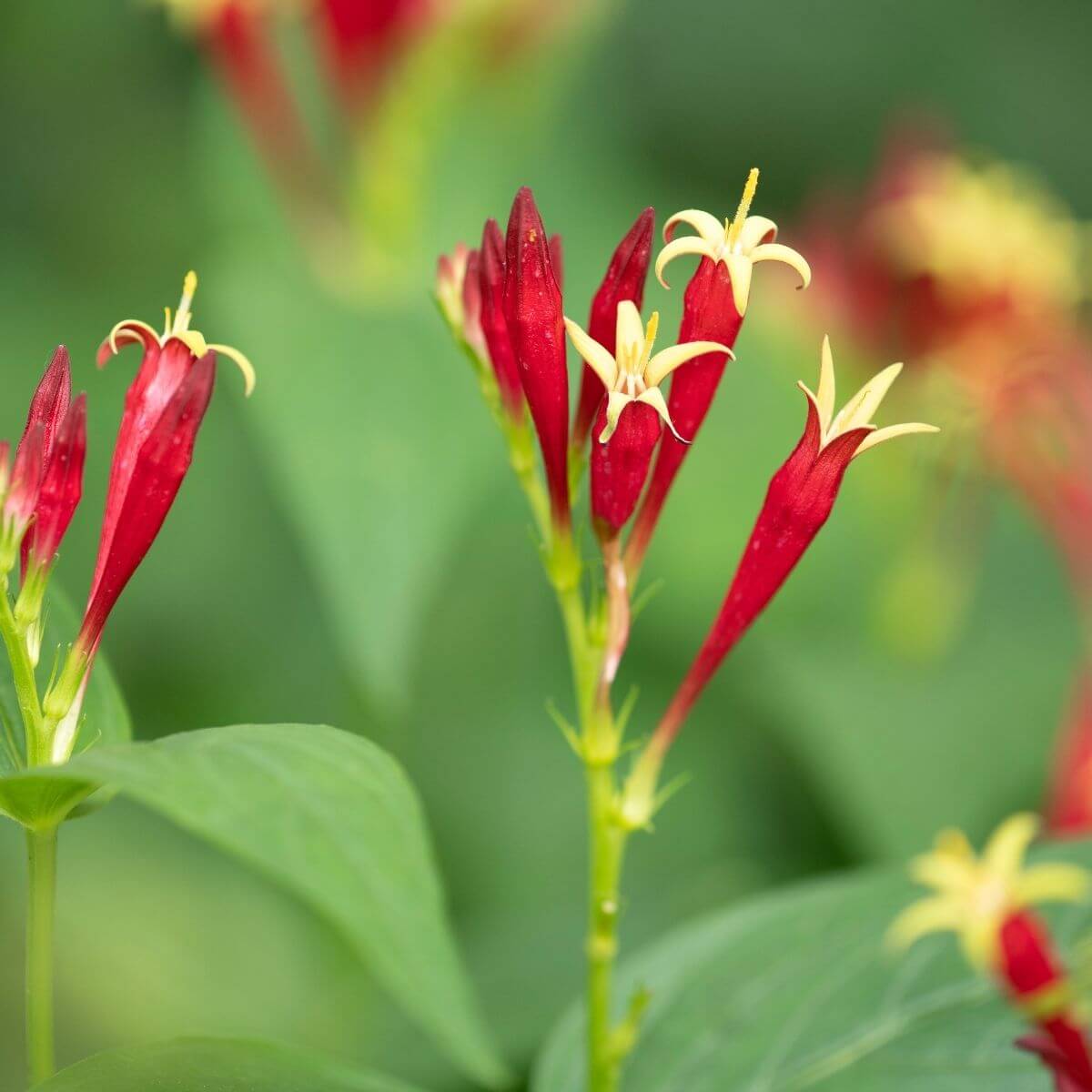 The stunning upright tubular flower clusters of Indian Pink are super popular with hummingbirds and are quickly growing in popularity as a landscape option. When this plant blooms, it looks like little firecrackers erupting over the glossy-green foliage.
The flowers are difficult to describe justly – the long tubular petals are crimson red, but then they burst open to reveal a bright yellow 5-petal star. It's quite exquisite to see.
Indian Pink is a native plant and ideal for a pollinator garden. If you're looking for an eye-catching flower that will stop everyone in their tracks, Indian Pink is the one.
It grows easily, flowers profusely in late spring into summer, and is rated a "Top 10 Hummingbird Plant." Indian Pink is hardy to zones 5-9.
Get seeds or plants from: Amazon, Etsy.
9. Daylilies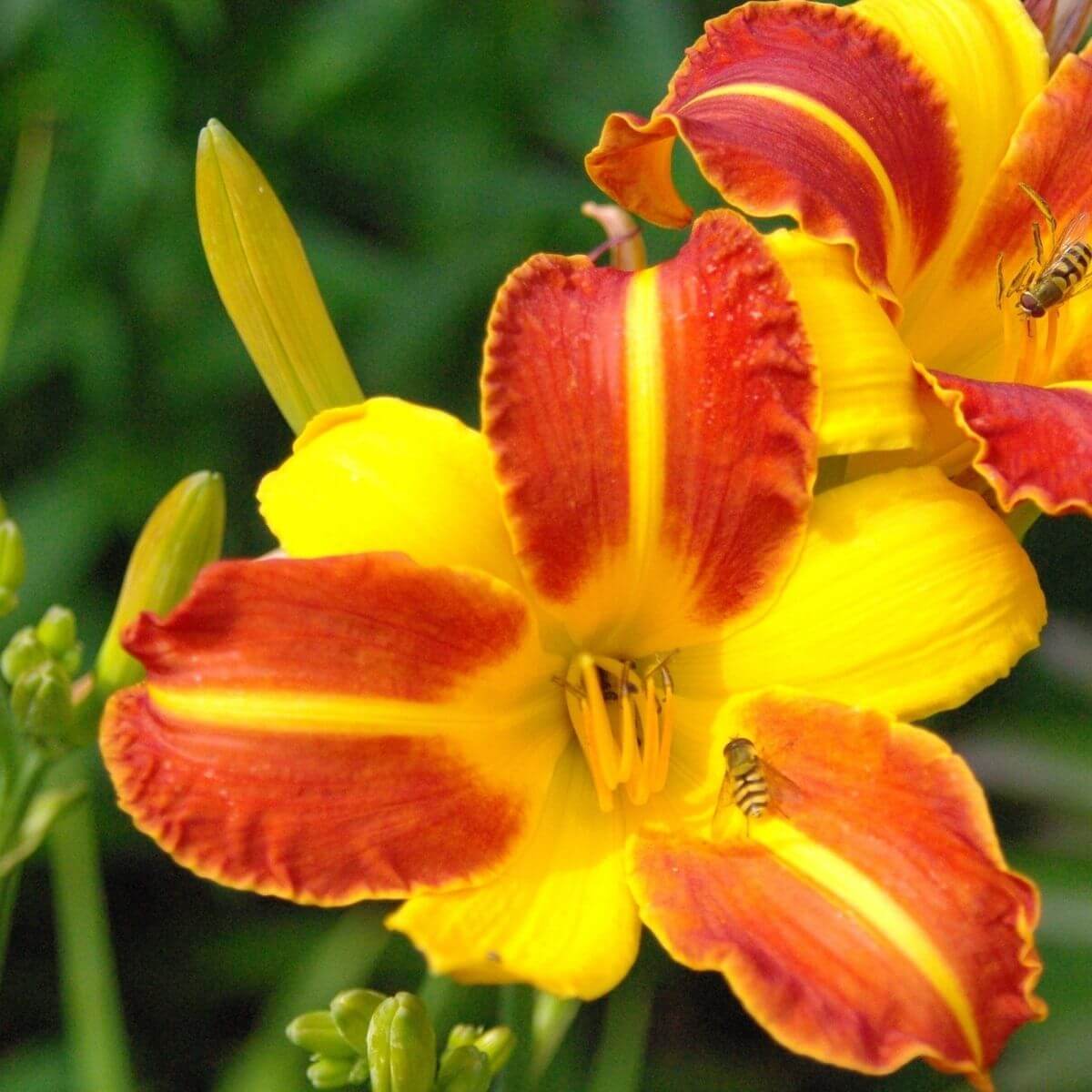 No garden is truly complete with the dazzling yearly display of Daylilies. The striking and brightly colored flowers are enormous and grow singularly on tall stalks above the low-growing green foliage.
Daylilies are often planted along a border, but they also look incredible mixed with low-growing perennial and annual flowers. There are thousands of cultivars to choose from, all with unique and magnificent color combinations; there is sure to be a type that captivates you.
Depending on the cultivar, daylilies are hardy to zones 1-10. Some of our favorites include "Ruby Spider," Bela Lugosi," Country Melody," and "Moonlight Masquerade."
Get seeds or plants from: Amazon, Etsy.
10. Liatris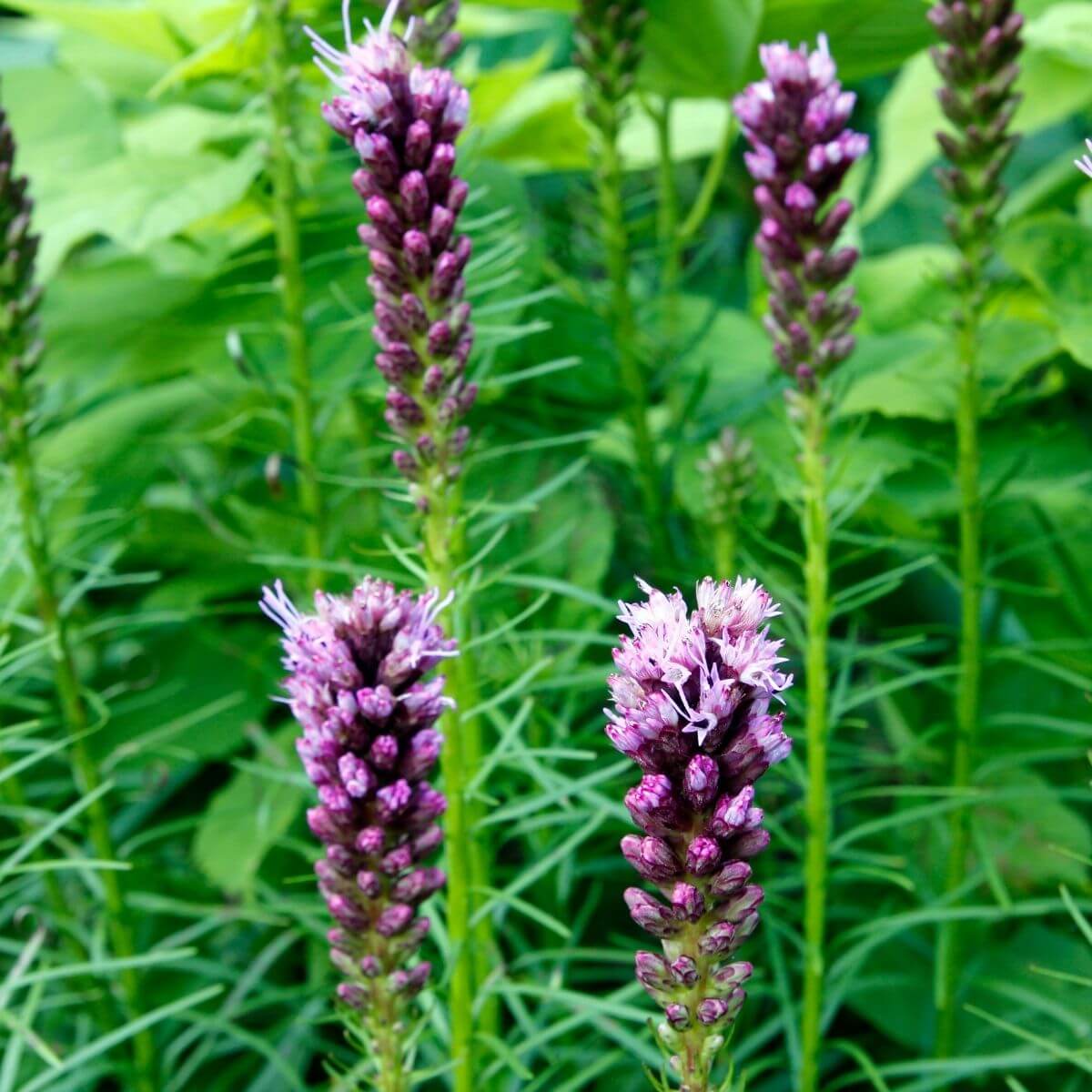 A native to North American meadows and marshes, Liatris may not look like much when not in bloom, but once it flowers, you will be in love.
Also known as Blazing Star Plants, Liatris flowers grow clusters of deep purple wispy flowers at the top of tall spikes 2-5-feet above the grass-like foliage. The flowers are fuzzy and look similar to thistle or a bottle-brush.
Liatris flowers are a butterfly magnet, and this plant is perfect for a native flower or butterfly garden. These flowers are hardy to zones 3-8
Get seeds or plants from: Amazon, Etsy.
11. Bee Balm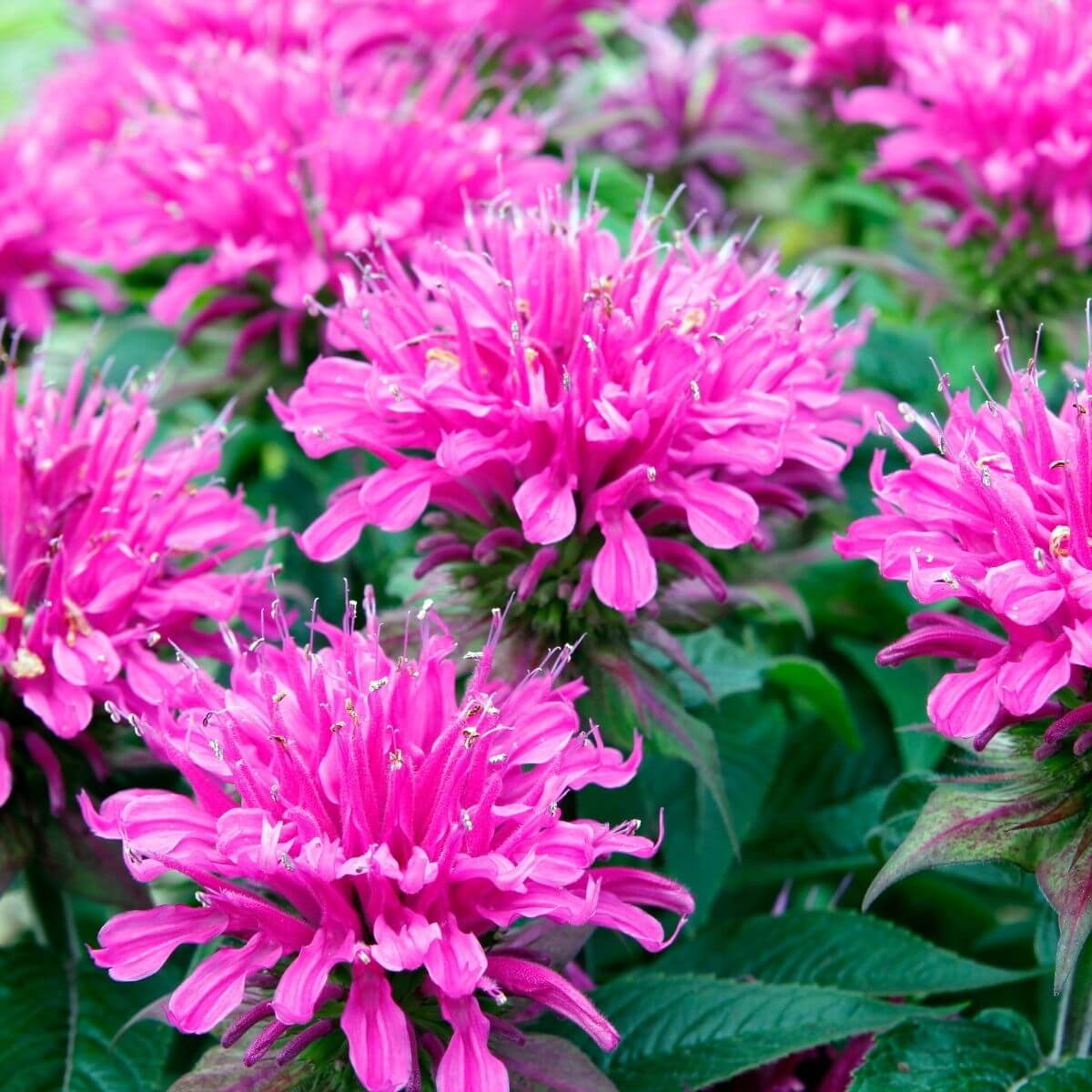 The bright flowers burst forth like fireworks, attracting many bees, butterflies, and even hummingbirds. Bee balm, also known as bergamot, is a native plant and one of the best ones to grow to attract native pollinator species.
Some bee balm varieties grow just 10-inches tall, while others reach up to 4-feet. Either way, the brilliantly colored fringed petals will add lots of color to the yard. Bee balm flowers range in color from red, pink, lavender, white, and mauve.
Another excellent quality of this native plant is that deer and rabbits both avoid it. Plant bee balm in full sun along walkways, or in herb gardens, and flower gardens in groups for a massive summer color display or singularly as a center attraction.
Bee balm is hardy to zones 4-9.
Get seeds or plants from: Amazon, Etsy.
12. Butterfly Weed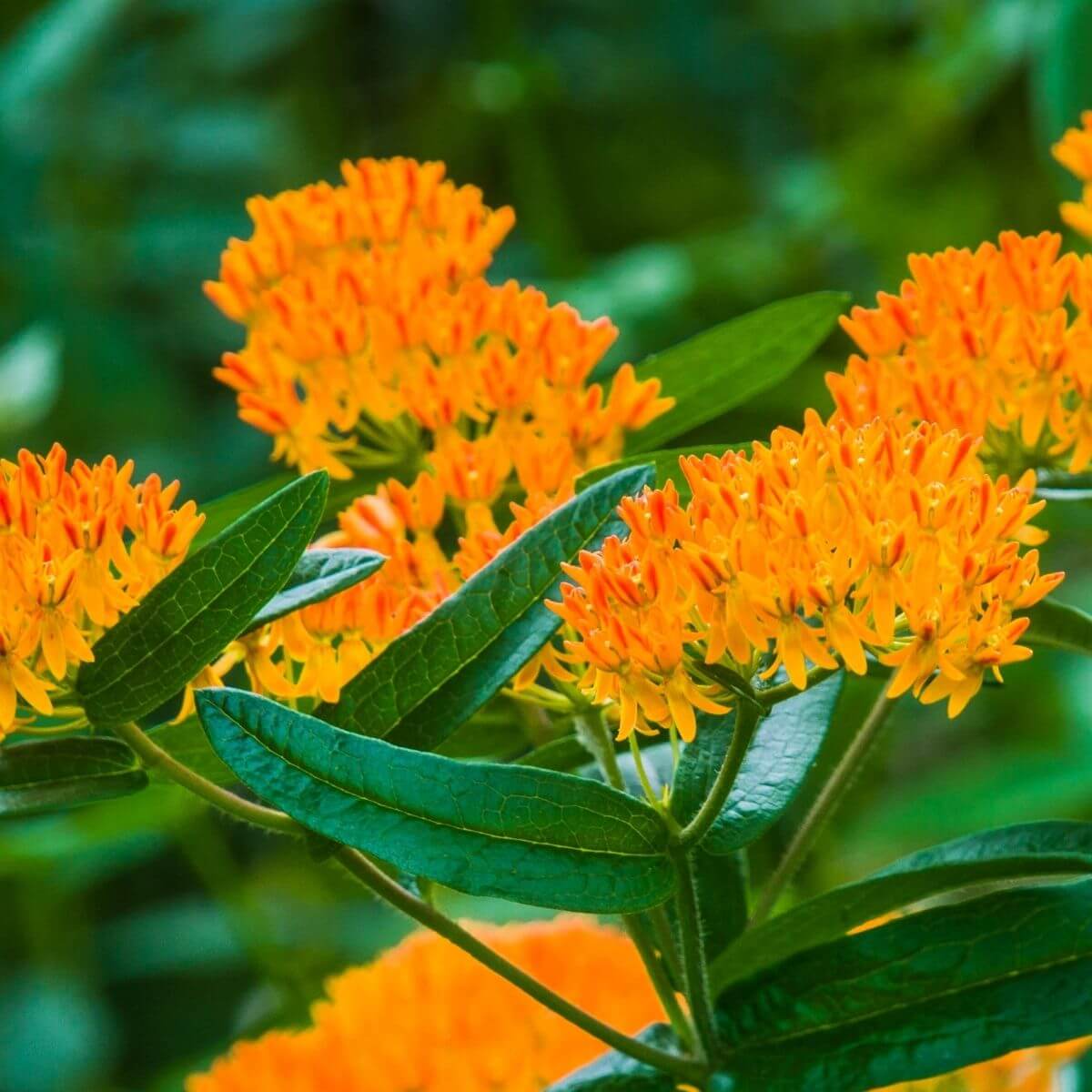 Don't let the name fool you; this is no weed! But, it does attract numerous butterflies, including the endangered Monarch butterfly. Even if it didn't bring in all the butterflies, we'd still happily include this flower in the native garden.
The brilliant orange star-shaped flowers are cheerful and welcoming to humans and pollinators alike. Butterfly Weed is often slow to get going in the spring, but once it starts, it grows quickly.
The flowers appear in dense clusters on top of tall stems, averaging 2-4-feet high. Be careful not to confuse Butterfly Weed (Asclepias tuberosa) with the non-native Butterfly Bush (Buddleia davidii). Butterfly Weed is hardy to zones 3-9.
Get seeds or plants from: Amazon, Etsy.
13. Balloon Flower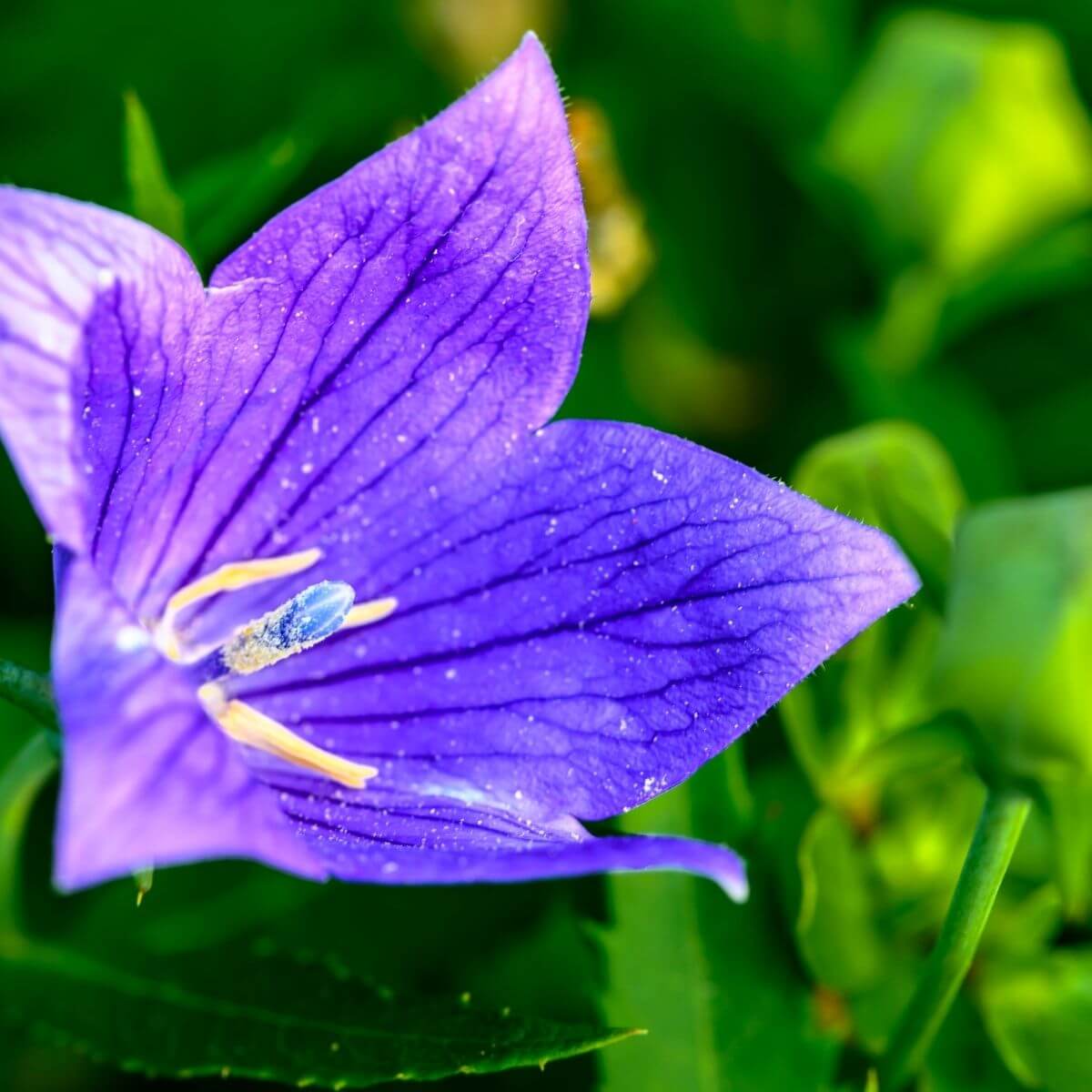 The buds of this perennial sun-loving flower are what give it the fun name. Balloon flower buds swell up big and plump, resembling a balloon, of course, or a paper bag that you're just filled with air.
Thankfully, when they 'pop,' they burst forth with beautiful, grand star-shaped flowers. Each upright flower stalk contains a small cluster of large upward-facing blooms.
Balloon Flower foliage is exceptionally attractive as well, featuring blueish-green lance-shaped leaves that change to light purple or yellow in the fall. The classic Balloon Flower color is blue or violet-blue, but they come in white, pink, and a dozen shades of blue and purple.
These flowers are hardy to zones 3-9.
Get seeds or plants from: Amazon, Etsy.
14. Blanket Flower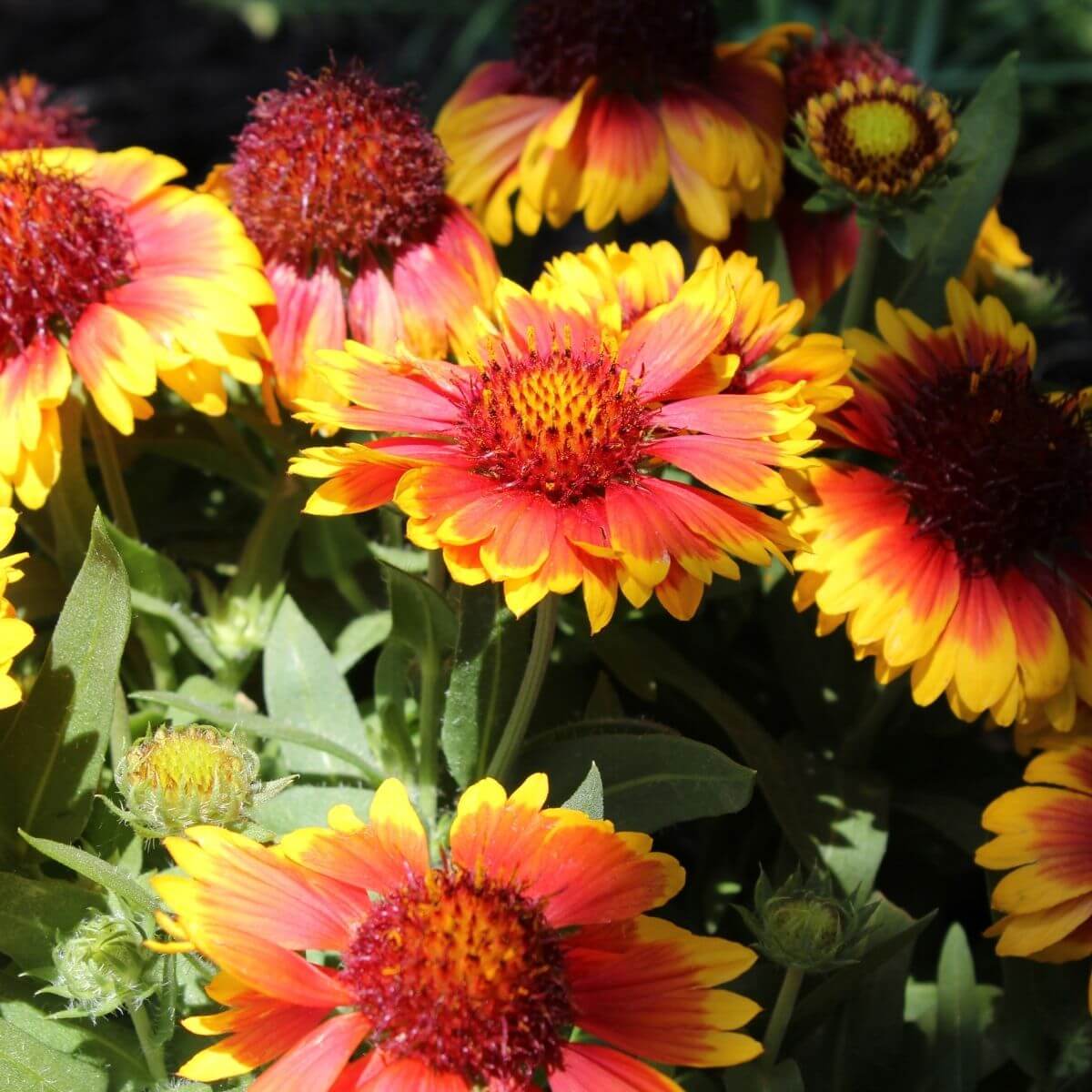 If you're looking for a multi-colored burst of sunshine in your perennial sun-garden, you must plant Blanket Flowers. These brilliantly bright native flowers are shaped like daisies but are infinitely showier.
The classic types feature radiant red petals with bright yellow tips, resembling a pinwheel so perfectly you may find yourself watching to see if it will spin in the wind. Blanket Flower foliage is unremarkable, a low lying clump of green leaves.
But, as soon as the stalks produce their singular flowers, the whole landscape changes. Nowadays, the varieties are vast and offer an array of red, orange, yellow, and even pink arrangements, and some with very fancy petal shapes.
Some of our favorites include "Celebration," "Arizona Sun," "Mesa Peach," "Sun Devil," and "Sun Flare." Hardy to zones 3-10.
Get seeds or plants from: Amazon, Etsy.
15. Rock Rose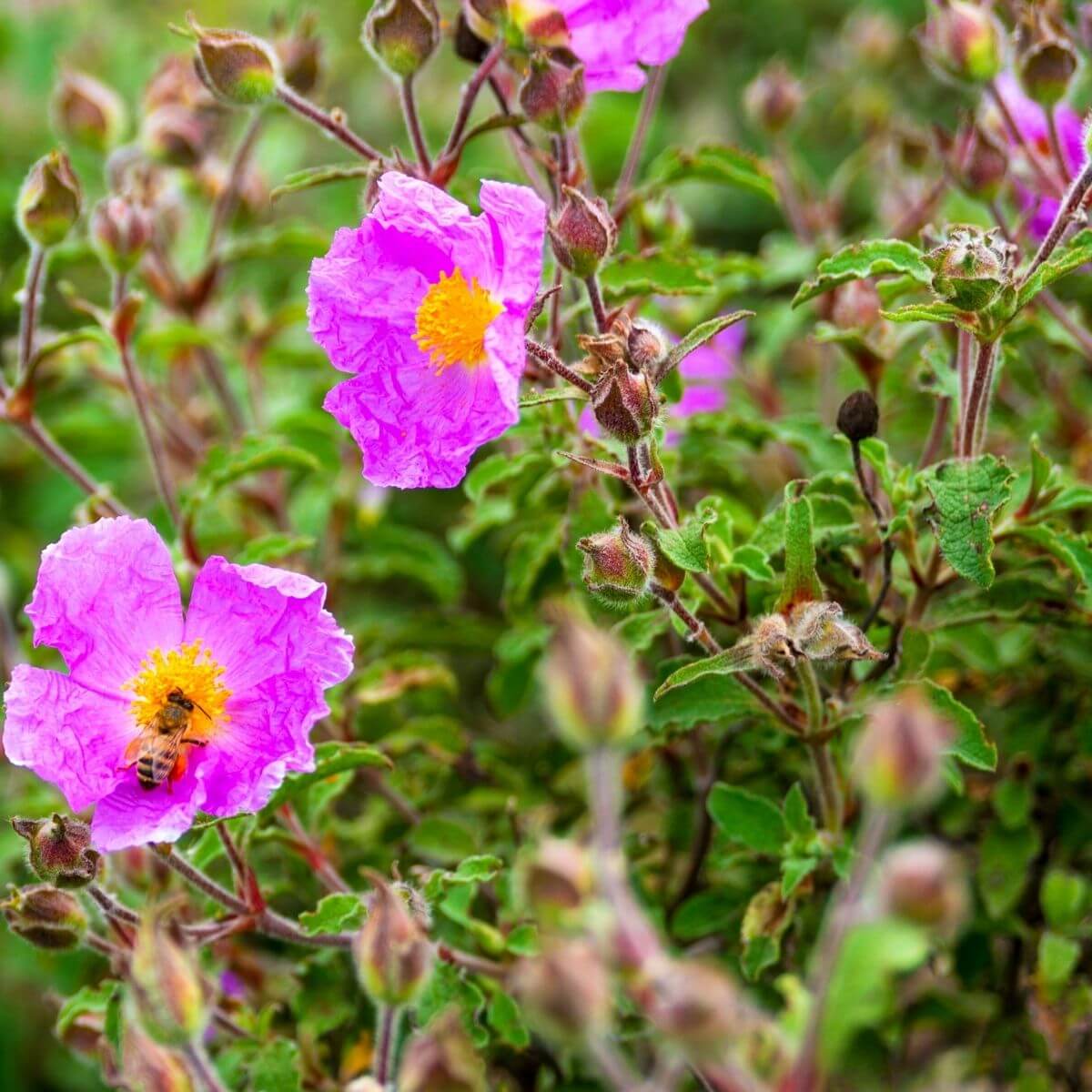 An evergreen perennial shrub, Rock Rose is ideal for poor or dry soil. Its name comes from the ease in which it grows in rocky, tough dirt and the flower's striking resemblance to roses.
Rock Roses are mounding shrubs that vary in size, with some reaching 7-feet in height while others are just 1-foot tall. The large lavender, white, or pink blooms of the Rock Rose are simple yet highly attractive with their crinkled, delicate petals.
Flowers open in the morning and then drop after a few hours, followed by more blooms the next day; this continues for several weeks. While each individual flower isn't long-lived, the cheerful ruffled blooms are a delight to see.
Rock Roses are heat-loving plants and are hardy to zones 6-11.
Get seeds or plants from: Amazon, Etsy.
16. Delphinium (Larkspur)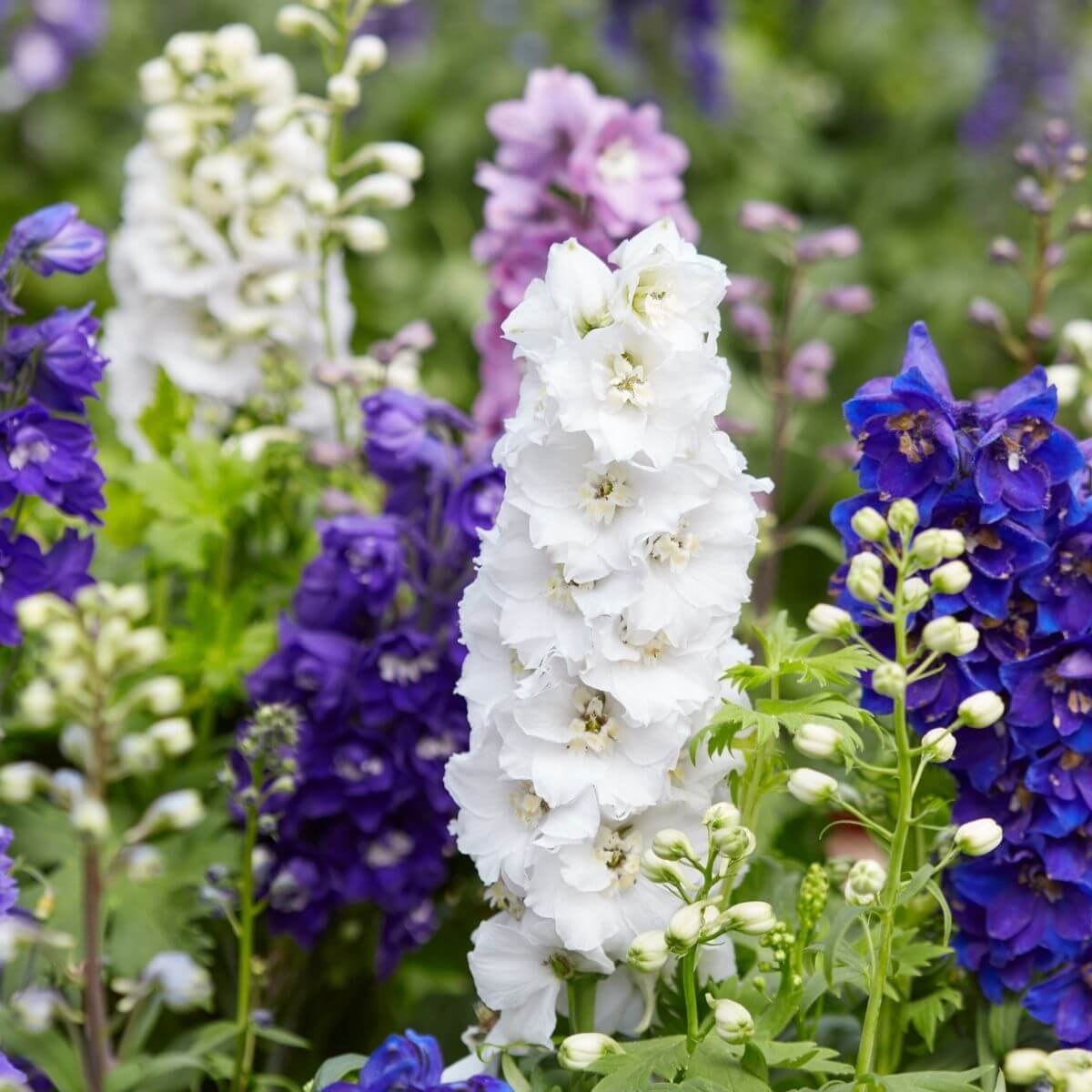 The showy tall spikes of blue or purple flowers are striking in the summer garden; some varieties grow flower stalks up to 8-feet tall! Delphiniums are a little fussy about growing, but they are well worth the effort for the magnificent display.
The large flowers grow dramatically up the stem, covering the entire length with multitudes of wide five-petaled blooms. Because of their immense height, Delphinium flower stalks are prone to bending and breaking.
They need to be staked or planted in front of a tall fence or wall that protects them from the wind. Delphiniums are also short-lived perennials, meaning they will flower for 2-3 years and then lose vitality.
Cultivars are available in white, lavender, violet, pink, and scarlet. Delphinium is hardy in zones 3-9.
Get seeds or plants from: Amazon, Etsy.
17. Sedum (Stonecrop)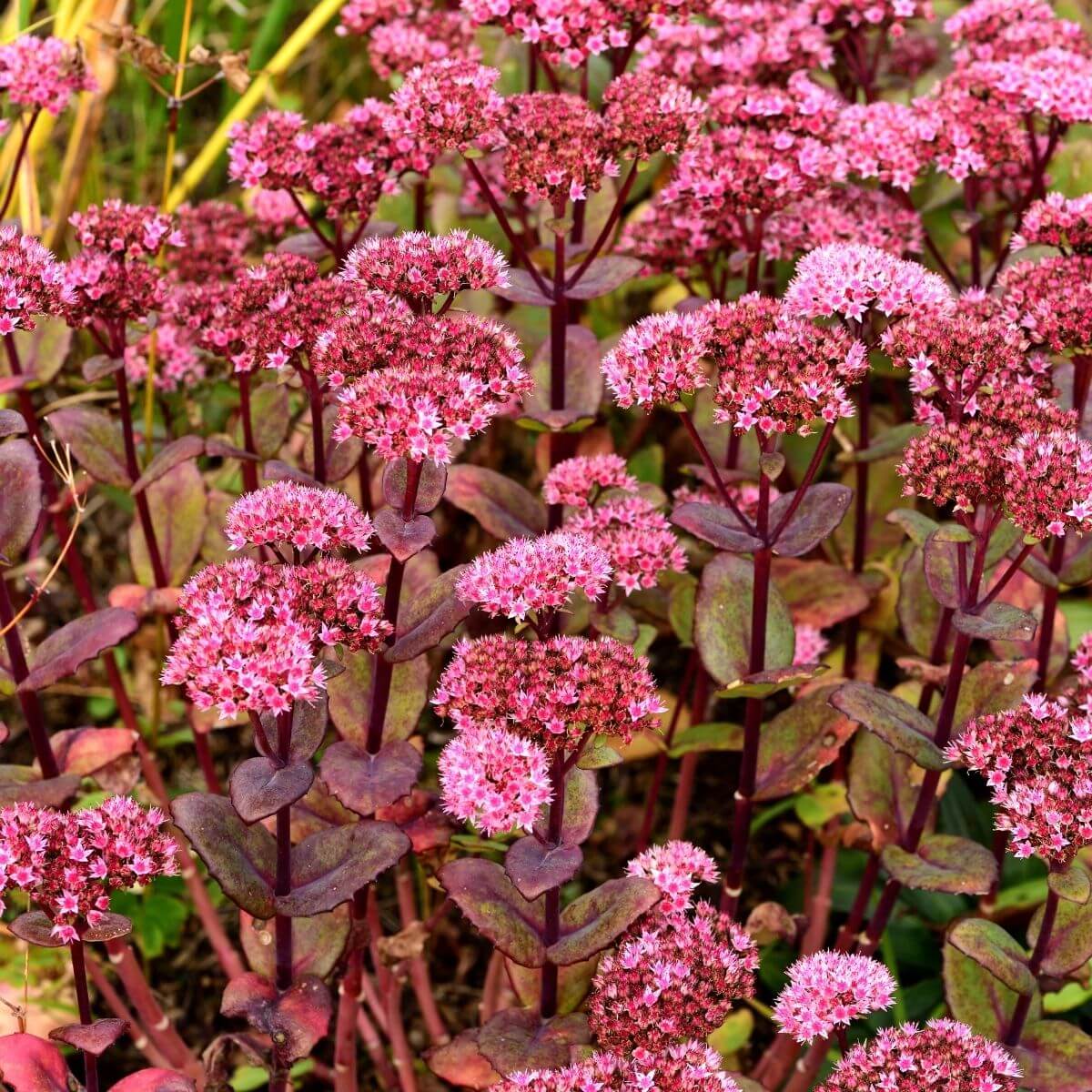 There are two types of this succulent, and we love both for the sun-garden. Clumping (or Tall) Sedum varieties average 1-3-feet tall, and their flowers grow on stalks well above the foliage.
On the other hand, Creeping Sedum grows low to the ground and provides a wonderfully colorful carpet of flowers. Because they are succulents, they are both very drought tolerant.
We love the little green or green and white succulent foliage for contrast in the garden, and the bunches of brightly colored star-shaped flower clusters are simply a bonus.
Creeping Sedum is an excellent plant for rooftop or wall gardens since they grow so easily and require little to no care once established. We love the "Class Act," "Autumn Joy," "Cloud Walker," and "Carmen" varieties of Clumping Sedum.
Once you start looking at all the variations of Sedum plants, you may find yourself filling the entire garden with them! Hardy to zones 4-9.
Get seeds or plants from: Amazon, Etsy.
18. Ice Plant (Delosperma)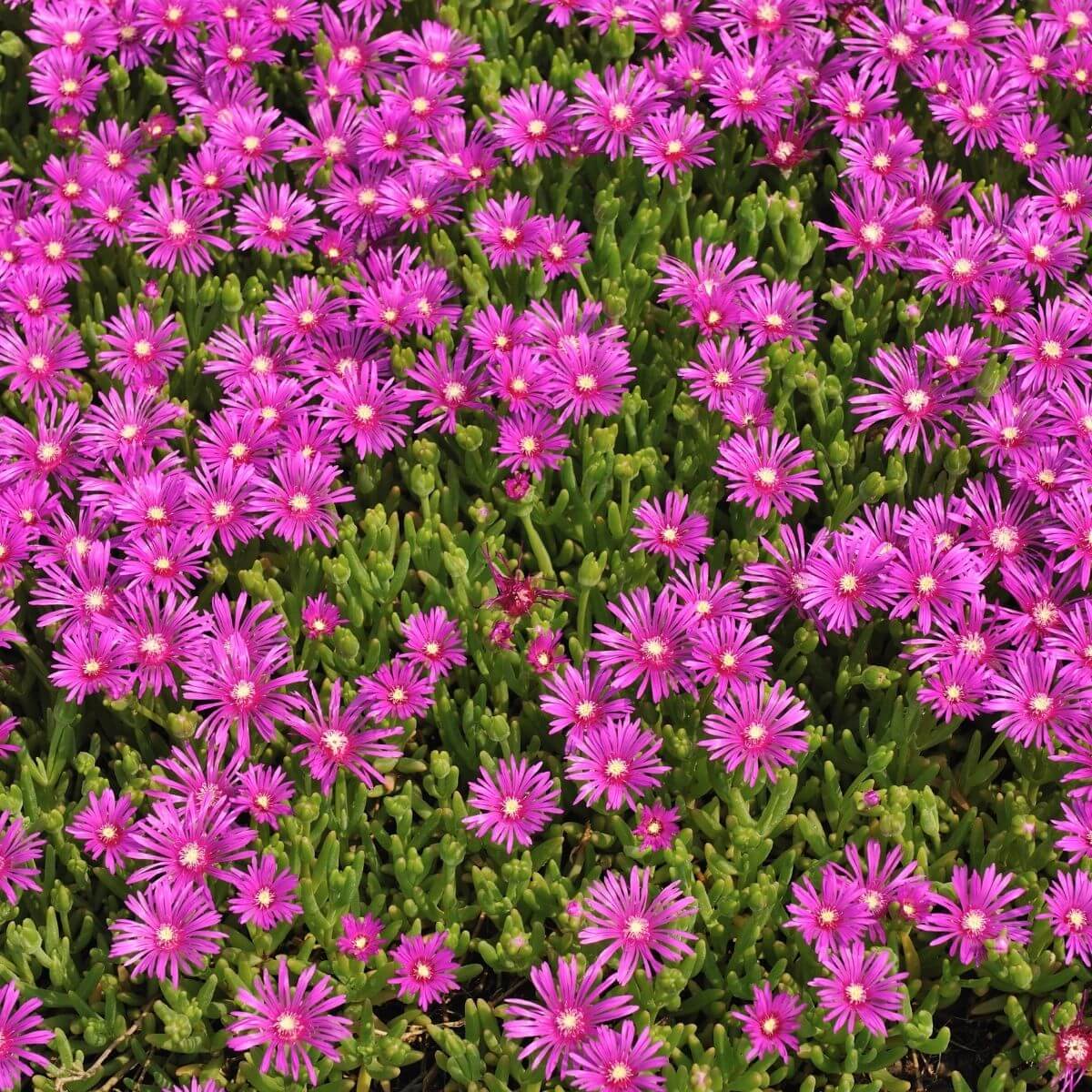 A succulent that loves the sun and tolerates the cold is a garden gem. Ice Plants are low-growing plants with a vast range of flower colors, including purple, orange, pink, yellow, and bi-color options.
The bright multi-petaled daisy-shaped flowers bloom directly above the plant, like fireworks bursting just above the ground cover. These plants average 3-6-inches in height and add excellent contrast and aesthetic appeal to the garden.
We particularly love "Red Mountain Flame," "Jewel of the Desert," "Fire Spinner," and the 2019 introduction, "Granita Orange."
Get seeds or plants from: Amazon, Etsy.
19. Lonicera (Honeysuckle)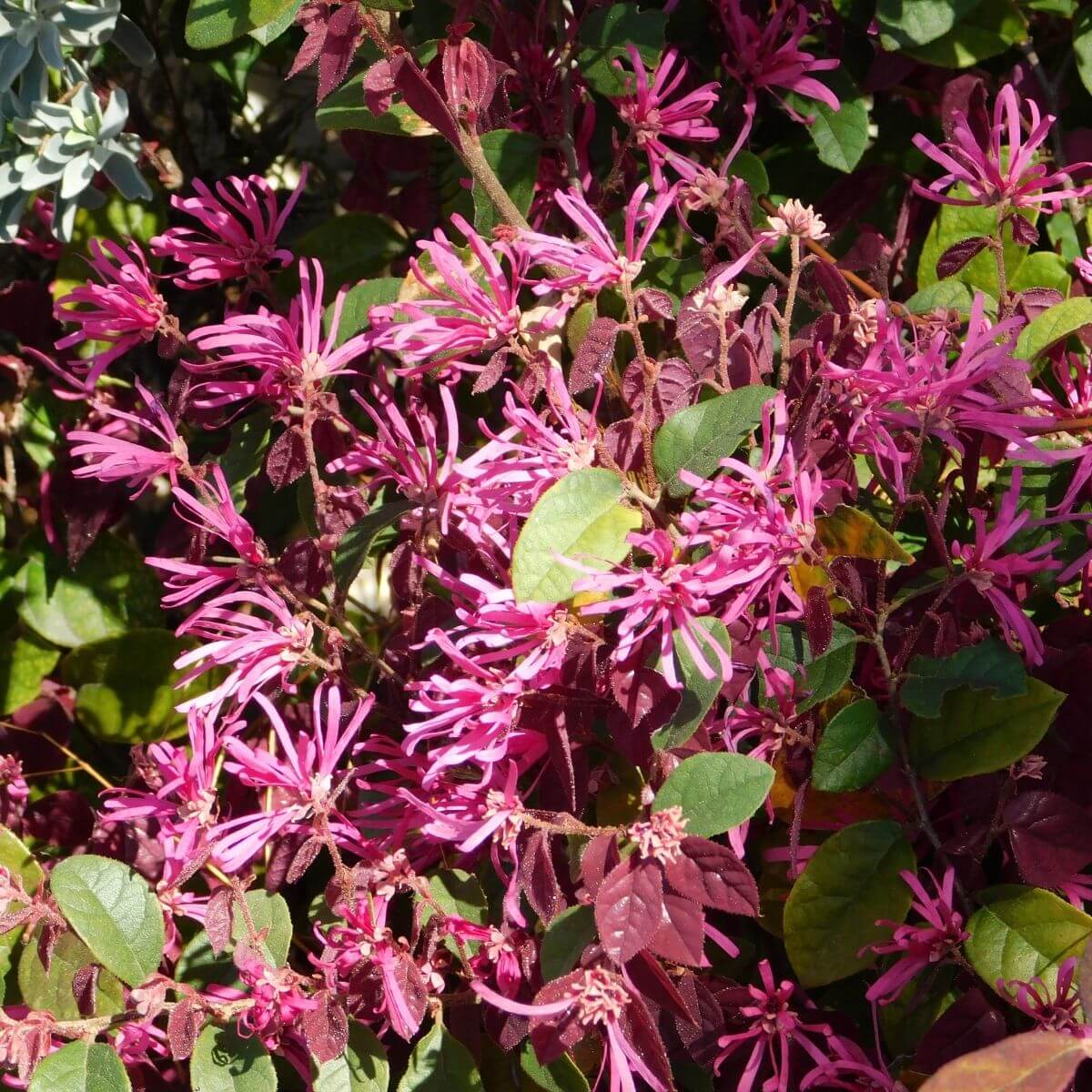 There are many options with Honeysuckle plants, so it is easy to find one perfect for your sunny garden spot. Some are climbing vines, while others grow as shrubs or bushes. The only one to avoid is the too popular Japanese Honeysuckle (L.japonica) because it has become invasive across many parts of the country.
Not only are honeysuckle flowers attractive, but they are also extremely fragrant, which draws in hummingbirds, bees, and butterflies. Honeysuckles are available in a wide variety of colors, including violet, magenta, orange, pink, and yellow. The delicate tubular flower clusters with long-reaching stamens add an exquisite wispy quality to the garden aesthetic and make a stunning hedge plant. After the flowers fade, small red berries appear, providing an excellent food source for birds.
Choose a native Honeysuckle like L.hispidula (sweet pink flowers), L.sempervirens (bright scarlet flowers, or cultivars with orange, red, or yellow flowers), L.dioica (with magenta-pink blooms), or L.flava (with brilliant yellow flowers). Honeysuckle plants are hardy to zones 4-9, depending on the variety.
Get seeds or plants from: Amazon, Etsy.
20. Foxglove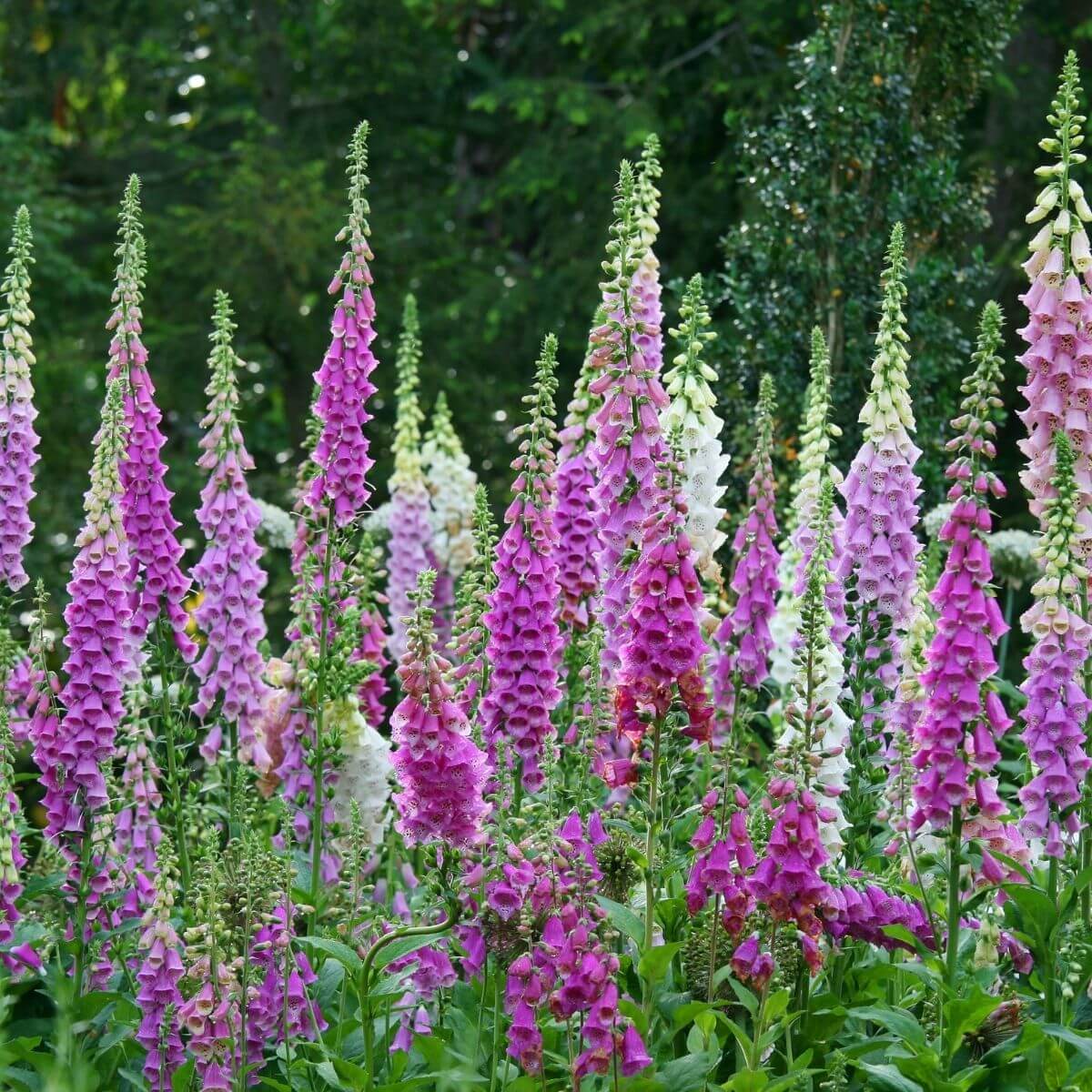 The tall, stately foxglove plant shows off its gorgeous flowers all summer long and adds a grand colorful element to the sun garden. Each 2-3-foot stalk is covered with a dozen or more brilliant purple bell-shaped flowers.
The throat of each flower is covered in beautiful white and deep-purple speckles, adding to its dramatic appeal. Foxglove flowers aren't really perennials; they are biennial.
But, they self-seed easily, so it will seem as if they are perennial. The downward hanging flower bells are beloved by hummingbirds and bees, too. This flower is invasive in many parts of the country, particularly the Pacific Northwest, so be mindful about where you plant it.
The flowers aren't always purple; there are also white, pink, and yellow flower varieties. Foxglove is hardy to zones 4-10.
Get seeds or plants from: Amazon, Etsy.
21. Hibiscus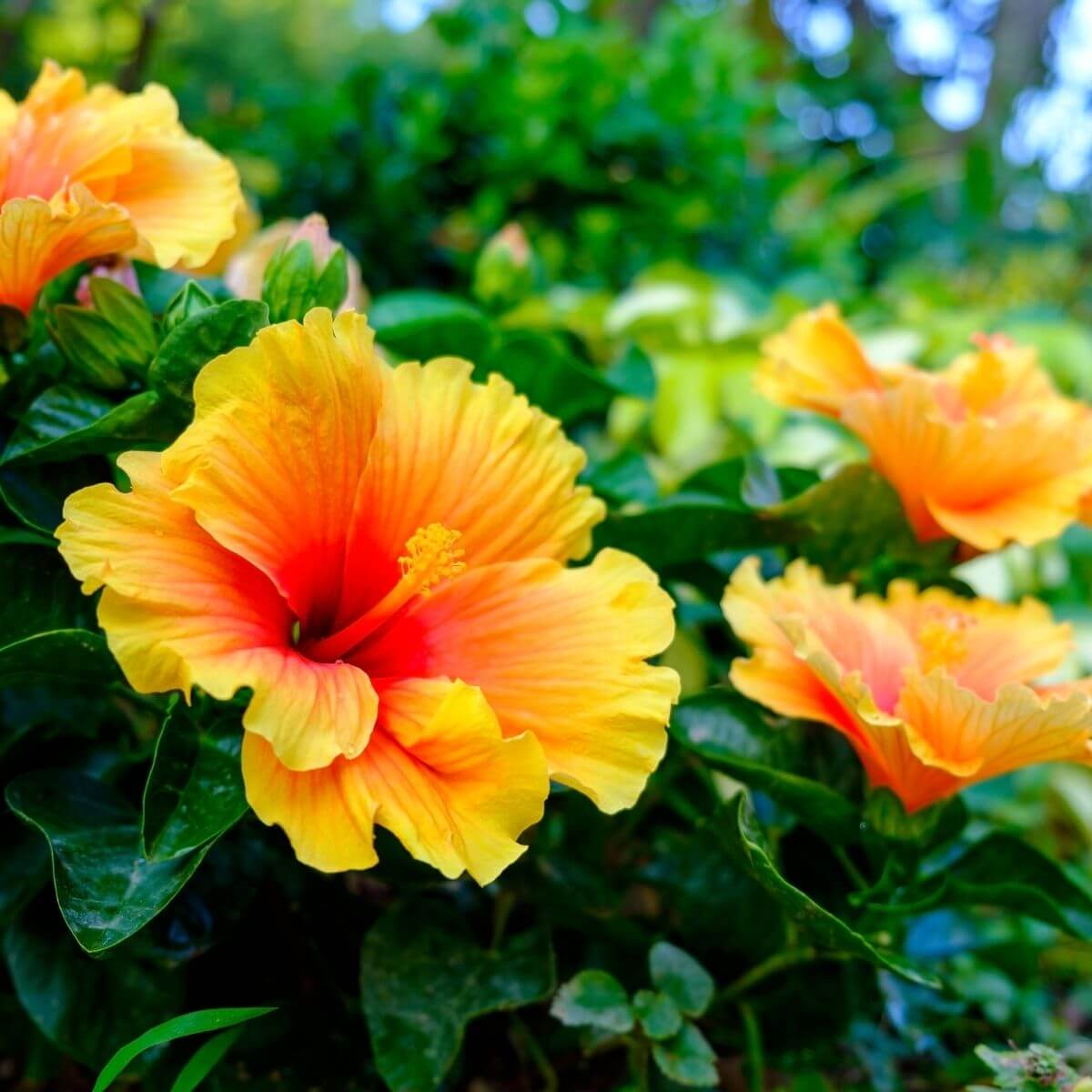 If you crave a tropical feel in the garden, plant Hibiscus. The huge, brilliantly colored, and rather flamboyant Hibiscus flowers bring the tropics to you. Hibiscus flowers come in red, pink, white, and yellow.
Each bloom is 12" wide, with a showy alternate colored center and large protruding stamen. Because they are a tropical plant, Hibiscus is perfect for the sunny garden spot.
Some Hibiscus cultivars are also very cold-hardy, unlike most tropical plants, and will grow as a perennial in zones 5-12.
We love the massive cheerful beacon-like flowers of "Pink Chiffon," "Ruffled Satin," "Cranberry Crush," "Kopper King," and all the fantastically colored "Dinnerplate" varieties. Hibiscus is hardy to zones 4-12, but it is highly dependent on the type, so choose carefully.
Get seeds or plants from: Amazon, Etsy.
22. Rock Cress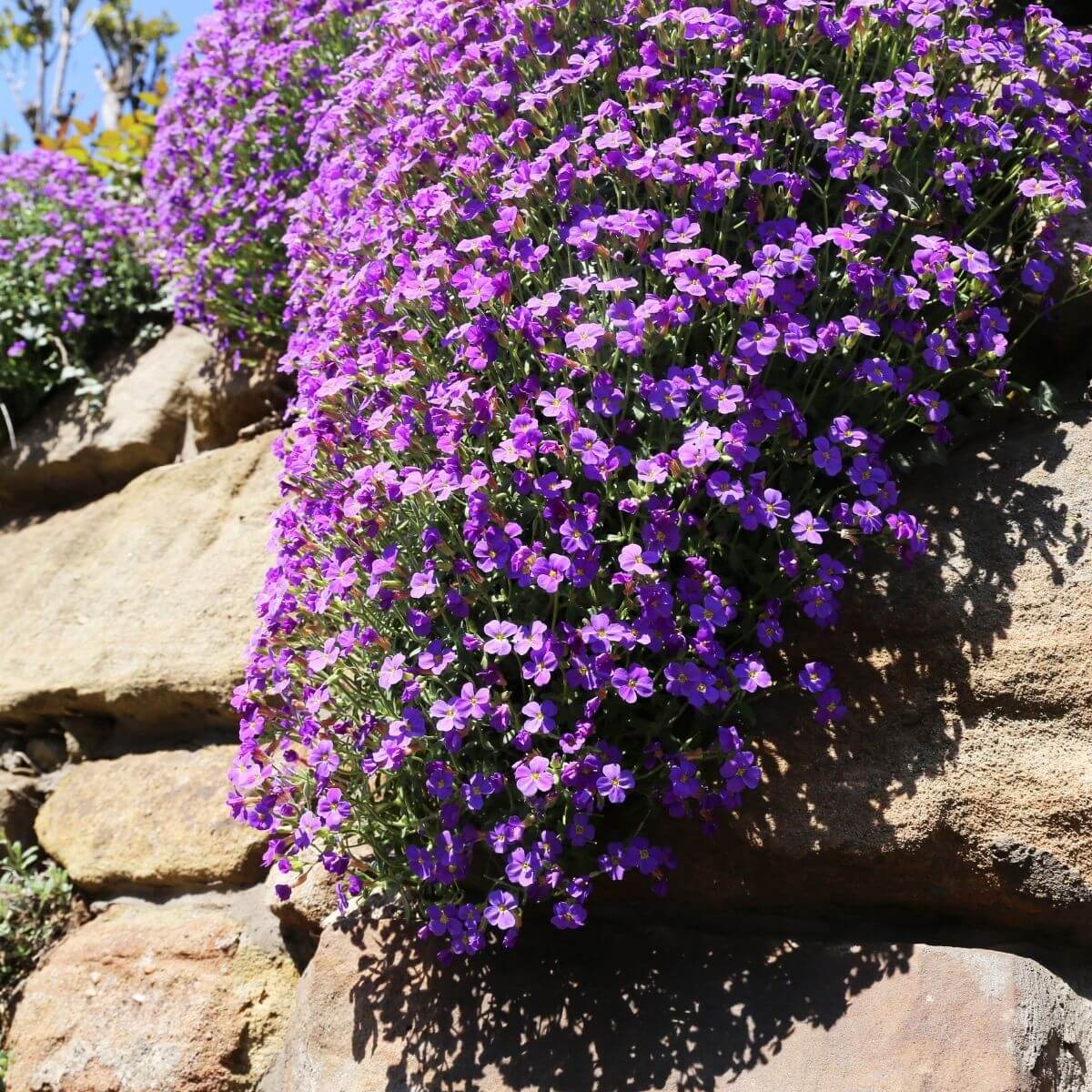 Not all plants need to be big and showy to be beautiful. Rock Cress is a low-growing mat-forming ground cover that produces a gorgeous display of bright purple flowers in late spring or early summer.
The abundant little flowers often block the green foliage beneath them. Rock Cress is perfect for rock gardens, borders, pathways, as edging, and planted in places with dry, rocky soil.
Bees and butterflies appreciate the carpet of flowers as much as we do, making it an excellent flower choice for the perennial garden. The plants average 4-12-inches tall, and once established, are highly drought-tolerant. Hardy to zones 4-9.
Get seeds or plants from: Amazon, Etsy.
23. Owls' Claw (Sneezeweed)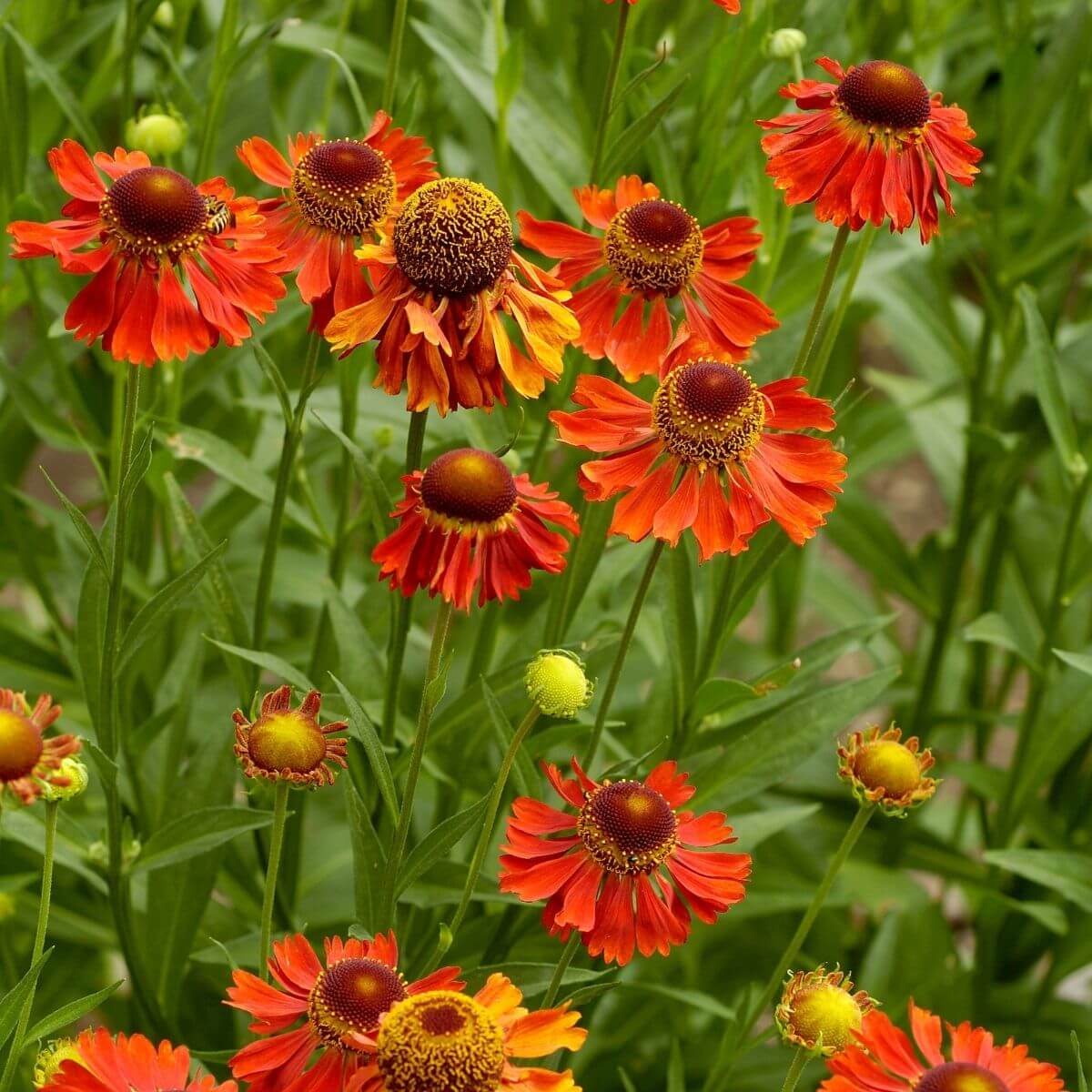 This native wildflower, with its substantial bright golden-yellow flowers, attracts butterflies, bees, and people! The flower rays resemble loosely shaped daisies, but they are much bigger and eye-catching.
Owl's Claw looks impressive as a border, along a walkway, or as a backdrop. The flowers bloom for an exceptionally long time and bring a sunny atmosphere to the yard or garden. Owl's Claw is hardy to zones 3-7.
Get seeds or plants from: Amazon, Etsy.
We hope you are inspired to turn your sunny backyard into a vibrant display of beautiful and captivating flowers. Even if you only have a small spot in the garden, grow a few of these varieties for color and intrigue. Or plant them along the walkway, fence, or driveway to brighten the space. Planting a few native varieties will also increase bees, butterflies, and hummingbird populations in your yard, which is always a delight.