Starting an herb garden for the first time is a learning experience, and you're bound to make a few herb gardening mistakes. Knowing the common mistakes ahead of time helps you avoid these common problems. Everyone wants their herbs to be successful!
The first time I grew herbs was a disaster. I planted all of my herbs in one area that only received around four to six hours of sunlight each day. That worked for some of my plants, but not all of them. I never fertilized my plants, nor did I add compost in the beginning. I never pruned my plants, and soon, they died.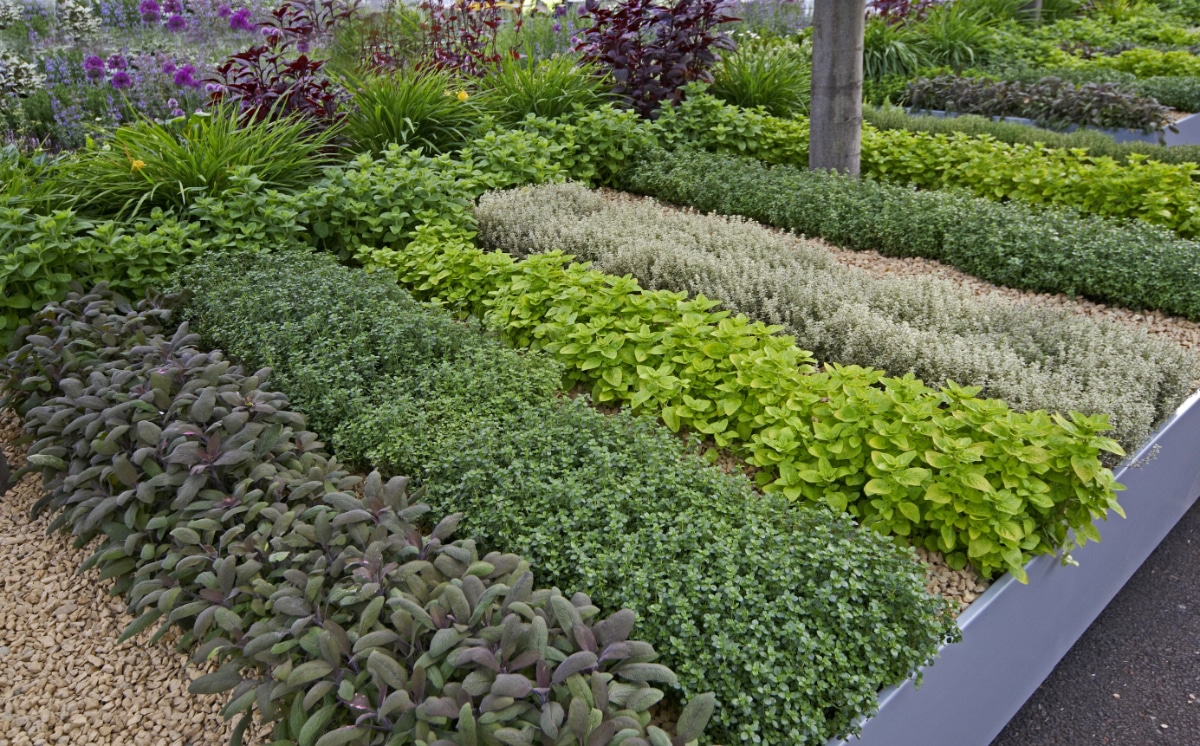 I avoided herbs for a few years because I assumed growing an herb garden was too hard. In reality, I made mistakes that killed my plants.
You don't need to make the same herb gardening mistakes that I did. Here are some of the most common mistakes gardeners make
Jump to:
1. Thinking All Herbs Are The Same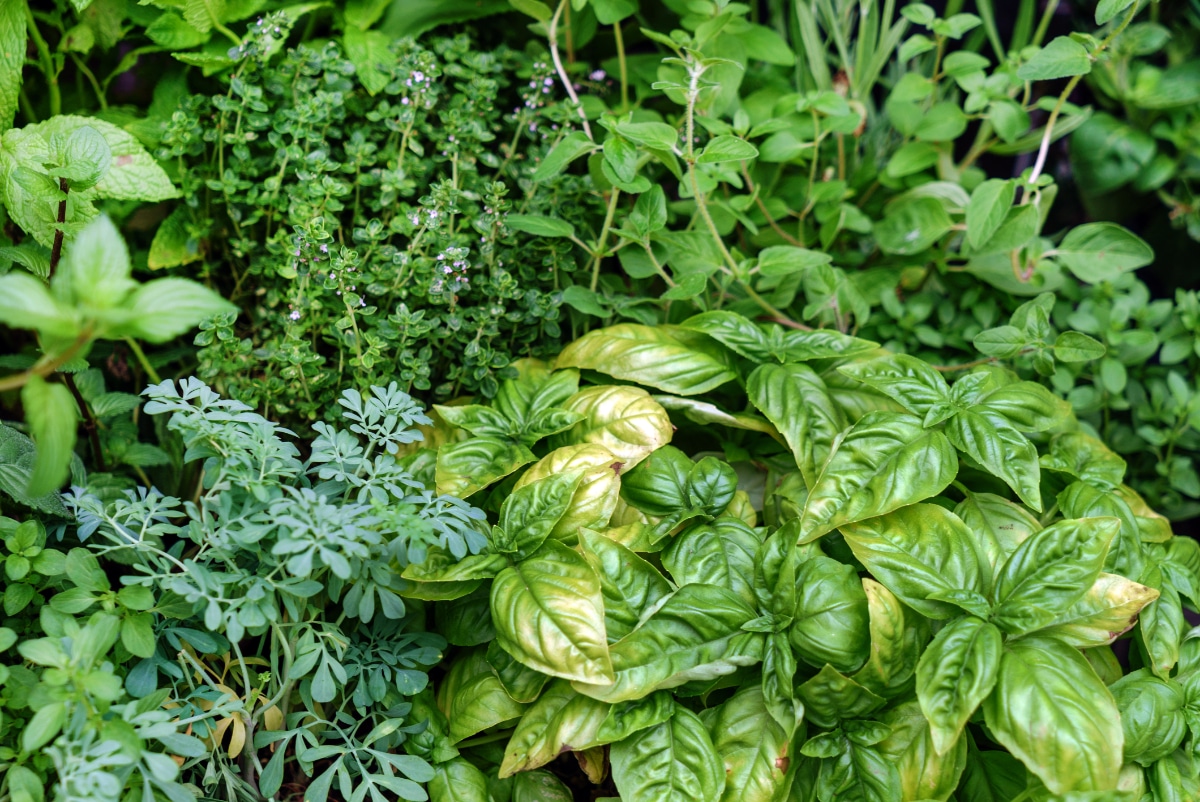 Herbs might all be bundled into the same classification as "herbs," but that doesn't mean they're all the same. Some herbs are culinary, while others are medicinal. Some originate in regions like the Mediterranean, needing drier conditions, while others prefer moist conditions.
Before you grow herbs, make sure you take a look at each requirement. Get to know the herbs before you grow them. Not all herbs are the same, and if you go into growing them thinking that, you'll likely kill your plants before they have the chance to grow.
2. Picking the Wrong Growing Season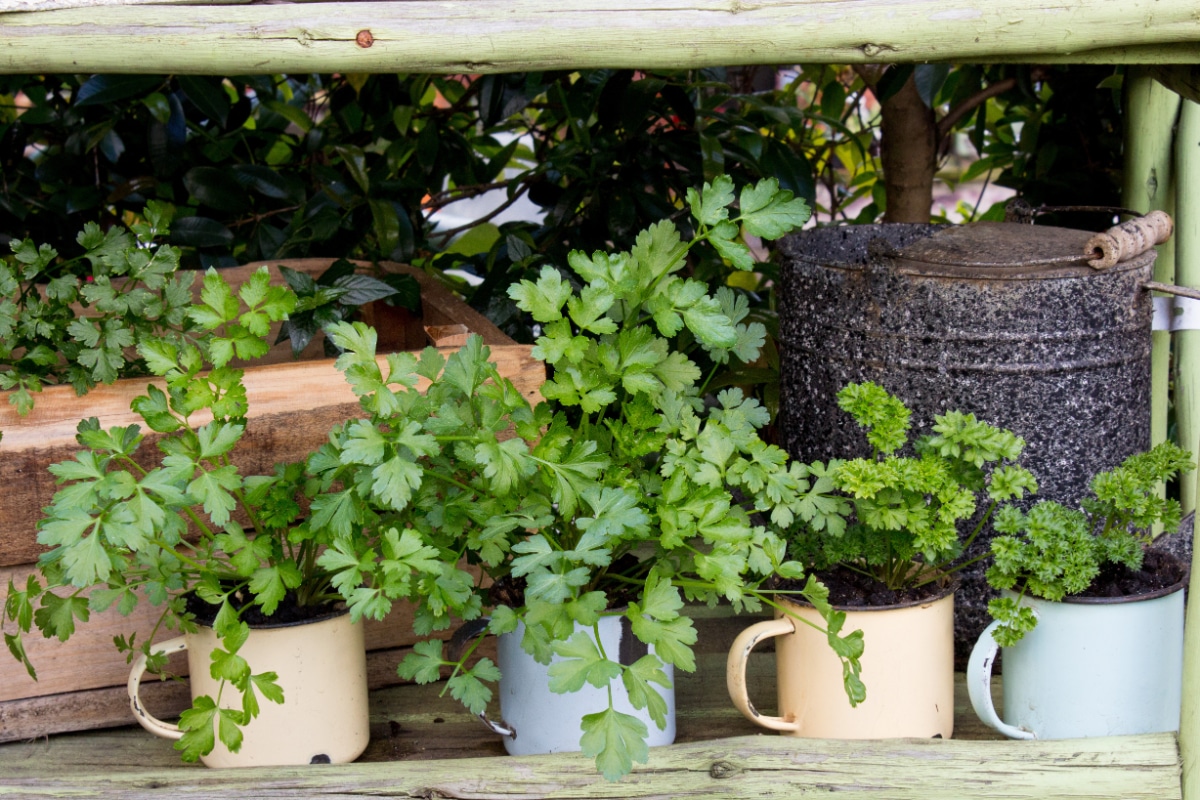 It's easy to assume that all herbs grow best in the summer, but some herbs prefer to grow in cooler weather like some vegetables.
For example, cilantro grows best in cool weather, so plant these herbs in the spring or fall. When the temperature heats up, cilantro goes to seed. On the other hand, basil thrives in warm weather and dies when exposed to cold temperatures.
Know what time of year your herbs grow best! Most seed packets tell you on the back when to plant the seedlings outside
3. Not Adding Nutrients to the Soil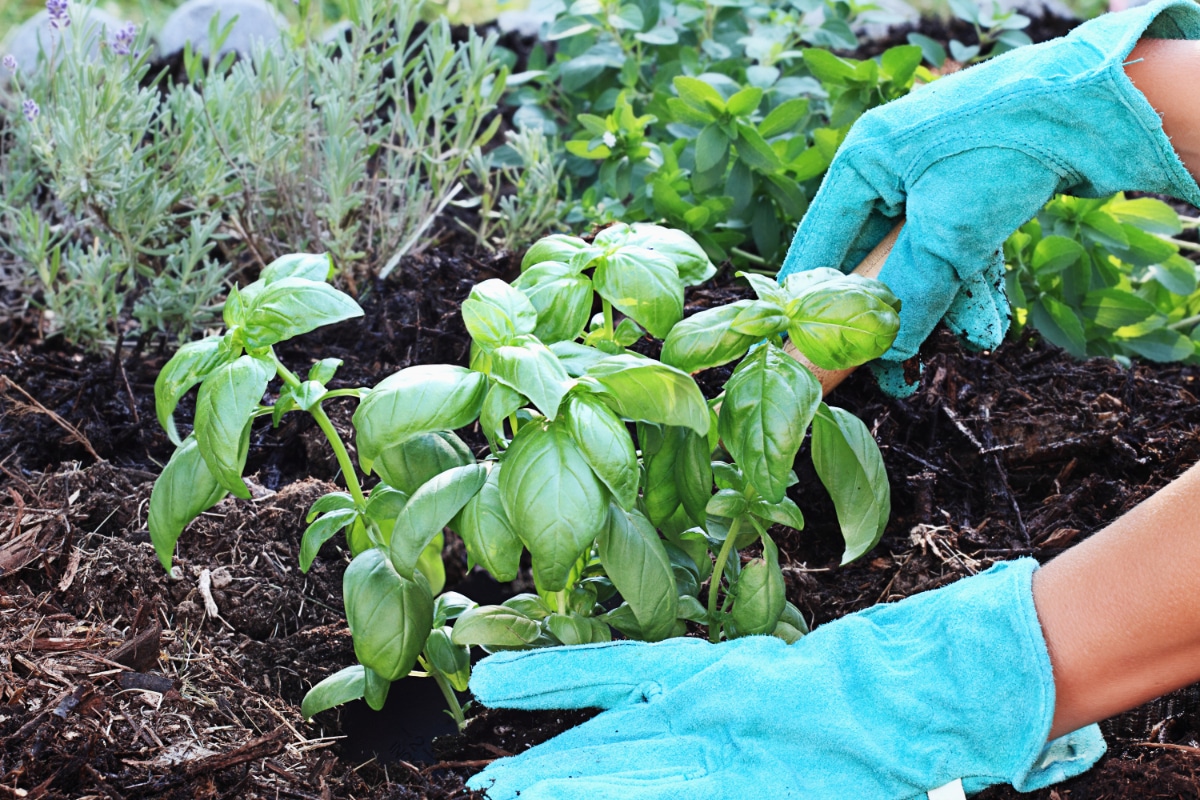 Soil needs to be refreshed every year. One of the most serious herb gardening mistakes is starting an herb garden without adding any organic matter to the soil. Plants need humus, including herbs.
Before you start growing herbs, make sure you're providing your plant with healthy, refreshed soil. Add compost every year, and don't be afraid to add some other homemade fertilizers like coffee grounds, eggshells, and other decomposable materials.
If you grow herbs in containers, never use garden soil. This type of soil is heavy and won't allow water to drain out properly. Never take soil out of the ground and use it in containers because it might contain bacteria. Instead, you need to use potting soil or soil designed for container gardening.
4. Picking Unhealthy Plants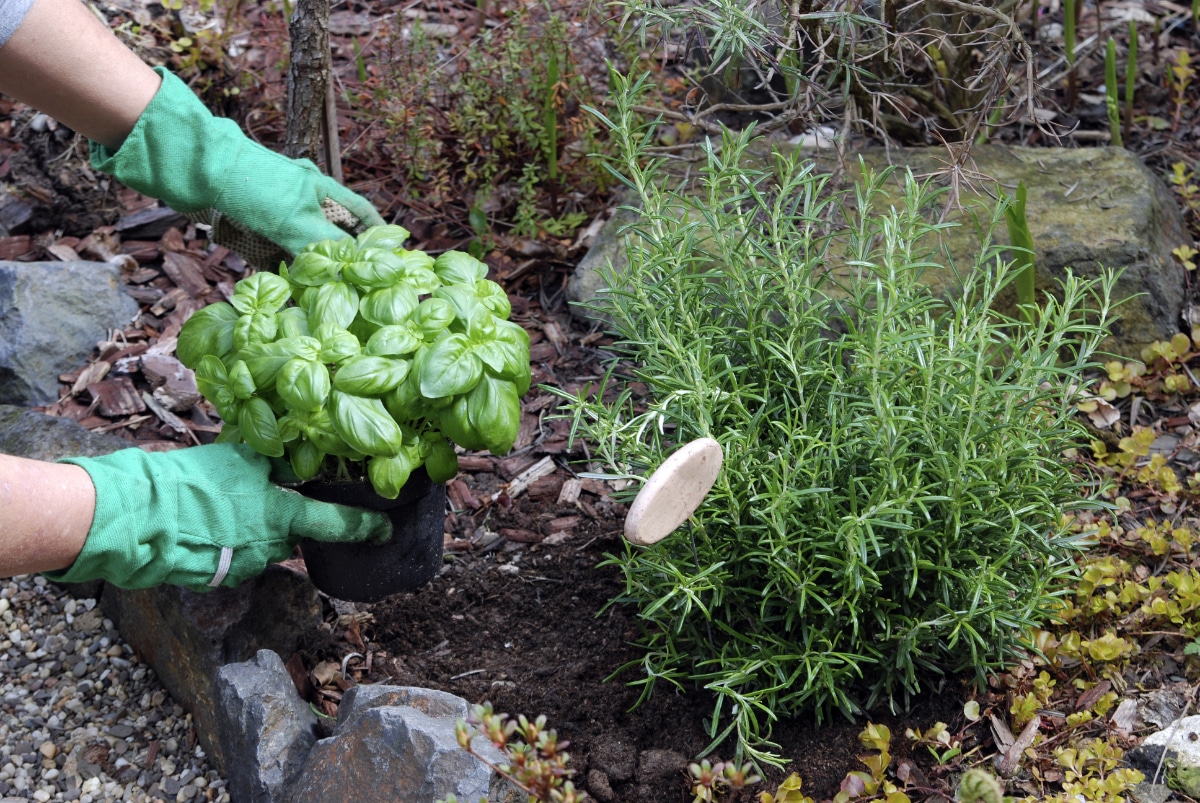 Healthy gardens start with healthy plants. When you pick plants from your local garden nursery, look for brightly colored plants without any yellowing or wilting leaves.
Your heartstrings might tug a bit when you see sad, sick plants, but they don't belong in your herb gardening. Don't dedicate any space in your herb garden to plants that are already off on the wrong foot.
5. Planting Herbs in the Wrong Environment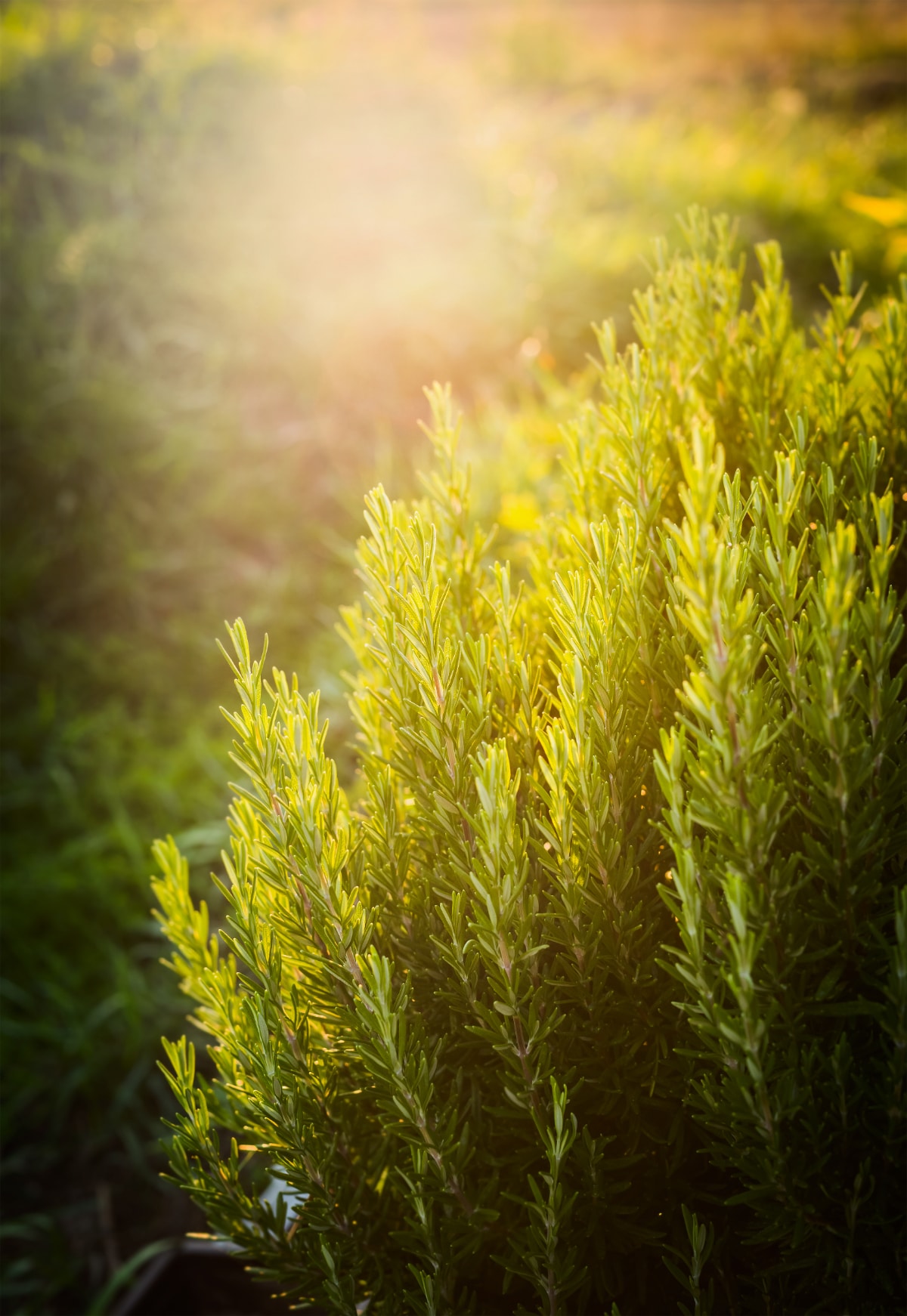 Like vegetable plants, herbs have specific environments where they grow the best. Some herbs need full sunlight, an average of six to eight hours per day. Other herbs need partial sun, an average of four to six hours per day.
That's not all.
Some herbs prefer dry environments, while others want to grow in a moist area. Planting herbs in the wrong environment start your plants off on the wrong foot. They immediately will struggle to meet their full potential. While the plants will still grow, they won't produce as they should.
6. Not Growing Mint in Containers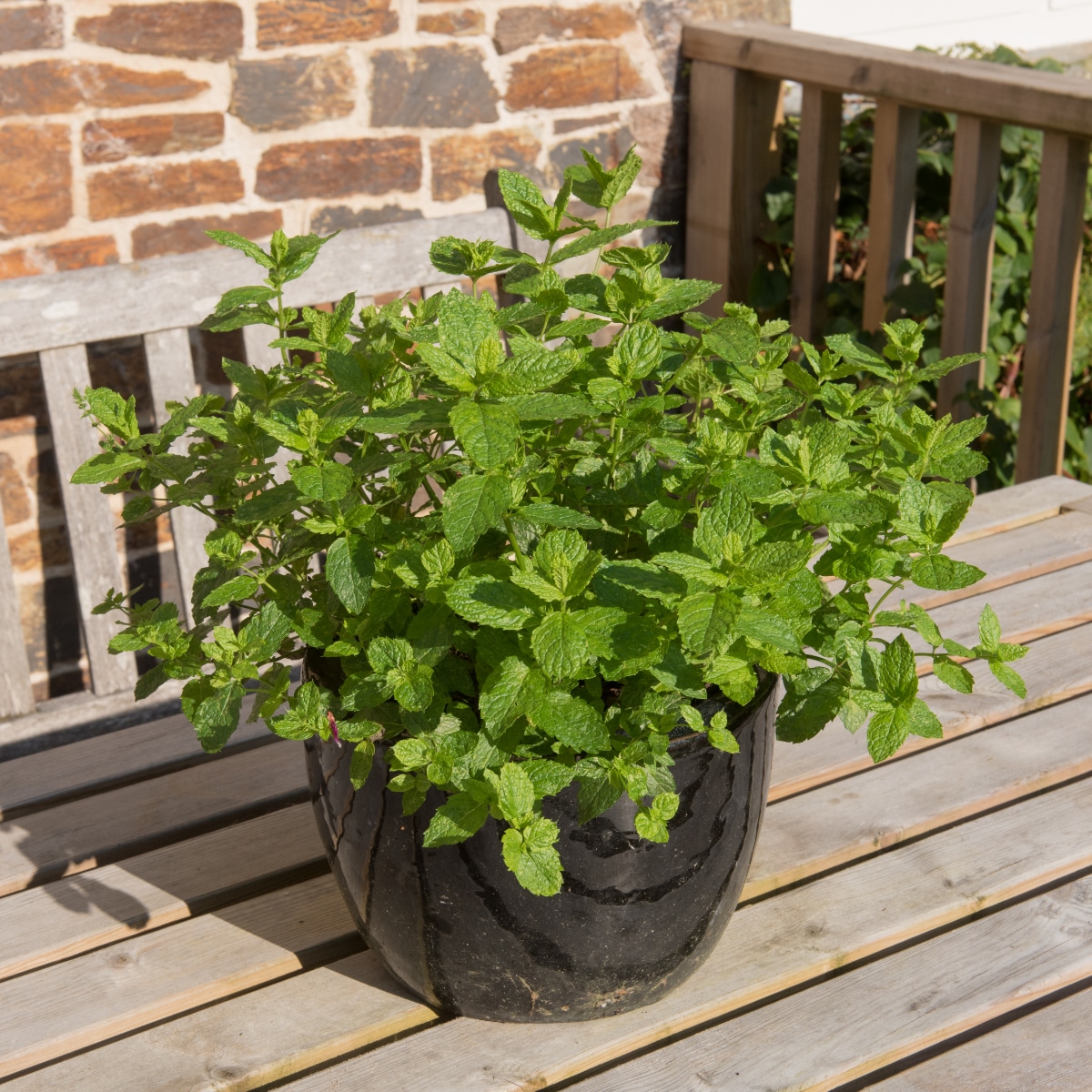 Some plants grow best in containers, and mint is one of the plants that should be grown in containers because of its invasive growth habit. Mint spreads out rapidly, and unless you don't mind it taking over your entire garden bed, it's best to keep these herbs in a container.
I planted mint in my small herb garden years ago without any idea that these plants spread. By the end of the growing season, it was the only herb I managed not to kill. The next year, the mint plant came back, and it was double the size. It continued to grow for years, invading the space of whatever else I tried to grow nearby.
7. Picking the Wrong Pot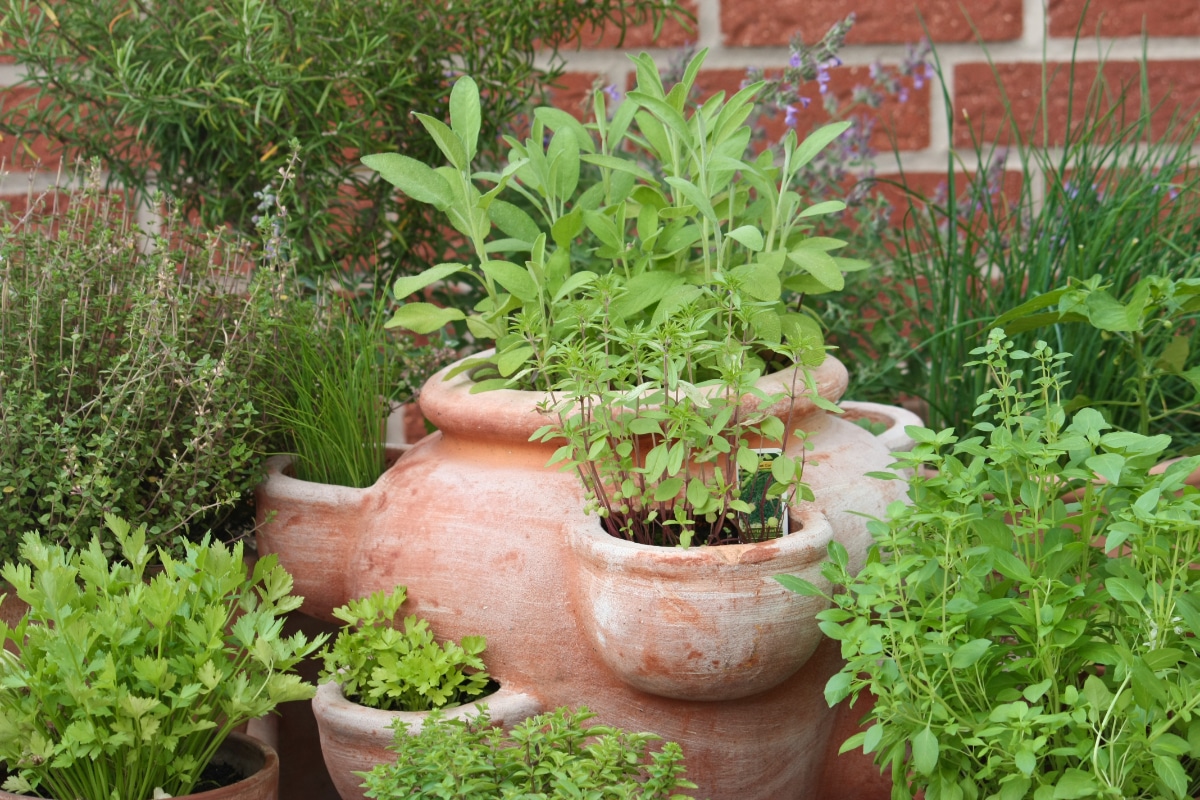 Not all containers are the same! When you plant herbs in containers, you need to make sure you pick the right pot.
Terra cotta pots allow moisture to evaporate out of the soil faster, so if you have a moisture-loving plant growing in this container, it won't be happy. Plastic and glazed containers hold moisture better, so you don't want a Mediterranean-style herb to grow in a container that retains moisture well.
Always make sure your pots have drainage holes. For some reason, not all containers have holes at the bottom, so if you love the container, you'll need to drill holes in the bottom to give water a way to drain out.
8. Planting Herbs Too Close Together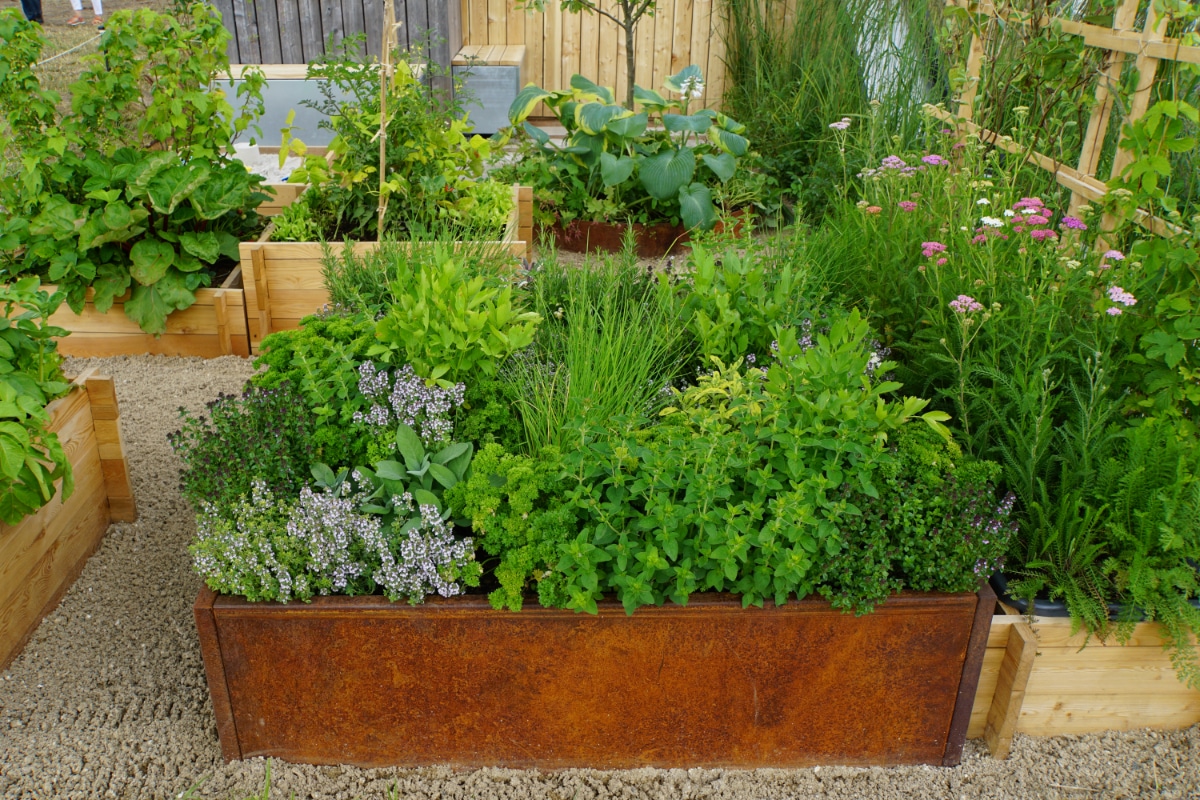 It's tempting to plant as many herbs together in one place as possible; they're the same plant, so why can't they grow close together?
Planting herbs too close together doesn't allow your plant to grow a healthy root system; it has to compete with the other herb plants. A healthy root system leads to a plant that produces more leaves and fights off pests and diseases better than an unhealthy plant.
Another reason why this is one of the most common herb gardening mistakes is that closely planted herbs increase the risk of fungal infections occurring on the plants. Fungal diseases love to find humid, warm, moist locations that lack airflow; closely planted herbs lack proper airflow between each plant.
Planting herbs too close in containers is particularly harmful for the plants. Container-grown plants run out of water and nutrients faster than those in the ground, so planting too many herbs in a container that is too small causes issues.
If you want to grow multiple herbs in one pot, make sure you go for a larger pot and pay close attention to the soil. Make sure it's never too dry or too soggy.
Also, if you plant more than one type of herb together in the same container, they need to have similar growing conditions. For example, planting perennials and annuals together is not a good idea, nor do you want to plant a dry-soil loving herb with a moisture loving plant.
9. Being Afraid to Prune Too Much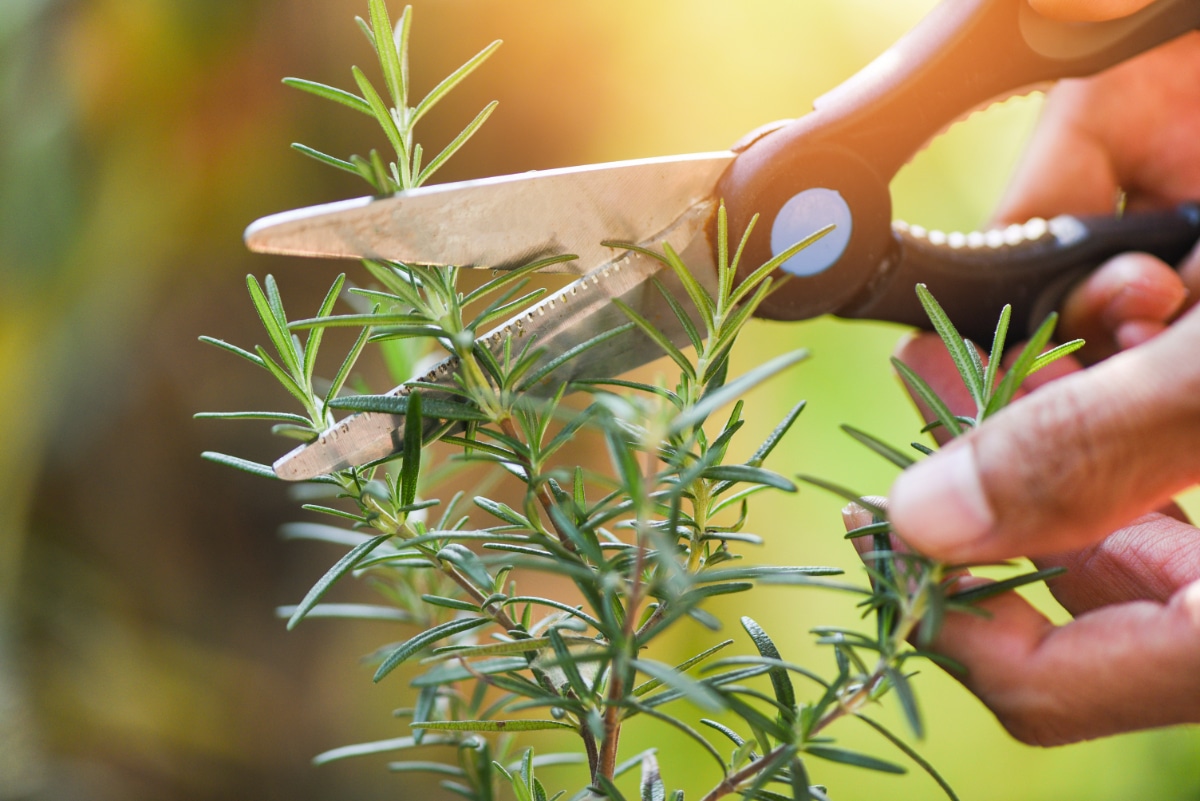 Pruning herbs is a necessary part of herb gardening. Many plants grow quickly, and they require regular pruning. Pruning gives you useable herbs that you can add to dishes that evening, but it also helps your plant grow taller.
For example, basil is one herb that needs to be pruned. Pruning basil leads to bushier plants with more leaf production. If you fail to prune regularly, your basil plants will grow tall rather than bushy, and you'll end up with fewer leaves.
Why is pruning so important for herb gardening?
When you prune your herb plant, it keeps the plant in the growth stage rather than letting the plant switch into the flowering stage. You don't want your plant to switch stages because the plant stops producing leaves. Pruning keeps your herb plants producing for a longer period, and the plants are healthier!
10. Taking Leaves From The Wrong Place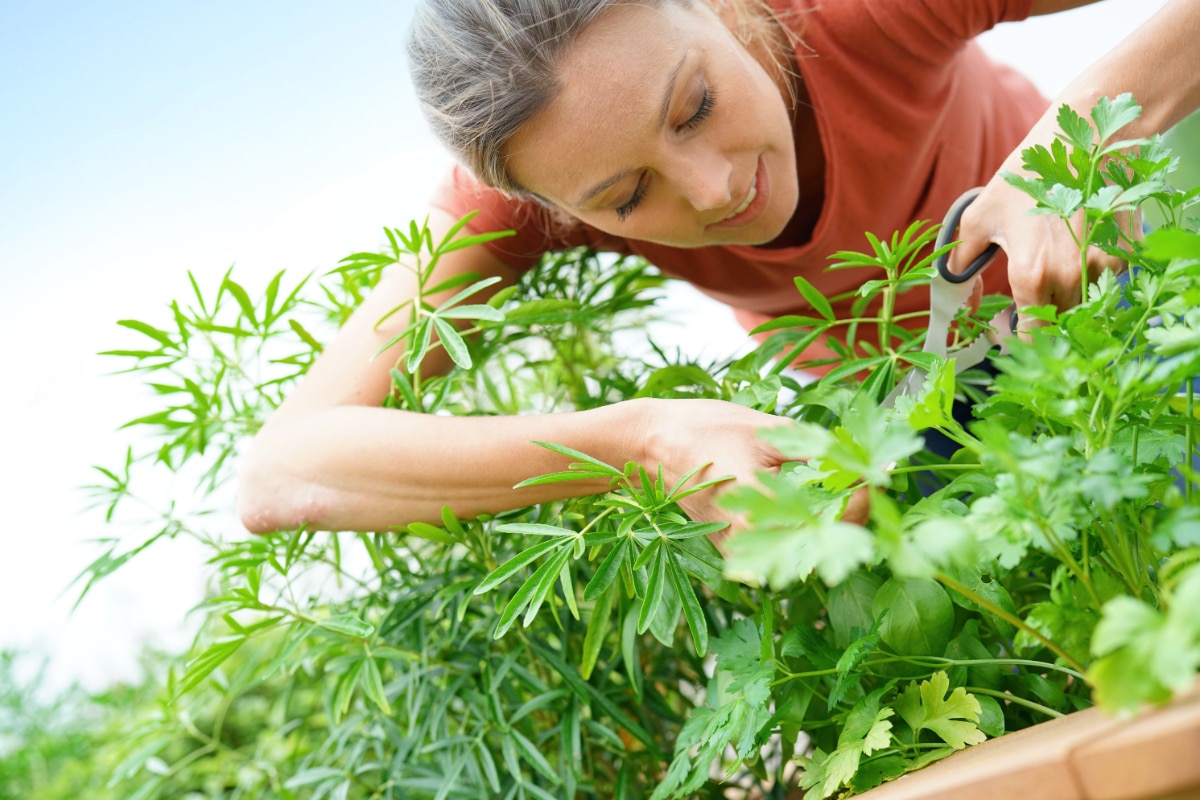 Pruning is intimidating, but one thing you want to do is learn where to take the leaves. Your first thought might be to take the large leaves around the bottom of the plant and let the small leaves at the top keep growing.
That's a bad idea.
The larger leaves at the bottom of your plant need to stay there. They capture the most sunlight, so if you take away those leaves, it makes it hard for the plant to absorb enough energy to sustain their rapid growing habit.
Taking from the top is the best pruning method. Not only does this leave the important leaves on the plant, but it causes the plant to stay shorter and branch out into a bushier plant. It's better for a plant to get wider than taller because it might topple over.
11. Letting Herbs Flower and Go to Seed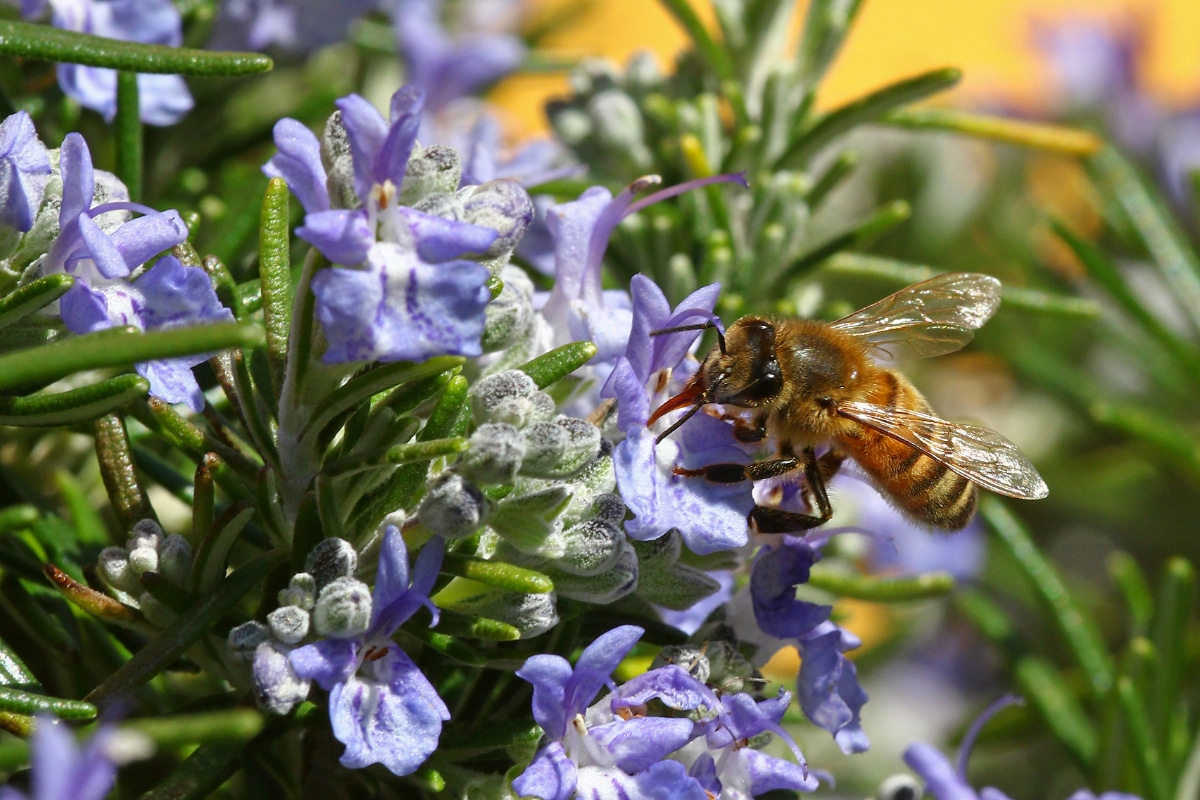 Many herbs produce beautiful flowers, and even though many of these flowers are edible, it's not a good idea to let your herbs flower because it's a signal that their life cycle is close to an end. Shortly after herbs produce flowers, they go to seed, which means they die back for the year.
If you try to harvest herbs after the plant goes to sleep, the leaves will have a different flavor. Some herbs turn bitter after seeding.
It's best to keep flowers from forming. If you see a flower forming on your herb plant, pinch it off, and if it's persistent, cut back below the flower or the entire stem.
Eventually, your plants desire to flower will win, and your plants will go to seed, but you want that to be at the end of the growing season. Two plants - dill and cilantro - have edible seeds. Cilantro turns into coriander, and dill seeds taste great in different dips and dishes.
12. Spraying Your Herbs with Chemicals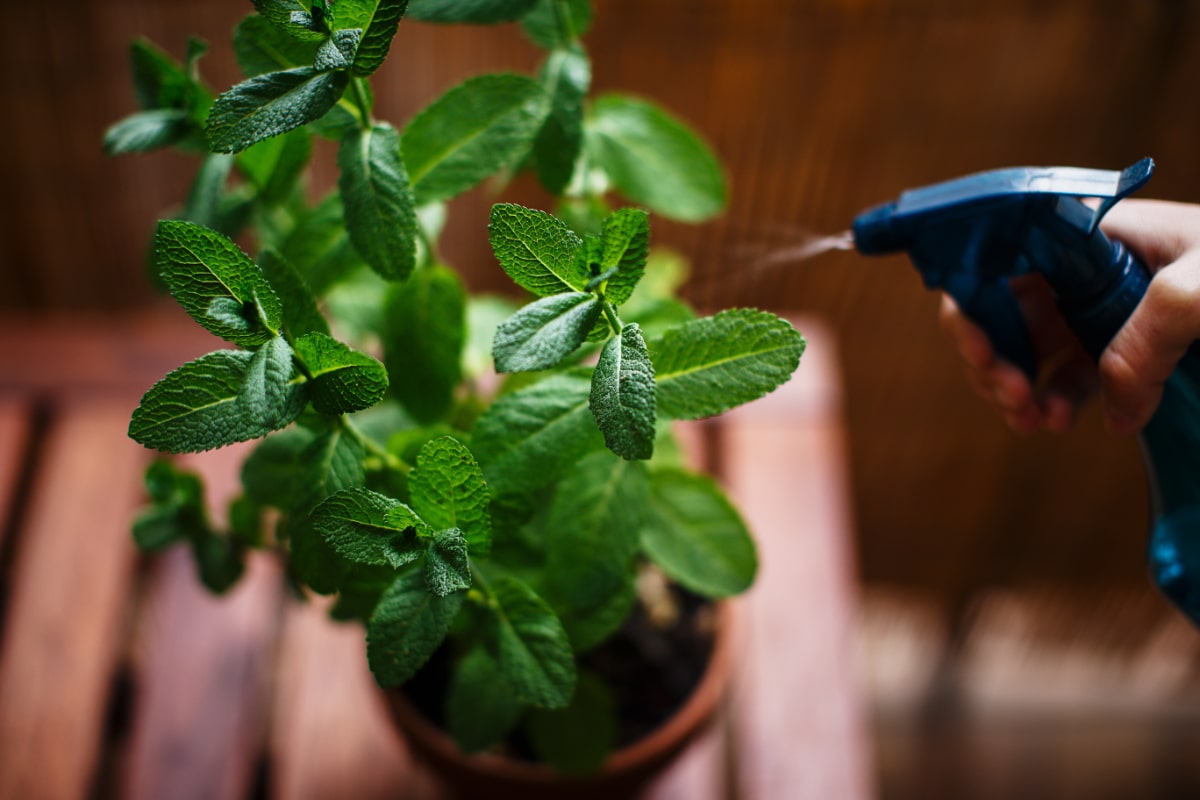 Spraying your plant with pesticides or fertilizers is a bad idea. Even if you rinse the herbs, it's potentially toxic and quite dangerous for humans to ingest herbs sprayed with chemicals.
Stick to organic pest control options rather than chemical ones. Neem oil and insecticidal soaps are better for herbs if you end up with a pest problem
13. Watering Too Much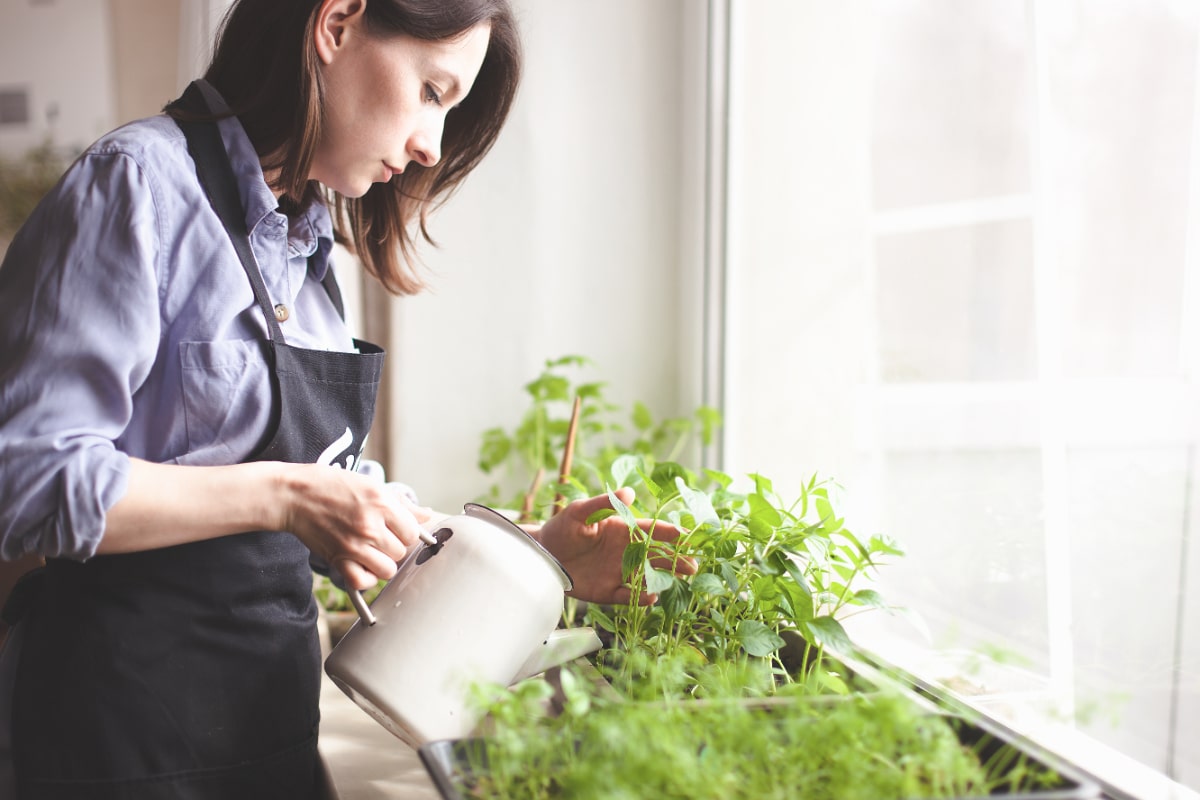 Herbs need a proper watering schedule, and while everyone understands that not giving your plant enough water is harmful, gardeners forget that too much water is just as harmful. Watering too much causes standing water or consistently soggy soil that leads to root rot.
The best time to water your herbs is in the early morning. Check the soil around your herbs by sticking your finger into the soil and checking to see if it's dry two inches down. If the soil is dry, it's time to water, but wait another day if the soil is moist.
Never water overhead; getting water on the leaves promotes mildew and diseases. Instead, water at the base of the plant.
14. Not Mulching Your Herbs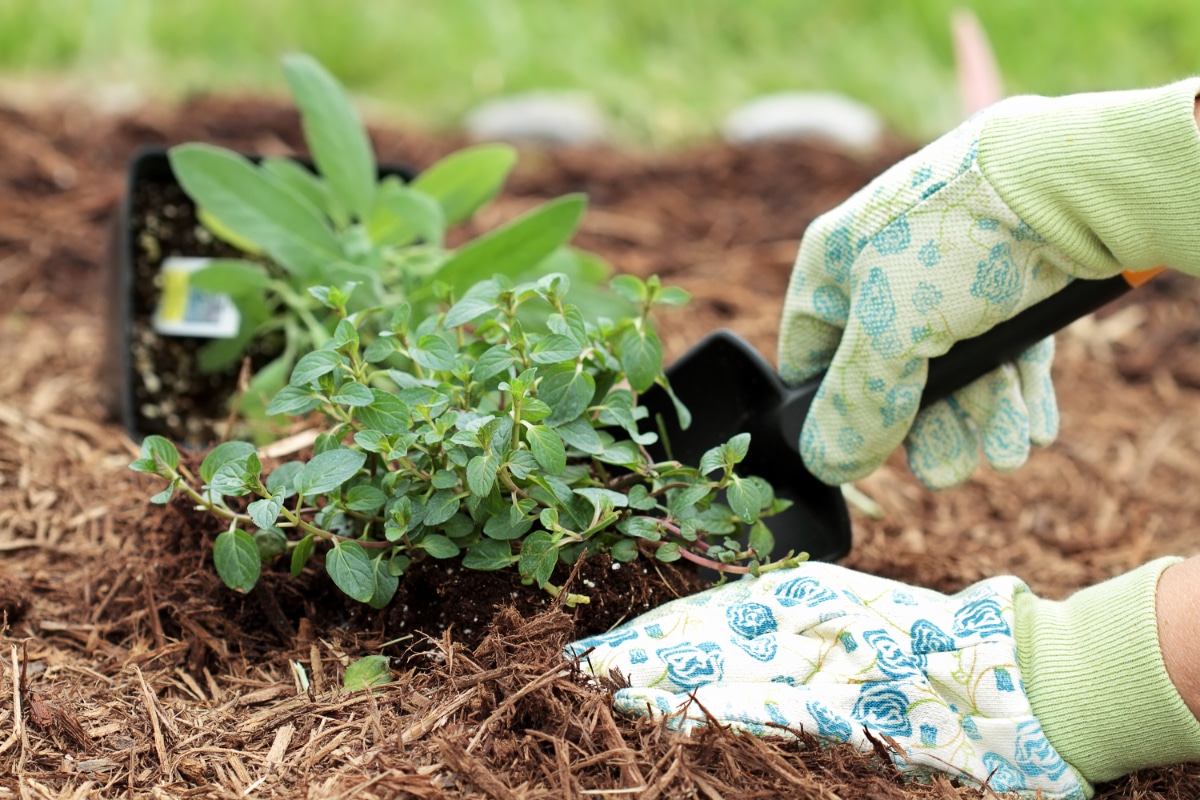 Adding mulch around your herbs is a must, but not putting mulch down is one of the most common herb gardening mistakes. Mulch serves many purposes, such as:
Retaining moisture in the soil
Suppressing weed growth
Regulating soil temperature
Preventing soil erosion
Make sure you keep the mulch off of your plant's stems. Make a two inch circle around your plants with the mulch. There are many choices for mulch, but some of the most common include shredded leaves, compost, grass clippings, hay, and wood chips.
15. Not Watching for Pests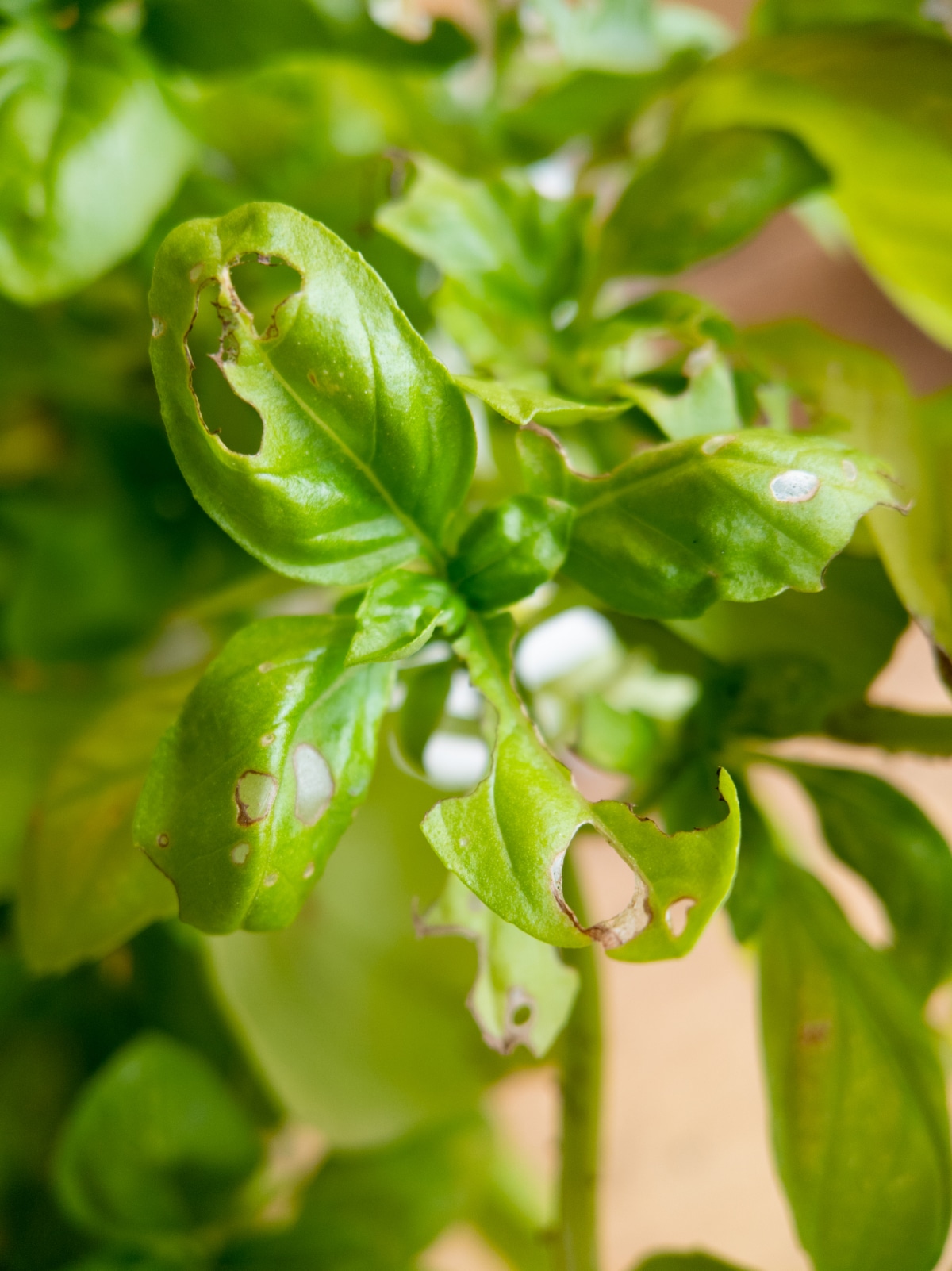 Herbs are known for being pest resistant, but that doesn't mean it's impossible for herbs to end up with a pest infestation. Don't make the mistake of assuming your herbs are safe from pests; always inspect your plants for signs of a problem.
It's also a wise idea for pest-resistant practices, like floating row covers and companion planting. Be prepared with organic pest control spray that are safe for edibles.
16. Forgetting to Use Fertilizers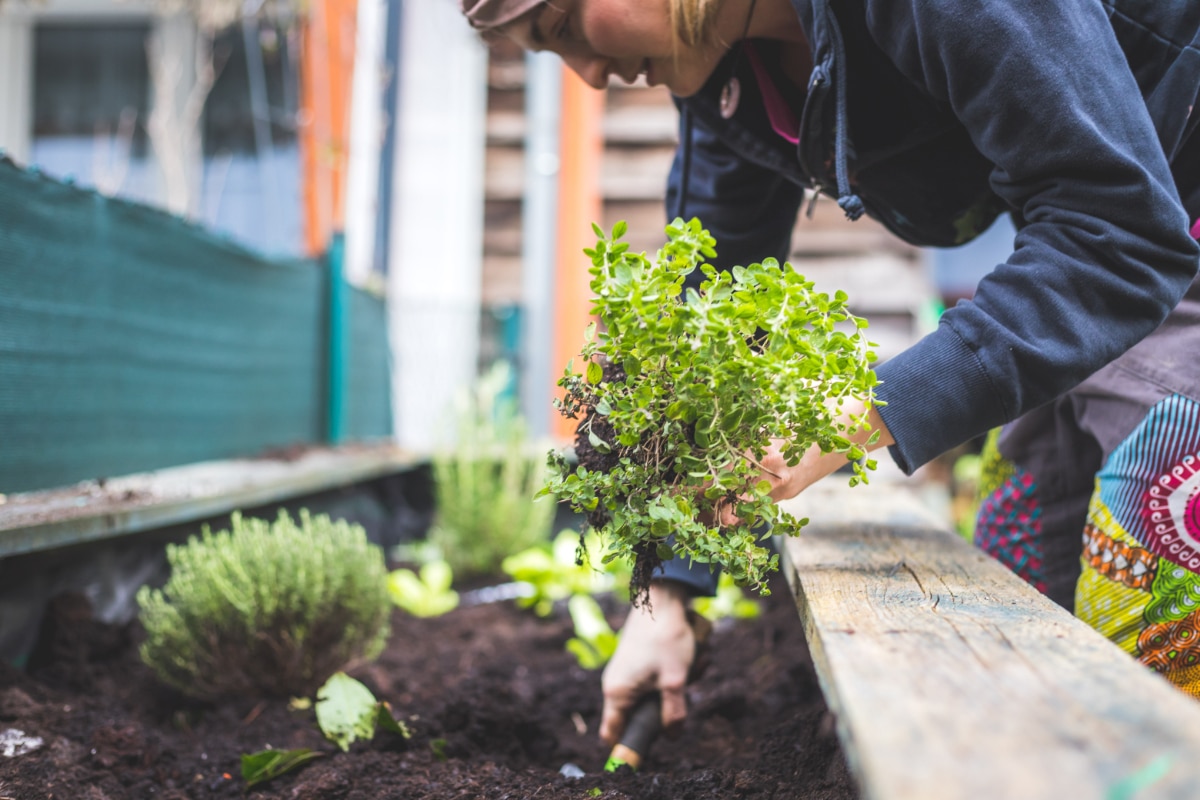 Everyone knows that vegetable plants need fertilizers, but herbs need to be fed as well. Since herbs are harvested multiple times throughout the season to keep them in the growth phase, they need extra energy. Herbs need an all-purpose fertilizer every month, or apply compost tea every other week.
Fertilizing starts with adding compost when you plant the herbs in the spring. Compost gives your plants most of the nutrients they need throughout the growing season. Wait several weeks before applying your first dose of fertilizer.
Remember, all you need is light fertilizing; you don't need to overfertilize because that leads to a less concentrated flavor in the leaves.
Avoid These Mistakes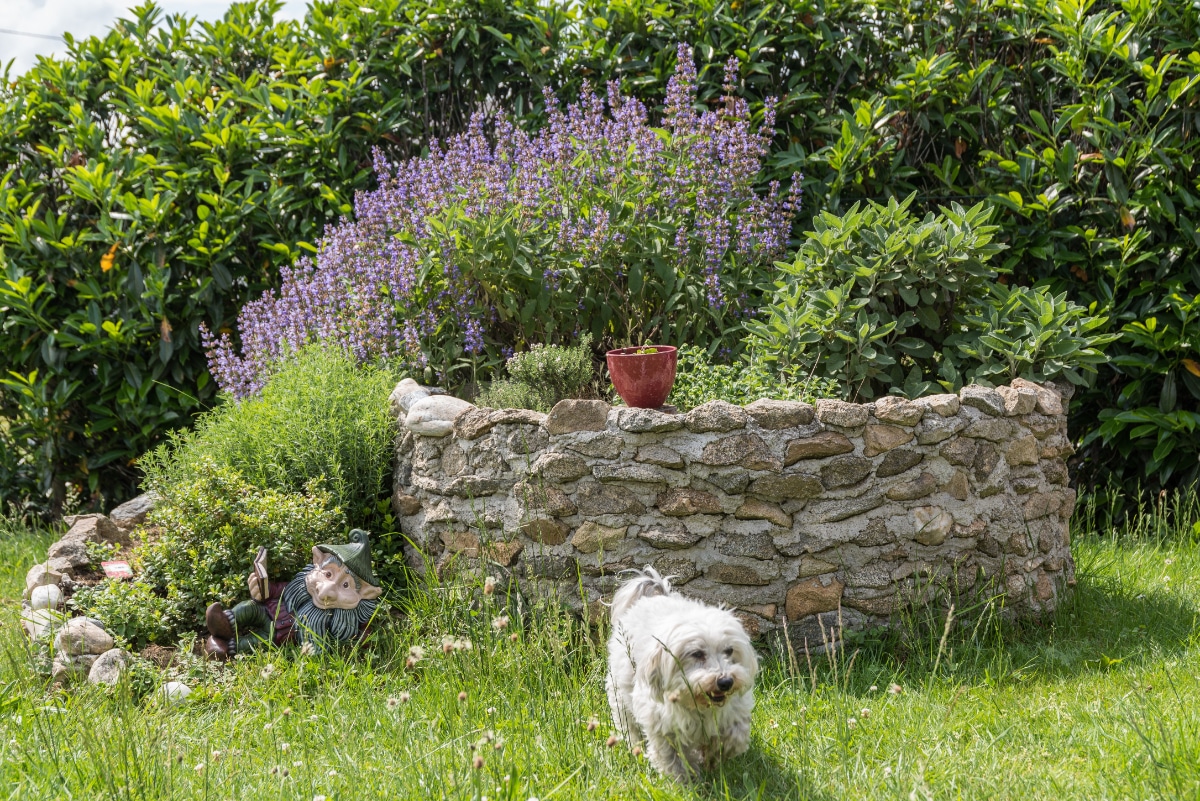 Everyone makes a few mistakes when they grow herbs for the first time, but these herb gardening mistakes are all avoidable. Follow these tips and your herbs will get started on the right foot.