The wonder of bright, cheerful yellow flowers greeting you each day is priceless. Yellow perennials give the yard and garden a boost of sunshine that is often much needed. While other colors mix and meld, yellow perennial flowers always stand out, vibrant and happy. The range of yellow flower color shades is wondrous, so it is easy to find just the right amount of extra sunshine for your garden.
You may notice some of the classic yellow flowers are missing from this list, like chrysanthemums, daffodils, and tulips. We love those too, but it's time to liven up the garden a bit and step away from the landscaping fallback plants! Yellow flowers are where the garden glows, and we're here to help you brighten it up ten-fold.
Jump to:
Corydalis (Pseudofumaria lutea)

The long bloom time of this yellow perennial is only one of its star features. With bluish-green fern-like mounding foliage, Corydalis lutea is attractive even when not in bloom. However, when it does bloom, all the yellow flowers dangle from the stem in delightful bright cascades.
The flowers are vivid golden yellow, 1-2" long, and tube-shaped with a spur on the back. Each stem that rises up from the foliage holds 5-15 of these flowers in a delicate, enticing balance.
Corydalis lutea looks wonderful along walkways, paths, borders, and stone walls. The plant is short enough (around 18" tall) that it works excellently as an understory plant beneath taller perennials, like daylilies and peonies. Hardy to zones 5-8.
Get plants or seeds from: Amazon, Etsy
Forsythia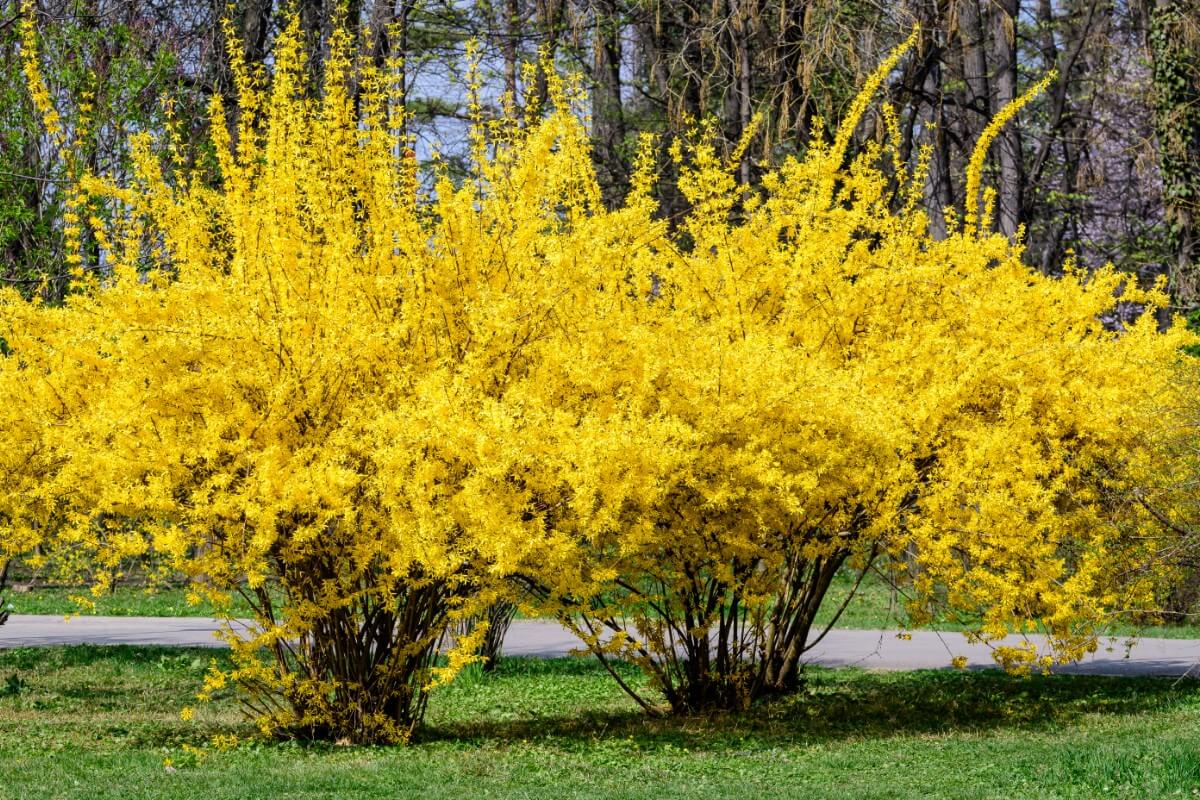 One of the best spring-blooming plants ever, Forsythia is that bright burst of yellow we all need after the long days of winter. And, when Forsythia blooms, it's like the bush explodes with all the yellow flowers.
When the blooms appear, there is little to no foliage yet, so it's impossible to miss them. Every branch is covered with flowers, one after another, like rays of sunshine marching up (or down) the stems.
After the flowers fade, the dark-green leaves emerge and stay all summer, creating an attractive green landscape plant. Forsythia is hardy to zones 5-8.
Get plants or seeds from: Amazon, Etsy
Coreopsis (Coreopsis lanceolata)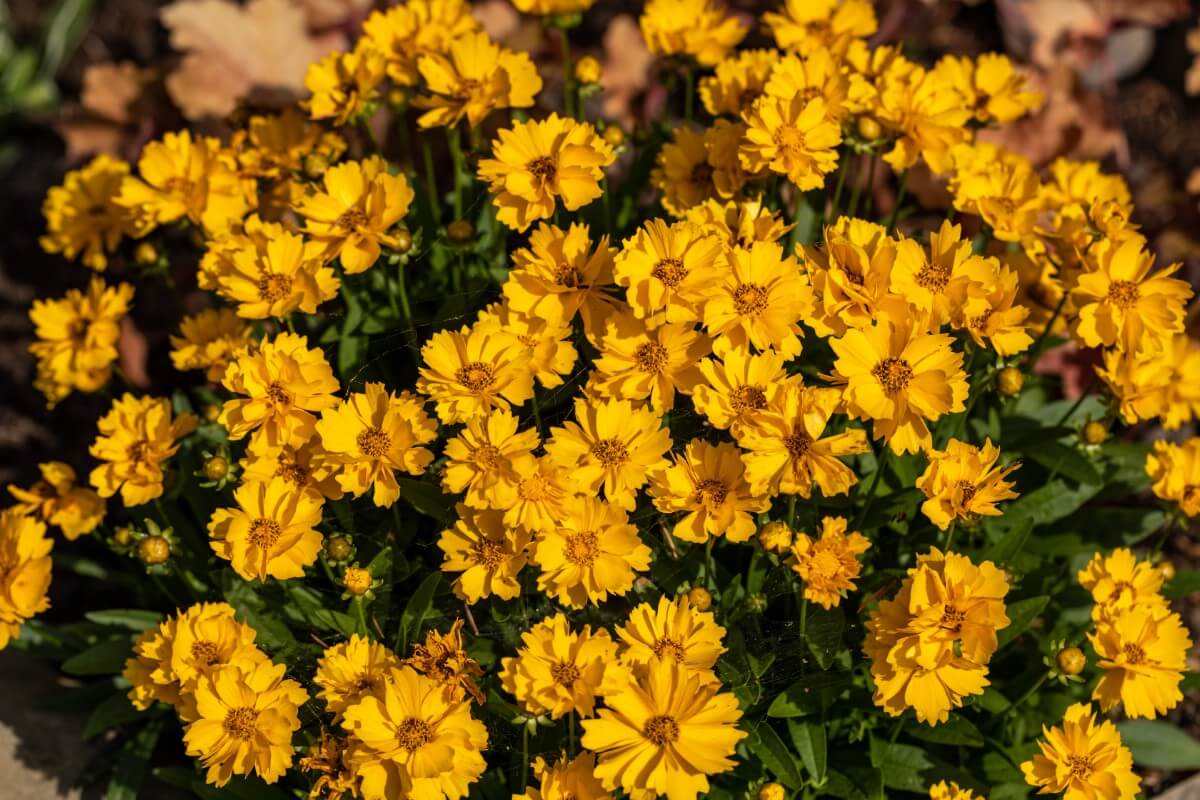 The brilliant yellow flowers aren't just loved by people; bees and butterflies love Coreopsis blooms too. This native perennial flower features broad showy flower heads with eight overlapping, delicate fringed petals.
Each yellow flower grows singularly atop a tall, narrow 1-2-foot tall green stem. In addition to providing abundant rays of sunshine, Coreopsis plants are drought-tolerant, deer-resistant, and grow well almost anywhere. Hardy to zones 4-9.
Get plants or seeds from: Amazon, Etsy
Shasta Daisy (Leucanthemum x superbum)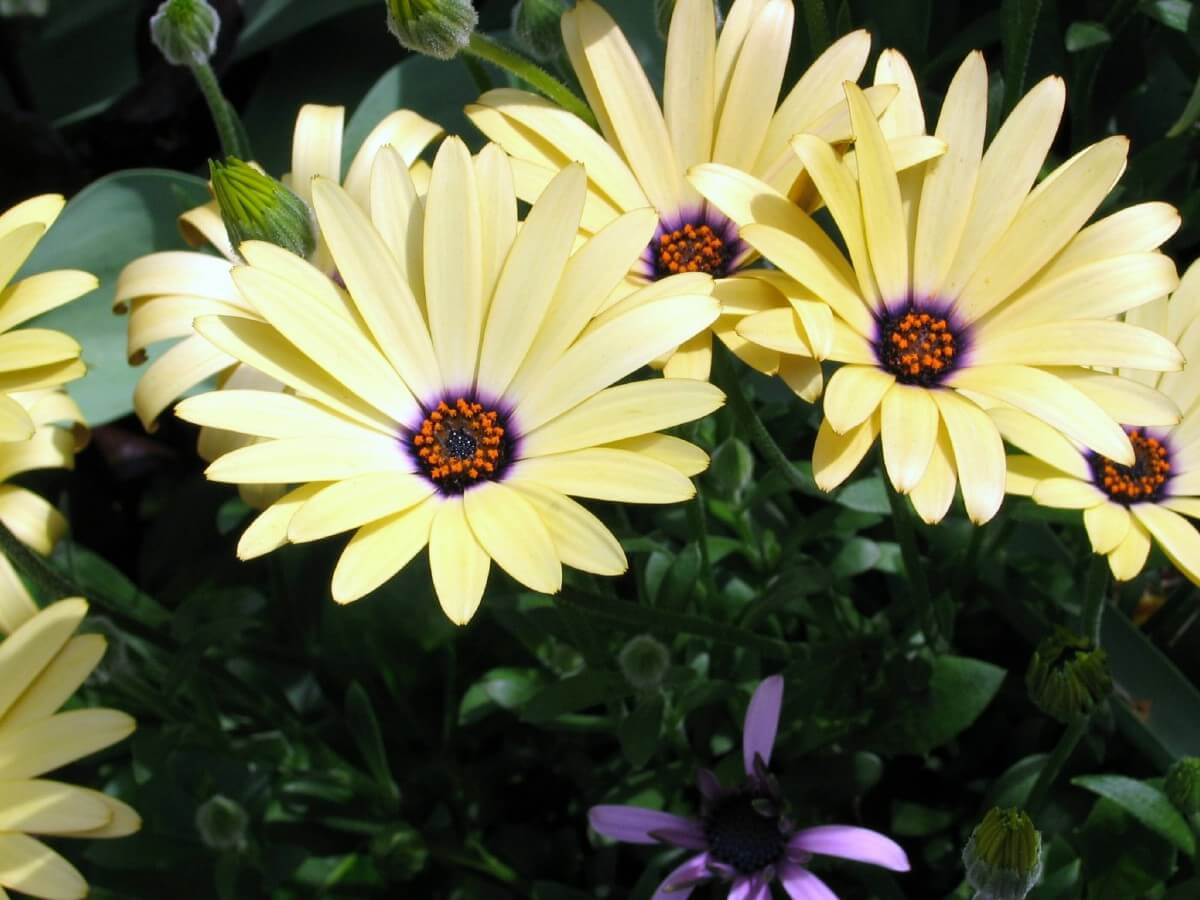 Everyone knows the classic white daisy with a yellow center, but there is a beautiful yellow Shasta Daisy variety too. "Banana Cream" features light buttery yellow flowers that morph to white as they mature.
Daisies are butterfly magnets, so we recommend planting them around the yard or in a pollinator garden. Shasta Daisies are tall, growing clumps up to 3-feet tall with the flowers appearing at the top of the stems.
We love how this cultivar changes color because it's like you have two different flowers in one.
Get plants or seeds from: Amazon, Etsy
Black-Eyed Susan (Rudbeckia hirta)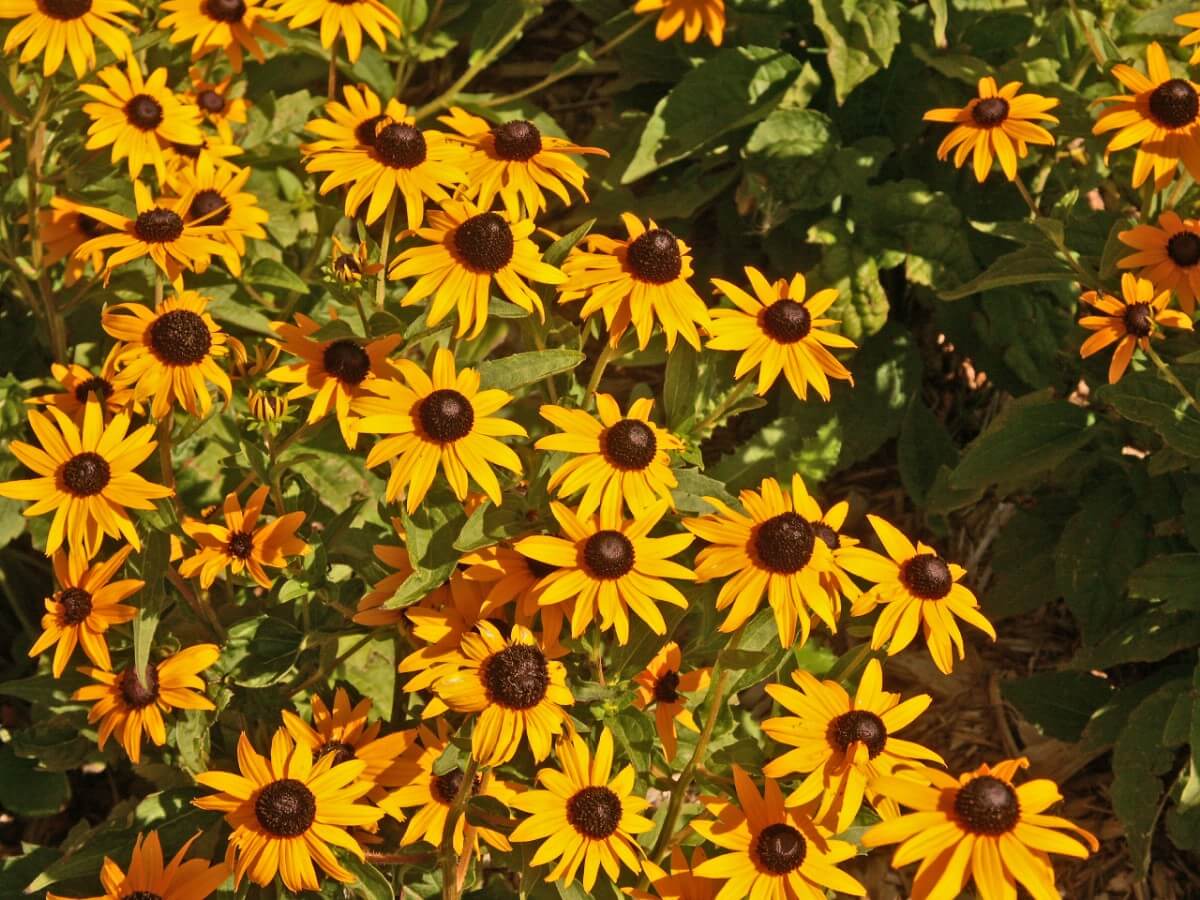 A native perennial with stunning bright yellow petals that look like rays of sunshine, the Black-Eyed Susan is a must for the flower garden. Pollinators like butterflies, native bees, and beetles love them, and so do we!
These flowers are tall, reaching up to 3-feet, as if they are determined to touch the sky with their cheery display. As the name suggests, the center of each flower is a black (or dark-brown) cone around which the 8-20 petals rays are arranged.
Black-Eyed Susan's bloom for a month, usually starting in mid-summer. Plant Black-Eyed Susan's in full sun in zones 3-7.
Get plants or seeds from: Amazon, Etsy
Wild Screamin' Yellow False Indigo (Baptisia sphaerocarpa)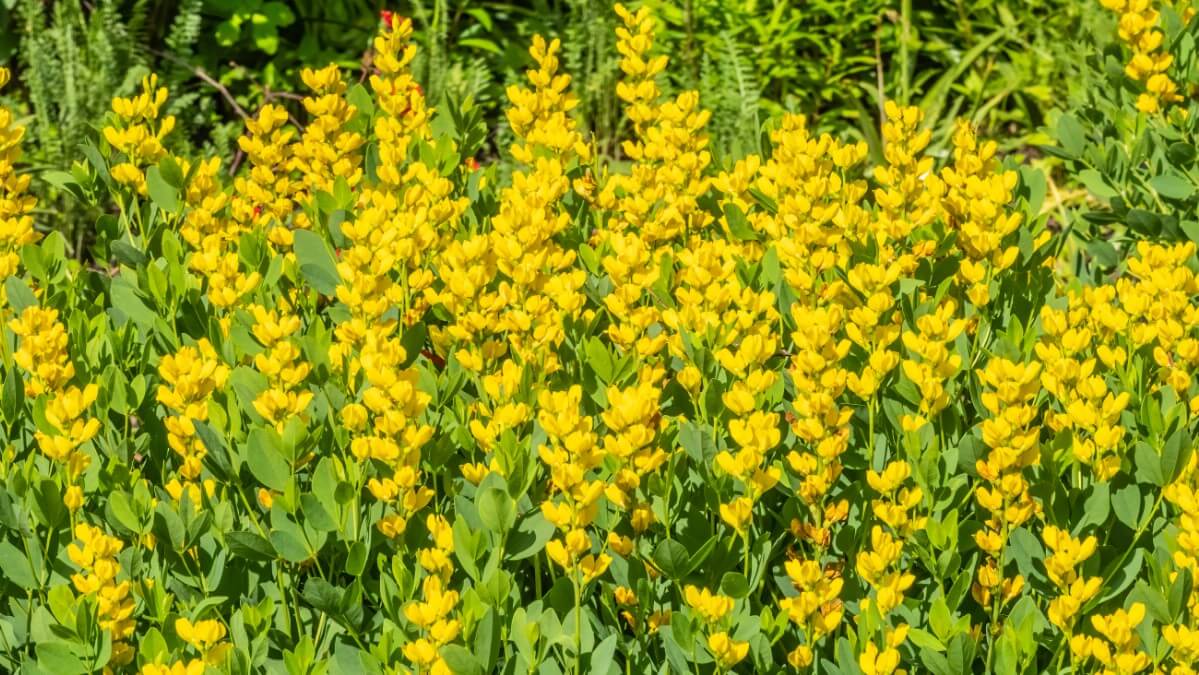 This native wildflower lives up to its name; the flowers practically scream the wondrousness of their bright sunshine yellow color. Yellow False Indigo is a plant that announces itself when in bloom, sending up tall spires covered in dozens of sweet yellow pea-shaped flowers.
The stems arch up above the mounding blue-green foliage, bringing up joy from the earth and sending it out into the world.
There are also yellow False Indigo cultivars, which are equally as beautiful. "Solar Flare" is one of our favorites as it changes from bright yellow to orange or violet as they mature. "Lemon Meringue" and "Sunny Morning" are also delightful. All False Indigo flowers are hardy to zones 3-9.
Get plants or seeds from: Amazon, Etsy
Daylilies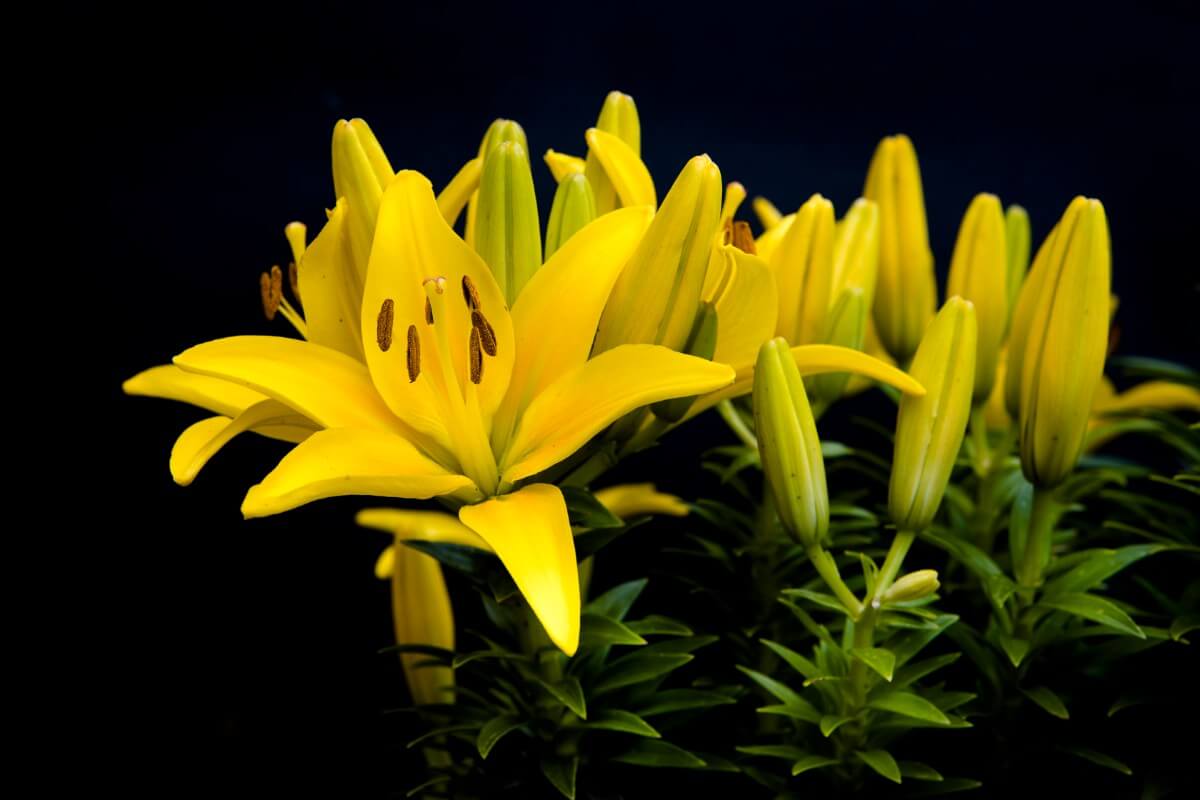 Daylilies come in a vast array of colors, and the yellow varieties don't disappoint. "Bakabana" is super bright with rich lemon-gold petals. "Eenie Weeni" is a dwarf variety with light yellow flowers that burst through the foliage. "Fooled Me" is our favorite; the golden yellow petals have a deep lipstick-red center like someone planted a big kiss in the center of the flower.
When you want a softer yellow touch in the garden, look for "Fragrant Returns." The flowers on this Daylily are the color of lemon chiffon, absolutely delectable. "Going Bananas" is another fantastic yellow Daylily, with light lemon-yellow flowers and a sweet, light fragrance (it doesn't smell like banana, sadly!). Hardy in zones 4-9.
Get plants or seeds from: Amazon, Etsy
Hibiscus (Hibiscus moscheutos)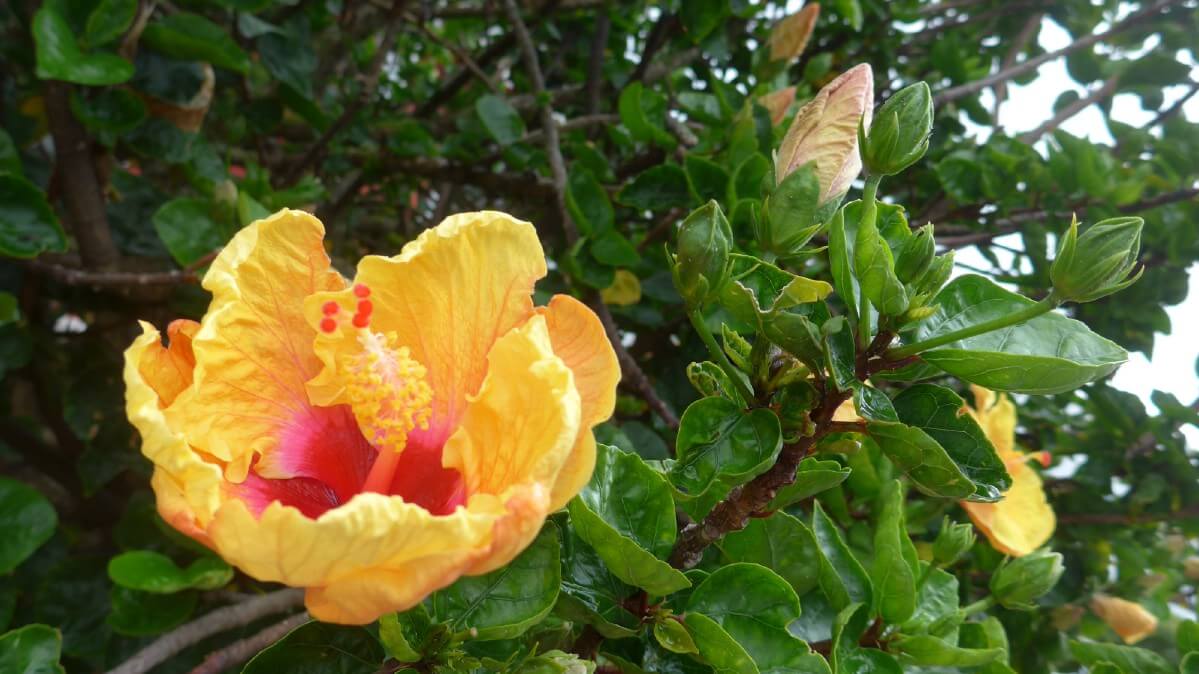 There are different varieties of Hibiscus, so make sure you are getting H.moscheutos for the cold-hardy perennial. H.rose-sinensis is also a standard landscape choice, but it is annual in most regions (except zones 10-12).
There is only one yellow perennial Hibiscus, but it's a good one! "Old Yella" Hibiscus flowers are so pale yellow, they look white, but that's one of the things we love about this one; you have to get right up close to appreciate it fully.
The center of "Old Yella" is crimson red, adding a fantastic contrast that only ups the appeal of these huge 12" blooms. This perennial Hibiscus is hardy to zones 5-9.
Get plants or seeds from: Amazon, Etsy
Bush Cinquefoil (Potentilla fruiticosa)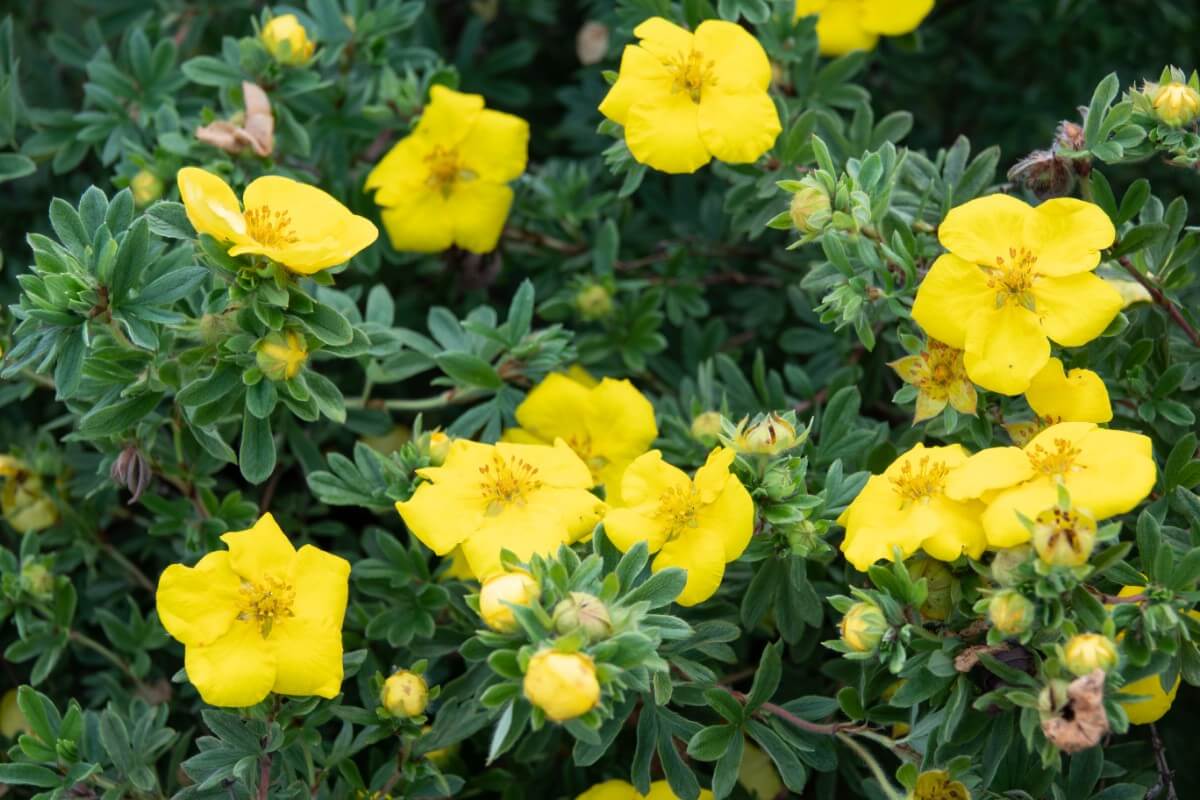 A shrub in the rose family, Bush Cinquefoil produces prolific buttercup-like yellow flowers for months during the summer. These bushes range from 2-4-feet tall and have slender branches with deep green fingerlike leaves that contrast perfectly with the sweet yellow blooms.
Bush Cinquefoil grows in open mounds and is perfect as a hedge or border plant. Butterflies and other pollinators love the flowers, and they are an essential food source for these insects. "Goldfinger" and "Gold Drop" are two impressive cultivars with golden yellow flowers.
Cinquefoil is hardy to drought and isn't bothered by less than ideal growing conditions. Hardy to zones 2-8.
Get plants or seeds from: Amazon, Etsy
Shrubby St. John's Wort (Hypericum prolificum)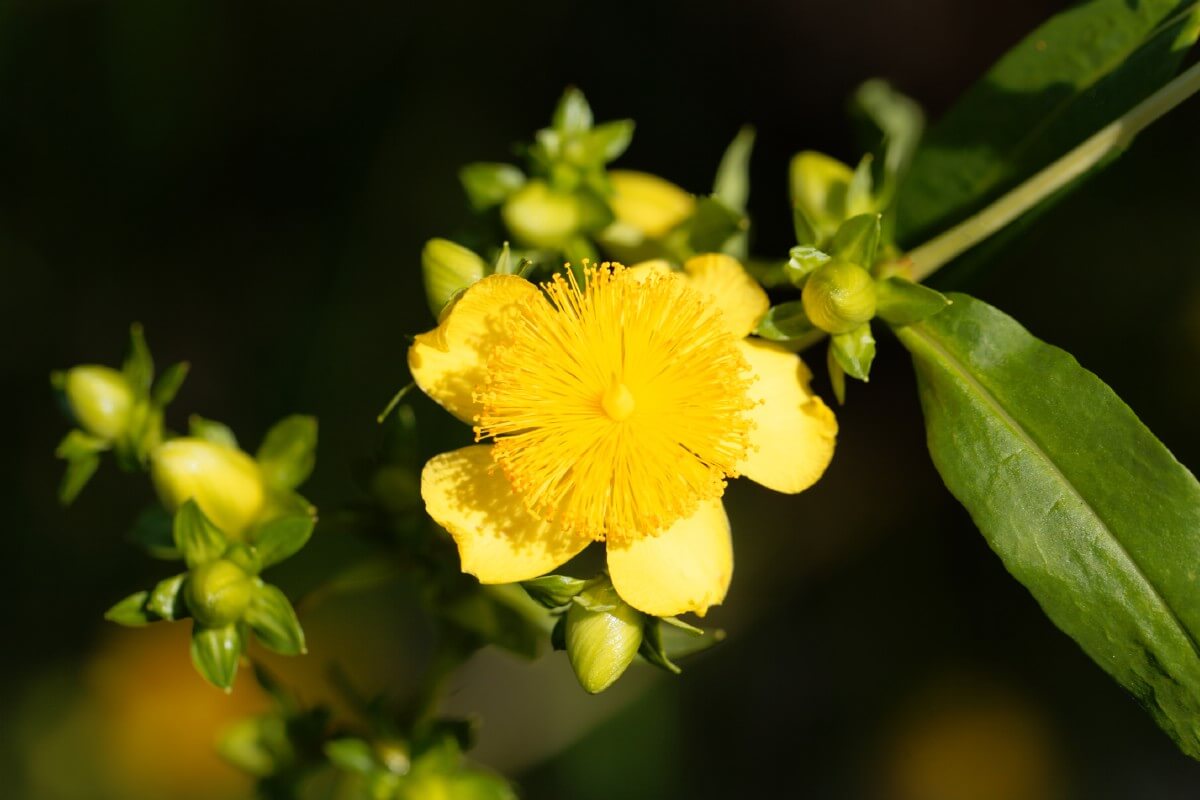 This upright perennial flower blooms star-shaped showy yellow flowers throughout the summer. Each upright, branching stem produces hundreds of these yellow beauties in pyramid-shaped clusters, attracting butterflies and people alike.
The stamens look like sunbursts as they stand up prominently in the center of the flowers. St. John's Wort leaves are blue-green and unobtrusive, letting the flowers be the star of the show.
This species of St. John's Wort is native to North America; many are not. Common St. John's Wort (H.perforatum) is an invasive and considered a noxious weed in many places. Hardy to zones 3-8.
"Appalachian Sun" St. John's Wort (H.buckleii) is a rare, native plant that is newly starting to be cultivated, much to the joy of yellow flower lovers everywhere. The golden flowers on this St. John's Wort are as brilliant as the sun!
Get plants or seeds from: Amazon, Etsy
Golden Knee, aka Goldenstar (Chrysogonum virginianum)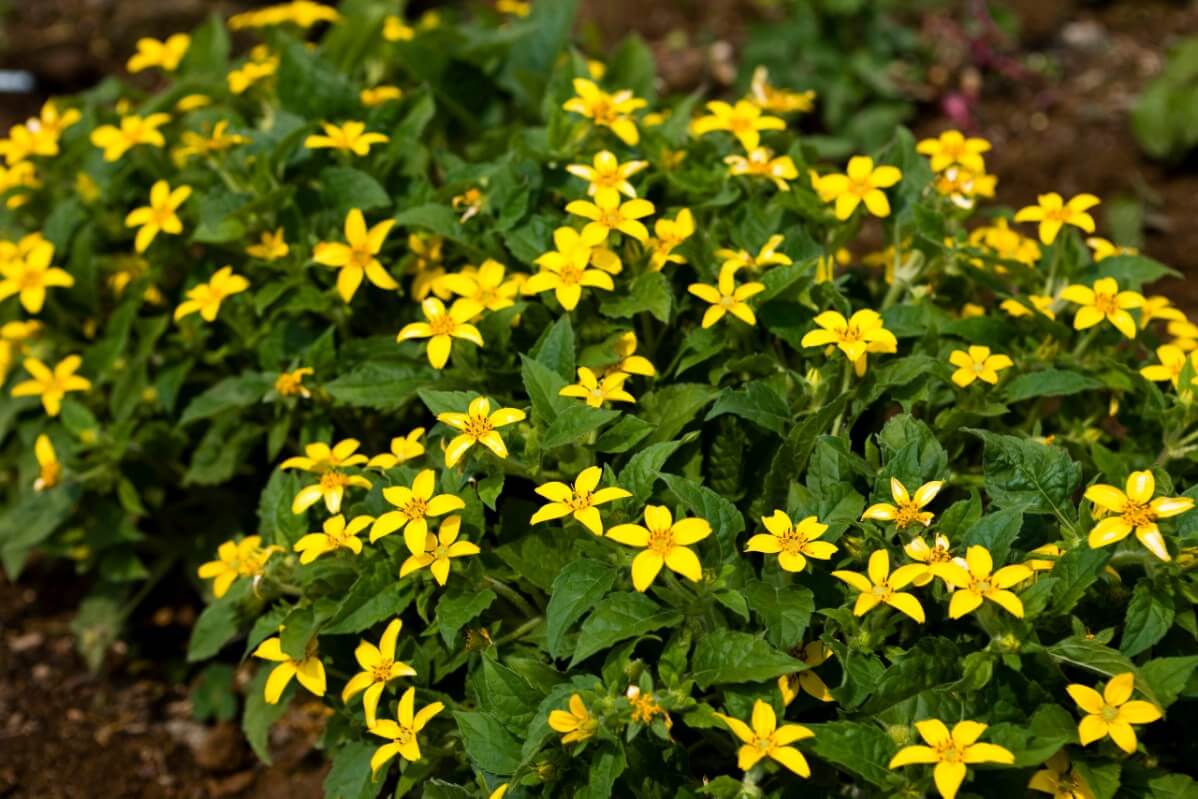 A low-growing perennial often grown as a groundcover, Golden Knee is a must for yellow flower appreciators. Hundreds of bright golden daisy-like flowers appear several inches above the grayish-green leaves on tall hairy stems.
One look at the abundant cheery flowers, and you can't help but be happy. This native wildflower looks perfect as an accent for the shade garden, planted along a border or in a pollinator garden.
And, thankfully, deer don't like them much, so they'll be able to bloom their brilliant yellow flowers undisturbed. Hardy to zones 5-9.
Get plants or seeds from: Amazon, Etsy
Azalea (Rhododendron sp.)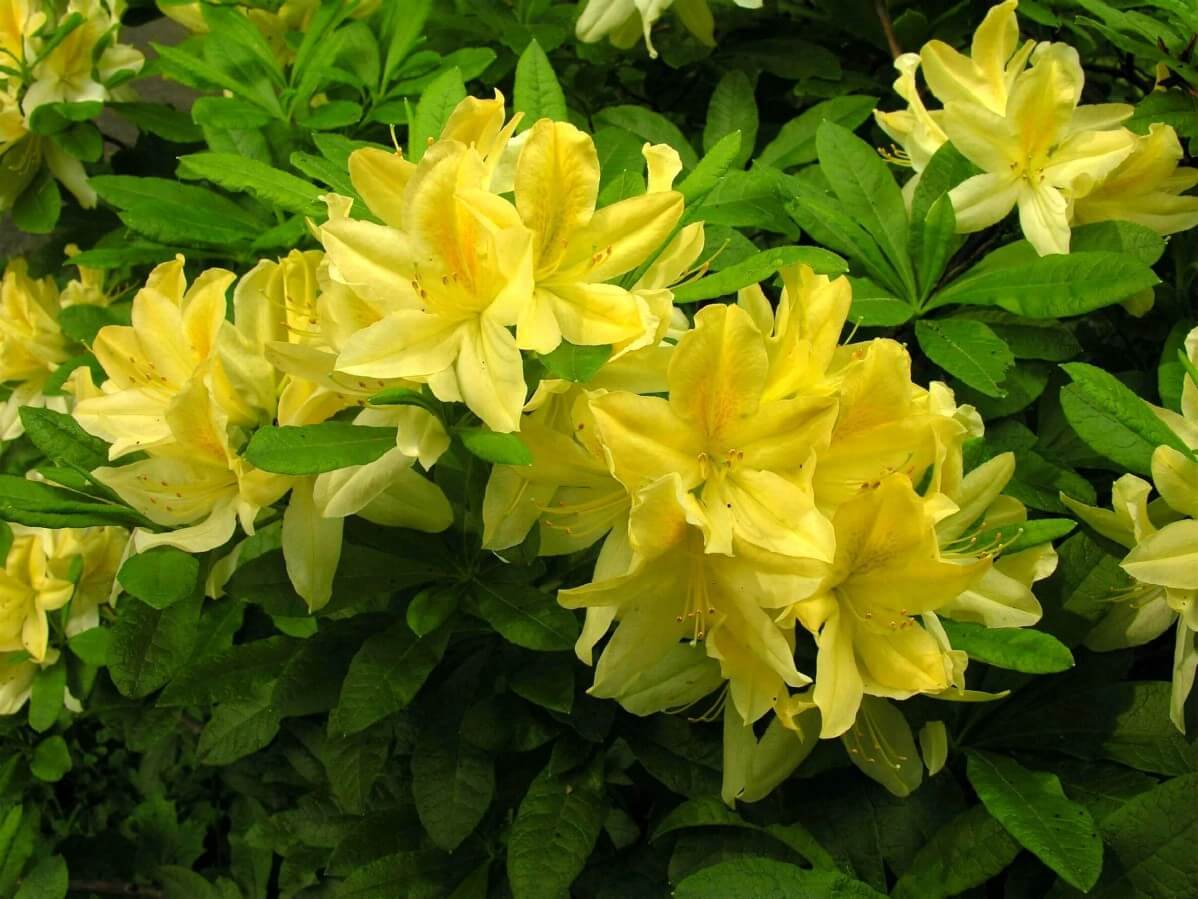 When the Azaleas bloom, we know spring has truly arrived! The massive clusters of striking Azalea flowers are prominent in many landscape designs, but most choose the pink or purple varieties.
There are many stunning yellow Azalea cultivars, though, that shouldn't be missed. From boldly yellow to creamy, mellow yellow, there is a yellow Azalea for everyone.
The flowers of "King's Wizard" are pure yellow-gold, while "Lemon Lush" flowers are light and creamy. "Canary Isles" is light-yellow with orange tips, and "Admiral Semmes" is an extra-showy type with deep yellow trumpet-shaped flowers.
Azalea bushes grow quite big, so this one is for large areas or used as a border. Azaleas are hardy to zones 6-10.
Get plants or seeds from: Amazon, Etsy
False Sunflower/Sneezeweed (Helenium sp.)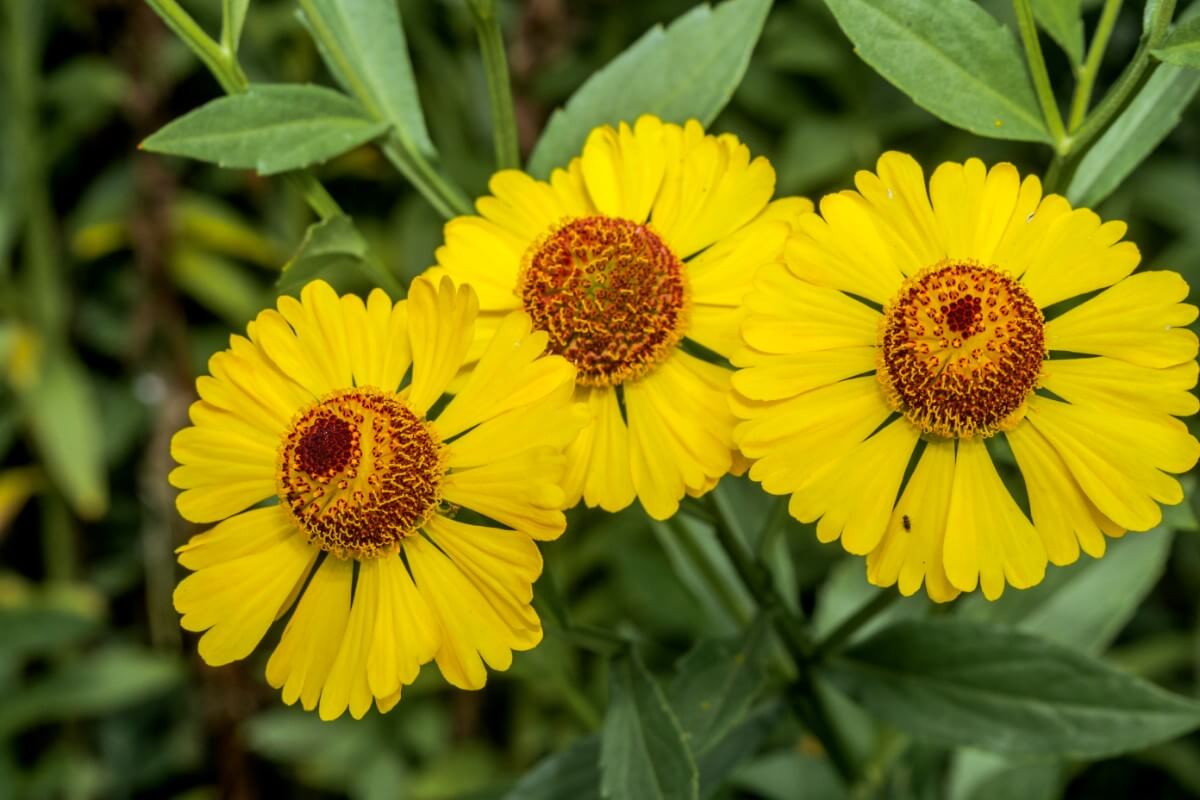 This native perennial is available in many delightful colors, but of course, we love the yellow ones best! Living up to their sunflower name, these bright, cheery flowers look like miniature sunflowers.
The daisy-shaped flowers with fringed yellow petals grow on top of 3-5ft stems above the modest green foliage. When they are in bloom, they bring festivity to the garden. False Sunflowers put on an amazing display when planted in masses.
They add a rustic, natural feeling to the garden or landscape. False Sunflowers are available as propagated cultivars or native seeds.
Our favorite yellow cultivars are "Zimbelstern" with its golden honey petals and dark chocolate center, "Butterpat" because the name says it all, and "Double Trouble" for its double dose of yellow petals. Hardy to zones 3-10.
The yellow native wildflower species of False Sunflower include H.autumnale, H.bigelovii, H.flexusosum, and H.virginicum.
Get plants or seeds from: Amazon, Etsy
Ligularia, Leopard Plant (Ligularia stenocephala)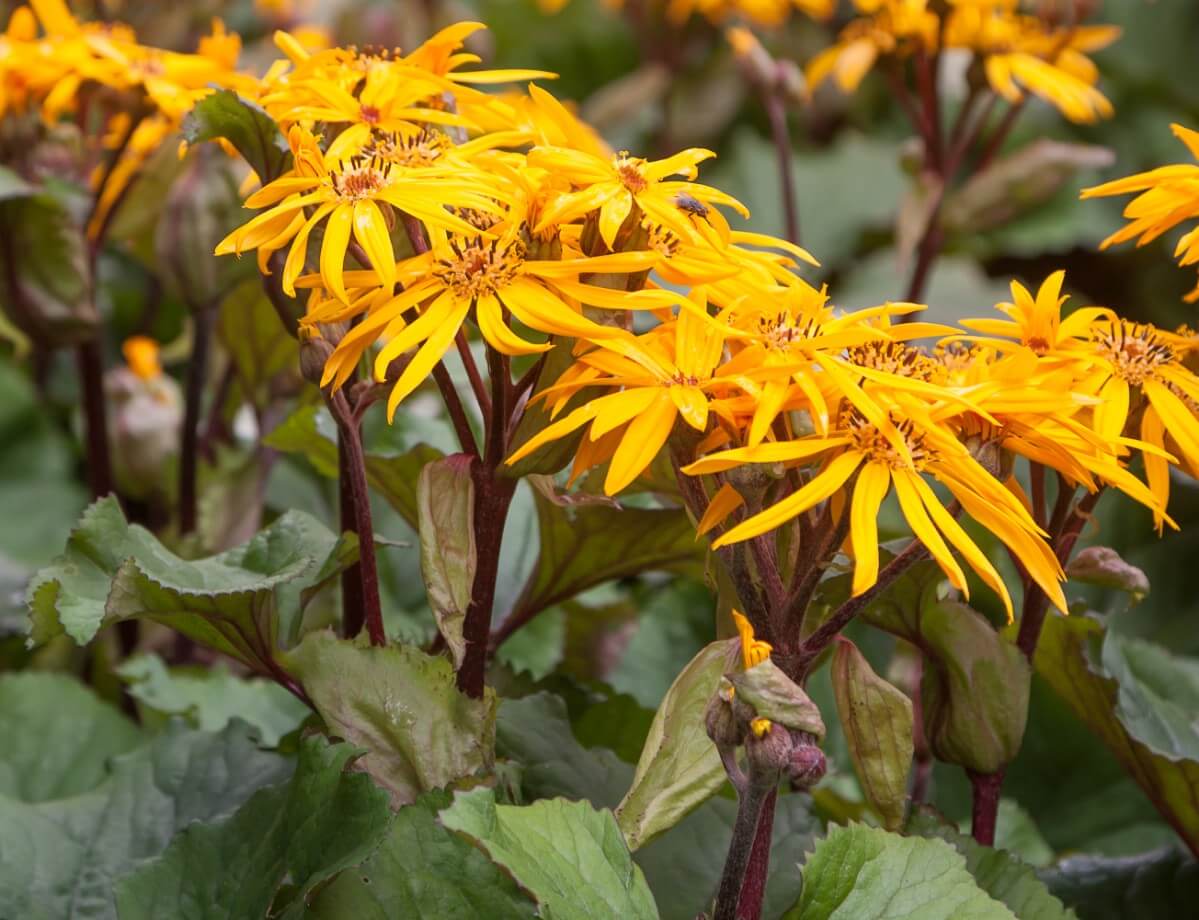 If you're looking for a plant that shows off its foliage as well as its flowers, then you need Ligularia. The leaves are enormous, heart-shaped, and toothed; even when the plant is not blooming, it catches the eye.
In late spring, though, Ligularia shines, almost literally. Five-foot-tall spikes of lemon-colored flowers emerge from the foliage, boldly announcing themselves to the world.
Ligularia comes in many colors; "The Rocket," "Osiris Fantasie," and "Desdemona" are our favorite yellow ones. Hardy to zones 3-9.
Get plants or seeds from: Amazon, Etsy
Poker Plants/Torch Lily (Kniphofia)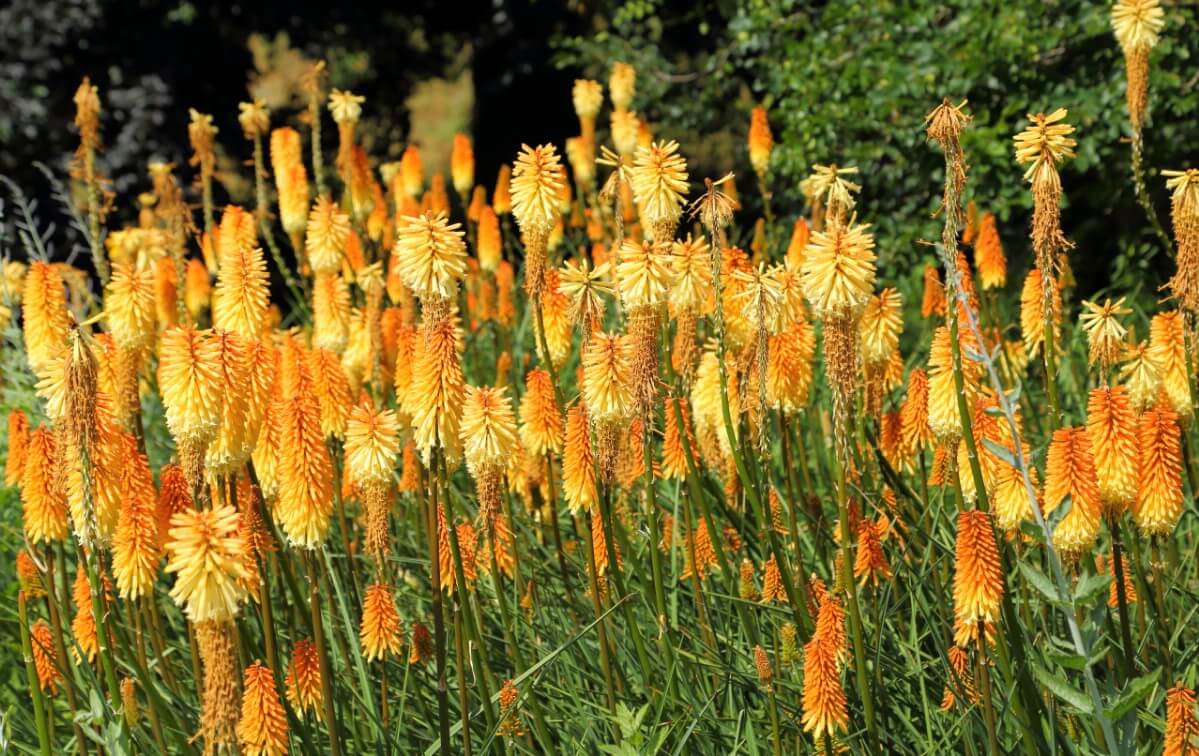 Commonly called Red Hot Poker Plants, we left off the first part because these varieties are not red hot by any means. These Poker Plants are cheery yellow and a majestic addition to the garden.
Yellow spikes of little tubular flowers stand 3-feet tall, rising from the grass-like foliage in prolific numbers. They will not be overlooked! Some favorite yellow Poker Plant cultivars include "Sunnydale Yellow," "Little Maid," and "Poco Yellow" (a dwarf variety). Hardiness zones 6-9.
Get plants or seeds from: Amazon, Etsy
Other Interesting Perennials:
16 Long Blooming Perennials You Can Enjoy Forever
20 Shade-Loving Perennials to Beautify Your Backyard
16 Purple Perennials For Never Ending Beauty
16 Perennial Vegetables and Fruits Every Garden Needs
55 Perennial Flowers That Bloom All Summer
When it's time to choose flowers, there are many fun and unique choices in the yellow category. Yellow perennials are joyous flowers, adding light and levity to the garden and yard every year. We love mass plantings of yellow flowers along walkways and stone walls or anywhere they are easily viewed. They add such sunniness and put a smile on the face every time we see them!