Blue is the most popular color in the world, yet there isn't a lot of natural blue in our landscape, except the sky, of course! Maybe people love it so much because it isn't as common in nature. Blue also is the color of tranquility, calm, and grace.
The lack of natural blue makes the addition of blue blooming perennials to the garden extra special. If you're a fan of all things blue, plant these perennials to enjoy this wonderful color all season long. And, don't forget to take some time to bask in the tranquility of rich blue blooms.
Jump to:
Bluestars (Amsonia sp.)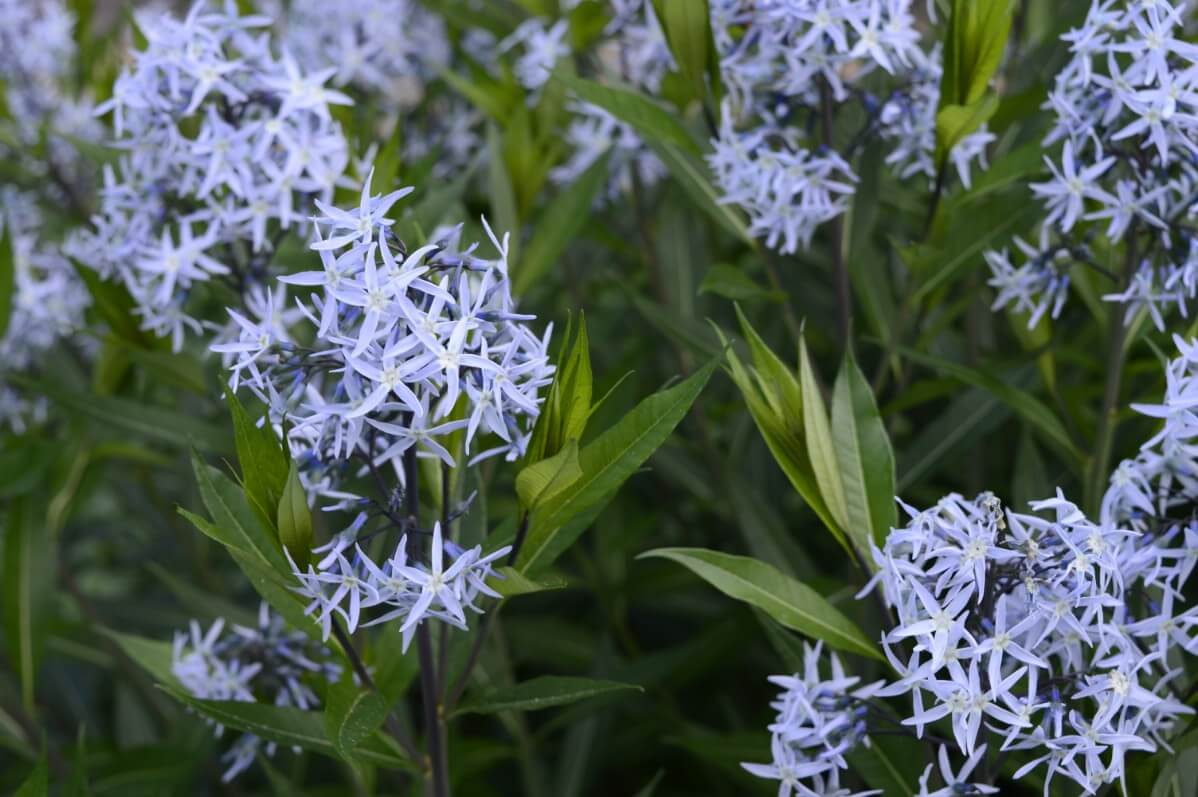 The name really says it all – these blue star-shaped flowers will be the star of the flower garden. Clusters of light blue flowers grow above deep-green grass-like foliage and create quite a spectacle. Bluestars grow up like a bush and look incredible as a border plant or filler in the garden spaces. This perennial averages 2' feet tall and is hardy to zones 4-9.
False Indigo (Baptisia australis)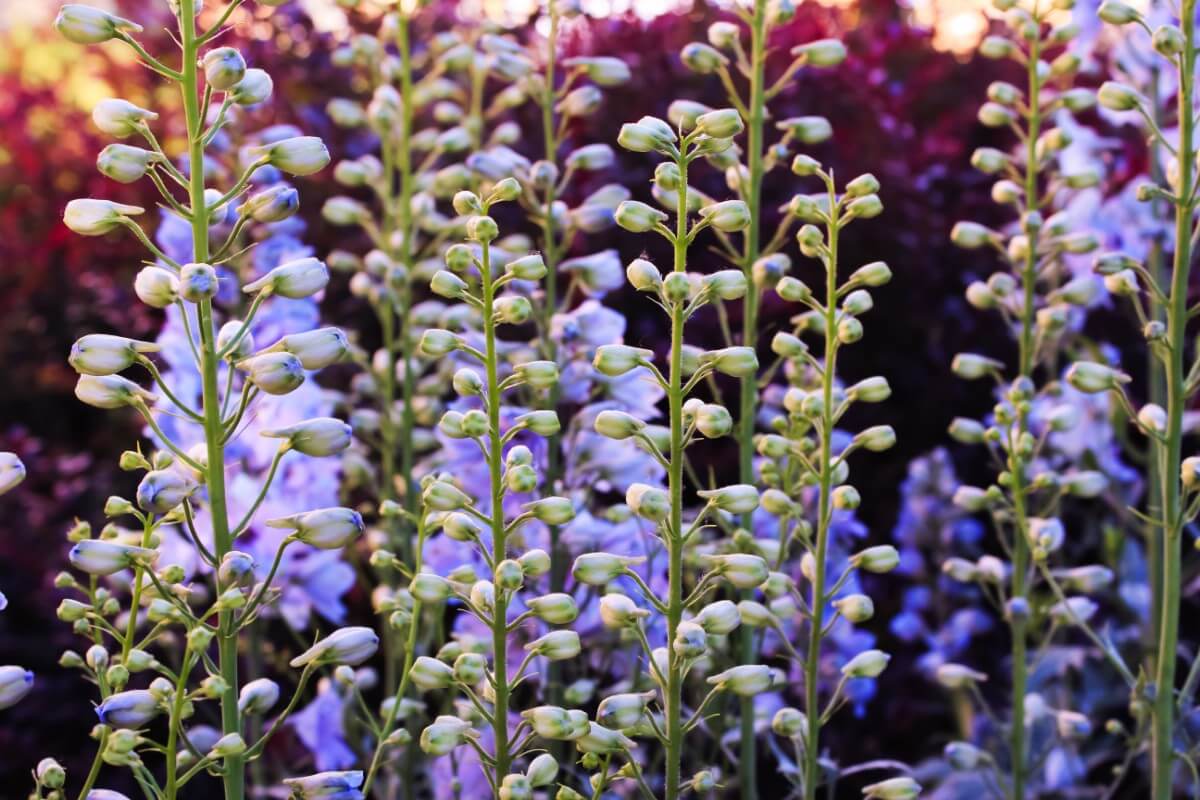 A native North American plant featuring upright stems covered with bright blue flowers, False Indigo is the perfect centerpiece perennial. It grows up to 4-feet tall and has attractive blue-green foliage, which is only enhanced when the plant is in bloom. The individual blooms are pea-shaped and delicate, adding glorious color to the flower garden as they march up the tall stems. When you want to make a statement with blue flowers, False Indigo is the one to plant. Hardy to zones 3-9.
Bellflower (Campanula sp.)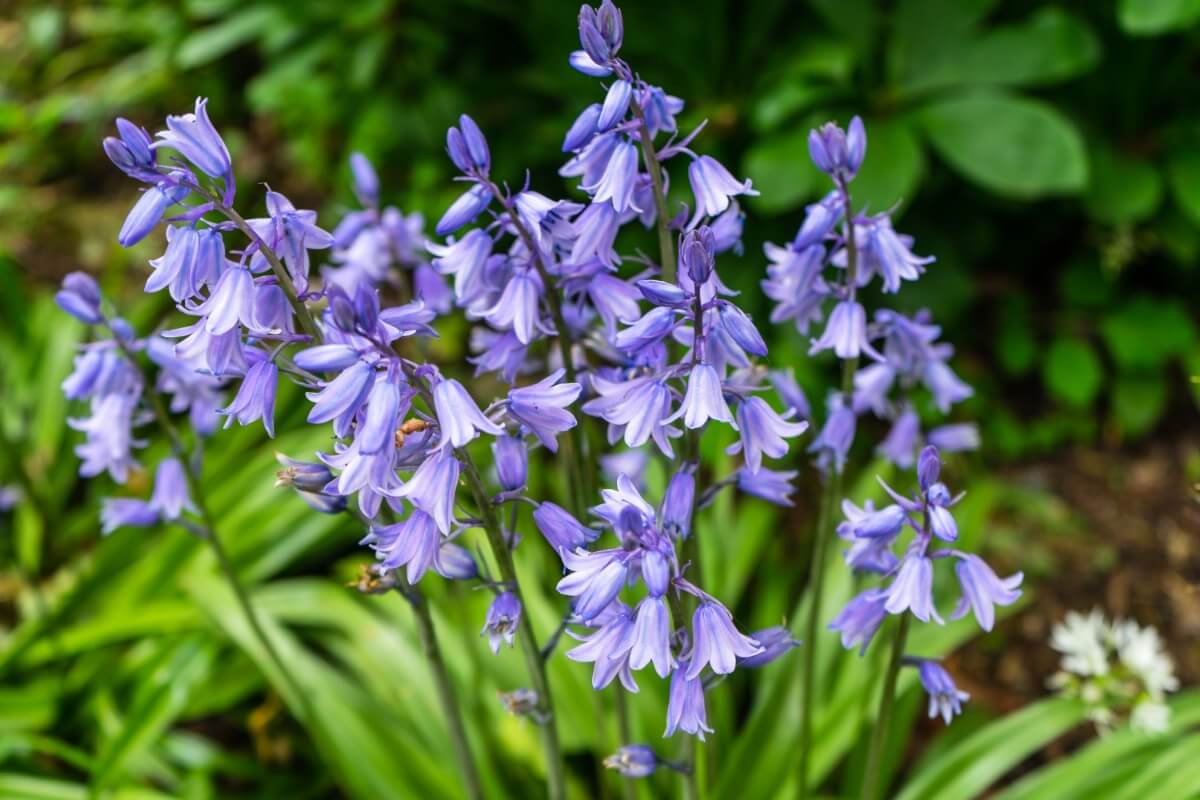 A late-summer or early-fall bloomer, Bellflowers add sweet bursts of blue to the garden after most other flowers have finished blooming. Bellflowers bloom for weeks, and we love how they nod in the late summer breeze. Bellflowers grow well in containers, as low border flowers, and intermixed with taller growing perennials and shrubs. There are tall and short options and everything in between.
Traditional Bellflowers are primarily blue or blueish-purple, but now there are dozens of other color options, including more vivid blue cultivars. The tussock bellflower (C.carpatica) produces such abundant blue bell flowers that they often obscure the foliage beneath.
The Serbian bellflower (C.portenschlagiana) is a trailing bellflower with prolific star-shaped flowers instead of bell-shaped ones. Fairy's Thimble bellflowers (C.cochlearifolia) are one of the smallest types (just 3-6" tall!), with delicate tiny bell-shaped blooms. Canterbury Bells (C.medium) is the classic garden favorite with bright blue bell-shaped flowers. Hardy to zones 3-9.
Blue Iris (Iris versicolor)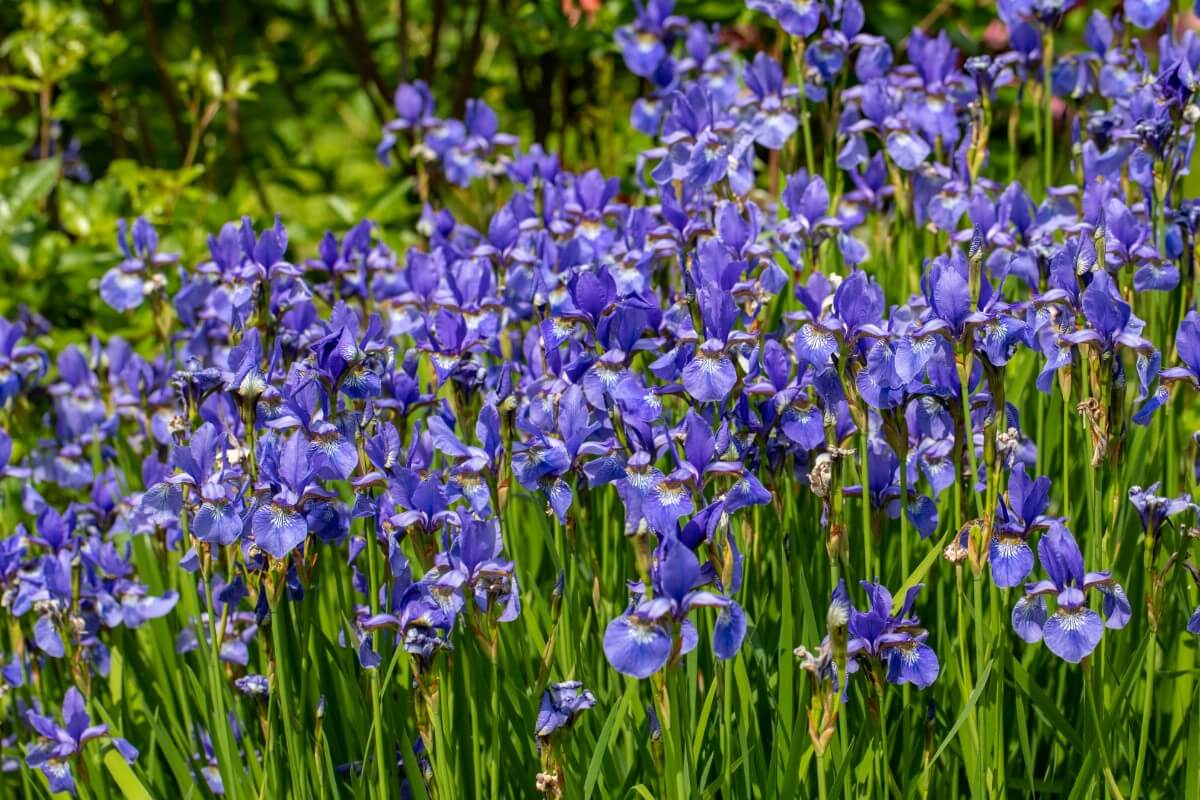 Also known as Northern Blue Flag Iris, this native wildflower blooms in June and shows off its striking blue flowers for months. The flowers appear on tall stalks above the minimal sword-shaped green foliage; a mass planting of Blue Iris is quite spectacular!
When you just see the foliage, it's rather plain and hard to imagine the show that is about to come forth. The Iris flower is blue or blueish-purple with a yellow and white center. Irises are vigorous growers and form large clumps. Hardy to zones 3-9.
Giant Blue Iris (Iris giganticaerulea)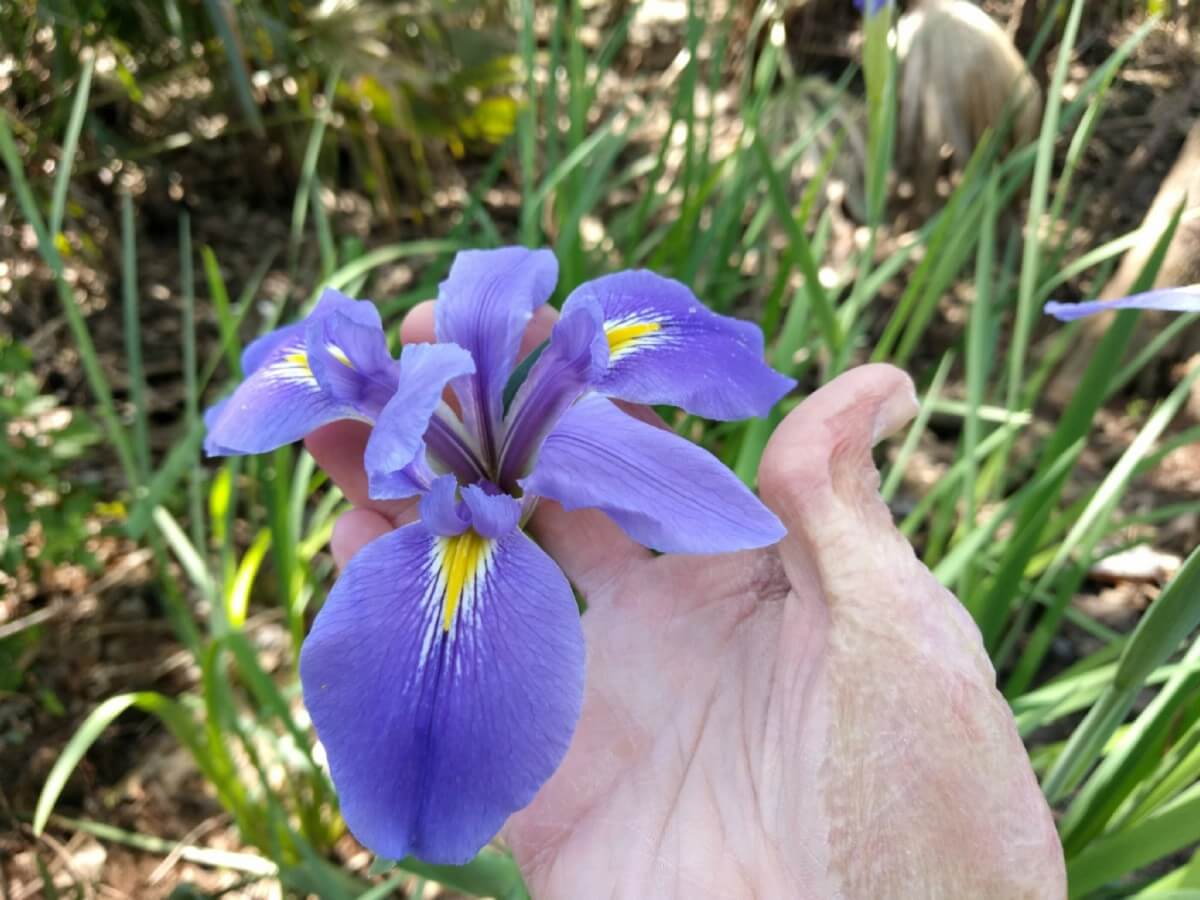 A lesser-known Iris that is native to Louisiana marshes, the Giant Blue Iris grows 3-6 feet tall and bloom in early spring. This native wildflower won't grow everywhere, but if you've got the right marshy growing conditions, this is a gem.
Other Blue Irises to consider: Dixie Iris (I.hexagona) – hardy to zones 7-9, Zigzag Iris (I.brevicaulis) – hardy to zones 4-8, and Beachhead Iris (I.setosa) – hardy to zones 4-8.
Strict Blue-Eyed Grass (Sisyrinchium angustifolium)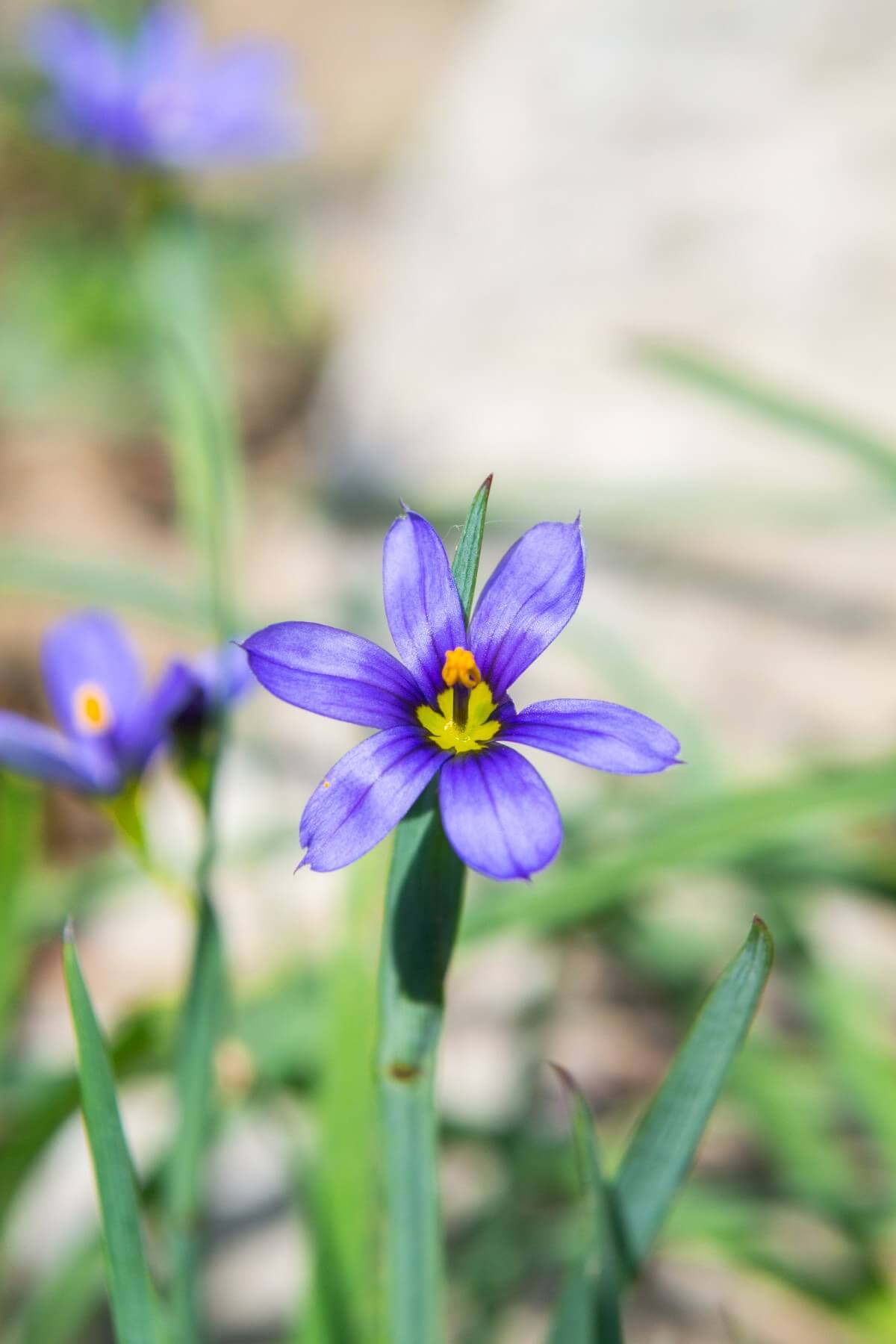 As the name suggests, the foliage is grass-like, but the blooms look like miniature blue irises – this flower is actually in the Iris family. When not in bloom, the short 4-8" green blades look like uninteresting clumps of grass.
However, when it blooms, the entire plant is transformed by the brilliance of the deep blue flowers with bright yellow centers. The flowers bloom abundantly in between and above the foliage, creating quite a spectacle.
Blue-eyed grass adds an unexpected depth to the garden. It is best used as edging or filler for spaces between taller, showier plants or to line a path or walkway. Blue-eyed grass is hardy to zones 4-9.
Virginia Bluebells (Mertensia virginica)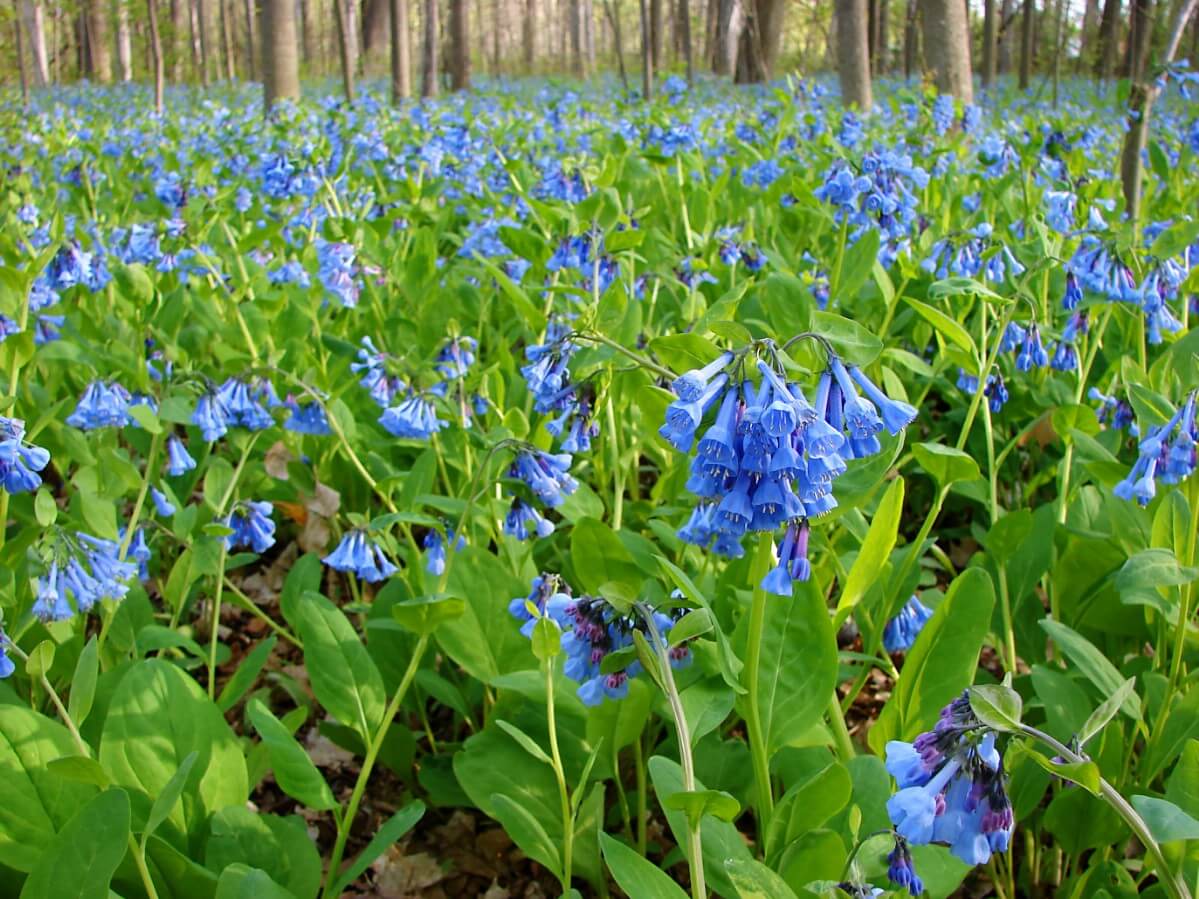 A native wildflower with prolific clusters of trumpet-shaped flowers, Virginia bluebells add a much-welcomed splash of blue to the garden. Virginia bluebells are ideal for a native or pollinator garden.
They appear just after the snow melts, providing a delightful burst of color after the dreariness of winter. Mason bees, bumblebees, butterflies, and Sphinx moths all appreciate the early blooms, too.
Virginia bluebells die back entirely in summer and are best planted with ferns or other expanding plants that will stretch out to cover the empty space. Don't worry, though; next spring, they'll be back first thing! Virginia bluebells are also known as Virginia cowslip and Lungwort. Hardy to zones 4-7.
Moss Phlox (Phlox subulata)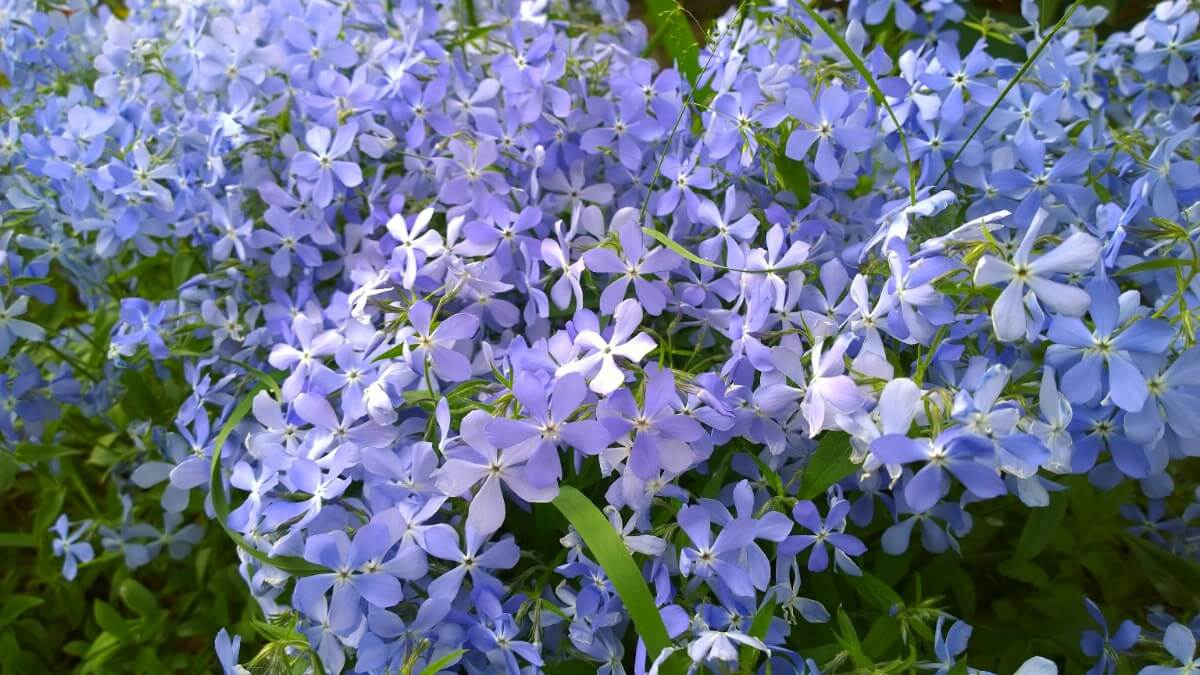 When you want a carpet of blue, plant Moss Phlox flowers and you won't be disappointed. This low-growing ground cover literally explodes with so many flowers that you can't see the ground beneath.
For 3-4 weeks in the early spring, Moss Phlox (also known as Creeping Phlox) blooms prolific sweet, fragrant five-petaled flowers that turn the garden into a beautiful mat of color.
The foliage is attractive, too, with deep-green needle-like leaves. Moss Phlox is attractive everywhere but looks especially nice in rock gardens, along stone walls, or as edging. Phlox comes in many colors; look for "Blue Emerald." Moss Phlox is hardy to zones 3-9.
Rocky Mountain Columbine (Aquilegia caerulea)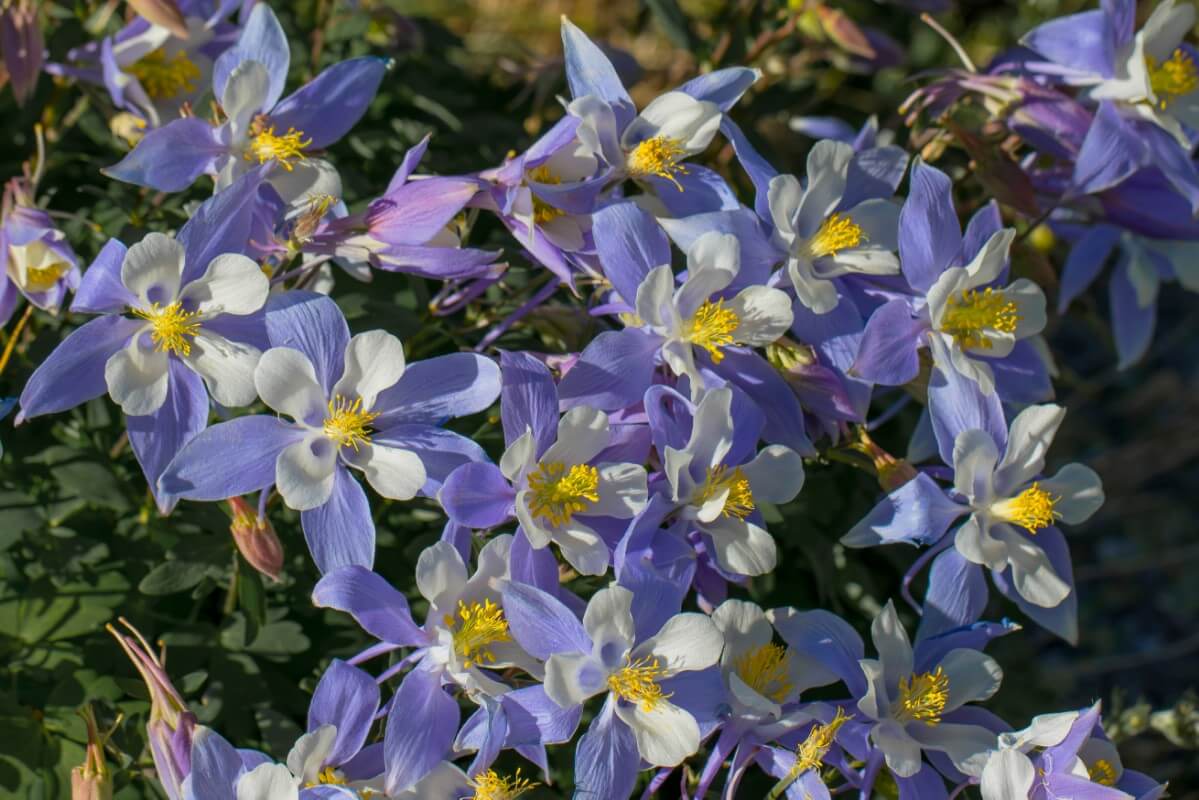 A native wildflower with small uniquely irresistible blooms, Rocky Mountain Columbine will grace your garden in late spring and early summer. If you've never seen Columbine bloom, you're in for a treat.
The flowers are long-spurred with rounded white petals beautifully framed by blueish-purple sepals (they look like a second set of petals), and the center stamen is bright yellow. Unlike Red Columbine (from the east coast), Rocky Mountain Columbine blooms upwards so no one will miss its striking beauty.
Hummingbirds and butterflies adore this wildflower, and rabbits and deer ignore it. This Columbine grows upright, much like a bush, and when in bloom, is absolutely covered with the blue, white, and yellow flowers. Hardy to zones 1-7.
Cranesbill Geranium (Geranium sp.)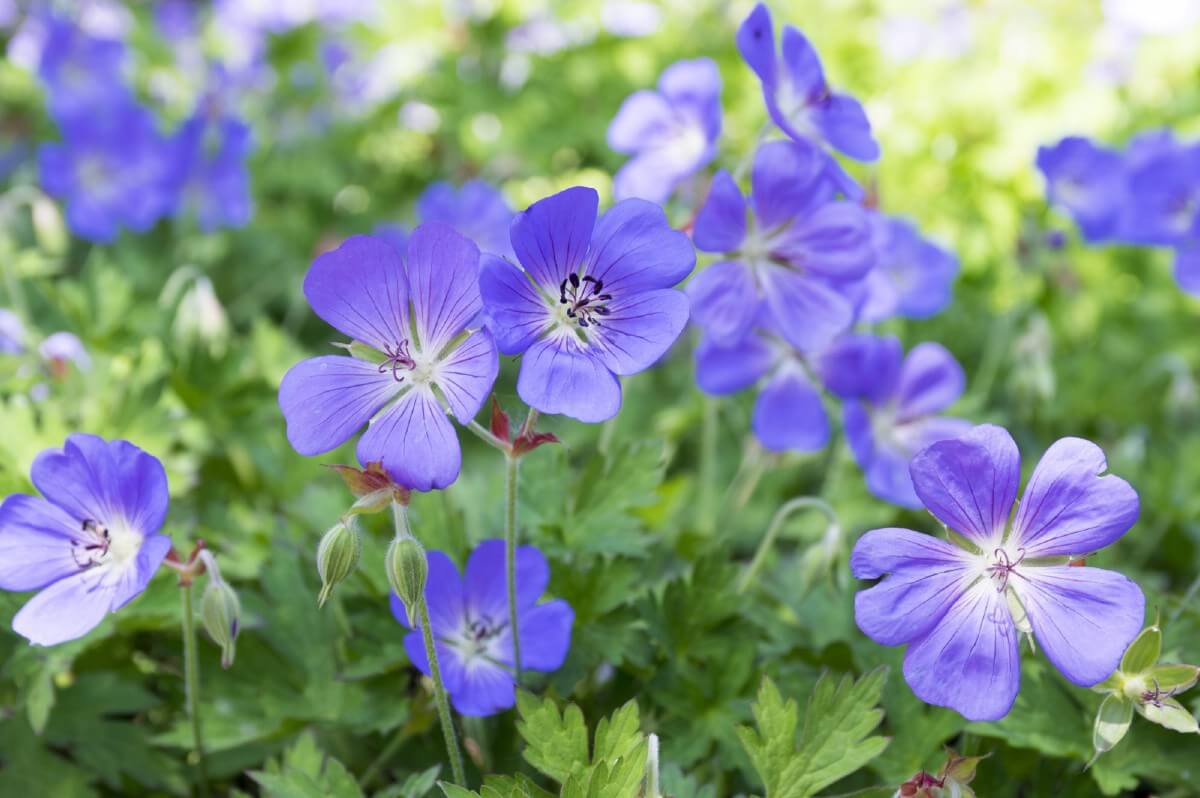 Cranesbill, or Hardy, geraniums are not the same as the common garden geranium; these perennials are low-growing plants with long-blooming flowers. The foliage of the Cranesbill Geranium is equally as attractive as the flowers, with densely packed deep cut green leaves that mound together to create an intriguing landscape. When in bloom, the Cranesbill Geranium bursts with dainty finely colored flowers.
There are dozens of cultivars in a vast array of shades. For the best blue blooms, look for "Rozanne" or "Johnson's Blue." Cranesbill Geranium is hardy to zones 4-8.
Italian Bugloss (Anchusa azurea)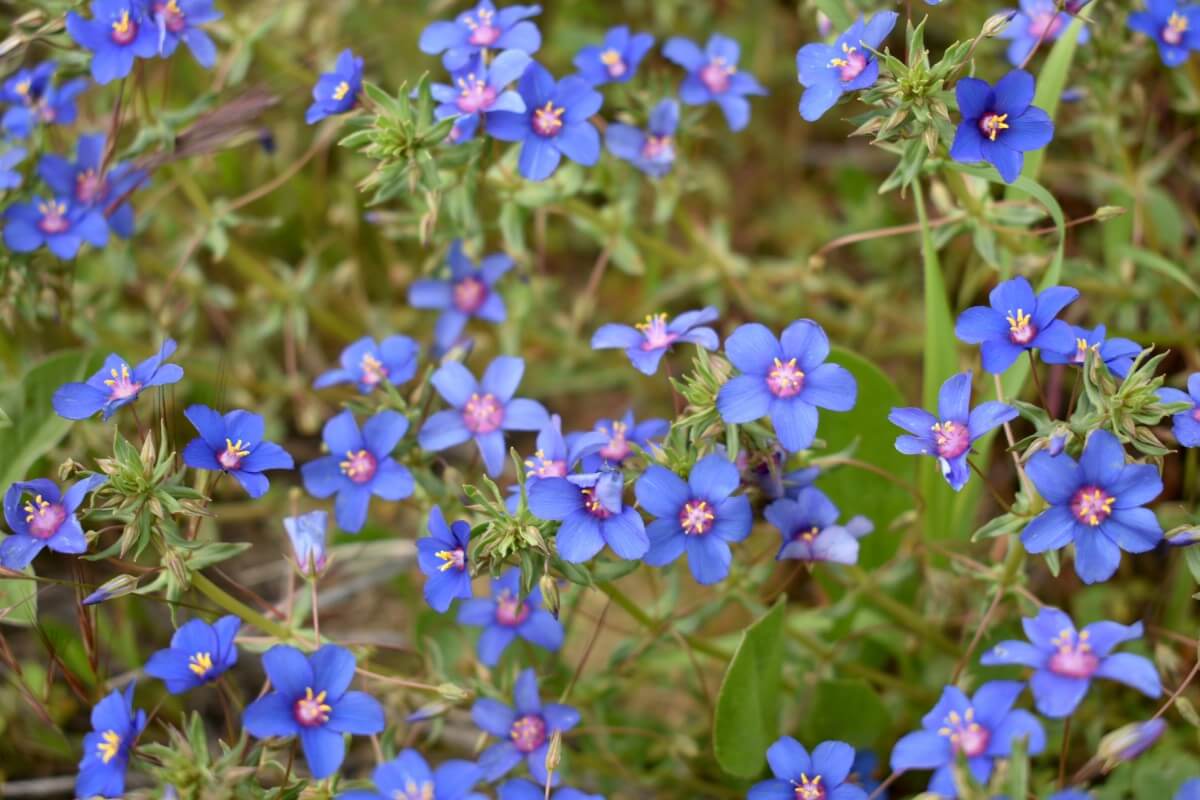 When you want lots of unobscured blue flowers embellishing the garden in abundance, Italian Bugloss is the one for you. The flowers are small, but they appear bright and bountifully up and down the stem. Italian Bugloss foliage is low to the ground, and the branches are tall, so the vivid blue is impossible to miss. There are several cultivars designed for garden planting, all of them with fantastically blue flowers ranging from pastel to dark: "Loddon Royalist," "Dropmore," "Feltham Pride," "Opal," and "Little John."
Bugloss Flowers: Cape Forget-Me-Not (A.capensis) and Common Bugloss (A.officinalis) also feature lovely blue flowers and are worth investigating and adding to the perennial garden for a pop of blue color.
Cape Plumbago (Plumbago auriculata)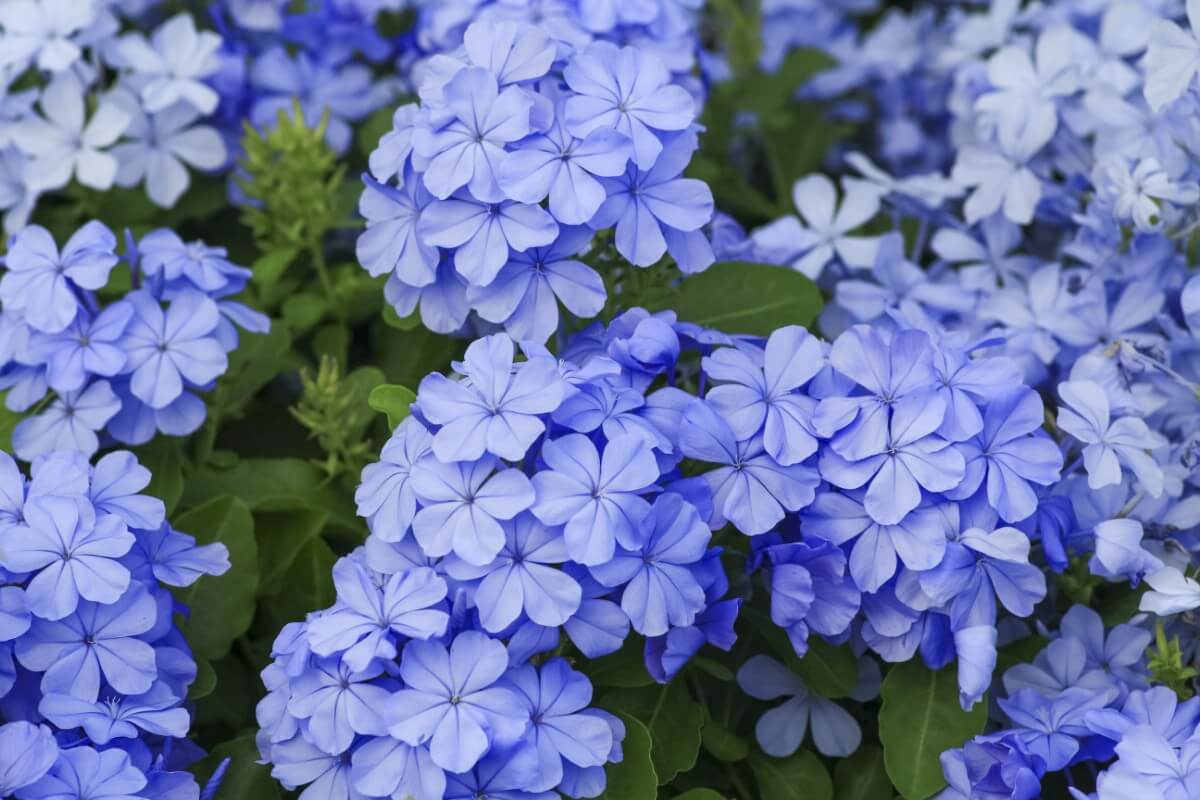 The rounded clusters of delicate sky-blue flowers add a sweet, charming touch to the landscape. Cape Plumbago grows quite tall, sometimes up to 8-feet, and stretches out as wide, so only plant this if you've got the space!
The blooms spill over the top of the foliage and last for months, sometimes almost all year-round in frost-free climates. Even when not sharing its flowers with the world, Cape Plumbago is appealing with its light-green leaves shaped like spoons. Cape Plumbago is hardy to zones 8-11.
Dwarf Plumbago (Ceratostigma plumbaginoides)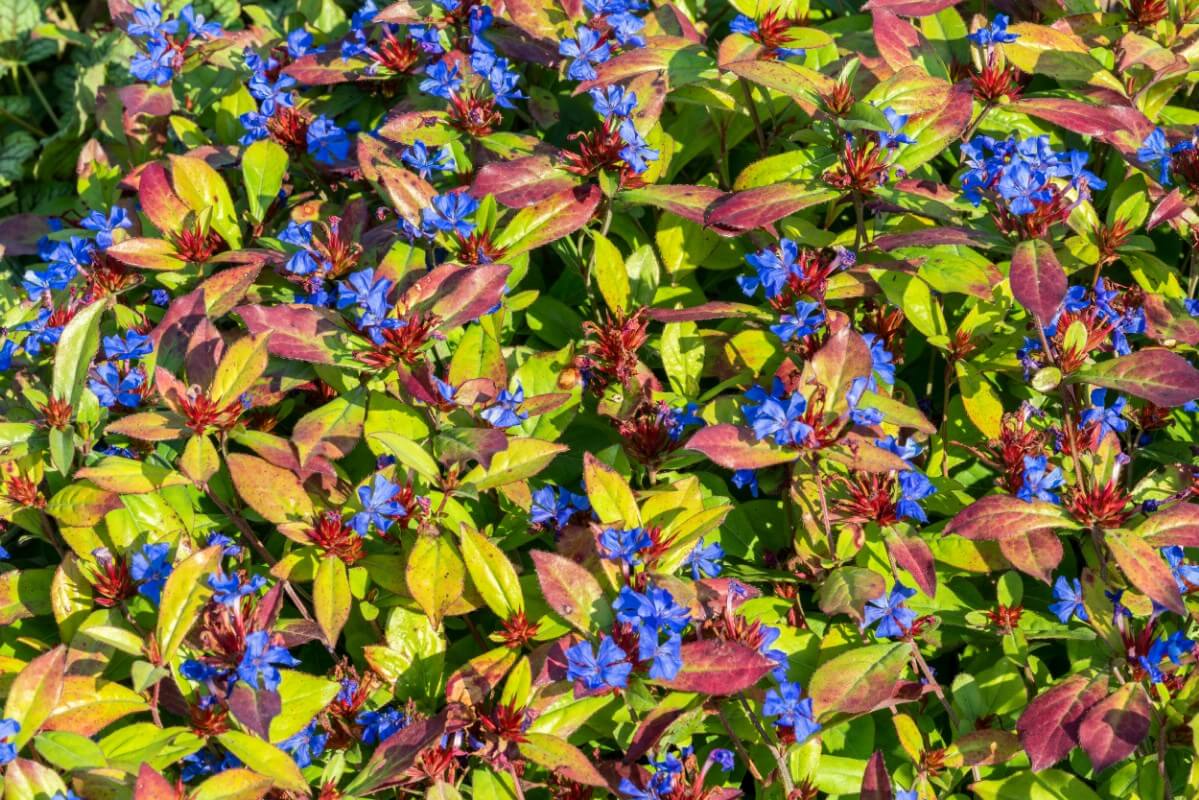 A low-growing perennial that isn't actually related to the Cape Plumbago listed above (flower names can be so confusing!), even though the flowers are similarly shaped. Dwarf Plumbago grows fetching clusters of little blue flowers.
The vibrant blue blooms are five-petaled with a slight curl at the end of each petal, giving them a wavy appearance. Dwarf Plumbago grows 9-12" tall and looks striking planted between taller plants or as a groundcover. The foliage, light green in the summer, turns burgundy purple in the fall. Hardy to zones 5-9.
Lupine (Lupinus sp.)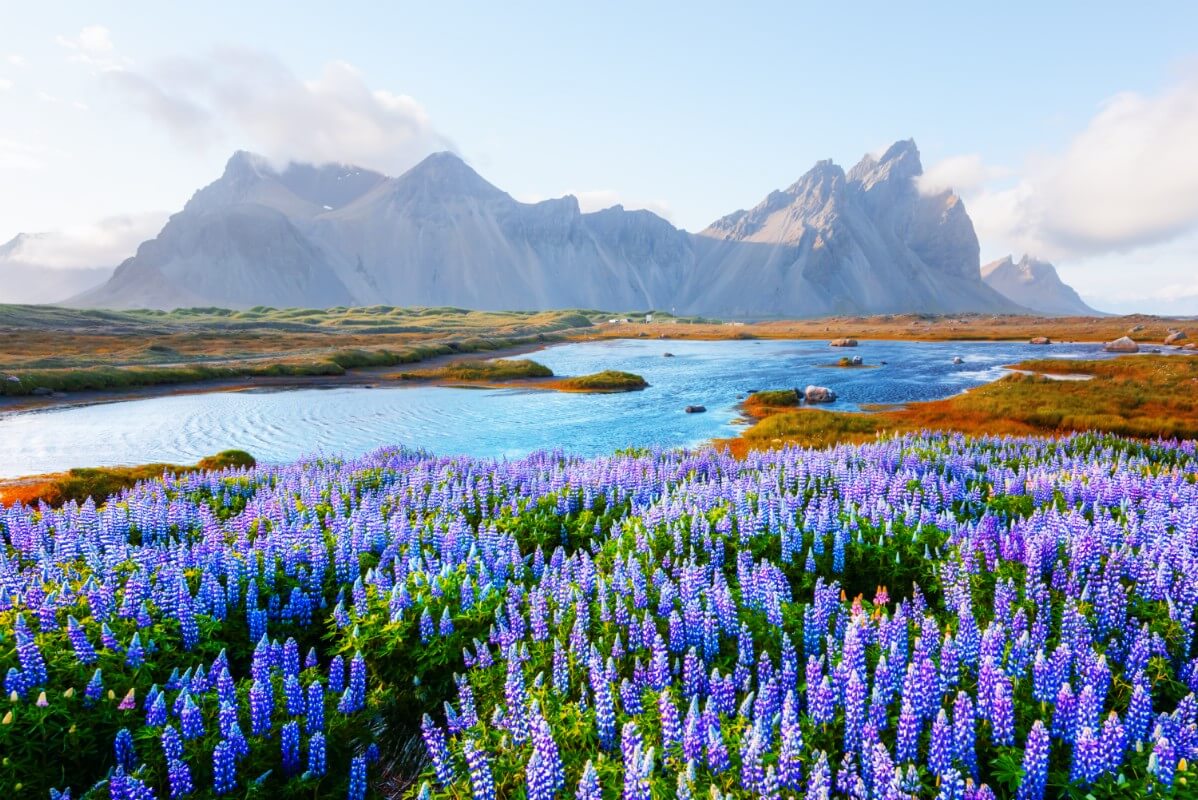 The tall spikes of deep blue flowers are enough to make us love this plant, but the swirls of lance-shaped leaves are spectacular as well. Lupine flower spikes stand up tall above the foliage and are densely packed with brightly colored pea-like blooms.
This is a striking garden perennial which the hummingbirds, bees, and butterflies can't resist either. Some lupines are native wildflowers, while others are cultivated for the garden. There are many blue or violet-blue blooms to choose from. Lupine is hardy to zones 3-8.
African Lily (Agapanthus africanus)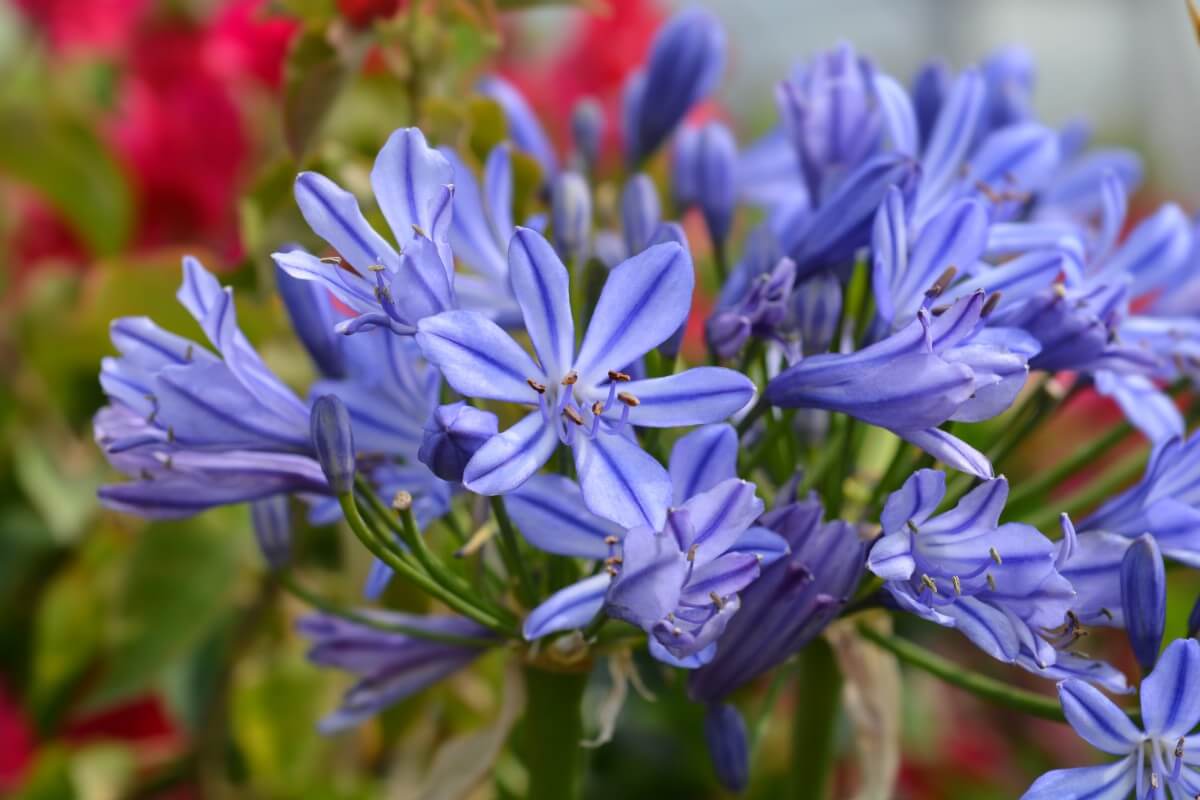 Tall spherical clusters of outward-facing blue funnel-shaped flowers make a statement in the perennial flower garden or along a walkway or path. Each cluster grows on top of a tall upright stalk, like a round pinwheel. The dark-green sword-shaped leaves are low to the ground, letting the blooms be the star. African Lilies will bring lots of interest to the flower garden, and the butterflies and hummingbirds love it. There are quite a few blue varieties, but we particularly love "Headbourne Hybrids," "Northern Star," and "Peter Pan." Hardy to zones 7-10.
Every flower garden needs some elegant blue color, and with such interesting varieties to choose from, it isn't difficult to include them. Whether you're a fan of sky blue or dark almost-purple blue, there is a flower that will fit your landscape. Use blue flowers to accent or soften certain areas or to add warmth and allure.