Did you know that not all tomatoes produce the same amount of fruits? If you want to ensure that you have a high-yielding garden, make sure you grow some of the best high-yield tomato varieties.
As a new gardener, I assumed that all tomato plants produce the same amount of fruit. Boy, I was wrong. I planted a few different varieties and soon found out that I picked the wrong ones.

If you only want tomatoes for sandwiches and burgers during the summer, it won't matter so much. However, if you're growing tomatoes with the intention of canning or preserving, picking varieties that produce tons of fruits is what you need.
I don't want you to make the same mistake that I did. I put together a list of some of the highest-yielding tomato plants that you should grow in your garden.
Jump to:
What is The Highest Yielding Tomato Plant?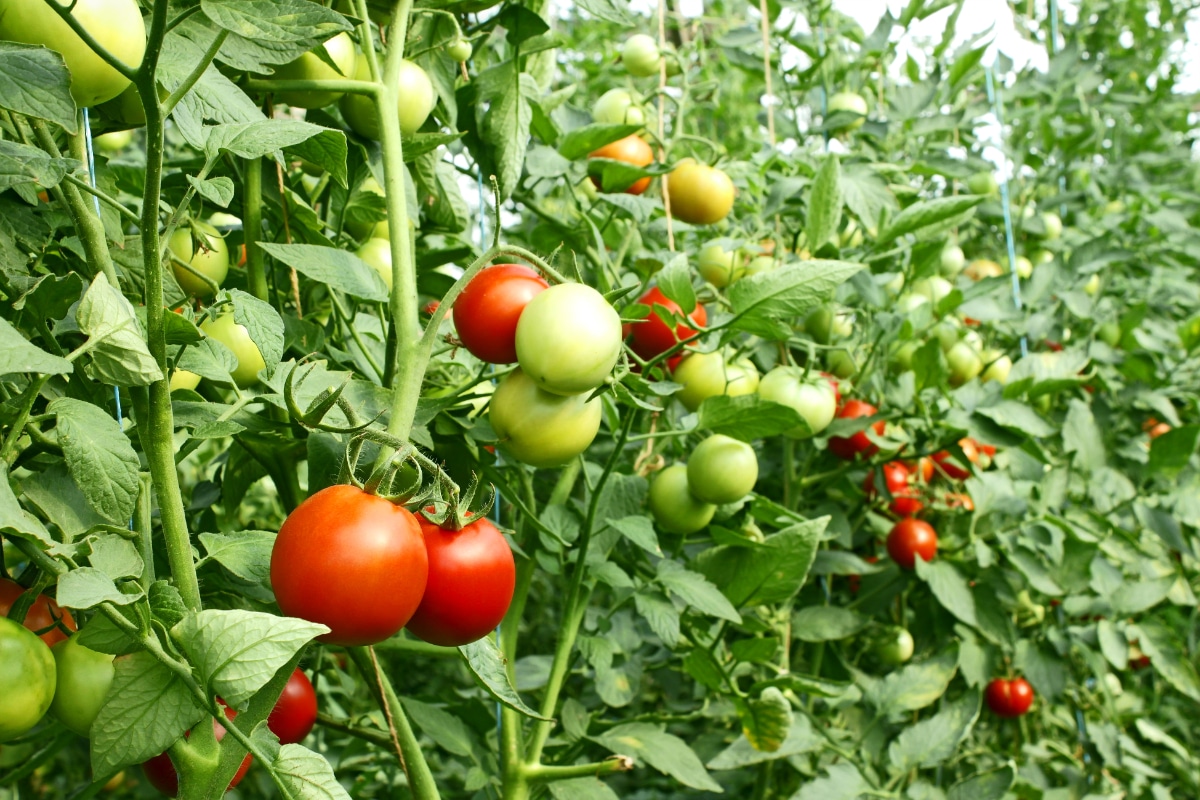 The highest-yielding tomato plants are typically hybrid varieties rather than heirloom ones. Scientists cross plants to ensure they have large harvests; take a look at each plant's characteristics. Many hybrid plants are known for having high yields, so if they're grown in proper conditions, expect that.
Heirloom tomatoes produce large yields, but this type of plant won't have a consistent output. You might grow ten of the same plant, and each one produces a different amount of tomatoes. That's normal, yet it makes planning your harvest harder.
So, if your goal is to have the highest-yielding tomato plants in your garden, go for hybrid varieties as your powerhouse plants that will make up the bulk of your harvest.
What is The Easiest Tomato to Grow?
The easiest tomato to grow is cherry tomatoes. These plants are typically smaller than other plants because of the fruits' size, but they're highly prolific. Most plants produce hundreds of tiny tomatoes, perfect for snacking or salads.
Cherry tomato plants tend to have fewer pest and disease problems. The plants are small enough to grow in containers on your patio or fit nicely between larger tomato plants.
What's the Difference Between Determinate and Indeterminate Tomato Plants?
Before selecting the tomato varieties you want to grow, you have to pick between determinate and indeterminate tomato plants. All plants are one or the other, making it a big deal when deciding which is the right one for your garden.
It's a good idea to consider growing both determinate and indeterminate tomatoes together in your garden. Determinate tomatoes are excellent for large harvests for canning, freezing, and other preservation methods. Indeterminate tomatoes will give you a crop the entire growing season. They're perfect for salads, sandwiches, and preservation, so long as you freeze them.
Seriously, did you know that you can freeze tomatoes? Give it a try!
Determinate Tomatoes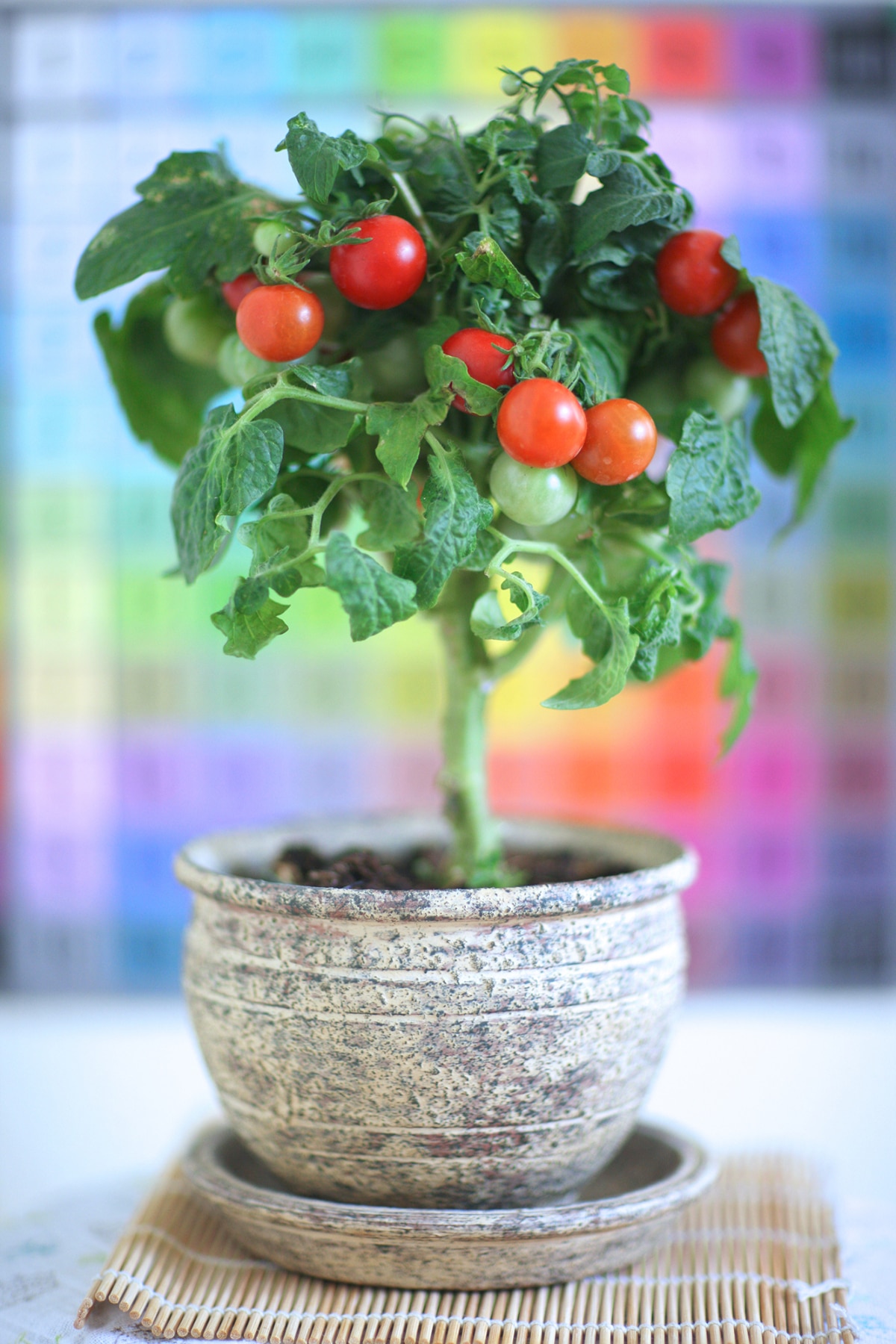 Determinate tomatoes are often called bush variety tomatoes. They reach a specific height, and then they stop growing. All of the fruit matures within one to two months upon reaching maturity, and they appear at the end of the branches.
Determinate tomatoes are very popular because they're smaller and typically don't require staking. If you want to grow tomatoes in containers, this is an excellent variety for you. Since all of the fruits appear simultaneously, it makes it easy if you're going to make homemade tomato sauce for canning.
The problem with determinate tomatoes is that all of the fruits appear at one time. That means you might have a lot of summertime left without any fresh tomatoes. It's ideal for preservation purposes, but if you want to have a fresh tomato sandwich in September, you might want to consider growing indeterminate tomatoes.
Indeterminate Tomatoes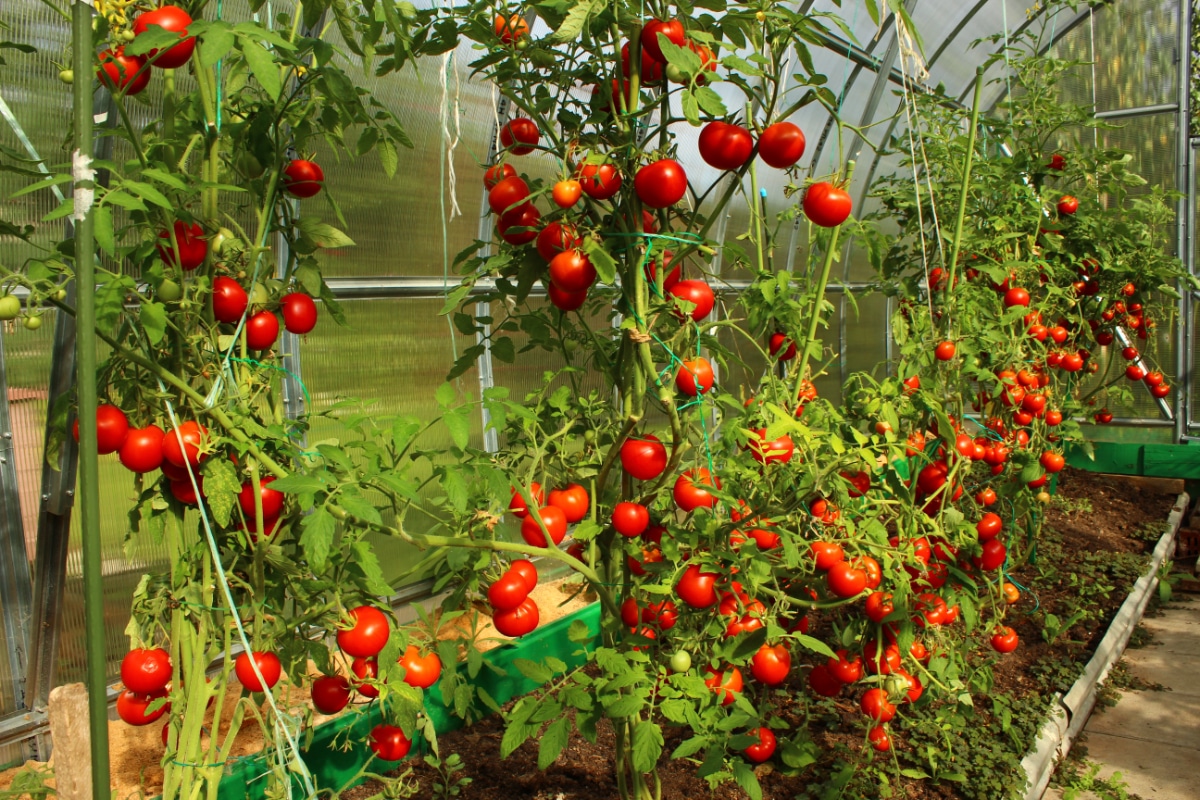 Indeterminate tomatoes grow and produce tomatoes all summer long. The plants are extra-large; some varieties reach up to eight feet tall.
The fruits appear throughout the entire growing season, so you'll have fresh tomatoes all summer once the plants reach full maturity. Something to consider is that many indeterminate tomatoes take longer to reach maturity.
For example, some determinate tomatoes can reach maturity within 55 days. Most indeterminate tomato varieties take at least 80 days to mature, but it's not uncommon for some larger types to take up to 100 days to reach maturity.
Indeterminate varieties will need to be pruned often for optimal size, and they need to be trained to grow on a trellis. You will have to stake or use a cage for all indeterminate varieties because they like to branch out and get rather large.
If you don't use a support system, these plants topple over, and you never want your plants to touch the soil. When plants touch the ground, it increases the risk of contracting diseases or pests.
How Much Does a Tomato Plant Yield?
It's hard to estimate how much a tomato plant will yield accurately. Tomato plants benefit from growing on support systems, such as staking or a trellis, because it maximizes the plant's access to sunlight and reduces exposure to soil-borne diseases. In general, using a trellis or cage leads to more productive plants than staking.
Expect your staked tomato plant to produce around 8 lb of fruit per plant. Tomato plants trained to grow on a trellis or inside a cage produce 12 to 20 pounds of fruit per plant.
However, that's not taking into consideration what type of tomato plant you are growing.
Determinate tomato plants often produce a smaller harvest than indeterminate plants. This might be because many indeterminate tomatoes, such as beefsteaks, weigh up to two pounds per tomato. That will affect the yield amount, typically based on pounds, not the number of tomatoes produced by the plant.
10 High Yield Tomato Varieties You Should Grow
Are you wondering which tomato plants produce the most fruits? The following ten tomato varieties are known for being productive and high-yielding. Make sure that you include a few of these in your next vegetable garden.
Carmello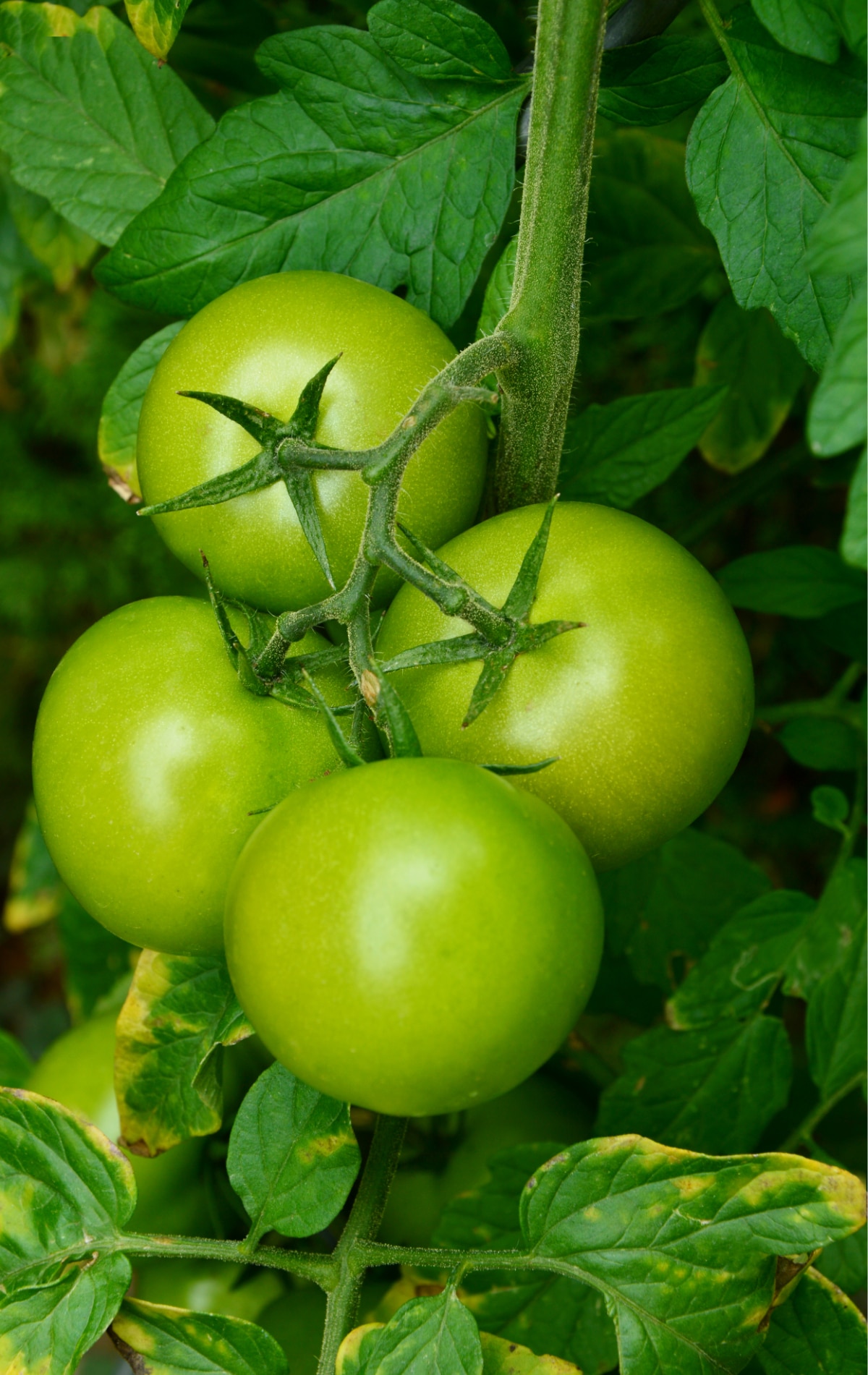 Carmello tomatoes are an indeterminate plant known for producing heavy clusters of round fruits on large plants. The fruits are typically 5-7 ounces and are considered medium to large tomatoes. They have a pretty rich flavor that's sweet at the same time.
Expect a harvest within 70 days, which is a short maturing time for an indeterminate plant.
Carmello tomatoes are exceptionally disease-resistant, which is an excellent feature of any tomato plant. Make sure that you provide ample support for these plants.
Chances are you've never seen a Carmello tomato in a store before because the skins are thin, and they often crack. Inconsistent watering leads to cracking, so if you are going to grow these tomatoes, make sure you have a solid watering schedule.
Beauty
Beauty tomatoes are an heirloom indeterminate tomato plant that takes 78 days to reach maturity. These plants are highly productive, and they are known for producing fruits that weigh up to one pound.
These tomatoes are slightly flattened, juicy, and sweet. They have the perfect mixture of acidity for a complex tomato flavor that is perfect for sandwiches, salads, and any other recipe you want to make.
You can find all kinds of different varieties of Beauty tomatoes. For example, the Black Beauty tomato is one of the most popular black flesh tomatoes available.
Ensure that you have plenty of space to grow these tomatoes because they are known for being large. They will need a trellis, stay, or a cage to hold up the massive signs.
Cherokee Purple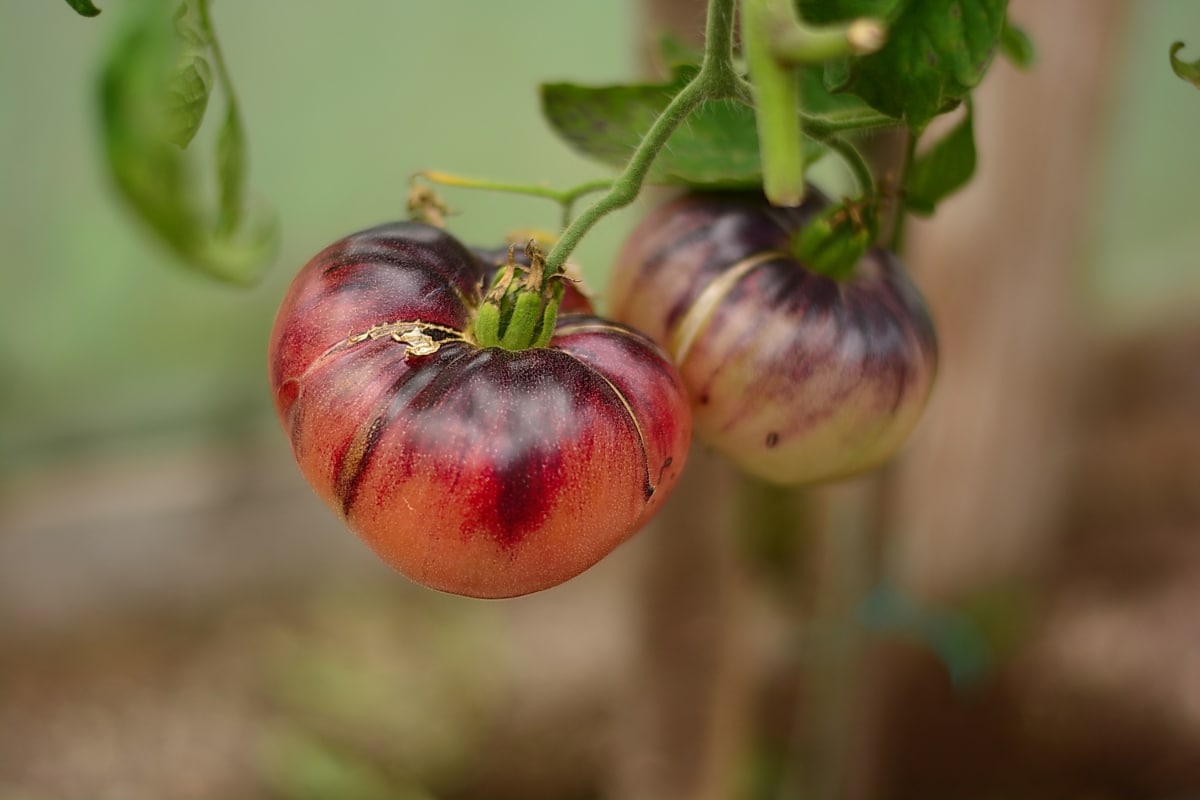 One of the most popular heirloom tomatoes is the Cherokee purple tomato. This indeterminate variety produces large, dark purple tomatoes that are rich and full of flavor. Some gardeners compare them to the Brandywine tomato, which is another large beefsteak tomato variety.
When you cut into a Cherokee purple tomato, you will find bright red flesh that looks beautiful when sliced. They're delicious slicing tomatoes, perfect for BLTs.
Cherokee purple tomatoes are enormous plants. Some of the plants reach up to six feet tall, ensuring that you have ample support for these plants. The fruits are large as well; sometimes, they measure as large as two pounds and 6 inches wide. That's a giant tomato.
I always include Cherokee purple tomatoes in my garden. They have a long history, originating from Tennessee, where it's believed that the seeds were passed down from Native Americans in the Cherokee tribe.
The plants grow well in most regions throughout the United States, and they are consistently known for being one of the best-tasting tomatoes available.
Early Wonder
If you want an early producing high-yielding tomato plant, Early Wonder is for you. This is a compact, determinate tomato plant that produces a harvest in 55 days.
Yes, you read that right. It only takes two months for you to have fresh tomatoes after planting in your garden.
Early Wonder tomatoes are known for producing impressive crops of round, dark pink tomatoes. Typically, they weigh around six oz. Early Wonder tomatoes are full flavor, and they earn their name because they are perfect for gardeners who live in short-growing season regions.
Stupice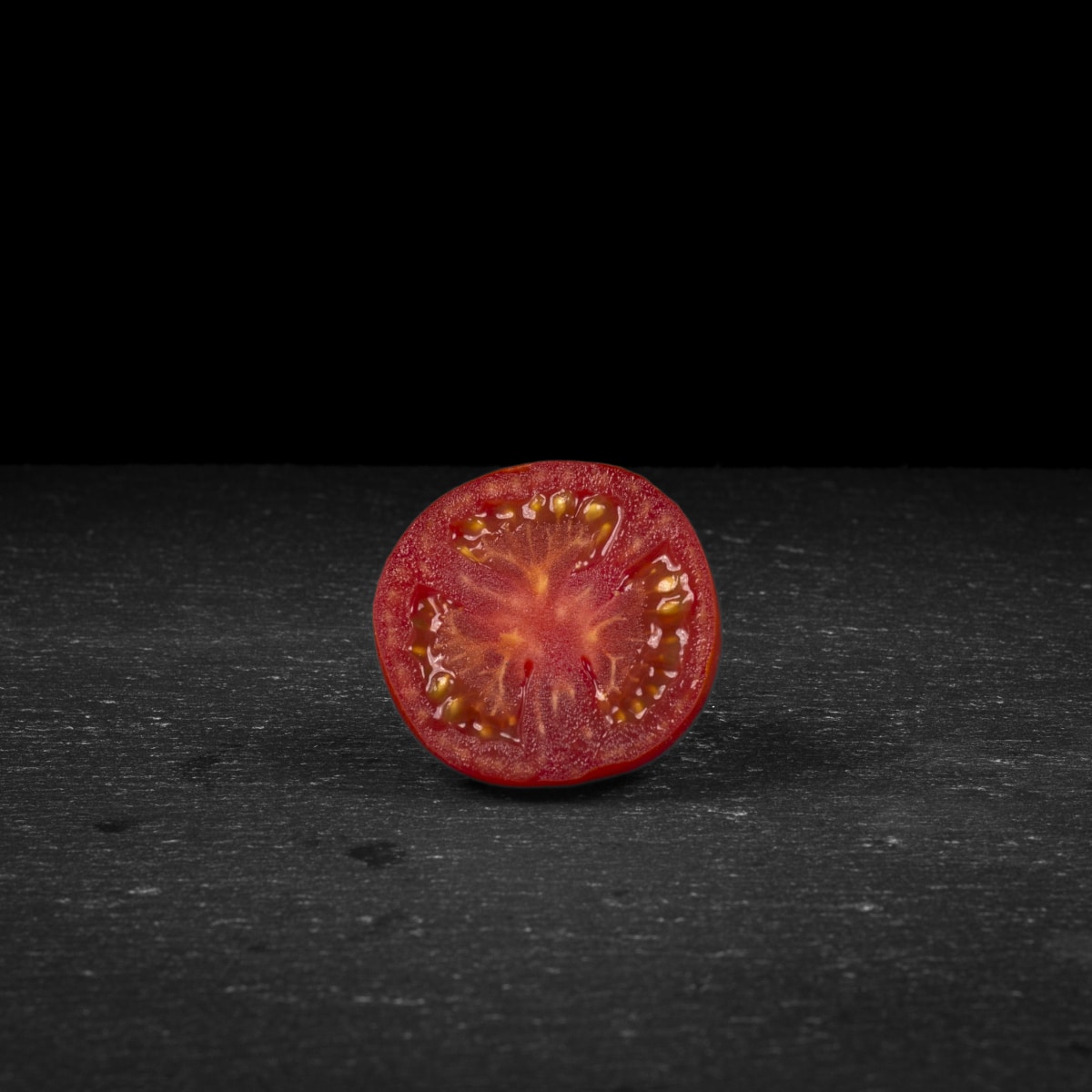 Stupice tomatoes are a popular plant that produces large yields of fruits that weigh between three and six oz. This tomato variety originated in Czechoslovakia, and it's known for producing fruits that have exceptional flavor and ripen earlier than others.
Stupice tomatoes are an indeterminate plant that takes between 55 to 85 days to reach maturity. That means nearly any gardener can enjoy these tomatoes, no matter your growing season. They also thrive in drought and high heat, so consider adding these to your garden if that sounds like your climate.
Black Krim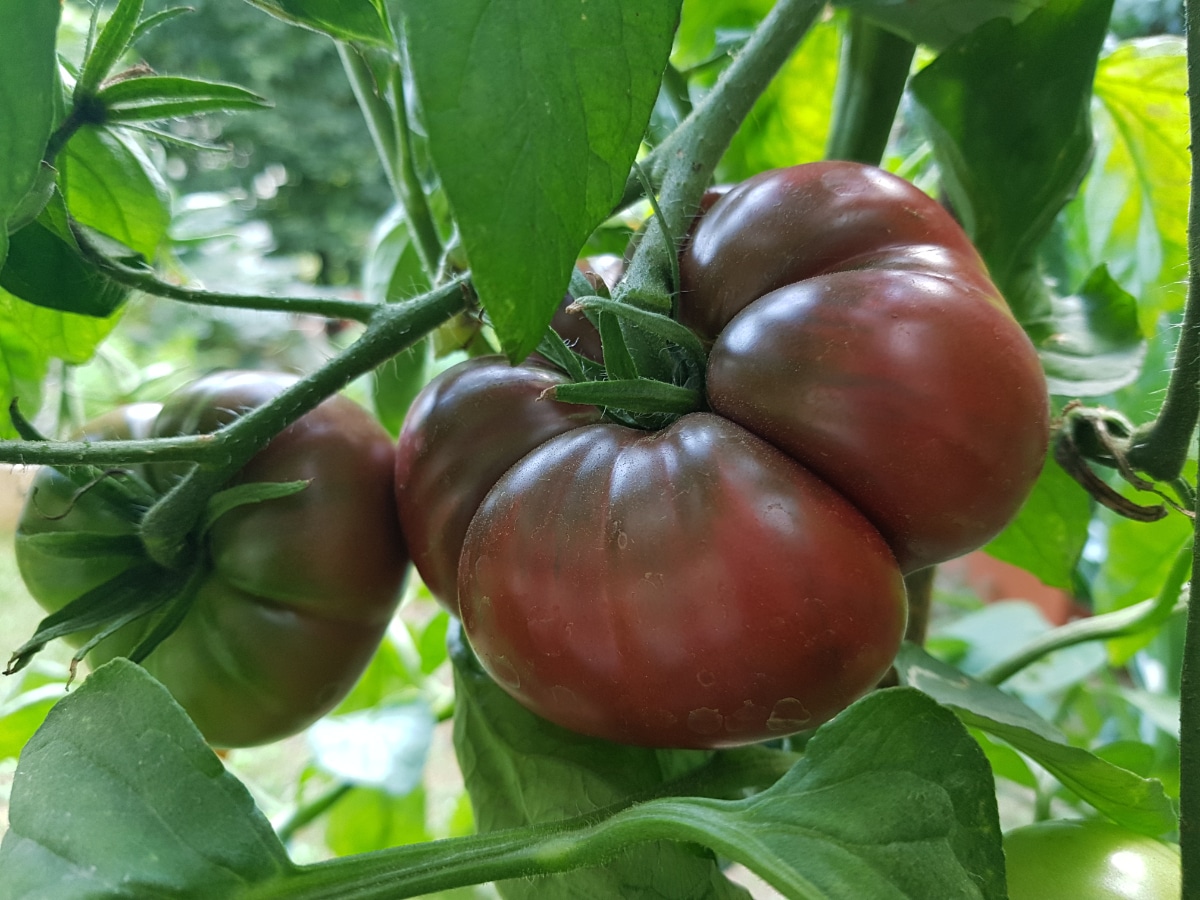 Black Krim tomatoes are an heirloom variety that produces medium-sized beefsteak tomatoes that have dark maroon skin. These tomatoes are known for being rich in flavor and extremely tasty. Once you try a Black Krim tomato, you'll always want to grow them in your garden.
Black Krim tomatoes originate from Russia, so they thrive in cooler weather, but they're also prevalent on the West Coast. It takes about 80 days for this plant to reach full maturity and expect large tomatoes.
The tomatoes are super juicy, which is fantastic for recipes, but it's not so good if you want to make a sauce. Too much juice in a tomato means you have to boil the sauce for a long time to get the right consistency.
Tangerine
As you might guess, Tangerine tomatoes have orange skins and are known for being incredibly sweet, delicious tomatoes. This is a determinate tomato plant that reaches maturity in 68 days. These plants grow wonderfully in containers, so consider growing this type if you have a balcony garden.
Tangerine tomatoes stand out for several reasons. They are known for being highly disease-resistant, and they also have some of the most significant crops for determinate tomatoes. They handle hot weather well, so if you live in a warm climate, such as Texas, these plants will grow well for you.
Virginia Sweets
Virginia Sweets is an heirloom tomato plant that produces large one-pound tomatoes that vary in color, ranging from red to gold. Inside the tomatoes, you'll find yellow flesh that is sweet and red flesh that adds a bit of tang to the flavor. It's hard to describe the balance between sweet and tangy, but if you have the space to grow these tomatoes, you absolutely should.
It takes Virginia Sweets plants around 80 days to reach maturity. This is an indeterminate plant, known for heavy crops and large plants, so ensure that you have ample staking or cages to hold this giant plant.
Don't miss out on growing these tomatoes. Many gardeners say that they fruit consistently throughout the season, even on hot summer days. They grow well on cooler days as well, so no matter where you live, Virginia Sweets will treat you well.
Jersey Devil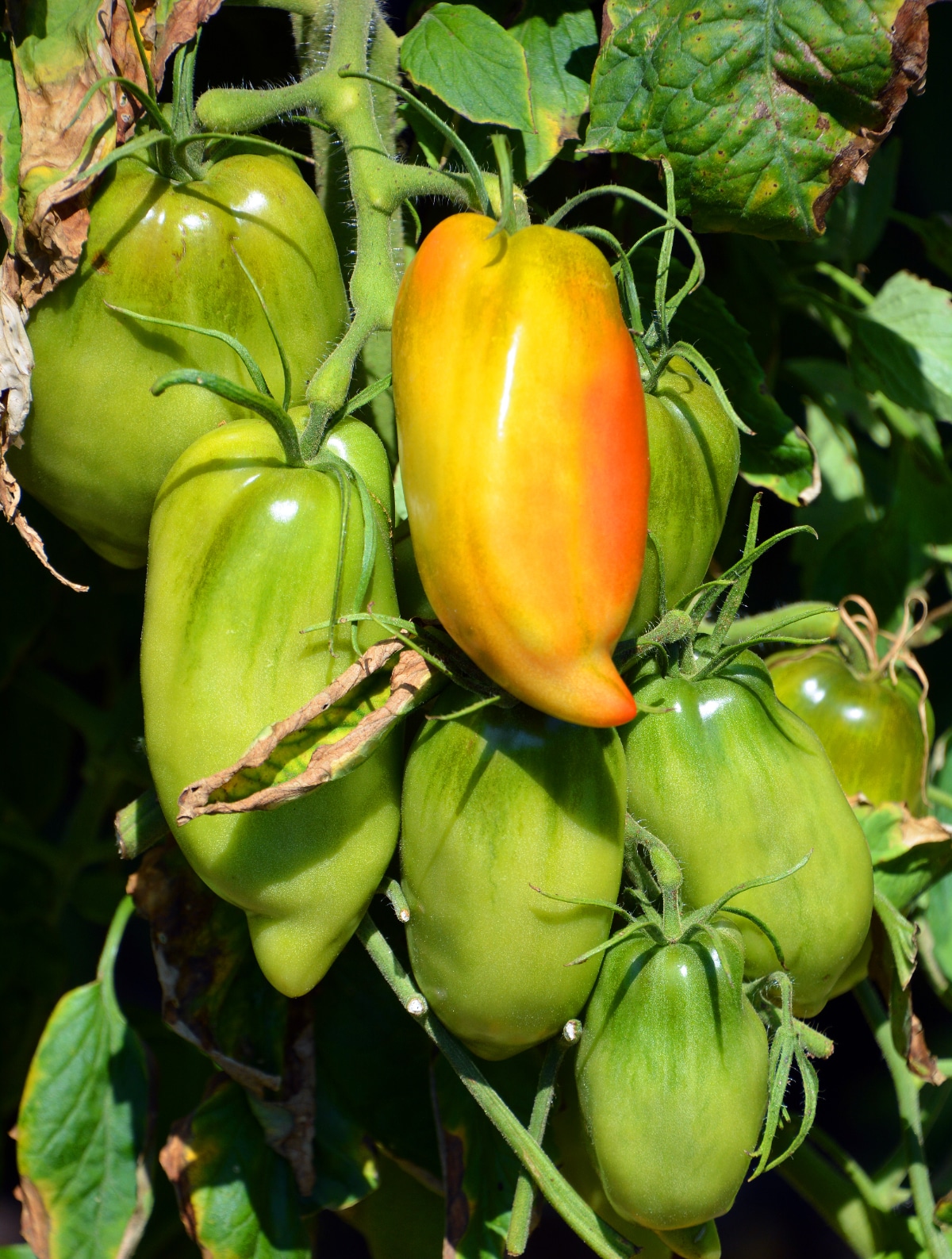 Are you looking for a good paste tomato? If so, Jersey Devil is the perfect indeterminate tomato plant for you. This one has been a favorite paste tomato for decades. It's known for producing big, bold plump red tomatoes shaped like a banana pepper. The fruits typically measure about six inches long.
Since these are indeterminate tomato plants, they need a support system to hold up the vines. Expect a harvest within 90 days, so make sure they match up with your growing season before you take the time to plant these tomatoes.
Jersey Devil is perfect for making sauce and fresh eating. The fruits are sweet, flavorful, and don't have too much of a tang. They have lots of meat with very few seeds and just a little bit of juice.
Russian Big Roma
Russian Big Roma tomatoes are one of the perfect paste, heirloom tomatoes. They are known for being disease-resistant and producing a large amount of deep red fruits.
Russian Big Roma is an indeterminate tomato variety that matures in 90 days. The fruits are four-inch wide, and since they're paste tomatoes, they have plenty of meat and not a lot of juice. That leads to the perfect sauce.
How Do You Get the Highest Yield From Tomatoes?
Picking the tomato varieties with the highest yield is the first step. If you want productive, high-yielding tomato plants, you have to take action. Many tomato-growing hacks increase the yield of your tomato plant.
Here are just a few that you should know.
Make Sure the Plants Have Full Sunlight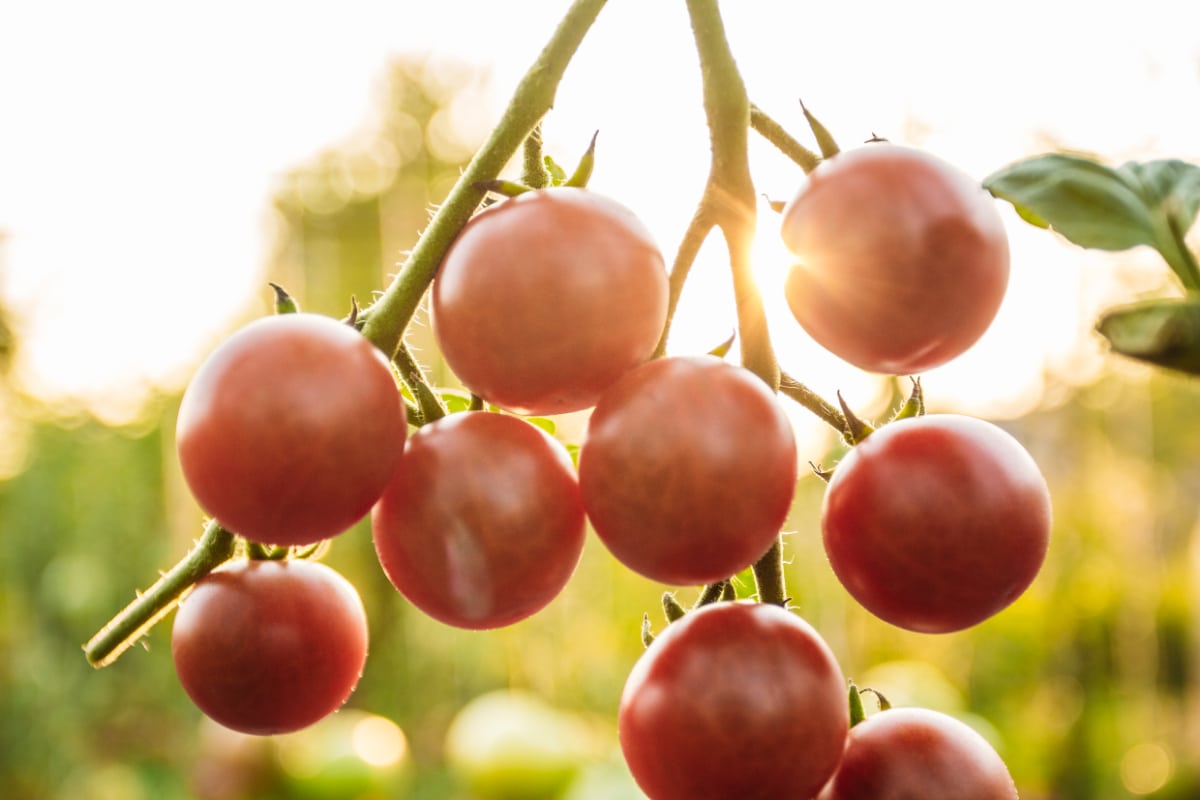 The first thing you have to do when growing tomato plants is to ensure that your selected location receives full sunlight. Full sunlight means the plants receive 6 to 8 hours of light per day at minimum.
Tomato plants love the sun, and if you want high-yielding tomato plants, you have to give them as much sun as possible, or they won't thrive and grow.
When you pick the location, it's typically during the springtime. Ensure you look at any nearby trees that could cast shade on your garden once the trees are in full bloom.
I made this mistake last year; I forgot to look and consider our mulberry tree when I was planning our garden. We planted everything, and then I realized that our mulberry tree sent shade over half of our garden. It was detrimental to our tomato harvest.
Please don't make the mistake that I did.
Test Your Soil Before Planting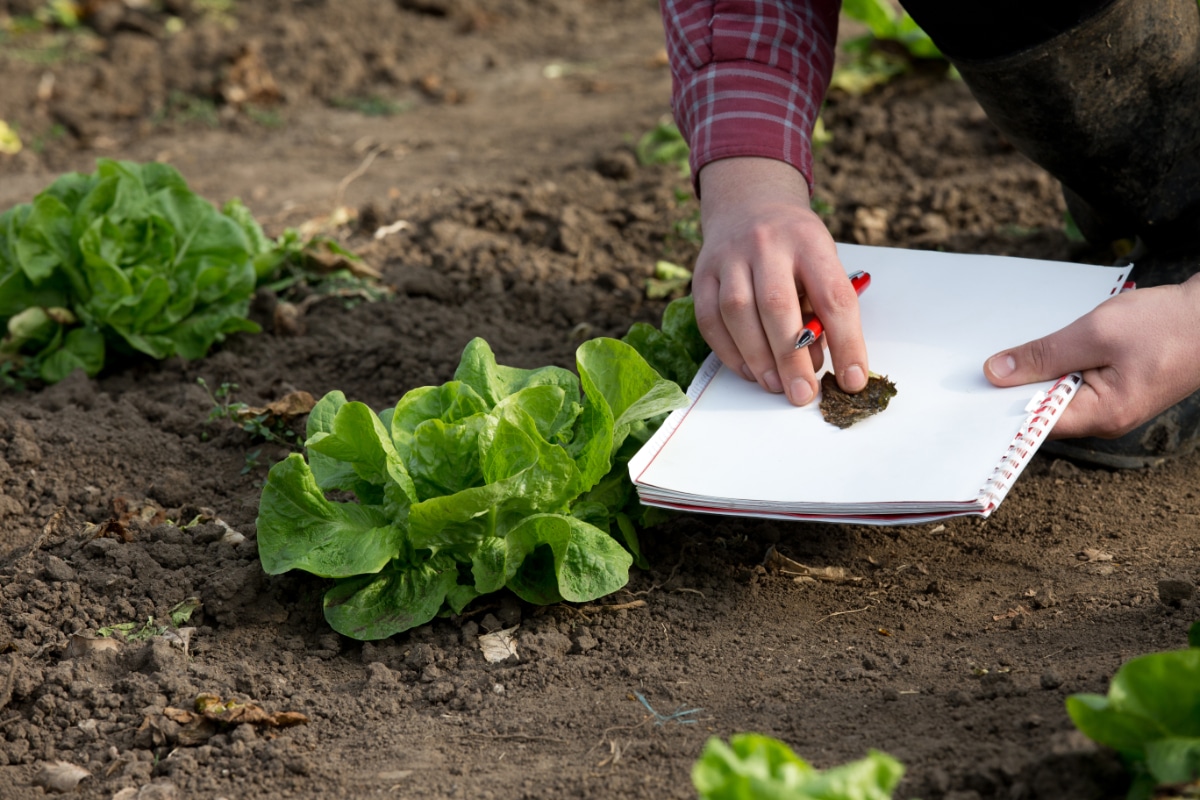 Testing your soil before planting is a fantastic idea. The most accurate way to test your soil is to contact your local County Extension Office. Most states offer soil testing at minimal cost; Ohio charges around $20 per test, which is a bargain because the test is highly accurate.
Tomato plants are heavy feeders, and they require a lot of nutrients to grow properly. Your tomato plants need nitrogen, potassium, phosphorus, calcium, and more.
Testing your soil before planting helps avoid problems that might arrive due to a nutrient deficiency. For example, blossom end rot is caused when your plants don't have access to calcium or the soil lacks enough calcium. If you test ahead of time and add calcium to your ground, you'll avoid this problem entirely.
The pH Range Does Matter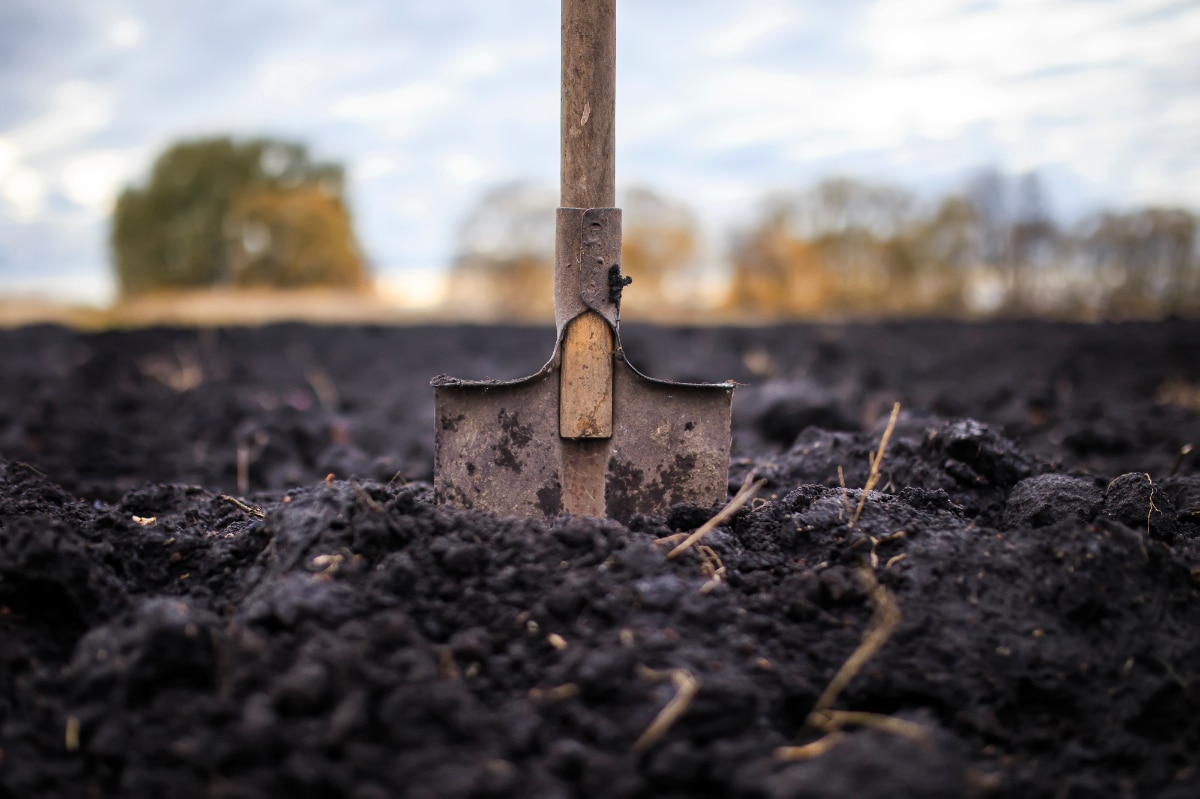 Another vital piece of information that you receive when you test your soil is the soil pH range. Too many gardeners ignore the soil's pH, but if you want to grow tomatoes, understand that this plays a big part in the production.
Tomato plants grow best in a soil pH range between 6.2 and 6.5. This range leads to the ideal nutrient absorption rate, which means that your plants' roots absorb the most amount of nutrients possible. That leads to optimal growth.
Phosphorus is Important Too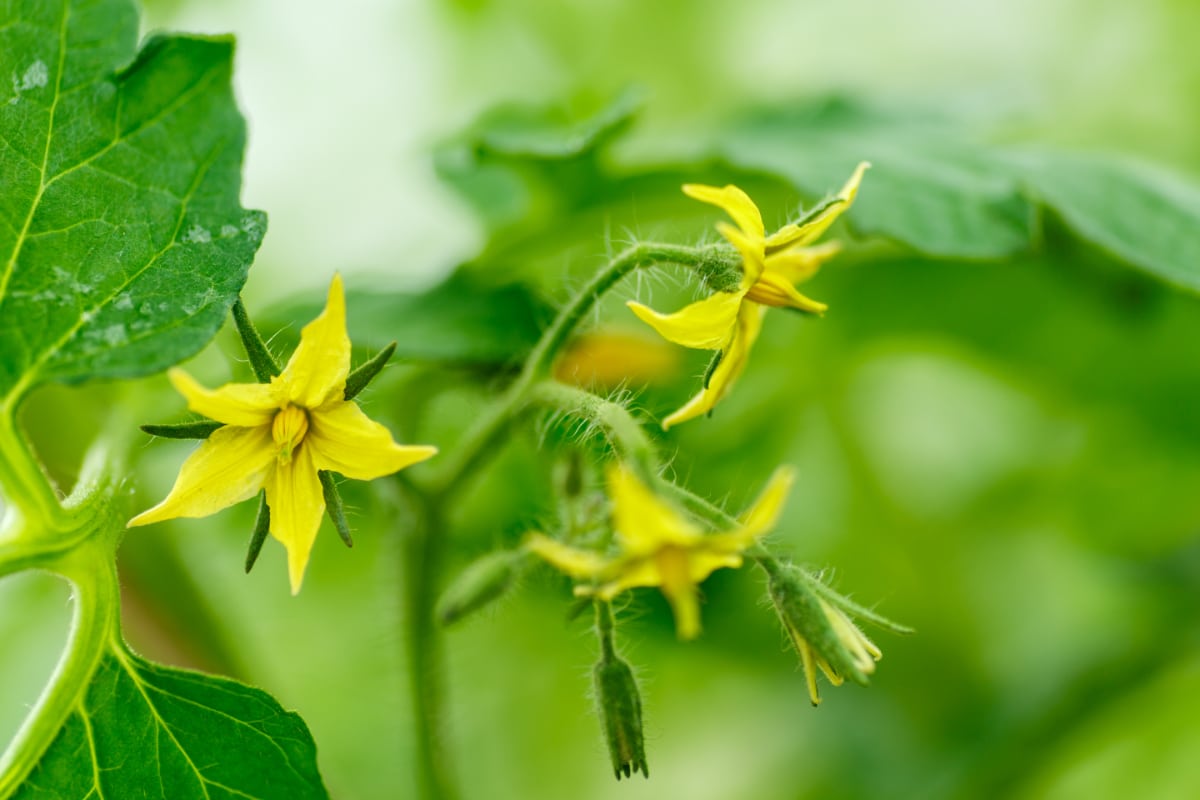 Too often, when you read articles about how to grow tomatoes, you'll find recommendations to add nitrogen to the soil. They are correct; tomato plants need nitrogen to grow. Nitrogen helps the leaf development and the overall growth of the plant.
The problem is tomato plants also need phosphorus, and if you only add nitrogen, your plants are missing a significant nutrient that they need to grow.
Phosphorus encourages the development of sturdy roots and helps your plant produce plenty of flowers and fruits. Without flowers, you won't end up with any tomatoes.
Use Companion Planting Tricks
Do you want a simple tip to reduce tomato pests? Use companion planting.
Never plant your tomatoes alone; they need friends. Add plants such as dill, fennel, and cilantro. Not only are these great companion plants for tomatoes, but they also provide nectar for parasitic wasp, which helps to control tomato hornworms.
Trust me; you don't want tomato hornworms in your garden.
Don't Water Overhead
It's tempting to add a sprinkler system to your garden, but doing so isn't a good idea. You don't want to water your garden from overhead; drip irrigation is the best way to water tomato plants.
When you water your plants overhead, it splashes the soil onto the leaves of your plants. This might not seem like a problem, but this leads to soil-borne diseases developing on your plants. Many diseases are hard to fight and might be fatal to your plant, so avoid this.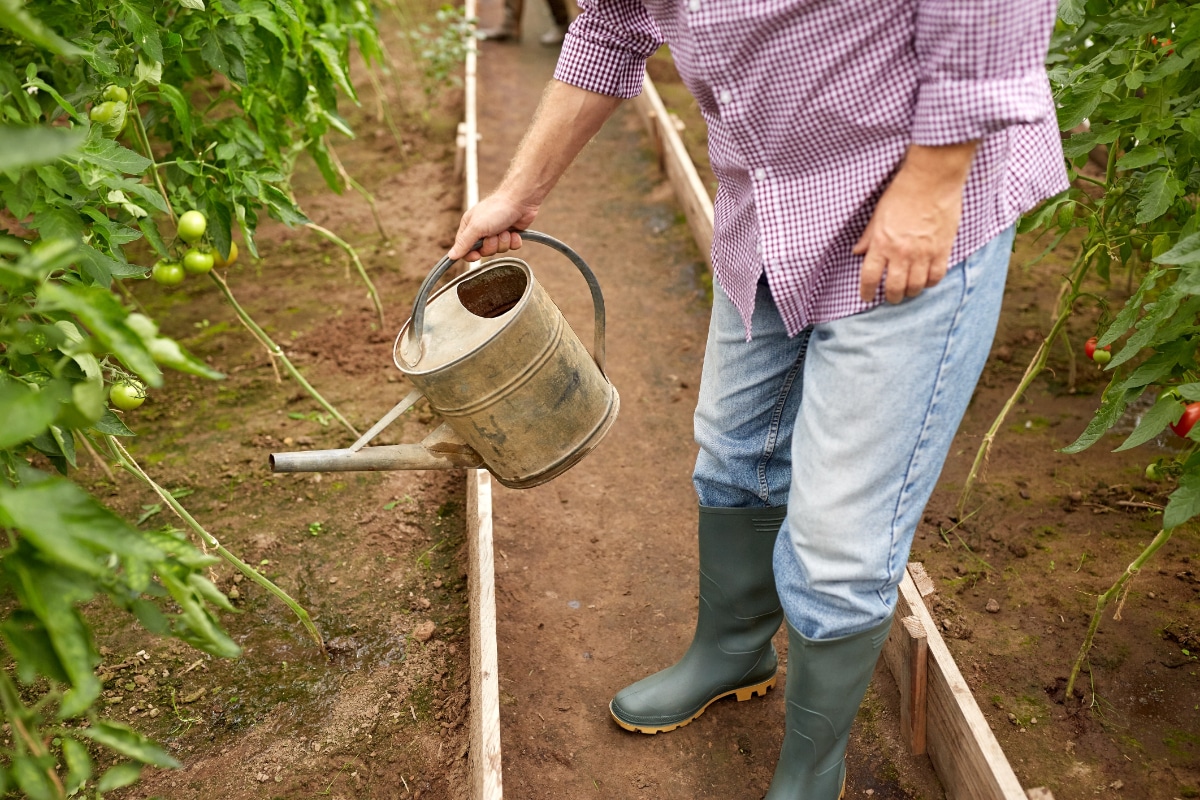 Water Consistently
Inconsistent watering is a big problem for tomato plants. Tomato plants need to have consistently moist soil. When the plants do not have consistently moist soil, it causes nutrient absorbency problems. It might be why your plant cannot bring up the vitamins in the ground, even if you fertilize.
Here's what you need to do.
Head out into your garden every day, and stick your finger into your soil. If the soil is dry two inches down, it's time to water. If the soil isn't dry and feels moist when you put your finger into it, you don't have to water today. Check the ground tomorrow, and see if you need to water then.
What is the Best Fertilizer for Tomatoes?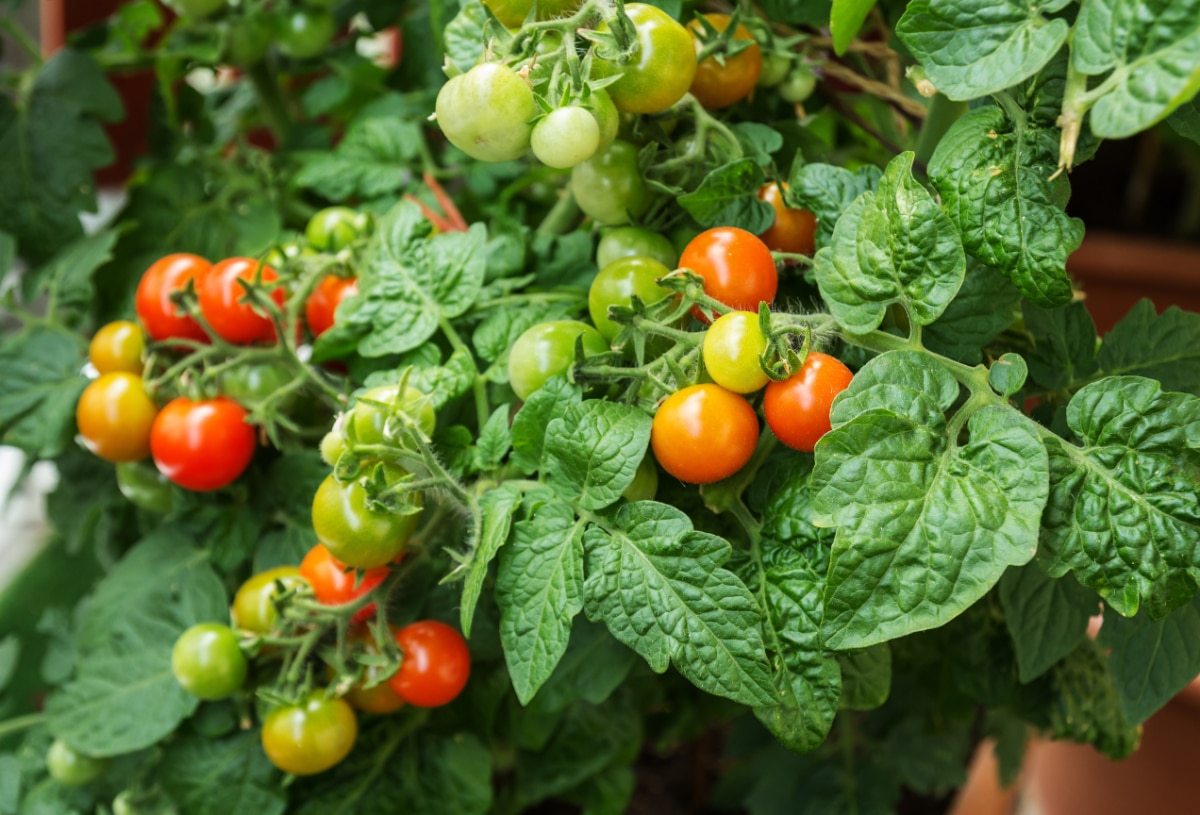 Tomatoes are heavy feeders and need plenty of nutrients to grow throughout the season. The best fertilizer for tomatoes depends on your soil's current nutrients and where your plants are in their growing cycle.
Gardeners need to get their soil tested before fertilizing to ensure they're providing their plants with the nutrients they need. An abundance of some nutrients, like nitrogen, has adverse side effects like too much foliage growth without enough fruits.
If your soil is balanced or has plenty of nitrogen, look for a lower fertilizer in nitrogen and higher in phosphorus. Look for a label that reads 5-10-5 or 5-10-10. If your soil needs nitrogen, a balanced fertilizer is perfect. Look for a label that says 10-10-10 or 8-8-8.
Final Thoughts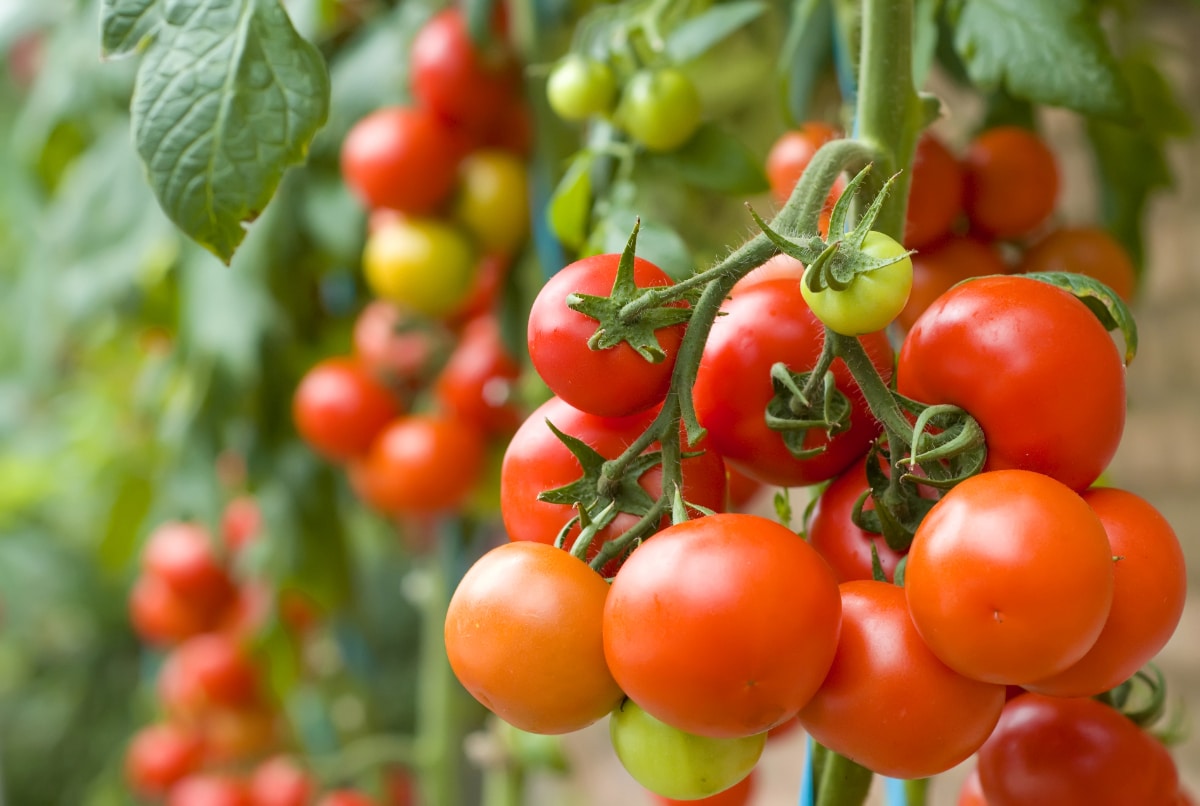 Not all tomato plants produce the same amount of fruits. Your garden needs a few of these high-yield tomato varieties; you'll have an abundance of tomatoes this summer.