Plant some of these gorgeous orange-blooming perennials for an extra bold splash of color in the flower garden. Orange flowers turn the landscape into a festival of color; even light-orange or peachy-orange blooms stand out in the garden. Growing orange flowers is an excellent way to bring cheer and warmth to the landscape.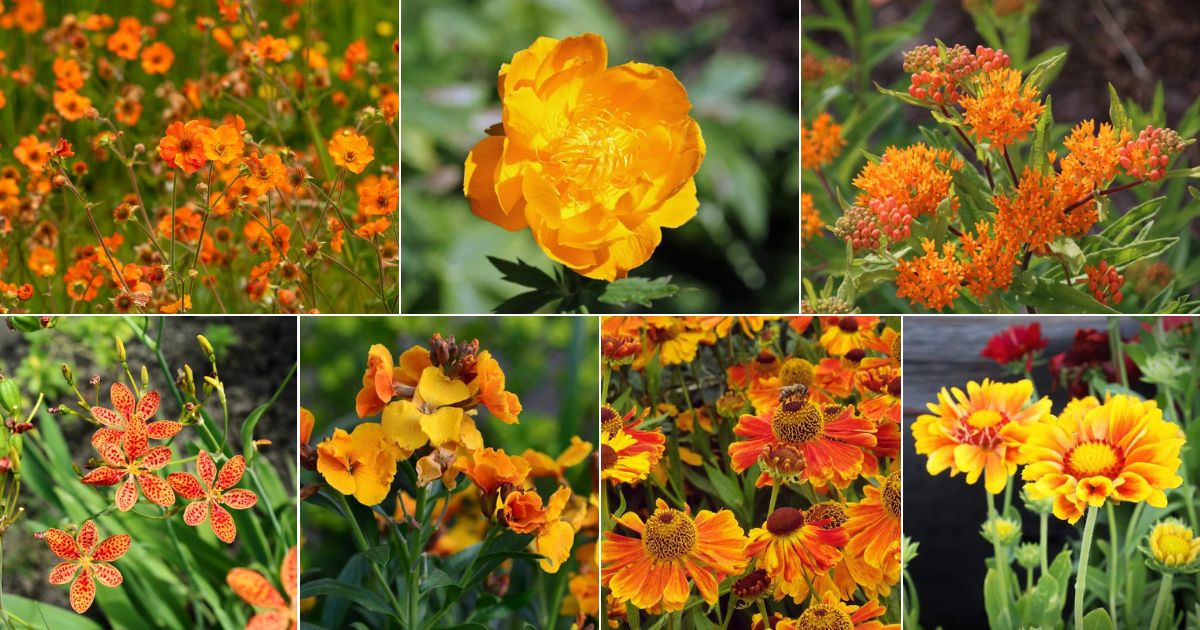 What Does Orange Mean In The Garden?
Orange brings feelings of joy, happiness, warmth, vitality, and energy. It is a cheerful color, and orange flowers are known to lift the spirits of all who see them. Orange is associated with adventure, living life to the fullest, and daring creativeness. When you include orange flowers in the landscape, you add vibrance, energy, and enthusiasm to your home.
Because they are so bold and attention-grabbing, orange flowers can be overpowering. It's best to use orange judiciously, so the flowers don't block out other colors or become the only thing you see.
Many pollinators are drawn to brightly colored flowers, so having at least a few of these brilliantly colored perennials in the garden is essential.

Jump to:
Tips For Growing Orange Flowers
Because orange flowers are often so bold, they can steal the limelight away from other interesting plants you have in the landscape. Plant orange bloomers sparingly around other flowers that you don't want to be overshadowed.
Orange often stands out even more when scattered throughout the landscape instead of planted in large groupings.
Don't avoid planting orange bloomers in clumps or drifts; just be aware of the attention it will draw when in bloom and how that affects other plants in the landscape.
Orange flowers make an excellent, bright backdrop for less showy flowers. Consider how much more a white lily will stand out if it blooms in front of an orange background.
Orange is generally considered a tropical color; planting any orange bloomers will give the landscape a definite tropical vibe.
Experiment with different shades of orange; there is a wide range of shades from apricot to peach to tangerine to golden orange.
13 Orange Perennial Beauties
Orange Princess Globeflower (Trollius x cultorum 'Orange Princess')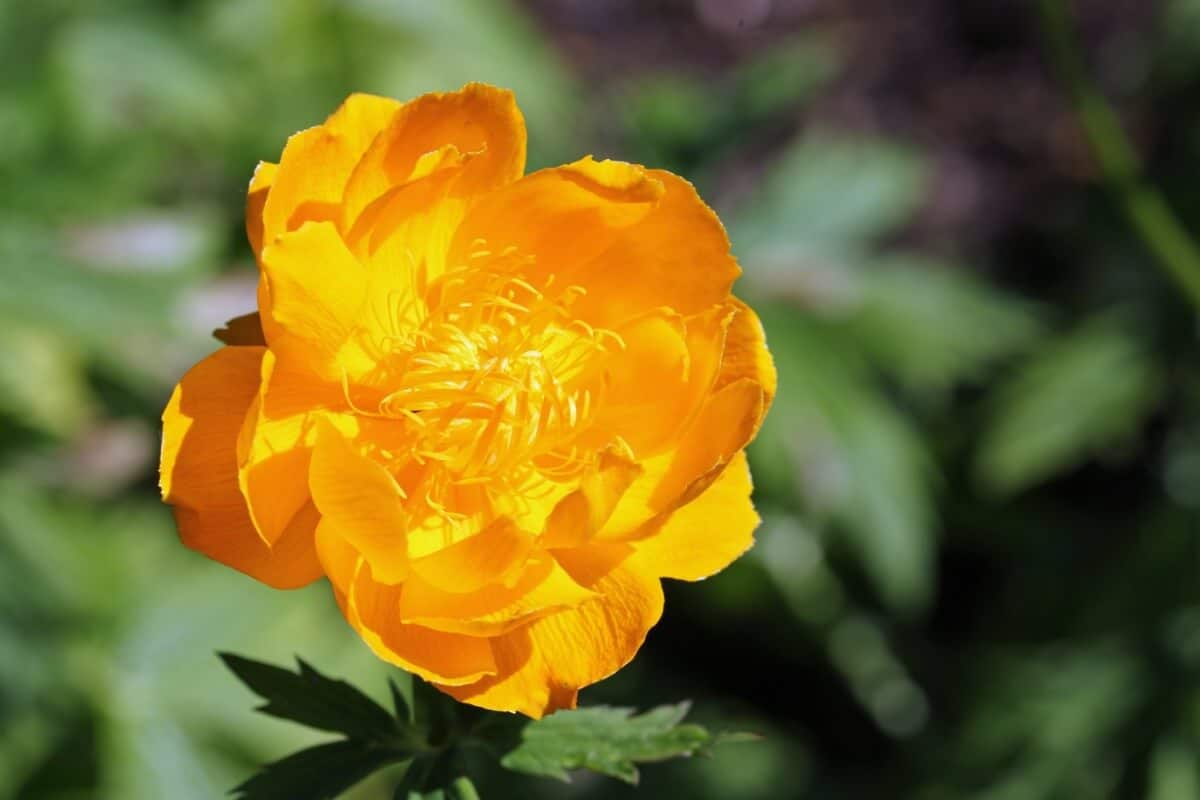 The golden-orange blooms of this Globeflower glow in the garden from late spring through early summer. Globeflower blooms are bowl-shaped and look like double buttercups on top of tall stalks. This is an elegant orange perennial that looks amazing planted along borders or in large groupings. Globeflower is an extremely low-maintenance plant that prefers moist, boggy soil.
Hardy to zones 3-8
Full sun or partial shade
Rabbit and deer resistant
Blanket Flower (Gaillardia)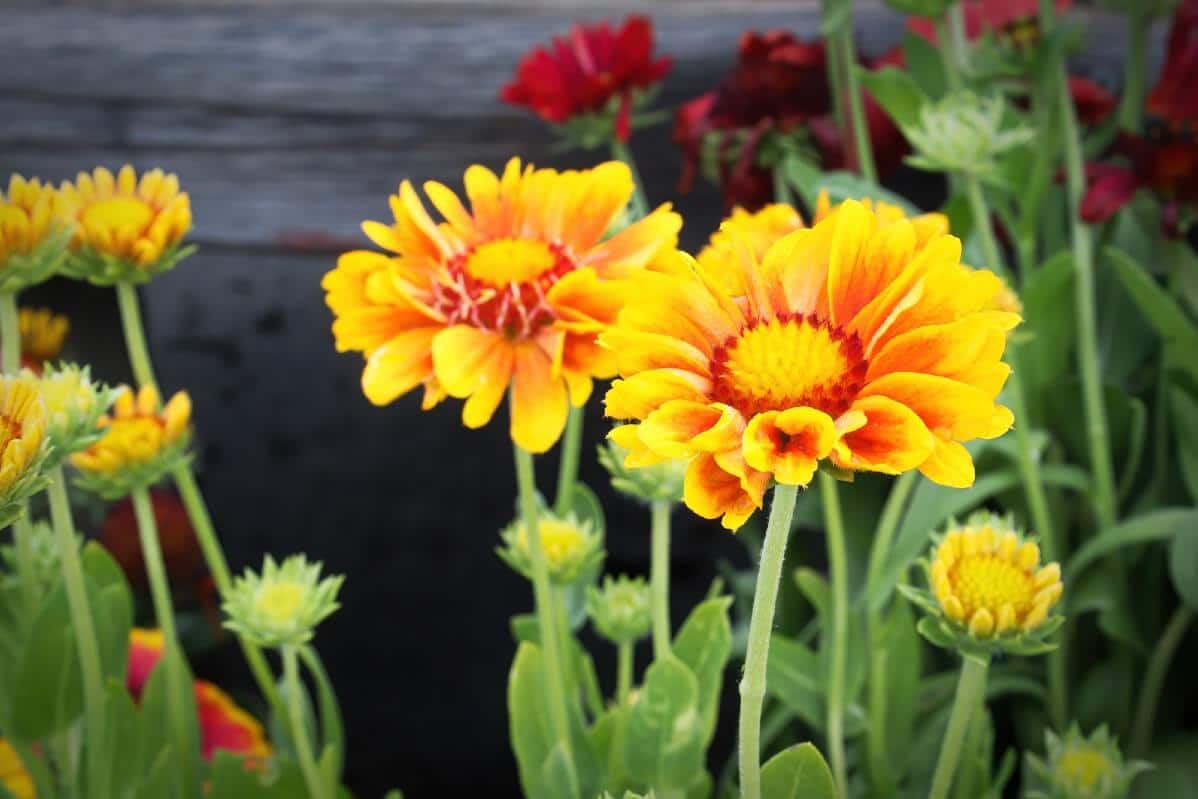 When you want mounds of brilliantly colored flowers to liven up the landscape, Blanket Flower delivers. The daisy-like flowers look like pinwheels with their tricolor markings and pointed petals. Blanket Flowers are festive, fun, and beloved by butterflies and hummingbirds. Blooming from early summer all the way through fall, Blanket Flower is rarely disappointing.
Orange-flowered Blanket Flower cultivars: Fanfare Blaze (orange-red), Oranges and Lemons (soft orange)
Hardy to zones 5-10
Full sun
Drought tolerant
Deer resistant
Butterfly Weed (Asclepias tuberosa)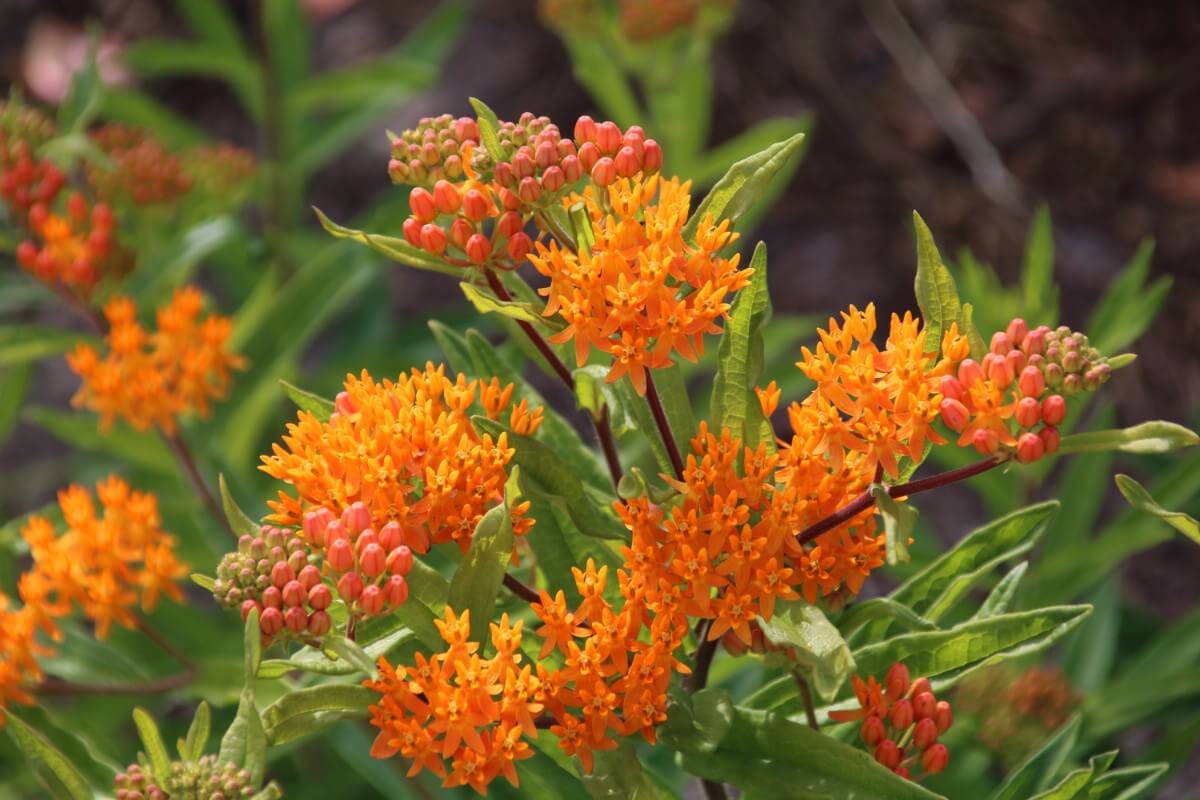 A bushy perennial with brilliant orange blooms, Butterfly Weed is named appropriately – butterflies can't resist it! Butterfly Weed flowers are tiny, fiery orange, and grow in dense clusters all summer long. This native perennial is a must for any wildflower garden, butterfly garden, or as an accent plant in the landscape. It's not just the butterflies who flock to this gorgeous flower; bees and hummingbirds are frequent visitors, too.
Hardy to zones 3-9
Full sun
Deer resistant
Native to most of the United States
Torch Lily (Kniphofia)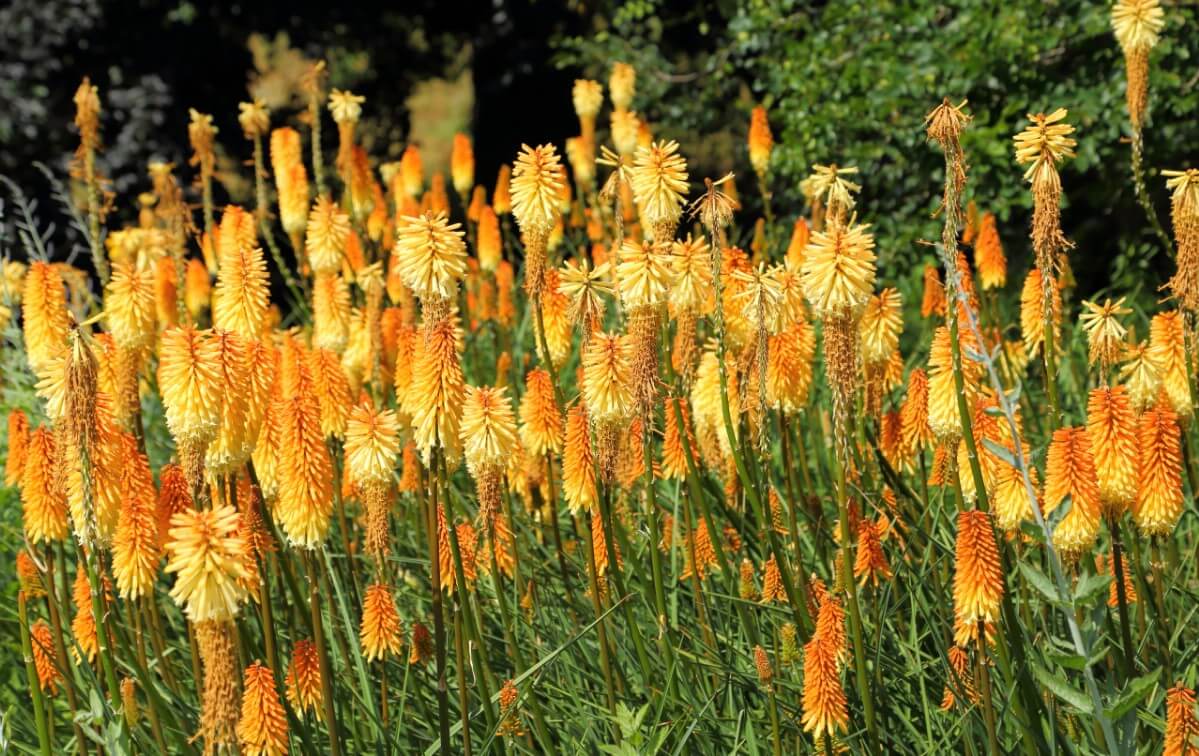 Bold and brilliant, Torch Lilies are a statement flower. Dense clusters of bright-orange flowers grow on tall spikes high above the foliage and command attention. Torch Lilies bloom from late spring into early fall, depending on the variety. The flowers change color as they mature, creating a distinctive bi-color look. Butterflies and hummingbirds adore Torch Lilies, too. Types range from 18 inches tall to 6-feet; choose a range of heights for an attractive summer display.
Orange-flowered Torch Lily cultivars: Alcazar (creamy orange), Elvira (bright orange), Nobilis (orange-red), Timothy (peachy orange), Poco Orange (burnt orange), Orange Blaze (fiery orange), Papaya Popsicle (orange-red)
Hardy to zones 5-9
Full sun
Deer, rabbit, and drought tolerant
Rock Rose (Helianthemum)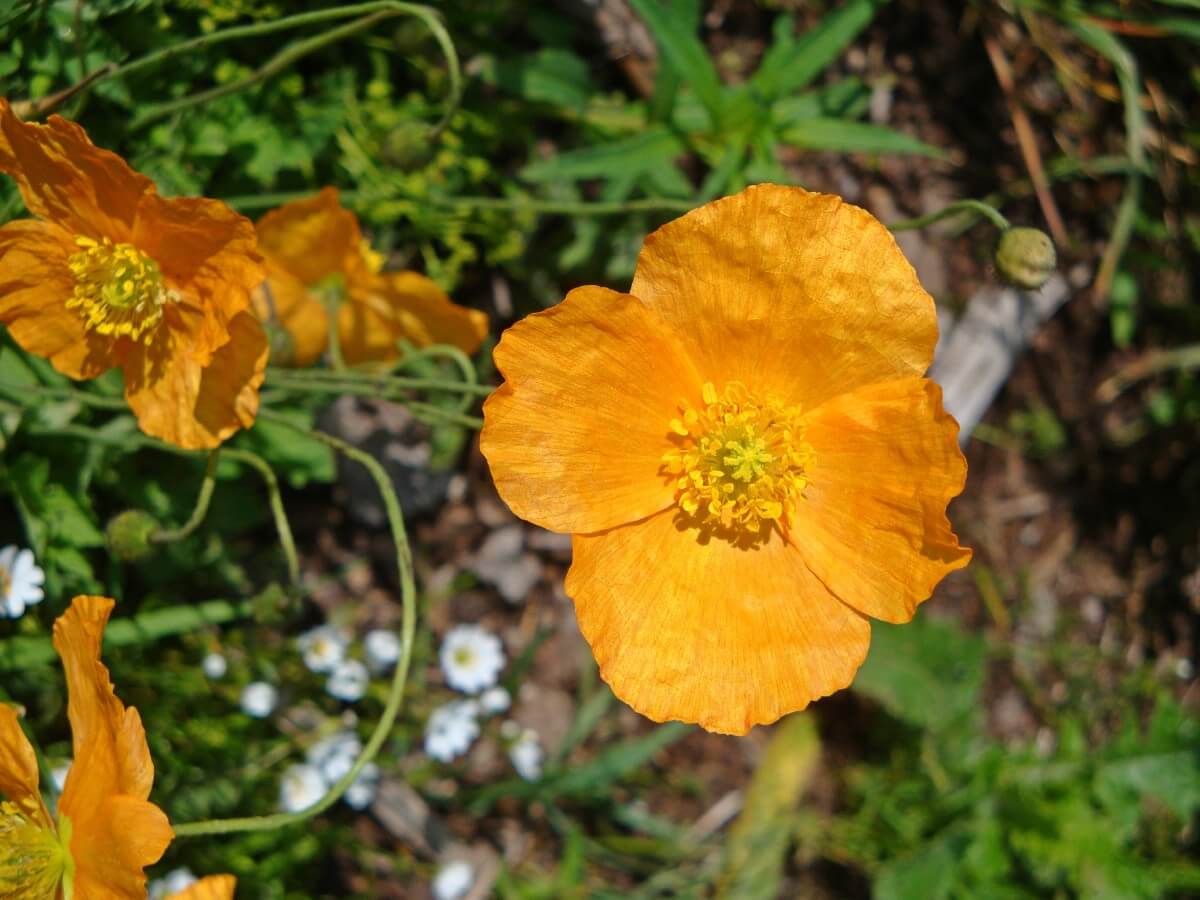 The showy rose-shaped flowers of Rock Rose are elegant and alluring with their crepe paper-like petals and shiny orange coloring. Rock Roses bloom abundantly and for months. Each flower lasts just a day, but there are so many buds there are always tons of blooms at any time. This is a low-growing perennial, averaging 6-8 inches tall. Rock Rose foliage is silvery green and attractive on its own as a ground cover.
Orange-flowered Rock Rose cultivars: Henfield Brilliant (bright tangerine orange), Ben Nevis (golden orange)
Hardy to zones 5-9
Full sun
Rabbit and deer resistant
Drought tolerant
Geum (Avens)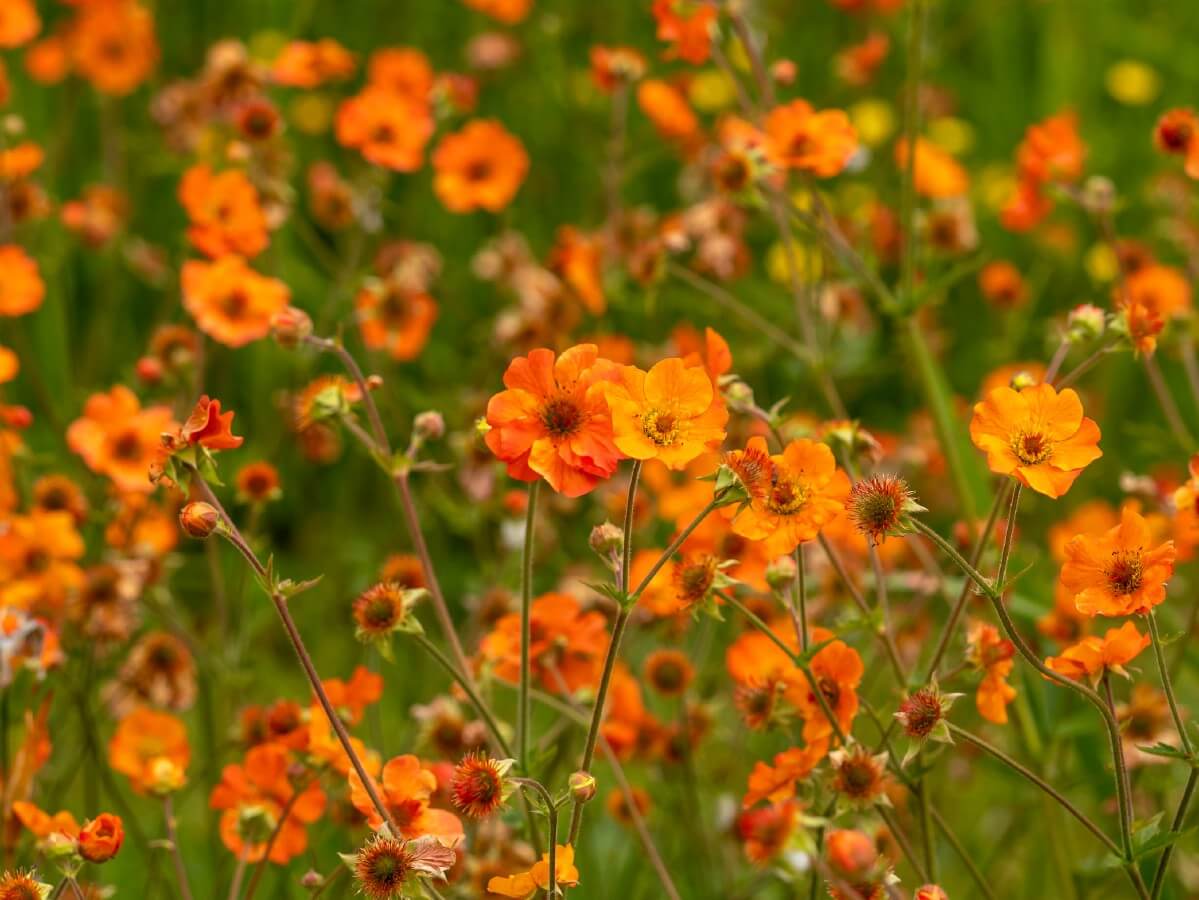 The clump-forming Geum produces prolific peach-colored flowers on top of tall, branched stems. Geum is a low-maintenance, adaptable perennial that looks incredible planted in clumps, along pathways, and in rock gardens. Bees, butterflies, and hummingbirds flock to the bountiful upward-facing cup blooms. Geum is a long bloomer, providing bold color to the garden from late spring into early summer.
Orange-flowered Geum cultivars: Prinses Juliana (semi-double, bright orange), Borisii (semi-double, deep orange), Fireball (semi-double, peachy orange), Fire Storm (semi-double, rich orange), Totally Tangerine (light peach)
Hardy to zones 5-9
Full sun or partial shade
Rabbit and deer resistant
Oriental Poppy (Papaver orientale)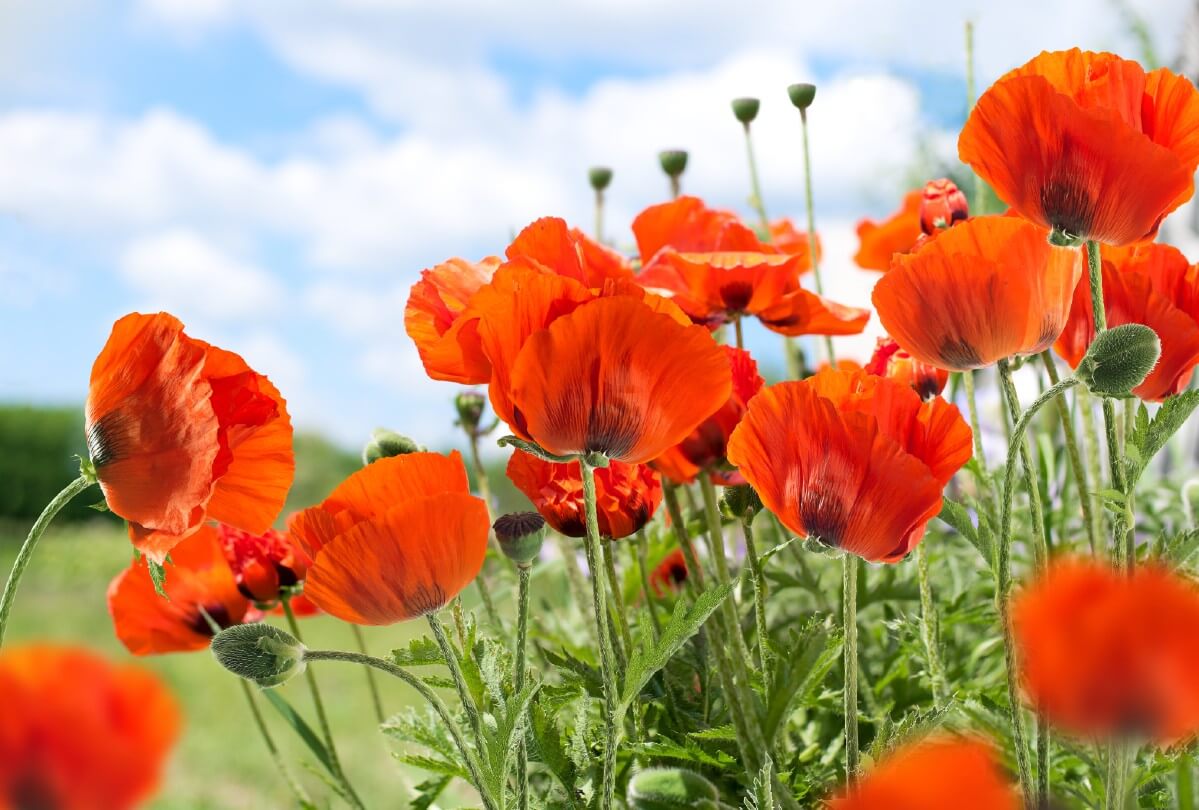 The enormous silky crepe-paper-esque bloom of Oriental Poppies is astounding; this is one flower that brings people and pollinators running. Oriental Poppy flowers are exquisite, exotic-looking, and wonderfully long-blooming. There are thousands of Oriental Poppy cultivars with a vast array of color combinations, including some outright stunning orange blooms. Even after they finish blooming, Oriental Poppies continue to amaze with highly attractive seedpods. Once established, Oriental Poppies are care-free and low-maintenance.
Orange-flowered Oriental Poppy cultivars: Eye Catcher (bright orange-red), Fireball (semi-double, bright orange), Prince of Orange (bright tangerine), Orange Scarlet (orange-red), Orange Glow (deep orange)
Hardy to zones 3-7
Full sun
Deer and rabbit resistant
Wallflower (Erysimum)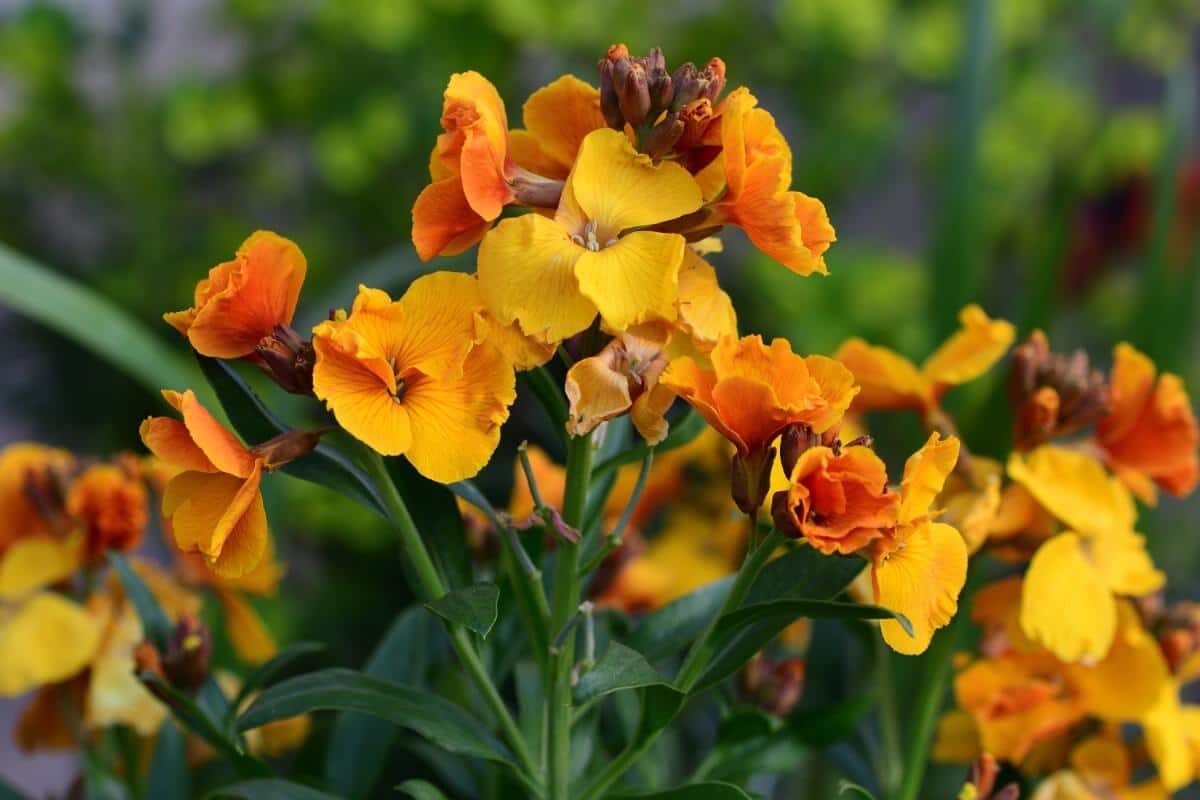 A short, compact plant, Wallflower puts on quite the show when in full bloom. The sweet-scented four-petaled orange flowers are brilliant against the dark green evergreen foliage from mid-spring through summer. Wallflowers are easy to grow, versatile plants that look incredibly gorgeous cascading down a wall or along a fence. This perennial is among the first spring bloomers, along with daffodils and crocus. Hummingbirds and butterflies appreciate the early array as much as we appreciate the burst of color after a long winter. Wallflowers get their name from their determined habit and tendency to sprout through cracks in cement and brick walls.
Orange-flowered Wallflower cultivars: Apricot Twist (light orange), Walberton's Fragrant Sunshine (bright orange), Orange Bedder (rich orange), Fire King (orange-red)
Hardy to zones 6-9
Full sun
Deer resistant
Turk's Cap Lily (Lilium superbum)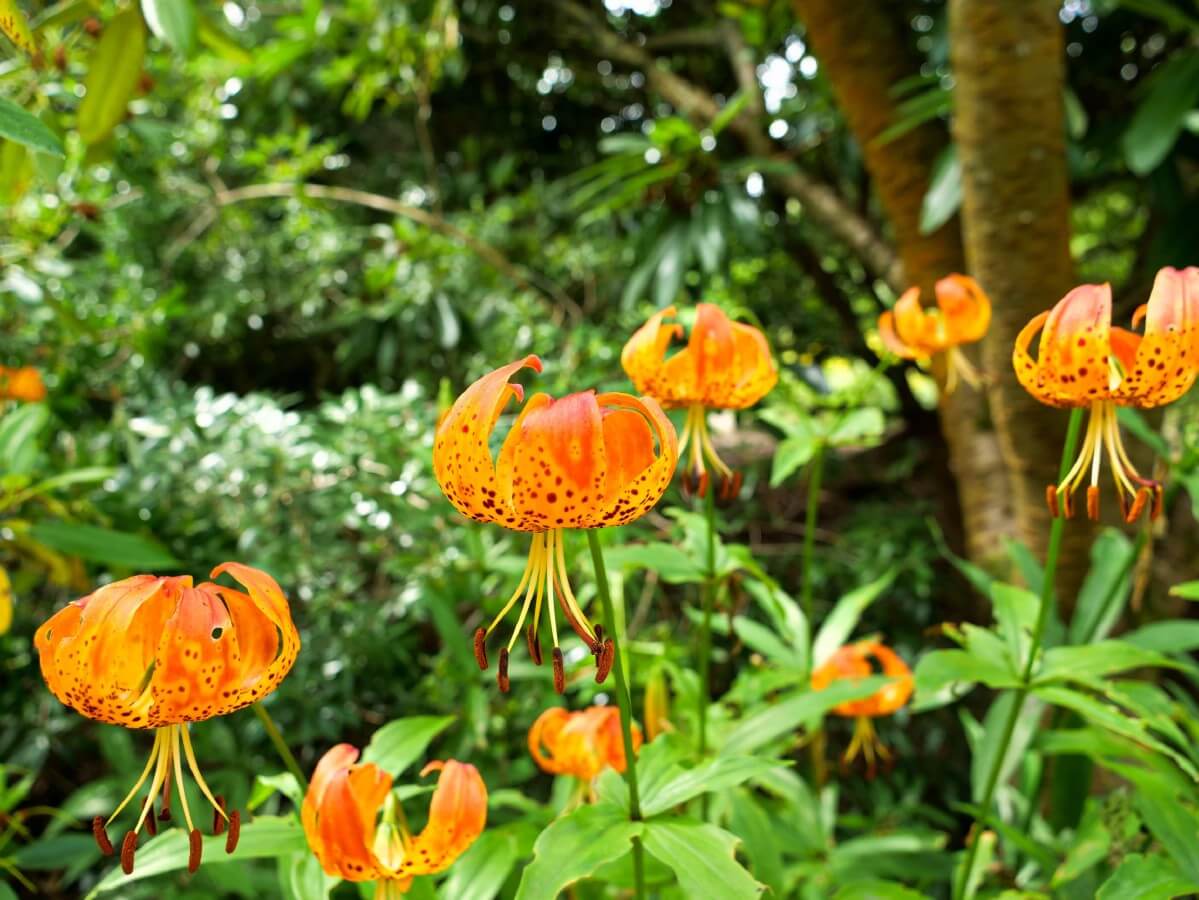 A spectacular native wildflower, the Turk's Cap Lily will put on a pageant every summer. The bright tangerine-orange flowers with maroon freckles appear atop tall stalks in abundant numbers. Turk's Cap Lily blooms are downward-facing, nodding with petals curled upwards, which gives the appearance of a fancy hat. The crimson red stamens stretch downwards, adding an exotic appeal to this already outstanding flower. Once established, Turk's Cap Lilies are prone to form colonies and are frequently visited by hummingbirds and butterflies.
Hardy to zones 4-7
Full sun or partial shade
Native to the eastern United States
Falling Stars (Crocosmia)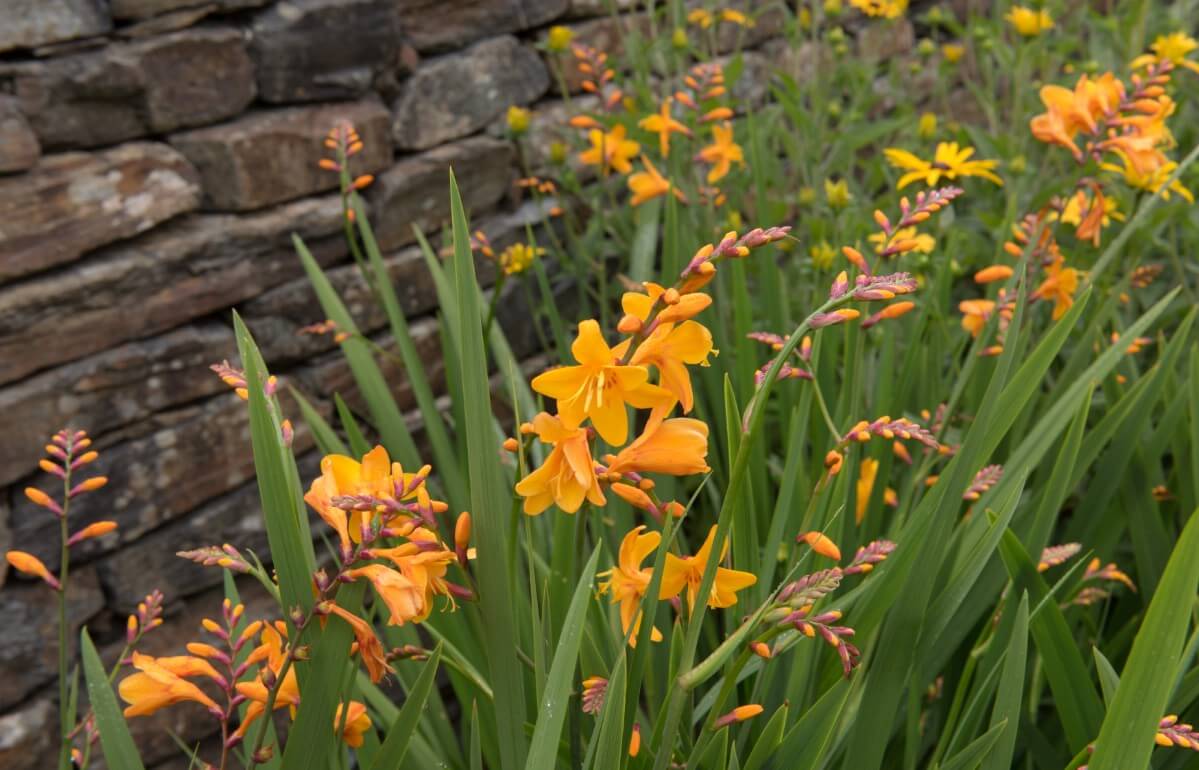 An exotic-looking show stopper bloom, Falling Stars flowers provide vibrant splashes of color to the garden. Falling Star's foliage is deep green with sword-shaped leaves that form dense clumps. The flower stalks arch up above the foliage in a long-drooping array, with each stem lined with a dozen rich orange tubular flowers. The contrast of orange flowers against green foliage is quite stunning. Hummingbirds love this perennial!
Orange-flowered Falling Stars cultivars: Bright Eyes (bright orange), Meteore (golden orange), Emily Mckenzie (bright orange), Star of the East (tangerine orange)
Hardy to zones 5-9
Full sun or partial shade
Drought, salt, heat, and humidity tolerant
Deer and rabbit resistant
Blackberry Lily (Iris domestica)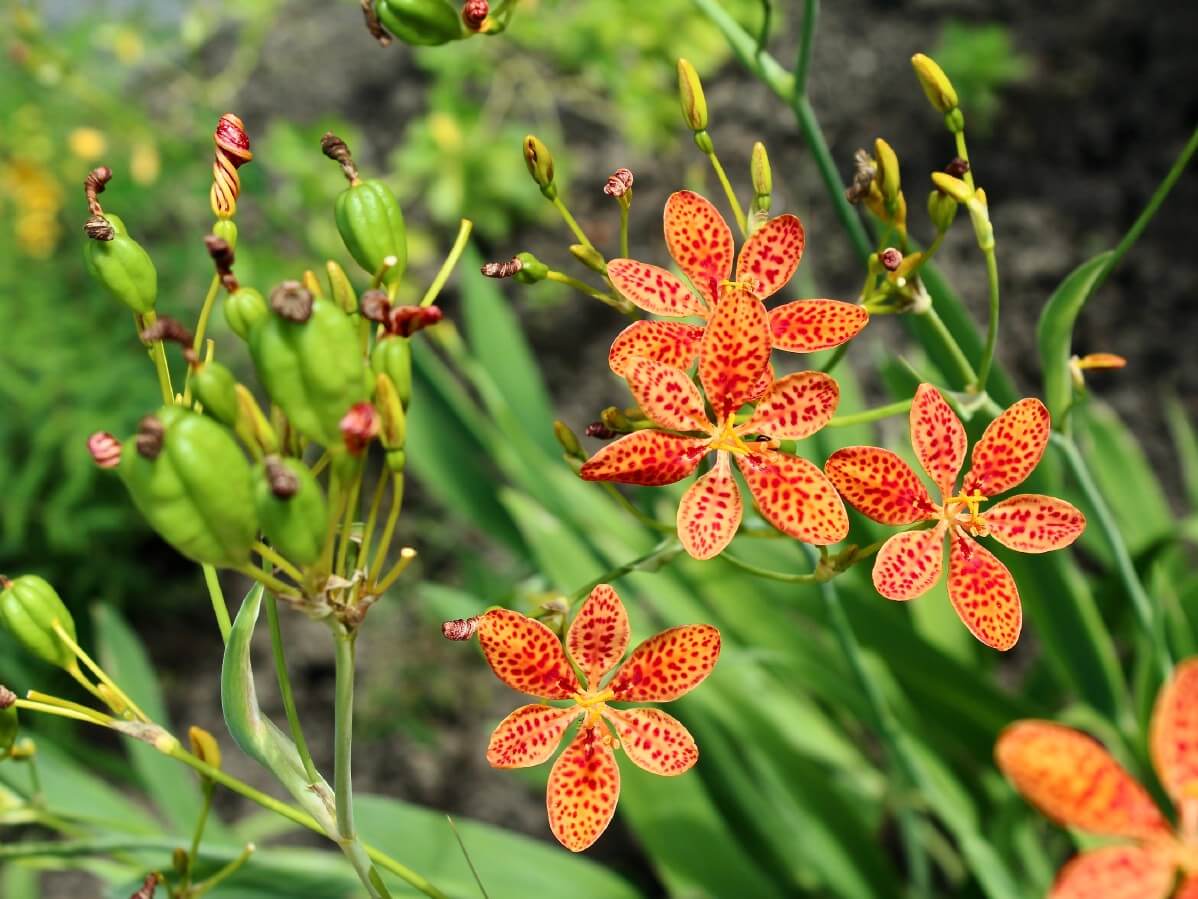 The upward-facing elegant orange freckled Blackberry Lily flowers make an excellent centerpiece in the landscape. Each flower features 6 broad, flaring, yet delicate-looking, bright orange petals dotted with crimson red spots. Blackberry Lily foliage is simple, with green sword-shaped leaves that are the perfect backdrop when this perennial is in bloom. Plant this gorgeous flower where it will be seen; you don't want to miss this one when it blooms. After blooming, seed pods form and split open to display large shiny black seeds – this is how it got the name, Blackberry Lily.
The original Blackberry Lily has reddish-orange petals with deep red spots. The "Freckle Face" variety features bright-orange petals with red dots.
Hardy to zones 5-10
Full sun or partial shade
Tickseed (Coreopsis)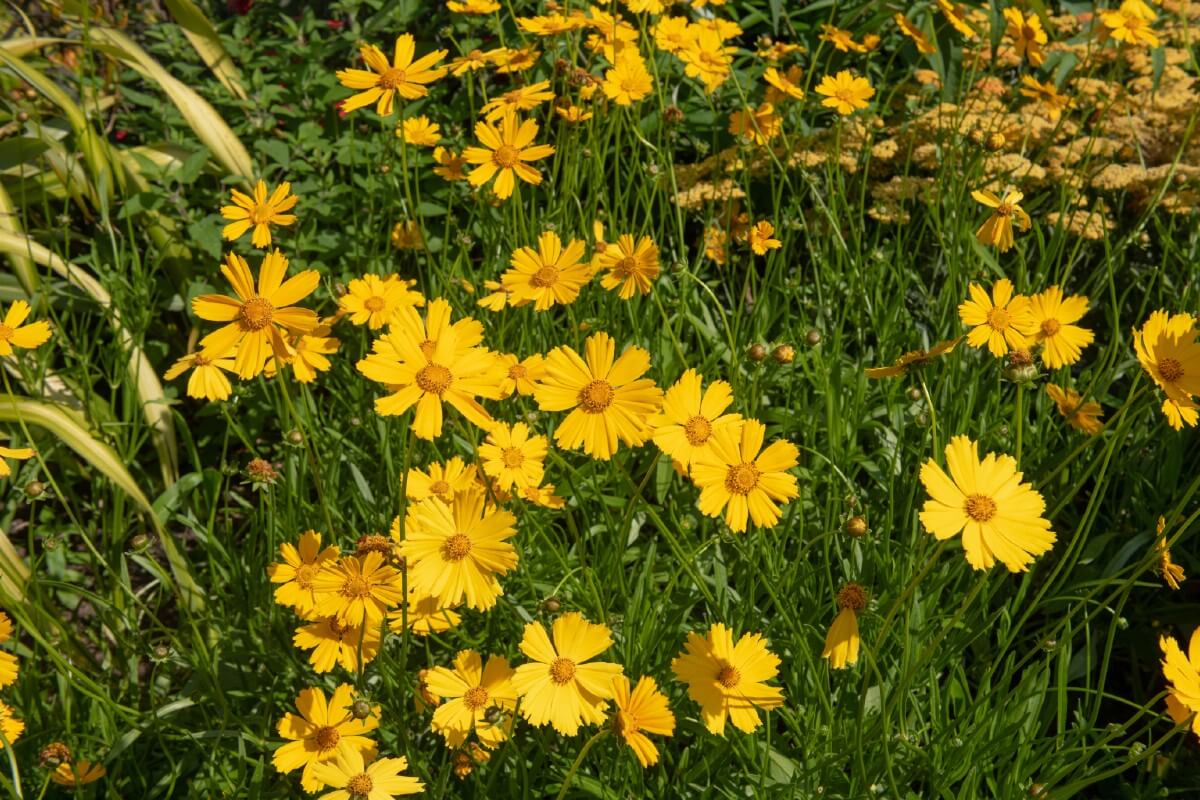 Tickseed is one of the finest, brightest, easy-to-grow native flowers. It blooms for months in large mounding clumps of brilliant color and appeal. Tickseed flowers are daisy-shaped with notched petals and are frequently visited by hosts of butterflies and bees. This unfussy, low-maintenance native perennial is a must for any wildflower garden and looks stunning planted en masse.
Orange-flowered Tickseed cultivars: Darling Clementine (deep orange), Orange Elf (orange and yellow), Tropical Lemonade (rosy orange), Desert Coral (coral orange and red), Sienna Sunset (apricot-orange), Mango Punch (peachy orange and red)
Hardy to zones 3-10, depending on cultivar
Full sun
Drought tolerant
Deer resistant
Sneezeweed (Helenium)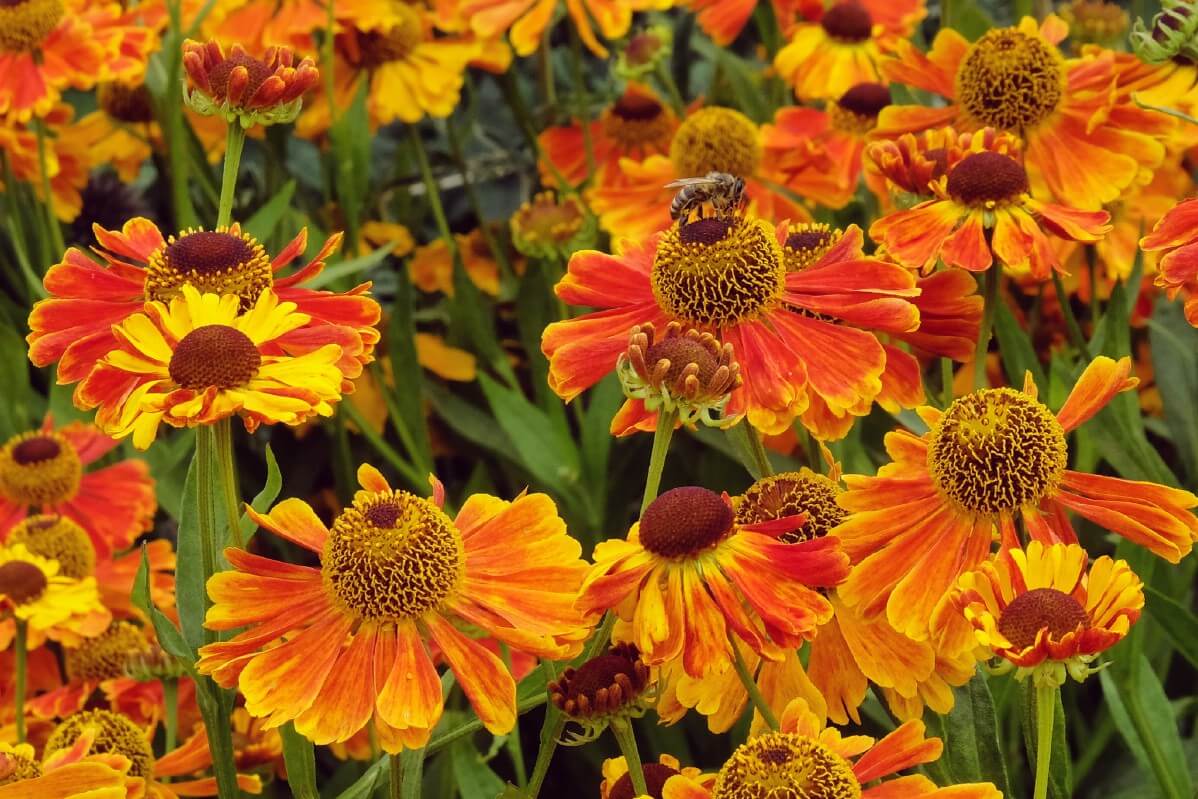 It won't make you sneeze, and it's not a weed. What Sneezeweed will do is turn your landscape into an ocean of brilliant colors. This native perennial with daisy-like flowers and show-stopping colors is stunning in full bloom. Sneezeweed flowers for months, from early summer through fall. This tall perennial grows to 3-5 feet, ensuring you and all the happy pollinators will not miss them at the height of flowering. Plant Sneezeweed in small groups or use it as a border or edging plant.
Orange-flowered Tickseed cultivars: Flammenrad (orange-red), Luc (orange-red), Mardi Gras (orange and yellow bi-color), Sahin's Early Flowerer (orange-red), Waltraut (copper orange), Short and Sassy (golden orange)
Hardy to zones 3-8
Full sun
Deer resistant