Native perennial plants and flowers deserve a treasured place in any landscape. Perennials native to North America play a vital role in increasing garden health, improving the environment, and adding beauty.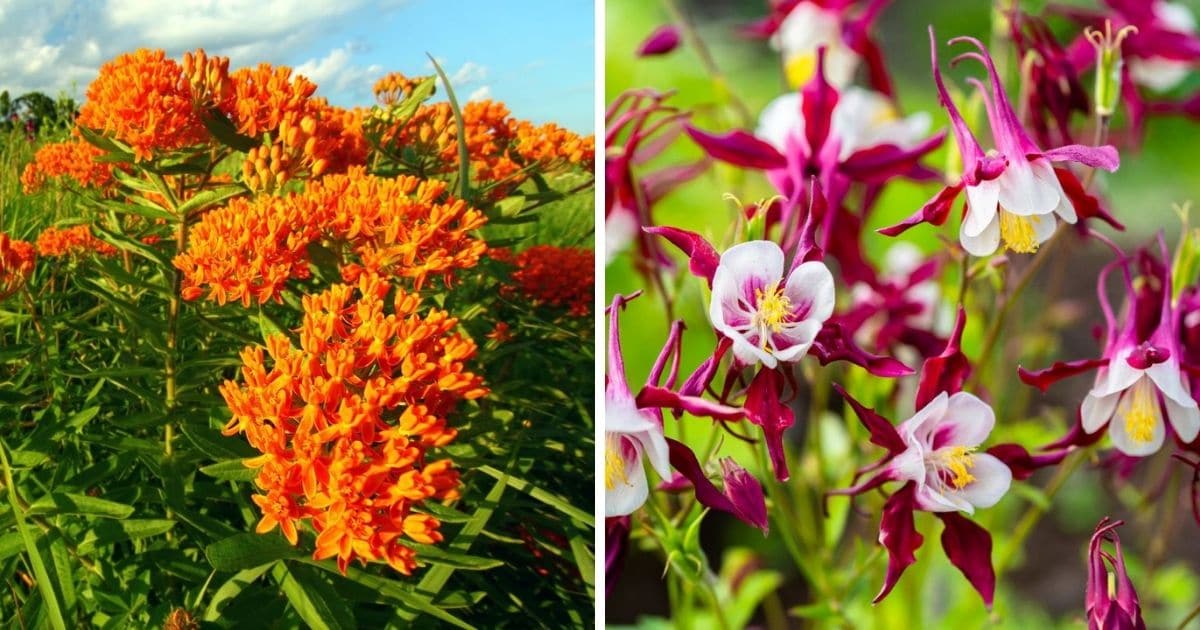 These native perennials grow naturally in North America; they're adaptable, low maintenance, and hardy – essential assets in any garden.
Jump to:
The Benefits of Native Perennials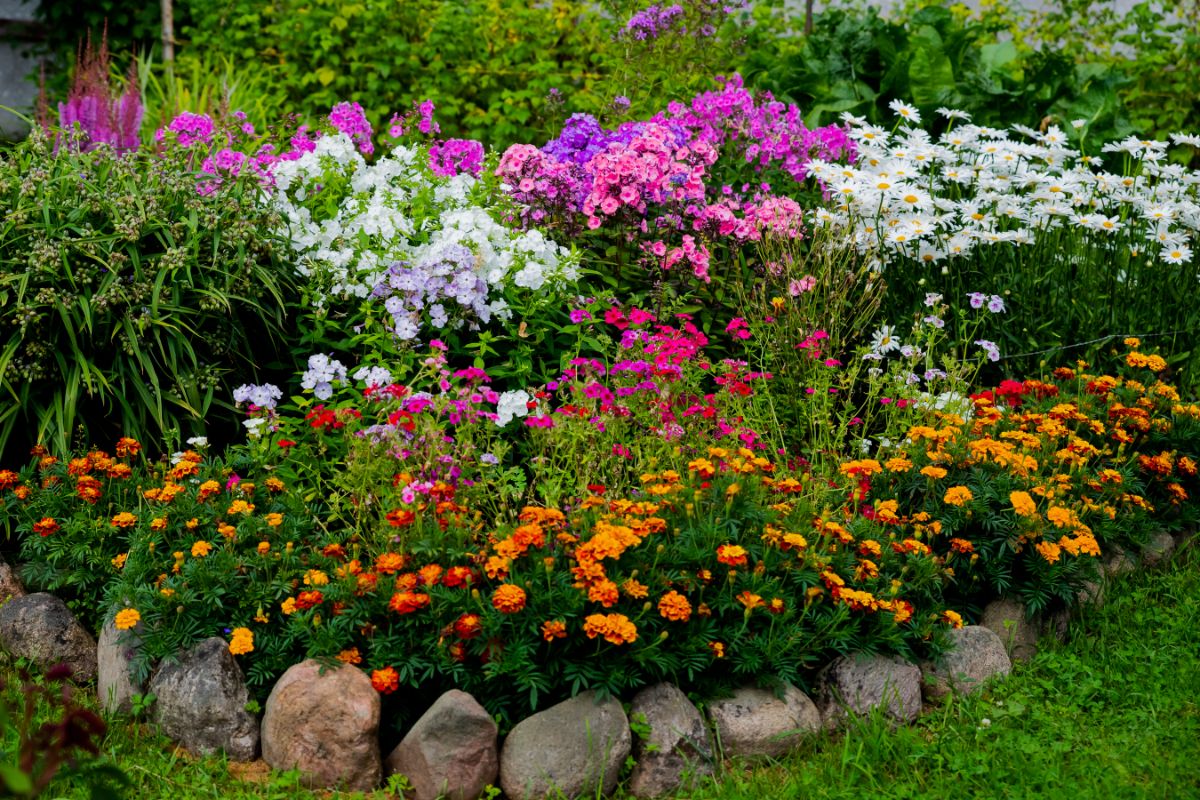 Easy To Grow: Because they naturally occur in the region, native perennials have adapted to the climate and surroundings. They don't need a lot of pampering or special care to thrive. This is especially advantageous if you don't have a lot of time to care for a garden.
Attract Pollinators: Butterflies, bees, and other pollinating insects and birds have preferences. Native pollinators, in particular, need native plants – it's what they have evolved to live from, and without them, they are dying out. Pollinators have mutually beneficial relationships with native plants and rely on them for habitat and food.
In addition to benefiting the pollinators, attracting beneficial insects is good for garden growth. More pollinators lead to a more successful garden.
Tough: Native perennials adapt to climate changes readier than non-native species. They are better acclimated to temperature fluctuations, rainfall imbalances, drought, and humidity.
Use Less Resources: Since they are more drought-tolerant, native plants don't require as much additional watering. This reduces the toll on our water system and is also beneficial personally if you are paying for water.
Support Biodiversity: Native plants evolved alongside other essential members of the regional ecosystem, including mammals, birds, reptiles, amphibians, and insects. They are a community of interconnected and interdependent species. When one is out of balance, it causes ripples throughout the environment.
Many non-native plants don't interact with the natural environment in the same way, providing no benefit to native animals or plants. In fact, many non-native plants harm the environment by becoming invasive or displacing native plants in the wild.
Things To Know Before Planting Perennials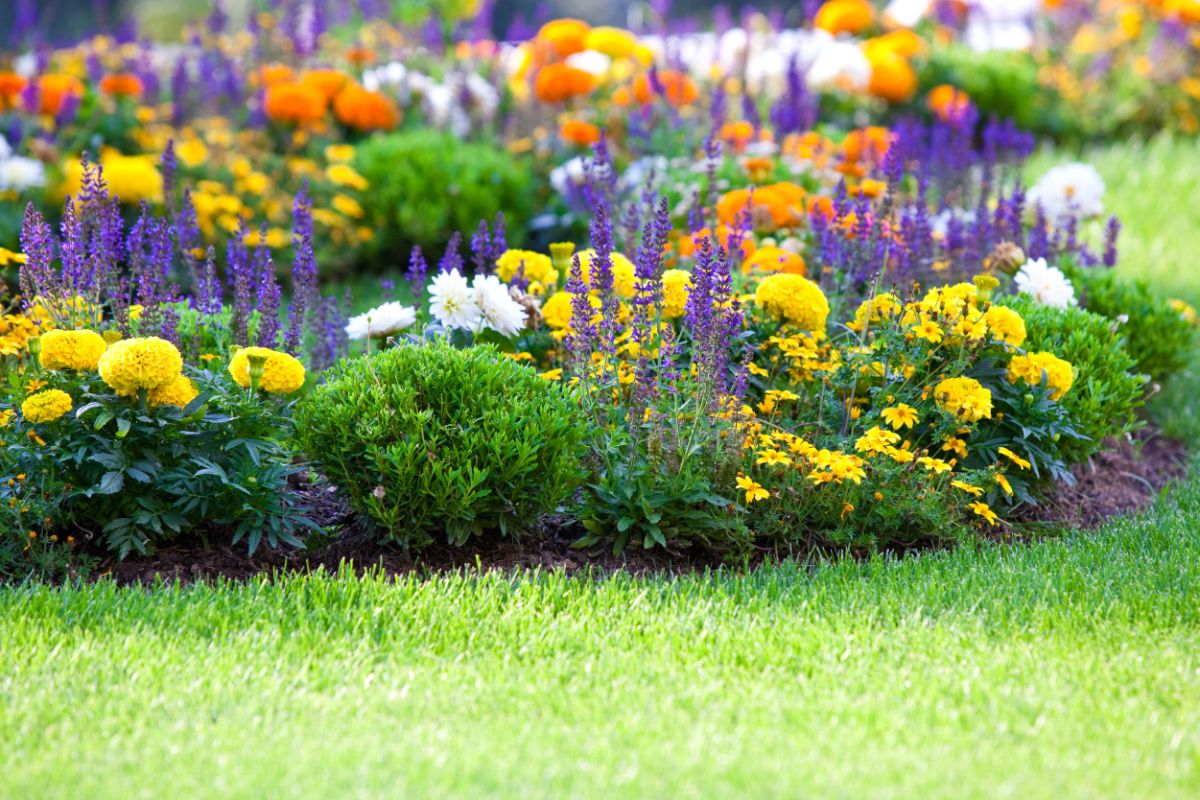 Not all plants grow well everywhere, even if they are native. Check your USDA hardiness grow zone and the native range of the species before planting anything. This list covers natives that grow in a wide range across North America, but all may not suit your particular situation.
Some perennials thrive for decades, so take care in deciding where to plant them. This isn't the case with all native plants, some only grow 2-5 years, but it varies with every species.
Top 18 Flowering North American Native Perennials
Blanket Flower (Gaillardia)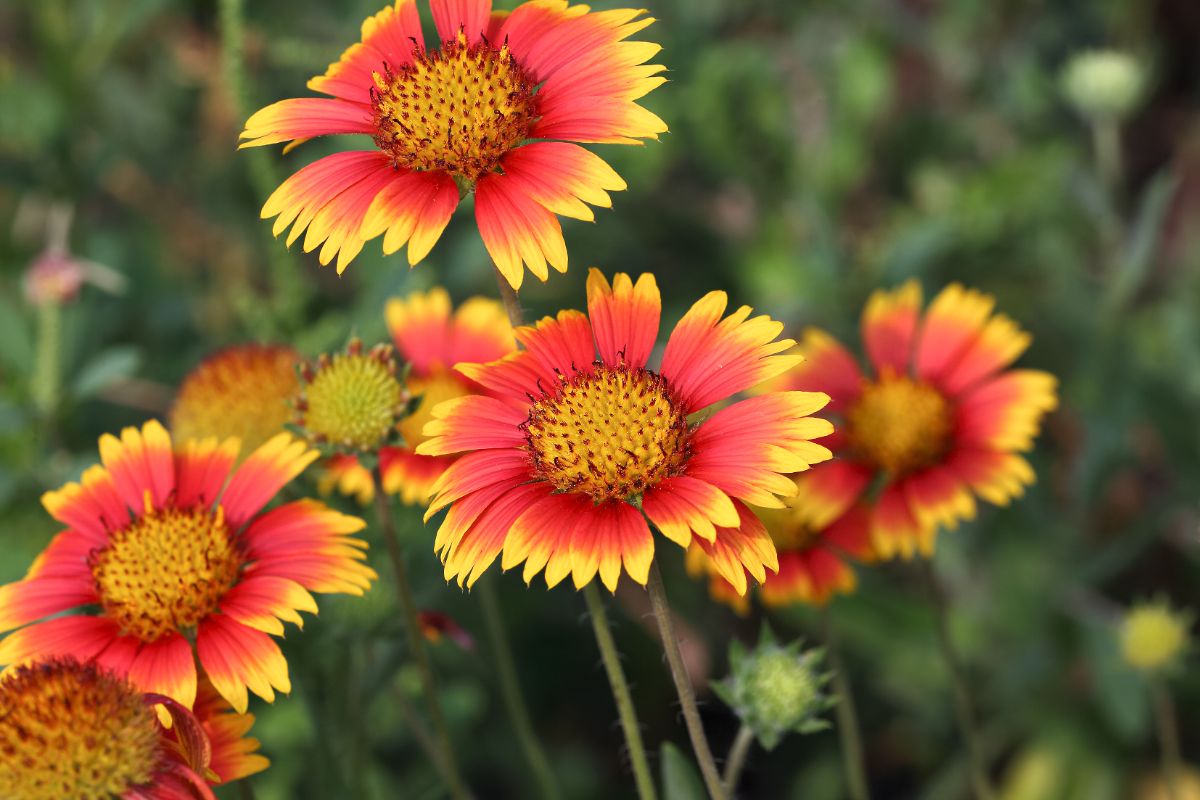 The multi-colored daisy-like blooms of the Blanket Flower are a stunning addition to the garden. This is a favorite of butterflies, hummingbirds, and bees; they flock to the scarlet, orange, and red petals. Blanket Flower is exceptionally resistant to drought, heat, and humidity.
Blooms resemble a bi or tricolor pinwheel. They are incredibly hardy, dependable, and flower for months. Not all Blanket Flowers are perennials; there are annuals, too, so double-check before adding them.
The Bina Flower Moth, Blanket Flower Moth, and Painted Schinia Moth all rely on species of Blanket Flower as food for their caterpillars.
Hardy to zones 3-9
Native to the southwestern United States, many species naturalized across the entire country
Anise Hyssop (Agastache foeniculum)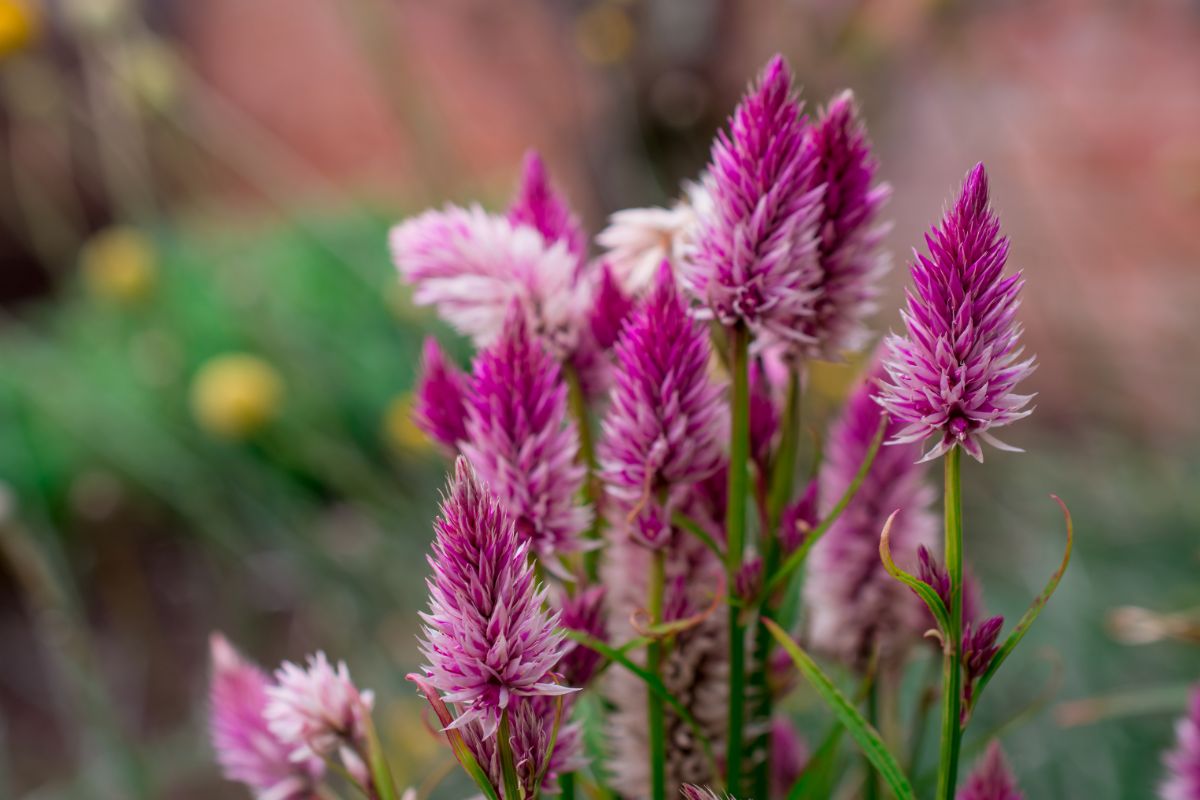 The sweet minty licorice fragrance of Anise Hyssop is enough reason to plant this native perennial wildflower. However, Anise Hyssop is also beautiful with its stems of fluffy purple flowers that last for months. Butterflies, hummingbirds, and bees adore this native for its abundant nectar, sweet scent, and extremely long bloom time.
Anise Hyssop is hardy, drought-tolerant, and generally pest resistant. It grows in full sun or partial shade in a wide range of soils.
Hardy to zones 3-6
Native to the Northwest but naturalized across most of North America
Celandine Poppy (Stylophorum diphyllum)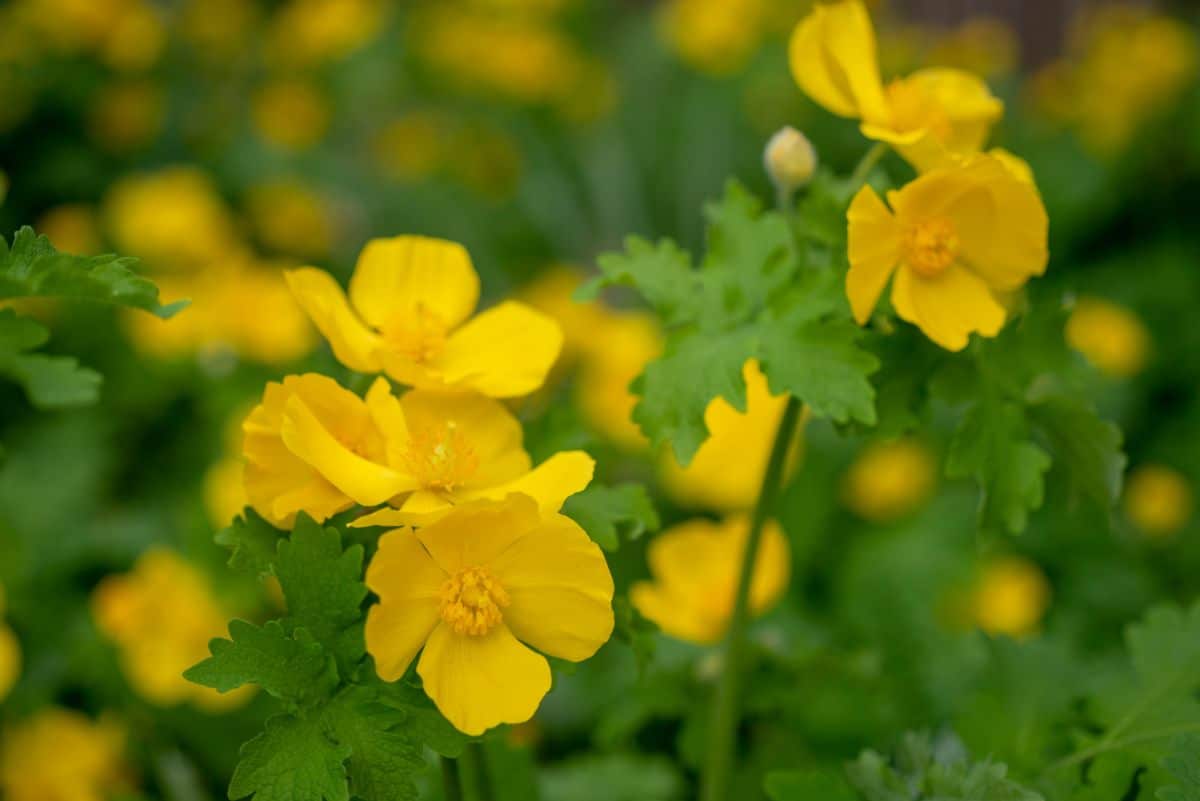 Also commonly known as Wood Poppy, this native flower produces stunning small buttery yellow poppy-like flowers. Celandine Poppy is a low-growing perennial and thrives in full or partial shade, making it an excellent choice for hard to plant areas.
The flowers grow in a small cluster above lovely deeply lobed gray-green leaves.
Hardy to zones 4-9
Native to the Mid-Atlantic, Midwest, and parts of the southeast
Coneflower (Echinacea purpurea)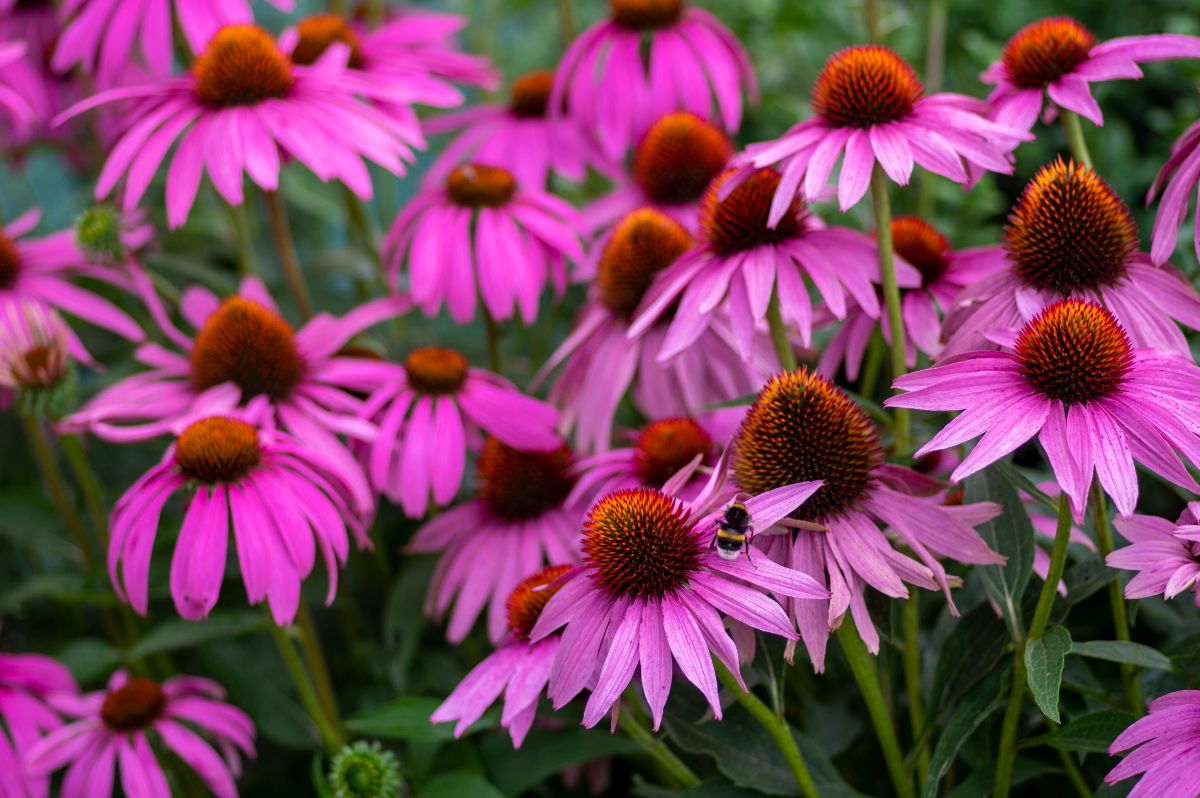 The showy blooms of native Coneflower last all summer into fall and attract a vast variety of pollinators. Coneflower is exceptionally hardy, drought-resistant, and tolerant of poor soils. It grows in full sun or partial shade and gets quite tall, averaging 1-3 feet high.
Coneflowers are usually purple, but there are a ton of beautiful cultivars in an array of colors, ranging from orange to yellow to pink. They're all stunning! Hummingbirds, bees, and butterflies love this native perennial, and in fall, local birds eat the seeds.
Hardy to zones 3-8
Native to the Northeast, Midwest, Southeast, and parts of the Southwest
Creeping Phlox (Phlox subulata)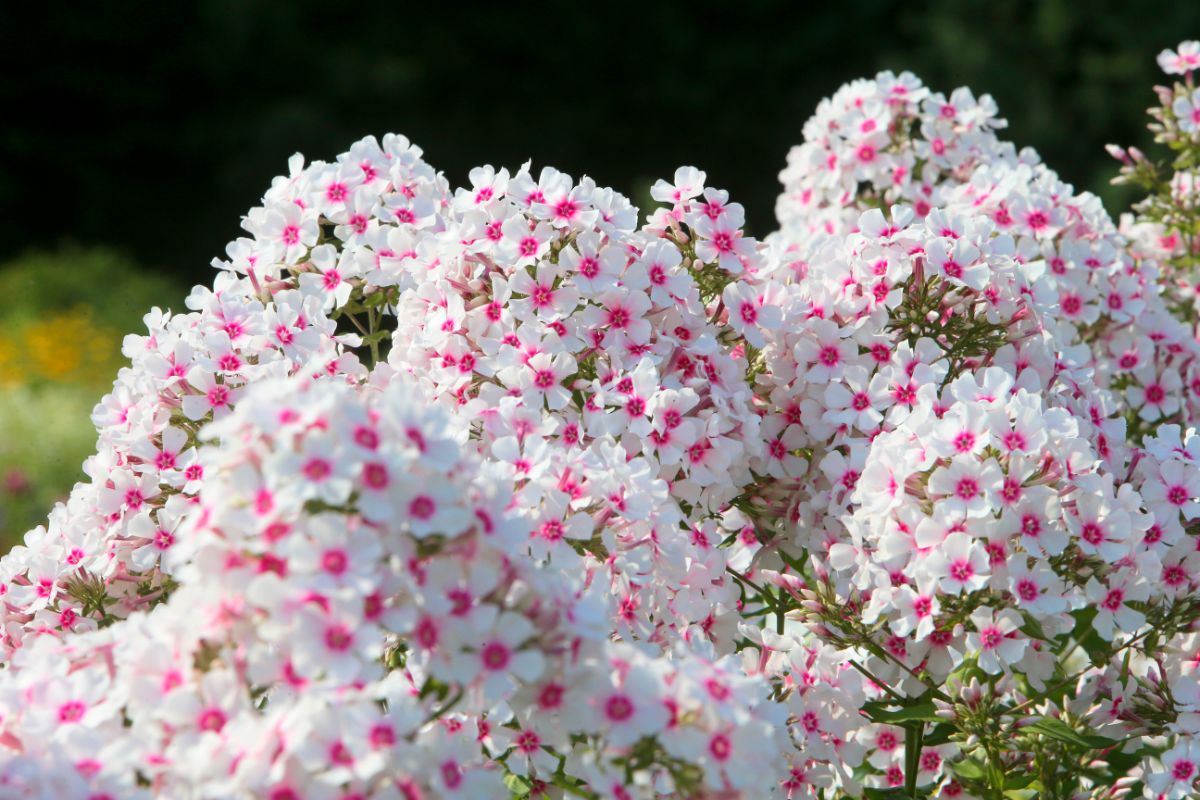 Featuring brightly-colored starry flowers above a mat of needle-like dark green foliage, Creeping Phlox knows how to make a statement. It doesn't grow tall, averaging 3-6 inches in height, but when it blooms, the flowers are so prolific it is like a carpet of color.
Creeping Phlox grows well in rocky, somewhat dry, or sandy places, as well as along slopes. It is highly adaptable and drought-tolerant. Creeping Phlox spreads naturally in good growing conditions, creating a charming and neat ground cover.
Hardy to zones 3-9
Native to the Northeast, Midwest, and Southeast
Balck-Eyed Susan/Orange Coneflower (Rudbeckia fulgida)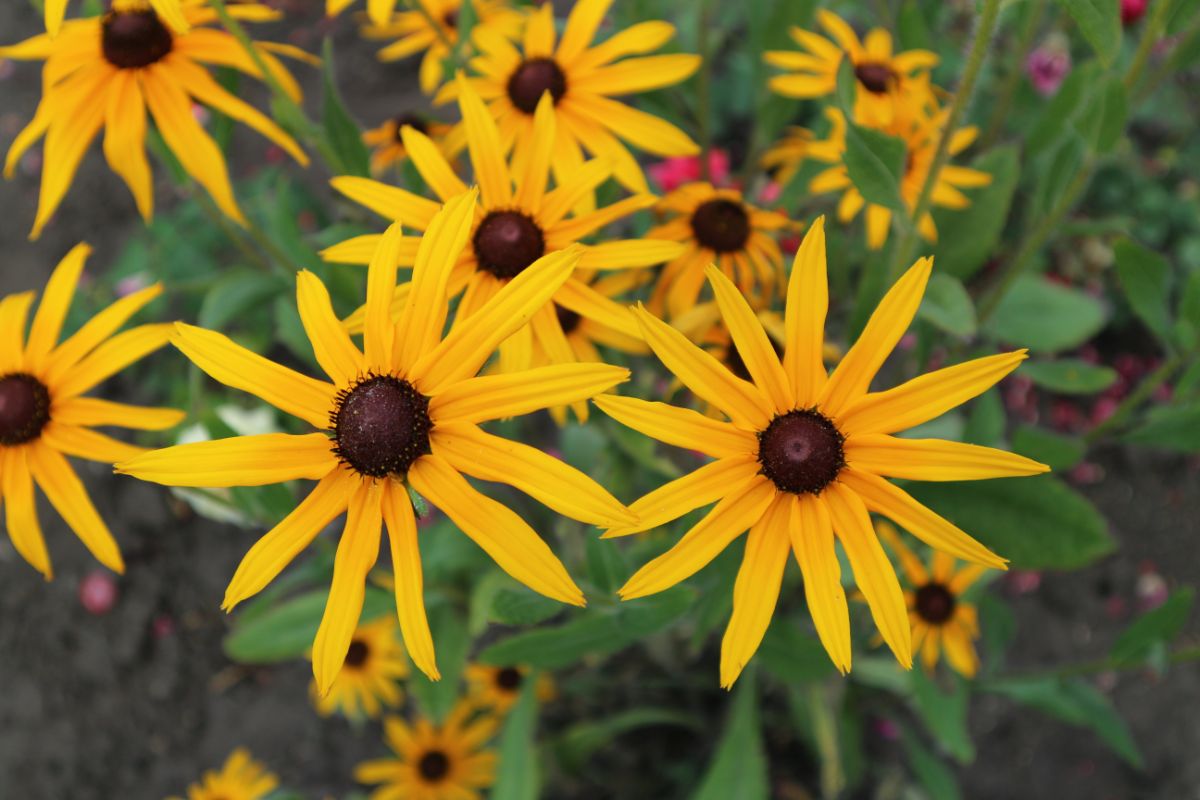 The golden-orange daisy-like flowers with a raised dark brown center make Orange Coneflowers (also commonly known as Black-Eyed Susans) a ray of sunshine in the garden. This native perennial is fuss-free, drought-resistant, poor soil tolerant, and rarely bothered by pests. In addition to their striking color, Orange Coneflowers are also a magnet for beneficial insects.
Native bees, in particular, seek out Orange Coneflower blooms. These perennials flower profusely throughout the summer and grow tall, 2-4 feet high.
Hardy to zones 3-9
Native to the Northeast, widespread throughout the southeast and mid-Atlantic
Blue Cardinal Flower (Lobelia siphilitica)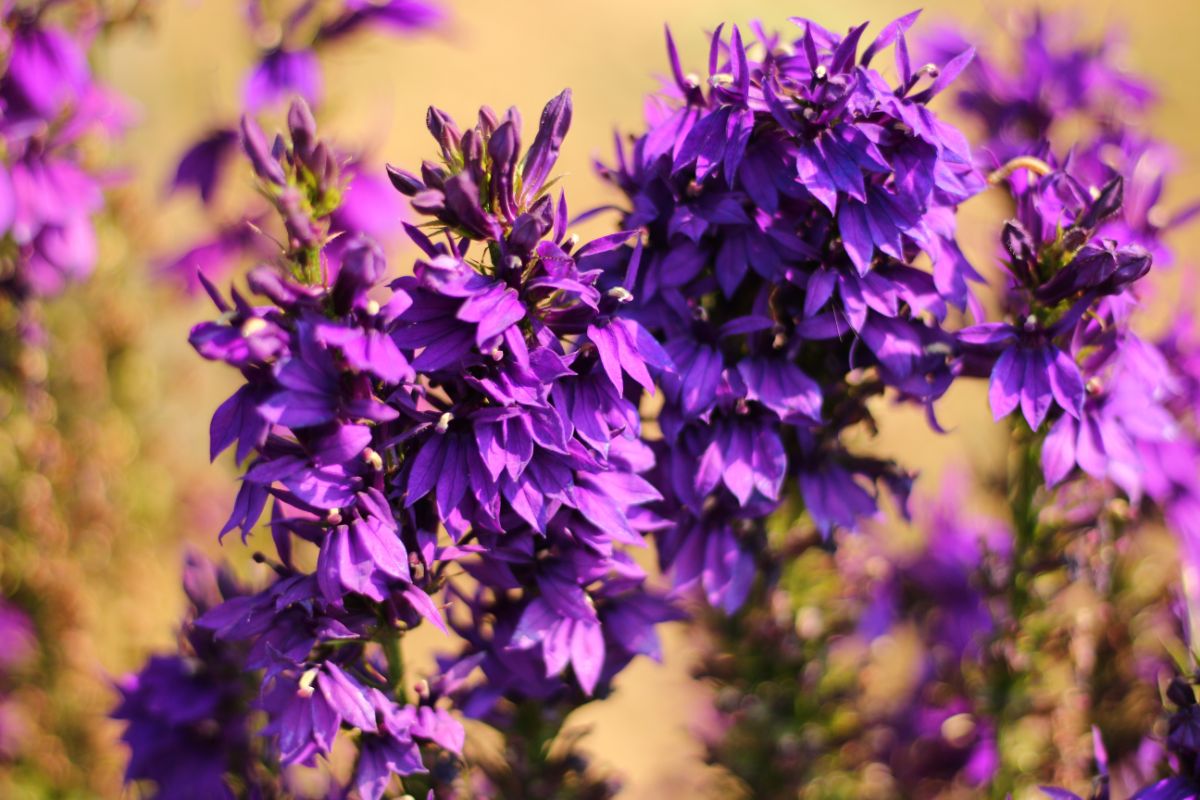 An extra tough native perennial, Blue Cardinal Flower is treasured for its abundant beaming blue tubular flowers and late-season growth. The flower stalks grow 2-3 feet tall, adding an excellent vertical aspect to the landscape. Blue Cardinal Flowers are loved by hummingbirds, butterflies, native long-tongued bees.
The Blue Cardinal Flower is a short-lived perennial, but it readily self-seeds in ideal growing conditions. It grows in full or partial shade and prefers moist to wet soils. This is a low-maintenance native that isn't often bothered by disease or pests.
Hardy to zones 4-9
Native to the Midwest, Northeast, Southeast, and Southwest
Red Cardinal Flower (Lobelia cardinalis)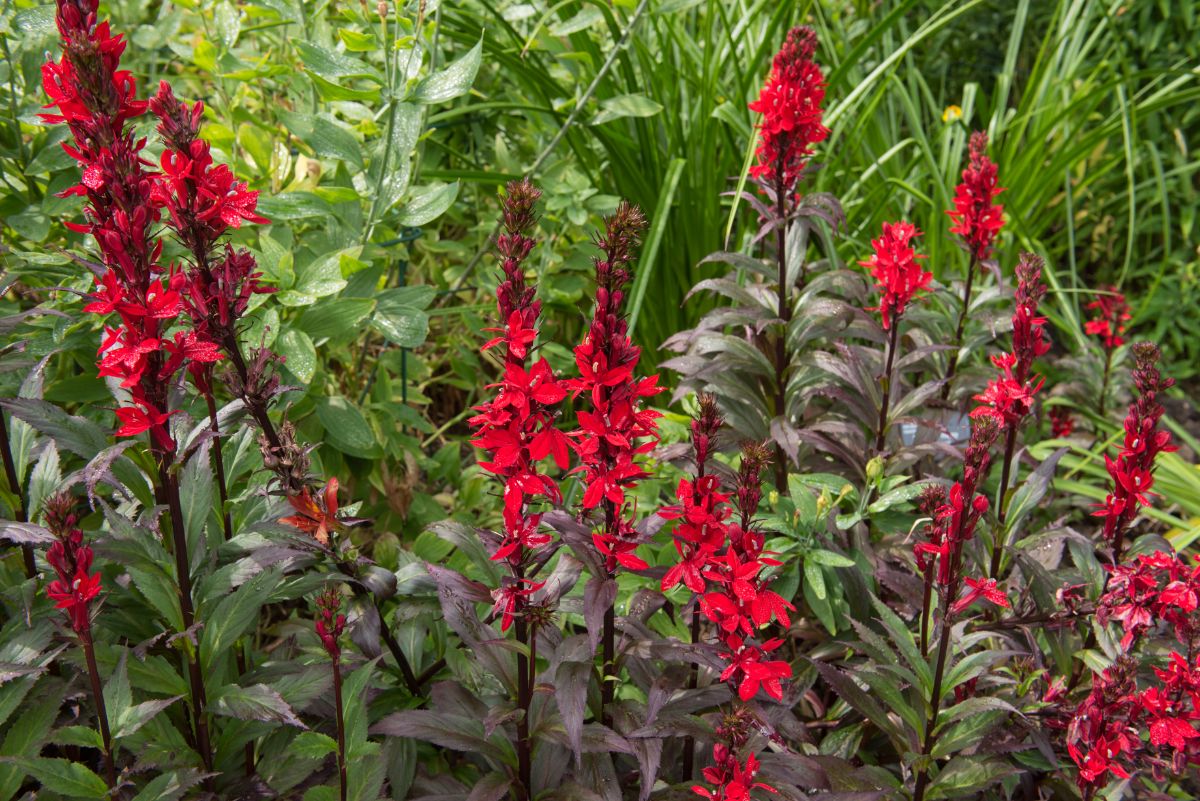 The bright red two-lipped blooms of the Cardinal Flower look like dozens of vivid butterflies perched on the tall stems. Cardinal Flower plants grow 2-4 feet tall and add brilliant pops of color to the landscape. Hummingbirds and butterflies flock to Cardinal Flower, specifically the ruby-throated hummingbird.
Besides being dazzling in the garden, Red Cardinal Flower is hardy, fuss-free, and deer resistant. It prefers moist to soggy soil and does well in full or partial shade.
Hardy to zones 3-9
Native to the Midwest, Northeast, Southeast, and Southwest
Butterfly Weed (Asclepias tuberosa)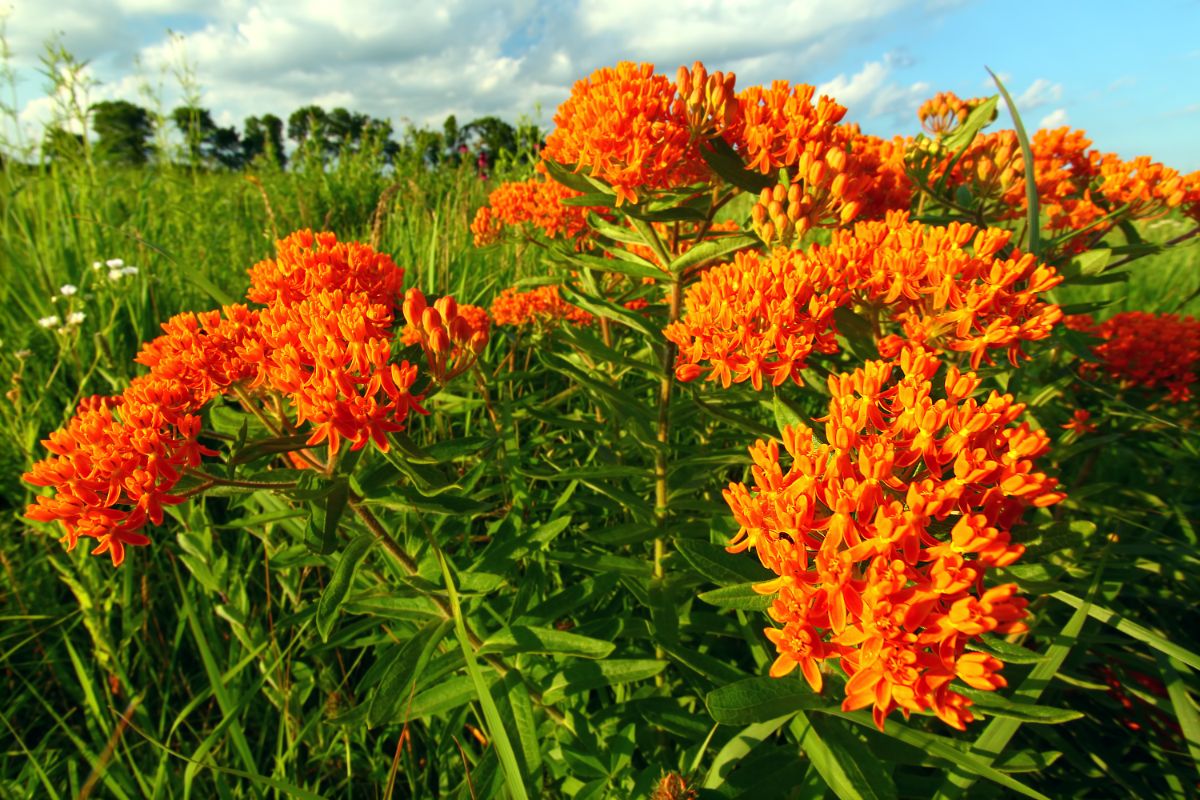 The bright orange blooms of Butterfly Weed are irresistible to butterflies but also appreciated by all sorts of beneficial insects. Native Butterfly Weed is a food source for Monarch and Queen butterfly larvae, as well as Dogbane Tiger Moths, Unexpected Cycnias, and Milkweed Tussock Moths.
Butterfly Weed is drought-tolerant, low-maintenance, and will grow in poor soil. It likes full sun and the flowers last all summer long. Every garden should have at least one Butterfly Weed plant, if not for the gardener's enjoyment, but for the butterflies. Although, you'll surely treasure it too!
Hardy to zones 3-9
Native to the Southeast, Southwest, Midwest, and Northeast
Bee Balm (Monarda)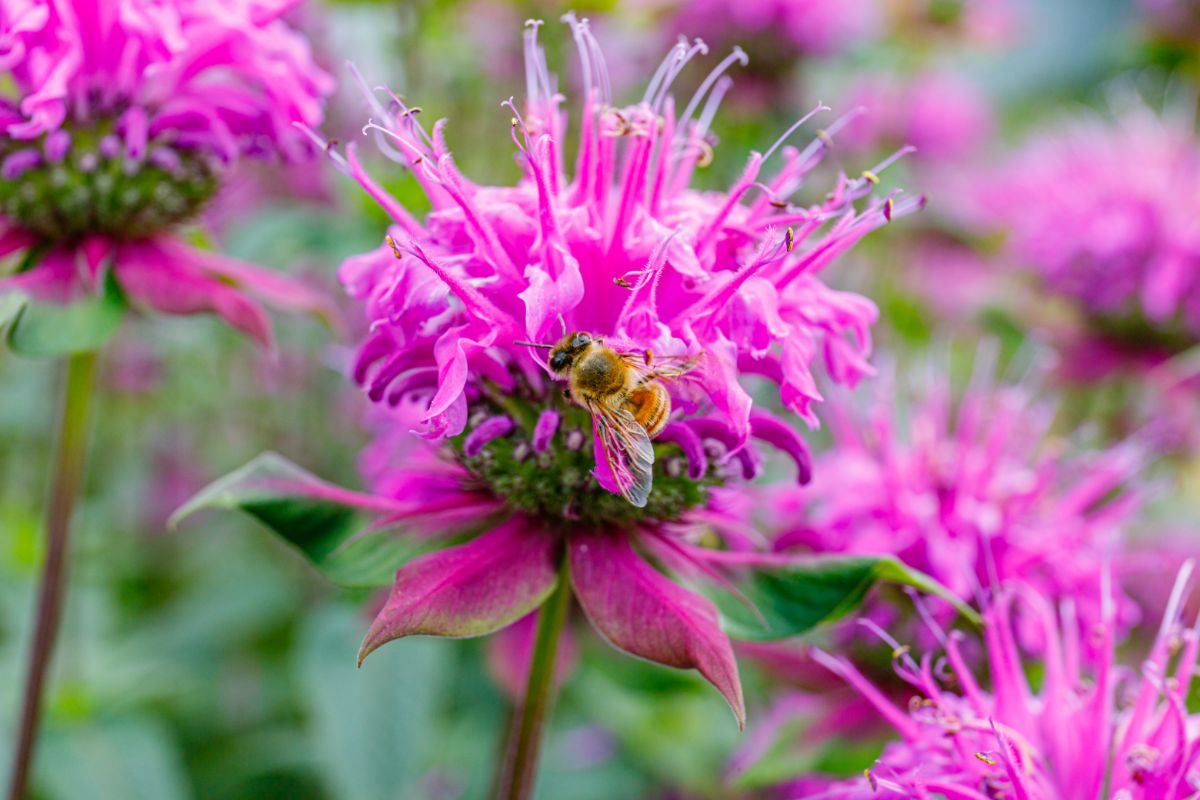 The frilly whirlybird petals of Bee Balm are dramatic and exuberant with an extensive blooming season. The bold colors of Bee Balm, along with their attractiveness to pollinators, make them valuable assets in the wildflower garden and landscape. Bee Balm comes in an array of colors, including hot pink, lavender, purple, pastel pink, and scarlet red.
Monarda is favored by several moth species, of which a couple exclusively rely on this wildflower. Hummingbirds love the brightly-colored flowers, as do native bees. A member of the mint family, with a fragrant, spicy scent, Monarda is an essential native perennial for increasing biodiversity and pollinator habitat.
Hardy to zones 3-9
Native to the Northeast and Midwest, but naturalized in other areas across the country
Blazing Star (Liatris spicata)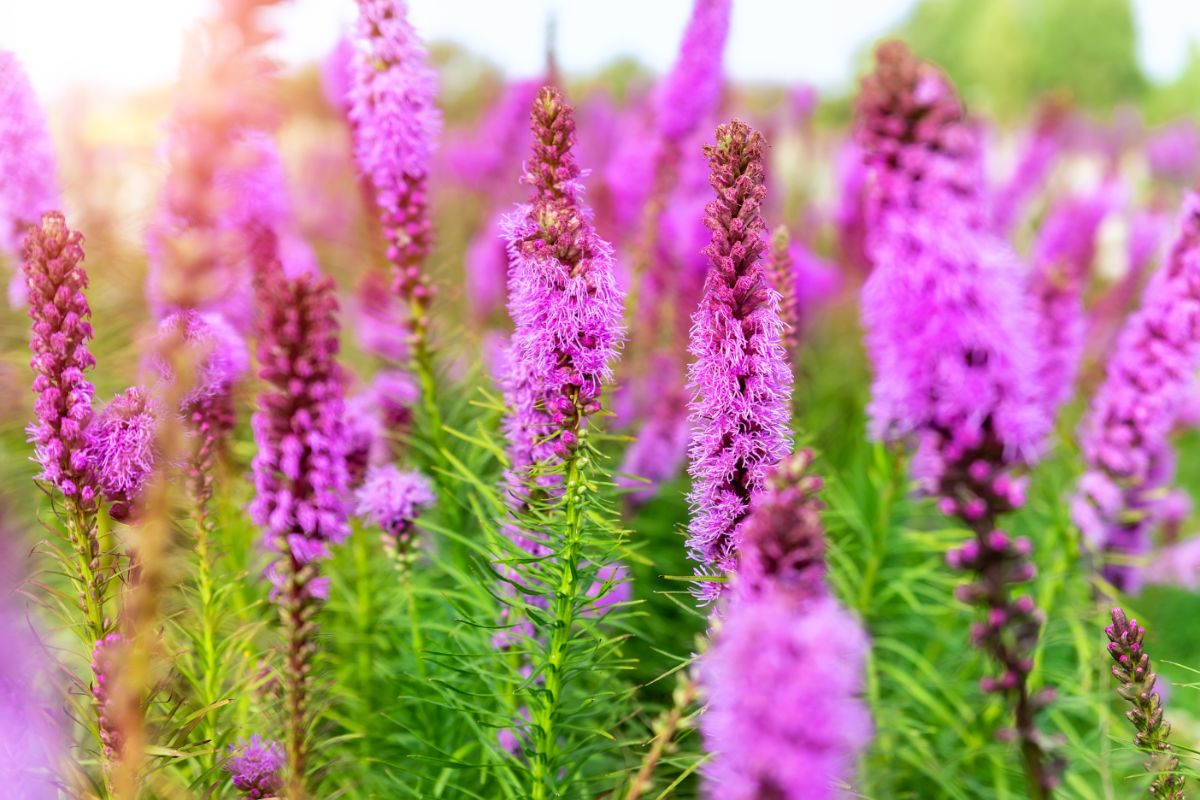 With a name like Blazing Star, you know this is going to be a dramatic native perennial, and it doesn't disappoint. Blazing Star flowers are purple, frilly, and fluffy and grow on 2-4 feet tall spikes above needle-like foliage. When planted in dense groupings, this native perennial is astounding.
It blooms from mid-summer through fall and attracts native bees, butterflies, and hummingbirds. In fall, songbirds feast on the seeds. Blazing Star is the ultimate fuss-free, hardy, drought-resistant, heat and cold tolerant, poor soil adaptable native wildflower. The blooms are either purple, white, or lavender and are generally disease and pest-free.
Hardy to zones 3-9
Native to the Midwest, Mid-Atlantic, Southeast, but has naturalized other places
Columbine (Aquilegia sp.)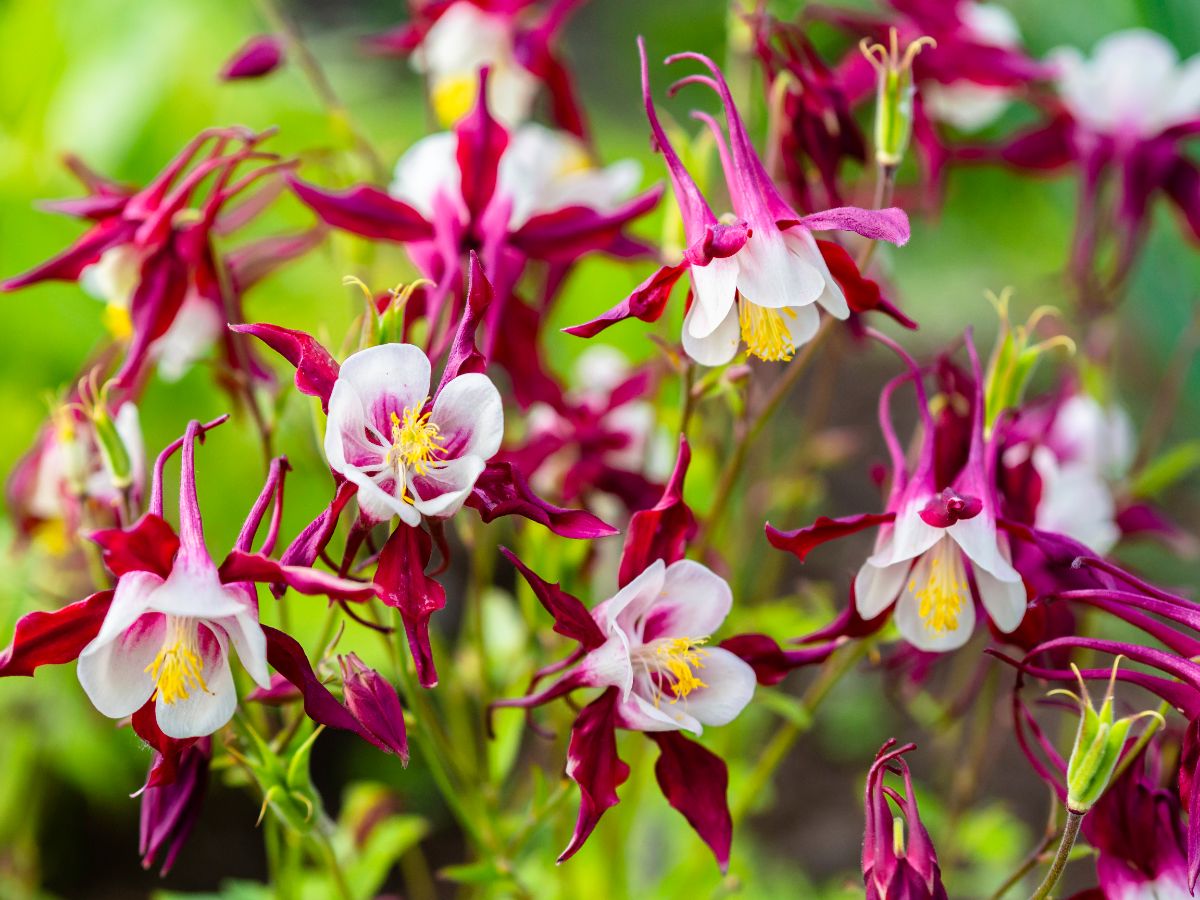 The unique, long-spurred, and nodding flowers of Columbine are an elegant addition to the wildflower or shade garden. There are dozens of species of Columbine native to North America – Canadian Columbine (A. canadensis), Western Columbine (A. formosa), and Rocky Mountain Columbine (A. caerulea) are the easiest to find.
Columbine attracts butterflies and hummingbirds, thrives in partial shade, and is extremely easy to grow.
Hardiness varies by species
Native range varies by species
Viburnum (Viburnum)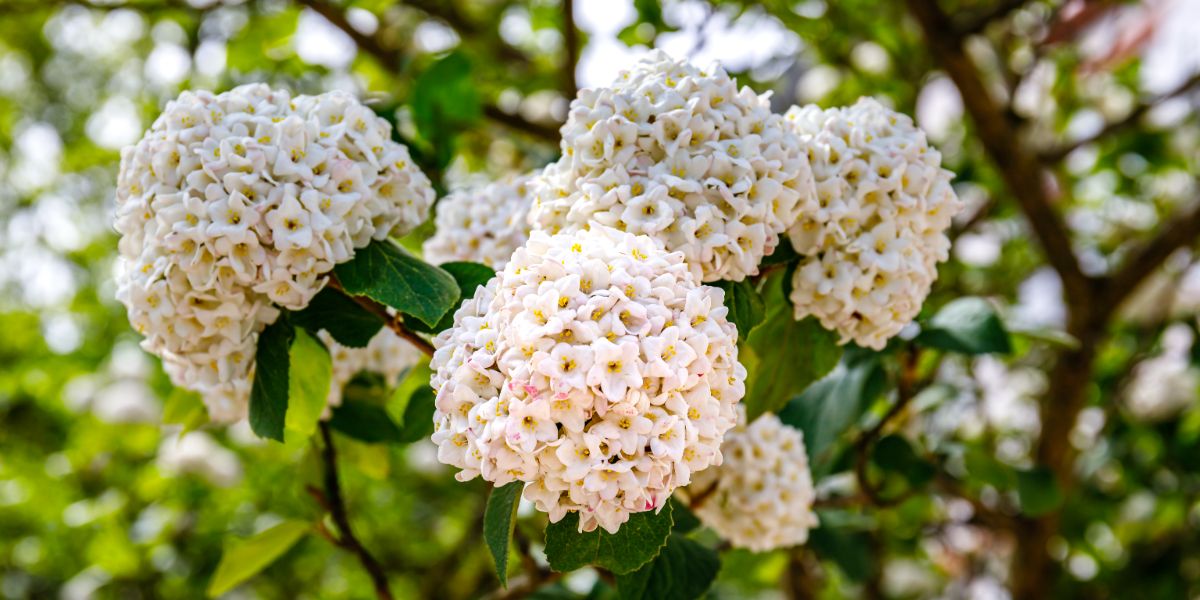 A few Viburnum species are native to North America, but not all of them, so double-check the species before planting any. Native Viburnums contribute crucial benefits to the native environment.
Possumhaw (V.nudum) is a larval host for hummingbird clearwing moths and spring azure butterflies. Arrowwood Viburnum (V.dentatum) and Nannyberry (V.lentago) are both hosts to blue azure butterfly larvae. And Mapleleaf Viburnum (V.acerifolium) is a larval host for the Celastrina ladon butterfly.
Viburnums are large shrubs with broad deep-green leaves that turn bright orange, bronze, or red in autumn. The flowers are borne in broad, slightly rounded clusters comprised of hundreds of tiny white flowers. Viburnums also produce copious amounts of berries in the fall, which are an essential food source for songbirds and wildlife.
Hardiness zone varies by species
Native range varies by species, but all are from eastern North America
Blue Flag Irises (Iris)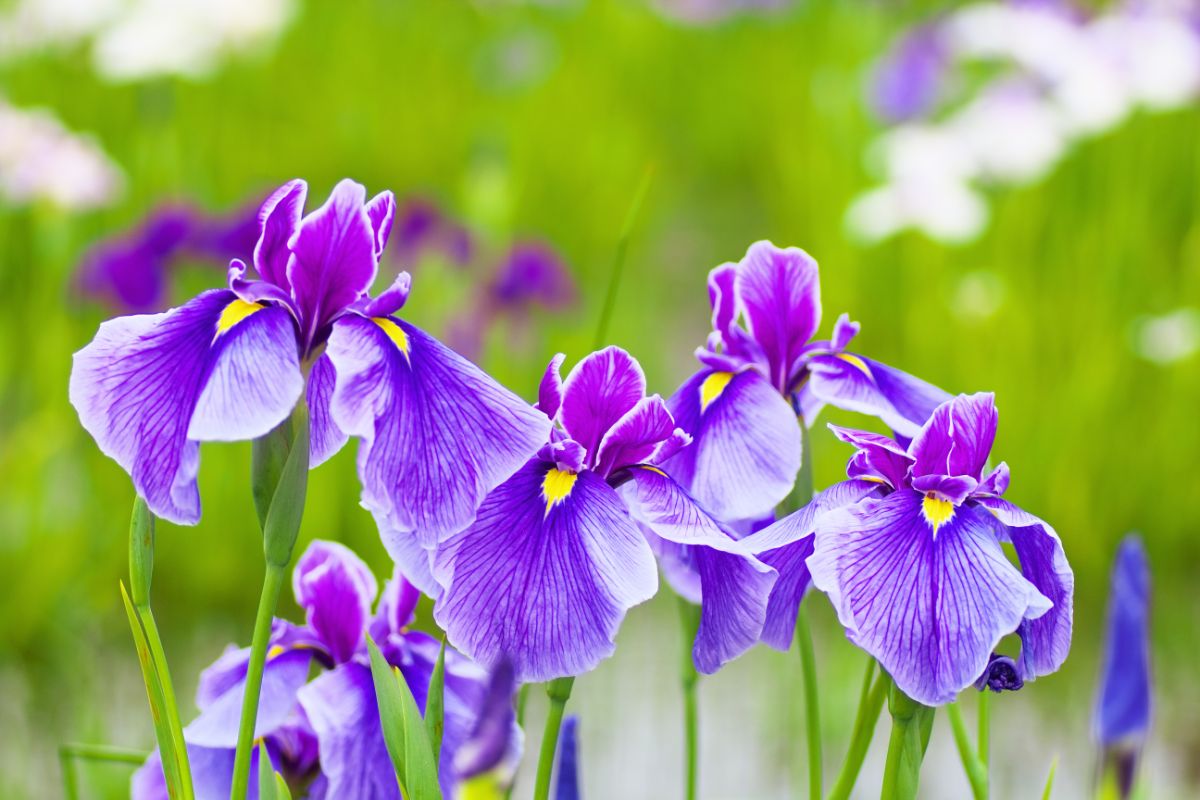 North America is host to five species of Blue Flag Irises, with ranges from the Pacific Coast to the southeast. Iris flowers are breathtaking; the stretched-out petals and sepals are blue with deep purple veining and yellow and white markings. The leaves are sword-shaped, richly green, and grow in dense clusters.
Irises prefer wet soil and are the ideal native plant for the soggy part of your yard. The plants spread over time to form colonies. Blue Flag Irises are excellent for bog gardens, around streams and ponds, and as border plants.
Hardiness varies by species
Native range varies by species
Tickseed (Coreopsis)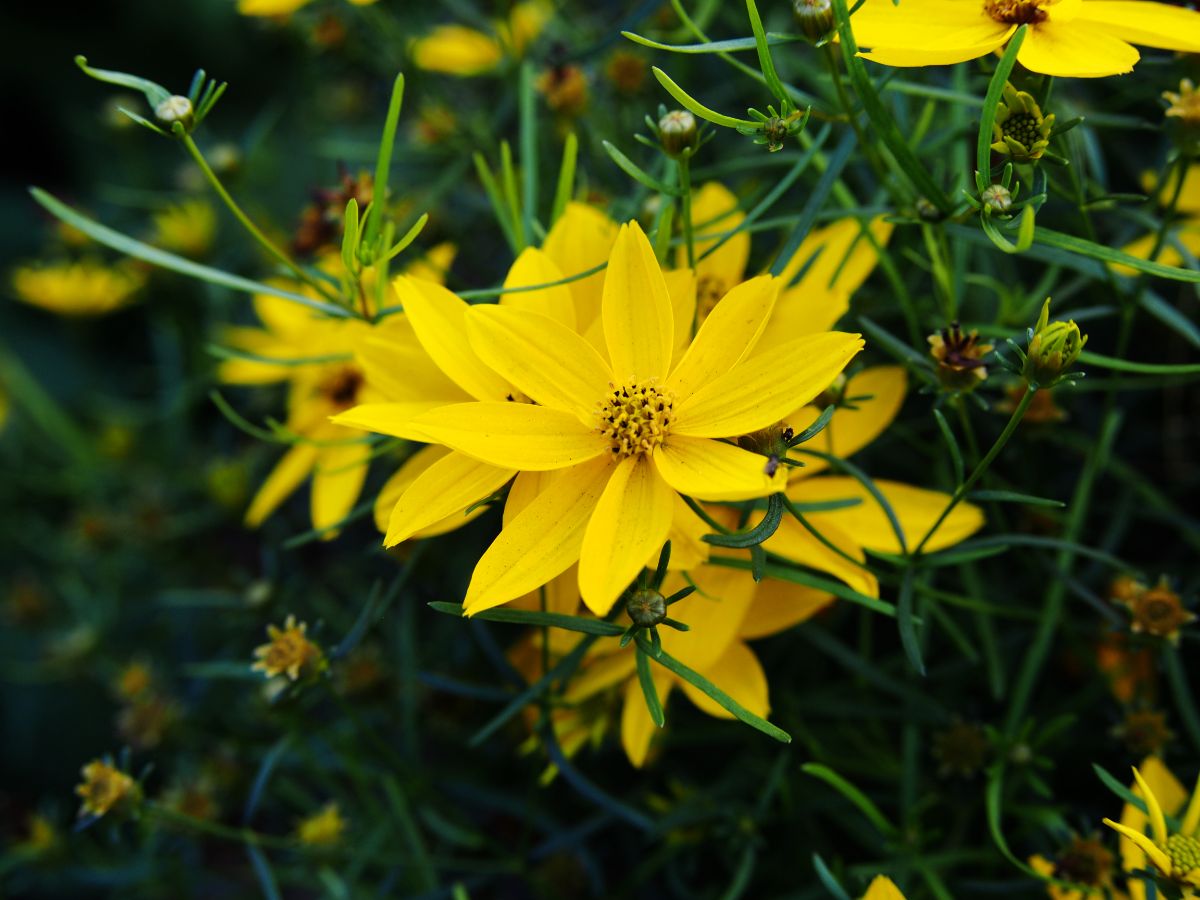 The common name is unfortunate, but don't let that deter you from planting this incredibly beautiful and valuable native perennial. Coreopsis flowers are big and bright golden yellow, daisy-shaped with wide and flat center cones. They bloom for several months, providing a stunningly colorful display that lights up the landscape.
Butterflies, moths, native bees, and beetles adore Tickseed, while deer ignore them. Coreopsis flowers are tolerant of drought, heat, and humidity and tolerate poor, rocky, or sandy soil. They look incredible planted in large groupings and will freely self-seed if allowed.
Forty-five species of Coreopsis are native to North America, giving the home gardener a lot to choose from for the garden.
Hardy Hibiscus (Hibiscus moscheutos)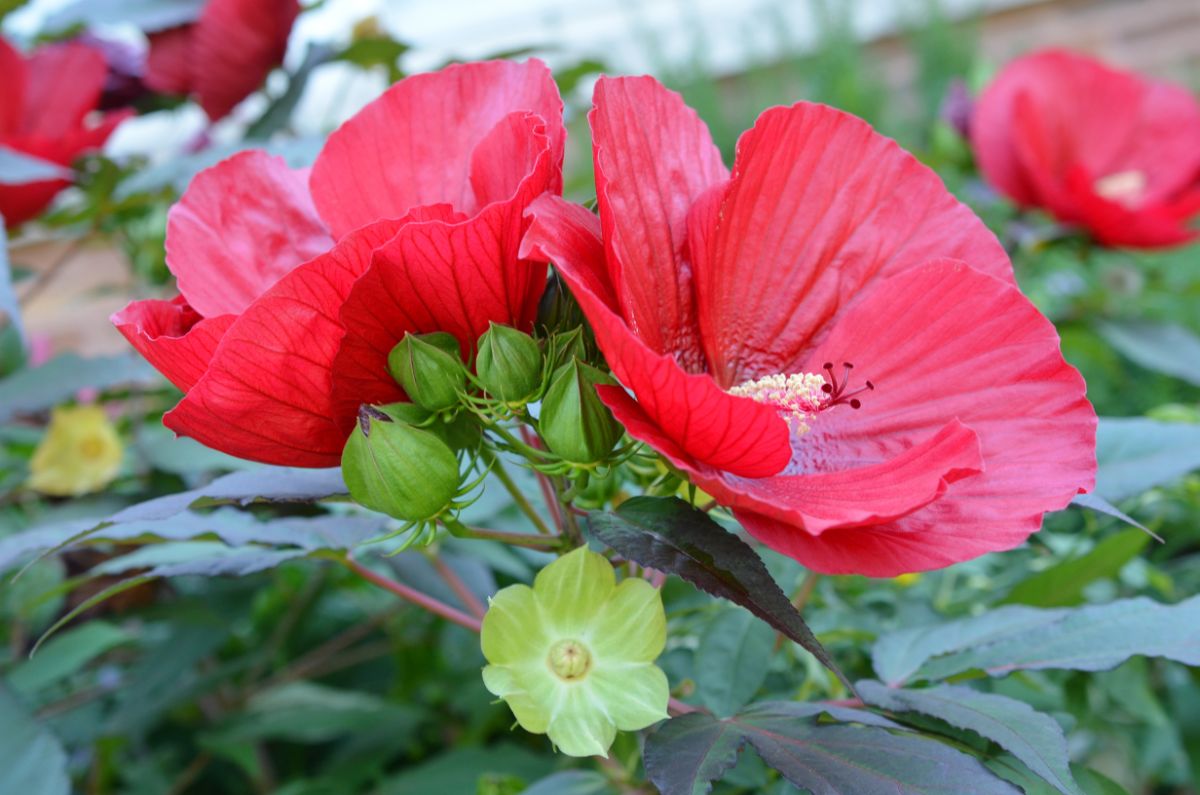 A robust shrub with dinner-plate-sized brightly-colored blooms, Hardy Hibiscus is a garden masterpiece. Flower colors are pink, rose, or white and have a vividly contrasting red or burgundy center eye. The individual blooms only last a day or two, but the Hibiscus produces so many in rapid succession, it's breathtaking.
The bloom season is from mid-summer through early fall, and hummingbirds, bees, and butterflies flock to the giant flowers. Hardy Hibiscus is a larvae host to 28 species of butterflies and moths. In addition to stunning flowers, Hibiscus leaves are also extremely handsome, large, and heart-shaped with toothed edges.
Hardy to zones 5-9
Native to the eastern US, Midwest, and Southwest
Pepperbush (Clethra alnifolia and Clethra acuminata)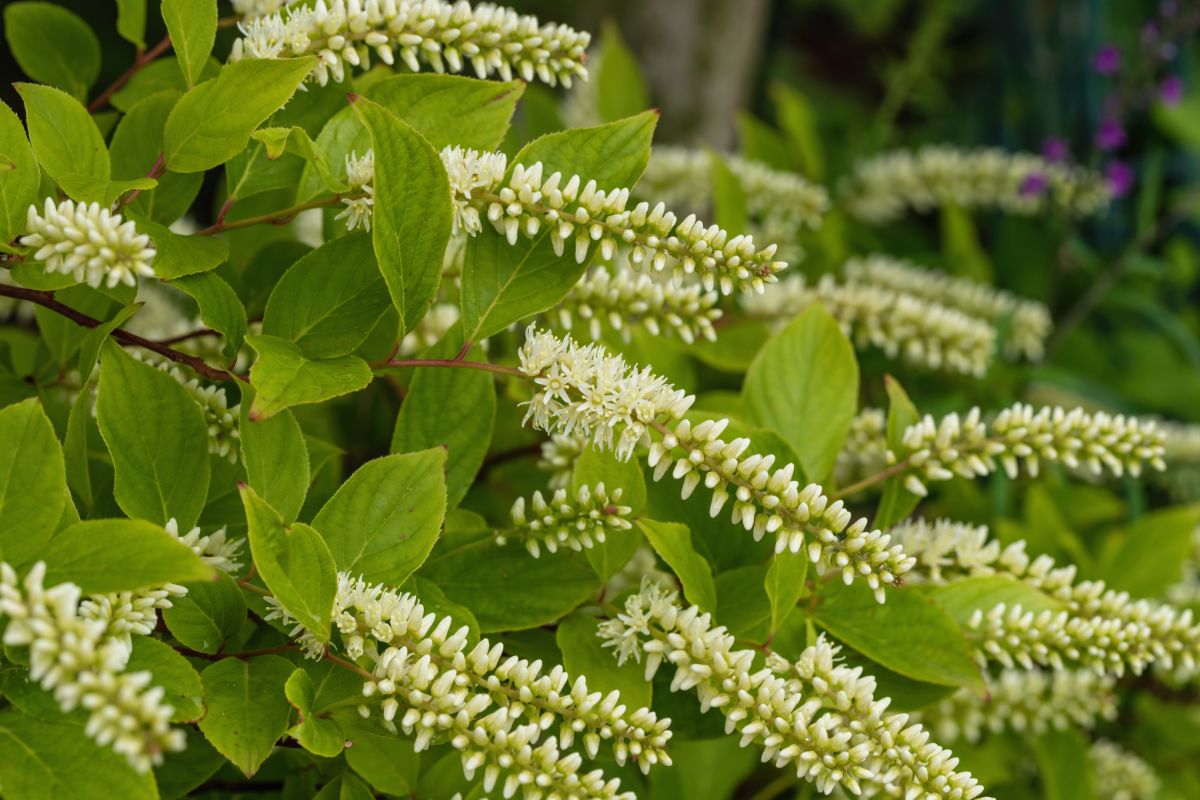 A wetland shrub with prolific tiny flowers that attract tons of bumblebees, Pepperbush is a beautiful landscape bush that smells nice too. It flowers all summer long, keeping the pollinators happy when there aren't many flowers blooming.
Pepperbush is adaptable, growing in either full sun or part shade and in various soil types. A fuss-free native perennial, Pepperbush spreads slowly and provides an excellent hedge or border. It rarely suffers from diseases or pests, and deer don't bother it. These two Pepperbush varieties are the only ones native to North America.
Hardy to zones 3-9
Native to the Northeast, Southeast, Southwest
Ironweed (Vernonia)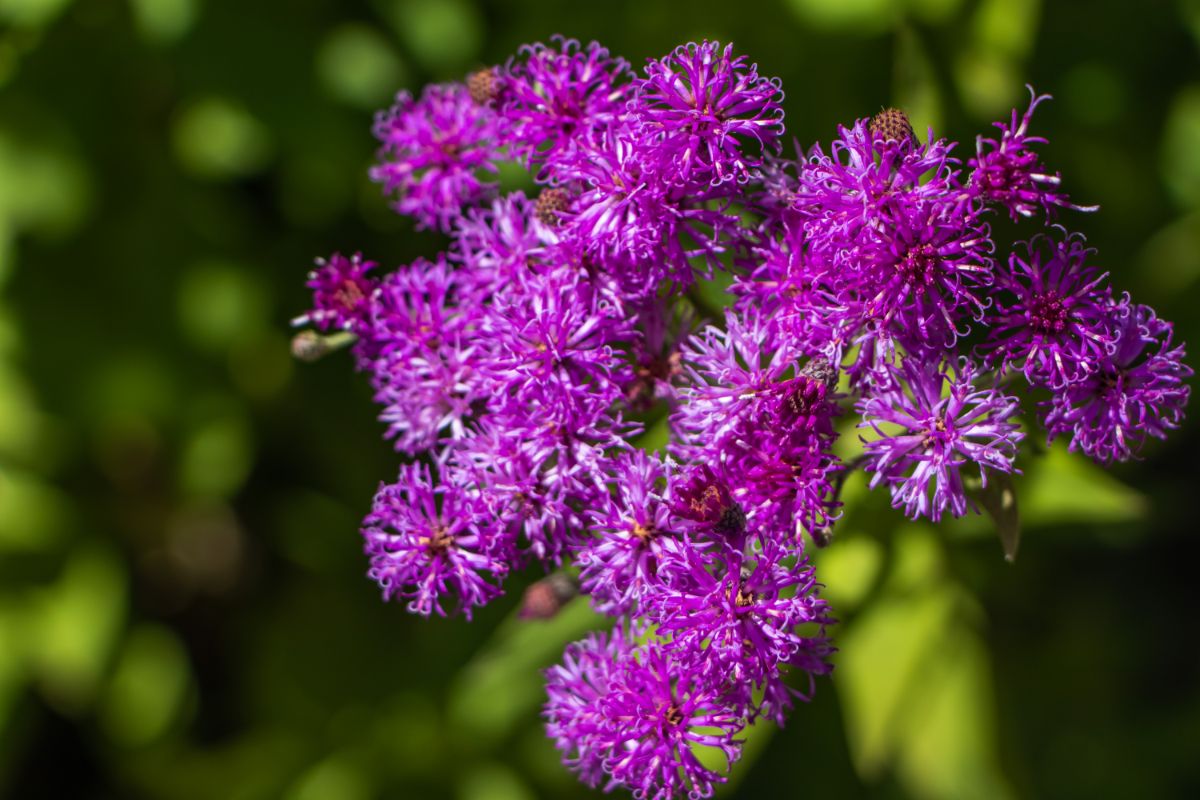 The tiny intense purple fluffy little flowers turn Ironweed into a sensation during the late summer. Ironweed flowers grow atop tall, upright stems in dense clusters, with up to 50 flowers in each grouping. Butterflies and bees adore Ironweed's showy display.
Ironweed is a narrow, tall native plant, making it perfect for tight spaces or tucked into a back border. It is a critical source of food for late summer butterflies. This perennial grows 3-5 feet tall and grows well in moist soils, as well as full sun or partial shade.
Hardiness varies by species
Native range varies by species