Tired of waiting for your late spring and summer flowers to bloom? If you want to add interest to your garden in winter and the early part of spring, you might consider planting hellebores.
This guide will introduce you to these perennials in-depth. We will teach you how to plant them and care for them, what their ideal growing conditions are, and more.
To jump to a specific section, use the table of contents below. Otherwise, read on to learn all about hellebores!
Jump to:
What Are Hellebores?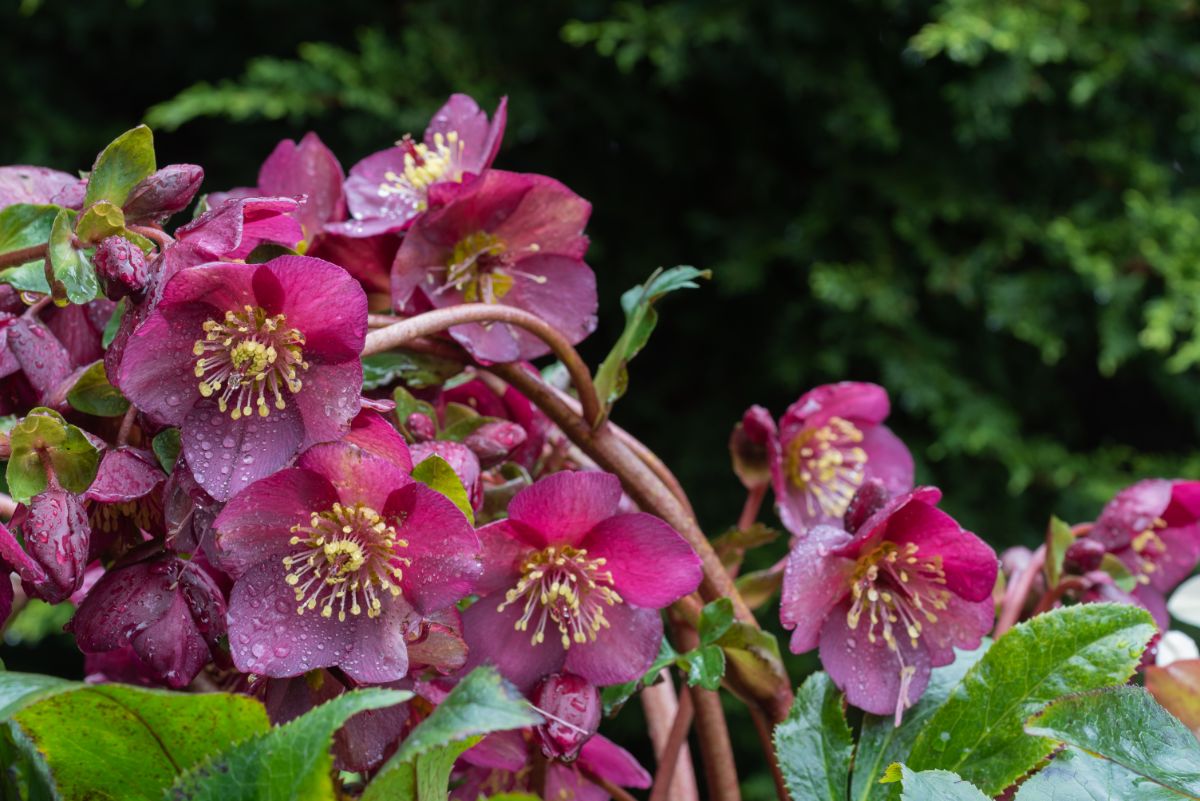 Hellebores are perennial plants belonging to the genus Helleborus. There are around 20 species within the genus. They are classified as herbaceous or evergreen.
Hellebore flowers are available in a range of different colors, each with its own distinctive charm. A lot of the color diversity comes from breeding hybrids. The blossoms can be single or double.
Hellebore Basics
Zones: 5-9
Blooming season: Winter through spring
Expected height: 1-2 feet
Soil: Moist, well-draining
Sun: Full sun to full shade
Where Do Hellebores Grow?
Hellebores are native to Asia and Europe. Today, they are found throughout the world in zones 5-9.
Why Grow Hellebores?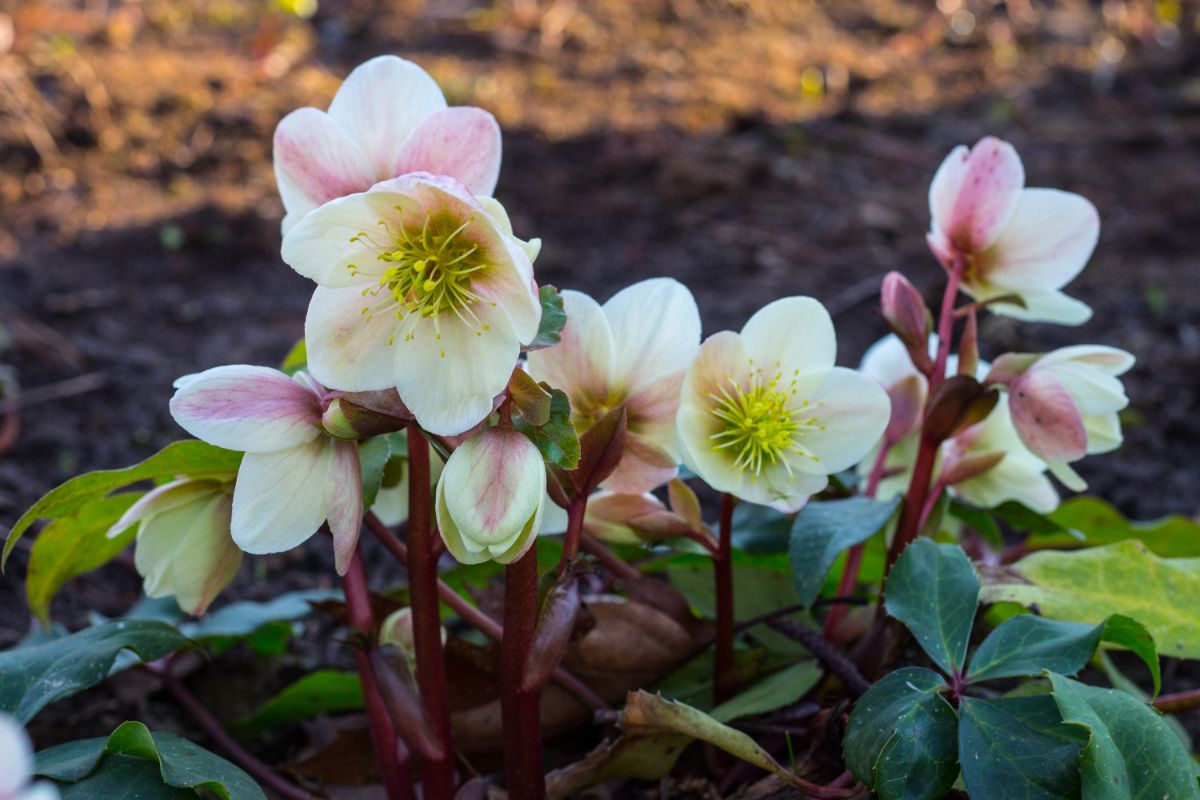 Below are some of the benefits of hellebores in your garden:
These perennials offer late winter and early spring interest. Not a lot of other flowers blossom during the winter, so hellebores can add a welcome dash of color.
Numerous cultivars are available. The rainbow of hues for hellebores is startling. Indeed, some types of hellebores actually feature multiple colors on their petals. They may be spackled, rimmed in different or darker hues, or even painted with a soft gradient.
Hellebores have amazingly versatile sun requirements. Whether you have a wide open yard with zero tree cover or your entire backyard is essentially forest, you can grow hellebores successfully.
You seldom need to water hellebores. This makes them a low-maintenance choice easy for gardeners of any skill level.
You will find that hellebores are often able to grow disease-free and without problems with pests.
Hellebores are deer-resistant and rabbit-resistant.
You will be doing bees in your area a favor. As Montgomery County Beekeepers Association explains, "[Hellebores] provide a much-needed nectar and pollen source for honey bees that are out foraging any time we get one of those nice warmish winter days."
Hellebore Landscaping Ideas
Here are some ways you can enhance your landscape with hellebores.
Cottage garden. You will often find hellebores in cottage gardens, especially the "Christmas rose." Consider planting a few to welcome spring each year in your own cottage garden.
Shade garden. Most plants like partial shade or full sun, so it can be hard to find perennials that are suitable for deep shade. You will find that hellebores make a welcome addition to your perennial shade garden.
Walkways. In winter, your garden will lose much of its color. Think about planting hellebores along your garden paths. That way, you will be able to enjoy the life they bring to your winter landscape at its fullest while strolling through your garden.
Curb appeal. Need to sell a home during the winter months? Curb appeal can become a bit tricky during this time of year since you cannot frame your home with the abundant blossoms of spring and summer. But if you plant your hellebores out front, they can do a lot to give your home a more inviting appearance.
In view of your windows. When you choose locations for your hellebores, think not only about the views when you are standing outside in your garden, but also those from inside your home (especially if you tend to stay bundled up indoors against the cold weather). During winter, you are going to want to be able to look out through your windows at some color and life. If you plant your hellebores out of view, you will be depriving yourself.
Recommended Hellebore Varieties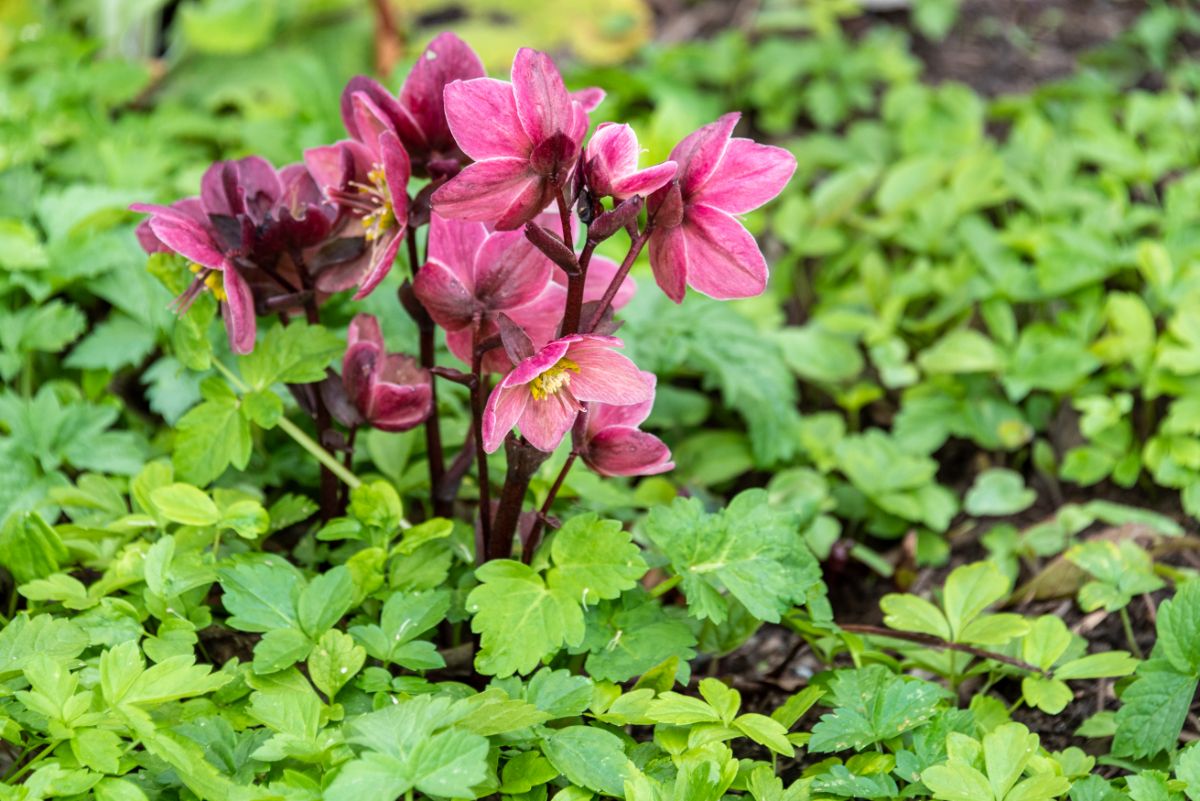 Now that you know why you should plant hellebores and have a few ideas for landscaping, let's take a look at some top flower varieties and cultivars.
First Dance: The double blooms on this type of hellebore feature yellow, purple and green hues. They max out at around 2 feet tall.
Anna's Red: Do you want a red cultivar of hellebore? You will love the deep hue of the petals of "Anna's Red," and the bright pop of yellow from the stamens.
Ivory Prince: This hybrid hellebore combines x nigercors and x ericsmithii. You probably would guess that this hellebore features white flowers, right? Actually, the petals offer a gradient of link pink, green and cream hues.
Penny's Pink: These hellebores feature pink flowers. The petals tend to be a little lighter in the middles and darker around the edges, while the stamens are yellow.
Stinking Hellebore: This is the common name for the type of hellebore with the scientific name Helleborus foetidus. Despite the somewhat alarming name, these are actually very popular to plant, and they do not smell bad. The scent is similar to grass, in fact, and may just blend in with the general smell of your lawn. The flowers have a bell-like appearance, and are pale green.
Peppermint ice: One particularly eye-catching hellebore is this cultivar, which features petals that are a light pinkish-purplish color (nearly white) that are darker around the edges. The veins that run through the petals are also darker, providing a pleasing visual texture.
Helleborus Walberton's Rosemary: Particularly fond of shade, this variety of hellebore has a pink hue similar to that of "Peppermint Ice." Once again, the petals are darker around the edges, but not in such a dramatically defined way as you see with "Peppermint Ice."
Cinnamon Snow: If you would like hellebores that flower as soon as December, "Cinnamon Snow" is a wonderful choice. Cream, light green, and a light brownish-pinkish color are all present on the showy petals.
Mahogany Snow: This hellebore's appearance is somewhat similar to "Cinnamon Snow," except that its hues are a little darker.
Merlin: A particularly dramatic cultivar, "Merlin" brings pink flowers to your garden.
Double White Spotted: These beautiful flowers are some of the most unique you will see. They feature white petals with dark, contrasting pinkish-purplish spotting in their middles.
Onyx Odyssey: Another type of hellebore with a truly striking hue is the "Onyx Odyssey," named for the dark, near-black color of its petals.
Phoenix: If you want a hellebore that is a greenish color with just a little bit of dark pink in the petals, you may enjoy the "Phoenix" cultivar.
Wedding Party: Wedding Bells: For double flowers in white, think about the "Wedding Bells" cultivar that is part of the "Wedding Party" series.
Phoebe: Similar to the "Double White Spotted" cultivar, the "Phoebe" cultivar sports dark pink specks that contrast with the light petals. But instead of white petals, this cultivar has pink petals.
Wedding Party: First Dance: Another entry in the "Wedding Party" series, the "First Dance" cultivar of hellebore has yellow petals with rims of dark pink.
Honeymoon Rome in Red: Finally, one particularly unusual color for hellebores is the dark reddish-purplish-blackish hue of this unique cultivar.
When Do Hellebores Bloom?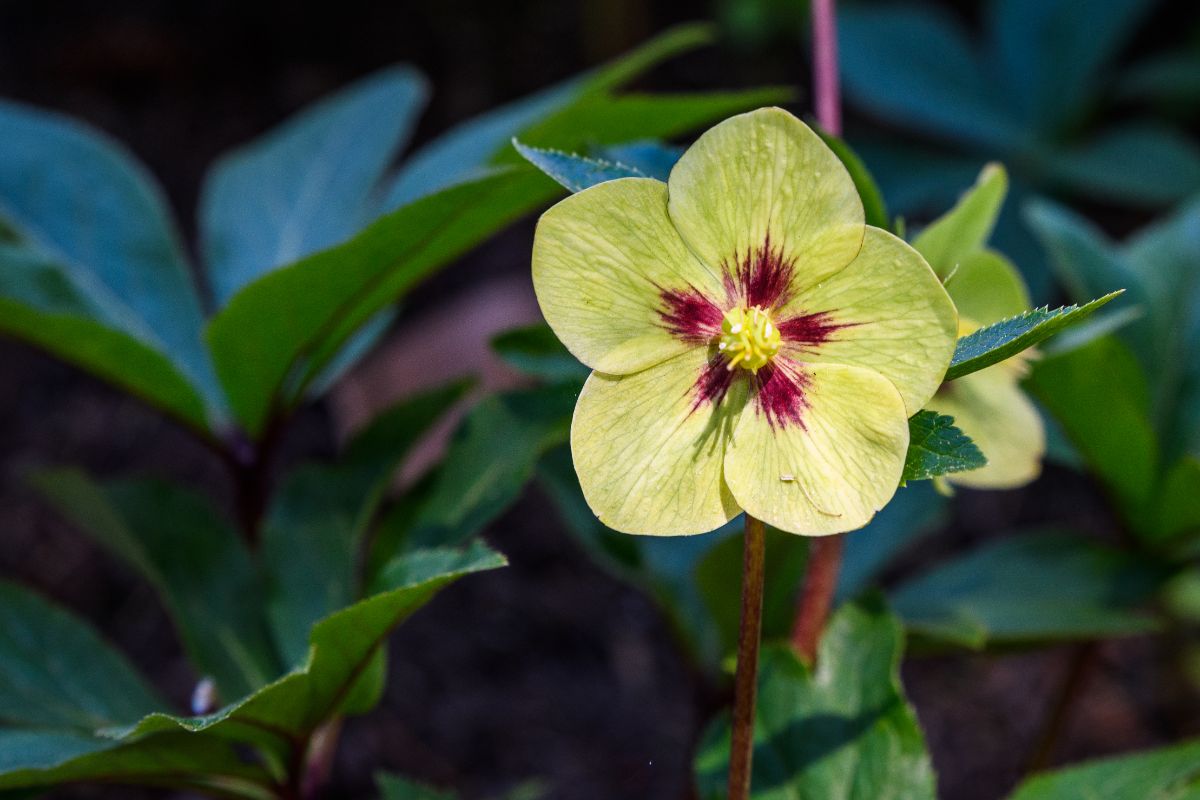 Hellebores are among the few flowers you can enjoy through winter. Brooklyn Botanic Garden writes, "This plant blooms from late November through winter until spring, depending on the species or hybrid."
If you are wondering what "spring" indicates here, it means as late as April.
It is also worth noting the timing for the foliage. The Brooklyn Botanic Garden says, "The leaves provide a nice carpet of foliage throughout the year—some are shiny green, others have a light patterning on the leaves, and some are dark and leathery. Come summer, many hellebores start to look peaked (like I feel in the hot and dry summer!), but they perk up and send out tender fresh foliage in September and October, once the weather cools down, and, ideally, ample rain falls."
How Long Do Hellebores Bloom?
How long your hellebores bloom depends in part on the type you get. In general, if you want longer bloom times, you should go with double flowering varieties rather than single flowering varieties.
When to Plant Hellebores
Hellebores are among the perennials that you can plant either in spring or autumn, depending on what is convenient for you.
Ideal Growing Conditions for Hellebores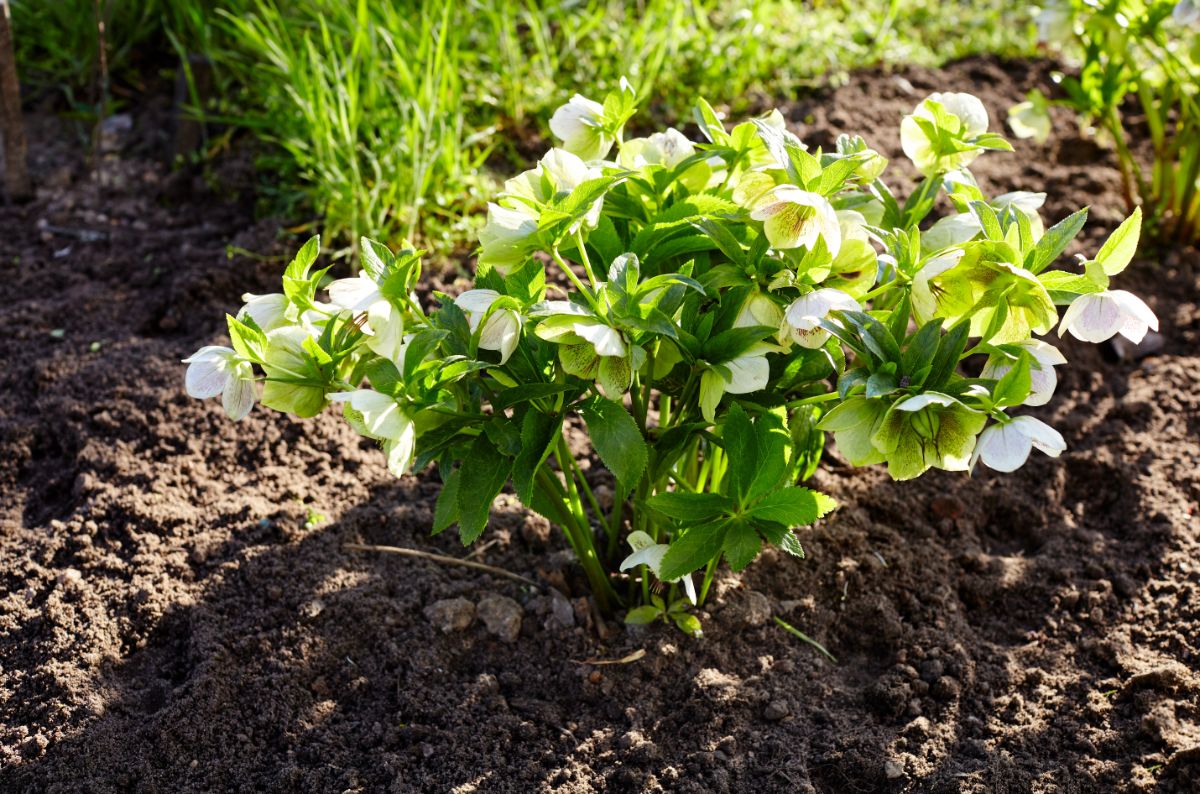 Before you can plant your hellebores, you need to know what kinds of conditions they like. Below, we go over what you need to know about soil, water, and sun requirements so that you can plant happy hellebores that will come back every year.
How Much Sun Do Hellebores Need?
Among the many benefits of hellebores is their tolerance for a wide range of sun conditions.
It is usually ideal to plant them in partial shade. But if all you have available is full sun or full shade, you probably will still have no problem growing hellebores.
What Type of Soil is Right for Hellebores?
Well-drained, moist soil is best for hellebores. But you should steer clear of wet soil that doesn't drain, since hellebores do not thrive when waterlogged.
Northwest Garden Nursery provides additional details on hellebore soil needs, stating, "Although very tolerant of soil type, hellebores are deep-rooted and to flower at their best, they appreciate plenty of nutrients and adequate moisture. They will benefit from being planted in deeply dug soil improved with plenty of humus, in the form of leaf mold, compost, or old manure."
How Much Water Do Hellebores Need?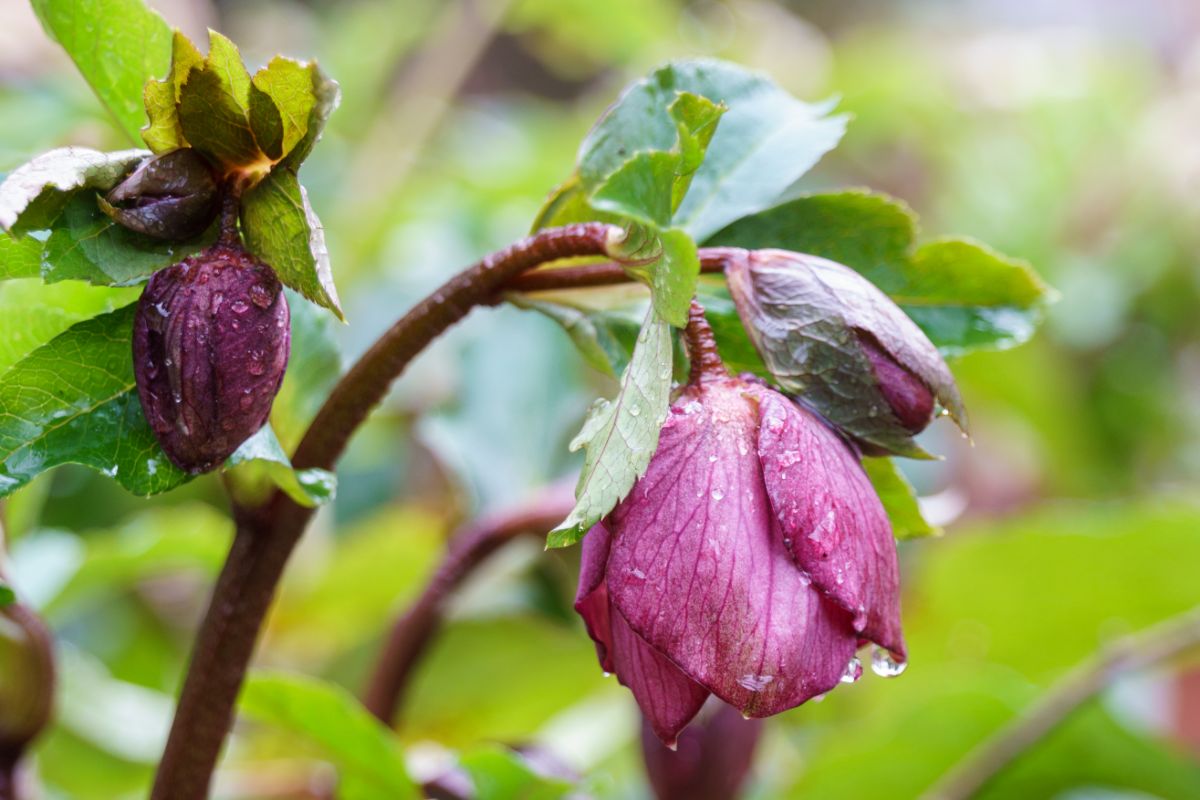 Usually, hellebores can flourish on their own without watering as precipitation generally provides enough moisture. But if there is a long stretch without rain, then you should water them.
The exception is during the establishing phase, when you should be providing them with an inch of water weekly.
How to Plant Hellebores
You can grow hellebores from seed, or you can start them from nursery plants. We will assume for our instructions below for container and ground planting that you have starter plants. Below those sections, you can scroll down to learn about starting hellebores from seed.
Container Planting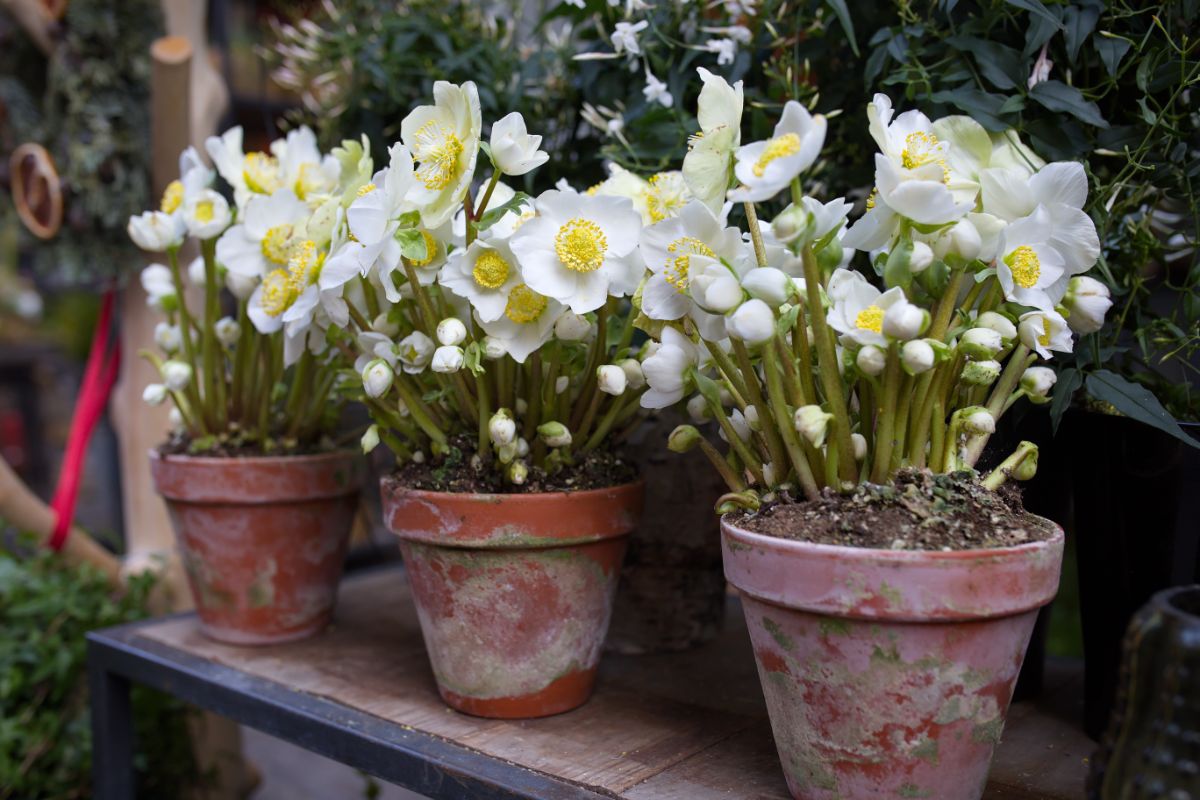 Potted hellebores can grow quite happily. Indeed, you may sometimes receive a potted hellebore during the holidays. Much like poinsettias, they are treated as Christmas décor.
If you were not familiar with hellebores, you might think they were annuals, and that your Christmas rose would simply die after the holidays. But now you know it is a perennial, and you can make it a permanent part of your garden.
Get an appropriate pot for your hellebore to live in over the long term. The pot it arrived in probably does not provide enough room.
The roots need lots of space, so it will need to be a big pot. A wide, shallow container is not sufficient, since the roots dig down deep. Put in drainage holes if they are lacking.
Fill your container with soil. Try mixing in some compost.
Dig a hole and transplant your hellebore into it. Backfill the soil.
Water your hellebore well. As with other plants, give it some extra water as it establishes.
Find a place for your hellebore. You can place hellebores in pots indoors or outdoors. In fact, it is pretty easy to put them just about anywhere since they are so flexible with their sunlight requirements.
Ground Planting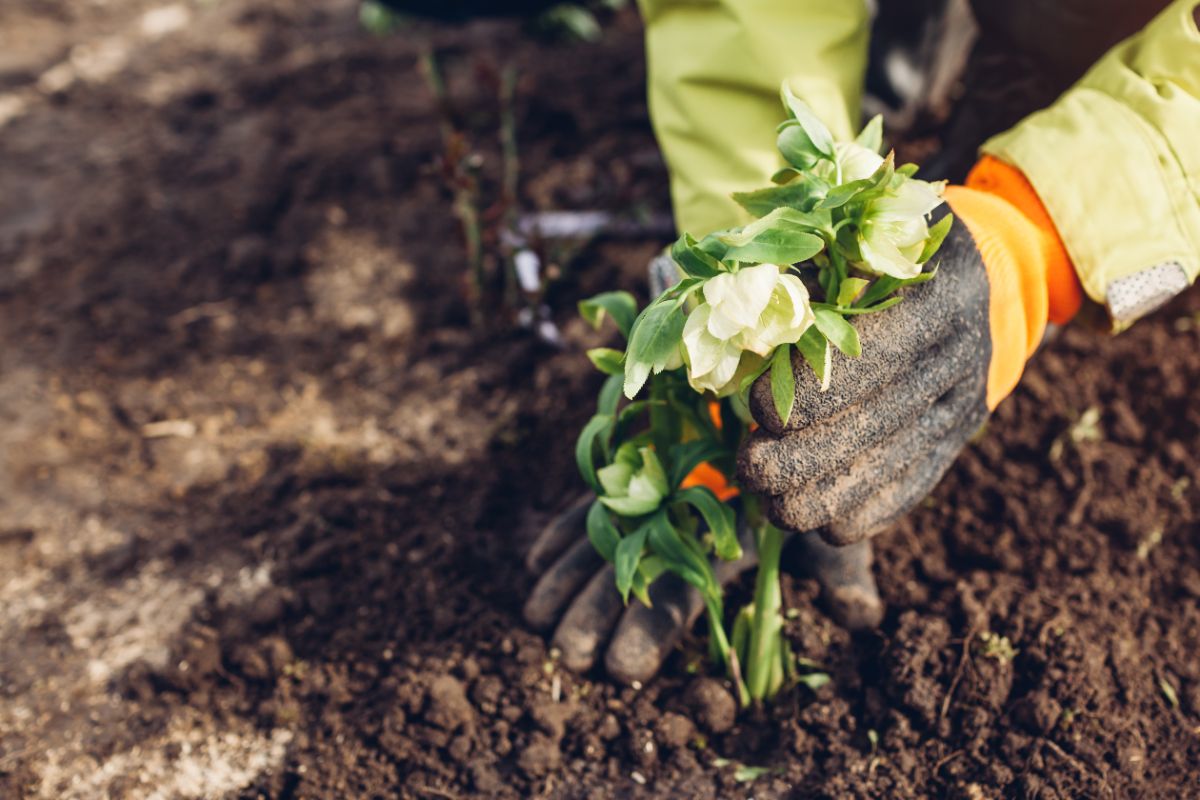 Now you know how to grow hellebores as potted plants. Here are the ground planting instructions if you want to grow them in your garden beds.
Pick a suitable spot in your garden. Again, it is totally up to you about sun versus shade, though partial shade is best.
Prepare the soil. Mix some compost in before you plant the hellebores. They need that extra nutrition.
Plant your hellebores around 14-18 inches apart. Backfill the soil.
Water your hellebores well, and continue to water them regularly as they establish.
Starting Hellebores from Seed
Here are the directions for sowing hellebore seeds.
Sow your seeds immediately.
Barn Haven explains the reason well, stating, "Hellebore seed is best sown fresh, soon after harvesting, otherwise it may go dormant and not germinate for several years. Ideally sow your seed as soon as it arrives in a peat or soil based compost in small seed trays or pots. DO NOT STORE IN THE FRIDGE. If you cannot sow it straight away, just keep them in a cool room."
So, yes—it is true that hellebore seeds have a reputation for taking forever to start. But they do not have to take too long as you do not delay with your sowing!
Get the soil ready. Once again, this means adding compost.
Distribute the seeds on the compost.
Place perlite or grit on top of the seeds.
Keep the soil moist while you wait for the seeds to germinate. Also, watch out for pests. Mice in particular may devour your hellebore seeds.
Eventually (and yes, it will take a while even if you are quick to sow), your hellebore seeds will sprout.
You can transfer the seedlings to large containers when they each have two true leaves.
Continue to monitor the seedlings. Provide them with shelter from harsh weather.
After they have had some time to grow, you can either put the containers in a permanent location, or you can transplant the seedlings again into your garden beds.
Do not panic if you do not see blossoms on your new hellebore plants during winter and spring. It will likely be the second year or even the third that your plant produces its first blooms.
How to Care for Hellebores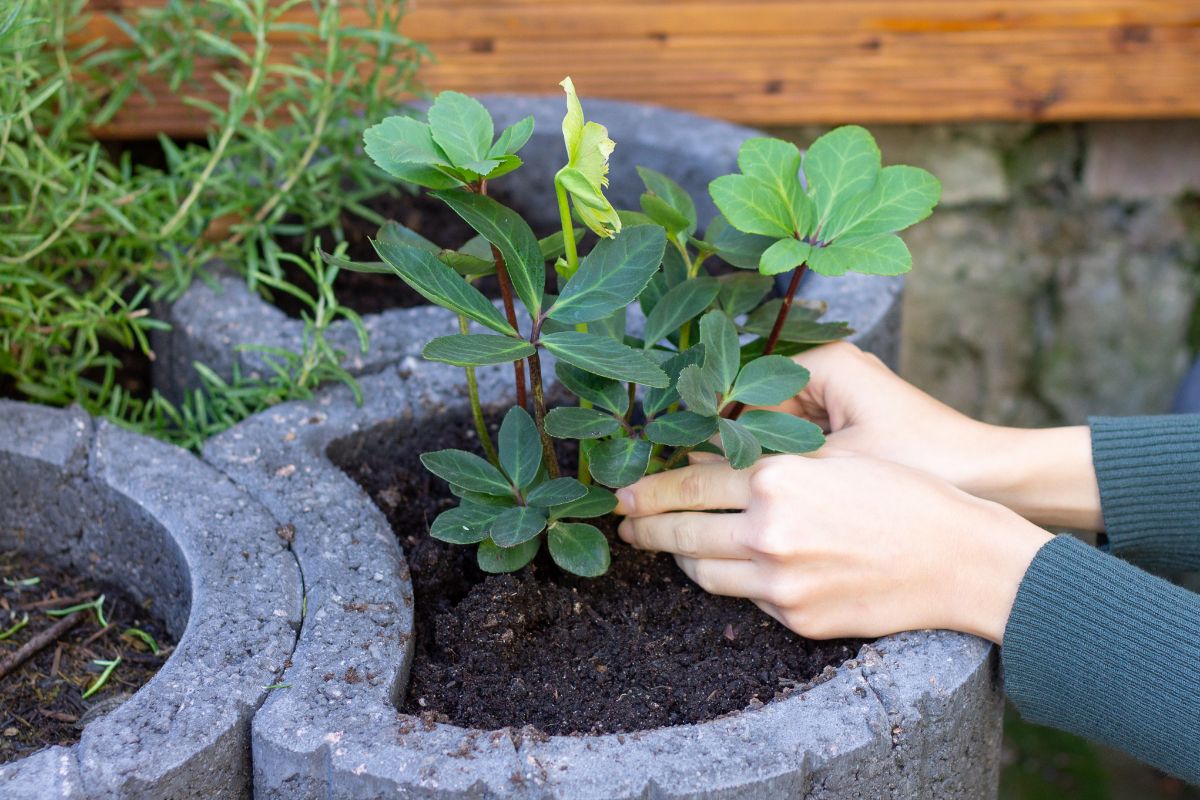 Now you know how to plant hellebores, and in what conditions they thrive. But what do you need to know about fertilizing, mulching, and other care requirements? Let's go over the maintenance needs of hellebores now.
How to Fertilize Hellebores
One ideal time to fertilize your hellebores is when you see the plants producing fresh foliage. Another good time for fertilizer is when the plants begin producing blooms. They are not all that picky about what type of fertilizer you go with. Aim for balance in the formula with a slow release.
How to Mulch Hellebores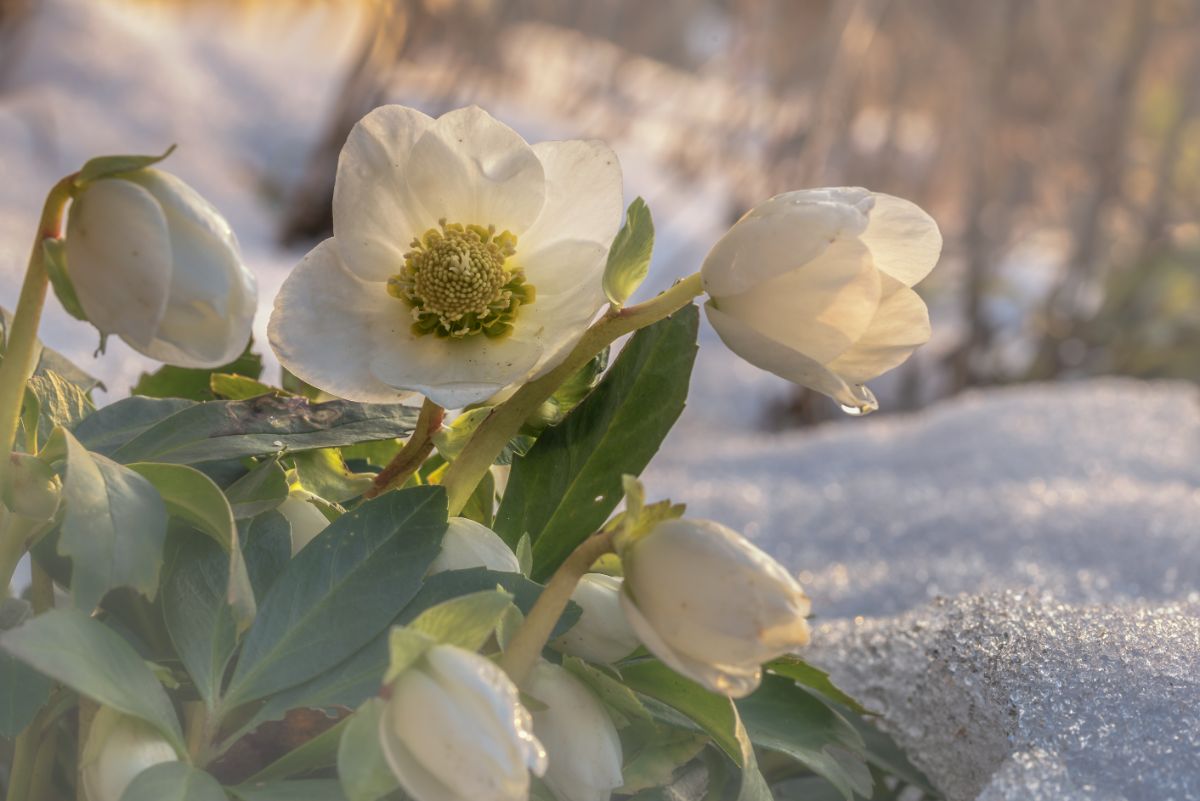 Just as many perennials in your garden can benefit from mulch when winter comes around, the same is true for hellebores. But you should not pile up the mulch too close to the neck of the plant, nor should it be a thick layer.
Making either of those mistakes can make the plant more susceptible to rot. Plus, it can interfere with the growth that you expect during winter. Remember, when other plants in your garden are dormant, hellebores will be quite active.
Rather than using wood chips to mulch plants, you should consider trying spent mushroom compost.
How to Stake Hellebores
Good news—just as you do not need to spend much time watering your hellebores, you also do not need to worry about staking them. The stems of these plants provide all the support they need.
How to Prune Hellebores
Pruning your hellebores is important for a few reasons. You will want to deadhead them and cut them back. Let's discuss both of these pruning requirements in detail.
How to Deadhead Hellebores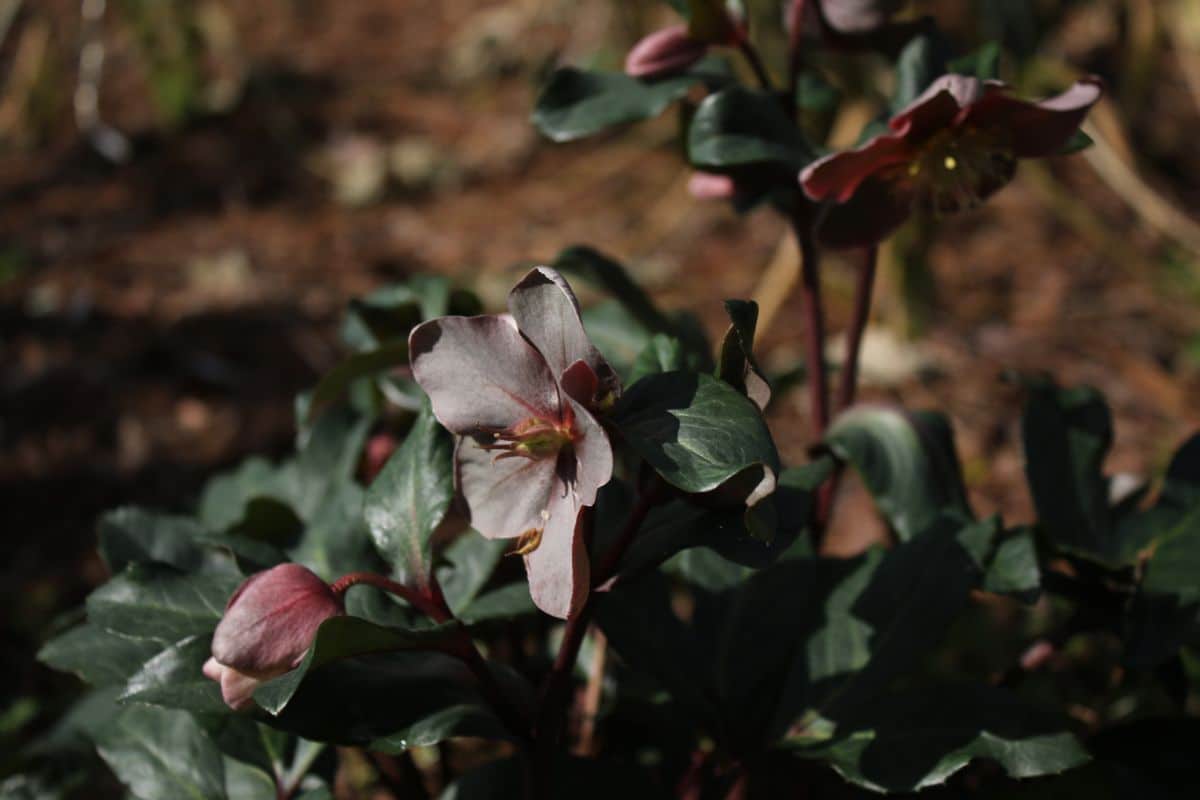 You can deadhead hellebores if you want to prevent them from going to seed. Landscape designer Genevieve Schmidt at North Coast Gardening says, "They spread at an almost alarming rate via seed, coating the ground quickly with shiny baby Hellebore sprouts that are a terrible pain to remove. Unfortunately, it takes a really long time for Hellebores to do anything from seed – many years, in my experience, and the seedlings are random colors, so they may not be just what you were hoping for. That's why I usually deadhead mine and just buy new Hellebores when I want them, so I can choose which colors and styles I actually want."
When to Cut Back Hellebores
Around December of January, you should do some trimming of your hellebores, assuming the varieties you have are deciduous or hybrid.
There are several advantages to doing this at this time:
If you leave the foliage in place, it will start to look ragged and unattractive. The leaves on this plant may take some time to die, but it does happen. The dead leaves will just clutter the appearance of your hellebores.
Leaving dead foliage in place also endangers your plants. If the dead leaves are diseased, you do not want the fresh foliage to pick up on it. Removing the leaves eliminates this problem.
Finally, your hellebores will already be starting to blossom in winter, so you do not want the decaying leaves to get in the way. Clear them out so that you can enjoy the flowers to their fullest.
How to Divide and Transplant Hellebores
Hellebores prefer that you leave them alone after you plant them. So, transplanting is not advised unless you deem it unavoidable. Still, if you want to divide your hellebore to propagate it, you can do so. Follow the instructions below in September or October.
Dig down in a circle around your hellebore plant, providing enough clearance for the roots. Make sure you are reaching deep into the soil since the roots grow down.
Once you have dug all around the plant, dig underneath it and lift upward to free the plant from the ground.
Rinse off the crown of the plant.
Now that you have better visibility without all the excess soil in the way, you can take care of the dividing. Use a knife to slice between the buds. At a minimum, each division should have three buds.
Dig new holes for your hellebore divisions, and transplant them. Backfill the soil.
Water well, and provide extra water as your new hellebore plants establish.
Dividing and transplanting hellebore is a delicate procedure, and some plants do not survive. If you are careful though and conditions are suitable, you can probably succeed.
Are Hellebores Vulnerable to Diseases or Pests?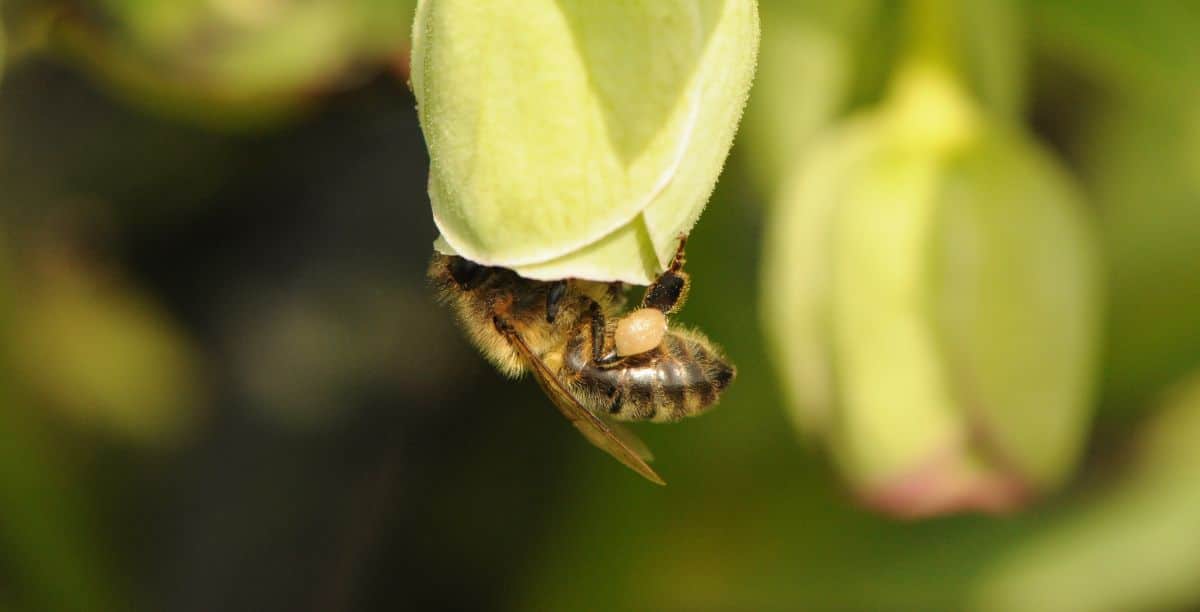 Hellebores usually are left alone by pests, and seldom end up diseased. But both are possible, so you should always be mindful of how your hellebores are doing.
With regard to disease, watch out for downy mildew and leaf spots. There is also a condition that can affect hellebores called "Hellebore Black Death." The reason for the dramatic name is the symptom that afflicts the leaves, turning them black.
How do hellebores catch Hellebore Black Death? The origin is actually usually an infestation of aphids, which spread a virus to the plants.
If you see the leaves of your hellebore turning black, your first thought will probably be to try and rescue your plagued plant. Alas, this is often a recipe for disaster, since the virus spreads easily from one plant to another.
So, for the sake of your unaffected plants, you should instead remove the sick hellebores from your garden.
Coming back to other hellebore diseases, the best thing you can do to prevent them is just to plant your hellebores where they will have open airflow.
Now let's talk about hellebore pests. As just mentioned, aphids are a serious problem, not only because of the damage they cause on their own, but also because they can carry Black Death.
Consider introducing ladybirds and other aphid predators to your garden. They will help keep the aphid population in check.
Along with aphids, other pests that can pose a problem for hellebores include leaf miners, vine weevils, and slugs and snails.
Normally, you will not have problems with deer or rabbits with hellebore, for the simple reason that most mammals know that this plant is poisonous. So, they avoid it.
Recommended Companion Plants for Hellebores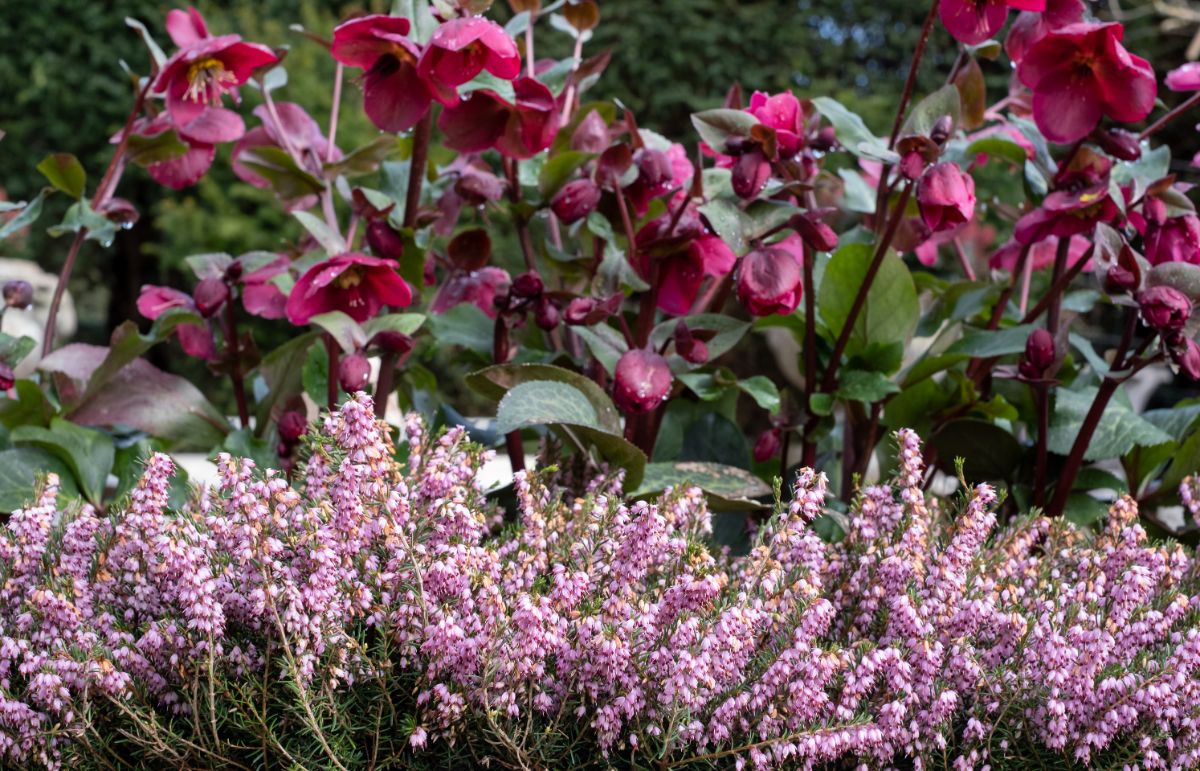 Here are a few ideas for what to plant with hellebores:
Snowdrops: Another classic winter flower that can accompany your hellebores is the snowdrop. These may bloom as early as October through as late as April, depending on your location.
Daffodils: While April is a typical bloom time for daffodils, in some locations, they may be in blossom in March or even February. Indeed, some cultivars also bloom earlier than others. So, you may be able to get your daffodils in bloom alongside your hellebores as well.
Crocus: These lovely blossoms in purple, white and yellow can bloom during winter and spring, just like hellebores.
Callicarpa: At a glance, the purple berries of Calicarpa shrubs may appear to be flowers. Indeed, we call these plants "beautyberry" because they are so stunning. Since the berries appear during autumn and winter, they can make a beautiful visual accompaniment to your hellebores.
Along with the plants above, you could consider using hellebores as companion plants for others in your garden that deer and rabbits tend to feast on. Since hellebores are deer-resistant, they may help deter unwanted dinner guests from those other plants.
Also, the flexibility of hellebores with respect to sun and shade really gives you a very wide range of companion planting opportunities. So while the ideas above can get you started, be sure and research more!
Frequently Asked Questions About Growing Hellebores
What eats hellebores?
If something is eating your hellebores, insects, slugs and snails are the most likely offenders. Most mammals know that hellebores are bad for them, and will not eat the toxic plants.
What is some interesting trivia about hellebore?
You might be wondering where the "Christmas rose" type of hellebore got its name. It all goes back to a folk story that took place in Bethlehem when Christ was born. A little girl named Madelon wanted to give him a present, but didn't have one to offer. According to one version of the tale, she cried into the snow. Flowers sprang up there, and those were the Christmas rose hellebores. According to another telling, an angel caused the flowers to grow.
Are hellebores annual or perennial?
Hellebores are perennial plants, which means that they come back every year. How long they will live depends on the particular type of hellebore you get. In most cases, they can last many years with proper care.
Are hellebores roses?
No, hellebores are not roses. Though it would be easy to assume that they are, given that some of them have names with "rose" in them, i.e. the Christmas rose. Nonetheless, roses are members of a different family.
Are hellebores poisonous?
Yes, hellebores are poisonous to cats, dogs, horses, and humans. If your cat or dog gets into the hellebores, you may notice symptoms such as drooling, colic, diarrhea, abdominal pain and depression according to the ASPCA. You should immediately call your vet if you think your pet has been poisoned.

This is a good reason not to let your dog or cat run around unattended near hellebores. Indeed, if you have pets, hellebores may not be the ideal houseplants.
Hellebores are not just poisonous to pets; they are poisonous to humans as well. So, do not consume any part of them.

Cornell explains, "Some authors describe symptoms following ingestion of Christmas rose such as slow, irregular pulse, weakness, labored breathing, irregular heart beat, convulsions, respiratory failure and nervous system disturbances such as delirium, convulsions and even death due to respiratory collapse."

Keep in mind that it is not only Christmas rose that is toxic, but other types of hellebores as well.

As a point of interest, hellebore used to be used to treat a range of medical issues in the past. Alas, it was not the safest option. Cornell says, "Treating intestinal worms lasted into the 18th century. The only drawback was that the patient might end up being killed together with the worms."

Naturally, that would not be an ideal outcome. So, it is for the best that we no longer use hellebores in medicine, but instead keep them in the garden for their aesthetic appeal.
Where to Buy Hellebores
Are you ready to add winter interest to your garden with beautiful perennials? With hellebores in your yard, you will no longer have to wait until spring to enjoy colorful blossoms. Click the link below to shop hellebores online now.