Grape hyacinth is a spring-blooming perennial classic named for its resemblance to a bunch of grapes on a stem.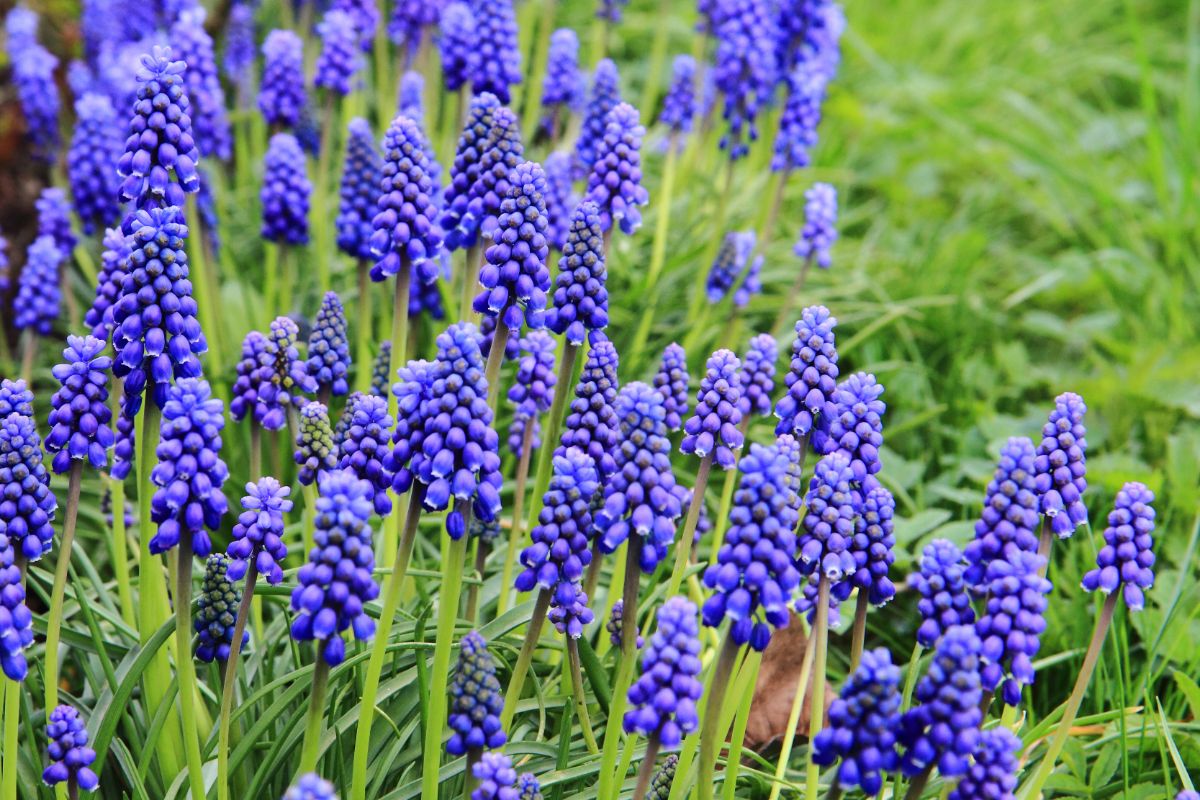 If you want to learn how you can enjoy these beautiful bulb flowers in your own spring garden, you are in the right place.
This post will tell you all about grape hyacinths and their planting requirements and care. You can jump to any section you need in the table of contents below, or read on for the full article.
Jump to:
What Are Grape Hyacinths?
As always, we will start with the basics. But here's the thing—you may be surprised to learn what a grape hyacinth is. Your first thought is probably that it is a type of hyacinth. But actually, the name is misleading. Grape hyacinths are not actually hyacinths at all.
True hyacinths are plants within the genus Hyacinthus, itself a member of the asparagus family.
Grape hyacinths, on the other hand, are a completely different genus of plants called Muscari. There are about 42 species in this genus. They do belong to the same family as hyacinths, Asparagaceae. But in the past, grape hyacinths were classified as members of the lily family, Liliaceae.
From a distance, hyacinths and grape hyacinths might look a bit alike. But close up, their resemblance quickly fades.
Both of these plants produce stalks with dense flower clusters. But the flowers on hyacinths feature open petals. Those on grape hyacinths are tight little bells. As they most commonly are purplish blue flowers, each small floret looks like a grape.
Grape Hyacinth Basics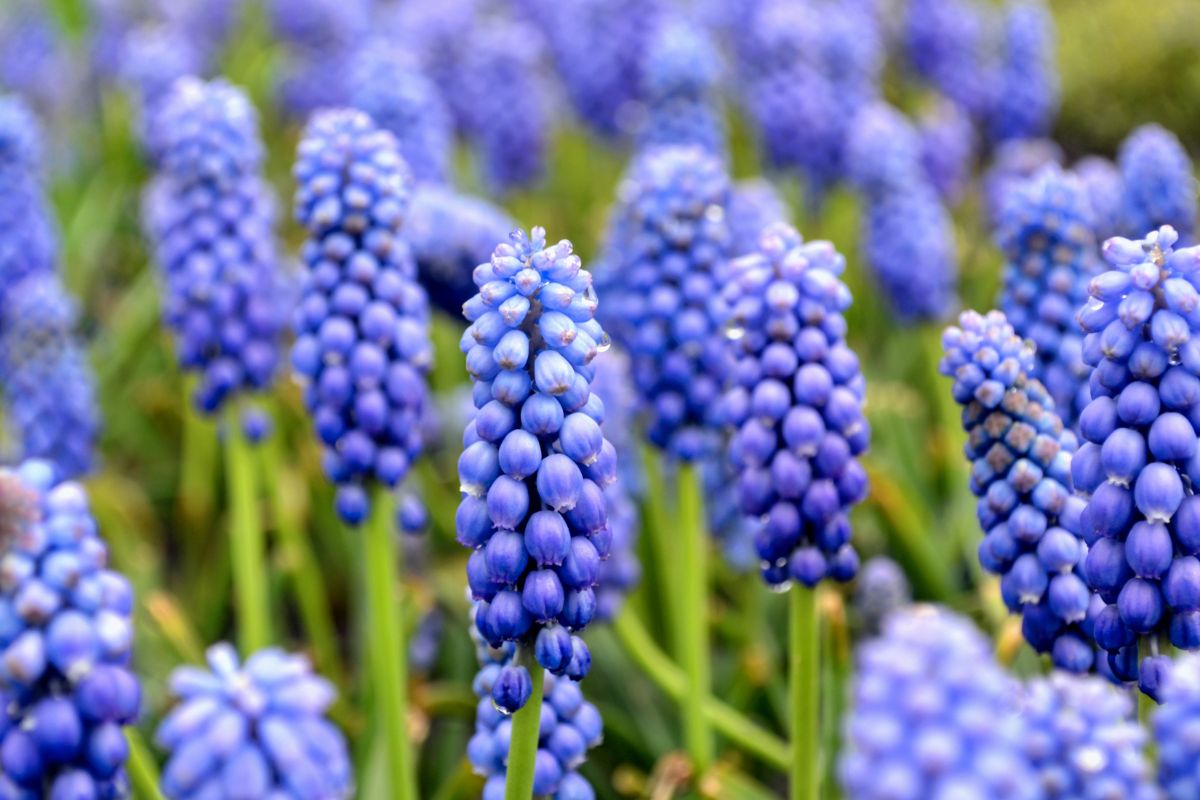 | | |
| --- | --- |
| Zones: | 3-9 |
| Blooming season: | April-May |
| Expected height: | 6-12 inches |
| Soil: | Moist but well-drained soil |
| Sun: | Full to partial |
Where Do Grape Hyacinths Grow?
These fragrant flowers are native to the southeastern part of Europe. Because you can grow the perennial bulbs successfully in zones 3-9, however, this spring bloomer has been cultivated widely across continents.
Why Grow Grape Hyacinths?
With their bold colors and easy spreading, grape hyacinths can be particularly fun to landscape with. There are all kinds of creative ways to dramatically transform your lawn and garden using these spring perennials. The effects you can achieve will have neighbors and houseguests gawking with envy.
There are multiple beautiful cultivars of hyacinths to consider in a spectrum of colors. While you can go with traditional blue flowers, you can also find grape hyacinths in other hues of the color palette.
Muscari tolerates many types of soil so long as there is adequate drainage. With this flexibility, it is a suitable fit for gardens in many locations. It also is not all that fussy about sun, adding to its versatility.
You seldom need to water this plant. This is especially true after the first year.
Grape hyacinth can be almost effortless to propagate. If you want it to spread, you often have to do little but sit back and wait while it self-seeds.
Most grape hyacinths grow free of disease or insect pests. In fact, it is not uncommon to see sources listing "none" for both. That is something of an exaggeration, but most gardeners should have little to worry about in this area with proper care.
Grape Hyacinth Landscaping Ideas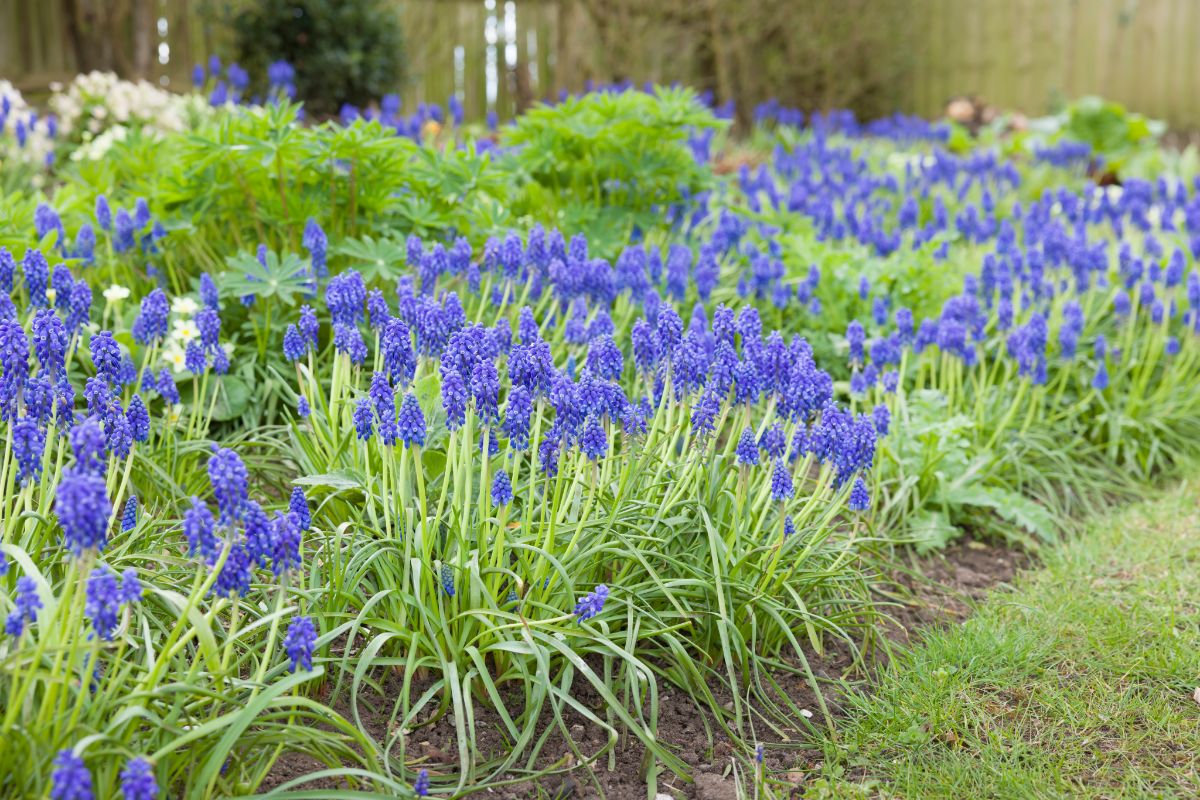 Line a path: Plant grape hyacinths in a row alongside a walkway for a dramatic effect.
Spread them out. A loose spread of grape hyacinths across an otherwise unremarkable patch of lawn can transform it each year into a beautiful blue oasis.
Plant them in rock gardens for a pop of color. Hyacinths thrive in rocky soil, and can bring an illusion of water to a dry landscape.
Make a "river" of grape hyacinth. The University of Wisconsin-Madison writes, "There is a famous planting of grape hyacinth at Keukenhof Gardens in The Netherlands known as the Blue River. This dense planting of M. armeniacum winds past trees, shrubs, and other spring flowers, giving the illusion of a flowing blue river. You can try planting a large drift of grape hyacinth in your garden for a similar effect – but you'll need a lot of bulbs!"
Where to Buy Grape Hyacinths
If you are ready to line a walkway with grape hyacinth or bring the stunning hues of this spring perennial to your rock garden, you can shop grape hyacinths online. Click the link below to order Muscari bulbs for your garden.
Recommended Grape Hyacinth Varieties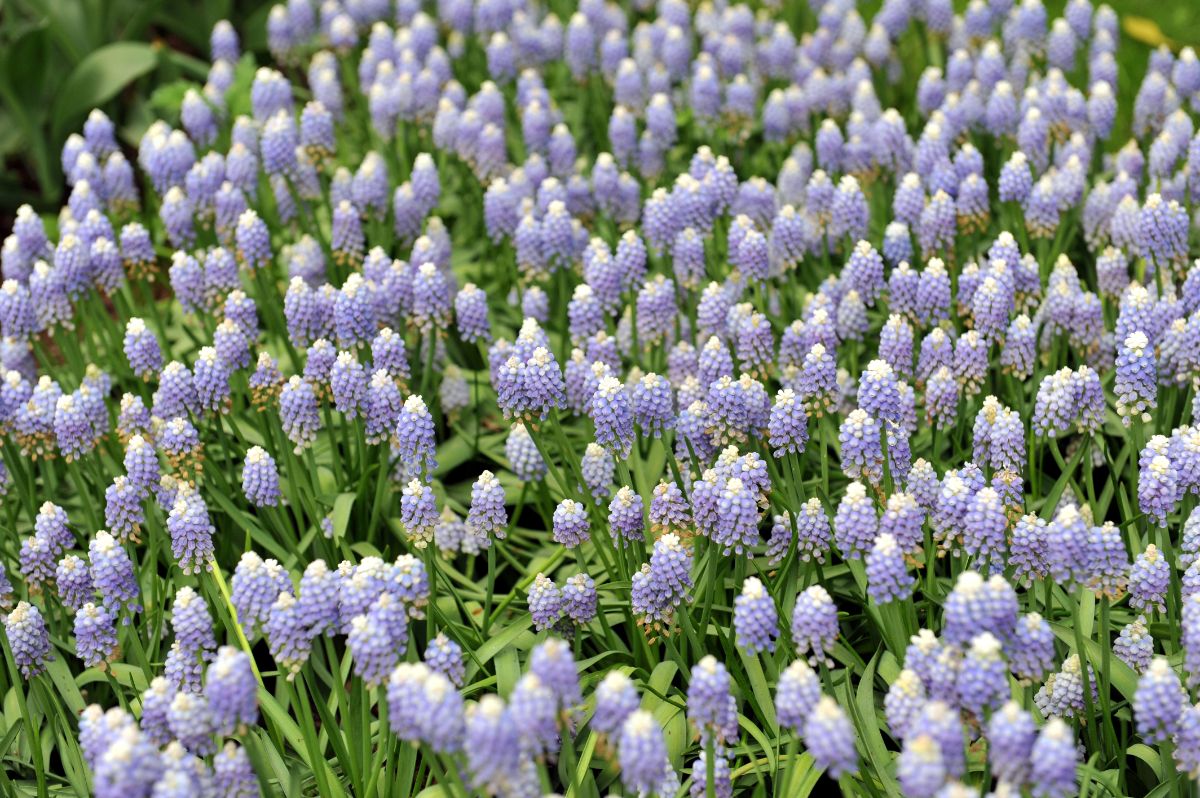 If you are ready to bring the stunning colors and sweet fragrance of Muscari to your garden, here are some varieties and cultivars of these flowering bulbs to consider.
Feather Hyacinth: This heirloom variety is one of the most unusual types of grape hyacinths you will find. Its appearance is completely different from most. Instead of flower spikes that look like upside-down grapes, it boasts feathery-looking frilly lavender-purple blooms. According to Michigan Bulb, Thomas Jefferson grew this type of Muscari.
Blue Magic: The blue blooms of this cultivar of Muscari will delight you as much as their exceptional fragrance.
Album; For white flowers, consider the snow-white splendor of "Feather Hyacinth." Consider using it to create white bands next to Muscari in blue or other hues.
Double Beauty: The "Double Beauty" cultivar of grape hyacinth is named for its distinctive double blooms. When this flower first starts blooming, the petals are white. But over the course of the bloom period, they turn blue. So, between the older and younger blossoms, you may see a range of two-tone colors.
Mount Hood: At the bottom, each blue spike is a deep, dark blue. They are a paler blue in the middle, and white at the tips.
Golden Fragrance Grape Hyacinth: Believe it or not, Muscari with yellow blooms do exist. This stunning cultivar features green leaves with a grayish tint along with yellow spikes that are brownish at the top.
Pink Sunrise: For exquisite pale pink blooms, try planting this poetically-named cultivar.
Grape Ice: These colorful flowers are purplish at the bottoms and white at the tips.
Baby Breath: For flowers in spring that feature a gentle pale blue color, plant these beauties. They will remind you of the open sky. You could even plant them between a white band and a dark blue band to have an ombre gradient of colors in your garden.
Mountain Lady: For a truly dramatic flower color, plant "Mountain Lady." Each flower spike is white at the top and dark blue at the bottom.
Giant Grape Hyacinth: This cultivar of Muscari can reach up to a foot in height, making it one of the taller varieties around. The color is deep blue.
Julia: These beautiful grape hyacinths are blue on the bottom and greenish on top. The blue florets have white rims.
Peppermint: This is yet another lovely cultivar of Muscari with light blue florets.
Can't decide which of these varieties to try? You could shop for a bulb collection that includes a kaleidoscope of color. Bags of bulbs with mixed color cultivars are quite popular. With a variety pack, it is easy and affordable to get started with different types of Muscari.
Enjoy creating picturesque drifts of color with the bright shades of Muscari varieties.
When Do Grape Hyacinths Bloom?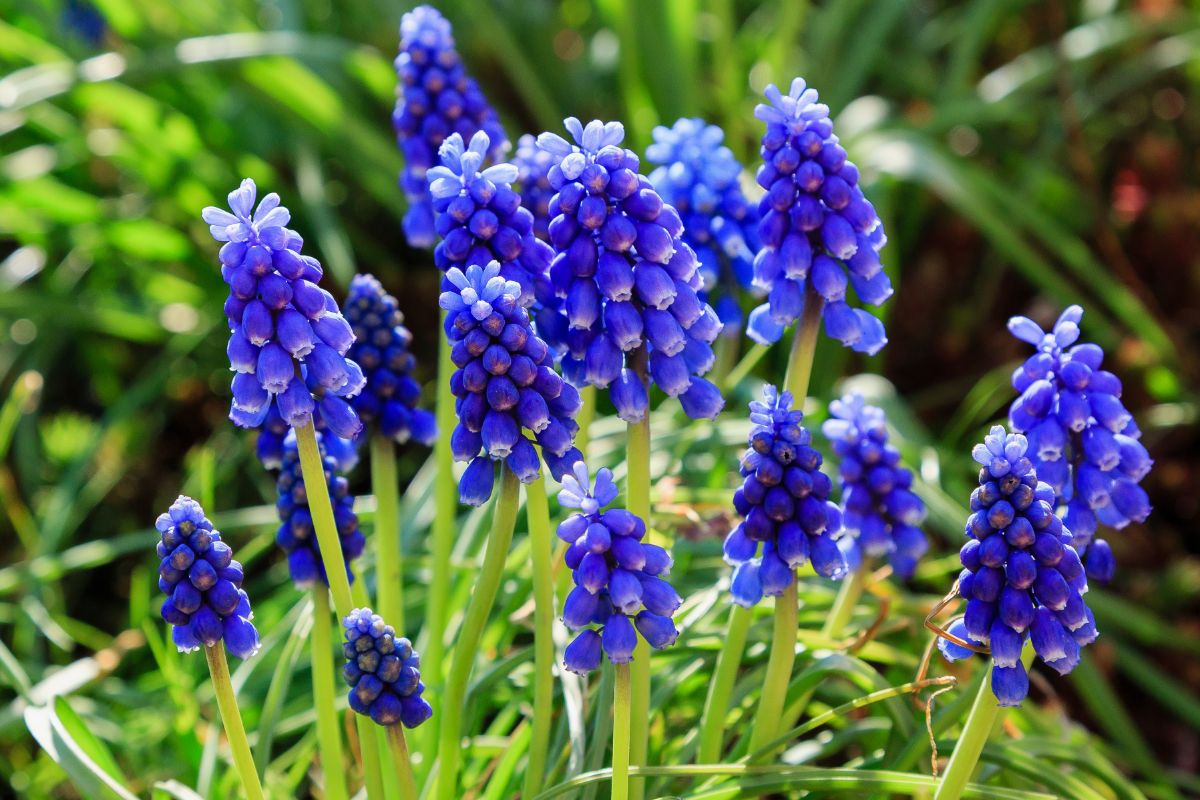 You can look forward to a flush of blue across your garden in April or May. In a warm area, blooms may appear relatively early. If you live in a colder climate, you may need to wait longer for blossoms.
How Long Do Grape Hyacinths Bloom?
Grape hyacinth flowers bloom for three weeks or so. Unfortunately, you cannot get them to produce a second flush of blooms during the same season. You will have to wait until next year to see them flower again.
When to Plant Grape Hyacinths
Grape hyacinths are grown from bulbs. So, you should plant them in autumn just as you would most other bulbs you want to blossom the following spring.
Ideal Growing Conditions for Grape Hyacinths
Growing Muscari successfully means providing them with the best conditions. Let's talk about the right sun and soil for this perennial as well as watering requirements.
How Much Sun Do Grape Hyacinths Need?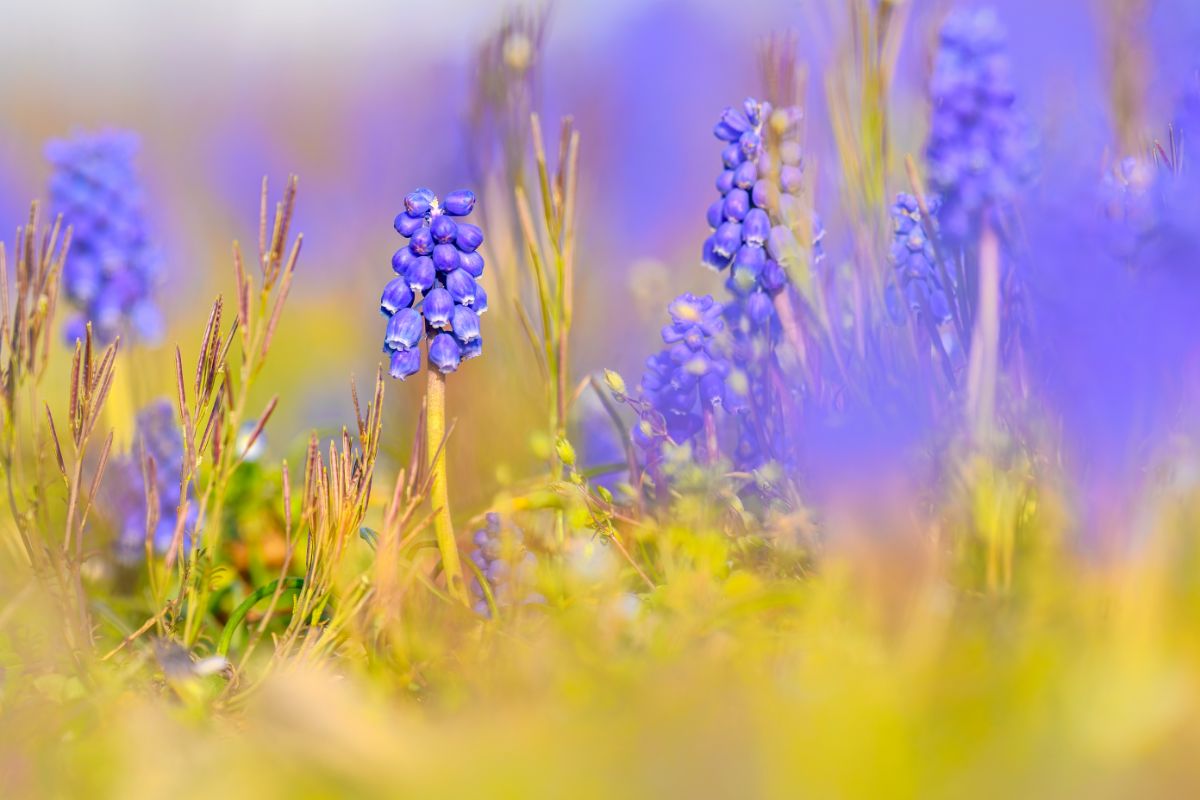 We have seen some sources say you can plant Muscari in shade. But as best we can tell, this plant prefers more sun than that. Go with a partial sun location if you must, or plant your grape hyacinths in full sun.
If you can, try to ensure that they receive at least six hours of direct sunlight each day.
What Type of Soil is Right for Grape Hyacinths?
A wide variety of soil types are suitable for grape hyacinths. Most important is for it to be well-drained soil.
You do not want overly rich soil, as this can result in a higher ratio of foliage to flowers than you might want. Average or lean soil work great for these versatile bulbs.
But Muscari plants do appreciate some compost mixed into the planting soil. Along with the extra nutrition it provides, it will help to ensure good drainage.
What about these soil pH? That should be neutral to acidic when possible. Just adding compost to the soil can lower its pH.
How Much Water Do Grape Hyacinths Need?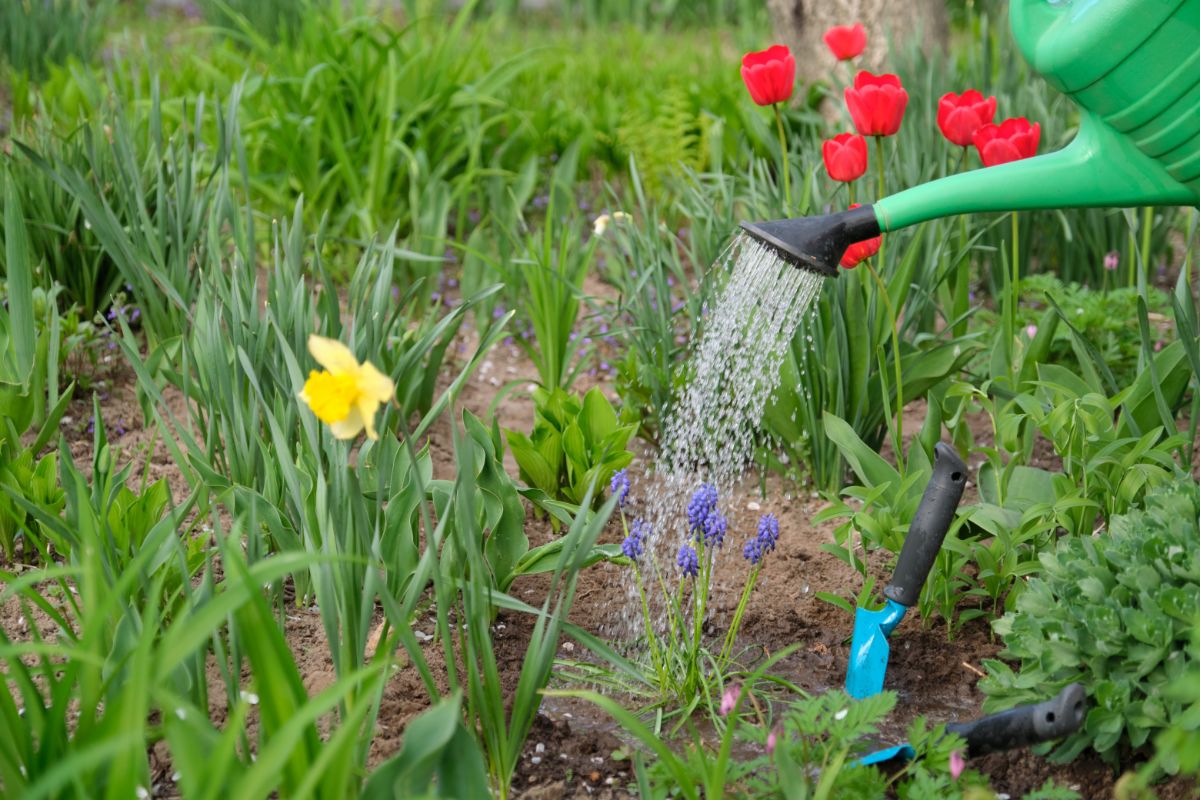 Grape hyacinths do not need all that much water, but you should not let the soil dry out.
Their watering needs are higher during the first year and during spring. After the first year and during summer, they do not require as much moisture.
While it is important not to let grape hyacinth dry out too much on hot, dry days, it is equally important not to overwater them. They are easily susceptible to bulb rot.
How to Plant Grape Hyacinths
It is possible to start grape hyacinths from seed, but normally when you plant Muscari, you do so from bulbs.
For our directions for container and garden bed planting below, we will go with the assumption that you purchased grape hyacinth bulbs.
Below those sections, you can scroll down to learn how to start grape hyacinths from seeds.
Container Planting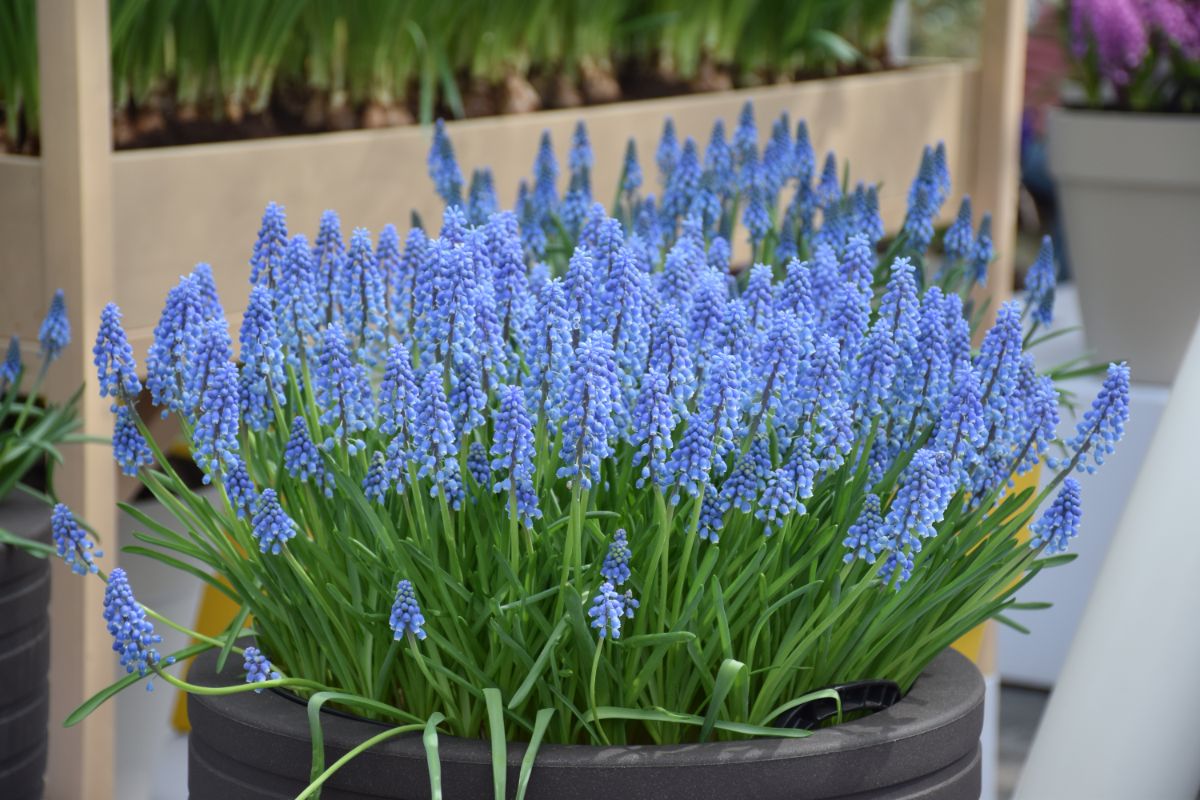 If you look up photos, you will see plenty of examples of potted grape hyacinths. So you can get away with container growth. But how successful you will be depends on your climate.
The problem is that grape hyacinths are sensitive to high temperature fluctuations. In containers, these intense swings up and down can have an exaggerated effect on the roots, given that there is less soil for protection.
If you do want to give it a try, here are the steps:
Choose a container for your Muscari plants. Add drainage holes if it does not have them yet. It is important for your potted grape hyacinths not to be in soggy soil.
Add well-draining soil to your container.
Make holes for your grape hyacinth bulbs and plant them. The pointed end of each bulb should be facing up. Backfill the soil.
Water well.
Ground Planting
Your garden beds are likely a more suitable spot for your grape hyacinths than containers or raised garden beds. Here is how to plant Muscari in the ground:
Chose a spot in your garden that receives full or partial sun, and which includes well-draining soil.
Prepare the soil as needed. While you can get away with clay soil, you will have to dig down into it to loosen it before planting. Otherwise, it will be too compacted to allow for sufficient drainage. Add some compost.
These plants can tolerate sandy soil as well. But once again, compost makes a helpful addition, as does peat moss.
There are certain amendments you should not make to your soil when you are planting grape hyacinths (or any other bulb plants). Examples include fresh manure and mushrooms.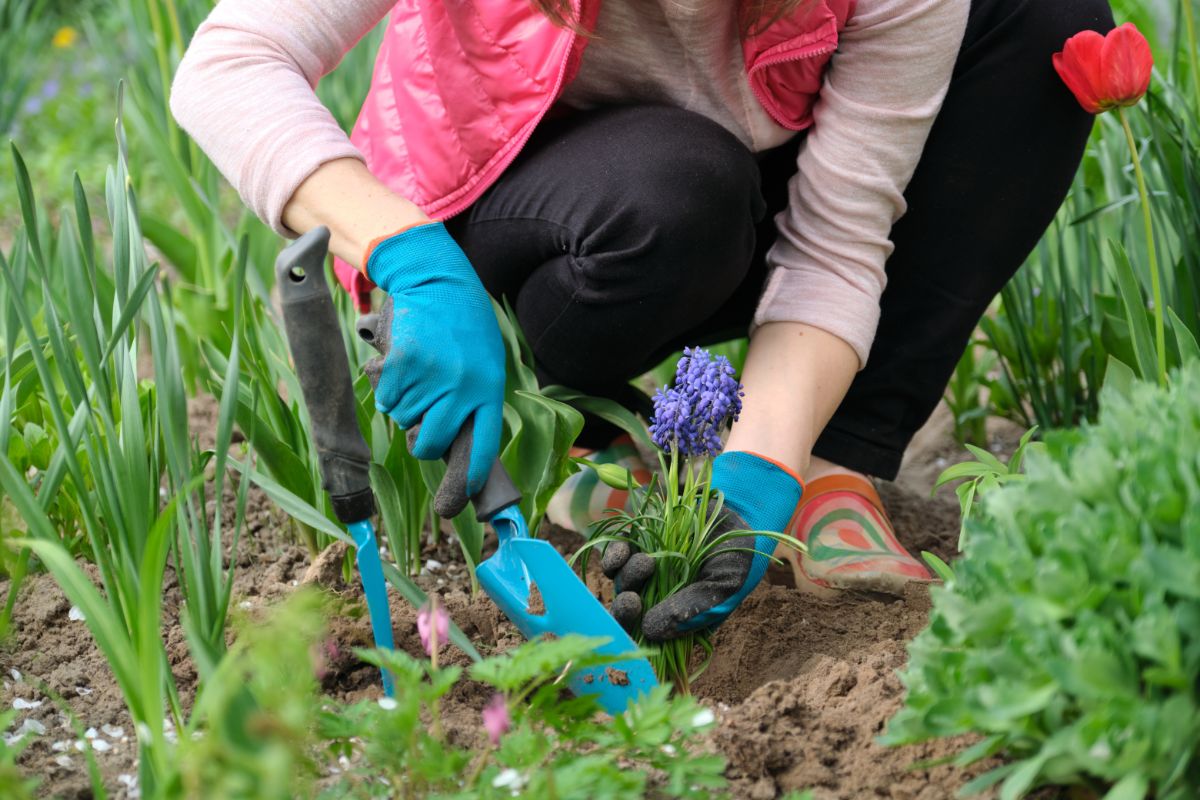 The issue with these organic materials is that they are still in the process of decomposing. As a result, they could be a source of fungal infection and/or pests. Either can attack bulbs.
Dig holes and plant the bulbs.
How should you space bulbs for Muscari? You should provide around 3 inches of space between each. The holes should be around 5 inches deep.
Insert the bulbs. The pointed ends should face up. Then, backfill the soil. Tamp it down gently.
Make sure that the soil does not indent near the holes. If it does, it may cause water to pool around your bulbs, which could lead to rot and failure.
Fertilize and water well.
Fertilizer can be good for Muscari, but you should not add it to the holes when planting the bulbs.
John Scheepers provides detailed directions for fertilizing grape hyacinthsa after planting, suggesting, "Broadcast a 5-10-5 or 4-10-6 granular organic fertilizer over the surface of the bed as if you were feeding the birds."
The site adds that you should repeat this type of fertilizing several times annually.
Finally, water well after you are done planting.
Starting Grape Hyacinths from Seed
Get a piece of paper towel and dampen it. Place some Muscari seeds on it. Stow that inside a plastic bag. Seal it and refrigerate it.
Wait for around two to four months. During that time, the seeds should germinate. They might do so at different rates.
When you see seeds germinating, you can remove them from the cold, dark location in the fridge. Fill a pot with soil and plant them.
Monitor your seedlings as they grow, moistening the soil as needed.
Plant them when they are ready. If you are expecting a hard frost during year one, you may want to wait until after before you put them outside.
These instructions came from the Mudflower blog, which notes how hard it is to come by non-ambiguous instructions for growing Muscari from seeds (or any plants from seeds, to be honest).
The blog goes into a lot more depth and detail, so be sure to check it out if you decide to move forward with starting Muscari from seed.
How to Care for Grape Hyacinths
Planting Muscari is not too challenging. Happily, caring for them is pretty easy as well. Let's go over what you need to know about fertilizing, mulching, pruning and more.
How to Fertilize Grape Hyacinths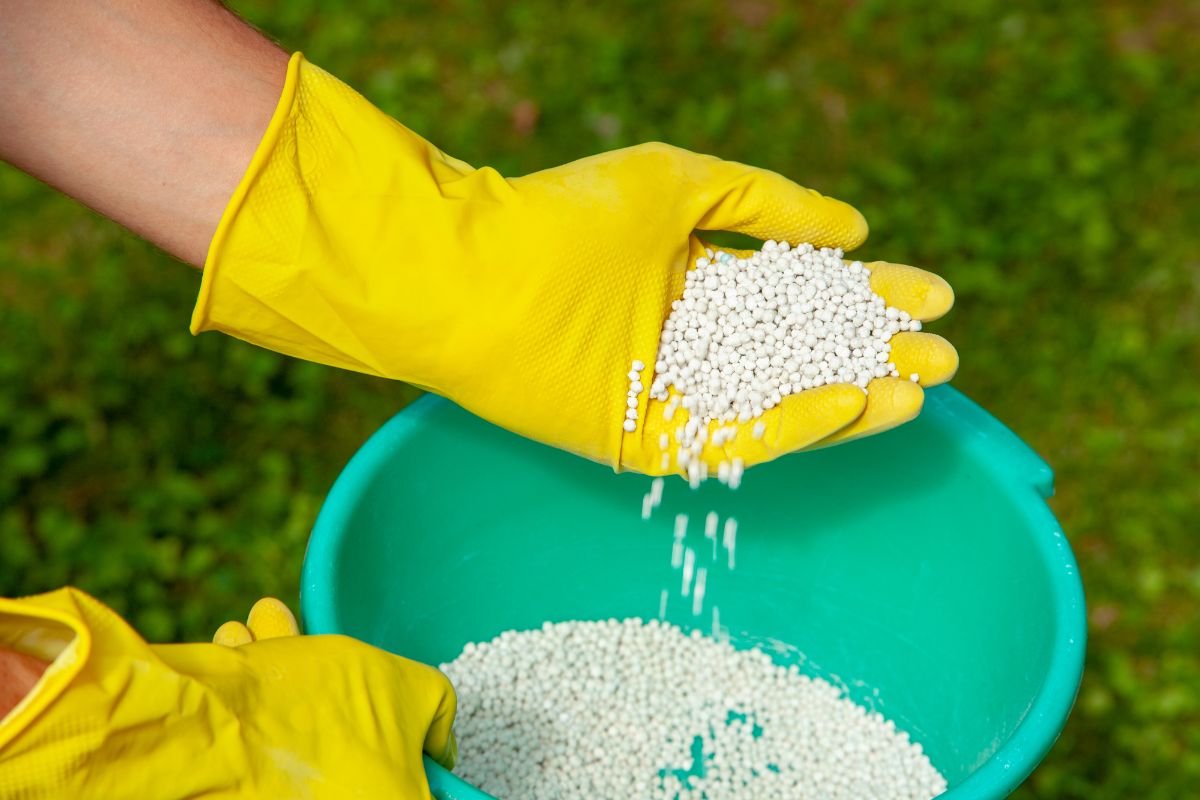 As we mentioned in our section on planting, you should fertilize grape hyacinths several times a year with a 5-10-5 or 4-10-6 granular organic fertilizer.
John Scheepers gives recommendations for the best times to do this, saying, "First at the time of fall planting to help grow the roots, second when the sprouts emerge in the spring to help nourish the foliage and flower, and finally when the flowers start to die back, to help feed the bulb itself. (Bone meal is incomplete nutritionally and can attract animals to some varieties of bulbs.)"
How to Mulch Grape Hyacinths
Muscari can be sensitive to temperature fluctuations. While the soil provides some insulation, mulch can offer an additional protective effect. Wait for the ground to freeze before you apply it, and then do not exceed two inches.
How to Stake Grape Hyacinths
Despite how top-heavy grape hyacinths appear, their stems are sturdy enough to support them. It should not be necessary to worry about staking them at all.
How to Prune Grape Hyacinths
Below, we talk about what you need to know about deadheading and cutting back your Muscari plants.
How to Deadhead Grape Hyacinths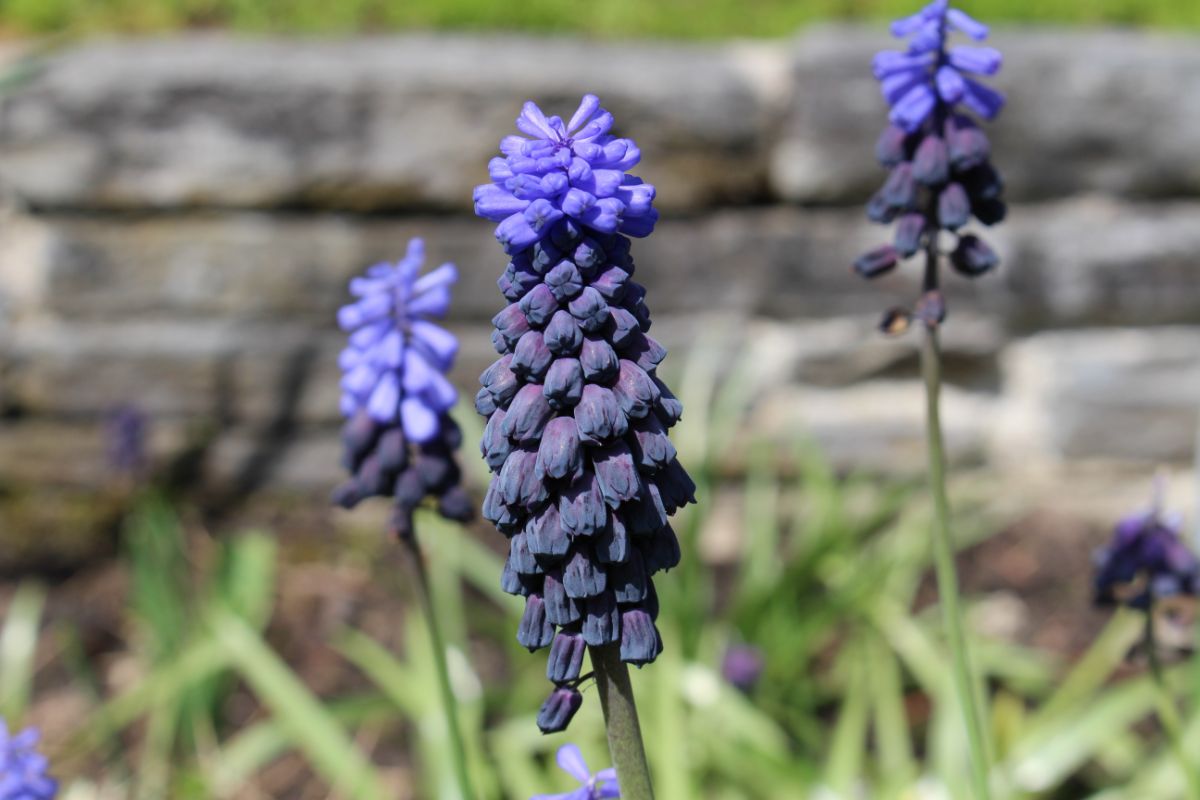 As we mentioned earlier, deadheading these flowers when their bell-shaped florets die will not produce additional flowers in the same season. But it is still something you probably will want to do unless you are hoping that they will spread. You should stop them from going to seed so that they do not take over.
A simple way to do this is just to use your fingers. Gently close your hand around the stem just below the fading blooms. Then, push your hand upwards. The florets should fall off as you go. Make sure that you do not accidentally break the stem.
Note that this can be a time-consuming task if you are going individually from plant to plant across a large drift. It is probably best to keep your numbers of grape hyacinths small unless you are willing to let them self-seed.
When to Cut Back Grape Hyacinths
If you want, you can cut back hyacinths at the same time you deadhead them. In fact, you can just snip the flower spikes using garden shears instead of running your hand up each stem.
John Scheepers also says, "Muscari is one of the few varieties of flower bulbs that sends up an extra round of foliage in the fall. It's natural, you needn't worry or do anything with it or to it. Just ignore it."
Of course, if you do not like it aesthetically, you could still trim it back.
How to Divide and Transplant Grape Hyacinths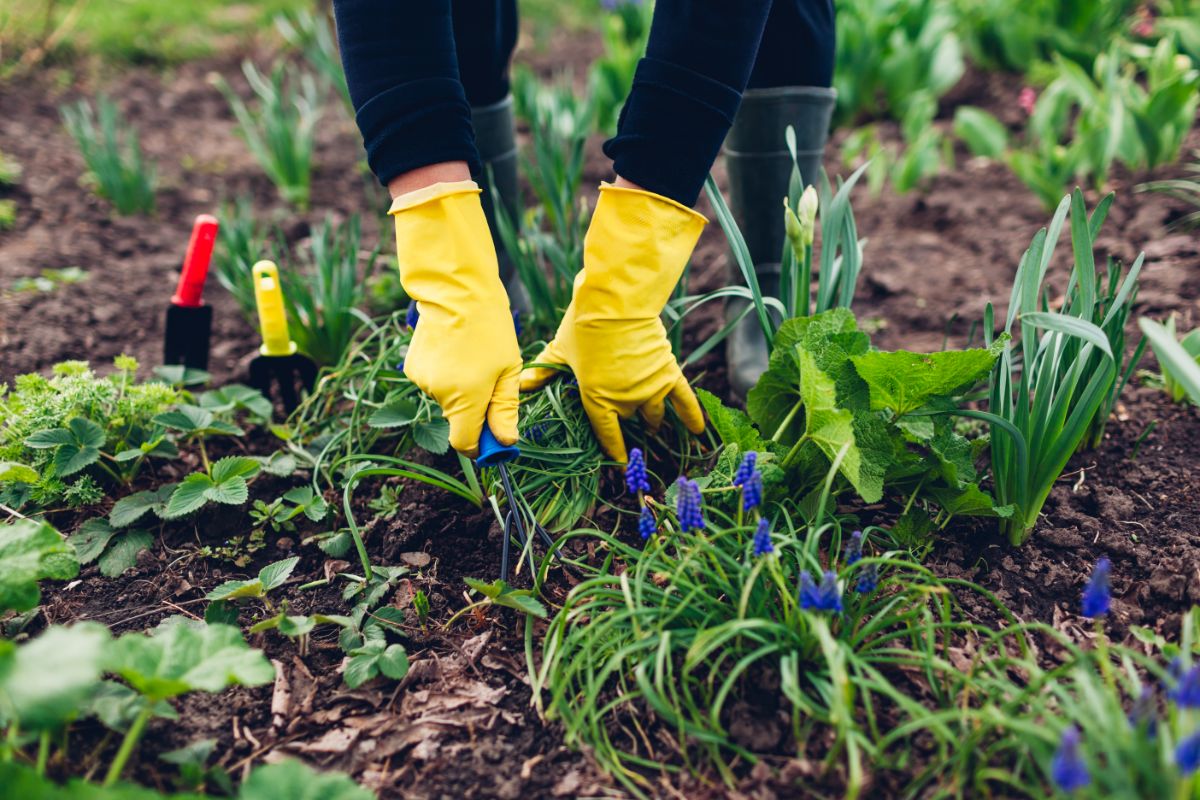 Muscari are great at spreading on their own through self-seeding. But you can also propagate them by dividing bulb clusters if you wish.
Plus, there is another benefit to occasionally dividing your Muscari to transplant bulbs, and that is to keep their roots and bulbs healthy.
Sometimes, if a bulb cluster becomes too large, you will see more leaves than flowers.
By dividing the plant, you can resolve this issue. The divided plants should go back to producing flowers in greater abundance with fewer leaves.
You can follow the steps below early in fall or spring:
Use a spade to cut down in a circle around the perimeter of the plant you want to dig out. Give it enough space so as not to cut the roots.
Push the spade underneath the roots of the plant and pry upward to lift it.
Wipe away the loose dirt.
Use the spade to break the large bulb cluster apart. You might be able to just use your hands as well.
Dig new holes for your individual bulbs and transplant them. Backfill the soil.
Tamp down the soil gently, ensuring it is even. Then, water well.
How soon can you expect the newly divided bulbs to produce flowers? It can vary from bulb to bulb, even from the same cluster. You could see blossoms from the larger bulbs by the next season. Small bulbs might not be ready yet, and may bloom a year or two later.
Are Grape Hyacinths Vulnerable to Diseases or Pests?
You should not have too many problems with common pests with grape hyacinths. Sometimes, spider mites and aphids might get at them. But this is not a common complaint. There are also occasional reports of slugs and snails dining on these plants.
Grape hyacinths are also resistant to deer, rabbits, squirrels and other mammals thanks to a degree of toxicity (see the FAQ).
Nevertheless, it is not entirely unheard of for a hungry enough mammal to get into grape hyacinths.
In terms of disease, you should look out for fungal infections in plants that are receiving too much water.
But so long as you do not plant in soggy soil or overwater, you are unlikely to have any issues.
Recommended Planting Combinations for Grape Hyacinth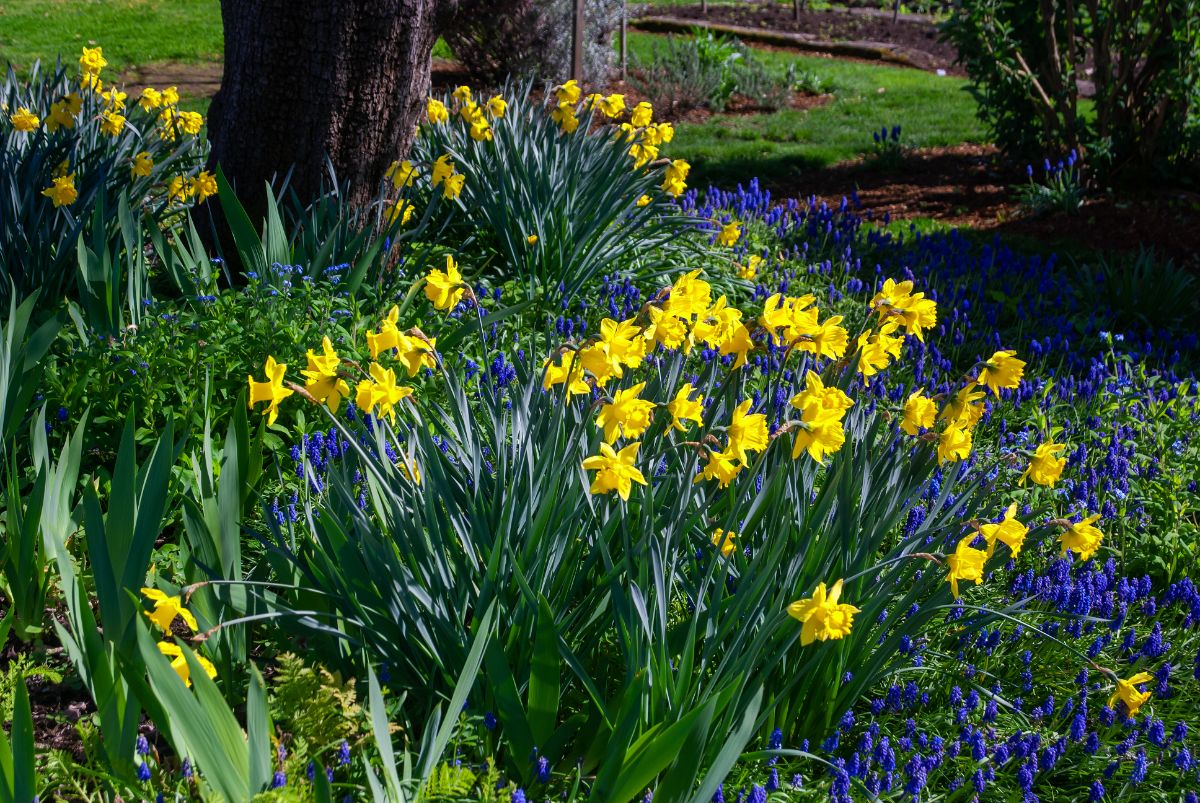 Here are some plants that look lovely in combination with grape hyacinths:
Phlox: Just as you can plant large drifts of hyacinth to carpet your garden in blue, you can achieve a similar effect with carpets of flox. You might try interspersing phlox and grape hyacinths to create contrasting bands of color. Alternately, both of them can do well together in your rock garden.
Daffodils: While you are purchasing plant bulbs, consider stocking up on some daffodil bulbs. Like grape hyacinths, they bloom in spring. Intersperse these sunny flowers with blue grape hyacinths for an unforgettable contrast.
Tulips: For spring-blooming bulb flowers in every color of the rainbow, consider tulips. They can look beautiful planted close to grape hyacinths.
Crocus: These lovely flowers bloom during winter and spring. That means that some types of crocus may blossom simultaneously with grape hyacinths. They are great for creating that carpet effect that you can get with phlox or grape hyacinth, so you can use them creatively in your landscaping ideas alongside grape hyacinths and other flowers on this list.
Frequently Asked Questions About Growing Grape Hyacinths
Are bluebells and grape hyacinths the same thing?
Some people think that bluebells and grape hyacinths are identical, but they are not. They both share a similar blue color, but there, the similarity ends. Blue bells are indeed bell-shaped, just as the florets of grape hyacinths are. But the petals open up and curl back around the edges. They do not do this on grape hyacinths.
Like grape hyacinths, bluebells do belong to the asparagus family, but the genus name is Hyacinthoides.
What eats grape hyacinths?
If something is eating your grape hyacinths, possible candidates include insects, slugs or snails, or mammals. They are not favorites of any particular species, but it can happen.
Is grape hyacinth invasive?
Depending on the region, grape hyacinth may be classified as invasive. They self-seed effortlessly, and can spread rapidly.
So, if you plant them, be mindful that they do not take over your garden. And check to see whether they are an appropriate choice for your region before planting.
How do you force grape hyacinth?
If you are wanting some early flowers indoors, you can force Muscari. Only do this if you are willing to sacrifice them, however, as you cannot reuse the bulbs. Start the process below in October.
Put the bulbs somewhere dark and cold for about a month. A good temperature range is anywhere from 38 degrees Fahrenheit to 45 degrees Fahrenheit.
Place soil in pots in preparation for the next step. Make holes for the Muscari bulbs.
Plant the bulbs in the containers.
The cold period is not yet complete. You now need to return the potted bulbs to their cold, dark environment. Wait another month or so. Occasionally you should add water to the pots.
Take the potted bulbs out of their dark place and put them anywhere in your home with regular temperatures.
Wait an additional two to six weeks. Somewhere in that timeframe, you will be able to enjoy the blooms.
Is grape hyacinth edible?
Interestingly enough, yes. Grape hyacinths are edible. North Carolina Extension says, "Grape hyacinth is a bulb in the lily family featuring pretty, purple, edible flowers that taste like bitter grapes."
Do people eat Muscari? Actually, yes. There are some grape hyacinth recipes online. For example, it is actually possible to make a kind of syrup using the flowers. The process involves boiling water to create an infusion, and then straining it so that all that is left is the liquid. You then can cook it in a saucepan with sugar to create the syrup.
You can use the syrup in drinks such as lemonade or tea. It might even incorporate well into some dessert recipes.
Is grape hyacinth poisonous to cats or dogs?
We have established that the flowers of grape hyacinths are edible, but there seems to be a lot of confusion in general about whether or not Muscari is toxic to humans or animals. In particular, concerns revolve around grape hyacinth bulbs.
Here is the page for grape hyacinth from the ASPCA. It says "non-toxic to dogs, non-toxic to cats." Note that the listing is specifically for Muscari armeniacum.
On the other hand, charity Plants for a Future says, "The bulb is poisonous[4]. It contains a substance called comisic acid, which is said to act like saponin[4]. Although poisonous, saponins are poorly absorbed by the human body and so most pass through without harm." This page is specifically for Muscari neglectum.
So, it sounds like either way, Muscari poisoning is not a major concern. Still, to be on the safe side, we recommend that you do not ingest any part of the bulb, and likewise keep your pets away from grape hyacinth bulbs.
Are grape hyacinths annual or perennial?
Grape hyacinths are perennials. As perennial flowers, they come back year after year to carpet your garden in blue.