Your garden is growing abundantly, nature is in full swing, flowers are blooming and your backyard is abuzz with the music of pollinators. What better time to add some new plants to your garden than summer?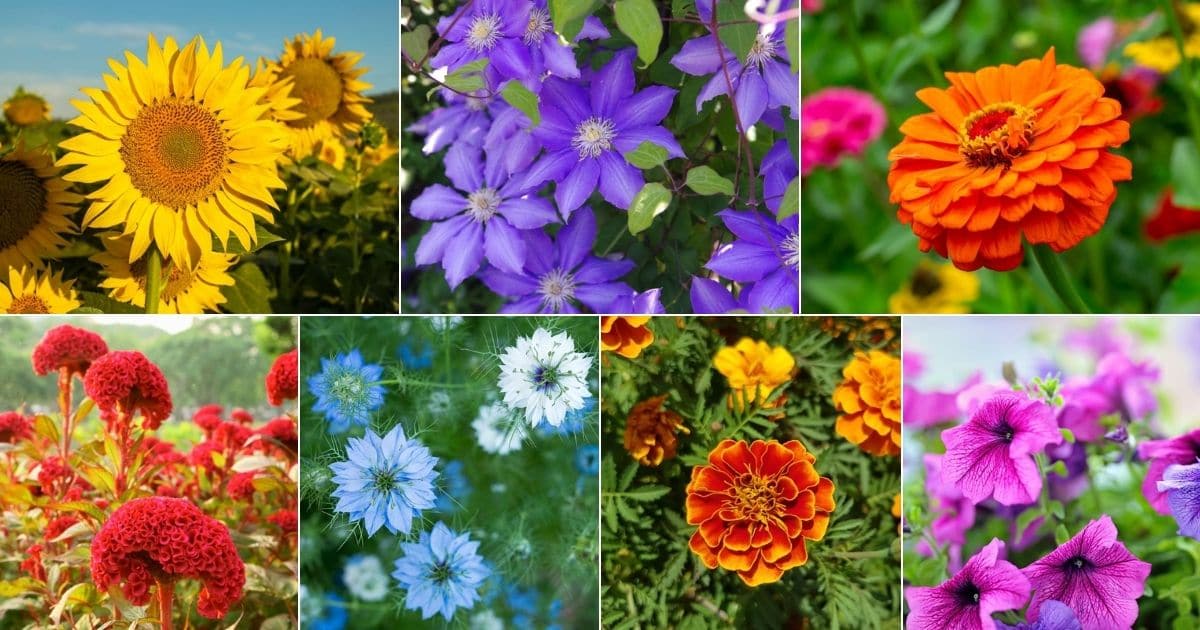 While most gardeners think of planting new flowers in spring and autumn, summer is a great time to expand your flower beds too. And even if the temperatures are soaring, there are still plenty of plants that are great for planting at this time of the year.
In this article we'll explore some of our favorite flowers for summer sowing. We'll touch on some great options for in-ground flowerbeds, as well as some excellent plants for container gardens and hanging baskets. Our list includes climbing plants, pollinator favorites, annuals and perennials -- pretty much any flower type you could ever want!
So read on to discover some great plants to sow during summer's peak, from June to August. We love these plants and we are sure you will too if you decide to add these showstopping blooms to your garden this growing season.
Jump to:
What sort of flowers are best for summer planting?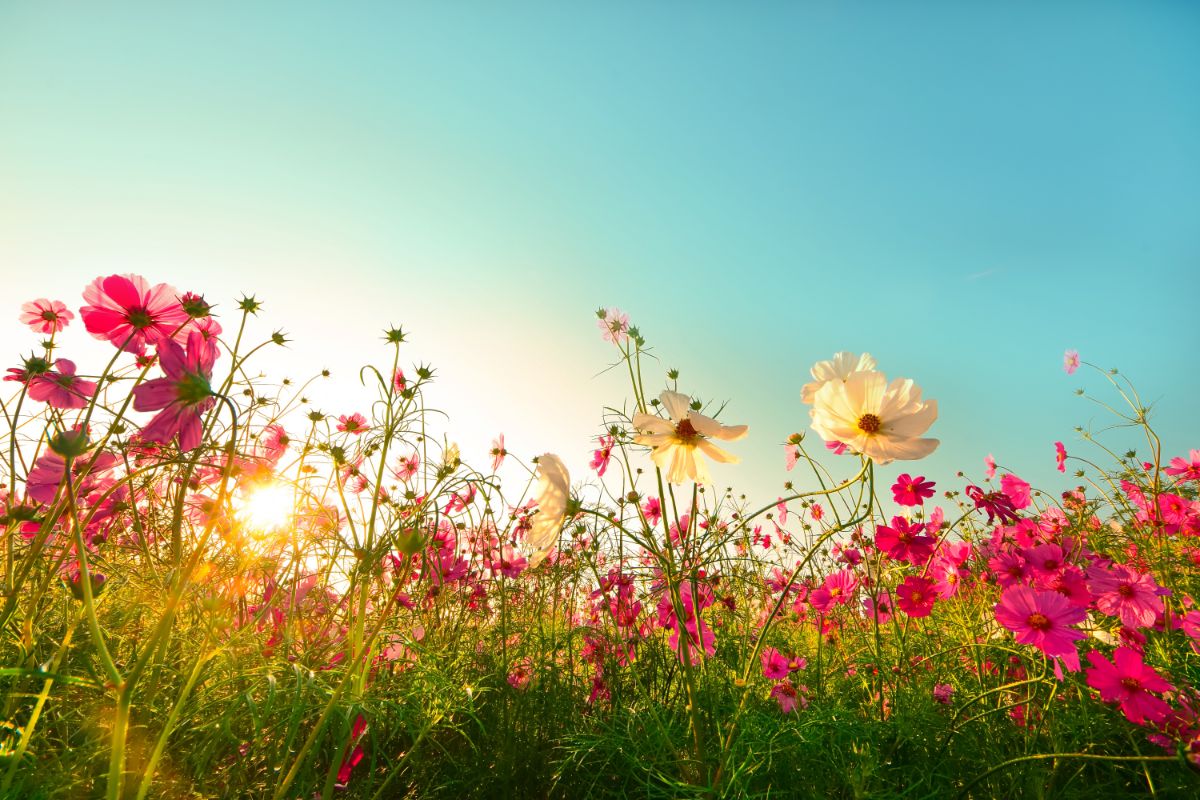 When choosing flowers for your summer garden, look for plants with lots of brightly colored blooms and interesting foliage patterns to liven up your beds. Playing with different textures, structural forms and complimentary colors is a great way to lend an expert touch to your garden.
But beyond aesthetics, there is a trick to choosing the right plants for summer sowing. You'll want to look for hardy plants that don't mind the summer heat. Generally speaking, plants that don't do well in cold temperatures or tropical annuals are always a great choice because they are less likely to struggle on hot days.
Planting any plant in summer can be difficult though. Between the long days of bright sun and high temperatures, new transplants can have a tendency to shrivel up or grow limp if not acclimated properly. A good way to avoid crispy plants is to make sure you only plant heat-tolerant species during this time and give them a bit of extra TLC to help them to adjust to your garden.
If you are growing ornamental plants from seeds, it is especially important to harden them off during this time to prevent transplant shock. You'll also want to avoid planting cool season flowers, like sweet peas, or plants with delicate stems that are quick to dry out in the heat. Bulbs are also not a great choice for summer planting, as they may prematurely sprout causing them to use up valuable nutrients they need to overwinter.
Flowers that are drought-tolerant and heat-tolerant are great choices for summer beds. Shade loving plants can work well for summer planting too as they can usually be shaded a bit from the summer heat by trees and other taller species. This will help them to resist the summer heat and conserve water a bit better.
Because fall isn't too far away, you'll also want to avoid long-season flowers and opt for plants with shorter growing times to ensure they have enough time to reach full maturity before fall frosts. Opting to purchase nursery starts, rather than starting plants from seed, is often the best choice during summer as seedlings will produce flowers more quickly after planting.
Top 21 flowers for summer planting
While many plants might not do well when sown in summer, the following list includes some of the best plants to try in your garden during the summer's heat. These plants are all simple to grow and quite adaptable, making them well-suited for planting even in the warmest part of the year.
1. Iris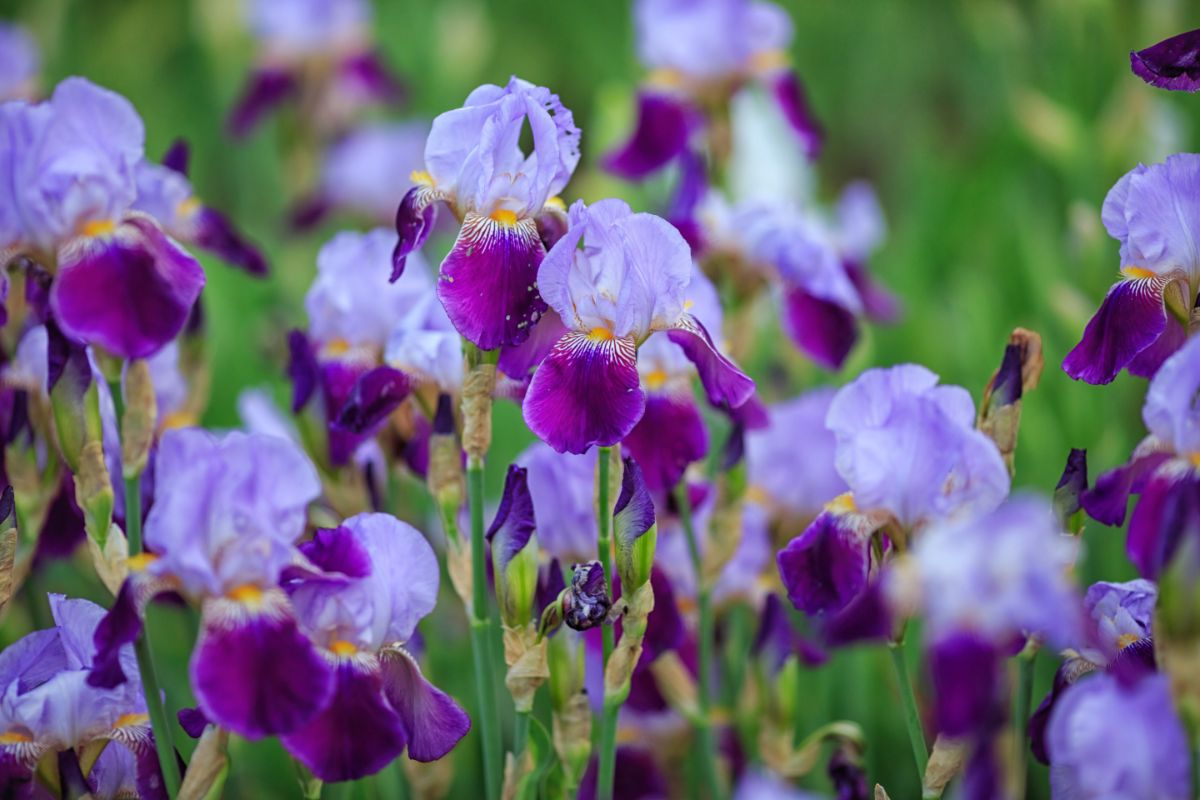 It's no wonder why irises are some of the most popular garden flowers to grow in summer. These showy plants are simple to keep and add lots of color and structure to planting arrangements.
There are somewhere between 250 to 300 species of irises today. Those varieties range in size from dwarf plants to tall, bearded irises. While purple irises are often most common, they come in blue, white, red, pink and other assorted colors too. Some irises, such as true water irises, are semi-aquatic species and make wonderful additions to water gardens.
Whether you want to plant new flowers or divide existing clumps of irises, it's best to handle these plants in summer, from late July to the middle of August. Growing in mounds, irises should be divided in summer every 3 to 5 years for best growth.
2. Sedum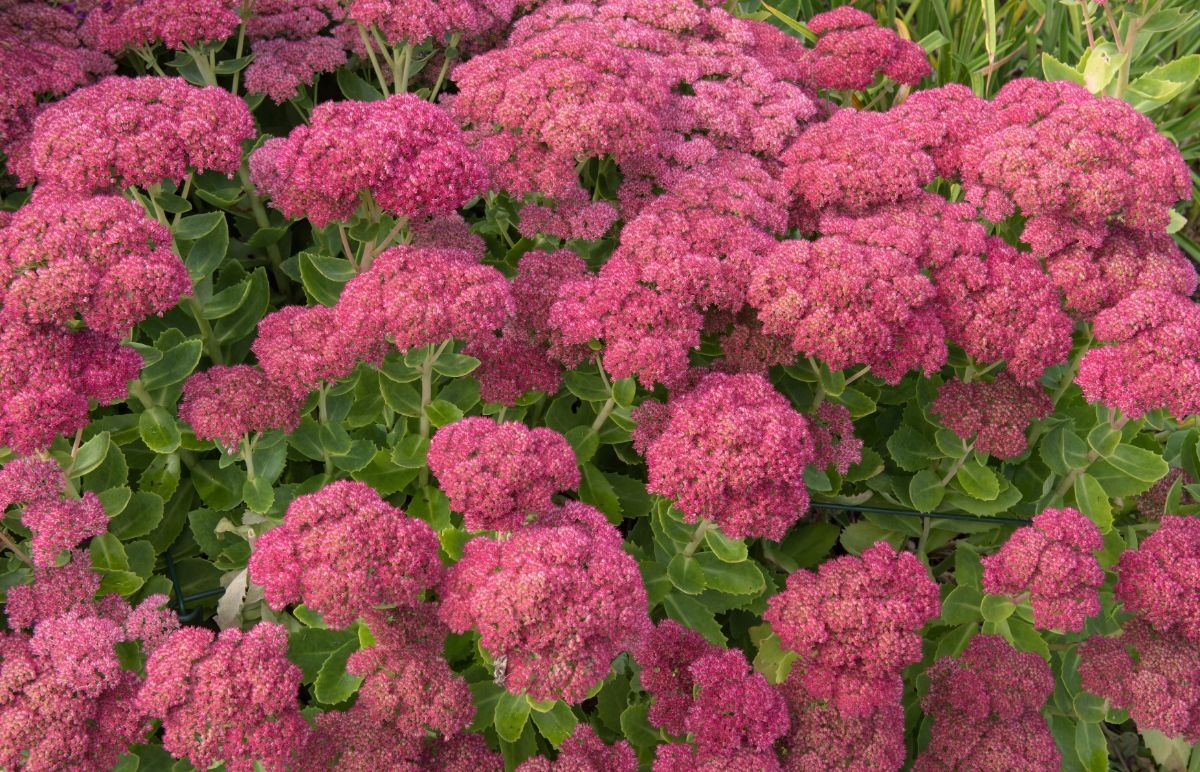 Also known as stonecrops, sedums are staple plants in autumn gardens, but they ought to be planted in spring or summer. That's because sedums are prone to rot if they don't have enough time to establish themselves in soil before winter arrives. Summer-planted sedums will generally be strong enough to survive the cool months ahead with little struggle.
Actually succulents, sedums are cold hardy plants that grow as perennials to zone 3. Super low maintenance, sedums don't require a lot of water and should only be watered about once a week if conditions are very hot and dry. Otherwise, these drought-resistant plants require minimal care and should be allowed to dry out in between waterings.
Sedums flower from July through fall. For added interested in winter gardens, many gardeners choose to leave dry flowers in place all winter long, which can give an interesting look to landscape designs.
While there are many excellent varieties of sedum available today, one of the most popular types is "Autumn Joy."
3. Nigella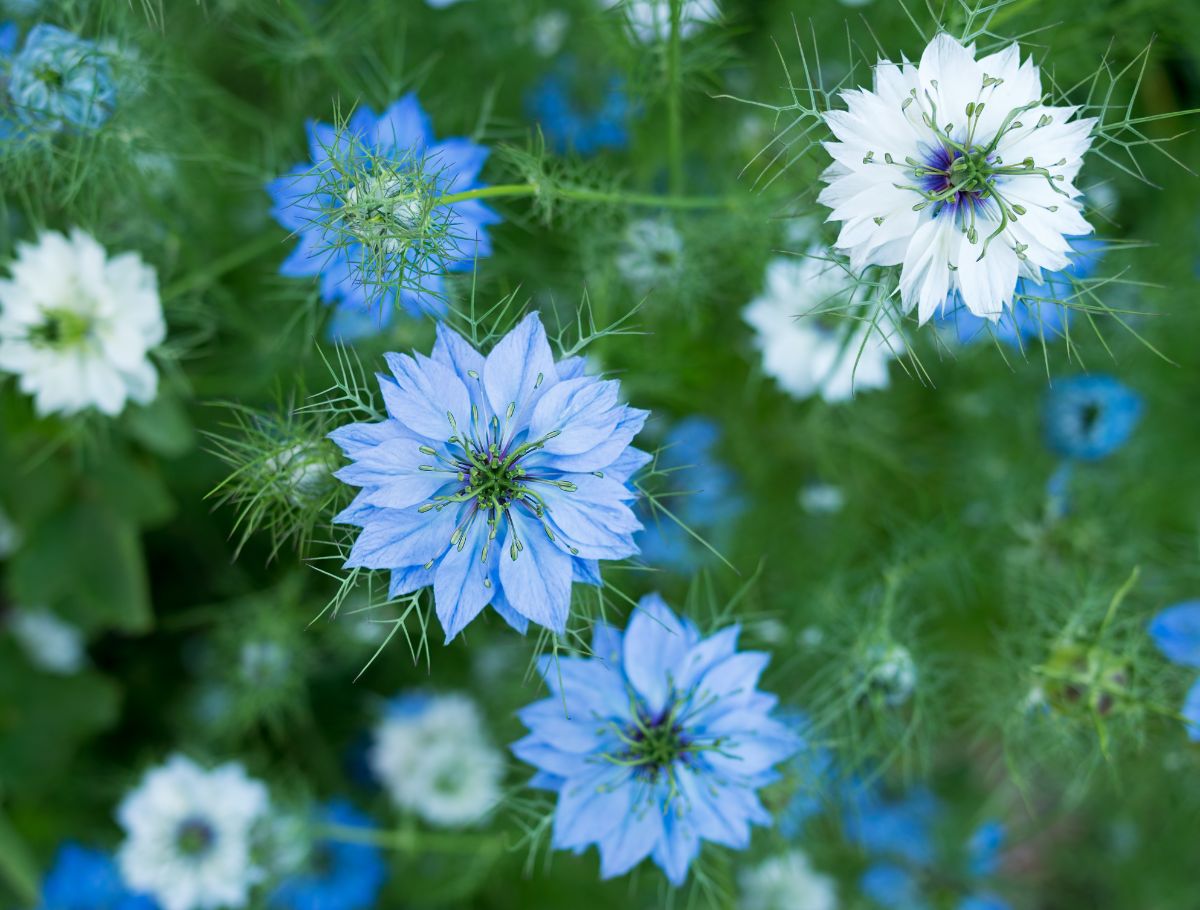 Also known as "Love in a Mist," nigella is a pretty and feminine plant with frilly foliage and star-shaped flowers in pink, blue, purple and white.
An easy-to-care for species, nigella is an excellent choice for succession planting, as doing so guarantees you'll have an abundance of flowers through spring, summer and fall.
To succession plant nigella, begin your seeds indoors in early spring, about 6 to 8 weeks before your last frost date. After your last frost date, seeds can be directly sown in your garden every 2 weeks through mid-summer.
Gorgeous in the garden, nigella is a stunner in cut flower arrangements too!
4. Hibiscus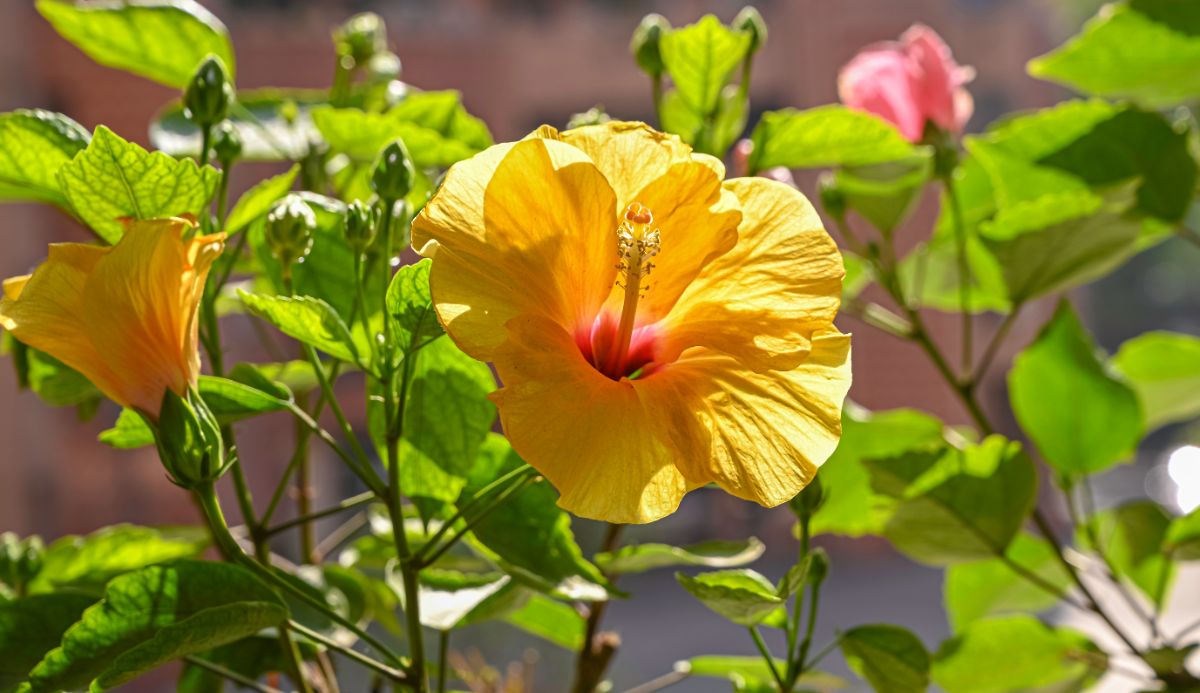 Tropical hibiscus may look exotic, but you can grow them in any garden, even in cold areas! Of course, in cold areas hibiscus only grows as annual, but in zones 10 and above you can keep this thrilling specimen as a perennial too.
When grown as a perennials, hibiscus can grow quite large, often over 5' tall; however, they'll stay much smaller in colder locations. Preferring full sun, hibiscus flowers come in red, pink, lavender and white. Hibiscus are also super attractive to pollinators, particularly hummingbirds and butterflies.
Hibiscus can be planted in spring through fall, but they are usually planted in summer in cold locations. Temperatures below 55° F can damage these beauties, so make sure you soil is nice and warm before planting.
While there are many different hibiscus varieties to try, for a special treat, grow Hibiscus sabdariffa. This plant is not only beautiful, but its flowers and leaves are also edible and taste great in jams, teas and lemonade.
5. Celosia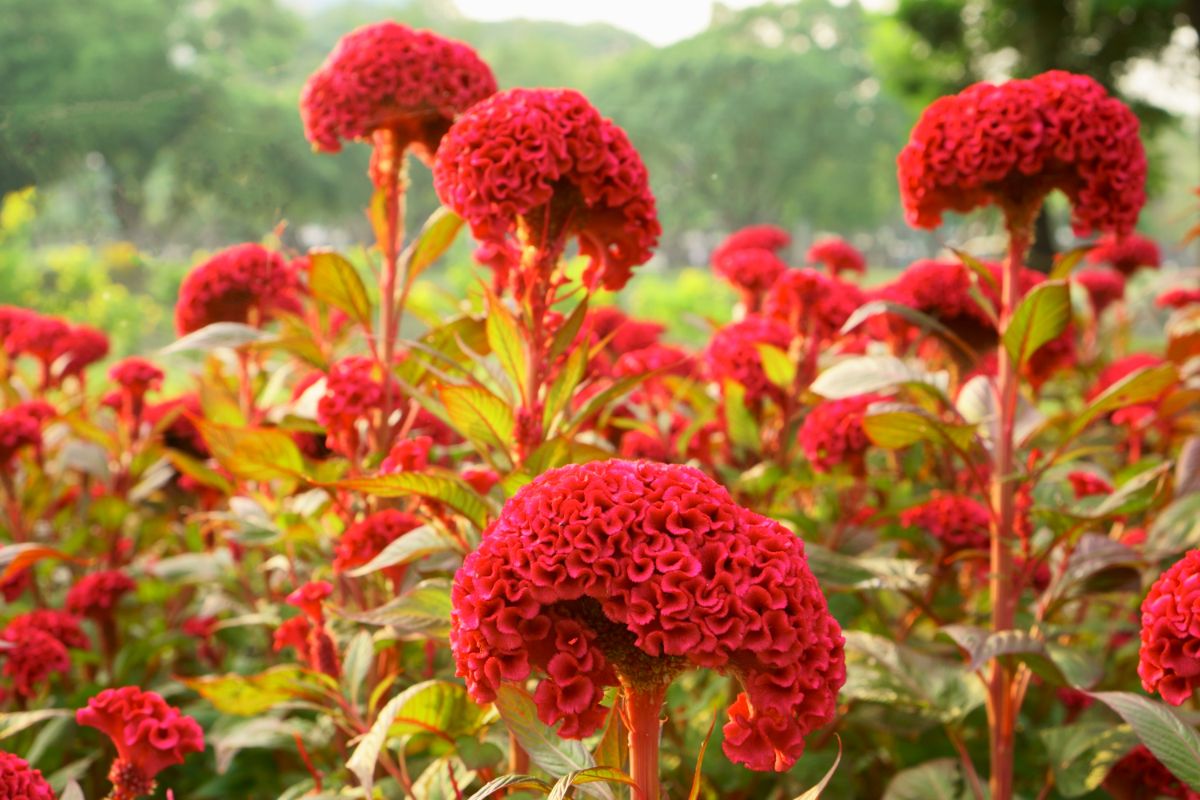 If you like bold colors, plant some celosia. With oddly shaped flowers in purple, red, orange and gold, celosia blooms look like something from under the sea. Flower shapes come in either plumed, wheat or cockscomb, but cockscomb tends to be the most popular for many outdoor arrangements.
Preferring full sun, celosia loves heat and should not be planted outdoors until soil is well warmed. That makes summer an ideal time to plant these stunners.
Great for inground planting or container beds and window boxes, celosia works well in cut arrangements and dries nicely for preserved bouquets too.
Blooming from July to October, when sown from seed, celosia needs about 90 days to mature enough to flower. If you want to grow celosia from seed, start them inside about 4 to 6 weeks before your last frost date or sow them directly in your garden after the danger of frost has passed.
These popular plants are also readily available at most plant nurseries, so if you're in a rush, purchase some nursery starts instead.
6. Marigolds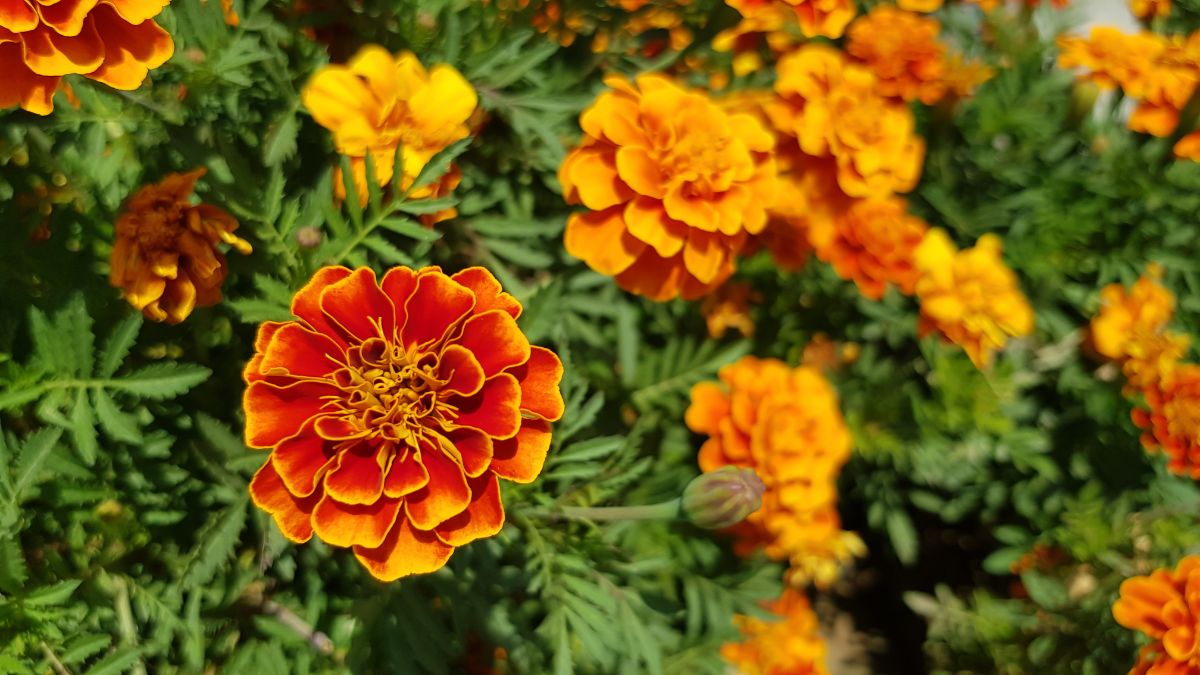 No garden is complete without marigolds and that especially holds true for vegetable gardens. While marigolds are lovely statement flowers, they really shine when put to work in your garden for natural pest control.
Marigolds' fragrance is off-putting to many garden pests and so these flowers are often interplanted in gardens to keep mosquitoes, cabbage loopers, rabbits and other destructive garden pests away. In terms of natural pest control, French marigolds are often the best choice to plant.
If you want to grow marigolds just for their blooms, that's great too. These cheery flowers come in yellow, orange and red. Plants can grow up to 3' tall, although they come in dwarf varieties too.
To grow your own marigolds from seed, start seeds indoors about 8 weeks before your last frost date. For earlier blooms, however, opt for nursery starts, which can be purchased from spring to fall and are usually quite easy to find.
7. Scabiosa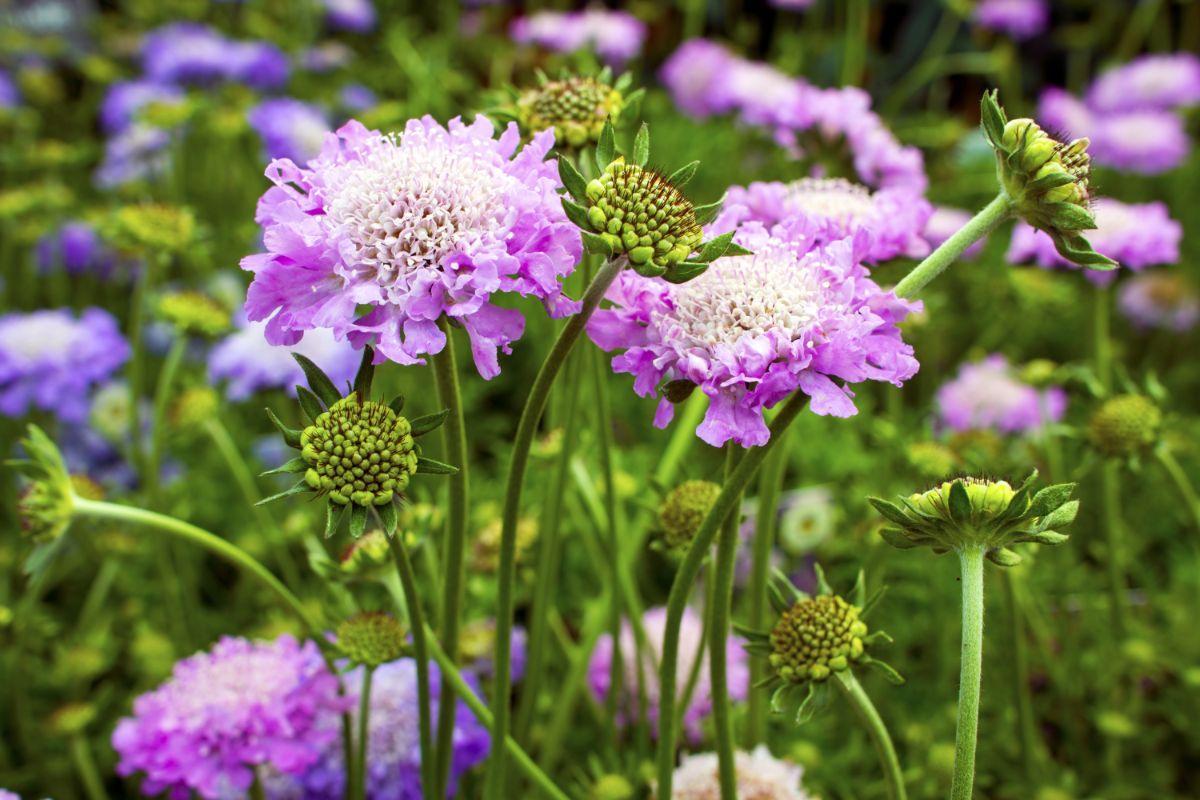 Otherwise known as pincushion flowers, scabiosa are popular plants thanks to their showy globe-shaped flowers that exude a feminine and airy quality.
Best planted in full sun to part shade, scabiosa is a great choice for succession planting as it will ensure these gorgeous flowers keep blooming all season long. Plants can be started indoors 6 to 8 weeks before your last frost date and then transplanted outside. After that, simply direct sow seeds in your garden every two weeks through mid-summer for continuous blooms.
When started from seed, scabiosa can take up to 100 days to flower; however, you can speed this process along by purchasing nursery starts.
These long-lasting flowers grow as perennials to zone 3, so if you enjoy them, you'll be happy to know your plants will come back year after year.
8. Corncockle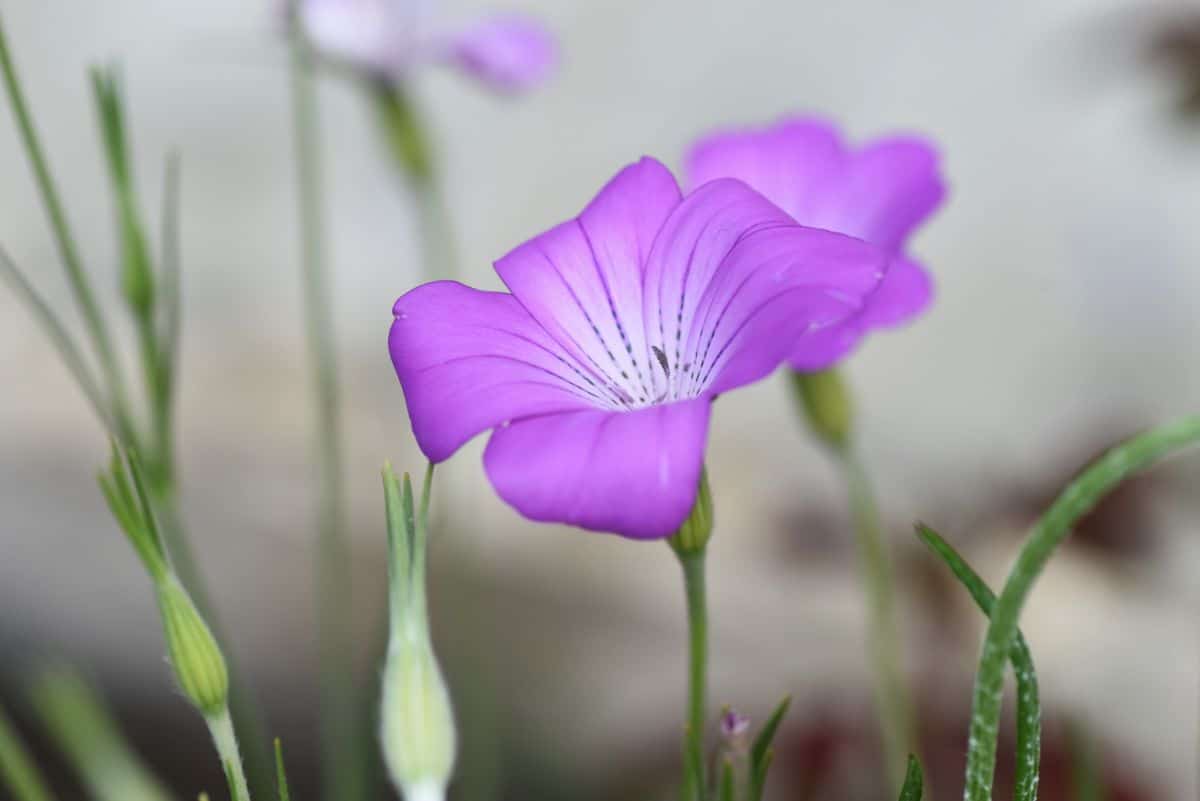 Also known as Agrostemma, corncockles offer eye catching blooms along with long, gray cascading stems that add a subtle softness to flower beds.
Native to Europe, corncockles are closely related to carnations and work well in cut flower arrangements. To guarantee a continuous supply of buds, succession sow seeds every 2 weeks from spring through mid-summer.
To get a head start on the growing season, you can also begin seeds indoors about 4 to 5 weeks before your last frost date and then transplant your plants outside when they've formed several sets of true leaves.
9. Canna Lilies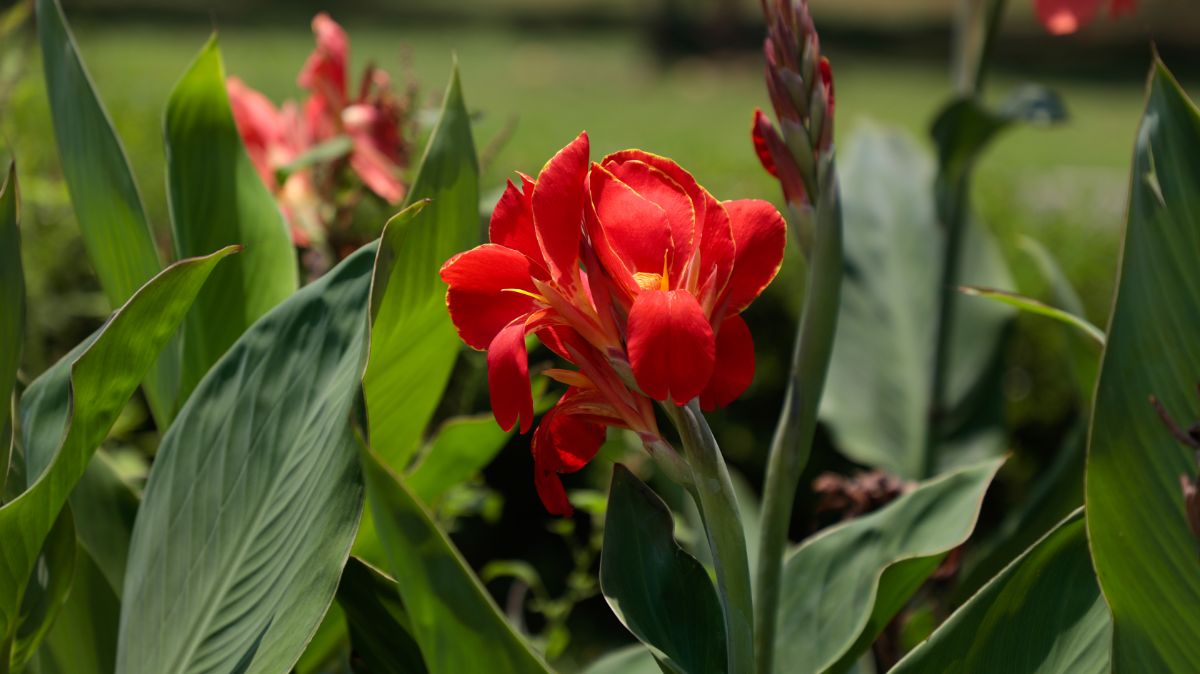 Tropical-looking canna lilies are hard to miss with their bright flowers in yellow, orange and blood red. Native to North and South America, canna lilies are not fond of cold weather and should be planted in late spring to early summer, after all danger of frost has passed.
If you live in a particularly cold area, you can extend your growing season by starting your canna lilies indoors 4 weeks before your last frost date. Even better, as canna lilies grow from rhizomes, you can dig up and overwinter your plants indoors if live in a cold climate to keep your plants going strong for years.
Great for inground planting, container gardens and cut flower arrangements, canna lilies have long lasting flowers that appear in summer and last well into fall. For a particularly striking look, add some canna lilies to a pot near your front door for a nice pop of color.
10. Clematis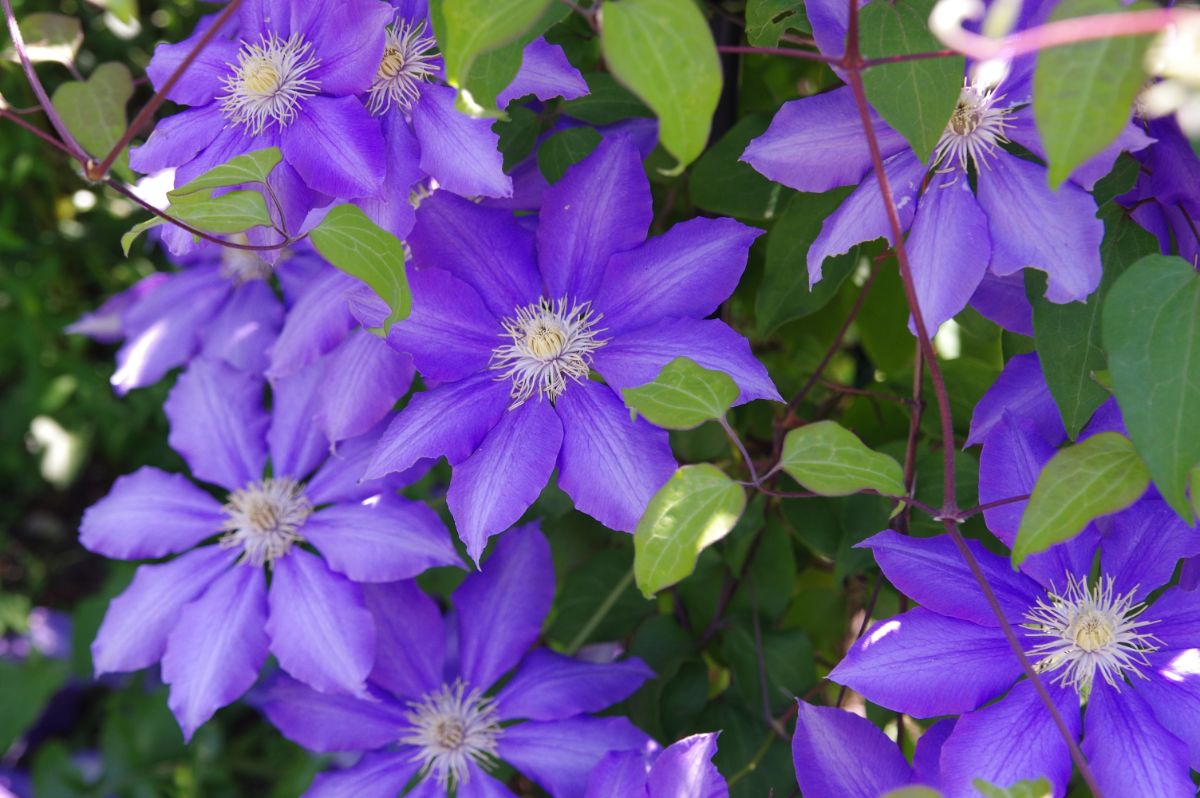 Clematis are wonderful choices if you're looking for a flowering plant to accentuate a wall, covered walkway or mailbox. These climbing beauties grow as perennials and can be found with purple, pink, red, blue or bi-color blooms. For an even more interesting display, wait until your vines go to seed as their flowers turn into pompom-like seedheads.
Best planted in spring or fall in warm regions, clematis should be sown in summer in cold areas. Just be sure to water your plant thoroughly if temperatures are hot to help it acclimate.
Growing as perennials, clematis are not particularly demanding plants -- just provide them with regular watering. While most varieties prefer full sun, some types of clematis are suitable for planting in shade too.
Most types of clematis are known to be climbers and should be provided with trellising or other support. However, if you don't want vining plants, opt for bush varieties instead, which grow more compactly.
11. Zinnias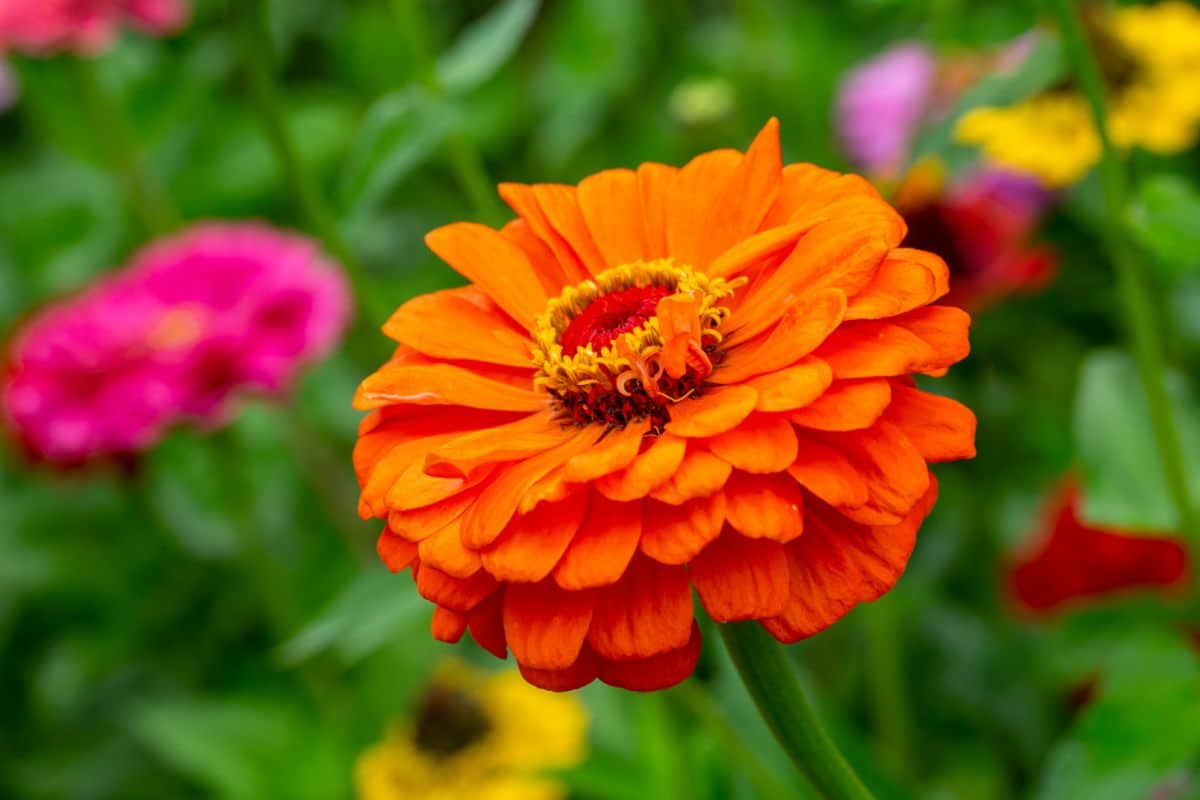 For color lovers, you can't go wrong with zinnias. These vibrant flowers come in every color but blue, so you're sure to find one to accentuate your garden design.
Similar in appearance to dahlias, zinnias often have globe-like flowers in either double or single blooms. Plant sizes can range from petite dwarf plants to 4' tall varieties that are certain to be the focal point of any bed.
Grown as annuals, zinnias can either be started from seed or purchased as nursery starts. If you choose to grow yours from seed, sow your zinnias 4 to 6 weeks before your last frost date. After all threat of frost has passed, transfer your plants out in early summer for plants that will bloom all season until the frosts of fall.
Naturally deer resistant, zinnias are great flowers to attract beneficial insects and pollinators to your garden too!
12. Cynoglossum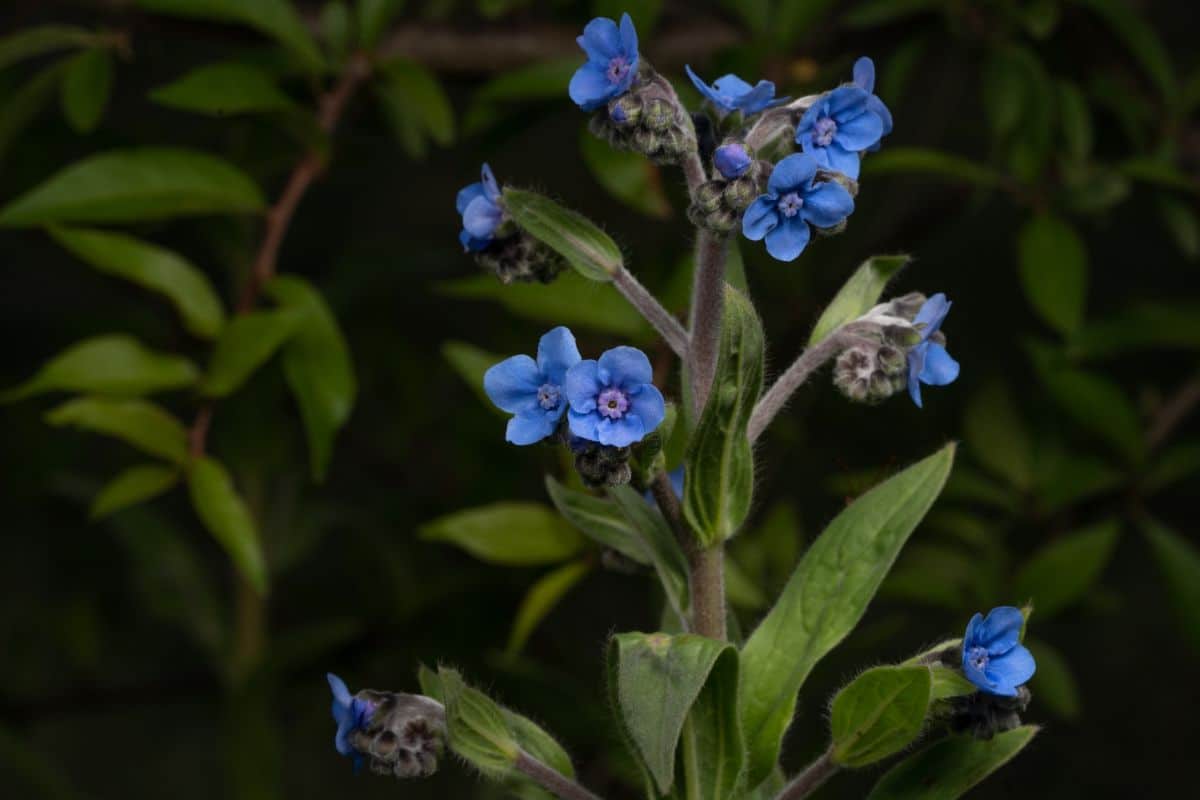 Also known as "Chinese forget me not," cynoglossum has sprays of tiny blue flowers can be used to accentuate container beds and cut flower arrangements too.
For continuous flowers throughout the season, cynoglossum should be succession planted every 2 weeks until mid-summer. Succession planting and regular deadheading will ensure your plants last well into fall.
A low maintenance annual, cynoglossum does best with moist, not soggy, soil and partial shade.
13. Petunias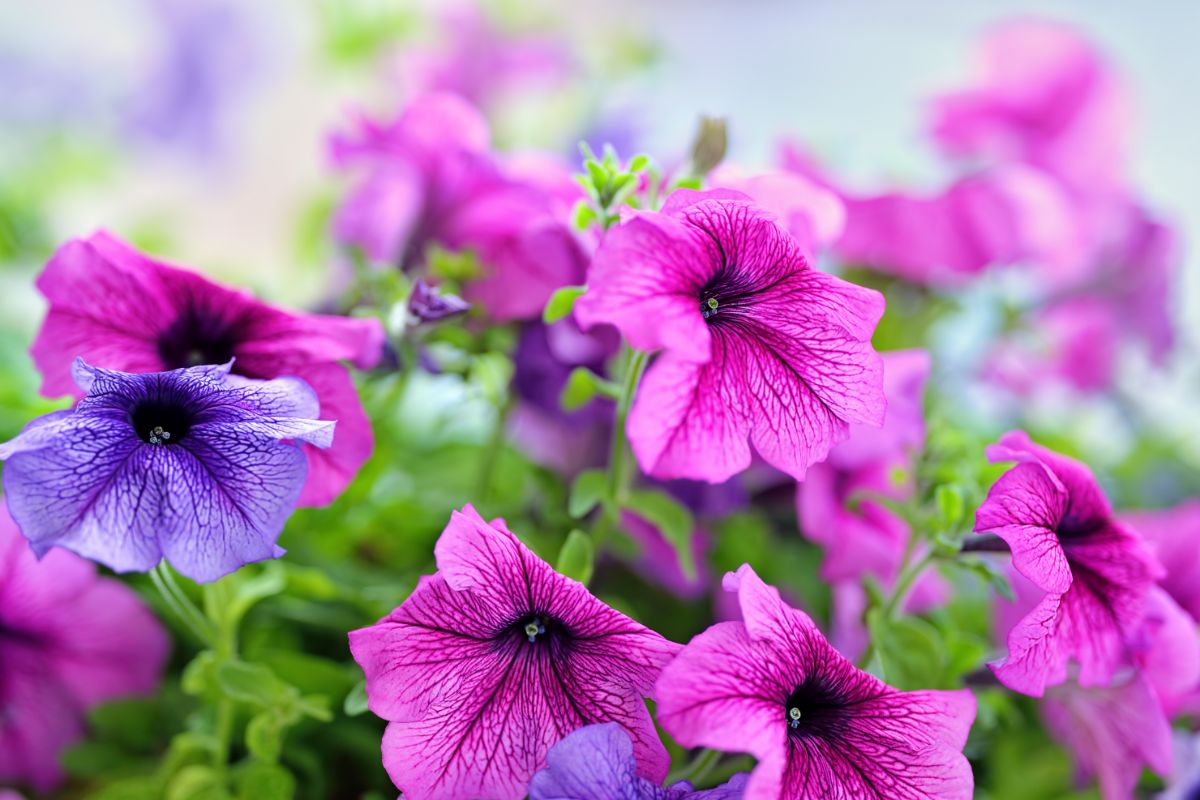 Whether you're looking for bright colored border plants or something to perk up your front porch planters or hanging baskets, petunias are one of the best flowers for the job. And if their colors weren't enough of a reason to add petunias to your landscape, they've got a delightful fragrance too!
Perennial in zones 9 and above, petunias are most commonly grown as annuals, but that doesn't detract from their charm. With trumpet-shaped flowers in white, yellow, purple, red, blue, pink and multicolored, petunias are one of the easiest ways to enliven beds with lots of big splashes of color.
Surprisingly, petunias are actually members of the nightshade family and are related to tomatoes and peppers. They can be useful in the garden too as they help to repulse common insects like tomato hornworms, squash bugs and aphids.
Super low maintenance, petunias just need regular watering, can adapt to full sun to part shade and will bloom all season long, from spring until autumn frosts arrive.
14. Sunflowers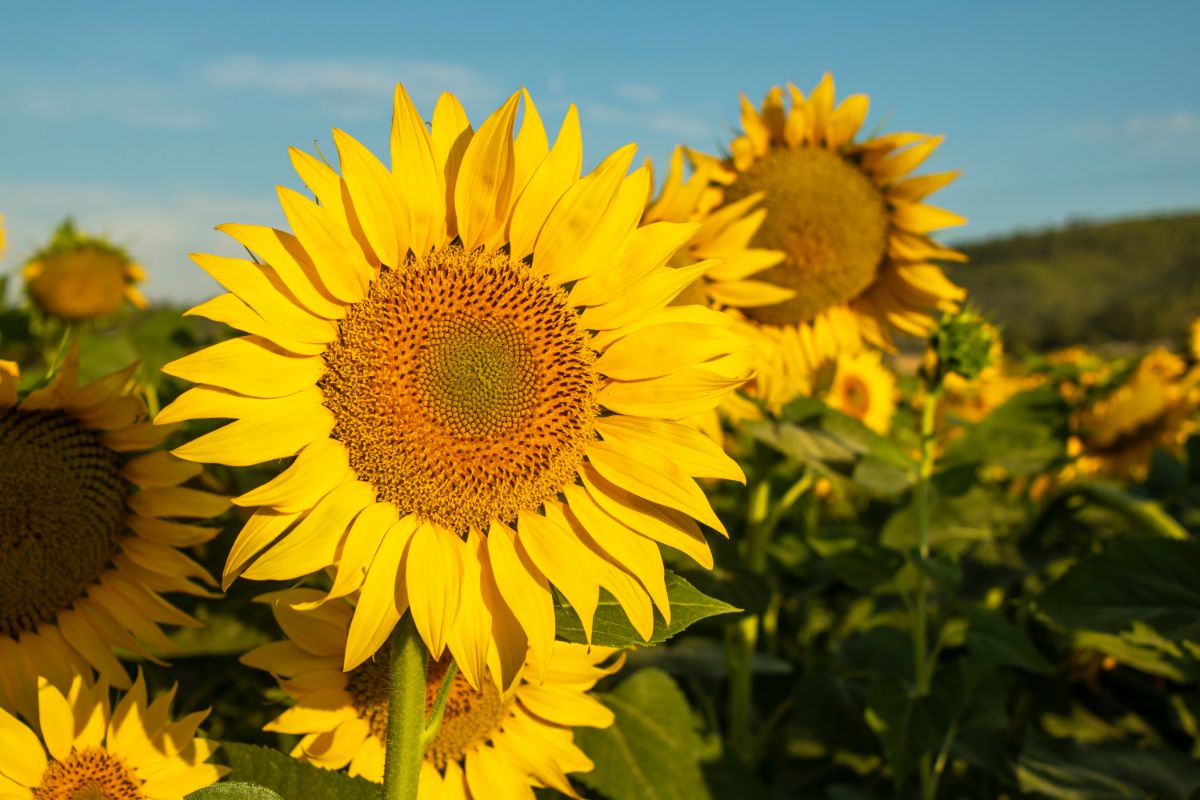 Nothing says "summer" quite like sunflowers and no garden would be complete without them. These showstoppers come in all sizes, from petite dwarfs to gigantic mammoth sunflowers that tower 10' tall or higher!
While mostly known for their golden-yellow petals, sunflowers come in different colors too, such as warm burgundy, orange, cream and bright white.
A favorite among large pollinators, like birds, hummingbirds and butterflies, sunflowers are some of the best plants to attract beneficial insects to your garden too. And, if you love sunflower seeds as a snack, you can certainly grow these edible plants for that too. For something a bit different, entire sunflower heads can even be grilled and drizzled with a homemade vinaigrette or other sauce!
Sunflower seeds are best planted via direct sowing in late spring; however, in cooler areas, you can still plant sunflowers in early summer too. If you don't want to grow your plants from seed, you can usually find some starts at local nurseries and box stores too.
15. Hyacinth Beans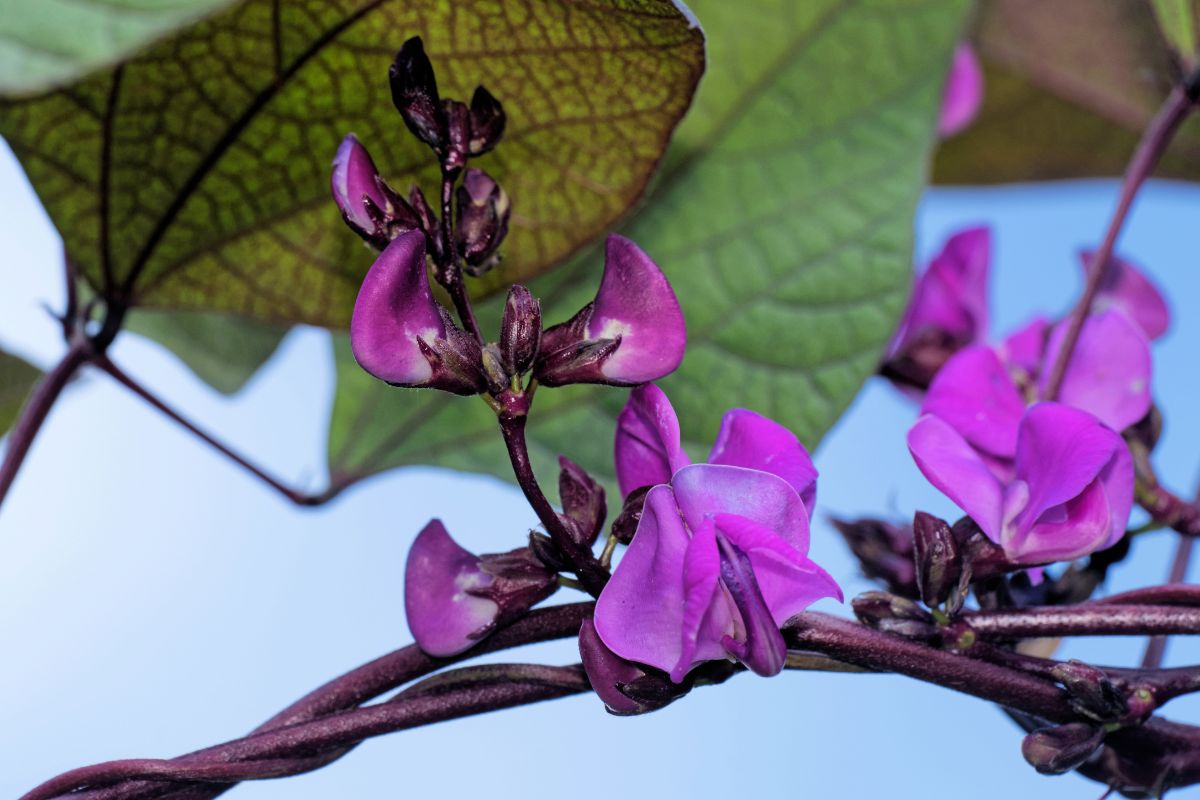 If you're looking for something a bit different or love climbing plants, hyacinth beans are an unexpectedly delightful choice for summer planting.
Blooming from mid to late summer, hyacinth beans have pretty pink flowers and rich purple bean pods that are edible. In fact, all parts of hyacinth bean plants can be eaten and these tasty beans are common ingredients in many stir fries, rice dishes and curries.
Like other beans, hyacinth beans are not cold hardy and should only be planted outdoors in late spring to early summer, after all danger of frost has passed. Planting at this time will ensure your plants have lots of blooms by midsummer. To increase blooming and bean production, harvest ripe beans frequently, which will encourage your plant to produce new shoots.
Hyacinth beans can be quite large plants and will grow over 25' long, so be sure to install trellising prior to planting to keep your plants from getting too wild. Because of its size and durability, cattle paneling is often one of the best choices for bean trellising ] and panels are usually quite affordable too.
16. Verbena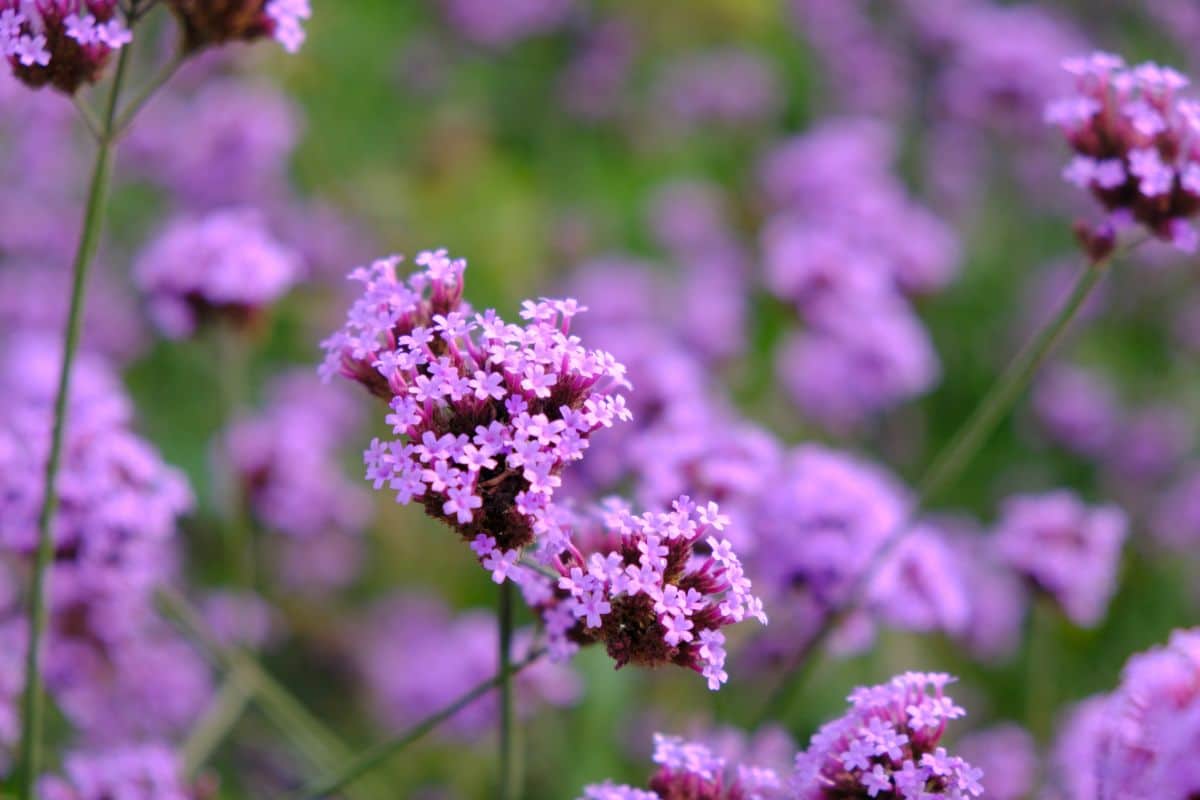 A great pollinator plant, verbena is sure to draw bees, butterflies and hummingbirds into your garden. Beyond that, verbena will thrill you with its gorgeous clusters of white, pink, blue and purple flowers.
Best planted in spring in warmer areas, verbena is an excellent choice for summer planting if you live in a cooler region or near the breezy coast.
Preferring full sun, verbena has an exceptionally long bloom time and can bloom from spring until autumn. Trimming your plant back once or twice in summer can ensure your plant produces more blooms too.
While verbena grows as a perennial in warmer climates, it is planted as an annual in zones 6 and below.
17. Yarrow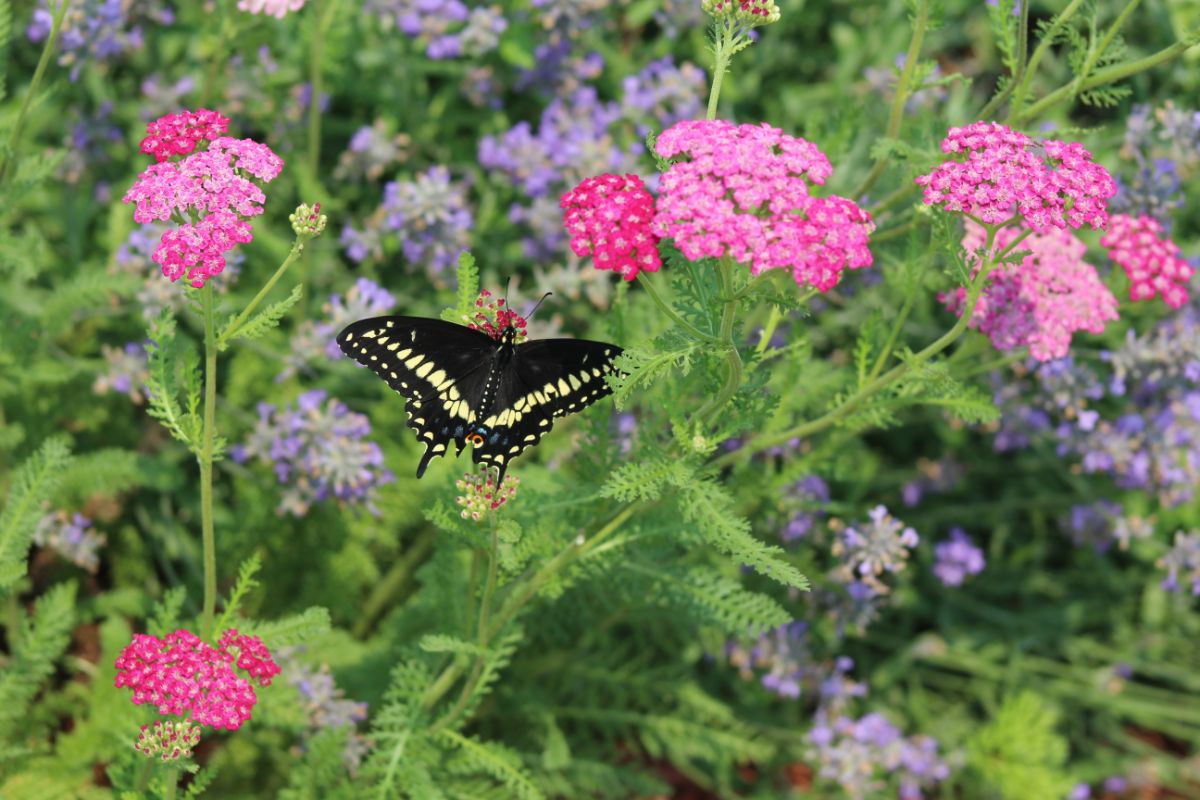 Yarrow is a super hardy, native perennial flower that works great in ornamental beds and cut flower arrangements and also dries nicely for preserved displays.
One of the best plants to try if you want to attract pollinators, yarrow's rich nectar and pollen is a favorite among bees, butterflies and other beneficial insects. In fact, yarrow's broad, flat blooms help larger pollinators, like butterflies, feed as flowers form a landing pad of sorts for large-winged species.
While yarrow is most often seen in white, colors range from yellow to pink too. Drought-tolerant and adaptable, yarrow can be planted from spring to fall but is usually quite resilient when planted in summer too.
18. Ranunculus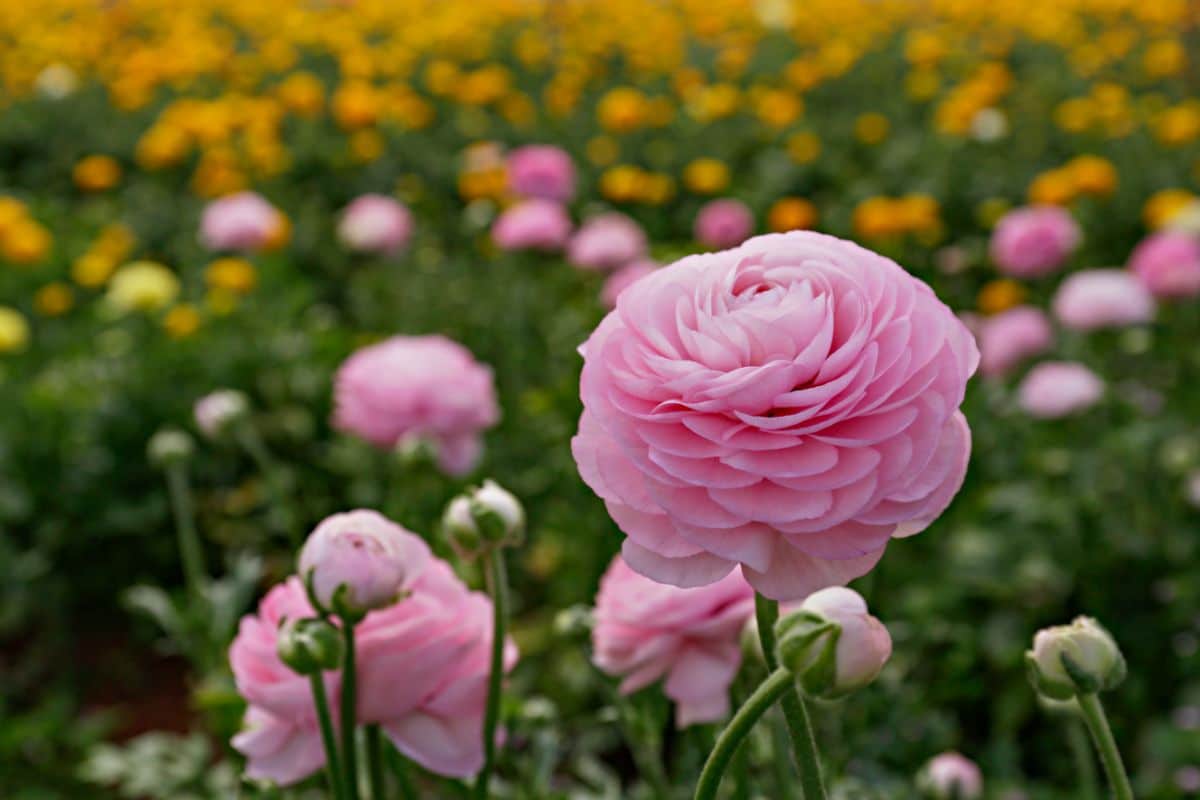 Ranunculus are most frequently planted in spring or fall; however, they are great choices for summer planting in cool areas. Their bright colors look delightful in container beds -- just be sure to give your plants lots of water and a bit of protection from afternoon sun to help your new plants acclimate.
Native to the Mediterranean, ranunculus are actually related to wild buttercups, but their flowers come in more than just yellow! Ranunculus blooms can be found in white, pink, orange, red and purple too!
In colder areas, zone 6 and below, ranunculus are grown as annuals. However, they can be overwintered indoors by gently digging up their corms (a rhizome-like root system) and storing them in a cool, dry location until spring.
19. Scarlet Runner Beans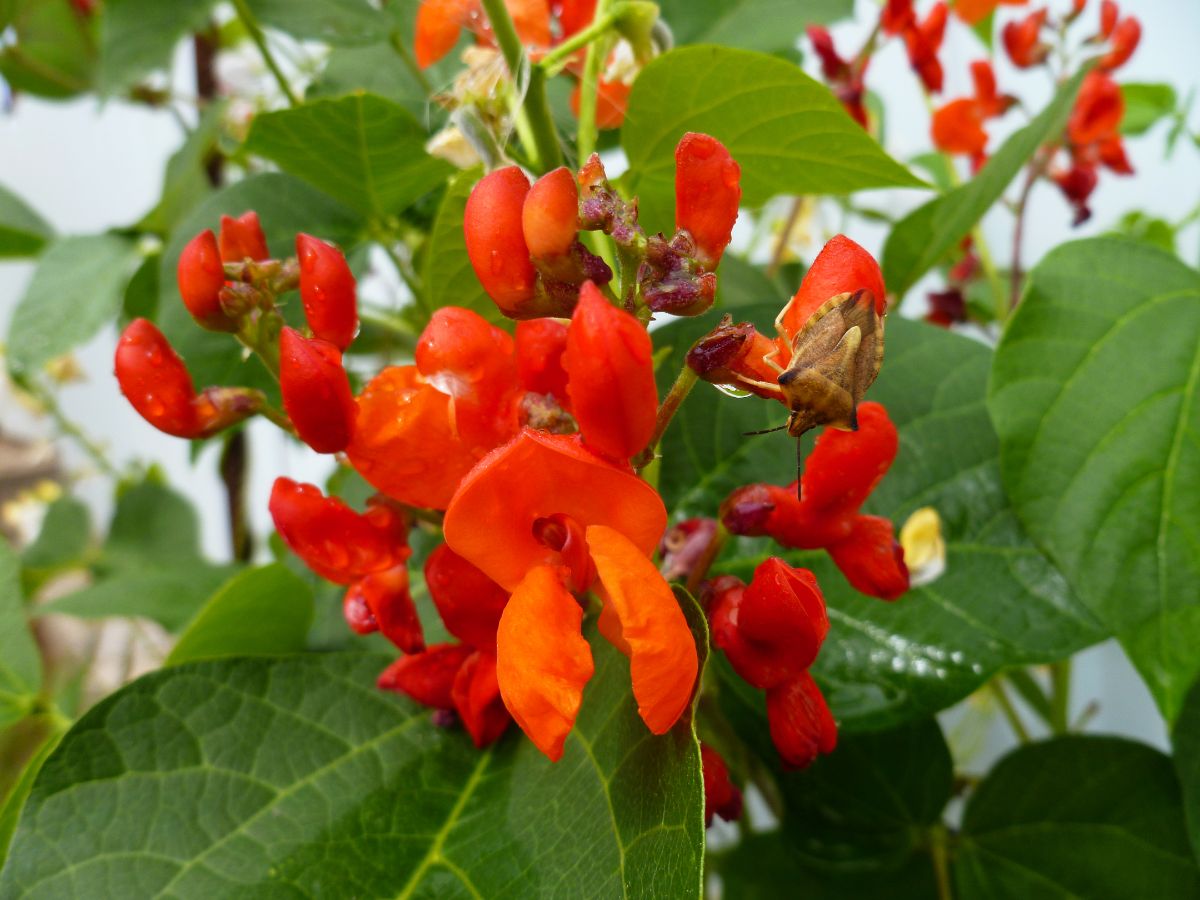 If the idea of growing ornamental beans, like hyacinth beans, interests you, another fun option is scarlet runner beans. Known for their bold red flowers, scarlet runner vines produce edible beans too! Most commonly eaten as fresh string beans, scarlet runner beans can also be dried and cooked up in rice dishes, soups and other recipes.
Like other beans, scarlet runner beans should only be planted outdoors after the danger of frost has passed. Generally speaking, beans don't transplant well, so you might not want to start them inside, although you can try it to lengthen your growing season.
Best planted in spring to early summer, these bean vines will produce flowers and beans from July through October, or when the first frosts of the seasons begin.
Because these plants can grow quite large and spread, make sure you install a good, sturdy trellis and harvest beans frequently to increase your harvest yield.
20. Jasmine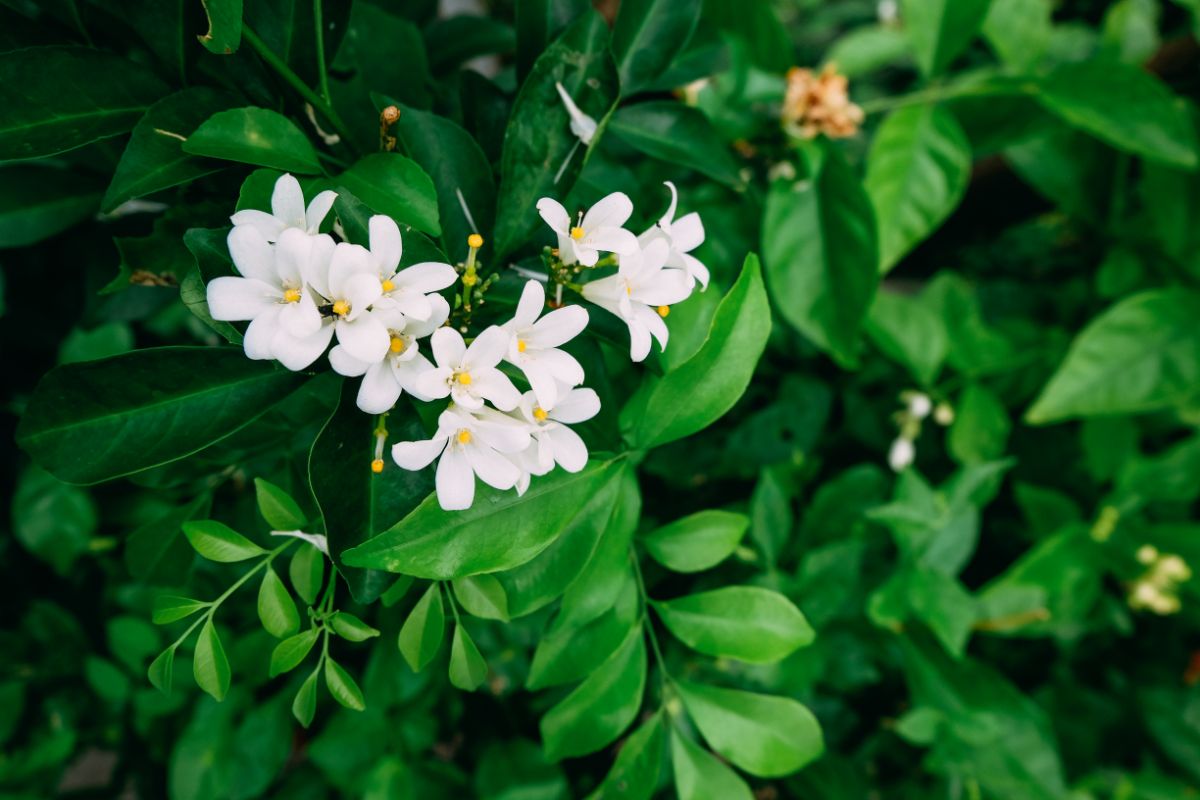 If you love fragrant flowers, jasmine is a must-have for your garden. These vigorous growing, highly scented flowers add sweet charm to your garden and are also pollinator favorites, certain to attract bees and other beneficial insects.
The best time to plant jasmine is in summer to fall and plants should be located in full sun to part shade. The more sun your plants receive, the more flowers they'll produce. After planting, jasmine will bloom long into fall with flowers that range in color from clean white to pale yellow.
There are over 200 different types of jasmine, so you're sure to find one that will suit your space. Climbing jasmine vines are a great option for trellising and night-blooming varieties are wonderful in scented night gardens.
Because jasmine is a rather tropical plant, it is only grown as an annual in zones 5 and below. Cold hardy jasmine can be grown in zones 6 and 7, but it should be provided with some additional winter protection, such as a mulch.
21. Geraniums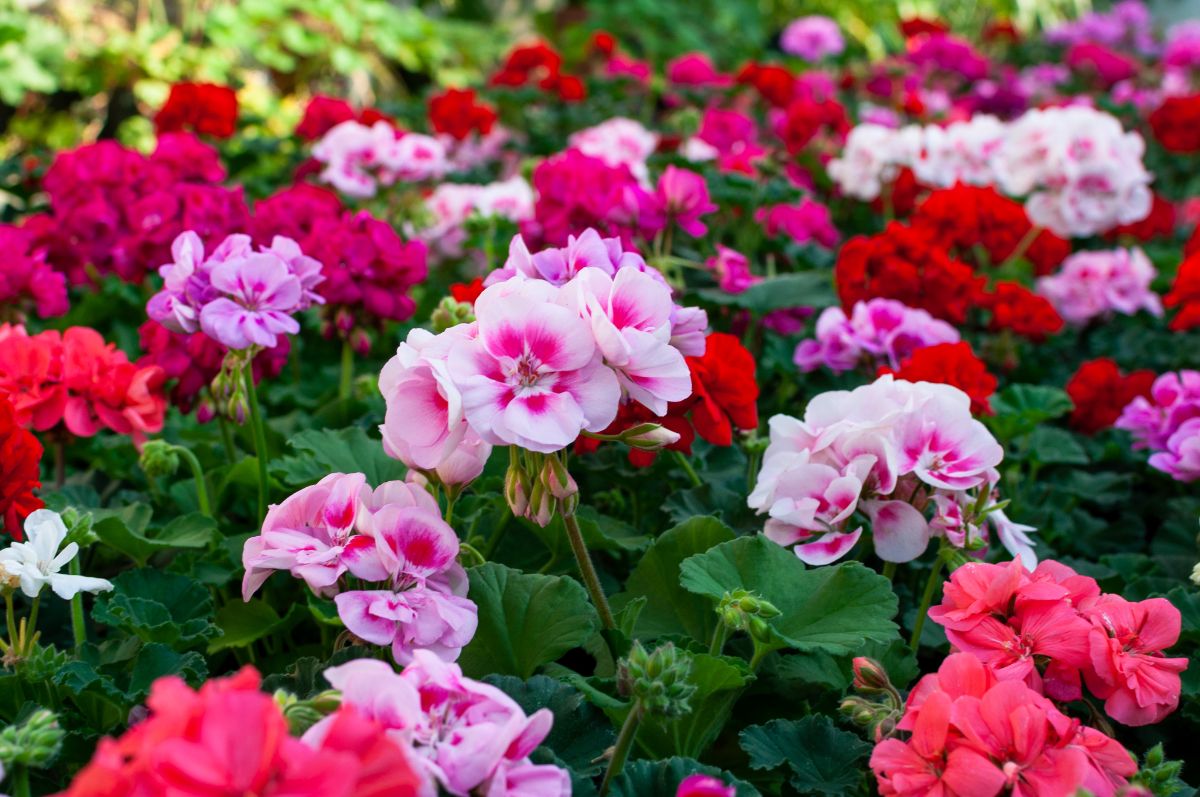 Geraniums may be some of the most popular flowers to grow in summer, but there's a good reason for that. With big clusters of colorful flowers in red, pink and white, geraniums work well in hanging baskets, window boxes, container gardens, inground beds -- you name it!
There are over 280 different types of geraniums, with garden geraniums being the type you're most likely to spot at garden centers. However, another great summertime option is scented geranium, otherwise known as the citronella plant, which produces a citronella-like odor that can help repel common pests like mosquitos.
Geraniums are only hardy to zone 10. In colder regions, these beauties are grown as annuals. Because they are not cold hardy, geraniums are best planted in late spring to early summer, after all danger of frost has passed.
How to help your new plants adapt to summer heat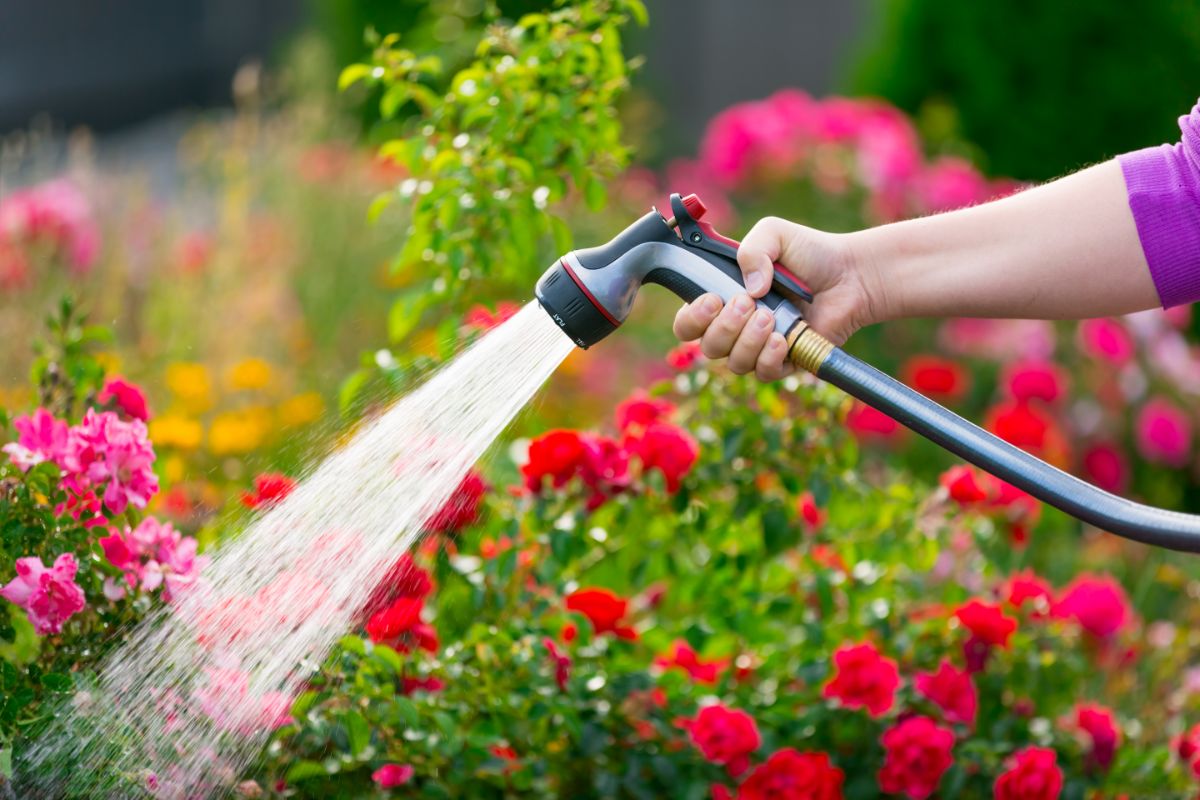 The best way to ensure new summer plantings adapt to your garden is to start off with drought and heat tolerant plants. These plants are more adaptable to warm temperatures and are less likely to be stressed during transplant.
But if you don't want to limit yourself too much with your flower choices, there are several steps you can take to make the transition to your garden go smoothly for your new flowers.
· Practice consistent watering.
The single most important way to help your new plants to adapt to your garden is to practice regular watering. This will ensure your plants settle in quicker and help them better resist the stresses that hot weather brings.
For most plants, 1" of water a week is adequate. If you don't have a rain gauge, water your plants when the top 1" of soil feels dry to the touch and especially if leaves begin to look a bit limp. It's particularly important to water your plants thoroughly immediately after planting to prevent shock.
And remember that during hot weather deep watering is better for plants than frequent shallow drinks. When water thoroughly penetrates your soil, it is less likely to rapidly evaporate, even when temperatures soar.
· Plant new flowers in the evening.
When gardening in the summer, it is always best to avoid planting any new plants during extreme heat. For that reason, try to resist planting anything other than seeds during the middle of the day.
If you're planting seedlings and nursery starts, always aim to get them in the soil in early morning or evening, when temperatures mellow out a bit.
· Keep an eye out for rainy days.
While it's definitely a good idea to avoid planting during a heatwave, if you can wait until right before a big rainstorm to do your planting, you'll give your new plants a distinct advantage.
Timing your planting for right before rainy weather will help guarantee your plants get well-drenched and that the soil is deeply watered. And while a single rainstorm is great, planting right before a stretch of several days of rainy or overcast weather is even better.
· Add some compost.
Mixing compost into holes when planting your new flowers will give your plants a nutrient boost. But compost does more than that. Compost can help improve soil structure, including soil's ability to retain water. This can be incredibly beneficial during the hot summer months.
· Don't shy away from mulch.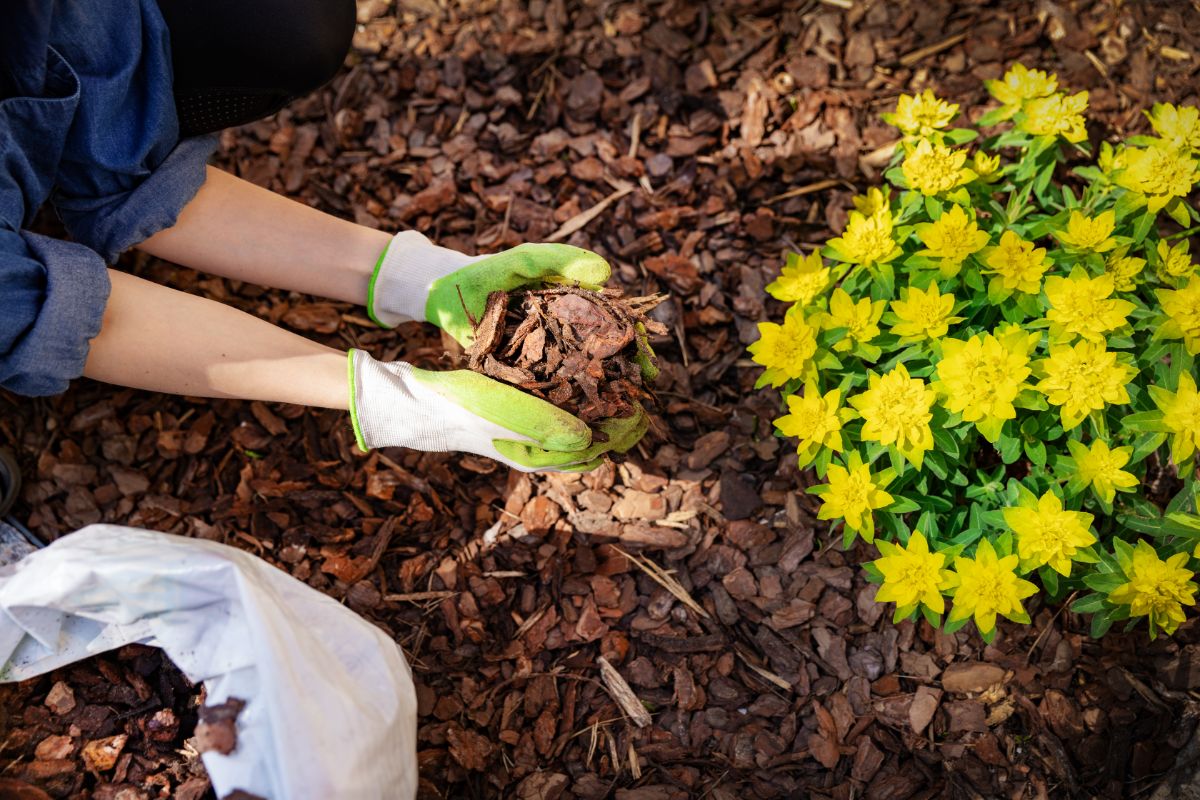 Beyond using compost, topping off your new planting with a thick layer of mulch is another easy way to help your plant conserve moisture. Mulch helps lock water into the soil and serves as a buffer against intense heat by shielding tender plant roots.
Any good, weed-free organic mulch will work, including wood chips, bark mulch, saltmarsh hay, compost, chopped leaf litter or quality straw. For coarse mulches add about 3 to 4" around new plantings, while finer ground mulches (like compost) need thinner, 1 to 2" layers.
One thing to remember is that mulches can cause rot or plant burn if improperly applied, so be sure to leave about 3" between your mulch line and plant stems to prevent issues.
· Remember to harden off your plants.
While nursery starts are usually already hardened off when you purchase them, any plants you start from seed indoors will need an adjustment period to ensure they transplant well.
Hardening off is a process that takes place over a week or more and is intended to help plants to transition to the different light intensity and temperatures of outdoor living. Hardening off is particularly important for seedlings in summer as the higher temperatures are more likely to cause transplant shock without a proper adjustment period.
To harden off your seedlings prior to transplant, place your plants outdoors in dappled sunlight for about two hours before bringing them back inside. Over the course of the next week or two, gradually extend the amount of time your seedlings are outdoors and the amount of light they are exposed to until your plants can tolerate 8 hours of full sun. For shade loving plants, you of course only need to get them adapted to shady conditions, not full sun.
During hot weather, hardening off may take a bit longer, as you'll want to only gradually expose seedlings to outdoor temperatures. Don't try to start hardening off your plants during a particularly hot spell and, if your plants display any signs of heat stress or sunburn, move them into a shady location or back indoors until conditions improve.
· Get some shade cloth.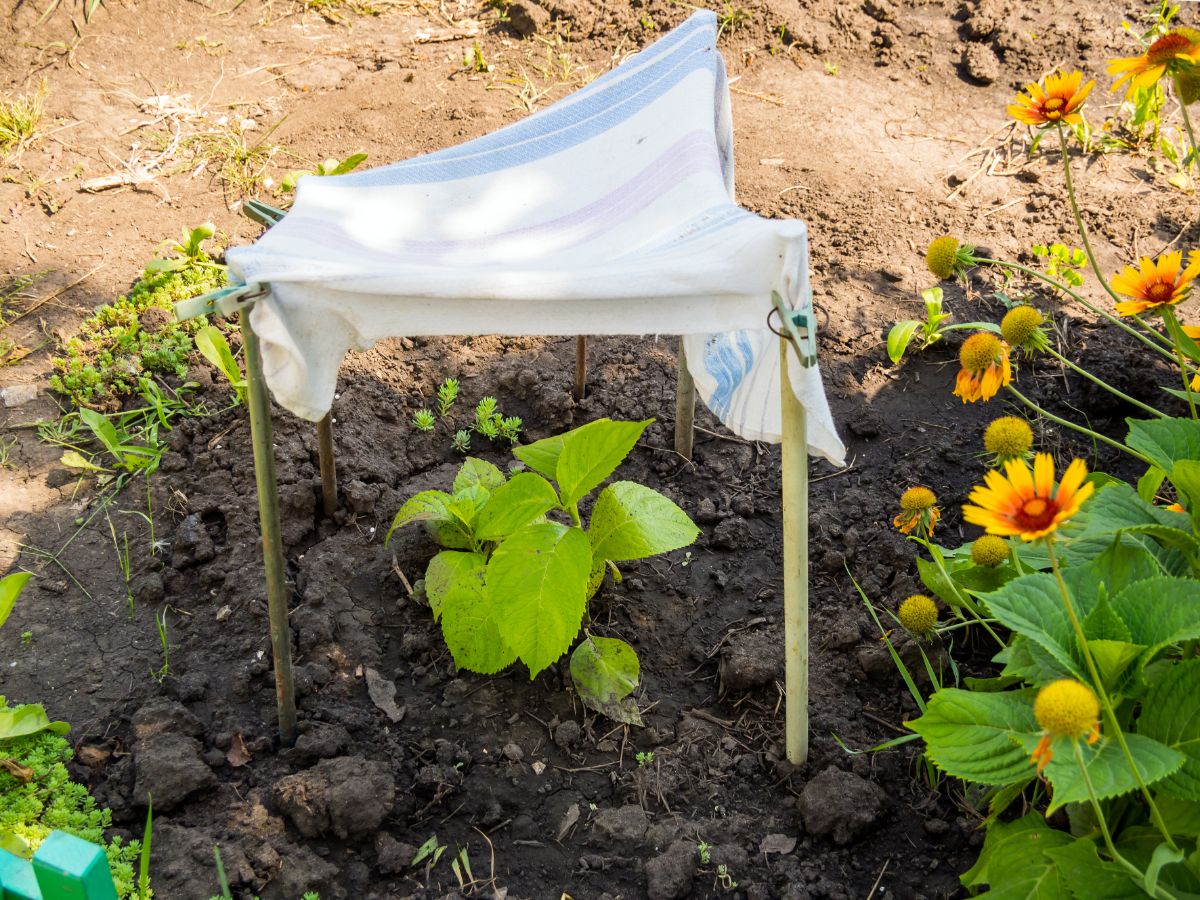 If you just want to protect a few new plants or a single garden bed, shade cloth is a great option. A lightweight fabric, shade cloth is draped or hung over pots or gardens and can be attached to stakes to help shield delicate plants from the most intense sun rays.
Shade cloth can be installed for the season or just temporarily to help protect plants during particularly hot days. If you don't want to purchase shade cloth just for a heatwave, other lightweight fabrics (like cheesecloth) can help in a pinch.
· Try out some driplines.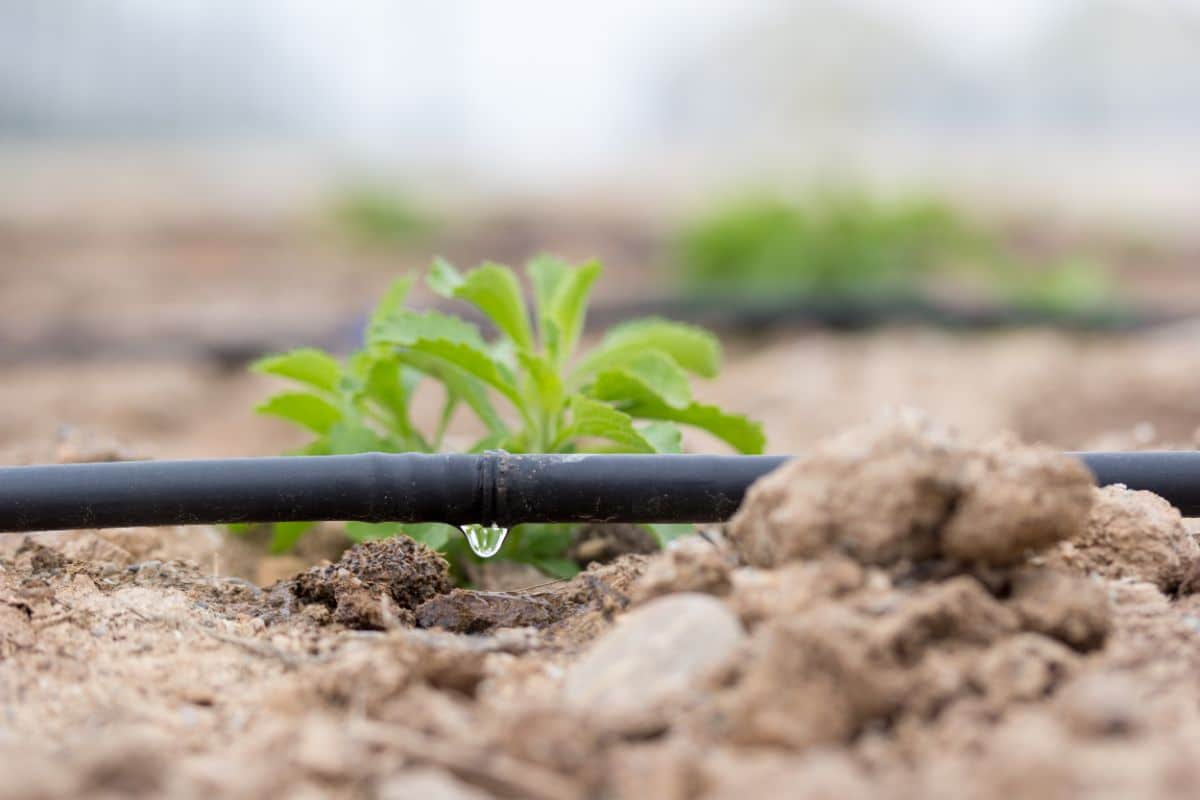 While sprinkler systems help, they can cause problems in gardens, particularly in very hot weather. Water droplets that linger on furry leaves, in particular, can cause leaf burn and spotting. Additionally, overhead watering can create humid conditions where common plant pathogens, like powdery and downy mildew, can thrive.
But beyond these issues, sprinkler systems lose a lot of water to overspray and surface water is quite quick to evaporate. That can mean that your soil, and your plants, can become parched rapidly after watering with these systems.
Drip irrigation, on the other hand, directs water right where it's needed: to plant roots. This reduces evaporation rates and promotes deep watering, which is what plants really crave in hot weather.
· Apply fertilizer for an easy nutrient boost.
After planting new flowers, giving your plants a bit of fertilizer can help them settle in. But you'll want to be careful with fertilizer application in hot weather.
While some fertilizer is good, plants may not absorb fertilizer as readily in hot weather, so try to wait to apply fertilizer until temperatures are more moderate and consider diluting fertilizer a bit to not overwhelm your plants. For most new plantings, a balanced, organic liquid fertilizer is often the best choice.
Conclusion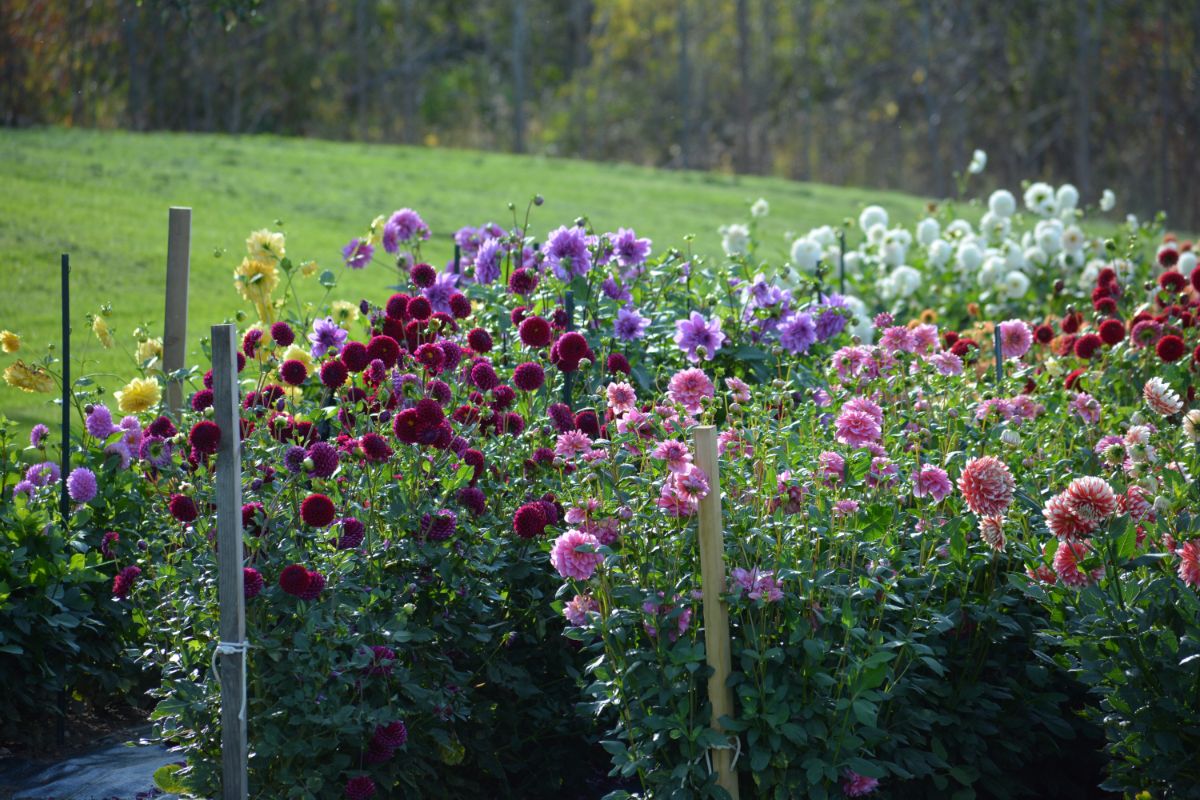 Between the gorgeous weather and the bright sunlight, summer is the best time to spend lots of hours in your garden. But if you're used to sowing new plants only in spring and autumn, you might not think about adding to your garden beds during this season. Luckily, there are lots of flowers that do well when planted in summer, so you have plenty of reason to keep on gardening!
Whether you're interested in showy annuals or pollinator favorites, there's a wide variety of flowers that you can plant in summer. And though we've covered some of the best options here today, there are certainly more plants to explore and experiment with.
Because of the high temperatures and bright sunlight, flowers planted in summer may need a bit more care to acclimate to your garden, but if you start out with hardy specimens, you're already ahead of the game. Just be sure to do a bit of research, keep your new additions well-watered and they should do just fine.
Just remember as you're busy gardening this summer, make sure you take the time to sit back, relax with a cool drink and enjoy your garden too!
References:
"Succession Planting – Interval Chart for Flowers." Johnny's Selected Seeds. 1 July 2022. 2022.