Even when there's snow on the ground, there are some hardy plants you can grow in your garden. Some of the most common are hardy greens, which can grow all year round in certain areas with proper tending.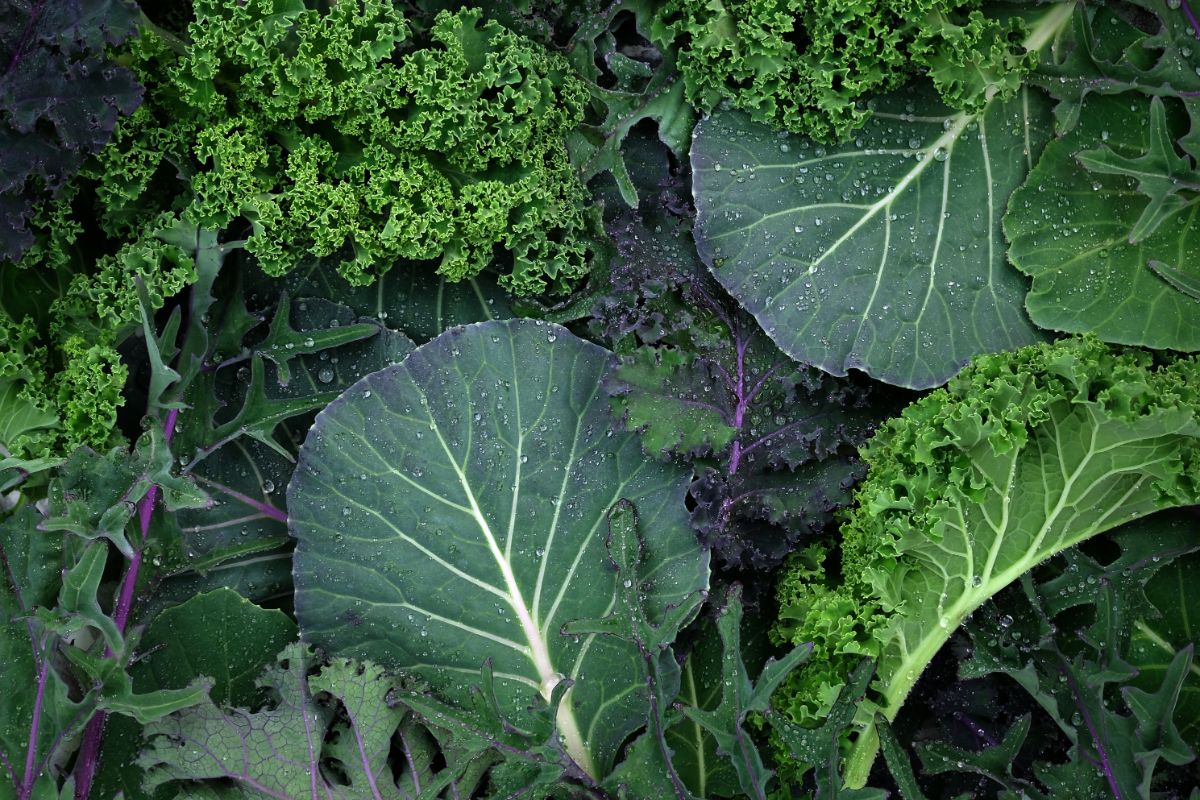 In this guide, we'll introduce you to some of the best cool-weather greens to grow in winter gardens. We'll also give you some suggestions on ways to extend your growing season and protect your growing greens so that you can harvest an abundant crop of fresh veggies, even in the middle of winter.
Jump to:
21 best cold weather greens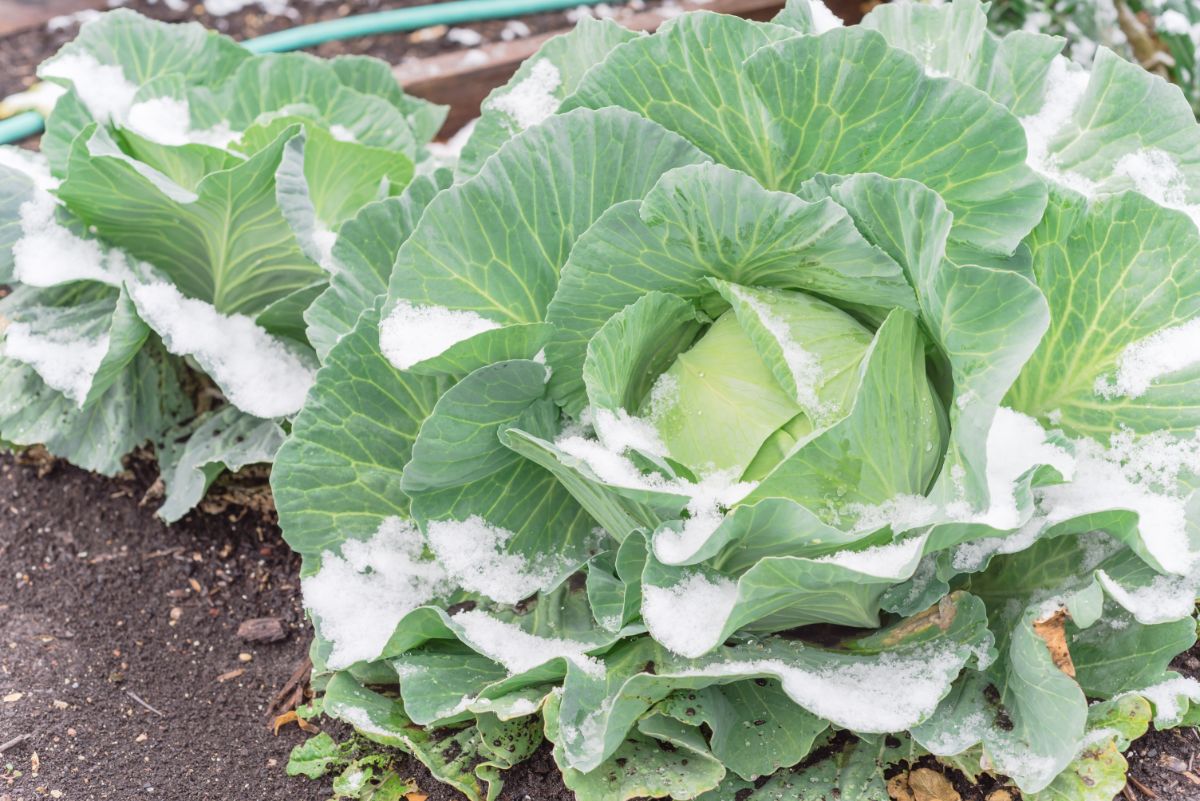 Cabbage, mache, and kale are among some of the best cold hardy greens to grow in winter gardens. While you're probably familiar with some of these greens, we're sure you'll find some new, tasty greens to experiment with in the list below!
1. Spinach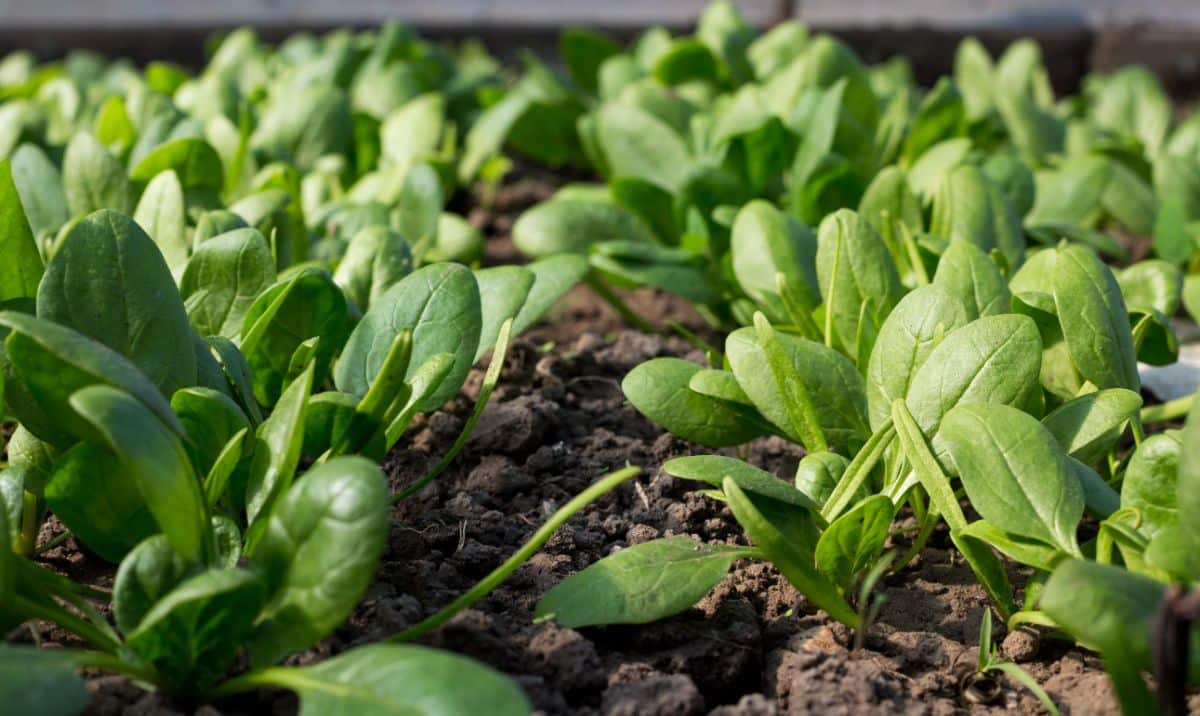 Spinach can be difficult to keep in your garden during the growing season, as many varieties of spinach are prone to bolting at the slightest increase in temperature. But spinach thrives in cool weather gardens and can even be grown all winter long with a bit of care. Greenhouses will keep spinach protected from frost, but you can also insulate spinach plants with a bit of mulch or fabric grow tunnels for tasty leaves even when the snow is falling!
Different types of spinach have varying degrees of cold hardiness, so you will want to make sure you choose the right types if you want to grow this plant in winter. Varieties like 'Winter Bloomsdale' or 'Giant Winter' spinach are some of the best varieties to grow in cool weather. These hardy plants will mature quite rapidly, too – in about 45 days.
2. Kale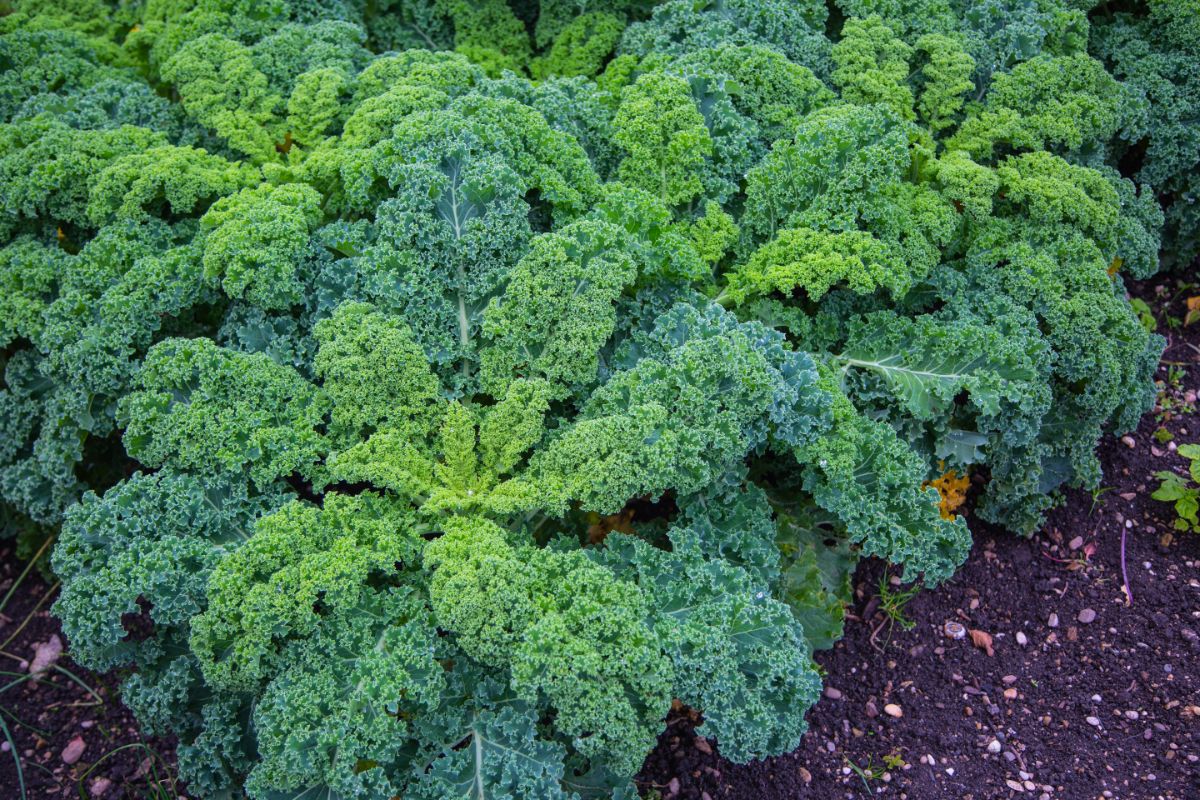 Kale can be grown all year round, including in the winter, in many areas. These hardy plants can handle frost with ease, but they grow best with a bit of added protection, such as a cloche or a grow tunnel. One of the perks of growing kale in winter is that plants won't be subjected to pest attacks, such as the damage done by pesky aphids and other nuisance insects.
When it comes to growing kale, there are plenty of varieties to choose from, including red kale, curly kale, and dinosaur kale. Curly kale is the classic kale variety for making fun treats, like kale chips, while dinosaur kale tends to be easier to work with in the kitchen, thanks to its large, smooth leaves. 'Russian Frills Siberian' kale is another striking kale variety that features purple and red veining on its classically frilled leaves.
3. Mache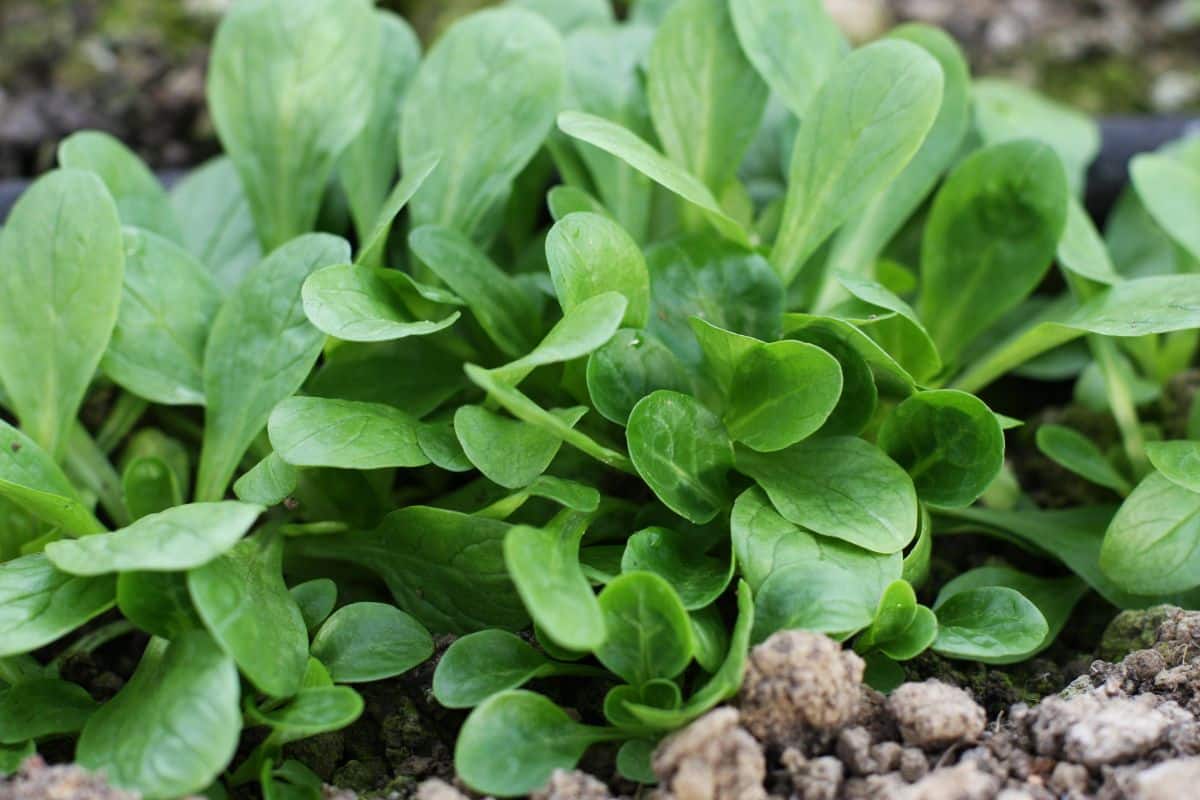 Also known as corn salad, mache is one of the best winter greens to grow due to its sheer resiliency. In fact, some growers even harvest this veggie right from under the snow, scraping away snowy drifts from its still-green leaves!
Mache was once gathered in the wild; however, it has been cultivated since at least the 19th century. This intriguing green is a must-try in winter salads, where its unique, nutty flavor is sure to please.
These plants may not germinate when temperatures are warm, and they also tend to bolt in spring gardens, so they are perfectly suited for winter growing!
4. Mizuna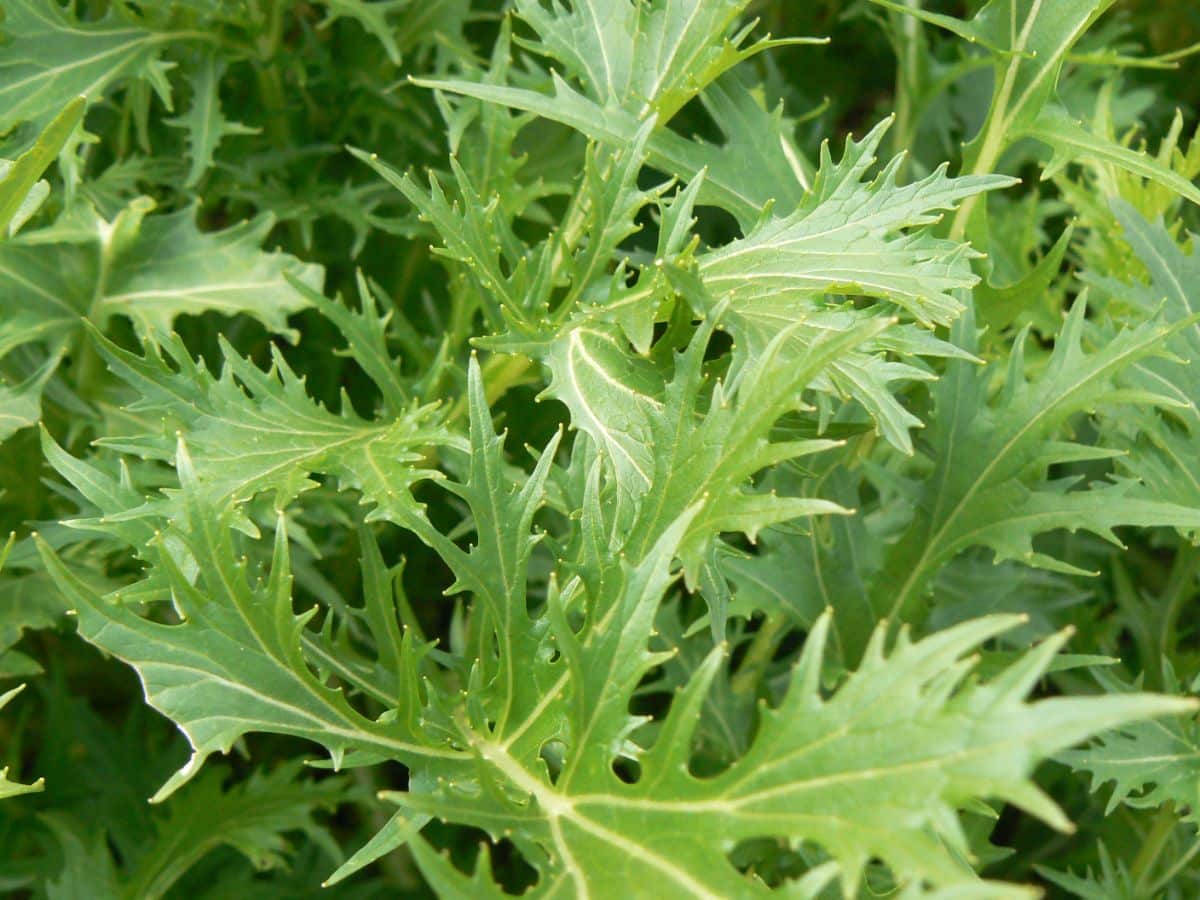 Mizuna is a type of Japanese mustard green; however, it has a sweeter, more mild, and earthy flavor than some other mustard types. Slender and jagged leaves look a bit like dandelion greens, but they can come in lots of colors, including an eye-catching purplish-red. Excellent in winter salads, mizuna can also be cooked and used in any recipe where you'd normally use spinach.
Mizuna is ready to harvest about 30 days after planting, but it can also be grown as a microgreen and harvested much earlier. Mizuna can bolt in warmer weather, but it will grow quite happily in spring, fall, and even winter gardens with a bit of added protection.
5. Arugula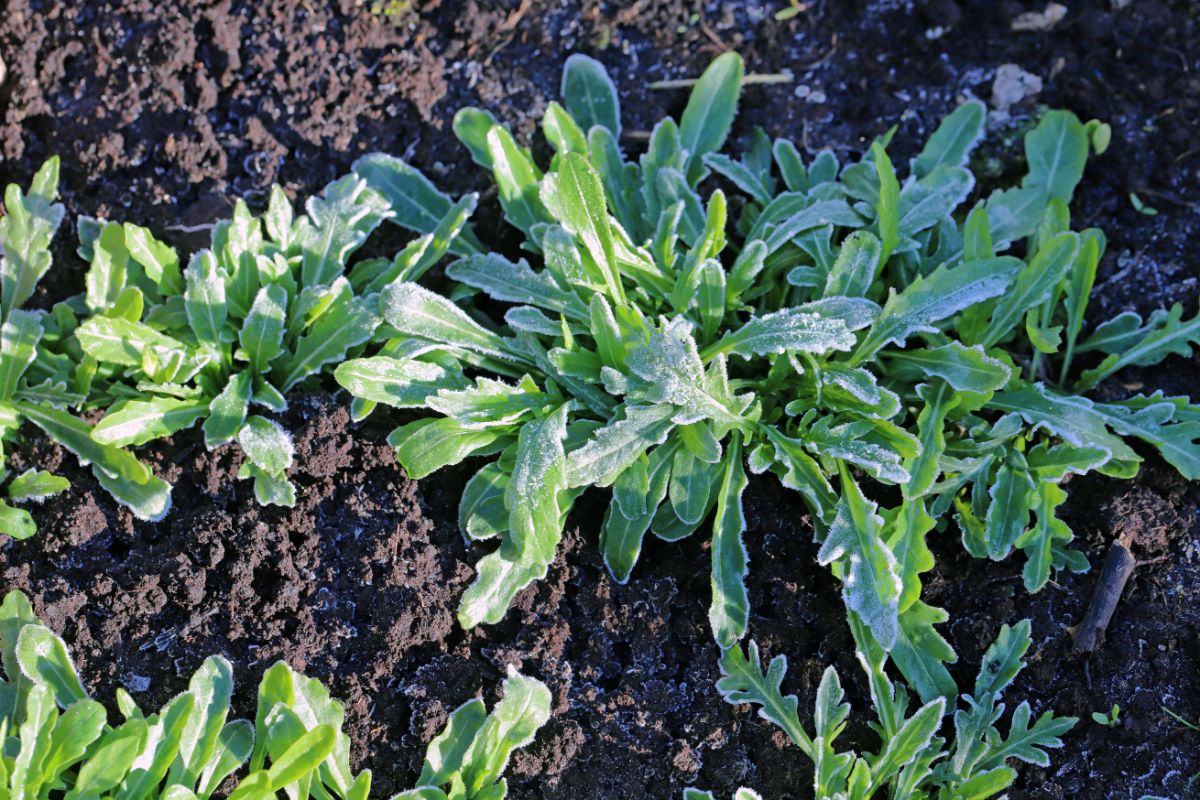 Also known as a rocket, arugula is a tasty green that can be a bit spicy. So, if you like a pop of flavor, arugula makes a wonderful addition to fresh garden salads. Prone to bolting in summer gardens, arugula can grow happily in winter, too, with a bit of added protection.
Some gardeners have found that arugula can grow well into winter, even when temperatures drop as low as 14°F if it is protected with a double layer of floating row cover. Growing arugula in cooler weather will help protect this green from the notorious flea beetle and will guarantee your greens won't bolt!
6. Lettuce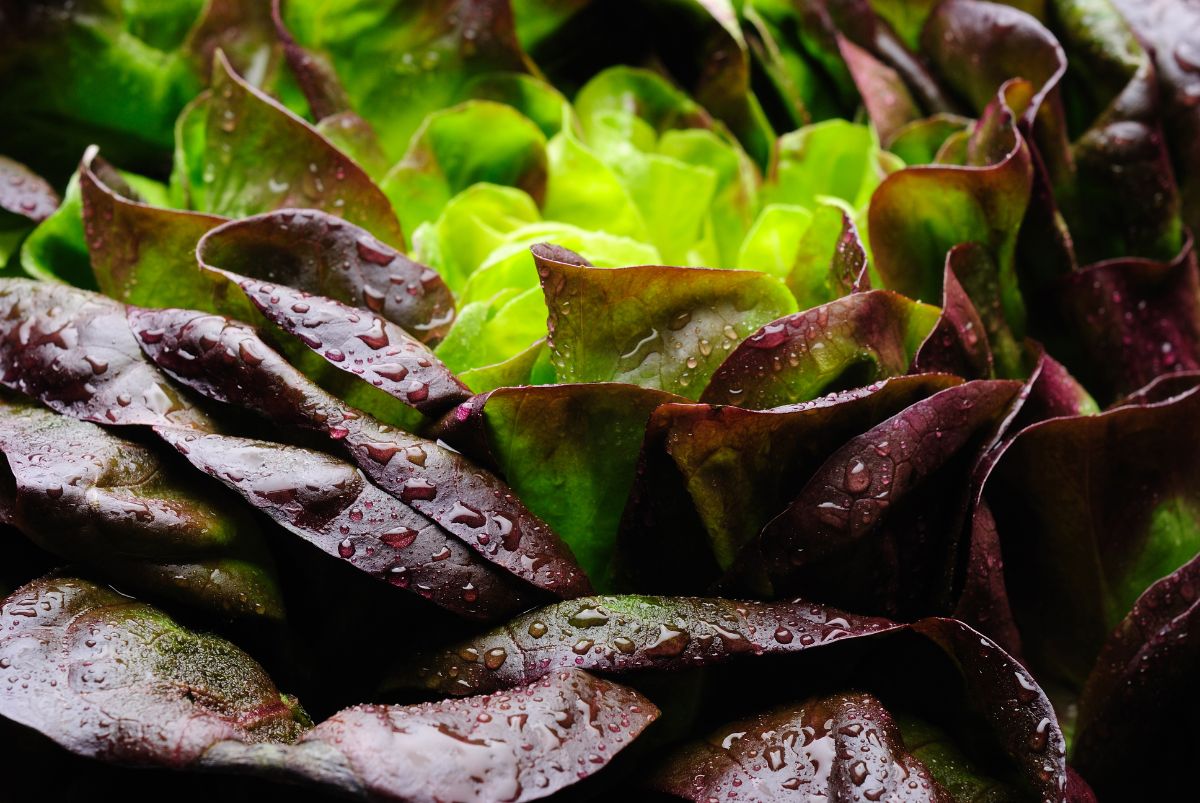 Most lettuce types won't handle the cold very well, but there are a few exceptions. Varieties like 'Tango,' 'Winter Wonderland' and 'Rouge d'Hiver' are well-known for their cold tolerance and may be able to overwinter in some areas. You can extend your lettuce growing season by planting cold hardy lettuce varieties under cloches, tunnels, or other protection.
If you love keeping lettuce but you don't want to deal with growing it outside in the snow, lettuce is a plant that can grow very well indoors, provided you give it enough bright light. Lettuce is a compact plant, and it lends itself well to hydroponics or countertop growing systems. Many indoor gardeners also successfully keep lettuce in vertical hydroponic towers.
7. Collard greens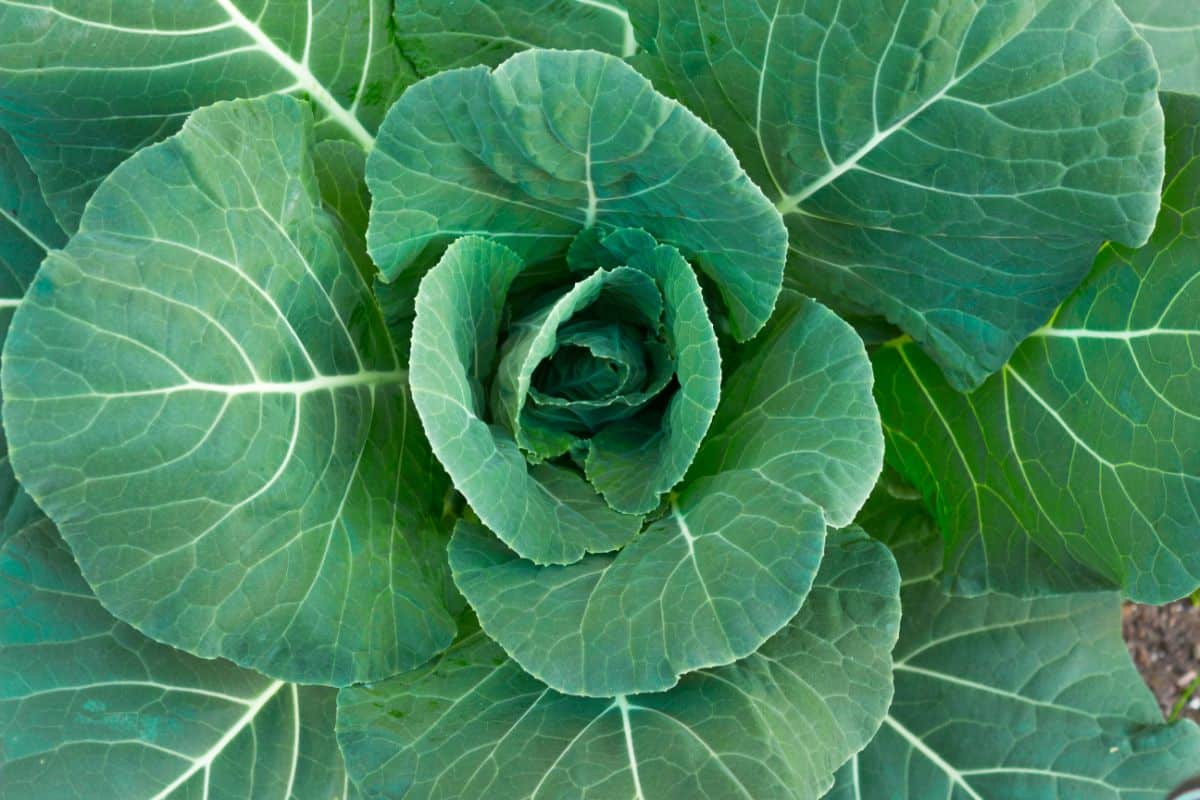 Another cold-hardy green, collard greens are some of the best greens to grow for hearty stews and other soul-warming dishes enjoyed during the winter months. Similar in flavor to kale, collard greens are rich and savory and cook down beautifully when steamed or boiled. Their smooth, flat leaves are easy to work with, too, and can be easily chopped into a fine chiffonade for salads and other fare.
In the winter garden, collard greens grow vigorously and produce a reliable harvest, provided you give them a bit of protection from the snow. In summer, these plants can attract flea beetles and cabbage loopers, but that shouldn't be a problem in winter beds. That means your fresh-grown collard greens will look even prettier when cultivated in cool weather!
8. Tatsoi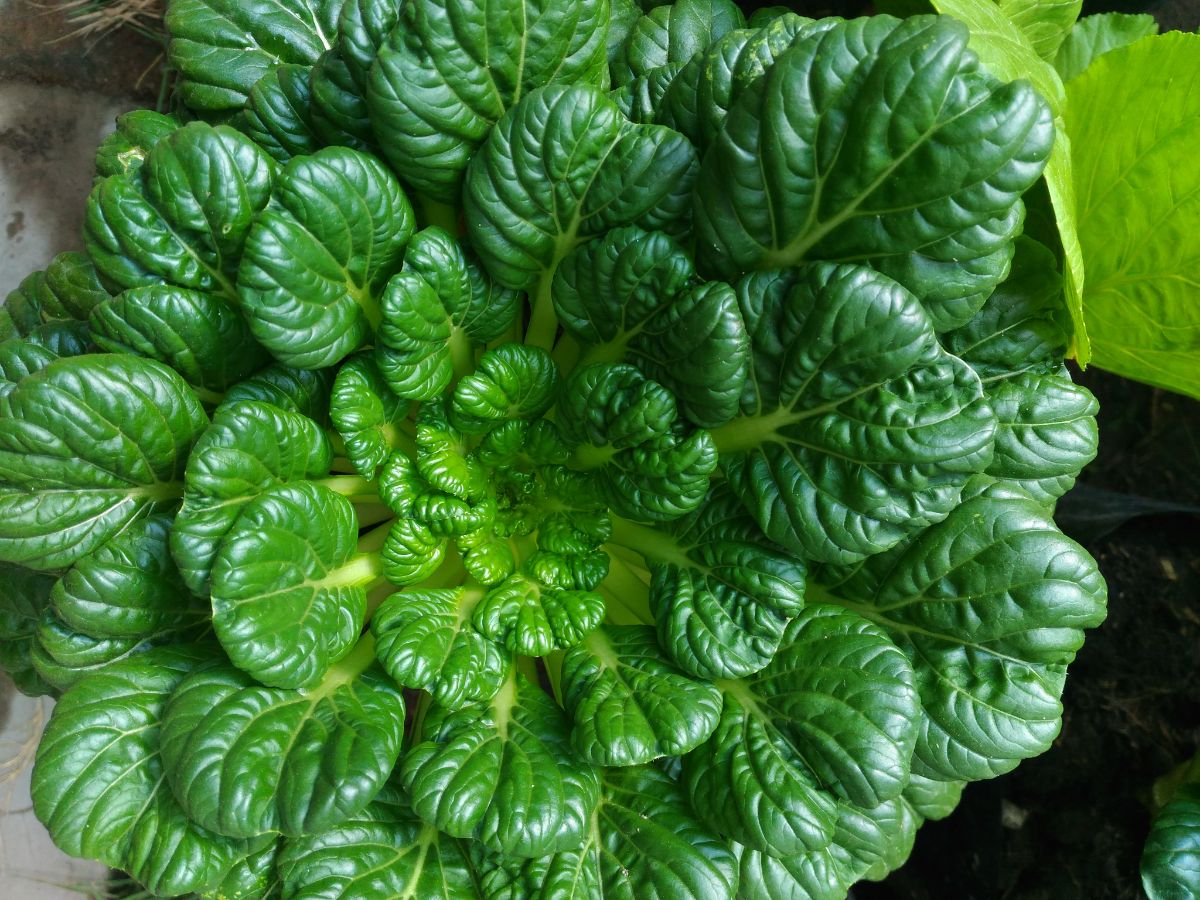 Also known as spoon mustard, tatsoi is another mustard variety that comes from China. Often used in Asian cuisine, tatsoi has tender leaves that can be used similarly to bok choy or spinach. Sauteed, fried, or steamed, this rich green is tasty and jam-packed with vitamins and nutrients too.
When temperatures in your garden drop, tatsoi can handle it. In fact, this cool weather-loving crop will keep growing all winter long in regions with mild winters. If you live in a cooler spot, try protecting your tatsoi with grow tunnels or extra mulch.
9. Swiss chard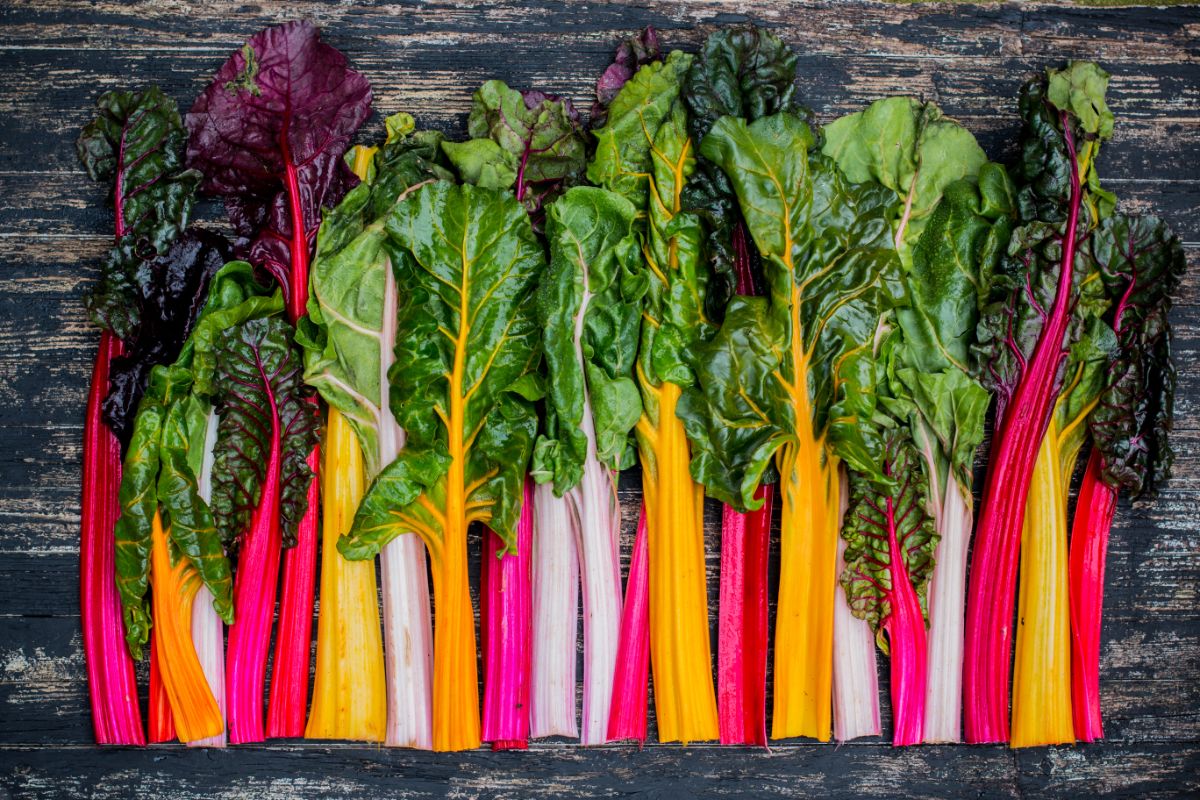 For lots of colors in your winter garden, Swiss chard is hard to beat. These richly flavored greens boast brightly colored stems, which come in white, gold, and vibrant red. While those stems are almost pretty enough to keep in bouquets, they look especially stunning in a wide variety of dishes because they retain their color even after they're cooked!
Not all Swiss chard is colorful, however, so it's important to know which type you're growing. Varieties like 'Bright Lights,' 'Bali,' 'Golden Sunset' and 'Red Rhubarb' have very vivid leaves, while other varieties like 'Silverado' and 'Fordhook Giant' come in more muted tones. Just keep in mind these plants can be particularly appealing to foraging deer in winter, so you may want to protect them with cloches or fencing.
10. Winter purslane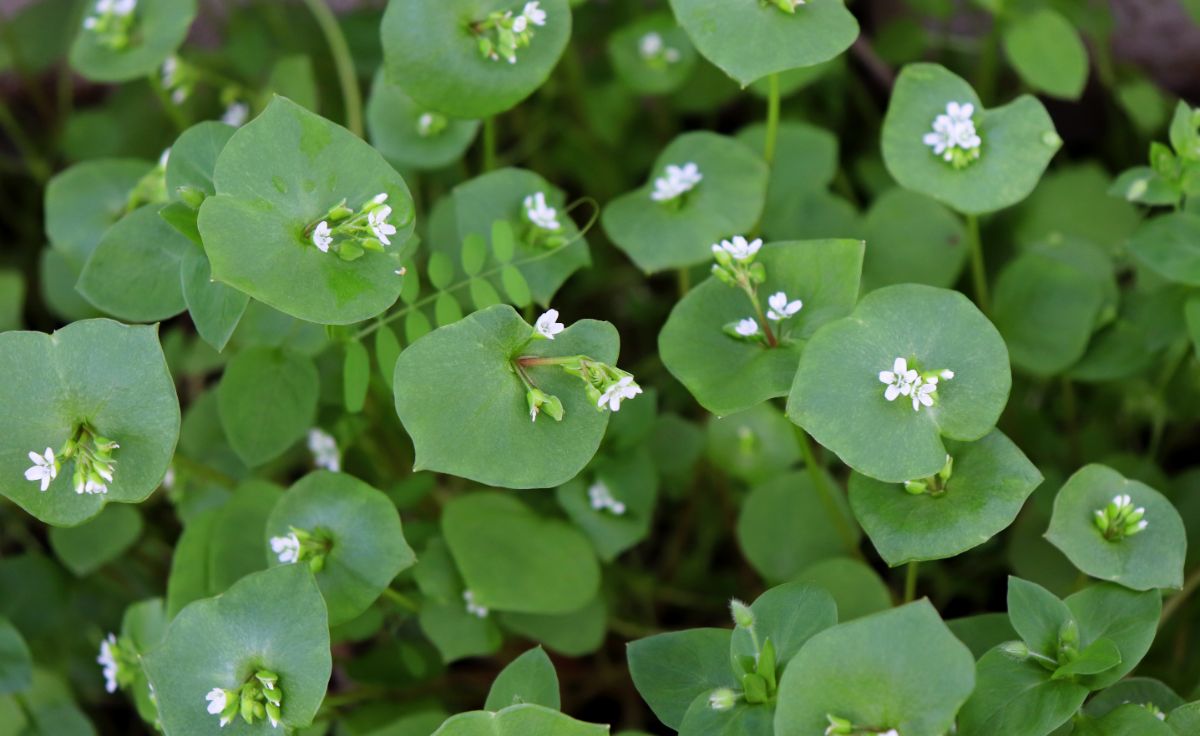 Also known as claytonia, winter purslane is a unique green that is full of calcium and vitamin C. The flavor is mild and succulent and works particularly well when added to mixed salad blends. This plant also regrows readily if you just snip off a few leaves, so you can keep your claytonia harvest going and going!
Able to tolerate light frosts, claytonia should be protected from colder temperatures with row covers or cloches. It is also a very compact plant, so if you want to grow it indoors, you can. What's more, this plant is open-pollinated, meaning you can gather its seeds and plant them for future harvests.
11. Beet greens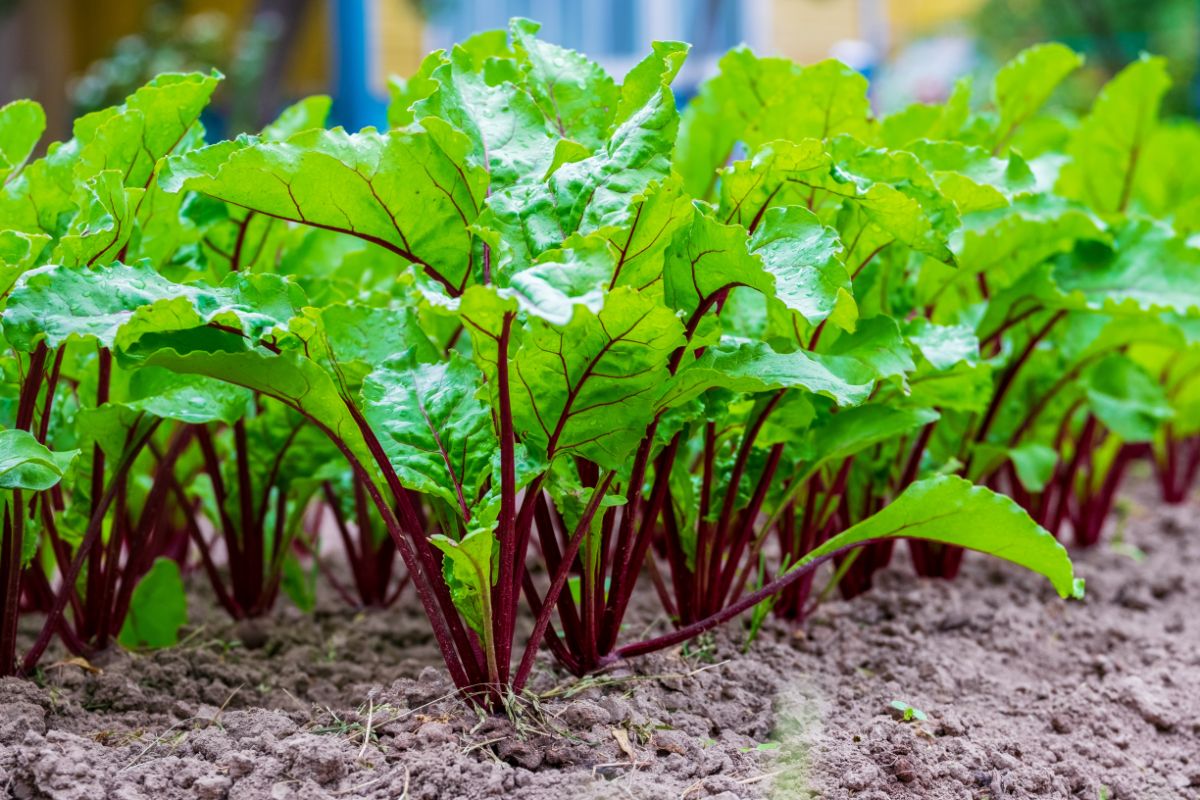 Beets are mostly grown for their sweet, fat roots, but they can also be cultivated for their savory greens, which are wonderful cooked or fresh. If you want to grow beets for greens, you can actually harvest your plants a lot earlier, and you can succession plant seeds for even more greens! For more flexibility, beet greens are a great choice for microgreens as well.
Beets are cold hardy plants that are usually sown in spring and fall gardens, but they can be grown in winter too. Try placing floating row covers or straw mulch over your plants to shield them from too much cold weather. Additionally, if you want to grow these plants for their greens and roots, you'll need to thin out your beets to encourage their roots to grow larger.
12. Endive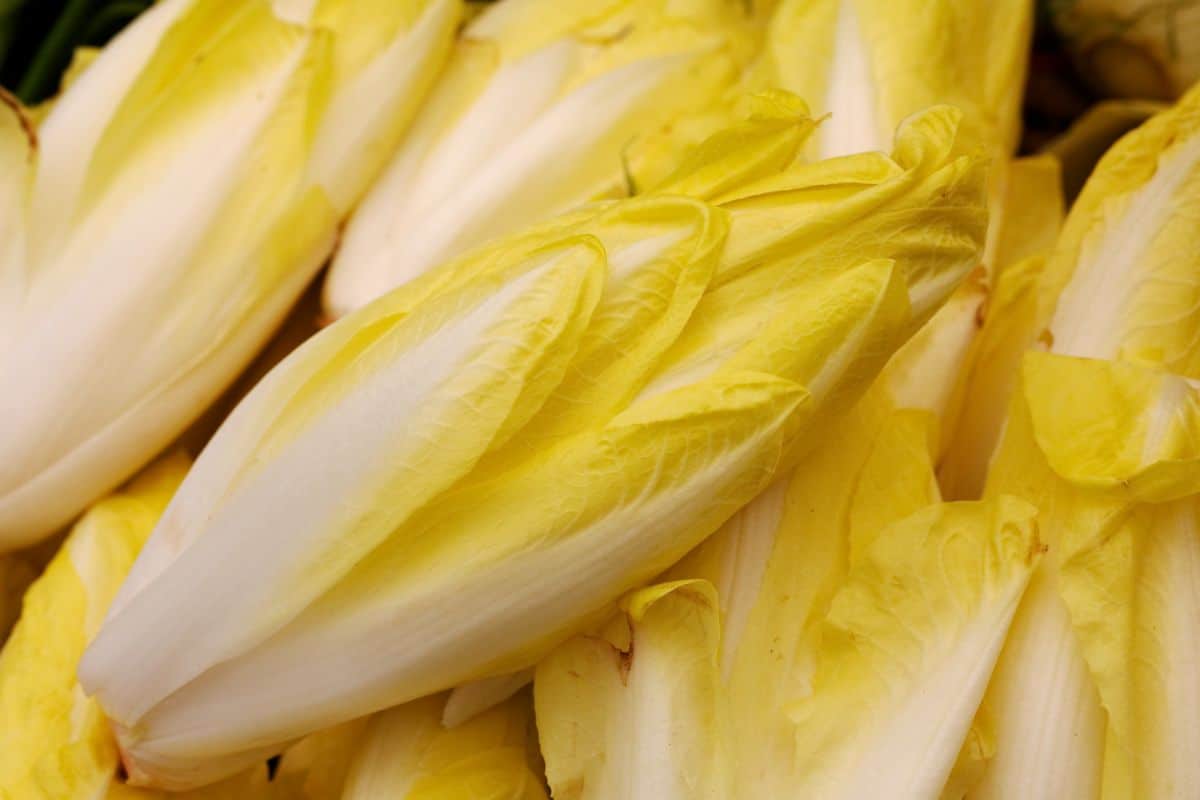 Endives are a luxurious feeling plant to grow. Both the leafy top and the long tap root are edible and are considered delicacies throughout Europe and other areas. While the flavor is slightly bitter, it is refreshingly so, and that bitterness can be mitigated by adding a squeeze of lemon to your dishes or cooking your endives well.
Endives are slower-growing plants, so you will need to have a bit of patience to grow them. However, you'll be well rewarded when you harvest your fresh-grown crop in mid-winter. In fact, these cold hardy veggies are one of the best choices for winter gardens because they can tolerate colder temperatures better than most other greens on this list!
13. Turnip greens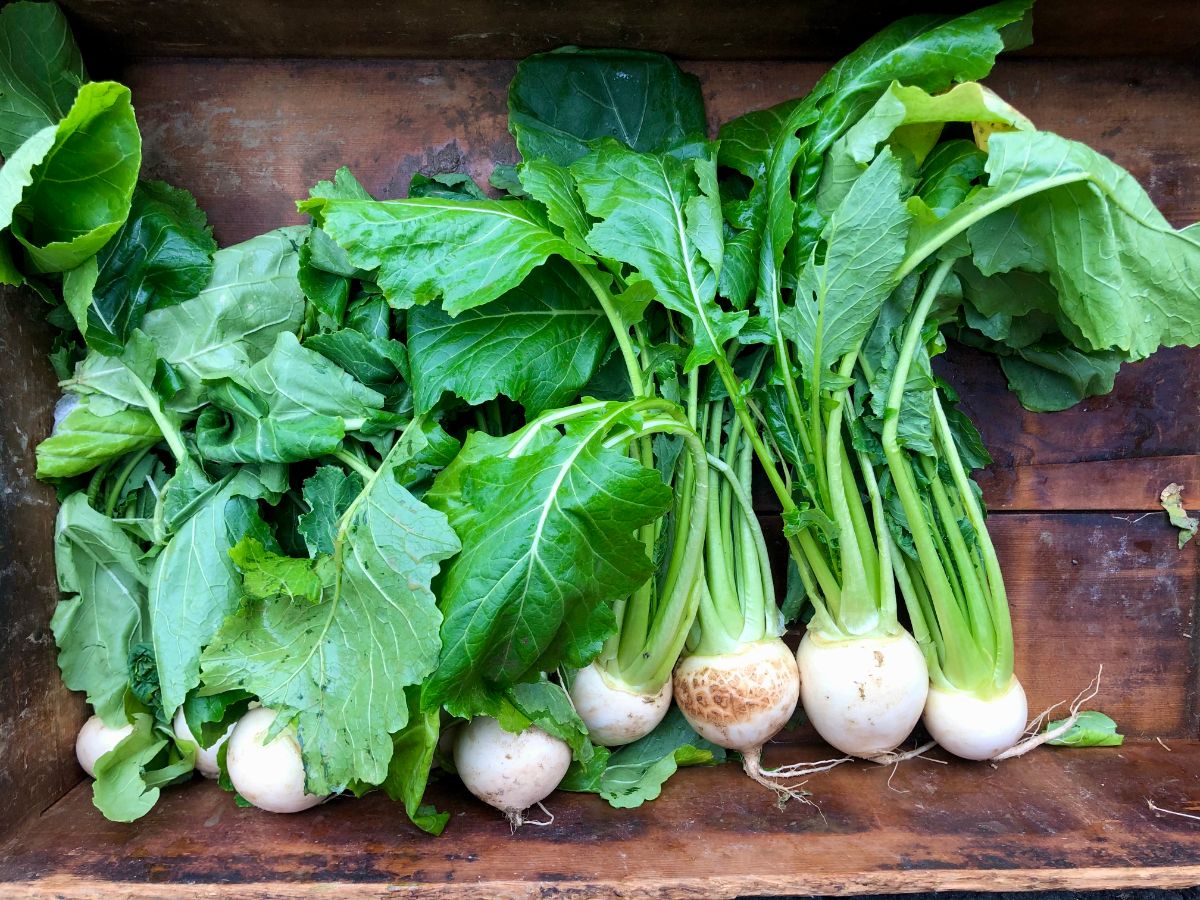 Like beet greens, turnip greens are an often overlooked vegetable, but they are nutritious and flavorful, especially when sauteed with a bit of olive oil, salt, and garlic. These greens are often used in the traditional cuisines of the southern United States and are commonly served with bacon. If you don't want to wait around for turnips to develop, their greens can be harvested much earlier or grown as microgreens.
Turnips are usually sown in fall and spring gardens, but they can often be overwintered with a bit of added protection. During the summer months, these plants are frequently targeted by cabbage loopers and other insects, but that's not a problem in winter beds!
14. Bok choy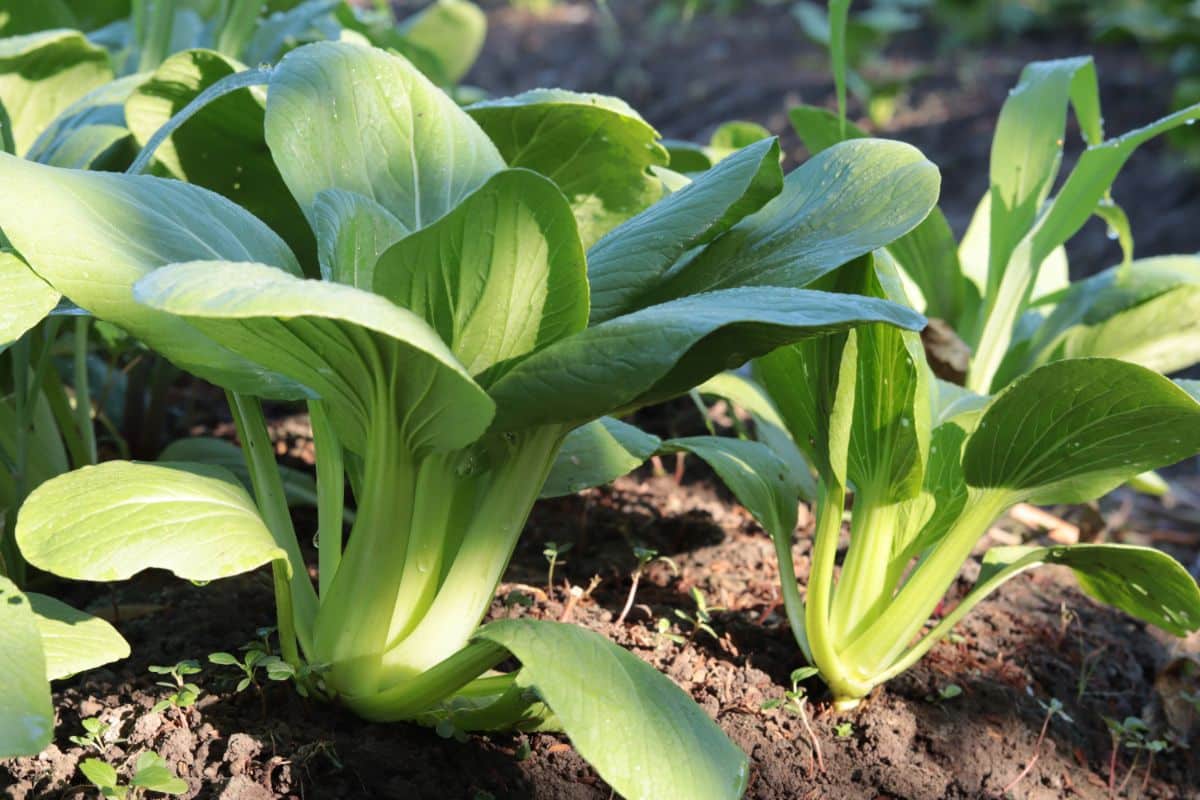 A relative of cabbage, bok choy tastes quite similarly although the flavor is more mild and the leaves are more tender. That makes bok choy a stunning ingredient in soups and Asian dishes. The leaves are also sturdy enough for sautéing or even grilling!
Bok choy is a fast-growing plant that can be harvested in just a few weeks for baby bok choy or allowed to grow longer for larger plants. It also makes a stunning microgreen if you don't want to garden outdoors in winter. Bok choy is sometimes called pak choi too, and leaves come in both green and purple varieties.
15. Escarole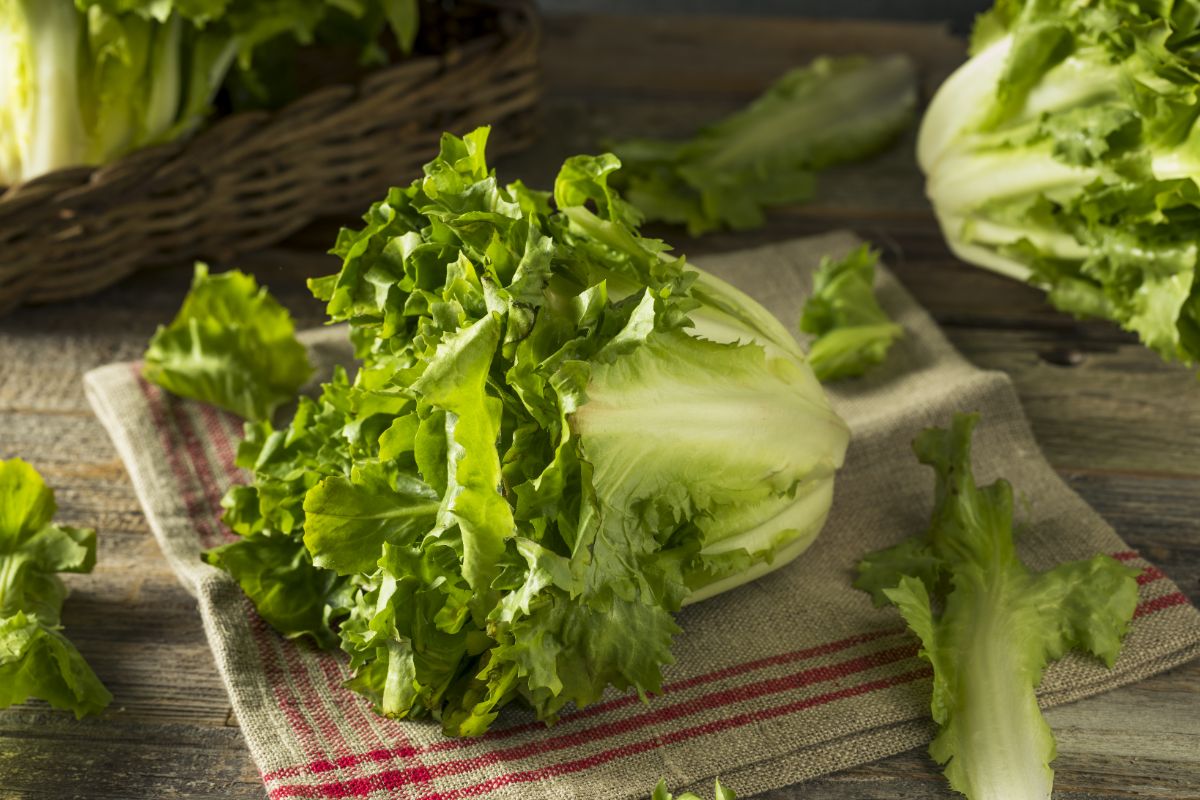 A relative of endives, escarole has deep green, ruffled leaves and a rich buttery flavor. Grown in warm weather, it can turn bitter, but the flavor remains desirable in winter gardens. Escarole is often cooked in savory fare and pairs beautifully with leeks or white beans.
Escarole can tolerate some cold and can even handle frost if it is provided with a bit of protection. For happier plants, try shielding your escarole below floating row covers and space your plants about 1' apart to ensure they develop well-formed leaves. Escarole grows best when directly sown in the garden and should be ready to harvest in about 85 days.
16. Frisée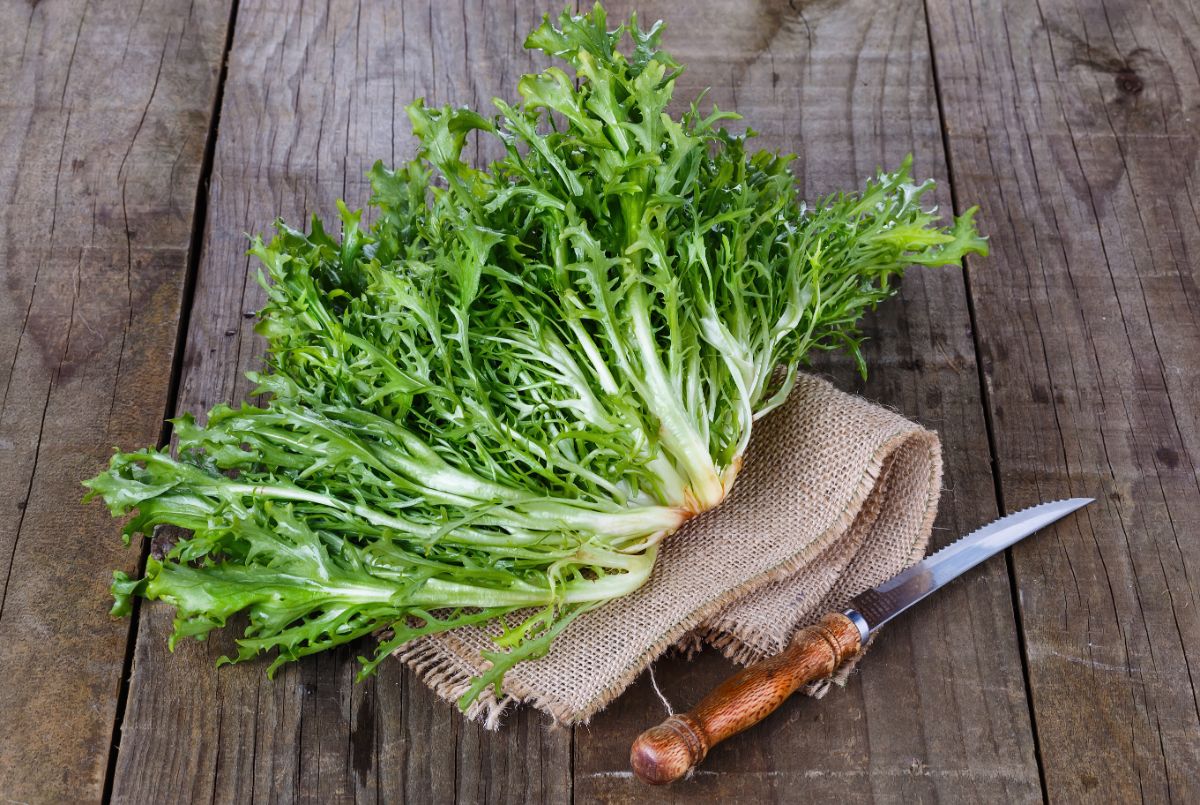 Another variety of endive, Frisée is a stunning plant to grow thanks to its delicate, feathery leaves that come in bright green color. Slightly bitter in flavor, this is a stand-out green to add to fresh salads, where it is sure to elevate and lend an air of luxury to any recipe. A high-yielding plant, Frisée is usually ready to harvest about 90 days after planting.
Hot temperatures can slow germination rates when Frisée is grown in the warmer months, but this isn't a problem in cool-season gardens. These plants will grow best in rich, well-draining soil, and they should be provided with plenty of bright suns to grow properly.
17. Mustard greens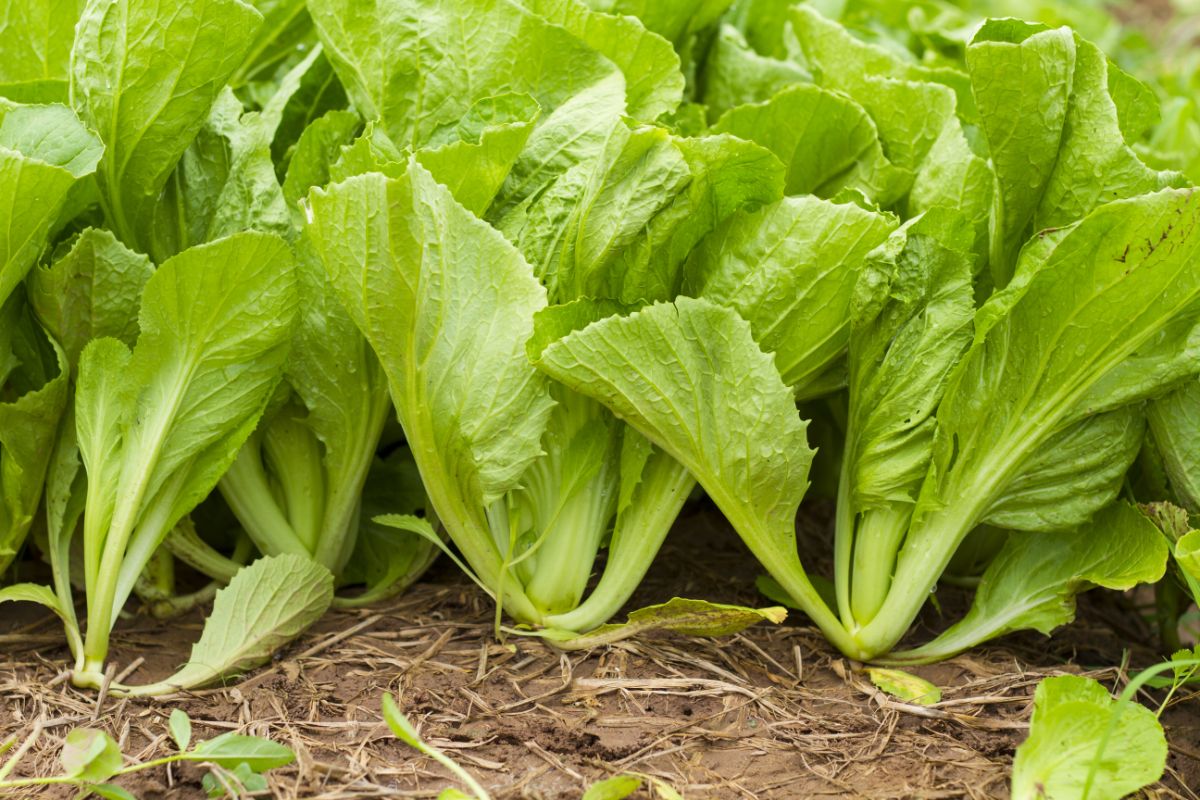 Mustard greens have just the right amount of zing, with a slightly spicy flavor that works well both cooked and fresh. While these greens will taste great in salads, if you don't like the heat, they become milder after cooking and are wonderful in Asian recipes. These are the same plants that can produce mustard seeds; however, seeds develop in the fall after the plants' flowers fade.
Mustard greens can bolt in the heat, so keeping them in cool-weather gardens is usually recommended to prevent the plants from going to seed. There is a wide variety of mustard greens on the market, including green and purple varieties. Leaves also vary in shape, from large and smooth leaves to more delicate leaves with frilly or lacy margins.
18. Radicchio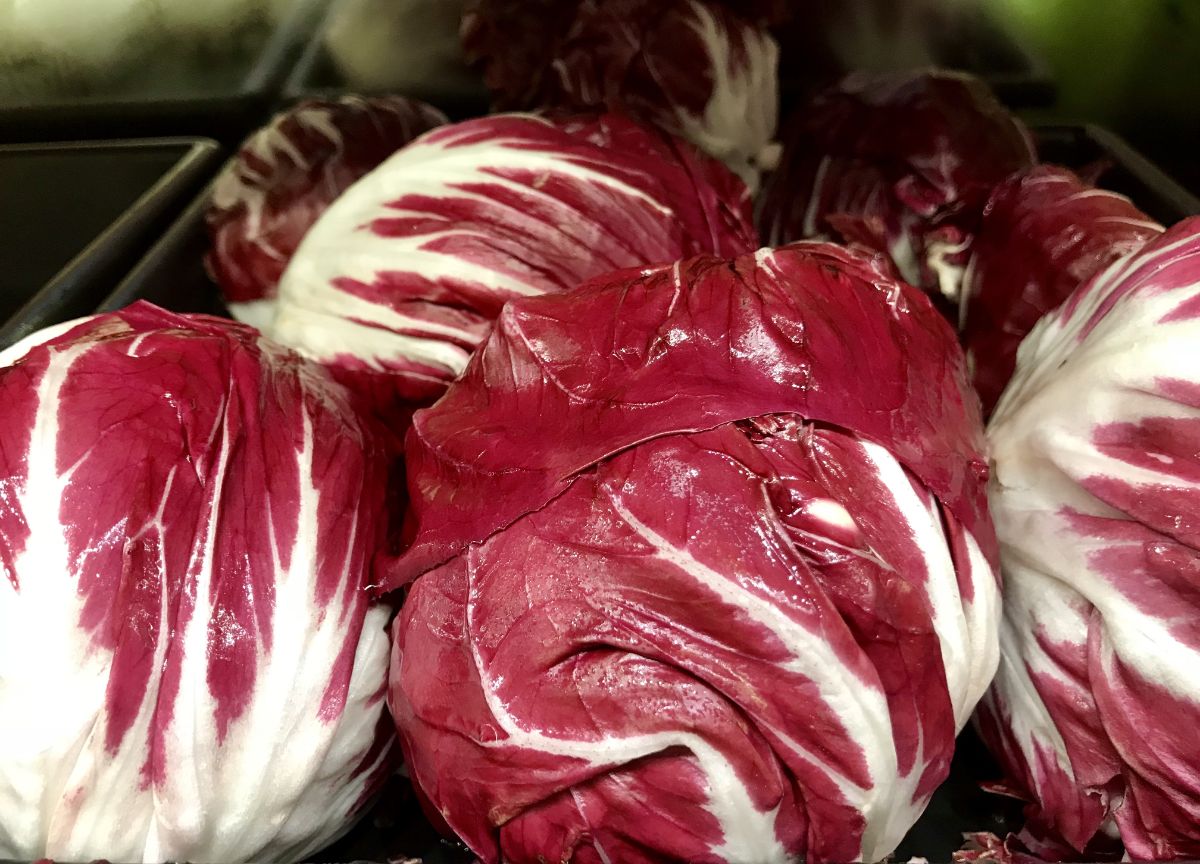 Radicchio is another exceptional green to grow if you want to bring color into your winter gardens and your dinner plate. These vibrant plants are most commonly seen with deep purple leaves; however, some varieties have speckled or two-toned leaves. Green radicchio is also common, with varieties such as 'Virtus' being one of the most popular.
Some radicchio types have heat tolerance, but they all grow better in cooler weather. For larger harvests, try succession sowing your seeds every few weeks and thin plants to about 8" apart to make certain that your radicchio heads develop well. Regular watering can also improve leaf flavor and development.
19. Sorrel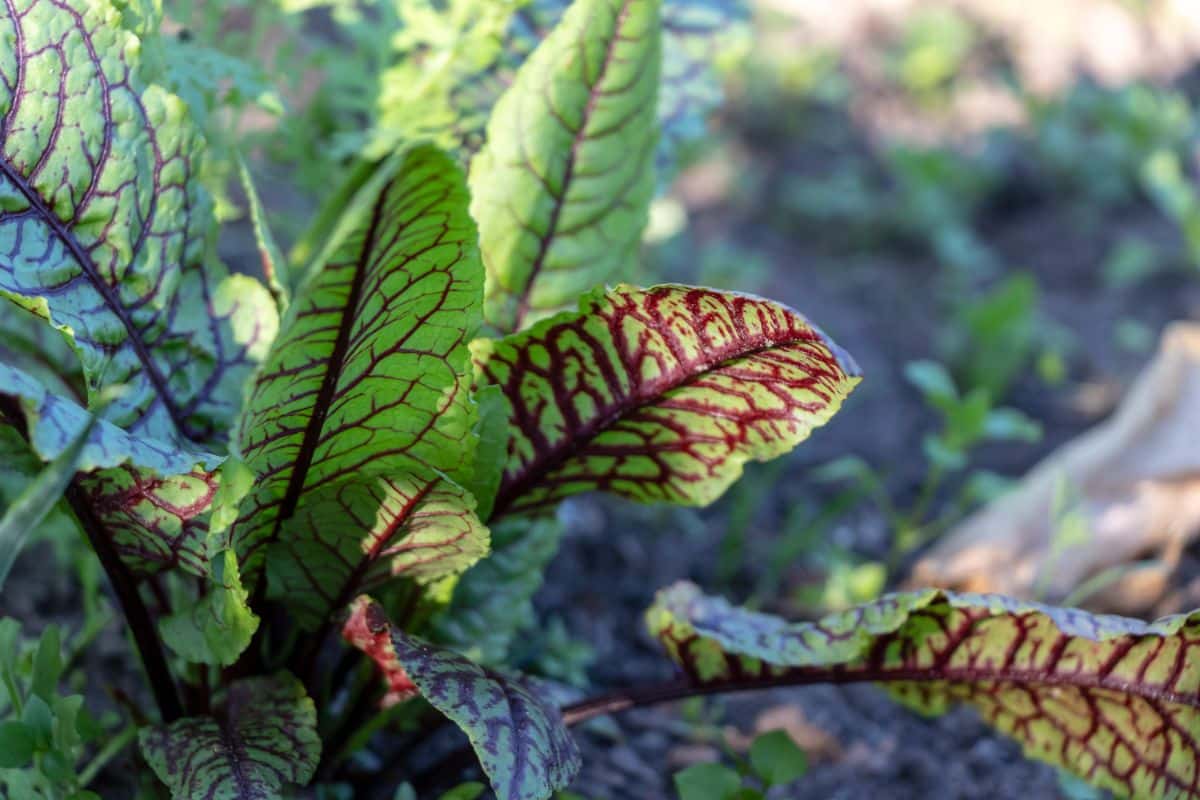 A less commonly grown green sorrel can sometimes be foraged in the wild, but it is an easy-to-keep plant in veggie beds too! This perennial plant will come back year after year, so you can get quite a large harvest out of a single seed. Sorrel has a bright and tangy flavor with notes of lemon, which adds brilliant flavor to fresh salads and other dishes.
There are several different types of sorrel, but a red-veined bloody dock is one of the most striking. This gorgeous plant has bright green leaves with highly contrasting red veins. A true delight when served with a bit of raspberry vinaigrette, goat cheese, and chopped nuts!
20. Cabbage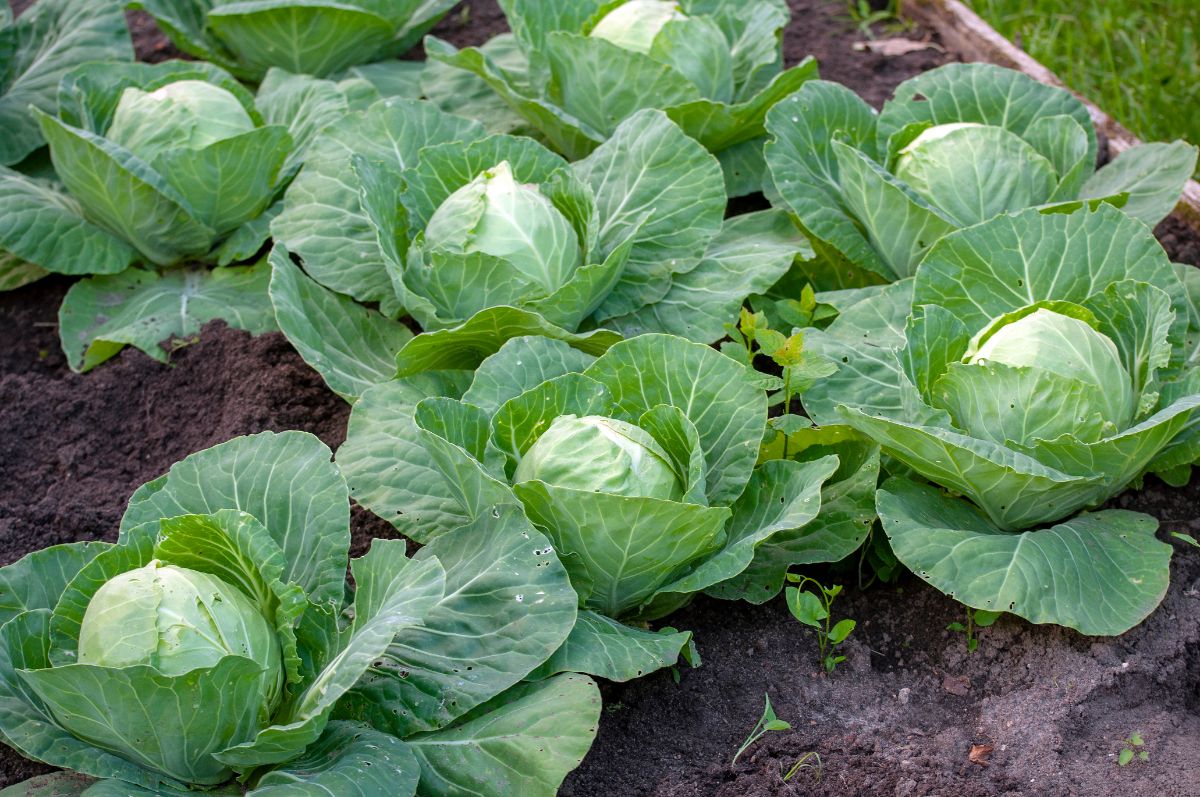 Of course, no list of the best winter greens would be complete without cabbage. This cool-weather crop is commonly planted in fall and spring, but it can continue to grow throughout winter, even with a bit of snow. Heading cabbages tend to be hardier than leafing varieties, but all cabbage is resilient in cold weather.
Cabbage's cold hardiness is part of the reason why this plant is often grown in self-sufficiency gardens. It lasts a long time outdoors and has a long shelf life when harvested too. But if you really want to make your cabbage crop last and last, making homemade sauerkraut is the way to do it!
21. Broccoli rabe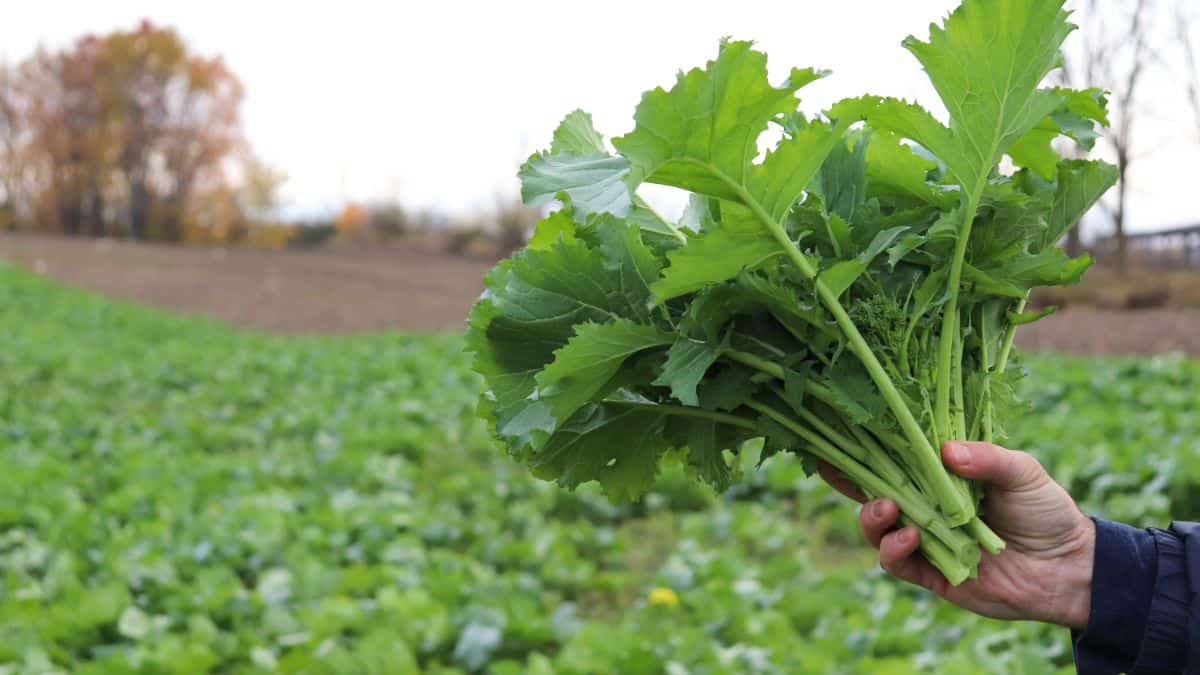 Also known as rapini, broccoli rabe is a non-heading variety of broccoli with a slightly stronger flavor. Originally from Italy, broccoli rabe can be sauteed, steamed, roasted, or served fresh in salads – it's just so versatile! Harvest plants when stems are young and tender and avoid allowing any plants to go to flower, which will compromise flavor.
Some gardeners try to grow broccoli rabe in spring gardens, but it usually doesn't work out well. Broccoli rabe will often bolt at the slightest hint of heat, and flea beetles can easily devastate a small crop too. Fall and winter plantings are much better suited to this plant, and rapini's flavor even improves a bit when it's exposed to cooler temperatures.
Frequently asked questions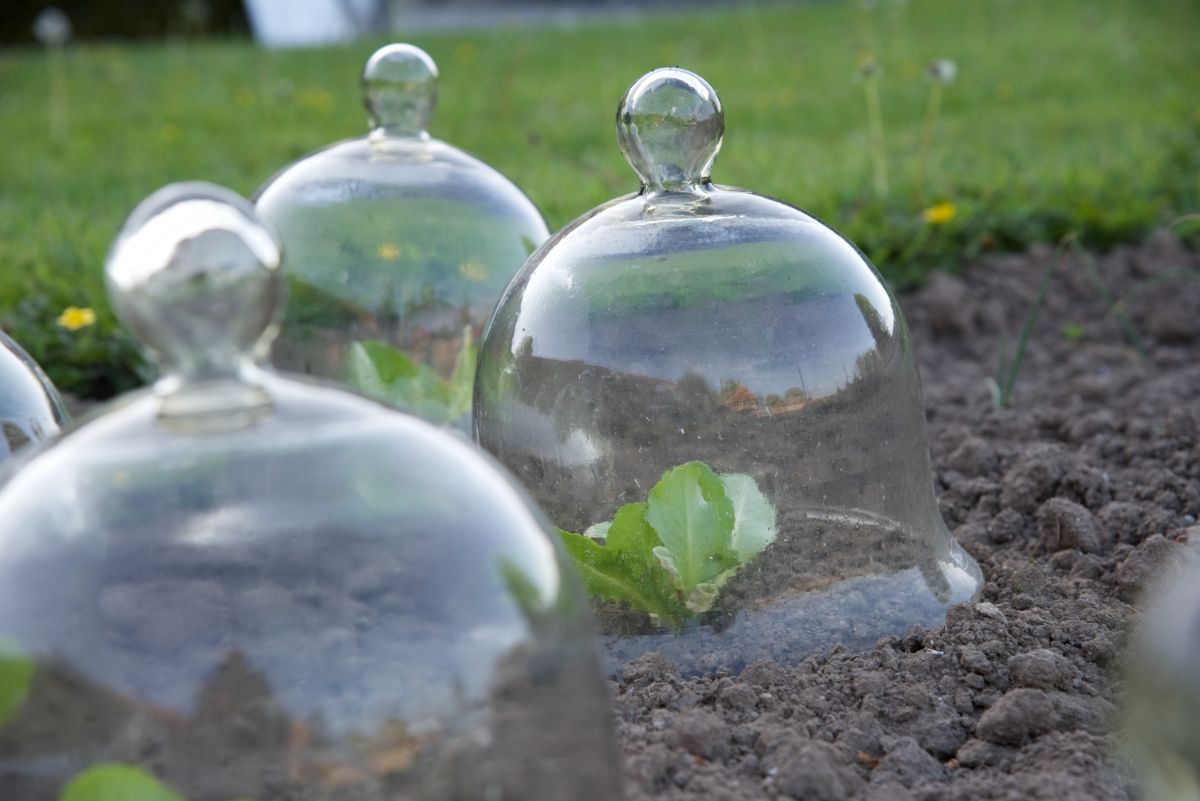 Summary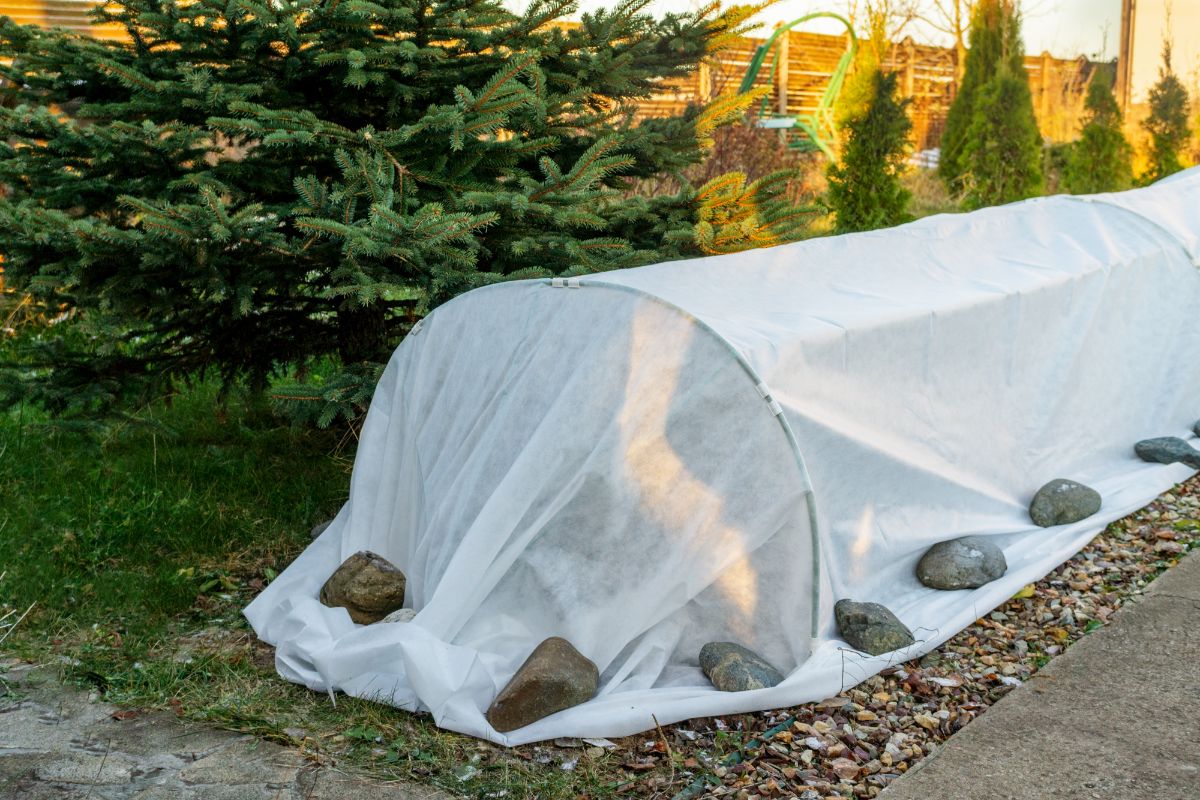 Figuring out ways to extend your growing season and maximize your planting arrangements are important steps for getting the most out of your garden. While most gardeners put their garden beds to sleep in autumn, if you choose the right cold hardy greens, you may be able to continue growing and harvesting fresh vegetables all winter long!
Even if you don't want to grow outdoors in winter, many of the greens we've covered today can also be cultivated inside with hydroponics, grow bags, or countertop growing kits. Some also make exceptional microgreens, which can be grown in even the smallest spaces. Experiment with some of the nutritious, winter-hardy crops in this guide, and you'll be sure to discover new ways to maximize your garden yield and grow delicious greens, even in winter.
If you liked this article and want to learn more about winter gardening, check out our guide on the best ornamental plants to bring color into your winter beds.